A similar device is designed to convert a digital signal to analog and is used to improve sound quality. When choosing the best DAC under 100, you should pay attention to a number of important criteria. These include the number and type of digital and analog outputs, sample rate, bit depth, cost.
Additional features of devices that affect the quality of sound output and ease of use include output signal adjustment, support for wireless data transmission, remote control, the ability to connect headphones, etc.
Fortunately, you don't need to study all these features as long as we have already made all the tough work for you. Proceed to the body to choose the best DAC for your needs!
DAC under $100 Review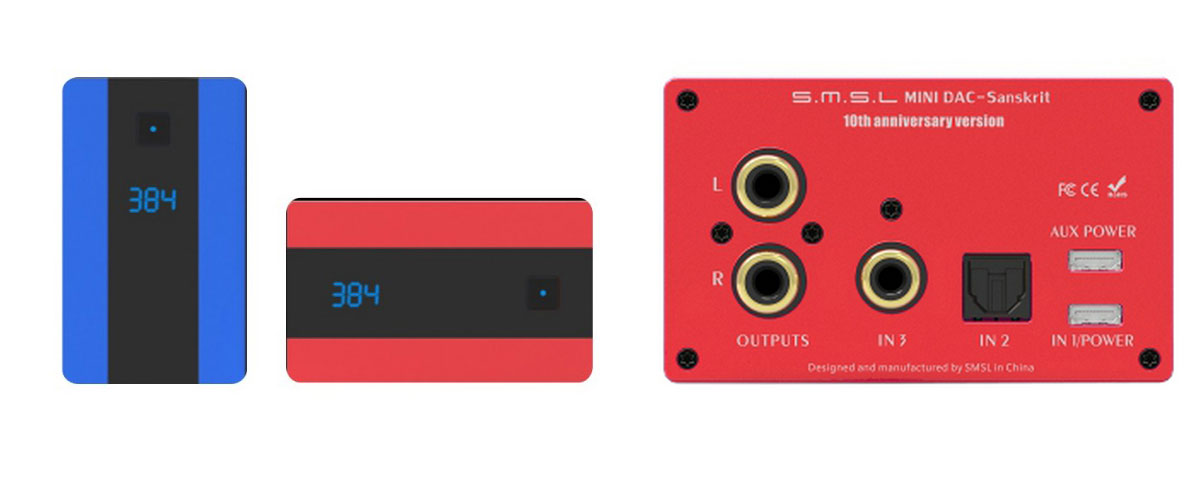 SMSL Sanskrit 10th is the best DAC under $100. This is an audiophile digital-to-analog converter, clad in a stylish metal case. Of the key characteristics of the device, the presence of three digital input channels, DSD support, and the option of connecting external power supplies deserve special attention.
From the input connection interfaces, the user is offered a USB port for connecting to a PC and mobile devices, digital optical and coaxial connectors, as well as a micro-USB input for powering the DAC from a TV, a power bank or an electrical outlet.
The output signal, in turn, is transmitted further along the sounding circuit using a standard RCA pair.
The AK4490EQ (32 bit / 384 kHz; DSD 256) DAC of the audiophile class is responsible for the reception and conversion of a digital signal to analog, which is also found in many other relevant products of the Hi-Fi industry. In addition, Chinese engineers equipped their candidate to be the best budget DAC with custom asynchronous XMOS transport, a pair of clock generators with ultra-low phase noise, as well as a discrete power supply, which together provides a noticeable increase in sound quality.
As for the sound signature of the solution in question, here the manufacturer preferred a partially non-trivial model of audio broadcasting combining surround rich bass, clear, detailed midrange and sonorous sparkling treble, which may seem harsh to some listeners, especially if there are acoustics in the sounding chain with a bright manner of sounding.
Pros
The kit provides for remote control, the resource of which controls advanced functionality
It is worth noting a couple of bright displays, provided separately for the vertical and horizontal position of the device relative to the occupied surface
Cons
I'm not so sure about the bass yet. Perhaps a little wooly, undefined
TOPPING D10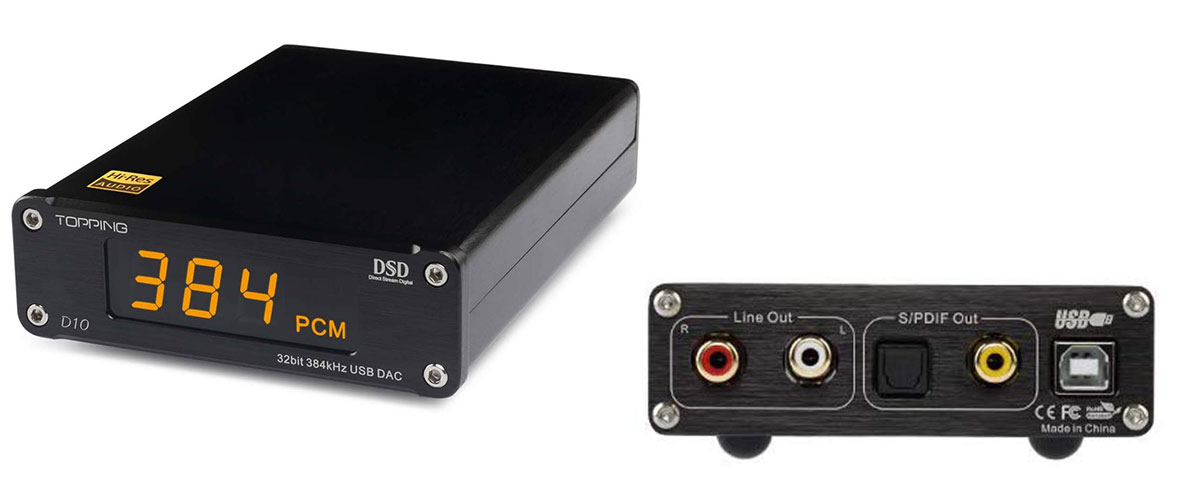 To start with, let's see the top 3 features of this device:
Topping D10 is the simplest model in the Topping DAC line-up
The second point is a beautiful design – you are immediately greeted by a screen almost the entire size of the front panel, where the sampling frequencies are lit
The third point is the components manufacturer used – they look quite tempting. Judge for yourself – the heart of the DAC – Saber ES9018K2M digital-to-analog conversion chip
Topping D10 is a USB DAC with linear output, which allows you to use the combine as with active monitors or amplifiers for speakers. The USB input on the XMOS chip will allow you to connect a computer, laptop, or set-top box, and the optical and coaxial outputs will transmit your signal further.
It uses a bunch of XMOS (XU208) + ES9018K2M + OPA2134 and a custom Thesycon driver to support PCM384kHz / 32bit and DSD256 (Native). The solution with the possibility of replacing operational amplifiers deserves special praise. This is implemented using an 8-pin socket, so you can play enough in the sweetness.
The display shows the format and sampling rate. D10 is compatible with Android, MAC, and Windows (7 or higher) using the custom driver from Thesycon. Topping is able to automatically turn on / off synchronization with a computer and has hi-res-audio.
Pros
The advantages of the Topping D10 DAC include support for DSD formats and an ultra-low price that allows you to take advantage of the latest civilization achievements in the field of audio. You are not limited to the choice of formats and permissions – this is a huge plus.
Pure transparent sound at medium frequencies, correct dynamic bass and very high-quality treble for its class
Cons
As for me, it lacks a bit of expression
Micca OriGen G2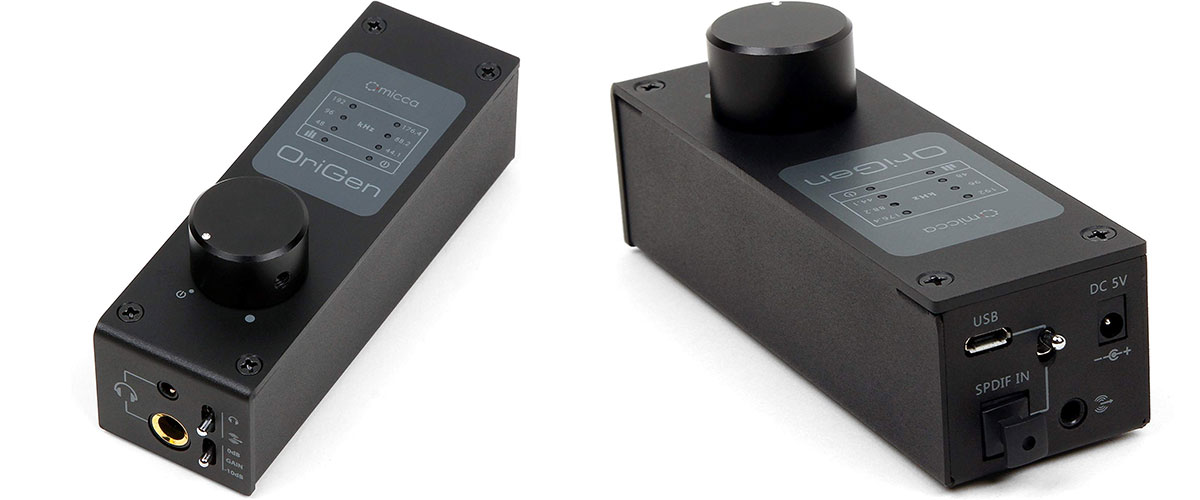 OriGen G2 is completely made of aluminum and steel – a combination of materials that provide durability and a strong, durable appearance. The DAC has a DC input, which should be the main power source, but the corresponding cable is not supplied with it. Choosing the best budget DAC, pay attention that here you can enable the DAC through the USB port.
The micro-USB port allows streaming media from the device and simultaneously supply power to the DAC.
Right next to the USB port, you have a switch that helps you choose which input you use; USB or optical digital S / PDIF output.
On the opposite side, you have 3.5 mm and ¼ inch input ports. Although this gives you the freedom to use someone else, it is better to use a port-inch port, as it does not wear out so easily. In addition, if your headphones use a 3.5mm audio jack, you can use an adapter to connect to a ¼-inch port.
This DAC provides sound quality of at least 44.1 kHz and no more than 192 kHz. This means that you get sound with at least CD quality. All this is available in 16 bit or 24 bit. This range is quite impressive for a DAC of this size.
Pros
Compact frame for easy handling and increased mobility
The gain switch helps reduce output gain by 10 dB, especially for headphones with very low impedance and high sensitivity
Cons
The only input available is USB. This limits the type of devices from which you can play music
FX Audio DAC-X6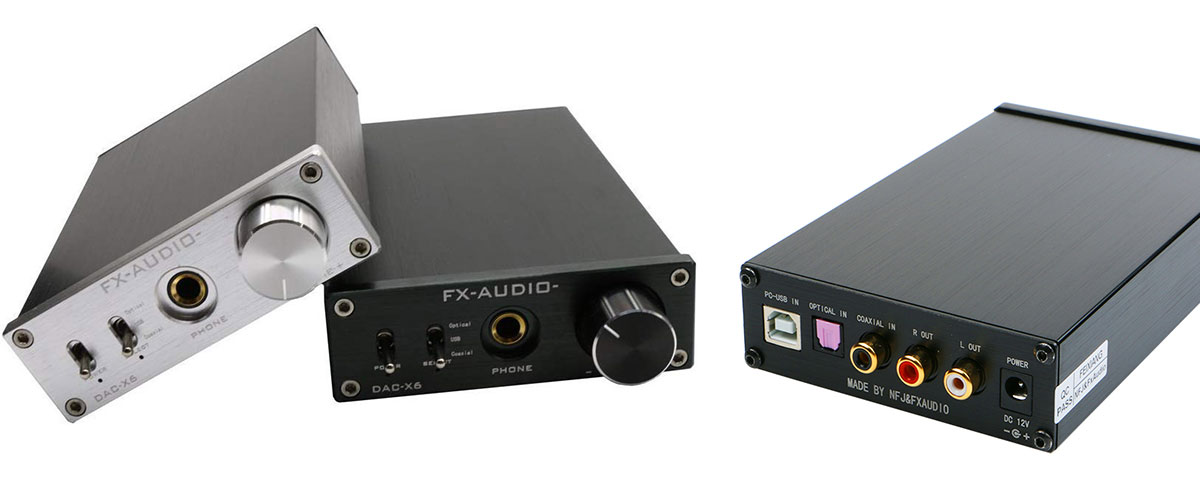 As one of the few devices in its class, the FX-Audio DAC-X6 has a chip-based TPA6120 headphone amplifier, so it can return to 1000 mW power (16 ohms headphones). In practice, this means that it can control almost any headphone.
DAC-X6 has a set of connectors – both USB and optical and coaxial connectors. This allows you to connect not only a computer but also a TV, console, or CD.
DAC-X6 supports sound in the so-called dense – up to 14 bit / 192 kHz via both USB and optical connectors. The USB connection is compatible with UAC1 and does not require the installation of additional drivers – it is directly supported by all modern operating systems supporting USB Audio Class 1.0. The DAC device is used in the production of CS4398 from Cirrus Logic. The SPDIF receiver comes from the same company. This is CS8416. The VT1630A chip produced by VIA is responsible for the operation of the USB connector.
You can connect the DAC to headphones and speakers. The output is selected using the switch on the front panel. The headphone jack has a professional size of 6.3 mm, and the line outputs are typical RCA.
Pros
Does not heat up during playback
The music in 24/96 and 24/192 sounds magical, and if in optics, in general, an immersive atmosphere is created, the low-frequency range is very well worked out
Cons
Windows volume control does not work. You can only turn off the sound completely
Cambridge Audio DacMagic XS – portable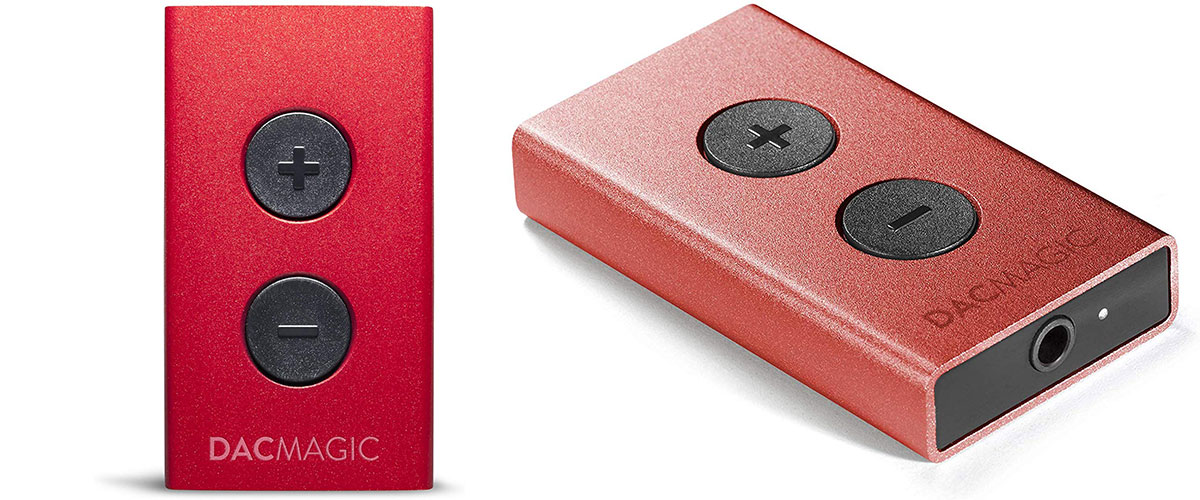 This pretender to be the best cheap DAC caught our attention due to its size. Just see how portable it is.
Externally, the XS doesn't make the impression of a budget. It owns a stylish case and sturdy construction. There are only two buttons for control; they allow you to change the volume, and if you press all at once and hold for several seconds, they switch the DAC from USB 1.0 to 2.0.
In the second case, the DacMagic XS receives a stream with sampling up to 24 bit / 192 kHz; USB 1.0 mode is limited to 24 bit / 96 kHz.
There are few connectors: only a micro-USB input on one end, which serves to power and receive a digital signal, and a 3.5 mm headphone output on the other. A single LED indicates the sampling rate of the incoming signal: when receiving files 44.1 / 48 kHz, it glows blue. For 88.2 / 96, it is green, and for 176.4 / 192, it is purple. It also shows the volume level.
Pros
It is worth noting the excellent organization of many details and the verified tonal balance
It is very compact; its dimensions are smaller than that of a matchbox
Cons
Since the DacMagic XS uses the standard 5 V from the USB line to power it (there are no own batteries), it slightly accelerates the discharge of the laptop battery offline