Audiophiles will quickly tell you that analog sound is much better than digital because it reproduces more precisely what you might hear if you listened to your favorite band playing on stage, although without the loud greeting and other background noises that accompany the live show.
When music files are digitized and posted on the Internet or on your computer, it becomes an approximation or interpretation of an analog recording. But listen to the analog recording, and it will be much closer to the quality of the live sound you are striving for. That's why vinyl is so in demand among audiophiles because, unlike your phone or streaming service, vinyl delivers analog sound directly to your ears. Of course, it's impossible to always have a player and your favorite recordings with you. But with the help of the DAC, you can convert digital files to analog format, connect headphones or speakers and get the same sound without any inconvenience! For all audiophiles, we have collected our selection for the best DAC under 1000.
DACs Under $1000 Review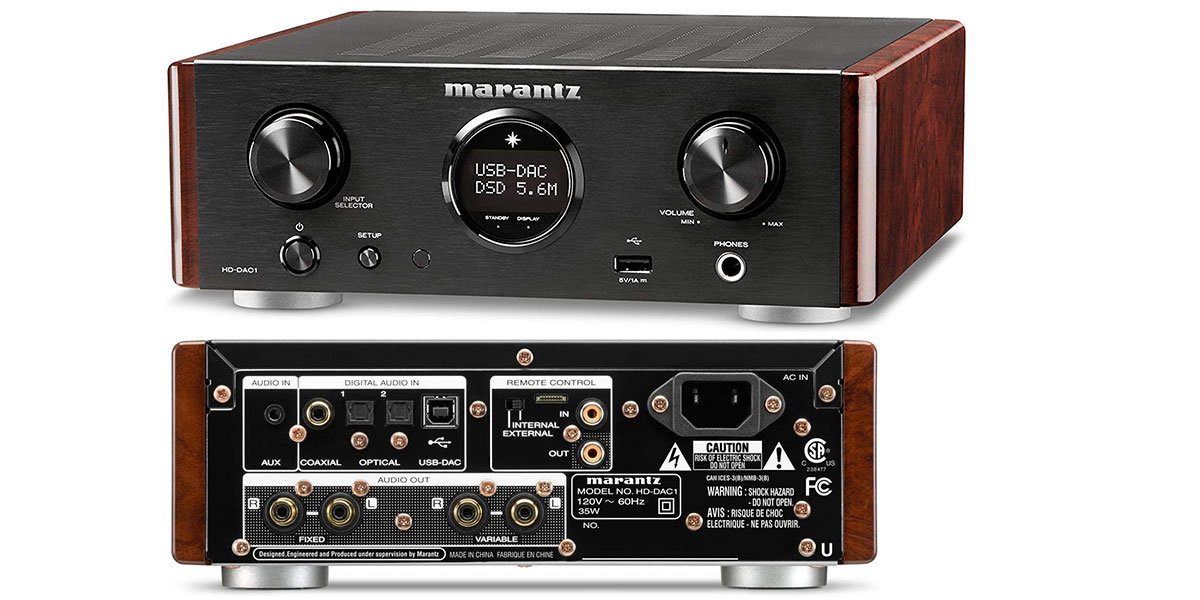 Let's start with the best DAC under $1000 in the industry. In its design, the headphone amplifier Marantz HD-DAC1 corresponds to the top models of the company, which emphasizes its external design. The metal case with a thick aluminum front panel has decorative side walls made of natural wood and is mounted on antiresonance supports. The amplifier is equipped with a recognizable round display, which displays information about the main operating modes and two rotary knobs, one of which switches the signal sources, and the other controls the volume.
The Marantz HD-DAC1 is equipped with a headphone jack for proprietary HDAM / HDAM SA2 modules and has a three-step sensitivity adjustment to precisely match models with different impedances. The digital-to-analog converter is based on the CS4398 chip and is capable of processing a PCM signal with parameters up to 24 bit / 192 kHz, as well as a DSD stream with a frequency of 2.8 or 5.6 MHz. The device has a special jitter reduction circuit, as well as two master oscillators for the precise processing of digital signals with different frequency grids. The DAC board is isolated by power from the rest of the circuit, which prevents crosstalk. The amplifier uses high-quality components of the audiophile class, and the layout of the boards is made, taking into account the maximum reduction in the length of the audio signal transmission circuits.
The Marantz HD-DAC1 is equipped with USB, two optical and one coaxial input, as well as an analog stereo input. Digital inputs have special protection against induced interference. The device has two pairs of RCA outputs – one with a fixed signal level for connecting to the standard input of an integrated amplifier, and the other is adjustable, for direct supply of a signal to the input of active acoustics or power amplifiers. In addition, the front panel of the Marantz HD-DAC1 has a USB input for connecting iPod / iPhone. This model is equipped with remote control.
Pros
The look of the HD-DAC1 is very elegant and respectable, especially in the color of "champagne"
I was very interested in the words of the developers from Marantz that they paid special attention to the reproduction of DSD
Cons
No line input on RCA jacks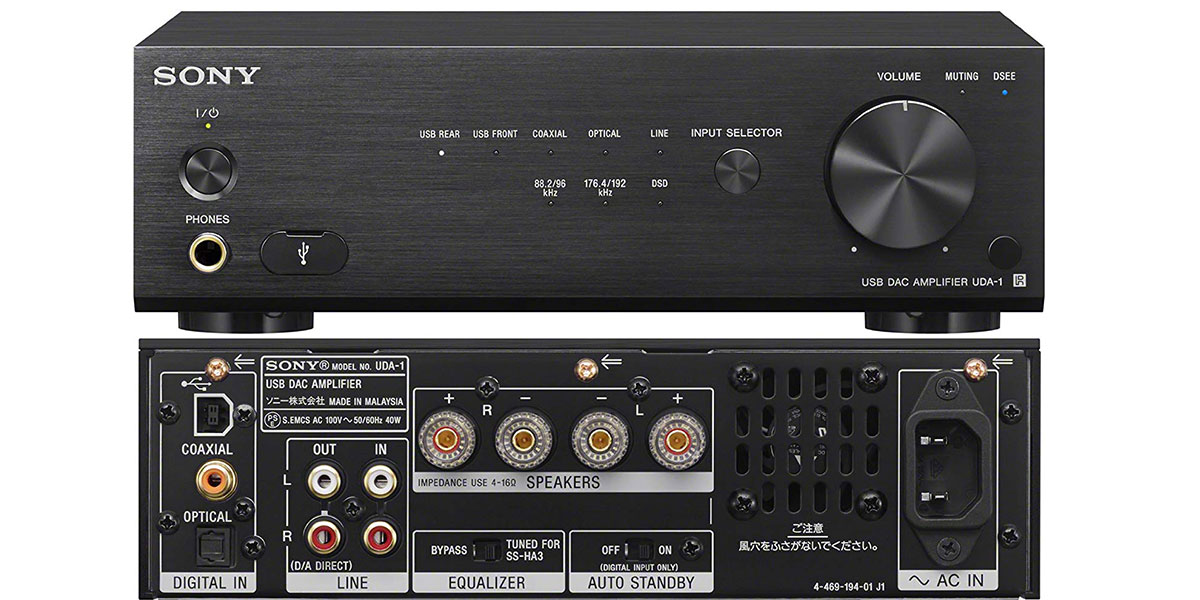 UDA-1 is a small but versatile DAC with an amplifier, the power of which is sufficient to build up small shelves or headphones. Sony UDA-1 will best prove itself in a camera office environment or, when a small-sized universal device is required, for working with a computer.
This could be your best DAC below 1000 if you are looking for the excellent workmanship which resembles the old models of the ES series. The device was developed in conjunction with the shelf speakers Sony SS-HA3. Against the background of small dimensions, its solid amazes. The output power, at 8 ohms, is 12 watts per channel.
UDA-1 is equipped with several inputs (coaxial, optical), including a USB input, which can use a flash drive. There is also an analog stereo RCA input. Outputs: rear acoustic, Jack headphone output, and RCA line-out. The USB-A input on the front panel allows you to play audio files, but their parameters are limited to the 44.1 / 48 kHz 16-bit format. The rear USB-B connector allows you to transfer Hi-Res files from a computer.
When using a PC, you must install the USB 2.0 Hi-Res driver. It is easy to download and install. You will also need a player similar to the Foobar2000 and ASIO plugin. I spent less than five minutes searching and installing plugins. I also installed the DSD plugin. In the player, you need to make some settings, but this is not difficult. I hope that the installation will become easier in the future. If you use a Mac, then you can use JRiver. However, no settings need to be changed.
Pros
Supports all LossLess formats, including DSD via USB input
There are coaxial and optical inputs
The amplifier can work with highly sensitive acoustics
Cons
If you use a Toslink cable, you will not get the full 24bit experience. You must run your HD files through the Sony interface. The interface is a bit immature, but that is minor. It will show the file type (FLAC, AIFF, etc.) and the kHz rate. If you choose to play your files via iTunes, it will not give you your full experience, so it is a must you use the Sony Hi-Res audio player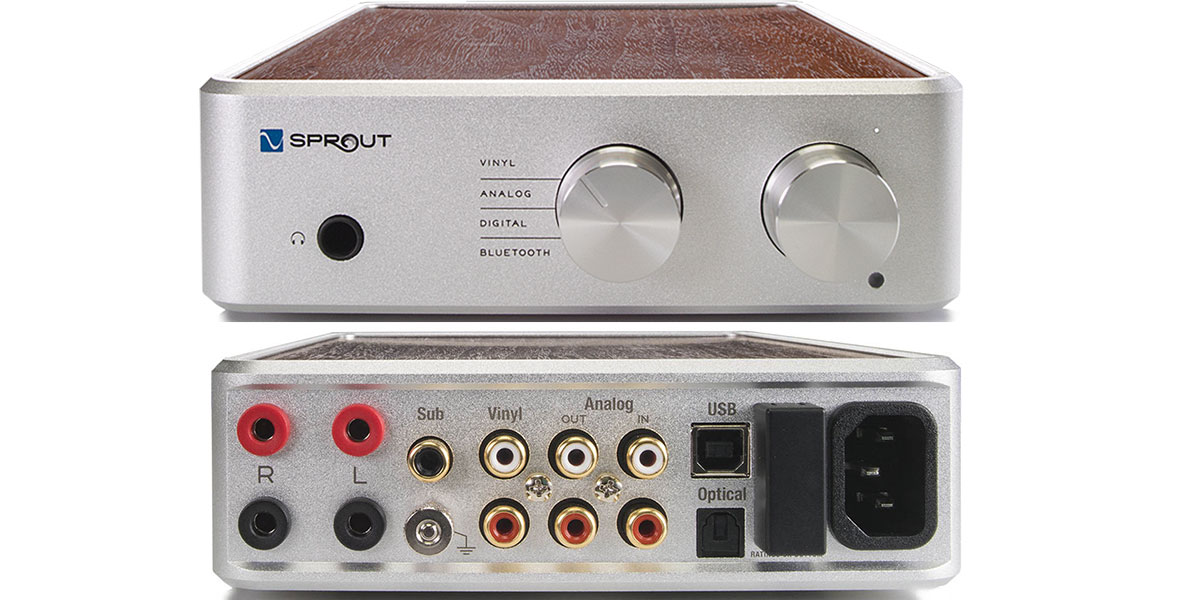 Surfing through the best DACs under 1000, we faced PS Audio Sprout100. A serious and functional filling was placed in a compact package: a DAC based on an ESS Saber 9016 chip, a Bluetooth module, a headphone amplifier, and a Class D power amplifier, generating 50 watts per channel to 8 ohms and 100 watts to 4 ohms.
The updated topology, according to the developers, improved the dynamics and reduced the noise level. The new, fully asynchronous DAC is ready to work with PCM signals up to 32 bit / 384 kHz and DSD up to 5.6 MHz. It is equipped with subwoofer output, speaker outputs, as well as RCA inputs and outputs, coaxial and optical inputs for connecting digital players and headphone output. For fans of forced low frequencies, the Bass Boost function is provided. The kit includes a remote control.
Sprout was created jointly by father and son McGowan under the slogan: "Love for music should not be too complicated," and today it claims to be the "full-featured amplifier for a modern home."
The design of Sprout is carefully thought out and worked out right down to every atom. Thanks to its stainless steel housing, extruded aluminum, and walnut panels, Sprout is not only an audio component but also an element of the interior.
Pros
Sprout is the perfect link in the chain between your music and your speakers
The size of Sprout is no more than a thick book with a novel, but at the same time it is able to fill the room with a huge and full of real-life sound
Cons
The subwoofer sends out a very loud transient when the amp is switched off