It's hard to imagine the life of any person without music. But the quality sometimes brings bad surprises, especially in budget devices.
Each audioholic has a set of audio equipment, which is regularly updated and modernized. Modern technology is focused on digital sound, so it is equipped with the appropriate connectors: optical, coaxial, HDMI. The question arises – how to connect your favorite analog speaker systems to it that fully satisfies all your needs?
For these purposes, the best DAC under 50 has long been invented, characterized by compactness and power. DACs at this price range allow you to convert the original digital signal to analog and synchronize with playback devices through a standard RCA connector or 3.5 mm jack.
We have compiled a list of the most appealing DACs based on expert reviews and comments from real customers. There are many competitors in the global technology market, but we have selected the best manufacturers and recommend paying special attention to them. Our advice will help you make the best choice for your requirements and desires.
Budget DAC Reviews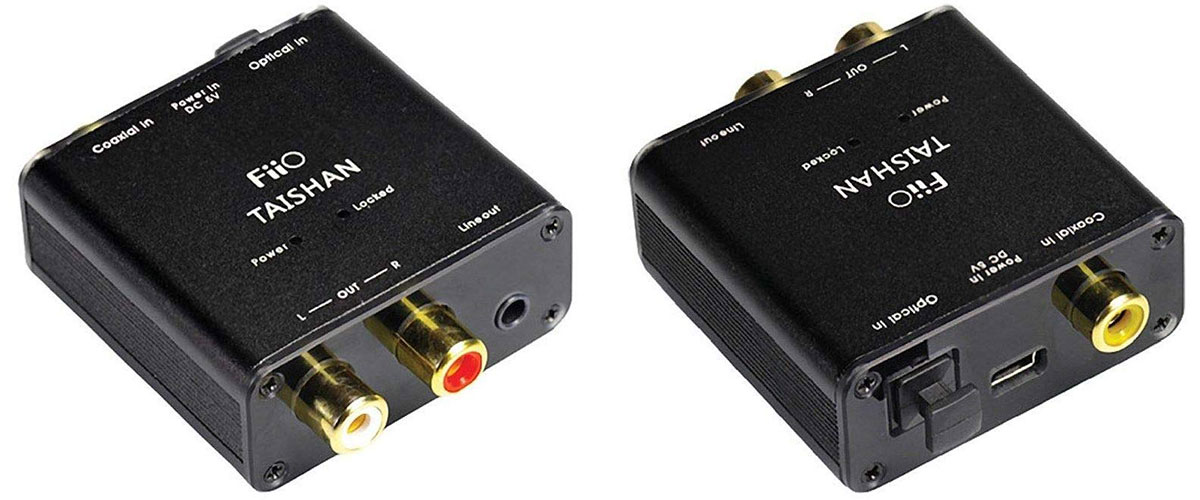 This device is a digital-to-analog converter, made in a miniature case. FiiO D03K has optical and coaxial inputs for supplying a digital stream, and an analog stereo output, represented by RCA connectors and a mini-jack jack. The device can be used to connect players or televisions with digital outputs to analog integrated amplifiers or mini-systems in order to improve the sound quality of the system. And thanks to the 3.5 mm output jack, you can connect, for example, wireless headphone transmitters that are not equipped with other types of connectors to the device. This device will help out in many other cases.
FiiO D03K is the best DAC under $50 as far as it provides signal processing with parameters up to 24 bit / 192 kHz, and is equipped with a miniature slide switch inputs (coaxial/optical). To indicate the start of data conversion (Signal Lock), the corresponding LED is used. The device is powered by a USB cable connected to the converter via a standard USB connector. The D03K circuit is made on a miniature circuit board with shortened signal transmission circuits, which minimized the level of interference. The metal case of the converter also serves to protect its electronic part from external interference and is painted black. Miniature dimensions allow you to hide the DAC behind the player or TV, using the minimum length cables to connect it.
Pros
Despite the small size and simple appearance, FiiO D03K provides much higher sound quality than the built-in converters of most models of DVD and BD-players, as well as media players
The device copes very well with its main work and is one of the most beneficial ways of improving the stereo quality of many audio systems in terms of quality and price
Cons
It should be borne in mind that this device is designed to work only with a PCM stream, and cannot decode audio information in Dolby Digital or DTS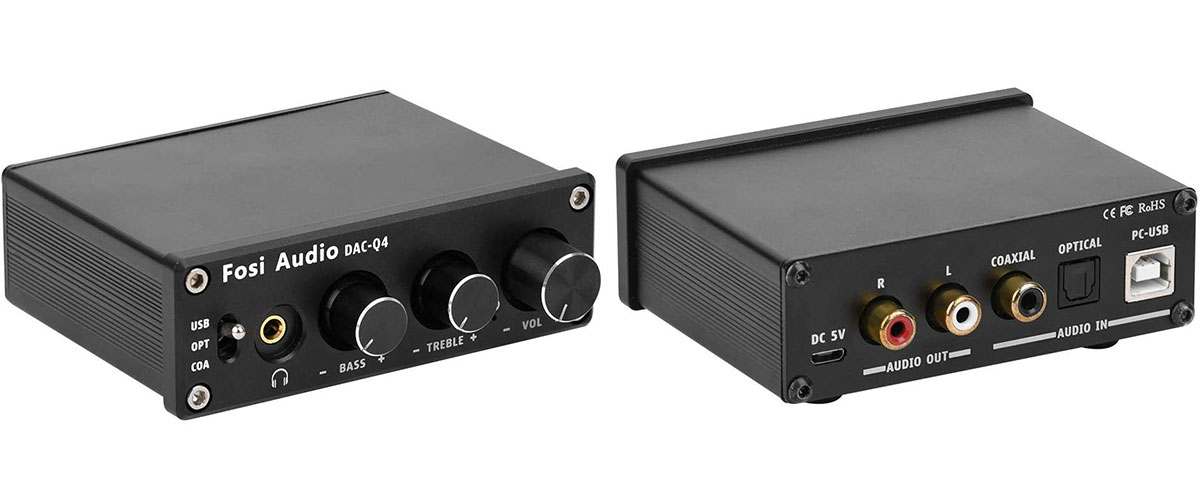 When you want to enjoy the music with a better sounding, you mostly take headphones. Therefore, the DAC must have a headphone amplifier. That is exactly what you can get with Fosi Audio Q4.
It does not require any driver or software to make it work. Simply connecting all the required cables allow you to just Plug and Play. This digital audio adapter has optical, coaxial S/PDIF, and USB mini jet inputs. This is more than enough for most audio systems.
In addition, its RCA output can be connected to powered speakers or an amplifier. Making the list of the best DACs under 50, we have found out that it has a mixed power type. On top of that, there are appropriate cables like USB type B and 5V USB power supply cable you receive together with a unit. Moreover, it covers up to 24 bit/192KHz HD, which allows you to listen to your favorite music with the best quality.
Pros
The device has a metal case that protects all internal parts
Ability to tune jitter and bass using external switches
It is compatible with both old and new consoles, TVs, CD / DVD players and satellite receivers
Cons
You may notice insufficient trembling when listening through headphones
It may happen that the device isn't recognized by Windows and requires installation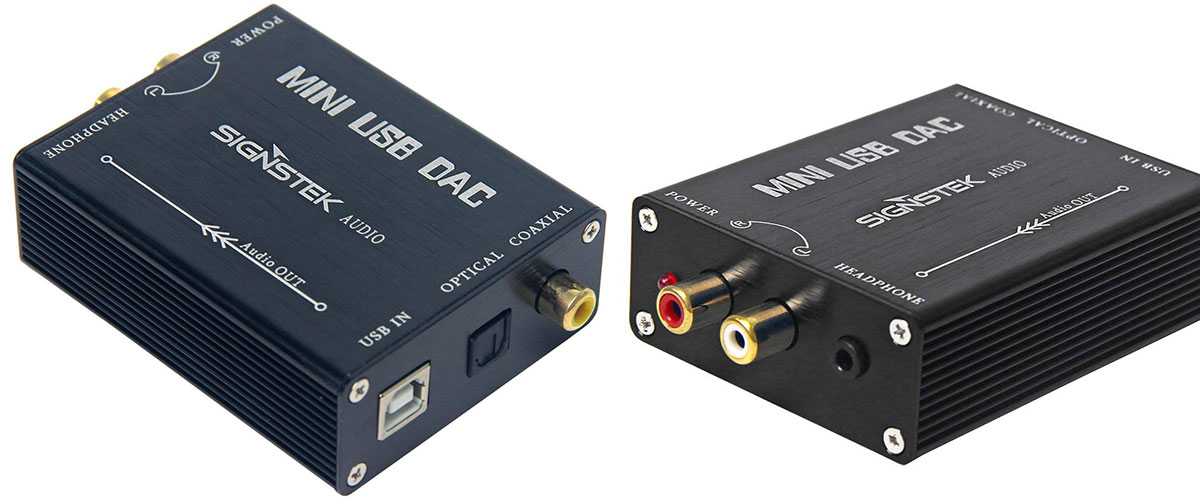 In most cases, people who need to buy the best DAC below 50 do not listen to music in one place. They can walk outside, at the office or at home with a pair of headphones. Fortunately, Signstek understands that, and it has created not expensive and portable DAC for everyday use.
It can be simply powered with a USB, and you do not need to install any software or drives to run it. This unit has optical digital, analog, and coaxial outputs and 3.5 mm stereo output for your headphones.
Due to plastic housing, it does not weight so much to carry it with you, and it outputs a more stable and pure signal. Signstek has become very popular on the market due to a PCM2704 USB chip. It is a TI's single-chip with USB-compliant full-speed protocol controller and S/PDIF that works with no software code.
This little box is quite remarkable for the price. Setting up was a breeze, and the D/A was remarkably good for the price. It certainly can't compete with the big boys, but it will blow away your laptop sound output (be aware, you'll also need a headphone amp for headphones).
Pros
The aluminum case provides good protection of all internal parts
Compatible with the latest consoles and smartphones
Thanks to the compact design, sockets can be easily removed
Cons
As a result of not so continuous operation, it overheats and stops working until the unit cools down