Thanks to the global transition from analog to a digital platform, music technology has since perfected musical sound and audio outputs. However, most older storage devices are still incompatible with the latest audio outputs and vice versa. Fortunately, the digital-to-analog converter was invented to save the situation.
This piece of equipment simply converts digital signals to analog format, allowing users to transfer content and music from digital storage devices to analog output devices. Nevertheless, as in any other industry, tens of hundreds of DACs are on the market. Despite this, most of these devices are sold for huge amounts, blocking people who cannot afford expensive investments.
Despite the need to obtain good output characteristics from the DACs, it is also necessary to find the best of these devices, which at a reasonable price combines the universal dream of entertainment. With this in mind, we selected and tested over 50 copies to find the best DAC under 500. As a result, we narrowed to the top 5 for your consideration. Let's see them!
DACs Under $500 Review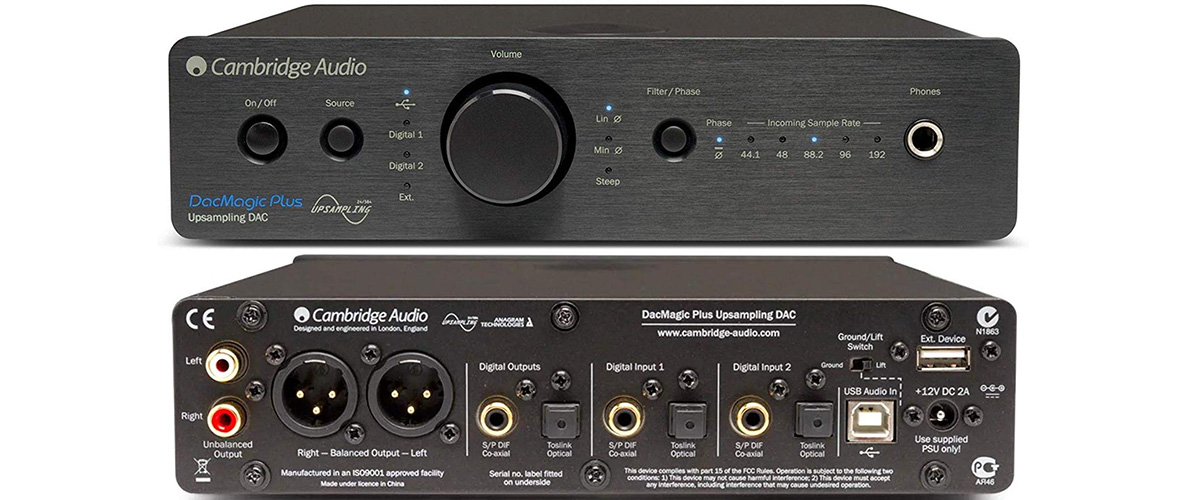 Cambridge Audio DacMagic Plus is the next step in the development of the successful DacMagic line. The device differs from the classic DacMagic model with a redesigned USB input – now it supports USB audio stream playback with parameters up to 192 kHz / 24 bit with proprietary drivers and 96 kHz / 24 bit without drivers. In addition, Dacmagic Plus is equipped with a headphone output and pre-amp mode.
For the upsampling of the signal in the Cambridge Audio DacMagic Plus DAC, ATF2 technology, developed jointly with the Swiss company Anagram Technologies, is responsible. It allows intelligent interpolation of the digital input signal to a signal with 24-bit and 384 kHz characteristics by using the 32-bit Digital Signal Processor Analog Devices. Two pieces of Audiophile DAC Wolfson WM8740 are responsible for signal conversion.
The entire rear panel of the device is reserved for connectors. It housed a USB input, two digital inputs, and one output, an RCA, and XLR line output, which will allow you to connect any equipment, including professional, to the DAC. You can also connect a BT100 adapter (optional) to the device, which allows you to transfer high-quality music in wireless streaming mode from your iPhone, Android smartphone, iPad, tablet, laptop, or any other device that supports Bluetooth, to DacMagic Plus.
The Cambridge Audio DacMagic Plus DAC has three filtering functions: Linear Phase (Linear Phase Filter), Minimum Phase (Minimum Phase Filter), and Steep (High Slope Filter). The manufacturer recommends experimenting with filters and choosing the one that provides the optimal playback quality for each signal source or audio material. The DacMagic Plus DAC remembers and uses a filter type separately for each input, so you can assign a filter with a high cutoff slope for the USB input, a linear phase filter for digital input 1, etc.
Cambridge Audio DacMagic Plus is a truly universal device considered as the best DAC under $500 on the market. It will bring the sound quality of music files to the level of true Hi-Fi.
Pros
By and large, DacMagic Plus is not just a DAC, but a whole combine that includes a preamplifier with switched digital inputs and an amplifier for headphones
Interestingly, the cascade with volume control can be disabled
Cons
The upsampling off button and the remote control would still not hurt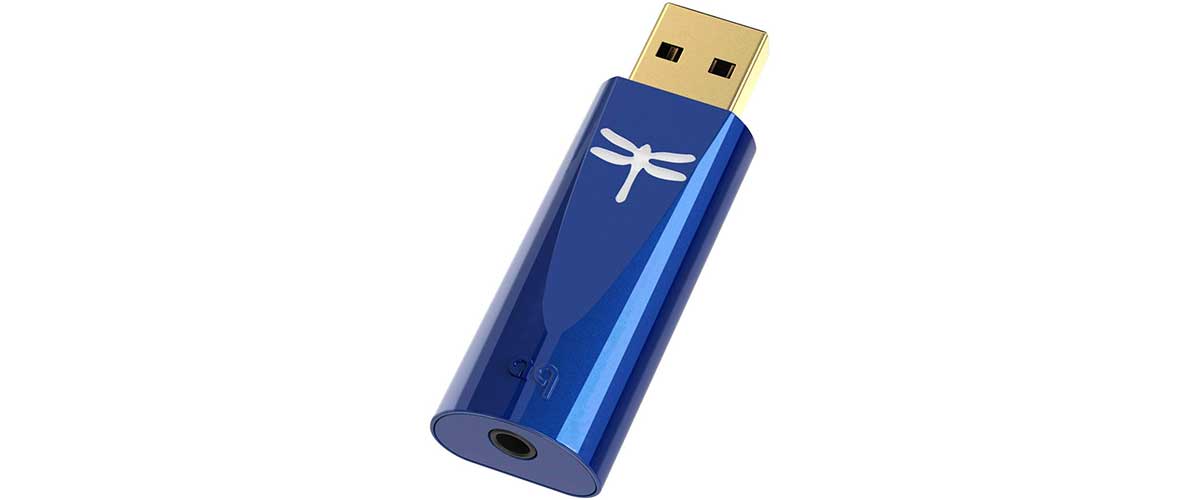 Like DragonFly Red, the Cobalt model has a reliable 2.1 V output for working with almost any headphone, it uses a high-class digital volume control that provides a high signal to noise ratio, is fully compatible with Apple and Android gadgets, and is also of high quality and an affordable MQA record decoder.
Unlike the previous model, this unit firmly stands among the best DACs under 500. The achieved results became possible due to a number of improvements:
for a more natural sound, Cobalt has modern advanced ECC ES90 ESQ38Q2M DAC chips with a minimum-phase filter. However, they are noticeably more expensive than those used in the Red and Black models;
the new high-end microprocessor PIC32MX274, which is used in the flagship model, consumes less current and increases the processing speed of commands by 33%;
to improve protection against Wi-Fi, Bluetooth interference, as well as the noise of cellular networks, power filtering has been improved;
the package includes a DragonTail USB-A to USB-C cable that matches the quality of the Carbon line.
Like all previous DragonFly models, Cobalt uses StreamLength code developed by Gordon Rankin for asynchronous USB data transfer. Moreover, according to the monoClock technology, which he proposed, the only ultra-low jitter clock with which the ESS ES9038Q2M DAC is equipped provides the functioning of both the ESS chip and the microcontroller. This allows you to give the DragonFly Cobalt sound greater detail and clarity than is achievable with a multi-oscillator DAC.
The Cobalt DAC is equipped with an ESS Saber 9601 headphone amplifier and digital volume control with bit-wise accuracy, which guarantees maximum tuning clarity, wide dynamic range, and excellent signal to noise ratio. The 2.1 V output voltage allows DragonFly Cobalt, like the Red models, to work confidently with many headphones, including models with low sensitivity.
Pros
Desktop Device Manager allows you to determine the DragonFly serial number and software version to verify its relevance
The dimensions of the latest DragonFly are 10% smaller than its predecessors
Cons
I could see the 3.5mm jack moving inside just by shaking it a bit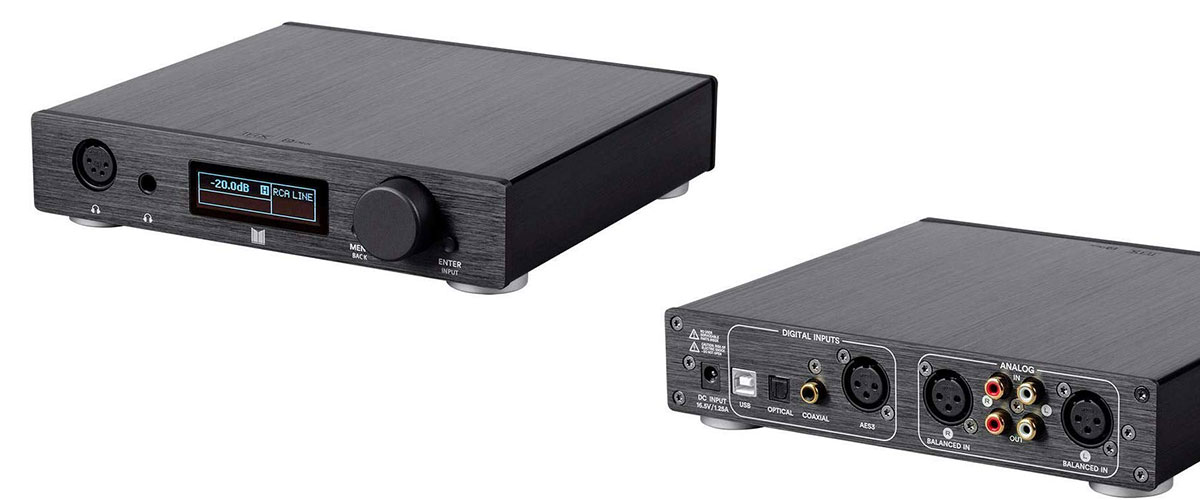 Monolith 124459 is one of the few headphone amplifiers to use THX Achromatic Audio Amplifier (AAA) technology. Most amplifiers reduce distortion by supplying part of their reverse-phase output back to their input, which eliminates most of the distortion.
Although Monolith 124459 has balanced and unbalanced inputs and outputs, all incoming analog signals are digitized so that they can be passed through the DSP. Theoretically, this can lead to a slight loss of accuracy when digitizing an analog signal, but this can be avoided by using one of the Monolith 24459 digital inputs, which includes USB, optical TosLink, coaxial RCA and AES3 XLR.
DSP options include high-frequency and low-frequency shelves that reduce or amplify high and / or low frequencies by up to ± 6 dB. The frequency for bass shelves is adjustable in the range of 60-200 Hz, and for high frequencies – 5-12 kHz. There are also five parametric equalizer bands, each of which can enhance or reduce a specific sound band to ± 6 dB, and the Q (passband) filtering is adjustable from 0.5 (wide) to 5 (narrow). The center frequency of the band is selected by the user from 20 Hz to 20kHz in steps of 1 Hz to 100 Hz in steps of 10 Hz from 100 Hz to 1 kHz and in steps of 100 Hz from 1 kHz to 20 kHz.
Pros
It seems very neutral and is extremely clear with outstanding separation
You don't have to raise the volume nearly as high to get that 'full' feeling to the music or audio
Cons
May seem unattractive for who is not a huge fan of the black box aesthetic or the digital menu system and volume knob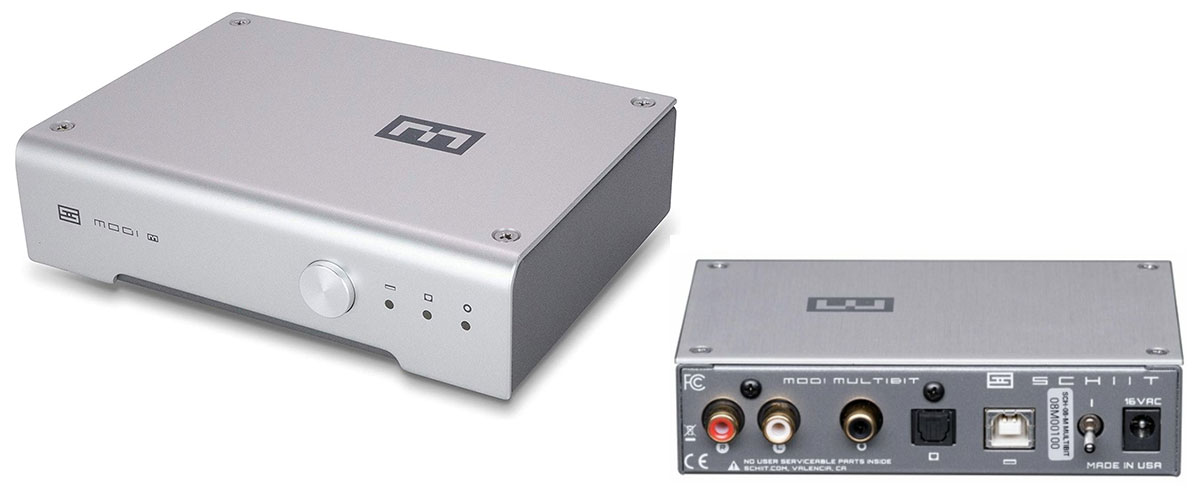 Choosing the best DAC under 500, we could not include this model in our rating. The heart of the DAC is the dual-channel AD5547 chip from Analog Devices, Inc. (USA) accepting for processing a signal from 16-bit 44.1 kHz to 24-bit with a frequency of 192 kHz, and plays high-precision files of 176 and 192 kHz in NOS mode – without oversampling. The input interfaces are USB, optical (Toslink), and coaxial (RCA connectors). Microcircuits like AD5547, the masters of creating audio devices, were "soldered" from high-precision medical equipment, the task of which is to accurately show the picture of the state of the human body and not to make it beautiful.
Another powerful notion from Schiit Audio engineers used in MM is a proprietary digital filter. In a manner typical of the "Shiites," they called their offspring a donkey ("Burrito"), but this is just irony – the filter acts with enviable stubbornness, but is extremely reasonable, cutting only noise and preserving valuable particles of sound. By the way, the older brother Schiit Bifrost has the exact same filter on the Analog Devices SHARC DSP chip. That moment when it is pleasant to compare price tags (at Modi 2 Multibit, the price should be divided into two).
Pros
Excellent sound quality for its price category
A variety of digital inputs to connect any audio source
I really liked a very solid assembly
Cons
Whatever one may say, but not everyone will like the lack of a built-in headphone amplifier in a compact DAC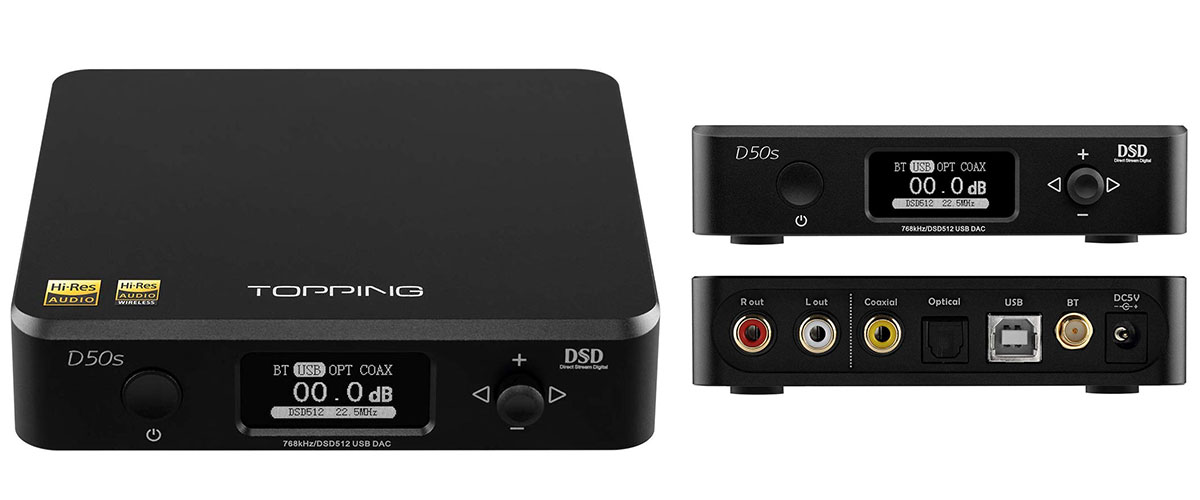 Another candidate to be the best DAC below 500 is D50S. It is a high-performance desktop DAC with USB, coaxial and optical inputs, and line output (RCA). In addition, it features a 0.96-inch OLED screen to display detailed information.
This is a DAC on two top chips, ESS technology ES9038Q2M. The USB input is made on the XMOS XU208 (this uses a modified driver from Thesycon to best play DSD in Native format). The DAC supports files up to 32 bit / 768 kHz (PCM and DXD) and DSD64-512.
The Topping D50 has 7 built-in digital filters installed by default in the ES9038Q2M. So you can adjust the sound of the device a little for yourself.
All device inputs support work with the DSD64 format. In the DAC, very low noise blocks are used, and 3 OPA1612 operational amplifiers are involved in the analog part.
Topping D50 also has an automatic on and off mode. The unit turns on if a signal is received at one of the inputs, and turns off after a minute if playback doesn't resume. You can also enable screen off if you do not need it when listening to music. It will shut off after 30 seconds. The brightness of the display is adjusted through the device menu.
Pros
The idea with the "24-bit" volume control implemented in the Topping D50 is certainly wonderful
It allows you to fully enjoy the audiophile sound if you do not have top-end components
Cons
The disadvantages include the lack of a power supply
I would like to have a remote control here