Sadly, one cannot but admit that digital-to-analog converters are one of the most widely ignored Hi-Fi components by the general public. A good and properly connected DAC can dramatically improve sound quality. If you want to make sure of this, read our material.
The sounds that we constantly hear – traffic noise, working instruments, a crying child in transport – are acoustic waves that propagate in the air to our ears in an analogous fashion.
Analog recordings were published on vinyl discs and cassettes. However, the unwanted noise and unreliability of these media stimulated the search for new formats. The advent of the CD paved the way for the digital revolution. Today, almost any digital component is equipped with its own DAC, but not all DACs are created equal. To begin with, they may not support all file types. Bad models can introduce unwanted noise into the sound due to poorly designed PCB designs or cause distortion due to jitter. That's why it is crucial for an audiophile or just those who want to enhance there listening experience to buy the best DAC. In this review, we separated goods into categories by value and application.
If the application is quite clear, then let's see what is the difference between price tags. Under $200 is for people who don't have a clue what DAC should he get. They are perfect for customers with a limited budget and a desire to start somewhere. Under $500 – if there is money, and you want to take a device that will deliver quality for many years. Both groups have the perfect combination of price and quality. If you want to take the device once and forever, then look for under $1000. There you can find the ideal quality and the latest technology.
DACs comparison table
DAC
AMP
Chip
Sample rate
Review
SMSL Sanskrit 10th

budget

no
AK4490EQ
32bit/384KHz
Review
Topping DX3 Pro

under $200

yes
AK4493EQ
32bit/768KHz
Review
Cambridge Audio Azur DacMagic Plus

under $500/Combo

yes
Dual Wolfson WM8740
24bit/192KHz
Review
Marantz HD-DAC1

under $1000

yes
CS4398
24bit/192KHz
Review
Chord Hugo 2

premium

yes
Xilinx Artix 7
32bit/768KHz
Review
EarStudio ES100-24bit

portable/for IPhone

yes
Dual AK4375a
24bit/192KHz
Review
Sound BlasterX G6

for gamers

yes
Cirrus Logic CS43131
32bit/384KHz
Review
Best DAC under $100
SMSL Sanskrit 10th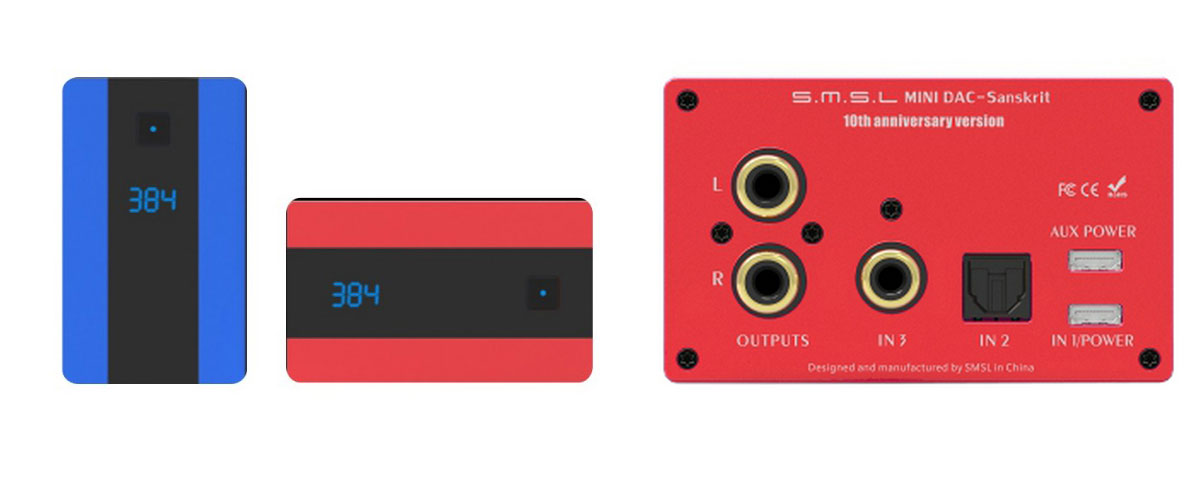 Sanskrit 10th DAC with S.M.S.L. built on the basis of the AK4490EQ chipset and the XMOS U30870C10 USB controller. The device is assembled in a compact aluminum housing. The Sanskrit 10th provides the ability to control the volume level and the choice of digital inputs from the remote control. There are only three inputs: USB, optical, and coaxial.
At the same time, two USB connectors are located on the rear panel of the device. While one is responsible for receiving the audio signal, the second Sanskrit 10th receives power.
By USB, Sanskrit 10th is compatible with most common computer platforms and is capable of supporting digital audio formats up to DSD 11.2896 MHz / 1 bit and PCM 32 bit / 384 kHz. According to the manufacturer, Sanskrit 10th fulfills the 117 dB dynamic range with a non-linear distortion coefficient of 0.0005%.
The front panel of the best DAC below 100 received only one power button, which, in combination, allows you to select a digital audio signal source. There is also a digital indication of the bitrate being worked out, for which a small segment liquid crystal display is responsible.
Key specs
Headphone amp: no
DAC chip: AK4490EQ
Max. sample rate support: 32bit/384 kHz
Bluetooth: no
Inputs: optical, coaxial, micro USB
Outputs: RCA phono
Pros
Sanskrit 10th equipped with a position sensor in space
The kit provides for remote control, the resource of which controls advanced functionality
Cons
I'm not so sure about the bass yet. Perhaps a little wooly, undefined
Best DAC under $200
Topping DX3 Pro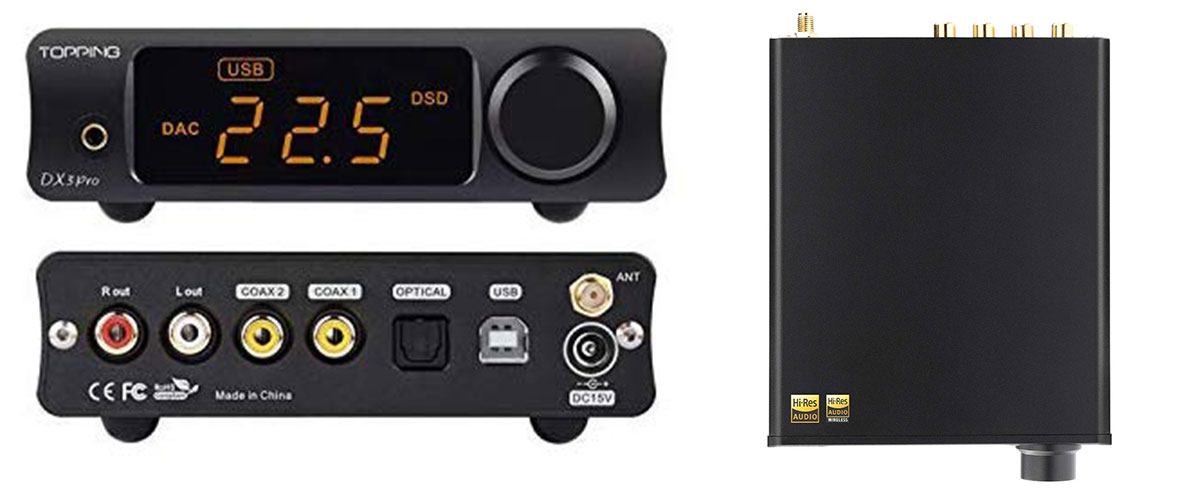 Specifically designed for high fidelity, the DX3 Pro only combines components recognized for their sound quality.
As a USB interface, the X20OS U208 chip controls the USB input. The latter supports high-frequency digital audio streams and provides compatibility with its own DSD.
The digital-to-analog conversion is handled by two 32-bit AK4493EQ DAC chips. This is an upgraded version of the AK4490EQ, which has a distortion and signal-to-noise ratio more advantageous than its parent model while retaining all the technologies that have proven its success. It includes the famous Velvet Sound with increasingly precise digital filters.
The best DAC for the money of about 200 is equipped with a USB 32 bit 768 kHz input (XMOS U208), two coaxial inputs, and 24 bit 192 kHz input optics (AK4493EQ).
As an output, the DX3 Topping displays a 3.5mm jack and line out. The output stage develops 2×1000 mW at 32 Ohms or 2×125 mW at 3000 Ohms.
Key specs
Headphone amp: yes
DAC chip: AK4493EQ
Max. sample rate support: 32bit/768 kHz
Bluetooth: yes
Inputs: optical, 2x coaxial
Outputs: RCA phono, 3.5mm
Pros
It supports all modern audio formats, in PCM 32/768 and DSD resolution, although the manufacturer does not specify to what sampling rate
Using Bluetooth 5.0 LDAC, you can transfer hi-res music wirelessly
Cons
The disadvantage is expressed primarily in inconvenient control, which is partially offset by the presence of remote control
Best DAC under $500 and combo DAC/Amp
Cambridge Audio Azur DacMagic Plus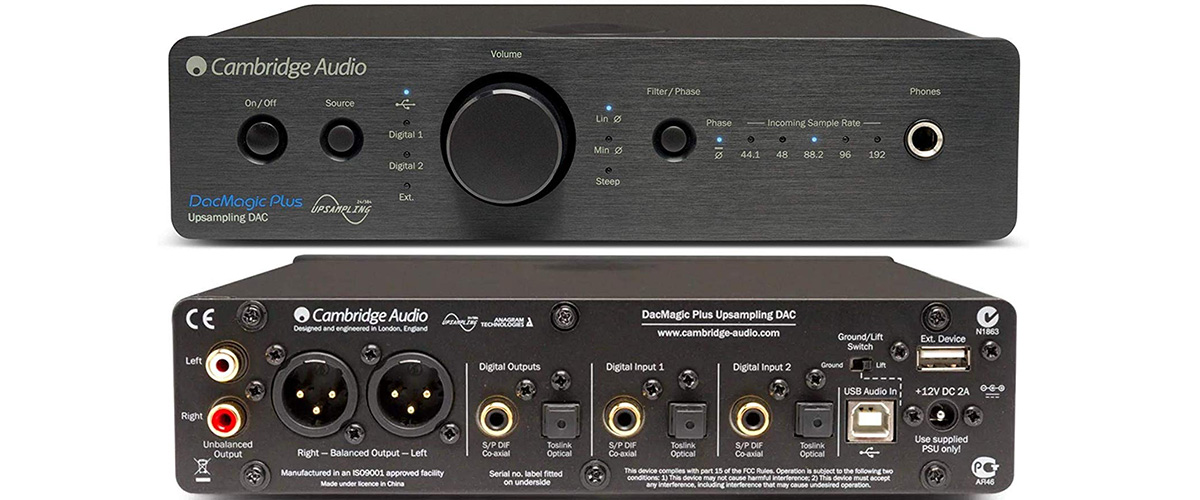 The popularity of Cambridge Audio DacMagic Plus is defined by an excellent combination of price/quality, advanced functionality due to the built-in preamplifier and compact body. One of the strengths of this external DAC is its upsampling technology. Although it doesn't make the CD sound identical to SACD, it improves the details enough to make the difference feel with the naked hearing.
At the heart of the DacMagic Plus are the well-proven two Wolfson WM8740 converters. Anagram Technologies' ATF extends the sampling rate to 384 kHz and more actively resists jitter. Sound transmission via USB has been significantly improved – up to 24 bit / 192 kHz. The preamplifier stage will especially please fans of active acoustics, as it allows, in combination with that, to build an outstanding stereo compactness package without sacrificing sound quality. Fans of large studio headphones will appreciate the new amplifier for them. An additional option appeared in the form of a Bluetooth receiver – the wireless connection of portable equipment is gaining popularity. Of the familiar interfaces, there is one USB and two S / PDIF pairs. The best DAC under 500 can be used as a digital signal converter due to the presence of optical and coaxial outputs.
Key specs
Headphone amp: yes
DAC chip: Dual Wolfson WM8740
Max. sample rate support: 24bit/192kHz
Bluetooth: yes
Inputs: 2x optical, 2x coaxial, USB Type-B
Outputs: RCA phono, balanced XLR, 3.5mm, optical, coaxial
Pros
This is a whole combine that includes a preamplifier with switched digital inputs and an amplifier for headphones
Interestingly, the cascade with volume control can be disabled
Cons
The upsampling off button and the remote control would still not hurt
Best DAC under $1000
Marantz HD-DAC1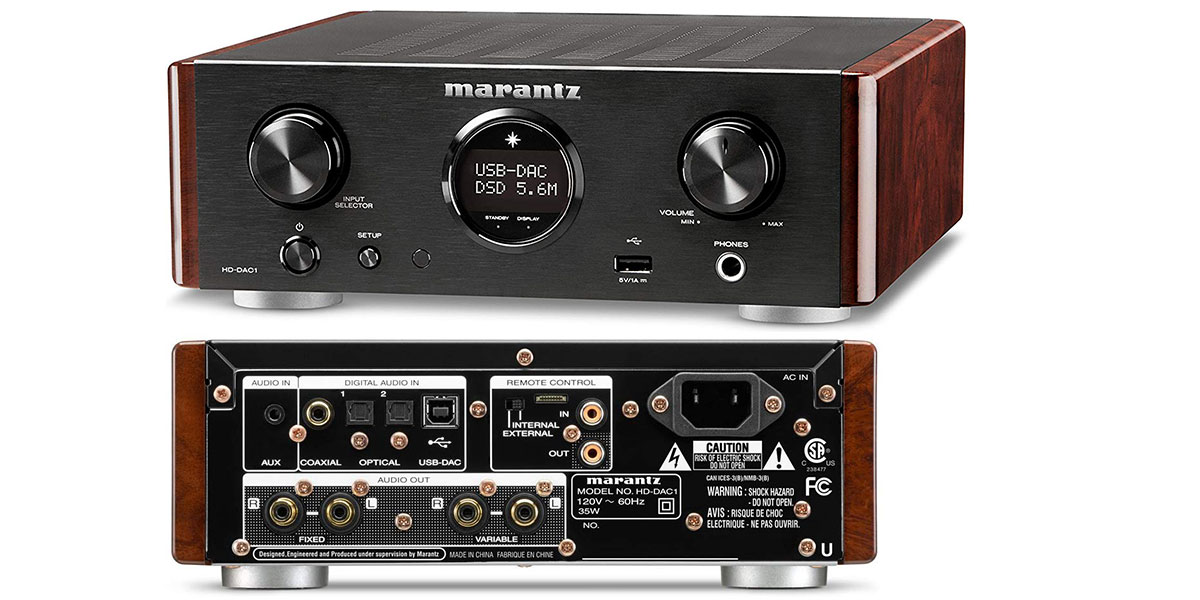 If you decided to get the best DAC below 1000, then don't pass by this unit. The volume control is motorized, enclosed in a special sealed capsule. The power supply is large, heavy, complemented by high-capacity capacitors. The device has two "hearts" – a pair of clock generators for ideal operation at frequencies of 44.1 / 48 kHz and multiples of them. The Brain is the high-current audiophile DAC CS4398. The proprietary Jitter Remover system fights against jitter signal distortion. Asynchronous USB port and Bit-transparent mode allow you to "remove" the signal from the computer, bypassing the "intermediate instances" (in particular, computer memory modules).
The HD-DAC1 has an output power sufficient even for working with audiophile headphones with an impedance of up to 600 ohms – with ease. This was made possible thanks to three-stage gain control, Marantz HDAM modules, a high-current audiophile DAC (CS4398), as well as premium RCA outputs – fixed and adjustable. The outputs are so powerful that you can connect not only headphones to them but also an integrated Hi-Fi amplifier, a couple of active speakers or a power amplifier.
Amplification modules HDAM SA2 are assembled on discrete components of the audiophile class – they are capable of transmitting all the richness of the nuances of HD audio.
Key specs
Headphone amp: yes
DAC chip: CS4398
Max. sample rate support: 24bit/192kHz
Bluetooth: no
Inputs: 2x optical, coaxial, USB Type-B
Outputs: 2x RCA phono, 3.5mm
Pros
Clear and detailed sound, a sense of the depth of the scene and its space
I was very interested in the words of the developers from Marantz that they paid special attention to the reproduction of DSD
Cons
Lack of drive and attack
Not everyone will like the "wooden" design
Best DAC under $2000
Chord Hugo 2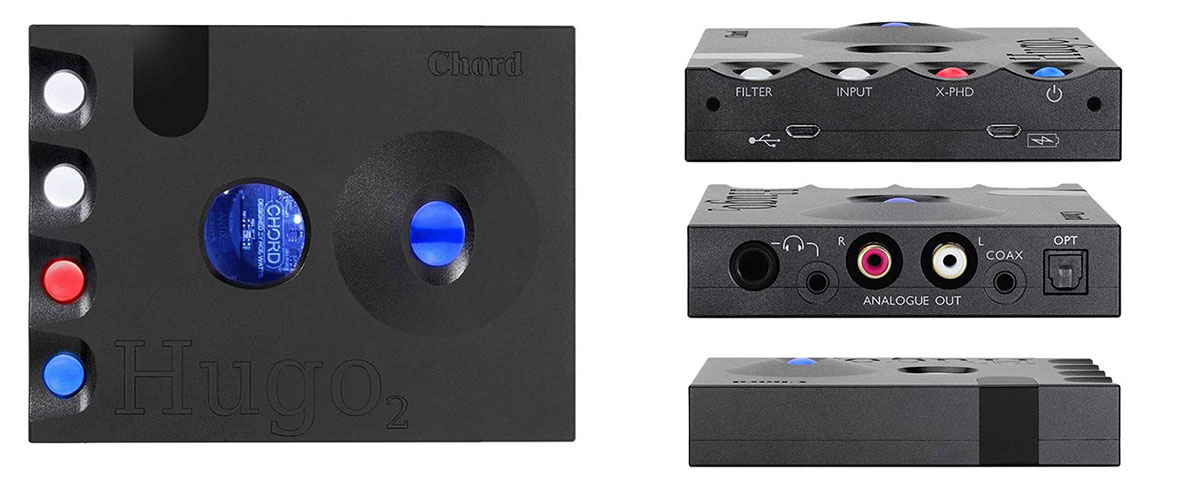 Hugo 2 is equipped with all types of inputs and outputs that you can reasonably wish. The digital optical input (full-size TOSLink) accepts a digital signal up to 24 bit / 192 kHz, and a 3.5 mm digital coaxial signal up to 24/384.
The mini-USB port supports PCM formats up to 32 bit / 768 kHz and DSD512. In addition, music on Hugo 2 can be transmitted via aptX Bluetooth. In addition to the headphone outputs with 3.5 mm and 6.3 mm jacks, there is a pair of stereo RCA outputs for connecting to an amplifier.
The best audiophile DAC at this price tag is equipped with color-changing controls for selecting inputs and volume, as well as for mysterious crossfeed and filters. One of Chord's main advantages, user-programmable gate arrays, has become even more serious in Hugo 2.
We have no complaints about the quality of processing digital audio files. The higher the resolution, the more information Hugo 2 has, and the greater the detail and authenticity of the music. But in any case, it creates a dynamic, detailed, and energetic sound.
Key specs
Headphone amp: yes
DAC chip: Xilinx Artix 7
Max. sample rate support: 32bit/768 kHz
Bluetooth: yes
Inputs: coaxial, optical, micro USB
Outputs: RCA phono, 3.5mm, 6.3mm
Pros
Clarity and purity of sound, excellent tempo processing and uncompromising approach to building a music scene
Crossfeed function is useful when listening with headphones
Cons
Many don't like precision machined aluminum housing
Best Portable DAC and for IPhone
EarStudio ES100-24bit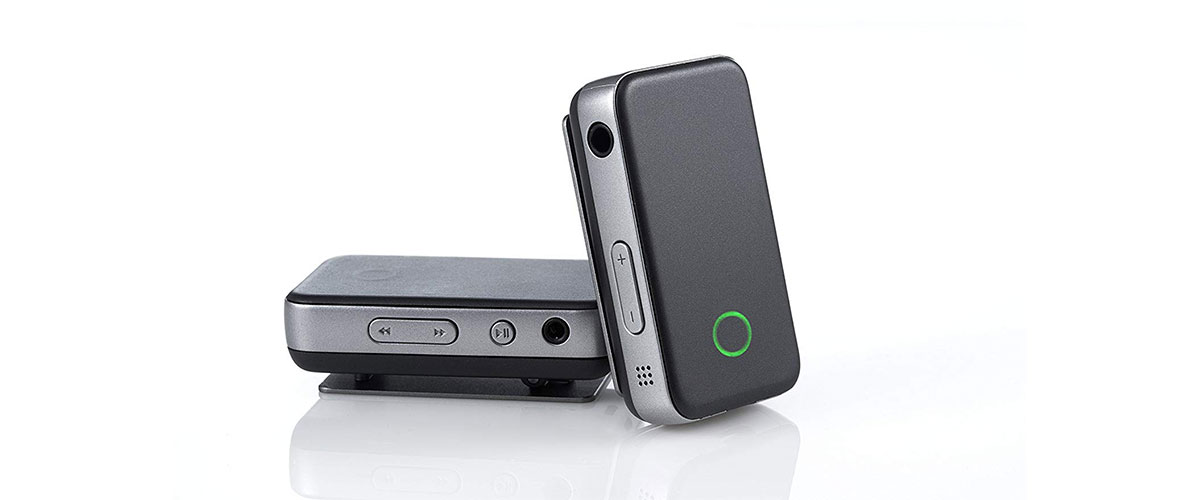 EarStudio is the first and only 24-bit Bluetooth receiver from Radsone. It was designed to deliver studio-quality sound through your wireless headphones.
The supported here Qualcomm aptX HD codec allows you to stream 24-bit wireless music. The company focuses on sound quality as well as usability what is confirmed by the use of the CSR 8675 Qualcomm Chip and 2x DAC AK4375a.
To inform you about the progress of EarStudio, the best portable DAC plays 88.2 kHz / 24-bit Bluetooth audio through Radsone's patented DCS technology, which reduces subtle digital noise and clears the channel of Bluetooth streaming.
The digital volume control has a drawback because it reduces the sampling of the PCM audio signal to D / A conversion, which leads to a sharp sound and loss of sound, SNR, as well as THD. EarStudio offers analog volume control to maintain optimal sound performance even at low volume levels using the programmable gain amplifier (PGA), which is the best way to control volume.
The bluetooth DAC has two outputs: a single/dual channel 3.5 mm jack and a fully balanced / dual 2.5 mm jack.
Note: if you buy it as a DAC for iPhone, then you still need a cord or connect via bluetooth.
Key specs
Headphone amp: yes
DAC chip: Dual AK4375a
Max. sample rate support: 24bit/96kHz
Bluetooth: yes
Inputs: micro USB
Outputs: 3.5mm, 2.5mm
Pros
Separate channel gains
Undoubtedly sound improvement and low THD and background noise
Cons
Incredibly tiny hard to use buttons
Frequent BT disconnects after several weeks
Best DAC for gaming
Sound BlasterX G6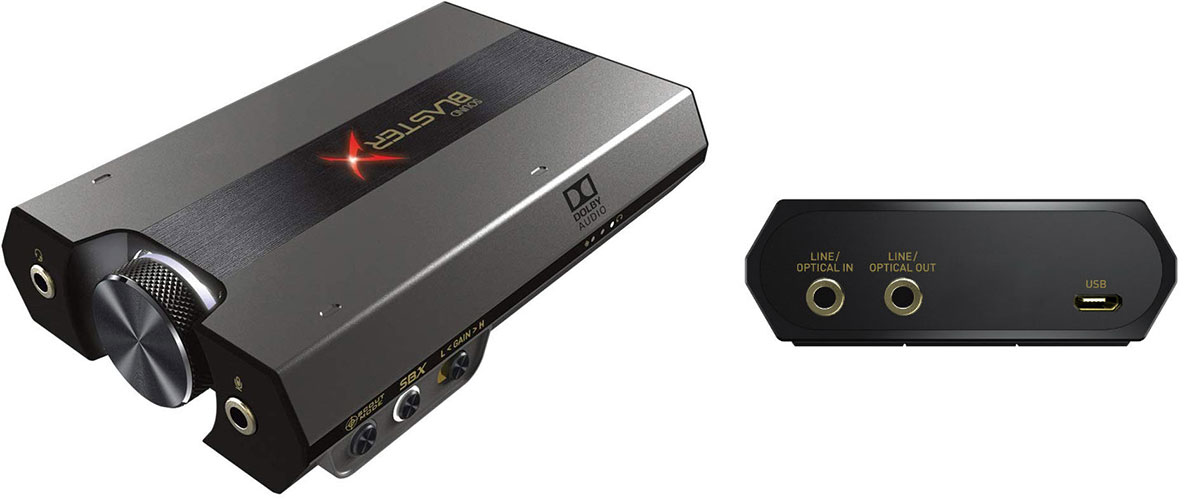 This is the second product of the new generation with an advanced 32-bit 384 kHz DAC and a discrete Xamp headphone amplifier.
Creative packed all the hardware stuffing in a rather compact package. A hexagonal profile with a highlighted logo immediately hints at a game orientation. In general, appearance can be called pleasant. If you have other peripherals with RGB-backlight from Creative, then synchronization is possible.
The workmanship of the compact case is excellent. Bottom Creative added a rubber coating to ensure a reliable grip. However, due to its light weight, the case slides on the table anyway when you press the buttons or switch the toggle switch.
Creative brought the two most important interfaces to the front panel. On the right and left are 3.5 mm jacks for connecting a headset, that is, linear output and a microphone input. The remaining interfaces are located on the rear panel of the compact case. Namely, a USB port for connecting to a computer or power in the case of a game console. Two more 3.5 mm jacks are responsible for digital connection (input and output). So the best DAC for gaming – Sound BlasterX G6 – provides a sufficient number of interfaces for most of the possible scenarios.
Key specs
Headphone amp: yes
DAC chip: Cirrus Logic CS43131
Max. sample rate support: 32bit/384 kHz
Bluetooth: no
Inputs: optical, micro USB, microphone
Outputs: 3.5mm, optical line out
Pros
Possibility of direct sound output without processing
Sound BlasterX G6 can be used on game consoles without additional efforts, but in the case of a PC, you must install the driver and utility
Cons
I would love if optical connectors were dustproof
Buyers Guide
Does DAC make a difference
The end result will depend not only on how the DAC is implemented with amplification or rectification of the analog signal that comes from it but also on your personal tastes or the sensitivity of the equipment you have to be able to listen to changes in sound.
"Difference" here will largely depend on the objective adequacy of the apparatus and your personal tastes.
If you listen to MP3 at 192 kbps using Apple headphones, a "good" external DAC will do nothing for you, and it's better to spend money on something else.
DAC Types
Standalone DACs can be USB-enabled devices and a simple pair of analog outputs; not only data is transmitted via the USB connection, but also the voltage necessary for the DAC circuit to work. There are also DACs that require mains power, so keep that in mind.
DAC / headphone amplifiers provide analog outputs for your speakers, as well as a (mostly) separate output for your headphones. They often include a hardware volume control for the preamp, which can also be controlled by software that allows you to reduce or increase the nominal power supplied to your banks.
Portable DACs connect to smartphones or tablets, usually via USB-C mini-ports, and almost certainly include a headphone preamp. They can also be used as a computer DAC. By the way, DACs with only optical or digital inputs SPDIF are used to convert digital-to-analog sound, say, into A / V receivers, televisions, digital set-top boxes, and the like.
DAC Setup
DACs are mainly USB devices that, when connected, replace existing internal headphones/line-out. Usually, they are connected to gaming devices, which means that the operating system of your computer will immediately know that they are present, what they are (up to the brand/model) and what they are doing.
You may need to install drivers (application menu sound settings) for some DACs;
After connecting, the DAC is displayed in the "Settings" / "Preferences" sound menu in the playback settings, and you will need to select it from the scrollable menu to make it the preferred hardware output for playback;
You need to disconnect the physical connections from the existing output (for example, headphones, active speakers, or an amplifier with passive speakers) and reconnect the outputs to the outputs of the external DAC.
DACs featuring a headphone amplifier with headphone control (volume knob) provide added flexibility. Some DACs require volume control from the playback device itself (using software control). More advanced DACs will offer you a choice of digital input sources that allow you to switch between a laptop (USB), Blu-ray (or the like) connected via additional optical or SPDIF connections. In such cases, the DAC sends several digital sources to only one analog pair of outputs (DAC outputs) that feed the analog audio signal to the speakers.
What is PCM audio
PCM (Pulse Code Modulation) describes a process that is used to convert analog audio signals (represented as signals) into digital audio signals (represented by ones and zeros – much like computer data) without compression. This process allows you to record a musical performance or movie soundtrack to fit in a smaller space, virtually and physically.
Converting analog-to-digital audio signals in PCM format can be difficult depending on the converted content, the required or desired quality, and how the information is stored, transmitted, and distributed.
Fundamentally, a PCM audio file is a digital interpretation of an analog sound wave. The goal is to accurately reproduce the properties of an analog audio signal.
Analog conversion to PCM is done through a process called sampling. As mentioned above, analog sound travels in waves, unlike PCM, which is a series of ones and zeros. To capture analog sound using PCM, you need to sample specific points of the sound wave coming from a microphone or different analog audio source. The amount of analog signal that is sampled at a given point (called bits) is also part of the process.
What is DSD
DSD stands for Direct Stream Digital. This is a high-resolution format that generates a high-resolution signal, different from that used by the PCM system, and which can be transmitted as WAV, FLAC, ALAC or AIFF. If we look at a 24-bit 96 kHz file, usually used with a high-resolution sampling rate, it contains a 24-bit stream of information. This information stream is then sampled 96,000 times per second, which gives us a frequency of 96 kHz for receiving a signal, which is then converted to an analog DAC signal. The system has been used since the advent of the CD (which uses the 16 / 44.1 kHz signal), and it also provides the basis for how our ATF sampling process works.
DSD takes a different approach to creating high-resolution audio. Instead of using many bits of information in a signal, DSD uses one bit. However, instead of fetching information several thousand times per second, this single bit is sampled 2.8 million times per second to generate an audio signal. The result is a high-resolution signal that is generated in a completely different way.
Should I care about sampling rate and bit depth
If you are serious about audio, these two numbers are important. They determine the amount and quality of audio information that your DAC can process, and, as a rule, the higher the numbers, the better your sound should sound. However, in almost all cases, the limiting factor will not be your DAC, but the quality of the audio stream you are listening to. There are several services that use high sampling rates and bit depths (a good example is Tidal Masters), but if you're not an avid audiophile, you don't need to worry too much about these numbers.
Will a DAC make my headphones louder
If you have a DAC that has a built-in amplifier, so you can connect the headphones directly to it and increase the volume. But note that some DACs are more capable than others of controlling high impedance headphones. For example, Sennheiser HD800 headphones are rated at 300 ohms, and if the DAC is not designed for this, the sound can be very quiet. In comparison, your everyday gaming headset has a much simpler 32-ohm control.
Digital jitter explained
Jitter actually means time distortions of playback of a digital audio signal. So let's figure out where it comes from and how to prevent it.
DAC has only one important task – to transform digital values to analog voltage level sequences. Basically, it has to provide users with aligning the time distance between two different audio files. However, synchronization is not always ideal and the restored signal still remains distorted but seems more smooth and harmonious in comparison with the default one.
Should I buy an external DAC or just upgrade the sound card for my computer
I shall admit that there is no certain answer to this question. Opinions vary from person to person. If you want to improve audio quality without any specific features – buying a sound card is not a big deal. Another thing is considering having a DAC. It is more helpful when you want to produce maximum quality audio, record on your own, etc. The price is also a point. Sound cards are a lot cheaper than DACs, so primarily, you have to realize what budget you can actually rely on.
Will a DAC make Spotify sound better
Basically yes, it certainly will. Technically, everything is not that simple. DAC can make a perceptible difference but in fact, everything depends on other components you use, and mostly, the room you are going to listen to and stream music. It's important to understand that the room will always have the biggest impact on the streamed sound, followed by speakers. While using Spotify, there certainly are some improvements, but they aren't worth the money you will spend on DAC.
DAC сonnections explained
Before mentioning every connection type, let's talk about the basics – balanced and unbalanced connection types. Mostly, they show their influence right after the sound has been converted from digital to analog. Balanced connections cause the effect when basic noise gets out of phase with itself, so it actually eliminates. Most popular cables still remain XLR and TRS that are used to transmit balanced audio from one balanced device to another.
Unbalanced cables are much more simple and not that complicated but on the contrary, they cause more troubles with noise. Unbalanced lines should be short, under 25 feet approximately. This is to minimize any possible noise that may appear.
RCA phono – unbalanced
RCA phono is the most known type of audio output. It is usually recognizable as a pair of white/red phono plugs. It sends stereo audio over a right channel that is marked as red, and a left channel marked as black or white. They're unbalanced ones, that's why they actually don't run over 25 feet. In the digital audio scope, RCA outs are also widely used for S/PDIF connections.
3.5mm mini-jack
Mini-jack if you feel unfamiliar with this name, actually, you may have heard something like a phone jack, audio jack, headphone jack, or jack plug, right? Well, it is a family of electrical connectors typically used for analog audio signals. It can either be mono or a stereo version. The mono version will have one ring on the barrel of the jack itself – and the stereo version will have two. The mini-jack is usually used for transmitting analog mono or stereo audio signals.
XLR Out – analog
XLR connectors are generally 3-pin connectors: positive, negative, and ground. They transmit microphone or balanced line-level signals. The XLR connectors are circular in design and always have three and seven pins. In audio, you will typically see XLR cables connecting microphones to mixers and connecting various outputs to powered speakers. In basic comparison, XLR connections often carry a much higher voltage signal then RCA connections, up to 4 volts against typically the 2 volts on an RCA.
Optical (TOSLINK) – digital
Although the optical digital Toslink connector may look like a single RCA plug, it carries stereo digital audio. This cable is specially created for digital audio transfer and is often used between televisions, soundbars, and amplifiers.
Toslink cables are widely used to connect a TV to a surround receiver or soundbar. Moreover, they are playing a mediator role between PC/home theaters and stereos systems. Generally, its the ability to transmit digital audio signals without any distortions, losses of quality, or noise impact that depends on your environment.
Optical (3.5mm) – digital
To be honest, the Optical 3.5mm digital connector is almost similar to the optical TOSLINK digital. The only main difference lies in the optical 3.5mm ending is of the same size as a mini-jack that equals 3.5mm but carries a stereo digital audio. Like the previous one, it is also created for digital audio transfer and always stands between your TV, stereo system, soundbars, and amplifiers.
S/PDIF – digital
S/PDIF stands for 'Sony/Philips Digital InterFace', and these digital connections look like squares. S/PDIF connector is considered a consumer format and is mostly based on the AES/EBU standard. The only thing worth looking at is that S/PDIF uses both unbalanced, high-impedance coaxial cables or fiber-optic cables for transmissions. Earlier, S/PDIF cables were more popular because they were good for linking DVD/Blu-Ray players. However, nowadays it's not that popular as it was.
USB
Finally, a USB connector. It stands for Universal Serial Bus and has been established as the world industry standard. Nowadays, there are 4 USB standards: USB 1.x, USB 2.0, USB 3.x and USB4. Their main difference is the actual speed with which they transfer the information. In the audio realm, USB connections still remain the most popular way of linking an external DAC to a computer.
What is the best input to pick?
Depending on your DAC you will be able to choose from a variety of different digital inputs. To be honest, there are no specific rules based on the exact connector, so you're free to choose the one you personally like. However, TOSLINK Optical and S/PDIF typically have lower bandwidth limits. That's the only reason why USB should be used for audio with high sample rate and bit depth.
Other factors of sound quality
How good are your music sources
Oftentimes, a DAC system cannot always improve sound quality if the original version is not good quality. In this case, Spotify immediately comes to mind with its streaming music setting function. This is actually very convenient because, with the help of a DAC and maximum sound quality, you can add a little realism to your music, make it more dynamic and sound lively.
What kind of system will your DAC connect to
Your entire audio system, the signal chain should be concise and absolutely logical. To achieve maximum effect, it is imperative to use high-quality and reliable headphones and speakers to see the maximum potential of your system. Everything should be logical, the DAC, headphones, and speakers are about the same price level.
Don't forget the cables
Cables are also a very important part of your system so there are a few things you should know about. The quality of the cable you use with your DAC can cause some kind of sonic impact. In my opinion, it is always literally a great idea to get yourself brand new reliable cables and use them instead of included ones. And the last one is that you have to be assured that you have the right analog cable to connect your DAC to your stereo whether it's XLR, RCA, or any other.