A DAC, or digital-to-analog converter, takes your digital audio content and converts it to analog so that your sound system can amplify and reproduce it. It is through this process that you can listen to audio stored in digital formats, such as MP3, WAV, or FLAC.
The question is if a converter chip is already included in all your devices, why buy a separate one?
Well, the answer comes down to quality. DACs differ in performance, and in most cases, the ones you find on phones, computers, and televisions are not of the best quality. It is extremely important to have an external DAC since a high-quality DAC will make your music sound as close as possible to the original analog recording. If you have good headphones or speakers and you feel that you are not getting the sound you were hoping to receive, the DAC is your best bet to unleash the full potential of your device.
Choosing the best desktop DAC, you do not need portability but design, convenience, etc. Fortunately, we have already done this search for you.
Desktop DACs Review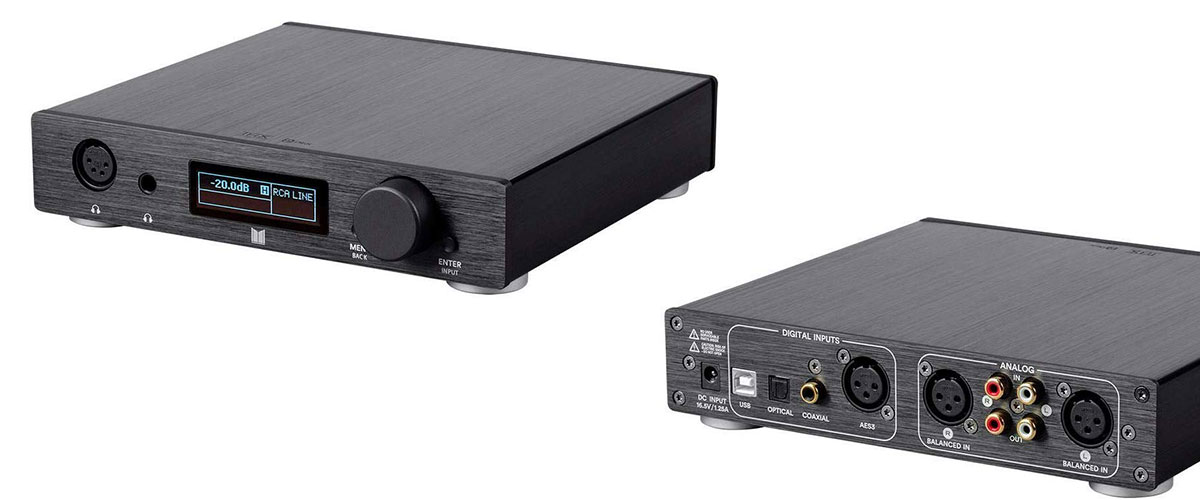 Monolith 124459 is a balanced combination of headphones and DAC amplifier with a specially thought-out architecture and the inclusion of high-quality components to improve sound quality. Indeed, it combines two THX AAA-788 amplifier chips and two AKM AK4493 digital-to-analog conversion chips, as well as Dirac Sensaround II technology, which delivers accurate, rich, and deep playback with a beautiful sound stage. The device is also equipped with a full range of balanced and unbalanced connectors, which makes it extremely versatile.
This gadget is the best desktop DAC you'll ever find, and here is why. THX Achromatic Audio Amplifier (THX AAA) technology delivers uncompromising headphone amplification, delivering exceptional sound with extremely low noise and distortion while maintaining very low power consumption.
The unit has a pair of 32-bit AKM AK4493 digital-to-analog converters. These DACs support PCM streams up to 32 bits 768 kHz and up to DSD256. The internal circuitry also includes a 32-bit digital filter to further improve the sound quality and musicality of the device.
THX AAA-788 has an extremely advanced communications system. Inputs include stereo RCA, balanced XLR, AES / EBU, coaxial, optical, and USB-B. The amplifier output is equipped with stereo RCA and a balanced headphone output on a 4-pin XLR, as well as an unbalanced headphone output on a 6.35 mm jack.
Pros
I liked that you don't need to raise the volume nearly as high to get that 'full' feeling to the music or audio
The sound is extremely clear with outstanding separation and seems very neutral
Cons
May seem unattractive for who is not a huge fan of the black box aesthetic or the digital menu system and volume knob
Cambridge Audio DacMagic 100 – best budget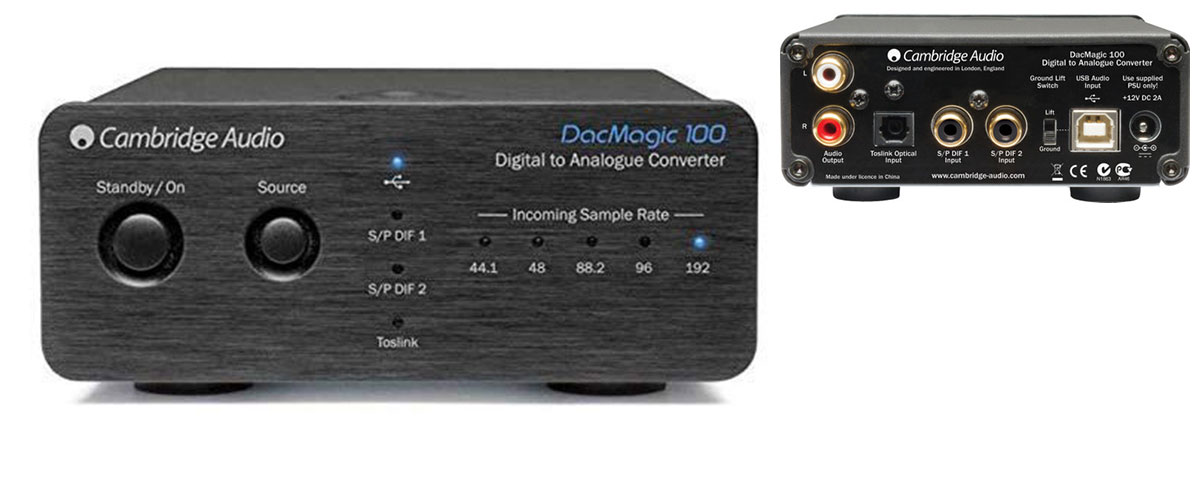 Cambridge Audio's DacMagic 100 digital-to-analog converter is designed primarily for those users who need not just a converter, but also an advanced source with the ability to connect to a computer via USB. The device supports sampling frequencies of the input digital signal 32, 44.1, 48, 88.2, 96 and 192 kHz (the corresponding mode of operation is indicated by turning on the LED on the front panel), and has two coaxial digital inputs, one optical, and a USB input. An external source is used to power the device.
If you have a limited budget, Cambridge Audio DacMagic 100 can be your best DAC for pc. It is assembled on the basis of Wolfson's well-known WM8742 chip and can receive the digital stream via USB up to 24 bit / 192 kHz when using ASIO or Kernel. Data reception on this interface is carried out in asynchronous mode, which ensures a low jitter level and the highest possible sound quality. The converter is assembled in a metal case that protects its electronic filling from external electrical interference.
In addition to using it with a PC, using the DacMagic 100 converter, you can significantly improve the sound quality of most middle-class CD players, as well as (due to more accurate digital data processing) any DVD and BD players. The Cambridge Audio DacMagic 100 is an extremely efficient and relatively inexpensive upgrade for most AV systems that can take their sound quality to the next level.
Pros
There are no frequency restrictions, depending on the connection method
Switching capabilities are simple, but there is everything you need: optical input, 2 coaxial and USB-type B
Cons
No wireless capabilities
The sound is open, light enough, but too straightforward. Lacks dynamics and scope
Sony UDA1/B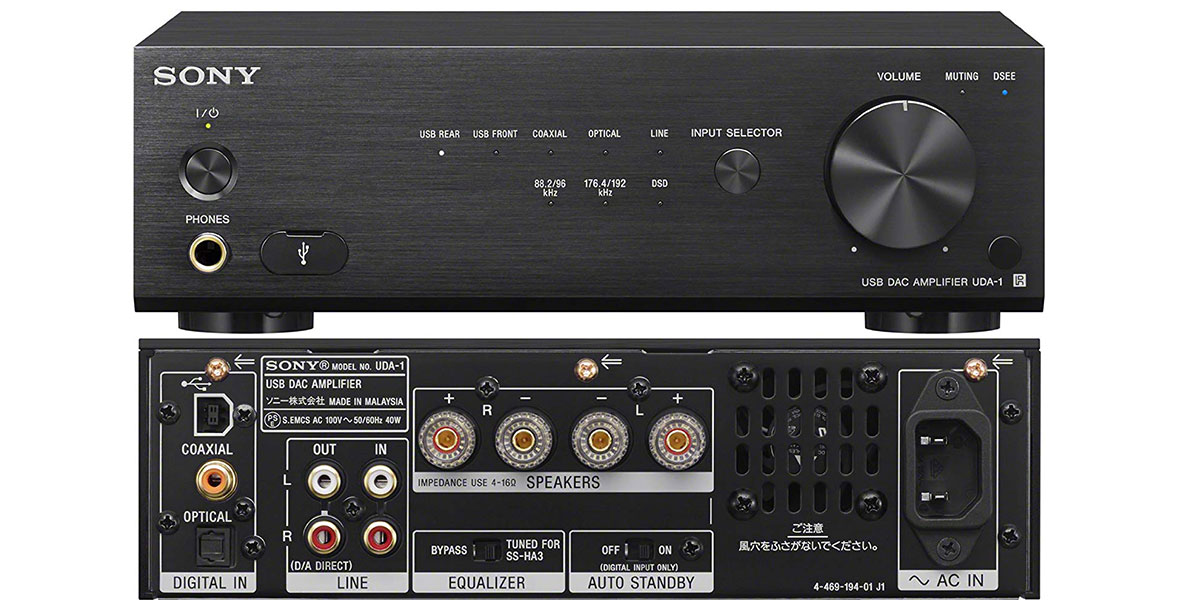 Sony UDA1 is a compact and dense device, surprisingly heavy for its size. Choosing the best desktop DAC amp, we noted that t build quality is top-notch and resembles the Sony ES product line. It's not just a USB DAC. The UDA-1 is also equipped with a 23-watt amplifier to power a pair of speakers – the UDA-1 is specially tuned for the Sony SS-HA3 shelf speaker system. Given its smaller stature, a weight of almost 9 pounds is pretty surprising, especially given the fact that it produces only about 12 watts into 8 ohms on a bench before shearing.
For inputs, the UDA-1 has one front USB port for use with a flash drive, a rear USB port, and coaxial and optical digital inputs. There is also one analog RCA input. For output, there are high-quality rear speakers, as well as ¼ "headphones on the front panel and one RCA output. The USB input on the Type A front panel makes it easy to play music files from a flash drive but is limited to 44.1 / 48 kHz and 16 bits. The rear USB Type-B is used specifically for streaming Hi-Res audio from a computer.
Pros
There are coaxial and optical inputs
The amplifier can work with highly sensitive acoustics
Supports all LossLess formats, including DSD via USB input
Cons
If you choose to play your files via iTunes, it will not give you your full experience, so it is a must you use the Sony Hi-Res audio player