Want to know what a DAC is, or is it worth buying it? If you are new to the audiophile scene, most likely, you have already come across conversations about DACs, and you may be wondering if you need it. Alternatively, you may already have decided that the DAC is definitely what you want to add to your kit, and now you're just trying to choose the best USB DAC for your needs. Anyway, this is definitely an article for you!
Perhaps one of the most forgotten elements of the technology is the digital-to-analog converter (or DAC). In this review, we will plunge into the world of USB devices that do not require additional power and are powered by USB. We will talk about the best models that you can buy for the money. Without further ado, let's plunge into the reviews!
USB DACs Review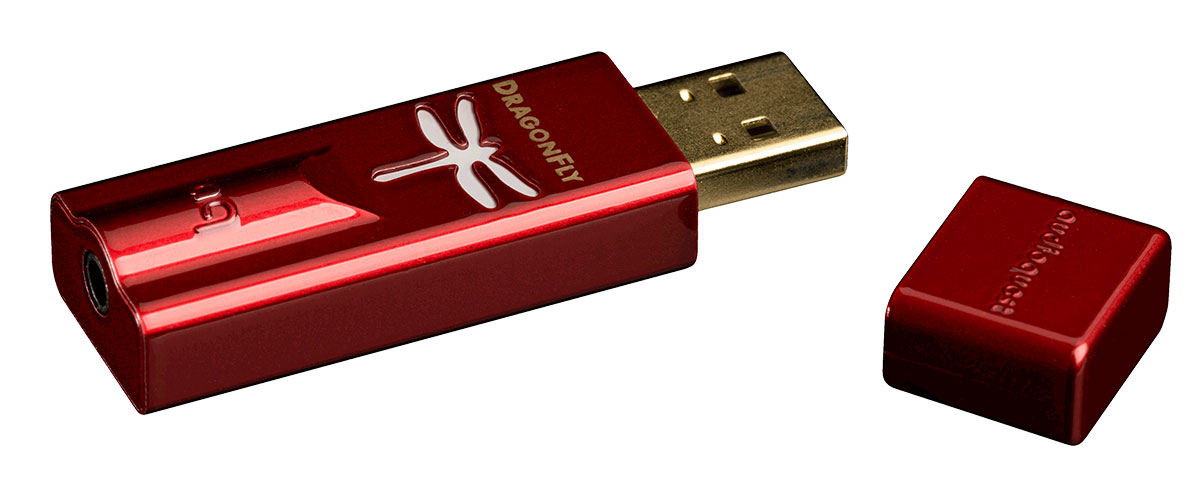 The AudioQuest DragonFly Red device, made in the form factor of a flash drive, is a top-notch miniature USB DAC in the cult DragonFly line.
The model received a more efficient chip converter than its younger "sibling" Black (ESS Saber 9016 vs. 9010), as well as a more powerful output with a voltage of 2.1 V versus 1.2 V for Black. This figure allows AudioQuest DragonFly Red to swing even high-impedance headphones what makes it the best USB DAC on the planet. The model uses the economical, high-performance Microchip PIC32MX microcontroller for an asynchronous USB connector (plug). The new microcontroller provides a high signal-to-noise ratio, and the ESS Saber 9016 chip has a minimum-phase filter that guarantees natural sound with good detail.
The digital circuit of the ESS Saber 9016 chip provides for built-in digital volume control that provides bitwise accuracy and is activated using the volume controls of the operating system of the signal source – a computer, tablet, or smartphone. AudioQuest DragonFly Red has a 3.5 mm output that can operate in two modes – adjustable and fixed. In the first case, the DAC can be used to connect to headphones or, for example, to active speakers, and in the second – to full amplifiers, AV receivers, preamps, and other components.
The model allows you to receive audio files in PCM format up to 24 bit / 96 kHz. The model is powered by the same USB port. As an option, a proprietary JitterBug filter is available, made in a similar design, and eliminating "ringing," as well as other interference associated with power supply and data transmission. This minimizes jitter, eliminates spurious resonances and packet errors. As a result, it is possible to get a clear sound with a minimum of distortion.
Pros
Immediately after connecting it easily and simply improves the sound of any computer
The manufacturer promises true bitwise transfer to the DAC and processing the volume control in the OS using the DAC itself
Cons
With insufficient current, it produces a much quieter signal than from the headphone output of a smartphone
DragonFly Black – best budget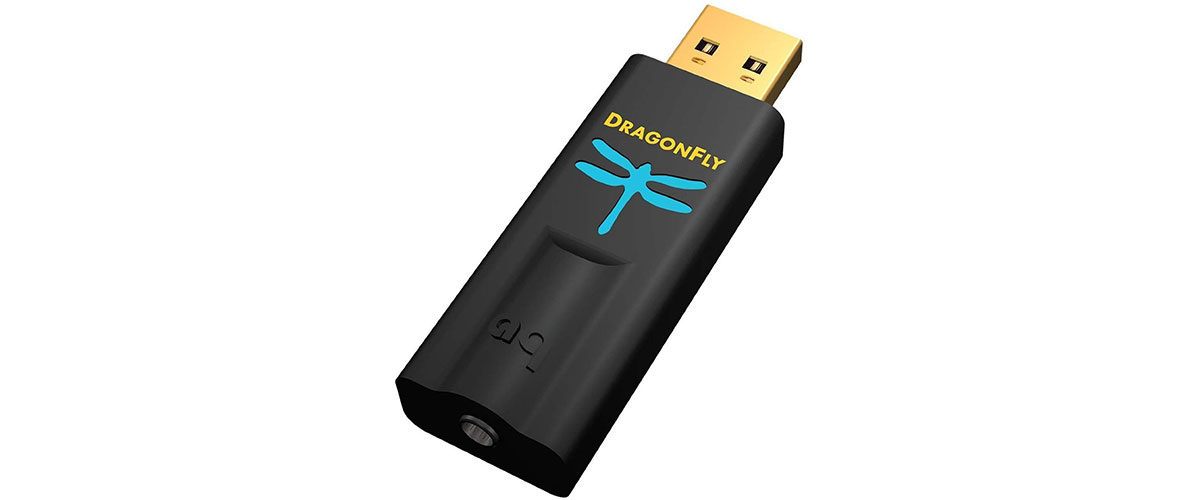 The heart of the Black Dragonfly is the 32-bit ESS 9010 32-Bit Converter This is a high-performance solution often used in high-quality CD and Blu-ray disc players. It supports audio and music files from MP3 and standard 16-bit / 44 kHz CDs to high-definition 24-bit / 96 kHz, regardless of file format. If your computer software plays a music file format, DragonFly makes it sound especially unique.
The best budget USB DAC still has a 24-bit / 96 kHz ceiling and the corresponding indication on the case: 44.1 kHz – green dragonfly, 48 kHz – blue, 88.2 kHz – amber and 96 kHz – purple. However, the receiver allows you to receive higher sampling rates, which will automatically be reduced to 96 kHz. By the way, the presence of a multi-colored display is not a toy, but a very obvious option. The fact is that, as a rule, several options for signal output hang in the interface of a computer audio player. A default sound card, for example, may require downsampling high-resolution audio up to 48 kHz, and these player settings will be saved when changing the output to a more progressive receiver. With DragonFly, this process is always under control, and you see the true bit depth of the signal coming to the DAC. There are no ASIO drivers for DragonFly, but you don't need to install anything, just plug the device into the slot, and you're done. With Windows audio programs, this USB DAC under 100 works using the equivalent WASAPI or Kernel Stream protocols.
Pros
The sound is perceived as very clean and dynamic
The design is very stylish and compact
Cons
The regulator itself is not provided on the case – everything is controlled indirectly, through the volume slider in the computer or gadget
NextDrive Spectra

NextDrive Spectra is one of the most compact DACs with a headphone amplifier, built on the ESS Saber 9018Q2C chip, which allows you to play PCM format with a resolution of 384kHz / 32bit, as well as DSD128 – 5.6 MHz. The gain is 49mW at a load of 32 Ohms. The device does not have a built-in battery and takes power from the device to which it is connected.
This cheap USB DAC is a very nice little unit. The coefficient of purity and accuracy exceeds its price. The build quality is excellent, and the discreet design is very convenient on the go. But as a person who prefers musicality to cleanliness, I want a very warm Spectra sound with more fullness and density.
Lovers of cleanliness will go crazy about this. This is a wonderful stepping stone DAC for those who have a good portable neutral installation or who want a tiny DAC that can be used on both a PC and a phone.
The portable installation with an Android phone is just fantastic, and I am very pleased with the overall fidelity. I made up for it with a combination of very bass and thick headphones, and as a result, I'm still pleased with the sound.
Pros
Drives high impedance phones with ease
It is very cool to hold in hand
Cons
It stops working at random. This tends to happen most frequently when I lock and unlock my computer
The headphone jack is poor quality
Dragonfly Cobalt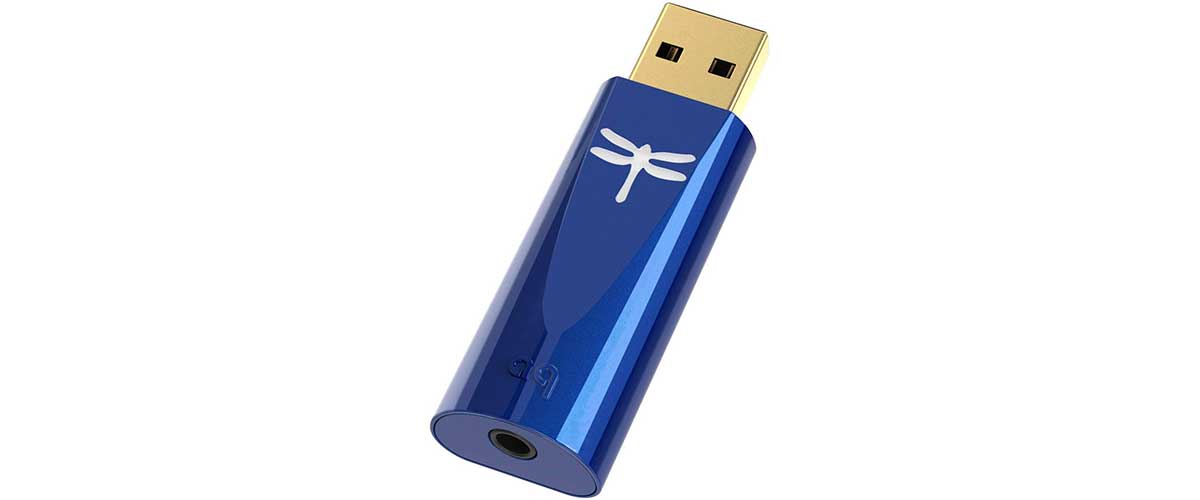 The author of the USB DAC review published in authoritative What Hi-Fi Magazine (10th Sept 2019) concluded that "this tiny USB DAC fully justifies its considerable price." He rated DragonFly Cobalt for sound and workmanship – 5 out of 5, and overall highest rating – "5 Stars"!
The most significant update can only be appreciated when you plug in DragonFly Cobalt – this is improved sound quality. After connecting to your laptop or smartphone, and choosing as a means of sound output, the LED on the DAC will glow in one of six colors to indicate the sampling frequency. Red for it means standby mode, green – 44.1 kHz, blue – 48 kHz, amber – 88.2 kHz, magenta – 96 kHz or magenta when decoding MQA.
Inside, it owns an ESS ES9038Q2M chip with a minimum phase filter that provides more natural sound. According to the manufacturer, the device removes from the sound "all the flaws and interference, the existence of which the listener did not know before using Cobalt." The PIC32MX274 microprocessor requires less current and runs 33% faster than previous dragonflies.
Cobalt provides 2.1 V output, which is sufficient for almost any headphone and even supports MQA. We can see special attention to filtering the power supply, first of all, improving protection from Wi-Fi, Bluetooth, and cell towers. The kit includes an adapter from USB-A to USB-C. Thus you can connect the DAC not only to a PC but also to modern smartphones.
Synchronicity has improved significantly, the beats fit the melody clearly – like puzzle pieces, so much so that it sometimes seems, the previous DragonFly Red DAC model is a little lazy. Cobalt's hard work is also audible, especially when it clarifies grandiose dynamic shifts before "putting on reading glasses" to outline more miniature details.
All this is packed in a stylish case, with dimensions of only 57.5 x 18.6 x 11.9 mm, which makes the dimensions of the last DragonFly 10% smaller than its predecessors.
Pros
The care they put into the manual, as well as add-ins, are pleasant surprises
Convenience is top-quality. The fact that it is quite future-proof is great (they designed it to accommodate firmware updates)
Cons
I noticed that the bass guitar fades into the drums