The number of people searching for the best projector under 1000 dollars is growing, and such a tendency is clearly understandable. Some buyers are fond of playing games and want to get a larger screen area than a standard TV or monitor offers without compromising image quality.
Others like to spend their free time watching movies and creating a cinema-inspired environment without leaving their houses. No matter what group you belong to, you can fully satisfy your needs with a decent HD projector under 1000 dollars.
To help you in your search for the best projector under $1000, I examined the most reputable models in this price category. I evaluated such criteria as display technology, brightness and contrast levels, resolution, connectivity options, and integrated speakers' availability. I have narrowed down the choice to the 6 most reliable projectors. Some of them are more suitable for business-related purposes, while others can become your reliable companions during long gaming sessions. So, if you want to find a decent projector without crossing the budget limit of 1000 bucks, make sure to read this overview till the end.
Our pick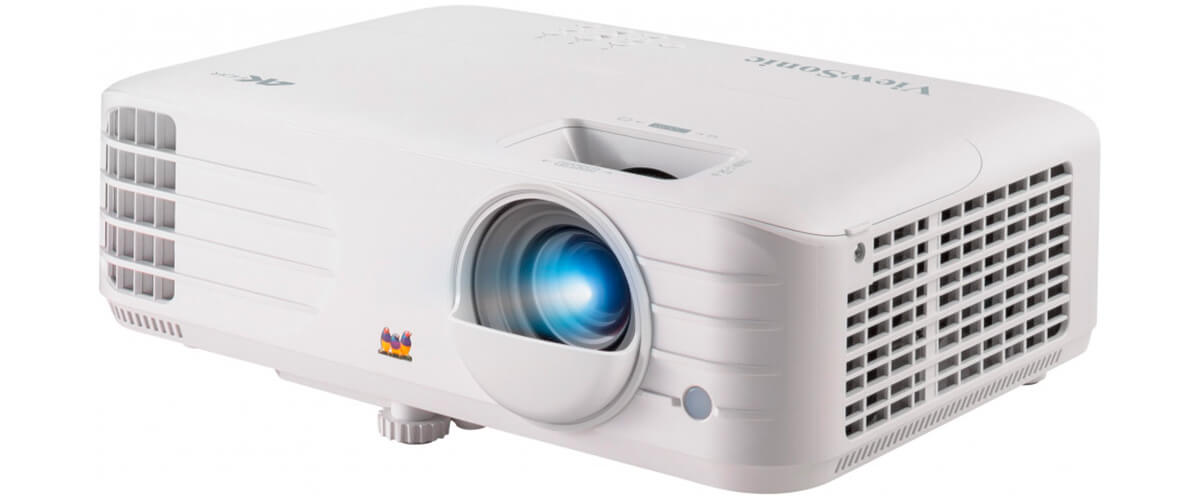 ViewSonic PX701-4K
Best Projector Under 1000 dollars
While true 4K resolution and HDR support make this projector ideal for movie watching, users will enjoy its low 4.2ms input lag and 240Hz refresh rate for casual gaming.
What to expect from a projector for under $1000
Shopping for the best projector under 1000 dollars, you must clearly understand that it can't exceed more expensive options when it comes to image brightness and clarity. Another nuance to keep in mind is that affordable projectors have a noisier cooling system, so you need some time to get used to it. Moreover, such projection systems can output only 8-bit SDR signals.
Anyway, budget-friendly models can fully satisfy undemanding users who don't want to pay for frills that usually raise a price tag several times. Besides, cheaper projectors typically have more compact dimensions, which means you can easily take such a device with you to your friend's house or another place and organize a movie evening without long preparations. Many users claim that low-priced projectors are more universal than expensive alternatives because of higher brightness margins and shorter throw optics. Frankly speaking, they are a sure way to go if you mainly need a home theater projector or a multi-media system.
Projectors Under $1000 Comparison Table
Name
Resolution
Throw distance
Image size
Built-in speaker
Review
ViewSonic PX701-4K

best overall

3840 x 2160 DLP
3.2 – 32.8 ft
30″ – 300″
yes
Review
BenQ HT2150ST

for gaming

1920 x 1080 DLP
3.2 – 13.1 ft
60″ – 300″
yes
Review
Epson Pro EX9220

for business

1920 x 1200 3LCD
3.2 – 13.1 ft
30″ – 300″
yes
Review
Epson EpiqVision Mini EF12

portable

1920 x 1080 3LCD
N/A
30″ – 150″
yes
Review
Best Projector Under $1000 Reviews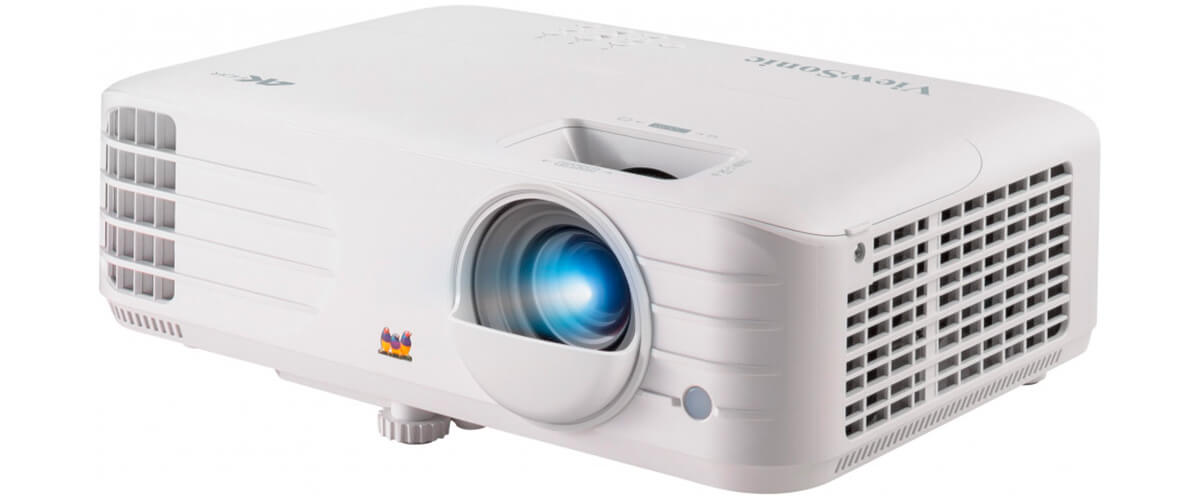 ViewSonic PX701-4K is the best 4K projector under 1000 dollars with a brightness level of 3200 lumens. Frankly speaking, this can become a wonderful upgrade for your standard TV. Choosing this model, you will enjoy stunning visuals with exceptional 4K detail and clarity, HDR/HLG support, and new facets of fast-paced gaming with ultra-fast 5ms input and 240Hz refresh rate. Projecting on a large screen is a breeze thanks to powerful vertical and horizontal keystone correction and 4-angle automatic image adjustment. Besides, 20,000-hour lamp life and advanced DLP display technology make this projector a great future-proof investment.
ViewSonic's proprietary SuperColor technology ensures a wide color range, so you get lifelike colors in both bright and dark scenes without compromising image quality. By emitting light that bounces off a wall or a screen before reaching viewers' eyes, the projector makes viewing less harmful for eyesight and reduces eye strain during extended viewing. ViewSonic PX701-4K has a built-in 10W speaker that provides excellent sound quality without manual adjustments. Unfortunately, the model has neither Wi-Fi nor Bluetooth, so you can't connect different devices to it using a wireless connection. Anyway, this is a minor tradeoff for such a picture quality and a cool set of features you get for less than 1000 bucks.
Key specs
Display technology: DLP
Light sources: lamp
Resolution, px: 3840 x 2160
Throw distance, ft: 3.2 – 32.8
Image size, inch: 30 – 300
Contrast: 12000:1
Brightness, lumens: 3200
Built-in speaker: yes
Epson Home Cinema 2250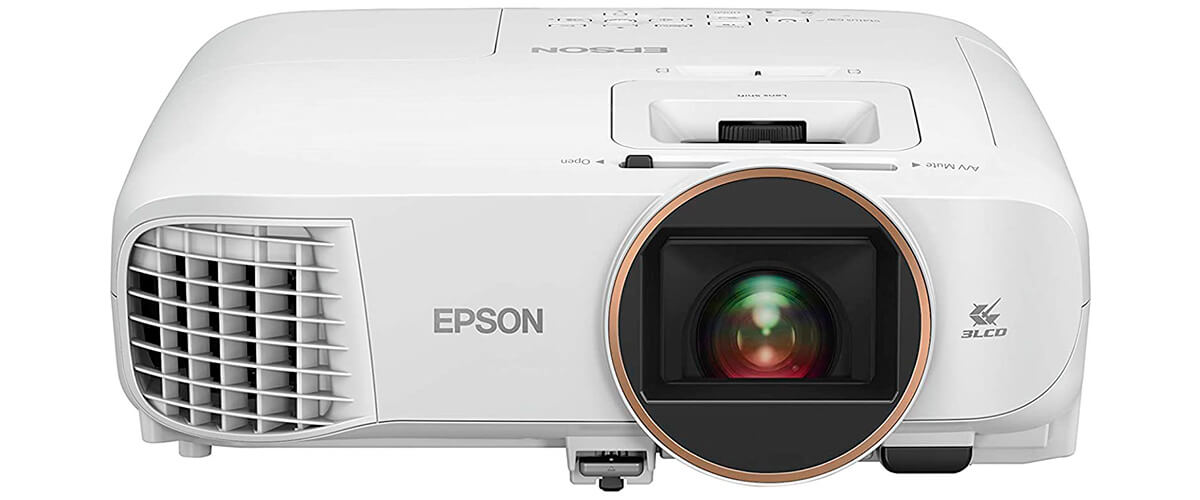 If you want to get a decent 1080p projector with 3LCD technology, have a closer look at this product. It is designed to satisfy the needs of average users, who plan to create a home theater but have a bit tight budget. Thanks to 3LCD display technology, this projector displays 100% of RGB color signal for every frame, so color accuracy is always on point. Besides, it fully eliminates a "rainbowing" effect. Epson Home Cinema 2250 appeals to buyers with an immersive viewing experience, bright and realistic colors, and an amazing 70000:1 contrast ratio. Such characteristics make it a great option if you need to stream your favorite programs, sports shows, movies, and the like. To guarantee smooth and detailed images, the developer included Image Enhancement and Frame Interpolation technologies, which is a great offer for this money.
The declared brightness is 2700 lumens, which is enough for a home theater environment. When it comes to audio capabilities, this home theater projector resembles the model described above, is equipped with a 10W speaker. The entire setup process is very straightforward. You can use the newest Android TV interface or a remote to get the system ready for your viewing sessions. You can also take advantage of an integrated Google Assistant and rely on Wi-Fi connectivity.
Key specs
Display technology: 3LCD
Light sources: lamp
Resolution, px: 1920 x 1080
Throw distance, ft: 3.2 – 32.8
Image size, inch: 34 – 330
Contrast: 70000:1
Brightness, lumens: 2700
Wi-Fi: yes
Built-in speaker: yes
Optoma HD142X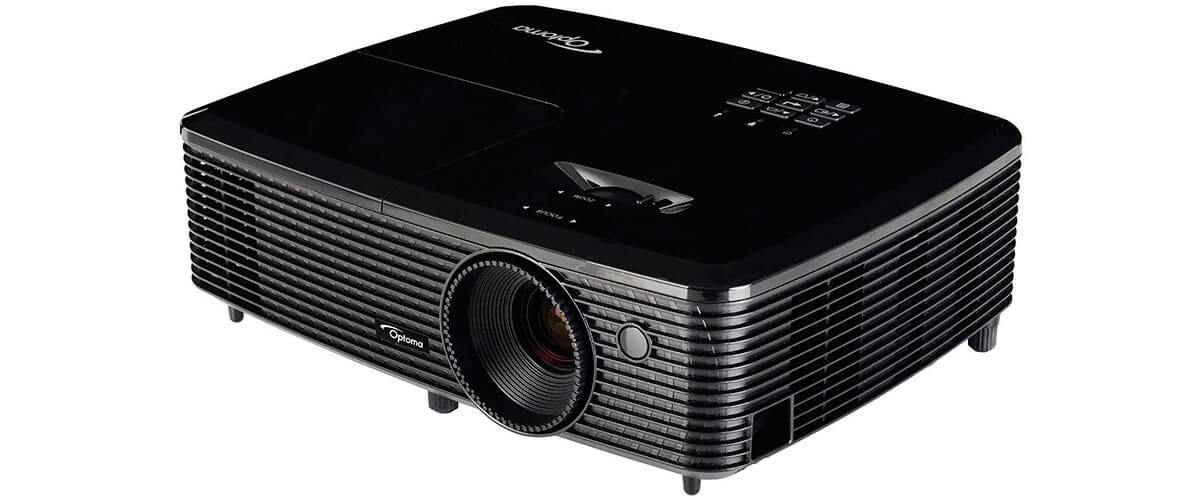 Optoma HD142X is advertised as the most technologically advanced 3D projector in the manufacturer's lineup, so I was really determined to check whether it is true. The first thing that deserves praise is stunning visuals in almost any environment. Thanks to 3000 lm brightness and 23000:1 contrast ratio, this projector is capable of reproducing REC.709 color gamut, which corresponds to the international standard for HDTV viewing. Moreover, I was impressed by a sharp projection with 1920×1080 pixels and DLP technology, which allows watching movies without compression and downscaling. In terms of sounding, this projector has an integrated 10W speaker that delivers powerful and encompassing sound, eliminating the need to buy additional audio components.
Another bragging point of this projector is that it can display true 3D content from almost all 3D sources and the latest gaming consoles. Besides, it has a 144Hz refresh rate, so images are always fluid and flicker-free. Unfortunately, you can't pair a projector with any smart device via Wi-Fi or Bluetooth. However, you can use a regular cable to connect it with your PC, TV, or tablet and start streaming favorite programs and films. Thanks to the Dynamic
Black technology, the projector automatically adjusts to your current environment.
Key specs
Display technology: DLP
Light sources: lamp
Resolution, px: 1920 x 1080
Throw distance, ft: 3.2 – 32.8
Image size, inch: 28 – 305
Contrast: 23000:1
Brightness, lumens: 3000
Built-in speaker: yes
BenQ HT2150ST – for gaming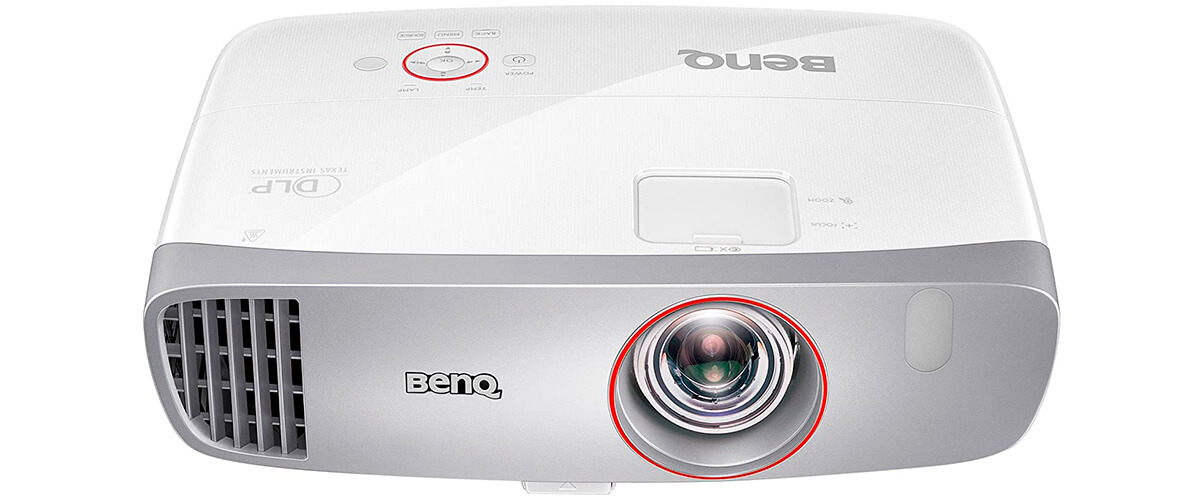 This model uses DLP technology to project images and offers lots of features that make it the best projector under $1000 for gamers. It can project pictures up to 300 inches if you move it further from the screen and offers a low input lag and zero motion blur, which can remarkably boost your gaming potential. Thanks to its short-throw nature, you can play your favorite games with your friend as there is enough room for both of you. BenQ HT2150ST has a native 1080p screen resolution, a maximum brightness of 2200 lumens, and a 15,000: 1 contrast ratio. Declared lamp life is 3500 hours in standard mode and up to 7000 hours when power-saving mode is enabled.
To display more accurate colors, BenQ HT2150ST utilizes Colorific video processing that conforms to REC. 709 color gamut standard for HD content. The projector has two HDMI inputs and a VGA/PC monitor input. One of the HDMI inputs supports MHL, so you can physically connect MHL-compatible devices. BenQ HT2150ST has a 3.5mm mini-jack audio input and a built-in 20W audio system that uses MaxxAudio Wave sound enhancement technology. You can easily set up and control this projector using external buttons as well as a standard remote. Besides, the projector has an RS232 port for integrating an individual control system.
Key specs
Display technology: DLP
Light sources: lamp
Resolution, px: 1920 x 1080
Throw distance, ft: 3.2 – 13.1
Image size, inch: 60 – 300
Contrast: 15000:1
Brightness, lumens: 2200
Built-in speaker: yes
Epson Pro EX9220 – for business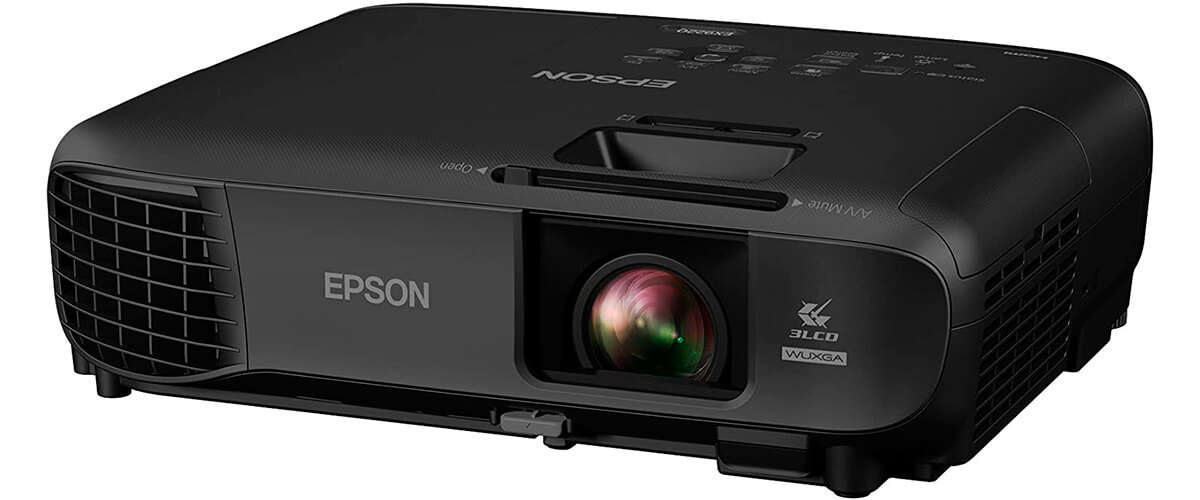 If you are on the lookout for a high-quality 3LCD projector, which you can use during meetings and conferences, make sure to check this option. It brags about a slew of premium features and rich connectivity possibilities that will help you present with confidence. Thanks to the color/white brightness of 3600 lumens, it delivers crisp and color-rich images both in shadowed places and well-lit auditoriums. With a 1080p+ WUXGA resolution, Epson Pro EX9220 guarantees stunning picture quality and crispness. Another handy feature that adds to its business-oriented reputation is screen mirroring that allows you to output your mobile content on a big screen in a trouble-free manner.
Though this projector doesn't support Wi-Fi, you can stream content using HDMI and MHL connectivity. The thing that disappoints most of all is 2-watts speakers that can't compete with those powerful components embedded in the best home projectors under 1000 USD. Don't expect to get a loud and rumbling sound delivered by 10W speakers. Actually, this isn't such a serious problem if you plan to use this projector to show tables, graphs, and similar stuff.
Key specs
Display technology: 3LCD
Light sources: lamp
Resolution, px: 1920 x 1080
Throw distance, ft: 2.5 – 29.5
Image size, inch: 30 – 300
Contrast: 15000:1
Brightness, lumens: 3600
Built-in speaker: yes
Epson EpiqVision Mini EF12 – portable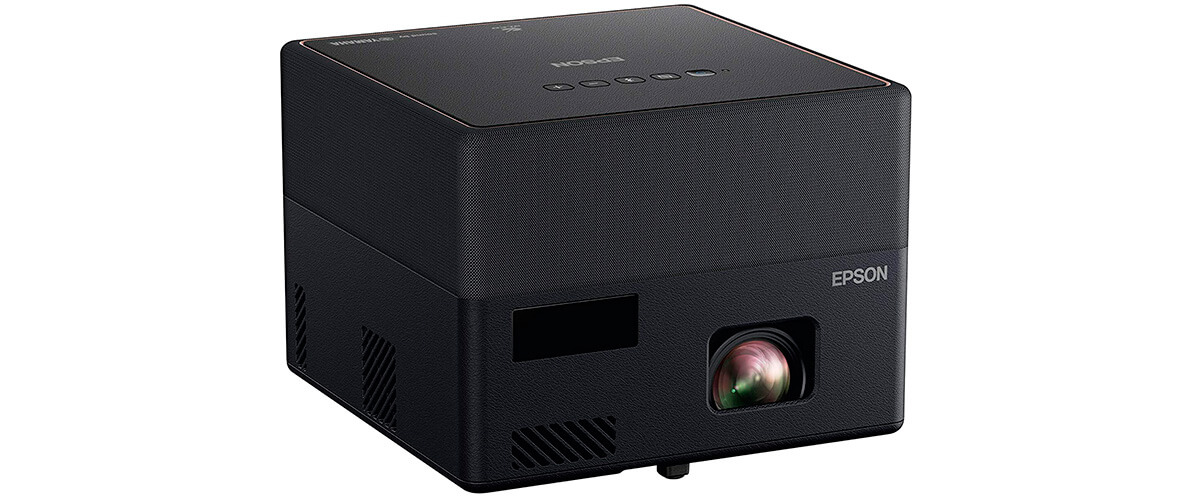 This smart laser 1080p projector guarantees a pleasant viewing experience, either you are binge-watching your favorite Netflix series or organizing an outdoor movie night in your backyard. With portable dimensions, Epson EpiqVision Mini EF12 can become your go-to device whenever you want to stream dynamic content from any corner of your house without occupying much space. You are bound to appreciate stunning picture quality with 3LCD display technology. Unfortunately, the projector can't boast high brightness, as it maxes at 1000 lumens. Anyway, the manufacturer tried to fix this issue by integrating MicroLaser Array Technology. Thus, a laser diode raises brightness and improves the black density.
The most notable feature of this projector is an audiophile speaker system by Yamaha. Epson addressed Yamaha with a request to create a one-of-a-kind audio system for viewers to hear the slightest sound changes. Yamaha engineers used 2 advanced drivers powered by a discrete amplifier and put them into a 3D acoustic enclosure to create speakers capable of producing an impressive sound stage. Though there is no Wi-Fi support, you can use the wired content transmission to enjoy the full potential of this portable projector.
Key specs
Display technology: 3LCD
Light sources: laser
Resolution, px: 1920 x 1080
Image size, inch: 30 – 150
Brightness, lumens: 1000
Built-in speaker: yes
Buyers guide
DLP vs LCD: which is better
There are many debates about DLP and LCD display technologies, and I'll try to cover this topic in more detail.
DLP stands for digital light processing, which is a technology that involves the usage of small mirrors that reflect light toward the screen or in the opposite direction. The majority of projectors are fitted with a spinning color wheel, which consists of filters that produce sequential colors. Cutting-edge projection systems have 3 DLP chips, each responsible for a separate color – red, green, and blue. Such projectors come with different price tags, so it is rather simple to find a suitable product. Popular brands such as Optoma and BenQ are actively developing such projectors. Projectors used in movie theaters usually adhere to DLP technology.
LCD (short for liquid crystal display) resembles the technology used in modern TVs. Such projectors have 3 liquid crystal panels each of which is responsible for producing a picture using only 1 primary color (red, green, or blue). All three pictures are simultaneously output on the screen, which results in a full-color image. You can find a low-priced LCD projector, as well as a more expensive model, so the choice solely depends on your financial state. Such companies as Epson and Panasonics specialize in the production of such LCD projectors.
One of the most important aspects to consider while choosing a projector is a contrast ratio. It significantly affects image quality and how realistic it looks. LCD projectors have been upgraded in this regard, and now they offer a good contrast ratio. The thing is different with DPLs, which disappoints with poor blacks.
A black level is tightly related to contrast, so it is clear that DLP projectors lag behind LCD alternatives in this aspect. Considering brightness level, there are many nuances to keep in mind. In fact, both types of projectors demonstrate almost the same satisfactory results. Of course, some models in the LCD group as well as in the DPL niche have a more impressive brightness level, but that solely depends on that particular option. Color accuracy varies a lot per projector, but both categories have solid representatives.
Light sources
Evaluating brightness, we mean the amount of light emitted by a light source. The latter can be of different types. A standard light source used in most consumer projectors is a bulb (also called a lamp). Of course, there are other kinds of light sources, and they are becoming more and more popular.
Lamp Projectors
The most widespread light source used in a projector is a lamp. The first reason for its popularity is the affordable cost. Lamps have been out there for quite a long time, so there is a great variety of them. If a lamp in your projector burns out, you can easily pull it out and replace it with a new one. On average, projector lamps are claimed to work for 3000-4000 hours, but you can learn the advertised service life of a particular lamp in the specs section. The main disadvantage of bulbs is that they aren't very bright. If that's really important for you, it makes sense to buy a laser projector.
Laser Projectors
Laser projectors outperform lamp devices in terms of brightness. Moreover, they don't require such frequent component replacement, which in the long run, allows you to save some money even considering that the initial cost of a laser light source is higher. Another argument in favor of laser projectors is the better contrast they produce. Thus, you will see deeper and inkier blacks and more realistic pictures. Last but not least is the energy efficiency of laser systems. Of course, such advantages involve a tradeoff. In this case, it is a price. If you compare a laser home theater projector with a lamp one, you'll notice a hefty difference in the cost. If you have a limited budget, the choice is obvious.
Understanding resolution and brightness
Every projector has its native resolution (the number of pixels in the display), which should coincide with the resolution of the content you are going to show. This way, you will get accurate details and precise colors. To watch videos and play games, you need a widescreen native aspect ratio such as 16:9 or 16:10. Both 1080p and 720p have a 16:9 aspect ratio, while WXGA projectors are 16:10. To be on the safe side, I highly recommend getting a 1080p projector or even something bigger. If you aspire to create a home theater or need a robust projector for regular gaming marathons, 4K beast is your best bet.
The brightness of a projector is measured in lumens. In most cases, this is the key criterion that helps differentiate low-cost projectors from top-tier offers. In general, the brighter the projector, the better, as it can cope with excessive natural light without degrading picture quality. You should be extra careful with brightness if you intend to locate a projector in a well-lit room or outdoors. If that is your case, you need a projector with at least 3000 light output. Optoma and Epson offer good projectors with such a brightness level that they cost less than 1000 dollars.
Connection methods: HDMI and more
The best home theater projectors under 1000 bucks offer a multitude of connection variants. The latest models support HDMI connectivity, which means you can enjoy crisp 1080p content. Bigger projection systems are equipped with full-sized HDMI ports, while portable devices are supplied with mini and micro HDMI ports. If you get a small-sized projector, you may need to use different cables, but they are included in the kit in most cases.
Advanced home entertainment models have ports compatible with HDMI 1.4a+, so you can project from Blu-rays, set-top boxes, and desktops. If you have a projector with an HDMI that supports MHL, you can easily pair your projector with phones and tablets. Wi-Fi connectivity is a welcome feature that allows forgetting about cables.
S-Video, as well as composite and component video, are other popular connection methods that you can find in larger projectors. More and more systems offer a direct connection to a PC via USB. USB Type-C is becoming anticipated in most modern projectors, and the possibility to use the DisplayPort over USB protocol adds popularity to this connection method. Not only can you connect your laptop or phone to a projector, but also power and charge it if there is a USB PD port.
You can also find VGA ports, but they are not so popular as HDMI options.
3D capability
Nowadays, to watch 3D content, it isn't necessary to go to the cinema, as you can buy a 3D projector and watch movies in the comfort of your home. Though such models are more expensive than entry-level devices, the cost is fully justified. While searching through the range of projectors, I even came across units that can turn 2D content into a 3D format. However, while buying a 3D projector, you need to spend money on special glasses to enjoy the true quality.
If you can't afford to buy a 3D-ready projector, you can settle for a combo of 2-projector polarizing filters that allow mimicking a 3D effect. But, you need to find a special projector for dividing left- and right-eye streams from the HDMI signal.