Many movie lovers and avid gamers often prefer projectors to standard TVs because of screen size, reaching up to 300-inches. Also, these devices are actively used during various seminars, trainings and presentations. Though the range of projectors nowadays is awe-inspiring, not everybody can afford a top-tier device with a $2000 price tag, so the demand for best projector under 500 dollars is understandable. Manufacturers claim that such budget-friendly systems are no inferior to more expensive alternatives when it comes to image quality, wireless connectivity, audio features, the number of ports, etc.
Our pick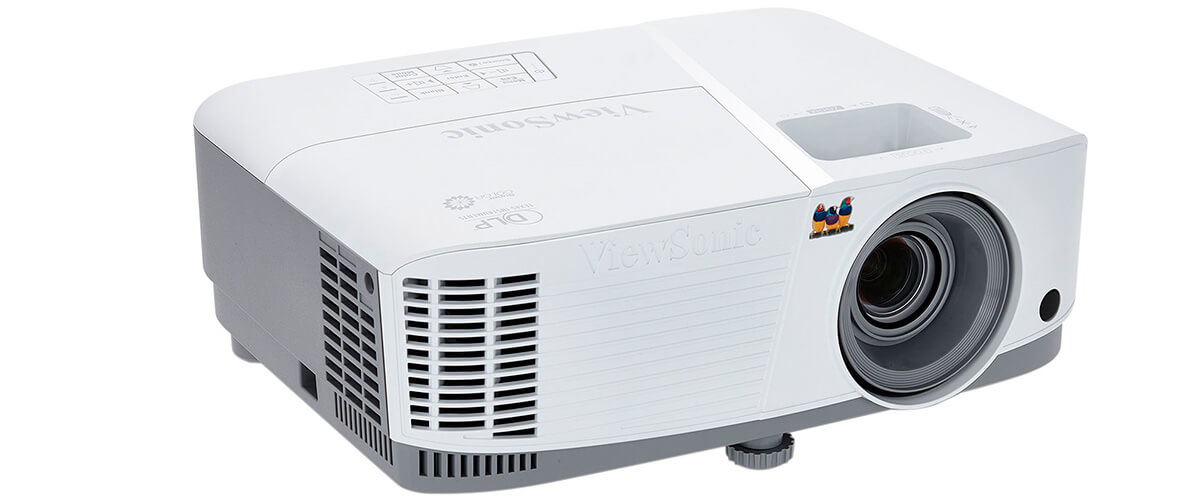 ViewSonic PA503X
Best Projector Under 500 dollars
The ViewSonic PA503X price-performance projector features 3,800 lumens, native XGA 1024 x 768 resolution, and intuitive, user-friendly design. Exclusive SuperColor technology offers a wide color gamut for beautiful image production in nearly any environment.
Read the full review
.
I've decided to check whether promises coincide with reality, so I tested the most interesting models to help you choose the best projector under $500. We will cover their technical specifications and identify their strengths and weaknesses. I will also tell you how to use this or that projector to fully enjoy its capabilities.
Projectors under $500 comparison table
Name
Resolution
Throw distance, ft
Image size, inch.
Built-in speaker
Wi-Fi
Review
ViewSonic PA503X

best overall

1280×768 DLP
3.2-32.8
30-300
yes
no
Review
Epson EX3280

also a great choice

1280×768 3LCD
2.4-32.8
30-350
yes
no
Review
Optoma HD243X

for gaming

1920×1080 DLP
3.2-29.5
28-301
yes
no
Review
Anker Nebula Capsule Max

portable

1280×720 DLP
3.2-9.8
40-100
yes
yes
Review
Portable or home projectors
While talking about the projectors, the choice usually boils down to 2 separate categories of products – full-sized and mini projectors. To understand what model suits you most, you need to understand their peculiarities.
Full-sized Projectors
Such projection systems appeal to buyers with remarkable image quality and high brightness. Usually, such devices also have high resolution and contrast, making them possible to use not only in dark rooms but also in normal daylight. If you've decided on getting a full-sized projector, you need to choose from LCD, DLP, and LCoS devices. Different companies develop such projectors, so you can easily find a fitting model if you are after a particular brand.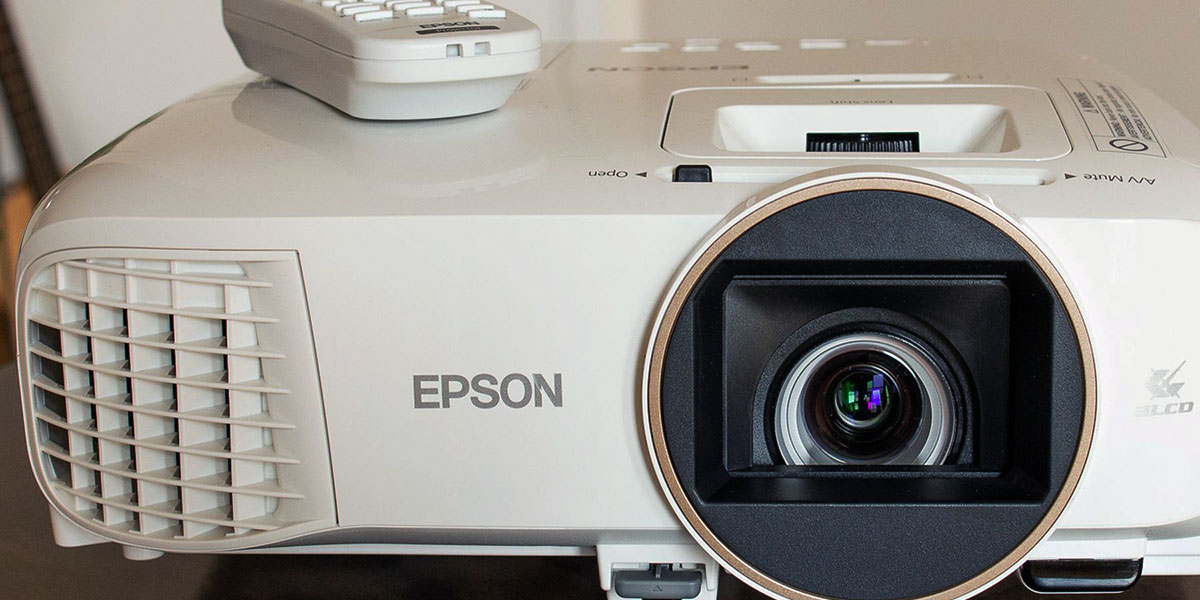 However, these models have two main features that may scare you away. The first is size. Since a projector consists of many components necessary for quality image display, its size and weight become significant. Of course, regularly moving such a device and adjusting it is incredibly inconvenient. Another problem is the relatively high price.
Mini Projectors
As the name implies, these projectors brag about portable dimensions, which makes them an ideal companion during trips. In general, such projectors weigh less than a pound, so you can transport them in a pocket. Another nice feature is that such devices come with an integrated rechargeable battery, so you don't need to constantly worry about finding a power source. Besides, mini projectors are equipped with a long-lasting lamp, which is a real cost-saver in the long run. The highlight of miniature projectors is that they can fully satisfy the needs of people with limited funds.
Unfortunately, mini projectors lag behind their full-sized counterparts in terms of possibility for projecting a bright picture. So, if you plan to use a pocket-sized projector, you need to create a completely dark environment to get the most out of its capabilities.
Full-sized vs Portable Projectors
If you have a budget limit or you travel a lot and need a projector to deliver presentations in perfectly dimmed rooms, choose a small-sized projector.
If you are interested in getting a high-res image and can spend as much as you want, a full-sized projector is a well-worth investment.
Best Home Projectors Under $500 Review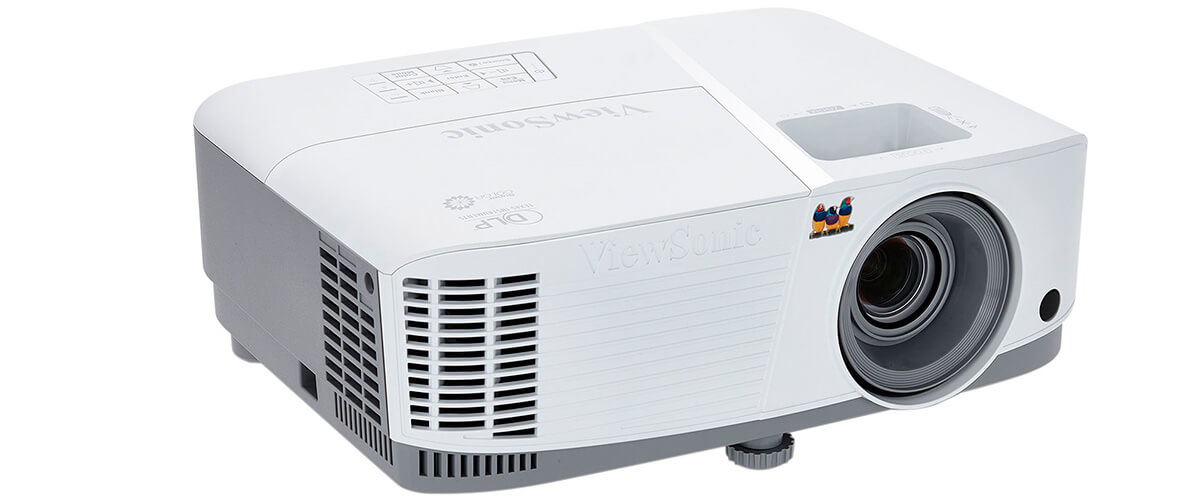 Though this projector was initially developed for business and educational tasks, I decided to check its movie binge-watching capabilities regardless of 1280×800 resolution. Frankly speaking, I was delighted with its high brightness (3600 lumens) and a decent contrast ratio, so I clearly saw the tiniest details and lifelike colors in any environment.
The lamp life is rather long, but you can expand it even further by activating an Eco or Super Eco mode. I mainly used a Standard mode and have nothing to complain about. What impresses me the most about this projector is that you can optimize your viewing experience by choosing from 5 different modes – Brightest, Presentation, Standard, Photo, and Movie.
Thanks to DLP display technology and 3D support, you can fully immerse yourself in video content displayed on the screen, so I won't lie if I call it the best projectors under $500.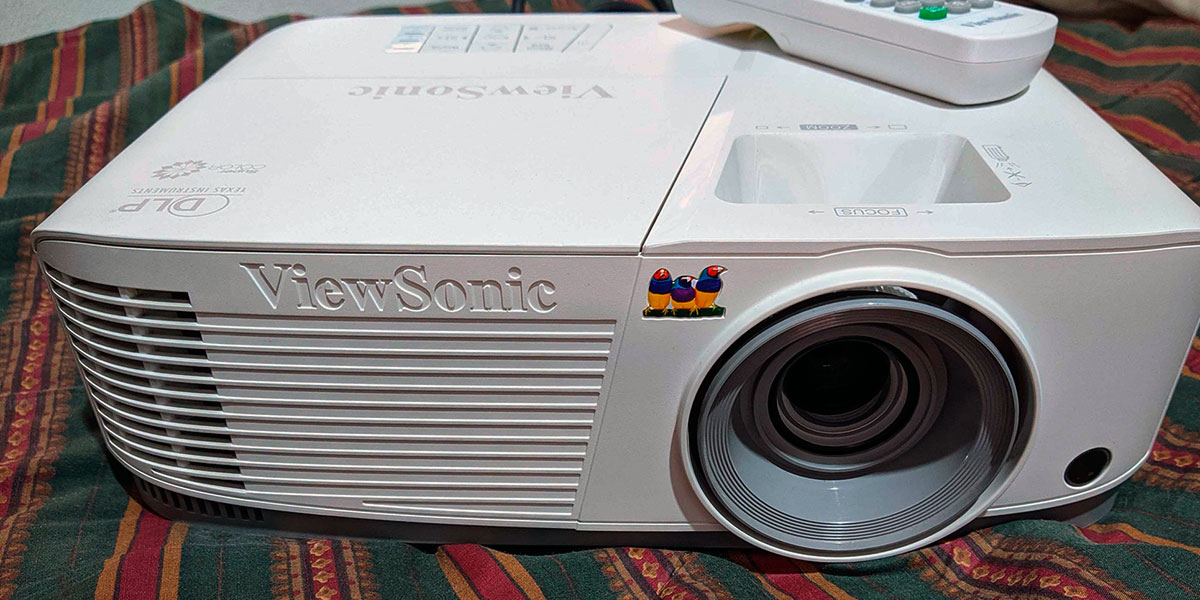 A built-in audio system can cover basic needs, but if you want to get a room-filling sound, buy separate speakers. Lack of Wi-Fi connectivity is expected in this price segment, but if that is a huge problem for you, pay attention to Anker Nebula Capsule Max.
By the way, I find the automatic sleep timer and power-off functions very useful. They really help to save energy and increase lamp life.
During all the testing time, the projector did not fail, hang up, or shut down once. Yes, there is a slight hum from the fan, but you can only hear it if you are nearby.
Generally, ViewSonic PA503W is packed with all the needed features for movie watching and delivering presentations. And most importantly, it will allow you to do it qualitatively! That's why it's at the top of my list, despite the lack of Wi-Fi and a few minor drawbacks.
Key specs
Built-in speakers: yes.
Display technology: DLP.
Resolution, px: 1280×800.
Brightness, lumens: 3600.
Contrast: 22000:1.
Throw distance, ft: 3.2-32.8.
Image size, inch.: 30-300.
Wi-Fi: no.
Built-in speaker: yes.
Pros
Has a port for DLP shutter glasses to watch Blu-ray 3D movies.
Very clear picture even with small print on PowerPoint.
Time management assistance.
Intuitive menus and keystone settings.
Cons
May appear reddish hue (noticeable in faces mostly)
No Wi-Fi
The sound is laughably low
Epson EX3280 – also a great choice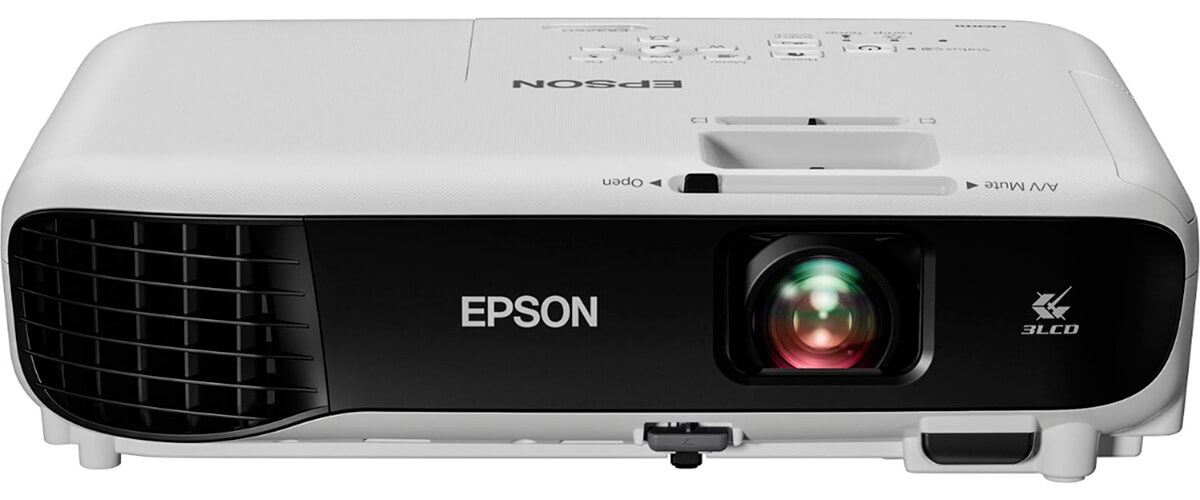 This projector amazes with space-friendly dimensions and 3600 lumens of brightness, which means beautiful images with true-to-life colors in different environments. Offering 1024×768 resolution, this performer is well-suited for everyday needs, which was the scope of my tests.
Thanks to an intuitive setup process and a slew of handy features, I got the device ready for work in a matter of seconds. Besides, 3LCD display technology amazed me with high brightness and precise colors even in the most challenging lighting conditions.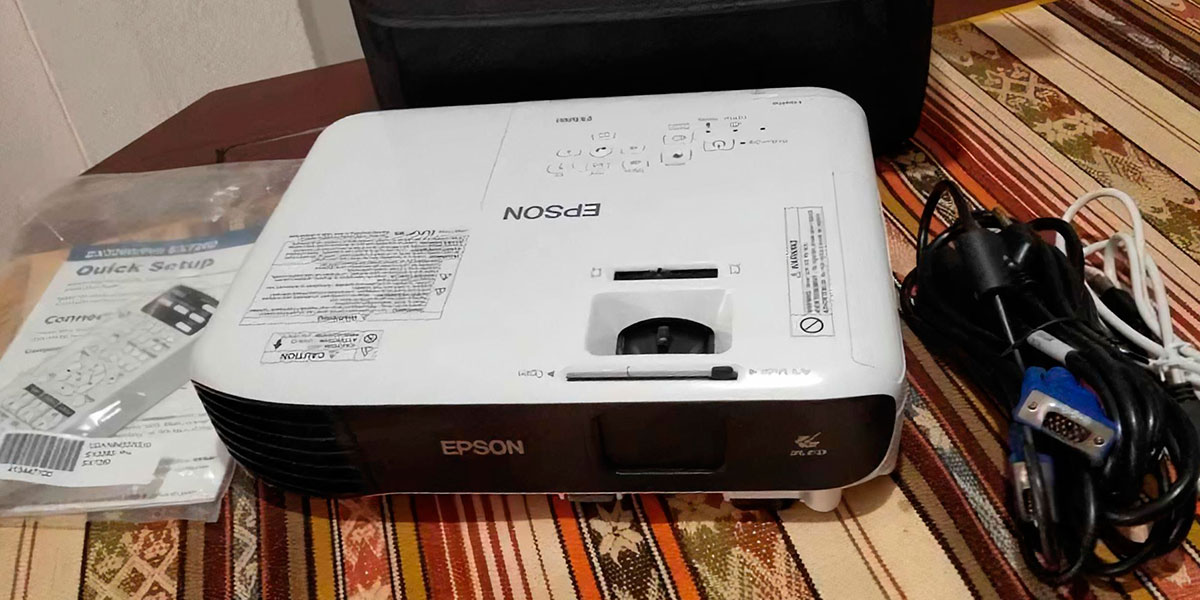 Many users claim that this is one of the best home theater projector under 500 dollars, and I'm inclined to share this opinion. I really appreciate the possibility of manual keystone correction.
A built-in speaker delivers good sound, and we can easily forgive the lack of Wi-Fi considering the cost. I believe Epson EX3260 is well worth its place in this review, though it loses to Optoma HD146X in terms of resolution.
If that is of no importance for you, while your highest priorities are vivid visuals, Epson EX3280 is a way to go.
Key specs
Built-in speakers: yes.
Display technology: 3LCD.
Resolution, px: 1024×768.
Brightness, lumens: 3600.
Throw distance, ft: 2.4-32.8.
Image size, inch.: 30-350.
Wi-Fi: no.
Built-in speaker: yes.
Pros
Can be mounted upside down.
Freeze function.
The auto-adjust aspect ratio & focus make it amazingly easy to set up.
Straightforward navigation menu.
Cons
No 3D capabilities.
Low resolution (800×600).
No audio output.
Optoma HD243X – for gaming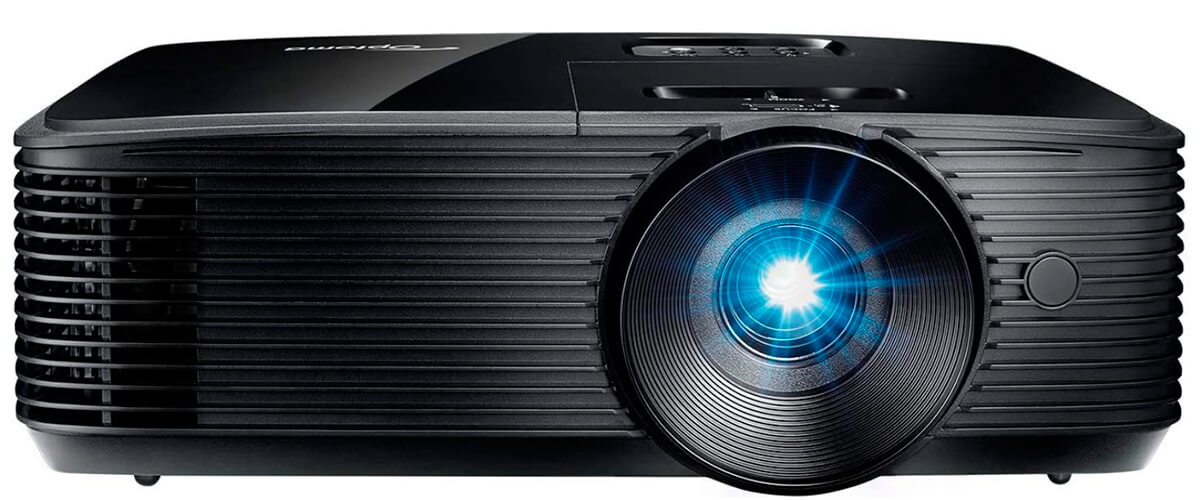 This projector supports Full HD 1080p resolution and works based on DLP technology. There are also ports for connecting game consoles, so Optoma HD243X definitely deserves the title of the best gaming projector under 500 dollars.
I appreciate that a projector comes with a carrying case, so I managed to take it to different places to test it in variable lighting conditions. The declared brightness goes as far as 3600 lumens, and I saw vivid colors and nice images in well-lit environments and dimmed spaces.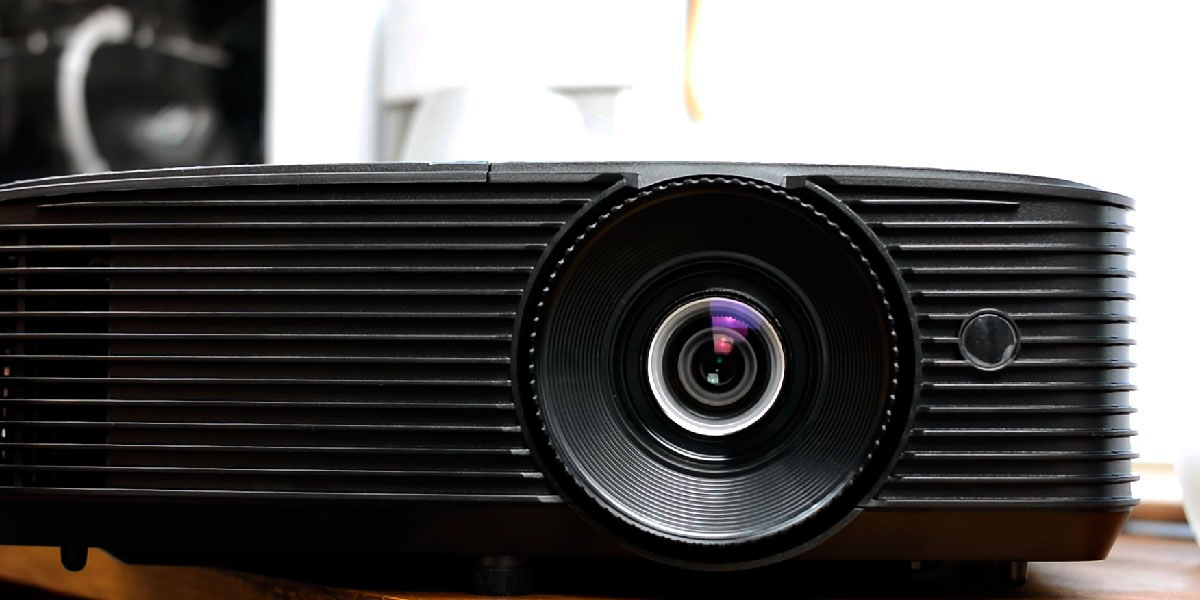 Since the model is advertised as a gaming projector, I was curious about its sounding. In fact, an integrated speaker copes with the task well. What I also like are ISP modes and dynamic black technology. Thus, a picture acquires depth, and colors become more vibrant.
Full 3D support comes as a welcome bonus, and I tested it with various 3D sources, game consoles included. Though there is no Wi-Fi, I hope the manufacturer will fix this in the future. If that is a huge problem for you, then you'd better consider ViewSonic M1+.
Considering all of the above advantages, I can confidently call this a great projector under $500, and the Optoma HD243X is the perfect option for any gamer who wants to enjoy consistent performance and decent image quality without going broke.
Key specs
Built-in speakers: yes.
Display technology: DLP.
Resolution, px: 1920×1080.
Brightness, lumens: 3600.
Contrast: 25000:1.
Throw distance, ft: 3.2-29.5.
Image size, inch.: 28-301.
Wi-Fi: no.
Built-in speaker: yes.
Pros
The blacks are black, and the whites are white.
Quiet cooling system.
Unobtrusive flickering.
Doesn't produce a rainbow effect.
Cons
Jittery video when using Miracast mirroring.
Zoom position and focus position degrades after several weeks.
Gets hot near the bulb area.
BenQ MW535A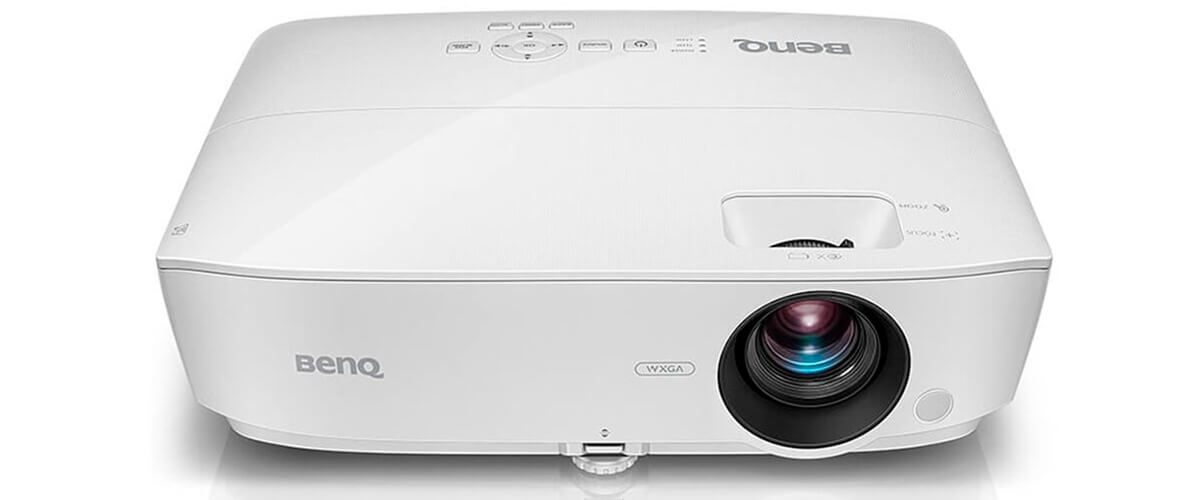 BenQ MW535A can easily satisfy the needs of those buyers who plan to use it for showing presentations to a small number of people in dark rooms. However, I decided to give it a hard time and check how well it performs in varying lighting conditions.
Relying on DLP display technology and 1280×800 native resolution, this device perfectly copes with most undemanding tasks. The brightness of this model reaches 3,600 lumens, which is higher than that of Epson EX3260, and I really like such a mode of the manufacturer.
Another highlight of BenQ MW535A is a longer lamp life thanks to the possibility of switching between modes – from Normal to Eco and even to Smart Eco. I didn't waste time hopping from one mode to another, but I believe you won't need to replace the original lamp in the nearest future.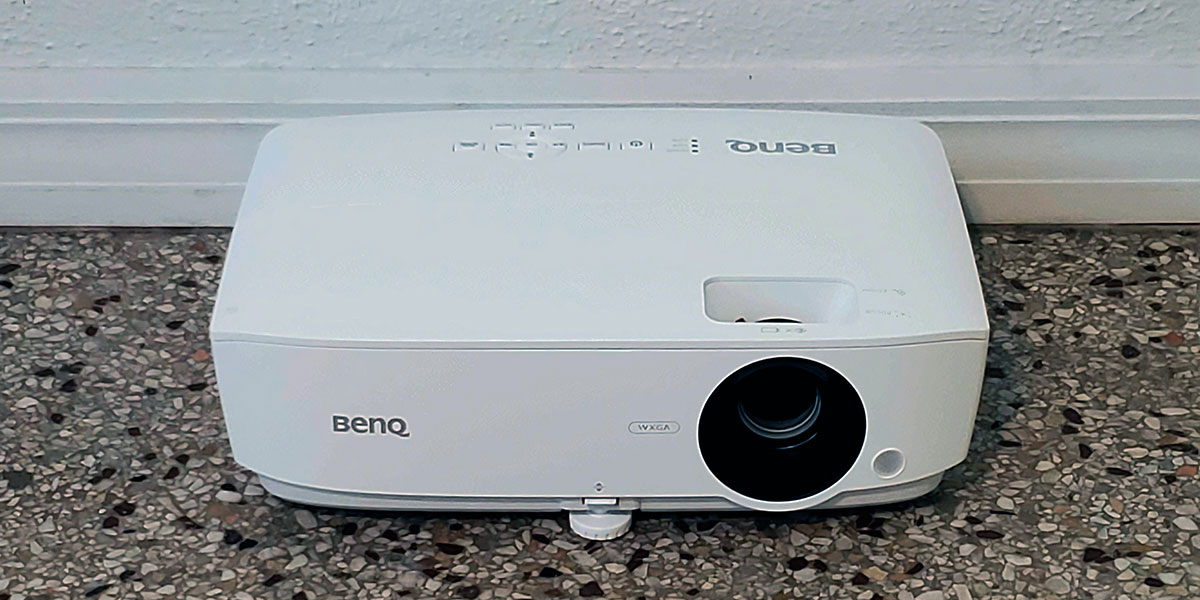 The entire setup process was swift. I even tried to mount this TV projector on a tabletop and a ceiling to create a genuinely convenient working environment.
Unfortunately, there is no onboard storage and built-in speakers, which entails additional expenses. Lack of Wi-Fi connectivity is another shortcoming, but that is the tradeoff you need to settle for while buying a budget-friendly projector. Frankly speaking, I don't think this is a huge problem as other features make BenQ MW535A one of the top-rated projectors in this price category.
All in all, if you are on the lookout for a decent projector under $500 for business-related needs, have a closer look at this device. It shows vivid images in different lighting conditions and will serve you for many years in a row.
Key specs
Built-in speakers: yes.
Display technology: DLP.
Resolution, px: 1280×800.
Brightness, lumens: 3600.
Contrast: 15000:1.
Throw distance, ft: 3.2-32.8.
Image size, inch.: 30-300.
Wi-Fi: no.
Built-in speaker: no.
Pros
The Aspect key for quick aspect ratio adjustment.
Has variable audio outputs.
Noiseless fan.
Lens shift feature for quick image size changing.
The projector compensates wall color.
Cons
No protective lens caps.
Colors distortion when watching dark scenes.
May appear bluish tint while displaying photos.
Best Portable Projectors Under $500
Anker Nebula Capsule Max – best portable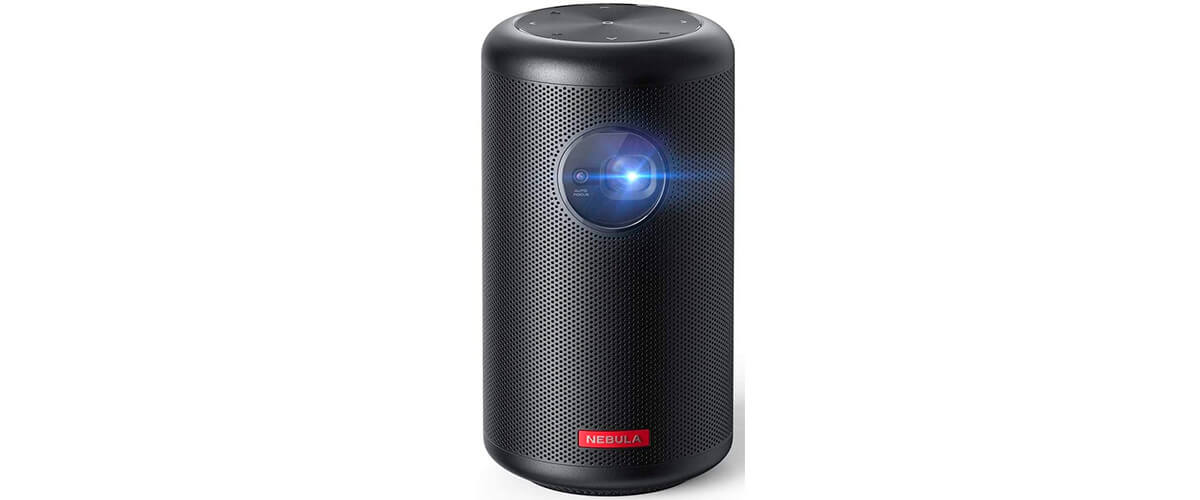 If you ponder about buying an HD projector that you can bring with you wherever you go without tiring your back, this cutie is bound to interest you.
DLP technology wasn't a big surprise for me, while 200lm brightness raised many questions. I hesitated a lot whether such a brightness level was sufficient, but when I switched off lighting in my studio, I saw a detailed 720p image with nice colors. Just keep in mind that this device is meant to be used in scarcely lit places, as sunlight can negatively affect a projected picture.
Thanks to autofocus correction and keystoning, I got a sharp image even at the most extreme angles. Since this model is fitted with an 8W speaker, it took me several minutes to transform my studio into a cinema-like space.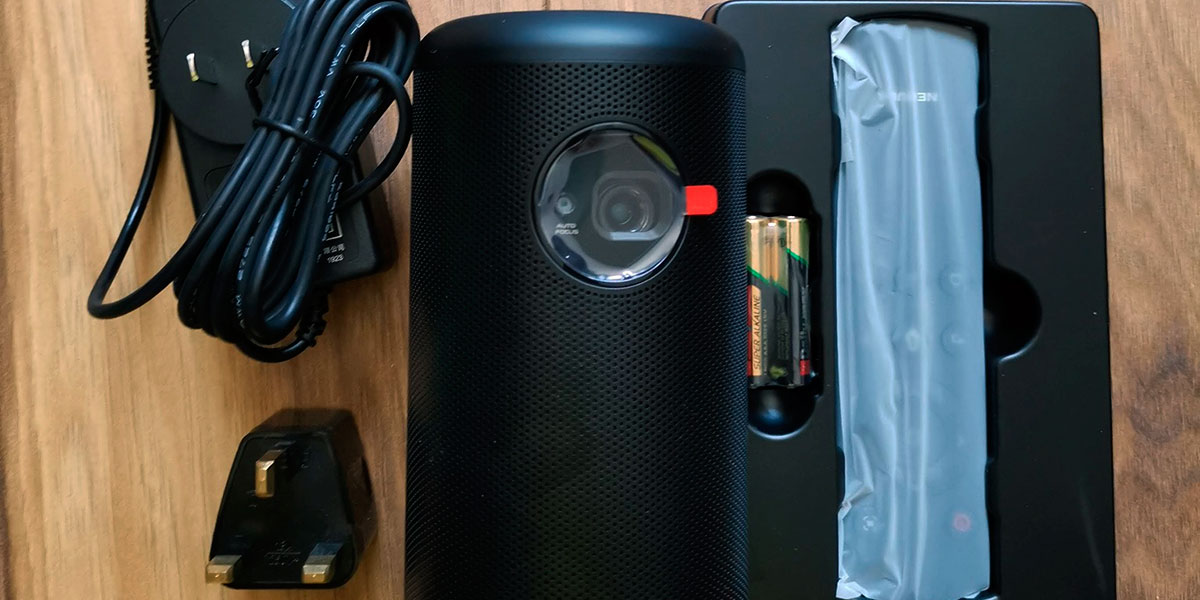 The projector has undergone a nice upgrade in terms of the operating system. It runs on Android 8.1, while its direct rival Nebula Apollo relies on Android 7.1. This is terrific news as you get a dedicated app for streamlined adjustment and management. I used the app for altering brightness, fixing blacks, and making sound quieter. Totally satisfied!
I think the finest thing about this projector is broad compatibility options. Unlike devices described above, this teeny-weeny system supports Bluetooth, Miracast, and Airplay. I appreciate the meticulous work of the manufacturer because this projector can stay on par with bulkier units delivering vibrant pictures and lifelike colors.
If you don't want to mess around with cumbersome projectors but strive to get a beautiful image, Anker Nebula Capsule Max is a good option.
Key specs
Built-in speakers: yes.
Display technology: DLP.
Resolution, px: 1280×720.
Brightness, lumens: 200 ANSI lumens.
Throw distance, ft: 3.2-9.8.
Image size, inch.: 40-100.
Wi-Fi: yes.
Built-in speaker: yes.
Pros
Quick recharging (2.5 hours).
Can be mounted on a ceiling.
Space-saving design.
Works perfectly in a variety of lighting conditions and surface angles.
X and Y direction keystroke correction.
Cons
No way to screen mirror with Prime, iTunes, etc.
Apps may crash.
Too distracting flickering.
200lm brightness only.
ViewSonic M1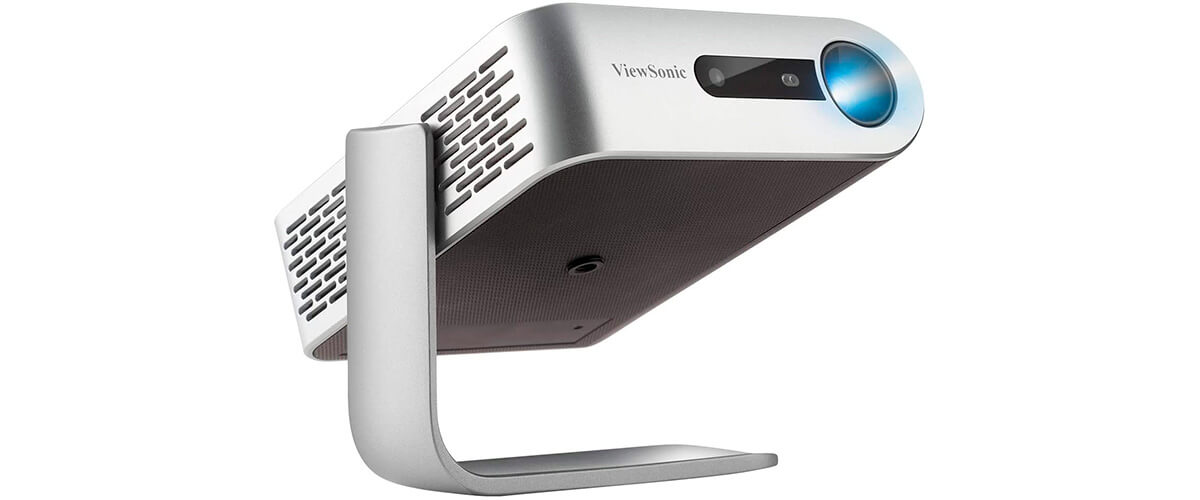 Selecting a tiny projector that can deliver detailed images is no easy task, especially if you can't afford to buy high-end products. Fortunately, ViewSonic has released the M1 model, which fully meets regular demands and even copes with more demanding tasks I threw at it!
The projector uses DLP technology and has 854×480 resolution, which is the smallest value in this review. The brightness tops at 250 lumens, so I didn't even try to locate it in a well-lit room.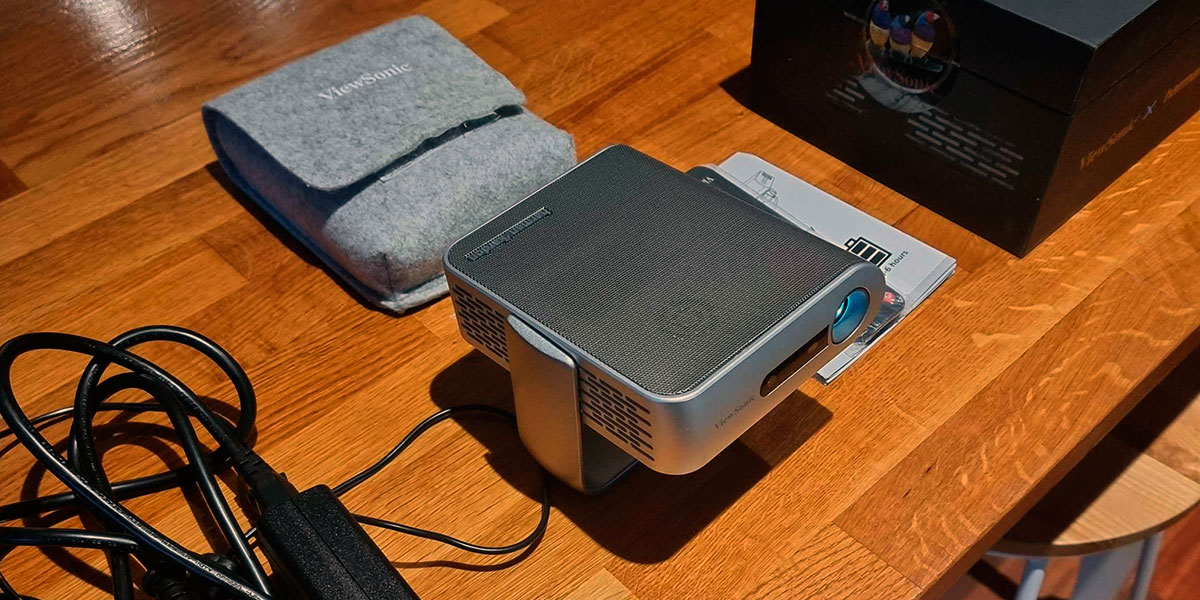 I was curious about its audio system, as the projector is tiny. However, the manufacturer managed to insert dual Harman Kardon speakers that filled my room with a deep and loud sound.
Thanks to a capacious battery, I was able to test ViewSonic M1 for up to 6 hours without recharging. While moving the projector from one room to another and locating it outdoors, I felt its weight and thought that some users may want a more lightweight device. While ViewSonic M1 weighs 1.5lbs, ViewSonic M1+ Mini impresses with 0.6 pounds only.
I don't consider this difference crucial and highly recommend the M1 to everybody looking for a portable device with excellent image projection potential.
Key specs
Display technology: DLP.
Resolution, px: 854×480.
Brightness, lumens: 250 LED lumens.
Throw distance, ft: 3.2.
Image size, inch.: 24-100.
Wi-Fi: no.
Built-in speaker: yes.
Pros
Generous port selection.
16GB internal storage.
Auto keystone adjustment.
Speakers produce powerful sound.
Cons
Remote control fails to work if you aren't in front of the projector.
No wireless connection.
Frequently falls out of focus.
Buyers guide
What brightness of the projector do you need
The brightness of a projector is measured in lumens. To understand how bright a projector you need, you should consider the throw distance, image width, the amount of ambient light available in a room, and the type of content displayed. Once you know all these values, you can use a special projector calculator to define an ideal brightness automatically. Most brands have such calculators on their websites.
Many projectors are designed for use in entirely dark spaces, but creating such conditions in real life is almost impossible. There is always a portion of ambient light penetrating the darkness, which results in cloudy blacks and washed-out colors.
I have conducted rough measurements for you to understand better what brightness is needed for your space:
A room with controllable lights – 1500-2000lm.
A conference hall or similar large rooms with dimmable lights –3000lm as a minimum.
A huge venue, a church, or another well-lit environment – 4500lm.
A large open space – 20,000lm.
Resolution explained
The resolution defines how many pixels a projector can display. The higher the number, the more detailed images you get. This parameter matters as such a setup implies that viewers will sit relatively close to the screen. A higher resolution means you can get a crisp picture even at a short distance.
The lowest acceptable resolution is 480p, but 720p and 1080p are more popular nowadays. Seasoned movie lovers favor 4K Ultra HD.
While evaluating resolution, you need to understand that the perfect image quality is possible only if the resolution of your projector coincides with that of a video source. For instance, a 1080p projector is an excellent match for a Blu-ray player.
What connectivity do you need
Modern projectors have different ports for connecting various devices. Make sure the model you are going to buy has the following connectors:
HDMI is the most frequently used input port in projectors and TV sets. It adheres to a super high-quality standard, combining both video and audio channels into one whole. If you need to pair a projector with a smartphone, get a specific HDMI adapter.
DVI can be of several kinds – DVI-A/D, DVI-D, and hybrid DVI-I port that combines the properties of analog and digital signals.
Composite is less popular than the abovementioned ports, but many project manufacturers still use this input. Composite works by dividing a signal into several threads – yellow is for video connector, and two connectors for audio.
You can also come across movie projectors with a VGA port. This is an analog connector mainly needed for displaying content from VGA-compatible computers that lack other ports.
RCA is very rare as it can receive only image signals. This means you need to purchase additional accessories for connecting audio equipment.
3.5mm is used solely for audio signals. This connector comes in handy when you need to attach separate speakers and a sound system.
Optical connection has nothing to do with digital sound transmission, fully concentrating on analog signals. It is praised for delivering audio of top quality.
Wi-Fi is aimed at wireless data transmission. If you don't feel like managing cables, you should opt for a projector with Wi-Fi support. Such devices are typically supplied with bundled apps for streamlined adjustments. Moreover, advanced models allow streaming right from the net.
Lens zoom explained
Chances are high you'll relocate your projector depending on your current needs, and it is very convenient to have the possibility to adjust the image size without physically moving a device. This is possible thanks to the lens zoom.
An image becomes larger if you increase the zoom ratio. For instance, a 1.2x zoom makes a picture 20% bigger compared to the minimum size. A 2.0x zoom enlarges the image twice. The bad news here is that not all projectors have a lens zoom, so keep this in mind while making a choice.
What are keystone corrections and lens shift
Locating a projector at a 90-degree angle to the screen is a challenging task, so you have to perform other manipulations to correct distortion. The handiest way to do so is to take advantage of keystone correction. It allows making a projected picture perfectly square on the surface.
Lens shift comes to the rescue when you need to alter the angle of the lens by moving it in vertical and horizontal directions. The strong point of lens shift is that it fully preserves the resolution of an output picture, unlike keystoning. That's the main reason why lens shift is so popular.
Keystoning is a standard feature of all projecting systems, as it serves as a fast and intuitive way of adjusting an image. Lens shift is available in the top-tier devices, while low-priced products may come without it. Anyway, I believe that getting a projector with such a handy function will pay off in the long run.
FAQ
What does a decent projector cost?
A decent projector will typically cost between $300 and $700. You can find cheaper projectors, but they may not have all the features you want or need. More expensive projectors may have features that are unnecessary for your needs. It is important to decide what features are most important to you before purchasing.
Which projector is the best projection quality?
There is no definitive answer to this question. It depends on many factors, including the type of projector, the quality of the projector, the screen size, and the viewing environment. However, higher-end projectors will generally tend to produce better projection quality than lower-end models. Additionally, larger screen sizes will usually require a higher-quality projector to produce an acceptable image. Finally, the viewing environment can significantly impact projection quality; for example, a room with ambient light will typically require a brighter projector to produce a visible image.
Are mini projectors worth it?
Mini projectors can be a great option for those who need a projector but do not have a lot of space. They are also typically more affordable than full-sized projectors. However, mini projectors generally have lower image quality and may not suit all projection needs.
How many lumens is a good projector?
A projector with at least 1000 lumens will be sufficient for most projection needs. However, brighter projectors may be necessary for environments with ambient light or for large screen sizes. Additionally, some projectors have an adjustable lumen output, which can be beneficial if you adjust the brightness to suit your environment.
Can a projector replace a TV?
Yes, a projector can replace a TV. However, it is important to note that projectors generally have a shorter lifespan than TVs. Additionally, projectors typically have lower image quality than TVs, though this will vary depending on the specific model and brand. Finally, projectors are typically more expensive than TVs, so it is important to consider your needs and budget before purchasing.
What is the difference between DLP and LCD projectors?
DLP (Digital Light Processing) projectors use a chip with tiny mirrors to reflect light through a lens and onto a screen. LCD (Liquid Crystal Display) projectors use a panel of liquid crystals that rotate to modulate the light passing through them. DLP projectors typically have higher contrast ratios and faster refresh rates, but LCD projectors tend to be cheaper and produce less image distortion.
What is the difference between a business projector and a home theater projector?
Business projectors are designed for presentations and other professional needs, while home theater projectors are designed for movies and other entertainment. Business projectors typically have lower image quality than home theater projectors, but they are usually smaller and more portable. Home theater projectors usually require a dark room for optimal viewing, while business projectors can be used in a variety of lighting conditions.
How to connect a phone to a projector wirelessly?
There are a few different ways to
wirelessly connect a phone to a projector
. One option is to use a wireless HDMI adapter, which will allow you to connect your phone to the projector using an HDMI cable. Another option is to use a wireless display adapter to connect your phone to the projector using an existing Wi-Fi network. Finally, some newer projectors have built-in wireless connectivity, which will allow you to connect your phone to the projector without any additional adapters.