The variety of projectors on the market today is really impressive. Among them, there is a separate segment of ultra-short-focus projection systems, which are becoming increasingly popular today.
Our pick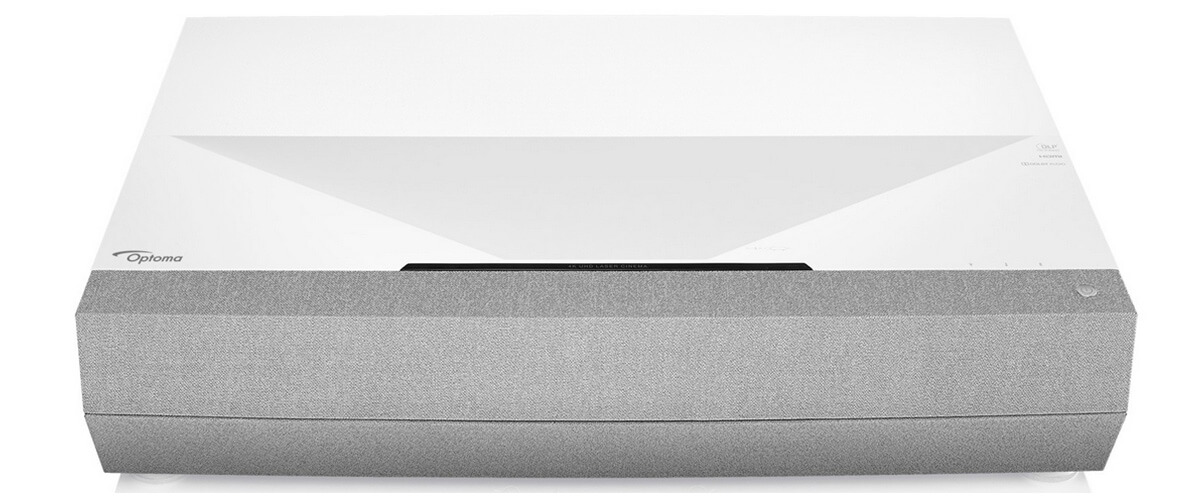 Optoma CinemaX P2
Best ultra short throw projector
Optoma HDR tone mapping combined with dynamic contrast presents an optimized image with brighter whites, deeper black levels and realistic colors that jump off the screen for an immersive visual experience.
Read the full review
.
Those who want to choose the best ultra short throw projector count on the excellent image quality provided by such a device and several additional features available at a very reasonable price. Unlike conventional projectors, which are usually mounted on the wall, on a special stand, or placed in the room's depth, ultra-short throw projectors are less demanding to the distance to the screen. They can be comfortably placed at a distance of about 4 inches from the wall. That is possible thanks to a unique technology where the image is projected upwards rather than the standard "across the room" method.
If you have already set a goal to find the best ultra-short throw projector, you probably realize this process is not so simple. You will have to consider many aspects and specifications of the device in order to choose a really worthwhile model. Therefore, I have considered the most difficult part, compared different projectors in terms of brightness, resolution, speakers, and light source, highlighting their strengths and weaknesses, and finally prepared my top list of 5 ultra short throw projectors.
UST Home Theater Projectors Comparison Table
Name
Resolution
Throw distance, ft
Throw ratio
Image size, inch.
Bluetooth/Wi-Fi
Built-in speakers
Review
Optoma CinemaX P2

best overall

3840×2160 DLP
1.7-2.3
0.25:1
85-120
yes/no
yes
Review
Optoma GT5600

budget

1920×1080 DLP
1.3-1.9
0.25:1
80-120
no/no
yes
Review
Epson EpiqVision Ultra LS300

under $2000

1920×1080 3LCD
0.0-1.3
0.27:1
60–120
yes/no
yes
Review
WEMAX Nova

under $3000

3840×2160 DLP
1.4-2.6
0.23:1
79.7-153.6
yes/yes
yes
Review
LG HU85LA

premium

3840×2160 DLP
1.3-1.7
0.19:1
90-120
yes/no
yes
Review
Ultra short throw vs traditional projectors
No installation problem
While installing traditional projectors, you have to cope with multiple challenges. First off, such projectors are typically cumbersome, so it is really difficult to fix this system on the ceiling or a wall in the middle or at the back of a room. Sometimes, it even leads to damaging original interior design, which becomes a huge problem if you want to locate a projector in a redecorated room with fresh paint on the walls. Another challenge is a bunch of wires that you need to accurately arrange across space so that a projector can be connected to a cable box or AV receiver, as well as other devices.
When it comes to placing a UST projector, you can totally forget about the above-mentioned hardships. You can easily set it as tight as 4-10 inches from the wall and several inches below the screen. That's the entire installation procedure. Source and audio elements can be neatly hidden within the furniture, while cords are carefully tucked away. The only thing that requires gentle handling is the screen.
No need for light control
To make the most out of any projector, you need to place it and switch it on in a completely dark room. Though this is a generally accepted rule, not everybody wants to watch movies, TV programs, or presentations in a dark room. There have been many discussions on how to get an identically crisp picture in moderate ambient light, and most manufacturers tried to experiment with special screen materials. Such materials are capable of enhancing contrast and retaining vivid colors.
Fortunately, their experiments resulted in the invention of "ambient-light rejecting" screens (ALR). Such screens are unbeaten at suppressing most natural and artificial light, so you can locate a projector & screen system even in brightly lit rooms. Of course, if you can't afford to pair your ultra short throw projector for home theater with a special ALR screen, you can use a bundled screen, but don't expect colors to be as bright as they can be.
No lamp replacements
Modern 4K ultra short throw laser projectors are fitted with a solid-state laser of LED light sources, which can serve you for at least 20,000 hours. This value means that you can use a projector for 5 hours every day for ten years in a row. Speaking about traditional projectors, I must admit that the service life of a standard lamp doesn't exceed 5000 hours. Then you need to replace it with a new lamp, which usually costs several hundred dollars. Another argument in favor of LED lights and solid-state lasers is that they don't degrade after several projection sessions. In other words, you can get the same bright image with crisp details upon many hours of viewing.
If you are still doubtful about such capabilities of the best ultra short throw projectors, you need to observe how they work in real life. You can take advantage of a retail demo or visit your friend who has already bought and tested a projector and ALR screen combo. Believe me, you'll be pleasantly surprised.
Best Ultra Short Throw Projector Reviews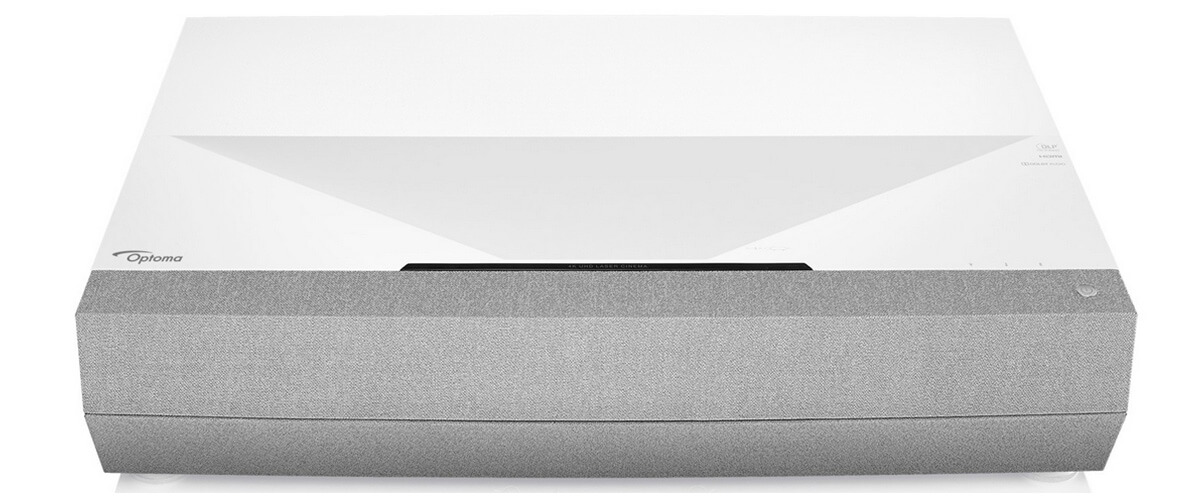 If you are willing to invest in a projector that is equally efficient in a totally dark environment and in a sunlight-filled room, you definitely need to consider Optoma CinemaX P2. Regarded by many as the best ultra short throw 4K projector, it has many features to brag about. Primarily, this projector supports 4K UHD resolution and is equipped with Dolby Digital 2.0 audio and built-in Bluetooth speakers, which means you can fully immerse yourself in the video displayed on the screen, similar to the way you feel in the cinema. The P2's stereo sound is really good compared to many other analogs. The system has a total output power of 40 watts, with each driver using a 10-watt digital amplifier module. During testing, the soundstages were clear and wide.
The improved DLP display technology and a throw distance of 1.7-2.3 feet ensure wide gamut coverage, richer colors, and true-to-life visuals. The image size ranges from 85 to 120 inches. This projector amazes with HDR 10 performance. Thus, you will see pure whites, inky blacks, and an overall bright color gamut. There is a solid-state laser with a lifespan of up to 30,000 hours. Brightness reaches 3000 lumens. As for the smart features, you can take advantage of voice commands and dedicated apps for a streamlined control process.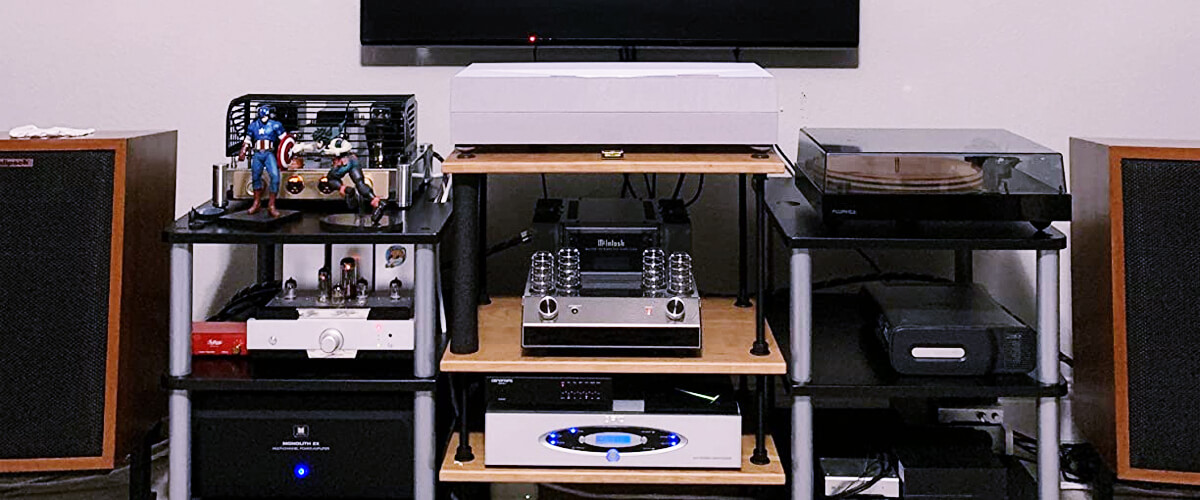 Optoma CinemaX P2 has three HDMI inputs: two on the rear and one on the side. The rear inputs are v2.0, and HDMI 1 is ARC-compatible. There are also two USB ports, an optical digital audio output, Ethernet LAN, and a 3.5 mm audio output.
By the way, CinemaX P2 works just like any smart TV; its home screen offers a menu, input source, and app buttons. The projector runs a customized version of Android, but unfortunately, there is no access to the Google Play Store.
The projector has a built-in media player and plays images, music, and video files from USB drives. However, there is no Chromecast support, which would be handy for streaming directly from your smartphone. As you can see, even the best UST projector can have small disadvantages.
Key specs
Display technology: DLP.
Light sources: laser.
Resolution, px: 3840×2160.
Throw distance, ft: 1.7-2.3.
Throw ratio: 0.25:1.
Image size, inch: 85-120.
Contrast: 2000000:1.
Brightness, ANSI lumens: 3000.
Bluetooth/Wi-Fi: yes/no.
HDR: HDR10.
Built-in speakers: yes.
VAVA 4K – also a great choice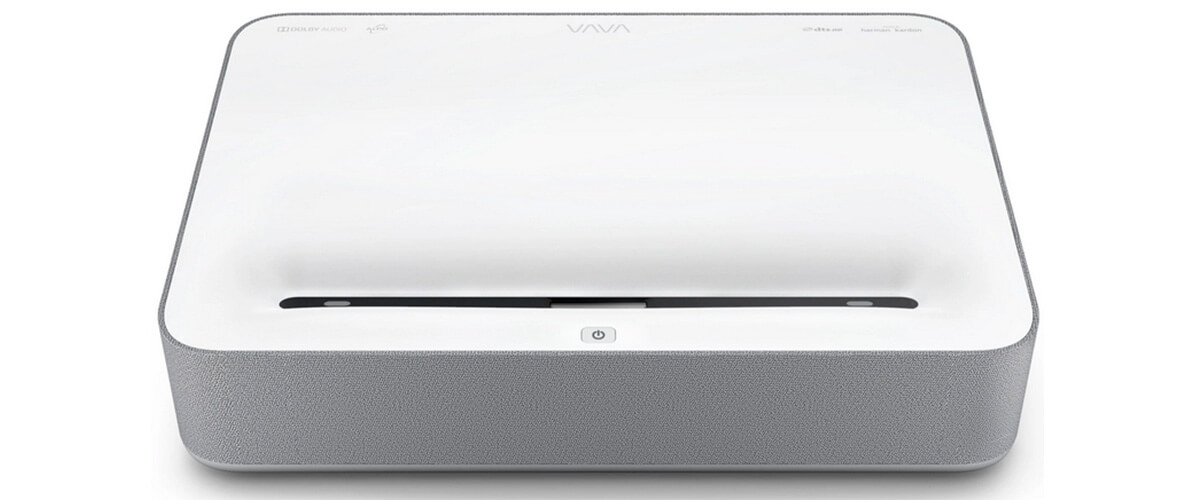 Being one of the most notable ultra short throw projectors in this price category, VAVA 4K has a peak brightness of 2500 lumens. This is enough for outputting sufficiently bright and vivid pictures, which can please the majority of undemanding users. Relying on DLP display technology, this projector is mainly aimed at dark environments, while its capabilities of showing images and shadow details in light rooms are far from perfect. It supports a 4K resolution and has a throw distance of 1.7-2.3 feet. The max image size reaches 150 inches, while the lowest limit is 80 inches.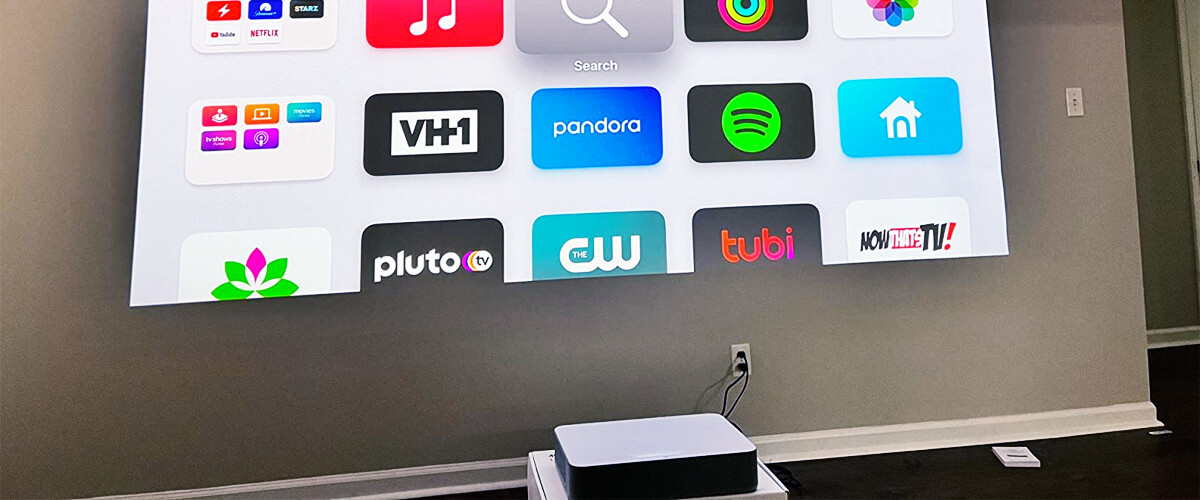 Thanks to 4K resolution with HDR 10, you and your friends can enjoy deeper colors, fuller saturation, and higher contrast while organizing cinema parties both in your house and in the backyard. Advanced laser is claimed to work for 25,000 hours, which means almost 17 years of trouble-free viewing experience if you use the projector for 4 hours on a daily basis. Considering audio capabilities, I can't but mention embedded Harman Kardon speakers that deliver high-fidelity sound reaching even distant corners. Thanks to Dolby Audio technology, you won't hear any audio distortions. The projector runs Android 7.1 and comes with multiple bundled apps. You can perform standard manipulations using voice commands.
Key specs
Display technology: DLP
Light sources: laser
Resolution, px: 3840×2160
Throw distance, ft: 1.3-2.7
Throw ratio: 0.23:1.
Image size, inch: 80-150.
Contrast: 1500000:1.
Brightness, ANSI lumens: 2500.
Bluetooth/Wi-Fi: yes/yes.
HDR: HDR10.
Built-in speakers: yes.
Optoma GT5600 – budget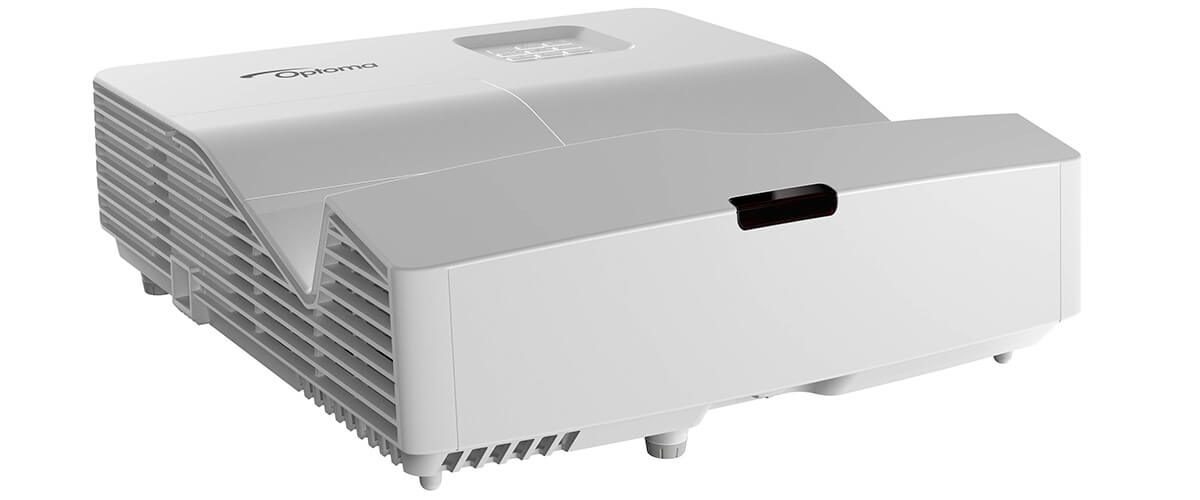 If you are searching for a decent projector that won't burn a hole in your pocket, I can confidently call Optoma GT5600 the best budget option on this list. It is highly popular among gamers, who want to see the tiniest details and hear the slightest sounds of their enemies while playing their favorite AAA titles. Following the "Place & Play" principle, this 1080p projector can be used right out of the box. Just connect it to a gaming console or a video player and launch auto keystone correction. The throw distance ranges from 1.3 to 1.9 feet, which means you can totally forget about the hassle of managing cables. Image size maxes at 100 inches, with 80 inches being the lowest point.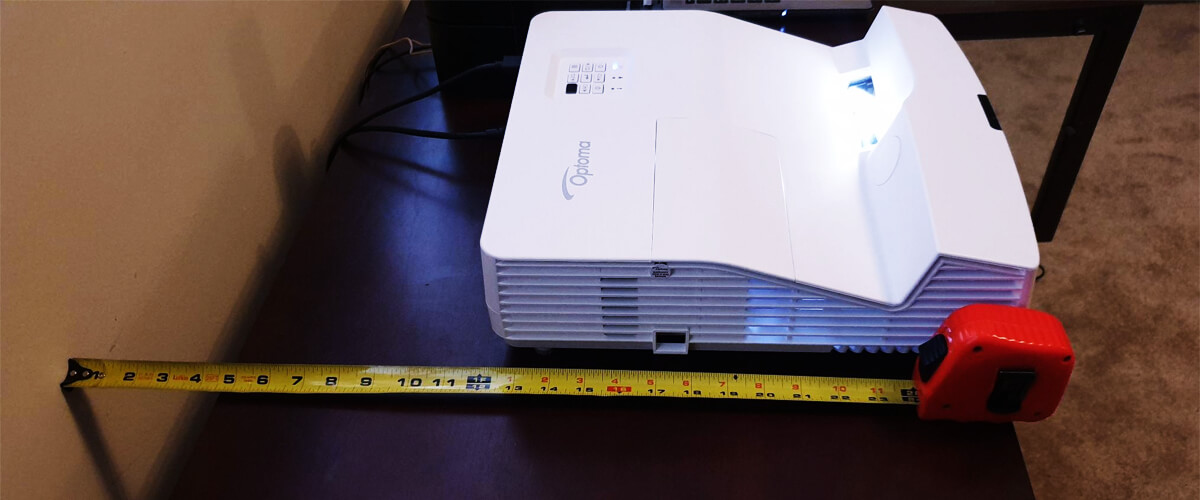 The projector comes with built-in 16-watt speakers that deliver crisp audio. Thanks to a 20,000:1 contrast ratio and top-notch optical lens, you are bound to get accurate details, deep shadows, and stunning textures even on huge screens. You can connect Android and iOS devices to this projector and turn your standard gaming sessions into exciting eSports marathons. The most disappointing thing is that the Optoma GT5600 lacks HDR support. Anyway, there are always trade-offs when it comes to budget-friendly products.
Key specs
Display technology: DLP.
Light sources: lamp.
Resolution, px: 1920×1080.
Throw distance, ft: 1.3-1.9.
Throw ratio: 0.25:1.
Image size, inch: 80-100.
Contrast: 20000:1.
Brightness, ANSI lumens: 3600.
Bluetooth/Wi-Fi: no/no.
HDR: no.
Built-in speakers: yes.
Epson EpiqVision Ultra LS300 – best under $2000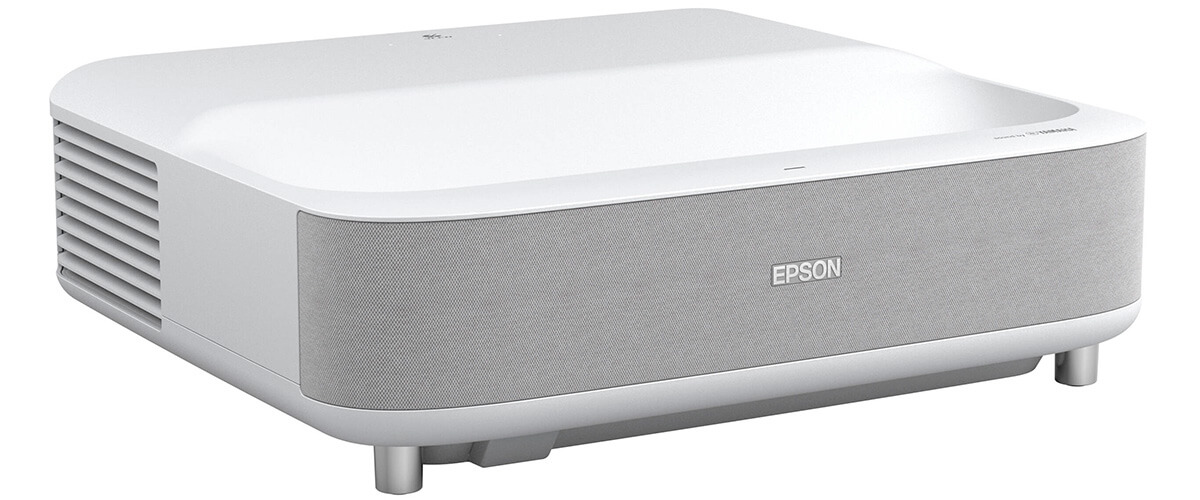 If high picture quality is your main priority, Epson EpiqVision Ultra LS300 is worth considering. With Full HD resolution, it amazes with immersive and perfectly bright HDR images either you watch TV shows, sports competitions, or play games. The image size can vary from 60 to 120 inches, which is enough for most needs. The highlight of the projector is built-in Yamaha 2.1 speakers that are ranked among the most powerful audio systems. Moreover, you can connect a standalone speaker via Bluetooth for a more encompassing experience.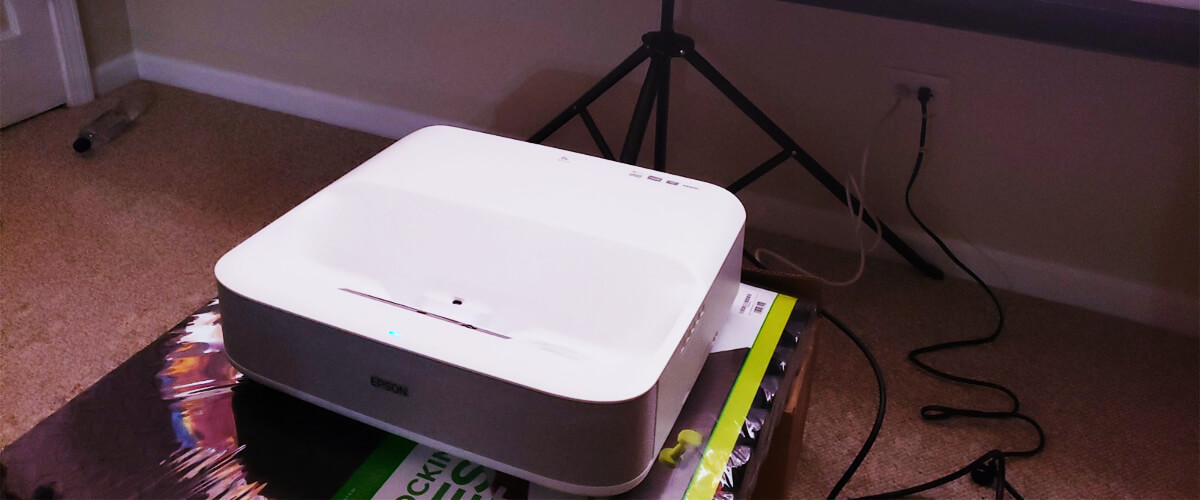 The throw distance deserves many complimentary words being in the range of 0.0-1.3 feet. This way, you can place a projector right near the screen and get a clear picture with distinct blacks and whites. The model is supplied with a handy remote. There is also a voice search feature, so you can cope with some routine tasks using Google Assistant. Epson EpiqVision Ultra LS300 runs on built-in Android TV.
Key specs
Display technology: 3LCD.
Light sources: laser.
Resolution, px: 1920×1080.
Throw distance, ft: 0.0-1.3.
Throw ratio: 0.27:1.
Image size, inch: 60-120.
Contrast: 1500000:1.
Brightness, ANSI lumens: 3600.
Bluetooth/Wi-Fi: yes/no.
HDR: yes.
Built-in speakers: yes.
WEMAX Nova – best under $3000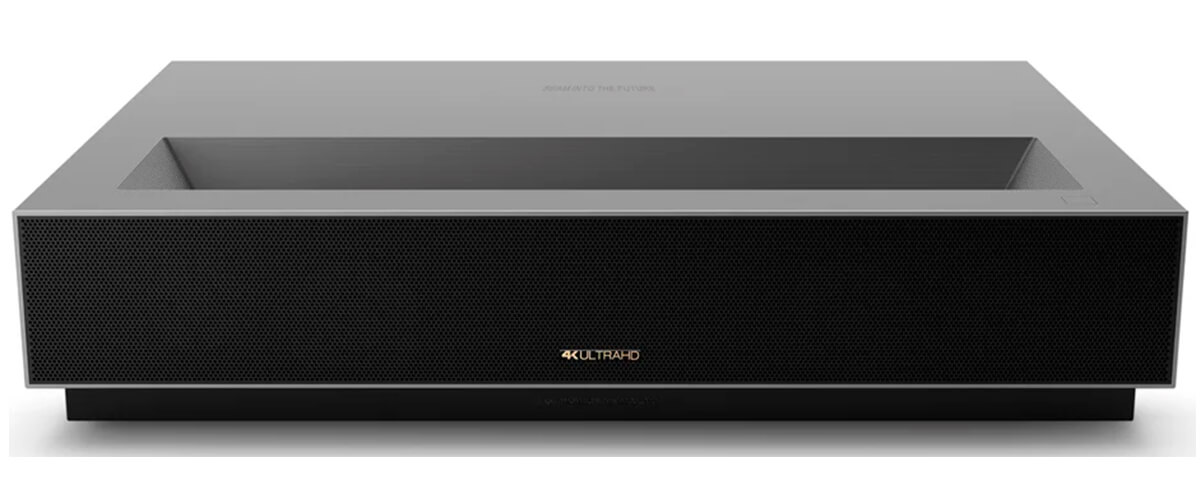 Immerse yourself in a theater-like experience from your cozy sofa with a Wemax Nova projector with in-built Android TV 9.0 version and Wi-Fi 5 wireless connectivity. Stream your favorite shows from HBO Max, Showtime, Disney+, download apps from Google Play, or connect to Netflix (mind that you will need a Fire TV stick or similar streaming device for this purpose).
With 4K UHD featuring 8.3 million pixels (3840 x 2160), you get 4x resolution of full HD of a 1080P HD image. As a result, the image is well-balanced and bright. This ​​ultra-short throw projector produces crisp and vivid images even when placed 19 inches from the wall. The LG HU85LA projector requires a shorter distance (7.2 inches), but this criterion is not critical for many people. The image gets blurry at the corners, but the contrast is good.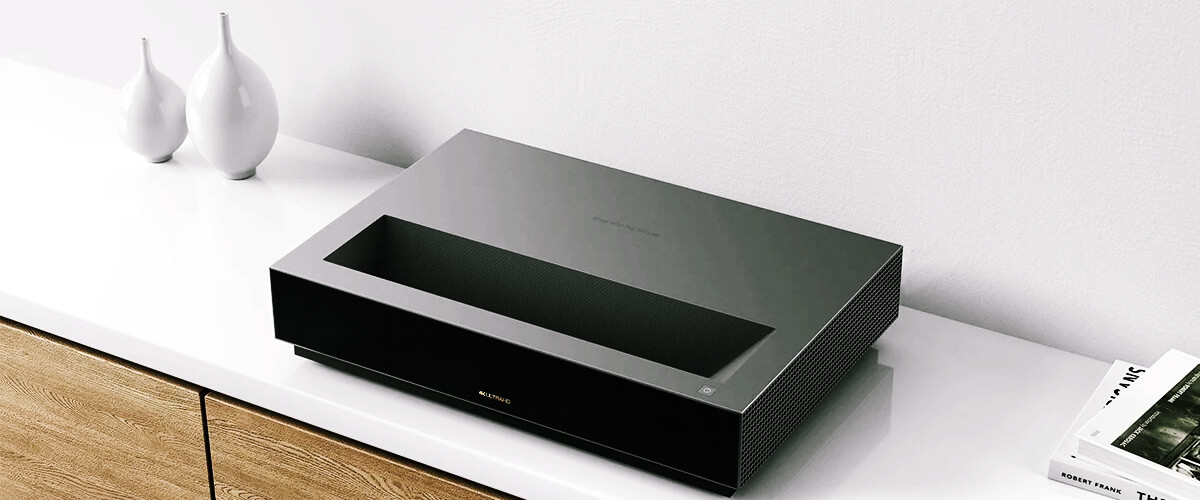 With 30W DTS HD speakers by Dolby, you will enjoy the crystal-clear audio. As I already said, the WEMAX Nova runs on Android. I had no issues with the OS until the update, then I couldn't reach the onscreen menu.
It's compatible with iPhone, Android, iPad, Laptop, tablets, or other devices and can be controlled with the Voice Control button. WEMAX Nova is the best option for you if you plan to spend around $3000 on a home projector.
Key specs
Display technology: DLP.
Light sources: laser.
Resolution, px: 3840×2160.
Throw distance, ft: 1.4-2.6.
Throw ratio: 0.23:1.
Image size, inch: 79.7-153.6.
Contrast: 3000:1.
Brightness, ANSI lumens: 5000.
Bluetooth/Wi-Fi: yes/yes.
HDR: HDR10.
Built-in speakers: yes.
LG HU85LA – premium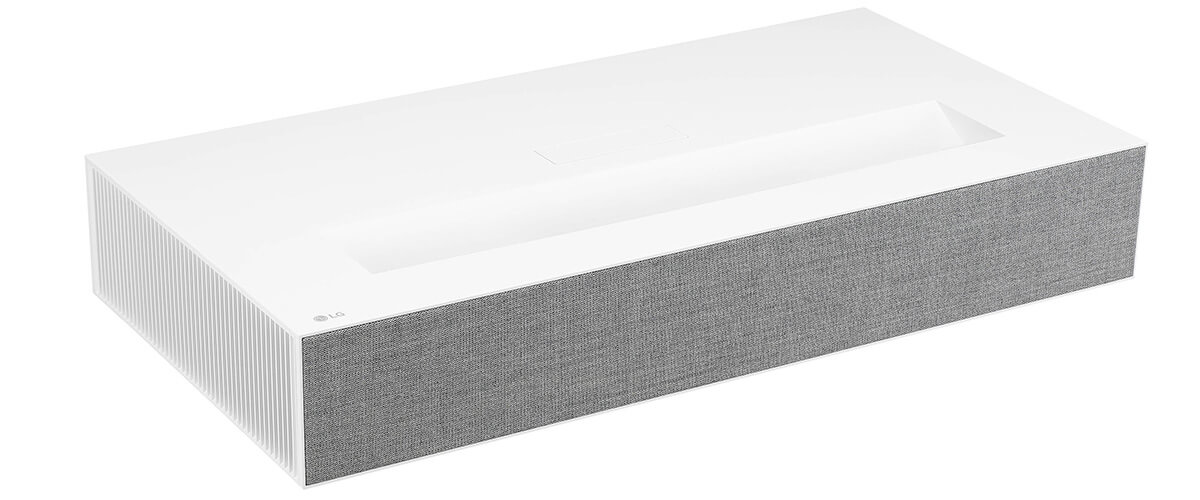 This 4K ultra short throw laser projector has undergone a serious upgrade and acquired HDR10 with Dynamic tone mapping, which resulted in boosted image quality on the frame by frame basis. Another big improvement involves TruMotion technology, which is a special video processing method when animation frames are constructed between existing frames. This technology plays a huge role, making animation smooth and fluid. LG HU85LA is equipped with a traditional blue laser complemented with a red laser for more extensive color coverage. The declared brightness is 2700 lumens, so the title of the best premium projector is well justified.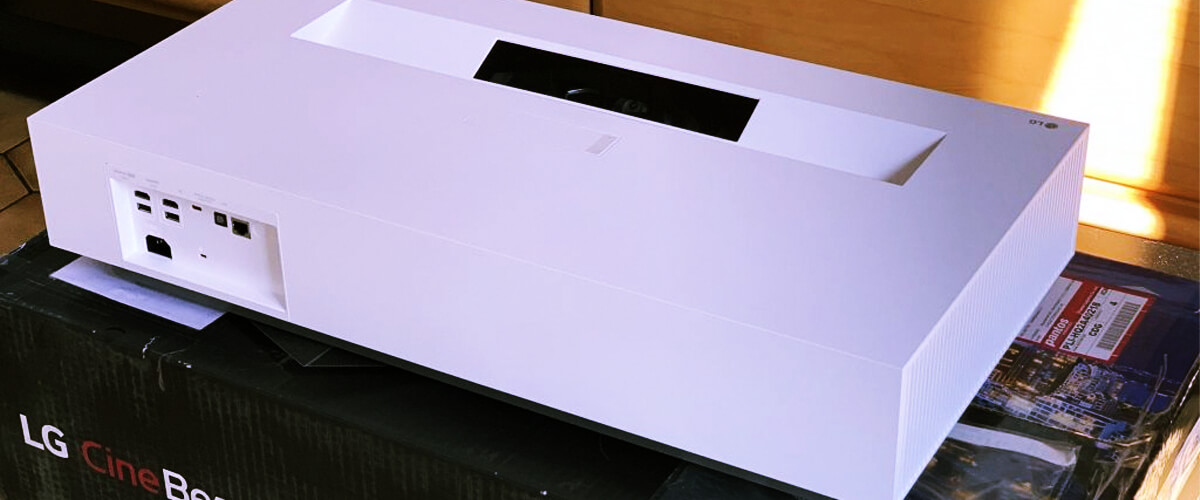 The throw distance is within standard values – from 1.3 to 1.7ft. An image size goes as far as 120 inches at the maximum side, with 90 inches being the lowest margin. The kit includes the Magic Remote for instant access to branded webOS smart TV operating system. This way, you can watch your favorite movies and shows on the most popular streaming platforms. The developers have worked hard on the design of the projector, making their product look sleek and suitable for almost any modern environment. Integrated speakers allow bringing a cinema-inspired atmosphere right to your house. They deliver powerful and immersive sound, so you will hear each note. Using wireless connectivity, you can easily pair LG HU85LA with devices running Android and Windows.
Key specs
Display technology: DLP.
Light sources: laser.
Resolution, px: 3840×2160.
Throw distance, ft: 1.3-1.7.
Throw ratio: 0.19:1.
Image size, inch: 90-120.
Contrast: 2000000:1.
Brightness, ANSI lumens: 2700.
Bluetooth/Wi-Fi: yes/no.
HDR: HDR10.
Built-in speakers: yes.
SAMSUNG Premiere LSP7T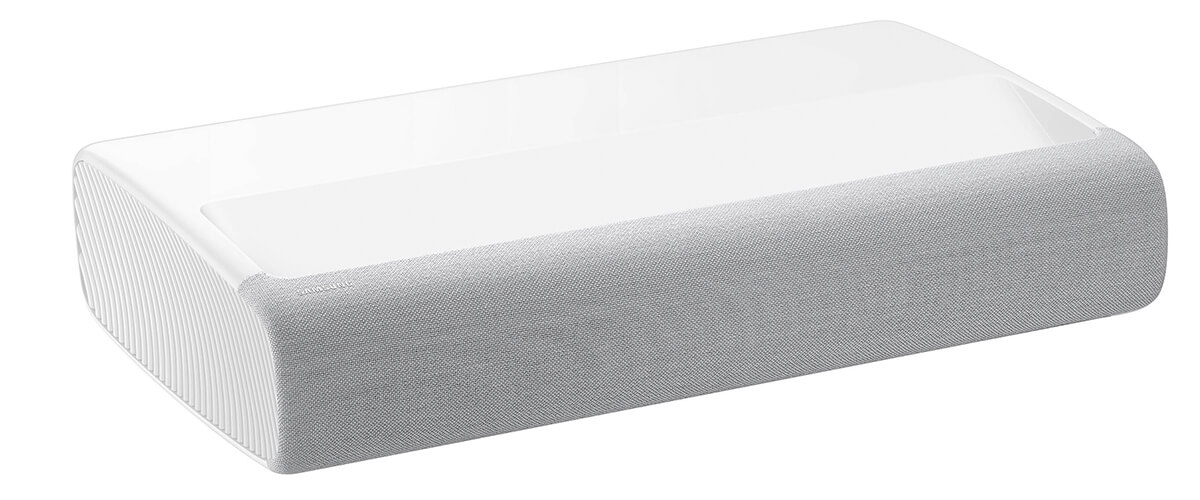 If you thrive on gaining a theater-like experience from the comfort of your home, cast a glance at an ultra-short throw laser Premiere LSP7T projector by Samsung. You can place this device anywhere, even inches from the wall, and this won't hinder your watching experience. Thanks to the precise color accuracy and contrast delivered by the in-built sensors that regulate brightness, you will enjoy the realistic and vibrant viewing on a 90 – 120-inch screen space.
This HDR10+ projector boasts 4K resolution with 3840 x 2160px. You get a truly cinematic quality as you switch to the Filmamer mode. You won't find this feature in the Optoma CinemaX P2 projector. But I wish I could fix the focus issue at the corners and edges.
The sound is powerful as the Premiere LSP7T projector comes with an in-built subwoofer and 30W speakers in this 2.2 channel system.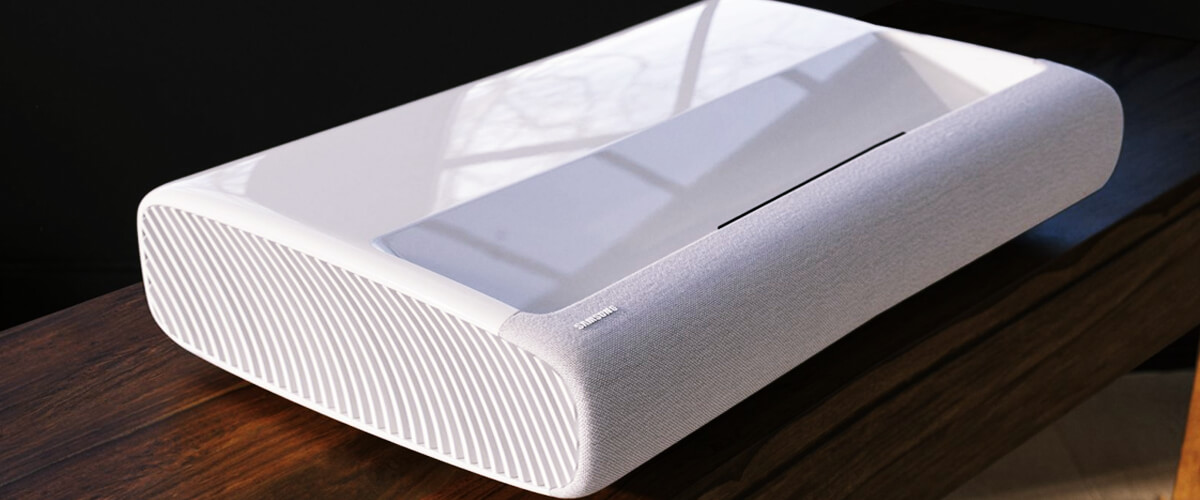 You can use Alexa, Google Assistant, or Bixby to control smart home devices or the projector. Thanks to the Smart TV powered by TIZEN, you get access to your favorite apps, streaming services, and smart home devices.
Samsung Premiere LSP7T is a great ultra-short throw projector that would deliver dramatic high-resolution cinema viewing and powerful sound, so you don't have to leave your home to feel like you are in the theater.
Key specs
Display technology: DLP.
Light sources: laser.
Resolution, px: 3840×2160.
Throw distance, ft: 0.8-1.4.
Throw ratio: 0.25:1.
Image size, inch: 90-120.
Contrast: 2000000:1.
Brightness, ANSI lumens: 2200.
Bluetooth/Wi-Fi: yes/yes.
HDR: HDR10, HDR10+.
Built-in speakers: yes.
Buyers Guide
What to look for when choosing a UST projector
Resolution
If you have ever bought a TV or a computer, you probably noticed a resolution indicated in the specs. The most popular options are 4K or 1080p products. The same parameter is specified in the description of projectors, and you need to understand what it means to choose the best ultra short throw projector.
Simply put, a native resolution is horizontal by vertical pixel count. The higher this value, the better the definition.
The biggest competition nowadays is taking place between 4K and 1080p projection systems. I highly recommend getting a 4K ultra short throw laser projector if you want to organize a home theater. Such a device guarantees a crisp picture and sharper colors. 4K projectors also support HRD, which means a broader color gamut and more precise blacks.
Looking through a range of 1080p projectors, you must understand that they are rather good but can't surpass 4K models in terms of picture quality. You can get such a system for work-related needs, but it will become a total disappointment if you plan to use it for watching movies. 1080p USTs perfectly cope with displaying charts, tables, graphs, and similar info. Thanks to ultra short throw construction, a presenter can deliver information without blocking the light. Besides, such projectors are more affordable than 4K counterparts.
There is an evolving segment of 8K projectors, but few users really favor such products. Though 8K is perceived as a serious leap from 4K, such an investment isn't truly reasonable as for today. The main reason is that very little content is produced with an 8K resolution.
Brightness
If you are determined to get the best ultra short throw projector, you have to be extra careful with this parameter. A good rule of thumb is to get the brightest projector you can afford. The brighter the beamer, the brighter the image. This is especially important if you plan to use your projector in well-lit places. If a brightness value is below average, a projected picture will look washed out. To deliver a presentation in a ten sq. ft. room, you should get a projector with brightness varying from 2500 to 3500 lumens.
Fortunately, most UST projectors are designed with the peculiarities of bright environments in mind, so they output enough lumens. Of course, some models are more efficient at handling light than others, but you can find this out by reading the description. Remember that the level of ambient light and the angle at which it hits the screen largely affect the overall brightness and picture vividness. Another serious factor is the distance from a projector to a screen. Sometimes, there appears hot-spotting, which means that some areas of an image on the screen are brighter than the rest of the picture because of direct light. You can easily cope with this problem using a low gain screen.
Light source
A light source is tightly related to brightness. Typically, manufacturers use three types of light sources in modern projectors. These are laser, LED, and bulb. Of course, each option has positive and negative features. However, UST projectors, especially those meant for home theater, usually come with a laser.
Such a light source is unmatched if you need to project an image at an ultra short distance without compromising quality. Another advantage of projectors with a laser is a higher brightness value, which won't degrade over time. Besides, people opt for such systems because of the lower maintenance cost, better contrast ratio, and lifelike colors.
Unlike bulb-based projectors, laser alternatives won't get damaged if you keep them switched on for a long period of time. Moreover, they can successfully cope with accidental power failure.
However, if you decide on a laser projector, remember about safety measures. This mainly refers to potential eyesight problems if you look directly at a laser. That's why manufacturers have developed a safety feature that automatically makes lights dimmer or completely turns them off to prevent negative consequences.
Built-in speakers
There is hardly an ultra short throw projector that doesn't have an integrated sound system. This is a nice move to satisfy viewers' needs, but in fact, not all manufacturers use high-end speakers that can deliver powerful sound.
On the one hand, people, who need a projector to show all kinds of presentations, business-related info, and other written materials, can settle for a projector with less superior speakers. Image quality is more important in this case. If you are one of such buyers, make sure to invest in a model with high brightness and decent resolution, while an audio system will be a pleasant addition.
If you strive to turn a whole room in your house into a full-featured theater, you definitely need a projector with cutting-edge integrated speakers. All models described above have good audio components, so you can choose them to save money on buying an external sound system.
Inputs and outputs
Many people neglect this aspect while choosing a UST projector and have to regret it in the future. The thing is that a projector isn't capable of displaying content until you connect it to a computer, laptop, mobile phone, or other devices. That's when a variety of input and output ports come to the stage.
The most popular input port is HDMI. It follows a super high-quality standard and allows transmitting both audio and video. You can find special adapters for an HDMI port to connect almost all existing devices to your projector. Another handy port is DVI. It can be of several types – DVI-D (digital), DVI-A (analog), DVI-I (hybrid). Composite ports have lost their former popularity, but you can still find projectors with such inputs. They work by dividing a signal into a video connector and two audio connectors.
VGA is a representative of analog connectors, which are typically used in computers but can also be found in older projectors. 3.5mm is a port specifically meant for audio. So, if you plan to connect external speakers, make sure your projector has a 3.5mm port. If you are sick and tired of using cables, you should choose a projector with Wi-Fi support.
As you have probably already realized, the best UST projector must have a sufficient number of ports and connectors. The more of them the item has, the more versatile the device will be.
Do ultra short throw projectors need a special screen
In general, a 4K ultra short throw laser projector can work on any surface, but the quality of the projection may be very disappointing if you use a patterned wall or something like that instead of a screen. If you are after a true 4K UHD video experience, you should shell out for a purpose-built screen.
A UST projector screen has several features that help it show any kind of projected content in the best quality possible. These are Ambient Light Rejection, screen gain, and size.
Ambient Light Rejection is a bragging point of any UST projector as it filters out light that comes from different sources and "captures" only that emitted by a projector itself. Such screens have an angular reflective surface to reflect ambient light from above while directing light from a laser towards viewers. This way, you will see a detailed image with realistic, bright colors even if you've placed a projector and a screen in a light-filled room.
Screen size is no less important as ultra short throw projectors have a fixed focal length, so they can be used with screens of particular dimensions. To make your projector fitting for predefined screen size, you have to change the distance from a device to the wall. In most cases, this implies a wall-approaching direction. The majority of UST projectors work with a screen size ranging from 80 to 120 inches. Keep this in mind while picking a screen.
A projector screen is needed for reflecting light emitted by a laser to viewers' eyes. The reflectivity is referred to as screen gain. The higher the value, the more light is reflected. If the value is too low, most of the light will be absorbed by the surface.
While evaluating the screen gain, you may think that a higher value means a brighter picture. In fact, you need a lower gain screen if you plan to pair it with a laser projector. The reason is simple. Such screens reflect light produced both by a laser and natural source. This is especially relevant for well-lit environments. Another argument in favor of low gain screens is that they cope better with hot spotting.
FAQ
Are ultra short throw projectors better than short throw projectors?
The short-throw projector is mounted between 1.6 and 3.3 feet from the surface. A ceiling or wall mount, which is most often individually selected, allows you to mount the equipment directly over the surface on which the image will be projected.
Ultra-short-throw projectors often have a special design inside that allows images to be projected from less than 1.6 meters away. In this case, the equipment is installed very close to the surface on which the image will be projected. That ensures homogeneous illumination of the entire surface and the absence of shadows.
Therefore, I can't give you an unambiguous answer to this question. It simply does not exist. It all depends on the tasks you are going to solve with such a device and your budget. Once you determine the goals, you will immediately understand which of the two technologies is more suitable for you.
What is the maximum distance for a short throw projector?
The maximum distance is about 8-9 feet.
How long do ultra short throw projectors last?
UST projectors typically use laser light sources. This, in turn, allows them to last much longer than lamp models. It usually lasts at least 20,000 hours before it wears out completely. So by taking proper care of your device, you will definitely guarantee yourself up to 10 years of correct operation.
Can you use UST without screen?
The answer to this question depends on your personal preferences, but the screen will almost always provide the finest picture quality. The bottom line is that with a conventional front projector, the light hits the wall or screen almost point-blank, which minimizes the texture and imperfections of such a surface. With a UST, it's much easier to see texture and differences in surface depth because that's how the light works. Using special screens helps to solve this problem and consequently improves the overall quality of the projected image.