If you are looking for a home theater system, but are not ready to spend your entire budget to buy one, then, of course, you can expect disappointment in the quality of the speakers if you do not take the matter seriously. Nevertheless, you will be surprised, but today in this category, some manufacturers produce very decent devices, providing you with surround sound, like in a theater, increasing the pleasure of watching movies at home. And in this review, I've selected the best home theater systems under $500. They vary in configuration, size, and features and will definitely interest many future buyers.
Our pick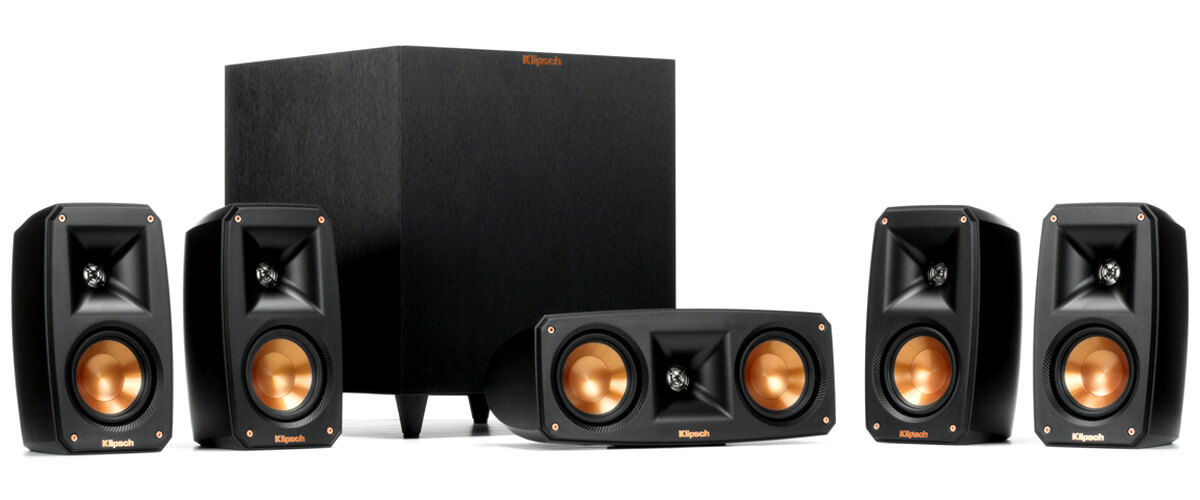 Klipsch Black Reference 5.1 Theater Pack
Best home theater systems under $500
The Klipsch Black Reference 5.1 Theater Pack provides great acoustic performance by leveraging Injection Molded Graphite (IMG) woofers and a remarkable low-frequency response with minimal cone breakup and distortion.
Read the full review
.
What to expect from a home theater system under $500?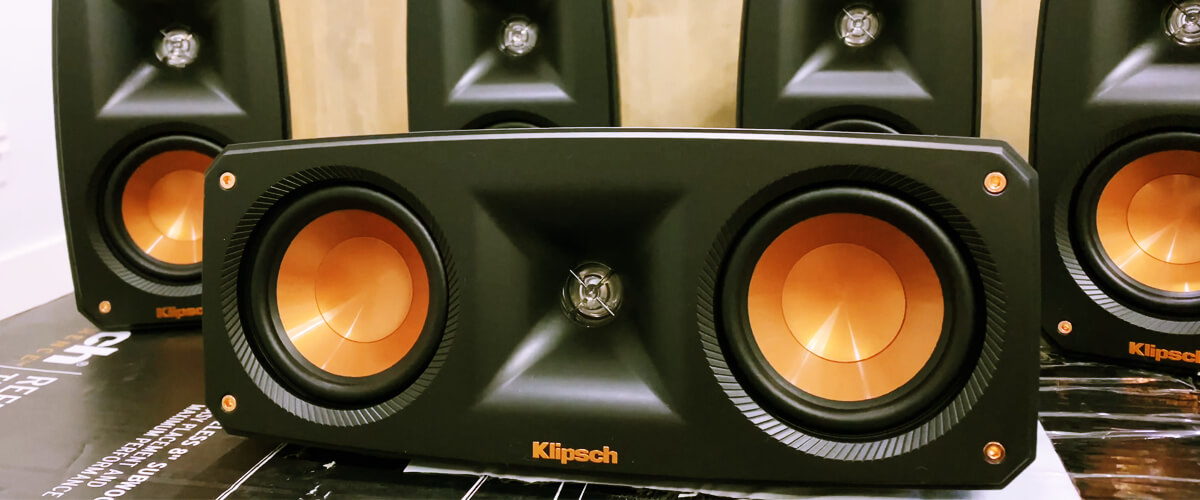 It would help if you understood in advance that cheap home theater systems could not compare in sound quality with more expensive systems assembled from individual components, being significantly inferior to them. But since expensive home theater systems are stuffed with a lot of features and their price range is very big (up to tens of thousands of dollars), you do not need to invest a significant amount ($1500 and more) to try it and see if you need a more advanced one. The systems chosen in this review are of pretty good quality. They will suit basic tasks perfectly, and you can expect them to introduce you to the world of surround sound. So let's start and choose the best home theater system under $500.
Best home theater systems under $500 reviews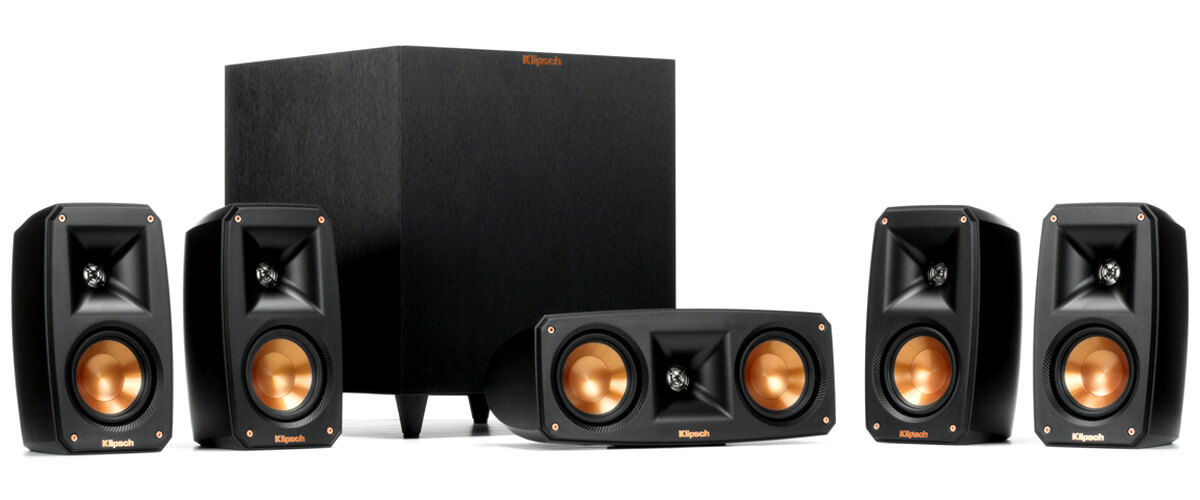 A complete 5.1 home theater system doesn't have to be bulky or expensive, especially if you get it for a small space. And the proof is in the compact Black Reference 5.1 Theater Pack, presented by Klipsch in a beautiful and incredibly compact design, offering great surround sound.
It consists of exactly the same front and rear speakers (satellites) and a center speaker with two drivers. They are all made of plastic with recognizable 3.5″ IMG brass woofers and 0.75″ aluminum LTS tweeters (connected to a Tractrix 90 x 90 horn, which significantly reduces reverberation coming from the walls), which have an impedance of 8 ohms and frequency of 110 Hz – 23 kHz (+/- 3 dB), and quite nice power (50 W (200 W at peak) for the satellites and 75 W (300 W at peak) for the center). In addition, they are amazingly light, only 3 to 5 pounds, and are easily secured to the walls with special bolt holes. The subwoofer (15 pounds) that comes with it is wireless and is made of MDF with a black veneer finish. It has a descending 8″ woofer, its power is 50 watts (150 watts at peak), and the frequency range is 38 Hz to 120 Hz (+/- 3 dB).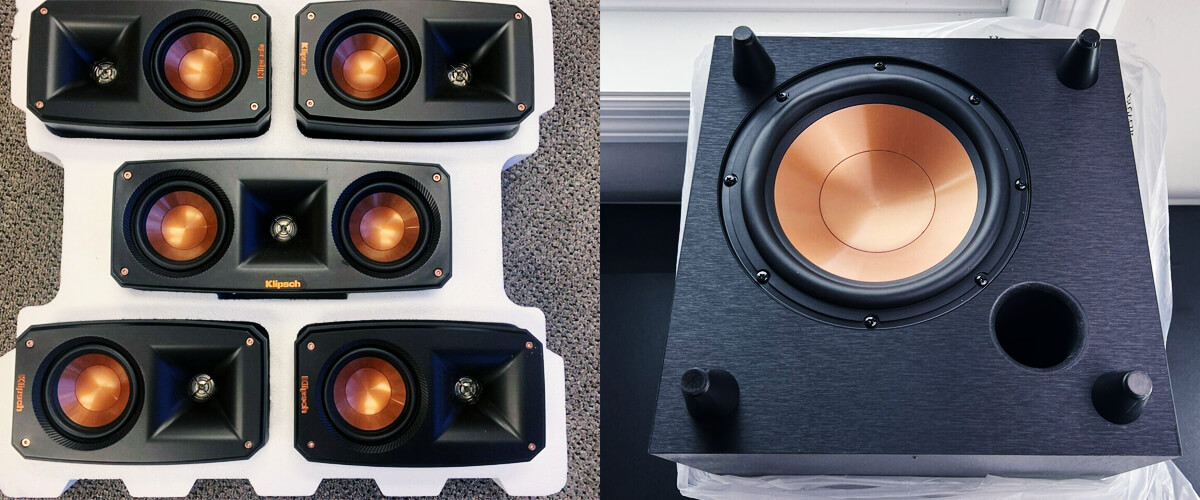 Regarding the sound, I'd say that given the size of this system – it just sounds awesome. When watching The Matrix Revolutions, it was as if all the events were happening right in my room, whether it was the movement of the characters on the metal structures of Zion or the falling raindrops in the climactic scene. The dialogues are detailed and articulate. You might miss the bass, although it sounds quite deep. But don't forget that the subwoofer is compact and wireless (it can eventually be replaced if you'd like).
I'm happy to start my list with this really best home theater system under $500 because the combination of its design, compactness, ease of installation, features, and high-quality build and sound make the Klipsch Black Reference 5.1 Theater Pack so.
Klipsch Black Reference 5.1 Theater Pack key specs
Show all specifications
Satellite

Driver size, inch: tweeter: 0.7, woofer: 3.5.
Power output: 50W/8 Ohm.
Frequency response: 110Hz–23kHz.

Center

Driver size, inch: tweeter: 0.7, woofer: 3.5.
Power output: 75W/8 Ohm.
Frequency response: 110Hz–23kHz.

Subwoofer

Driver size, inch: 8.
Amplifier power: 50W/150W peak.
Frequency response: 38Hz-120Hz.
Pros
Compactness and ease of installation combined with beautiful design.
Tractrix 90×90 technology significantly reduces reverberation.
Powerful 50-75 W speakers for their size (150-300 W at peak)).
Cons
A wireless subwoofer may not seem powerful enough.
Logitech Z906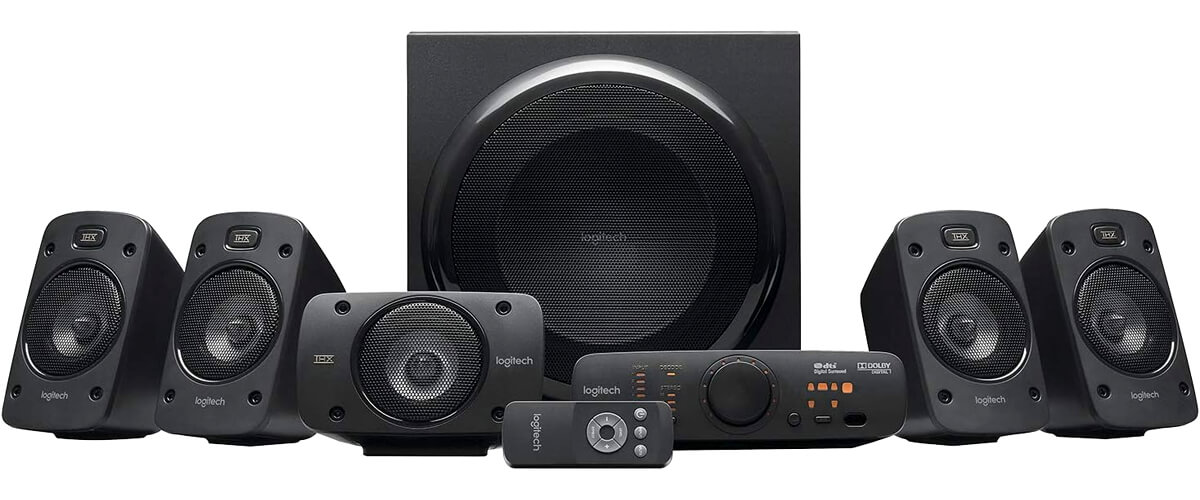 The next starter home theater sound system 5.1 on my list is from Logitech. And I will tell you immediately that it loses significantly in design to the Klipsch Black Reference 5.1 Theater Pack, although they are similar in configuration and compactness. It might not matter to you, so let's see what the Logitech Z906 offers us.
Here we also have four identical plastic satellites and a similar but horizontal center speaker, which can be mounted simply on shelves, or hung on the wall. They all have 3″ polished aluminum drivers and a frequency range of 35 Hz – 20 kHz. The subwoofer has an 8″ driver with 165 watts of power (300 watts at its peak). But its main feature is connecting a TV, PC, smartphone or MP3 player, game console, DVD player, and Blu-ray player; it has the appropriate connectors for this (unlike Klipsch). But if you have time to get excited, you will not find HDMI ports here. There is also a control console, which can come in handy if you forget to change the batteries in the remote control.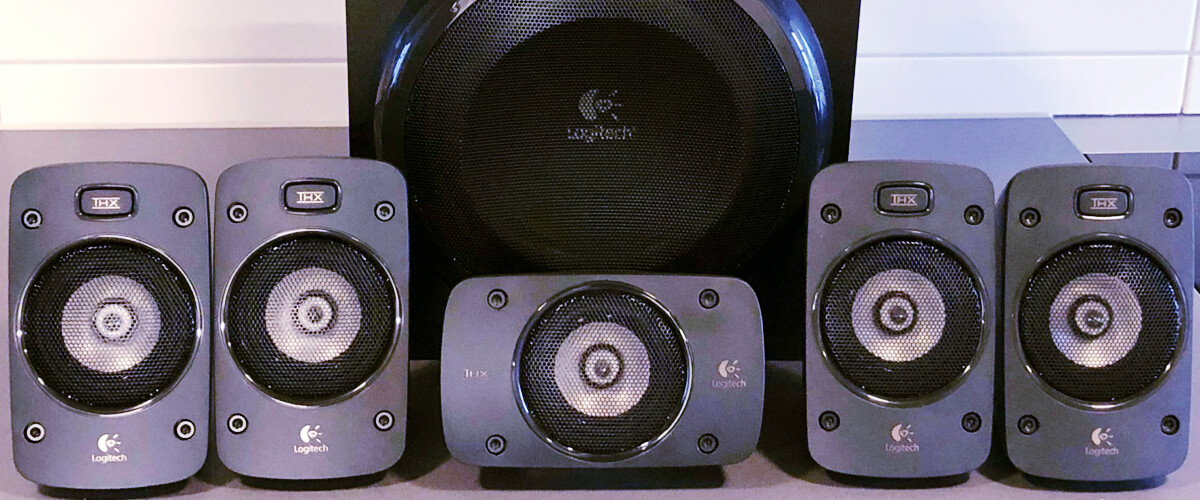 The manufacturer declares the system's total power as 500 watts or 1000 watts at the peak. Also, all speakers are equipped with THX-certified distortion reduction technology, which decodes Dolby Digital and DTS formats. Still, the system starts to croak at maximum volume, which is unsurprising for its small size. I would even say that it is surprising that the speakers hold up just above average, but they do. As for the outright flaws, I would attribute the flimsy wires.
While watching How to Train Your Dragon 2, I had a lot of fun with the quality surround sound, giving me a clean, detailed track, dialogue, and the feeling of flying on Fury. It is a great budget system with many chips that deservedly ended up on my list.
Logitech Z906 key specs
Show all specifications
Total power: 500W RMS/1000W peak.
Subwoofer amplifier power: 165W.
Surround sound: THX-certified, Dolby Digital 5.1 decoding, DTS decoding, 3D Stereo.
Connectivity: 2 digital optical inputs, digital coaxial input, six-channel direct input, RCA input, 3.5 mm input, headphone jack.
Pros
They are powerful speakers for their compact size (up to 1000 watts at peak).
The subwoofer has connectors for direct technique connection.
THX distortion reduction technology that decodes Dolby Digital and DTS formats.
Cons
Little distortion at high volumes.
Flimsy wires.
Energy Take Classic 5.1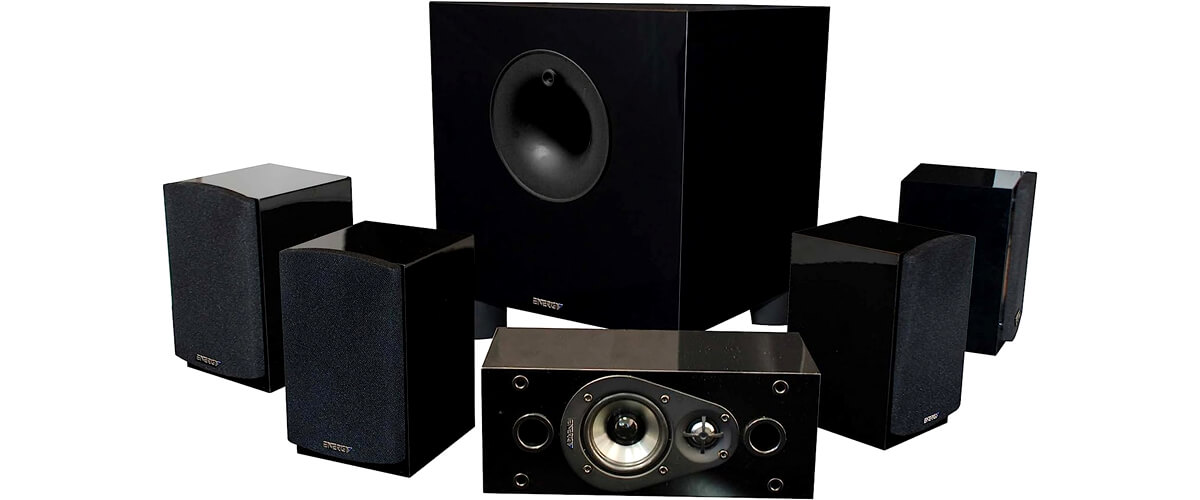 Another set of Energy Take Classic 5.1 speakers is the most inexpensive surround sound system on my list. It is inferior to the previous two sets' appearance (although it has a glossy finish) and builds quality (fiberboard). Still, it is very worthy for those who want to get acquainted with surround sound and place a home theater in a small room, offering a very good level of sound and compactness.
So, the four equally sized speakers and the horizontal center speaker have 3″ poly-titanium woofers and a 0.75″ aluminum dome hyperbolic tweeter, which are hidden under the fabric (except for the center speaker), offering us a total power of 200 watts. Like the Klipsch or Logitech, they can be wall-mounted or mounted wherever you like. A distinctive feature of the speakers is that their adaptation (warming up) will take about 50 hours, so do not be surprised by the initial sound because the system will sound richer and better after a couple of days. The subwoofer with an RCA cable connection also has 200W power with a frequency response of 33-150 Hz +/- 3 dB. In addition, it is equipped with an 8″ die-cast woofer with Energy Ribbed Elliptical Surround technology, which reduces distortion due to the ribbing. As a result, the sub is really quite loud, with good deep bass.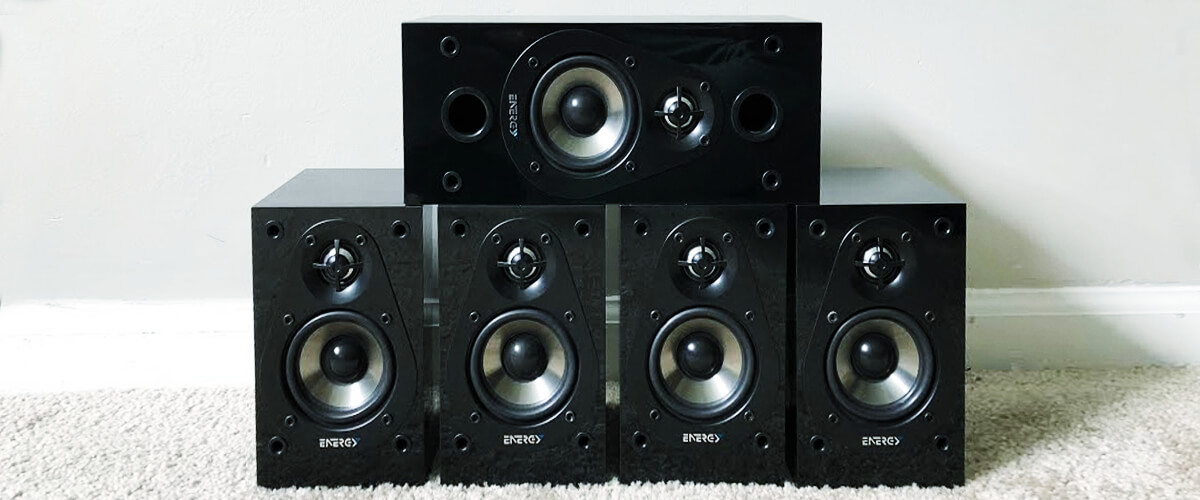 Unlike the Logitech Z906 (but as with the Klipsch Black Reference 5.1 Theater Pack), you'll need a receiver to connect the tech to the speakers. Although given the simplicity and affordability, I wouldn't consider this a disadvantage of the system, just the opposite.
I watched The Last Duel with these speakers and was pleasantly surprised by the clarity of the sound. The ringing of the cold weapons was piercing, making me empathize with the characters even more, thanks to the pervasive anxiety of the soundstage, and the heavy emotional scenes made me catch every rustle and breath. Again, I'll say the bass is surprisingly good with this small subwoofer.
For a budget system, the Energy Take Classic 5.1 sounds surprisingly good. Compact and portable, it can move with you or move around your apartment as quickly as you change your preferences, accompanying and coloring your life with the colors of surround sound.
Energy Take Classic 5.1 key specs
Show all specifications
Satellite

Driver size, inch: tweeter: 0.7, woofer: 3.
Power output: 100W/8 Ohm.
Frequency response: 115Hz-20KHz.

Center

Driver size, inch: tweeter: 0.7, woofer: 3.
Power output: 100W/8 Ohm.
Frequency response: 110Hz–20kHz.

Subwoofer

Driver size, inch: 8.
Amplifier power: 200W.
Frequency response: 33Hz-150Hz.
Pros
Incredibly easy installation.
Powerful 200-watt subwoofer with distortion reduction technology.
Clear highs and deep bass.
Cons
Speakers require a learning curve of about 50 hours.
Vizio M512a-H6 – best home theater system with soundbar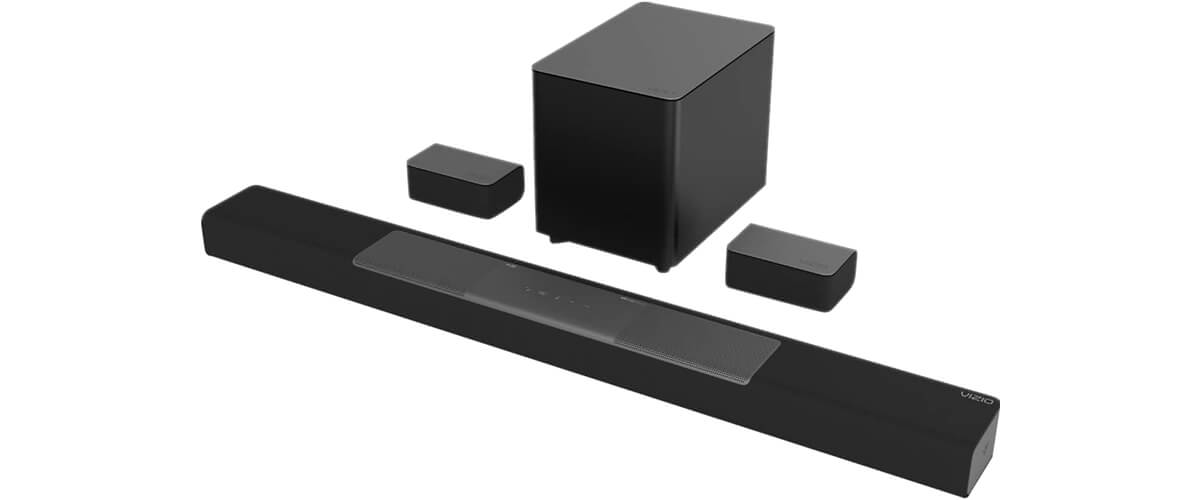 Now I will present to you a home sound system for 5.1-channel surround sound, in which compactness surpasses all the standard sets described above because the front and center speakers here are combined in a soundbar. Moreover, the presence of rear speakers allows you to build a 5.1.2 configuration, which means you can enjoy the delights of Dolby Atmos and DTS:X, surpassing the capabilities of conventional systems.
All parts of the Vizio M512a-H6 are made of dense matte plastic with rubber pads on the bottom for stability. The system looks ultra-fashionable, offering good power, enough for a small room, and a frequency response in the 45Hz-20kHz range. The soundbar is 40″ long, and under the cloth, it hides three sets of midrange and treble speakers, while the two boost speakers are covered with perforated plastic. But its greatest asset is the HDMI Input and HDMI Output (eARC) connectors, Optical Input, USB (for WAV), two Analog 3.5mm stereo mini jacks, and Voice Assistant Input. With Bluetooth, you can use streaming services. But it was odd to me not to find Wi-Fi here.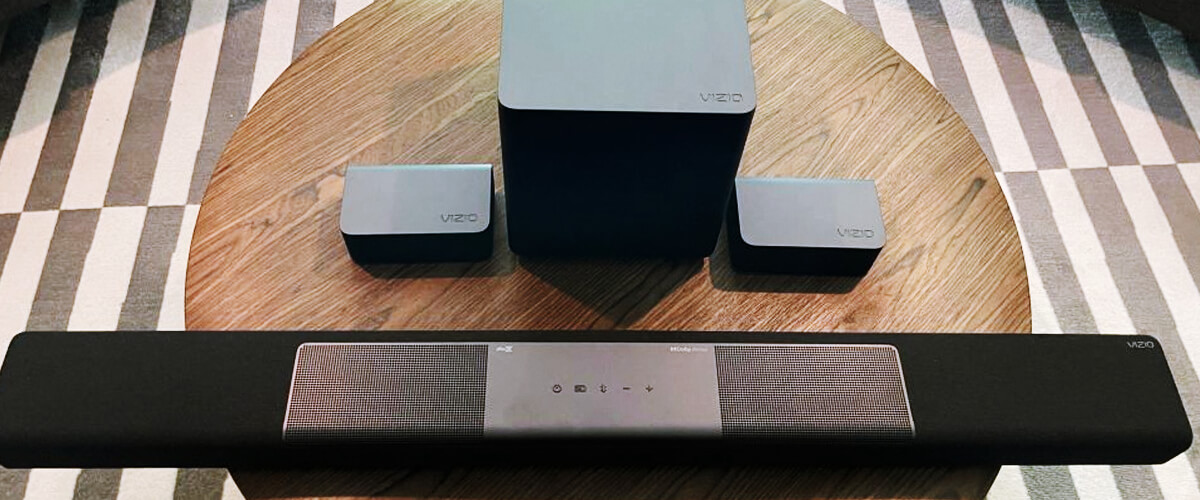 As for the rear speakers, they are wired to the subwoofer, which has a 6″ speaker with the threshold pointing backward (you'll also find a power button, RCA ports for the satellites, and a power cord jack there). And I was pleased with its performance, even though it's not very powerful.
Venom: Let There Be Carnage was my choice to test the Vizio M512a-H6. And I will say that it has an excellent sound level for a soundbar system, giving the impression of a surround-enveloping immersion in the picture.
I recommend this system to modern people who don't want to jump out of their chairs when the screen explodes but want to understand surround sound, modern design, and optimal functionality. With price, ease of installation and use, and support for the Dolby Atmos and DTS:X sound formats, it's a great choice today.
Vizio M512a-H6 key specs
Show all specifications
Total number of speakers: 11.
Speaker channels: 5.1.2.
Driver size (subwoofer), inch: 6.
Connectivity: 1 HDMI input, HDMI eARC, Optical, USB, 3.5mm stereo jack.
Audio processing: DTS:X, DTS Virtual:X, Dolby Atmos.
Bluetooth/Wi-Fi: yes/no.
Frequency response: 45Hz–20kHz.
Pros
The compact and lightweight set won't take up much space and looks modern and stylish.
Having connectors on the soundbar extends the capabilities of the system.
Uninterrupted Bluetooth performance.
Supports Dolby Atmos and DTS:X.
Samsung HW-Q60T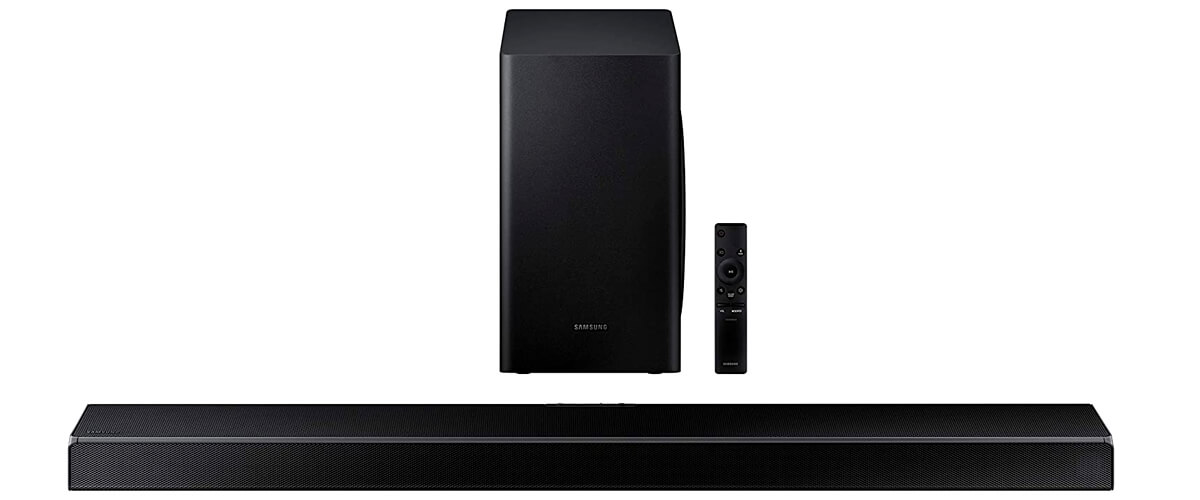 And the last in my chart is the 5.1 wireless home theater system, similar in configuration and cost to Vizio M512-H6, but even more superior in compactness, consisting of only two elements: soundbar with Acoustic Beam and subwoofer, nevertheless provides you with the sound of nine built-in speakers.
It's hard to believe, but only one source – the soundbar (38.6″ long, fully covered with perforated grill) does the job for all the surround sound, thanks to Samsung Acoustic Beam technology. This technology tracks individual sounds with ports at the top of the soundbar and directs them according to what's happening on the screen. I should point out right away that the sound is excellent but still loses to conventional systems or even standard soundbars (at least at this stage of development; I'm sure the system has a great future). The Samsung HW-Q60T's total power is 360 watts, and its frequency range ranges from 42.4 Hz to 19.9 kHz. The subwoofer is wireless and has a 6.5″ speaker with 160 watts.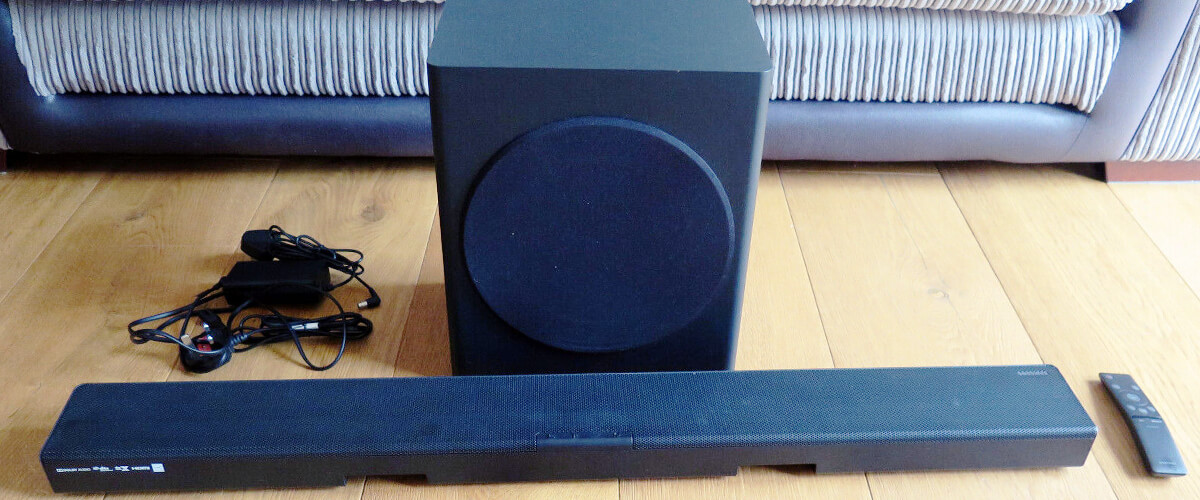 It should be noted that just like the Vizio M512-H6 soundbar, Samsung has HDMI, USB, and Bluetooth connectors (no Wi-Fi), which allow the system to process Dolby 5.1 (but not Dolby Atmos) and DTS Virtual:X. And it supports 4K/60Hz Video Pass, HDR 10+.
I tested the Samsung HW-Q60T on Top Gun: Maverick and was left thrilled, getting a "movie theater-like" feel from the flying planes, and the dialog was clean and well articulated. The wireless subwoofer sounds surprisingly powerful and fat. I know and feel the difference between wired and wireless systems; this one was no exception. But if you don't know about sound, minor delays won't confuse you.
The system is not compatible with all devices, including even Samsung appliances. But it is the technology of the future that offers incredible compactness, style, and reasonable cost and will suit those who appreciate originality.
Samsung HW-Q60T key specs
Show all specifications.
Channels: 5.1.
Sub-woofer drive power: 160W.
Sub-woofer drive size/impedance: 6.5 inch/3 ohms.
Total power: 360W.
HDMI inputs/outputs: 1/1.
Video functions: 4K/60Hz.
Supports: HDMI ARC, HDR10+.
Audio processing: Dolby 5.1, surround sound expansion, game pro, standart, adaptive, DTS Virtual:X.
Pros
A super-compact and easy-to-install system.
Great, powerful, and clear sound wireless subwoofer and nine built-in audio ports.
Supports high-quality audio and video formats.
Cons
Does not support Dolby Atmos like the Vizio M512-H6.
No Wi-Fi.
Compatible with a few appliances.
Wireless systems are not as reliable as wired systems.
FAQ
Can I get a good home theater for under $500?
You can get a good home theater under $500, but you must understand what "good" means in this context. As I mentioned at the beginning of the review, such systems are inferior to expensive systems in terms of sound quality in the first place: they are not as powerful, not as clear, inferior in some features, and do not provide the capabilities of the latest sound formats. On the other hand, if you are not an audiophile but want to watch movies at home with surround sound – inexpensive options will suit you perfectly.
How much should I spend on a home theater system?
How much you should spend on a home theater system depends on what you expect from it. The range of prices is so wide that it is difficult to answer this question unambiguously. For example, if you are assembling the system yourself from some of the highest quality and most advanced components, then the receiver alone can cost, in this case, up to $6500. So, the whole system will cost you $10000-$15000. Such equipment requires a large house (as they offer audio broadcasting options for several Zones – Multiroom), a large room (to accommodate 11-13 speakers), and the ability to connect all kinds of old and new equipment. Inexpensive systems are good for those who have a small room for its placement (they are often compact), a limited budget, and unassuming requests for the latest technology. Just assess your financial capabilities and, most importantly, your needs, and choose a system based on these parameters.
Do home theater systems under $500 have enough power?
Home theater systems under $500 have enough power to fill small rooms (50-100 watts per channel is enough). It is because such systems usually have a minimal speaker configuration, or dynamics are small, or even use a soundbar, which takes up no space at all, but its volume is not as high.
How can I improve the sound quality of my home theater setup?
To improve the sound quality of your home theater, you can try the following steps:
First, take the time to tune/equalize.
Purchase quality speakers.
Buy a better receiver than yours (or an amplifier).
Buy higher-quality cables.
Try to use a wired connection rather than a wireless one; it gives a smooth signal transmission.
You can also equip the room with sound-absorbing materials to improve the acoustics.
All these actions can lead to high costs, but by investing incrementally, you can bring your home system to perfection, not overnight, but over time.
Can I use my home theater setup for gaming?
Of course, you can use your home theater for gaming. But you'll need a receiver that supports modern image processing algorithms: 4K/120Hz resolution (most games released today have this resolution), as well as Variable Refresh Rate (VRR), Auto Low Latency Mode (ALLM), and Quick Frame Transport (QFT). And surround sound adds an extra immersive virtual reality experience.