I think it would be important to start with the fact that there is no ideal standard for cleaning vinyl records.
That is why the eternal debate about the best record cleaner does not fade away. This process has several positive aspects at once. With great care and certain easy efforts, you lengthen the life of your records a lot, you prevent needle distortion while playing songs, and even add value to your records, to some very old and rare ones, that are actually difficult to clean.
Record cleaners comparison table
Record cleaner
Type
Spin-Clean MKII Deluxe Kit

best cleaning kit

Kit
Record Doctor VI

best cleaning machine

Machine
iSonic P4875II+MVR10

best professional cleaning machine

Machine
AudioQuest Anti-Static

best cleaning brush

Brush
Vinyl Buddy

best budget

Brush
Lasermedia VNC-8

best cleaning fluid

Fluid
Vinyl is like children – it constantly needs care. In very dry rooms, it will often become dusty, in more damp rooms-mold and unpleasant bacteria will form.
However, there are a lot of rules that must be followed to keep your records in a good condition and, more importantly, make them sound clear, harmoniously, without any interference. I sincerely hope that thanks to these vinyl record cleaner reviews, you will figure out much more useful information about different kits and machines available at the market. By the way, this review is divided into categories to make it much easier for you to understand the topic and understand exactly what is the best vinyl cleaner for you.
Best Vinyl Cleaning Kits
Spin-Clean Record Washer MKII Deluxe Kit – best cleaning kit

I would like to start the list with what I personally think is the best record cleaning kit. Before starting, I want to note the wonderful design, in yellow colors, it adds freshness and in general, it looks really very cool. I think the most important thing is to start with what this vinyl record care product has in the box. Well, the package contains a washer basin and lid, 2 bottles of specially formulated liquid which, by the way, does not have alcohol, so it will not leave streaks. There are also 2 pairs of premium MKII removable, cleanable, record-cleaning brushes, 1 pair of durable MKII rollers which can accommodate LPs, 45s, and 78 RPMs, and finally super soft, lint-free drying cloths.
I think that any user follows the instructions and understands how to use this device correctly, however, it is quite simple. Just insert a record in the SPIN-CLEAN, rotate it 3 times to each side. Then, gently wipe the record and let it dry. In addition, I want to add on my own that after washing your vinyl records, you need to let them dry for a while, because by hiding them back in the box, you risk getting them dirty again.
Pros
It copes even with the dirtiest things that actually very hard to remove
Includes the fluid that is alcohol-free and does its work perfectly and does not leave any streaks
Kit includes enough amount of brushes and fluids to wash up to 6000 vinyl records
Cons
Not always removes all kinds of dirt, but still depends on a user
Knox Vinyl Cleaner Spin Kit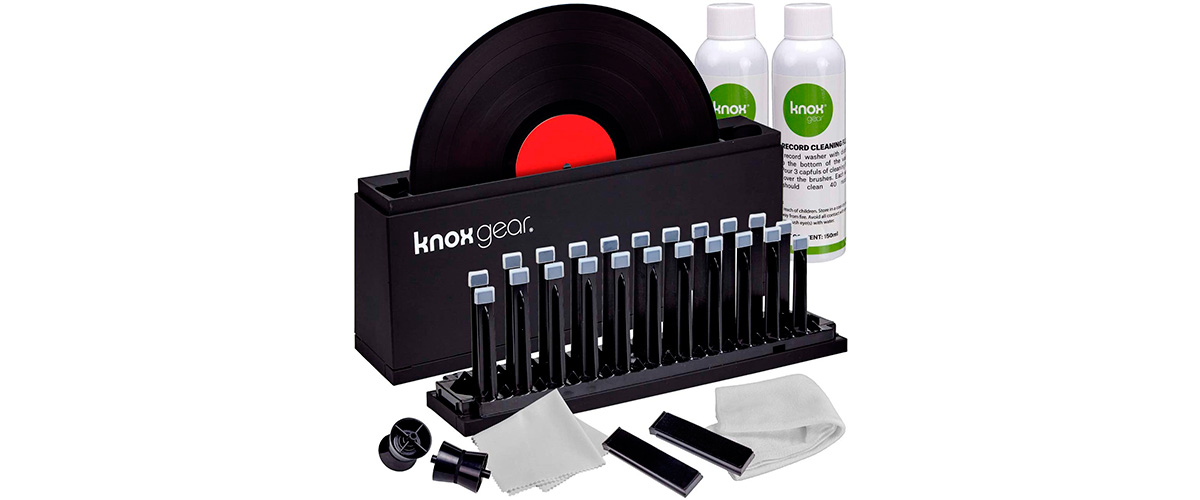 This great set of tools consists of a washing basin with a lid, an air-drying rack, two bottles of record cleaning fluid, two rollers, two cleaning brushes, one microfiber cloth, and one drying cloth. Each wash cycle of the Knox Vinyl Record Cleaner Spin Kit cleans up to 40 records. The synthetic brushes clean both sides simultaneously, which will save you a lot of time. The cleaner can be used for LPs, 45s, and 78s, which makes it practically versatile. With this kit, you will be able to adjust the rollers to fit 7" (45-RPM), 10" (78-RPM), and 12" (33-RPM) records.
What makes this tool special? The washer uses a special solution that removes all dirt, dust, and fingerprints from your player, which gives you an opportunity to enjoy the crisp sound.
Pros
The manual included in the box is very detailed and really helpful
The compact and durable design means the kit doesn't need special care while storing
This kit comes with everything you might need for efficient cleaning your discs
Cons
Not suitable for deep cleaning grooves
Record Friend

Record friend is a way more simple kit but still worth to be considered as the best record cleaner. Let's figure out why. As the manufacturer claimed, Record Friend not only cleans up your vinyl but also makes it shiny and bright. The whole package includes any record cleaning supplies you may need. It has a Spinner Machine with accurate brushes and rollers, 2 bottles of 150ml cleaning solution fluid, a multifunctional cleaning cloth, a microfiber cloth, and a record rack.
The main device-vinyl disc cleaner-includes adjustable roller sets that will certainly be helpful to clear vinyl records of different sizes 33, 45, 78 one. Record Friend also offers a Dual-Wash system because of it's extra soft microfiber brushes that can wash both sides of the record at once. To be honest, this set is the most reliable I've come across. He does not boast of something transcendental, but simply and easily does his job.
Pros
Offers a pretty convenient kit with fluids enough to wash up to 1000 records
Does its job very reliably, cleans even the toughest stains that cannot be removed by hand, leaves a pleasant shine and skins after cleaning
Cons
In-built brushes are tight a lot so be careful while you place the record in to avoid scratches
Vinyl Styl Record Washer System

It is a very reliable standalone lp cleaner. With a beautifully designed and solidly built build, it securely holds your vinyl record for a good cleaning. In addition to this, it is specially designed and focused on cleaning deeper stains that damage the needle and are very difficult to clean. However, it is suitable for different degrees of pollution.
The brushes of this beautiful machine are made from 100% goat hair and, together with a proprietary formulated liquid, will provide the perfect cleaning of your records. In general, the Vinyl Styl Record Washer System packaging includes many things, including the Vinyl Styl ™ Deep Groove Record Washer Reservoir, with Lid, and the Drying rack, 16oz Fluid. In addition to all this, the tool itself is equipped with Washer fluid reusable funnel and Washer fluid strainer. I think so many different things will not leave anyone indifferent. This instrument is easy enough to set up, doesn't require a huge amount of effort, and can clean up a bunch of your records with no problem.
Pros
The package includes lots of useful things to wash different types of dirt on your vinyl records
This record cleaning system is adjustable to clean 7″, 10″ and 12″ records
Designed with simplicity, so it is easy to set up and to use
Cons
Included washing fluid sometimes leaves residues on the record that may be destructive
Best Record Cleaning Machines
Record Doctor VI – best cleaning machine

Created to counterbalance its predecessor V, Record Doctor VI is made very reliably and concisely. It can deservedly be called the best record cleaning machine for several reasons. This machine is just for those who are willing to overpay and get an easy-to-use, solidly built standalone device. It is equipped with a powerful high-performance vacuum motor which is great for cleaning any dirt on vinyl records.
Along with the vacuum, there is also an 18 RPM turntable motor. In sum, this device offers 2 options for cleaning your records – dry and wet. It is important to understand that the regular and detailed cleaning that Record Doctor VI provides really suits for cleaning old records that are nearly impossible to reproduce. A special liquid included, helps a lot to remove pressed stains or dirt that has long been coiled into grooves. In addition, after cleaning about 25 vinyl records, you can remove the remaining used solution by simply pulling out the plug on the bottom of the case.
To summarize, I want to say with confidence that the automatic record cleaner called Record Doctor VI is ideal for those who do not want to clean records by hand but also do not want to pay fabulous sums for an automatic machine. This is exactly the perfect combination of excellent quality, comfort, and practicality.
Pros
Quickly performs a full cleaning action in about a minute
The clamping area completely covers the label area but suits only for standard size of vinyl recordings
Cons
Not fully automatic since you will have to flip the record to get another side cleaned
Sometimes might be quite loud while cleaning
iSonic P4875II+MVR10 – best professional cleaning machine

For people who are more professional in collecting records, there is an ideal solution – the best professional record cleaning machine named iSonic P4875II + MVR10. In fact, this is a real monster that will help you clean your vinyl records incredibly quickly. As for me, everything in this device is fine: a special drain for the used solution, Ultrasonic Frequency 35, 000 Hz, 110V 380W, heaters, one 8-OZ bottle of cleaning solution concentrate. The package also includes one box of Kim wipe non-fibrous wipes for drying the records.
Finally, the built-in timer is 10, 15, 20, 25, 30, and 5 minutes with a reducing button to adjust it to every minute between 1 to 30 minutes. True connoisseurs will appreciate the excellent ability to simultaneously clean 5 to 10 records using the system speed of 5 rpm. The device also adapts to each recording in size. And by the way, yes, do not worry about the unique labels on your records, because the system is thought out to the smallest detail, it ideally protects your labels in such a way that only the area of ​​the record itself is cleaned. The interface is also very easy to use, it has the touch sensitivity, where, as I already mentioned, you can use a timer, for example.
Moreover, the device is equipped with a cooling system, therefore, even due to long work, you can not be afraid that the device will heat up and spoil your records, because everything is thought out to the smallest detail and the best vinyl cleaner iSonic P4875II + MVR10 justifies its high price by 100%.
Pros
The most convenient combination of price and multifunctionality covered with several astonishing features
Automatic cleaning scrolls the records evenly and mechanically, cleaning them to a perfect, almost new condition
After cleaning the grooves, the needle goes very smoothly providing incredible clarity of sound, it is balanced, smooth, and gentle
Cons
For all available features, no actual cons found
Pro-Ject VC-E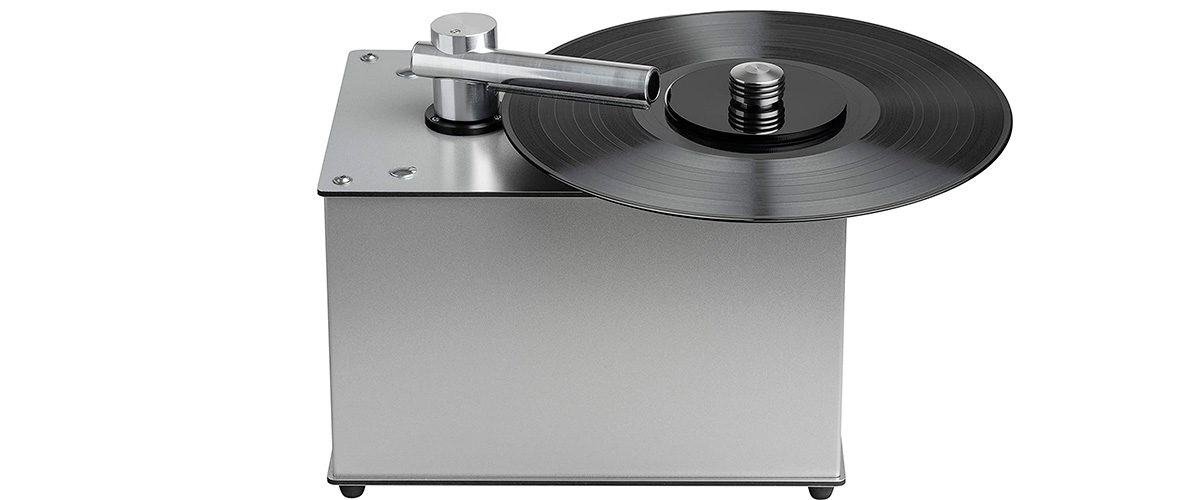 The design of Pro-Ject VC-E is largely the same as the older model Pro-Ject VC-S2 ALU. The washer has a body made of multi-layer panels, the outer and inner cover of which is made of aluminum. Such a surface does not deteriorate when exposed to cleaning liquid and is resistant to mechanical damage. Here are the accessories you get with Pro-Ject VC-E: brush, vacuum arm, self-adhesive arm strip, plastic clamp, Wash it (100 ml), and power cable.
The volume of the internal tank for collecting waste liquid is 0.5 liters. This will be more than enough to clean up most average collections of 100-200 records. It is very easy to empty the tank when necessary, but even this may not be necessary due to the evaporation of the liquid.
The powerful motor in the Pro-Ject VC-E record cleaning machine does not make any noise while working and rotates at 30 rpm. Cleaning one side of the record takes just a couple of seconds. In addition to various contaminants, such treatment effectively removes static charge from the plate.
Pros
Comes with a clamp that protects the record label from cleaning fluid and avoids damage to the label
You get it with Pro-Ject's own eco-friendly, non-alcoholic vinyl cleaning solution
Compact cabinet made out of luxurious materials
The tricky part of using this cleaning machine is the fact that since it does not have a platter under the entire disc, you need to be super careful how much downward pressure you use with the record cleaning brush
Best Record Cleaning Brushes
AudioQuest Anti-Static Record Brush – best cleaning brush

You are probably wondering why there are also ordinary brushes on a par with cleaning machines, sets? Let's look at the one that many, including me, are in a hurry to call the best record cleaning brush. The AudioQuest brush is actually a very reliable and easy way to keep your records clean and free from dirt and dust. The brush is made of carbon fiber so The Anti-Static Record Brush has ideal conductivity, through the internal parts of the brush, to the conductive Gold Contacts placed right in your arm. The brush is also equipped with smaller fibers in order to quickly and easily remove small impurities that the normal eye cannot see.
In theory, you don't need to be a scientist to figure out how to work with this brush. It's more than simple: place the record on a flat surface, preferably being able to scroll. Then, just lightly press the brush firmly against the recording surface. After 3-5 spins, you will immediately notice a pretty good result and no dust. If for some reason you cannot afford to buy an expensive standalone cleaning machine or a premium kit, this brush is your perfect choice.
Pros
More than affordable price for a very simple but still reliable product to gently clear your records
Extremely convenient feature with a connection between carbon fibers and gold-plated strips that create a static charge for cleaning
Cons
For the simplicity and ease of use, no cons actually found
Vinyl Vac 33

On the one hand, the availability of Vinyl Vac 33 is good news. On the other hand, a question arises. Is it worth the money? For a symbolic amount, we get the following: A Set of Replacement Pads, Two O-Rings enable you to create a snug fit between your wet or dry vac hose, and Two Suction Reducers are included to help you regulate the amount of suction you want.
I can conclude that there is no difficulty in using it, everything works surprisingly simple and understandable. Whether you want to dry or wet your vinyl, the Vac 33 will do the job reliably and right. Just connect it to the vacuum cleaner, lay it horizontally in the middle, and just spin the vinyl record a few times not very quickly. It should be noted that during wet cleaning, it is better to first treat the surface with a special brush and then use a vacuum. What's more, the soft velvet pads on the handle are specially positioned to provide maximum protection for your vinyl while cleaning.
After careful and methodical cleaning, the result is immediately noticeable, the record starts to sound like a brand new one. The main thing is to do this cleaning regularly, especially if you use the record often. From myself, I can say that at first glance, the device is very easy to use, but nevertheless, it does its job perfectly. Of course, it will not remove frizzy stains, they must be removed by hand, but it copes with dust and dirt on the surface perfectly.
Pros
Notwithstanding a lot of available expensive cleaners, this one works simply and perfectly clears your stuff
Designed smartly to prevent any possible damage to your records
Cons
Does not include fluid for cleaning
Boundless Audio Record Cleaner Brush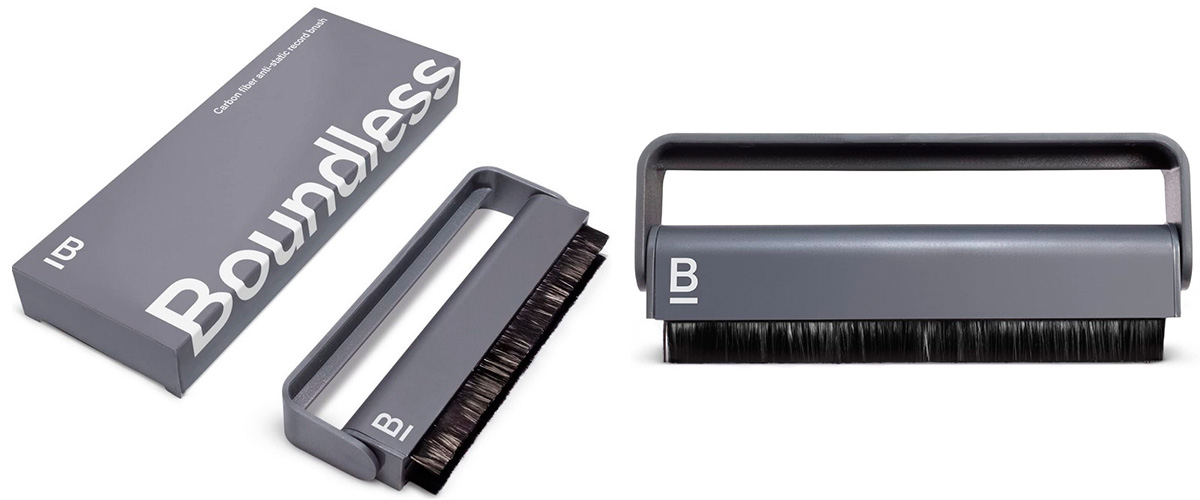 This brush allows you to remove dust and dirt safely because it has two rows of premium quality carbon fiber bristles. Another fact you should know about the considered model of record brush is that the tool is electrically conductive. This means it eliminates static charges which attract dust and particles. Perhaps, you don't care much about the brush design, but I was nicely surprised by the unique outlook and premium quality of the cleaner.
The brush features self-cleaning, so keeping it free of contamination is not going to be a problem. The sleek, modern handheld design allows for effortless cleanings every time you switch your LPs, which helps to improve overall audio quality time and time again.
Pros
The anthracite-colored aluminum housing fits perfectly into practically any hi-fi system
Carbon fiber brush bristles don't fall out of the brush, which means you will not need to replace the tool for many years
Cons
The plastic handle is very flimsy
Vinyl Buddy Record Cleaner – best budget

From the category of relatively cheap products, Vinyl Buddy Record Cleaner can be distinguished. I propose to consider him, and then decide whether he is worthy of this title or not. The first is its incredible simplicity. At first glance, this is an elementary simple mechanism in the form of a ROLLER. It would also be pointless to explain the principle of its operation. Unlike various brushes that smear debris across the surface of the record, Buddy Record Cleaner attracts debris and dust around as you roll it across the record.
The main feature of this mechanism is that it has a sticking effect. What's more, it's incredibly soft and never leaves any glue on your vinyl. Plus, it's easy to clean after cleaning the records. All you need to do is dip it in warm water and wash off the remaining dirt from it and dry it. In fact, it is a very profitable product that can be called the best budget record cleaner because it is relatively inexpensive and does its job perfectly, perfectly cleaning the surface. Many satisfied customers notice a strange effect – without expecting something special from this roller, they get a very good result after the very first use.
Pros
Gently clears the surface of recordings using previously unmet technology
Created simply and is very easy to use
Cons
Removes only a superficial part of the recording and cannot reach all grooves to clean them from inside
Best Vinyl Cleaning Fluid
Lasermedia VNC-8 – best cleaning fluid

I do not think that it is worth focusing very much on the account of solutions for washing records. However, there are some really decent products on the market that are worth taking a closer look at. The record cleaning fluid is undoubtedly an important purchase for collectors who want to keep their audio library tidy and clean. In this matter, every little thing is important, even a solution. Lasermedia VNC-8 is a high-quality product based on distilled deionized water. The manufacturer uses neither ammonia nor alcohol in the manufacture, which is also a huge advantage. According to the manufacturer, VNC-8 is based on a very reliable formula that will provide reliable care and a flawless glossy look to your records. 1 bottle contains 8 fluid ounces.
The procedure is as follows: apply the liquid evenly over the surface of the recording. Then use microfiber cloths and velvet brushes and voila – the perfect result is achieved. From myself, I can add that this is the best record cleaning fluid, because it is definitely worth the money spent because it ideally removes not only the top layer of dirt but also dirt in the grooves, which is very important.
Pros
Great combination of price and quality, due to the fact that it removes dirt and dust very carefully
Doesn't include alcohol or ammonia is definitely a strong advantage because the fluid won't ruin plasticizers in the vinyl recording
Absolutely non-flammable
Cons
To gain a maximum result requires a special brush or towels to be used with
Boundless Audio Record Cleaning Solution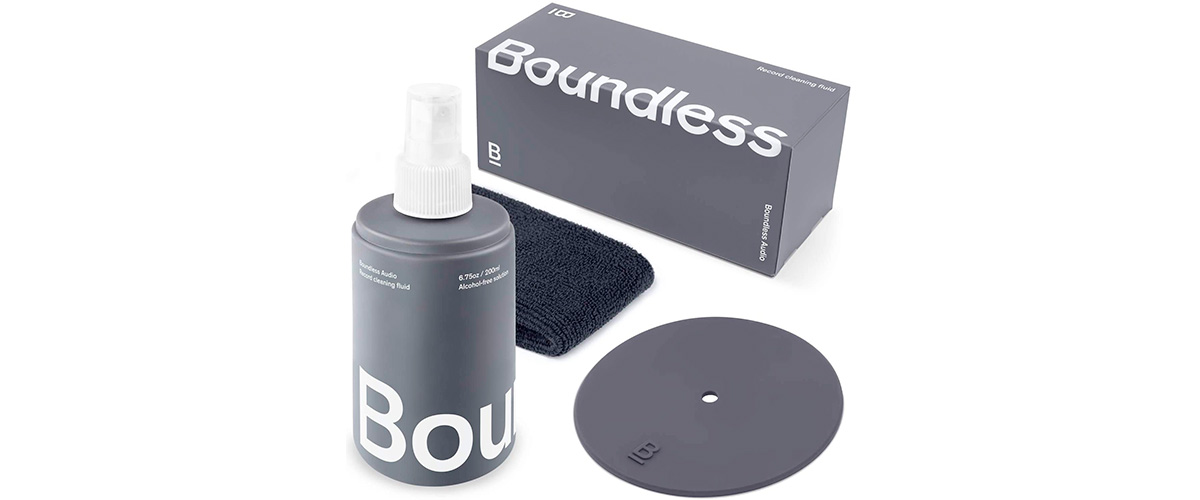 Let me show you the cleaning solution that contains modern anti-static agents and does not leave any residue. The liquid comes in a large 6.75oz/200ml spray bottle to deep clean up to 1000 record sides. This kit of cleaning items includes a vinyl-safe solution, microfiber cloth, and label protector.
With the liquid from this set, you will be able to get rid of dust and dirt on your records quickly. Boundless Audio Record Cleaning Solution comes with a highly absorbent, ultra-thick split microfiber cleaning cloth that is able to get right into the grooves. The cleaning rag is 12" x 12" in size. With this set, you will be able to easily remove fingerprints, dust, and grime.
Pros
Thanks to the heavy-duty silicone rubber label protector, you will not damage your record labels when spraying the liquid directly onto them
It's enough solution for up to 1000 albums
Cons
Seemingly incapable of picking up large objects like hair
Mobile Fidelity Super Record Wash

Mobile Fidelity Super Record Wash is next in line. For a relatively normal price, you get a whopping 32oz of recording detergent. As for me, this will be enough for several hundred records without any problems at all. This liquid can be used both for cleaning machines and for manual cleaning, which is also an advantage. Personally, I am very pleased with the formula of this liquid. Mobile Fidelity uses a quadruple-distilled, hyper-pure water base in combination with natural degreasing agents and dirt solvents. It is important to know that this liquid also does not have any alcohol or ammonia in its composition, therefore it will not kill your records.
In my opinion, the main advantage of this product is the ability not to spread over the surface. Unlike all liquids, Mobile Fidelity Super Record Wash has high-surface-tension water. This is done specifically in order to lift dust and dirt from the grooves of the record to the surface, and only then wash off or use a vacuum. The fact is that it often happens that conventional products simply clog the grooves with debris because it simply flows inward interfering with normal playback and spoils the needle.
Pros
А high-quality composition of four-fold purified water and natural ingredients guarantees perfect washing of your records
There are no toxic chemicals or alcohol or ammonia in the composition, so you don't risk ruining the record
Cons
Often it does not spread, but forms into separate drops on the surface of the lp, so you need to additionally use a brush
Best Anti-Static Record Solution
Milty Zerostat 3

From the beginning, I must admit, the reviews for Milty Zerostat 3 are very controversial. On the one hand, people like the simplicity and low price, on the other hand, there are statements that this device does not do its job at all. Anyway, let's take a look.
The device has the shape of a full-fledged pistol and is made of high-quality plastic. It fits well in the hand and is easy to use. Its main task is to produce a combination of positive and then negative ions at the surface of the vinyl record. The manufacturer originally intended Milty Zerostat 3 to neutralize the area of ​​static charge that attracts dust and unwanted debris.
The operation of this device is also quite simple: you need to direct your "pistol" into the spindle bore to allow the ions to be evenly distributed over the recording. Pull the trigger 12 inches from the record. In this way, you enable the ions to get onto your record and neutralize unwanted problems. As an independent device, the Zerostat 3 can get a score of 10/10 because it does not require any charging, configuration, or battery. The device is COMPLETELY autonomous, so it is perfect for the role of a reliable record album cleaner.
Pros
Comes in an attractive blue color and made of high-quality plastic
Very easy to use: just aim correctly and pull the trigger
Cons
Works well, but sometimes his actions are not enough, it helps rather superficially
Best Vinyl Record Storage Cases

Despite the fact that the products are quite different, they are united by one important goal – to protect precious recordings from the destructive outside world. I suggest Big Fudge Outer (100 Pack) and Vinyl Fever Inner (125 Pack) for consideration.
Big Fudge Outer is completely transparent, made from high-quality polypropylene, and does not harden over time like cheaper products. These packs are 3 millimeters thick to ensure your records are maximally protected from scratches, household dust, and dirt. With a size of 12.75 "x 12.75", they can hold records of all sizes, which is a big advantage.
Vinyl Fever Inner offers 25 more cases for a similar price. Compared to the previous product, these cases are made of high-quality archival paper, which, unfortunately, is not transparent, but also protects your vinyl very reliably. Several things made me very happy. The manufacturer very thoughtfully started to create protective cases and therefore made external seams that reduce friction inside, the amount of dust and greatly reduce the chance of creating static electricity on the records.
Pros
Both case packs are entirely made of high qualitative materials to provide maximum comfort for the user
Both are totally suitable for all vinyl records sizes
Cons
Vinyl Fevуr Inner made of paper, so in a long-term condition may be dirty and so reliable as the polypropylene one
Big Fudge Outer Sleeves (100 Pack)

Vinyl Fever Inner Record Sleeves (125 Pack)

Buyers Guide
What are the cleaning options for vinyl
In fact, there are 2 types of cleaning for the user to choose from. You can consider the options for cleaning your vinyl as dry and wet. If you decide to use a dry one, take into account that you should definitely use a special brush that will not smear dirt on the surface.
It must be used before each playback and, accordingly, after using the record.
If your choice fell on the wet cleaning of vinyl records, be sure to use a special cleaning liquid. It is needed in order to clean deep stains and dried dust. You can do it manually or using special machines. For maximum effect, I recommend using a cleaning machine, it will systematically and reliably clean even the deepest dirt in the grooves of your vinyl records. If you cannot afford to buy a special device, you can use a special cleaning kit. It is important to understand that this is more difficult and time-consuming, so it all depends on the needs and capabilities of each person.
Can you clean vinyl records with soap and water
Needless to say that there is an incredible variety of opinions on this. Some vehemently assert that washing records with water and soap or dishwashing detergent do not harm vinyl, while others consider it barbaric. In fact, you are the owners of your records and personally, I think it is very strange because why should you do that if people have already come up with the best vinyl record cleaner and everyone actively buys them and pleases them with positive reviews. To be honest, I generally do not recommend washing records this way if they are really valuable to you, because there is a huge chance of ruining them. In percentage terms, it equals classic 50/50%…
However, if you are an adventurer and decide to experiment, I wish you good luck and note that the quality of tap water is important in this matter because water with a high amount of minerals damages vinyl. Well, it is logical that you need to flush the grooves of the recording ultra carefully so as not to damage them. It is also very important to dry the vinyl well, wipe it with a towel, and test it only after complete drying.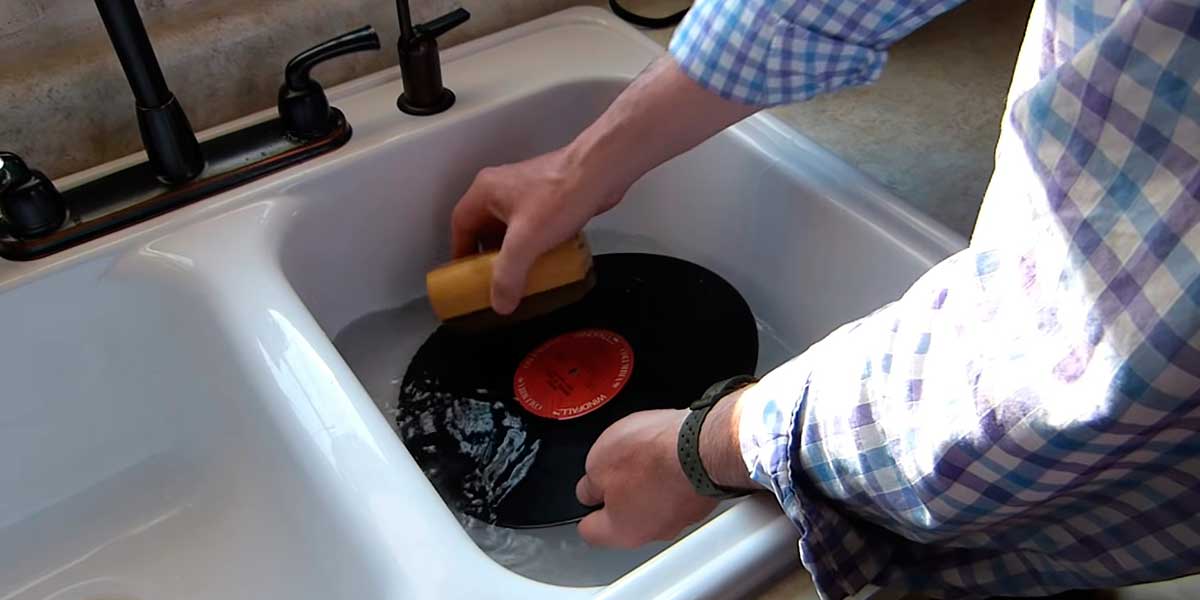 Is it OK to clean vinyl records with alcohol or vinegar
Despite the fact that collectors constantly argue whether it is possible to use alcohol to clean records, it is important to understand its need and ability. Alcohol itself, the cleaner is good, but it dries very quickly, so you simply won't have time to finish cleaning. Also, it loosens the grooves in your records making them much more fragile. Many manufacturers use alcohol, and many also criticize it. Nevertheless, I would not risk it in your place, but simply bought a reliable detergent and would not add unnecessary problems to myself.
On account of vinegar, the opinion is uncertain. While experimenting, I don't recommend using vinegar for cooking, such as apple cider, rice, or balsamic vinegar to clean vinyl. They contain a lot of natural particles, many ingredients that are simply superfluous and do not contribute to cleaning in any way. There are lots of vinyl record care products that are more suitable for this action.
Cleaning with vinegar can cause mold on infrequently used records. Vinegar is very acidic and can corrode the aluminum parts of the cartridge. All aluminum products are vulnerable to acid attack.
Therefore, I think it's super obvious that it is better to overpay but use reliable special detergents. In this way, you will protect the records and get rid of unnecessary headaches.
Can you use WD-40 on vinyl records
As obvious as it is, there is one important issue to be raised. No, you cannot use third-party lubricants, glass cleaners, and in particular WD-40 solvent. Of course, I cannot prevent you from using these funds. but you should be well aware that you need to use only products where it says "vinyl record cleaner" or something similar. The irony is that people often do not think about it and, because of their naivety, spoil precious rare records.
It is important to understand that the surface of the recordings also has some properties and, accordingly, reacts to some means in different ways. You, yourself, not even though, can create an accidental destructive chemical reaction of the property, and accordingly, it is very easy to spoil the recording. Therefore, personally, I strongly do not recommend using the WD-40, in any case, it's up to you.
Why are my records so static
A static electric charge on the surface of a record is caused by friction between the playback stylus and the wall of the vinyl groove that occurs when the recording is played back. Removing the vinyl from the plastic inner case will also generate static electricity. The surface of the record is not conductive, because vinyl is an insulator. So any static charge that occurs remains locked, stationary on the surface of the record. As the static charge builds up, you may notice crackling and cheeks when playing. This is called static noise. To avoid the appearance, I can advise you to use cellophane cases for records, they greatly reduce the chance of static charges.
How to store vinyl records
To be honest, I will probably never get tired of saying the same old but immortal things about the proper storage of vinyl records.
Most importantly, all vinyl recordings should ALWAYS be upright and in no case in the stack. This way you save them from excess pressure, their weight will be evenly distributed over the body and you will avoid bending.
It is also extremely important to absolutely always hide the records back in the packaging! Do you think they are just made like that? No, inside the package they are ideally placed so that no dust and dirt get into the grooves and along the perimeter of the record.
Be very careful about sound reproduction. Do not try to guess where to put the needle so that your favorite song will play. It is better to enjoy the whole album and wait patiently for your favorite composition.