In this article, I propose to consider various music streamers and at the same time highlight the best music streaming device. Let's start from the very beginning: a music streamer or online music.
A player is a device that retrieves a file from streaming services using Wi-Fi connection, USB drivers, SD cards, and so on. Later, this device sends it to the DAC for conversion.
Using the audio streamer as a base, you can build a complete audio system around it by adding the rest of the components. Depending on the type of streamer, you can add a dedicated amplifier, DAC, and acoustics to this audio system. In addition, there is another option: add the music streaming system to an existing audio system.
Music Streaming Devices Comparison Table
Name
DAC
AMP
Sampling Rate
Storage
Roon ready
Review
Bluesound Node 2i

best network music player

yes
no
32 bit/192kHz
no
yes
Review
Yamaha WXA-50

best AMP for streaming

no
55W/8Ω
24 bit/192kHz
no
no
Review
Bluesound POWERNODE 2i V2

best all-in-one music streamer

yes
60W/8Ω
32 bit/384kHz
no
yes
Review
Bluesound Vault 2i

best audiophile music server

no
no
32 bit/192kHz
2 TB
yes
Review
Music streaming devices explained
Let's take a look at the difference between various types of music streamers. For starters, it's important to understand that any component of an audio system that allows you to play music wirelessly can be music streamers. They do it differently – using a streaming service application or using the network storage device you have in your system.
The streamer can be a combined device that has three functions. Firstly, the conversion of digital music files to an analog signal. This is possible when the device has a built-in digital-to-analog converter called DAC. Secondly, the presence of streaming music, or its amplification, provided that the device has an integrated amplifier – amplifier – AMP. Well, the last feature is the availability of streaming capabilities.
Note that many music streamers often have DACs built-in. This definitely means that they can do everything: extract, stream music, and convert audio. Music streamers often refer to these devices.
There is another category – devices with a built-in amplifier – AMP. They only amplify the audio signal and have the ability to stream music. They are called that way because manufacturing companies want to sell their product as an amplifier (AMP) in the first place. But the appliance has the added feature of streaming capabilities.
The next category is All-in-One Network Music Players. This device combines both DAC and AMP and the ability to stream music. The presence of such a device greatly simplifies the work with setting up an audio system because it can become the center of a hi-fi audio system, you just need to add acoustics, such as speakers.
And the last one is the audiophile music server. This type of device contains an internal hard drive where you can store your music files. The best ones have a CD ripper and are absolutely perfect if you want to convert your CD collection to digital files in high quality.
Best Music Streamers Review
Best Network Music Players
Bluesound Node 2i – best network music player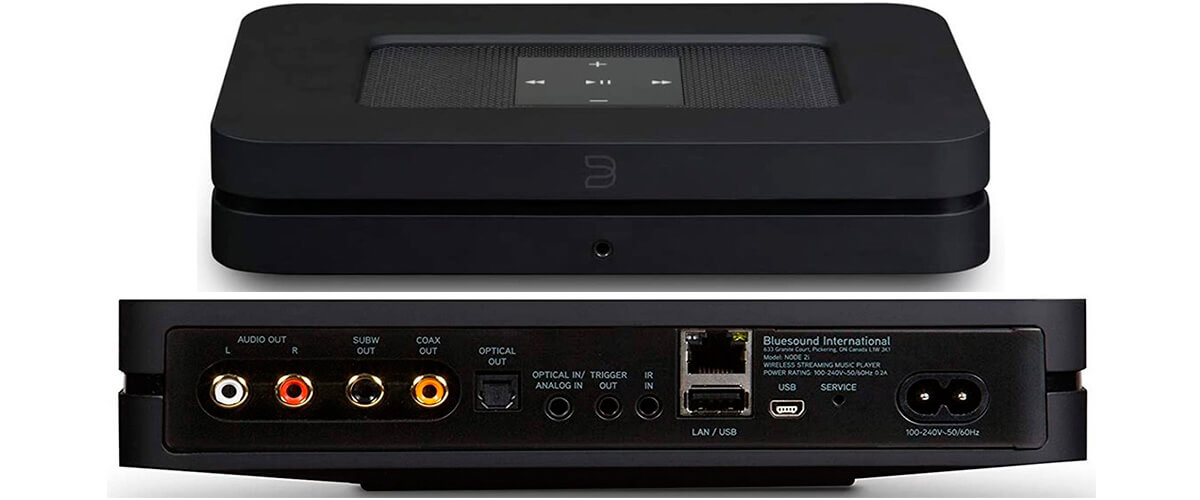 Node 2i can be called the best music streamer without hesitation, and now we will find out why. Bluesound released an incredibly cool device that combines many useful features along with a cool, laconic design.
Firstly, it is important to note that the device has a built-in digital converter, that is, a DAC. The built-in 32 bit/192kHz sample rate also pleases with the indicators, but unfortunately, the device does not have a built-in amp.
Looking for additional benefits, this streamer has dual-band Wi-Fi and also supports Apple AirPlay2. Plus, two-way Bluetooth is also a good advantage in the market since you can use wireless headphones via the BluOS 3.0 app.
Key specs
DAC: yes
AMP : no
Sampling rate: 32 bit/192kHz
Storage: no
Roon ready: yes
Cambridge Audio CXN V2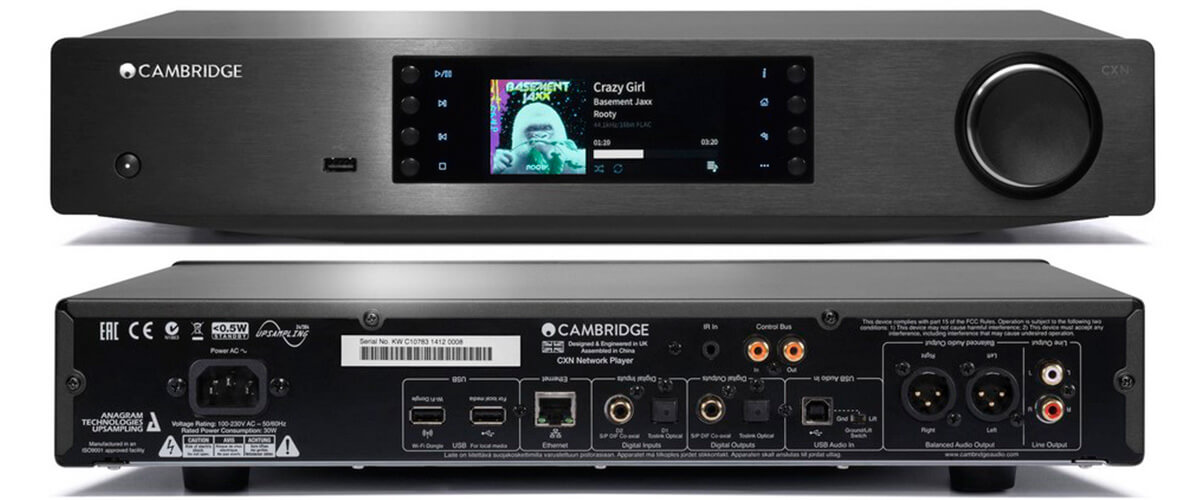 Cambridge Audio CXN V2 is a great combination of nice design with consistent geometry and ultra nice buttons, and many great features built-in by the manufacturer. Let's take a closer look at this device.
In some places, it repeats the review of the previous product: CXN V2 still has a wonderful DAC but unfortunately cannot boast of having any amp. The sample rate is also slightly lower, namely 24 bit/192kHz. It's not that it's bad, it's just a little lower.
With this version of the device, you can enjoy Tidal built-in and Spotify Connect. In addition, the stream music feature has been added via Apple Airplay2 and Google's Chromecast. Speaking of sound, it will not leave anyone indifferent: the incredible combination of rough bass when playing heavy songs and the subtle, pleasant sound of playing instrumental compositions enchants the listener.
By the way, the device's screen deserves a special mention. It has a resolution of 4.3″ and perfectly shows track, artist, album, and sampling rate, with album artwork in full color.
Key specs
DAC: yes
AMP : no
Sampling rate: 24 bit/192kHz
Storage: no
Roon ready: yes
Best AMPs For Streaming Music
Yamaha WXA-50 – best AMP for streaming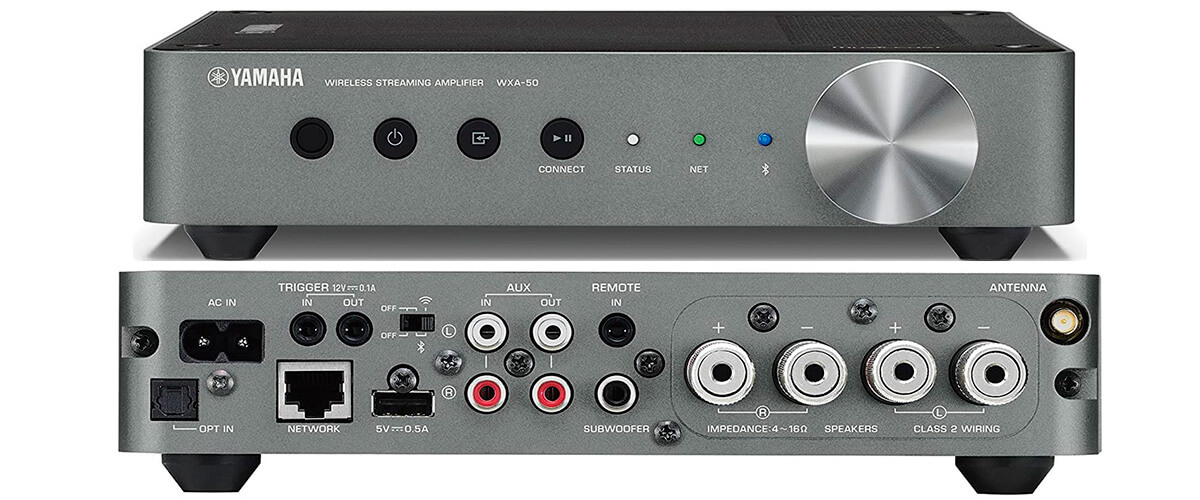 The model WXA-50 is the special, non-replaceable best amp-supported streamer on the market. Yamaha is known in the market for its incredible reliability and practicality.
Firstly, I would like to note the delightful design that does not interfere with the user, but on the contrary, it looks very smooth and laconic. In addition, you will become the owner of the most excellent audio system if you decide to choose the speakers that match the color.
Let's talk about the stuffing and what is so good about this streaming music player. This device uses ICEpower class-D amplifier modules with a specified power output of 55Wpc into 8 ohms, 70Wpc into 6 ohms, or 105Wpc into 4 ohms. It is also important to know that the frequency of the sound produced by the appliance varies from 20Hz to 20kHz. BUT, be sure to take into account that despite the wonderful characteristics, keep in mind the small size of the amplifier. It often happens that with prolonged loads, the WXA-50 runs a little hot. Therefore, it must have space for ventilation.
Connectivity and capabilities are also critical topics. In the case of the WXA-50, it supports Apple AirPlay, via which you can stream music to the amplifier from an iOS device or Mac computer. There is also support for AirPlay 2, making it easy to stream from an Apple device to multiple AirPlay 2 devices for multiroom playback. Of the shortcomings, I would like to note the limitations of the WXA-50 because it allows only one-to-one streaming via AirPlay. Plus, the WXA-50 has Bluetooth. On the other hand, it does not support either aptX or aptX HD in any way.
Key specs
DAC: no
AMP : 55W/8Ω
Sampling rate: 24 bit/192kHz
Storage: no
Roon ready: no
Denon PMA-150H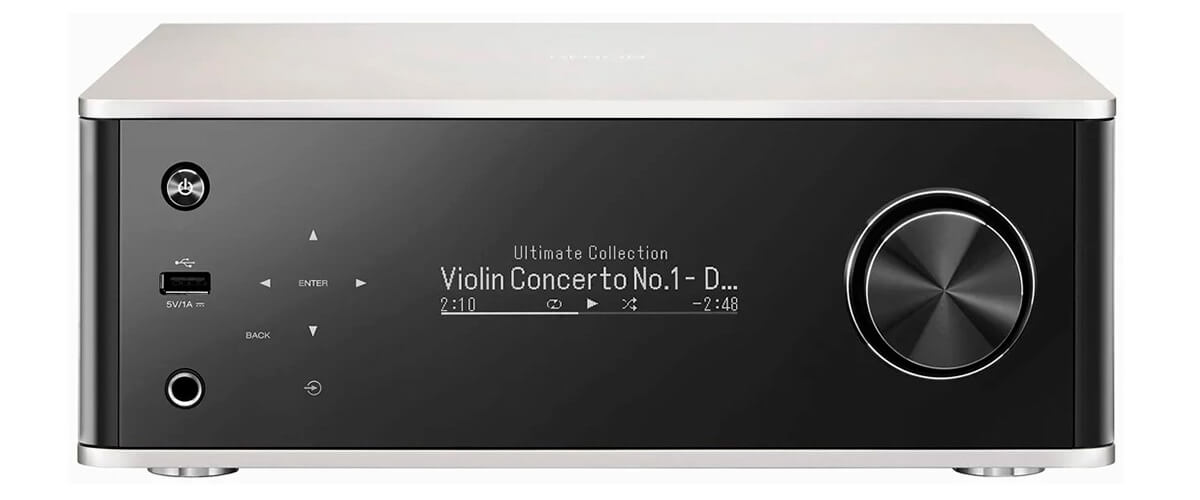 The PMA-150H is a highly competitive audio streaming device in the market. This device is very versatile, which makes it incredibly convenient to use in any actions related to audio.
If you are already familiar with Denon products, you are probably familiar with the HEOS program. As such, the PMA-150H is not an exception and is also equipped with HEOS. It is Denon's solution for a wireless, whole-home audio experience. Loading the HEOS app into any mobile device also makes it possible to control the PMA-150H with Amazon Alexa and Google Assistant. In addition, using the proprietary HEOS application, you can listen to music without leaving your favorite applications because the device supports everything, including Spotify, Apple Music, tidal, and many other platforms.
On the more technical side of the device, it is important to consider that the PMA-150H is an integrated Class D amplifier with a built-in DAC and network connectivity. By the way, this device can recognize AV-specific DTS and Dolby Digital audio formats and is compatible with high-resolution digital audio formats like ALAC, FLAC, WAV, and DSD. Moreover, there is also an onboard DAC able to handle up to 32-bit/384kHz PCM and 5.6MHz DSD.
Key specs
DAC: no
AMP : 35W/8Ω
Sampling rate: 24 bit/192kHz
Storage: no
Roon ready: no
Best All-in-One Network Music Players
Bluesound POWERNODE 2i V2 – best all-in-one music streamer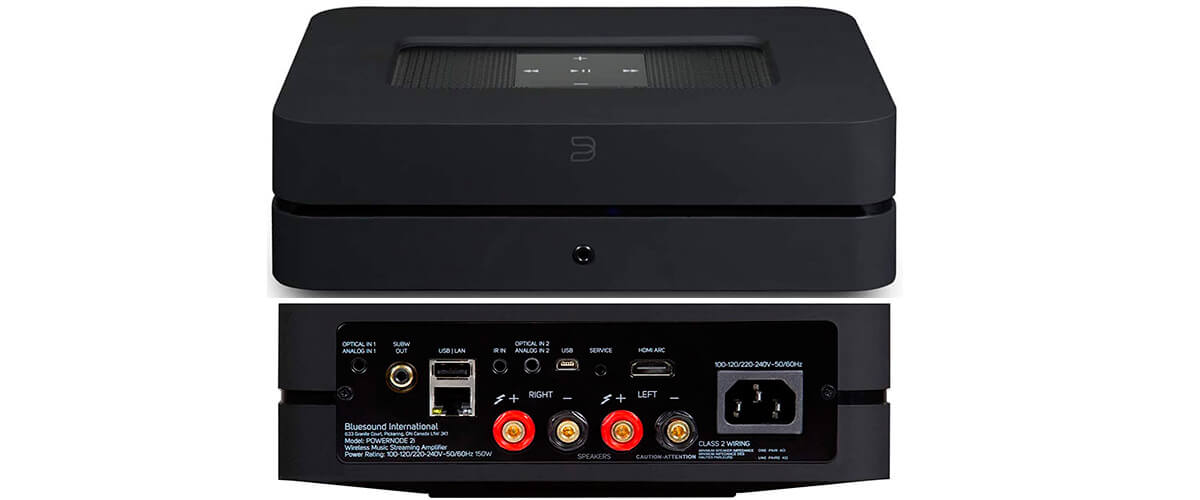 Bluesound POWERNODE 2i V2 is a worthy member of the All-in-One Network Music Players series. This beautiful device combines many cool features with beautiful design and compactness. Traditionally, the instrument is equipped with a 32-bit/192kHz DAC and 60W HybridDigital amplification system for the best performance possible.
Like all its predecessors, POWERNODE 2i V2 boasts of its versatility because it provides the user with the ability to connect using Bluetooth, Wi-Fi connection without any problems. In addition, the device can be controlled using Apple AirPlay 2 and Alexa Voice Control. Returning to the Bluetooth topic, it is important to consider aptX HD availability for streaming and facilitating the Powernode 2i's use with a pair of wireless headphones.
Speaking about the sound, there are no complaints, absolutely. The sound is crystal clear when playing even the strongest bass or instrumental tracks. Handling of vocals often highlights that kind of dynamic aptitude, so the personality present in the Powernode 2i is huge to its credit.
Key specs
DAC: yes
AMP : 60W/8Ω
Sampling rate: 32 bit/384kHz
Storage: no
Roon ready: yes
Naim Uniti Star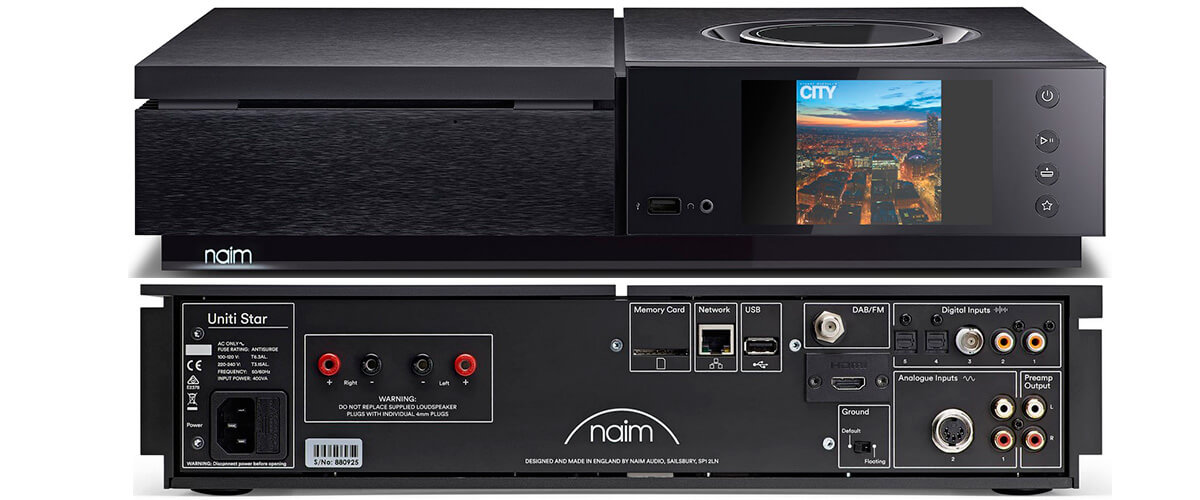 Another versatile device is definitely the Naim Uniti Star. The developers managed to find the ideal formula for combining external beauty and variability. A distinctive feature of this appliance is the presence of a CD player. Many will not pay attention to this, but true connoisseurs and collectors of CDs will simply be delighted with this feature.
The number of streaming options is imposing. This high-end audio streamer includes aptX HD Bluetooth, AirPlay, and UPnP, aka network streaming, as well as embedded support for Spotify, Tidal, and Chromecast.
It is also worth adding that it is Roon-ready and capable of working as part of a Naim multi-room set-up along with the company's other streamers and wireless speakers. Speaking of physical connectors, there's a generous spread of analog and digital inputs to accommodate external sources, including HDMI ARC to make connecting the Star to your TV easy.
Speaking about the technical specifications, it will be important for the user to know that the streamer has an amp with an indicator of 70W/8Ω, while the sample rate of the built-in DAC is 32 bit/384kHz.
Key specs
DAC: yes
AMP : 70W/8Ω
Sampling rate: 32 bit/384kHz
Storage: optional
Roon ready: yes
Best Audiophile Music Server
Bluesound Vault 2i – best audiophile music server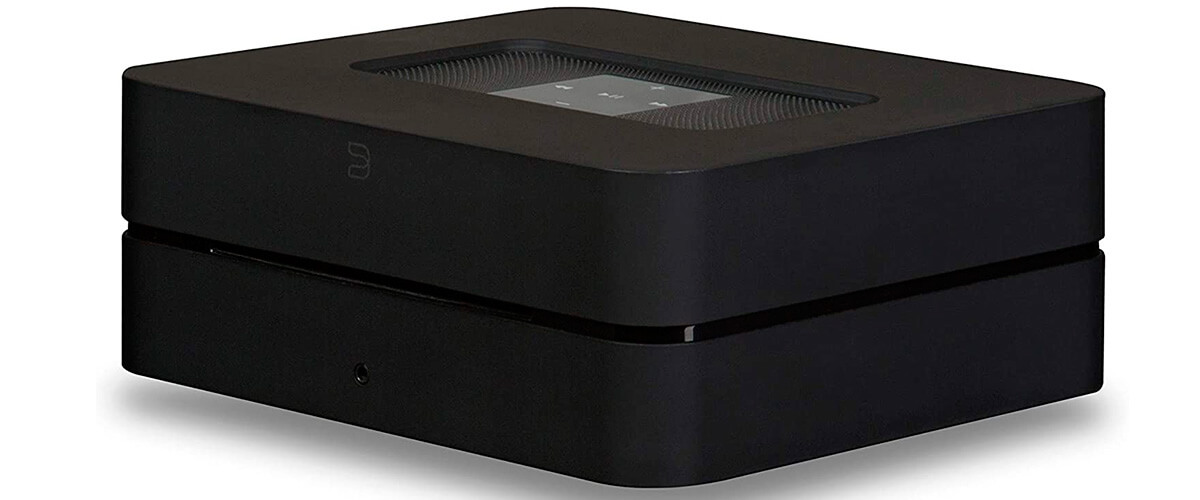 When it comes to a good Audiophile Music Server, you can often hear a lot of references to the best network music player —Bluesound Vault 2i. The presence of built-in 2 TB of hard disk memory makes this device an integral part of many audio systems for tens of thousands of users.
What I love incredibly about this digital music server is the fact that this is a music server that really only works as part of the BluOS ecosystem of products. It can rip CDs direct to its internal storage via the CD player. Unfortunately, there is also a drawback: libraries of content cannot be seen by any other UPnP or DLNA device.
In the matter of compatibility, it is important to know that the device is compatible with PCM formats up to 24-bit/192kHz and MQA, and a considerable selection of music streaming services are embedded and supported natively. As well as AirPlay 2, there's Bluetooth with aptX HD for short-range wireless streaming from a compatible device. The only thing that does not support the device is Google Chromecast, which is a bit disappointing.
Key specs
DAC: no
AMP : no
Sampling rate: 32 bit/192kHz
Storage: 2 TB
Roon ready: yes
Buyers Guide
How does a music streamer work
Let's take a look at exactly how music streamers work. The interaction of tape drive, network storage and system management tools can be organized in many ways. For example, the use of access at the level of directories and files, or before the use of non-standard proprietary solutions based only on transport network protocols.
Please note that DLNA is the most common interoperability standard. To implement this concept, it is necessary to ensure the interconnected operation of three functional modules: DMS, DMR (Digital Media Audio Renderer), and DMC (Digital Media Controller). DMS stores and sorts multimedia files, as well as broadcasts a digital audio stream to other modules of the system. In turn, the DMR receives the digital stream from the DMS and converts it into a standard form for transmission to the DAC. The latter, that is, the DMC controls the operation of the system. The streamer itself takes over the DMR functions. Any DLNA software server installed on a computer or NAS in the home network can be used as a DMS. To turn your smartphone or tablet into a DMC, you need to install one of the special applications on it and integrate it into your home network via Wi-Fi.
In fact, your best streamer is a specialized computer that reads content from network storage and broadcasts it to an external DAC. The component is usually equipped with functional blocks typical for a computer – a central processor, RAM, and read-only memory, controllers for network operation, and a USB interface.
Pay attention to this when choosing a music streamer
Sound quality
Аlthough some streaming modules may be used by different brands, keep in mind that the way they are implemented and the quality of the surrounding power supplies and built-in audio circuits are very important to the final sound quality.
When choosing an amplifier, you should always rely on the level of the rest of the audio system components. Also, when choosing, it is not recommended to choose expensive devices for entry-level systems.
Usability
Despite the presence of a standard remote control, the availability of applications for remote control of the device is a real treasure! We can single out the BluOS control system – for the devices of this manufacturer, a mobile application from Naim and HEOS, which incredibly simplify the operation of the devices and, in general, help the user through a clear and simple interface. Using these devices and your streamer's apps is the best way to navigate large music libraries and the fastest way to create playlists.
The first thing you need to enjoy your music streamer is a stable home internet network. From a weak or no such network, you will not be able to use any streaming services or control your device using a software application.
The next question is about choosing a direct-wired connection or wireless one. Avoiding wires is attractive because it makes things easier and easier to work with, and assuming your network is stable, it should work well for a lot of people. However, it is often recommended to use a wired network due to the fact that it is much more stable and will not interrupt during long sessions.
Music streaming features
99% of all streamers have lots of useful features. They can:
Play music files from a connected NAS drive without any problems
Play various Internet radio stations
Have Spotify, YouTube music, and even better applications like built-in Tidal, etc
Also, Bluetooth is present almost on all types of modern devices. Moreover, you are really lucky if this is the latest version of aptX HD. Also, remember that many streamers have digital inputs, so along with playing USB music files, you can usually also feed optical and coaxial digital channels.
Audio formats and file types explained
When using a music streamer, you are likely to come across several types of files. In fact, it is important to understand how they work and what they are in general, so let's take a quick look at this.
There are two main things you need to know about a music streamer. First of all, consider the largest bit depth and sampling rate that it can accept. The sampling rate is the number of times the computer took a digital snapshot of a specific second of a music file. Thus, the more pictures it takes, the more detailed the sound will be. You can find this value in hertz (Hz), sometimes with the abbreviation of kilohertz (kHz).
Bit depth means how much information is contained in each snapshot. Repeating the sample rate situation, again, the higher the number, the better.
Actually, there are many different types of audio files, but the most common are FLAC and MQA files. These files are used by the streaming service Tidal, which easily ranks among the most popular and widespread high definition streaming services.
The main value of FLAC files is that they are compressed like MP3s, but they lose very little data. This means they are both fast-streaming and detailed enough.
MQA (Master Quality Authenticated) is a FLAC file when cracked. It creates very high-quality files that are very thin for continuous streaming. When working with a music streamer, you will most often come across these two types of files.
Roon-ready music streamers explained
In today's audio world, Roon technology is the most popular streaming interface on the market. Roon works quite simply. It takes files from a given, original source, such as a hard drive or streaming service, and transfers them to the so-called "Roon Core". This is a specific term for a music streamer that turns out to be compatible with Roon. I think as users, it will be important to know that a PC or Mac can also be used as a Roon Core. Thus, you don't have to buy an expensive music streamer to take advantage of this benefit.
Roon, instead of just displaying track information, turns what you listen to into a fun, well-designed digital magazine with a lot of artist information. This whole special "presentation" is displayed on your device, be it a PC, tablet, or even a smartphone. In fact, it is an exceptional way to listen to music, which is very rewarding. Unfortunately, there is another side of the coin, and that is the price. You will be forced to pay quite a lot for a lifetime membership. It turns out that only very dedicated listeners who are confident in their investment will use such a program.