An integrated amplifier is an essential part of the music system of any person who considers himself a true connoisseur of sound quality, an audiophile. Many such devices are on the market today, which, in addition to amplification channels, can offer additional features for wider use of additional equipment or streaming content. To not confuse you in this multitude of options, I have prepared a list of 10 best-integrated amplifiers, selected by price category, so that you will find the one that will satisfy your needs and capabilities.
Please note that this article is about stereo amplifiers, not to be confused with multichannel amplifiers. So sit back and get acquainted with the great representatives to which you can connect your favorite equipment, but most importantly – enjoy the exceptionally high sound quality. We will look at the main features of integrated amplifiers, and at the end, I will give you instructions on what you should look for when buying this type of equipment. I won't keep you any longer. Let's do it!
Our pick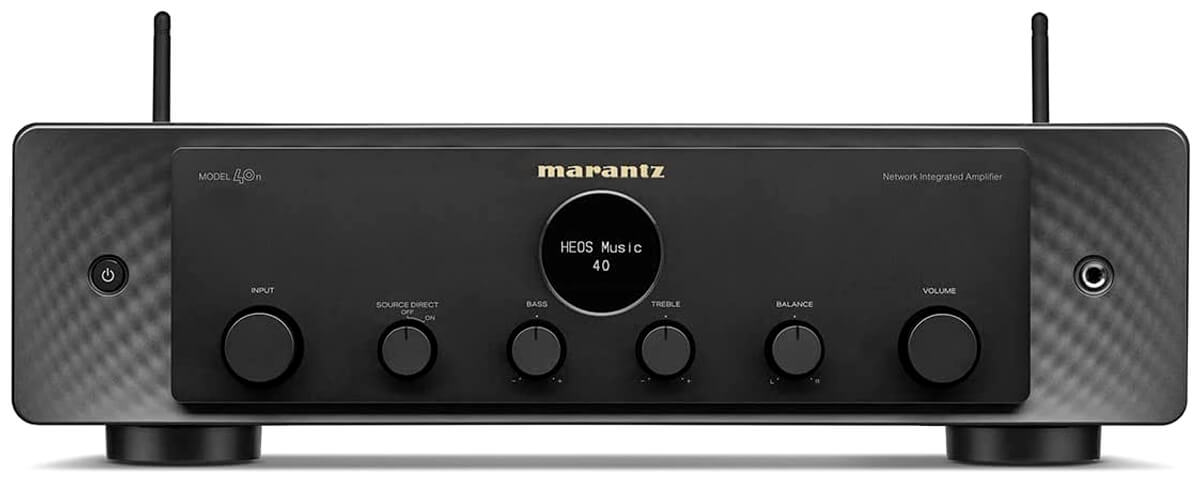 Marantz Model 40n
Best integrated amplifier
Marantz MODEL 40n is an integrated stereo amplifier with streaming built-in that reimagined the integrated amplifier for the digital age while preserving a luxurious analog feel and sound.
Read the full review
.
Integrated amplifiers comparison table
Name
Power output
Frequency Response
Total Harmonic Distortion
Review
Marantz Model 40n

best overall

70W/8 Ohm, 100W/4 Ohm
5Hz-50kHz
0.02%
Review
Willsenton R800i

tube integrated amp

48W/8 Ohm
12Hz-35kHz
1%
Review
Cambridge Audio CXA81

under $2000

80W/8 Ohm, 120W/4 Ohm
5Hz-60kHz
0.02%
Review
Audiolab 6000A

under $1000

50W/8 Ohm, 75W/4 Ohm
20Hz-20kHz
0.02%
Review
Yamaha A-S301

budget

60W/8 Ohm
10Hz-100kHz
0.019%
Review
McIntosh MA5300

premium

100W/8 Ohm, 160W/4 Ohm
10Hz-100kHz
0.005%
Review
Best integrated amplifier reviews
Integrated amp under $3000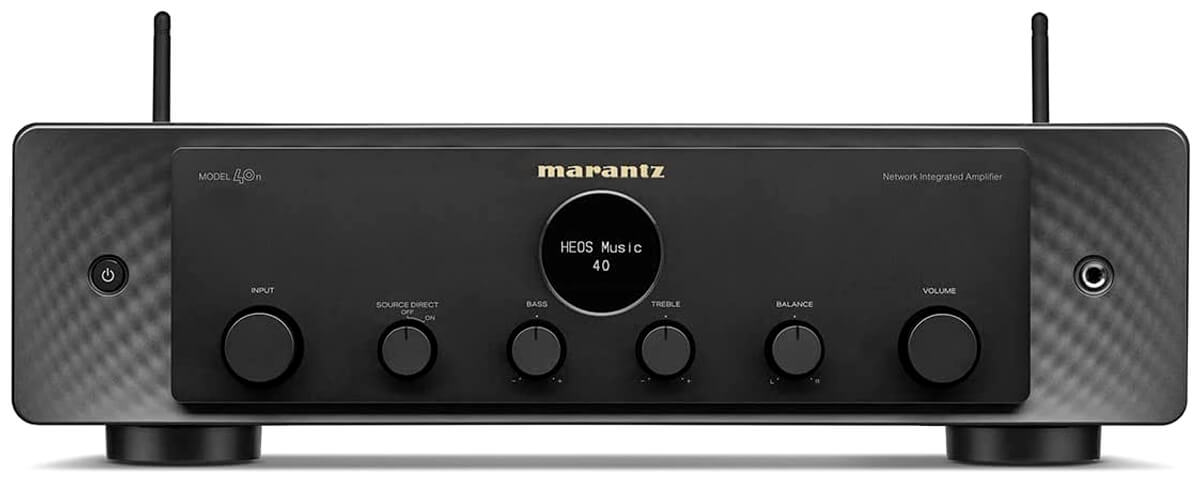 First on my list is a high-performance integrated amp under $3000 from Marantz. Its sleek and elegant design with a brushed aluminum front panel and large OLED display gives it a modern look, and its use of steel in its construction makes it resistant to vibration.
One of the main distinctive features of the Model 40N is its high-quality sound and wide compatibility range (4 – 16 Ohms). In addition, the powerful Class D amplifier module can deliver up to 70W per channel for clear and dynamic sound with a good 0.02% THD (20Hz – 20kHz, 8 Ohm) that really brings music to life.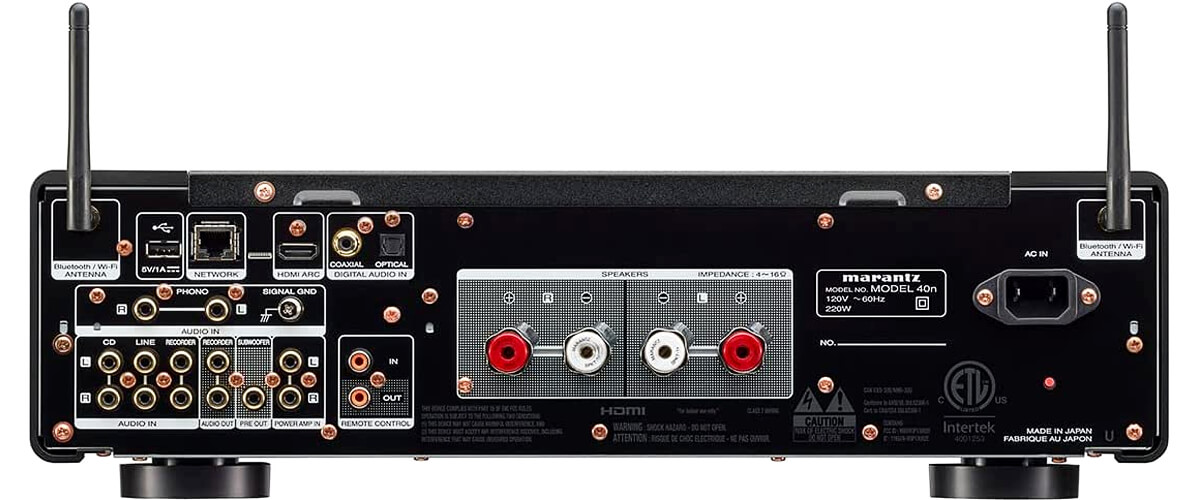 The Marantz Model 40N is quite versatile in its wired connectivity options. In addition to the standard RCA jacks (including for recording) and speaker jacks (only 1 pair), it has a phono input (MM) for the record player, HDMI ARC input (version 1.4) for the TV, USB Type-A port, Ethernet, ports for connecting older equipment, subwoofer, and headphones. The amplifier also has stereo "power amplifier" inputs for use with a receiver.
Wireless connectivity options include built-in Wi-Fi, Bluetooth, and HEOS streaming technology. With these features, you can listen to music from popular streaming services (Spotify, Tidal, Deezer, etc.) and use Amazon Alexa, Google Assistant, or Apple Siri. Although it's worth pointing out that Bluetooth is limited to the SBC codec, which is incompatible with Apple, but you can use Apple AirPlay2.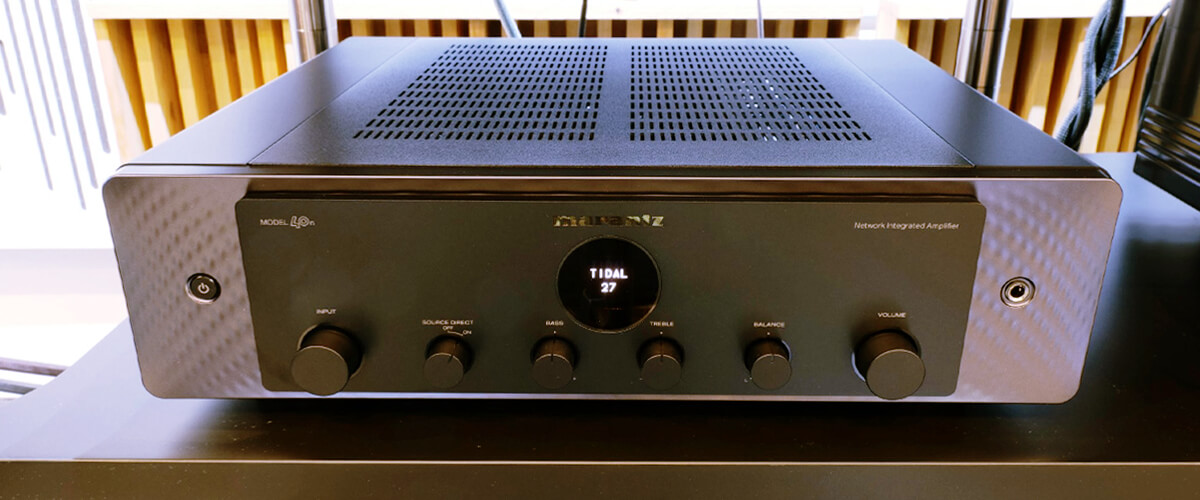 The built-in DAC supports Hi-Res audio up to 24 bits/192 kHz, and during testing, it performed great. I enjoyed Fleetwood Mac songs from my vinyl player with authentic analog sound. In classical music from the CD player, all frequencies sounded separated and clear, highlighting each instrument but maintaining the overall picture of the composition. The wireless connection proved to work well with Spotify.
Without a doubt, I can call the Marantz Model 40N the best-integrated amplifier, given its truly wide-ranging capabilities and sound.
Key specs
Channels: 2.
Power output: 70W/8 Ohm, 100W/4 Ohm.
Frequency Response: 5Hz-50kHz.
Total Harmonic Distortion: 0.02%.
Pros
Top-quality sound.
Versatility.
HEOS streaming/multiroom built-in.
Working with streaming services and voice assistants.
Cons
Bluetooth is limited to SBC codec.
Willsenton R800i – best tube integrated amp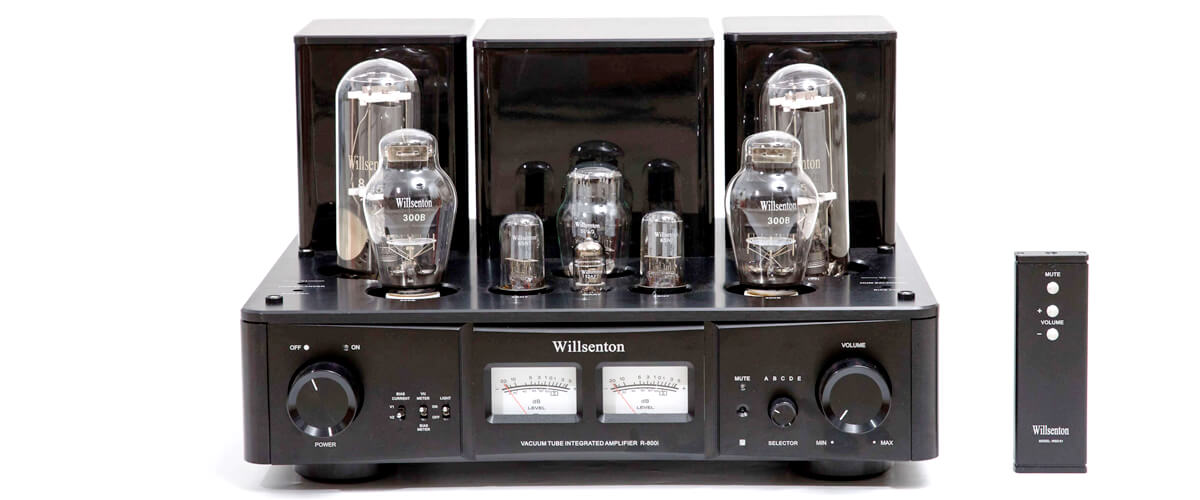 The Willsenton R800i is an exceptional tube-integrated amplifier that brings warm and rich sound to any musician's listening experience. It provides a true audiophile experience for connoisseurs, making it a contender for the "best tube integrated amplifier" title. So let's find out if it can seriously compete with the Marantz Model 40n.
With 50W of output power per channel (12 Hz – 35kHz, 1% THD), the Willsenton R800i provides enough power for proper operation in small and medium-sized rooms. And just like the Marantz Model 40N is compatible with 4 Ohm, 8 Ohm, and 16 Ohm speakers. It has a single-ended Class A triode design using two 6SL7 input tubes and two 6SN7 driver tubes. The amplifier also uses four KT88 output tubes, which provide a rich, warm, and natural sound.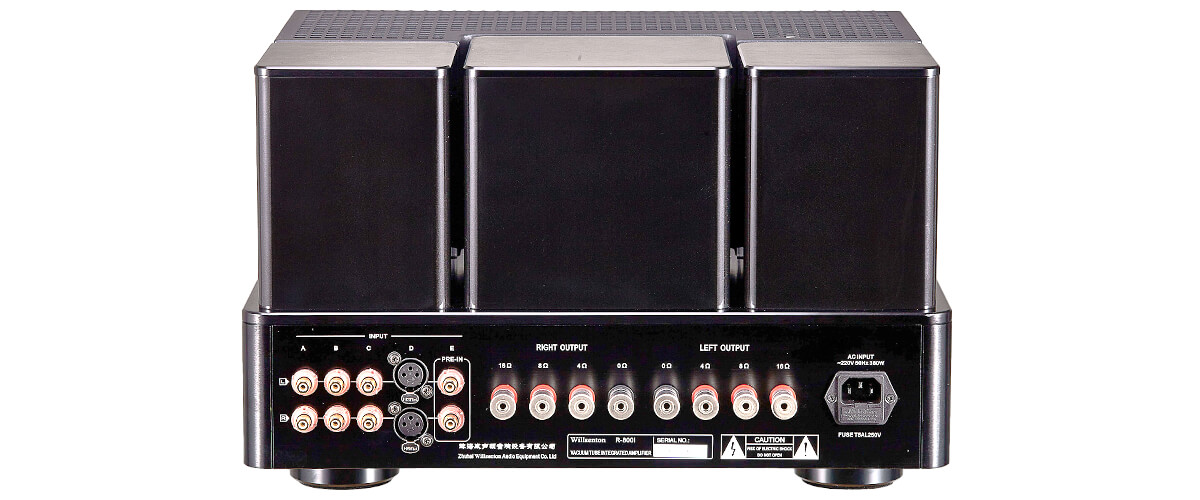 Regarding connectivity, the Willsenton R800i has RCA inputs for CD players, a phono input for a turntable, and Bluetooth for wireless streaming. The amplifier also features a headphone jack for private listening.
One of the most notable features of the Willsenton R800i is the attention to detail in the design. The front panel is brushed aluminum with a retro-style design that gives it a "timeless look". To minimize interference and distortion, the amplifier is made from high-quality materials, including stainless steel chassis and transformer covers. But you won't find any tone controls or EQ here. For example, I would have preferred their presence.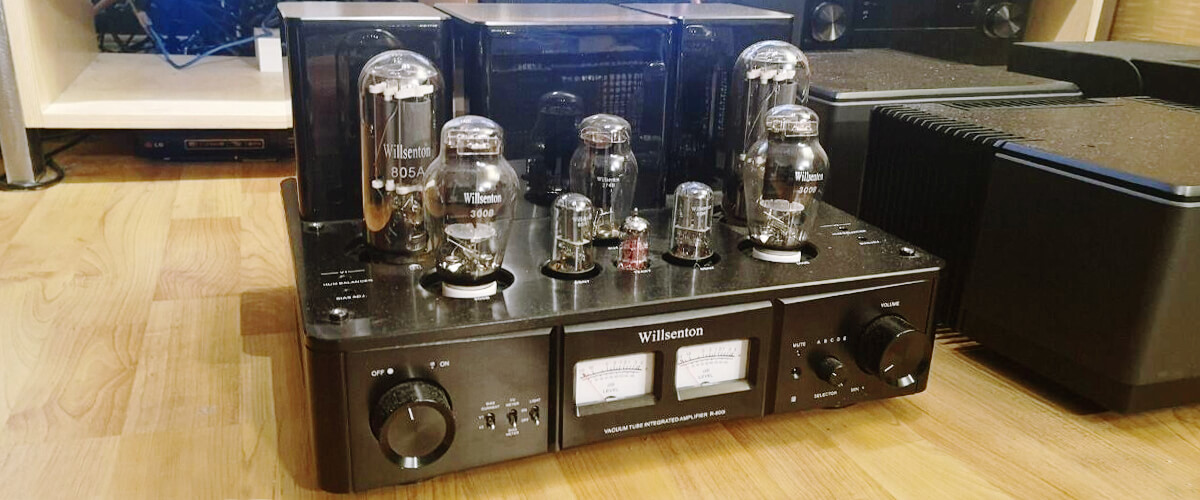 During testing, the Willsenton R800i provided a thrilling listening experience, bringing out the finest in various genres of music. This amp provided incredible clarity and depth, from the lush jazz tones (Jerry Milligan's stunning saxophone record) to the dynamic energy of rock and roll (The Beatles, Rock-n-Roll CD).
Yes, it lacks the power and versatility that Marantz Model 40n has, but in terms of sound quality, it is definitely not inferior to the leader. It's a great model for true connoisseurs!
Key specs
Channels: 2.
Power output: 48W/8 Ohm.
Frequency Response: 12Hz-35kHz.
Total Harmonic Distortion: 1%.
Pros
Exceptional sound quality with a warm, rich, and natural sound.
A variety of connectivity options, including Bluetooth.
Attention to detail in design, using high-quality materials.
Cons
No tone controls or equalizers, which may not suit the preferences of all users.
Integrated amp under $2000
Cambridge Audio CXA81 – best under $2000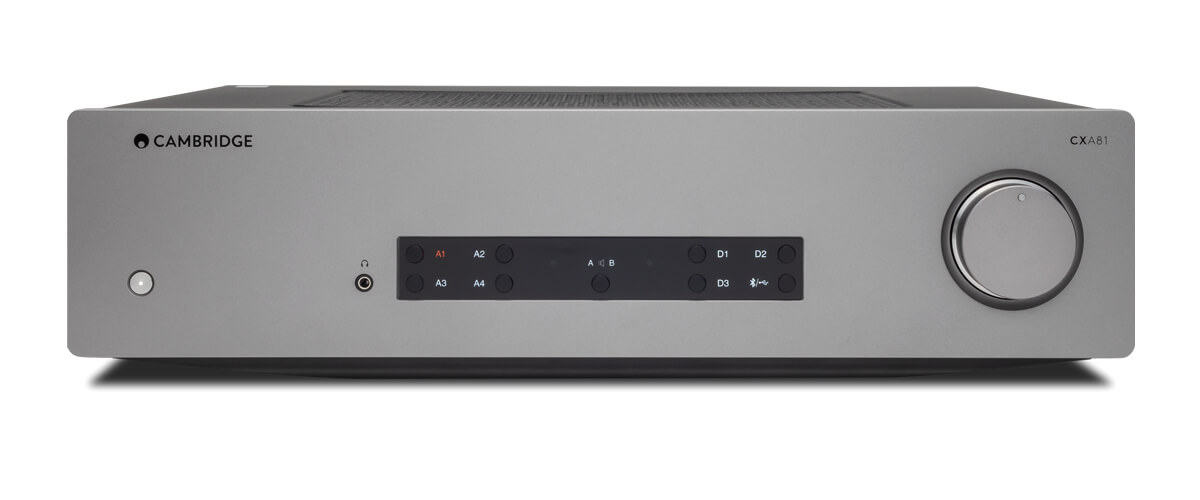 The Cambridge Audio CXA81 is a worthy member of its price class, designed to provide high-quality sound for audiophiles. With 80 watts per channel (8 Ohms, 5Hz- 60kHz), this amplifier can deliver dynamic and engaging sound even in spacious rooms. The sleek and modern design includes a large OLED display, brushed metal front panel, and intuitive controls that make it easy to use.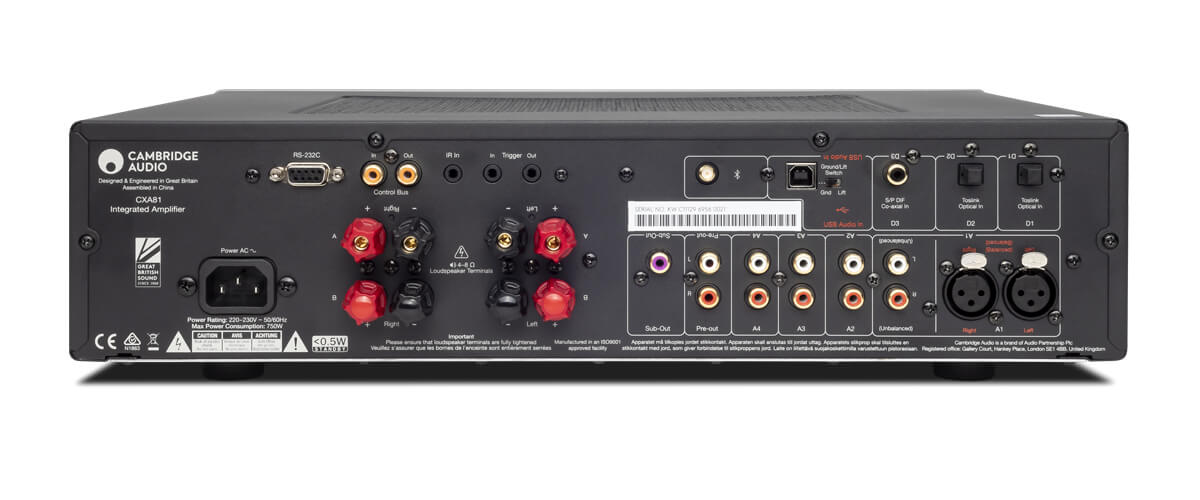 The CXA81 has several features that make it a major contender for the rank of best-integrated amp in its class. Its compatibility with various system components and sources, including turntables, CD players, and digital audio devices, ensures you can enjoy music in various formats. It also offers a range of connectivity options, including digital inputs (TOSLINK, coaxial, and USB), Bluetooth streaming (supporting up to aptX HD), and an optional wireless module (available separately). Unfortunately, although vinyl fans will be disappointed, there is no phono input, and you can only connect the player using an external preamp.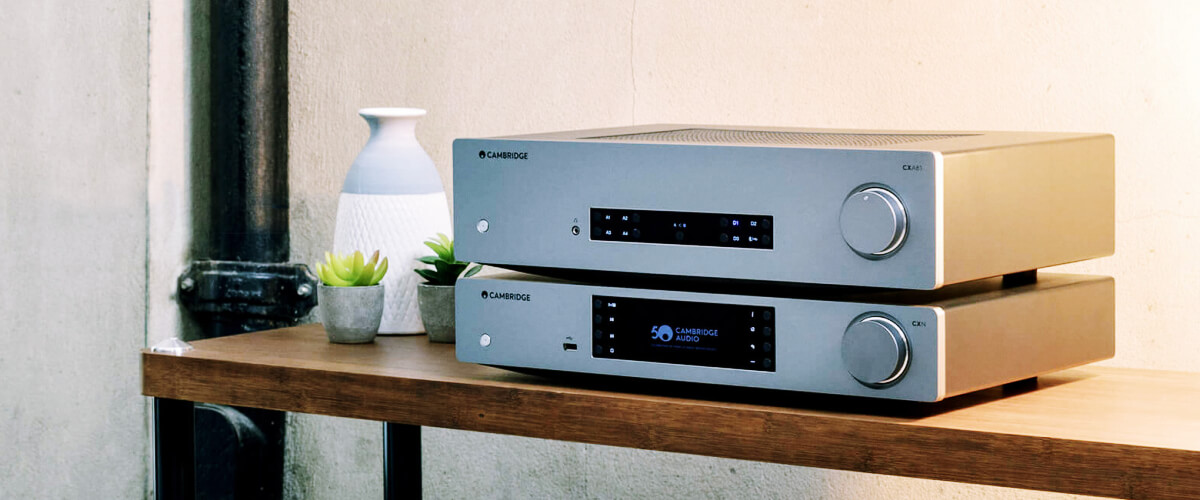 The device uses Cambridge Audio's proprietary Class AB amplifier technology, which delivers clean, detailed sound that is well-balanced across the frequency spectrum. I included vinyl records, CDs, and high-resolution digital audio files during testing. For example, when listening to Pink Floyd's "Wish You Were Here" on vinyl, the sound was detailed and engaging, with excellent separation between instruments and a warm natural tone. When listening to electronic music on a high-resolution digital audio player, the bass was tight, punchy, and clearly delineated, and the mids and treble were detailed and crisp.
I consider it the optimal option in its price segment. Whether you listen to rock, jazz, classical, or any other genre of music, the CXA81 delivers a captivating sound.
Key specs
Channels: 2.1.
Power output: 80W/8 Ohm, 120W/4 Ohm.
Frequency Response: 5Hz-60kHz.
Total Harmonic Distortion: 0.02%.
Pros
High-quality sound, well-balanced and engaging.
Connectivity options include digital inputs and Bluetooth streaming up to aptX HD.
Compatible with a wide range of system components and sources.
Sleek and modern design with intuitive controls and a large OLED display.
Cons
No phono input for turntables (requires an external phono preamplifier).
Marantz PM8006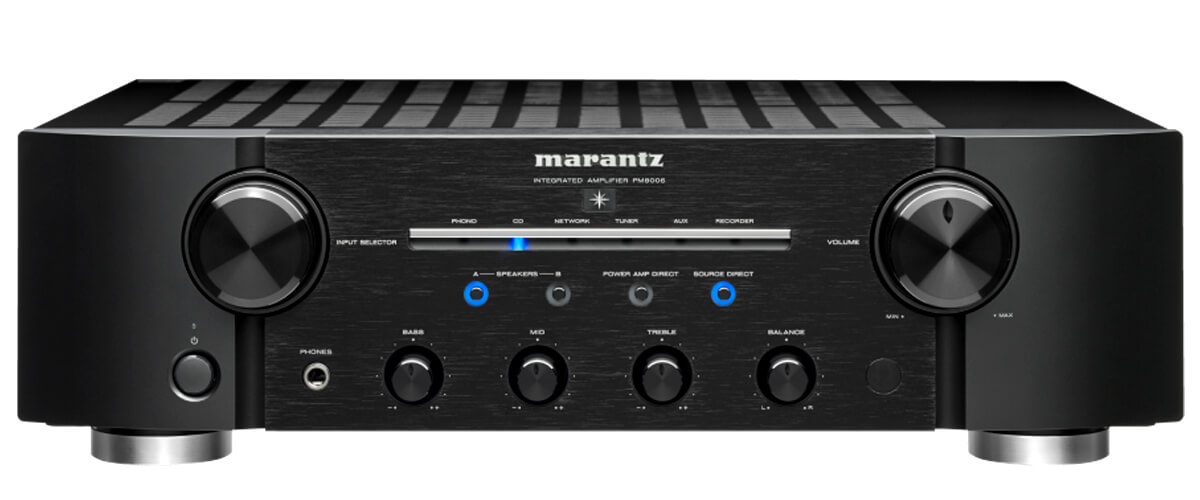 The Marantz PM8006 is a great integrated amp that delivers impressive sound quality at a price under $2000. Its sleek and elegant design with a brushed aluminum front panel and large OLED display gives it a modern look. It is resistant to vibration thanks to its use of a steel chassis and double-layer bottom panel, but like the Willsenton R800i, it has no tone controls or EQ.
The PM8006 has many features, making it a great addition to any home audio system. It delivers a powerful 70W per channel (20Hz – 20kHz, 0.02%, 8 Ohms) and up to 100W per channel (4 Ohms) using a current feedback amplifier design.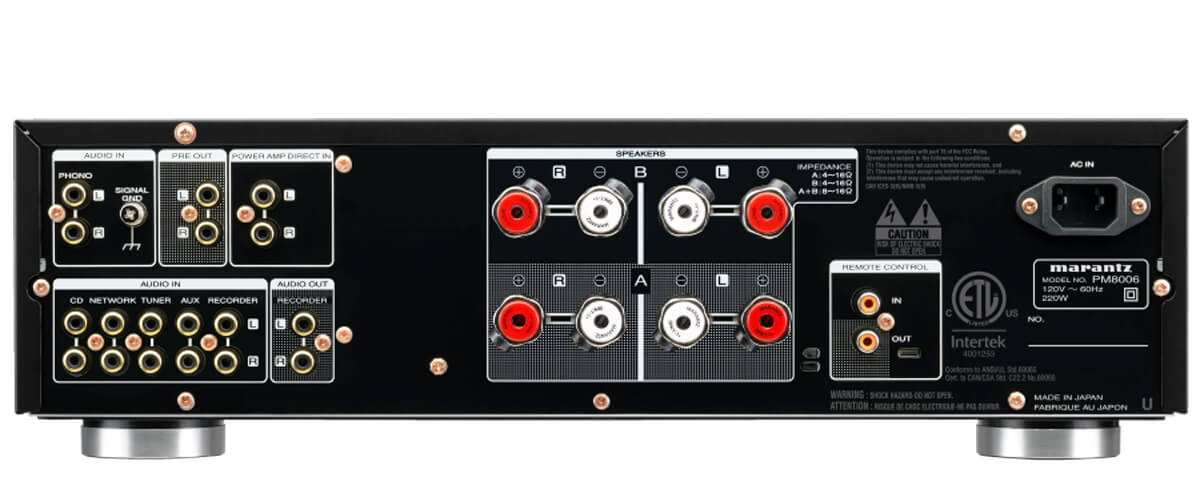 In terms of connectivity, the PM8006 is quite versatile. It has a phono input (MM), 2 optical and 2 coaxial digital inputs, 4 analog inputs (including one for recording), and as many as 2 subwoofer outputs. It also has a headphone jack and a direct power amplifier input for use with a preamp or AV processor. But it has no HDMI port and no wireless connection, which I think is a pretty serious disadvantage since I (like many other users) like to use content from streaming services.
The Marantz PM8006 has a built-in DAC, which makes it easy to connect to digital sources such as computers, streaming devices, and game consoles. It also supports high-resolution audio formats up to 24-bit/192 kHz and DSD up to 5.6 MHz.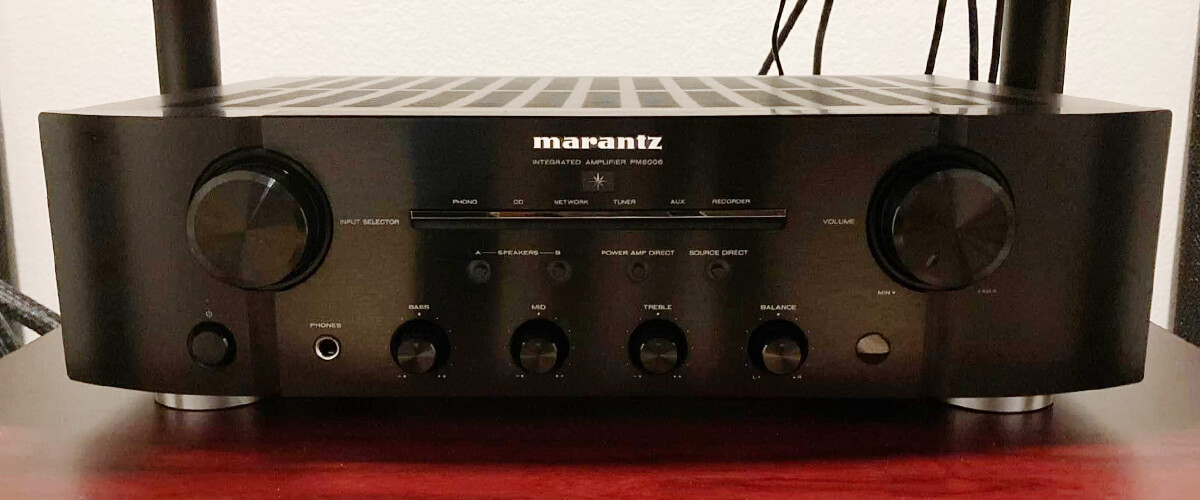 During testing with the Ghostlight record, Poets of the Fall, the PM8006 showed great results. I enjoyed listening to a wide range of musical genres, and the sound was always crisp and detailed, dynamic and clean, with tight and well-controlled bass. The midrange was smooth and warm, and the treble was detailed and natural.
Yes, the Marantz PM8006 has some limitations and is not as versatile as more expensive models, but I think it is a good device focused on music and quality sound.
Key specs
Channels: 2.
Power output: 70W/8 Ohm, 100W/4 Ohm.
Frequency Response: 5Hz-100kHz.
Total Harmonic Distortion: 0.02%.
Pros
Excellent sound quality.
Vibration resistance.
Flexible wired connectivity.
Cons
No HDMI or wireless connection.
No tone controls or equalizers for fine-tuning the sound.
Integrated amp under $1000
Audiolab 6000A – best under $1000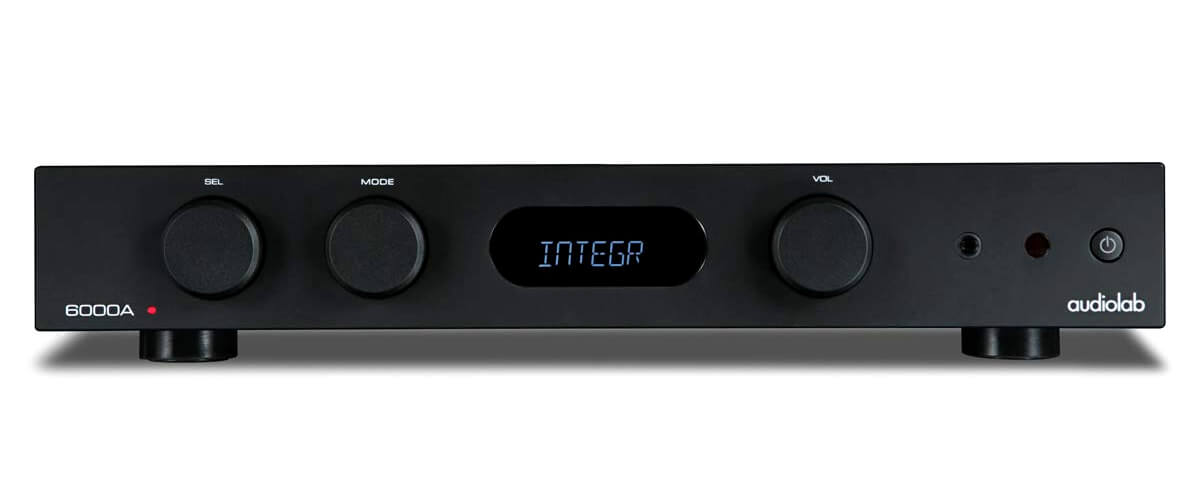 Audiolab 6000A is a great option for those looking for an affordable but high-performance option. Although it is an integrated amp under $1000, the device provides sound quality almost as good as more expensive models. Of course, experienced audiophiles will feel the difference, but certainly not beginners and less sophisticated users.
Its sleek and minimalist design has a simple brushed aluminum front panel with a large central volume knob, giving it a modern and sophisticated look.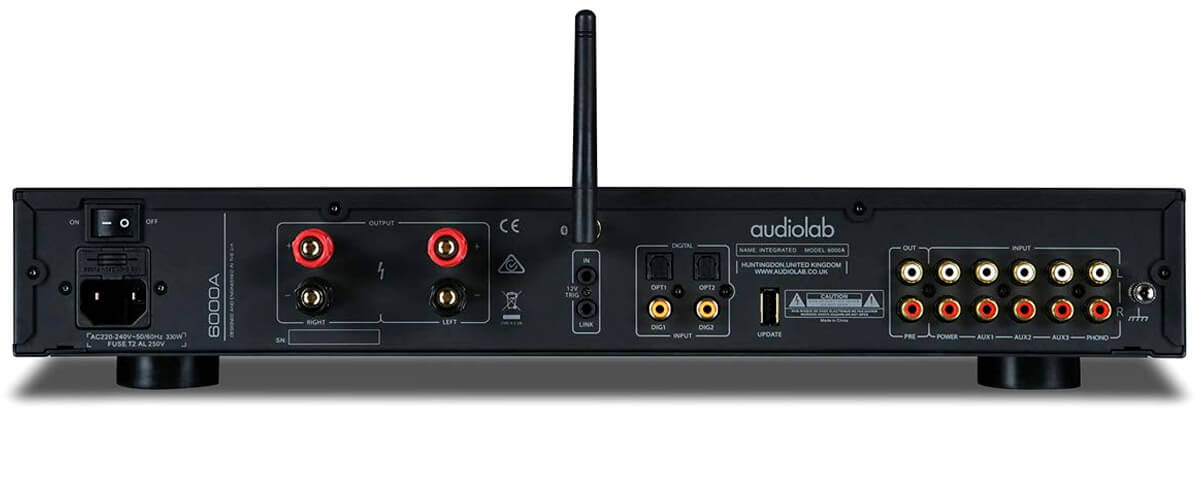 The Audiolab 6000A has a powerful class AB amplifier module that delivers 50W of clean and dynamic sound per channel (8 Ohm, 0.01% THD, 20Hz-20kHz). Its parameters have an excellent signal-to-noise ratio, providing clear and clean sound without unwanted background noise within a small room. At the same time, the amplifier's compatibility range with speakers is from 8 to 16 Ohms.
Connection options for the amplifier are quite diverse, including phono input (MM and even MC for true audiophiles with advanced turntables), optical and coaxial digital inputs, USB Type-B, RCA line inputs, and a pre-out. In addition, four speaker terminals allow you to connect your speakers via two-wire or bi-amp circuitry. Wireless connectivity options include Bluetooth and Wi-Fi, which provide seamless access to music streaming services.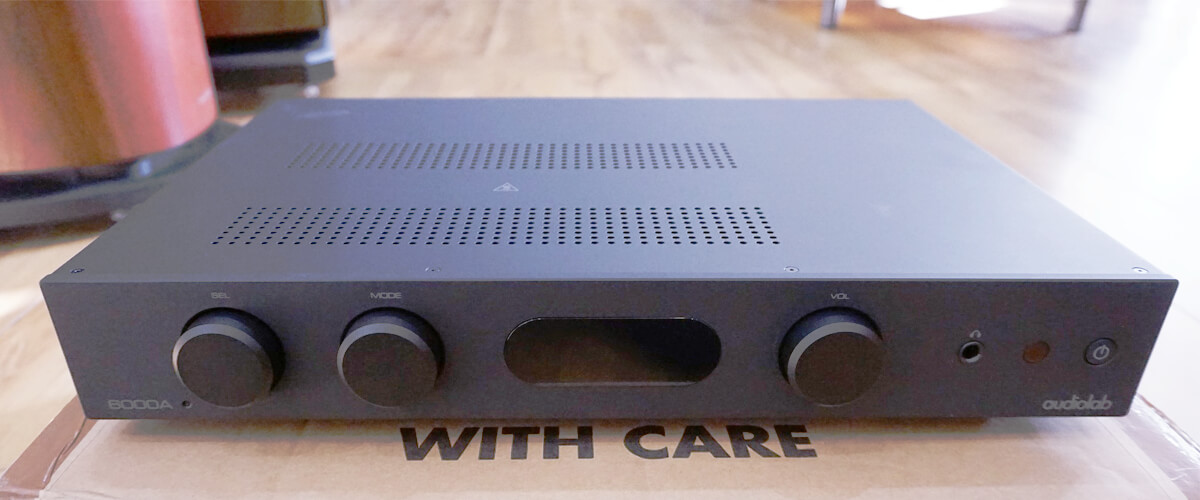 During testing, the Audiolab 6000A performed exceptionally well in listening to vinyl (I took a record of The Doors). The sound quality was impressive, with a wide soundstage and accurate imaging. Of particular note was the midrange, providing excellent detail and texture to vocals and instruments. Moreover, the bass was tight and clearly delineated, not overwhelming.
Overall, the sound was warm and engaging, making it an excellent amp in its category. The presence of phono input, Wi-Fi, and Bluetooth seriously expands the possibilities of its use. However, you won't have access to high-resolution audio files (but that's an acceptable drawback for me).
Key specs
Channels: 2.
Power output: 50W/8 Ohm, 75W/4 Ohm.
Frequency Response: 20Hz-20kHz.
Total Harmonic Distortion: 0.02%.
Pros
Great sound quality at good power within a small room.
Extensive connectivity options, including a phono stage.
Using streaming services via Bluetooth and Wi-Fi.
Ability to connect two pairs of speakers.
Cons
No HDMI input.
No support for high-resolution audio files.
Marantz PM6007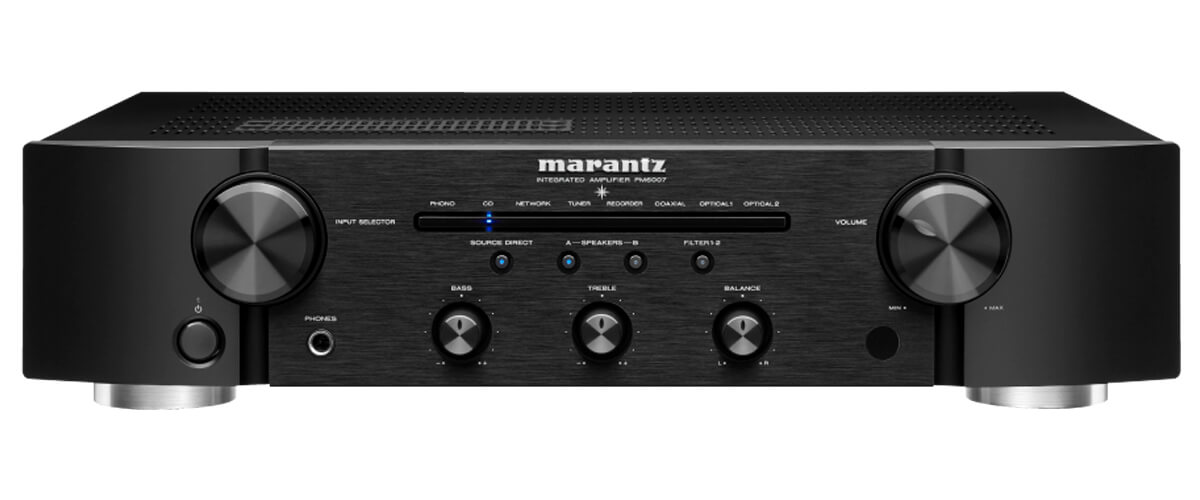 And again, in my review is a model from Marantz. The PM6007 has slightly less power than the Audiolab 6000A at 45W per channel with a THD of 0.08% (20Hz – 20kHz, 8 Ohms), which provides an optimal listening experience within a small room. In addition, the amplifier is compatible with a range of speakers from 4 to 16 Ohms, so you don't have to consider buying new ones if you already have them.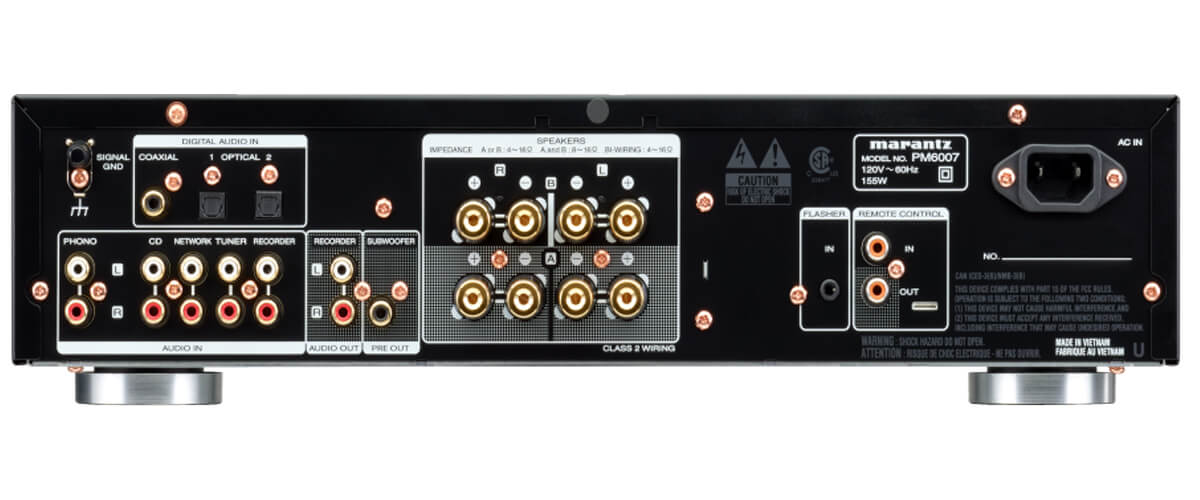 The model also has some wired connectivity options. It has 4 digital inputs (2 optical, 1 coaxial, and one USB Type-B) that allow you to connect various devices, including CD players, turntables, and computers. In addition, there is a phono input for connecting a turntable with a moving-magnet cartridge. The amplifier also has two sets of analog inputs, a recording output, and a headphone jack.
The amplifier has a built-in Bluetooth module (no Wi-Fi) that lets you stream music wirelessly from your smartphone, tablet, or computer. It also supports high-resolution audio formats (unlike the Audiolab 6000A), including FLAC, ALAC, and DSD.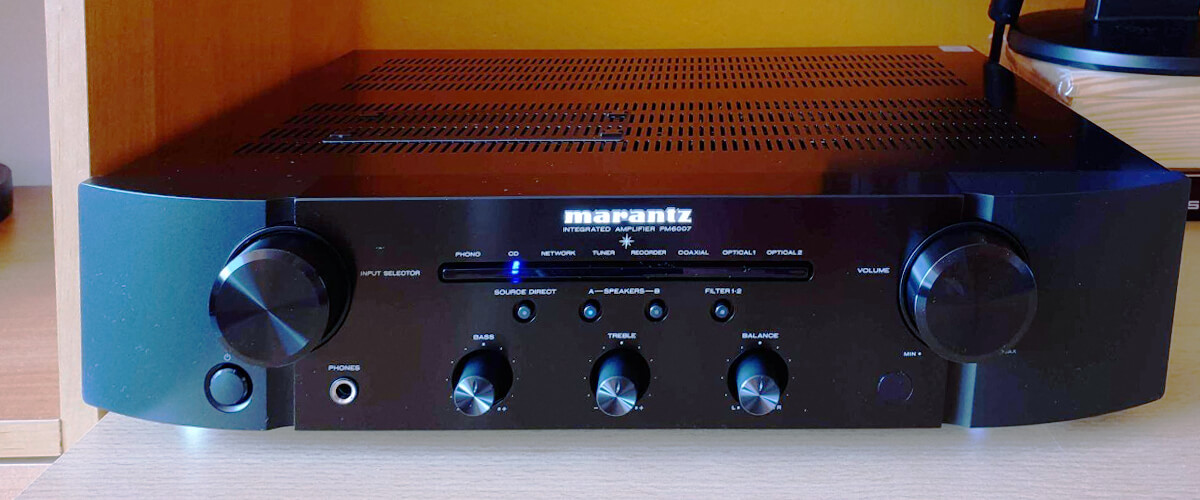 The sound was clean and warm when playing The Rolling Stones vinyl, with excellent detail and separation. The Bluetooth connection worked without interruption when streaming music from a smartphone, and I was pleased with the sound quality.
During testing, the Marantz PM6007 performed surprisingly well. Its powerful sound quality and versatile connectivity make it a great choice for various listening scenarios.
Key specs
Channels: 2.
Power output: 45W/8 Ohm, 60W/4 Ohm.
Frequency Response: 10Hz-70kHz.
Total Harmonic Distortion: 0.08%.
Pros
Good performance for implementing audio in a small room.
Wide range of speaker compatibility (4 – 16 Ohms).
Built-in Bluetooth function for streaming music.
High-quality DAC that supports high-definition audio formats.
Integrated amp under $500
Yamaha A-S301 – best budget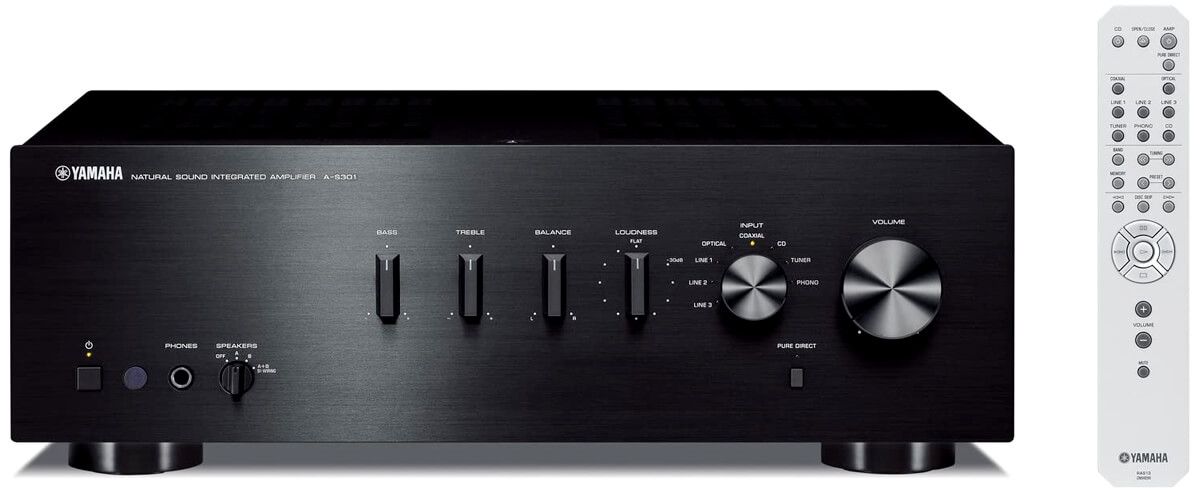 The most budget-friendly amplifier on my list, the Yamaha A-S301 is the finest option for connoisseurs of analog sound who do not plan to use streaming services (since the amplifier has no Bluetooth or Wi-Fi).
The model's design is sleek and modern, and the build quality is sturdy and durable, with the amplifier designed to withstand vibration for stable and consistent performance.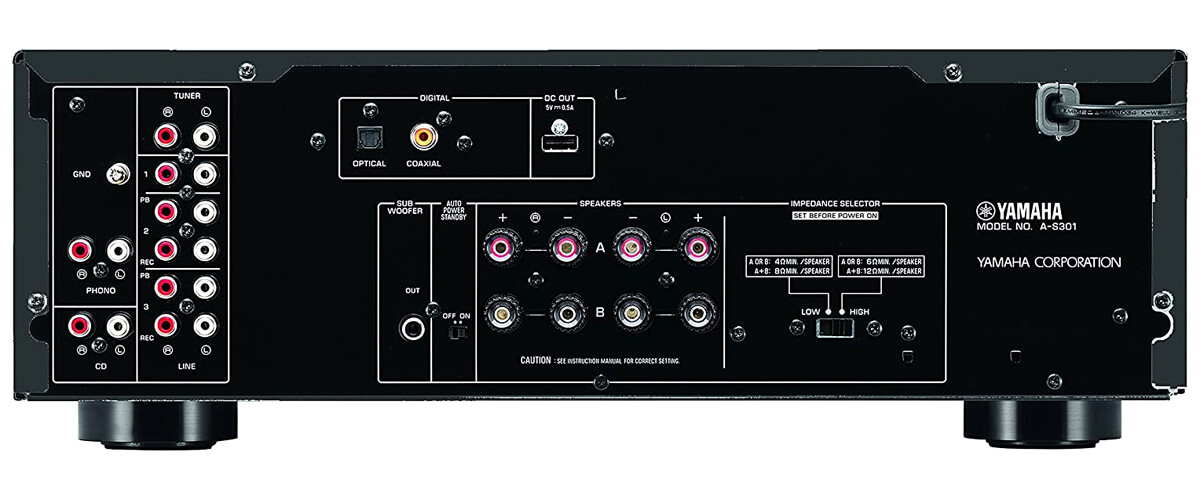 Regarding connectivity, the A-S301 has 4 RCA inputs, including a phono input for turntables and 2 sets of speaker outputs, allowing you to connect 2 speakers. The amplifier also has digital audio inputs with optical (for TV sound reception), digital coaxial (for Blu-ray Disc), subwoofer output, and a headphone jack.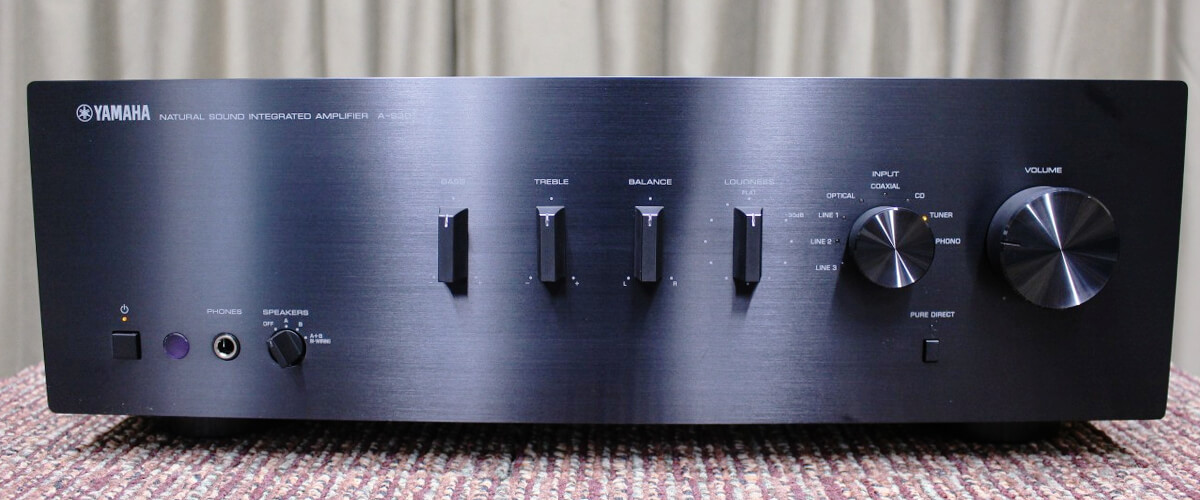 One distinguishing feature is its compatibility with speakers, including 2 Ohms (up to 16 Ohms). The maximum output power of the amplifier is 60W per channel (8 Ohm, 0.019%, 20Hz-20kHz), but the equipment of this company has a certain coolness of sound (which is appreciated by fans of the brand). The amplifier uses Yamaha's proprietary ToP-ART (Total Purity Audio Reproduction Technology) design, which provides the shortest possible signal path, reducing distortion and improving overall sound quality.
During testing, the A-S301 performed exceptionally well, delivering clear and accurate sound with a wide soundstage and excellent detail on an ABBA vinyl record. When playing music and movies, the amplifier produced a balanced and natural sound that was a pleasure to listen to. Considering its price, I was satisfied and can confidently recommend this model.
Key specs
Channels: 2.
Power output: 60W/8 Ohm.
Frequency Response: 10Hz-100kHz.
Total Harmonic Distortion: 0.019%.
Pros
High-quality sound, thanks to Yamaha's proprietary ToP-ART design.
Digital audio inputs for TV and Blu-ray Disc audio.
Cons
The absence of built-in Bluetooth and Wi-Fi.
Denon PMA-600NE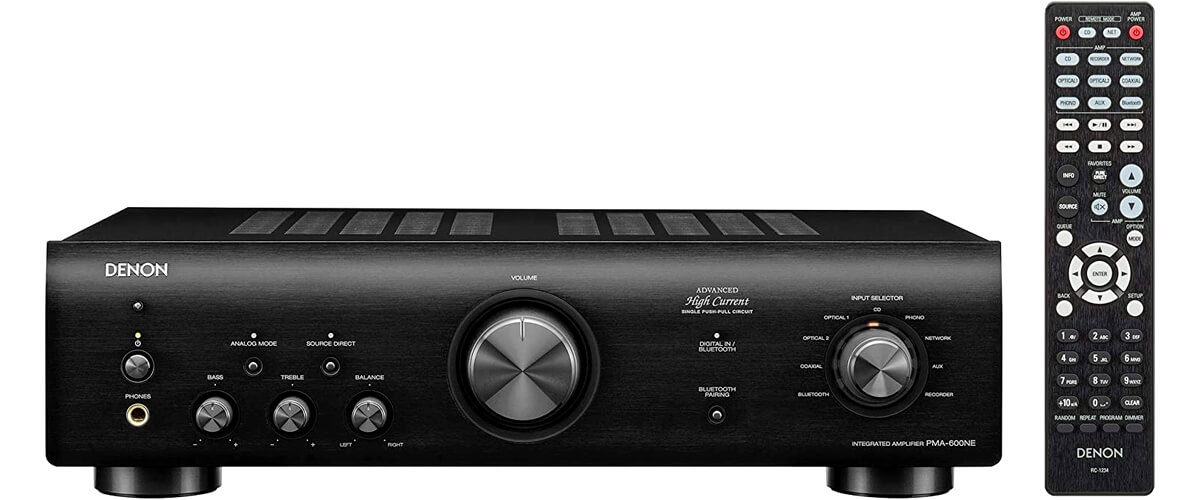 The Denon PMA-600NE is a good stereo-integrated amplifier that provides sound quality and versatility at an affordable price. Its sleek and modern design makes it a perfect match for any audio system, whether traditional or modern. As for build quality, the amplifier is solidly built with high-quality components that minimize interference and ensure durability. Yes, in this aspect, Denon is always up to the mark, even in the budget models. I really appreciate that.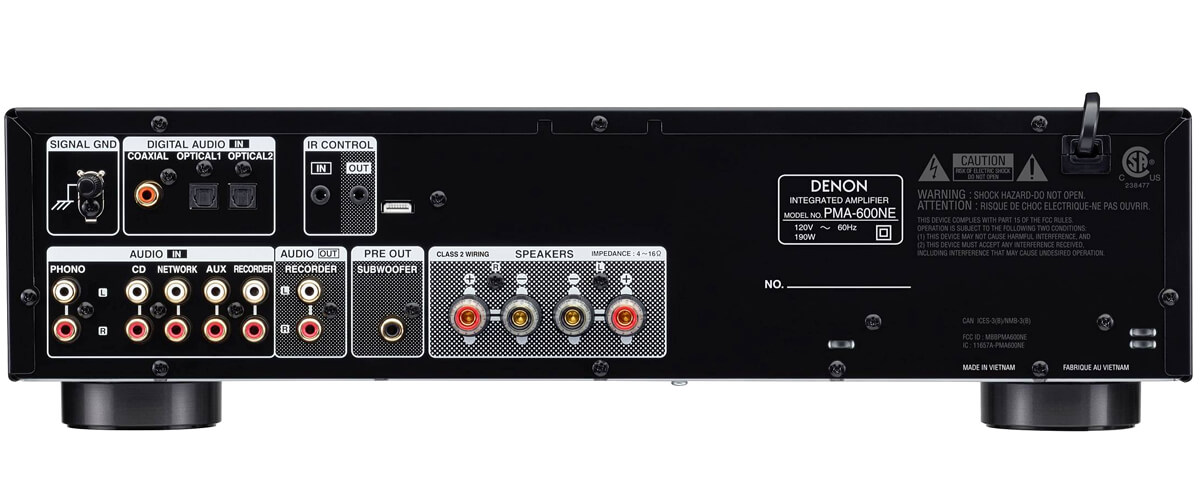 The Denon PMA-600NE has slightly more power than the Yamaha A-S301 and a warmer sound inherent to the brand. The 70W per channel (4 Ohms, 1 kHz, 0.7% THD) spreads sound nicely in medium-sized rooms, and its range of compatibility with speakers with impedance from 4 to 16 Ohms makes it flexible for any system you have. In addition, the amplifier features single-cycle Advanced High Current (AHC) circuitry that delivers powerful and dynamic sound with low distortion.
The PMA-600NE offers many connection options, including 4 analog audio inputs (a MM phono input for turntables is also available), coaxial and optical digital inputs, and a dedicated subwoofer output. In addition, it is equipped with a Bluetooth interface that allows you to transfer music from your smartphone or other compatible devices. Owners of small apartments with thin walls should not be intimidated; there is also an input for headphones. However, there is no Wi-Fi or network connection.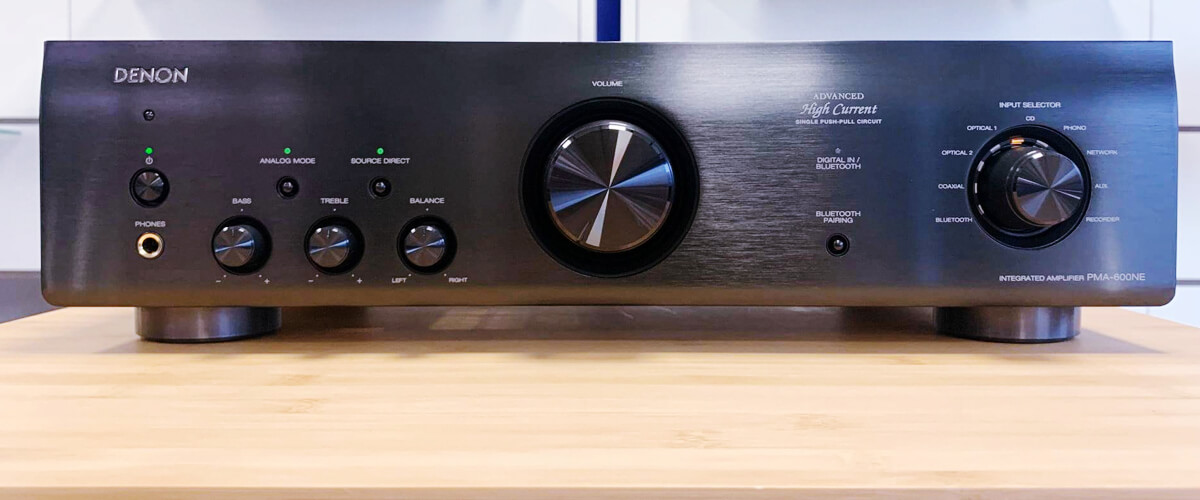 During testing, the Denon PMA-600NE produced clean and detailed sound while listening to Ceremonials, Florence, and the Machine with excellent separation of instruments and the lead singer's unique vocals. The bass was punchy and tight, and the treble was crisp and clean. The sound was balanced and natural, even at high volumes.
Yes, this is an inexpensive but quite high-quality model from Denon. I think many users will find it to their liking, and it will be the first step toward a good home audio system.
Key specs
Channels: 2.
Power output: 70W/4 Ohm.
Frequency Response: 10Hz-100kHz.
Total Harmonic Distortion: 0.7%.
Pros
High enough output power with low distortion.
Multiple connectivity options, including Bluetooth.
Clear and detailed sound with excellent separation of instruments and vocals.
Solid build quality and elegant design.
Cons
No network or Wi-Fi connectivity.
Premium amp
McIntosh MA5300 – best premium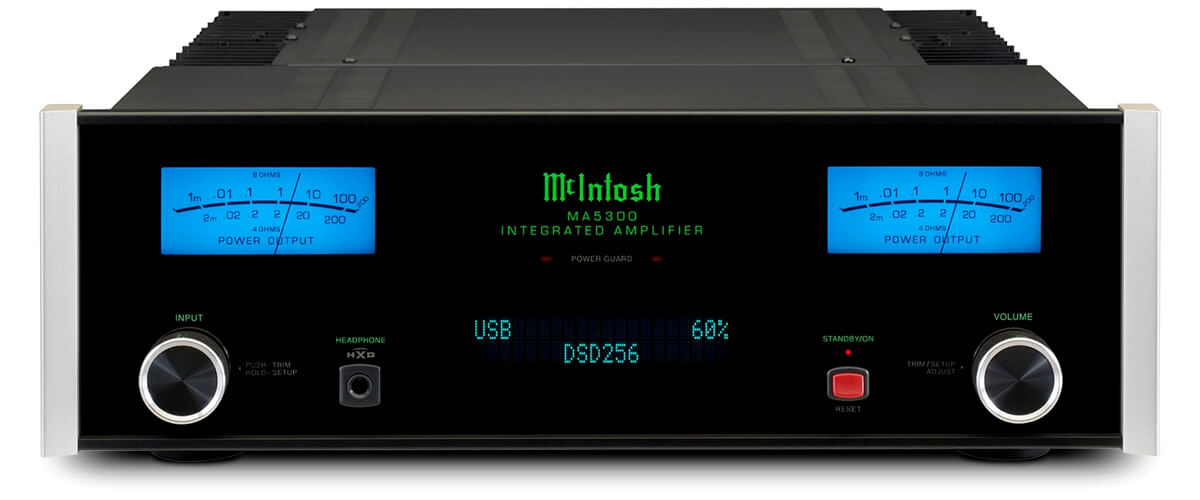 Let me introduce you to the first representative of the top class from McIntosh. The MA5300 is an exceptional audiophile-integrated amplifier that, in my opinion, delivers incredible audio performance. With 100W output power per channel (at 8 Ohms load), it delivers clean, dynamic, and detailed sound quality with an incredible 0.005% THD ( by the way, it also works with 4 Ohms speakers). In addition, it utilizes unique power protection technology to ensure the sound output is distortion-free, even at high volumes. Isn't that a good start?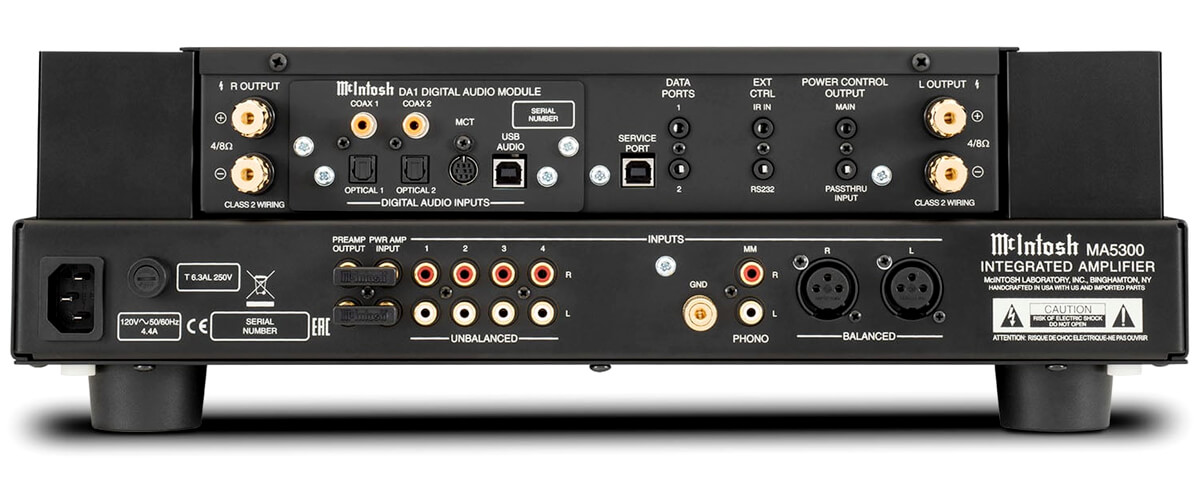 Its classic and elegant design with McIntosh's signature black glass front panel is timeless and elegant. The amplifier has 2 balanced inputs, 4 unbalanced inputs, an MC phono input for advanced audiophiles, and digital audio inputs (coaxial and optical, supporting high-resolution audio up to 32-bit/192kHz, ensuring you can listen to your favorite music with the highest possible fidelity. Finally, I would like to point out that the MA5300 is one of many McIntosh products to receive Roon Tested status from Roon Labs.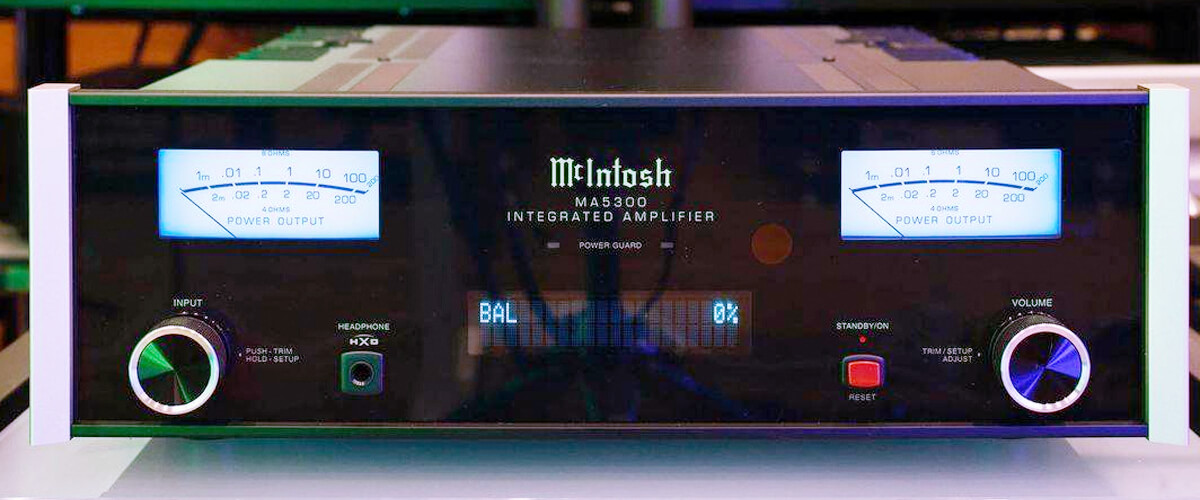 The McIntosh MA5300 is also equipped with a dedicated headphone amplifier, allowing you to enjoy your music in privacy without sacrificing sound quality. In addition, this amplifier has an output for an optional subwoofer for even more immersive sound.
One of the most impressive features of the MA5300 is its ability to reproduce the original recording with minimal coloration or distortion accurately. Listening to music through this amplifier gives the impression of a live performance, with every instrument and note sounding crisp and clear. I was literally in the studio with Muse listening to their record. Yes, it is quite expensive, but more than a justified choice for true connoisseurs. It's like Zeus on Olympus of the "audio gods"!
Key specs
Channels: 2.
Power output: 100W/8 Ohm, 160W/4 Ohm.
Frequency Response: 10Hz-100kHz.
Total Harmonic Distortion: 0.005%.
Pros
Excellent output power, 100W per channel, with an incredible 0.005% THD.
Exceptional sound quality, clear and detailed presentation throughout the entire frequency range.
Versatile connectivity, including digital and analog inputs.
Built-in phono stage.
Stylish and durable design with McIntosh's signature blue wattmeter and high-quality construction that will last for years.
Convenient controls, with a clear and intuitive front panel and remote control.
Cons
Some users have reported problems with the noise or humming of the fan, which I did not mention in the review because I did not hear it myself.
Denon PMA-A110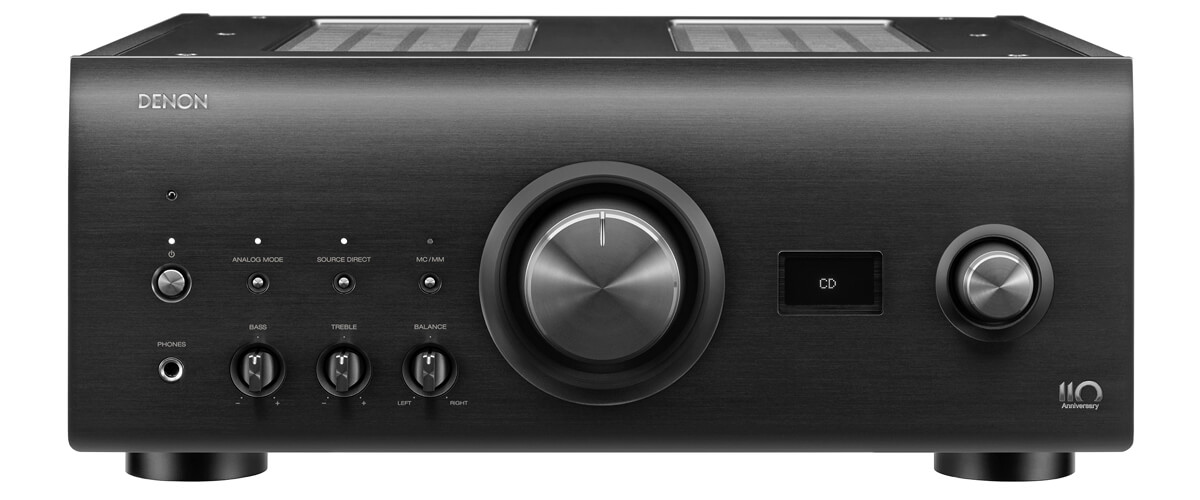 Yes, I am a fan of Denon, but this model, like the PMA-600NE, absolutely deservedly made it to my list. PMA-A110 is specifically designed for audiophiles who demand high-quality sound from their audio equipment. Of course, this integrated amplifier priced under $5,000 will not be affordable for everyone, but believe me, it is worth every penny. So let's take a closer look at it.
First of all, I would like to point out that this model has wireless Bluetooth and Wi-Fi connectivity (it supports Spotify, Tidal, etc.). However, I dare you to be disappointed by the lack of tone controls or room correction features.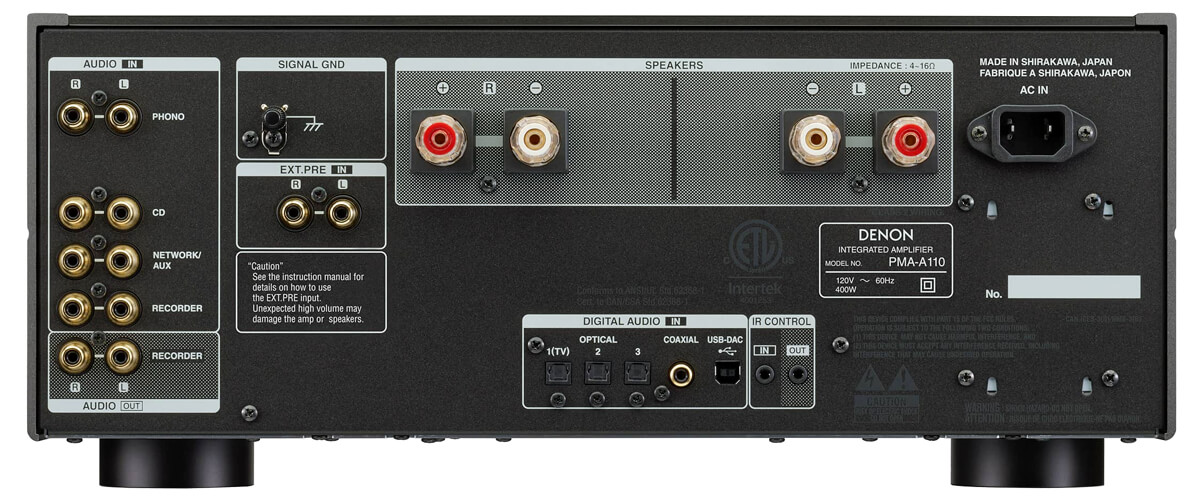 In terms of appearance, the Denon PMA-A110 doesn't just look elegant – it looks even luxurious! Yes, it really has a premium build quality, with an aluminum front panel and chassis made of aluminum and copper for a perfect balance of rigidity and vibration damping.
You get 80W of output power per channel (8 Ohms, 20Hz – 20kHz, THD 0.07%), which makes it capable of creating an atmosphere even in quite spacious spaces (the compatibility range is from 4 to 16 Ohms).
The PMA-A110 is based on high-quality components such as the advanced AL32 Processing and a high-speed, ultra-low distortion preamplifier. These features provide incredibly clear, dynamic, and low-noise sound. It also provides high-definition audio playback with 384 kHz/32-bit PCM and DSD256 files, which blows my mind.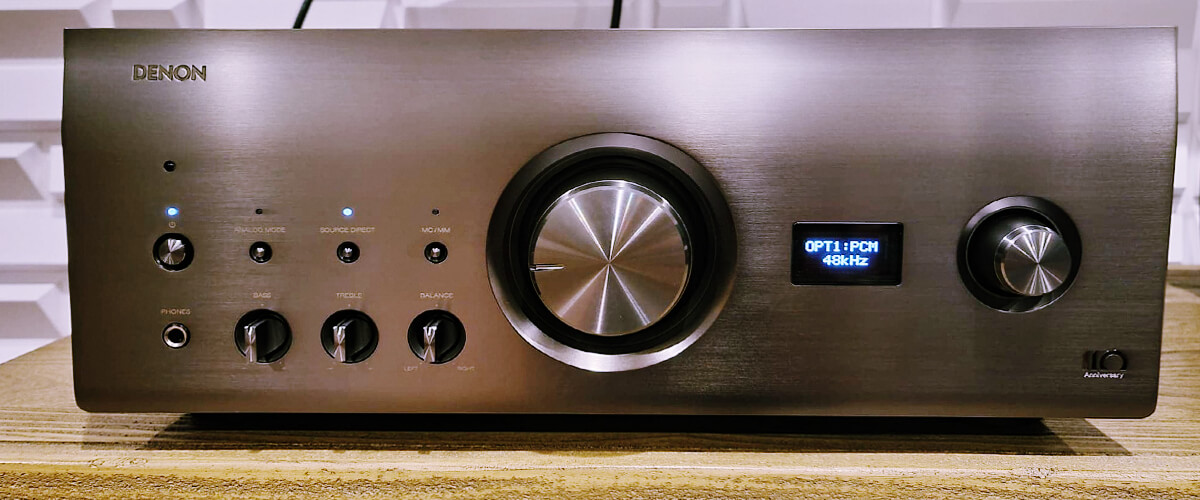 The PMA-A110 has ample connectivity, including 4 digital inputs, 3 analog inputs, and a phono input (MM/MC). It also has a headphone output and a subwoofer pre-out. Music streaming from your favorite services, smartphone, or tablet with the aforementioned wireless connections is available.
As for sound quality, it gave me goosebumps! The PMA-A110 delivers a rich and detailed soundstage with excellent separation and depth. I drowned in the thick and punchy bass of Dark Necessities (Red Hot Chili Peppers), the midrange is warm and natural in Jolene (Miley Cyrus), and the treble is crisp and expansive in Vivaldi Storm (2CELLOS).
After testing this model, I have only the most pleasant impressions, which are difficult to describe in words. Great sound quality allows you to "dissolve" in your favorite tune!
Key specs
Channels: 2.
Power output: 80W/8 Ohm, 160W/4 Ohm.
Frequency Response: 10Hz-384kHz.
Total Harmonic Distortion: 0.01%.
Pros
Premium build quality.
High-quality sound with low THD.
Advanced AL32 processing and ultra-low distortion high-speed preamplifier for clear and dynamic sound.
Supports high-definition audio playback.
Extensive connectivity options, including Bluetooth and Wi-Fi.
Rich and detailed soundscape with excellent separation and depth.
Cons
No timbre adjustment option.
Integrated amplifiers buying guide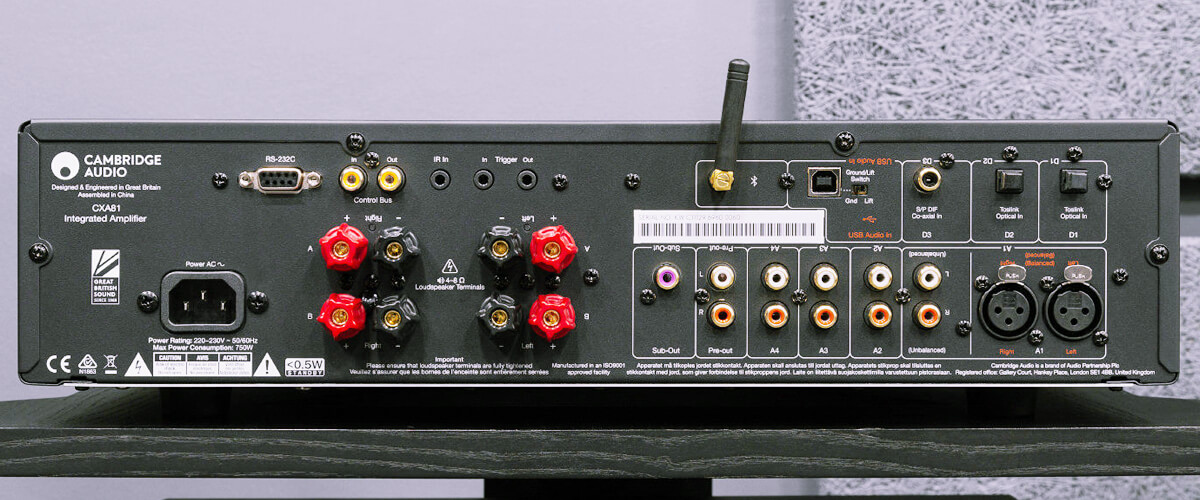 Inputs and outputs
When choosing and then purchasing an integrated stereo amplifier, the first thing you should pay attention to is the connectors it has. Then, proceeding from your needs, you should understand what each connector is for and what equipment you can connect to it to get quality sound.
All standard amplifier models have multiple RCA inputs. These are line inputs designed to connect your main sources (CD player, DAC, etc.). If your unit has no separate phono input, you may also use them to connect a turntable with an external preamp.
As I already mentioned, the phono input is for connecting a turntable that doesn't have a built-in preamp, so you don't have to use an external one. The inputs can be configured as MM (regular) or MC (for true audiophiles).
XLR connectors are designed for balanced audio signals. They are used in professional environments with a lot of equipment because they suppress maximum external noise and work great with long cables (in studios, equipment is often spaced far apart). However, in the home, using XLRs can play a cruel trick on you by making the sound flat.
Digital optical and coaxial inputs are used for older generations of equipment. So please pay attention to their availability to collect, store, and use the equipment for years.
From the additional, not the most important (but maybe for you it is the most) may be USB connectors (for using external media, like flash drives, or even PC), HDMI (for broadcasting digital sound from TV), additional subwoofer outputs (if you like deep volume bass) and headphone output (well, here everything is also clear, it is for introverts and greedy people who like listening to music alone), which is most often located on the front panel.
Built-in Bluetooth, Wi-Fi and streaming services
What do Bluetooth and Wi-Fi wireless connectivity give you? Convenience, ease, and speed of playback from your devices (smartphone) and use of streaming services or home ecosystems (like HEOS).
You may be surprised, but the more expensive an integrated amplifier is, the fewer chips it has. It is because since signal quality is the last thing to think about (they often work out of tune), manufacturers don't add this feature to high-end equipment (>$2000). Instead, users must connect additional equipment to their amplifier as needed. And while signal quality has increased recently, you probably noticed that not all models in my article have advanced network features, so be sure to pay attention to that.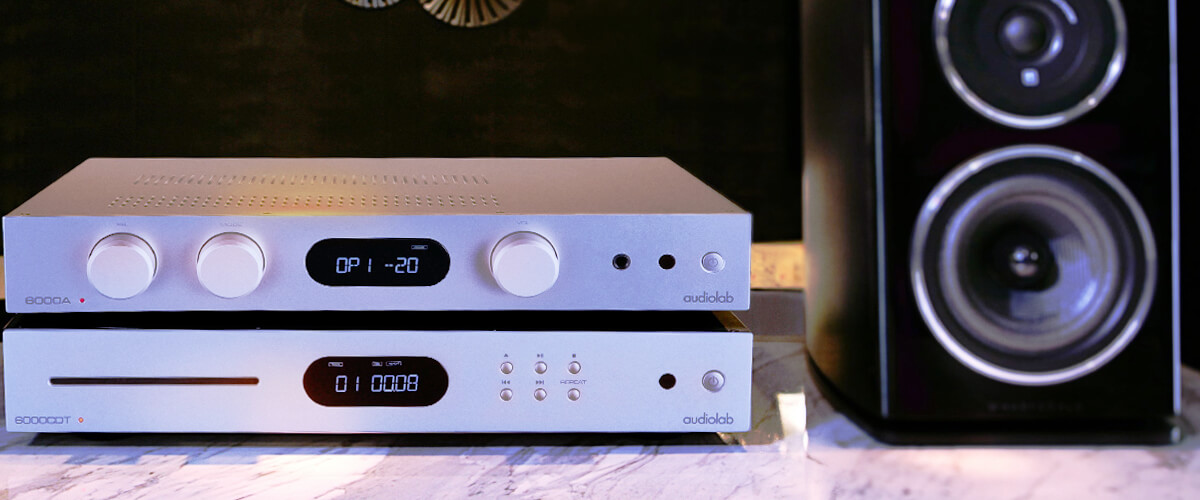 Amplifier classes
Another characteristic of an amplifier is its class. You may see labels such as A, A/B, G, and H, D. Specifying the class of the amplifier tells you what efficiency the unit operates at and how much cleaner sound you can get as a result. They differ in design (single-ended and Push/pull (forced draught)) and the principle of operation (conducting the signal throughout its 360-degree cycle). In fact, each class is an upgrade of the other, eliminating the disadvantages of the previous class and… acquiring new disadvantages. Our detailed article lets you learn more about the differences, advantages, and features of the different classes of amplifiers.
Given that many components influence the quality of the final sound you hear in your system, the amplifier class is not the main characteristic. Therefore, it is not that important in your final choice of unit.
Solid state and tube amplifiers
The struggle tube amp vs. solid-state will apparently be eternal, as the camp of fans is divided into two more or less equal halves. So, you will have to study this issue in detail.
The main difference between the two is how they amplify the signal. It's easy to guess that tube amplifiers use tubes, and solid-state amplifiers use electronics (transistors). Sounds like a war between analog and digital sound, doesn't it?
So with a tube amp, you get a warmer, more enveloping sound with great bass and midrange, and some overdrive error (which is exactly what characterizes the sound as natural). On the other hand, solid amplifiers produce a powerful clean sound derived from the electrical signal, which depends directly on the quality of the components used.
By reading more about the differences between these two types of amplification, you will be able to understand that your choice will be determined by the genre of music you prefer and how loud you want it to be played. So, take the time to research this question, and pick something complete to your taste.