No matter how fast the modern world develops, some things remain the same. In particular, people will never stop enjoying quality music while listening to vinyl records. And to further improve this process, many of them are looking for the best receiver for turntable.
Vinyl record players produce a phono output signal. In order to enable the turntable to work with audio equipment, the phono signal must be converted to a line-level signal (sometimes also called an AUX signal). A phono stage is just what performs this function.
Some models of turntables have a phono stage built in, but most modern turntables don't have it, and their owners should look for amplifiers and receivers with a special phono stage or buy it separately. My review will help you understand these questions more thoroughly and consciously choose the suitable device.
Stereo receiver vs integrated amp vs multi-channel AV receiver
In today's market, there are several basic types of devices that a turntable can be connected to. Let's look at them in more detail.
The first one is a stereo receiver. Suppose you only need an audio system for listening to music and don't need the additional video devices offered by a multi channel AV receiver. In that case, you should settle for this option. You should understand that it has only two channels and limited video input connectivity.
The next is the integrated amplifier. It is a device whose main task is to amplify the audio signal received from any external source. Traditionally, this device includes a pre-amplifier and a power amplifier itself. This device, in my opinion, is especially appreciated by music fans, because it will give better sound compared to the Multi-channel AV receiver. Moreover, their price is almost the same.
Well, the last on the list is the Multi-channel AV receiver. It is quite a complex device because it has many functions besides music playback and sound amplification. In fact, it is the control center of the entire home multimedia system. For example, it can work with video, surround sound, and in two-channel stereo, allowing you to listen to traditional music with a familiar sound. This option is suitable for those who want to combine both watching a good movie and listening to quality music.
How I picked and tested receivers and integrated amplifiers
I took the tests seriously. I created my test configuration based on mid-budget components, which proved themselves very well. My primary goal was to get a standard set-up for a vinyl lover.
Pro-Ject Debut Carbon Evo Turntable with 65 Db S / N Trigger + Stylus Ortofon 2M Red
Phono Preamplifier – Emotiva XPS-1
Speaker wire – AudioQuest Type-9;
Stereo speakers:

Bookshelf

Klipsch RP-600M
Edifier R1280T
KEF Q350

Floor Standing

Polk Audio TSi500
Klipsch RP-8000F
Fluance Signature HiFi 3-Way
To fully analyze the entire system's performance, I needed another "component" – music. And I purposely chose different genres, directions, and styles in order to try to reveal the sound capabilities of each device to the maximum:
John Williams – Jurassic Park [1993]
Dvorak – Symphony No.9 [2016]
Pink Floyd – Dark Side of the Moon [1973]
Radiohead – In Rainbows [2007]
Bon Iver – Bon Iver [2011]
Daft Punk – Random Access Memories [2013]
Receivers For Turntable Comparison Table
Best Stereo Receivers for Turntable
Yamaha R-S202 – best stereo receiver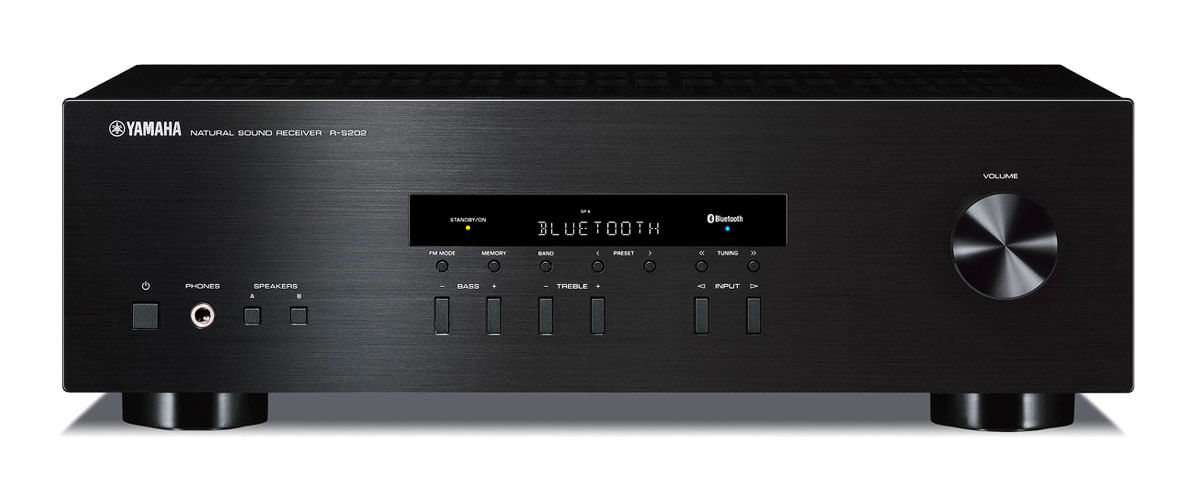 Yamaha offers advanced stereo receiver models equipped with advanced networking features that make it possible not only to stream music over the network from home storage or the Internet but also to listen to Internet radio stations. Earlier, two older models, Yamaha R-N602 and Yamaha R-N402D, were released and successfully proved themselves. Today the younger model R-S202 is in my review.
Let's start with the design. The classic black front panel is made of aluminum. It is simple, comfortable, and ergonomic. Large buttons control the tone box and the inputs. Smaller buttons switch radio channels, tune stations, and select the speaker that is currently operating. On the rear panel are analog inputs for the CD player and two more pairs of universal inputs. In addition, a set of I/Os is designed for a cassette or babbling tape recorder, for example. Finally, two pairs of spring-loaded speaker terminals allow you to use the receiver together with your speakers in A or B, A+B configuration.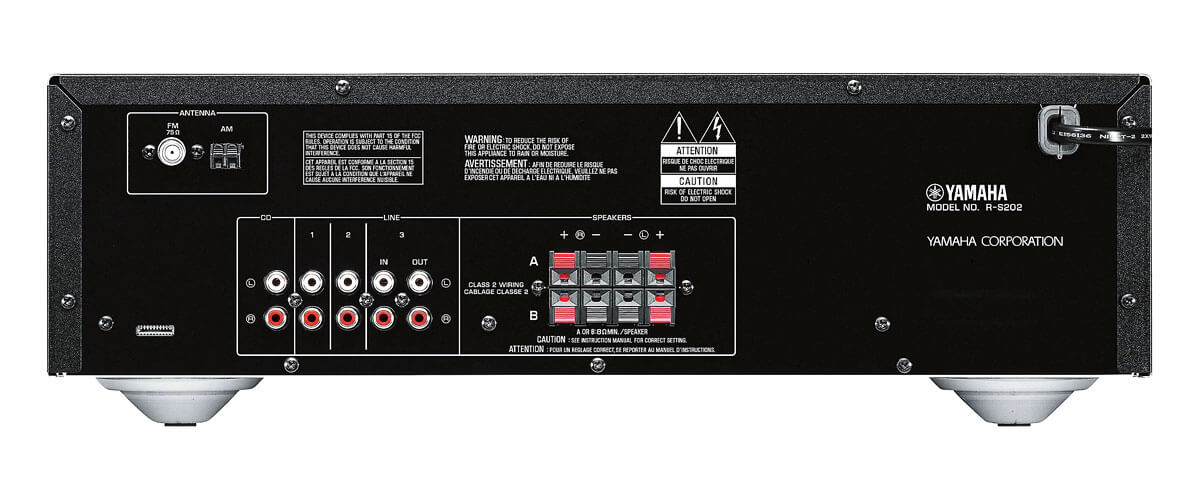 The R-S202 is rated at 2 x 100 watts (8 ohms, 40 Hz – 20 kHz, 0.2% THD), which is a good value for this product class. Yamaha has also taken care of power conservation by adding a feature that automatically turns the power off (if no operation is performed for a certain period of time), putting the device in standby mode.
This model's tuner is capable of handling AM and FM radio signals. Moreover, it has a memory for storing fixed settings, so you can tune all your favorite radio stations once and switch between them, just like you switch channels on your TV. But of course, the main feature of the R-S202 is the presence of Bluetooth, which allows you to listen to music from your smartphone. Considering the fact that nowadays, people often store their music library on their smartphones, this feature has become very useful.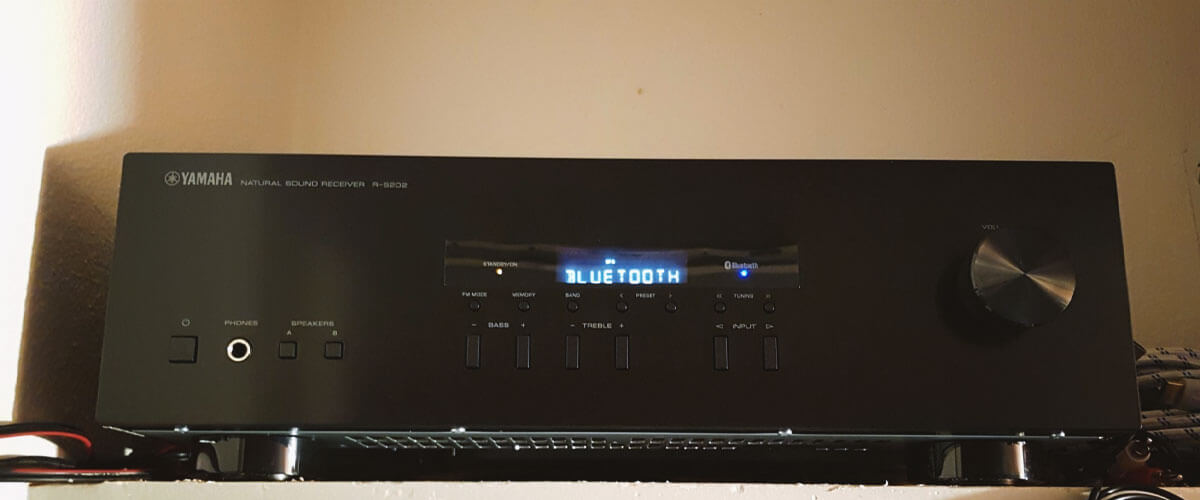 Let's go straight to the sound. After all, that's why you're here. The music scene is well-echeloned, with soloing instruments and vocals in the foreground. Both male and female voices are transmitted quite naturally, with a careful elaboration of the smallest overtones. The only complaint is a slight loss of resolution in the upper part of the operating range. However, the low-frequency spectrum, to the necessary extent, gives the sound picture solidity – the bass in the performance of this device is not tectonic but elastic and fast. Anything that has to do with rock, electronica, blues, or alternative music is reproduced brilliantly and festively. And the receiver's not-bad micro dynamic abilities will allow you to relax in the evening listening to acoustic folk, low-key jazz, light symphonic music, or meditative electronica. Sometimes the R-S202 showed excessive presentation brightness in complex classical works where many instruments are involved.
Marantz NR1200 – premium audio receiver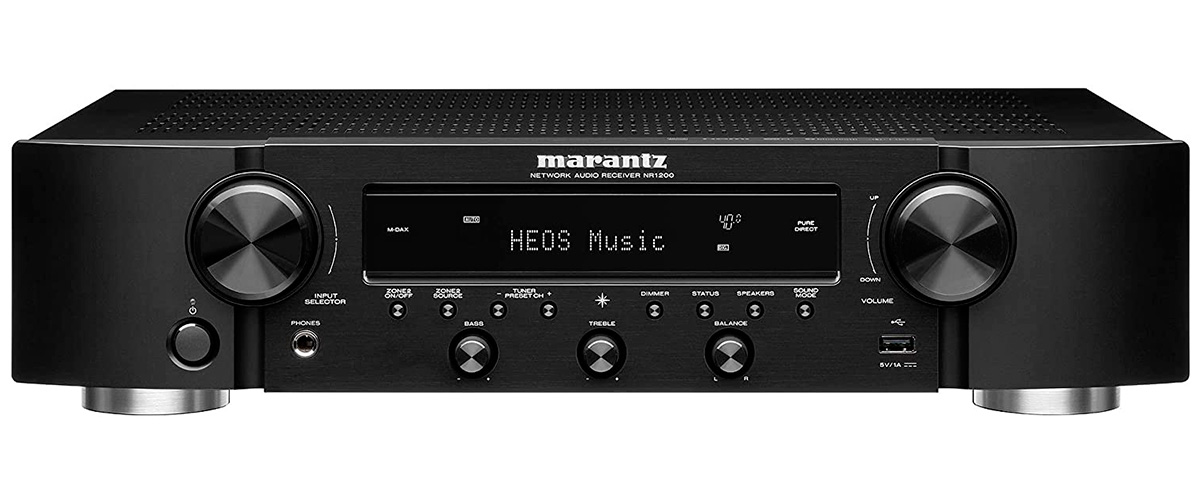 The two-channel Marantz NR1200 receiver, first shown by the company at the Munich exhibition, is fully equipped with all the necessary inputs, both wired and wireless, allowing it to become the center of a modern audio system. Furthermore, the Marantz NR1200 is specifically a stereo component oriented to work as part of a music system. The receiver title is supported by both a digital DAB tuner and an analog FM receiver, and an antenna connector on the rear panel.
The output power of Marantz NR1200 is 75 watts per channel. Considering the claimed power consumption of 210 watts, this figure seems much more realistic than the hundreds of watts per channel indicated in the specifications of multichannel receivers.
The model is made in the slim form factor, typical for all components of the NR series, but in its case, we are dealing with a stereo unit aimed primarily at music lovers. On the front panel, there is a 6.3 mm jack for headphones, and it also has a Bluetooth module.
The set of inputs in the Marantz NR1200 is quite extensive. In addition to the five HDMI jacks, there are coaxial and optical digital inputs, as well as a USB-A port for connecting external media with music. Analog inputs are five pairs of RCA and a built-in MM phono input, designed to connect heads with a moving magnet with a sensitivity of 2.5 mV. HDMI output with ARC support is needed not only for video signal switching but also for audio signal receiving from TV. Besides, there are separate outputs for the subwoofer and two pairs of outputs from the preamplifier for two zones. Network integration of the receiver is also possible by physical connection via Ethernet.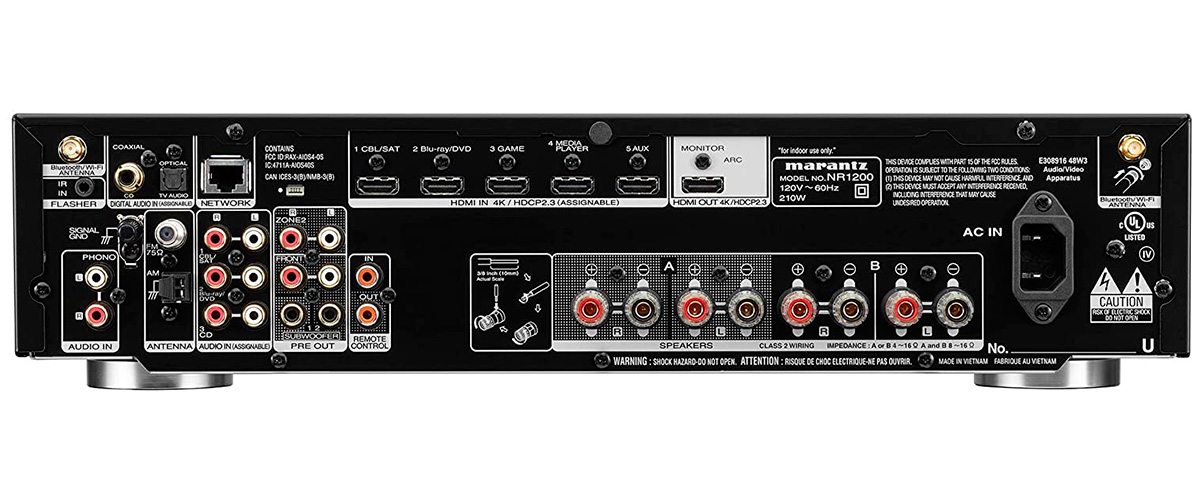 However, the main way of wireless signal transmission is still integrating the component into a home network and organization of streaming with the brand-name HEOS system. Of course, the presence of this technology and support for Airplay 2 allows you to integrate the model in a multi-room installation.
An important point – Marantz NR1200 has a Pure Direct mode, which disables all unnecessary circuits, including the display and video output via HDMI. So, I recommend performing any listening exactly with it turned on; the difference in sound transparency and bass quality is very significant. Marantz NR1200 proved itself on both complicated polyphonic music, full of dynamic contrasts, as well as on jazz compositions, where it is important to reproduce each solo instrument and voice accurately. The sound is worthy of a good integrated amplifier.
Sony STRDH190 – budget audio receiver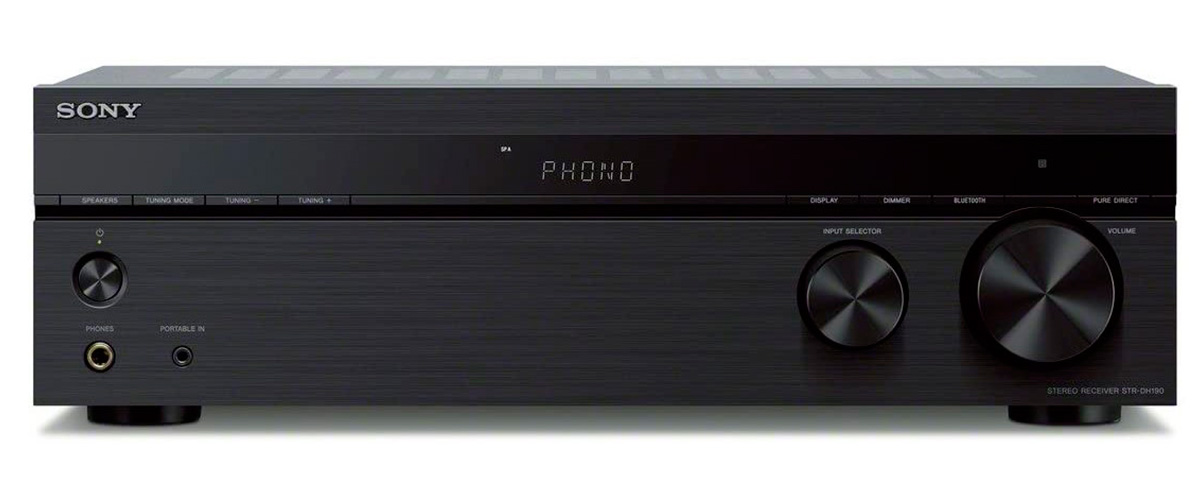 I propose to consider everyone's favorite Sony brand and their wonderful product called STR-DH190. The body of this two-channel audio receiver is made according to the minimalist canons and looks quite impressive. Moreover, all the necessary switches and buttons are very conveniently located.
The sound that the STR-DH190 delivers at its price point is unique. You have to pay much higher for such qualities, which is why this device is unique. The sound is crystal clear, and all the individual components of the songs are perfectly audible even at high volumes. By the way, STR-DH190 gets quite loud, thanks to the 100W of power per channel.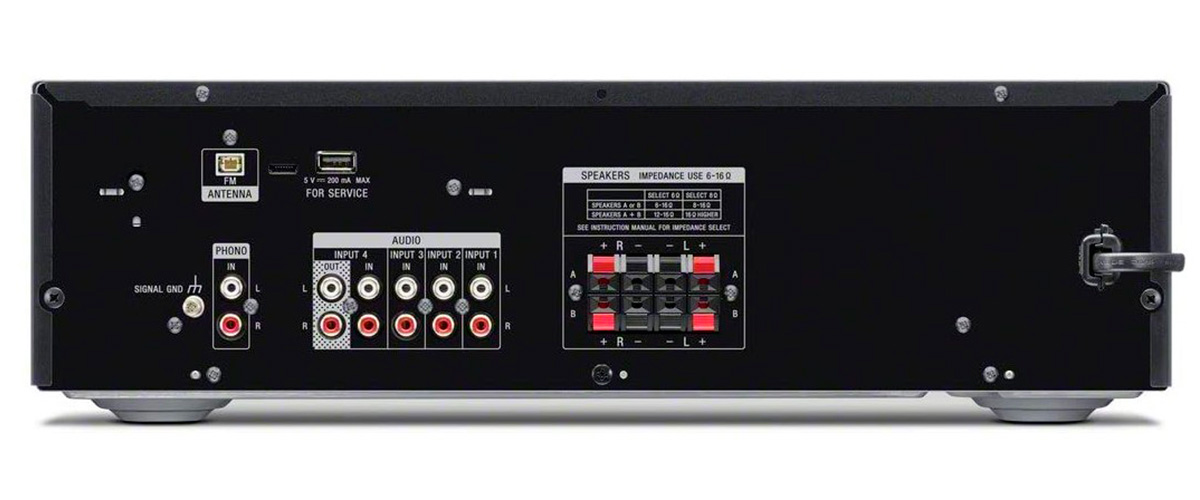 The connectivity options are also quite good, including 4 inputs and 1 output. Moreover, the device supports phono input. It also boasts a good output impedance of 8 ohms and a THD in stereo of 0.09%.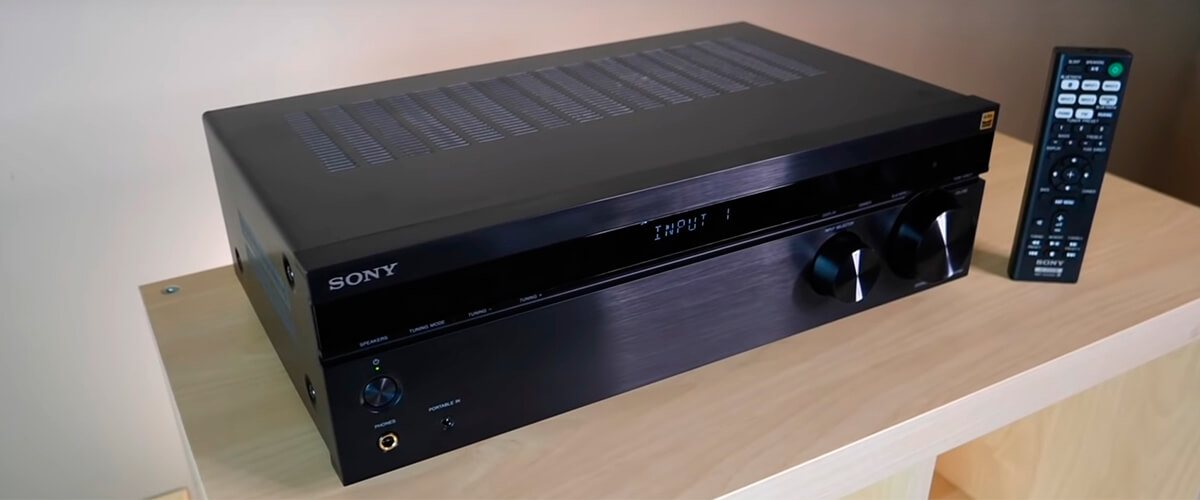 Denon DRA-800H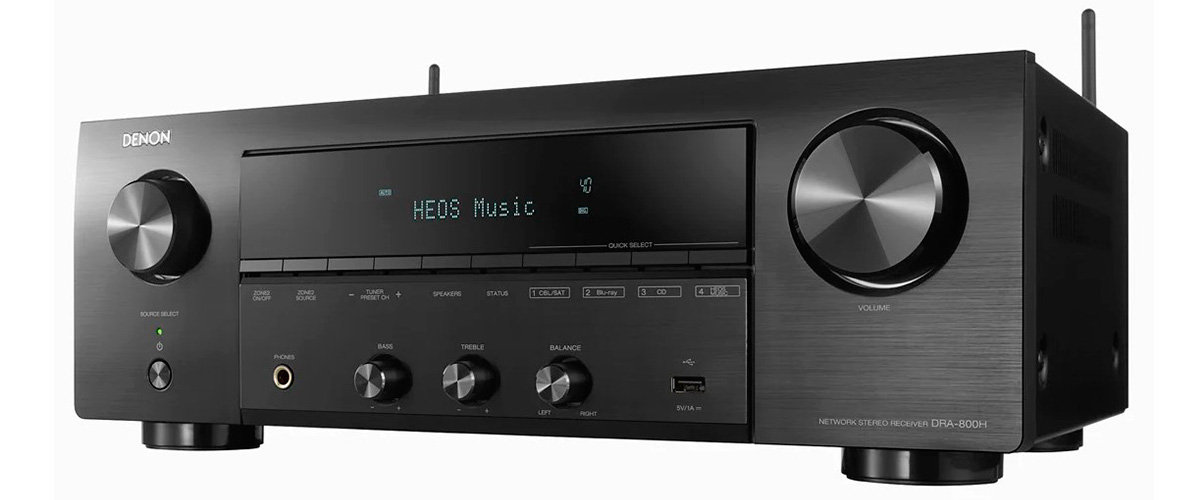 While searching for the best receiver for turntables, you may stumble upon a variety of products with completely different characteristics and specifications. Of course, you make a choice yourself, but I would like to advise you to consider the Denon DRA-800H.
Let's see what this model has to offer. First, I want to point out that this model boasts an A/B Class high-current amplifier that is rated for 100 watts RMS per each of 2 channels at 8 ohms. This process involves both channels, full 20 to 20kHz bandwidth. What's more, just 0.08% total harmonic distortion delivers pretty good sound quality. The stereo power of the DRA-800H is 100 and 120 watts per channel. And, of course, since it's on my list, it's equipped with a phono stage.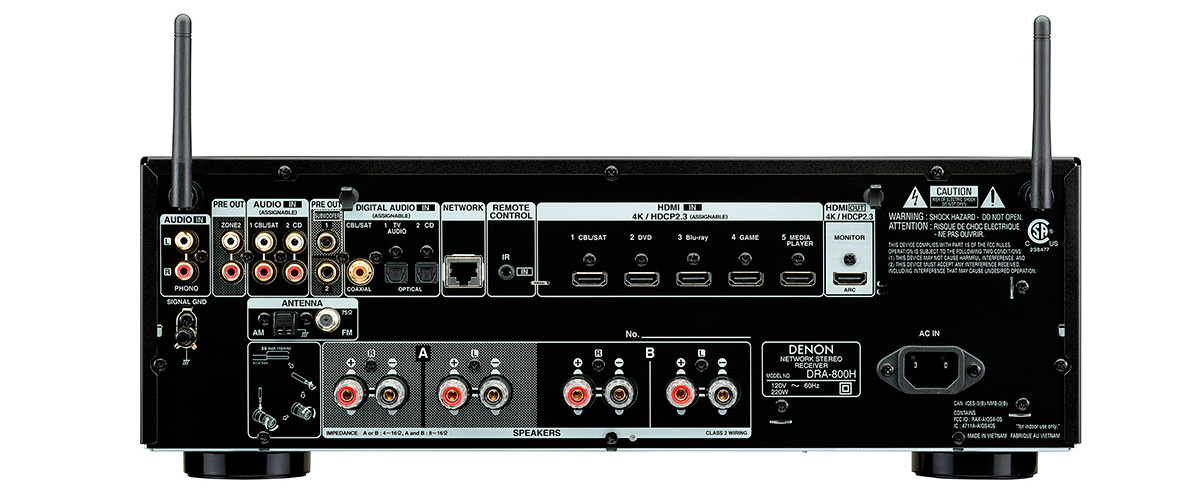 The front panel is in the typical black or gray colors. All buttons and knobs on the case are quite smooth and pleasant to work with. Internet access and online music streaming are provided by the built-in Denon HEOS app, which supports Spotify, Tidal, Pandora, Amazon Music, Deezer, and others.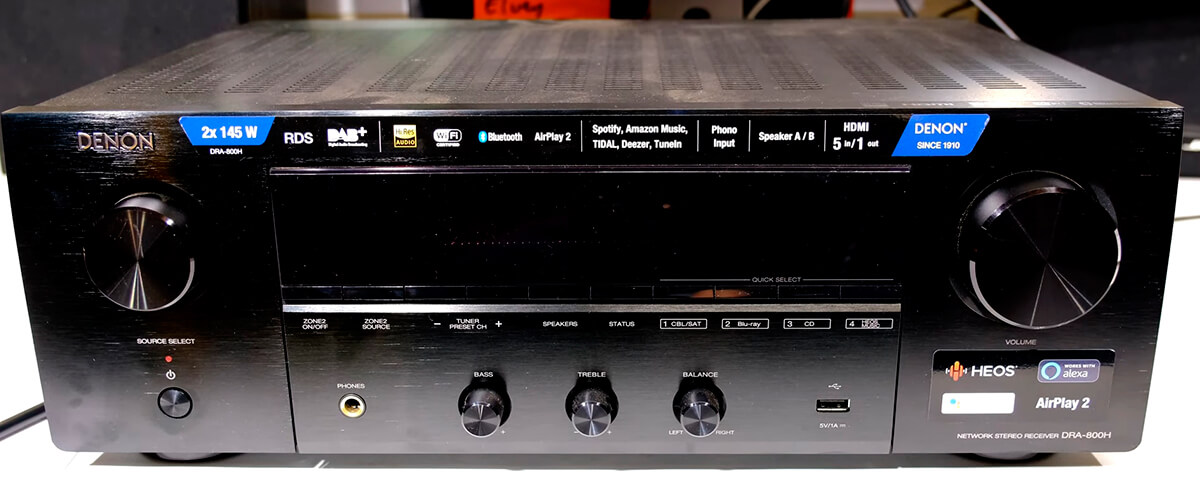 Best Integrated Amplifiers listening vinyl records
Yamaha A-S801 – best integrated amp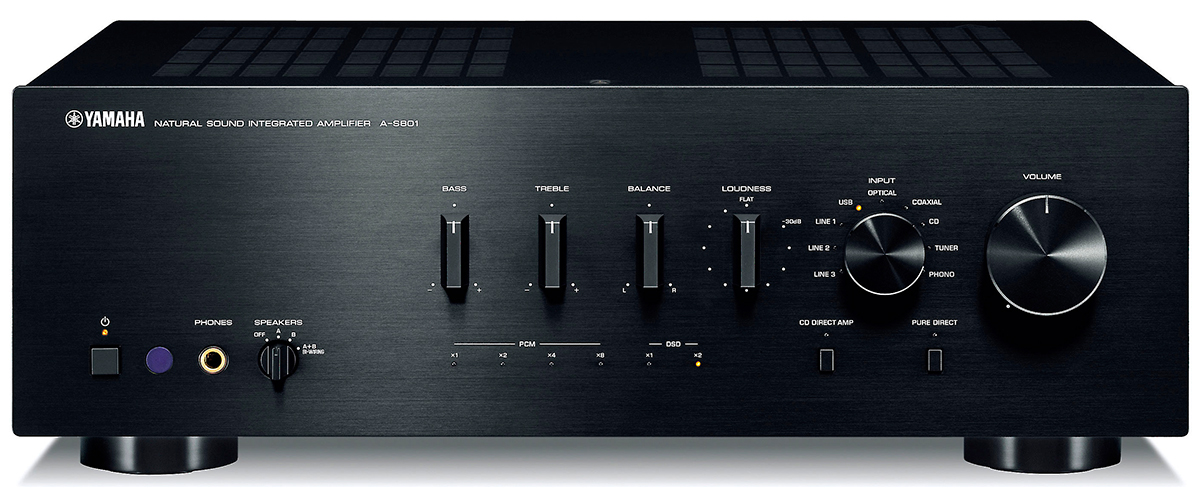 The Yamaha A-S801 is an innovative high-end stereo amplifier. This model is rightfully considered the Hi-Fi segment thanks to its high sound quality, premium radio components, and rich functionality.
I, like many users, was attracted by the excellent design of the model and quality components. It is equipped with an ESS ES9010K2M digital-to-analog converter. Moreover, it incorporates a dual converter to perform a differential operation during conversion. I can confidently say that this exactly results in high performance and a high signal-to-noise ratio.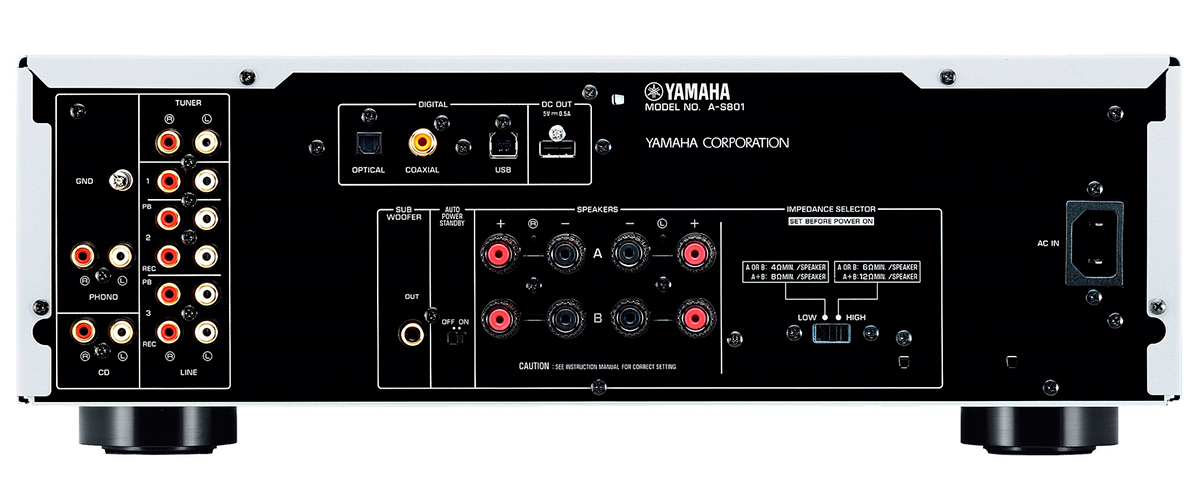 I would like to mention the good power of this amplifier. A-S801 is capable of developing high power (2x100W at 8 Ohm). I also liked the way the adjustable loudness features function. It compensates for the possible weakness of low frequencies due to low volume listening or to the acoustic characteristics of the listening room.
However, let's already talk about the sound of this device, because I have a lot to say. On the field, the Yamaha A-S801 gives a powerful and dynamic sound. Its reproduction is full and generous with a stereophonic image of beautiful spatially, wide, deep, and airy. The bass is deep and tight. The high register is also vigorous, a little bright, but without too much shrillness or aggression.
Compared to Cambridge Audio AXA35, the Yamaha A-S801 does not have quite the same quality of timbre or musical articulation. It is nonetheless pleasant to listen to and appreciable for its slight penchant for emphasis. It also has a rare level of power. The advertised watts seem to be there, with excellent control, a clean and well-defined sound.
Cambridge Audio AXA35 – budget integrated amp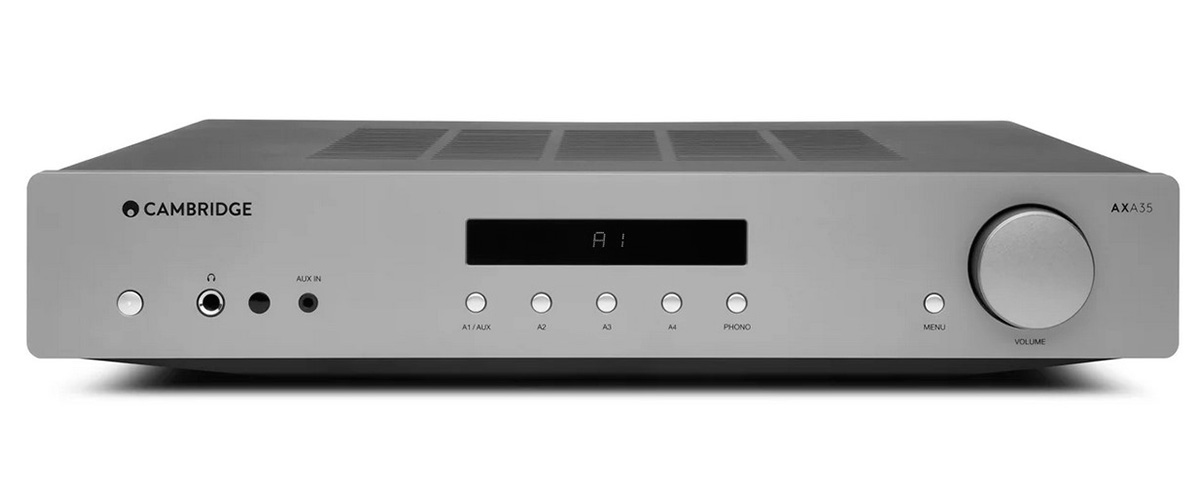 Cambridge Audio AXA35 is an excellent product on the market if you are looking for a reliable and suitable device and, accordingly – the best amplifier for vinyl. Looking at its appearance, you can already say a lot. AXA35 is a good choice for several important reasons.
Firstly, the design will not leave anyone indifferent. The dark matte color gives it a premium look. Moreover, the display is very readable and easy to understand. As for me, this is a huge advantage that greatly simplifies the work with the device.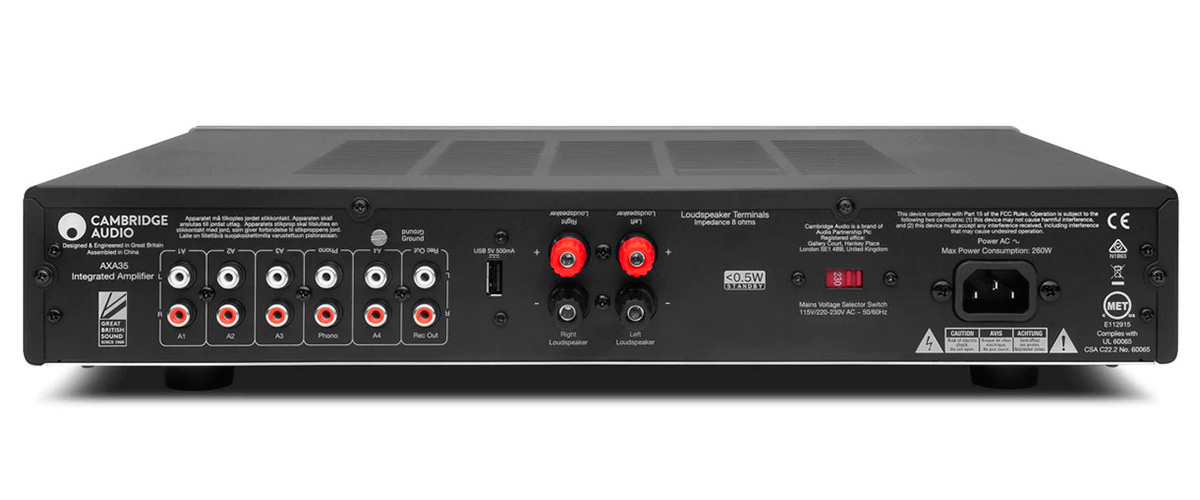 Connectivity options are well presented. Plus, their location is a complete perfectionist paradise! Everything is done super neatly and carefully. There are balance and tone controls, but they are hidden in the amp's menu system. By the way, speaking of the feature, it is worth mentioning a significant drawback – the lack of USB and Bluetooth connections. If USB is not very common in this price range, then the absence of Bluetooth is a serious blow to the variability of this device. Although, in addition to this, good news for those who love playing vinyl records too! Thanks to a reliable and high-quality phono stage, the device will delight connoisseurs with high-quality sound of their favorite vinyl songs. It's just an ultimate advantage!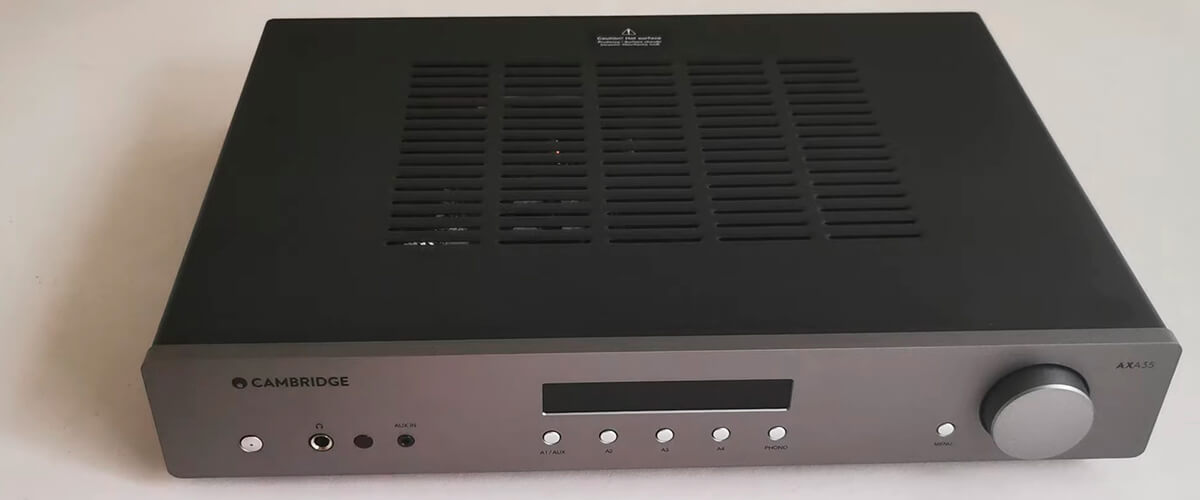 Yamaha A-S701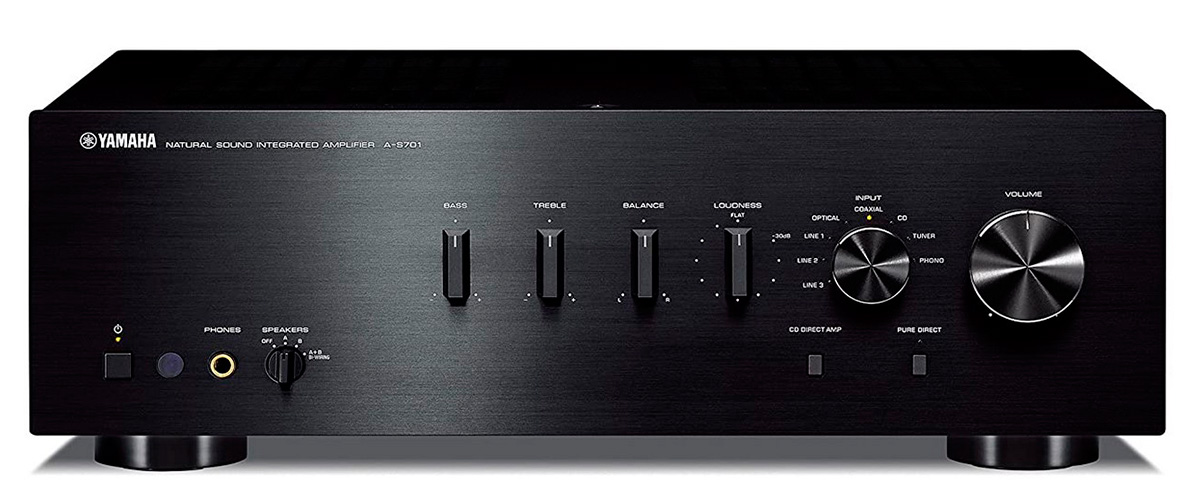 On the market of integrated vinyl amplifiers, the Yamaha A-S701 is highly appreciated. I propose to consider why this particular device is called the best amplifier for turntables and is it so?
First, connoisseurs of good products will immediately notice the vintage style of this device. The perfect arrangement of buttons and switches on the front panel makes it very convenient to work with. Moreover, the black glossy finish will fit, I think, into any interior.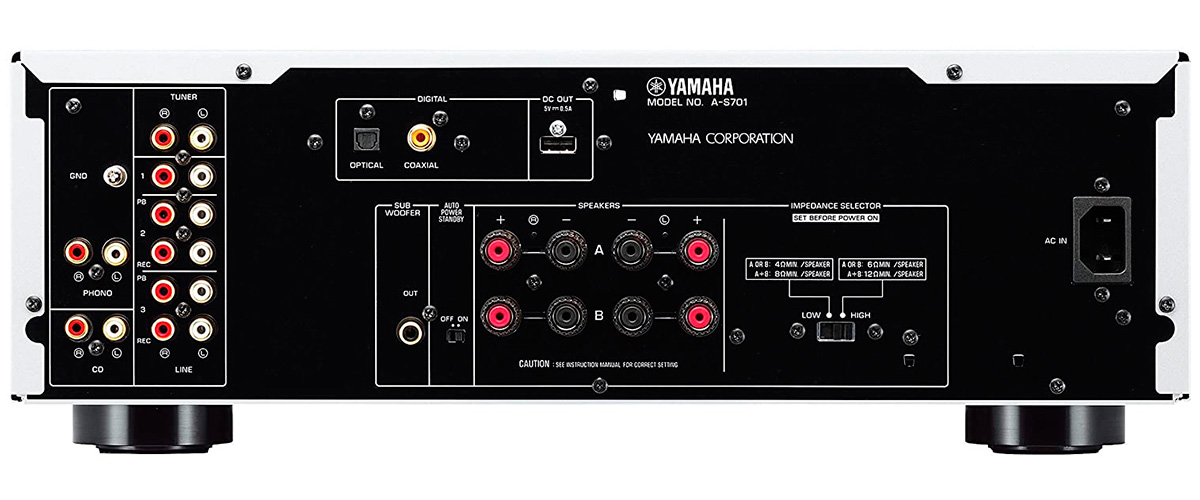 A-EC701 has two modes. One, "Pure Direct", disables the volume and tone controls. The other, "CD Direct Amp," bypasses both tone controls along with the input selector, providing a direct course for the CD input. Moreover, there are lots of pleasant reviews all over the internet about the presence of phono input. That is just the greatest advantage of A-S701, because it works for MM or high-output MC cartridges.
This two-channel turntable receiver has very impressive connectivity. For example, there are three line inputs as well as independent inputs for the tuner and CD. The corresponding phono input works with high-performance MM or MC cartridges.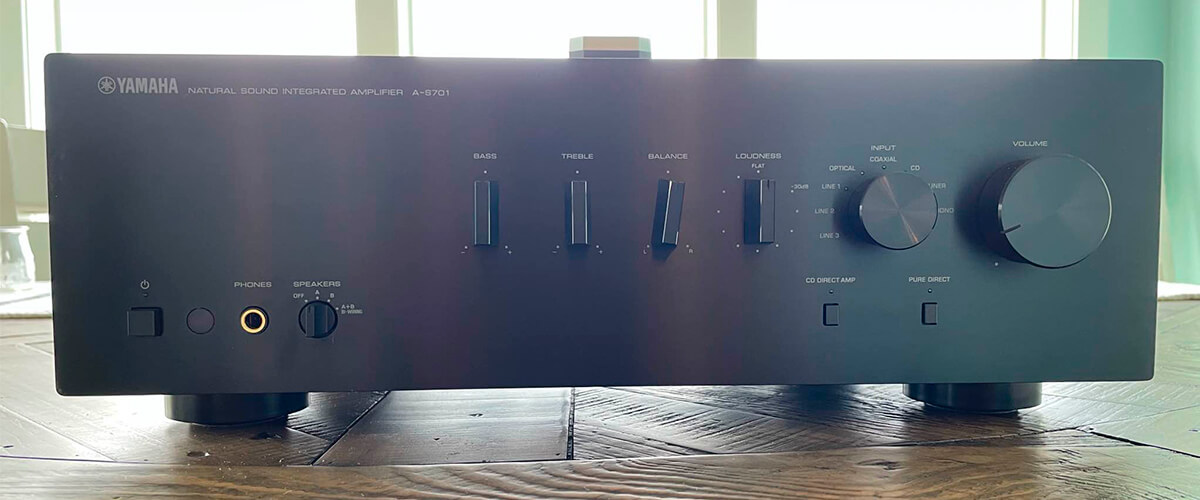 In terms of sound, everything is still more than good. There is a built-in DAC A-S701. Its coaxial and optical PCM-only inputs will go up to 24-bit / 192kHz. In addition, the overall stereo power supply is also pleasing: 100 and 120 for two channels. The output impedance of 8 and 6 is also very good. But most of all, I am pleased with the THD in a stereo indicator, because this is one of the few devices in which this indicator reaches 0.01%!
Denon PMA-600NE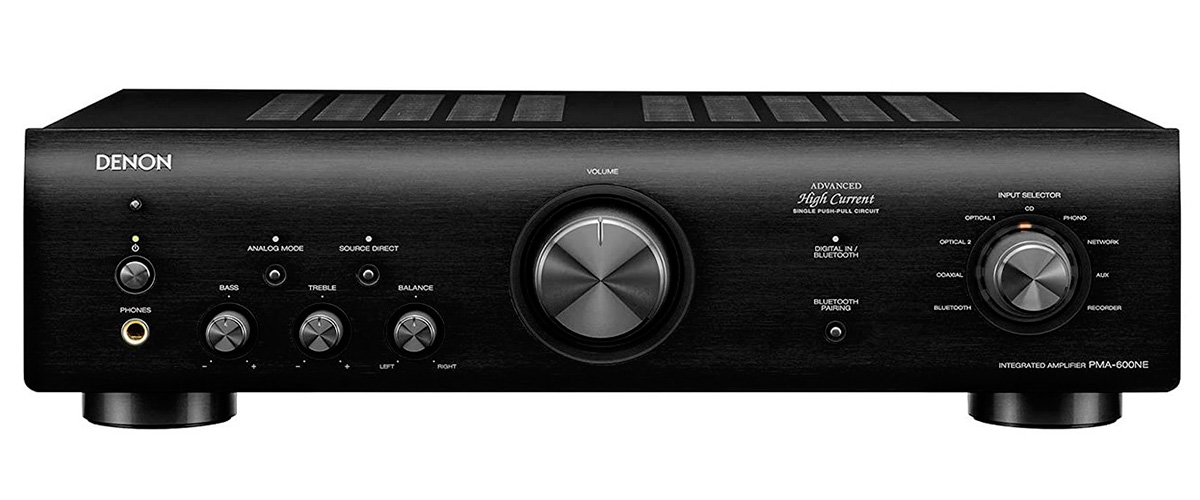 At first glance, you can't say that the Denon PMA-600NE is a premium product, but it has several significant characteristics that made it into our list.
Let's take a look at its basic characteristics right away and do not hesitate. First, this two-channel integrated amplifier has as many as 5 analog inputs including a phono input with a new high-gain equalizer circuit, two optical inputs, and one coaxial input. All this impressive set will delight any user!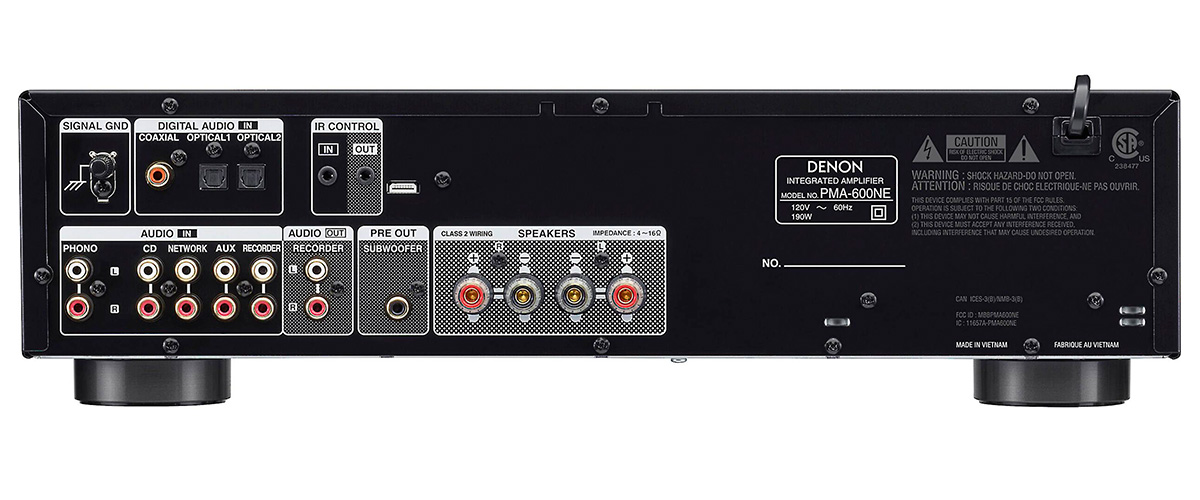 The PMA-600NE is specially designed with Denon Advanced High Current (AHC) single push-pull power amplification technology. This device is equipped with a 24 bit / 192 kHz D / A converter. In addition, each channel has relatively good stereo power: 45 and 70 respectively. The output impedance is also very stable at 8 ohms. To minimize vibration and environmental influences, the PMA-600NE features a direct mechanical sound design and a split signal level design (SLDC). This design ensures that only the true and perceived nuances of the music are amplified and transmitted. Also, TCD in stereo 0.07%.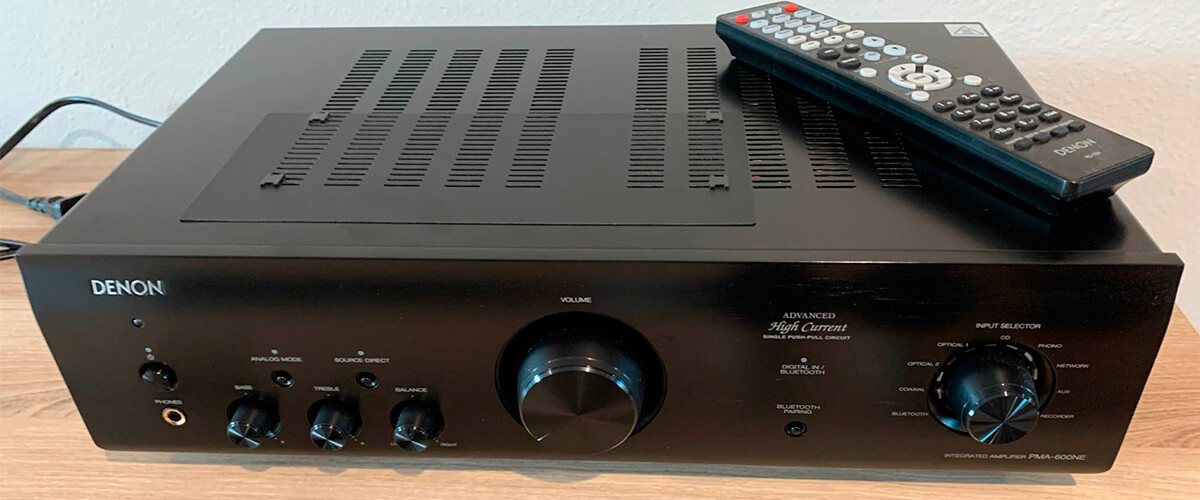 NAD C338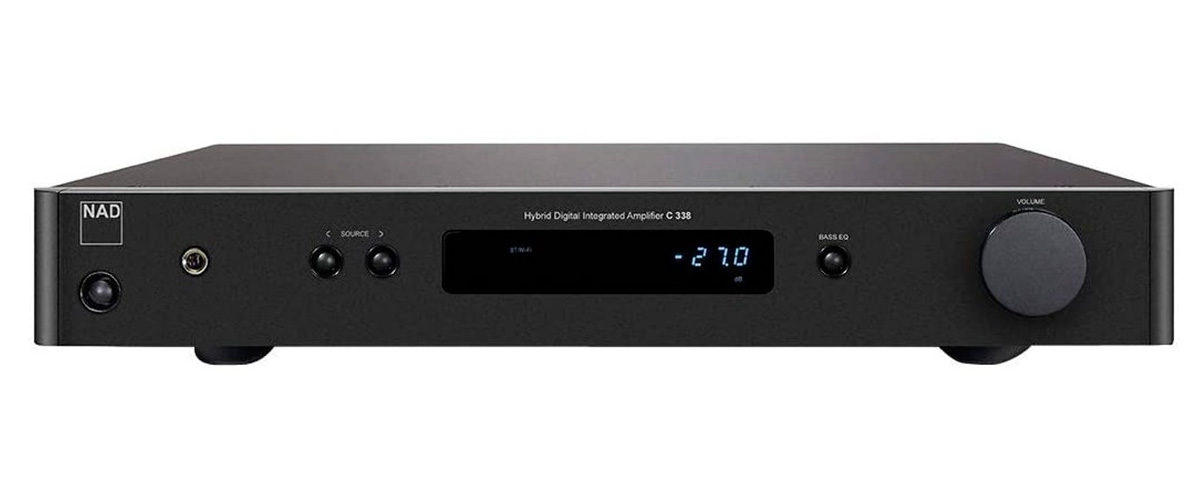 Many publications claim the NAD C338 is the most versatile integrated amplifier ever. After use, I was 100% convinced of this. The fact is that the device is well equipped. For example, you can easily play music from streaming services such as Spotify, Tidal, and others.
The device is equipped with a large number of ports for user convenience. It has three RCA inputs, including a phono preamp input. Also dual coaxial and optical connections. All of these things are amplified by the inclusion of Bluetooth and Wi-Fi via two screw-in antennas.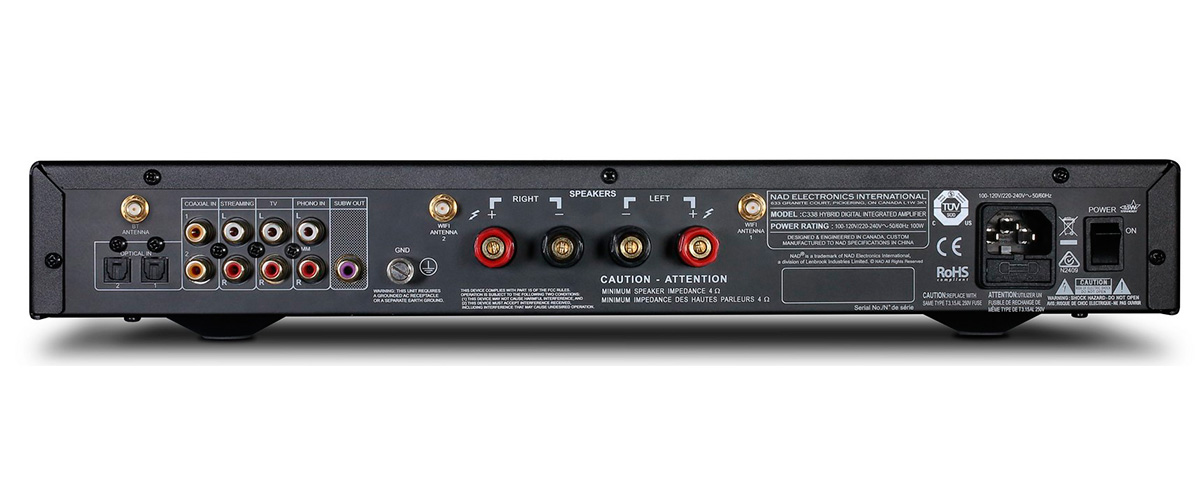 The most disgusting and pleasant thing about this device is that it has built-in support for Google Chromecast. This means that through the Google Home app, you can easily enable the streaming of multiple music services directly from your smartphone. The remote control is also very convenient and high quality. Thus, C338 is a whole set of useful features at a very good price.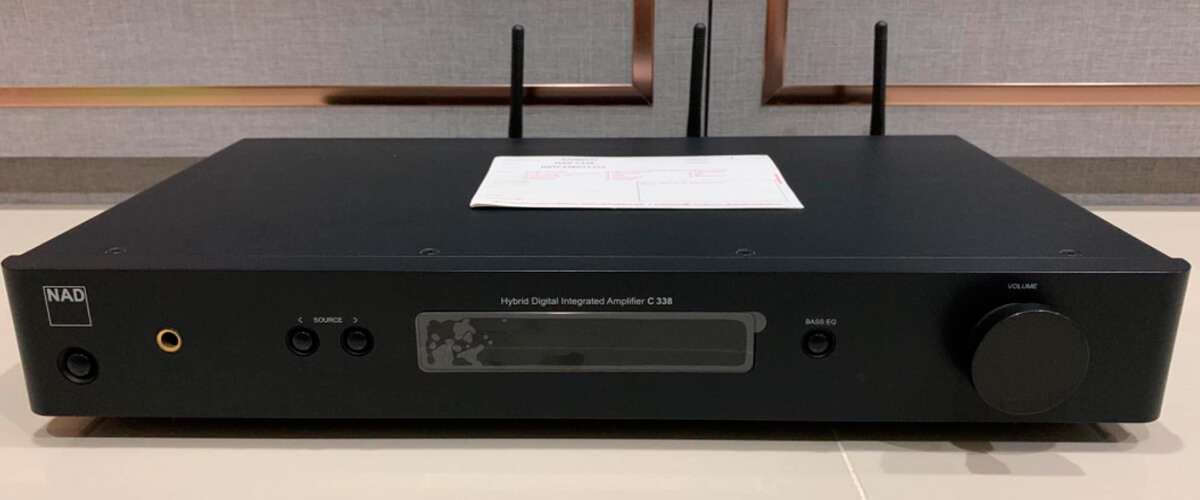 At the expense of the sound, it is also very high quality and clean. Both channels of the NAD C338 have 50 watts and Output impedance of 8 and 4 ohms. By the way, THD in stereo is also very good, only 0.03%.
Marantz PM6007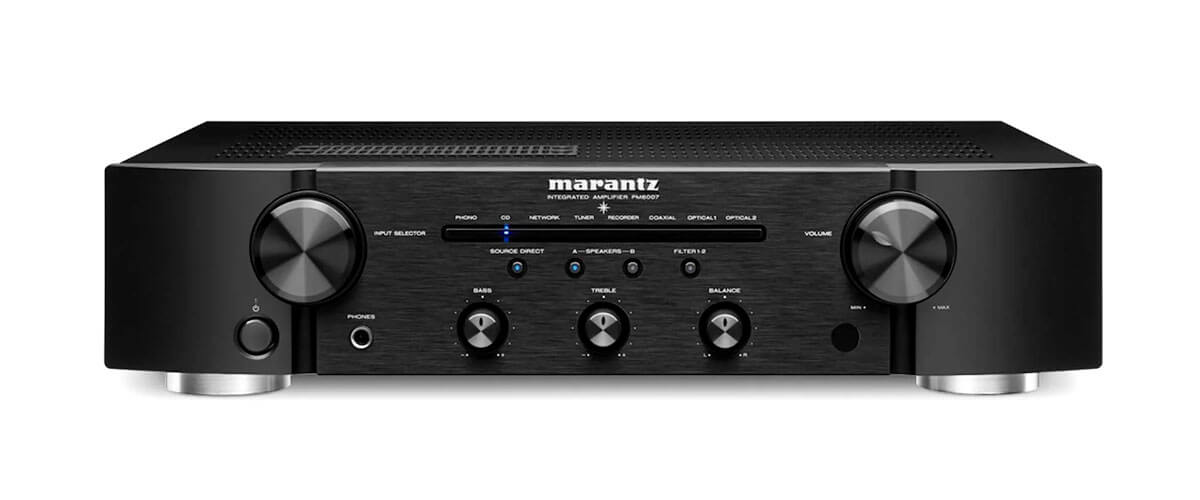 The PM6007 is a good option for those ready to take the next step in their 2-channel Hi-Fi system. Marantz integrated amplifiers have historically stood out from the competition with their high-quality phono stages. The PM6007 does not betray tradition and uses circuitry in which FETs (Field Effect Transistors) are integrated into the input stage. This technology provides high input impedance, eliminates the need for AC coupling capacitors, simplifies the signal path, and reduces distortion and noise, greatly improving overall signal purity.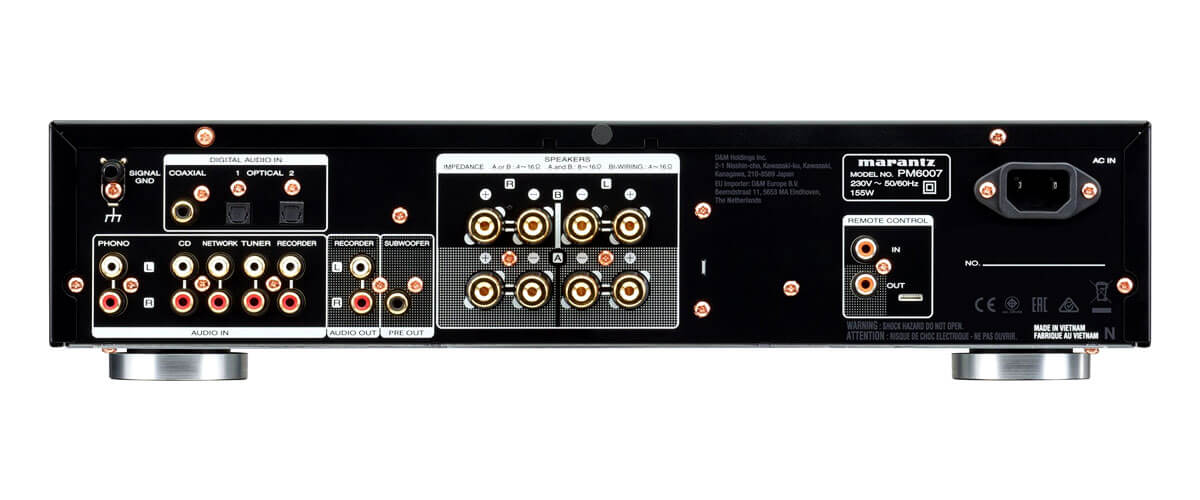 It delivers 45 watts (8 ohms, 20Hz-20kHz) per channel. Both analog and digital sources can be connected. Separately, I would like to mention the updated high-quality AK4490 DAC, which provides richer sound.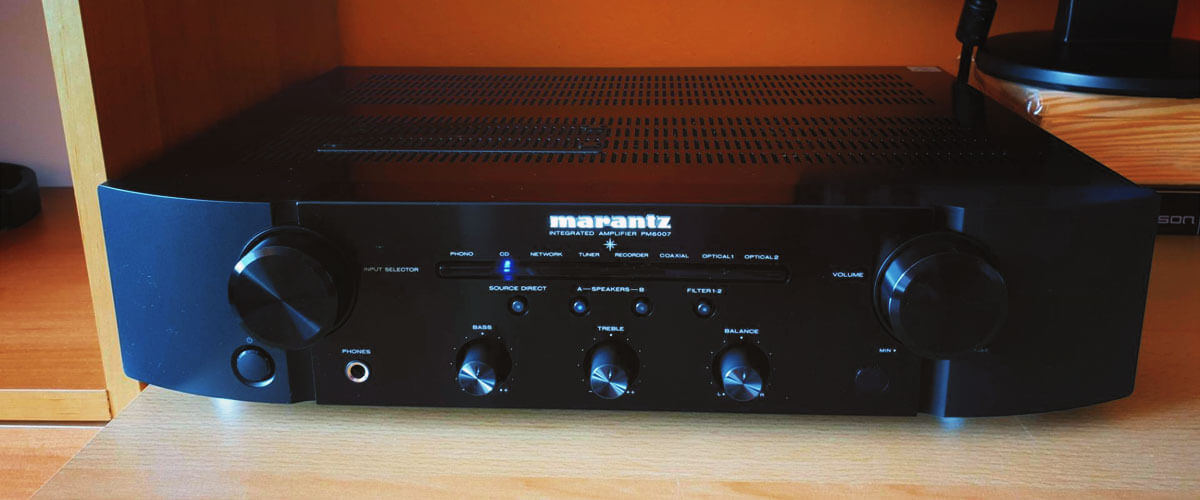 The Marantz PM6007 has 5 analog inputs, one coaxial input, and two optical digital inputs.
Best AV Receivers for Turntable
Marantz SR5015 – best AV receiver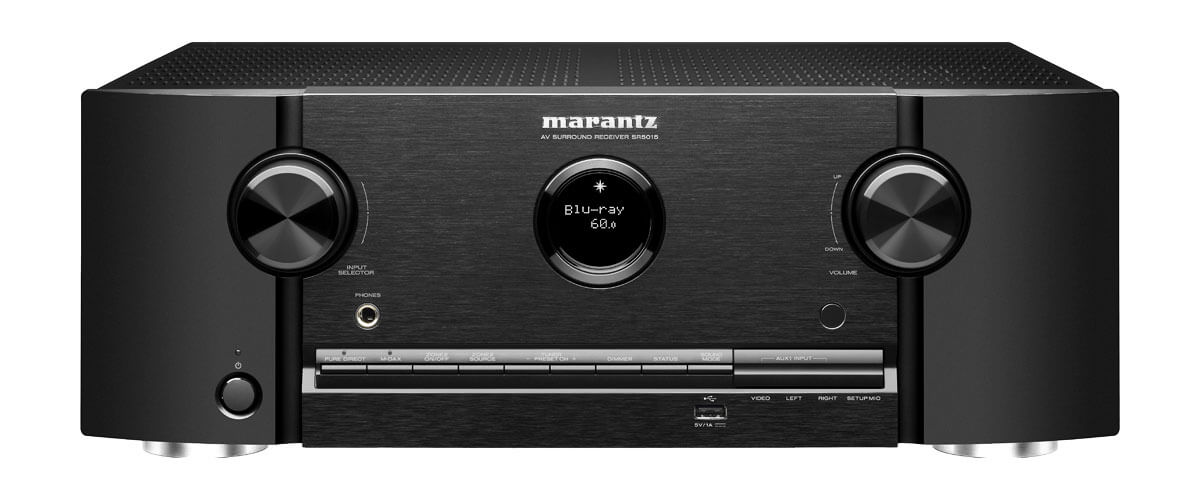 Marantz SR5015 is an update of this company's most affordable model in the classic AV receiver series. The main difference from the previous Marantz SR5014 model is the ability to work with 8K resolution via HDMI inputs. SR 5015 has retained the same design with a minimalistic front panel and still has a 7.2-channel configuration, which is the optimal solution for home theaters in most urban apartments. However, I would like to note that the functionality of the Marantz SR5015 has been further expanded to support new standards.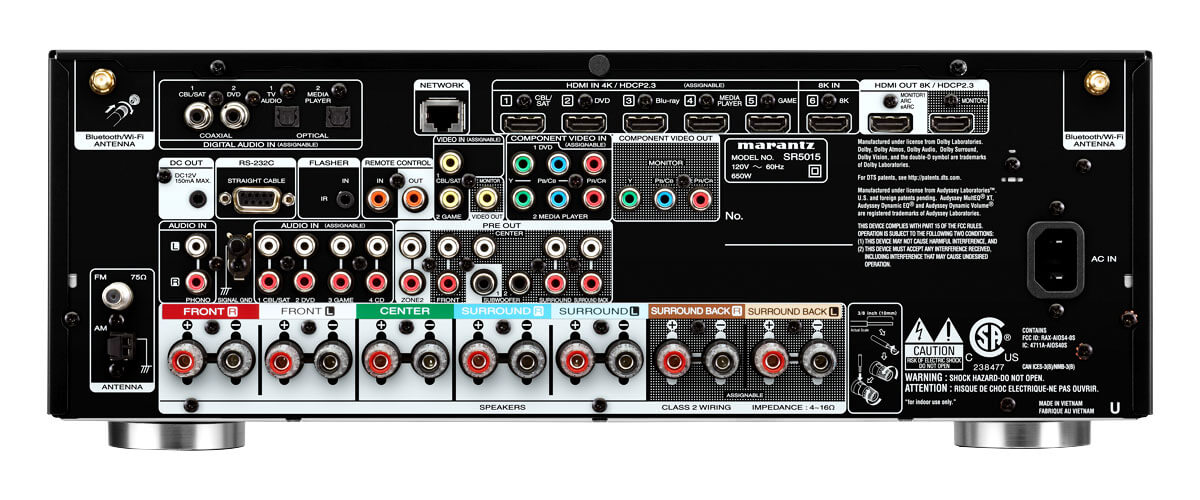 This model is designed based on proprietary HDAM amplifier modules, and in its sound part, there are 32-bit AK4458 DACs. The receiver has six HDMI inputs and two outputs supporting 8K/HDR10/Dolby Vision video, eARC, and HDCP 2.3 certification. Of course, there's a Phono input for MM-soundtrackers and a USB for connecting portable media.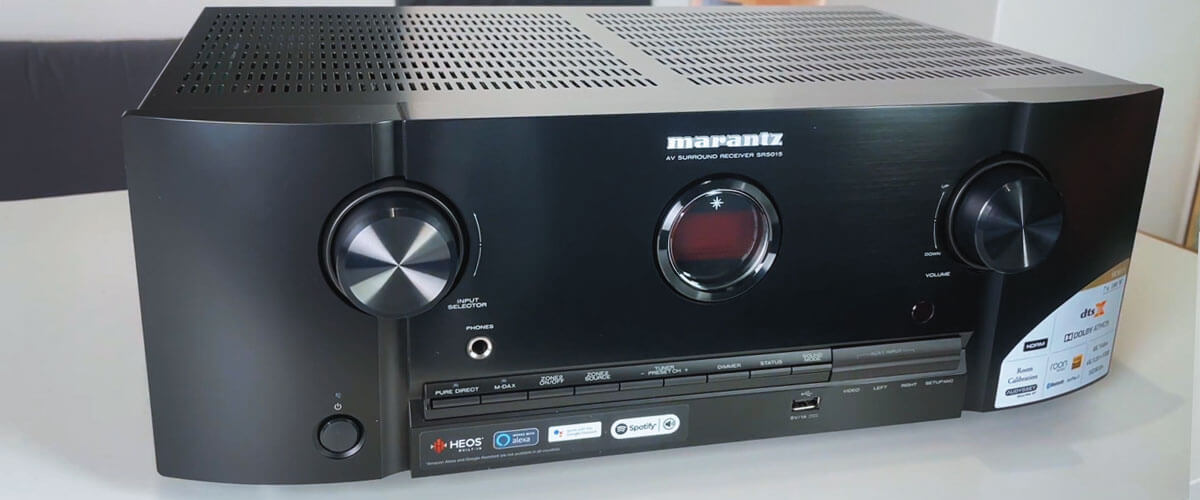 The SR5015 supports Dolby Atmos, DTS:X, and has a virtual surround sound function for systems without dedicated high-rise speakers. In addition, Audyssey MultEQ XT provides sound tuning, and there is also support for the HEOS multimedia platform. But more than that, I liked the new technology Audyssey MultEQ Editor App, which will allow you to make a fairly accurate equalization of sound using a mobile app.
Yamaha RX-V6A – budget AVR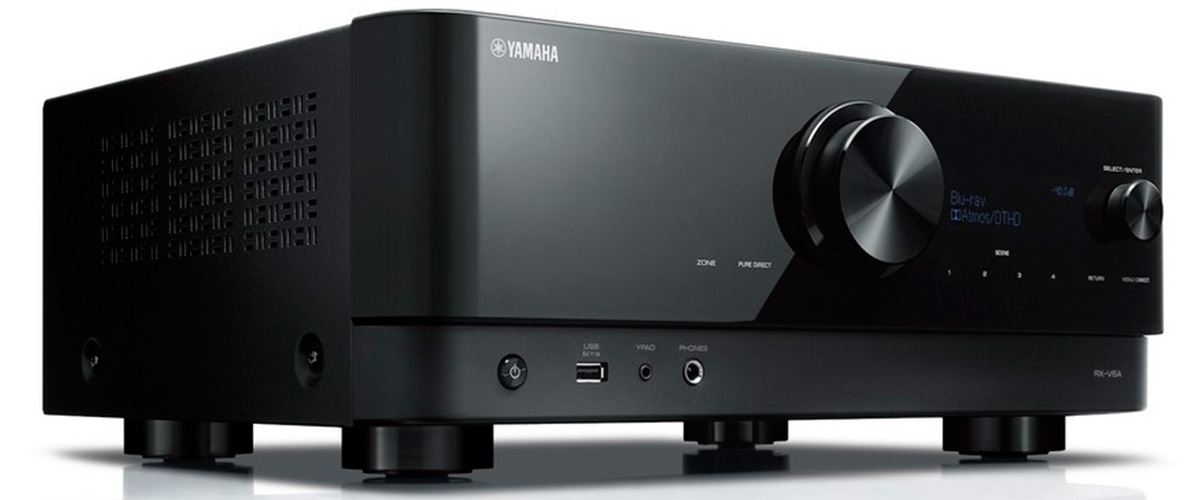 This review is notable for the fact that we again have Yamaha next in line and again their beautiful creation – RX-V6A. Thanks to the efforts of this company, this model can be safely called the best receiver for vinyl. Let's see why he is so remarkable.
This is a 7.2 channel receiver with 100 watts of power for both channels. It has a lot of cool new and familiar features like MusicCast for example. It is also worth noting the wonderful design. It looks eerily modern and sleek. The beautiful glossy black color together with the wonderful shape and crisp display gives the impression that the product is virtually perfect. Thanks to its simplistic look, you might have noticed that there are really few buttons and levers on the case. Almost all the functionality of Yamaha was transferred to a remote control that does its job perfectly!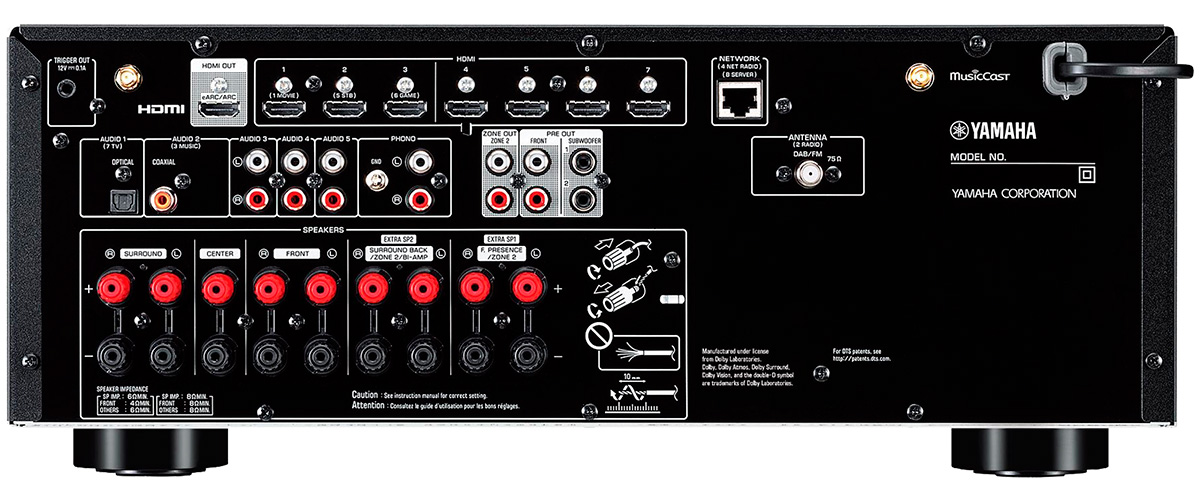 The RX-V6A has an eARC compliant HDMI output. Also, the device fully supports HDR10 +. Plus, you can count on all current HDR standards, including HLG and Dolby Vision. By the way, the receiver is still cool for using streaming services such as Spotify, Tidal, and many others.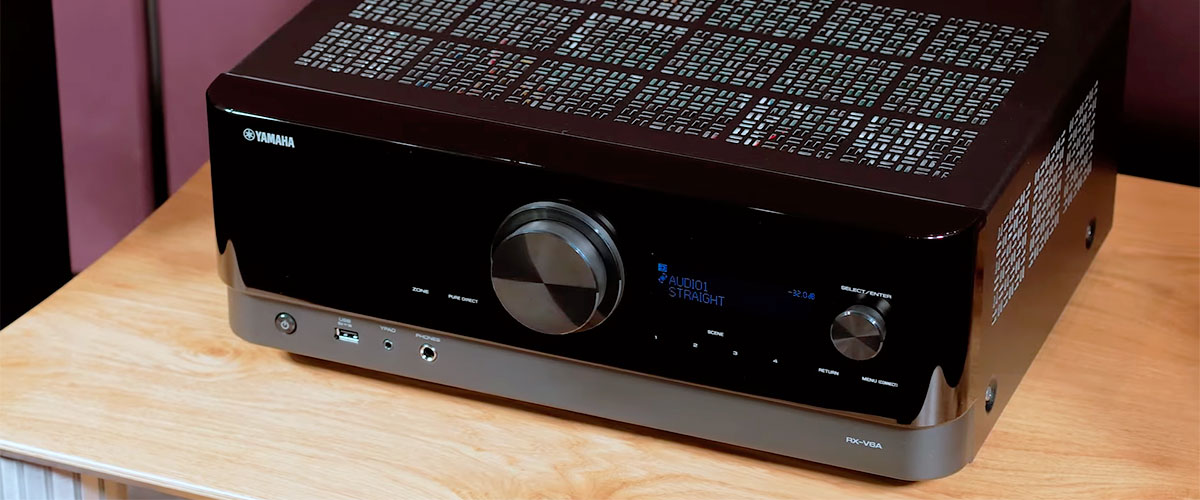 Denon AVR-X6700H – premium AVR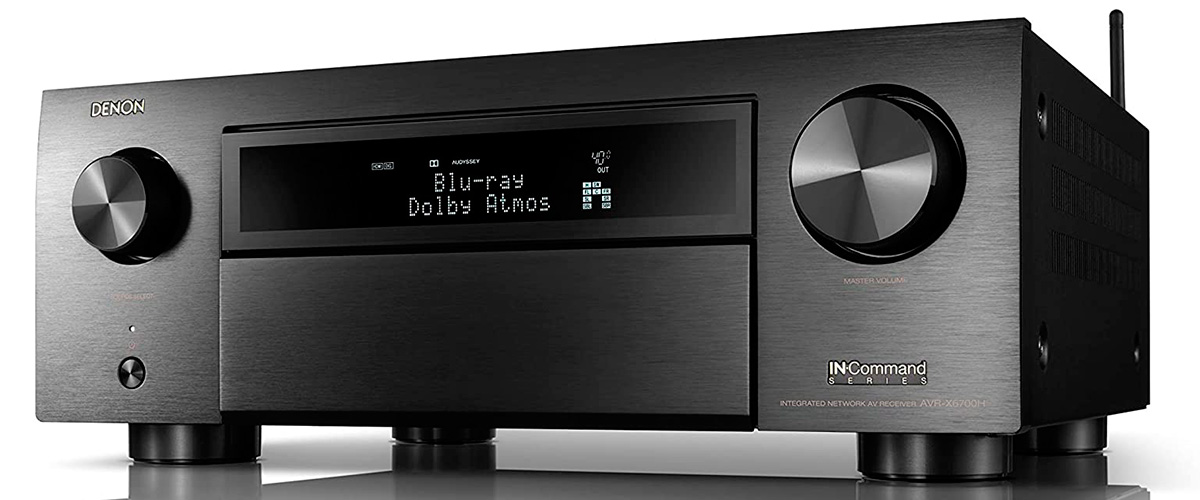 Denon's company never stands still. They are constantly improving their products and the AVC-X6700H is no exception.
The first thing I would like to note is, of course, connectivity. It will be difficult without this indicator in modern devices. The AVC-X6700H has 8 HDMI ports onboard. One of its eight inputs and two of its three outputs are HDMI 2.1 certified and therefore provide full 8K support up to 60Hz and 4K at 120Hz. It should also be understood that the other seven HDMI inputs are certified exclusively for 2.0, they still support 2.1 features such as VRR or ALLM and QFT. Personally, I was very pleased that all inputs also support HDR10 +, as well as HDR10, HLG, and Dolby Vision, and one of the outputs supports eARC (Enhanced Audio Return Channel).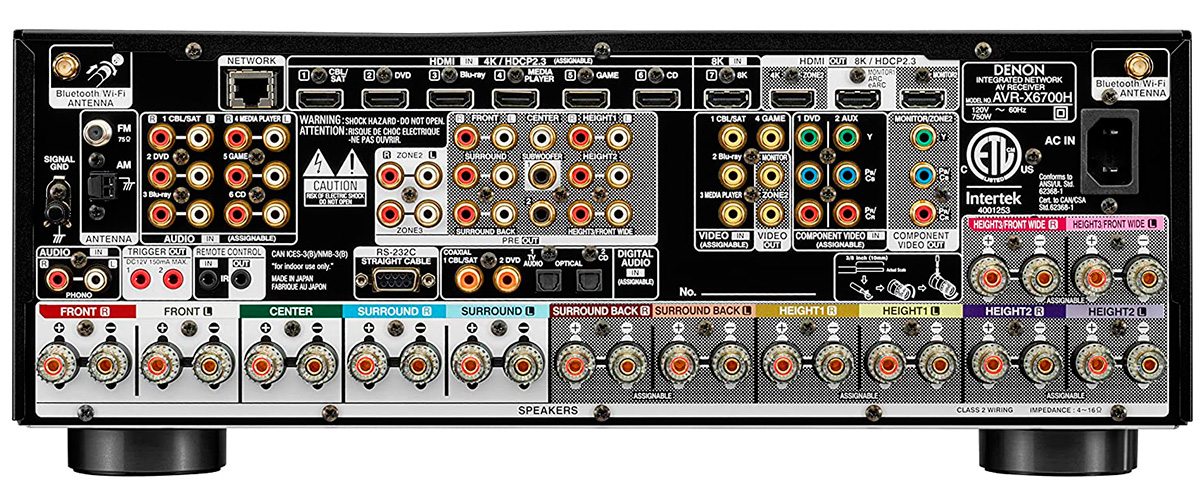 This 11.2 channel system has a huge power potential of 140 and 175 per channel. However, the output impedance is very basic and is 8 and 6 ohms. The same can be said about TCD in stereo at 0.05%. As for me, these indicators are very solid. The receiver for record player from Denon has Bluetooth and Apple AirPlay 2 connectivity, and the presence of HEOS makes working with the receiver super pleasant and easy. In addition, thanks to the USB port, you can play hi-res music manually. The device provides an extremely powerful, clear and round sound while playing both lows and highs.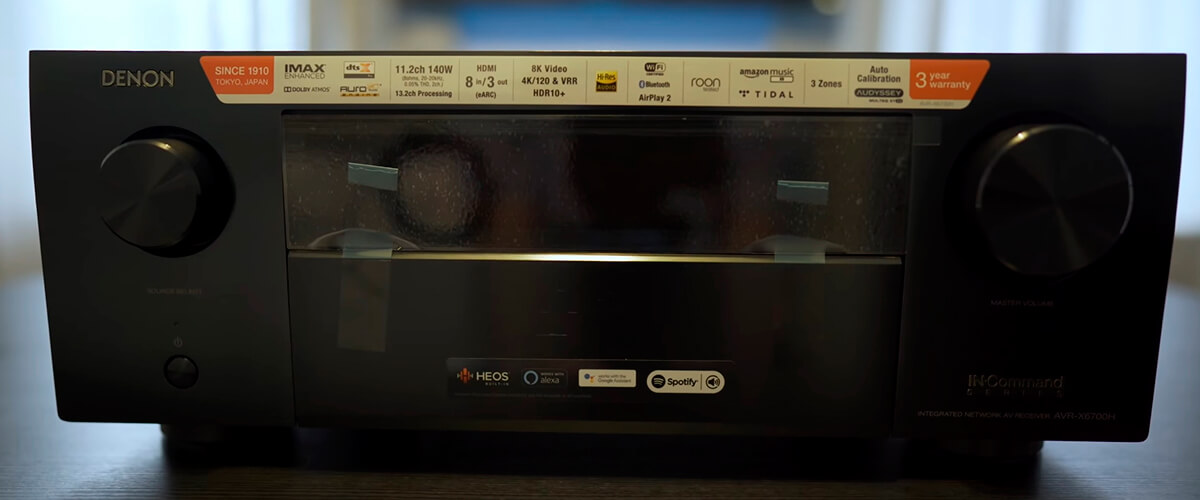 Phono Preamp
Pro-Ject Phono Box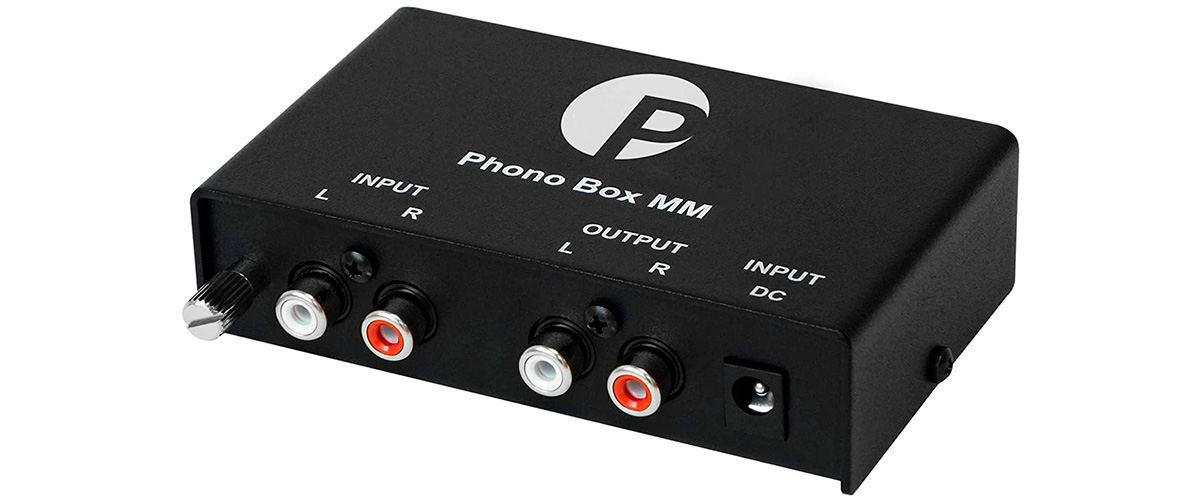 If neither the receiver nor the turntable has a built-in phono stage and there is no desire to buy new systems, it would be good to buy a separate phono stage. Accordingly, we recommend the Pro-Ject Phono Box.
Buyers Guide
What's a phono preamp
A phono stage is an indispensable item if you plan to play vinyl records. It is an audio component that amplifies the signal from a turntable to a level that allows it to be connected to a sound system just like any other sound source.
Moreover, the phono stage has another important mission. It is able to apply an RIAA equalization curve to the signal, returning it back to the shape it was in the original recording.
However, don't forget that if you're just starting out, it might be a little deeper than you need to. So I think the point is clear: a phono stage is a vital thing for playing vinyl.
How to connect a turntable to a receiver
Musical diversity is a great way to learn something new and expand the range of your interests. It is for this reason that people begin to be interested in vinyl, all its subtleties, and nuances. Nevertheless, this is a very detailed thing that requires constant care and moreover – the right one!
Phono preamp is in the receiver
As a first step, it is very important to place the receiver next to the turntable. Best suited for this is a rack or flexible table that will minimize vibration from devices.
Second, you need to connect the supplied stereo RCA cable to the turntable's output. If your turntable does not have such a cord included in the kit, do not worry! Basic ones are often of poor quality. In any specialized store, you will find a cable for every taste and any price policy.
As a third step, you need to take a close look at the back of the receiver and consider your audio input options. I think it is obvious that receivers with a built-in phono stage will have inputs labeled "Phono". If you are the lucky owner of such input, your steps are as follows: you need to connect an output cable to it. It is the only one that comes from your turntable. Congratulations, you did it! As you can see, the process is not very complicated.
Yes, there is also the fifth step. Be sure to check the input setting on the front display so that you can hear the vinyl playback from your turntable well and accurately. In general, it's important that its name matches the rear panel input you used to connect. Now for sure everything! Enjoy your music haven!
Phono preamp is in the turntable
If it so happened that you chose a receiver without a phono input – that's okay! Most turntables on the market actually have their own built-in preamplifier. To save time, you can check this in the user manual, they always indicate everything that is in the package along with the product. In fact, you can use any input on the receiver, such as those labeled "Line", "Audio", "CD" or "Auxiliary".
The phono preamp is a separate component
Connecting an external phono stage is necessary if your amplifier or turntable does not have one built-in. All you have to do is insert a phono stage between the vinyl record player and the amplifier:
Connect the turntable to the phono stage with an RCA cable. Connect the RCA cables accordingly to the color. You must connect the vinyl record player to the INPUT or AUDIO IN inputs of the preamp.
Connect the preamp to the amplifier using the RCA cable. Connect the RCA cables accordingly to the color. Use the OUTPUT or AUDIO OUT port of the preamp and, ideally, the AUX.
What to do if your turntable and receiver have built-in phono preamps?
Many AV receivers and stereo amplifiers have a built-in phono stage, so you can connect your turntable directly to the Phono input of such models. If it turns out that your AV receiver and turntable have a built-in phono stage, be sure to connect the turntable to one of the "Line In", (or auxiliary "AUX") inputs of your AV receiver, but not to the "Phono" input. You don't want two phono stages trying to work simultaneously, Otherwise, the sound will be highly distorted.
FAQ
Turntables with built-in preamps are designed for use with receivers that do not have dedicated phono input. If you already own a receiver without a dedicated phono input, you might want to consider purchasing a turntable that has one.
It's possible but not recommended to connect a turntable directly into powered speakers. The volume may be too low because modern active speakers are likely already at their maximum input level, which will cause the sound quality to suffer.
A turntable with a built-in preamp can also be connected to receivers with phono input through an external preamp.
No, headphone outputs are not designed to listen to high volumes and lack essential features like separate volume control needed to get the best sound quality from a turntable.
You need a receiver, preamp, or integrated amplifier with an audio input with "phono" capability. You also need speakers.