Need to find the best budget AV receiver? Take a look at my selection. I tested lots of different models and described my experience in detail.
My knowledge allows me to recognize worthwhile receivers quite easily. So you can be sure that each device shown below is definitely a good choice.
Our pick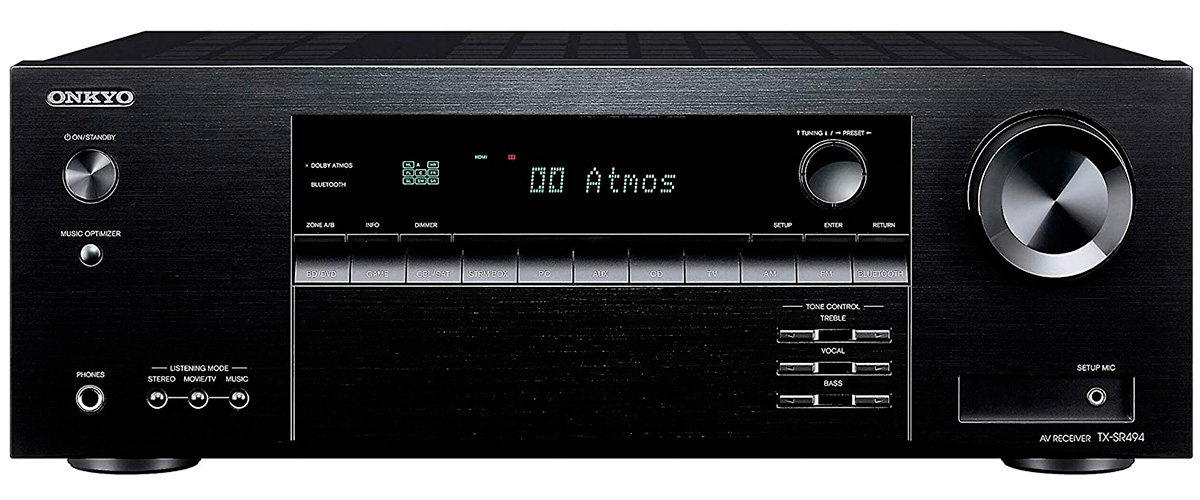 Onkyo TX-SR494
Best Budget AV Receiver
From easy Bluetooth® wireless streaming to the heart-pounding thrills of Dolby Atmos® and DTS:X® soundtracks, the TX-SR494 deepens enjoyment of daily life with great sound and smart features.
Budget AVR Comparison Table
Receivers
Channels
Stereo power, W/Ohm
THD, %
Review
Onkyo TX-SR494

best overall

7.2
80/6
0.08
Review
Sony STR-DH590

under $300

5.2
145/6
0.09
Review
Denon AVR-S650H

under $400

5.2
75/8, 100/6
0.08
Review
Best Budget AV Receiver Reviews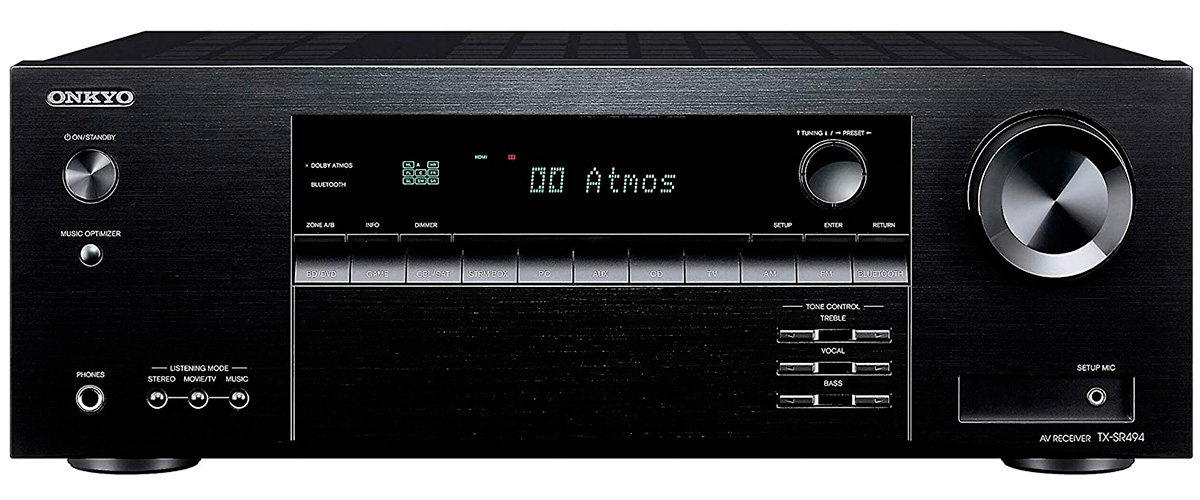 The best cheap AV receiver in my review offers 160 watts per channel and therefore shows that it is more than just a stylish multimedia box. Four HDMI inputs are available for connecting devices such as Blu-ray players, game consoles, or TV boxes. You have to know that all HDMI connections of TX-SR494 are state-of-the-art. The 7.2-channel receiver supports 4K/60P, Dolby Vision, HDR10, HLG, BT.2020, and 4: 4.4 color subsampling.
In addition to HDMI, Onkyo gave the TX-SR494 two digital audio inputs, the optical input, and a coaxial one. There are three analog inputs. The Height/Surround Back/Bi-Amp/Zone B speaker outputs can control stereo speakers in another room with a 5.2 channel set up in the main room. The outputs can share each AVR source exclusively in Zone B or play the same source in Main and Zone B. Alternatively, you can use bi-amping on your pair of compatible front speakers.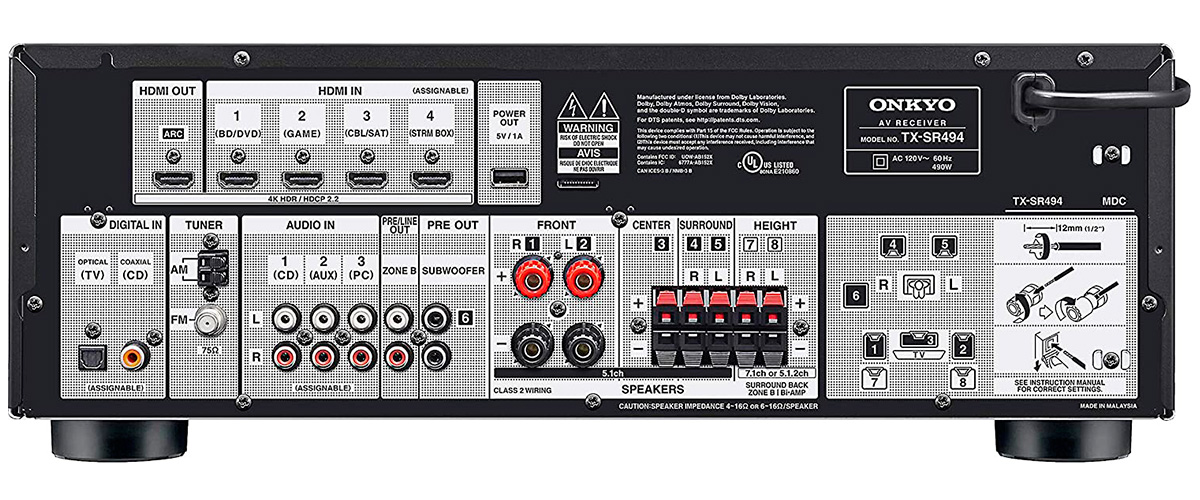 Since the best budget home theater receiver comes with Dolby Surround and DTS Neutral: X, it masters the art of virtual sound. If you do not have the number of speakers required for a home cinema or if the room simply does not allow multiple speakers to be set up, then surround sound is simulated. The AccuEQ room acoustic calibration creates a harmonious sound field in your rooms. First, it detects the presence of loudspeakers, their size and distance from a measurement position and sets the corresponding sound pressure level. Then it selects the ideal subwoofer crossover and aligns all speakers. The technology optimizes the reproduction of object-based audio via Dolby Atmos-enabled speakers.
Let's take a closer look at the receiver construction. On the right side, there are switches for the manual adjustment of treble, middle, and bass. Three buttons on the left allow the user to set the sound, depending on whether the amplifier should output TV, stereo, or music. Even if the front actually already offers all operating functions, it does not seem overloaded.
Key specs
Channels: 7.2
Stereo power, W: 80
Impedance, Ohm: 8
THD, %: 0.08
Pros
All sounds played on your phone, tablet, or PC can be streamed to the TX-SR494 using Bluetooth wireless technology
Onkyo's Advanced Music Optimizer DSP listening mode reconstructs the high-frequency data which could be lost because of squeezing the music file
The output for connecting the TV or beam is ARC-capable, which means that not only the picture but also the sound is transmitted via this input
Cons
Bluetooth audio is a bit lacking in sound quality
No phono input
No speaker A/B switching
Sony STR-DH590 – best under $300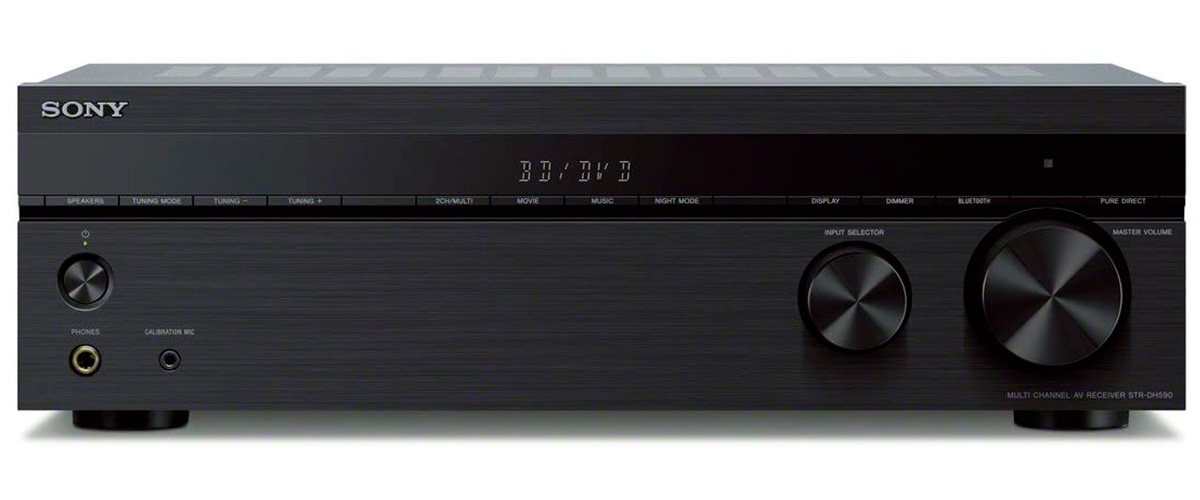 You certainly should know about the best av receiver under $300. This AV receiver with five channels has 145 W of power output. It features High Dynamic Range (HDR) and thus delivers incredibly clear, vibrant images with detailed dark and light elements for a more realistic viewing experience. The latest HDR standards, such as HDR 10, HLG (Hybrid Log-Gamma), and Dolby Vision are supported by the Sony receiver. With 4K support, raw data can be transferred to the screen through the receiver without degrading image quality. HDCP 2.2 is also supported by the device.
With the 5.1-channel surround sound system that easily turns your living room into a movie theater, you can immerse yourself in action. In small spaces, S-Force PRO Front Surround can create virtual surround sound with just two speakers. Now you can not only play your favorite songs from the STR-DH590 via Bluetooth but also turn on the receiver from a connected smartphone or tablet in Bluetooth standby mode.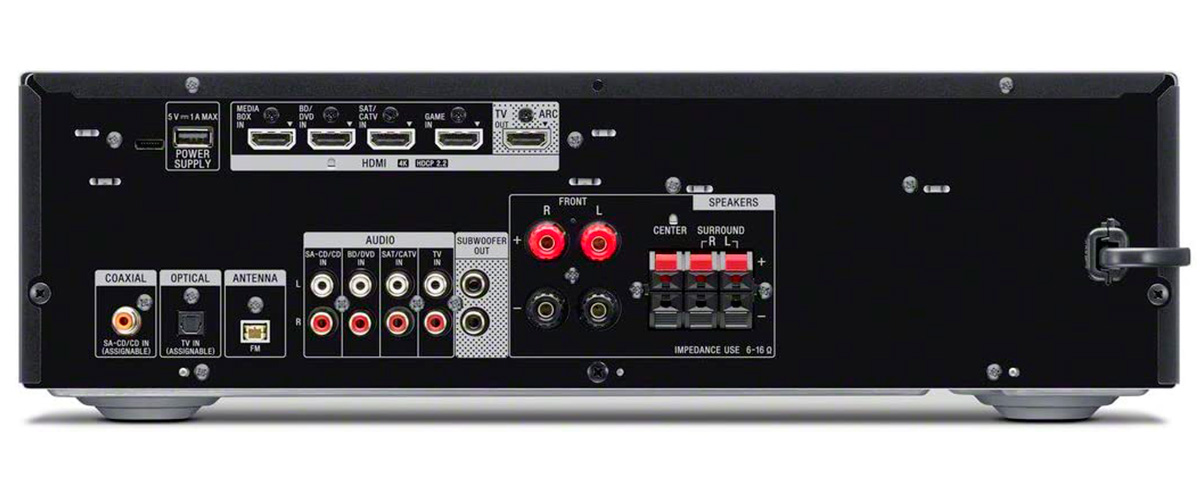 The receiver is a truly versatile home entertainment equipment. You will have a choice of four HDMI inputs and one output, as well as optical/coaxial digital and analog audio connections, allowing you to quickly and easily connect your TV, UHD Blu-ray disc player, game consoles, and more.
The STR-DH590 is compact and easy to install. With it, you can connect existing devices seamlessly. The amplifier uses a glass epoxy PCB that significantly reduces vibration and distortion, delivering clear, powerful sound from each amplifier. Reinforced chassis base and laterally reinforced chassis reduce external sound pressure for richer, more powerful sound.
The receiver supports DSD format that is a real revolution in the recording and reproduction of high-resolution audio. It was developed by Sony and Philips, who at the time created the technology for recording and playing sound on audio CDs. The sampling rate is 64 times higher than that of CDs. The passion for music is embodied in every detail of the system, from the input signal to the speakers, and it feels like the performer is right in front of you.
Key specs
Channels: 5.2
Stereo power, W: 145
Impedance, Ohm: 6
THD, %: 0.09
Pros
Features an FM tuner with 30 digital presets
The metal casing and heat sink mount reduce the impact of sound waves on the electronics for clarity and high-quality sound
The minimalist front panel features a Pure Direct button that routes sound directly to the receiver's amplifier while maintaining signal quality and clarity
Cons
No Wi-Fi
The Remote function does not work properly: it is problematic to quickly switch video or audio files
Denon AVR-S650H – best under $400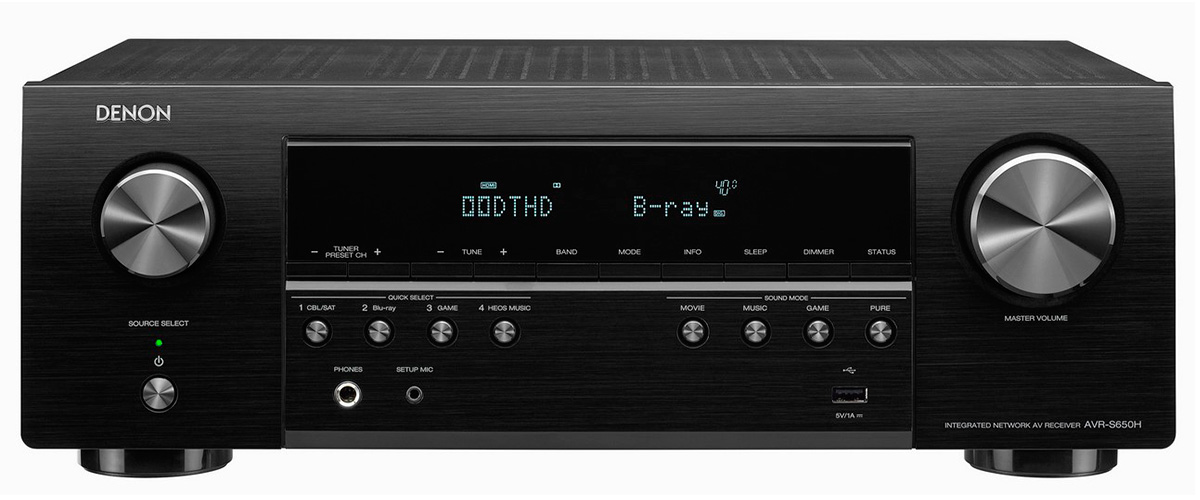 The best av receiver under $400 occupies the lowest position in the brand line of AV-receivers with the "S" index. It has five channels and supports Ultra HD resolution. The appliance comes with five high current amplifiers with discrete elements that can handle even low impedance speakers. The declared maximum power is 135 watts per channel (6 ohms).
Connoisseurs of high-quality sound will be happy with the number of various features. First, Denon AVR-S650H AV receiver supports Hi-Res, Dolby TrueHD, and DTS HD Master audio playback. In addition, the built-in DSPs provide tremendous customization of equalizers and filters to suit the specific speaker configuration of the owner. We should also highlight the presence of Audyssey MultiEQ – an auto-calibration system for an external microphone.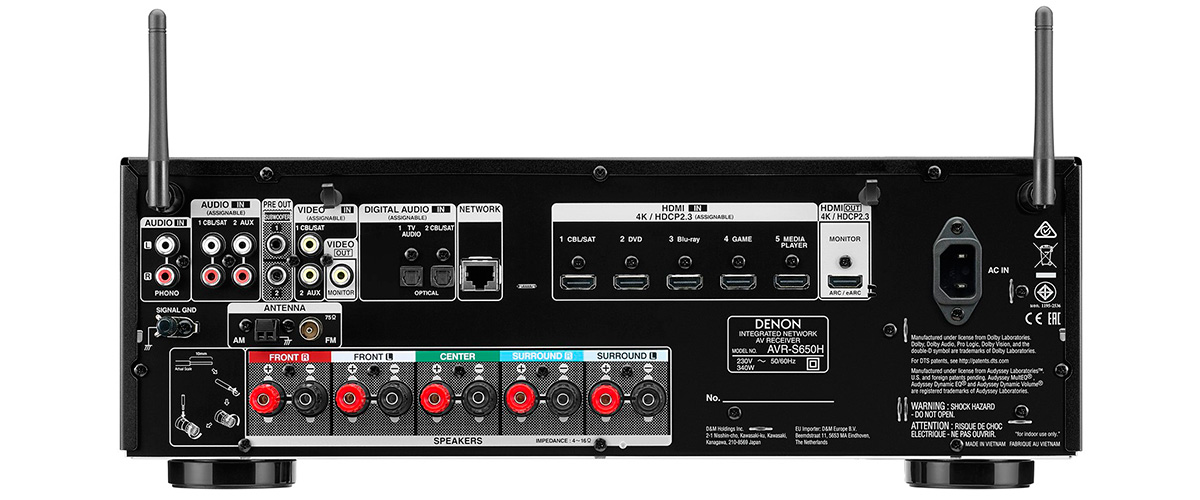 The model has on-board Bluetooth and 2-band Wi-Fi, which improves the quality of reception significantly. The AV receiver can work as part of the proprietary HEOS wireless system, which gives you the possibility to control all appliances included in it through one application, to which you can broadcast audio from tablets and smartphones, local networks, and streaming services. When organizing a multi-room installation based on HEOS components, the same track can be played synchronously in different rooms, or different music can be sent to selected rooms.
To control the appliance, you can use not only the application and the remote control but also personal voice assistants Google Assistant, Apple Siri, or Amazon Alexa. On top of that, the AVR-S650H is configured with an intuitive Setup Assistant.
Key specs
Channels: 5.2
Stereo power, W: 75, 100
Impedance, Ohm: 8, 6
THD, %: 0.08
Pros
The new AirPlay 2 protocol is supported by the receiver, which makes it possible to create a wireless multi-room system based on iOS devices
Different online services are available: Tidal, TuneIn, Deezer, Spotify Connect, etc
Has an MM phono stage for connecting turntables, and five pairs of color-coded screw terminals are used to connect speakers
Cons
Does not upgrade images to Ultra HD resolution
Old Bluetooth version (4.1)
Sony STR-DH790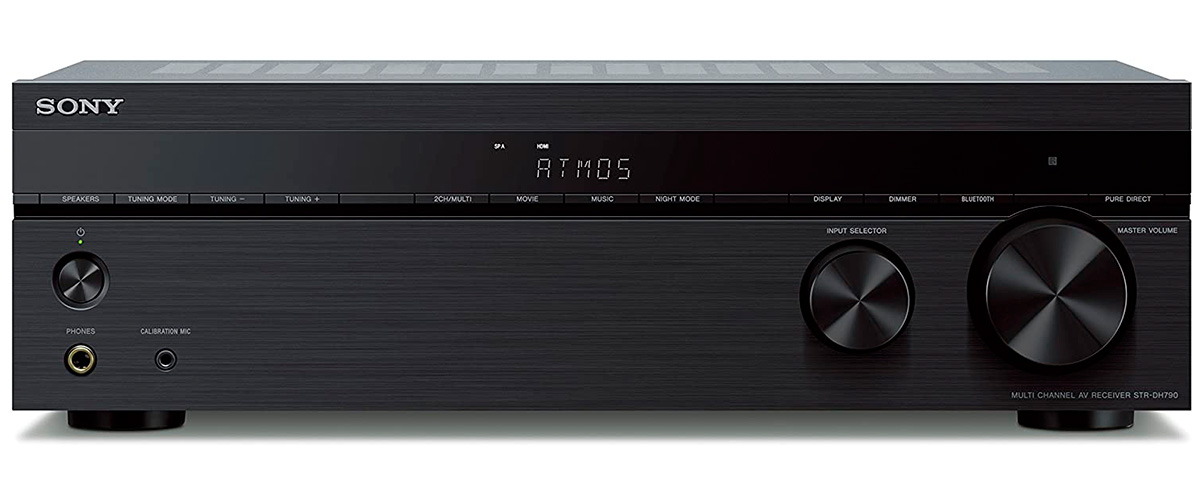 There are seven channels in this model, and they are organized with enough flexibility to allow you to bi-amp a front pair of stereo speakers or get surround sound from a pair of rear/height speakers in Dolby Atmos and DTS: X format. The 790 supposedly pumps out 145 watts per channel, but it's not always the case. In the real world, with all seven channels humming along, you will probably be between 60-80 watts per channel.
This entry level av receiver has 4 HDMI inputs with related functions. Meanwhile, the considered model has only one HDMI output. The inputs support signal quality up to 4K up to 60Hz, HLG and Dolby Vision formats, 3D, Deep Color technology, BT.2020 color space, and HDCP 2.2 data protection, according to the specification list. All these technologies will provide you with 360 degrees of immersive sound with the aid of overhead speakers or specially designed units that bounce sound from the ceiling and down into your listening area.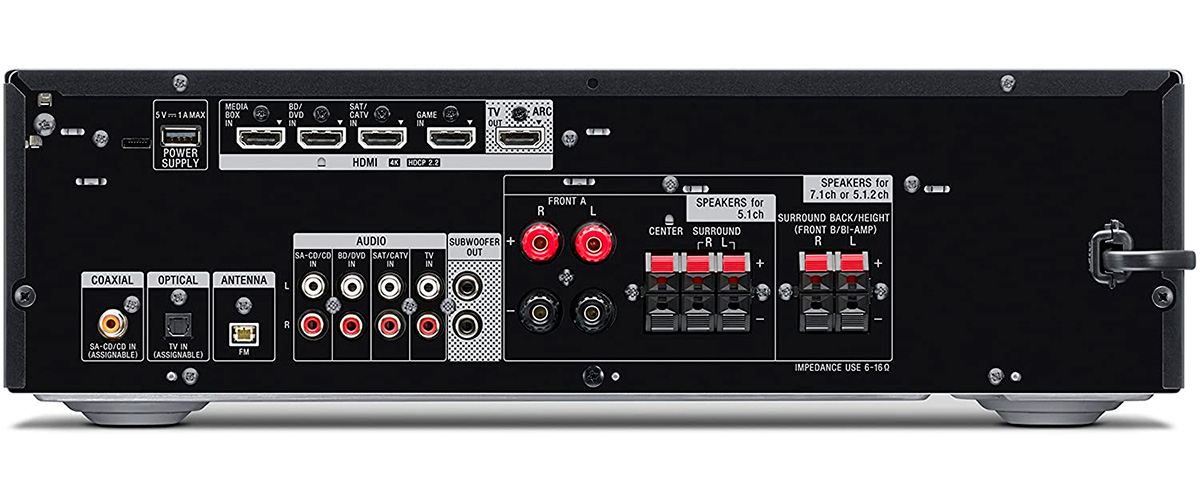 The DH790 does not have analog video outputs, but there are four analog audio inputs, as well as coaxial and optical digital audio outputs. The choice, of course, is not super-wide but sufficient for most small and medium-sized systems.
I would like to mention the Sound Effect option. It allows you to select a sound field such as Dolby Surround, Neural-X, Front Surround, Stereo, etc. The instruction manual contains a description of each of them.
Key specs
Channels: 7.2
Stereo power, W: 145
Impedance, Ohm: 6
THD, %: 0.09
Pros
Equipped with a 6.35mm headphone output on the left side of the bezel
Bass is tight and detailed
Perfect for watching movies as each sound effect is precisely positioned
Cons
No Wi-Fi and Ethernet
Doesn't include dedicated turntable or USB inputs