Do you feel like upgrading your current home theater system to get that cinema-like experience without leaving your home? Many people buy an AV receiver, which is a smart thing to do. While manufacturers produce numerous high-end devices with a plethora of bells and whistles, I decided to focus on more affordable options to help buyers choose the best budget AV receiver. Such a device can unite all your video and audio sources into one central hub without making you bankrupt.
So, what capabilities can such inexpensive AV receivers add to your speakers? In what way do they affect the quality of the sound? I have delved into the world of such equipment, defined the features that differentiate long-lasting receivers from poor-quality devices, and shared recommendations on choosing a decent yet budget AVR.
Our pick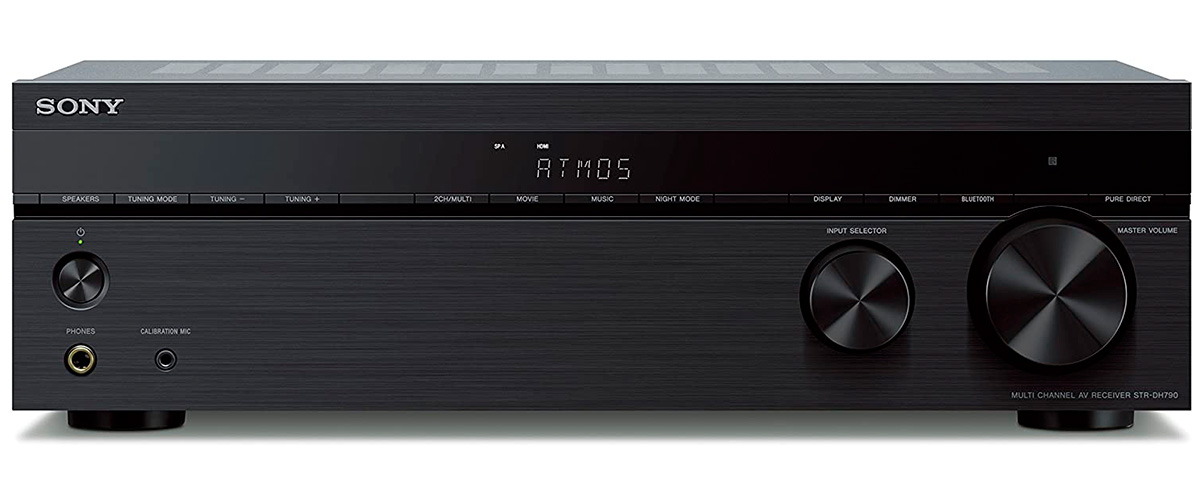 Sony STR-DH790
Best Budget AV Receiver
Experience the same all-encompassing surround sound you get in movie theaters at home with Dolby Atmos and DTS:X support. Plus, superior picture quality to match with 4K HDR pass-through.
Read the full review
.
Budget Home Theater Receivers Comparison Table
Name
Channels
Power output
HDMI in/out
Bluetooth/Wi-Fi
Review
Sony STR-DH790

best overall (with Dolby Atmos)

7.2
145W/6 Ohm
4/1
yes/no
Review
Yamaha RX-V385

under $300

5.1
70W/8 Ohm
4/1
yes/no
Review
Denon AVR-S570BT
5.2
70W/8 Ohm, 90W/6 Ohm
4/1
yes/no
Review
What I paid attention to when picked budget AV receivers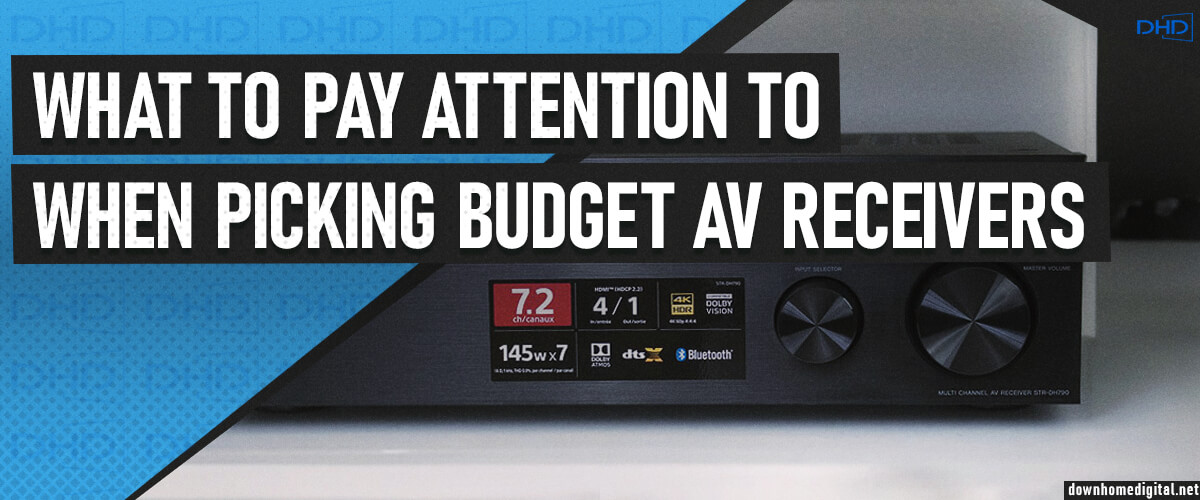 When I got down to selecting devices for my test, I was bewildered by how extensive the niche of entry-level AV receivers is. There are so many options that inexperienced users can easily get lost. To write an in-depth review, I defined the most important criteria. You can see them below.
Receiver power
Things here can get confusing because the info specified on the box rarely coincides with reality. Undoubtedly, you want a powerful receiver that can bring your speakers to the notch, but you must be very attentive. Some time ago, I bumped into an excellent receiver, and the manufacturer promised that this unit outputs 200 watts per channel. That was amazing, and I was about to buy it, but then I had a closer look at the specs. It was written in fine print that such power value was possible only if you connect a single receiver to it and play slow melodies in a quiet environment. That seemed like a total disappointment but became a great experience.
Don't get too carried away with this parameter. I highly recommend being skeptical about declared power outputs. For example, if you see an AV receiver for music that boasts 125W/channel, divide that by two, and you'll get an actual figure in case you plan to connect a pair of speakers and feed fully-frequency signals.
A good rule of thumb is to define the amount of required power by measuring your room and learning the characteristics of your speakers. These are two key factors that determine how powerful a receiver you should invest in. And remember, a medium-powered device that is properly tuned and with the right equipment can sound great.
Amplifier channels
A decent AV receiver offers at least a standard 5.1 surround sound setup. In this case, you get enough channels for connecting center, left-front, right-front, left-surround, and right-surround speakers, and one woofer. Of course, by adding this receiver to your home theater system, you will get a significantly fuller sound.
If you strive to create a fully immersive environment to enjoy every tone shift, you need an AV receiver with Dolby Atmos. In this case, we are talking about a 7.1-channel unit as the minimum. It allows attaching 2 more rear speakers that bring a perceptible upgrade to your system.
Most affordable AV receivers in my review are 5.2-channel receivers that perfectly cope with typical tasks you throw at them. I also selected one 7.2-channel receiver (Sony STR-DH790) for those users who aim at mimicking the feel you get while visiting a full-featured cinema. Of course, this receiver sounds better than other models, but its competitors also have something to offer their future owners.
Things are pretty straightforward when it comes to the number of channels. The more you get, the deeper and more powerful sound you'll hear, thanks to more speakers scattered across the place. However, it should be remembered that there's no sense for you to mindlessly chase a large number of channels of amplification. It will not be reasonable for all tasks. For most ordinary users, 5 or 7 channels will be enough, but if your demands are higher and you have enough money, then of course, you can look for models with 9 channels and more.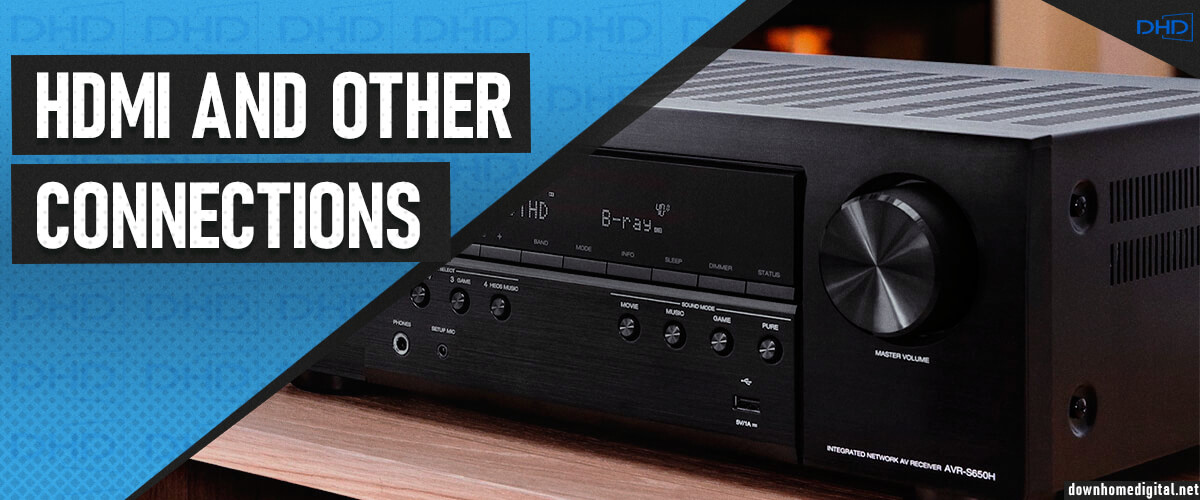 HDMI and other connections
Of course, a qualitative budget AV receiver with HDMI inputs can easily handle audio and video signals that come from different connected devices. While pondering on how many HDMI ports you need, consider what equipment you are going to pair it with. This can be a TV, a CD player, a turntable, a media streamer, a Blu-ray player, PlayStation, and Xbox. However, the list can be longer. Of course, having one spare connector is an excellent future-proofing move. Keep in mind the HDMI standards. The most current HDMI standard today is 2.1. This version is called Ultra High Speed and can transmit a video stream in 8K and 10K resolution. But these are just the basic features; if you dig deeper, you'll find many more interesting innovations.
If you are mainly interested in transmitting an audio signal, make sure your receiver is fitted with the appropriate input. RCA (red & white) and optical ports are the most common options. The latter implies using optical cables that convert an audio signal into pulses of light and deliver it to a receiver. Optical cables stay on par with HDMI inputs in terms of sound quality, and they seriously surpass RCA cables in this regard. Just make sure these cables aren't tangled; otherwise, the light path will be blocked. Optical cables are unmatched if you need to transmit a signal over long distances because they don't suffer from electromagnetic or radio frequency interference.
Another reliable alternative is coaxial cables, but they aren't as popular as RCA and optical counterparts. Anyway, such cables brag about simplicity in use and a long service life thanks to the durable construction. Moreover, they are suitable for transferring medium-capacity data.
RCA cables are easy to recognize. These are red and white wires that transmit an audio signal without degrading its quality. You will likely use RCA cables if you want to connect a record player.
Another handy port is AUX input. Actually, it is a must if you need to connect a smartphone or a table, which is a frequent thing nowadays. AUX inputs are identical to 3.5mm ports on gadgets, and they come to the rescue when a wireless connection isn't an option.
Built-in Wi-Fi, Bluetooth, and streaming services
More and more users want to get a decent budget AV receiver with Bluetooth and Wi-Fi not to deal with cords while streaming content. Using Wi-Fi, you can instantly access streaming services, e.g., Spotify, Deezer, Tidal, and enjoy your favorite music in a high-quality. The finest thing about Wi-Fi-capable receivers is that they are supplied with dedicated apps, which you can install on your smartphone/tablet and perform basic manipulations in no time. Just ensure you have good Wi-Fi coverage across your house.
Another handy wireless technology is Bluetooth. You can use it to initiate music playback from any paired device. The only pitfall here is that Bluetooth works within a limited space, unlike Wi-Fi.
If you are a loyal user of Apple devices, you can take advantage of the company's proprietary technology called AirPlay. The latest version is AirPlay2, and it allows enjoying your favorite music and controls the playback by dint of several touches. Can you ask more?
4K and HDR formats
Chances are high you want a device capable of outputting 4K and HDR resolutions. This is a necessity rather than a whim nowadays, and there are solid options with such capabilities even among low-priced receivers.
The variety of 4K content is rapidly growing, so make sure you'll get the best cheap AV receiver with 4K support to savor such movies. The same applies to HDR technology (High Dynamic Range), as it makes a plain picture so spectacular.
Thanks to HDR, you see images with expanded contrast, rich colors, and accurate details. If your TV supports HDR, but a receiver doesn't – such a combo is useless. There are 3 HDR types – HDR10/10+, DV (Dolby Vision), and HLG. The most popular variant is HDR10, and it is frequently used by media development giants (e.g., Netflix). Dolby Vision also guarantees top-notch picture quality. By getting a receiver with HDR support, you stay on the safe side as you'll be able to watch content that will be released in the nearest future.
How I tested budget home theater receivers
Striving to be as unbiased as possible, I gave all receivers a hard test drive. To evaluate how precisely they define sound details during video streaming, I watched Star Wars: The Force Awakens.
Moreover, I listened to numerous tracks across multiple genres. I also checked different streaming services.
Led Zeppelin – Ramble On – Spotify
Jacky Terrasson – Reach – Tidal
The Weeknd – The Hills – Deezer
Bob Marley & The Wailers – Turn Your Lights Down Low – (CD player)
Radiohead – The National Anthem – (CD player)
Arctic Monkeys – Do I Wanna Know – (CD player)
Mark Nauseef – With Space in Mind (CD player)
Mahler – Symphony No.2 (CD player)
My toolbox consisted of the following equipment:
CD player SACD 30n
Blu-ray player Sony UBP-X700
Speaker wire – AudioQuest Type-9
Speakers for movie – Klipsch RP-8060FA
Stereo speakers:

Klipsch RP-8060FA
KEF Q350
DALI OBERON 5
Best Budget AV Receiver Reviews
Sony STR-DH790 – best overall receiver with Dolby Atmos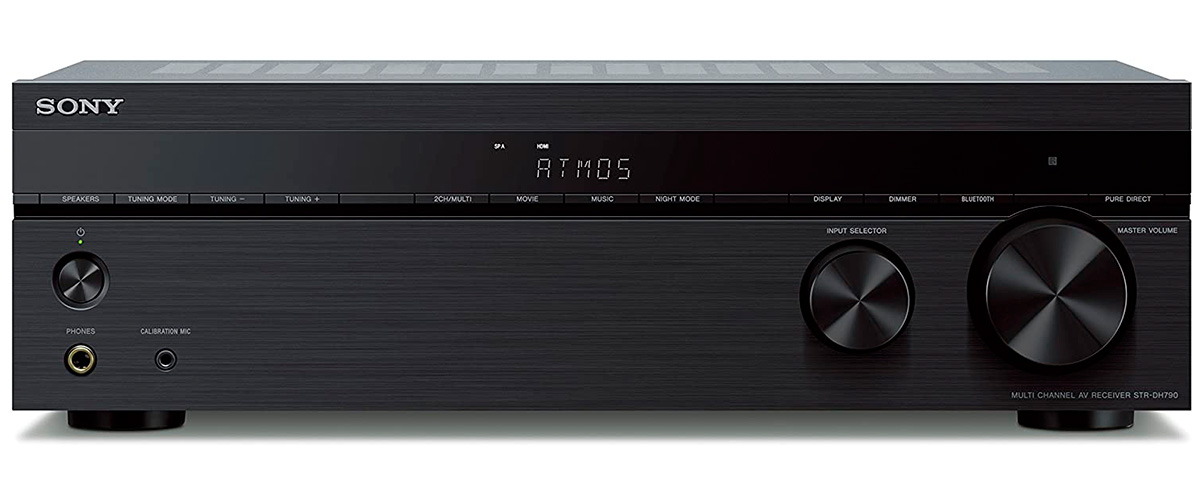 This receiver boasts not only plenty of features but also a very reasonable price. It is the only 7-channel receiver in my test, but I was doubtful about how well it is optimized to satisfy both movie lovers and audiophiles. Let's deal with it more thoroughly.
The first praise-worthy feature is bi-amp, which means it is possible to get surround sound from a pair of rear/height speakers in Dolby Atmos and DTS: X format. I tested this feature, and everything worked just fine.
Keep in mind that it requires speakers with a nominal impedance of at least 6 ohms, considering the power output of 90W/6 Ohms. Anything lower fails to work properly. I've also noted that all channels except the front left and right use spring-loaded terminals rather than screw terminals, which drastically reduces the range of wires you can use for a connection. I was astonished by such a decision, but I believe it has a money-saving basis in it.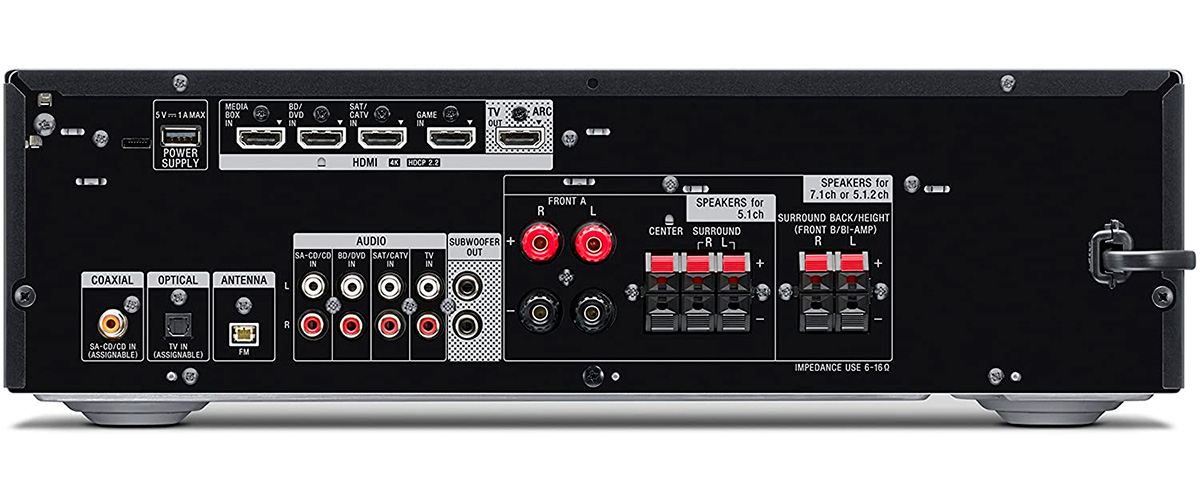 Using any of 4 HDMI inputs, you can enjoy signal quality up to 4K at 60 Hz. Unfortunately, there are no analog video outputs, but there are four analog audio inputs, coaxial & optical digital audio outs.
The lack of Wi-Fi was a disappointing surprise for me. However, there is Bluetooth, which saves the situation a bit.
When I first switched the receiver on, I saw a list of modes – "Watch", "Listen", "Easy Setup", "Sound Effect", and "Speaker Setting". Menus are very intuitive, so getting the device ready for work is super easy. I activated auto-calibration. This is a remarkably handy feature, which determines the size of speakers and the distance to them from the listening position, sets their level, and adjusts an equalizer. Amazing!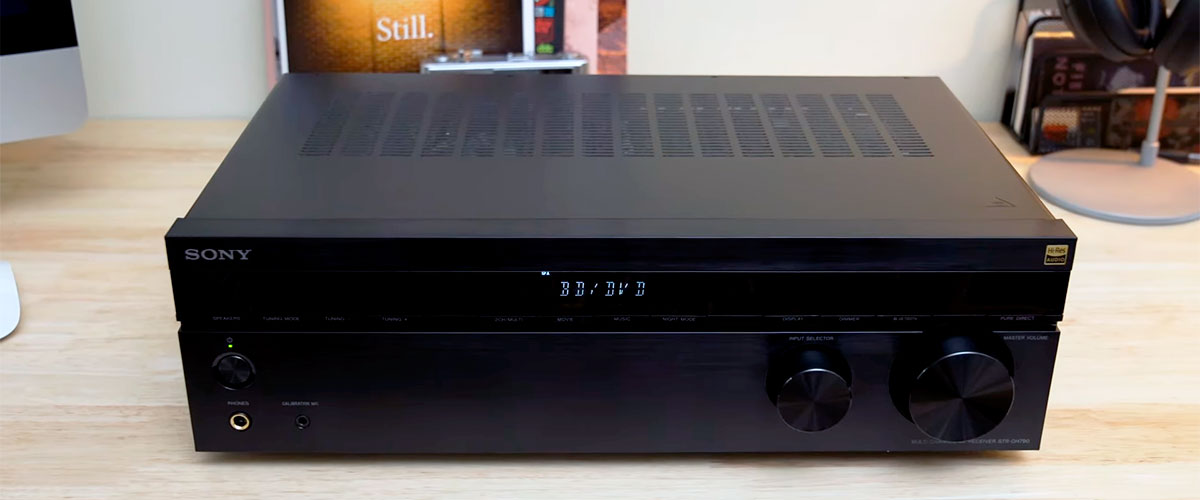 As for audio quality, it was mind-boggling which surprised me a lot! I fully appreciated the beauty of the Atmos sounding and the realism of all sound effects. This way, the unit is slightly ahead of its direct rival – Denon AVR-S660H. While listening to music, I switched between all available modes, and the results were always incredible. I have always been impressed with Sony products, but this time I was really pleasantly surprised by the sound of a relatively inexpensive receiver.
Now I can objectively summarize that this is the best budget AV receiver overall. Excellent sound quality, Dolby Atmos, easy setup, and convenient controls allow Sony STR-DH790 to be not only the leader on my list but also to compete with more expensive models successfully.
Key specs
Channels: 7.2.
Power output: 90W/6 Ohm.
HDMI inputs/outputs: 4/1.
Video functions: 4K/60Hz pass-through.
Bluetooth/Wi-Fi: yes/no.
Streaming services: no.
Suppots HDMI ARC, HDMI eARC, HDCP2.2, HDR10, Dolby Vision.
Surround sound: DTS:X, Dolby Atmos.
Pros
4K pass-through is ideal.
Amazing speaker calibration & handy eARC function.
Decodes the newest audio formats such as Atmos.
Solid sound levels and remarkable tone levels.
Cons
Supports neither Bluetooth headphones nor Bluetooth speakers.
No Wi-Fi connectivity.
Yamaha RX-V385 – best under $300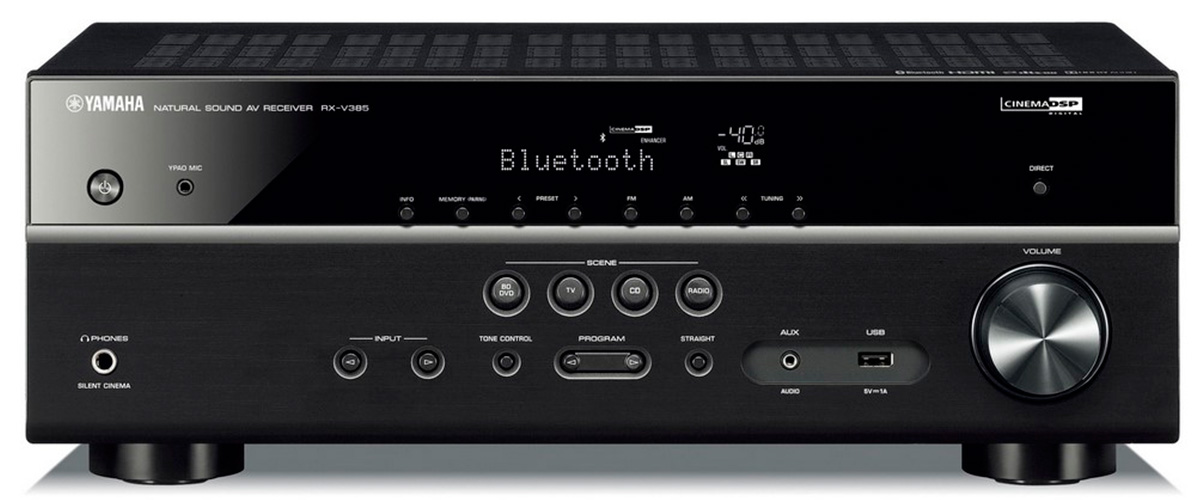 Yamaha occupies one of the first places in the receiver niche, and most of its models are quite popular among both ordinary users and audiophiles. In the budget segment, Yamaha also has several representatives, and RX-V385 is one of them.
The control buttons' design, size, and appearance have not changed from previous generations of Yamaha RX-series receivers. This should please the supporters of this brand because you won't have to get used to the new model for a long time. Yamaha RX-V385 belongs to the entry level; that's why the lower front panel is made of plastic, whereas in higher priced models, it is made of metal. The case itself is made of metal. Ventilation holes for heat dissipation are on the top and the left side. This is something to keep in mind when installing the receiver. This receiver has fully screw terminals to connect the speakers despite the entry-level.
5.1 configuration receiver with 100 watts per channel at 1 kHz – 1 channel 8 ohms, 0.9% THD. It is possible to put speakers with an impedance of 2 ohms on the front channels, but the other channels support a load of 6 ohms or higher. You can also double the front LR speakers in the 2.1 or 3.1 settings.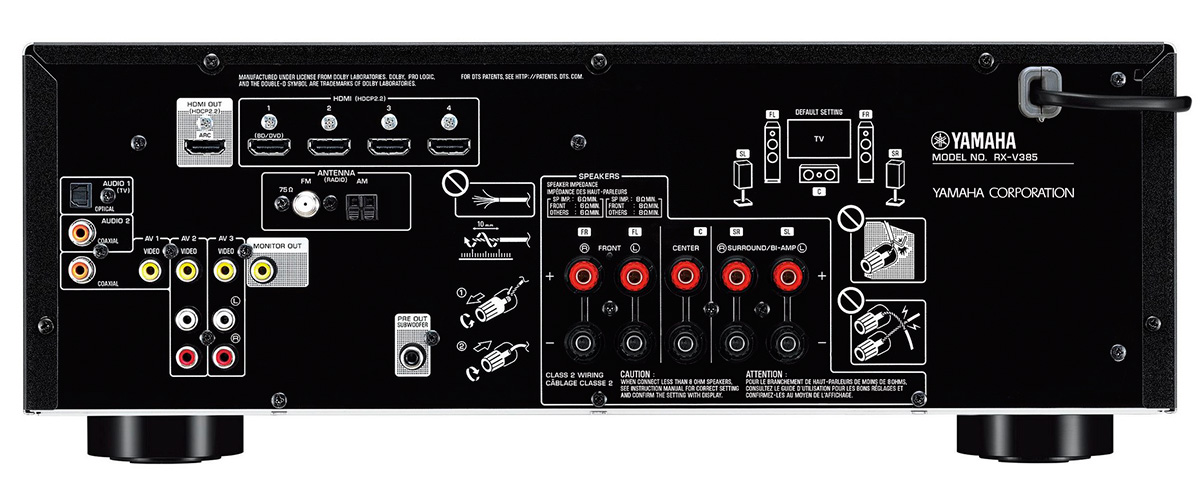 This model has HDMI version 2.1 – 4 inputs and one output. This version supports 4K/60p 4:4:4 video and dynamic range – HDR10, Dolby Vision and HLG, colors – BT.2020. The RX-V385 works with Dolby True HD and DTS-HD Master Audio with three BAC-384 kHz/32-bit DACs. It also decodes compressed formats.
Via USB, you can read MP3/WMA/MPEG-4 AAC/WAV, but only up to a resolution of 16 bits/48 kHz. FLAC is not supported in any form. But from my experience, I want to say that listening to music through the USB port of the receiver is not a very interesting thing to do. After all, the RX series is designed more for movies, music concerts, and video clips than for listening to high-quality audio file formats.
The only wireless connection here is Bluetooth. Built-in Wi-Fi is already in a different price range.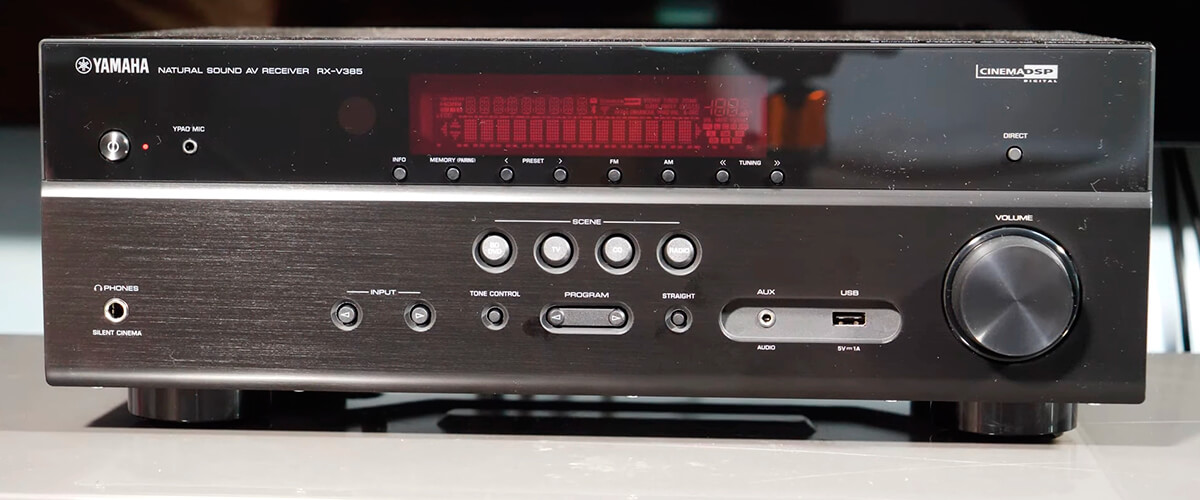 The remote is very handy, and I like it better than previous generations. It easily controls my media player via HDMI CEC. Important buttons are large, and the rest are well-grouped. The four colored buttons can be assigned different purposes via the menu.
The sound is very large and natural when watching movies and in stereo mode. In addition, a wide stereo panorama is provided by the improved sound return channel.
To my mind, this is the best AV receiver under $300 if you don't mind the absence of Dolby Atmos support. If that is a serious issue for you, opt for Sony STR-DH790. Anyway, the RX-V385 is a trustworthy receiver optimized to deliver high-quality sound during video sessions and audio playback.
Key specs
Channels: 5.1.
Power output: 70W/8 Ohm.
HDMI inputs/outputs: 4/1.
Video functions: 4K/60Hz pass-through, upscales HD video signals to 4K Ultra HD.
Bluetooth/Wi-Fi: yes/no.
Streaming services: no.
Suppots HDMI ARC, HDMI eARC, HDMI CEC, HDCP2.3, HDR10, Dolby Vision.
Surround sound: DTS HD Master, Dolby TrueHD, Dolby Digital Plus.
Pros
A well-balanced device for its money.
ECO mode.
Dolby and DTS surround sound decoding.
HD Audio with CINEMA DSP 3D technology.
YPAO sound optimization system.
Room optimization microphone, which calibrates the sound for any room.
Cons
Limited network capabilities.
Lacks Zone 2 capability.
Runs very warm in a very short period of time.
Denon AVR-S570BT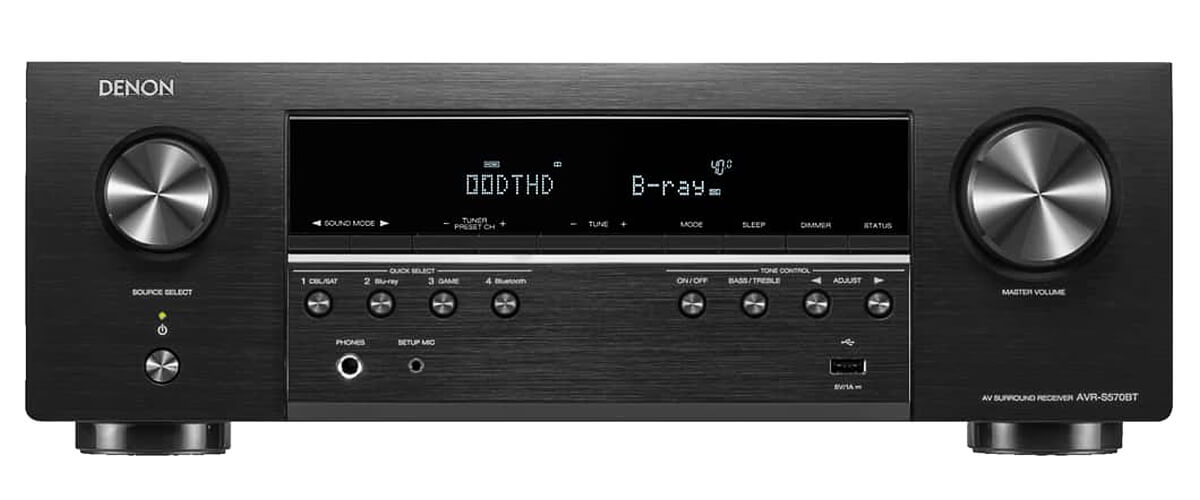 This is another great 5.2-channel AV receiver with many interesting features. It supports Dolby Vision, HDR10, and HLG technologies and allows for 4K upscaling to turn your room into a cinema-like environment. You can take full advantage of 4K/60Hz HDMI inputs with HDCP 2.2 support. Besides, there is a USB port for connecting your smart devices and listening to music without sound drops.
If you like wireless connection methods, the receiver offers Bluetooth features. I tested both wired and wireless connections and have nothing to complain about.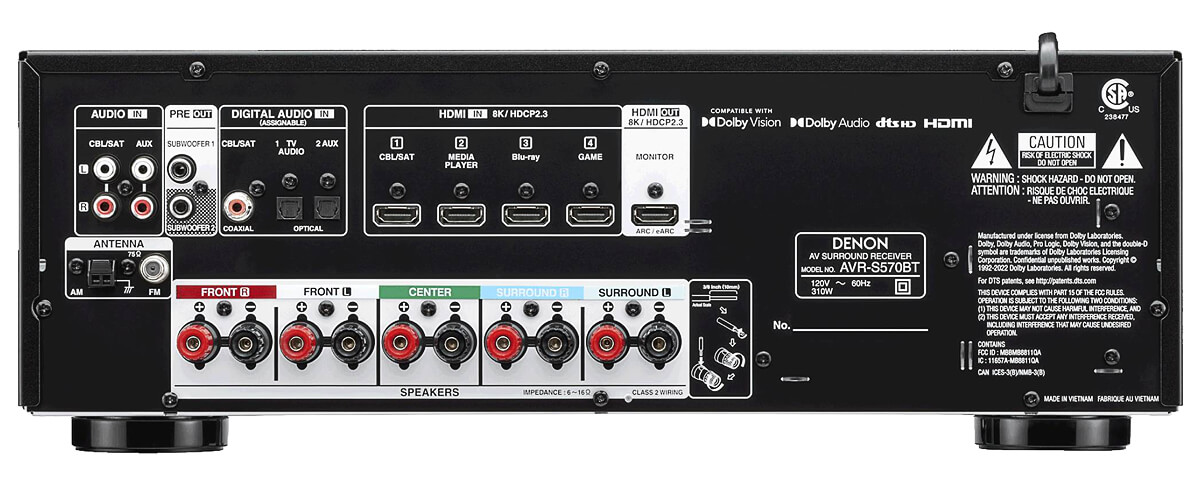 Unlike more advanced receivers, this unit is extremely easy to set up, as there are no confusing settings. I activated the on-screen setup assistant and just followed the guidelines to make the unit work as I needed. What I appreciate is the dedicated equalizer that adjusts the sound based on the parameters of the current environment. So, if you plan to take this receiver from one place to another, it will deliver beautiful sound in every surrounding.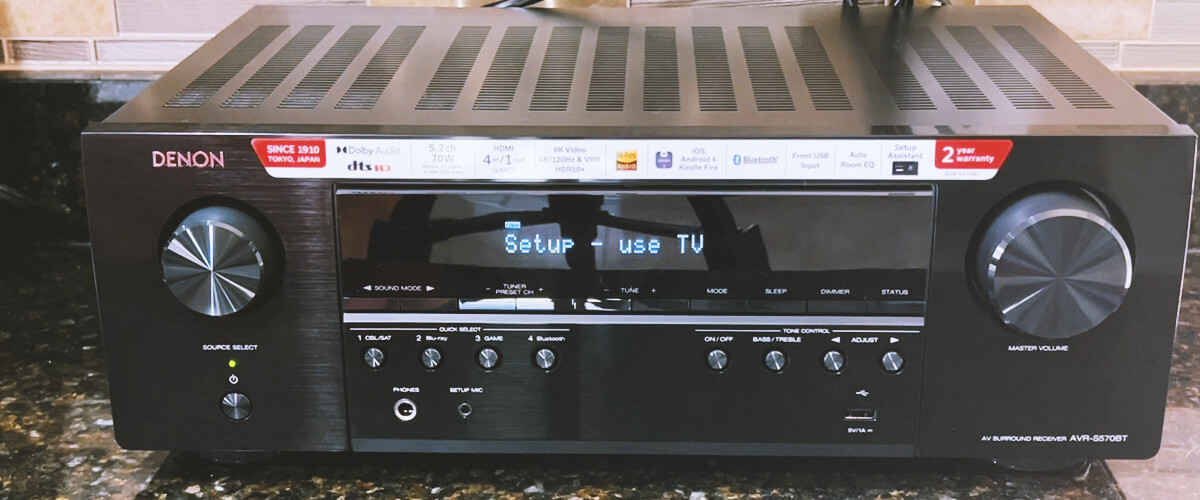 Denon AVR-S570BT outputs 70 watts when paired with 8 Ohms speakers and 90 watts in a 6-Ohm speaker setup. While listening to music, I liked that sound was truly powerful and encompassing regardless of where I stood.
Hardly can you find a better pick for this money. Everything is moderate in this receiver, but that is enough for average users. The AVR-S570BT is fitted with all must-have features without draining your pocket. I believe this model can become a great addition to any home theater, so check it out.
Key specs
Channels: 5.2.
Power output: 70W/8 Ohm, 90W/6 Ohm.
HDMI inputs/outputs: 4/1.
Video functions: 4K/60Hz pass-through.
Bluetooth/Wi-Fi: yes/no.
Streaming services: no.
Suppots HDMI ARC, HDMI CEC, HDCP2.2, HDR10, Dolby Vision.
Surround sound: DTS HD Master, Dolby TrueHD.
Pros
Setup is extremely easy.
Sound quality is great at low volume and even when cranking the volume up a notch or two.
Clear and powerful sound in all corners of a room.
It shines at switching the UHP signals.
Cons
Remote volume controls leave much to be desired.
No Wi-Fi.
You can't rename assigned inputs.
Sony STR-DH590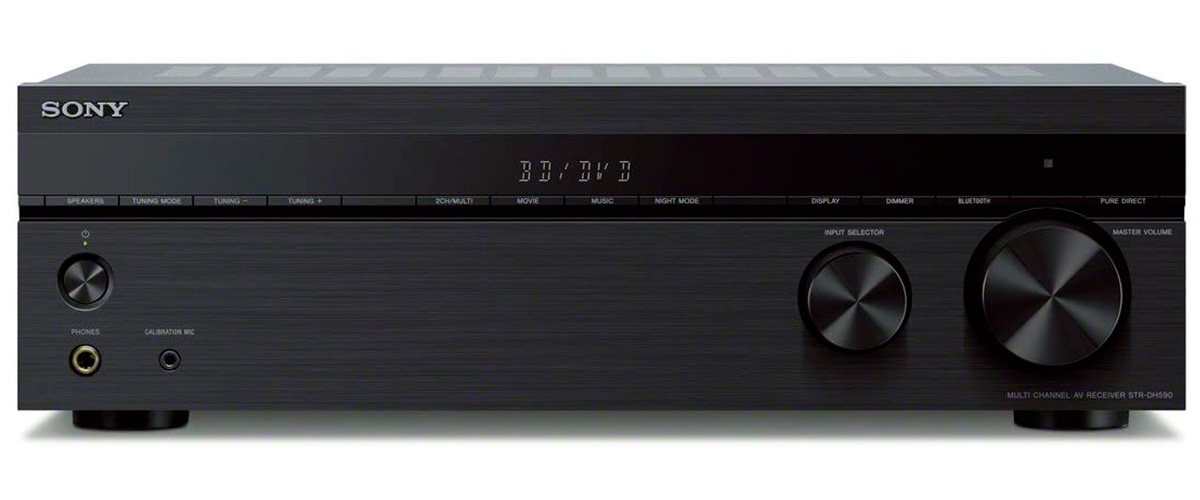 The manufacturer claims that by adding Sony STR-DH590 to your home theater system, you will be able to up your media consumption experience and enjoy great sound even in the most distant corners. Is that the truth?
In general, this 5.2-channel AV receiver offers 4K HDR pass-through, Custom Surround Sound, and Dolby Vision, so the picture quality is off the charts. Thanks to Bluetooth and various inputs, I managed to build a robust system using a CD player/Blu-ray player and different speakers. Both wired and wireless connections work flawlessly.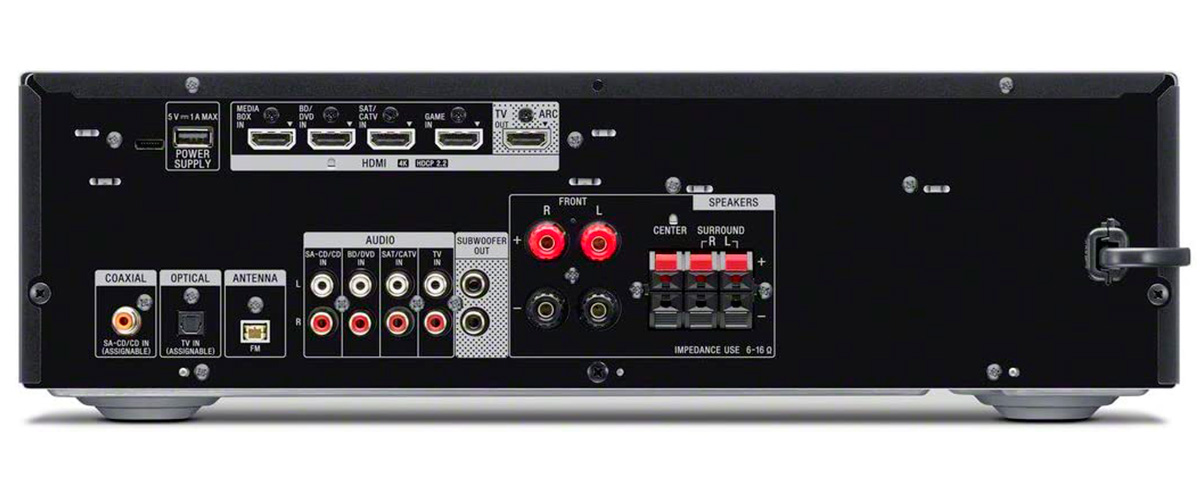 While watching the movie, I was amazed by High Dynamic Range (HDR). Images were sharper, more vibrant, with detailed dark and light areas. This model supports the latest HDR standards such as HDR 10, HLG (Hybrid Log-Gamma), and Dolby Vision, so it much resembles its older brother (Sony STR-DH790) in this regard.
Thanks to the S-Force PRO Front Surround technology, the receiver creates virtual surround sound with just two speakers. My studio isn't large, but the function worked flawlessly, even in such an environment. Another perk aimed at enhancing sound is Digital Cinematic Auto-Calibration Function (DCAC), which optimizes the sound based on your location in relation to the speakers. That's gorgeous!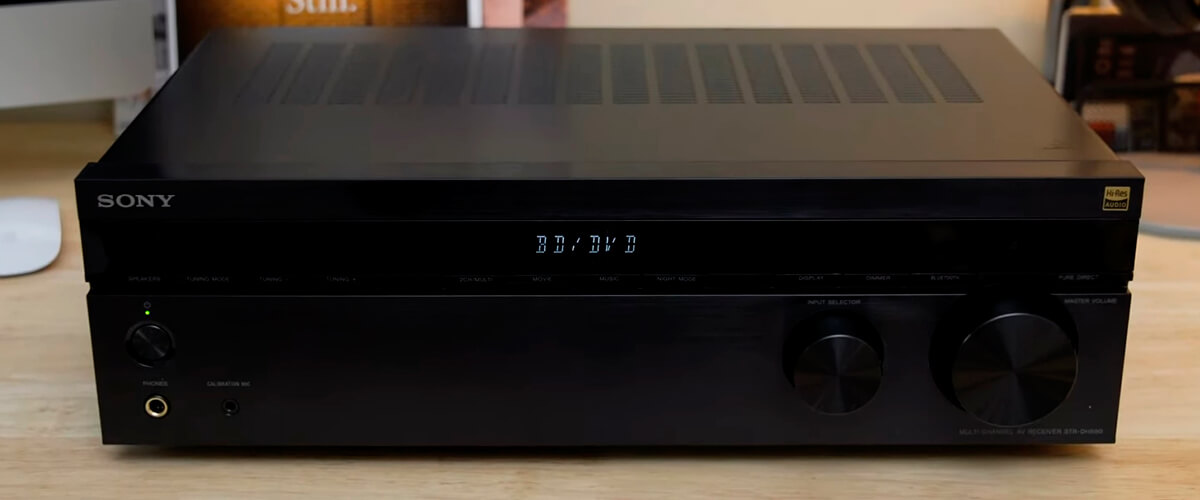 The power output with 6 Ohm speakers is 90 watts per channel. That is enough for creating a medium-sized home-theater system.
Considering the range of features and the price, I can confidently call Sony STR-DH590 an investment-worthy 4K AV receiver. It has a sleek design and different helpful functions that help minimize distortion and deliver clear sound. If you want to give your home theater a second life, this receiver is an excellent variant for the task.
Key specs
Channels: 5.2.
Power output: 90W/6 Ohm.
HDMI inputs/outputs: 4/1.
Video functions: 4K/60Hz pass-through.
Bluetooth/Wi-Fi: yes/no.
Streaming services: no.
Suppots HDCP2.2, HDR10, Dolby Vision.
Surround sound: DTS HD Master, Dolby Digital.
Pros
Makes speakers sparkle with clarity and crispness.
Clear robust highs and potent bass.
Neat back panel layout makes for a very easy setup.
Lots of sound configuration.
Cons
Slightly confusing controls & menus.
Poor ventilation system.
Has no automatic protection feature and simply shuts off at high volume levels.
Denon AVR-S660H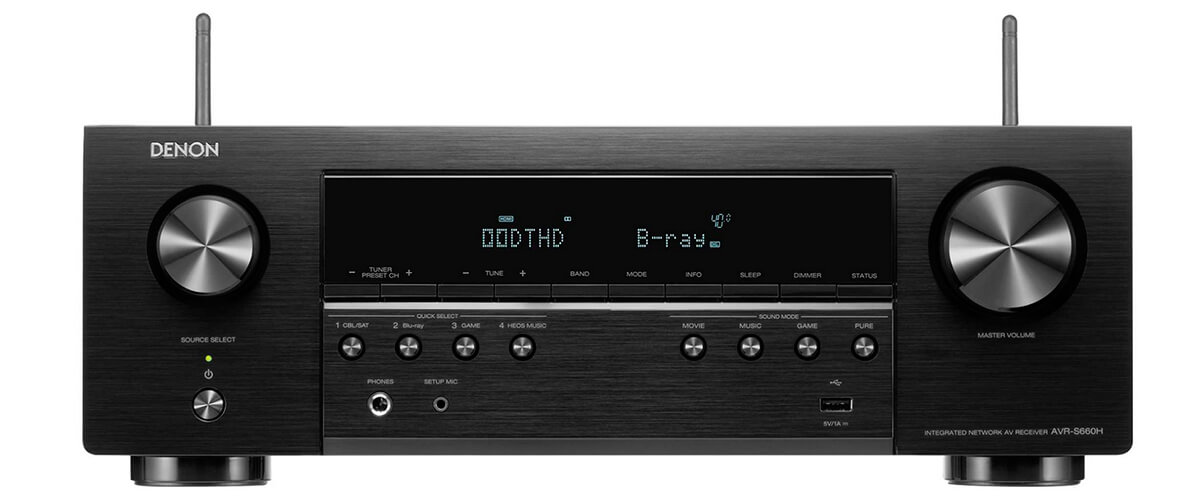 Denon AVR-S660H is the "youngest" model of the "S" lineup. It is packed with the finest features of the "X" series, including extensive networking capabilities, Bluetooth and Wi-Fi interfaces, Apple AirPlay 2, HEOS multi room, and eARC. In addition to in-depth control via a web interface or a mobile application, it brags about voice control capabilities (Amazon Alexa, Apple Siri, Google Assistant). When I saw this receiver and looked through its specs, I couldn't but give it a thorough test.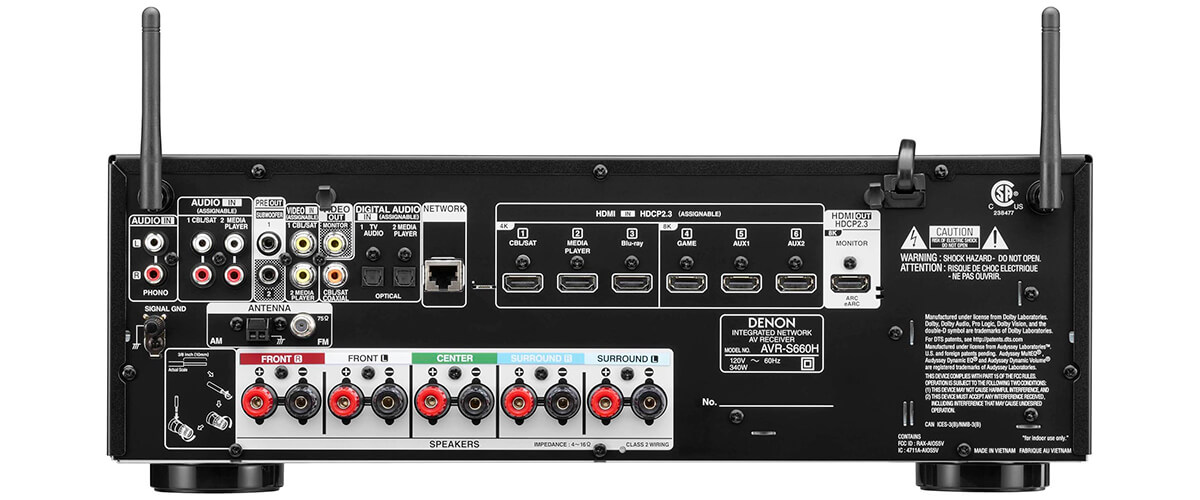 The video technology of this cutie is terrific. The onboard HDMI switcher supports current video formats (4K/3D/HDR/HLG/Dolby Vision) and has CEC for Smart-TV. Gamers will adore this new product for its responsiveness, so it definitely offers more than other receivers in its price category.
In terms of sound and support for surround sound technologies, this model is at an acceptable level. Yes, Denon AVR-S660H supports high-resolution audio, as well as outdated 3D sound formats such as Dolby TrueHD and DTS HD Master. However, many budget models today already support more modern formats, such as Dolby Atmos and DTS:X. Therefore, I believe that in this aspect, the S660H is already losing out to its more modern counterparts. On the other hand, the built-in DSP provides quite accurate equalizer adjustment and filters for adjusting a separate speaker. Well, another positive point is the presence of Audyssey MultiEQ. This auto-calibration system has proven itself over a long period of time and will really help (especially for beginners) with sound adjustment.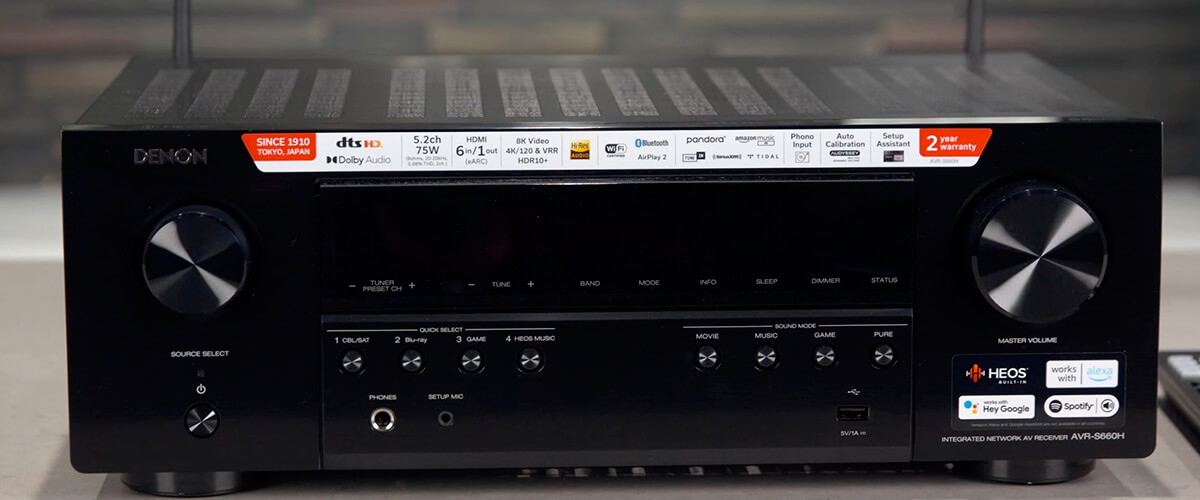 The analog interface is represented by two RCA line inputs and a separate connector for hooking up a turntable. Using available outputs, you can connect two subwoofers and five amplifiers. Each channel (there are 5 in total) can deliver power up to 100 watts/6 Ohm, and up to 75 watts in a stereo mode. I'm sure such value can please the most demandable users.
Denon AVR-S660H is a real masterpiece considering the price-quality ratio. It resembles Yamaha RX-V385 in terms of sounding capabilities but offers more features for customizable audio playback. I believe it is the best AV receiver under $400 designed to satisfy a broad range of buyers. If you want to get a powerful bass thanks to a 2-sub setup and smooth sound coverage, this is a superb option to try.
Key specs
Channels: 5.2.
Power output: 75W/8 Ohm, 100W/6 Ohm.
HDMI inputs/outputs: 6/1.
Video functions: 4K/60Hz, 4K/120Hz, 8K/60Hz pass-through, upscales HD video signals to 8K Ultra HD.
Bluetooth/Wi-Fi: yes/yes.
Streaming services: AirPlay 2, Pandora, Spotify, Napster, SiriusXM, TIDAL, Deezer, Qobuz, Amazon Music.
Suppots: HDMI ARC, HDMI eARC, HDMI CEC, HDCP2.3, HDR10+, Dolby Vision.
Surround sound: DTS HD Master, Dolby TrueHD, Dolby ProLogic II.
Pros
Has plenty of power for large listening spaces.
Streams numerous music services and Internet radio with ease.
Phono input for hooking up a turntable.
Separate controls for bass, treble, and balance.
Cons
Doesn't support a Zone 2.
Plastic body looks very fragile.
Gets hots under minimum load and makes strange clicks at startup.
Onkyo TX-SR393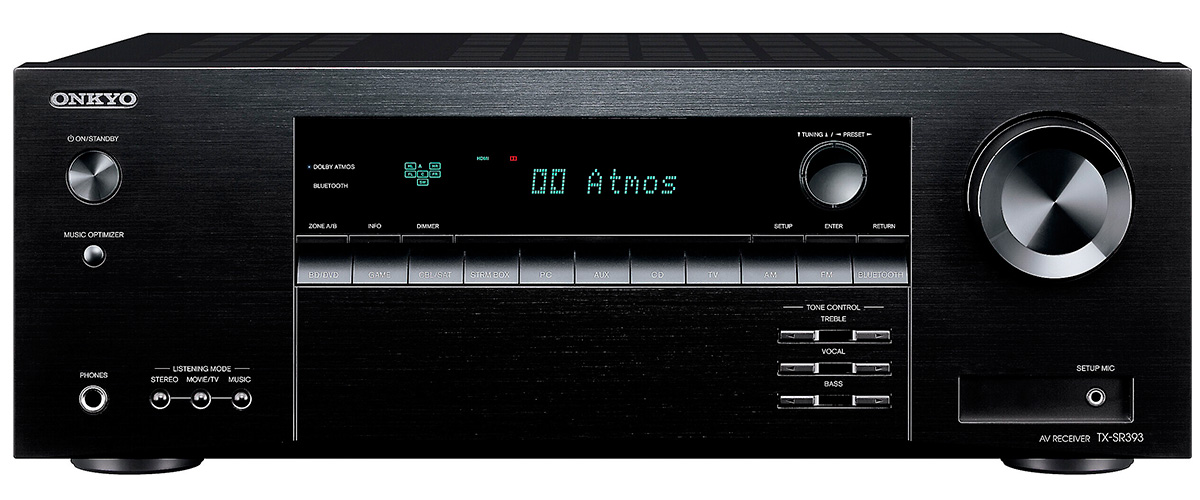 Onkyo TX-SR393 is the successor to the SR-373, so I was curious how the developer has improved the newer version. The first thing that intrigued me is that this model is the most affordable product in its lineup. I noticed that it has an updated design, and now the device looks more attractive. Another alteration is the set of connectors. Now there is no USB port on the front, as the manufacturer moved it to the rear panel. I don't think this is a very serious redesign step, but why not.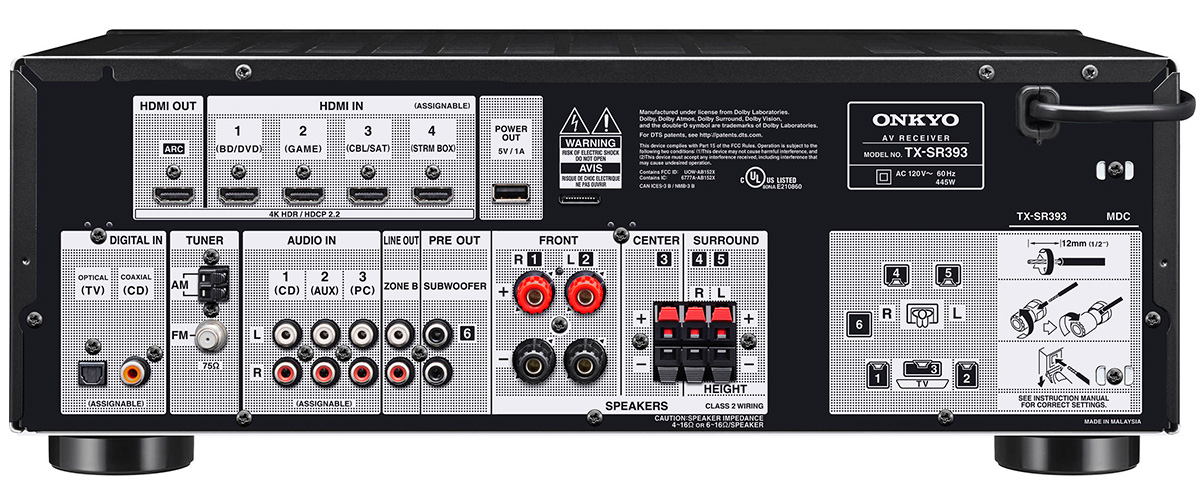 The most compelling features of this 5-channel receiver are Dolby Atmos Height Virtualiser and DTS Virtual: X. These technologies create a 3D sound field without using real height speakers. Sounds fantastic, and it actually is. I checked how well these technologies worked and was pleased with the result.
The TX-SR393 is equipped with four HDMI inputs and one output, capable of transmitting 4K UHD signals, including Dolby Vision, HDR10, and HLG. There are no component video inputs and outputs. The device also has three analog and two digital inputs.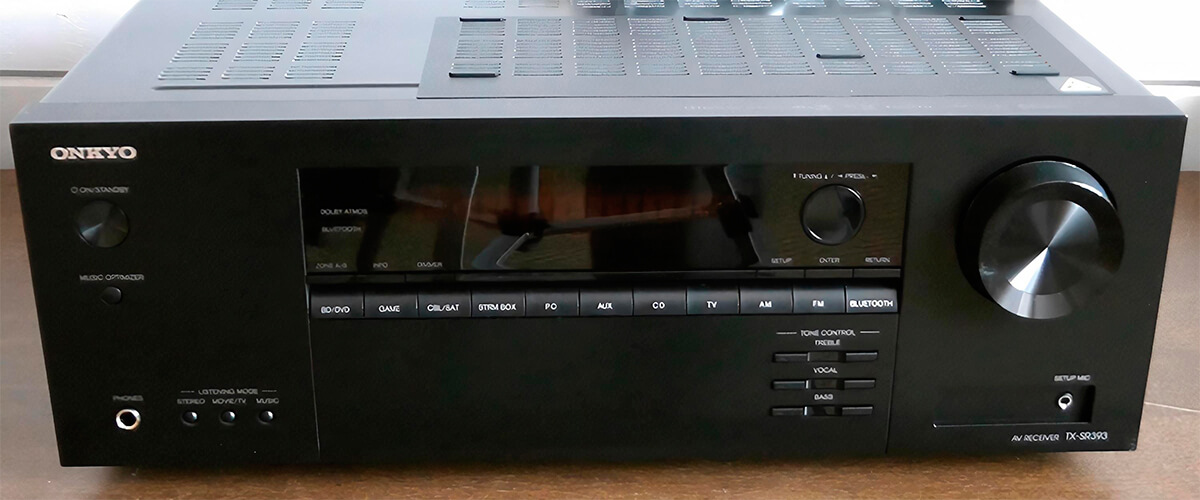 The model is fitted with AccuEQ Room Calibration, which is a rarity among receivers in this price category. Another pleasant surprise is decoders for HD surround sound formats and high-quality modern DACs from Burr-Brown. The power output is 80W/8Ohm.
Summing up, I can say that Onkyo TX-SR393 is an entry-level AV receiver that has a bunch of cool features. It works with all the latest audio and video technologies and offers decent audio quality at a reasonable cost. It is ideal for people who want to have a full-featured home theater system without spending thousands of dollars.
Key specs
Channels: 5.2.
Power output: 80W/8 Ohm.
HDMI inputs/outputs: 4/1
Video functions: 4K/60Hz pass-through, upscales HD video signals to 4K Ultra HD.
Bluetooth/Wi-Fi: yes/no.
Streaming services: no.
Suppots HDMI ARC, HDMI eARC, HDMI CEC, HDCP2.3, HDR10, HDR10+, Dolby Vision.
Surround sound: DTS:X, Dolby Atmos.
Pros
Nice sleek design.
Sounds very full and clear.
Intuitive setup thanks to dedicated menus.
Flawless Bluetooth connectivity.
Cons
No Wi-Fi & Internet tuner.
No way to connect Zone B and Zone A to different sources.
Lacks input for a turntable.
Buying guide
Difference between cheap and expensive AV receivers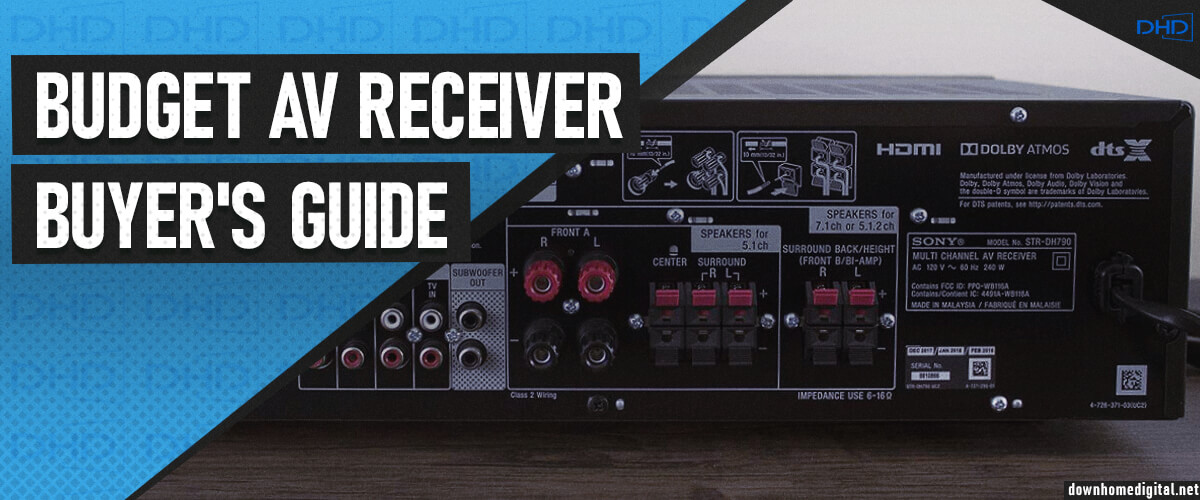 Trying to find the best budget home theater receiver, you probably want to know what you sacrifice, keeping more advanced options aside. That's a really serious question, and there is much to think about.
Primarily, you need to understand that low-cost receivers are made of less durable materials if compared to their top-tier counterparts. Though this is a nice move to reduce the price of a unit, does it have any negative consequences? Let's find out.
The first thing that catches an eye while comparing budgetary and expensive receivers is their design. Starting with a chassis that is more durable in high-priced devices and ending with a fancy styling – the choice is apparent here. Besides, high-end receivers also have a better ventilation system and temperature controls. That is truly important if you plan to use a receiver for many hours in a row.
Another aspect to keep in mind is the number and variety of wired & wireless inputs. No wonder expensive AVRs offer many of these, allowing you to connect all the needed equipment for a pleasurable audio experience. As for the wireless connection, both categories of receivers can be supplied with voice control assistants.
As for an output section, advanced models have separate channel outs for connecting a dedicated power amp, which results in a clearer and more powerful sound. Moreover, they brag about more speaker channel support, which means you will hear fully immersive audio.
I also want to focus on the DSP section, which is responsible for decoding surround sound formats. Though this element is available in both types of receivers, those with a higher price tag are usually capable of decoding more formats.
The quality of the sound you get in your room depends a lot on the calibration mechanism of a receiver. Hi-Fi models are fitted with sophisticated calibration software (Dirac or Audyssey), while some budget-friendly devices may come with less efficient analogs. Besides, manufacturers embed more sound adjustment options in expensive receivers, which entails additional production expenses that are further reflected in the price.
All in all, I won't make a mistake saying that expensive AV receivers sound better than low-cost analogs. However, it doesn't mean that budgetary models are absolutely useless. Though they can't produce as immersive and crisp sound as high-end units, they can easily cater to the needs of average users, who don't need those powerful basses and encompassing audio.
Do I need a second subwoofer in my home theater system?
There are many receivers designed for 5.1 and 7.1 surround sound setup, but more and more users adapt these models to their needs by complementing them with a second subwoofer. What is the main goal behind such a decision?
Since sound waves don't move smoothly in a room but bounce off objects and surfaces, you can't expect to get the same-quality bass across space. This seems frustrating for audiophiles, so they try to even out the "distribution of basses" so that they are equal in every corner.
If you feel like relocating your single woofer to find an ideal spot, you can try to do that, but it is impossible to define it. A more effective way of filling the room with clear bass without peaks and dips is to use the second subwoofer.
When you spend money on a high-quality 5.2 or 7.2 AV receiver, you get a better sound quality with loud basses across the space whether you watch movies, listen to a new album of your favorite band, or play action-packed games.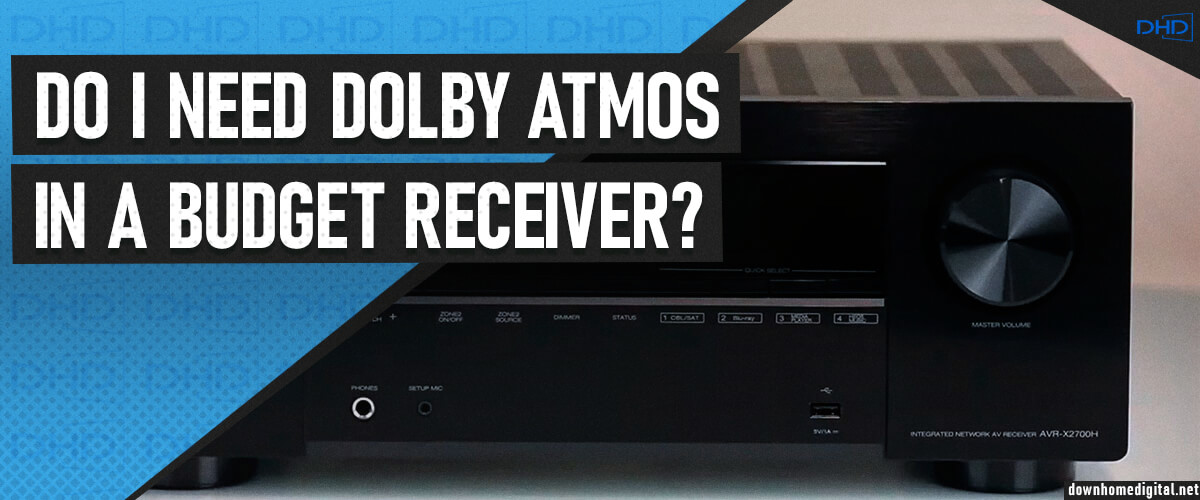 Do I need Dolby Atmos in a budget receiver?
Dolby Atmos is a surround-sound technology that appeared in the market of audio equipment in 2012. It was primarily used in cinemas but later was adjusted to satisfy home-theater owners. It aims at boosting the capabilities of surround-sound systems by locating surround channels overhead. In other words, in addition to the standard speaker arrangement (along walls), the Dolby Atmos system implies that there are separate speakers that are built into the ceiling, so viewers will be inside a dome of sound.
As for large Dolby Atmos cinemas, the total number of speakers that guarantee immersive sound reaches 400 items. Of course, this is too many for a standard home, but manufacturers offer more space-saving variants for improved audio quality in smaller environments:
You can upgrade the setup with 2-4 ceiling speakers.
It is possible to install add-on speaker modules.
Buy genuine Atmos speakers.
Once you add the Dolby Atmos component to your setup, you will get a precise calibration, so sounds and voices are placed at exact points in the soundfield instead of being scattered across channels. Every speaker in such a system has its peculiar discrete feed, which means you get new front-, surround-, and ceiling-mounted channels.
Some people think that attaching standard speakers to the ceiling will create the same effect as you get with Dolby Atmos technology. But the main thing here is not the location of speakers, but how sound is encoded. With Dolby Atmos, you get the most lifelike sound experience to date.
FAQ
Do AV receivers improve sound quality?
Yes, there are pretty decent models among the budget receivers that are not only worth their money but can successfully compete with more expensive analogs. If you have chosen a certain receiver from the budget segment that meets all your requirements, has positive feedback from owners, and has a pleasant price, why overpay?
Are budget receivers worth the money?
Yes, there are pretty decent models among the budget receivers that are not only worth their money but can successfully compete with more expensive analogs.
Do I need an amplifier if I have a receiver?
An amplifier is unnecessary if you have a receiver. Most modern AVRs have built-in amplifiers, as powering the speakers is one of the receiver's tasks. Sometimes, situations exist when more demanding speakers need more power than what the receiver's standard amplifier provides. This is exactly when an additional external power amplifier can be added to make up the difference. In this case, this solution can positively affect the overall sound quality.
What brand of receivers is better to choose?
There are quite a few brands of receivers on the market today. These include Sony, Denon, Yamaha, Marantz, etc. But, of course, it all depends on the specific model, its capabilities, and your budget. And every brand has great models or unsuccessful options.
Explore other our AV receivers ratings