Top-class receivers are the pinnacle of video and audio technology. Yes, Denon and Marantz can be considered brands engaged in a serious struggle for leadership in this price segment of AV receivers. These companies have product lines that meet the highest modern requirements and satisfy the tastes of even the most demanding audiophiles. And when the question of choosing the best High-End receiver arises, you can't do it without professional help and advice.
In this review, I have gathered the best high-end AVRs, tested them on many parameters (overall performance, audio performance, video functions, etc.), and will give my expert evaluation of each of them. This will help you better understand this interesting area and, most importantly, choose the optimal device for your needs.
Best high-end AV receiver comparison table
Name
Channels
Power output
HDMI in/out
Bluetooth/Wi-Fi
Review
Marantz SR8015

best 11.2 receiver

11.2
140W/8 Ohm, 175W/6 Ohm
8/3
yes/yes
Review
Denon AVR-X8500H

best 13.2 receiver

13.2
150W/8 Ohm, 190W/6 Ohm
8/3
yes/yes
Review
Yamaha CX-A5200
11.2
N/A
7/3
yes/yes
Review
How I tested high-end home theater receivers
Since high-end home theater receivers are pretty complex devices, testing should cover all possible aspects. And to test the surrounding sound, I chose the Inception movie.I'm sure you immediately imagined the whole gamut of sound and visual effects that are in this masterpiece.
For the test of musical capabilities, a whole list of diverse music was selected that helped me evaluate all the nuances of sound.
Johnny Cash – Hurt – Spotify
Radiohead – The National Anthem (CD player)
Led Zeppelin – Ramble On (CD player)
Roy Orbison — Ride Away (CD player)
Mahler – Symphony No.2 (CD player)
Jacky Terrasson – Reach (CD player)
Mark Nauseef – With Space in Mind (CD player)
Here is a list of optional equipment that my multimedia system consisted of:
CD player SACD 30n
Blu-ray player Sony UBP-X700
Speaker wire – AudioQuest Type-9
Speakers for movie – Klipsch RP-8060FA
Stereo speakers:

Klipsch RP-8060FA
KEF Q350
DALI OBERON 5
Best 11.2 Receiver Reviews
Marantz SR8015 – best 11-channel receiver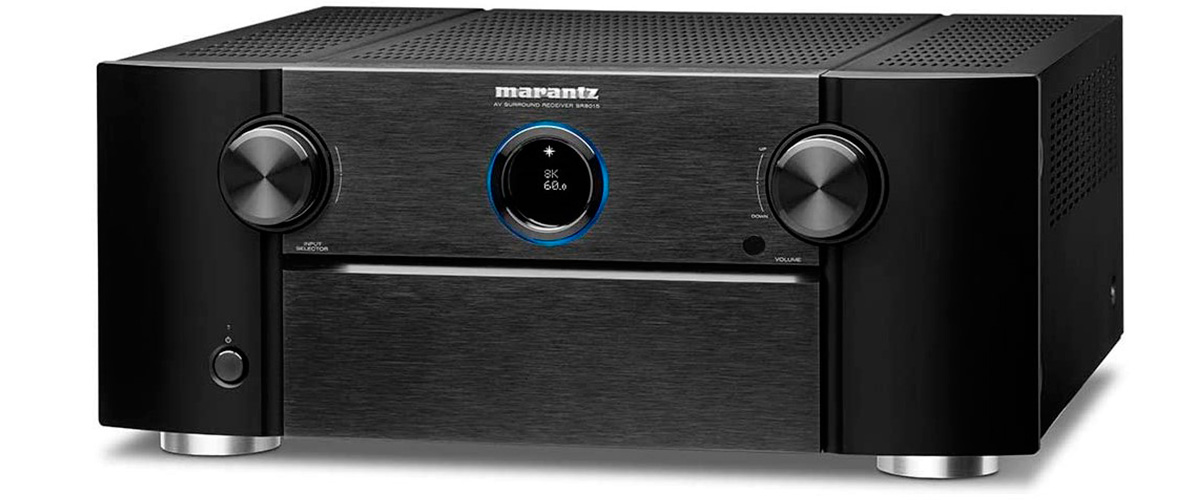 Let's begin the best High-End receivers review with the Marantz SR8015. This model, like the entire top series for this brand, is designed specifically to create a truly superior-sounding home multimedia system. Let's first look at how powerful this "beast" is.
The SR8015 has 11 amplification channels, each delivering up to 140 watts at 8 ohms over the entire audible frequency range; the THD at two-channel loads is minimal at 0.05%. Gain units can be set to work optimally with 8, 6, or 4-ohm loads on all channels. It is possible that some speakers will not work correctly with this receiver somewhere, but in my tests, it easily coped with various equipment. Moreover, the unit has 13.2-channel processing in surround decoder mode. Such significant power is similar to the direct competitor – Denon AVR-X6700H but with a more powerful amplifier.
Marantz SR8015 operates with a fascinating tract structure based on HDAM modules and AKM AK4458, the 32-bit DAC. That is similar to Yamaha CX-A5200, where I noticed the High-End home theater processor – ESS SABER PRO Premier. However, the SR8015 was improved in sound by the HDAM modules.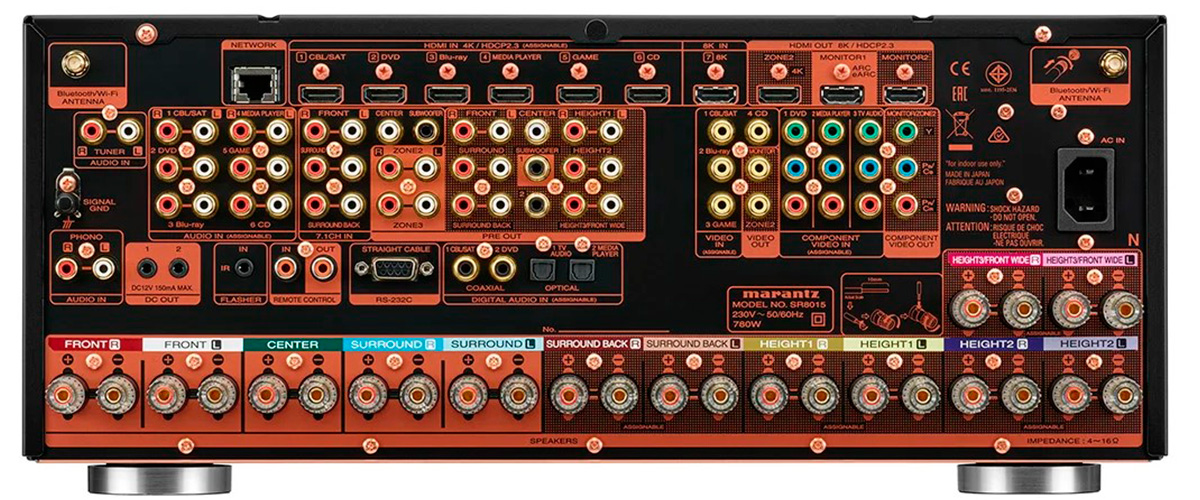 As for the surround sound, everything is on the proper level. The receiver supports Dolby Atmos, DTS: X Pro, Auro 3D, and DTS Virtual: X ceiling speaker virtualization technology. Not surprising since such a range of decoders is a standard set for High-End AV receivers. Among the innovations, you will find the IMAX Enhanced certification. I can't say it's a key advantage or anything extraordinary, but it's definitely a nice bonus.
The SR8015 is richly equipped with composite and component video inputs. It has 8 HDMI inputs and 3 outputs with HDCP2.3, CEC and eARC support. One of the HDMI inputs supports 8K video at 50/60 fps and 4K at up to 100/120 fps. In addition, there are many other connections, including 8 analog stereo inputs, one of which is located on the front panel, and a phono input suitable for players with MM cartridges. Finally, there are 2 optical digital audio inputs and a couple of coaxial inputs. And, of course, as it should be the best high-end AV receiver, along with Bluetooth, there are many networking options. Two connectors on the rear panel are designed for antennas, providing a strong reception of signals via Bluetooth and Wi-Fi. The Bluetooth channel goes both ways: you can connect a smartphone to the amplifier to play music or vice versa.
The networking and Bluetooth capabilities are fairly standard for a Marantz model; they are provided by the built-in HEOS module, as well as several additional inputs. HEOS allows you to surround any room in your home with compatible speakers and wirelessly connect your audio components. So anywhere in your home, you can listen to music from your favorite streaming services: Spotify, Amazon Music, TIDAL, Deezer, and more.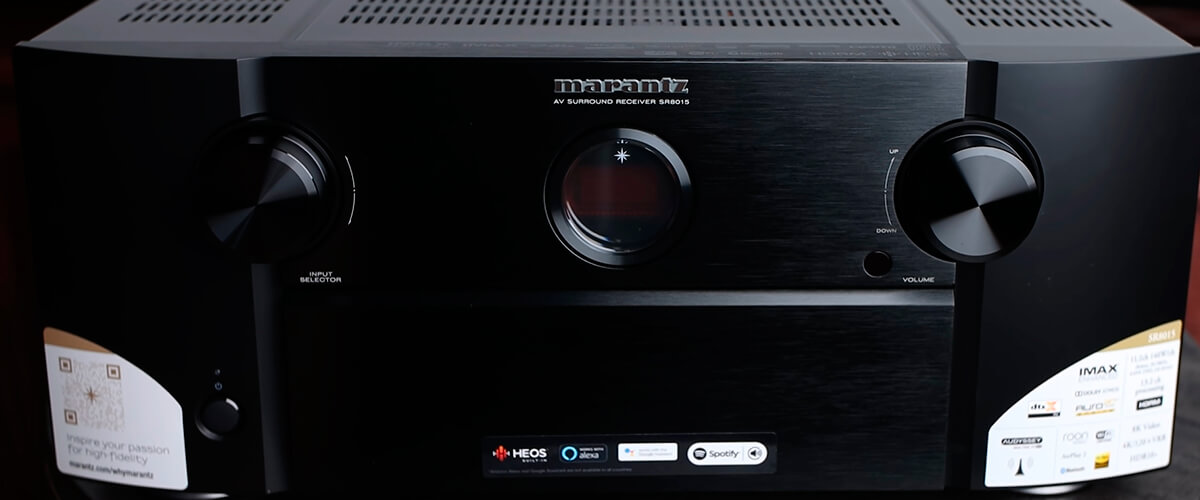 The first time you turn on your Marantz SR8015, you're advised to take advantage of the "setup wizard". It offers detailed advice on connecting the speaker cables to the terminals, but you can skip the sections you're already familiar with. Eventually, you get to the Audyssey MultEQ XT32 auto-calibration system. It handled my set of speakers with no problem, and I'm sure you won't have a problem with your equipment.
During testing, I used the 5.1.4 configuration for the most part and was completely satisfied with the result. I barely used half the power of the SR8015, which I found to be truly infinite. Under its control, my acoustics worked as organically as possible. The surround panorama was truly magnificent, including the effects created overhead.
I listened to the stereo recordings in "Pure" mode, which disables all processing tools – EQ, crossovers, etc. I had a lot of fun. Yes, it was that audiophile sound quality.
And after testing, I can confidently call this model the best 11.2 receiver. The Marantz SR8015 strikes a unique balance: it delivers incredible power and provides a full range of home theater system controls.
Key specs
Channels: 11.2.
Power output: 140W/8 Ohm, 175W/6 Ohm.
HDMI inputs/outputs: 8/3.
Video functions: 8K/60Hz, 4K/120Hz pass-through, analog to HDMI video conversion, upscales video signals to HD and Ultra HD (up to 8K).
Bluetooth/Wi-Fi: yes/yes.
Streaming services: AirPlay2, Spotify, Pandora.
Supports HDMI ARC, HDMI eARC, HDMI CEC, HDCP2.3, HDR10, HDR10+, Dolby Vision.
Surround sound: DTS HD Master, DTS:X, DTS:X Pro, DTS Neural:X, DTS Virtual:X, Dolby TrueHD, Dolby Atmos, Dolby Atmos Height Virtualization, Dolby Surround, IMAX Enhanced, Auro 3D.
Pros
Supports most modern decoders.
13.2 channel audiophile processor on-board.
High-quality parts and assembly.
Excellent sound when transmitting the signal over the network.
Cons
Can get quite hot during operation.
No FM, AM or DAB+ tuner.
Denon AVR-X6700H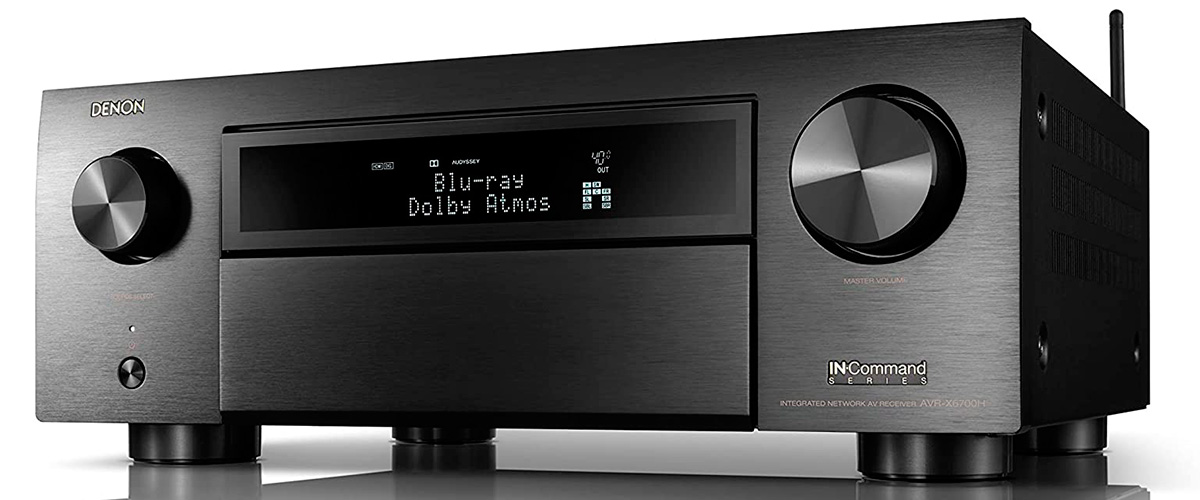 Then I'll go on to one of the most potent receivers – Denon AVR-X6700H.
The unit contains an amplifier of 11 channels and dual subwoofer output with 140W/8 Ohm or 175W/6 Ohm per channel. Due to it, the AVR-X6700H can power a 7.2.4 speaker configuration.
However, the most exciting feature of X6700H in direct comparison with above -mentioned Marantz SR8015 is the DAC design. It consists of AL 32 (high definition filter), two dual SHARC chips, and DSP cores. Such design allows using Dolby Atmos and DTS: X more efficiently. Moreover, the unit has Dolby Atmos Height and DTS Virtual: X and even decodes Auro 3D tracks for ceiling speaker's virtualization.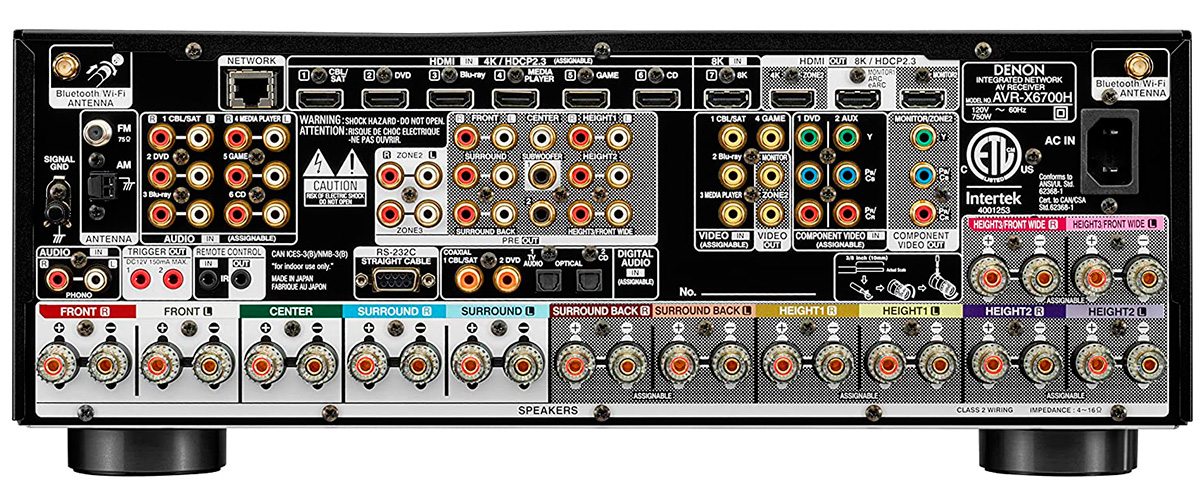 And then, I will consider a video path that meets all modern requirements. The Denon AVR-X6700H works with video streams of 8K/60Hz or 4K/120Hz. The receiver aims to modern next-generation video processing with Dolby Vision and HDR10 + technologies. Furthermore, the current HDCP 2.3 standard applies to all HDMI connections.
Additionally, it supports other streaming services, such as Spotify, Amazon Music HD, Tidal, and Deezer. I was even able to voice control the receiver using Google Assistant, Alexa, or Siri.
While watching the movie, I noticed good dynamics in this receiver. The sound is perceived as controlled, as well organized. The additional volume of bass in some scenes gets some hum in the room.
However, it helps to feel a complete and realistic reproduction of voices and, if necessary, is quite capable of shaking the room with its power. However, when listening to music, everything is a little different.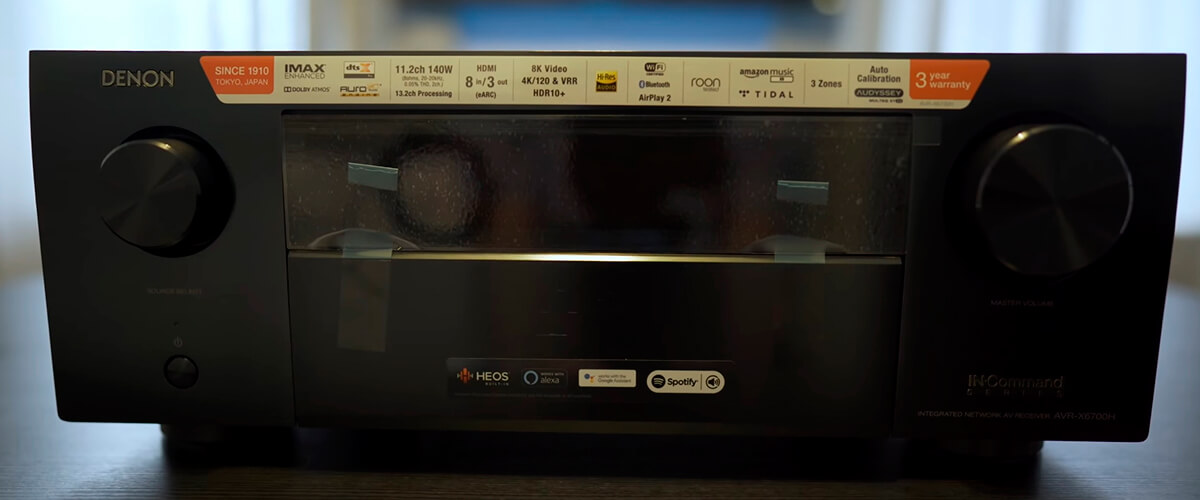 The sound is compelling. Denon is incredibly precise and sure about this power. And what produced significant discomfort was the bass favored balance of the sound stage. Although all voices and dialogs were well represented, too many low frequencies were observed.
You might even estimate the model's audio capabilities due to PureDirect mode. The instrumental section of the songs feels just like a balanced whole. Instruments do not blend into cacophonies, but they are distinctly distinctive. In addition, the detail and expressive dynamics of the sound stage impressed me.
The Denon AVR-X6700H offers many options for both movie lovers and quality music lovers with gamers. The 8K contents will be available within five to 10 years of the top Hi-Fi receiver's life and will have a solid power amplifier unit.
Key specs
Channels: 11.2.
Power output: 140W/8 Ohm, 175W/6 Ohm.
HDMI inputs/outputs: 8/3.
Video functions: 4K/120Hz, 8K/60Hz pass-through, analog to HDMI video conversion, upscales video signals to HD and Ultra HD (up to 8K).
Bluetooth/Wi-Fi: yes/yes.
Streaming services: AirPlay2, Spotify, Pandora, Deezer, Tidal.
Supports HDMI ARC, HDMI eARC, HDMI CEC, HDCP2.3, HDR10, HDR10+, Dolby Vision.
Surround sound: DTS HD Master, DTS:X, DTS:X Pro, DTS Neural:X, Dolby TrueHD, Dolby Atmos, Dolby Atmos Height Virtualization, Dolby Surround, IMAX Enhanced, Auro 3D.
Pros
Striking scope and persuasiveness.
8K support.
Cons
Low frequencies are too pronounced.
Yamaha CX-A5200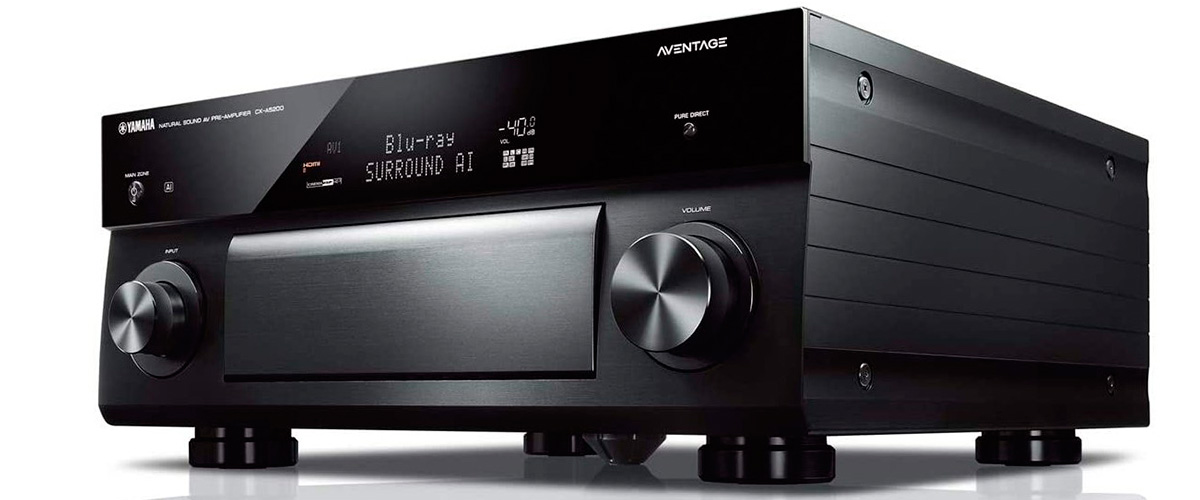 The Yamaha CX-A5200 can deliver up to 170 watts at 6 ohms. For power supply, a large toroid transformer is utilized. I was surprised that the amplifier circuit is simultaneously wholly symmetric. On the various sides of the box, the right and left channels are distributed.
Yamaha CX-A5200 can provide 11-channel surround sound with full current DSP features. In addition, a unique feature of the Yamaha CX-A5200 over the Marantz SR8015 is the presence of a new exclusive Surround Ai algorithm. This software constantly assesses and modifies in real-time all sound field parameters.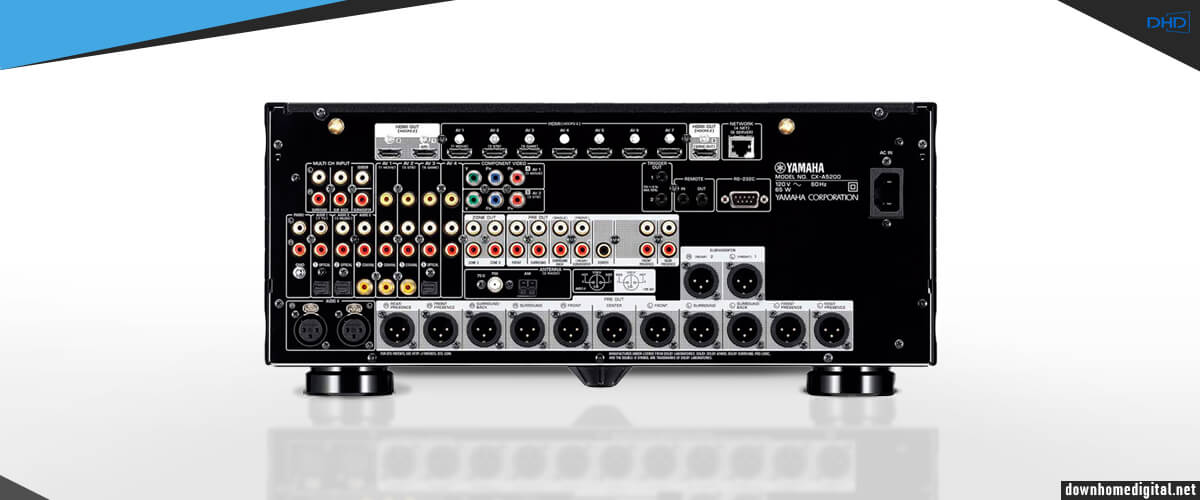 I found the highest segment level video circuit in this model. Yamaha CX-A5200 is compatible with all 3D and Ultra HD 4K systems, including high-level HDMI controllers. Upscaling is also achievable from all incoming resolutions to 2160p HDMI.
Moreover, the CINEMA DSP HD3 is the most remarkable feature. This advanced video processor allows you to enable various modes of sound post-processing. Furthermore, the Amazon voice assistant control and Yamaha native multi-room audio technology are available in addition to the CX-A5200.
The unit offers robust networking features together with a sophisticated video portion. The audio signal can be a source of both Bluetooth equipment and devices linked through AirPlay. Also, I want to note that music for the most prominent streaming providers can be broadcast without any delays (Spotify, Deezer, Tidal, etc.).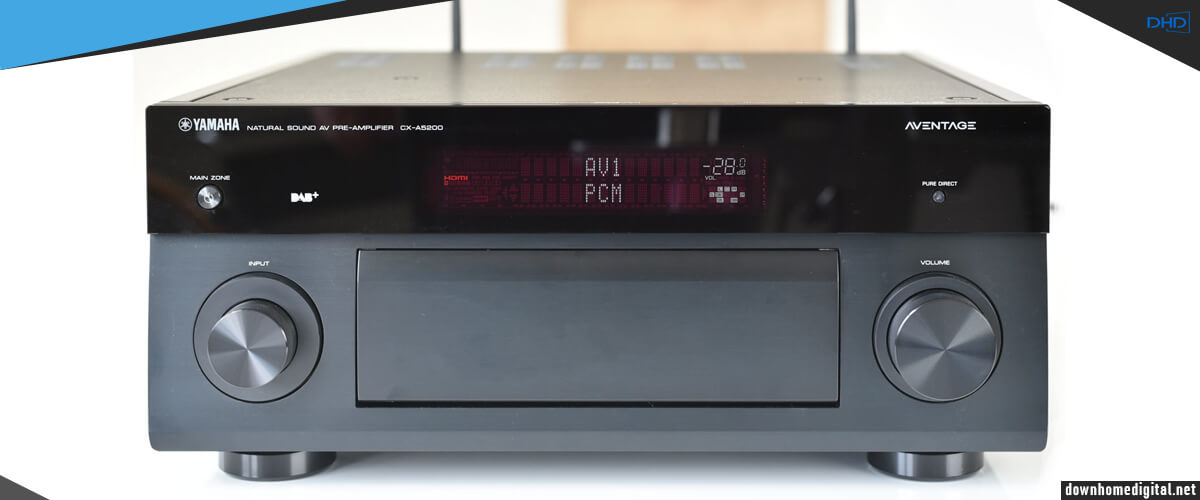 Testing showed the nature of the model's sound. And it was realistic, with fantastic overload capabilities and significant effects. Moreover, with powerful bass and suitable high frequencies, the receiver creates a well-balanced surround sound stage. As a result, the unit makes a great sense of presence and scatters a whole ton of nuances and details.
The case is much the same with music. The sound is complete and detailed. Each frequency plays in its place. I do not lose any vocals or instrumental parts.
During testing, the receiver showed its best side, and I can conclude that this premium AV receiver is perfect for moviegoers. This is because the volumetric effects are beautifully detailed and processed. However, unfortunately, this receiver will not be able to enjoy 8K images.
Key specs
Channels: 11.2.
Power output: N/A.
HDMI inputs/outputs: 7/3.
Video functions: 4K/60Hz pass-through, video upconversion (up to 1080p and 4K) for analog and HDMI sources, upscales HD video signals to 4K Ultra HD.
Bluetooth/Wi-Fi: yes/yes.
Streaming services: AirPlay2, Spotify, Pandora, Deezer, Tidal.
Supports HDMI ARC, HDMI eARC, HDMI CEC, HDCP2.3, HDR10.
Surround sound: DTS-HD Master Audio, DTS:X, Dolby TrueHD, Dolby Digital Plus, Dolby Atmos.
Pros
Wireless surround possible.
ESS Tech DAC.
Cons
Installation requires knowledge and insight.
No 8K support.
Best 13.2 Receiver Reviews
Denon AVR-X8500H – best 13-channel receiver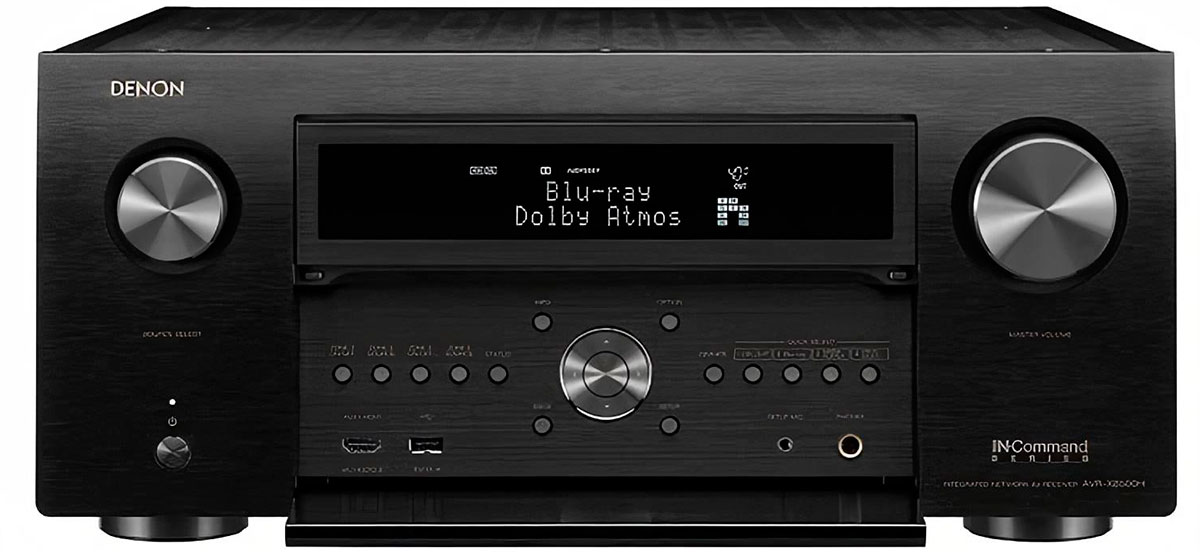 In the winter of 2018 in Los Angeles, the developers of Denon presented the 13.2 channel receiver X8500H, which immediately "exploded the niche" of top devices. Even now, this model has not lost its relevance and confidently looks next to even more modern competitors. So let's look closer at what makes this flagship from Denon so good.
First of all, the big size of this "monster" (W x D x H) is striking: 17.08 x 18.7 x 7.72 inches. The device looks solid and strict. Even without a close inspection, you can see the high quality of the assembly and the thoughtfulness of every detail. In the center is a big rectangular display, a hinged panel under it (some of the functionality is hidden underneath), and on the sides, there are big round controls. Everything is made conveniently, clearly, and without unnecessary elements.
The main feature of the X8500H is a 15-channel audio pre-processing (two dual-core DSP Griffin Line and 4-channel DDR3 memory) plus 13-channel amplification. Fifteen audio pre-out outputs are provided – if desired, each channel can be independently amplified by a separate external power amplifier. All calculations are performed in 32-bit format by 8 audiophile AKM AK4490EQ Velvet Sound DACs from Asahi Kasei.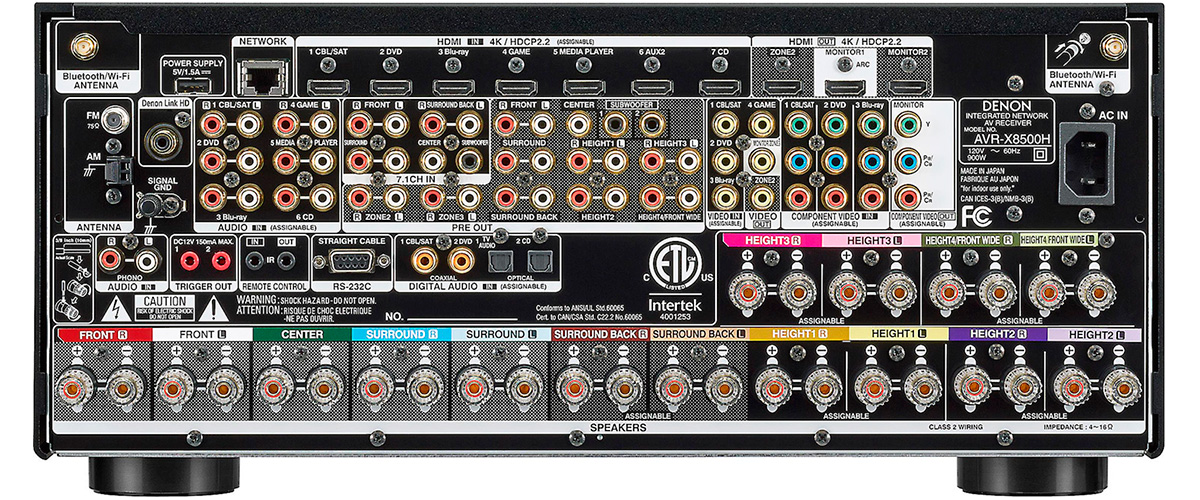 The receiver's power amplification path is 13-channel (13 discrete power amplifiers using custom DHCT – Denon High Current Transistors). However, 15 pairs of acoustic jacks (for connecting passive speakers) are provided. This gives compatibility with all modern 3D sound formats. Accordingly, a total of 15 passive speakers can be connected to this receiver. But there are a maximum of 13 working at the same time. And depending on what type of content is used (Dolby Atmos, DTS:X, or Auro-3D), the receiver will independently (or on your command) assign the optimal configuration from all the speakers connected to it.
For advanced audiophiles, the AVR-X8500H offers another unique option. This is the connection of a classic 5.1-channel sound environment by bi-amping – for the fullest potential of each individual speaker system.
In terms of sound, with X8500H, you can experiment with different configurations (7.2.6 / 9.2.4 / 13.1 / 13.2 …). This model offers really almost unlimited functionality. Moreover, there is support for two additional stereo sound zones.
The Denon AVR-X8500H is fully compatible with the latest HDMI and HDCP 2.2 standards (on all eight HDMI inputs and three HDMI outputs). The device supports 4K Ultra HD 60Hz picture, 4:4:4 color resolution, High Dynamic Range (HDR), and BT.2020 extended color space. Therefore, you can safely connect the latest games consoles, projectors, etc., to X8500H. Of course, Wi-Fi, Bluetooth, Apple AirPlay, and HEOS wireless multiroom streaming are supported. This means you can listen to music in different rooms, from any source (Internet, mobile devices, network drives…), in any format (DSD, FLAC, ALAC, and WAV).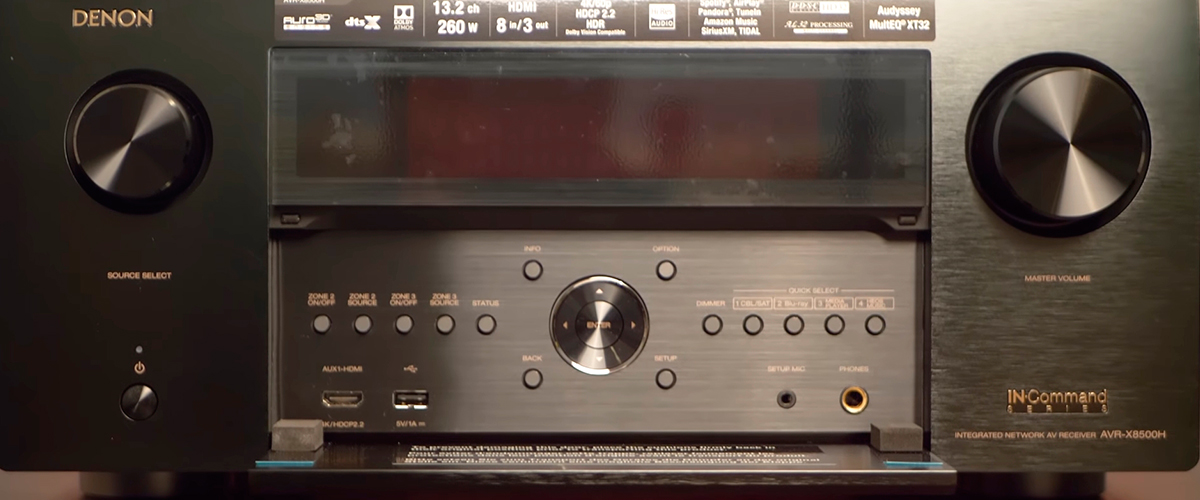 I should note that this receiver doesn't require much effort to set up correctly – the basic functionality here is designed for the average user. The Denon AVR-X8500H is equipped with the Audyssey MultEQ XT32 calibration system. A special measurement microphone is included. You just need to connect it to the receiver, run the automatic tuning system and follow the "wizard" instructions on the screen. Then the device will automatically determine the speakers' configuration and adjust each speaker's operation. Besides, this AVR also supports the more advanced Audyssey MultEQ Editor application.
As far as sound quality is concerned, it provides impressively clean, clear, good-quality sound on its own. And then it all depends on the content, your choice of speakers, and your experience. With this receiver, you can and should connect speakers of "above average" class – especially on the front.
The Denon AVR-X8500H gives music fans musicianship, beautiful details, and drive without any "digital flavor". At the same time, it will provide the feeling of "total flight" and impressive "depth of immersion" for movie fans.
In my opinion, this is one of the coolest cinema receivers for those who dream of "complete immersion" in the abyss of action scenes. The clarity, detail, and expressiveness of multi-channel soundtracks are definitely impressive. I consider Denon AVR-X8500H the best 13-channel home theater receiver, and I am sure thousands of happy owners of this device will agree with me.
Key specs
Channels: 13.2.
Power output: 150W/8 Ohm, 190W/6 Ohm.
HDMI inputs/outputs: 8/3.
Video functions: 4K/120Hz pass-through, analog to HDMI video conversion, upscales video signals to HD and Ultra HD (up to 4K).
Bluetooth/Wi-Fi: yes/yes.
Streaming services: AirPlay2, Spotify, Pandora, Deezer, Tidal.
Supports HDMI ARC, HDMI eARC, HDMI CEC, HDCP2.2, Dolby Vision.
Surround sound: DTS HD Master, DTS:X, DTS Neural:X, Dolby TrueHD, Dolby Atmos, Dolby Surround, IMAX Enhanced, Auro 3D.
Pros
Support for all modern 3D sound formats: Dolby Atmos, DTS:X, Auro-3D.
Compatible with the most advanced video sources (up to 8K / 60kHz).
Wide range of connectivity.
MM phono stage.
Phenomenal flexibility and versatility across genres.
Marantz AV8805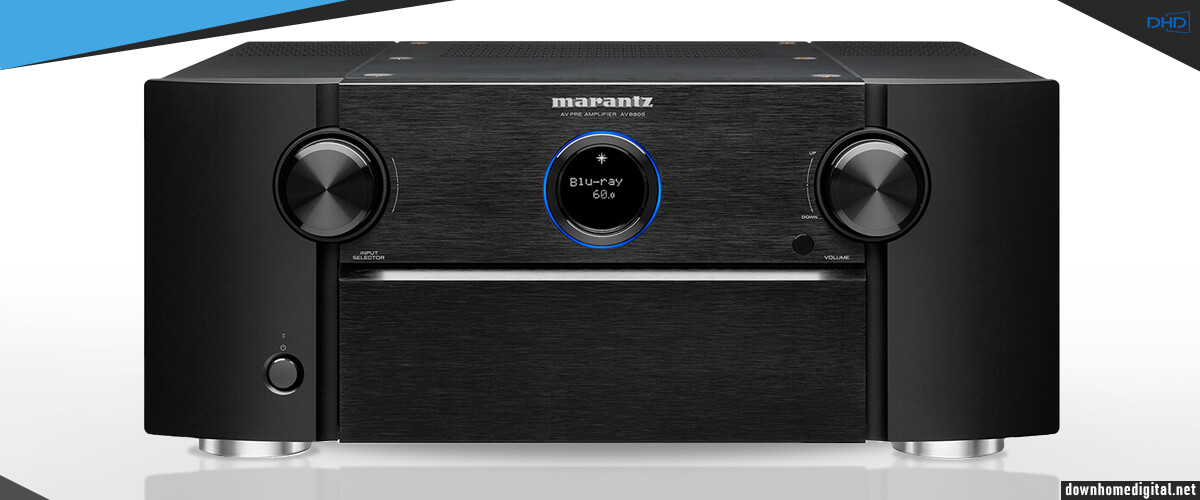 The AV8805 is a Dolby Atmos, DTS: X, Auro-3D-compatible model for outstanding immersive sound 13.2 to 7.1.6 or 9.1.4 setups. This sound is possible thanks to acoustic calibration, and Audyssey Platinum DSP Optimization delivers special equalization. Such 13.2 channel processing with 15.2 channels has one feature – XLR, which differs from the Denon AVR-X8500H. With this technique, longer cables may be used without interfering with the receiver.
The Marantz AV8805 is equipped with reference audio and video components. This device can accept feeds from several audio and video sources, enhancing its quality with advanced processing. The integrated video processor can digitize analog video streams or upgrade to 1080p or even UHD 4K modes for digital video strips.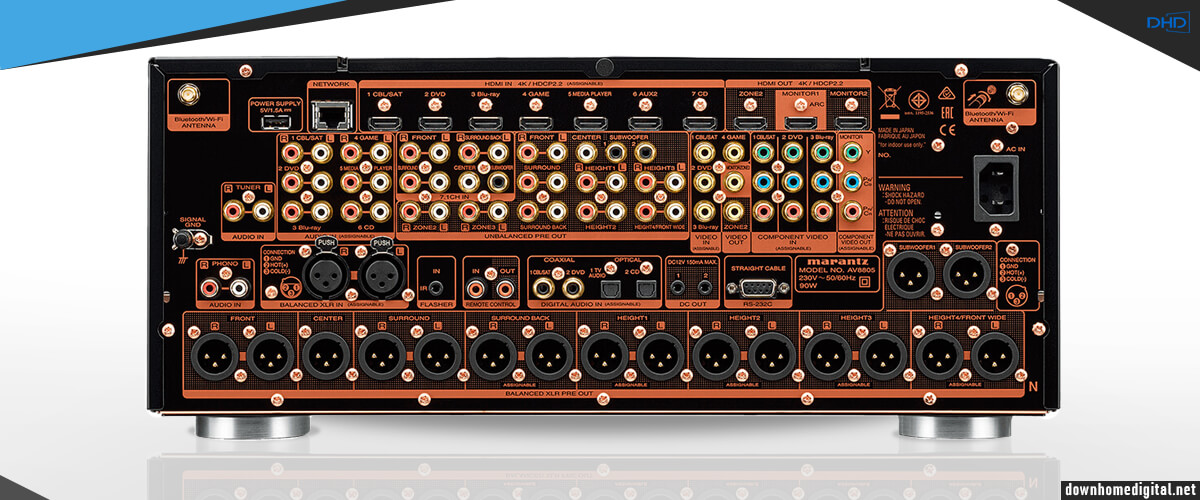 This applies to all HDMI outputs. In addition, all are compatible with Ultra HD 4K/60Hz and HDR (Dolby Vision, HLG, HDR10). Thus, the receiver is compatible with Ultra HD Blu-ray discs as well as streaming services (Netflix, Amazon).
Like other receivers in this category, the Marantz AV8805 is fully compatible with the HEOS multi-room system. In addition, it supports music streaming through a variety of services: Spotify, TuneIn, JUKE, TIDAL, Napster, Deezer, Apple AirPlay, SoundCloud, and Amazon Prime Music.
And I was even able to control the essential functions of the receiver using the Amazon Alexa voice assistant. The receiver quickly perceived such a great option and was used as the primary control method without delays.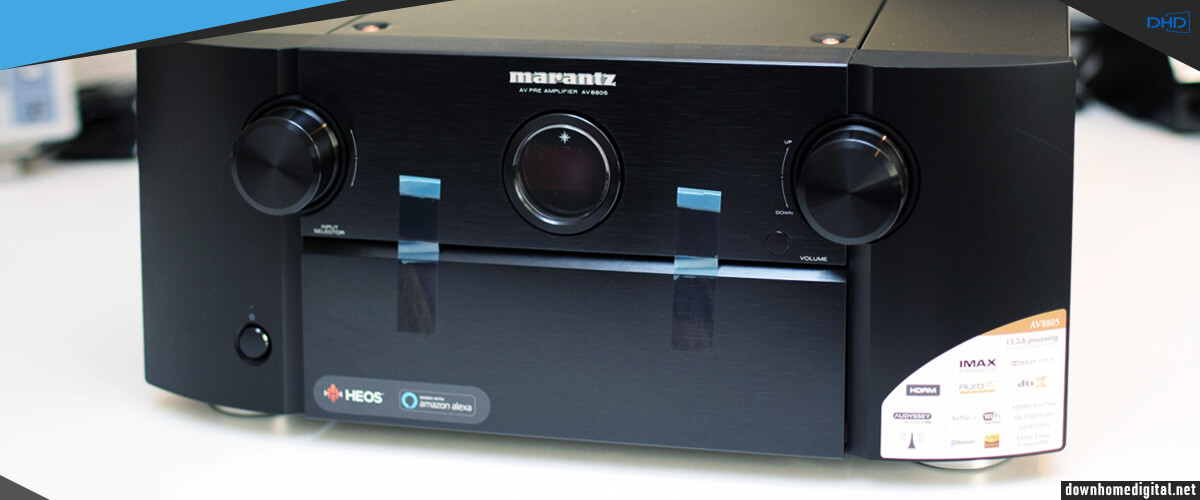 And as always, it came to the test. The receiver impressed me with its distinctive feature – to create a refined and neutral sound. However, with all this, he made a realistic sound stage. The volumetric space in which the effects moved was well defined.
The stereo sound was great, although I can't call it perfect. I could hear solid highs and mids, and the sound was transparent without distortion, even at high volumes. The receiver could play dynamically even at lower signal levels, and I felt the precise and intense depth and spaciousness even when listening to music.
This is an outstanding premium receiver capable of creating a 13-channel sound system that supports all modern surround formats. As a result, it is a better choice for both home theater and audio room.
Key specs
Channels: 13.2.
Power output: N/A.
HDMI inputs/outputs: 8/3.
Video functions: 4K/60Hz pass-through, analog to HDMI video conversion, analog to HDMI scaling, HDMI to HDMI scaling.
Bluetooth/Wi-Fi: yes/yes.
Streaming services: AirPlay2, Spotify, Pandora, Deezer, Tidal.
Supports HDMI ARC, HDMI eARC, HDMI CEC, HDCP2.2, HDR10, Dolby Vision.
Surround sound: DTS HD Master, DTS:X, DTS Neural:X, DTS Virtual:X, Dolby TrueHD, Dolby Atmos, Dolby Surround, IMAX Enhanced, Auro 3D.
Pros
Availability of all possible surround decoders.
Incredible dynamics and spaciousness even in stereo.
Cons
It gets very hot during operation.
Buyer's guide
Key points to pay attention to when choosing a receiver
Extra сhannels explain
The number of channels directly depends on how wide the configuration you can afford. Having at your disposal a complete set of floor-standing speakers that work in the same sound environment with multiple pairs of ceiling speakers, you will be able to appreciate the surround sound effects fully.
9.2 or 11.2 systems are configurations where you can use all 11 or 13 channels of the listed receivers. It can also be configured 7.1.6 or 9.1.4. And if the receiver allows you, you can expand them by adding another subwoofer for even more immersion. The essence of this configuration is to add ceiling speakers to the already known and widespread 5.2 and 7.2 configurations.
Extra features of hi-end receivers
4K and 8K. What is the difference?
4K resolution has become standard on modern TVs. At the same time, manufacturers are actively promoting a higher-resolution – 8K.
8K is currently the highest definition television format. Let's compare. The 4K resolution is 3840×2160 pixels, which corresponds to an image containing eight million pixels. The format is 8K with 7680×4320 pixels, giving a picture composed of a staggering 33 million pixels. That is, 8K is four times the resolution of 4K and 16 times the resolution of Full HD. Here you can check a 4k passthrough receiver.
Consequently, an increase in the number of pixels, without a doubt, has a positive effect on the quality and detail of the picture, which is visually perceived better due to the increase in the pixel density.
What is HDR?
High Dynamic Range, aka HDR, this format provides a brighter image with high contrast between light and dark parts of the scene. Also, it uses a wide color gamut, which ultimately makes the video more realistic. For example, HDR movies look much better than the standard dynamic range due to higher brightness and chroma.
There are three main HDR formats used in receivers:
HDR10 is the most widely used HDR format. This format uses 10-bit color to reproduce a billion colors.
Dolby Vision uses 12-bit color to deliver 68 billion color shades! In addition, Dolby Vision has a theoretical brightness of up to 10,000 nits.
HDR10 + also uses dynamic metadata like Dolby Vision to improve contrast and color on a frame-by-frame basis. As a result, HDR10 + outperforms HDR10 in peak brightness up to 4000 nits. However, the depth of its color is the same, i.e., 10 bit.
Multi-channel audio formats. What to choose?
The magic of home theater comes a lot from the surround sound that the receiver creates. And for this, he needs specific decoders.
Dolby Atmos
A surround sound format that sounds each object of the audio signal separately and is linked to its spatial location. Receivers supporting this format immerse you as accurately as possible into the realism of the sound scenes taking place. If you have installed some surround speakers in standard home theater system configurations (5.1, 7.1, etc.), simply purchase an appropriate Dolby Atmos-enabled receiver and additional ceiling speakers.
DTS: X
Analogous to the object-spatial audio format of Dolby Atmos, and works with calculating the optimal distribution of sound output in the space of the cinema room. DTS: X also supports all 5.1 to 11.1 multi-channel audio configurations, with the option to gradually upgrade your existing system to additional speakers.
Auro 3D
This format, unlike competing Dolby Atmos and DTS: X, is not object-oriented but channel-by-channel. To achieve "enveloping sound" to two layers of speakers – the classic and the second, located at an angle of 30 degrees to the horizon, added a third, installed directly above the listener. The main difference from competitors is that a full-fledged hemisphere of sound surrounds the listener.
Multiroom: separate your audio spaces
If you need a full-fledged but utterly different sound in different parts of the house, let's say – a home theater for noisy gatherings with popcorn in the hall and in the bedroom a stereo system under the ceiling to fall asleep to Chopin, you do not need several receivers. Top-end models are capable of serving two or more sets of speakers.
You can connect them with a wired method, use wireless connections, or even combine connection methods.
There are already quite a few wireless technologies for creating multiroom. This includes the well-known Bluetooth, Chromecast, and even Wi-Fi, in some exceptional cases. But the most tremendous success is enjoyed by technologies specially developed for these purposes: Sonos, HEOS, MusicCast.
How to add music to other rooms
Wired multi-room has already faded into the specificationsground. Now you no longer need to pull a bunch of wires from one room to another. Now all this has been replaced by wireless technologies without loss of sound quality and without the slightest delay.
It is possible to create multiple independent music spaces thanks to a multi-room audio system. And if the receiver supports image output to an additional zone, then you can even create another home theater zone.
Wireless multiroom systems work with proprietary technologies Sonos, HEOS, MusicCast. Such systems are as easy as possible to integrate into your home. You just need to link the speakers to your receiver. Unlike the Bluetooth system, the multiroom can be built up gradually. Such a system can consist of either one speaker or several pairs. You can start with the speaker and add more to suit your needs. Everything is limited only by the capabilities of the receiver.
Connection and setup are straightforward. Various manufacturers even produce whole multi-room kits that are already ready to use. You just need to connect them. First, you have to plug the speaker into the network and connect it to the receiver. Then follow the instructions on the OSD of the receiver to adjust the sound. And then all that remains is to place the speaker or speakers in the room where you want them to play.
FAQ
What makes a high end receiver?
A high-end receiver is usually assembled from high-quality components and parts. As a result, it can operate with more power and provide a higher-quality audio signal. In addition, the high-end receiver is equipped with various additional features besides the basic ones. This can include a multi-room system, the ability to connect a phono stage, operation with various surround sound formats, lightweight controls, etc.
Do high end receivers sound better?
Yes, more often than not, high-end receivers provide really high sound quality. This is realized through the use of high-quality components, modern formats, the ability to fine-tune the equipment, and advanced technology. But you should not forget that the multimedia system's sound quality also depends to a large extent on the speakers' quality in combination with the receiver.
Are Denon and Marantz high-end brands?
Yes, Denon and Marantz can be considered high-end brands. These companies have product lines that meet the highest modern requirements and satisfy the tastes of even the most demanding audiophiles.
Explore other our AV receivers ratings