Since the number of receivers on the market is high, it is not that easy to find the right device even if you have a decent budget.

Our pick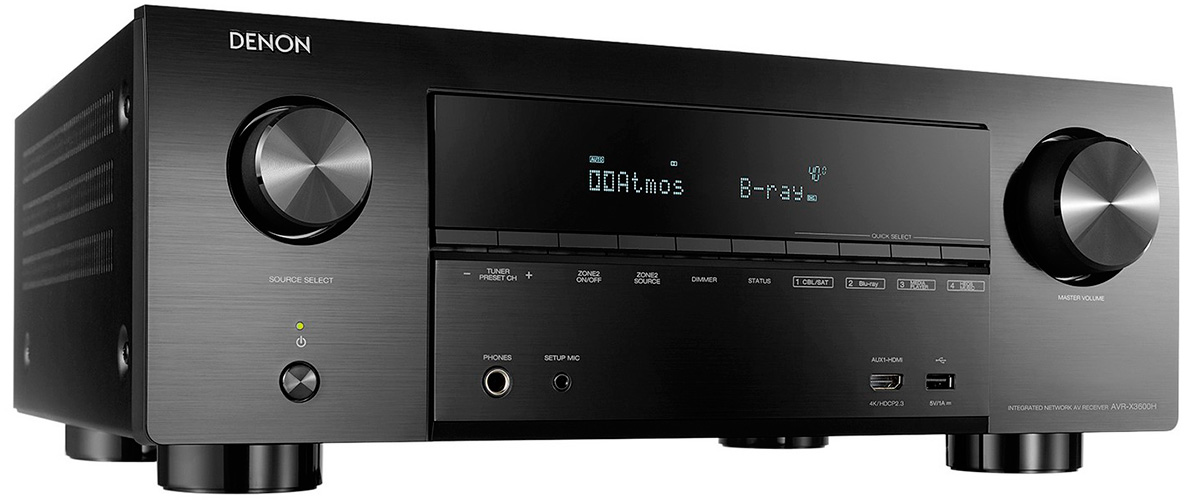 Denon AVR-X3600H
Best av receiver under $1000
9.2 channel 4K Ultra HD AV receiver supports 3D audio formats Dolby Atmos®, Dolby Atmos Height Virtualization Technology, DTS:X™, DTS Virtual:X® and new IMAX Enhanced. Works with Amazon Alexa, Google Assistant, and Apple Siri for seamless voice control.
Receivers
Channels
Stereo power, W/Ohm
THD, %
Denon AVR-X3600H

best overall

9.2
105/8, 135/6
0.08
Marantz SR5014
7.2
100/8, 180/6
0.08
Yamaha RX-V6A
7.2
100/8
0.06
In this review, I'm telling you how to choose the best av receiver under $1000. I have spent many days testing each of the appliances mentioned below to find out their pros and cons. Do you want to know the result of my experiments? Keep reading!
Best AV Receiver Under $1000 Reviews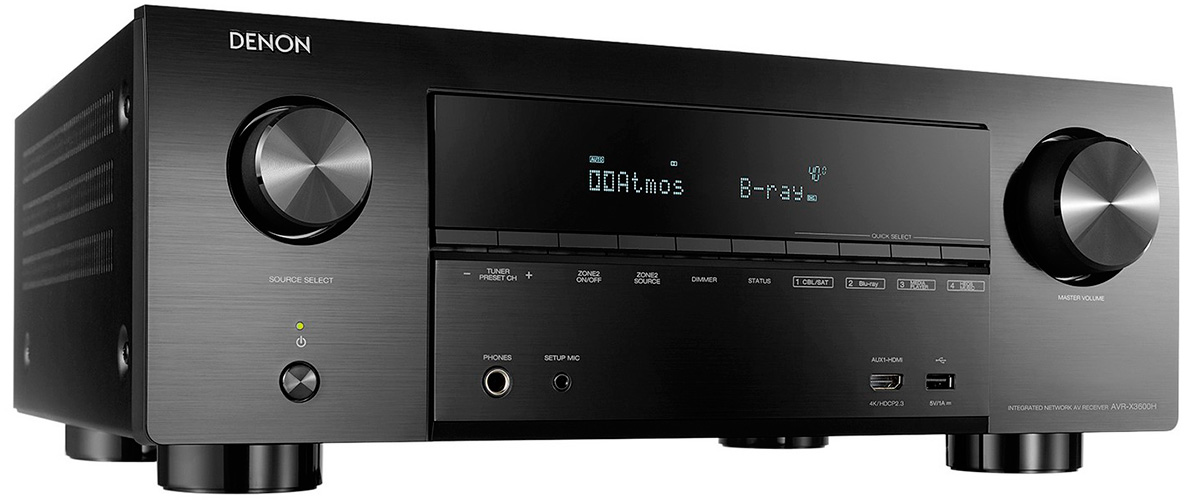 The AVR-X3600H is the best receiver under $1000 with nine amplification channels, 11.2 processing channels, and an equal amount of preamp. It is capable of reproducing Dolby Atmos and DTS: X formats and is also equipped with Audyssey MultEQ XT32 automatic equalizer. Other features include eARC support, AirPlay 2, IMAX Enhanced, and Denon's HEOS multi-room system.
Compared to its predecessor, the AVR-X3500, the new product takes a step forward with the use of a new aluminum heat sink and power transformer. Plus, here I see an increase from seven channels of amplification in the X3500 to nine channels in the X3600. With the same design, power, heat sink, and two additional amplification channels as in the higher-end X4500H model, the receiver in this review has significantly higher sound quality than its predecessor.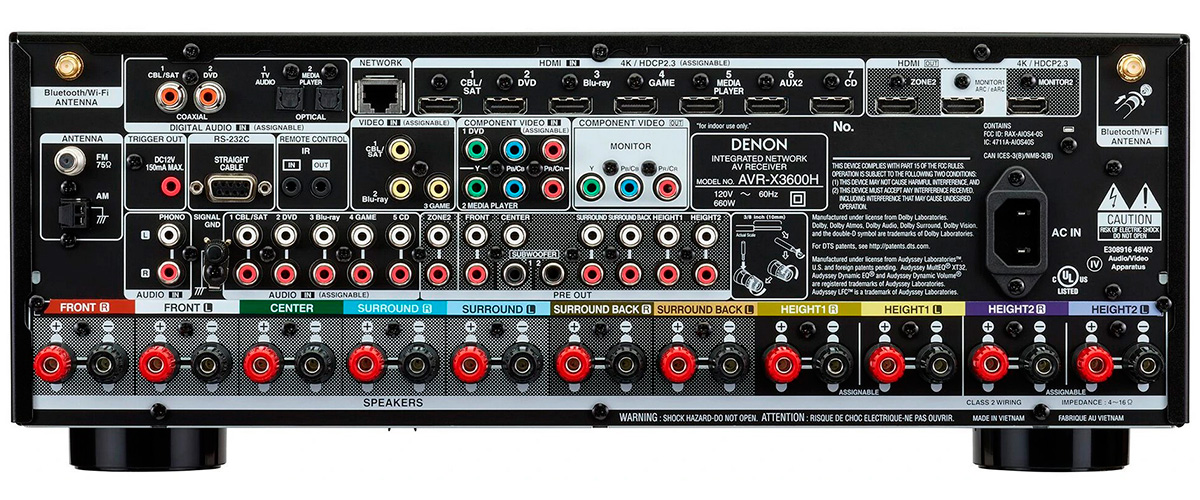 The receiver comes with the tuner control buttons and buttons for quick source selection. You will also find the headphone and microphone outputs, as well as HDMI and USB inputs. Seven HDMI inputs are located at the very top (the eighth is in the front), and three HDMI outputs are installed nearby, the center of which supports eARC/ARC technology. All HDMI ports comply with HDCP 2.3 data protection standard and are 2.0b capable of delivering 4K 60p in HDR10, HLG, and Dolby Vision formats. Three composite and two-component inputs are located in the center below them. The X3600H also provides two optical and two coaxial digital audio inputs, five analog RCA inputs, and one phono amplifier. There is also a 12W trigger output, RS232C, infrared I/O, AM/FM antenna output, and Ethernet network connection.
Perhaps the most important feature of the rear panel is the presence of 11.2 pre-out outputs, allowing you to either connect a 2-channel amplifier to create a complete 7.2.4 configuration or amplify all active channels. In both cases, all 11.2 internal processing channels will be involved. The sound quality provided by the receiver is at the level of premium models, and the sound is ideal, both when watching a feature film and playing games or listening to music.
Key specs
Channels: 9.2
Stereo power, W: 105, 135
Impedance, Ohm: 8, 6
THD, %: 0.08
Pros
The information on the display is easy-to-read. Moreover, its brightness is adjustable, and it can be turned off altogether
Features Dolby Atmos Height Virtualizer technology, which simulates the height channels
Voice control via Alexa, Siri, and Google Assistant
Cons
With this model, you cannot listen to DAB+ radio, which is free of white noise
If the volume is over 50 or so, it overheats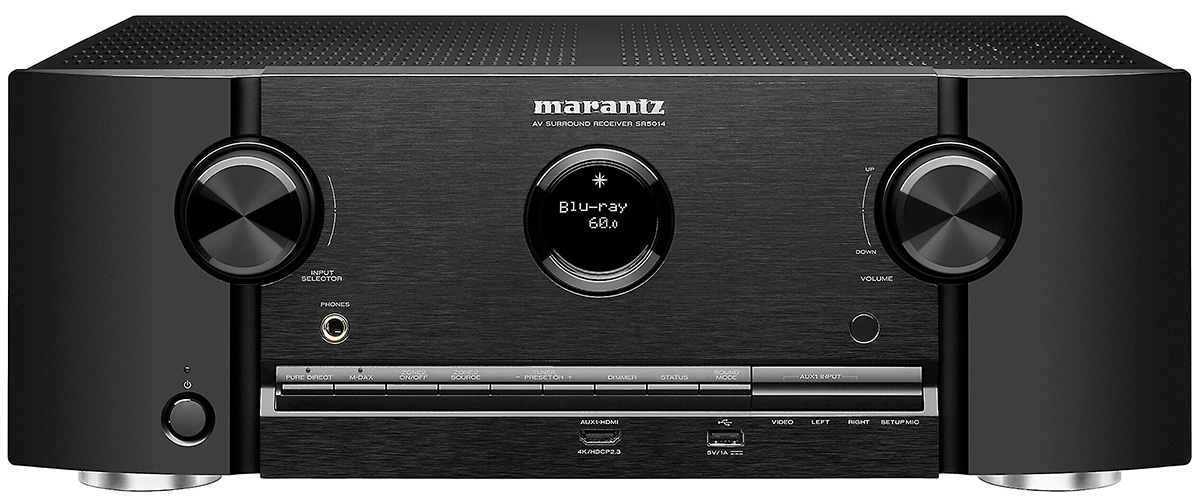 Delivering powerful Hi-Fi sound, this home theater receiver under 1000 is equipped with discrete amplifiers. Their power is 100 watts per channel. The device is equipped with a new generation of amplification modules – HDAM, which provide high quality without the slightest distortion and a wide dynamic range during high-resolution audio playback. Moreover, this receiver can operate with a low-impedance load, which means that the consumer has the ability to connect to speakers of completely different classes and get impeccable sound quality.
This 7-channel discreet, high-power current amplifier comes with object-oriented formats – Dolby TrueHD and Dolby Atmos, which means the user can enjoy surround sound in all its glory while keeping other HDMI ports free. As the main advantages in terms of commutation, it is important to note the presence of eight HDMI-inputs. The receiver is capable of processing high-definition video 4K/60Hz, with support for dynamic brightness expansion technology – HDR 10 and BT.2020.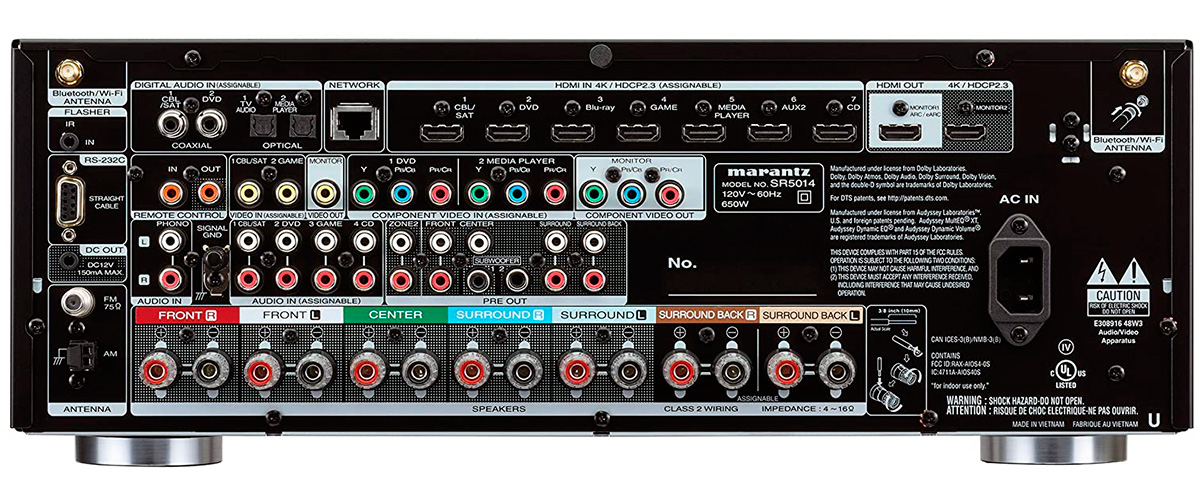 The Marantz appliance implements a special game ALLM mode, which creates conditions for more convenient and accurate gameplay, which is very important in modern games saturated with dynamic scenes and requiring extremely fast reactions from players.
The audio provided by Marantz is particularly smooth, natural, and crisp. The sound at high frequencies is very clear, without the slightest crackles and rattles, the mids are especially saturated, and the bass is powerful and deep. Moreover, the high sound quality does not change depending on the source, whether it is music, video games, soundtracks of feature films, radio, streaming audio, or anything else. The receiver is capable of decoding signals with a resolution of 24bit/192kHz from audio files ALAC, FLAC, and WAV without the slightest loss.
Key specs
Channels: 7.2
Stereo power, W: 100, 180
Impedance, Ohm: 8, 6
THD, %: 0.08
Pros
Offers Wi-Fi, Ethernet and works with many popular online services
Vinyl fans can enjoy the purity of their favorite turntables by connecting a turntable via the phono input
Supports Dolby Vision and the new HLG technology, which is currently the most advanced option for transmitting HDR images
Provides eARC support, which allows you to transfer all audio information without the slightest loss through a single HDMI cable
Cons
It's not possible to listen to digital radio via a DAB+ signal
Audyssey MultEQ XT doesn't help much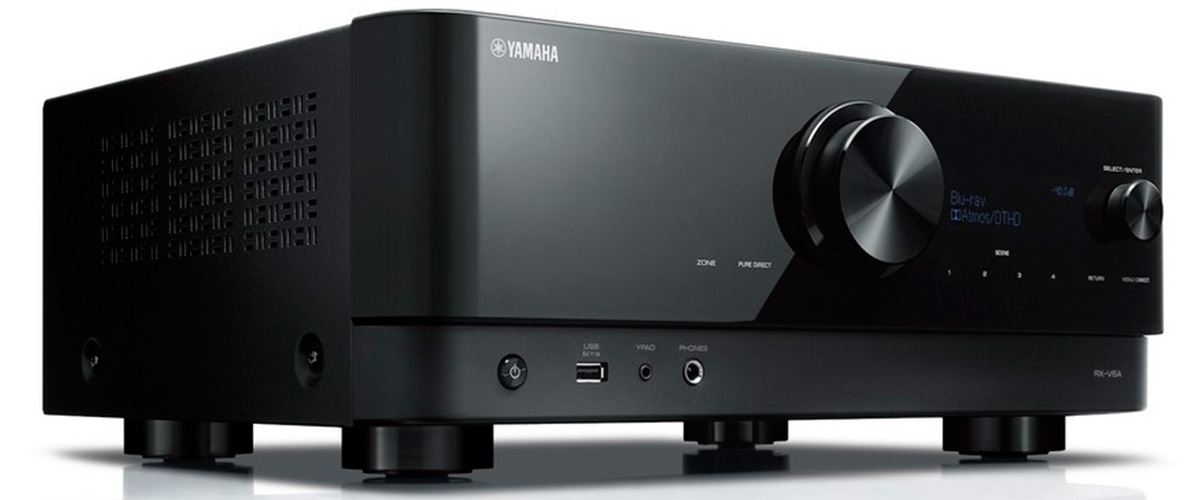 This receiver offering a 7.2-channel surround sound will allow you to get awesome audio when watching movies or to listen to your favorite tracks. The appliance has built-in Wi-Fi and Bluetooth for wireless connection. Speaking of power, at 8 Ohms, the sound output of this receiver is 100W per channel. To customize the sound to your unique environment, you can use a feature called YPAO. The next thing you have to know about this appliance is that it has seven HDMI inputs. Plus, there is also one output. In fact, this Yamaha AVR is ready for the next generation of TV. However, if you've not yet made the jump to 8K TV, the sockets also work with up to 4K/120Hz signals for the highest quality pass through.
The receiver features 8K resolution. Thus the device lives up to the expectations of the consumers. If you combine this appliance with the Yamaha MusicCast 20 or MusicCast 50 speakers, you can forget about speaker cable connections.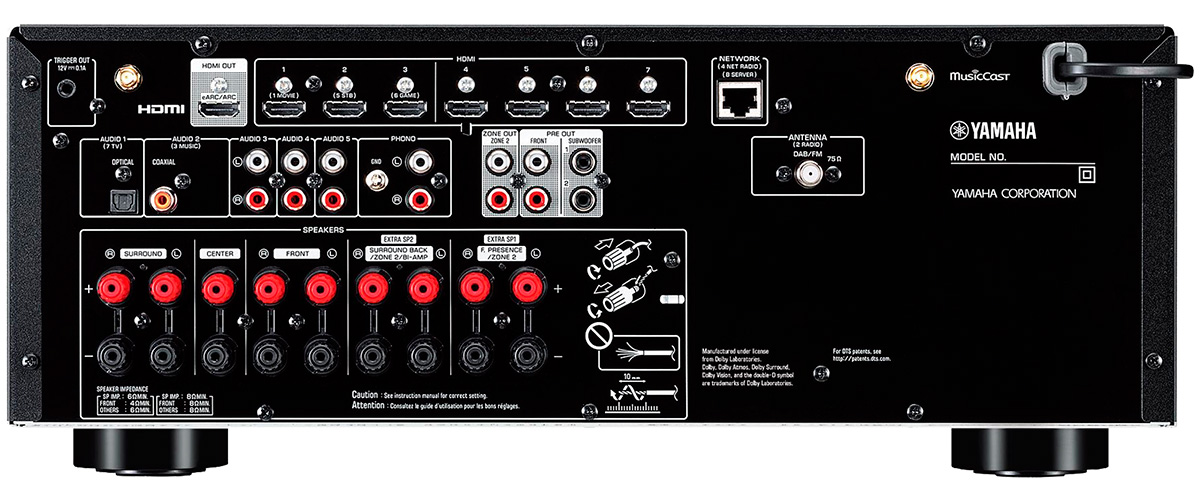 With the RX-V6A, you will have powerful audio processing. The receiver provides users with excellent movie watching and gaming experience. Let's switch to the design of the model. For control, you will have not just a brand new, appealing LCD display but also a jog dial equipped with touch-sensitive buttons. I enjoyed controlling the receiver with my smartphone. I also tried to do it with Amazon Alexa by voice, and the experience was nice as well. With such an appliance, you have an opportunity to stream your favorite tracks from the most famous online services such as Spotify Premium, Napster, Tidal, Deezer, and Qobuz.
Key specs
Channels: 7.2
Stereo power, W: 100
Impedance, Ohm: 8
THD, %: 0.06
Pros
Compatible with Apple AirPlay 2, letting you stream music from your Apple iPod Touch, iPhone, or iPad
Equipped with an Ethernet port, and provides wireless connectivity including MusicCast and Bluetooth (with support for SBC and AAC codecs)
Has a rounded, glass-like fascia that is way more elegant compared to the previous models
Cons
The large volume control is stiff and somewhat scratchy
You're limited to a 5.1 or 5.1.2 setup – surround back speakers are not supported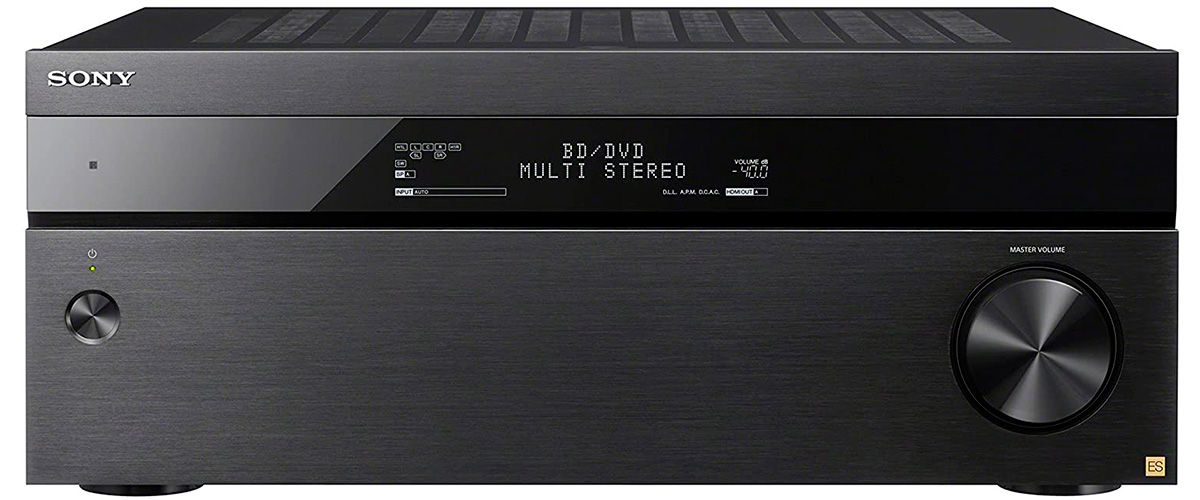 Next on my review is the audio receiver under $1000 that features a clean design, with a black, brushed metal front and a full-width display. The device is capable of passing full 4K HDR and can handle HDMI 2.2.
The STRZA1100ES includes 5 HDMI jacks. All of them are 5 HDR-compatible, which is extremely rare for the appliances in this price range. But that's not all. The receiver also comes with four analog inputs, an FM tuner antenna connection, two Toslink digital, and one coaxial digital input. Impressed? As for me, the STRZA1100ES is perfect as it has even two component video and two composite video inputs. Speaking of the output section, the user gets seven built-in 100 watt powered channels.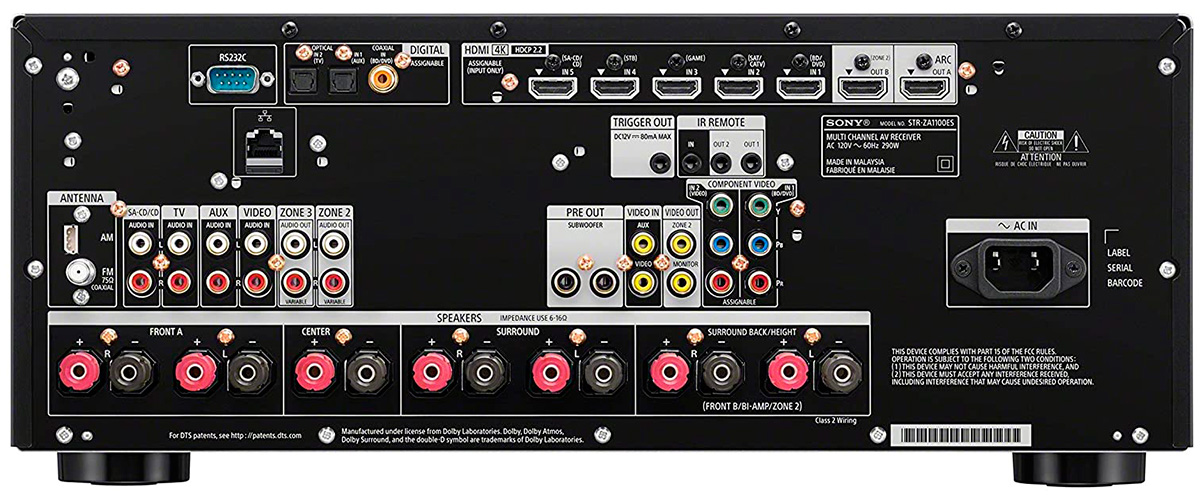 The model comes ready to decode the latest in object-based surround – Dolby Atmos and DTS:X. The mentioned technology provides deep and immersive sound. I noticed that the Sony appliance is very precise in its ability to present the full illusion of sound all around you from both sides and above. Speaking of the audio itself, the high end is pretty crisp without being overpowering, while warm mid-ranges are combined with thundering bass.
The considered model is optimized especially for custom in-home integration and system configuration. Thanks to the music connect, integrators are able to combine the power of an ES-grade multichannel sound system with the flexibility of today's wireless multi-zone music systems.
Key specs
Channels: 7.2
Stereo power, W: 70, 90
Impedance, Ohm: 8, 6
THD, %: 0.09
Pros
IMAX enhanced for immersive audio and great clarity
DTS sources are rendered incredibly well
Such music genres as jazz, rock, vocals are all rendered beautifully with perfect warmth and great detail
Equipped with not one, but two subwoofer outs
Cons
Does not work with Amazon Alexa