It's no secret that the technology market in the modern world develops very quickly. And the choice of any technical product should be approached by understanding the details and technical nuances. So if you plan to choose and buy the best AV receiver under $1000, my review is just for you.
Our pick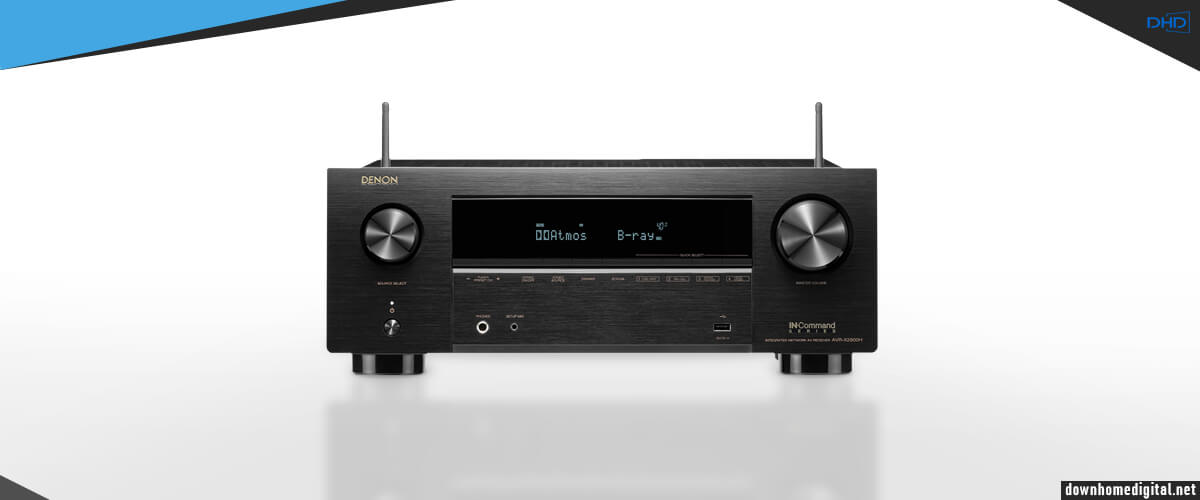 Denon AVR-X2700H
Best AV receiver under $1000
The new AVR-X2700H lets you build the best 4K home theater today and gives you the comfort of knowing that your AV receiver is 8K ready when you are.
Read the full review
.
I will tell you what models in this price range are available on the market, their features, advantages, and disadvantages, and share my experiences. To make a better pick, just read on and trust my expert opinion.
AV receivers under $1000 comparison table
Name
Channels
Power output
HDMI in/out
Bluetooth/Wi-Fi
Review
Denon AVR-X2700H

best overall

7.2
95W/8 Ohm, 125W/6 Ohm
6/2
yes/yes
Review
Marantz SR5015
7.2
100W/8 Ohm, 140W/6 Ohm
6/2
yes/yes
Review
Yamaha RX-V6A
7.2
100W/8 Ohm
7/1
yes/no
Review
Marantz NR1711

slim AVR

7.2
50W/8 Ohm, 70W/6 Ohm
6/1
yes/yes
Review
What to expect from an AV receiver under $1000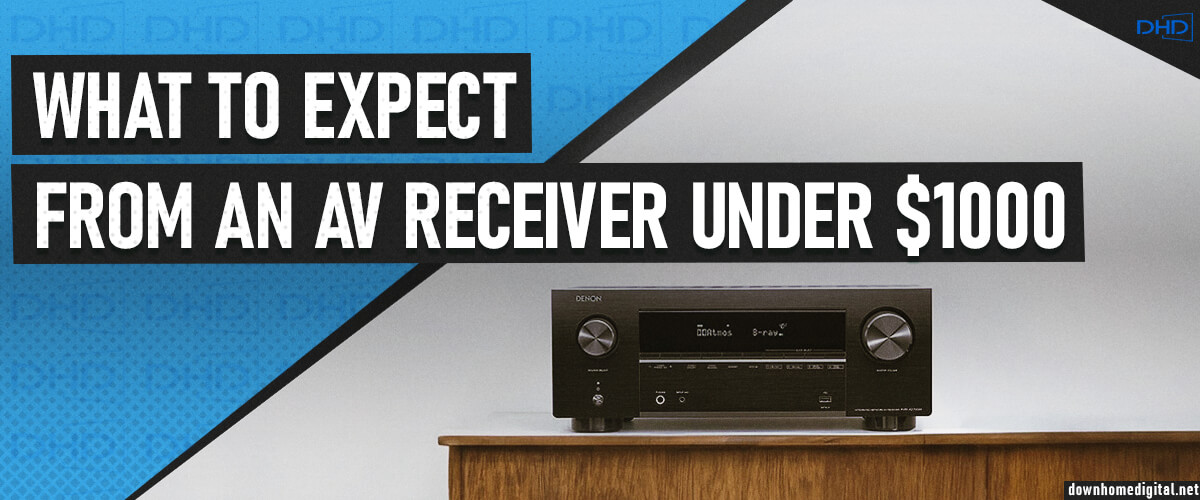 Searching for the best receiver under 1000 dollars can become a challenge, as the difference between cheaper devices and those in the top-tier category isn't that obvious at first glance. This is especially true for beginners, so I will elaborate on these differences. The first vital thing I want to emphasize is the construction. If you shell out a decent sum, you get a receiver made of durable materials unaffected by corrosion, mold, etc. Another important peculiarity is the quality of filling. Internal components in pricey receivers are designed for flawless operation and crisp sound under heavy load. So, such a unit will serve you for many years in a row.
What I also like about receivers in this price category is the availability of extra features for more enjoyable video & audio playback. For example, some advanced devices come with additional connectors, features that make it easier to control and configure the system, etc.
Most units in this price category are optimized for a 7-channel system, which is enough for avid movie lovers. However, manufacturers have already started producing 9-channel setups without crossing the border of 1000 dollars. On the whole, you can find a remarkable receiver with all the core features and some handy add-ons without spending a fortune.
How I picked and tested AV receiver under $1000
Proper testing is a very important task to evaluate a device's capabilities objectively. Therefore, I always approach this task very carefully and seriously. So, to evaluate the surround sound quality, I chose the film "1917". It has everything I need: stunning special effects, dialogue, music, etc.
As for audio playback, there were many nuances to consider, so I listened to music from different sources. In addition, for my research, I gathered different artists and music genres so that the analysis would be as universal as possible:
Arctic Monkeys – Do I Wanna Know – SoundCloud
Bob Marley & The Wailers – Turn Your Lights Down Low – Deezer
Radiohead – The National Anthem – Spotify
The Weeknd – The Hills (CD player)
Led Zeppelin – Ramble On (CD player)
Mahler – Symphony No.2 (CD player)
Jacky Terrasson – Reach (CD player)
Mark Nauseef – With Space in Mind (CD player)
I have managed to build a solid toolkit, which I use whenever I need to test new audio equipment. It consists of the following:
CD player SACD 30n
Blu-ray player Sony UBP-X700
Speaker wire – AudioQuest Type-9
Speakers for movie – Klipsch RP-8060FA
Stereo speakers:

Klipsch RP-8060FA
KEF Q350
DALI OBERON 5
Best AV Receivers Under $1000 Review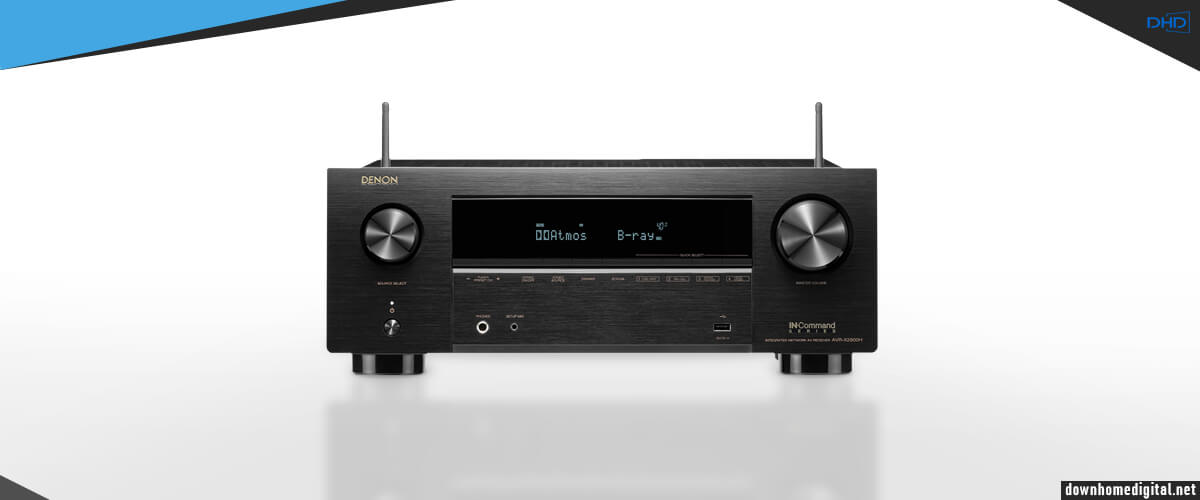 At the time of the release of the AVR-X2700H, you could hardly find another 7.2-channel receiver with more advanced features. Of course, now the situation has changed, but this model from Denon continues to please its users and keeps leadership places in various tops.
This time I'll cheat a little bit and start my review not with the design but with the sound. The first thing that "caught my eye" is the realistic sound, whether watching a movie or listening to audio from popular streaming platforms. It's impossible not to notice such an expansive soundstage with a precise definition of each element.
Thanks to Dolby Atmos Height Virtualization, I had an authentic, immersive sound in my studio while watching "Pearl Harbor". It felt like the battle was taking place right in the room, and the shooting was very frightening because of how realistic it sounded. In this aspect, the receiver proved to be excellent.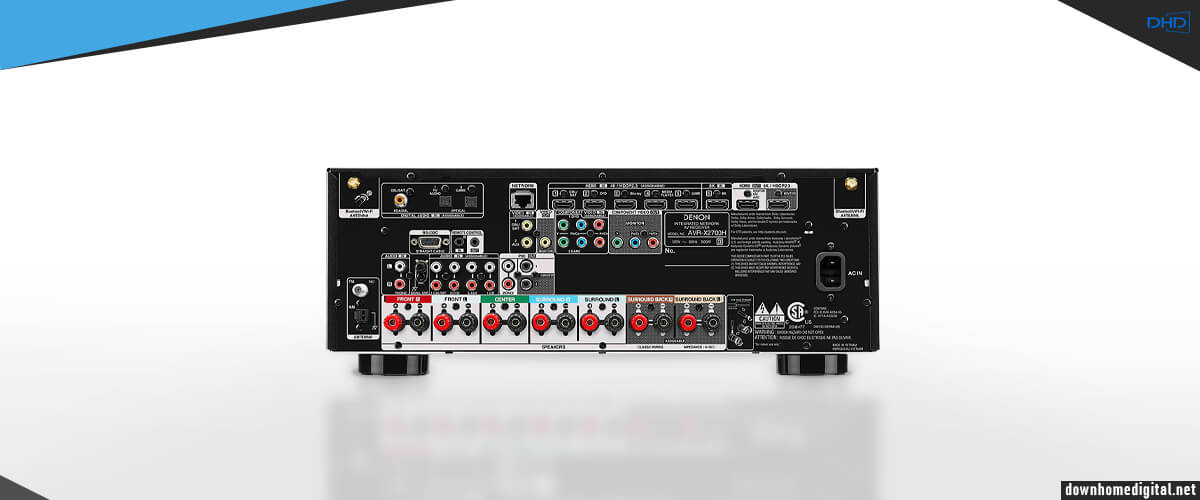 Similar to Marantz SR5015, this device allows watching 8K content. The picture was as good as the sound and pleased me a lot. If you plan to use this device for streamlined gaming sessions, you are bound to be impressed by stunning imaging, reduced lag and frame tearing, and Auto Low Latency mode.
I found 8 HDMI ports on the case, so connecting audio and video sources won't cause problems. Besides, there is a dedicated phono input for users who want to connect a turntable. As for the wireless connection, things are predictable – you have both Wi-Fi and Bluetooth. However, the manufacturer also added AirPlay 2 for Apple fans. I also like the possibility of connecting wireless speakers using onboard HEOS technology. I can't say it is a new feature, but its presence is another plus for this model. The best AVR under $1000 just must have it.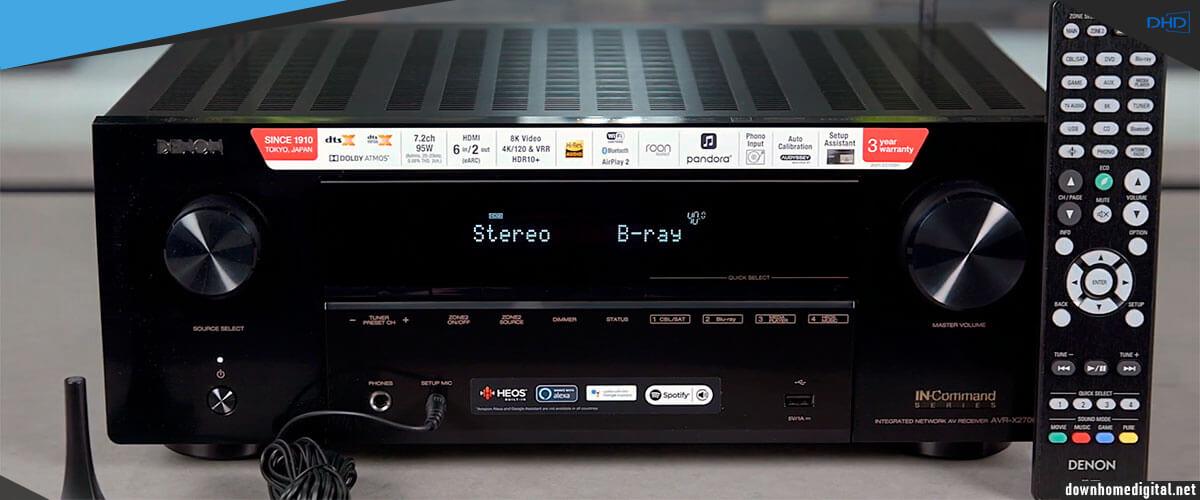 I tried streaming from Deezer, Spotify, and SoundCloud and am fully satisfied with all results. The sound was rhythmic and staccato, the transitions were smooth. I believe that AVR-2700H perfectly coped with its mission.
The manufacturer specified that the power output equals 95W/8 Ohms and reaches 125W/6 Ohms. That is enough for medium-sized and large rooms. My studio belongs to the first category, and the receiver entirely covered the space. As for setup, everything was simple and intuitive. Included instructions made the process smooth.
When it comes to the value for money products, I won't deceive you, naming Denon AVR-2700H the top A/V receiver under $1000. It has all must-haves for pleasing users with dulcet sound and a detailed image. So if you are a loyal connoisseur of the Denon brand and can't cross the limit of 1000 bucks, this model will be the optimal solution.
Key specs
Channels: 7.2.
Power output: 95W/8 Ohm, 125W/6 Ohm.
HDMI inputs/outputs: 6/2.
Video functions: 4K/120Hz, 8K/60Hz pass-through, analog to HDMI video conversion, upscales video signals to HD and Ultra HD (up to 8K).
Bluetooth/Wi-Fi: yes/yes.
Streaming services: AirPlay2, Spotify, Pandora.
Suppots HDMI ARC, HDMI eARC, HDMI CEC, HDCP2.3, HDR10, HDR10+, Dolby Vision.
Surround sound: DTS:X, Dolby Atmos.
Pros
Lots of handy modes.
Zone 2 support and much power for driving any 7.2-channel setup.
Remarkable cooling system.
Max volume limit to prevent hearing issues.
Excellent spatial control and sense of rhythm.
Support for 8K.
Cons
The app calls for improving.
Marantz SR5015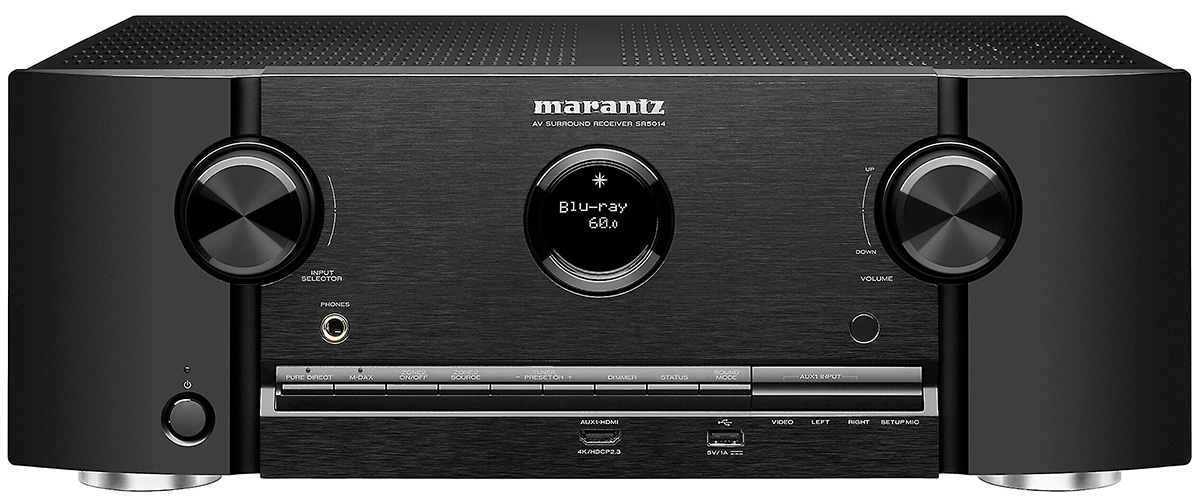 Regarded by many as a beautiful audio piece, Marantz SR5015 is packed with numerous features for smooth playback. Moreover, this receiver supports Dolby Atmos and DTS:X technologies, which will make your audio experience top-notch, you can listen to audio in high quality and hear the slightest variations in tones. Another nice feature of this 7.2-channel receiver is integrated HD video processing, which will appeal to people who want to watch their favorite movies in the comfort of their homes.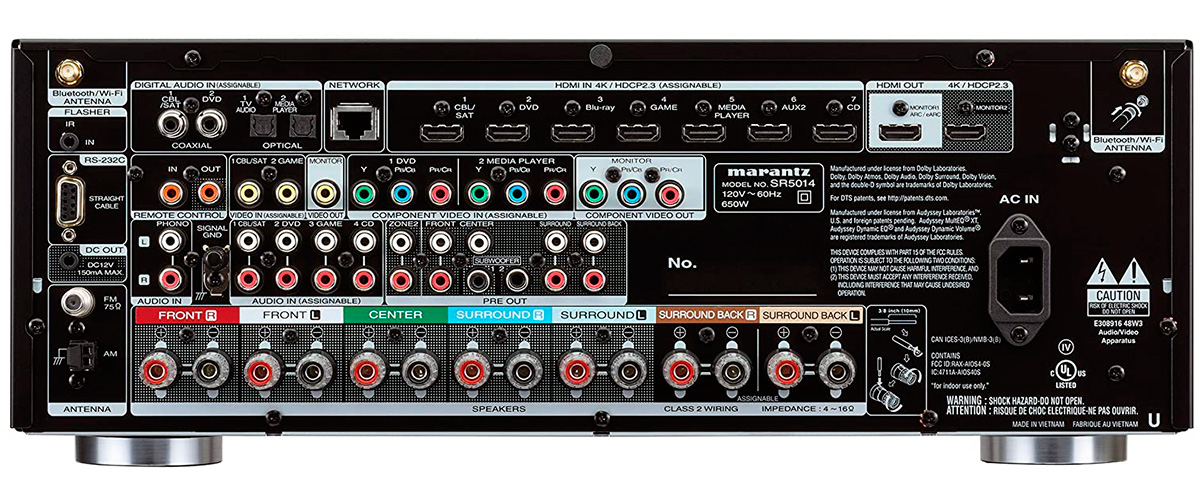 Moreover, the receiver guarantees full-rate pass-through, so those looking for a device capable of outputting 4K Ultra HD movies will definitely like the unit. Other goodies aimed at avid movie lovers are SD/HD video upscaling and Pure Color sub-sampling. I took full advantage of these features while watching 1917 and was impressed by how crisp an image was.
It seemed to me that every element of the receiver was selected for providing an ultra-realistic effect while streaming videos and audio. SR5015 produces power of 100 watts per channel (8 Ohm) and 140 watts per channel (6 Ohm).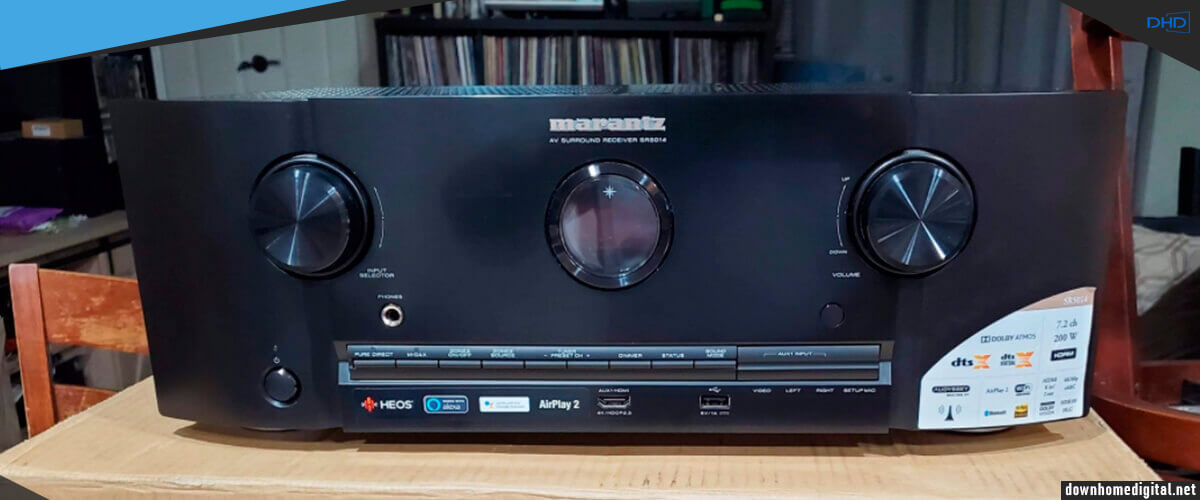 As for outputs, there are 6 HDMI inputs (seems like a nice future-proofing move) and 2 HDMI outputs. I connected all the needed equipment, and there left enough connectors for other devices. Besides, you can rely on wireless connectivity for cord-free operation. For instance, you can easily access Deezer, Tidal, Spotify, and other popular services. This makes the SR5015 similar to Denon AVR-X2700H, but the wireless connection here is faster.
I also tested management via voice assistants. That's an absolute delight! As for HEOS technology – that is a cherry on the top. I listened to one song in one room and played another composition in the adjacent environment – nothing to complain about. High and low frequencies are well defined, while the bass is remarkable.
All in all, Marantz SR5015 has stolen my heart, and it fully deserves the title one of the best home theater receivers under 1000 dollars. For the money, you get not only standard features but also many cool extras. Audio is pleasant and without booming highs, no matter how much you raise the volume.
Key specs
Channels: 7.2.
Power output: 100W/8 Ohm, 140W/6 Ohm.
HDMI inputs/outputs: 6/2.
Video functions: 4K/120Hz, 8K/60Hz pass-through, video upconversion (up to 1080p and 4K) for analog and HDMI sources.
Bluetooth/Wi-Fi: yes/yes.
Streaming services: AirPlay2, Spotify, Pandora, Deezer, Tidal.
Supports HDMI ARC, HDMI eARC, HDMI CEC, HDCP2.3, HDR10, HDR10+, Dolby Vision.
Surround sound: DTS:X, Dolby Atmos.
Pros
Stellar dynamic range.
Audyssey software cleans up a room, reinforcing wave pattern.
Menu-driven and fully comprehensive setup.
Zone 2 feature.
Cons
Jagged volume control with remote.
No HDMI 2.1 support.
Yamaha RX-V6A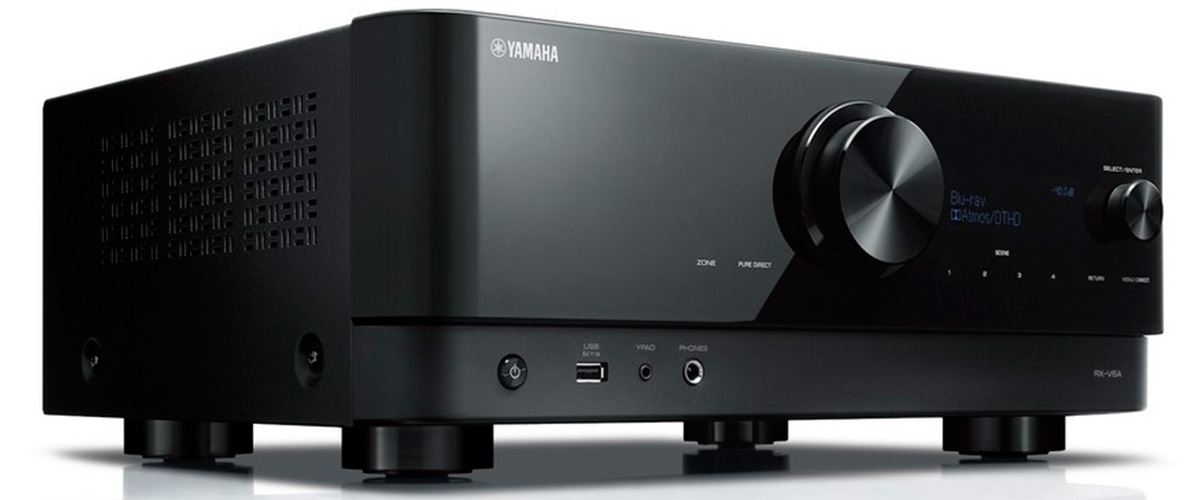 Those chasing top sound quality and true-to-life visuals should have a closer look at this receiver. It is designed for integration into a 7-channel setup, largely expanding the capabilities of advanced home theaters. Thanks to the support of the latest audio and video formats, you can enjoy the premieres in remarkable quality without leaving your house. The developer created a masterpiece with 8K and the newest HDMI standards support, making it a serious rival to such models as Marantz SR5014 and Denon AVR-2700H. Thanks to embedded Dolby Vision and Dolby Atmos technologies, you can nicely level up your media consumption experience.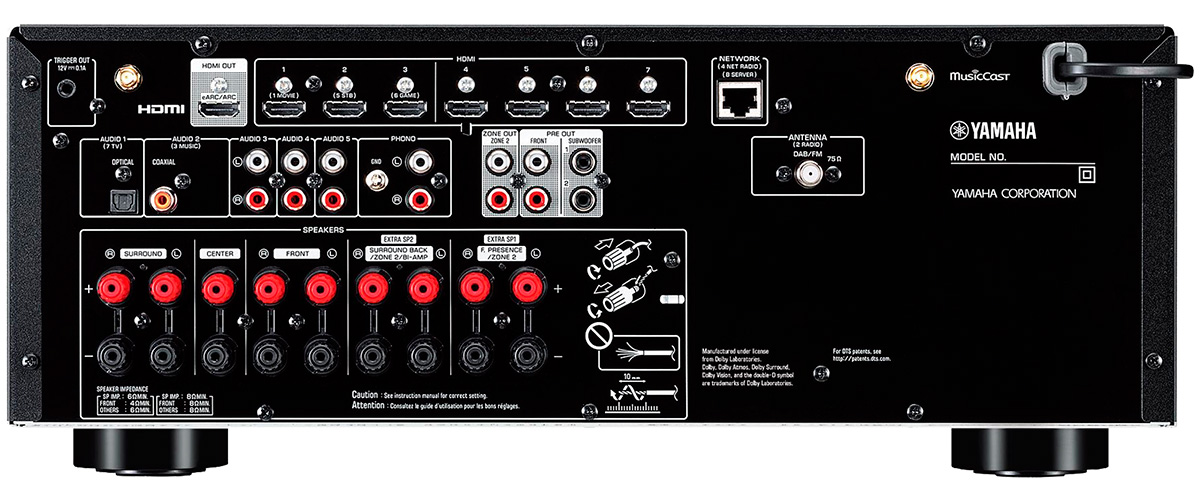 When watching the movie, I was curious about how well HDR10+ is manifested here. Astonishingly, the device processes videos on a scene-by-scene basis and also reveals scene characteristics for more accurate details. That is a feature few receivers in this price category can boast of. Yamaha also cared for gamers, offering them such perks as Quick Media Switching, Variable Refresh Rate, and Auto Low Latency Mode. I wasn't actually interested in these features, but it is nice to know they are available on this device.
While listening to music, I tested both wired and wireless connections. They worked smoothly, and the signal was transmitted without significant drops. If you need Yamaha's proprietary MusicCast multi-room audio technology, you'll be pleased to know it is available here. Those owning iOS devices can make good use of the AirPlay 2 feature.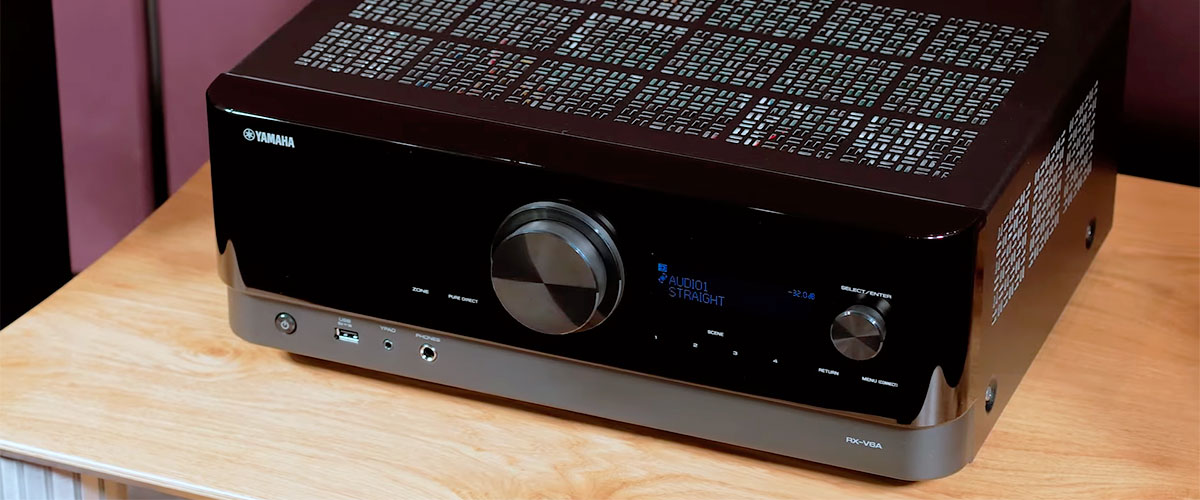 If you pair this receiver with 6 Ohm speakers, the power output is 100 watts. Another present from the manufacturer is YPAO. It offers eight different positions and chooses the most suitable one based on your current environment. It worked great for my studio. While listening to the audio, I could fully concentrate on its quality instead of devoting time to arduous setting up. I like that playback was always accurate. The balance between sonic spectrums was on point.
If you are looking for an excellent upgrade for your home theater but don't want to go bankrupt, I highly recommend getting this device. It can output high-resolution audio, filling each corner of a room with pure melodic sound.
Key specs
Channels: 7.2.
Power output: 100W/8 Ohm.
HDMI inputs/outputs: 7/1.
Video functions: 4K/120Hz, 8K/60Hz pass-through, upscales HD video signals to 4K Ultra HD.
Bluetooth/Wi-Fi: yes/yes.
Streaming services: AirPlay2, Spotify, Pandora, MusicCast.
Supports HDMI ARC, HDMI eARC, HDMI CEC, HDCP2.3, HDR10, HDR10+, Dolby Vision.
Surround sound: DTS:X, Dolby Atmos.
Pros
Nice, clear, and loud sound.
MusicCast app works like a charm.
Has lots of future potential.
Instant access to audio-sharing services.
Cons
Loose knobs and cheap-looking plastic panel.
The volume button doesn't rotate smoothly.
UI display should be upgraded.
Denon AVR-S970H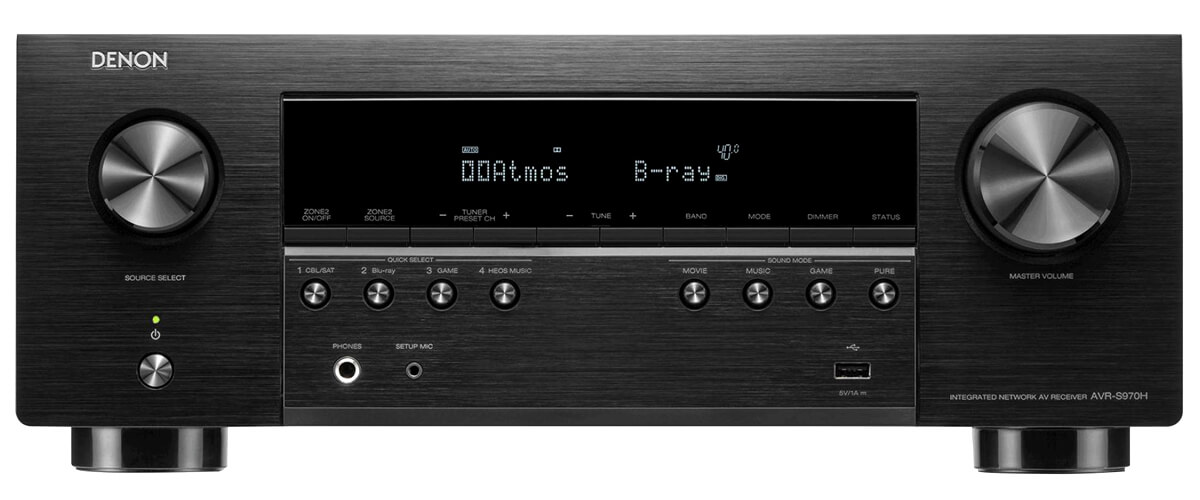 Denon AVR-S970H, just like its predecessors in my list, supports 8K/60 Hz and 4K/120 Hz video. And in other parameters, it is not lagging, and many people will like its sound even more. But if you compare it, for example, with a slightly more expensive model Sony STR-DN1080, then in the latter, you will not find the maximum video resolution available today.
Among the truly "theatrical" advantages of the receiver should be highlighted support for HDR10+ and Dynamic HDR. The Quick Media Switching feature allows you to switch between HDMI (2.1, HDCP2.3, ARC, and eARC) connected video sources without screen flicker. Another favorable competitive advantage over Sony STR-DN1080 is HLG and Dolby Vision technologies.
AVR-S970H has 90W power amplifiers (8 ohms, 20 Hz – 20 kHz, 0.08%, 2ch), which is an excellent indicator for the category of receivers I'm reviewing. Inexpensive devices with declared high-power amplifiers do not cope with them and wheeze when the volume is raised. I didn't notice wheezing but overheating when operating for a long time – yes. So, if you decide to buy one, provide this AVR with increased ventilation.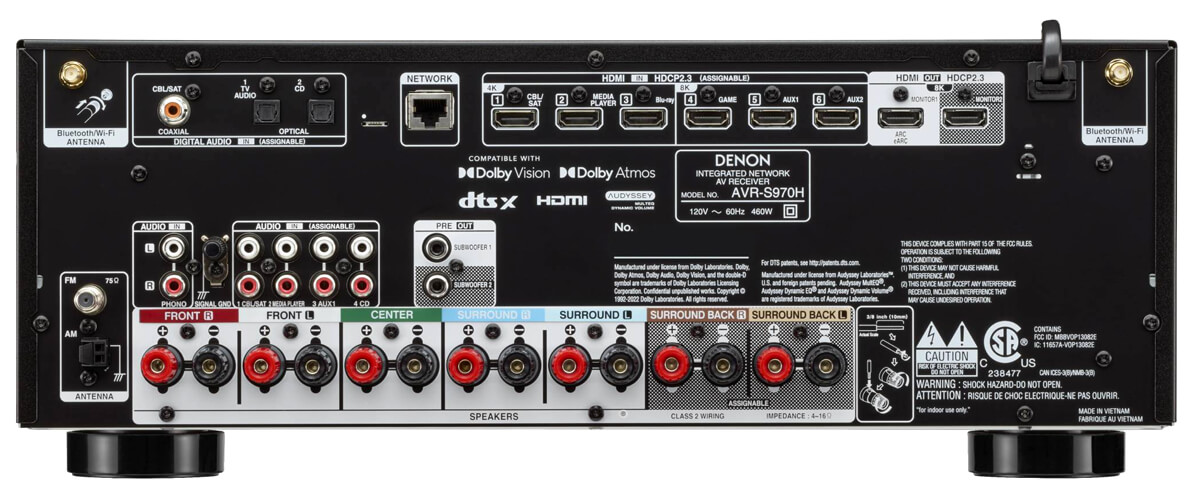 Surround sound support is no problem either, as this model works with DTS:X (including DTS Neural:X and DTS Virtual:X) and Dolby Atmos (including Dolby Atmos Height Virtualization and Dolby Atmos Music).
This 7.2-channel receiver features the proprietary HEOS Wireless Multi-Room remote audio access technology. I easily played music from Amazon Music, Tidal, Spotify, TuneIn, and SoundCloud. I also tested the Wi-Fi, Bluetooth, and AirPlay 2 features – they worked flawlessly (including voice assistant control).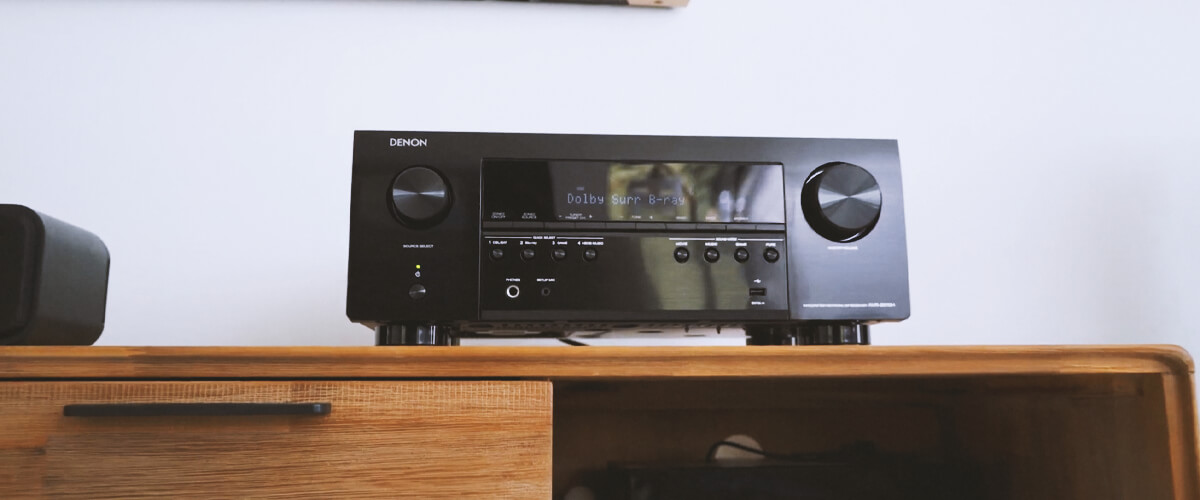 The model works with Roon Tested, so I used Roon's updated music interface to get information about the artist and the current song. The compressed audio enhancer does work very well. The music was always soft and clean, no matter what audio I was playing. As for the sounds in the movie, I like the clear separation between dialog and background noise.
This model is in this review for a reason. It has all the basic and a number of advanced features. All this allows it to not only successfully compete in its price segment but even sometimes surpass more expensive models. Take a closer look; maybe Denon AVR-S970H will become your friend for many years.
Key specs
Channels: 7.2.
Power output: 90W/8 Ohm, 125W/6 Ohm.
HDMI inputs/outputs: 6/2.
Video functions: 8K/60Hz, 4K/120Hz pass-through, upscales video signals to HD and Ultra HD (up to 8K).
Bluetooth/Wi-Fi: yes/yes.
Streaming services: AirPlay2, Spotify, Pandora, Tidal, Deezer.
Suppots HDMI ARC, HDMI eARC, HDMI CEC, HDCP2.3, HDR10, HDR10+, Dolby Vision.
Surround sound: DTS HD Master, DTS:X, DTS Neural:X, Dolby TrueHD, Dolby Atmos, Dolby Atmos Height Virtualization, Dolby Atmos Music, Dolby Surround.
Pros
Switching inputs is very fast.
Wi-Fi, Bluetooth, and AirPlay 2 – they work flawlessly.
The compressed audio enhancer does work very well.
Cons
Heats up when operating for long periods.
ALLM and VRR do not work with PlayStation 5.
Sony STR-DH790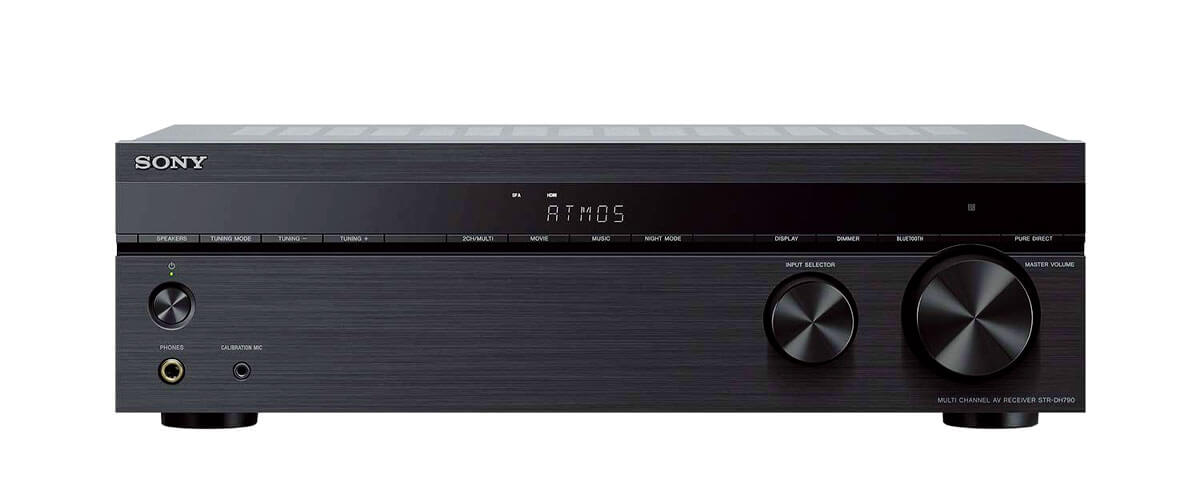 Sony STR-DH790 is a new inexpensive receiver model from the world-famous Japanese brand. Let's see what this recognized leader in electronics production will offer and whether STR-DH790 will be able to surprise you with something.
I will first note that the device is relatively easy to set up and quite convenient to use. As for the model's design, it is standard and does not stand out among the analogs.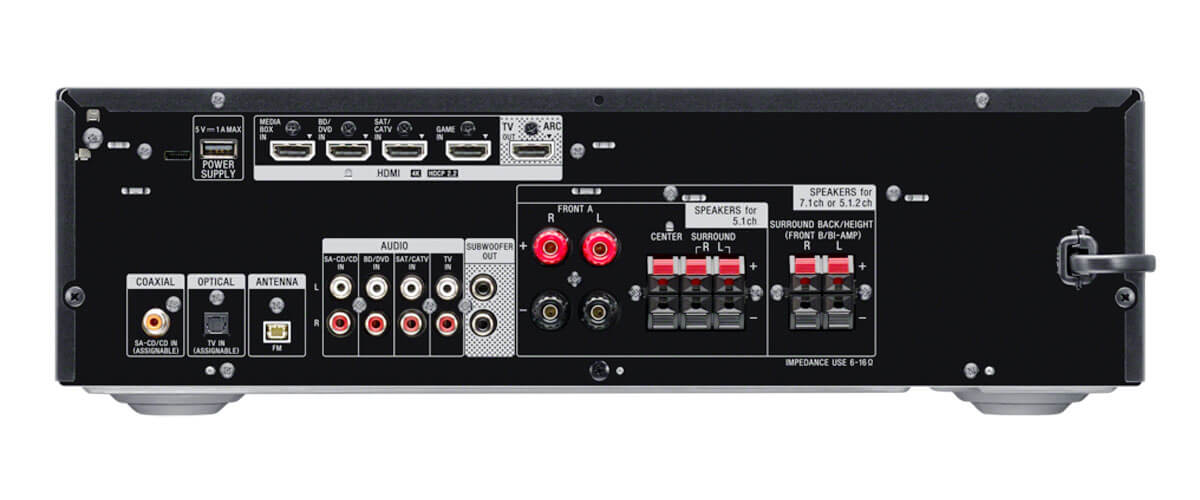 It differs From DH590 (the previous model) with more channels, an improved version of DCAC with support for auto-phasing of speakers, support for HDMI signals of Dolby Atmos, DTS: X and DTS-ES format (Matrix 6.1/Discrete 6.1), 4K signal transmission with HDR. As a nice bonus, I should mention that DH790 can be set up as 7.1 (walls) or 5.1.2 (walls+ceiling). The output power is 145 W (6 Ohm) for 7 channels.
Now let's see how things are with the connectors because they are a very important indicator of the receiver's versatility. Sony STR-DH790 is equipped with 4 HDMI 2.1 inputs. They support up to 4K signal quality at 60 Hz, HLG and Dolby Vision formats, 3D, Deep Color technology, BT.2020 color space, and HDCP 2.2 data protection protocol. There is only one HDMI output (I think it is not enough). There is a USB, Bluetooth, and FM tuner. The DH790 has no analog video outputs, but there are four analog audio inputs and coaxial and optical digital audio outputs. Considering this is not a premium class, the set of ports is quite decent. By the way, it also has no support for multi-room zones and phono stage. What really upset me was the lack of Wi-Fi.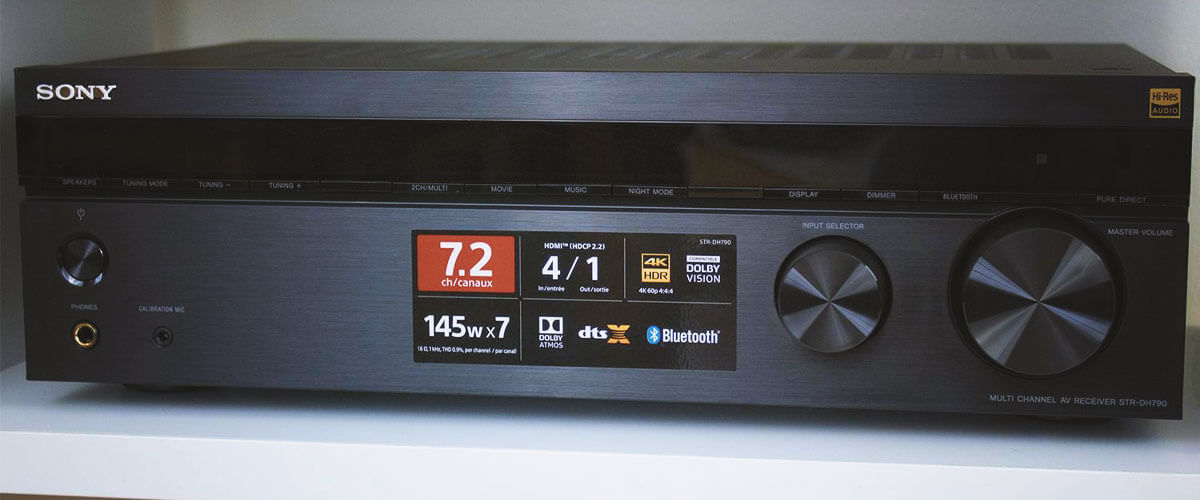 I tested the sound quality by watching battle scenes from my favorite "Troy" and "Kingdom of Heaven." I was pretty pleased with the receiver -it was really great sounding. I fully appreciated all the benefits of the Atmos format. The clang of swords, the battle cries, and the blows of shields were as if next to me. Also, the DH790 performed well when I tested the music in Stereo, Direct, and Pure Direct modes.
Overall, I can say that it is a good model, but Sony did not surprise me with anything this time. The receiver fully copes with its tasks and has no glaring flaws. So it is a good option, considering its relatively low price tag.
Key specs
Channels: 7.2.
Power output: 145W/6 Ohm.
HDMI inputs/outputs: 4/1.
Video functions: 4K/60Hz pass-through.
Bluetooth/Wi-Fi: yes/yes.
Streaming services: AirPlay, Spotify, Pandora, Tidal, Deezer.
Suppots HDMI ARC, HDMI eARC, HDCP2.2, HLG, Dolby Vision, HDR10.
Surround sound: DSD, Dolby Atmos, Dolby Digital, Dolby Dual Mono, DTS, DTS-ES, DTS: X, DTS-HD Master Audio, DTS HD High-Resolution Audio.
Pros
Supports 4K HDR/HDMI 2.1/eARC/Dolby Atmos/DTS X.
Switches from your phone via Bluetooth.
Syncs with your Sony TV.
Different tuning options.
Cons
The receiver tends to heat up a lot during long hours of use.
Not designed to work with 4-ohm loudspeakers.
No network connections (Wi-Fi/Ethernet).
Marantz NR1711 – top slim AVR under $1000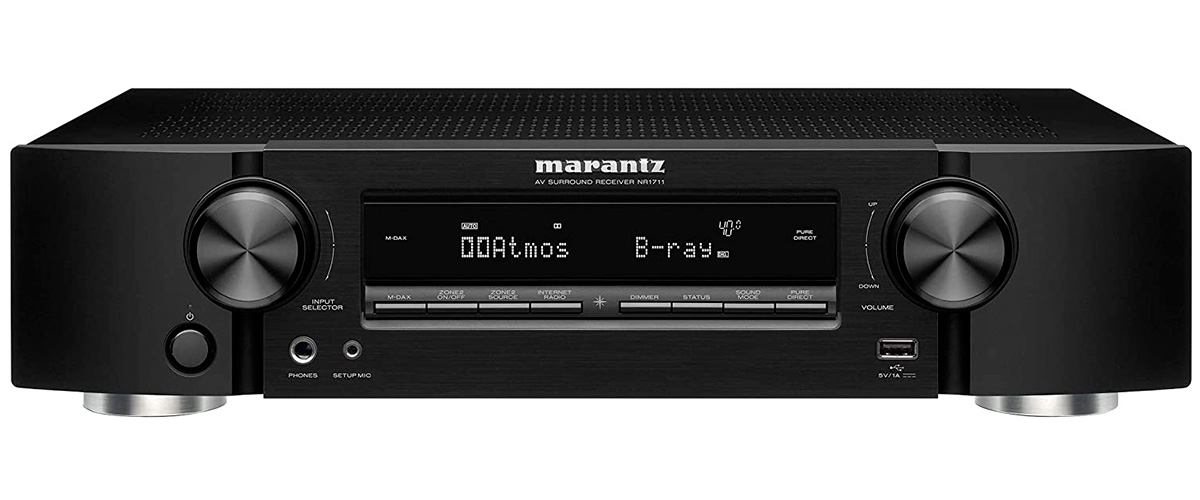 If you have limited space in your house but still want to give your speakers a totally new sound, you can purchase Marantz NR1711. It is a tiny 7.2-channel receiver with a power output of 50 watts/8 Ohms and 70 watts/6 Ohms. Upon seeing this little machine, I wasn't sure of its capabilities, but put it to the same rigorous test as the aforementioned models.
The biggest astonishment was to learn that this model is capable of 8K HDMI upscaling. Even some more expensive devices lack this feature. In addition, the NR1711 supports modern, high-quality video formats such as 4K/120 Hz and 8K/60 resolution, HDR10, HDR10+, Dolby Vision. Colors are true-to-life, which is important when selecting a home theater receiver.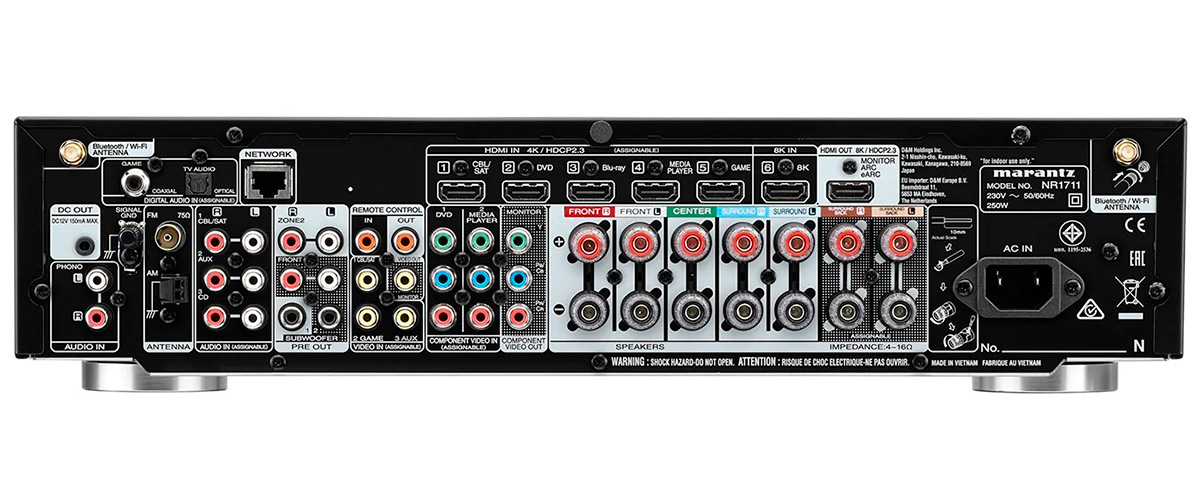 Thanks to integrated Dolby Atmos and DTS:X, you'll get genuine surround sound regardless of the video you are watching. If you fancy war dramas and action films, you will fall in love with this model. Those who don't like to drill into the walls of their home will love that the NR1711 mimics the sound produced by in-ceiling speakers (DTS Virtual:X and Dolby Atmos Height Virtualization), so they don't have to be added to the system. As for music playback, I heard a detailed sound while streaming from online platforms and with CD players attached.
If you don't like such peaceful sound reproduction, go to the Audyssey menu and turn off the equalization of the frequency response. Then turn on the graphic equalizer and slightly tweak the sound of the entire system or each channel separately. But don't get too carried away.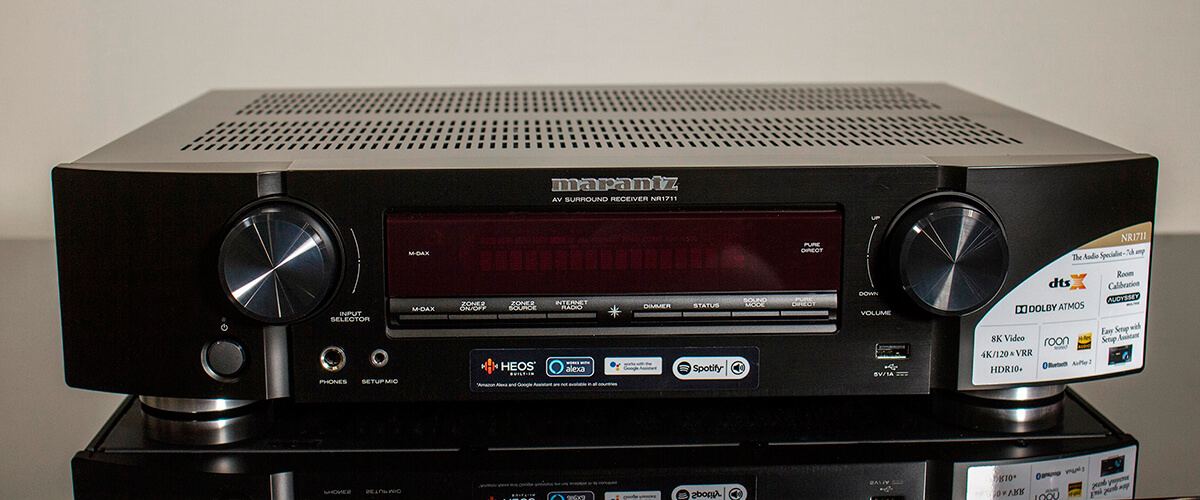 Well, compromises await you in this model as well. For example, I was disappointed with the poorly designed OSD application and the low-end plastic enclosure. But such shortcomings did not affect the overall impression of the capabilities of this baby at its price.
In general, Marantz NR1711 follows the company's well-established tradition. It has all the necessary features conveniently packed in a compact body, including the wireless broadcast of the HEOS. You won't find bells and whistles here, and that is evident from its price. Anyway, this top slim audio receiver can level up the performance of your theater system, and I believe this is all you need to expect from this unit.
Key specs
Channels: 7.2.
Power output: 50W/8 Ohm, 70W/6 Ohm.
HDMI inputs/outputs: 6/1.
Video functions: 4K/120Hz, 8K/60Hz pass-through, upscales video signals to HD and Ultra HD (up to 8K).
Bluetooth/Wi-Fi: yes/yes.
Streaming services: AirPlay2, Spotify, Pandora, Deezer, Tidal, Amazon Prime Music.
Suppots HDMI ARC, HDMI eARC, HDMI CEC, HDCP2.3, HDR10, HDR10+, Dolby Vision.
Surround sound: DTS:X, Dolby Atmos.
Pros
The latest video switching technology and HEOS capability in one pack.
Pre-out connections for an external amplifier.
Remarkable calibration.
Slim design to fit in tight spots.
Cons
Disappointing app.
Low-end plastic enclosure.
On-screen menus are poorly designed.
Buyer's guide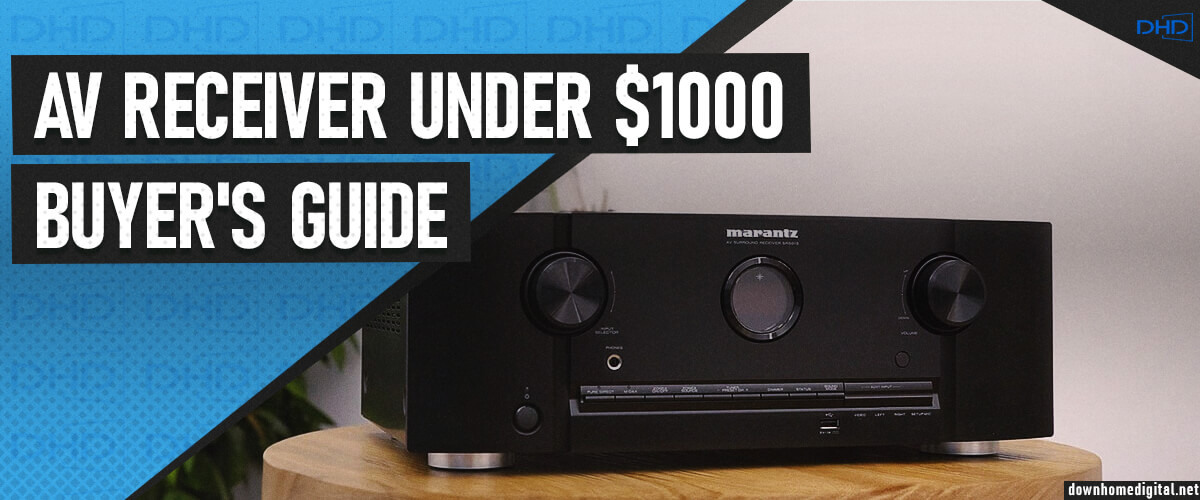 How many channels do you need
Any modern AV receiver offers at least 5.1 surround sound with six active channels: left front, right front, central, left side, right side, and subwoofer channel. This configuration can certainly provide good sound quality – much better than what you can get from a TV or stereo amplifier with two speakers.
To get to the level of sound you've heard in the cinema, add more speakers to your system and upgrade to an AV receiver with 7 or more channels.
A 7.1-channel AV receiver can additionally support audio playback with two rear speakers, creating a vivid sound experience that fully embraces the viewer.
But the capabilities of a 7-channel AV receiver are not extensive enough to cover the full range of sound formats in a modern home theater. The main problem is the lack of sound from above. If you want more natural and detailed sound, your AV receiver should have more channels and support for the latest audio formats, such as Dolby Atmos, DTS:X, Auro-3D, etc.
How much power do you need
The more powerful the equipment, the more expensive it is, so the optimal power of the receiver should be regarded considering the size of the room in which the home theater is installed. If it's a small room, it doesn't matter how powerful is the receiver you buy – any receiver will do, and it guarantees great sound. But for larger spaces you'll have to choose the equipment more carefully and, inevitably, you'll have to pay a lot more.
Conventionally speaking, 1.5W should be available per 10.76 ft² of space. So for a room of 300 ft², you need a receiver with about 50 watts of power. Of course, the larger the room is, the more power the receiver will need.
The final sound level will depend not only on the receiver's power but also on the sensitivity of the speaker system. I should note that the receiver will give different volumes with different speakers at the same power level.
My main recommendation is to make a power reserve: it should be greater than the speaker system's power. This will allow you to avoid sound distortion and improve your system over time without buying a new receiver.
What else is important to know about power when choosing a receiver:
The power of an individual channel in the receiver should not exceed the speaker's power. If there is more power in a channel, you should not turn up the volume in the speaker to the maximum.
The impedance of the receiver and the speakers must match. If the speaker's impedance is less than the receiver's, you may end up with burned-out elements. If the impedance is lower in the receiver, the sound from the speaker will be quieter than if it is properly connected.
What kinds of inputs and outputs do you need
The scope of use of the receiver is quite extensive, allowing you to connect a variety of devices to it simultaneously. After all, it is not for nothing that the receiver is the center of your entire multimedia system. Therefore, the availability of various ports in the receiver is fundamentally important, which affects its versatility and can open up to you almost limitless possibilities.
For example, HDMI is a critical connection in modern home theaters. With the help of HDMI, you often connect HD and 4K source devices, connect Blu-ray and Ultra HD Blu-ray players, different cables, or even media streamers. Typically these devices have a minimum of four HDMI inputs and at least one output. However, depending on the specific model you choose, there may be more or less of them. You should realize that the more these connectors you have, the more options your receiver has.
Also, one of the receiver's popular options is to play audio and video information from a USB drive. Wi-Fi simplifies the receiver's communication with the computer network, and today you can hardly do without it. And there's also Bluetooth, which will play audio content from tablets, smartphones, and other gadgets.
As additional features, it is worth noting the Phono input for connecting a vinyl player, XLR connector, headphone output, etc. But this is not so critical, and their presence or absence depends on your purpose of using the receiver.
HDR, Dolby Atmos, and 4K video
4K video means 4,000 pixels across the width of your footage. Such video will play back in a much higher resolution than conventional formats. This allows you to fully experience the atmosphere of a movie or music video.
HDR, on the other hand, usually has an extremely wide range of colors and brightness, so it captures contrasts better.
Dolby Atmos is a next-generation technology developed by Dolby Laboratories for surround sound. This technology represents a qualitatively new stage in the development of surround sound, both in terms of recording and listening. It involves the placement of sound images in space as intended by the sound engineer. When playing such a track, the Dolby Atmos processor recreates the recorded surround sound picture in real-time, given how many speakers are used in the system. You can imagine what a cool surround sound you get as a result.
Built-in Wi-Fi, Bluetooth, and streaming services
If you are looking for the best home theater receiver under 1000 dollars, you need to instantly sieve devices that lack wireless capabilities. While several years ago it seemed like redundant expenses, nowadays such technologies have actively penetrated our life and made it so much easier.
Owning a Wi-Fi-enabled device, you can easily connect it to your home network and initiate streaming from music-sharing services (Spotify, Deezer, etc.). Besides, Wi-Fi is super cool when you need to upgrade the firmware of your receiver, as it makes the process intuitive and prompt. I appreciate that many manufacturers add a dedicated app to the kit, so controlling a receiver is a breeze. Install an app on your mobile device, connect to your home network and adjust settings, queue compositions, or perform other manipulations in no time.
Bluetooth is an excellent alternative to Wi-Fi, which also allows controlling and managing your receiver without hassle. The main thing to remember is that Wi-Fi coverage is usually more extensive than what Bluetooth offers. In most cases, you need to stay in one room to set a Bluetooth connection between a receiver and your mobile device.
Apple has created its own wireless technology called AirPlay. Nowadays, you can get the newest version – AirPlay 2. If you use a device running iOS and want to transform it into a remote control for your audio receiver, you just need to connect both units to the same wireless network and enjoy your favorite melodies. The best thing is that you can use your phono for other tasks, e.g., make a phone call, search the web, write a message, without interrupting the music.
Explore other our AV receivers ratings