It's no secret that the technology market in the modern world develops very quickly. But, nevertheless, you still need to approach the choice very wisely and thoughtfully in order to get the best av receiver under $1000. If you hope to get a positive home theater usage experience, choosing the speaker set and AV receiver is going to be an invaluable choice.
Nowadays, they are extremely useful units. Immediately upon connection, you may feel a significant improvement in the sound because the powerful, detailed, and dynamic sound of the TV will not leave anyone indifferent
Our pick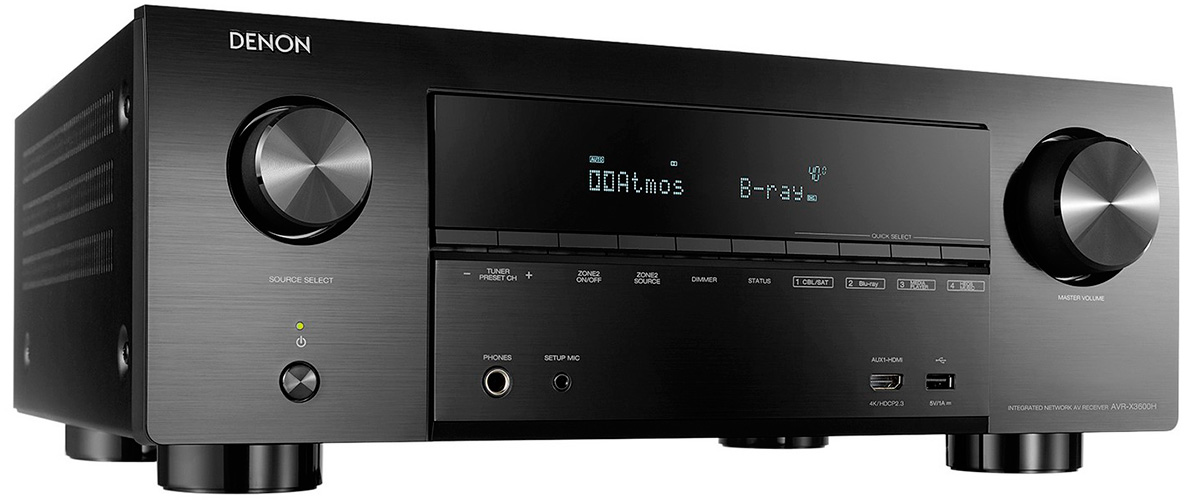 Denon AVR-X3600H
Best av receiver under $1000
9.2 channel 4K Ultra HD AV receiver supports 3D audio formats Dolby Atmos®, Dolby Atmos Height Virtualization Technology, DTS:X™, DTS Virtual:X® and new IMAX Enhanced. Works with Amazon Alexa, Google Assistant, and Apple Siri for seamless voice control.
The most important tips on choosing the right receiver
How many channels do you need
Basically, the majority of modern AV receivers offer the typical amount of six active channels. These usually include one center, one subwoofer, both left-front and right-front, and both left-surround and right-surround as well. Using all their potential, you will greatly improve the quality of the outgoing sound. Note that in order to unleash the full palette of sound, it is recommended to add several speakers and use an AV amplifier with more than 5 channels.
For example, if we're talking about an AV device that has 7.1-channel, it can play via the rear speaker. Many Blu-ray and streaming services now include 7.1-channel soundtracks, so the receiver is suitable for producing an enhanced sound that is deeper and cleaner.
How much power do you need
In fact, comparing the loudness capabilities of one amplifier to another using a typical power rating is a very unreliable way. Тhe more power you put into a particular speaker, the louder it will play. When choosing, it is important to understand that more watts do not necessarily mean better sound.
In fact, you can understand real power by looking at your device's build and looking at the hardware. For example, any huge amplifier or premium receiver has a huge power transformer inside. Powerful amplifiers need large transformers to divert huge amounts of power from the wall outlet, and high-current transformers are always heavy.
In fact, to choose the greatest device, I would be guided by the rule: "more is better than less." For example, if you need an amplifier to sound good at a party, 1000 available watts for one channel, not quite enough. 200 watts are better, but all 300 watts may be what it takes to have a good party.
What kinds of inputs and outputs do you need
The receiver usage process is quite interesting, which also allows you to connect more than one device to it at the same time, but even more. Fortunately, these devices have a fair amount of inputs and outputs, so let's take a look at this problem.
For example, HDMI is a critical connection in modern home theaters. With the help of HDMI, you often connect HD and 4K source devices, connect Blu-ray and Ultra HD Blu-ray players, different cables, or even media streamers. Typically these devices have a minimum of four HDMI inputs and at least one output. However, there may be two or three, depending on the certain model you chose.
For instance, having a USB allows you to play music stored on flash drives or other compatible USB devices. Moreover, many modern receivers provide network and Internet connectivity. It is possible by connecting an Ethernet cable to the receiver through the provided Ethernet port.
I would also like to mention both coaxial and optical connections. Since receivers for home theaters usually have two particular types of connections, they may help you to connect audio from such devices as DVD players, Blu-ray, and HD or 4K Ultra HD TV.
HDR, Dolby Atmos, and 4K video
One day, you'll definitely come across these labels, which are usually indicative of the "coolness" of a particular product. Let's figure out how they're supposed to work.
4K video means 4000 pixels of the width of the footage. This video will be played at a way higher resolution. It will bring you a full experience of the movie or music. HDR, in turn, usually has an extremely wide range of colors and brightness, so it conveys contrasts better. Meanwhile, Dolby Atmos, with its three-dimensional sound, will get you to another level of sound by connecting a compatible sound system.
AV Receivers Under $1000 Comparison Table
Receivers
Channels
Stereo power, W/Ohm
THD, %
Review
Denon AVR-X3600H

best overall

9.2
105/8, 135/6
0.08
Review
Marantz SR5014
7.2
100/8, 180/6
0.08
Review
Yamaha RX-V6A
7.2
100/8
0.06
Review
Best AV Receivers Under $1000 Review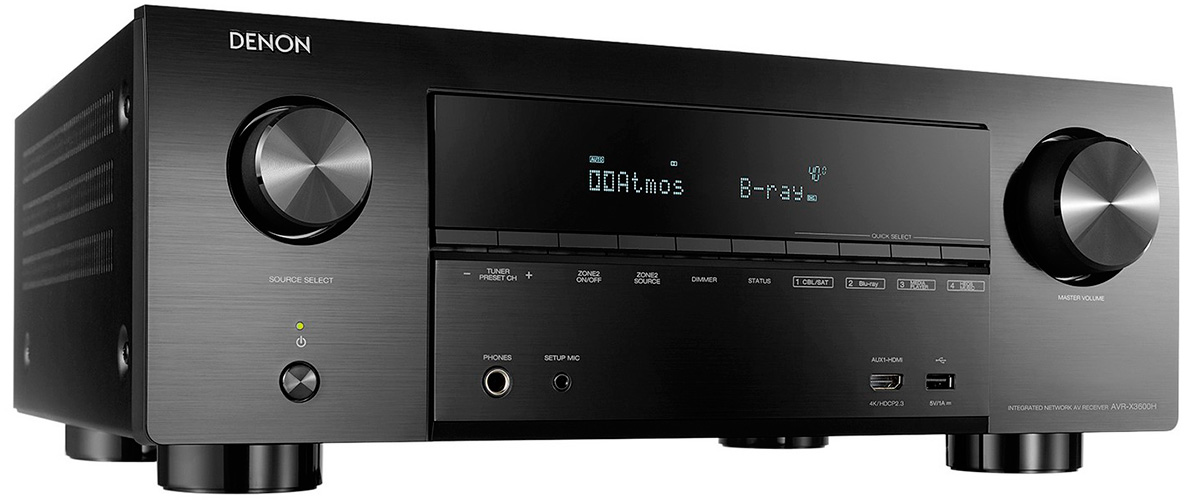 Denon, in his usual manner, knows how to surprise users with wonderful products with equally cool characteristics. I believe that it is not for nothing that it is often called the best receiver under 1000, and now we will find out why.
First, this powerful 9-channel amplifier gives you around 105 watts per channel, and with them, it provides you with high power performance while featuring HDCP 2.3 support, extremely good video processing with 4K upscaling, and a 12V trigger output to connect other devices for your personal convenience. These great specs are packed into a very beautiful case that looks stylish and will fit in with any décor. The black coating makes it very pleasing to the eye and does not interfere with the design. Moreover, the buttons are made at the highest level and guarantee maximum comfort in use.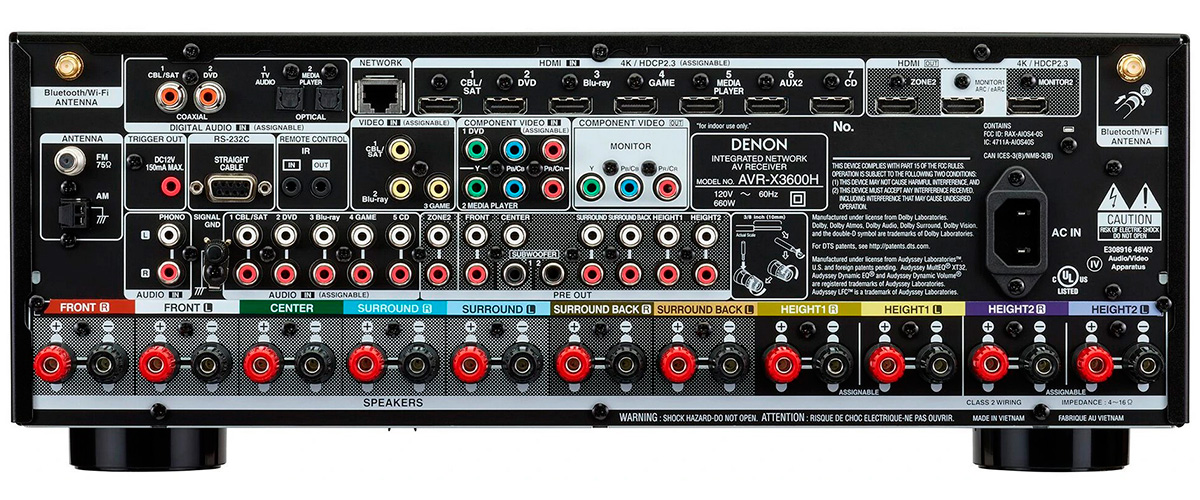 Also, I like the number of features this device has. For example, it has 4K Ultra HD video, Dolby Vision function, and of course HDR10. Moreover,multi-dimensional audio in the form of Dolby Atmos also won't leave anyone indifferent.
Separately, I really enjoyed the usage process of voice control with the help of Alexa from Amazon. With its help, control your device, in particular the sound, the material being played, and much more. Also, there are built-in 8 HDMI Inputs onboard and 2 HDMI Outputs with eARC Support, which is more than enough.
Key specs
Channels: 9.2
Stereo power, W: 105, 135
Impedance, Ohm: 8, 6
THD, %: 0.08
Pros
Provides an outstanding audio quality that has many features and is very clear and pleasant, even at maximum volumes
The presence of 11 preamp channels allows music lovers to add one or two more speakers for even more detailed sound
Features a whole set of inputs and outputs, including RCA cable, optical, coaxial, and of course, all your favorite HDMI
Cons
Running songs at high volume can have a bad effect on the performance of the device due to the fact that it, like everything else, will heat up
After long-term work and heavy loads, the device needs time to cool down because there are cases of freezing
Marantz SR5014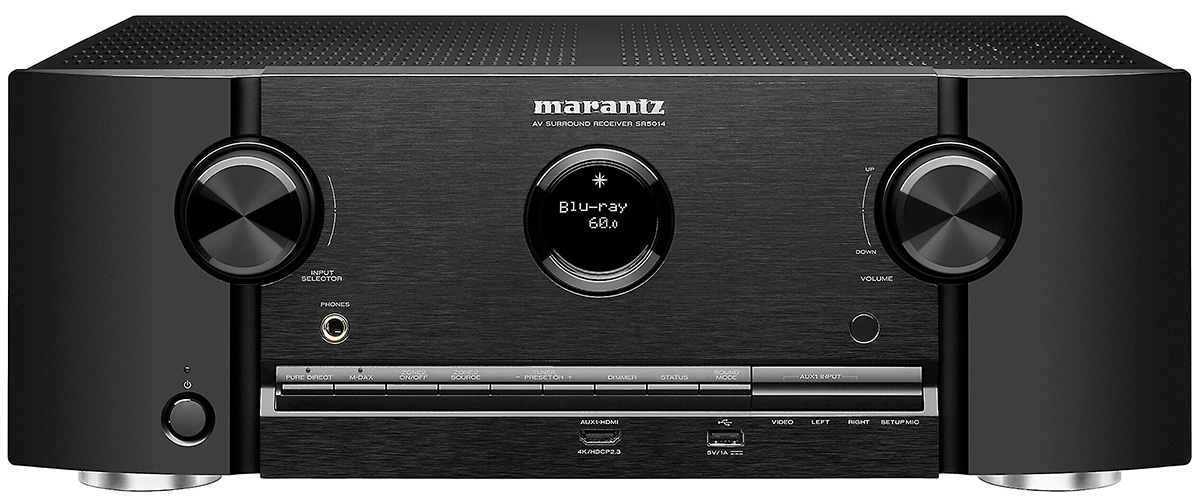 This is another wonderful 7.2-channel power amplifier. The first thing I want to draw your attention to is the design. The glossy surface of the device looks very nice, and I would say that it looks very premium and will 100% fit into any interior.
While using, feel free to easily upgrade your surround sound home theater system. This beautiful audio receiver supports object-oriented audio formats, boasts hi-res video processing and various connectivity options that include 8 HDMI ports.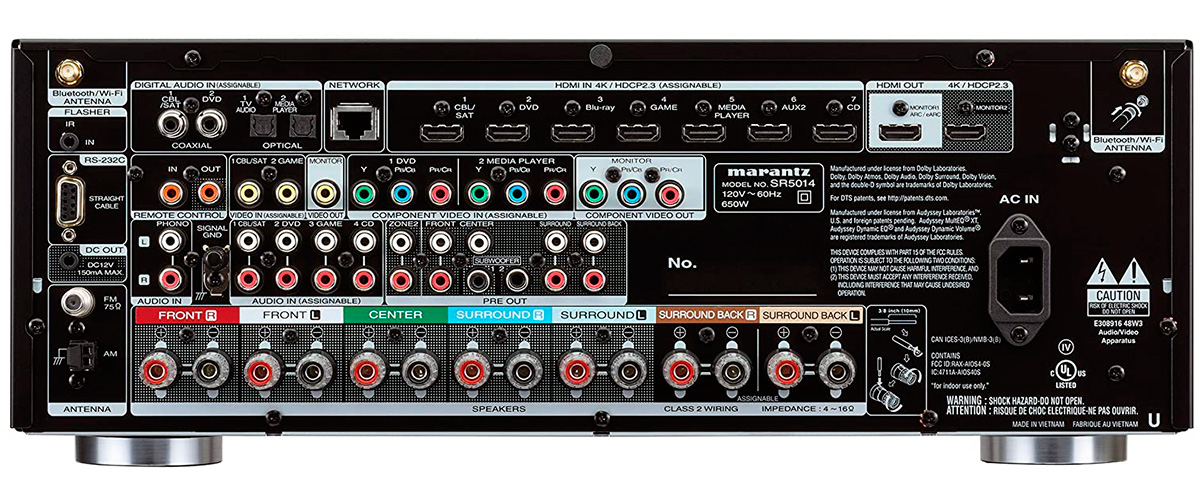 Marantz offers the user 100 watts per channel of high power. Besides, it supports the latest audio formats, like DTS: X, Dolby Atmos, and also a height virtualization feature provided by Dolby Atmos for an almost increased effect of realism. What's cooler, it works with the most popular audio assistants. For example, Alexa provided by Amazon, a quite typical Google Assistant, Siri created by Apple, and Josh.ai from Smart Home.
Key specs
Channels: 7.2
Stereo power, W: 100, 180
Impedance, Ohm: 8, 6
THD, %: 0.08
Pros
For user safety, 8 HDMI inputs support the latest HDCP 2.3 Digital Content Protection to protect absolutely all data
Allows you to use such global services as TuneIn, Spotify, Deezer, Tidal, Netflix, Amazon Prime, and others using Bluetooth, AirPlay 2, or HEOS app
Has а built-in HEOS which provides multi-room audio, voice control, and digital music streaming
Cons
The default user settings sometimes fail, and the device needs to be reconfigured
Yamaha RX-V6A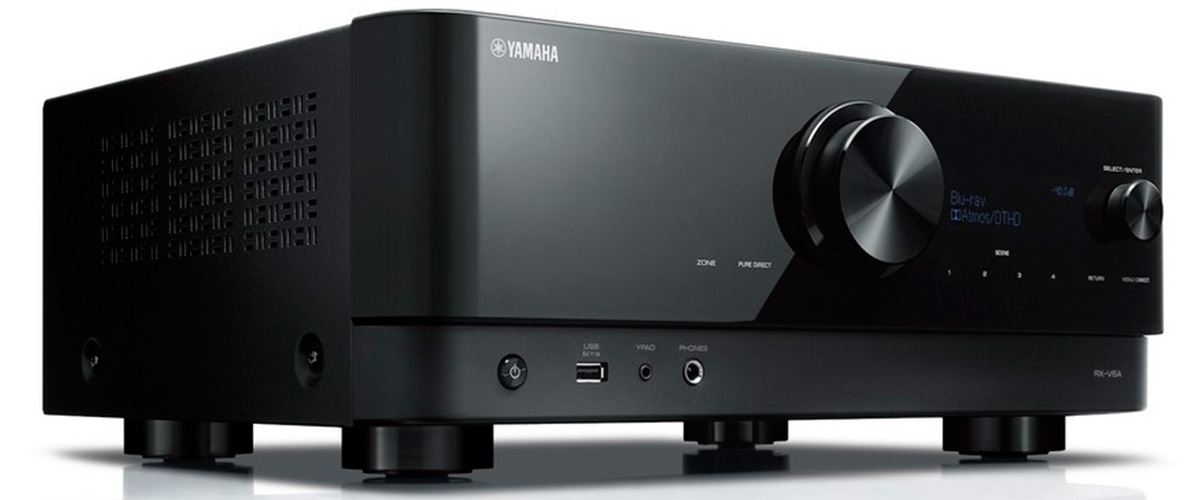 There are many completely different aspects when looking for a good home theater receiver under 1000, but probably the safest one is to turn to Yamaha. That is why I bring to your attention the most beautiful of all that I have seen, the Yamaha RX-V6A.
As I said, its appearance is very cool, the glossy surface gives authenticity, and the small LED screen fits very well into the decorative composition. Speaking of design, it's worth mentioning that Yamaha did a great job to accommodate a mini-jack input for a calibration mic, a basic 6.35mm headphone output, and a USB port for USB audio playback on the front panel.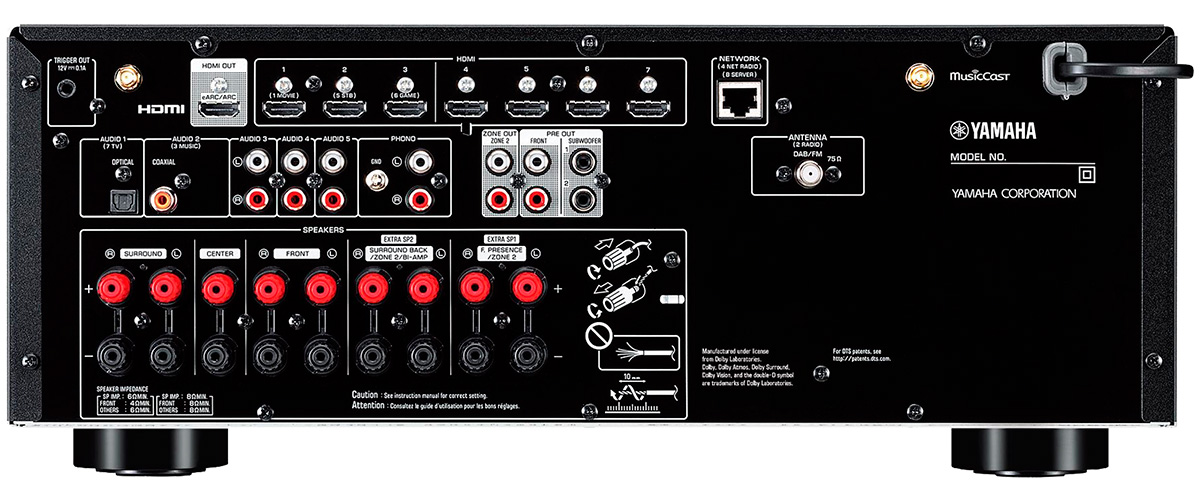 The RX-V6A features 7 channels where each of which is powered by 100 watts at 8 ohms. The device also boasts seven HDMI inputs. It has excellent support for Ultra HD, HDR10, and Dolby Vision. In addition, there is one single HDMI output. Yamaha also provided three sets of analog stereo inputs, as well as an input for a phono stage. Moreover, optical and coaxial digital audio inputs are also yours. Ethernet port, Wi-Fi, and Bluetooth support is also an integral part of this unit. Wi-Fi connection is dual-band here, while Bluetooth has version 4.2.
Key specs
Channels: 7.2
Stereo power, W: 100
Impedance, Ohm: 8
THD, %: 0.06
Pros
MusicCast app lets you easily control music from streaming apps like Spotify or Amazon Prime
MusicCast is also a very convenient multi-room system where you can build an entire audio system in your home using products with the same features
The sound quality is incredibly good because the device perfectly conveys bass and loud compositions as well as playing quiet scenes with a maximum sense of realism
Cons
For convenience and durability considerations, the touch buttons on the front feel very fragile and may jam or require more pressure
Sony STRZA1100ES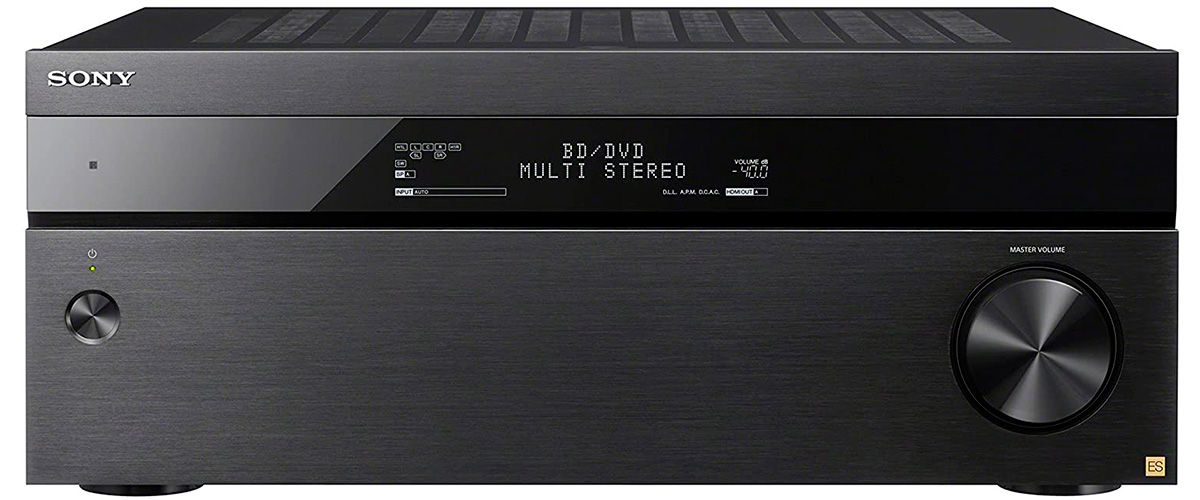 For a long time, Sony has been renowned for creating incredibly practical yet powerful devices that are second to none in quality. Thus, the 7.2 channel STRZA1100ES receiver is important for your consideration. Immediately upon unpacking, you should like the compact design, the front side of which has nothing superfluous and only a minimalistic LED display that is necessary for work. Upon unpacking, you may find many useful items, including a calibration mic, AM loop antenna, FM wire antenna, ordinary remote control, R03 batteries for it, and AC power cord.
Every channel has about 100 watts of power into 8 ohms. In addition, it also features Dolby ATMOS and DTS decoding. What's more, it is fully 4K HDR compliant, and due to this fact, it is provided with 5 HDMI inputs and 2 outputs that are supported by HDCP 2.2.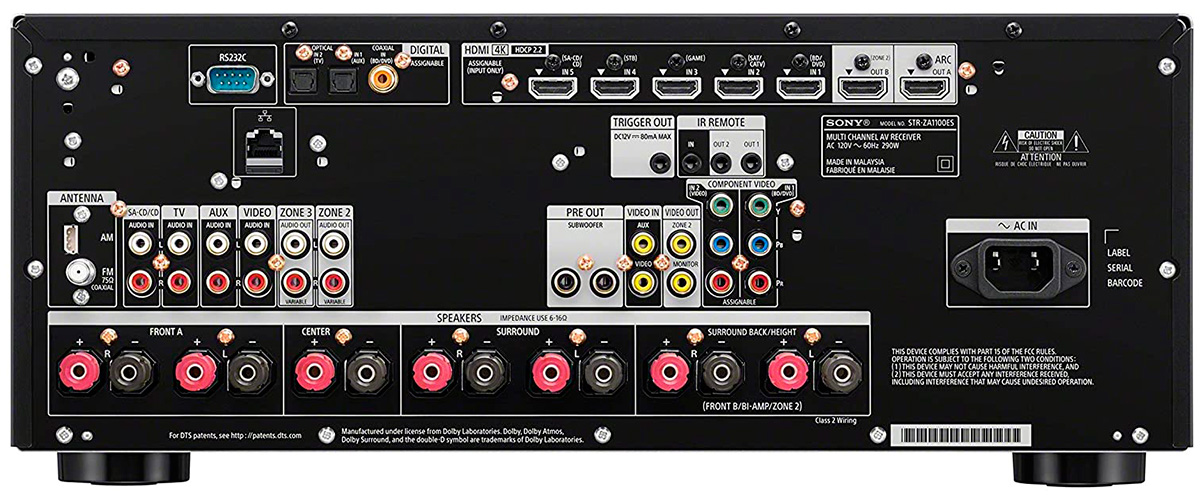 The presence of a Music Connect app grants an ability to combine the power of an ES-class sound system with the flexibility of today's wireless music systems. By the way, it is just as important to mention the connections, because STRZA1100ES has something to boast about, for example, two audio input optical, one audio input coaxial, one analog audio input, and 4 subwoofers, two-component video input, one USB on the front panel and of course Ethernet port. The device is specially created to be integrated into home systems, so all the connections are out of sight because they can be easily hidden while actually hiding them is not a big business so only the most beautiful in plain sight will remain.
Key specs
Channels: 7.2
Stereo power, W: 70, 90
Impedance, Ohm: 8, 6
THD, %: 0.09
Pros
The feature is incredibly high-quality, clean, one might even say a premium sound standard thanks to the support of IMAX
An incredibly large number of connection options, on the basis of which any user can connect whatever he wants without the slightest problem
The manufacturer grants support for CEC in STRZA1100ES so you can control any device connected via HDMI using one remote control, which is extremely convenient
Cons
Lacks the ability to wirelessly connect using both Wi-Fi or/and Bluetooth
It does not have support for Airplay and also does not give the user the opportunity to use Spotify, Tidal, and even Apple Music