If you want to enjoy a really great sound, I suggest buying the best slim AV receiver.
I know that you might not have too much space for such devices, but trust me it's totally worth it. With a quality receiver you will get amazing audio with no distortion.
There are plenty of things that have to be considered when choosing a good receiver. If you have audio content stored on mobile devices such as smartphones or tablets, the Bluetooth and AirPlay enabled receiver will let you stream music wirelessly from your similarly equipped devices. Some AV receivers also offer integrated Wi-Fi and Ethernet connections, as well as the ability to access paid multimedia streaming services with millions of music tracks.
I paid attention to every aspect. All the models listed below are tested by me. So, you can be sure that any of them is a good choice.
Our pick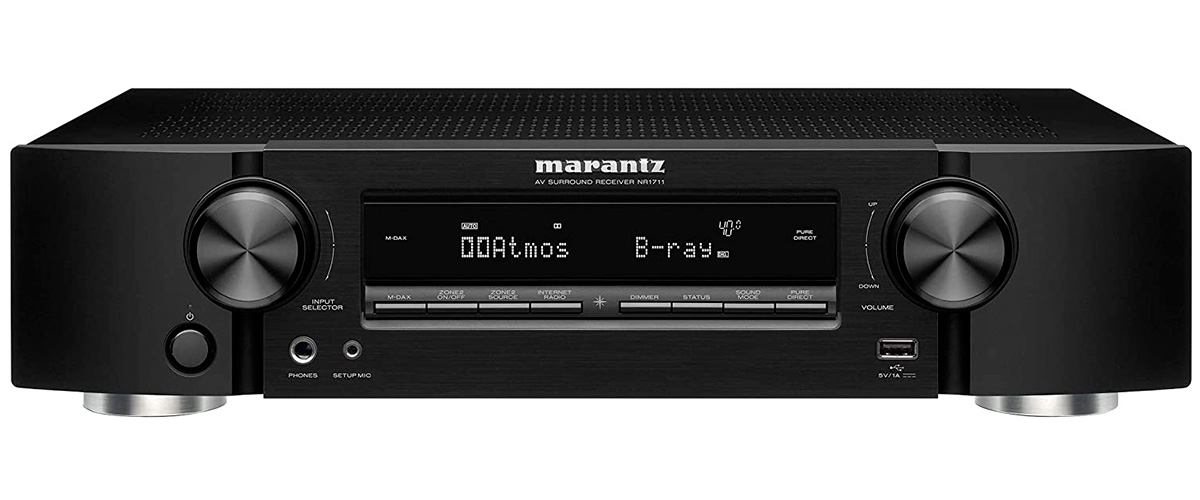 Marantz NR1711
Best Slim AV Receiver
Hear the most musical sound from an elegantly slim profile. The Marantz NR1711 7.2ch 8K AV receiver drives immersive, high-fidelity audio from a compact chassis.
Slim Receivers Comparison Table
Receivers
Channels
Stereo power, W/Ohm
THD, %
Review
Marantz NR1711

best overall

7.2
50/8, 70/6
0.08
Review
Marantz NR1200

best stereo

2.0
75/8, 100/6
0.08
Review
Yamaha R-S202
2.0
140/8
0.08
Review
Best compact surround sound receivers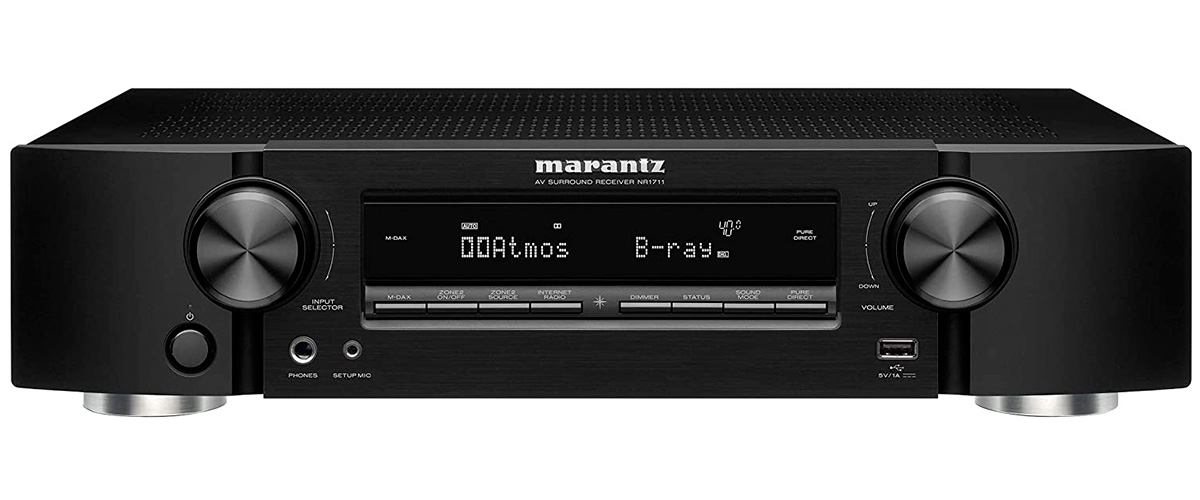 I offer you to start with this 7.2 channels receiver with 50 Watts per channel since this is the best small receiver. This small surround sound receiver AV receiver comes with Audyssey MultEQ audio calibration system and packs a huge list of extra features. For instance, the NR1711 supports HEOS, which is an audio streaming technology that provides access to remote content sources, including Internet services.
The built-in Setup Assistant will help you configure the system. Voice assistants such as Amazon Alexa, Apple Siri and Google can be used for control. For the DACs the manufacturer has provided 32-bit AKM AK4458 D/A converters on all channels for maximum fidelity and the widest dynamic range with minimum distortion.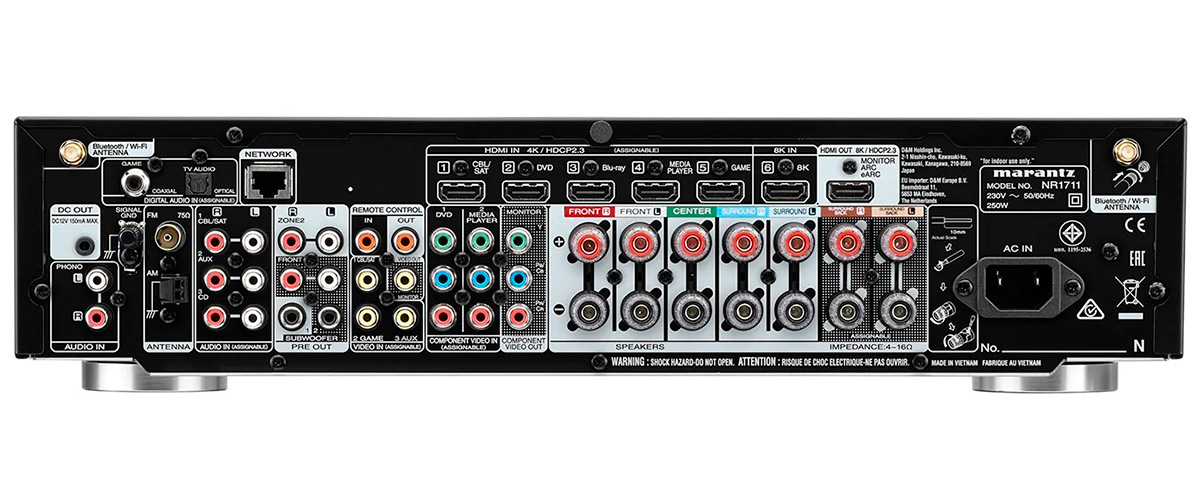 The most important feature of the Marantz NR1711 is 8K60 and 4K120 support via HDMI 2.1. Five of the six HDMI inputs are designed according to the 2.0b standard, the sixth according to the new HDMI 2.1, so 8K60 and 4K120 are supported. Compared to the SR models, the NR1711 is equipped with only one instead of two or three HDMI outputs, which is also HDMI 2.1 compliant and also suitable for Audio Return Channel (ARC) and eARC. The NR1711 supports Dolby Atmos, DTS: X, and DTS Virtual: X. I find it really great that the device supports Dolby Atmos Height Virtualization, making it possible to create overhead effects even if you don't have physical speakers in those positions. However, the NR1711 lacks support for Auro 3D and IMAX Enhanced.
As I said, the receiver is quite small and weighs only 18.3 lbs (8.3 kg). It means you will not have problems trying to find enough space for it. The special thing about the device is that it offers a fully functional front layout as any full sized receiver does but at a smaller size.
Key specs
Channels: 7.2
Stereo power, W: 50, 70
Impedance, Ohm: 8, 6
THD, %: 0.08
Pros
Easy-to-understand and user-friendly setup assistant
The eARC HDMI output transfers uncompressed and object-oriented audio formats such as Dolby Atmos and DTS: X directly from the Smart TV app to the AV receiver
Supports a few new technologies like Quick Media Switching and Variable Refresh Rate
Perfect for using in confined spaces and rooms where space for speakers placement is quite limited
Cons
No backlight on remote
Does not come with a front HDMI inputs
Marantz NR1510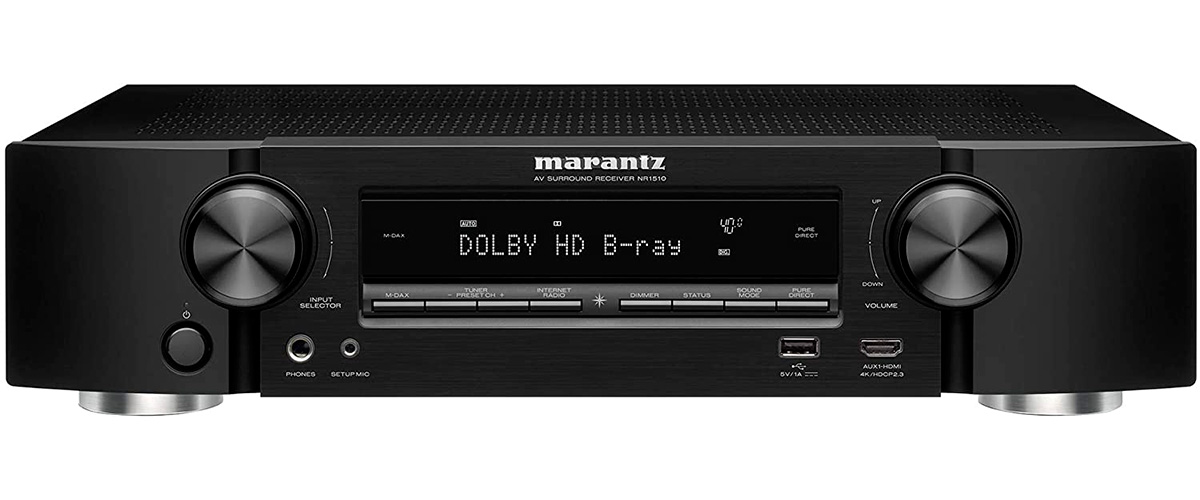 The mentioned receiver features a 5-channel discrete power amplifier, 85W per channel. Going deeper into technical aspects, the device has 6 HDMI inputs with full HDCP 2.3 support. The Receiver has 4K passthrough up to 60p. It can bypass HDR10, Dolby Vision.
Dolby TrueHD and DTS-HD Master Audio surround sound support will allow you to get excellent sound. The front panel has a USB port for external storage. Marantz NR1510 has Bluetooth version 4.1 operating in a range of 30 meters. The unit works with Amazon Alexa, Google assistant, and Apple Siri.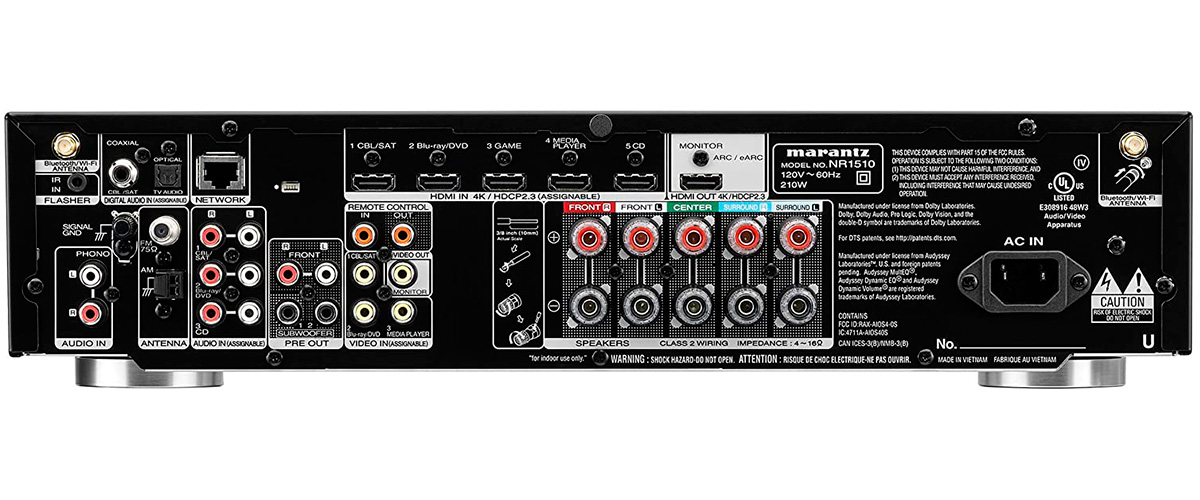 Compressed music enhancement in Marantz Slimline NR1510 is done by Marantz' MDAX2 technology. It recalculates the outputted frequency range, which gives you an opportunity to enjoy a more detailed and clearer sound. One more fact you need to know about the device is that it comes with Audyssey Dynamic EQ and Audyssey Dynamic Volume. The mentioned technologies are intended for selecting the greatest possible frequency response. Have you experienced the crazy volume change between a movie and an advertisement? Probably, you have. With the NR1510 you will not suffer from these rapid changes anymore as Audyssey Dynamic Volume monitors the volume of program content.
Speaking of some additional features, the unit has a built-in HEOS for multi-room streaming, music streaming, and voice control. I was happy to see that this model has an advanced graphical user interface that helps you to go through the setup process and connects all your audio sources to the device.
Key specs
Channels: 5.2
Stereo power, W: 50, 60
Impedance, Ohm: 8, 6
THD, %: 0.08
Pros
Dolby Vision, Hybrid Log-Gamma (HLG), eARC and ALLM support for awesome audio and video quality
Seamlessly integrates with smart home automation systems like Josh.ai or Control 4
Has a built-in phono input for connecting turntables
Supports all popular voice control systems and streaming services
Cons
Does not support Dolby Atmos and DTS: X object-based formats
Few analog audio line inputs
Best small stereo receivers
Marantz NR1200 – best stereo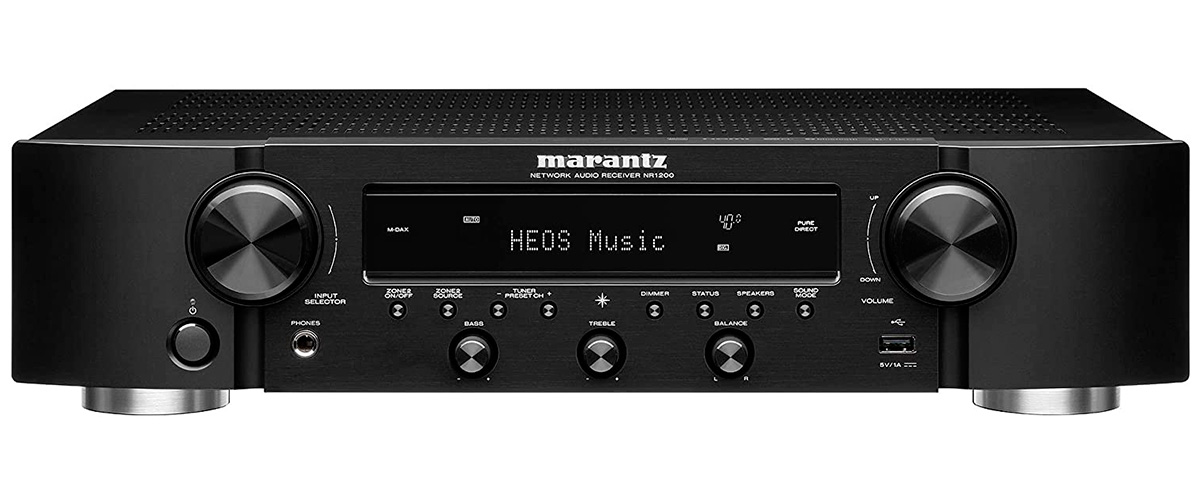 The NR1200 is the best small stereo receiver. The device has five HDMI inputs, each supporting HDCP 2.3, 4K Ultra HD 60Hz video, HLG. In addition to five HDMI connectors, there are coaxial and optical digital inputs, as well as a USB-A port for connecting external devices with music. The output power of the Marantz NR1200 is 75 watts per channel. The main method of wireless signal transmission is still the integration of the system into the home network and the ability to stream using the HEOS system.
An ARC-enabled HDMI output is needed not only for switching the video signal, but also for receiving the audio signal from the TV. In addition, there are separate subwoofer outputs. Integration of the receiver into the network is also possible by physical connection via Ethernet. The digital-to-analog converter in the Marantz NR1200 has an embedded AK4458 chip from the Japanese company Asahi Kasei. A 6.3 mm headphone jack can be found on the front panel. There is also a Bluetooth module that allows you to pair the receiver with wireless headsets. Of course, it can be used to stream music from a smartphone as well, but it's better to take advantage of the HEOS capabilities.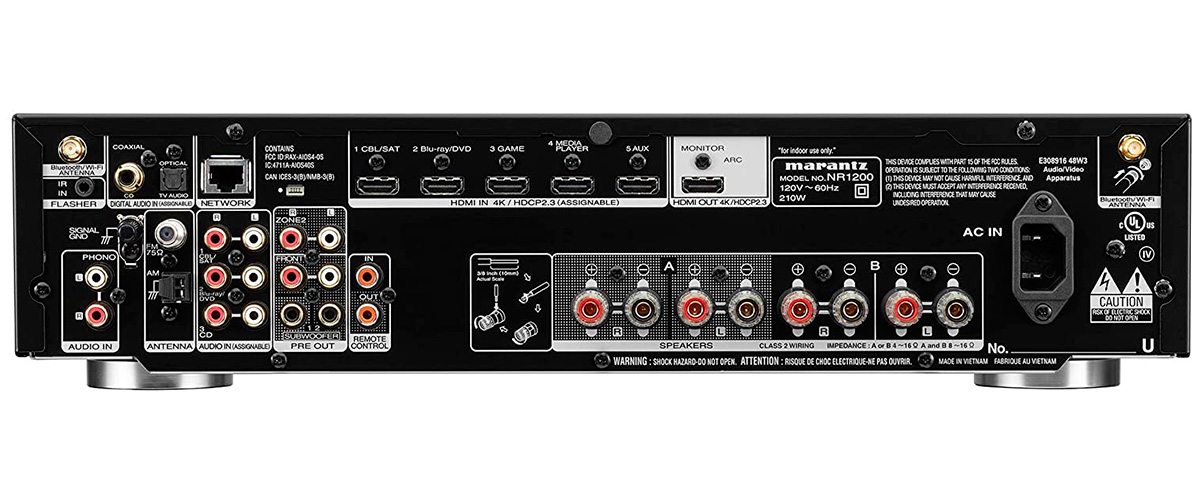 Starting up the compact stereo receiver is extremely simple – after connecting it to a Wi-Fi network and installing the HEOS app on your smartphone, all further actions are reduced to choosing a signal source – whether it's Internet radio, your favorite music service, or files in the phone's memory. An important point – Marantz NR1200 has a Pure Direct mode, in which all unnecessary connections are turned off, including the display and video output via HDMI. So any listening I recommend to carry out with it turned on as the difference in the purity of the sound is significant.
If you are in search of a good compact home theater receiver, here it is. I have to say that Marantz NR1200 performed equally well both on complex polyphonic music, full of dynamic contrasts, and on jazz compositions, where accurate reproduction of each solo instrument and voice is important. When it comes to design, the slim casing allows you to neatly conceal the receiver in your home cinema setup.
Key specs
Channels: 2.0
Stereo power, W: 75, 100
Impedance, Ohm: 8, 6
THD, %: 0.08
Pros
This receiver is able to transmit 4K images from your AV source to your TV
The bass that it does produce is detailed, well-defined, and starts and stops convincingly
All the inputs/outputs you could ever need
Plenty of power for large speakers
Cons
A little unbalanced effort when working with controls
Yamaha R-S202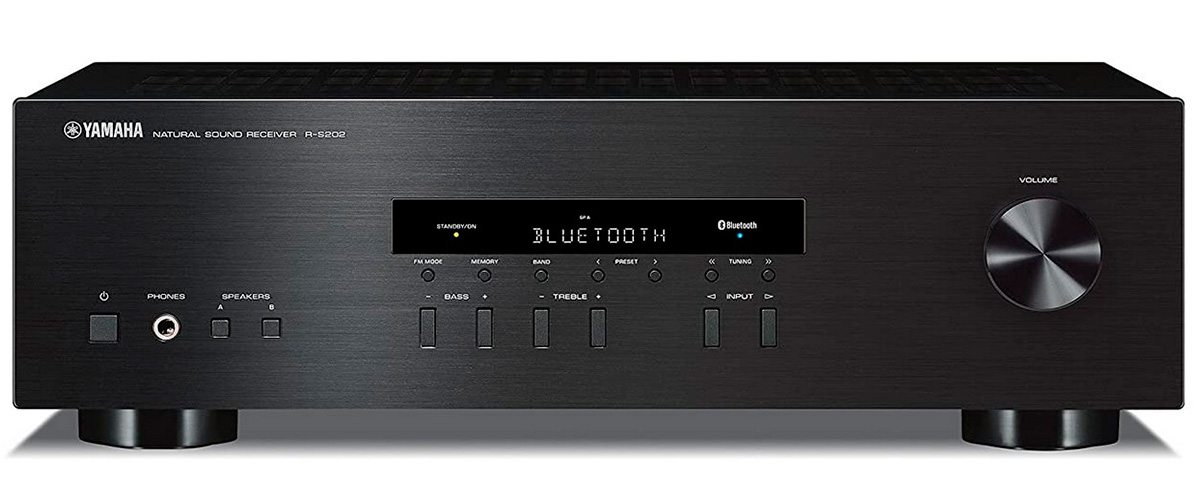 You definitely should know about this high-quality stereo receiver designed for home listening with good resolution. The R-S202 inherits the sophisticated and uncluttered design typical of Yamaha audio equipment. Its elegant brushed panel will blend harmoniously with the look of other devices in your house or studio.
You can connect this small 5.1 receiver with a smartphone or tablet via Bluetooth. The Auto Preset function automatically searches for and stores FM stations in your area. The receiver can be controlled from both the dysplay and the remote control.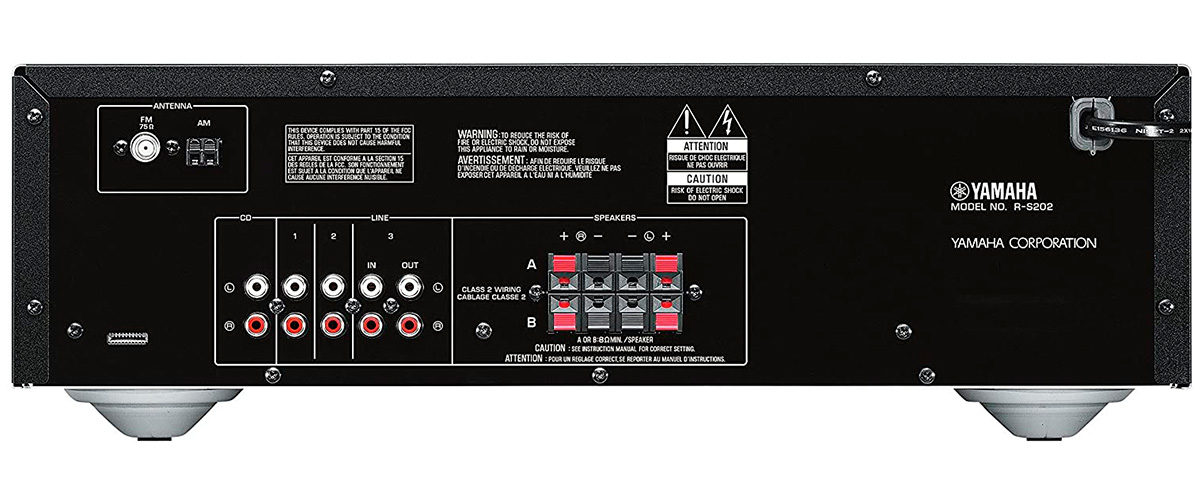 The model Yamaha R-S202 has power of 2 x 100 W. If no operations are performed for a certain period of time, a special function automatically turns off the power, placing the unit in standby mode. To activate this function, you can set an interval of 2, 4, 8 or 12 hours, or completely disable it. Standby power consumption is only 0.5W, providing an efficient saving mode.
Key specs
Channels: 2.0
Stereo power, W: 140
Impedance, Ohm: 8
THD, %: 0.08
Pros
Available in two colors: black and silver
Equipped with a built-in AM/FM tuner for listening to radio stations and has 40 fixed memory locations
Offers delightful sound with a little emphasis on the midrange
Cons
When you are using the built-in Bluetooth adapter, the sound loses bass, gain and sound quality
RCA component connection out of date for new TV's, BluRay, etc.