A stereo receiver is an audio system component with two channels (left and right) and two amplifiers for each channel. Many avid audiophiles search for the best stereo receiver because this channel combination allows getting the most powerful sound and savoring the slightest tone fluctuations.
Such units are solely focused on pleasing music lovers. But even the most advanced audiophile stereo receiver will not provide surround sound. Some users even hook up a stereo receiver to a turntable or use its radio capabilities (given a model comes with an AM/FM antenna) to listen to music.
If you are reading my review, you have probably studied many stereo receivers' reviews and are clearly in the mood to purchase such a product. Since there are many nuances to consider while shopping around, I decided to study the matter in detail to provide you with a professional view on the topic. This review is the result of my meticulous research. I have described those stereo receivers that are now considered the top offers and listed the key features you need to pay attention to while picking a fitting model. My review will help you make the optimal choice and successfully buy a 2-channel stereo receiver under $1000.
Our pick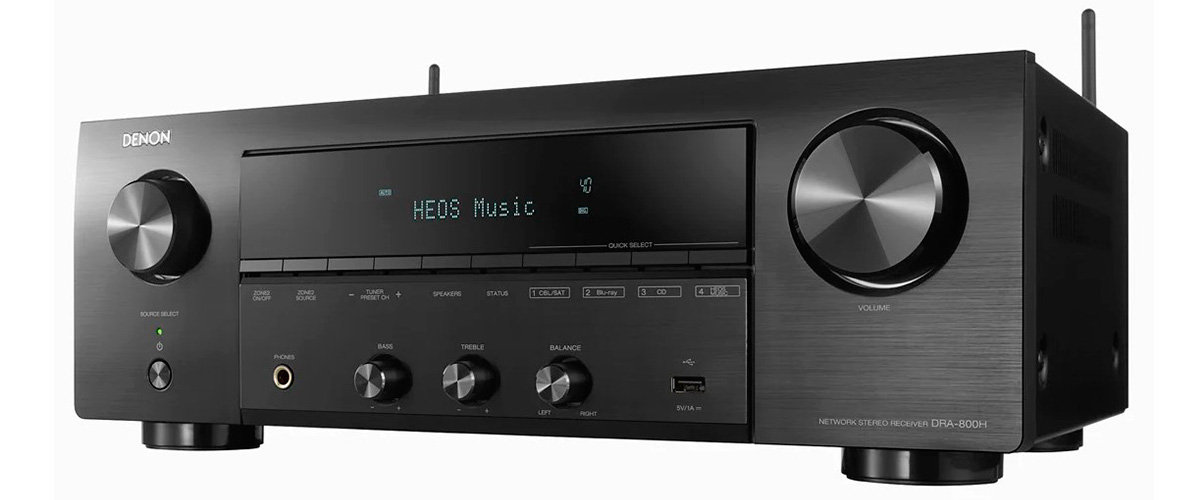 Denon DRA-800H
Best Stereo Receiver
Denon stereo receiver built with Hi-Fi amplification seamlessly integrates with the latest Hi-Res audio, wireless, voice control and AV receiver technologies including five 4K Ultra HD HDMI inputs.
Read the full review
.
Stereo receivers comparison table
Stereo receivers
Channels
Power output
HDMI in/out
Phono in
Bluetooth/Wi-Fi
Review
Denon DRA-800H

best overall

2.0
100W/8 Ohm, 120W/6 Ohm
5/1
yes
yes/yes
Review
Marantz NR1200

slim

2.0
75W/8 Ohm, 100W/6 Ohm
5/1
yes
yes/yes
Review
Yamaha R-S202

budget

2.0
140W/8 Ohm
0/0
yes
yes/no
Review
Sony STR-DH190

also a great choice

2.0
100W/8 Ohm
0/0
yes
yes/no
Review
Pioneer SX-10AE

under $300

2.0
45W/8 Ohm
0/0
no
yes/no
Review
What did I pay attention to when picking stereo receivers?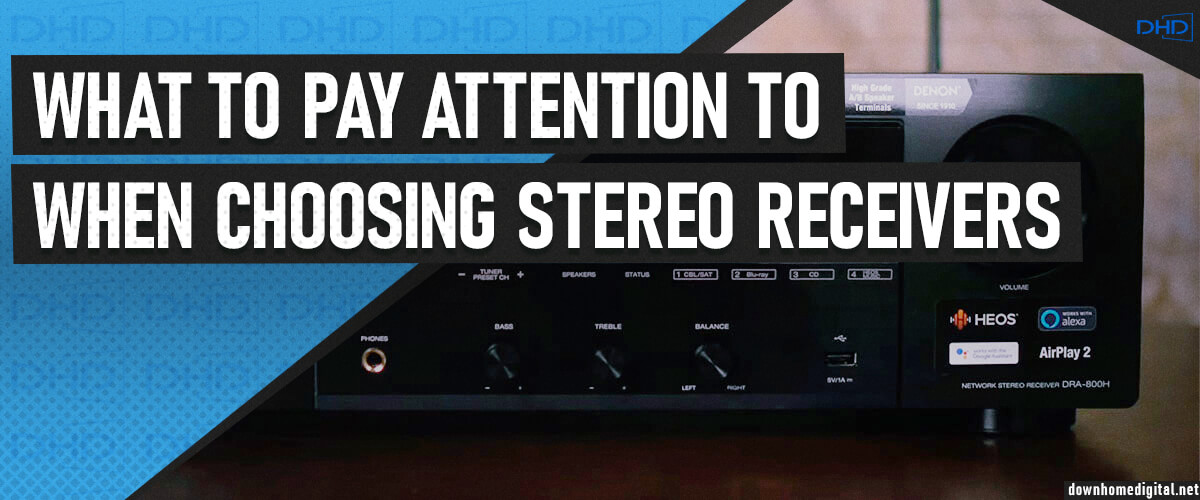 Testing multiple products, I tried to be as objective as possible. I clearly understand what features affect the performance of a receiver and the quality of the sound emitted, so I listed them below. I highly recommend you use this rundown as the guideline to get the best stereo receiver for music. Be attentive and good luck with your choice!
Amplifier power
In general, stereo receivers are equipped with a built-in power amplifier. Simply put, this element defines how much you can raise the volume before the sound gets distorted, so you can hardly listen to it. If you get a larger unit, it has a transformer that handles power. A more lightweight apparatus relies on the digital method.
Don't underestimate a power amplifier as it "is in charge" of sending power to your speaker. Power is measured in watts, and the higher the value, the louder your speakers can get. Undoubtedly, you want a mighty stereo receiver, but top-tier devices come with a hefty price tag. Don't get too carried away with watts figures, as an average 100W receiver can perfectly cover medium-sized environments.
AM/FM tuner with presets
AM/FM radio used to be a must-have feature for any stereo receiver. But demands have changed slightly, and manufacturers have shifted focus to other features. Nowadays, not all devices have an AM/FM tuner, which implies the impossibility of accessing radio stations. More and more people are interested in Internet-based platforms, and the popularity of podcasts is rapidly growing.
This is a well-understood practice, but if you are one of those users, who like listening to the radio, you definitely need to get a stereo receiver with AM/FM antennas (either fixed or detachable). Besides, you can use special presets to instantly access particular radio stations.
Analog inputs
In general, an analog input converts a voltage level into a digital value that can be stored and processed in a device. A standard stereo receiver usually has a pair of analog audio inputs – one for the left channel and the other one for the right.
The inputs are labeled on the case, and there are corresponding buttons on the remote control and the front of a unit. It is a no-brainer to connect a receiver to another device if the labeled inputs coincide, but that isn't always the case. The only exception is a phono input that is designed specifically for a phonograph. This input also perfectly copes with eliminating background noise.
Digital inputs
While a signal transmitted via analog inputs can get screwed because of electrical interference, digital inputs perfectly cope with this task minimizing the risk of degrading audio quality. Audiophiles highly value the efficiency of such connection types, so no wonder companies that produce surround-sound audio systems opt for digital inputs.
In general, there are 2 kinds of digital audio connections – coaxial and optical. Both are used for connecting audio sources such as Blu-ray players, set-top boxes, etc., but their effectiveness is different. Many users claim that coaxial inputs better transmit audio signals because of higher bandwidth and a stable connection. However, average users are unlikely to notice a significant difference.
Another popular type of digital connection is HDMI. It is referred to as a universal connection method for video and audio. Thanks to remarkably high bandwidth, it perfectly copes with playing lossless audio formats and stays several steps ahead of coaxial and optical inputs.
Receiver outputs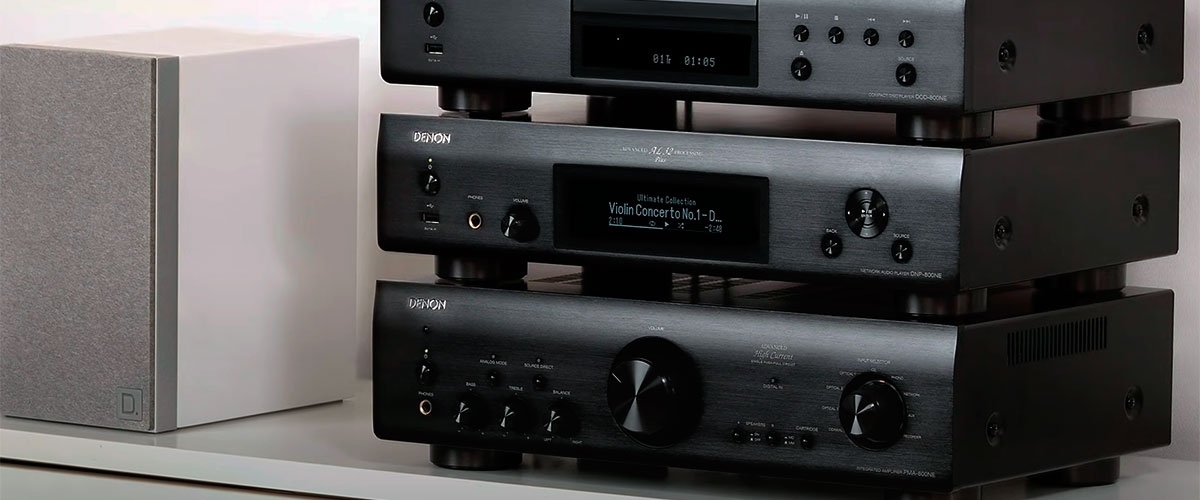 Talking about receiver outputs, we can roughly divide them into 2 groups: amplified outs and non-amplified outs.
Amplified outs come in various shapes but are usually marked in black and red. Entry-level receivers have 2 amplified outs, while the best stereo receivers come with 4 or even more ports. Before connecting speakers to your receiver, you need to ensure there are no severe discrepancies between impedance rates of both units. Otherwise, your speakers may get damaged.
Non-amplified outputs come in handy if you want to use a more profound amplifier than an integrated one in order to power bulkier speakers. By using such outputs, you get around the power amplifier and build a route directly from preamps to the output.
I appreciate the possibility of using both amplified and non-amplified outputs. This way, I managed to create the most powerful audio systems adding different types of speakers to the original setup. This is especially cool if you like organizing parties and need great sound in every corner of your house.
What's the difference between a cheap and expensive stereo receiver?
While looking for the best stereo receiver, I was pleasantly surprised with affordable prices if compared to the cost of AV receivers. Being an integral part of an audio system, stereo receivers still have a less complex assembly, unlike AV units that must support different sound technologies and have ports for connecting to a TV. That's probably the main reason why prices don't go insanely high. However, there are still high-end receivers that are more expensive than budget-friendly counterparts, and I was curious to learn how they differ.
The first reason for such price variations is the amplification power. More expensive receivers can power massive speakers and, of course, better amplifications come at a price. Besides, high-priced receivers brag about lower impedance, a broader frequency range, and less pronounced distortion. That is vital if you want to get a beautiful and warm sound.
Another peculiarity I noticed is that pricey receivers have better build quality, so they are bound to serve you for a longer period. Besides, if you want a receiver to match your interior, you probably need to shop for a particular design and color variation, so the chances are high that such a demand will entail additional expenses. For instance, vintage models have a unique charm, but get ready to shell out to get such a receiver.
Last but not least, cheap receivers can't please you with such a great variety of incredible options. This mainly refers to Bluetooth and integrated Wi-Fi that make music streaming a breeze. Some affordable receivers even lack a subwoofer output and an embedded preamp.
How I picked and tested 2 channel receivers?
There are multiple stereo receiver reviews, but I was interested in checking their capabilities myself. That was an interesting experience, as different brands have peculiar features that make their products stand out. To determine how well stereo receivers cope with their initial mission, I listen to soundtracks from various resources. I also chose different music genres to assist buyers who fancy classical music, rock songs, romantic melodies, and whatnot.
The list of songs I listened to:
Radiohead – The National Anthem – Spotify
Arctic Monkeys – Do I Wanna Know – SoundCloud
Bob Marley & The Wailers – Turn Your Lights Down Low – Deezer
The Weeknd – The Hills (CD player)
Mahler – Symphony No.2 (CD player)
Led Zeppelin – Ramble On (CD player)
Mark Nauseef – With Space in Mind (CD player)
Jacky Terrasson – Reach (CD player)
I have a full set of high-quality equipment to define the strong and weak points of every receiver I tested. My toolkit consists of:
CD player SACD 30n
Speaker wire – AudioQuest Type-9
Stereo speakers:

Klipsch RP-8060FA
KEF Q350
DALI OBERON 5
Best Stereo Receiver Reviews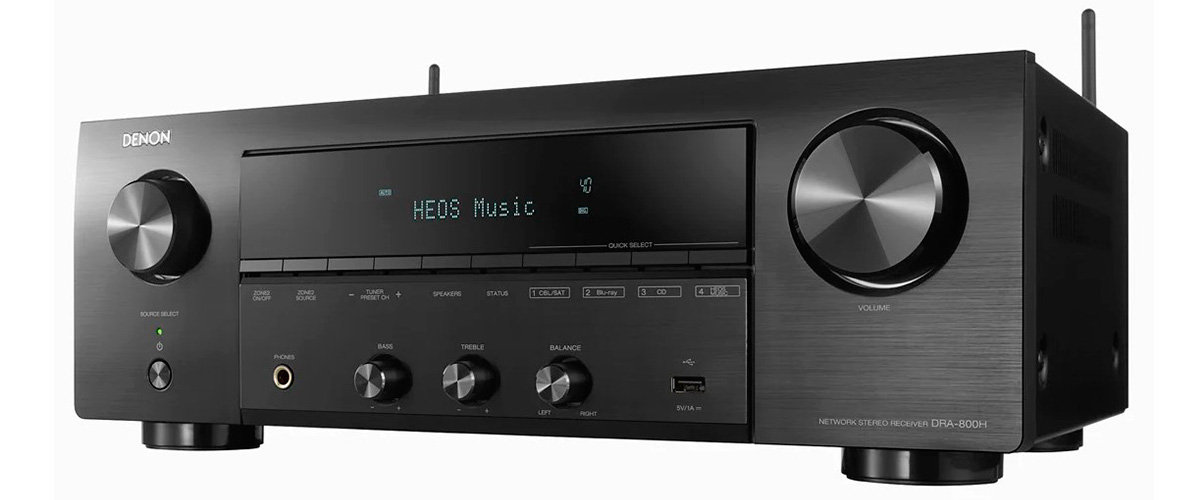 Denon released the DRA-800H in 2019. So why did I put this model, which looks like an AV receiver and is stuffed like a stereo amplifier, at the top of my list? Because it is a hybrid and a very successful and organic one. Unlike traditional stereo receivers, the DRA-800H is already a multifunctional device with features like an HDMI port switcher for connecting up to 5 video-audio sources, wireless connections via Wi-Fi, Bluetooth, AirPlay 2, etc. A very interesting model that perfectly combines the power of a stereo receiver with the flexibility of an AV receiver. I'm sure you're already interested, so let's take a closer look at it.
The dimensions, texture, overall design, and slight curvature of the top of the front panel of this model are the same as all Denon 800 NE series audio/video equipment. In the center of the panel is the display. More than 10 indicators clearly show the different modes of operation of the unit. The display shows the name of the input source, sound mode, setting values, and other information. The display's brightness can be dimmed if desired, and turning the display off completely eliminates one of the sources of distortion ("noise") that affects sound clarity, thereby noticeably improving sound reproduction quality. To the left of the display is a massive knob for selecting the input source. On the right is an even larger diameter knob for smooth adjustment of the sound volume. Below the display are a number of function buttons, knobs for treble, bass, and stereo balance, a headphone jack, and a USB port (type A) for playing audio files from an external USB drive. Supported files are MP3 and WMA, as well as Hi-Res formats FLAC, WAV, Apple Lossless, and DSD.
The Denon DRA-800H can be controlled not only by the buttons on the front control panel or the remote control but also by voice. This model supports Google Assistant, Amazon Alexa, and Apple Siri.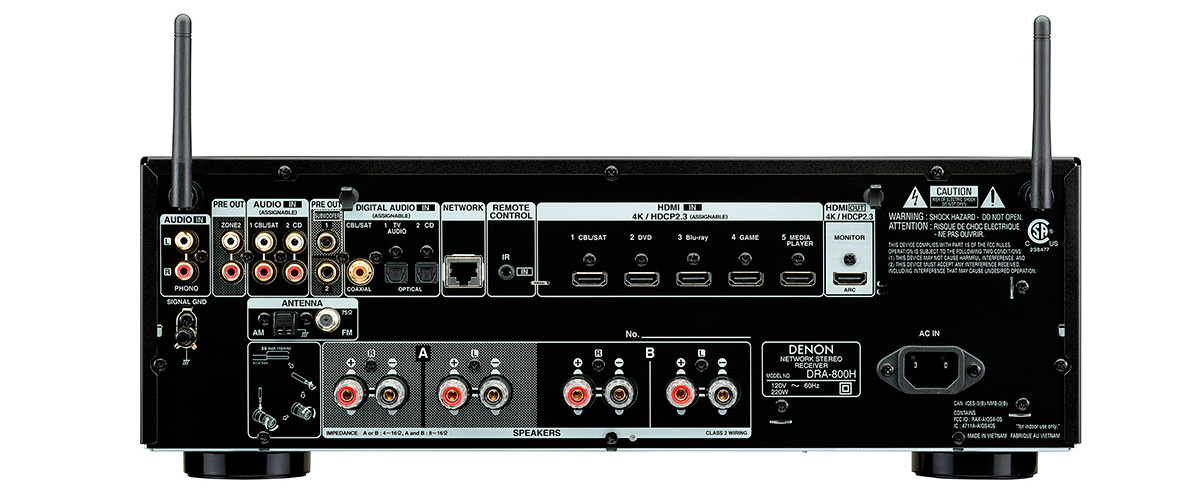 The absence of terminals for multichannel (surround) acoustics is immediately striking on the rear panel. Nevertheless, the DRA-800H has 2 sets of acoustic terminals (A and B) with acoustic wire connectors. Various wired speaker connection options are possible, which is very convenient and greatly expands the possibilities of using this model. It is also possible to simultaneously play two zones of the same signal source by the wired connection of two additional speakers. There is a preamplifier with two outputs for connecting subwoofers.
Even more surprising is that this model has as many as 5 HDMI inputs. Not all AV receivers can boast of such an abundance of ports supporting 4K/60 Hz resolution, HDCP 2.3 protocol, Dolby Vision, HLG, and HDR 10 extended dynamic range video standards. There is an input with a built-in MM-phono-corrector for connecting a turntable of vinyl discs with sound pickups of MM type (Moving Magnet). Denon also knows much about this aspect – they have been designing and manufacturing vinyl turntables, cartridges, and phono stages for almost 50 years. There are also other standard connections, but I won't dwell on them in detail.
As I mentioned at the beginning, the Denon DRA-800H can also be connected to a wireless LAN using two-rod antennas and built-in Wi-Fi, Bluetooth, and AirPlay 2 adapters.
Using their experience in Hi-Fi amplifier design, Denon engineers used audiophile-grade components in the design of this model to provide clear and high sound quality. The high power of 100 watts per channel (8 ohms, 20Hz – 20kHz, THD: 0.08%, 2-channel mode) ensures confident operation of the amplifier even with complex low impedance acoustics. Looking ahead, I can say that the DRA-800H has enough power and, in my opinion, plays louder than many analogs.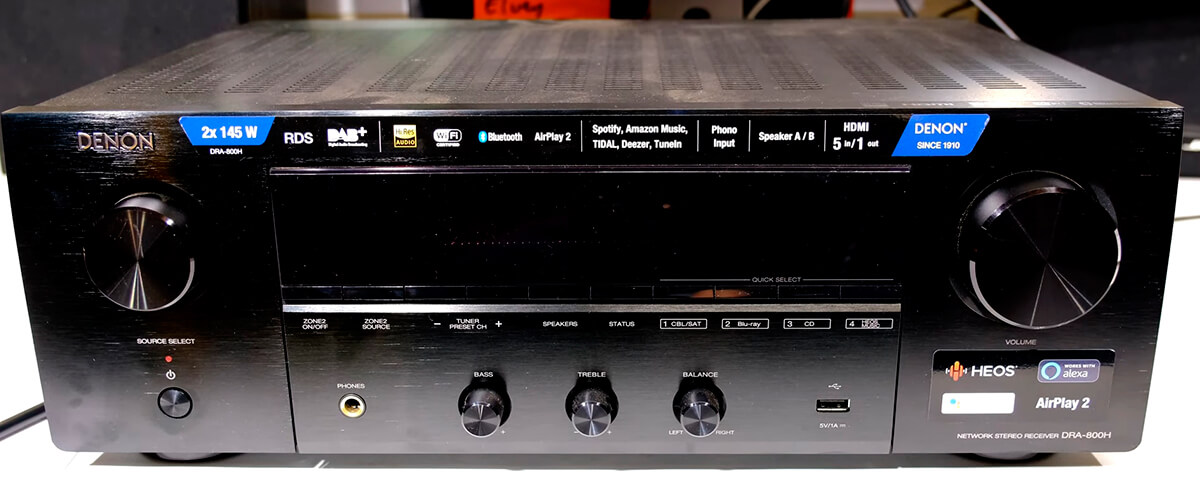 I decided to analyze the sound of the Denon DRA-800H in a non-standard way, which is different from the test of all the other models in the review. But the device itself is unique in its own way! I chose the movie "Bohemian Rhapsody" on 4K Ultra HD Blu-ray and then proceeded with several shows from Netflix. With each new hit performed by Queen, I was completely at the mercy of the music. The sound was smooth, the bass created pressure, and the soundstage was nice and wide. Even though there is no special equalizer mode for soundtracks, the dialogues were quite naturally separated from the background. I continued the listening session by streaming MP3s (320 kbps) on Deezer via the HEOS app and then played some Hi-Res Audio files in FLAC and DSD formats stored in the Android smartphone's internal memory and on a USB flash drive. The sound sometimes lacked clarity and nuance, but it was still smooth and pleasant. Finally, while listening via Bluetooth, the DRA-800H showed its dynamism, and the sound was not too affected by the compression caused by this kind of signal transfer.
To summarize, I can confidently call the Denon DRA-800H the best 2-channel stereo receiver. It is a superbly equipped multifunctional device that combines a quality stereo amplifier with the many capabilities of an AV receiver. HDMI ports allow it to connect to modern TVs and other external devices, and built-in Wi-Fi, AirPlay, and Bluetooth adapters make the choice of music sources virtually limitless.
Key specs
Channels: 2.0.
Power output: 100W/8 Ohm, 120W/6 Ohm.
HDMI inputs/outputs: 5/1.
Phono Input: yes.
Bluetooth/Wi-Fi: yes/yes.
Streaming services: AirPlay2, Spotify, Pandora, TIDAL, Deezer, Soundcloud.
Supports HDMI ARC, HDMI CEC, HDCP2.3, HDR10, Dolby Vision.
Pros
Powerful, detailed & sharp sound no matter what source you listen to.
HEOS button on a remote gives instant access to all online music platforms and tuner channels.
5 HDMI inputs and 1 HDMI ARC output.
Easy setup and use.
Cons
Gets hot with extended use.
No Audyssey calibration.
Marantz NR1200 – slim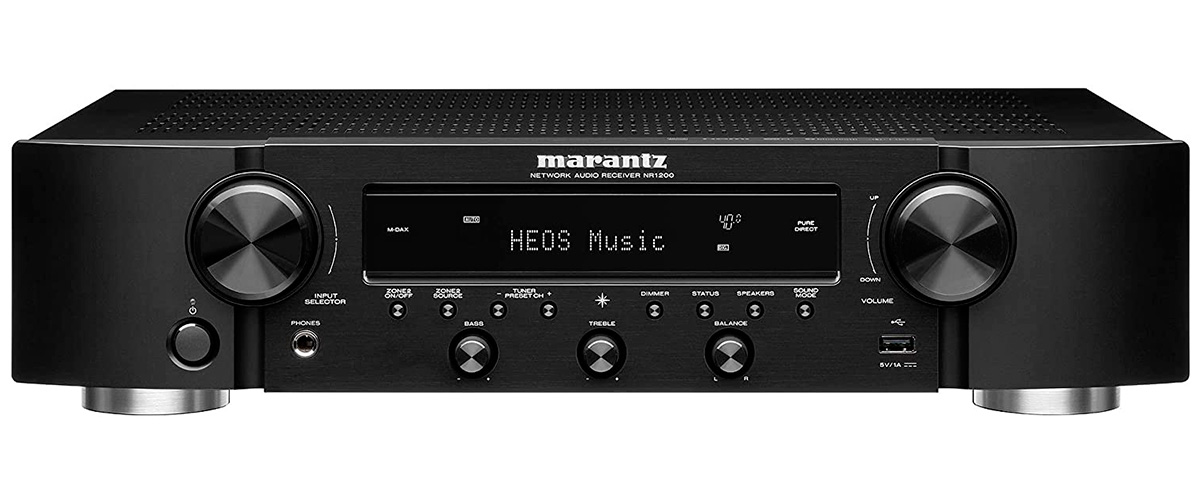 Knowing the growing demand for top receivers with Bluetooth that produce clear sound, I was really interested in checking the capabilities of Marantz NR1200 to understand whether it can withstand such severe competition.
In fact, this receiver is designed with a peculiar company's ideology in mind but has some interesting features meant for satisfying modern demands. As a stereo receiver, the NR1200 delivers 75 watts per channel at an 8 Ohm load and has two pairs of speaker output jacks (A and B). Since it is an affordable model in the Marantz catalog, it lacks some features available in the more expensive Marantz units. However, I looked under the cover to ensure that the receiver is made of reliable and high-quality components.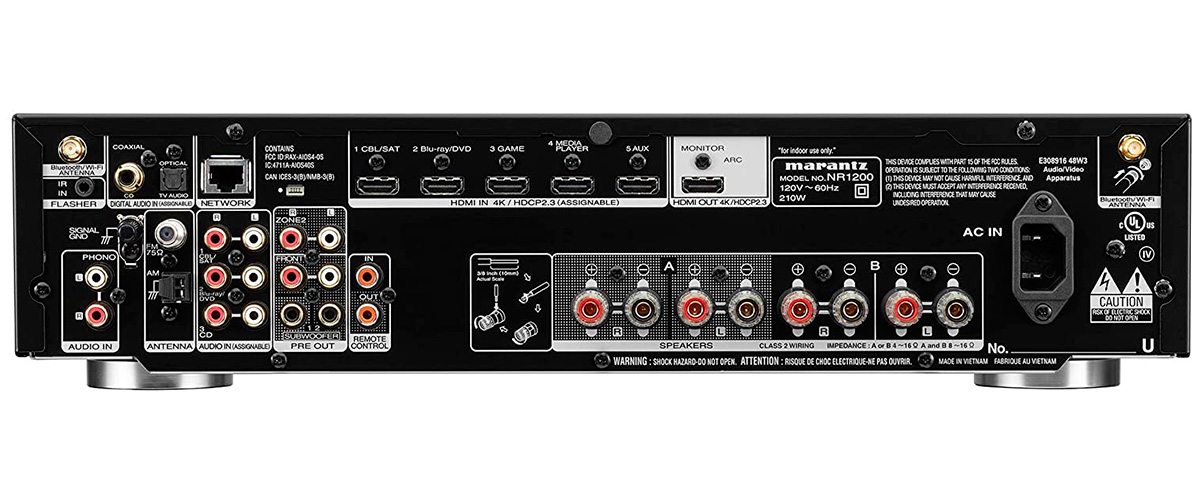 Unlike Denon DRA-800H and Yamaha R-N803, this model is strikingly compact (14.5 x 17.38 x 4.25 inches), so if you need a cool receiver for a small room, opt for this device. It has three linear RCA inputs and an MM input of a built-in phonograph. This may seem disappointing compared to the number of inputs other top-tier receivers have, but it is more than enough for most users today.
I like that the Marantz NR1200 comes equipped with coaxial and optical inputs. I tested them with multiple sources and experienced no lags and errors. A built-in network module and HEOS support also deserve praise. HEOS is a combination of streamer and smart platform, so I managed to test the NR1200 in a multi-room system with other compatible devices and control them from a single app.
Having tested multiple receivers, I can instantly recognize Marantz products because of their "energetic" sounding, and this unit is no exception. The bass was detailed and focused, with clear raises and fast fading. Another strong point of the NR1200 is its high-frequency sound. It has an AKM DAC instead of ESS Saber, and that's why high frequencies combine transparency and some sweetness.
Marantz NR1200 is a slim all-in-one receiver that can be paired with speakers for enjoyable music listening sessions. It has all the needed features and can deliver music without causing listening fatigue in small and medium-sized rooms. If you are shopping for the best home stereo receiver for music and don't want to overpay for frills, this is a wonderful option to consider.
Key specs
Channels: 2.0.
Power output: 75W/8 Ohm, 100W/6 Ohm.
HDMI inputs/outputs: 5/1.
Phono Input: yes.
Bluetooth/Wi-Fi: yes/yes.
Streaming services: AirPlay2, Spotify, Pandora, TIDAL, Deezer.
Supports HDMI ARC, HDMI CEC, HDCP2.3, HDR10.
Pros
Easy to set up and operate.
Separate knob controls for bass, treble, and balance.
Plenty of HDMI connections for all kinds of attachments.
Nice compact unit with Zone 2 capabilities and Bluetooth.
Cons
No bi-amping.
Doesn't support DV passthrough.
No dedicated headphone amp.
Yamaha R-S202 – budget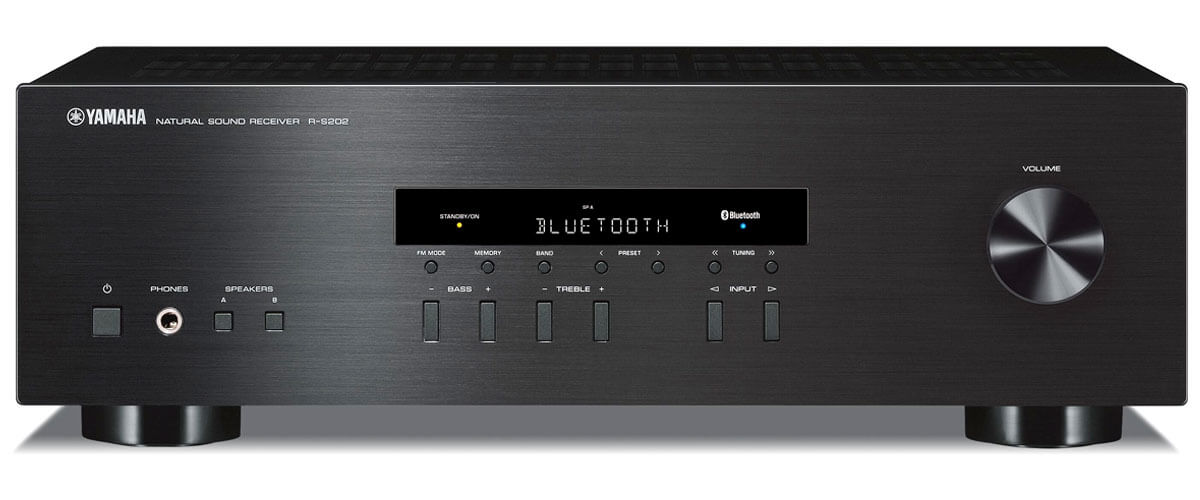 Yamaha's musical heritage goes back over 100 years! The R-S202 Stereo Receiver (like many other this brand's models) was designed with these decades of manufacturing experience in mind.
The Yamaha R-S202 is a classic stereo receiver with a conventional tuner capable of handling AM and FM radio signals. In addition, the tuner has a memory for storing fixed settings, so your favorite radio stations can be tuned once and then simply switched between them. But this model's main "feature" is the presence of a Bluetooth adapter. Considering the fact that nowadays, the whole phono library is often stored in smartphone memory, it is difficult to overestimate the presence of this technology in a relatively budget-friendly stereo receiver.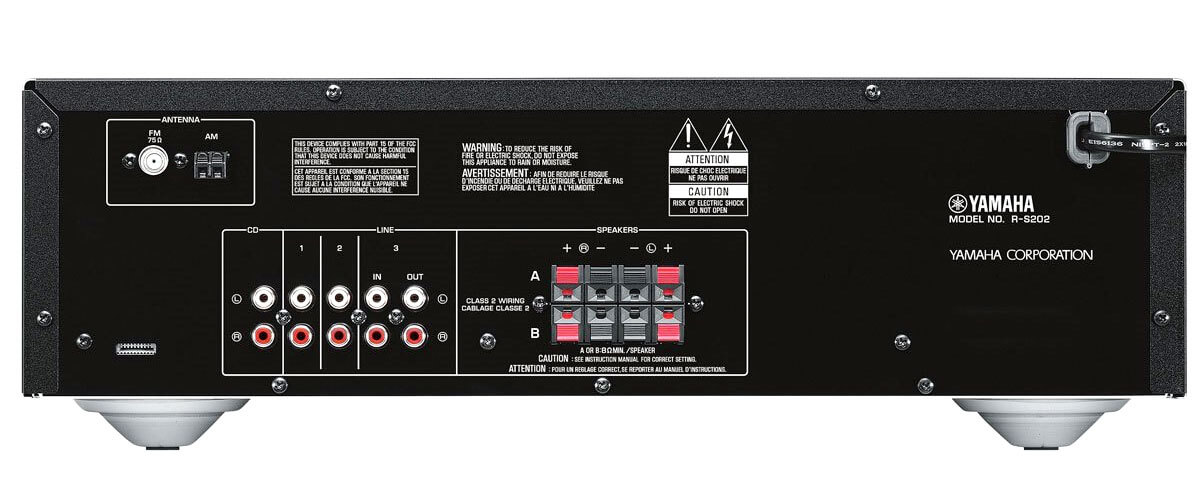 As for the design, the front panel is simple and laconic, and the fluorescent display is well-readable from a distance. Large buttons control the switching of the timbrel and inputs, and small buttons switch radio channels, tune them, and select the acoustics that are working at the moment. However, in most cases, you will use a remote control to control the receiver – it is more convenient, and the remote control provides much more adjustments.
The black front panel is made of aluminum. On the back panel, there are analog inputs for the CD player and two more pairs of universal inputs. In addition, there is a set of inputs/outputs designed for, for example, a cassette recorder, babbling recorder, or another recorder. Two pairs of speaker spring terminals allow the receiver to be used with speakers in A or B, A+B configuration.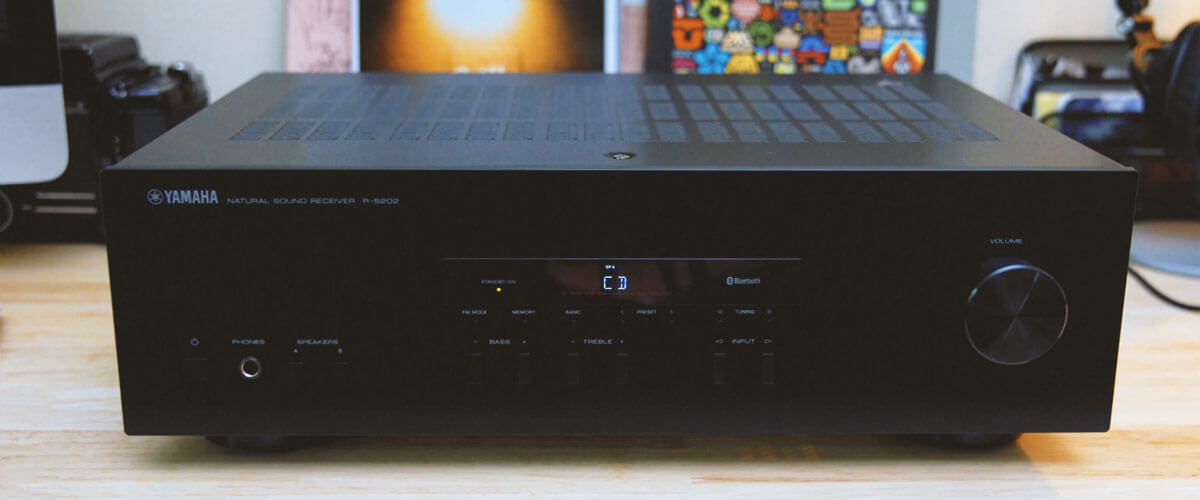 Setting up the R-S202 receiver took only a few minutes. Then I set up the speakers, sank into my favorite chair, and prepared for immersion in music. The first impression – the receiver is absolutely omnivorous. Moreover, I was pleasantly surprised by the thoroughness of the bass range. The midrange was rich but had no excessive accents or exaggerated detail. My conclusion is it was really great-sounding.
Then I decided to listen to my favorite track, The Doors: Riders on the Storm. A bouncing bass line, a wide soundstage, thunder coming out of nowhere, raindrops, and Morrison's voice. The R-S202 doesn't impress with its ultra-wide frequency range but reproduces a detailed, naturalistic soundscape. I could even distinguish Jim's quiet whisper. The bass was full, controlled, and not bloated.
The ease of use and Bluetooth availability make the Yamaha R-S202 a great choice for building a Hi-Fi budget system. It's an interesting option that you should definitely pay attention to.
Key specs
Channels: 2.0
Power output: 140W/8 Ohm.
HDMI inputs/outputs: 0/0.
Phono Input: yes.
Bluetooth/Wi-Fi: yes/no.
Streaming services: no.
Pros
Good sound quality.
Easy installation and connection.
Bluetooth.
Solid and fast bass.
Cons
No backlight on the remote control.
Not the finest FM reception.
Sony STR-DH190 – also a great choice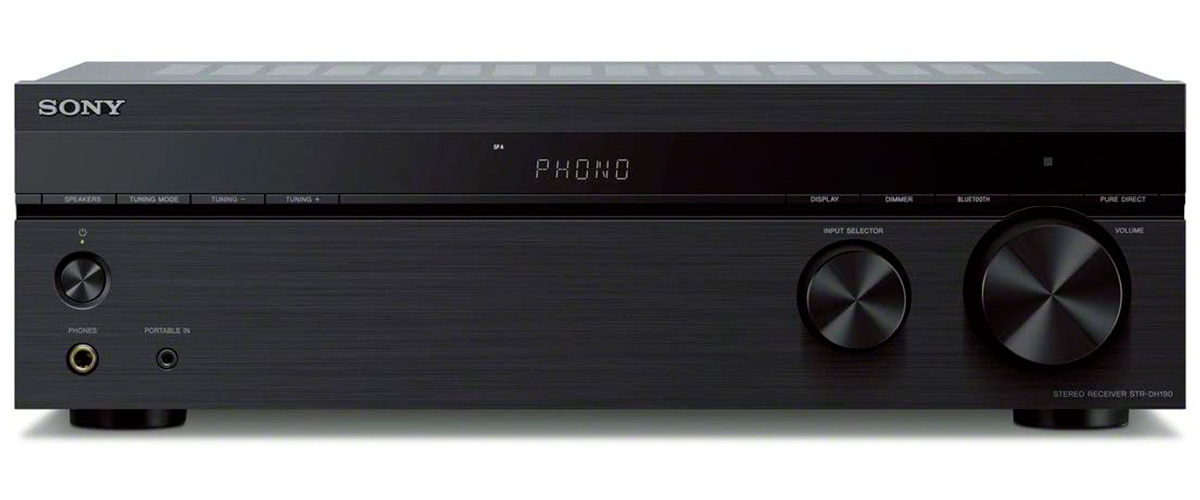 Sony promises that this receiver will amaze you with gentle sounding and extensive control features, but is that the truth? Here is a little spoiler from me. If there really is the best stereo receiver under $200, you are already reading about it right now.
Primarily, I evaluated the design. This is a low-profile receiver, so you can easily add it to your stereo system without occupying much space. Regardless of a compact body, there are all types of ports needed for connecting this unit to different sources. There are 4 analog audio inputs and 1 output, so pairing it with a turntable or recording device is as easy as ABC. I connected my CD player and stereo speakers and have nothing to complain about.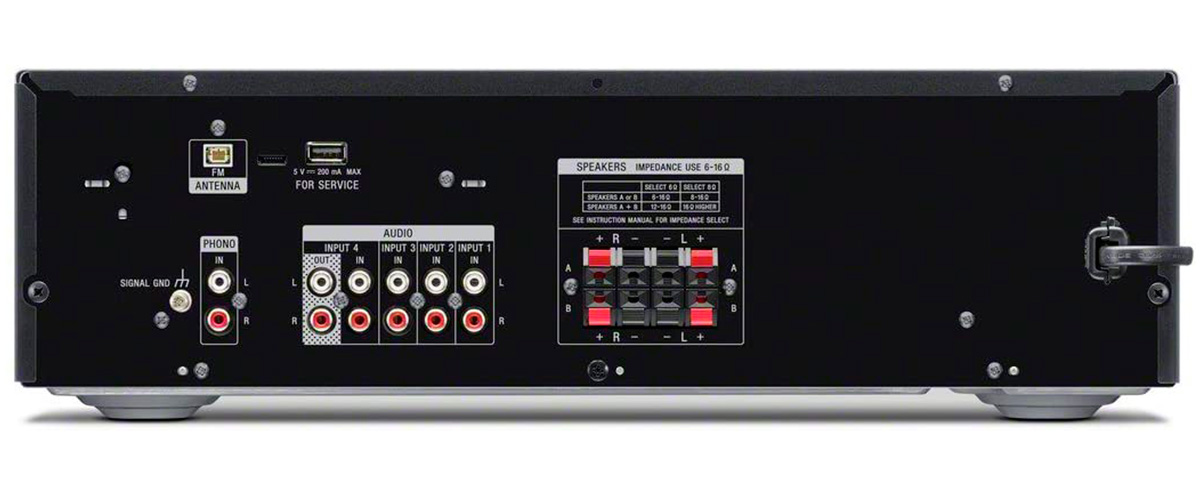 What makes this unit stand out from the crowd is sophisticated Bluetooth connectivity. In addition to the regular Bluetooth feature, there is Bluetooth Standby mode, which allows turning the receiver on/off using a phone. I tested this feature, and it worked flawlessly.
Another bragging point is the possibility to switch between A and B speakers. This comes in handy if you want to get a powerful sound in one room or intend to transmit different audio signals in 2 adjacent areas. I tried both and was astonished by how gorgeous the sound was. The power output is 100 watts with 8 Ohm speakers.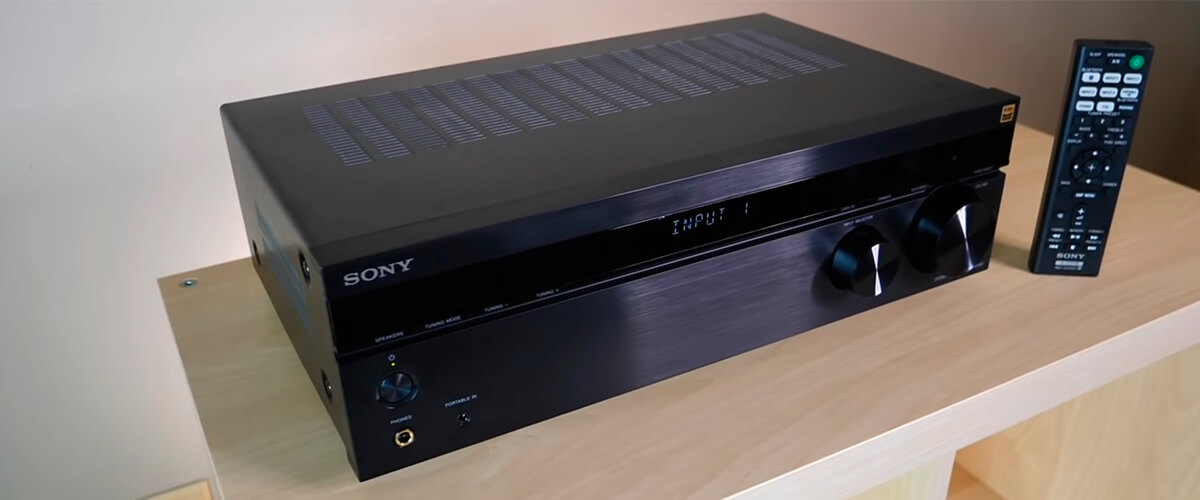 Sony STR-DH190 perfectly copes with high-res audio playback and can define even the slightest sound nuances. Thanks to internal components, the vibration is reduced, which means you always get studio-quality sound. Another thing I can't but mention is a discrete power amplifier that eliminates distortion. Though it can't stay on par with Yamaha R-N803, considering the overall sound range, it is a great representative of its price category.
I believe Sony STR-DH190 can appeal not only to regular buyers but also to those with high demands for such equipment. Every component here is well-thought-out to please listeners with detailed soundstage both at low and high frequencies. I think it is the best budget stereo receiver under $200 considering the range of features and the sound quality.
Key specs
Channels: 2.0.
Power output: 100W/8 Ohm.
HDMI inputs/outputs: 0/0.
Phono Input: yes.
Bluetooth/Wi-Fi: yes/no.
Streaming services: no.
Pros
Good sound range and nice equalization.
Many options to tweak sound.
Bluetooth features (control, pairing, and sound quality) are first-rate.
4 sets of stereo line inputs and 2 sets of A/B speaker outputs.
Cons
Doesn't have a tape function.
No HD radio.
Pioneer SX-10AE – best under $300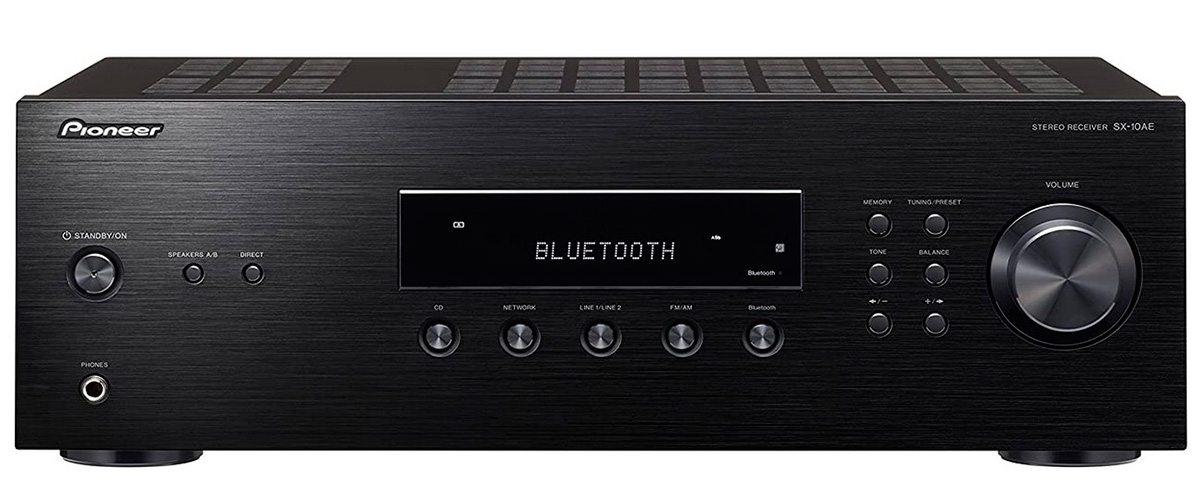 Despite the minimalistic functionality, Pioneer SX-10AE looks almost indistinguishable from its multichannel counterparts with fancy decoders and radio presets on board (e.g., Denon DRA-800H).
Everything is also quite familiar on the front panel of the device, except that the button set is more typical for an integrated amplifier: tone correction, balance, and 5 keys for direct source selection.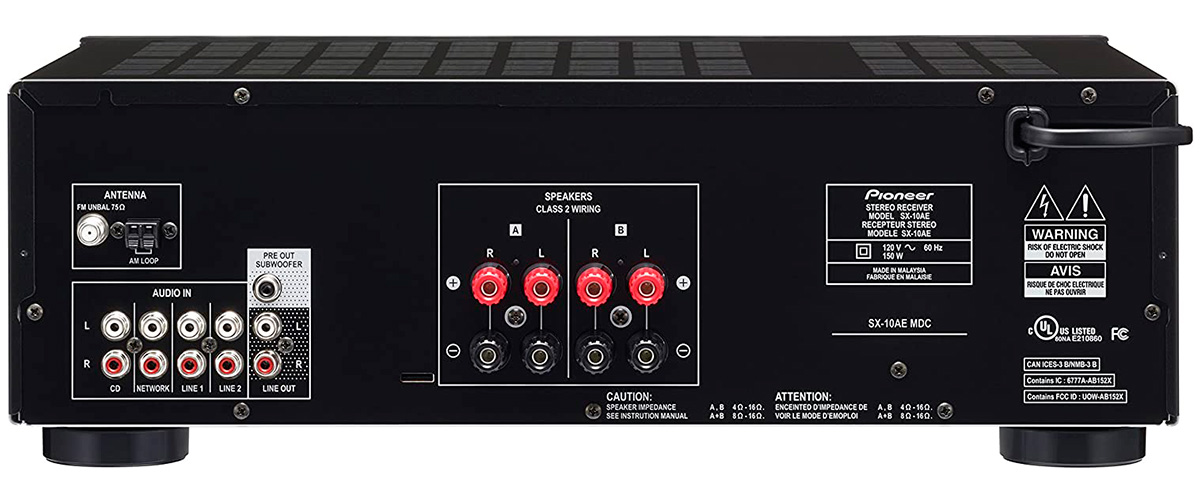 The key advantages of the SX-10AE are its low cost and uncluttered menus. The setup process is intuitive, even if this is your first time using such a device. As for the supported interfaces, you can connect a network player, a satellite receiver, and a subwoofer.
Unfortunately, I didn't find any digital ports, which is the tradeoff you need to settle for while purchasing affordable products. Keep in mind that this receiver accepts streams only in the basic SBC and Apple AAC codecs, and there is no support for aptX.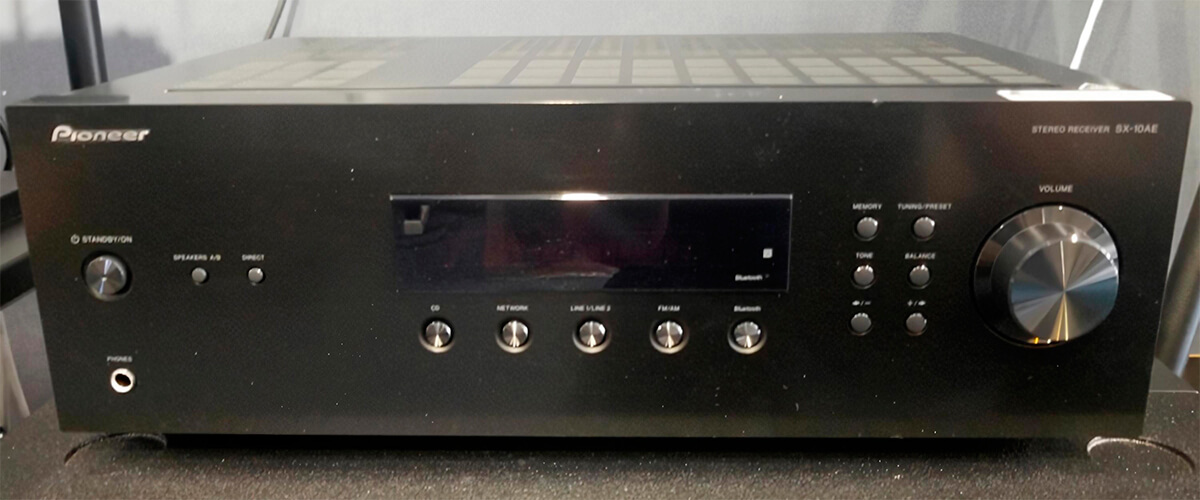 Considering the cost of the Pioneer SX-10AE, I can say that the sound quality is quite good. This is a good receiver with subwoofer output that you can get for this money. 45W/8 Ohm power output is sufficient for getting a fairly powerful, clear, and dynamic sound with an adequate soundstage organization. Apparently, the decision not to use pulse amplification in this model was correct. Since, in this case, we get a harmonious and quite balanced sound.
Summing up, I can say that such a device is sure to attract a specific category of music lovers. I think it can be used as a partner for an inexpensive turntable or a TV, and satellite receiver, if you don't plan to build a multi-channel home theater. Though it doesn't have many advanced features, it perfectly copes with its main task and can be called the best stereo receiver under $300.
Key specs
Channels: 2.0.
Power output: 45W/8 Ohm.
HDMI inputs/outputs: 0/0.
Phono Input: no.
Bluetooth/Wi-Fi: yes/no.
Streaming services: no.
Pros
Outstanding Bluetooth feature.
Aerial connections for AM and FM.
The lack of extraneous complexity is a delight.
Sounds fantastic and can get pretty loud.
Cons
No dedicated phono input.
You can't alter volume from A to B; the volume setting affects both the same.
Not HDMI compatible.
Yamaha R-N803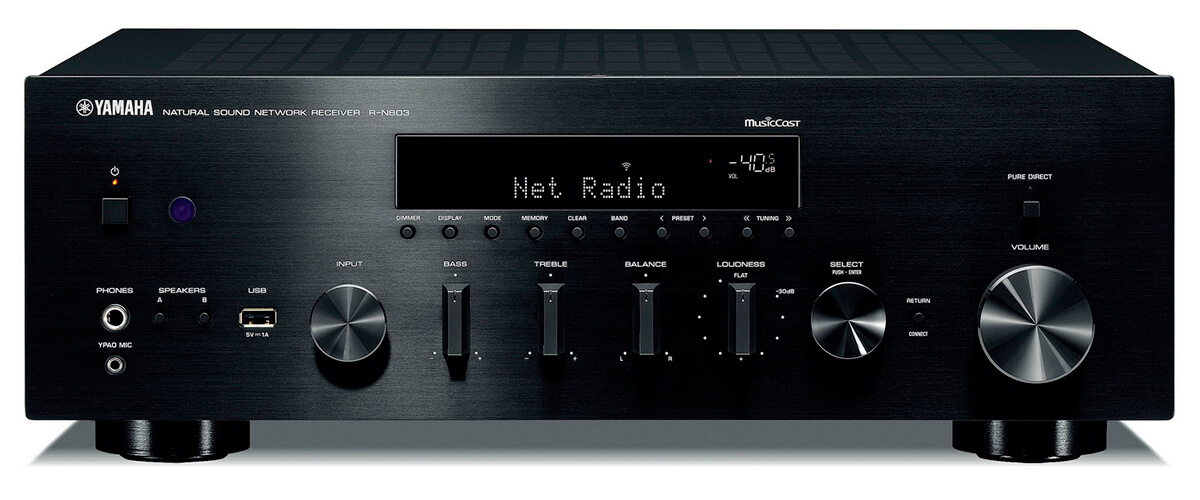 When I first saw this receiver, I was astonished by the number of connections it comes with. There are both dated and the latest ports, so the developer has done a great job at future-proofing its product. In addition to the HDMI input, there are three RCA inputs, a dedicated RCA input, and a built-in stage for turntable and vinyl. There is also an optical and coaxial input, a jack for AM and FM antennas, an Ethernet port, Wi-Fi, and Bluetooth connectivity. WOW!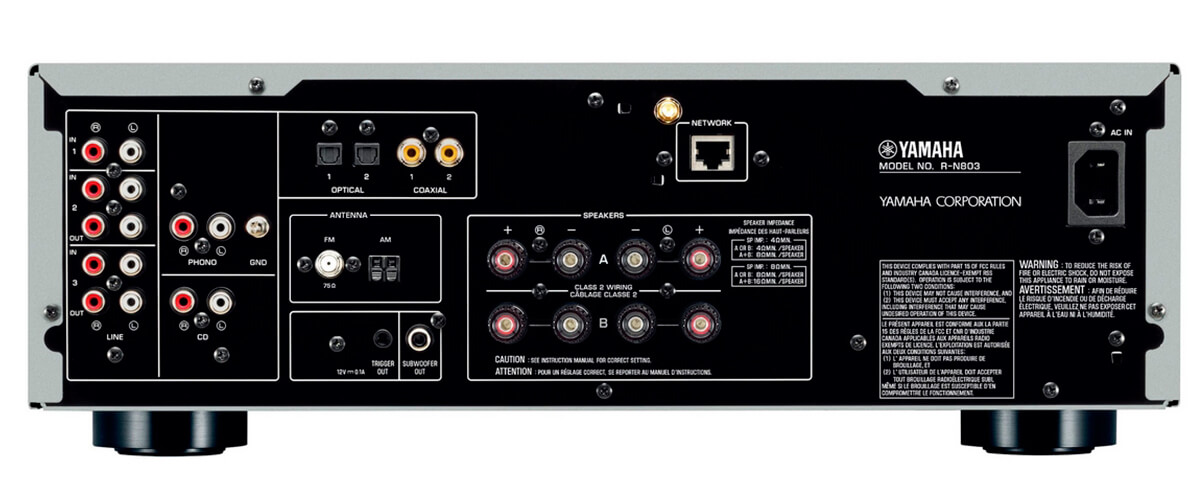 The main difference between this receiver from its peers is network integration. It offers many features, including built-in support for Tidal, Pandora, Spotify, SiriusXM, Deezer, and TuneIn. The device also supports streaming via AirPlay, DLNA, Bluetooth, or mobile devices via Wi-Fi Direct. Though this makes it similar to Denon DRA-800H, the entire process is more straightforward here.
The R-N803 is equipped with a SABER 9006AS digital converter (DAC), which supports high-definition audio. I also found a power transformer and Pure Direct mode, which allows audio signals to bypass a buffer amplifier and tone controls in the shortest possible way. This feature will appeal to genuine audiophiles.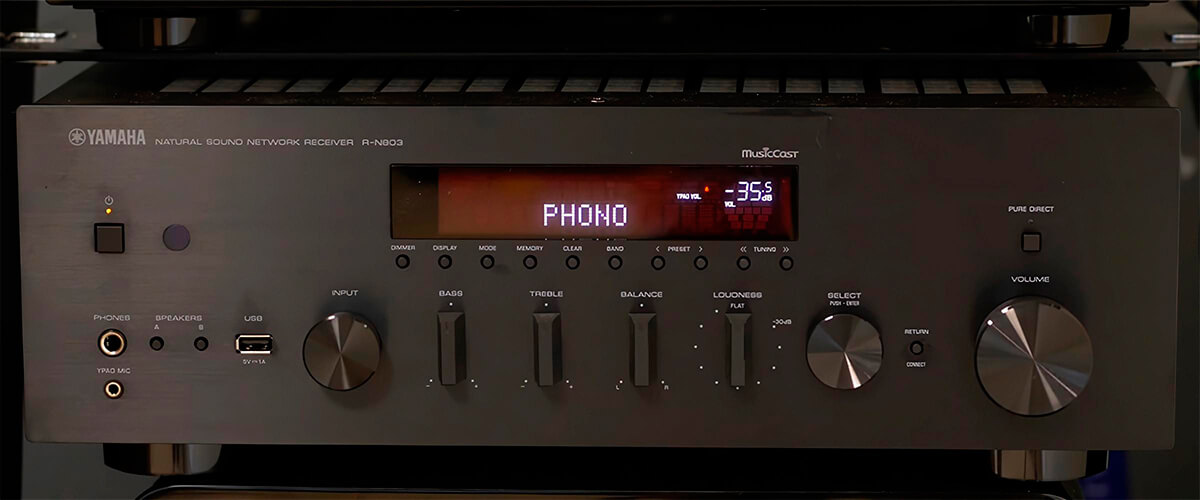 Yamaha R-N803 is the first brand's network Hi-Fi receiver that includes the proprietary YPAO microphone system. To determine the optimum sound quality, YPAO corrects any reflected sound by applying equalizer settings that best suit your environment. I really like this feature because doing it manually in my studio would take too much time. Thanks to its robust internal components, the R-N803 delivers 100W at 8 Ohms and 170W at 6 Ohms and can stay on par with more expensive counterparts.
All in all, Yamaha R-N803 can be called the best high-end stereo receiver as it delivers great sound from virtually any source. It is powerful and pleasant to listen to. If you can afford to spend such a sum, this receiver will pay you off with incredible sound any time you switch it on.
Key specs
Channels: 2.0.
Power output: 100W/8 Ohm.
HDMI inputs/outputs: 0/0.
Phono Input: yes.
Bluetooth/Wi-Fi: yes/yes.
Streaming services: AirPlay, Spotify, Pandora.
Pros
Music is clean and clear at all music levels.
Sounds incredible regardless of the source (USB flash drive, vinyl, CD player, TV).
The MusicCast app covers many functions.
Music streaming, phono preamp, and multichannel analog inputs.
Cons
Setting Wi-Fi is very time-consuming.
No Amazon Music and no free Spotify.
Bluetooth shutters frequently.
Buying guide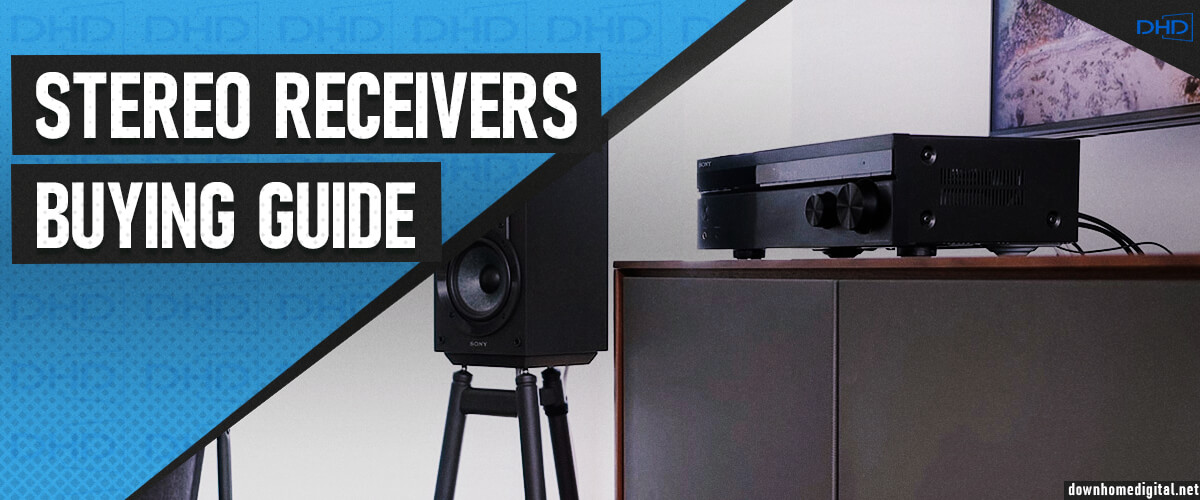 The difference between home theater and stereo receiver
If you want to improve the sound quality of your music or the movies you are watching, you need a receiver. But… which one? Most of those who haven't used such devices before find it difficult to choose between a home theater receiver and a stereo receiver. Well, let's see what the difference is between them. After you know it, things are going to be easier.
First, I would like to explain you the main features of both types of receivers.This device is compatible with a variety of devices, focuses on video and audio content, and has support for surround sound. It's, so to say, a versatile and multifunctional monster.
Now, I offer you to discuss the stereo receiver's features. As you might have guessed, it is geared toward music and provides better sound quality. The device is designed for high-fidelity audio inputs and is simple to set up. These receivers are focused on two channels to match stereo music recordings. Some stereo appliances are advertised as four-channel receivers. Although these receivers have four built-in amplifiers, the third and fourth channels are mirrors of the main amplifiers left and right channels. Surround sound decoding, or the processing, isn't provided in a stereo receiver.
Overall, if your main goal is to listen to music, you don't need a home theater device. A stereo receiver is enough to get a great sound. And if you want a universal device, you need an AV receiver.
The difference between an integrated amplifier and stereo receiver
Some think that the terms "amplifier" and "receiver" are completely interchangeable. However, there are differences between them. An amplifier is an appliance that converts low-voltage signals from your source equipment into a signal with enough gain to be used to power a pair of speakers.
Meanwhile, a stereo receiver is an amplifier with a built-in radio section, and possibly a number of other additional features. Therefore, this device is much more versatile and functional than a conventional amplifier.
Streaming music with a stereo receiver
Many modern stereo receivers support Wi-Fi and Bluetooth. This means you can stream music from your mobile device and listen to your preferred tracks from popular streaming services like Spotify, Pandora, Deezer, TuneIn, etc. Streaming music from the receiver to wireless speakers and creating a multi-room audio system in your house is also possible.
If you have a stereo receiver with a proprietary technology called MusicCast, you can control the device with a mobile app. Apple AirPlay 2 receivers enable wireless multi-room audio streaming from Apple phones and tablets. Meanwhile, Chromecast built-in provides you with the opportunity to stream audio and video from your mobile device to your receiver and TV.
Does the speaker wire affect the sound quality in the stereo system?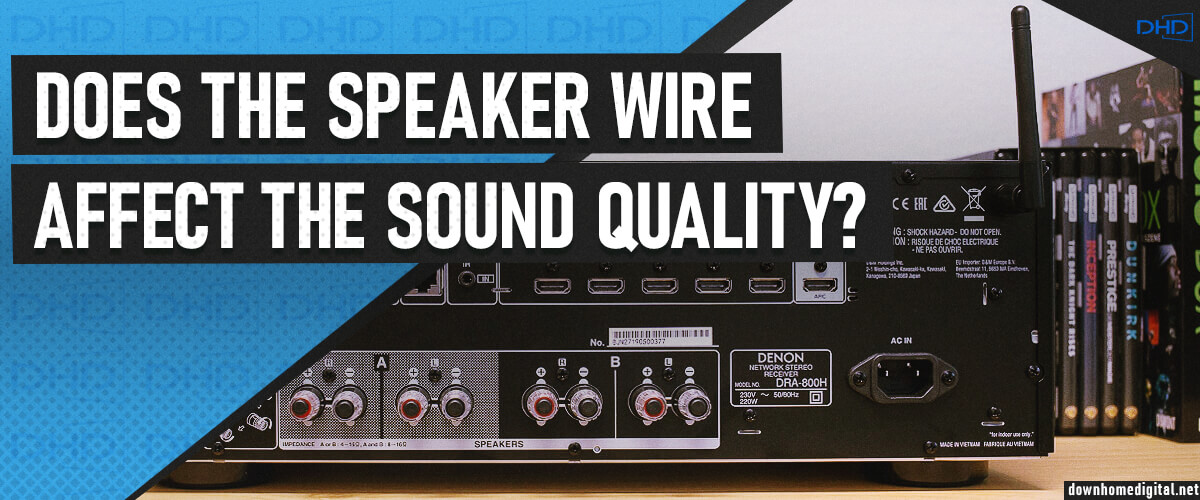 Many people are googling whether a wire type makes a noticeable difference to the sound of a receiver. Some companies claim that it does, but I believe this is a marketing trick to sell their products at a wildly high price. In fact, there are some myths concerning this topic, and I want to clarify the most critical nuances so that you get a proper wire for your system without going flat broke.
A thicker wire is better
If you are going to create a long-run setup, it may be a good idea to get a thicker wire to minimize the resistance effect. But that is rather a rear case, and most users locate components of an audio system near one another. In general, a 16-gauge cord is sufficient for connecting speakers arranged at a distance of 100 ft from a receiver. Don't use a thick wire for short runs, as you won't get any sound quality boost.
Expensive wires can solve a skin effect
High-frequency signals are transmitted on the wire's peripherals, while low-frequency signals are directed closer to the center. Such a distribution causes a skin effect, but it becomes noticeable only across the miles of cables. I can hardly imagine a custom stereo receiver & speaker setup that consists of multiple long wires, so you won't actually experience a skin effect. The question is – what's the point of wasting money on cables that can do nothing to a skin effect? I think the answer is obvious.
Get wires of the same length
This sounds like a smart tip, and some people believe that only wires of an identical length produce no phase shifts. In fact, an electric signal reaches the speed of light while going through a wire, so you need to use very long cords to actually "feel" phase shifts. Wires from 2 to 10 feet long don't suffer from these shifts, and that is a good length for any home.
Take care of break-in
People are chasing better sound quality, and many companies use this human desire to their advantage. They say that a small electrical current alters a wire and, in the long run, creates an audio distortion. That's nonsense. However, people continue to buy wire "cookers" and break-in services that are useless.
Splices spoil sound
Wires that connect receivers and speakers are spliced and soldered. When everything is made accurately, you won't notice any sound quality degradation. Using professional equipment, you can hear minor voltage drops and spikes, but they are inaudible to human ears.
While the points mentioned above are groundless, there are some important characteristics you need to keep in mind to choose a high-quality speaker wire.
Gauge (choose in accordance with your demands)
Length (select based on your particular audio system)
Construction. Different metals conduct electricity in different ways. Copper is cheap, has low resistance, but suffers from corrosion. Silver has even lower resistance but is rather expensive. Gold brags about anti-corrosion properties but lags behind copper and silver when it comes to resistance.
Capacitance. The higher, the more charge a wire holds.
Resistance. The lower, the more power the speakers get.
Inductance. It shows how voltage changes when the current is altered.
FAQ
Are stereo receivers obsolete?
No, stereo receivers are pretty popular even today. In addition, some modern models are already equipped with Bluetooth, Ethernet, and Wi-Fi functions, which seriously increases their possibilities of use.
Does a stereo receiver need an amplifier?
No, a stereo receiver does not need an amplifier. A stereo receiver is a standalone unit that includes a preamplifier and power amplifier.
How to connect 4 speakers to a 2 channel receiver?
The
simplest way
to connect 4 speakers to a 2 channel receiver is by using a Y connector. A Y connector splits the signal from a single source into two separate signals, which can then be sent to two different devices. Another option is to use a speaker selector.
How do I connect my stereo receiver to my TV?
Connecting a stereo receiver to your TV can be done in several ways. Among the most common methods are the use of HDMI, RCA, or optical audio cables. If the TV and stereo receiver have HDMI ports (this is most likely for modern equipment), you can use an HDMI cable for connection. To do this, you need to connect one end of the HDMI cable to the receiver's HDMI OUT port and the other end to the TV's HDMI IN port. Everything is as simple as possible.
For more outdated equipment, RCA cables are most often used. Another fairly simple connection option is via Bluetooth. Many modern models of stereo receivers support Bluetooth, so if your TV also supports this technology, they can be connected wirelessly.
What is the average cost of a good stereo receiver?
Today, the average price of a good stereo receiver varies from 250 to 800 dollars. The term "good receiver" means a model above the average level but not the top options. This price range depends on many indicators, such as brand, availability of additional features, or unique, innovative technologies. But with 400-500 bucks in hand, you will have no problem finding a great stereo receiver.
Explore other our AV receivers ratings