Trying to find the best stereo receiver, I have tested dozens of different models. Each of the receivers I used made me satisfied with the sound quality. No wonder all the devices you will see in this review have two channels.
To be as objective as possible, I chose models from different brands. Those who are looking for the best stereo receiver for music but have a limited budget will find a suitable appliance below. Nevertheless, if you want to buy a two-channel stereo receiver with premium quality, my review will be interesting for you as well.
Our pick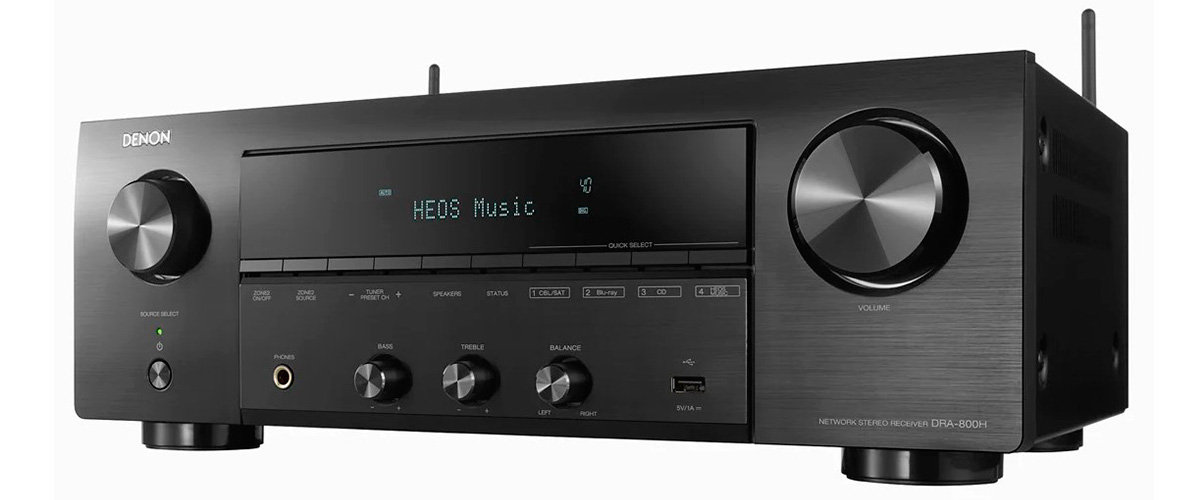 Denon DRA-800H
Best Stereo Receiver
Denon stereo receiver built with Hi-Fi amplification seamlessly integrates with the latest Hi-Res audio, wireless, voice control and AV receiver technologies including five 4K Ultra HD HDMI inputs.
2 Channel Stereo Receivers Comparison Table
Receivers
Channels
Stereo power, W/Ohm
THD, %
Denon DRA-800H

best overall

2.0
100/8, 120/6
0.05
Review
Sony STR-DH190

under $200

2.0
100/8
0.09
Review
Pioneer SX-10AE

under $300

2.0
45/8, 100/6
0.08
Review
Marantz NR1200

Hi-End

2.0
75/8, 100/6
0.08
Review
Best Stereo Receiver Reviews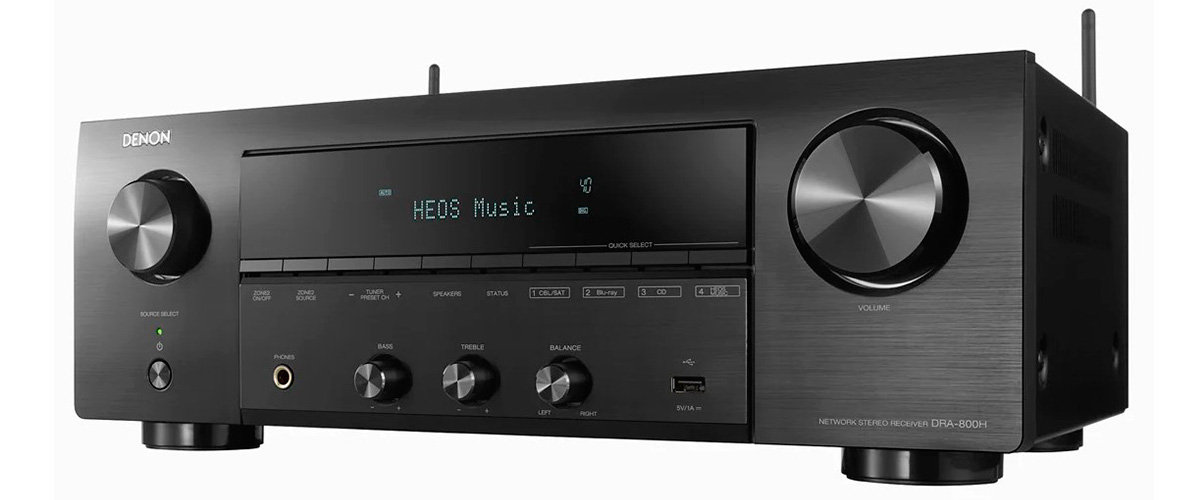 The DRA-800H is certainly the best 2 channel stereo receiver that combines both analog and digital technologies to make it the versatile center of today's stereo system. The unit is made in the traditional style of Denon with a thick aluminum front panel, which is very conveniently located with all the necessary controls. The DRA-800H boasts premium quality and will look great in any AV system.
This dual-channel receiver features a massive high-current power transformer, capacitors designed specifically for audio, a phase-shift amplifier circuit that delivers wide frequency response, minimal distortion, and a well-focused soundstage. The device develops a power of 145 W per channel at a 6 ohm load and is capable of fully pumping even complex acoustics. The Denon's stereo receiver provides tone controls for low and high frequencies, as well as stereo balance, to adjust the sound. If desired, all additional signal processing circuits in the receiver can be turned off by using the Source Direct mode.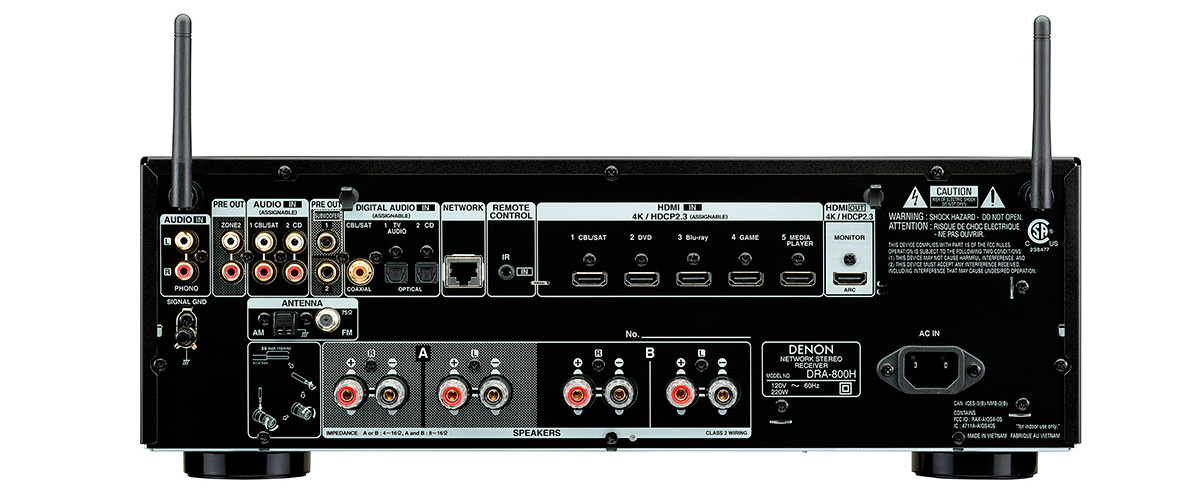 The DRA-800H stereo receiver model features an excellent built-in MM/MC phono stage that rivals many standalone units. This appliance has two optical and one coaxial input, five HDMI inputs, and one HDMI output (with support for a return channel, which is convenient when working in conjunction with a TV). The model is equipped with a USB port for external storage devices and two connectors for subwoofers. Four pairs of screw terminals are used to connect the speaker. In this case, the entire digital part of Denon DRA-800H can be turned off to eliminate its influence when listening through the analog inputs.
The considered receiver supports dual-band Wi-Fi for more reliable connectivity, AirPlay, and Bluetooth. With a wired connection via the LAN port over a local network, playback of Hi-Res formats stored in computers and servers of this network is available, such as PCM up to 24 bit/192 kHz and DSD up to 5.6 MHz (in PCM conversion mode). There is a built-in FM tuner with RDS, digital radio, and web radio. Plus, a variety of internet services are supported, including Spotify Connect, TIDAL, TuneIn, and Deezer.
Key specs
Channels: 2.0
Stereo power, W: 100, 120
Impedance, Ohm: 8, 6
THD, %: 0.08
Pros
All ports are 2.0a and support HDCP 2.3, 4K (60Hz) video, 3D, HDR, Dolby Vision, DSD file transfer, and more
Equipped with proprietary push-pull AHC amplifiers operating in an extended frequency range
The chassis of the device has patented vibration isolation with a base steel plate 1.6 mm thick to protect the electronic circuits from mechanical stress
Cons
You have to configure the inputs manually
Music streamed via Bluetooth has lower quality than in the case with receivers that have the aptX Bluetooth profile
Sony STR-DH190 – best under $200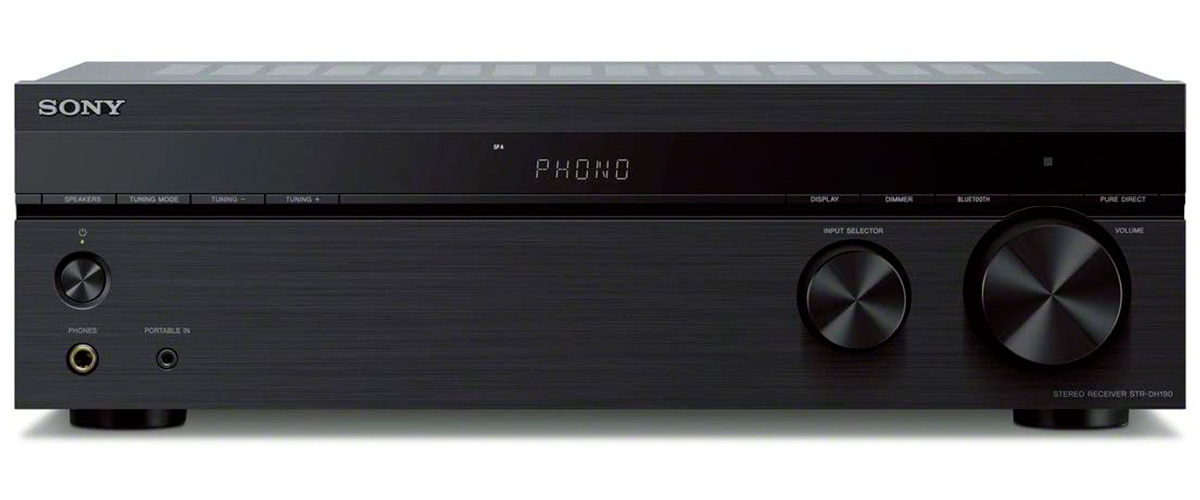 The equipment of the best stereo receiver under $200 leaves no doubt that a turntable can be connected because the appropriate connection with an integrated preamplifier is available. Because Sony has also built in a number of other inputs and Bluetooth is included, a connection can be established to a variety of other devices. In combination with passive speakers, this ultimately results in a simple but well-networked music system. Overall, the receiver combines a power amplifier (which provides the power to drive your speakers), a preamplifier (for selecting sources, controlling volume, and adjusting tone), and a radio tuner. Of course, I also considered the power of the device – it is 100 watts (8 ohms). Speaker impedance is 6-16 ohms.
As I said, this 2-channel stereo receiver with Bluetooth is perfect for those who prefer listening to music with a turntable. In addition to the turntable via a phono input, four other analog devices can be connected. There is also an audio output, for example, to connect a recording device. There are two channels for the connection to stereo speakers, unfortunately only with clamp connections. This means that different rooms can be controlled at the same time. The Bluetooth module, which can also be used to play music from a smartphone or tablet, works very well. It is a pity, but there is no optical audio input or even a USB port for music files. The focus is actually on the operation of the turntable.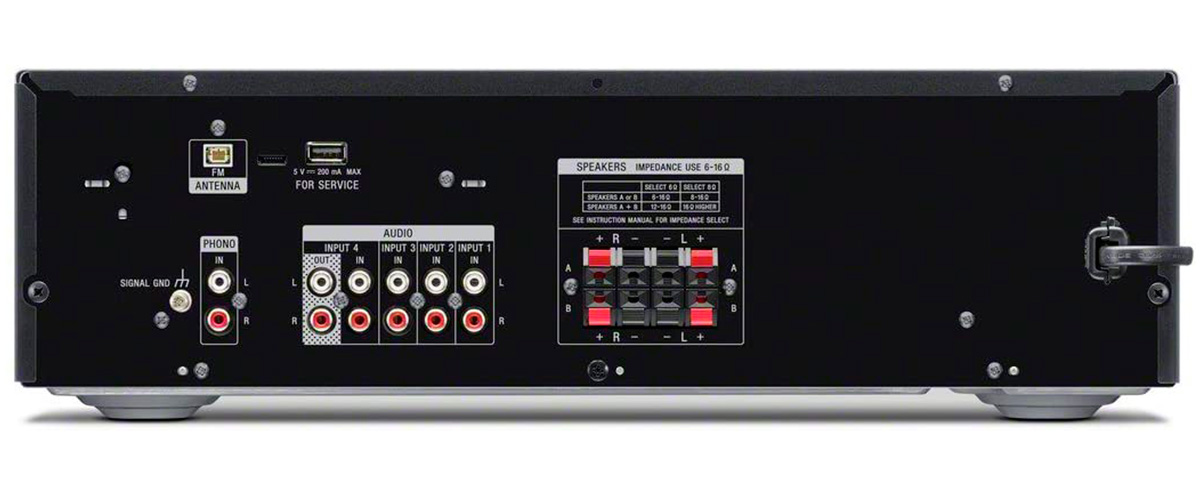 I believe that this is the best budget stereo receiver as for a low price you get a lot of premium features. Sony STR-DH190 network capabilities include AirPlay and DLNA protocol. We can play music files in mp3, AAC, and WMA9 formats both from the network and from USB devices. However, the receiver does not support the popular FLAC or HD material at all.
The model Sony STR-DH190 has a set of HD decoders, the ability to scale and convert an image from analog sources to digital form. It is possible to activate the second zone, but only through the low-level outputs, i.e., after connecting an additional power amplifier. The equipment includes a microphone needed for automatic calibration.
Key specs
Channels: 2.0
Stereo power, W: 100
Impedance, Ohm: 8
THD, %: 0.09
Pros
It comes with a built-in FM radio with 30 presets
Features a low profile design (5 ¼ Inch tall) that fits easily into the conventional AV cabinet
The remote control gives you the possibility to rename the inputs to label what goes in where
Cons
It does not support DAB +
You can only pair Bluetooth to one device at a time, like your computer or your iPhone, not both
Pioneer SX-10AE – best under $300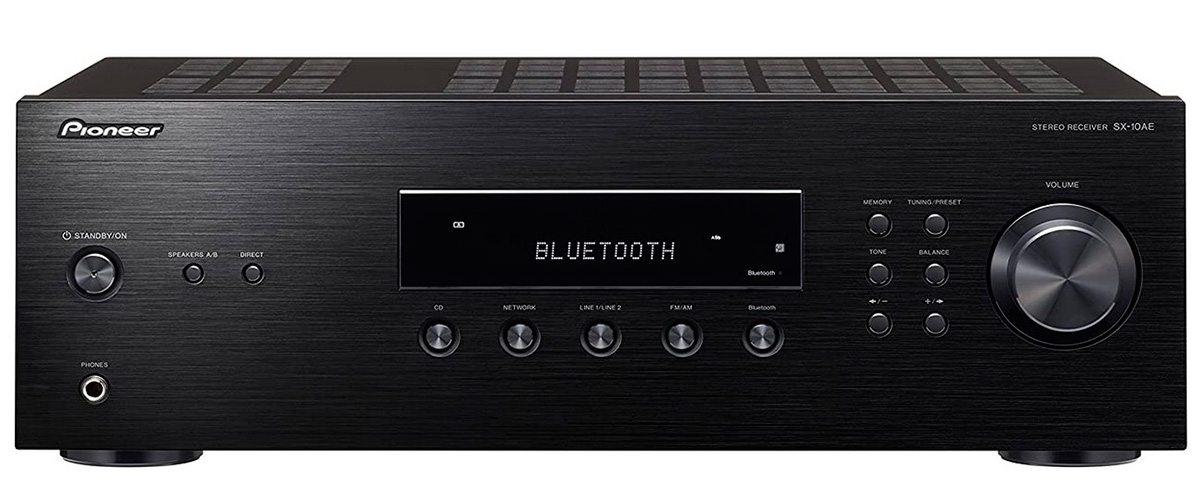 Let me tell you about the best stereo receiver under $300, which is a great option for the music lover's first audio system. The device has a robust design, elegant appearance, and convenient operation, as well as an extended range of functions. Pioneer SX-10AE delivers balanced and detailed sound to handle a wide variety of acoustics.
The SX-10AE has a phono input and four line inputs, tape, and radio outputs, and also supports Bluetooth. You can easily send your favorite tracks from your smartphone or tablet to the receiver. This appliance has A2DP/AVRCP profiles with SBC/AAC codec support.
The front panel of the 2-channel stereo receiver houses the necessary set of controls, as well as a large informative display. Pioneer SX-10AE uses proven Direct Energy technology to deliver high efficiency of the amplifiers. The stereo receiver's output power is 100 watts per channel, which provides excellent performance.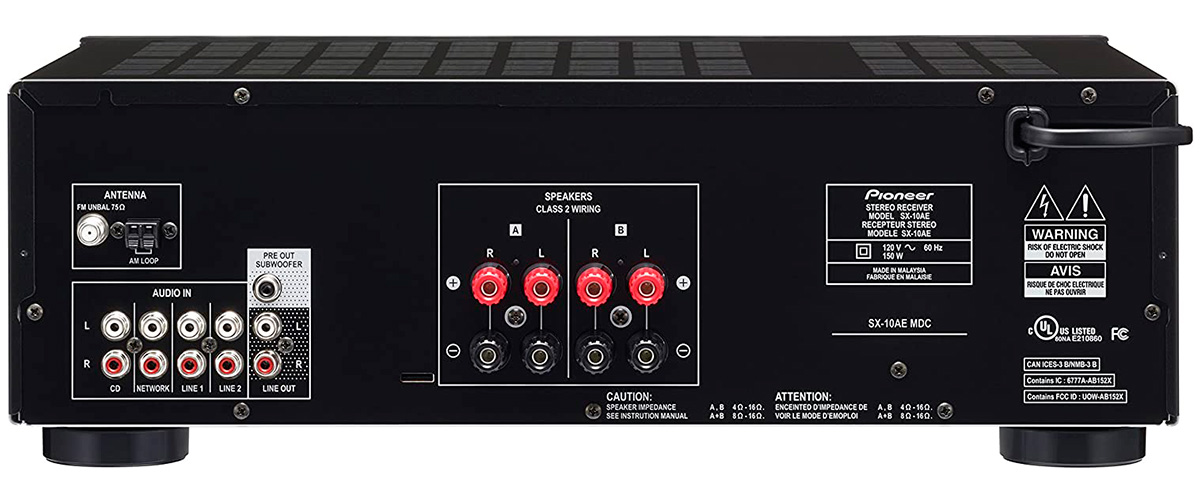 The device is equipped with four line inputs, as well as a line output and a jack for connecting a subwoofer. The front panel of the SX-10AE has a headphone jack – a good solution when listening to music at late hours. The device has a digital tone control for low and high frequencies, but all additional signal processing can be turned off.
The stereo receiver Pioneer SX-10AE has a high-quality built-in AM/EM with manual or automatic tuning functions, as well as the ability to store up to 40 stations. The appliance provides the ability to receive additional information RDS, and there is a function of user-defined station names. Another very useful additional feature of the SX-10AE is the built-in Bluetooth module. With it, you can send a music signal from various portable devices to your stereo receiver.
Key specs
Channels: 2.0
Stereo power, W: 45, 100
Impedance, Ohm: 8, 6
THD, %: 0.08
Pros
Made on an anti-vibration chassis, the special shape of which prevents the formation of resonances
All stereo receiver functions can be accessed from the remote control
User can do a two speaker set up by using either the "A" or "B" terminals or a total of four speakers by using both
Cons
It gets hot after a while
Marantz NR1200 – best High-End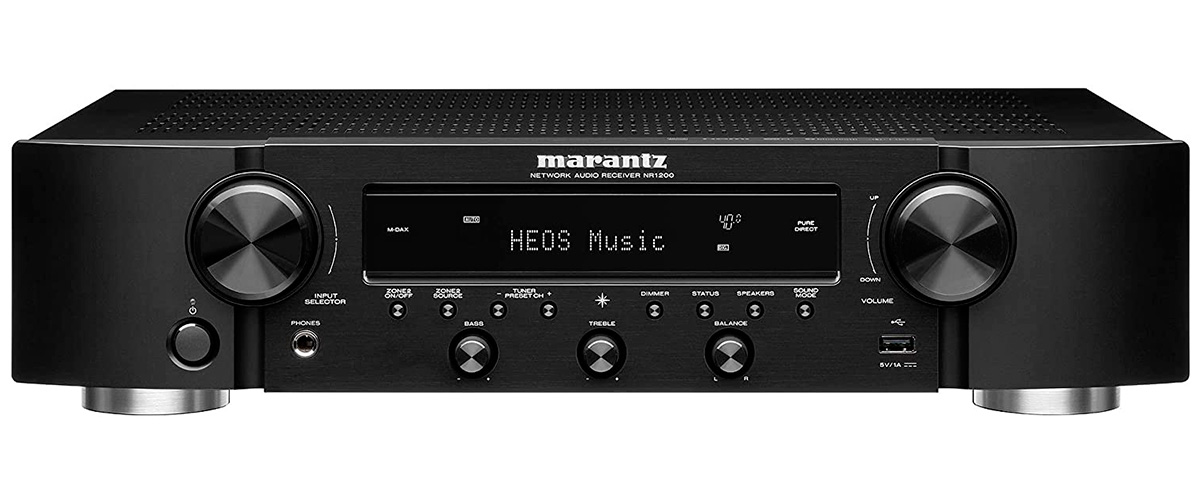 Here we come to the best High-End stereo receiver. The model supports multi-room and AirPlay 2. Plus, it has Heos compatibility. This excellent appliance works with a variety of online music services such as Deezer, Spotify, Amazon Music, and Tidal. The receiver's rear panel features five HDMI inputs and one output, each of which is compatible with UHD 4K video signals up to 60Hz, Pure Color 4: 4: 4 downsampling, HDR, HDR10, and HLG, and 3D pass-through. The HDMI output is ARC compatible, allowing you to reproduce TV sound.
This is a quite special stereo receiver with the ability to connect a TV via HDMI input. I believe the mentioned model was created for those who want to get good sound from TV and at the same time not overpay for a multi-channel AV receiver.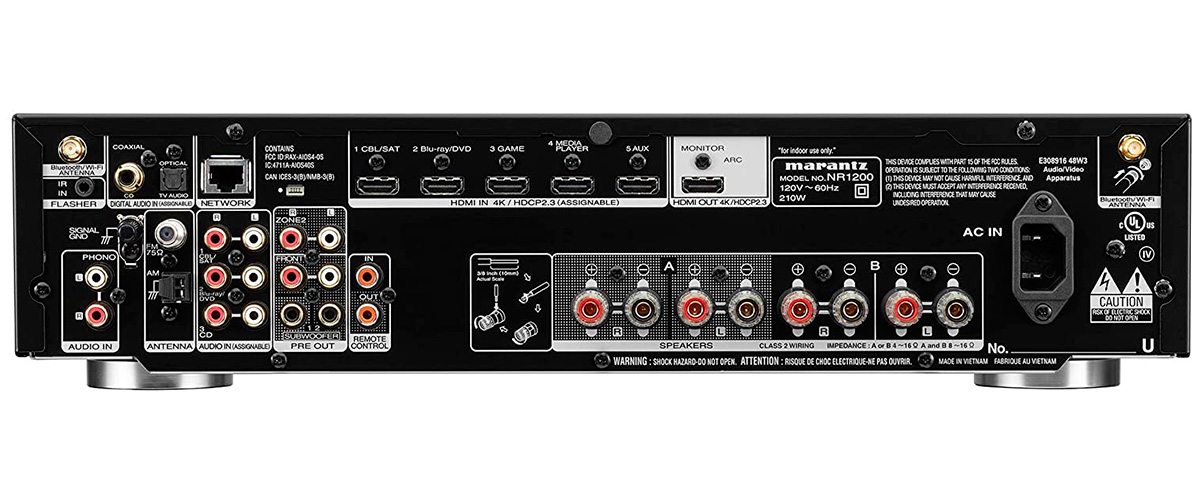 The NR1200 model supports both wireless Wi-Fi and wired Ethernet connections. In addition, there is the option to play local network music via DLNA using the Heos app for Android and iOS. These files are converted by two 32-bit AK4458 DACs (one per channel). The DAC handles most audio formats, including WAV and FLAC up to 24-bit/192 kHz, as well as 2.8 and 5.6 MHz DSD files.
Another advantage of the NR1200 is that FLAC, WAV, ALAC, and DSD files play without pause. This means that playback is continuous, and there are no gaps between tracks. You can also play high-resolution audio files from a USB storage device or external hard drive connected to the front USB-A input.
The receiver delivers up to 2×75 watts at 8 ohms, from 20 Hz to 20 kHz. Frequency response can be extended from 10 Hz to 100 kHz (+/- 3dB) by enabling Direct mode. Thanks to this wide frequency range, the NR1200 is Hi-Res Audio certified.
Key specs
Channels: 2.0
Stereo power, W: 75, 100
Impedance, Ohm: 8, 6
THD, %: 0.08
Pros
Very easy to set up
The model is AirPlay 2 compatible for easy music or audio streaming from any application running on your iPhone, iPod, or Mac
It comes with Bluetooth module for streaming music from any smartphone, tablet, or computer without the need for a LAN connection
Cons
The online instruction manual does not provide enough information for some of the functions
Weak AM radio
Yamaha R-N303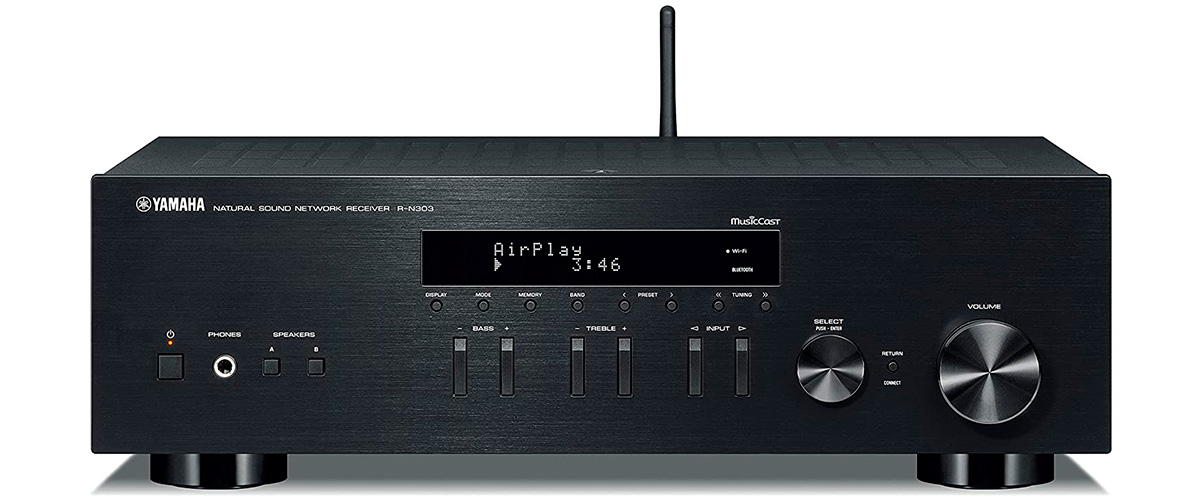 This is another device in my stereo receivers review that can be called the best home stereo receiver for music. The R-N303 is a versatile appliance with advanced network functions. The model supports DLNA protocol and can connect to a local area network wirelessly (WLAN) or wired via a LAN interface. This opens access to various audio files, including Hi-Res files (PCM up to 24 bit/192 kHz and DSD 2.8 or 5.6 MHz) stored on computers or NAS servers on the network.
To control the stereo receiver and to integrate it into the proprietary MusicCast wireless multi-room system, it is convenient to use the special MusicCast application, which also allows you to control devices compatible with this system. With the wireless audio network, you can stream digital audio from computers, servers, smartphones, tablets, and other sources to other MusicCast-enabled audio components.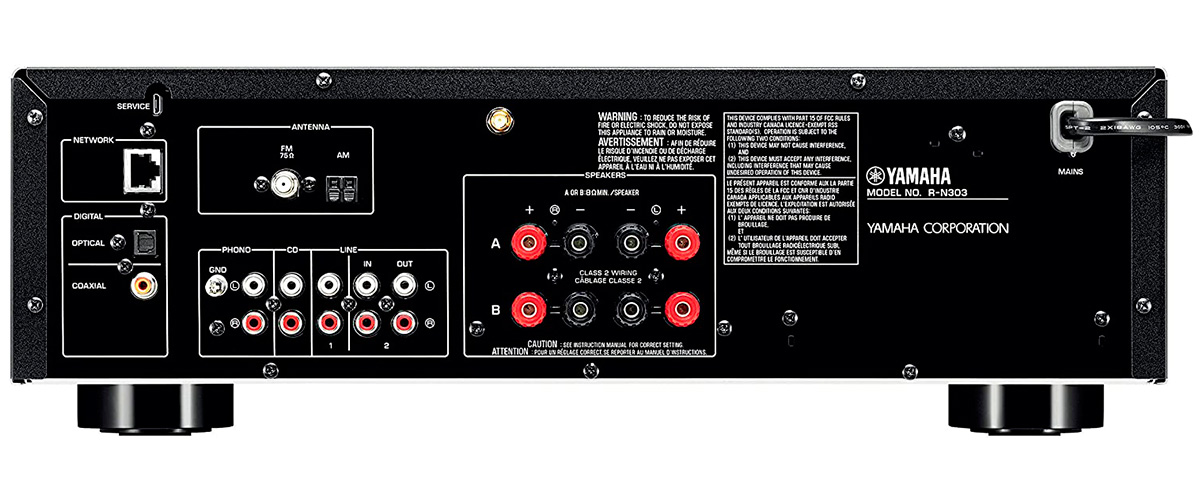 The output stage of the device is built on discrete elements, and the circuit topology guarantees the shortest signal path. A powerful transformer is installed in the power supply unit (PSU), which allows the receiver to deliver a maximum of 140 watts per channel at a load of 8 ohms and get impressive sound dynamics. The PSU is located next to the amplifier stage, which Yamaha believes minimizes power loss.
The R-N303 stereo receiver is assembled in a solid case with a two-line display built into its front panel. There is a 6.3 mm headphone jack on the front, and the rear panel is has a set of unbalanced line input connectors, an RCA output, a LAN port, and a pair of S/PDIF inputs (coaxial/optical) intended for connecting a TV panel, Blu-ray -player and other digital sources. Four pairs of screw terminals are provided for connecting speakers.
Key specs
Channels: 2.0
Stereo power, W: 125
Impedance, Ohm: 8
THD, %: 0.09
Pros
It supports the AirPlay function for iOS devices and has a built-in Bluetooth module that receives audio streams from smartphones and other mobile devices
You can control the receiver using a standard remote control or through the application
Various online streaming services are supported by the appliance, including Deezer, TIDAL, Napster, Qobuz, Sirius XM, Juke, etc
There is an AM/FM tuner onboard
Cons
No capability to completely turn off all of its lights
Buyers guide
The difference between home theater and stereo receiver
If you want to improve the sound quality of your music or the movies you are watching, you need a receiver. But… which one? Most of those who haven't used such devices before finding it difficult to choose between a home theater receiver and a stereo receiver. Well, let's see what the difference is between them. After you know it, things are going to be easier.
First, I would like to show you the main features of both types of receivers. The home theater device usually has five or more channels. Such an appliance is compatible with various video inputs. This type of receiver also has a full surround sound support. With it, multiple configurations are possible. The main benefit of home theater receivers is HDMI support.
Now, I offer you to discuss the stereo receiver's features. As you might have guessed, it is geared toward music and provides better sound quality. The device is designed for high-fidelity audio inputs and simpler to set up. These receivers are focused on two channels to match stereo music recordings. Some stereo appliances are advertised as four channel receivers. Although these receivers have four built-in amplifiers, the third and fourth channels are mirrors of the main amplifiers left and right channels. Surround sound decoding or processing isn't provided in a stereo receiver.
Overall, if your main goal is to listen to music, you don't need a home theater device. A stereo receiver is enough to get a great sound.
The difference between an integrated amplifier and stereo receiver
Some think that the terms "amplifier" and "receiver" are completely interchangeable. However, there are differences between them. An amplifier is an appliance that converts low-voltage signals from your source equipment into a signal with enough gain to be used to power a pair of speakers.
Meanwhile, a receiver is an amplifier that has a radio section built-in. It is better to use a receiver instead of an amplifier if you listen to the radio a lot. It is extremely flexible equipment that can operate in a wide variety of systems.
Essential stereo receiver features
AM/FM tuner with presets
Most receivers have 40 AM/FM presets, so a user can easily find favorite channels with just the press of a button. It works perfectly for those who live in an urban area. If you live in a rural area and want to have a good sound when listening to stations from the next town over, you just need to replace the thin wire antenna that comes with the receiver with a more robust AM/FM antenna.
Analog inputs
I'm talking about the red-and-white stereo RCA connectors that are so handy for connecting CD players, cassette decks, and turntables. If you are going to connect a turntable to a receiver, you need a device with a built-in phono preamp.
Digital inputs
The vast majority of stereo receivers have several standard digital inputs — optical and coaxial. Some models come with a built-in phono stage and outputs for recording devices. Modern models may also have USB inputs.
There are also receivers featuring HDMI inputs. Check whether the device has 4K and HDR compatibility to make sure your picture will look the best it can when passed through the receiver.
Receiver outputs
Speaker terminals are the most important outputs of a stereo receiver. Cheaper models have simple spring clip connectors, but most devices come with binding posts.
Streaming music with a stereo receiver
Most stereo receivers support Wi-Fi and Bluetooth. This means you can stream music from your mobile device and listen to your preferred tracks from popular streaming services like Spotify, Pandora, Deezer, TuneIn, etc. There is also a possibility to stream music from the receiver to wireless speakers and create a multi-room audio system in your house.
If you have a stereo receiver with a proprietary technology called MusicCast, you can control the device with a mobile app. Apple AirPlay 2 receivers enable wireless multi-room audio streaming from Apple phones and tablets. Meanwhile, Chromecast built-in provides you with the opportunity to stream audio and video from your mobile device to your receiver and TV.
What's the difference between a cheap and expensive stereo receiver?
My review includes stereo receivers with various prices. So you might be wondering what the difference between them is and whether there is a good reason to pay more for a decent device.
The main thing is to choose an amplifier that is going to drive your speakers properly. Remember, the bigger and better the speakers you use, the more powerful the stereo receiver you need to drive them. However, power is not the only thing you have to consider. For instance, there are some receiver models that differ significantly in price but provide 100 watts per channel. Thus, you also have to pay attention to the build quality of the amplifiers.
Few more things to take into consideration when choosing a receiver are the impedance, frequency range, and total harmonic distortion. Higher-quality (and more expensive) amplifiers usually have a lower impedance, a wider frequency range, and lower total harmonic distortion.