You can choose completely different receivers, both the best av receiver under $500 and those that cost more. In a choosing process for a worthwhile receiver, take into account the price range. You need to realize how much you have and what you can count on for this money.
A literate choice is 50% of a successful purchase. Therefore, I strongly advise you to immediately understand what key features you need and whether they are in a budget audio receiver, because with a limited budget, "all-inclusive" is not always available, so choose wisely.
Our pick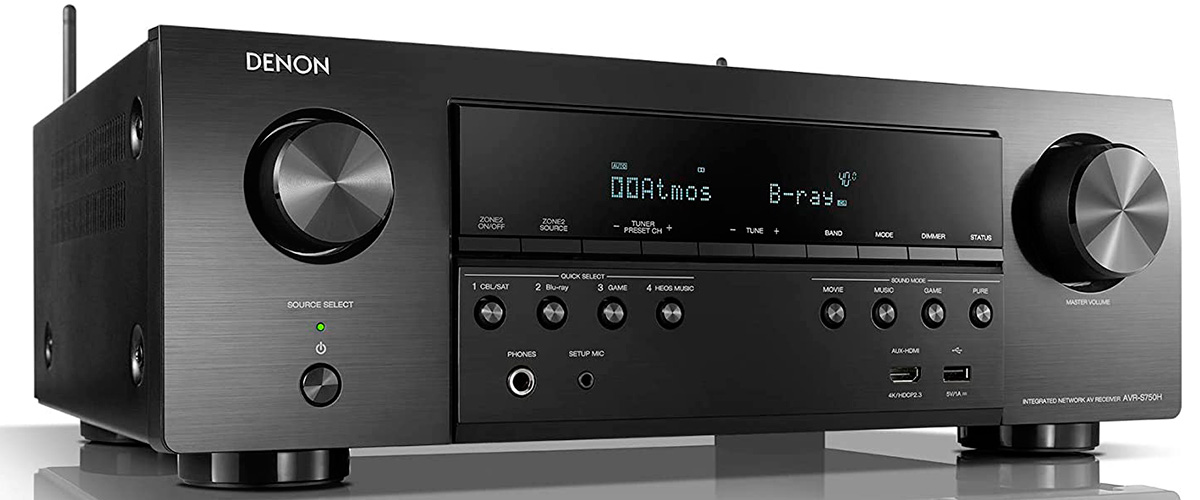 Denon AVR-S750H
Best AV Receiver Under $500
Denon AVR-S750H 7.2 channel full 4K Ultra HD AV receiver with 165W per channel, Dolby Atmos®, Dolby Atmos Height Virtualization Technology, DTS:X™, DTS Virtual:X® and new eARC support
The most important tips on choosing the right receiver
How many channels do you need
The majority of users are interested in the number of channels that a particular AV receiver boasts. Considering that, mind that every AV receiver provides a typical set for 5.1 surround speakers with six active channels. One is placed in the center, frontside two have two of them, two surround left and right speakers, and obviously a subwoofer. This arrangement will certainly ease your life and give you a much better and realistic sound.
In turn, a 7.1-channel AV receiver can, among other things, reproduce sound through the rear speaker, which gives a more spacious effect as if enveloping the whole room. Also, mind that streaming services have a 7.1-channel soundtrack feature. Therefore, a 7.1-channel unit will help you create an enhanced sound with high quality and more spaciousness.
How much power do you need
Understanding a power potential is vital for the proper use and reasonable consumption of the very watts that are allocated to each channel. If you wonder about the amount of power you need, there are some good ways to figure it out.
In fact, the nominal power indicated by the manufacturer is a very vain way to understand the receiver's loudness potential. Unfortunately, a large number of watts does not always mean good sounding of the receiver, so treat this with understanding.
Yes, this is very sad, the consumer almost never has the opportunity to know the exact power readings of the receiver, usually, this number varies. The only thing that can somehow save is to assess the approximate power of the device by the size of its constituent parts. Usually, large receivers have a large transformer. It is through the value judgment of the internal components that you can at least roughly understand the level of power you can expect from a device.
What kinds of inputs and outputs do you need
Each person uses the receiver in completely different ways. Actually, you can experiment, try to connect completely different devices to it, like subwoofers, speakers, projectors and so on. Fortunately, receivers always have numerous inputs and outputs, which makes them very convenient to use, so let's take a look at them.
I'd like to tell you about HDMI – the most significant and mainstream connector in the world. It will help you to do plenty of things like connecting both Blu-ray and Extended Ultra HD Blu-ray, PlayStation and Xbox, media streamers, and more. Typically, receivers have about four or five HDMI inputs and at least one output. However, this already depends on the specific model.
Availability of USB is always a huge advantage on many devices, and therefore, in AV receivers, it is also only welcomed because it allows you to play any music from a flash drive or other devices that are compatible with USB devices. Also, 99% of all receivers support Internet connection via an Ethernet cable to the device through the provided port.
Well, I definitely want to mention coaxial and optical types of connections. With their help, connect audio from DVD players, Blu-ray, and even 4K Ultra HD TV.
Extra features
Additional features have always been an excellent advantage, especially when it comes to receivers. it is thanks to the additional features that are provided by the manufacturer that you can greatly facilitate usage and not waste extra time on certain processes.
For example, if the receiver can be connected via Bluetooth, this is wonderful because many additional devices can be connected wirelessly, which is very convenient.
If we are talking about a Wi-Fi connection, then this is a guaranteed plus because you immediately have the opportunity to listen to music from such popular services as Apple Music, SoundCloud, Spotify, and so on. Accordingly, the possibility to listen online greatly simplifies your work and saves your time.
And of course, Wireless multi-room music, with which you can "liven up" your home with music or podcasts with just one remote control or mobile application. This feature is highly valued among users as it saves a lot of time and requires less effort to prevent the unneeded hassle.
AV Receiver Under $500 Comparison Table
Receivers
Channels
Stereo power, W/Ohm
THD, %
Review
Denon AVR-S750H

best overall

7.2
75/8, 110/6
0.08
Review
Yamaha RX-V4A
5.2
80/6
0.06
Review
Onkyo TX-SR494
7.2
80/8
0.08
Review
Best AV Receiver Under $500 Reviews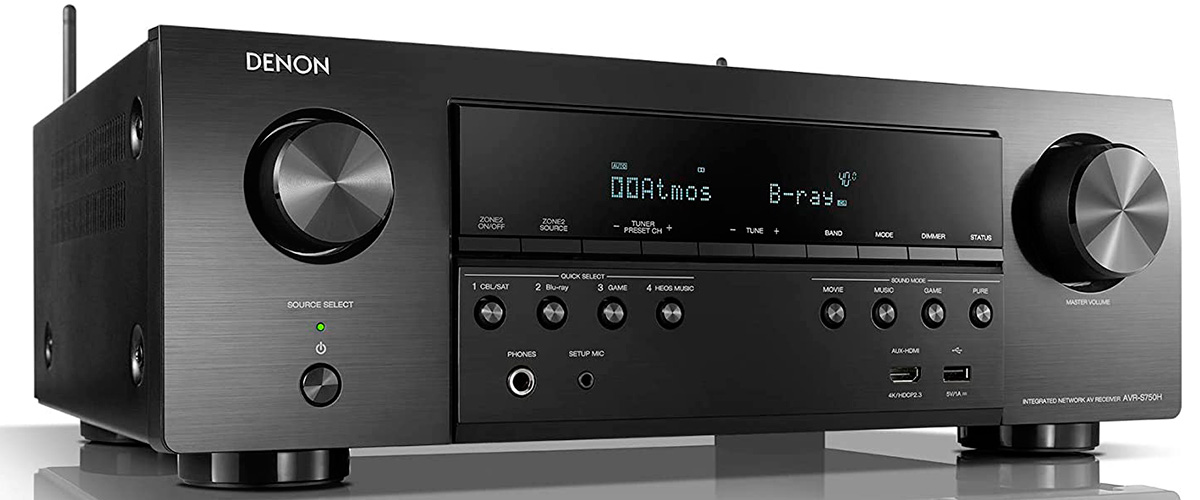 Among all budget devices, the AVR-S750H is, in my opinion, the best AVR under $500. It has a great glossy black design with all the front control buttons for a very user-friendly experience. Nevertheless, they don't interfere with the aesthetic appearance of the unit, on the contrary, they only compliment it.
This 7.2 channel AV receiver with around 100 watts for a channel has many nice features. It perfectly supports many music streaming services. The user is provided with the opportunity to use Spotify, Apple Music, Deezer, and even Pandora. In addition, connectivity features do not end there because your device supports the HEOS application, which has long established itself as an incredibly reliable way to control the receiver.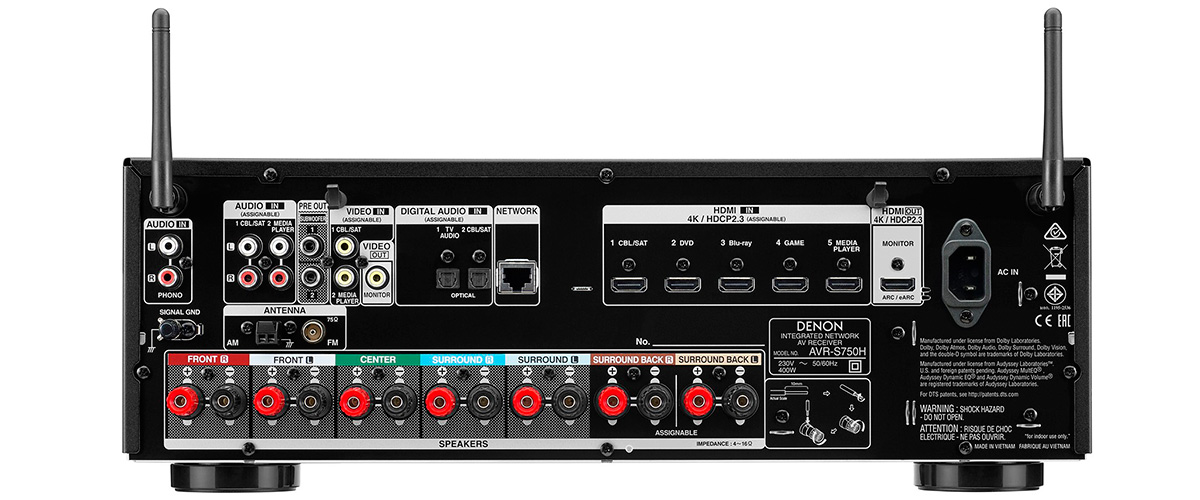 I would also like to mention that you can expand your audio system to the whole house thanks to the built-in Wi-Fi or Bluetooth connectivity. In addition, the same HEOS mentioned earlier can do exactly the same things without unnecessary problems.
The possibility of voice support with the help of the most famous voice assistants like Alex from Amazon deserves a separate mention. With its help, you can relax and control your receiver from anywhere in the house.
There are also excellent connectivity options. For example, the most needed ports called HDMI are present in the amount of 6 inputs and 1 output, which is quite enough for most users.
Key specs
Channels: 7.2
Stereo power, W: 75, 110
Impedance, Ohm: 8, 6
THD, %: 0.08
Pros
Features an excellent EQ calibration system for optimizing your gear in the home audio system for the desired volume level
It has an excellent built-in setup assistant that will very succinctly show all the subtleties of working with the system and also teach you how to connect and configure everything
Cons
At full load, the device can deliver slightly less than 100 watts per channel and overheat, so it requires some time to "rest" and cool down
Yamaha RX-V4A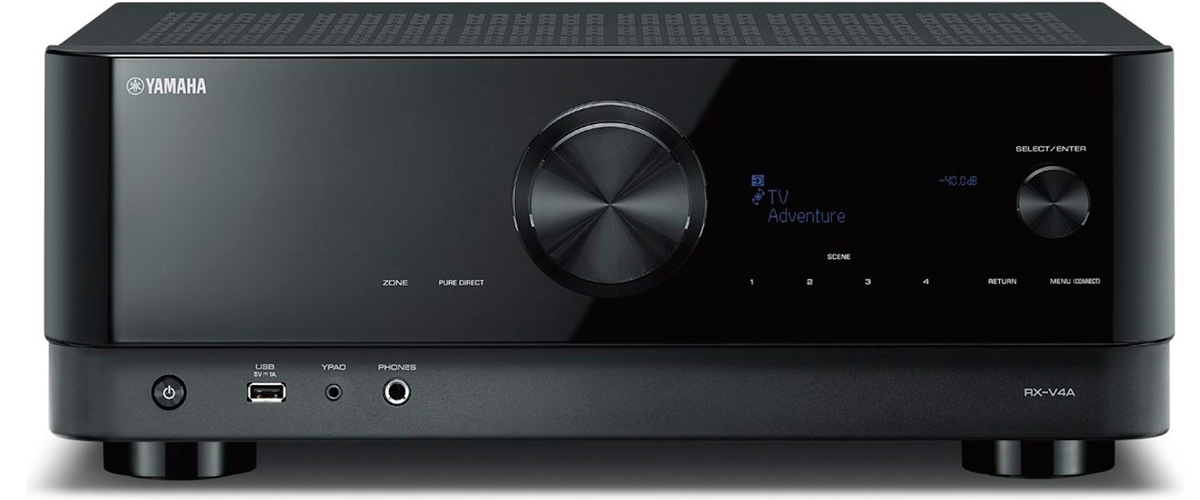 Yamaha, as always, delights the user with excellent products, and in this case, I want to present you with the 5.2 channel with 80 watts per channel RX-V4A – an excellent receiver that can be used for many needs and which has a cool set of functions.
Immediately I want to note the design because not many people pay attention to it, but I assure you, this is one of the greatest choices. A beautiful black glossy body that is made in a minimalist style and has nothing superfluous except a display and a few essential buttons, such as the volume control and played content switching knobs.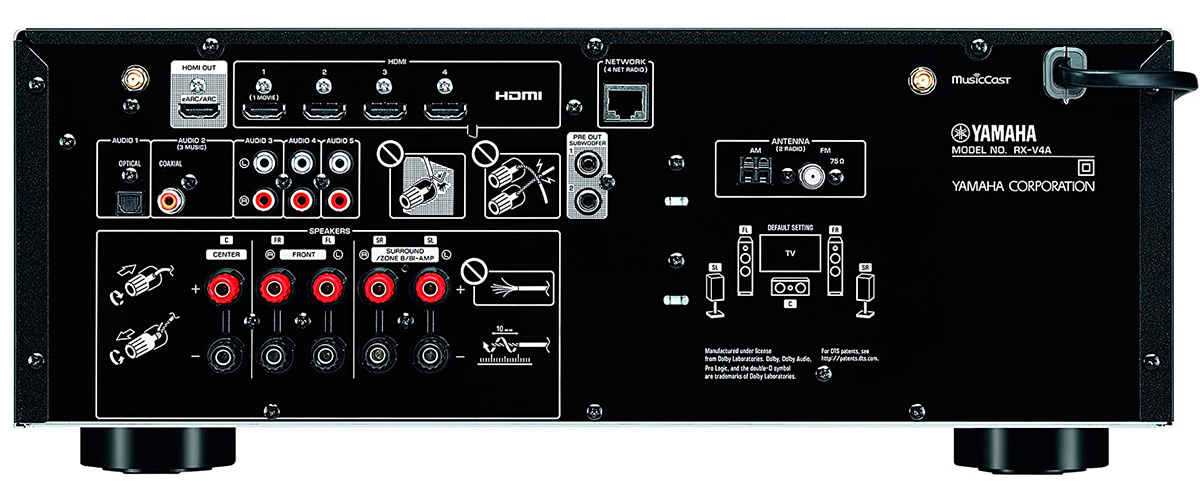 The next point that deserves respect is connectivity. Yamaha worked very actively on this item so that everyone would be satisfied. They provided users with access to Napster, Pandora, Deezer, Amazon Music, TIDAL, Spotify, SiriusXM, and Qobuz. The presence of AirPlay 2 and Spotify Connect is still a great advantage.
I would also like to attribute the presence of HDMI to the topic of connectivity because there are 4 inputs, while there is only 1 output. In addition, the presence of Wi-Fi also plays into the hands of users who prefer to remotely control the audio system at home with a minimum of wires and cables throughout the house.
Key specs
Channels: 5.2
Stereo power, W: 80
Impedance, Ohm: 6
THD, %: 0.06
Pros
Provides an excellent chance of good experience with Amazon, Google, and Apple voice assistants for convenience
Features such nice things as Auto Low Latency Mode, Quick Media Switching, Quick and Frame Transport Variable Refresh Rate to enhance your gaming experience
Includes the optional Yamaha Parametric room Acoustic Optimizer, which analyzes room acoustic data and optimizes the sound to suit your needs for better sound
Cons
Taking into consideration that this is a budget receiver, at full load 100 watts which are intended for a channel may have slightly less power
Onkyo TX-SR494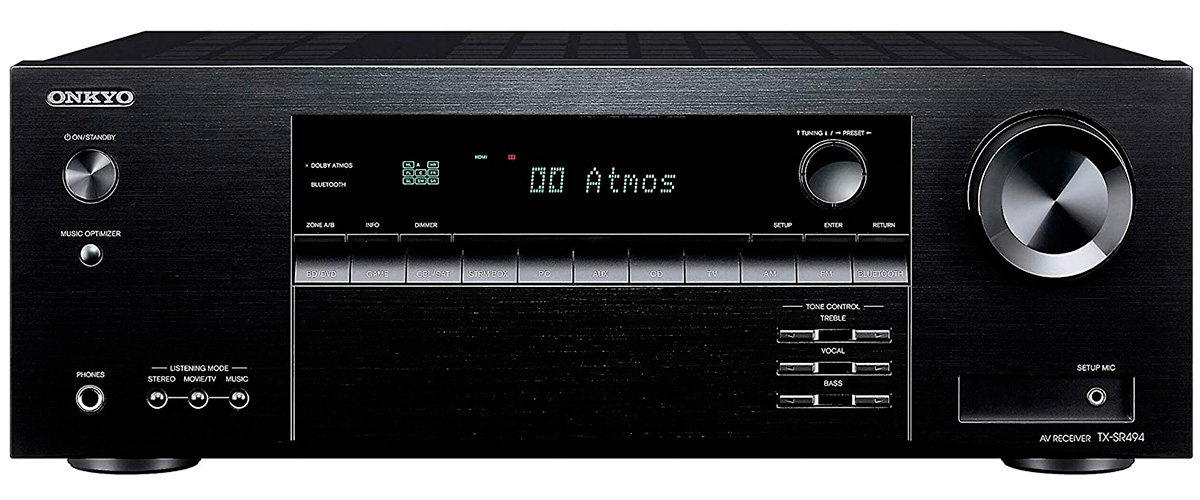 When choosing a reliable home theater receiver under 500, I definitely advise you to take a look at Onkyo TX-SR494. As a receiver, it has good potential and boasts some good things implemented among other receivers on the electronics market, so let's see what's good about it and whether it's worth buying.
Immediately note that these 7.2 channels, while each of them is supported by 160 watts. It will let you enjoy high res music seamlessly. Besides, one of the main advantages is support for 4K / 60p and HDR.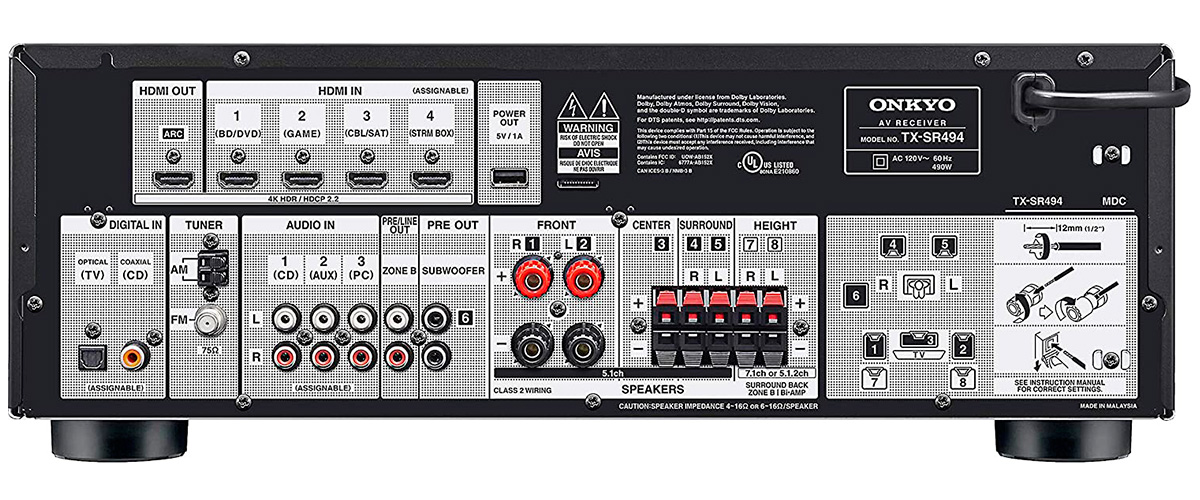 Speaking of design, it is slightly inferior to other receivers in aesthetics but notable for other things. Although it does not look super minimalistic and perfect, it has all the most necessary buttons and levers on the front panel, which allows you to easily operate it without additional effort. On the other side, all useful inputs are placed on the back panel so they interfere with the appearance.
A separate significant plus is the ability to play 3D sound with Dolby Atmos that provides Height Virtualization, which literally envelops the listener with the selected music, where you will not suffer, for example, when you cannot hear the words behind the bass, or singing overshadows the sound.
Key specs
Channels: 7.2
Stereo power, W: 80
Impedance, Ohm: 8
THD, %: 0.08
Pros
Has a built-in Вluetooth connection that will help unite your devices into a single audio system and make the sound more spacious and enjoyable for the listener or a true connoisseur
An onboard system allows Adjust sound with subwoofer EQ and AccuEQ so that the user can adapt the sound coming from the receiver to a specific location or room
Cons
The lack of a Wi-Fi connection is a very drawback because it doesn't allow you to use a number of applications and useful features, including streaming services such as Tidal, Spotify, or Apple Music
Sony STR-DH790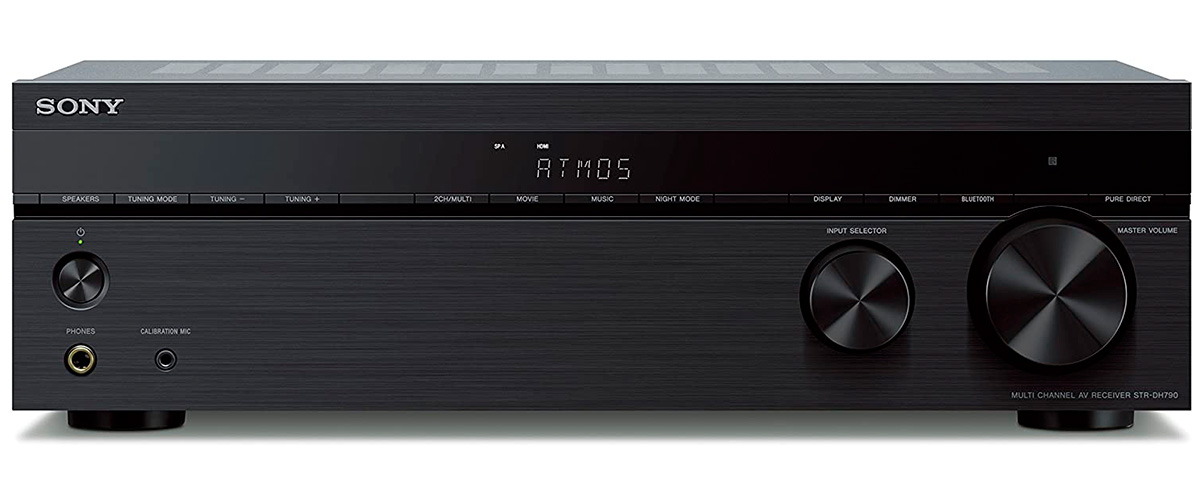 Released in 2018, the Sony STR-DH790 receiver even now holds the top position among budget devices of its type. In many ways, this is due to Sony's authority in the world scene because this company is known for its extremely reliable products in the electronics world.
The first thing I want to note is, as always, the design. This receiver 5.1.2-channel boasts 145 watt per channel and is somewhat reminiscent of a device from Yamaha because it is also very minimalistic with a minimal filling of the front panel. It contains only the buttons most necessary for the user and a convenient screen for controlling the device. In all other aspects, the whole receiver case is made very thoughtfully and concisely.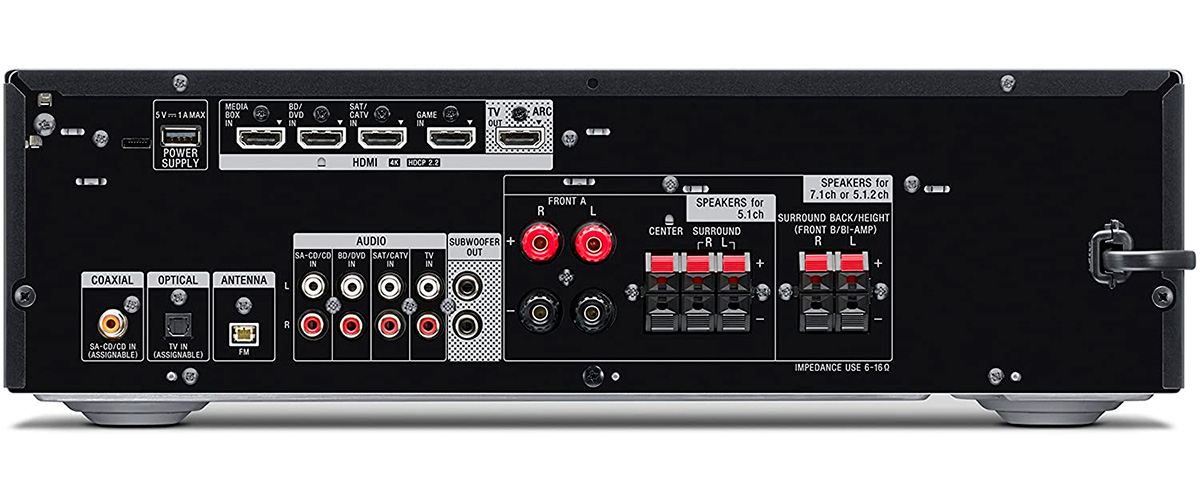 In terms of sound, this receiver, despite being a budget unit, delivers incredibly cool and stable sound. Thanks to the presence of Dolby Atmos and DTS: X, the sound becomes multi-dimensional and very deep, so any user will highly appreciate the sound quality.
In the term of ​​connections, there is also something to talk about because the device has 4 HDMI inputs and 1 output. This should be enough for many tasks, but if not, the receiver is also equipped with both optical and coaxial connectors. They are analog and digital as well.
Key specs
Channels: 7.2
Stereo power, W: 145
Impedance, Ohm: 6
THD, %: 0.09
Pros
Provides the user with an auto-calibrating function that analyzes a place or room and even adjusts various sound parameters to achieve and stabilize the most pleasant sound for you
The presence of Bluetooth is a huge advantage because you can control the receiver from a smartphone or tablet, and moreover, with the help of Bluetooth standby, you can turn on the device itself directly from a paired smartphone or tablet
Cons
Doesn't have the ability to distribute sound around the house using a multi-room feature, so you are allowed to be content with this only unit