Fortunately, the modern audio and video equipment market is developing very rapidly, so useful features and technologies, which were available only in top models a few years ago, can now be found in devices of medium and even budget levels. That is why I offer you my review, where you can choose the best AV receiver under 500 dollars. Today devices in this category have enough power; many of them really sound great, are equipped with various additional features, and can satisfy the needs of many users.
Our pick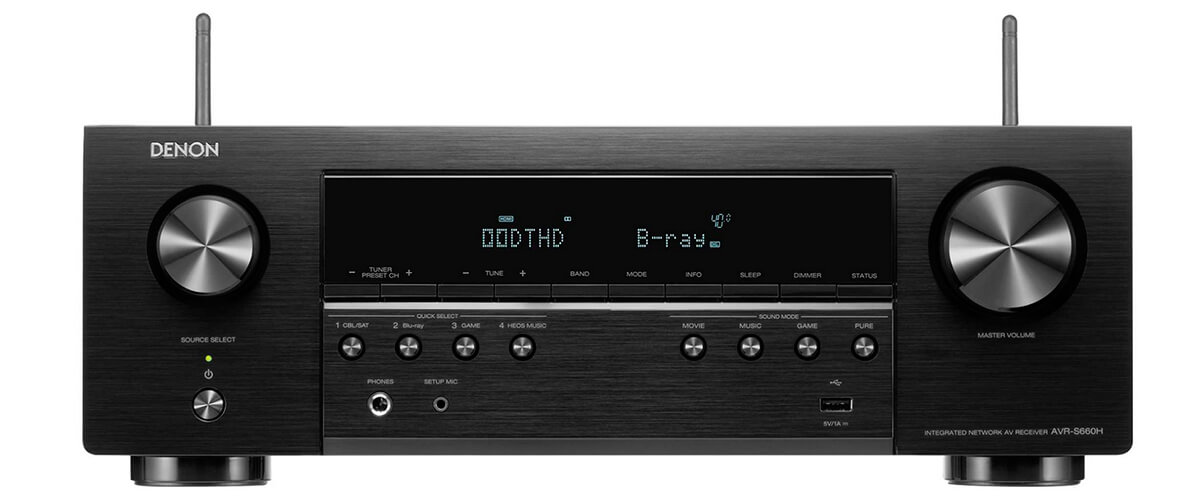 Denon AVR-S660H
Best AV Receiver Under $500
Designed for 4K or 8K setups, the AVR-S66OH delivers superior 3D audio home theater/gaming experiences and supports the latest HDMI specifications.
Read the full review
.
The most reputable receiver manufacturers release many excellent units yearly without crossing the threshold of 500 bucks. I'm deep into this subject and am ready to name receivers in this price range that you should look at. In this review, I have assembled my personal favorites that are great value for money. The main thing to keep in mind while choosing a suitable variant is to determine what features play a major role in your particular case.
AV receiver under $500 comparison table
Name
Channels
Power output
HDMI in/out
Bluetooth/Wi-Fi
Review
Denon AVR-S660H

best overall

5.2
75W/8 Ohm, 100W/6 Ohm
6/1
yes/yes
Review
Yamaha RX-V4A
5.2
80W/6 Ohm
4/1
yes/yes
Review
Sony STR-DH790
7.2
90W/6 Ohm
6/2
yes/no
Review
Onkyo TX-SR494
7.2
80W/8 Ohm
4/1
yes/no
Review
The most important tips on choosing the right receiver
How many channels do you need
The majority of users are interested in the number of channels that a particular AV receiver boasts. Although many people do not understand the meaning of numbers and think that a larger value means it is necessarily better. So let's get into the details.
Considering that, mind that every AV receiver provides a typical set for 5.1 surround speakers with six active channels. One is placed in the center, two on the front side, two surround speakers on the left and right, and a subwoofer. It is the most commonly used and is a pretty good configuration, which may satisfy most of the average user's needs.
In turn, a 7.1-channel AV receiver can, among other things, reproduce sound through the rear speaker, which gives a more spacious effect as if enveloping the whole room. Also, mind that streaming services have a 7.1-channel soundtrack feature. Therefore, a 7.1-channel unit will help you create an enhanced sound with high quality and more spaciousness.
How much power do you need
One of the key acoustic parameters of the AV receiver is power. When evaluating this parameter, you should consider the area of the room to be sounded by the device and, accordingly, the power of the speaker system. In such systems, it is important to have a power reserve, i.e., to make the receiver's power greater than the speakers' power.
First, it allows you to minimize distortion and not use volume limits. Secondly, if you need to purchase higher-wattage speakers, the reserve will be just right for a larger space. Finally, it should be noted that the volume of the system as a whole (i.e., the level of the sound pressure created) will depend not only on the power of the amplifier and speakers but also on the speakers' sensitivity. Thus, the same receiver may sound differently with different speakers at the same volume level.
If the room size is 30 sq.m., I (as well as many other professionals) recommend an amplification power of about 50 W (respectively, average power per 1 sq.m. should be about 1.5 W). Knowing the size of your room, you can calculate the approximate power you need. Therefore, do not look for a receiver that necessarily must be more powerful than other models. Make your decision based on the size of your room, your budget, and your acoustics.
What kinds of inputs and outputs do you need
Each person uses the receiver in completely different ways. So you can experiment and try to connect completely different devices to it, like subwoofers, speakers, projectors, etc. Fortunately, receivers always have numerous inputs and outputs, making them very convenient to use, so let's look at them.
I'd like to tell you about HDMI – the most significant and mainstream connector in the world. It will help you do plenty of things like connecting both Blu-ray and Extended Ultra HD Blu-ray, PlayStation and Xbox, media streamers, and more. Typically, receivers have about four or five HDMI inputs and at least one output. However, this already depends on the specific model.
Availability of USB is always a huge advantage on many devices. Therefore, in AV receivers, it is also only welcomed because it allows you to play any music from a flash drive or other devices that are compatible with USB devices. Also, 99% of all receivers support Internet connection via an Ethernet cable to the device through the provided port.
Well, I definitely want to mention coaxial and optical types of connections. With their help, connect audio from DVD players, Blu-ray, and 4K Ultra HD TV.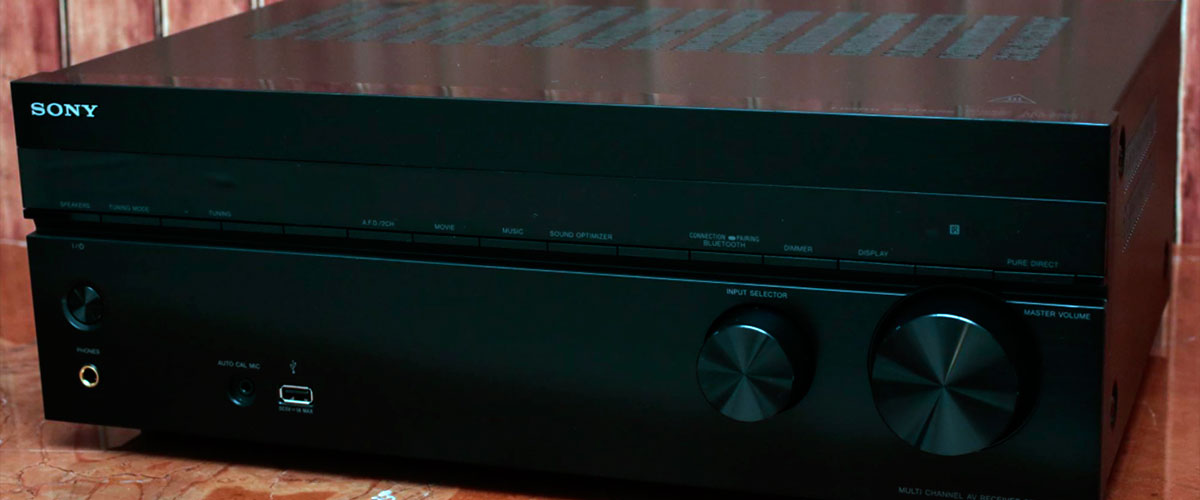 Extra features
Additional features have always been a tremendous advantage, especially regarding receivers. Thanks to the additional capabilities provided by the manufacturer, you can greatly facilitate usage and not waste extra time on certain processes.
For example, if the receiver can be connected via Bluetooth, this is wonderful because many additional devices can be connected wirelessly, which is very convenient.
Wi-Fi connection is a guaranteed plus because you immediately have the opportunity to listen to music from such popular services as Apple Music, SoundCloud, Spotify, and so on. Accordingly, the possibility of listening online greatly simplifies your work and saves your time.
And, of course, Wireless multi-room music, with which you can "liven up" your home with music or podcasts with just one remote control or mobile application. This feature is highly valued among users as it saves time and requires less effort to prevent the unneeded hassle.
What to expect from an AV receiver under $500
In most cases, there is nothing outstanding other than solving the basic tasks that any receiver faces. Therefore, my review is dedicated to those models that can offer something more than the standard set.
Of course, such devices cannot boast super high-quality components and super-durable materials. They will lose sound and video quality to more expensive analogs and will not have the latest innovations.
Anyway, such differences don't mean that a receiver can't cope with its primary task. Moreover, I believe that inexpensive receivers are a go-to choice for people who want to make their first sound surround system without going bankrupt.
How I picked and tested AVR under $500
In order to choose for you the really best receivers under $500, I did a lot of work. I went through dozens of options, compared their capabilities and technical characteristics, and, most importantly, conducted a serious analysis of the sound capabilities.
The first part of my test was dedicated to evaluating the surround sound capabilities of receivers while I was watching Star Wars: The Force Awakens.
Then I proceed with listening to music on different resources:
Led Zeppelin – Ramble On – Spotify
Jacky Terrasson – Reach – Tidal
The Weeknd – The Hills – Deezer
Bob Marley & The Wailers – Turn Your Lights Down Low – (CD player)
Radiohead – The National Anthem – (CD player)
Arctic Monkeys – Do I Wanna Know – (CD player)
Mark Nauseef – With Space in Mind (CD player)
Mahler – Symphony No.2 (CD player)
I used the following equipment for testing:
CD player SACD 30n
Blu-ray player Sony UBP-X700
Speaker wire – AudioQuest Type-9
Speakers for movie – Klipsch RP-8060FA
Stereo speakers:

Klipsch RP-8060FA
KEF Q350
DALI OBERON 5
Best AV Receiver Under $500 Reviews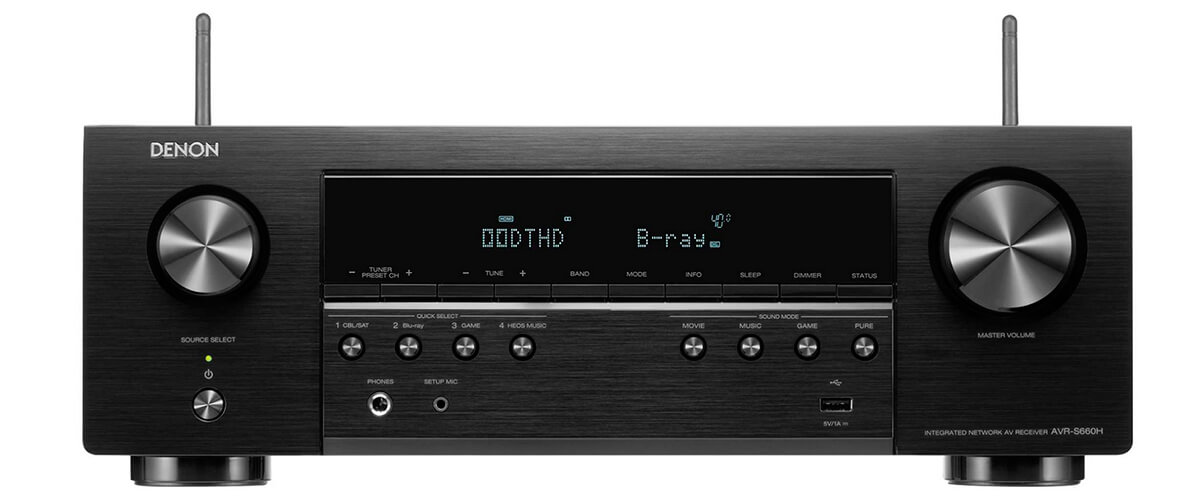 I will start my review with the Denon S660H A/V receiver. I've put it first on my list because I think this model is the best AVR under $500. So now, let's have a closer look at it and check my hypothesis.
This model supports 8K/60Hz resolution and has five power-current amplifiers with discrete elements that can handle even low impedance speaker systems. The claimed maximum power is 135 watts per channel (6 ohms). More precisely, the specifications are as follows: output power 75 watts per channel (8 ohms, 20Hz – 20kHz, THD: 0.08%, 2 channels active), 100 watts per channel (6 ohms, 1kHz, THD: 0.7%, 2 channels active), 135 watts per channel (6 ohms, 1kHz, THD: 1%, 1 channel active). You should agree that these figures are at a pretty good level.
The Denon AVR-S660H works with surround sound formats, including Dolby TrueHD and DTS-HD Master Audio. In addition, the Audyssey MultEQ system, augmented with Dynamic EQ and Dynamic Volume (volume optimization) technologies, calibrates the speakers connected to the AV receiver. This is another plus of the S660H and a confirmation of my hypothesis.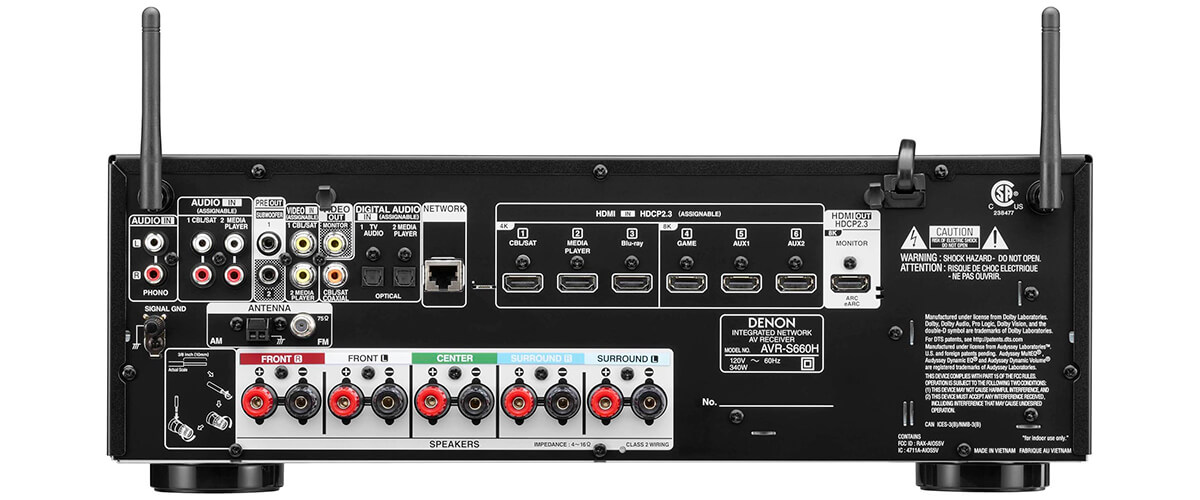 This model can also be used as a streamer with access to play audio content stored on local network media (computers/NAS servers) or external drives connected via a USB port. At that, Hi-Res audio files of WAV, ALAC, FLAC (up to 24 bits/192kHz), and DSD up to 5,6MHz can be played. Various online services are also available, including Tidal, TuneIn, Deezer, Spotify Connect, etc.
The Denon AVR-S660H has Bluetooth and dual-band Wi-Fi on board for improved reception. The AirPlay 2 protocol is supported, with the help of which there is a construction of a wireless multiroom system based on iOS devices. Moreover, the receiver is capable of working as part of the proprietary wireless ecosystem HEOS, which allows you to control with one program all the devices that are part of it, to which you can broadcast audio from tablets and smartphones, local networks, and streaming services. And this already shows the quite serious versatility of the S660H.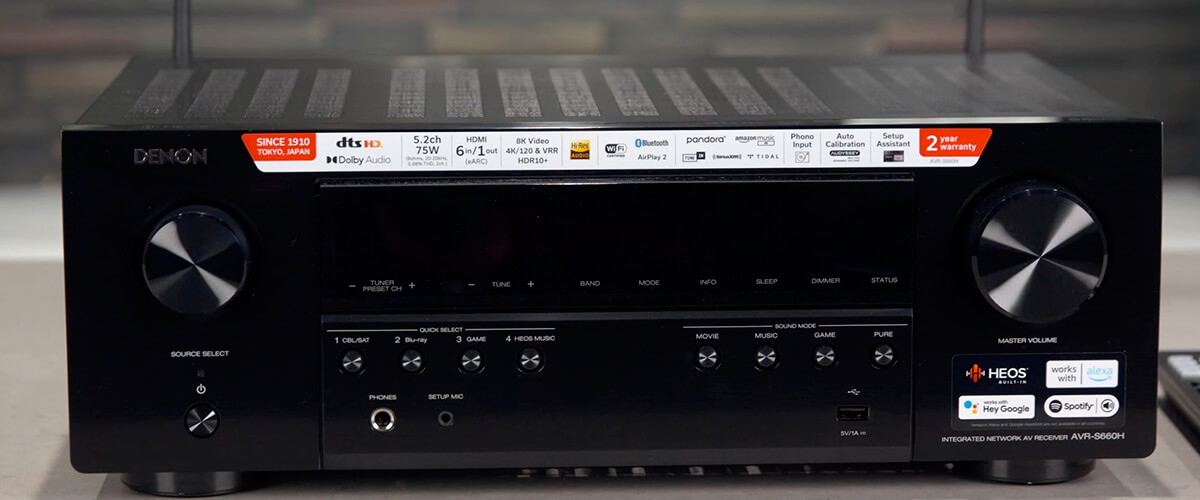 The Denon AVR-S660H receiver has five HDMI inputs that support HDCP 2.3, 8K video, and HDR10, HLG, and Dolby Vision extended dynamic range video standards. The only HDMI output allows you to work with eARC. In addition, the model has an MM phono jack for connecting vinyl players, and five pairs of color-coded screw terminals are used to connect speakers.
To control the Denon AVR-S660H, you can use the personal voice assistants Google Assistant, Apple Siri, or Amazon Alexa in addition to the app or remote control. The intuitive Setup Assistant app is used to configure the receiver. Basically, I think that even if you are a novice, you won't have any problems with the settings.
And now let's put everything together. The receiver is versatile, powerful enough, and has many additional features in addition to the basic functions. Therefore, the Denon AVR-S660H takes a well-deserved first place on my list.
Key specs
Channels: 5.2.
Power output: 75W/8 Ohm, 100W/6 Ohm.
HDMI inputs/outputs: 6/1.
Video functions: 4K/60Hz, 4K/120Hz, 8K/60Hz pass-through, upscales HD video signals to 8K Ultra HD.
Bluetooth/Wi-Fi: yes/yes.
Streaming services: AirPlay 2, Pandora, Spotify, Napster, SiriusXM, TIDAL, Deezer, Qobuz, Amazon Music.
Suppots: HDMI ARC, HDMI eARC, HDMI CEC, HDCP2.3, HDR10+, Dolby Vision.
Surround sound: DTS HD Master, Dolby TrueHD, Dolby ProLogic II.
Pros
8K support.
Voice control.
HEOS multiroom.
Ability to connect a vinyl player.
Cons
Not supported Dolby Atmos and DTS:X.
Yamaha RX-V4A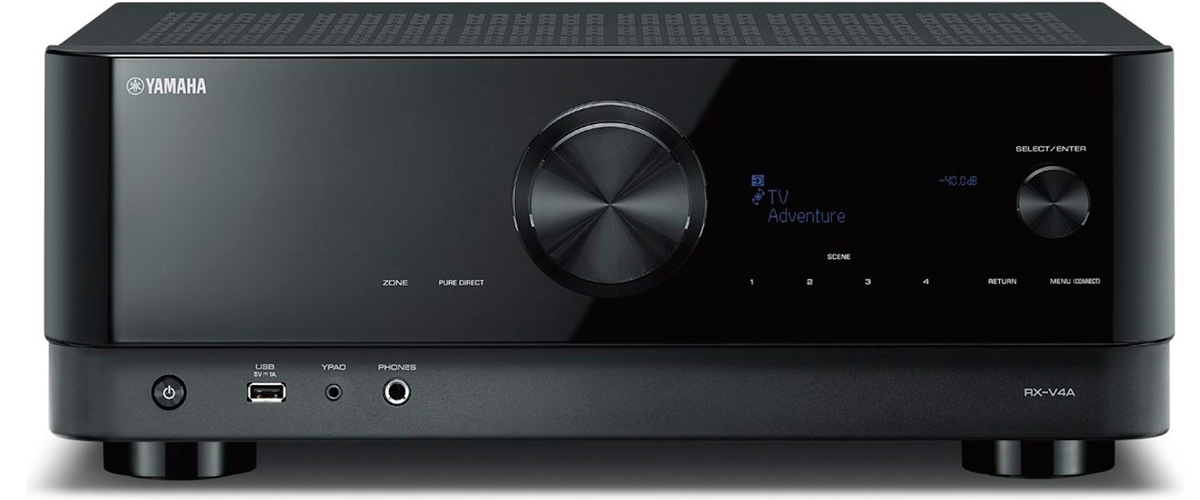 Manufacturers of electronic equipment highly rely on a recognizable design that allows a brand to be easily identified by buyers. This time, Yamaha decided to start from scratch. The RX-V4A AV receiver is designed with a new aesthetic in mind, and chances are high it will become Yamaha's hallmark for years to come.
Yamaha is one of those manufacturers that makes an installation procedure as intuitive as possible. You can use the unit right after connecting the source (s), speakers, and other components. The audio calibration is carried out by a home YPAO system with the supplied small microphone. I decided to try this feature, and everything runs smoothly.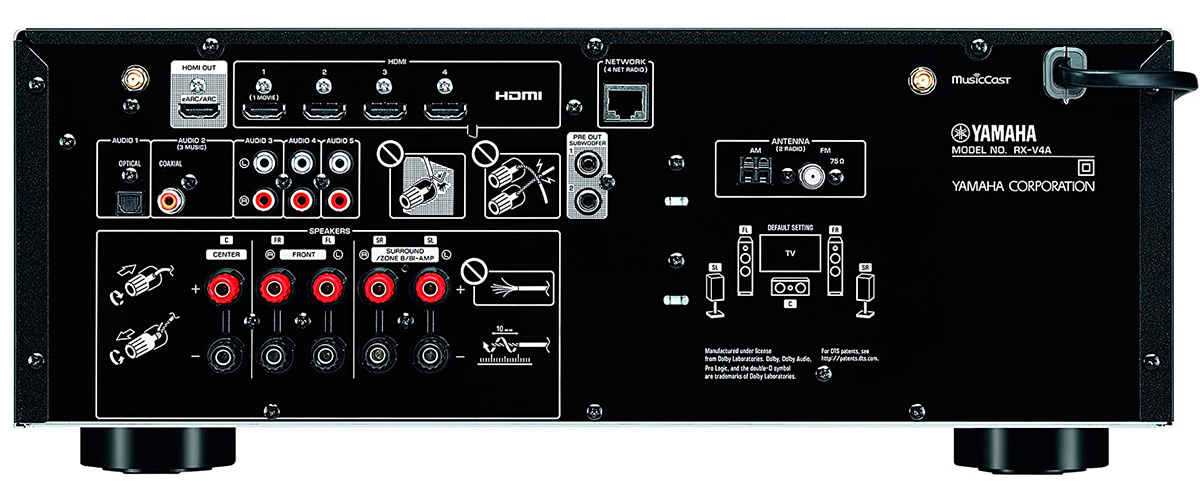 With a relatively affordable cost, Yamaha RX-V4A can be used as a core for a modern and universal home theater system. It has a 5.2-channel configuration, which can be considered an ideal option for filling medium-sized rooms with powerful sound. With a nominal power output of 80 watts per 6Ohm channel, the device can perfectly work with floor speakers manufactured by famous brands. It showed great results paired with my speakers for movie and stereo speakers.
I started the test by listening to music and exploring different modes. In Pure Direct, which means without possible processing, rendering turns out to be rather dull, devoid of life. This is acceptable for background music but not for Hi-Fi audio. When I switched to Enhanced mode, there appeared basses, but not very distinct. Everything is centered, with a few point elements to the right and left of the soundstage, but nothing happens between the center and the ends. The Neo: 6 Music mode is most interesting because it effectively distributes music to all speakers without changing voices or placing the center too far forward.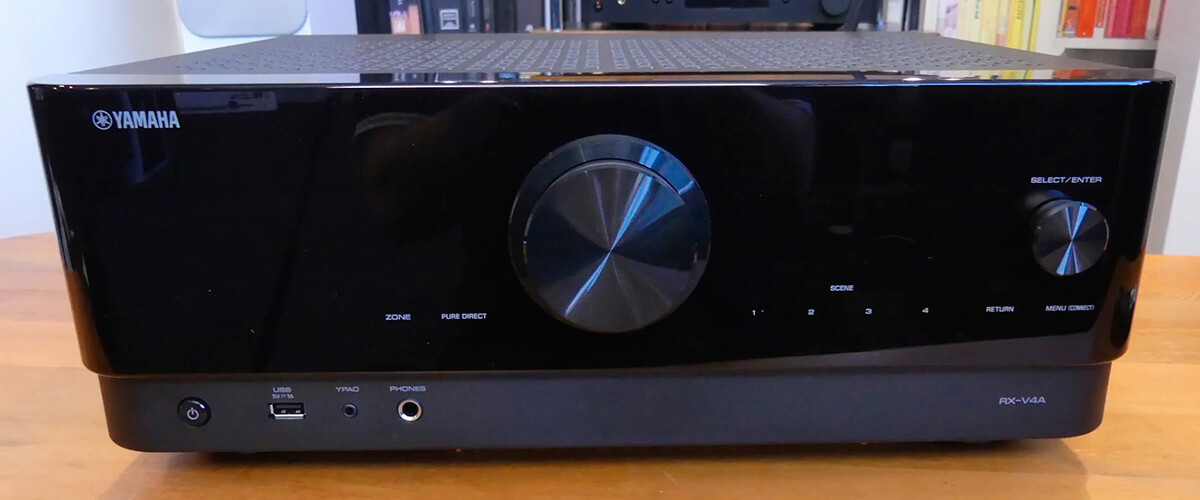 When I tested the capabilities of this receiver for movies, I took advantage of YPAO sound calibration. The process was swift. Yamaha has measured the distances and levels in my studio correctly. Unlike many competing receivers, e.g., Sony STR-DH790, it has a good center channel setup. Besides, there is a special surround sound decoding mode. Thus, the audio in movies is accurate and crisp, so you can feel the shift from one scene to another.
Yamaha RX-V4A is a top home theater receiver under 500 dollars for those users who need an easy-to-use device that doesn't require long setting up. Thanks to various modes, you can easily choose the one suitable for your current situation and enjoy good sound.
Key specs
Channels: 5.2.
Power output: 80W/6 Ohm.
HDMI inputs/outputs: 4/1.
Video functions: 4K/60Hz, 4K/120Hz, 8K/60Hz pass-through, upscales HD video signals to 4K Ultra HD.
Bluetooth/Wi-Fi: yes/yes.
Streaming services: AirPlay2, Spotify, Pandora, MusicCast.
Supports HDMI ARC, HDMI eARC, HDMI CEC, HDCP2.3, HDR10, HDR10+, Dolby Vision.
Surround sound: DTS HD Master, Dolby TrueHD, Dolby Digital Plus.
Pros
Great presets for music and movies & DSP effect.
Immense configuration options.
You can control the volume of each individual speaker.
Cons
Doesn't support DTS: X and Dolby Atmos.
Pitifully weak if you want to play rock or symphony orchestras.
Sony STR-DH790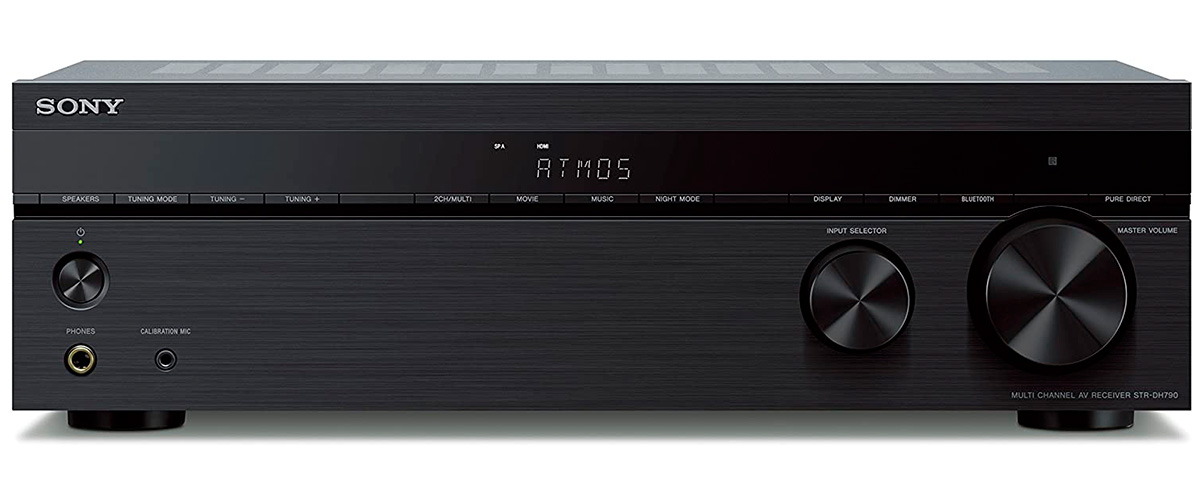 Sony is known for producing electronics aimed at people with different financial capabilities, and I decided to take a closer look at the DH790 low-cost 4K receiver. This is a 7.2-channel with the power output of 90 watts per channel (6 Ohms). It doesn't matter when you will locate the unit and what equipment you'll pair it with – it works seamlessly with the speakers and accurately emulates the surround sound.
The model has 4 HDMI inputs that support signal quality up to 4K at up to 60Hz, HLG, and Dolby Vision. The DH790 lacks analog video outputs, but there are four analog audio inputs, coaxial and optical digital audio outputs. Of course, this is a serious shortcoming considering that Denon AVR-S750H and Yamaha RX-V4A offer more, but this set of ports is sufficient for small and medium-sized systems. Actually, that was enough for my test.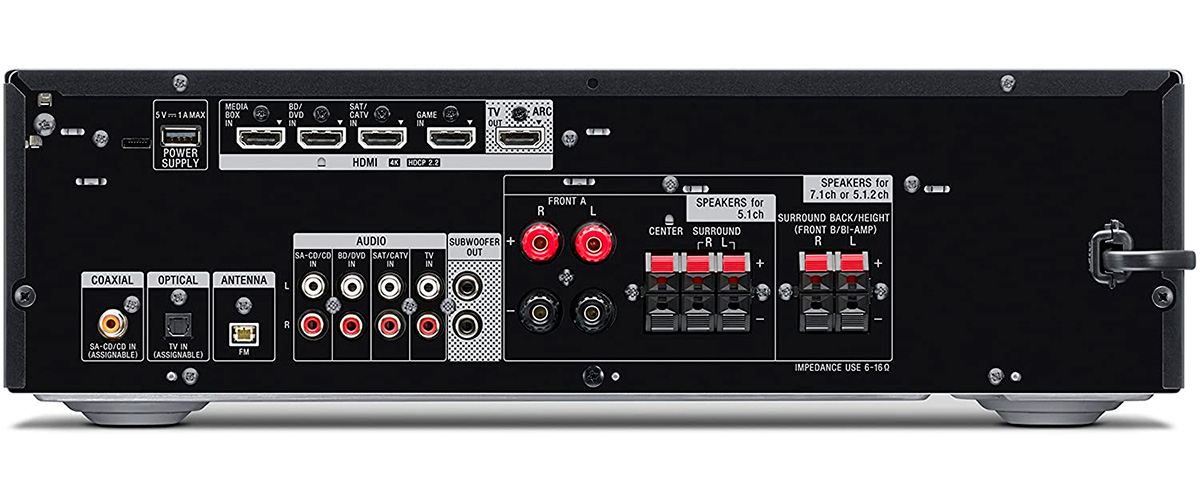 Another peculiarity you need to take into consideration is the absence of Zone 2 and Wi-Fi connection. If that is crucial for you, opt for the leader of this review. Fortunately, the manufacturer preserved Bluetooth, so you can still enjoy wireless streaming.
At the first launch, I saw a clear on-screen menu with 5 basic modes. That's a decent newbie-friendly move, as finding a proper mode for your current activity is a breeze. First, I chose the "Watch" mode to understand whether it can produce a great home theater sound. It seemed that the sound was slightly muffled, so I used an integrated auto-calibration to fix it. After the process was over, I returned to the movie and heard a genuine surround sound.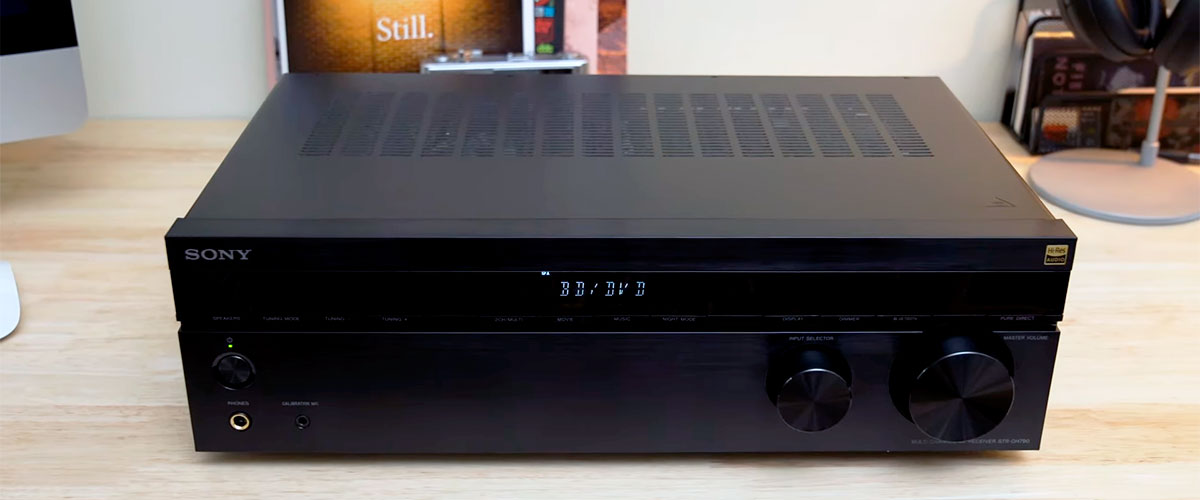 While listening to songs, I switched to the "Listen" mode. Thus, I could effortlessly listen to music from different sources, and the system sounded great with all genres. I like that basses were well pronounced, though most budget-friendly models can hardly cope with such a load.
In general, this is a well-designed surround sound receiver that is equally efficient while watching movies and listening to music. Thanks to 5 integrated modes and auto-calibration, you can easily adjust this receiver to your house without time-consuming manipulations. I think this is an excellent receiver under 500 for novice users.
Key specs
Channels: 7.2.
Power output: 90W/6 Ohm.
HDMI inputs/outputs: 6/2.
Video functions: 4K/60Hz pass-through.
Bluetooth/Wi-Fi: yes/no.
Streaming services: no.
Supports HDMI ARC, HDMI eARC, HDCP2.2, HDR10, Dolby Vision.
Surround sound: DTS:X, Dolby Atmos.
Pros
4K pass-through is ideal.
You can adjust any of the speaker levels with the amp button right on the display.
Decodes the newer audio formats such as ATMOS.
Cons
Doesn't support HDCP2.3.
No built-in Wi-Fi and streaming services.
Onkyo TX-SR494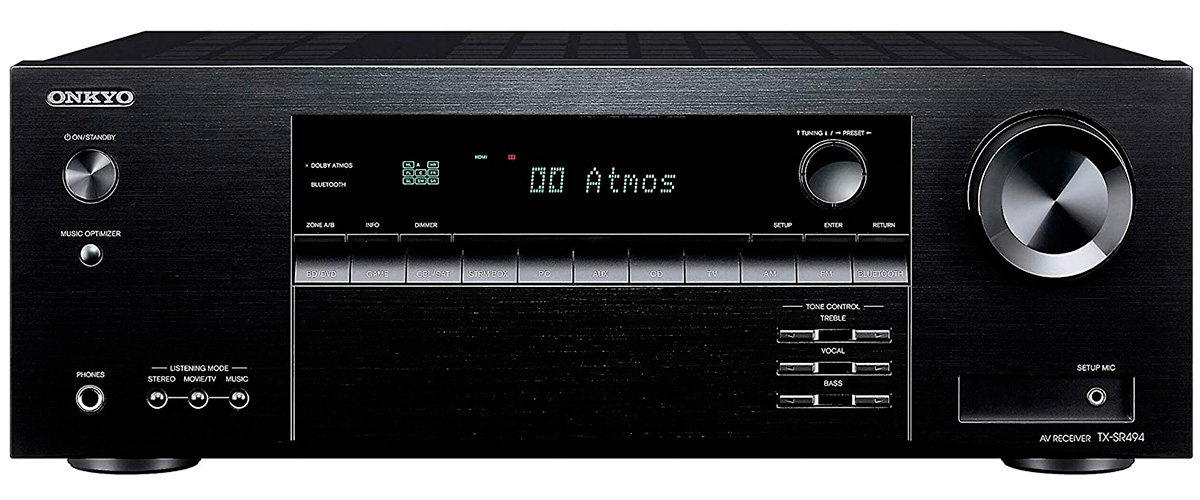 If you are looking for the centerpiece of your home theater system, I highly recommend considering this budgetary receiver. Onkyo TX-SR494 has a seven-channel configuration and is supplied with discrete power amplifiers capable of delivering 80 watts / 8 Ohms per channel.
The AV receiver has four HDMI inputs and one output, capable of transmitting 4K UHD signals. The manufacturer decided to abandon the component video inputs and outputs, which simplified the placement of connectors on the rear panel. The device also has three analog and two digital inputs.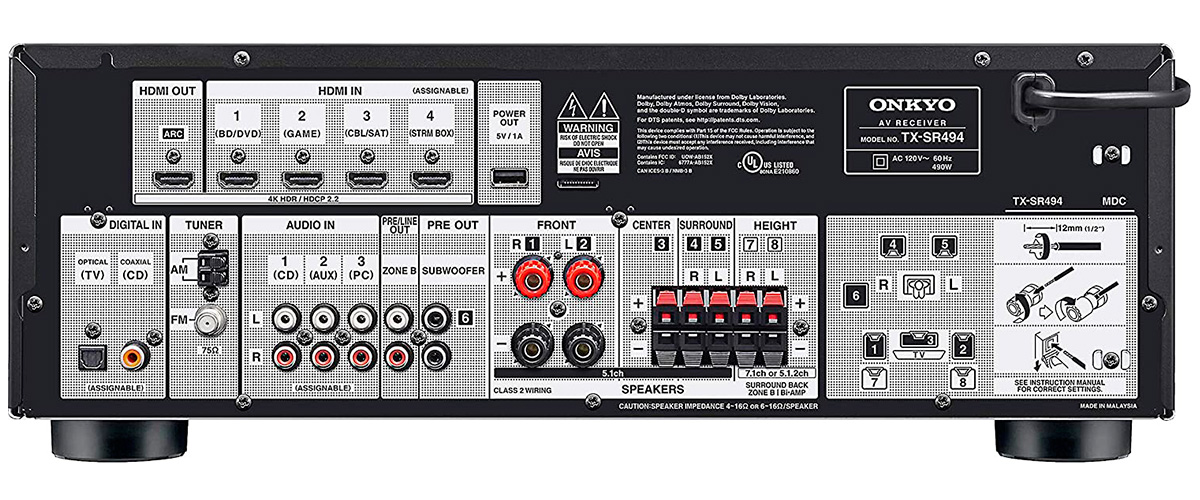 The model comes with decoders for all popular surround sound formats, including Dolby Atmos and DTS: X. Moreover, you can take advantage of Dolby Atmos Height Virtualizer and DTS Virtual: X modes to enjoy encompassing sound without adding ceiling speakers to your setup. For automatic surround sound quality, the TX-SR494 is equipped with AccuEQ technology with extensions for subwoofer and 3D formats.
While watching the movie, I felt the advantages of such surround sound-focus the manufacturer sticks to. The sound transition from scene to scene was smooth and gradual, without abrupt highs and lows. However, sometimes dialogs merge with surround noise, so catching separate words may be difficult.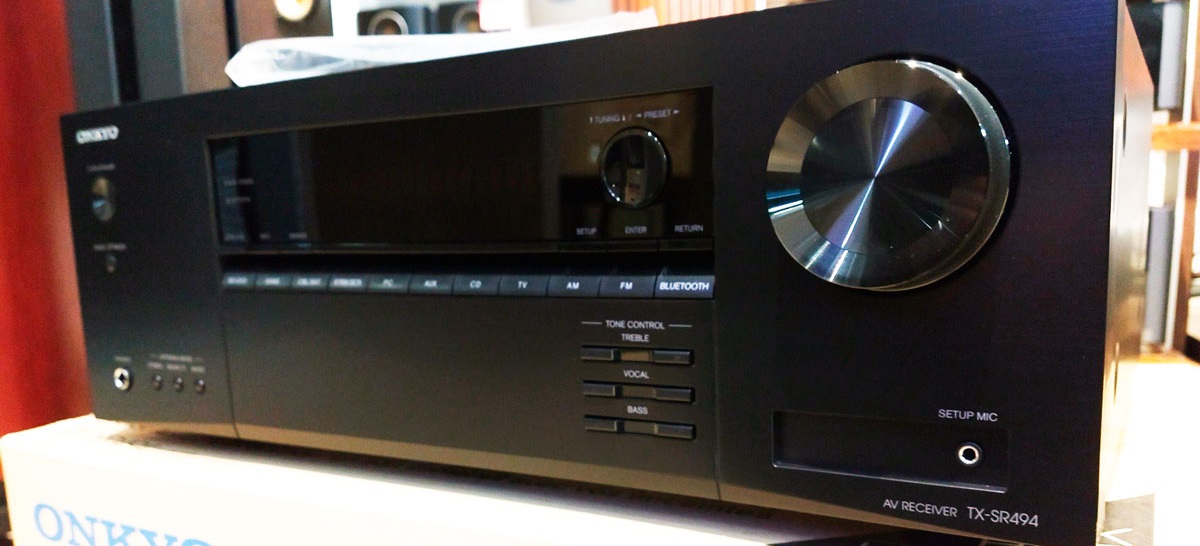 As for audio playback, the receiver lags behind its competitors. I understand that it is initially designed for a home-theater system, so it is strange to expect much if you are after authentic stereo sound. Though it didn't show outstanding results when I was streaming from Deezer, Spotify, and other platforms, I reckon the quality of audio and the overall functionality fully correspond to the price asked.
Shopping for a good AV receiver, don't skip this model straight away. Being designed with surround sound in mind, it can become a reliable component of your home theater system. Of course, it isn't so efficient when listening to music, but that is the compromise you need to settle for.
Key specs
Channels: 7.2.
Power output: 80W/8 Ohm.
HDMI inputs/outputs: 4/1.
Video functions: 4K/60Hz pass-through, upscales HD video signals to 4K Ultra HD.
Bluetooth/Wi-Fi: yes/no.
Streaming services: no.
Supports HDMI ARC, HDMI CEC, HDCP2.3, HDR10, Dolby Vision.
Surround sound: DTS:X, Dolby Atmos.
Pros
Awesome sound and impressive HDR enhancement.
AccuEQ Room Calibration works flawlessly.
Has an audio select button to select my onboard sound card or graphics card.
Cons
Doesn't support HDMI eARC.
No built-in Wi-Fi and streaming services.
FAQ
Which brand of AV receiver is most reliable?
It is difficult to give an unambiguous answer to this question without offending some of the manufacturers. Today many companies (Denon, Marantz, Yamaha, Sony, etc.) boast quality and reliable devices. However, it all depends on the specific model.
Dolby Atmos and DTS: X: do I need them?
If we are talking about AV receivers, then I think yes! Unless, of course, you are going to use it very narrowly. But then, why buy such an expensive and versatile device?
Dolby Atmos and DTS: X formats
will give you a really cool movie experience. You'll be flying along with the characters, fighting, racing cars, etc. There's plenty of content in these formats, and even already budget receivers support Dolby Atmos and DTS: X. So why deny yourself the pleasure?
Do more expensive receivers sound better?
Not necessarily. It depends on the receiver model. There are expensive devices with many cool features that lose out to an ordinary mid-range receiver. Therefore, even a very expensive purchase does not guarantee that this receiver sounds better than all others (and even less expensive ones).
Explore other our AV receivers ratings