Fortunately, today's market of audio and video equipment is developing very quickly, so finding the best AV receiver under 500 dollars won't be a problem. Such a category of devices is no less inferior to advanced models packed with numerous extras and can perfectly cater to the needs of average users.
The most reputable receiver manufacturers release many excellent units every year without crossing the threshold of 500 bucks. I decided to take a deep dive into the topic and name the receivers worth purchasing. The main thing to keep in mind while choosing a suitable variant is to determine what features play a major role in your particular case. I listed my personal favorites that are great value for money.
The most important tips on choosing the right receiver
How many channels do you need
The majority of users are interested in the number of channels that a particular AV receiver boasts. Considering that, mind that every AV receiver provides a typical set for 5.1 surround speakers with six active channels. One is placed in the center, frontside two have two of them, two surround left and right speakers, and obviously a subwoofer. This arrangement will certainly ease your life and give you a much better and realistic sound.
In turn, a 7.1-channel AV receiver can, among other things, reproduce sound through the rear speaker, which gives a more spacious effect as if enveloping the whole room. Also, mind that streaming services have a 7.1-channel soundtrack feature. Therefore, a 7.1-channel unit will help you create an enhanced sound with high quality and more spaciousness.
How much power do you need
Understanding a power potential is vital for the proper use and reasonable consumption of the very watts that are allocated to each channel. If you wonder about the amount of power you need, there are some good ways to figure it out.
In fact, the nominal power indicated by the manufacturer is a very vain way to understand the receiver's loudness potential. Unfortunately, a large number of watts does not always mean good sounding of the receiver, so treat this with understanding.
Yes, this is very sad, the consumer almost never has the opportunity to know the exact power readings of the AV receiver under 500 (in this case), usually, this number varies. The only thing that can somehow save is to assess the approximate power of the device by the size of its constituent parts. Usually, large receivers have a large transformer. It is through the value judgment of the internal components that you can at least roughly understand the level of power you can expect from a device.
What kinds of inputs and outputs do you need
Each person uses the receiver in completely different ways. Actually, you can experiment, try to connect completely different devices to it, like subwoofers, speakers, projectors and so on. Fortunately, receivers always have numerous inputs and outputs, which makes them very convenient to use, so let's take a look at them.
I'd like to tell you about HDMI – the most significant and mainstream connector in the world. It will help you to do plenty of things like connecting both Blu-ray and Extended Ultra HD Blu-ray, PlayStation and Xbox, media streamers, and more. Typically, receivers have about four or five HDMI inputs and at least one output. However, this already depends on the specific model.
Availability of USB is always a huge advantage on many devices, and therefore, in AV receivers, it is also only welcomed because it allows you to play any music from a flash drive or other devices that are compatible with USB devices. Also, 99% of all receivers support Internet connection via an Ethernet cable to the device through the provided port.
Well, I definitely want to mention coaxial and optical types of connections. With their help, connect audio from DVD players, Blu-ray, and even 4K Ultra HD TV.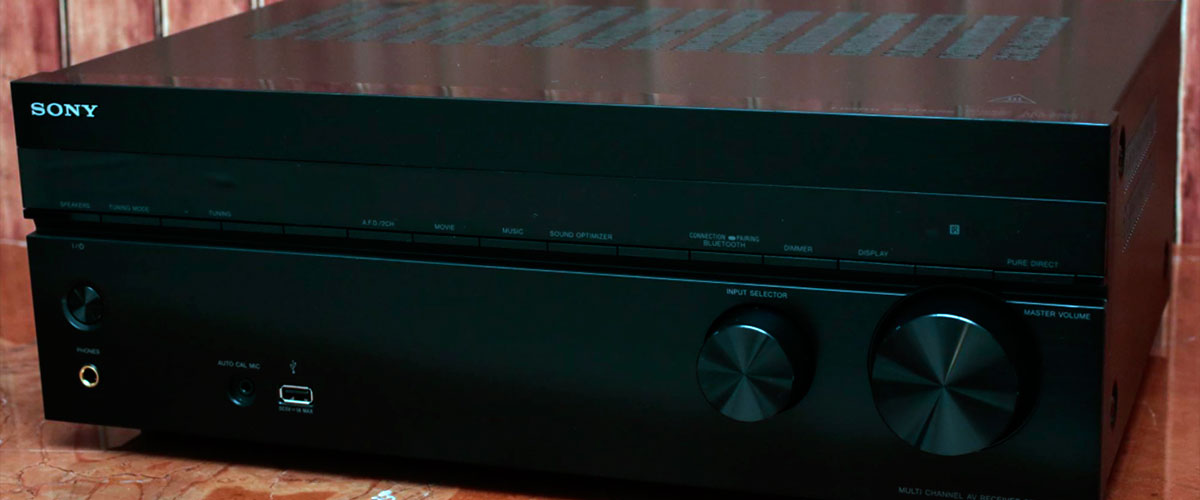 Extra features
Additional features have always been an excellent advantage, especially when it comes to receivers. it is thanks to the additional features that are provided by the manufacturer that you can greatly facilitate usage and not waste extra time on certain processes.
For example, if the receiver can be connected via Bluetooth, this is wonderful because many additional devices can be connected wirelessly, which is very convenient.
If we are talking about a Wi-Fi connection, then this is a guaranteed plus because you immediately have the opportunity to listen to music from such popular services as Apple Music, SoundCloud, Spotify, and so on. Accordingly, the possibility to listen online greatly simplifies your work and saves your time.
And of course, Wireless multi-room music, with which you can "liven up" your home with music or podcasts with just one remote control or mobile application. This feature is highly valued among users as it saves a lot of time and requires less effort to prevent the unneeded hassle.
What to expect from an AV receiver under $500
Some people get too carried away with expensive receivers, totally disregarding the range of more affordable yet rather powerful counterparts. That is a poor thing to do considering the variety of great AV receivers priced for less than 500 bucks. Usually, such devices are fitted with all the must-have features to ensure flawless operation and excellent playback.
When studying budget-friendly receivers, I noticed some differences explaining such a cost, but they aren't crucial. First off, buying a low-priced device, you get a unit without bells and whistles. This may include 4K capabilities, Dolby Atmos, wireless connection, auto-calibration, or a Zone 2 feature. Though it seems tempting to get such options, not all users need them on a regular basis. Secondly, budgetary receivers have a lower power output. The standard value ranges from 120W to lower points.
Anyway, such differences don't mean that a receiver can't cope with its primary task. Moreover, I believe that inexpensive receivers are a go-to choice for people who want to make their first sound surround system without going bankrupt.
How I picked and tested AVR under $500
It was a very responsible task for me to define the best receivers under $500, so I worked hard to understand what features they must have, how well they cope with playing audio in videos, and whether they are capable of delivering crisp sound while listening to music.
The first part of my test was dedicated to evaluating the surround sound capabilities of receivers while I was watching Star Wars: The Force Awakens.
Then I proceed with listening to music on different resources:
Led Zeppelin – Ramble On – Spotify
Jacky Terrasson – Reach – Tidal
The Weeknd – The Hills – Deezer
Bob Marley & The Wailers – Turn Your Lights Down Low – (CD player)
Radiohead – The National Anthem – (CD player)
Arctic Monkeys – Do I Wanna Know – (CD player)
Mark Nauseef – With Space in Mind (CD player)
Mahler – Symphony No.2 (CD player)
I was armed with such equipment:
CD player SACD 30n
Blu-ray player Sony UBP-X700
Speaker wire – AudioQuest Type-9
Speakers for movie – Klipsch RP-8060FA
Stereo speakers:

Klipsch RP-8060FA
KEF Q350
DALI OBERON 5
Our pick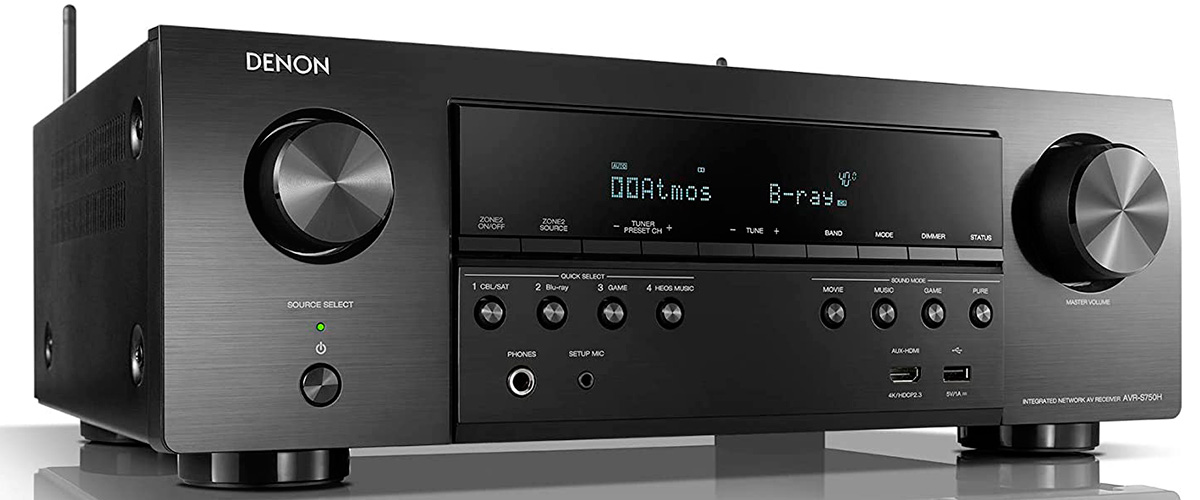 Denon AVR-S750H
Best AV Receiver Under $500
Denon AVR-S750H 7.2 channel full 4K Ultra HD AV receiver with 165W per channel, Dolby Atmos®, Dolby Atmos Height Virtualization Technology, DTS:X™, DTS Virtual:X® and new eARC support
AV Receiver Under $500 Comparison Table
Name
Channels
Power output
HDMI in/out
Bluetooth/Wi-Fi
Review
Denon AVR-S750H

best overall

7.2
75W/8 Ohm, 110W/6 Ohm
6/1
yes/yes
Review
Yamaha RX-V4A
5.2
80W/6 Ohm
4/1
yes/yes
Review
Sony STR-DH790
7.2
90W/6 Ohm
6/2
yes/no
Review
Best AV Receiver Under $500 Reviews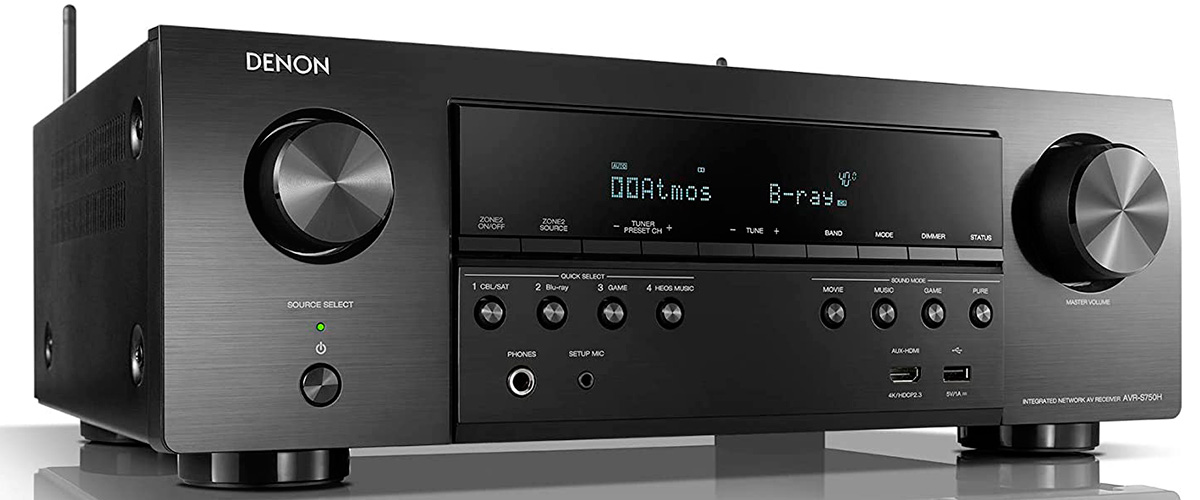 This 7.2-channel AV receiver takes the sweet spot in the new S Series, operating at 4K Ultra HD resolution and featuring seven discrete high-current amplifiers that deliver 75 watts per channel at 8 Ohms and 110 watts per channel at 6 Ohms. The receiver supports major 3D object-oriented sound formats and is fitted with DTS Virtual: X and Dolby Atmos Height Virtualization Technology. I like that speakers are auto-calibrated using the Audyssey MultEQ algorithm.
Denon AVR-S750H is capable of playing audio files stored on computers/NAS servers or external USB drives connected to the front panel. Thanks to wireless connection, you can access a variety of streaming services, including Tidal, TuneIn, and more. The receiver supports dual-band Wi-Fi, Bluetooth, and AirPlay2, which allows for wireless multi-room configuration if you use Apple devices. I tested all these features and am fully satisfied with the result.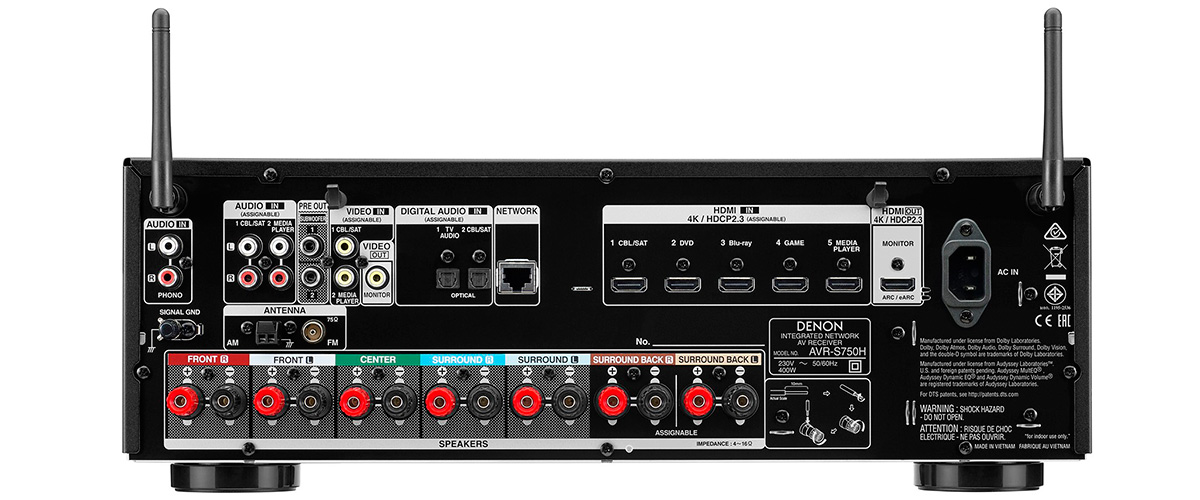 The unit works smoothly in a HEOS ecosystem. You can stream audio from tablets/smartphones, online services, and local networks directly from a dedicated application. Moreover, it is possible to play the same song in different rooms with perfect synchronization or specially selected tracks for each separate room. That is a useful feature considering the budget-friendly nature of this device.
The model supports "communication" with personal voice assistants (Apple Siri, Amazon Alexa, and Google Assistant). You can also control it in the traditional way using a remote control or an application. I tried both options, and they worked lag-free.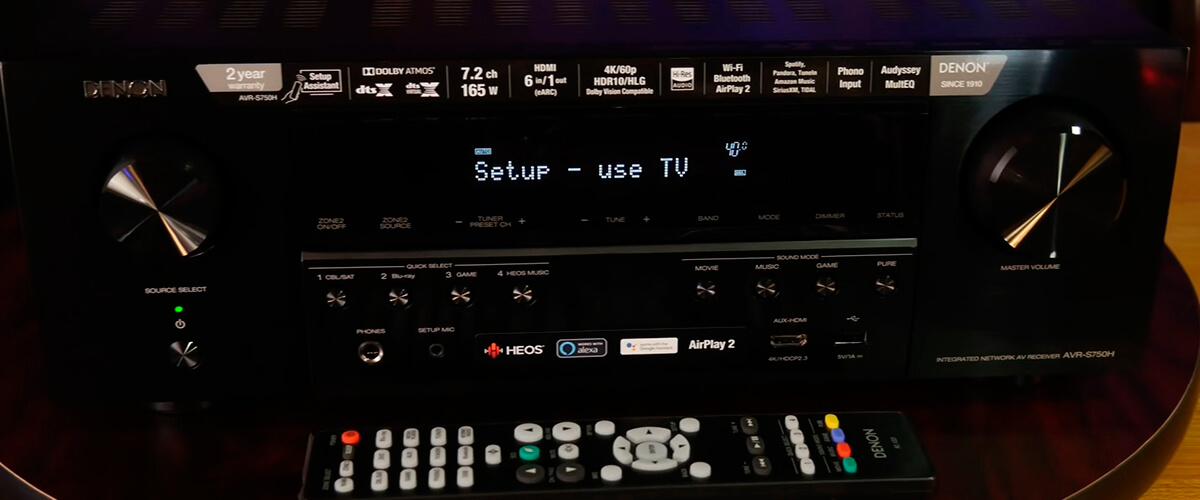 I like that the receiver copes well with audio playback when watching a movie and listening to songs in different genres. During the test, I perfectly heard dialogs in Star Wars: The Force Awakens because they were precisely separated from the background music. As for streaming audio from different platforms, I have nothing to complain about.
Audio is powerful, with a broad soundstage. Unfortunately, the receiver doesn't support Chromecast. Another disappointing aspect is B&W on-screen graphics, unlike sleek menus in Yamaha RX-V4A. Such visuals make the receiver look dated.
All in all, this receiver delivers impressive sound, especially being integrated into a home theater. With a good set of new features and high-quality music playback, the AVR-S750H can be deservedly called the best AV receiver under 500 dollars. It will surely appeal to fans of warm sound and broad functionality.
Key specs
Channels: 7.2
Power output: 75W/8 Ohm, 110W/6 Ohm
HDMI inputs/outputs: 6/1
Video functions: 4K/60 Hz pass-through
Bluetooth/Wi-Fi: yes/yes
Streaming services: AirPlay2, Spotify, Pandora, Deezer, Tidal
Supports HDMI ARC, HDMI eARC, HDMI CEC, HDCP2.3, HDR10, Dolby Vision
Surround sound: DTS:X, Dolby Atmos
Pros
The number of different digital sound formats is amazing
Allows using presets
Has plenty of power for large rooms
Cons
The remote is a bit clunky
Doesn't display title and artist for FM stations
Yamaha RX-V4A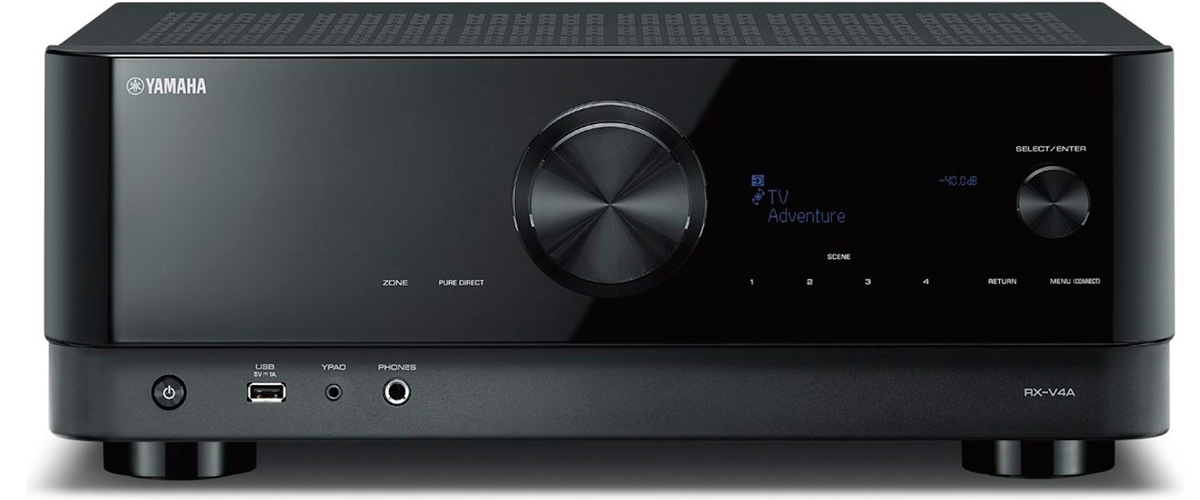 Manufacturers of electronic equipment highly rely on a recognizable design that allows a brand to be easily identified by buyers. This time, Yamaha decided to start from scratch. The RX-V4A AV receiver is designed with a new aesthetic in mind, and chances are high it will become Yamaha's hallmark for years to come.
Yamaha is one of those manufacturers that makes an installation procedure as intuitive as possible. You can use the unit right after connecting the source (s), speakers, and other components. The audio calibration is carried out by a home YPAO system with the supplied small microphone. I decided to try this feature, and everything runs smoothly.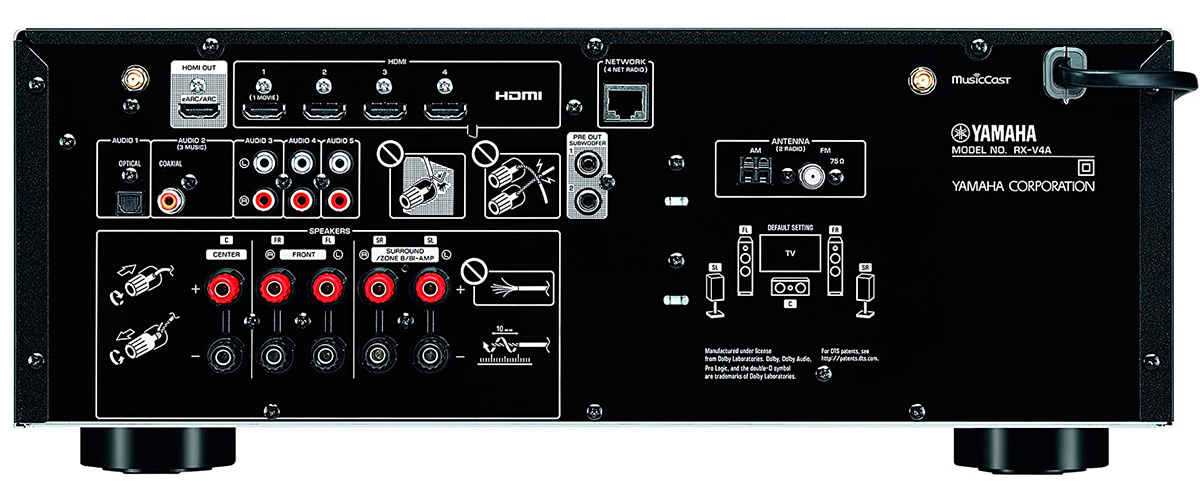 With a relatively affordable cost, Yamaha RX-V4A can be used as a core for a modern and universal home theater system. It has a 5.2-channel configuration, which can be considered an ideal option for filling medium-sized rooms with powerful sound. With a nominal power output of 80 watts per 6Ohm channel, the device can perfectly work with floor speakers manufactured by famous brands. It showed great results paired with my speakers for movie and stereo speakers.
I started the test by listening to music and exploring different modes. In Pure Direct, which means without possible processing, rendering turns out to be rather dull, devoid of life. This is acceptable for background music but not for Hi-Fi audio. When I switched to Enhanced mode, there appeared basses, but not very distinct. Everything is centered, with a few point elements to the right and left of the soundstage, but nothing happens between the center and the ends. The Neo: 6 Music mode is most interesting because it effectively distributes music to all speakers without changing voices or placing the center too far forward.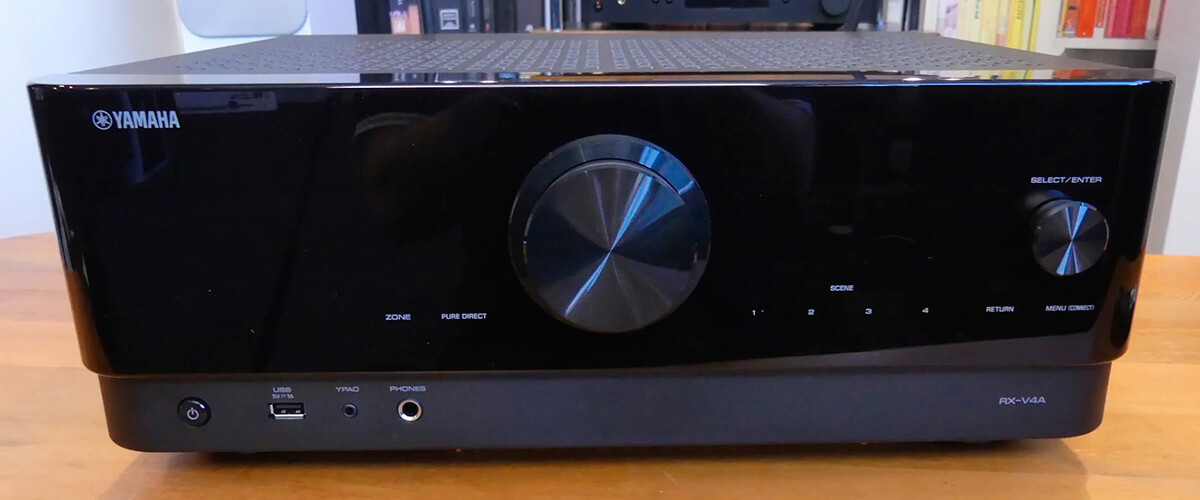 When I tested the capabilities of this receiver for movies, I took advantage of YPAO sound calibration. The process was swift. Yamaha has measured the distances and levels in my studio correctly. Unlike many competing receivers, e.g., Sony STR-DH790, it has a good center channel setup. Besides, there is a special surround sound decoding mode. Thus, the audio in movies is accurate and crisp, so you can feel the shift from one scene to another.
Yamaha RX-V4A is a top home theater receiver under 500 dollars for those users who need an easy-to-use device that doesn't require long setting up. Thanks to various modes, you can easily choose the one suitable for your current situation and enjoy good sound.
Key specs
Channels: 5.2
Power output: 80W/6 Ohm
HDMI inputs/outputs: 4/1
Video functions: 4K/60 Hz, 4K/120 Hz, 8K/60 Hz pass-through, upscales HD video signals to 4K Ultra HD
Bluetooth/Wi-Fi: yes/yes
Streaming services: AirPlay2, Spotify, Pandora, MusicCast
Supports HDMI ARC, HDMI eARC, HDMI CEC, HDCP2.3, HDR10, HDR10+, Dolby Vision
Surround sound: DTS HD Master, Dolby TrueHD, Dolby Digital Plus
Pros
Great presets for music and movies & DSP effect
Immense configuration options
You can control the volume of each individual speaker
Cons
Doesn't support DTS: X and Dolby Atmos
Pitifully weak if you want to play rock or symphony orchestras
Sony STR-DH790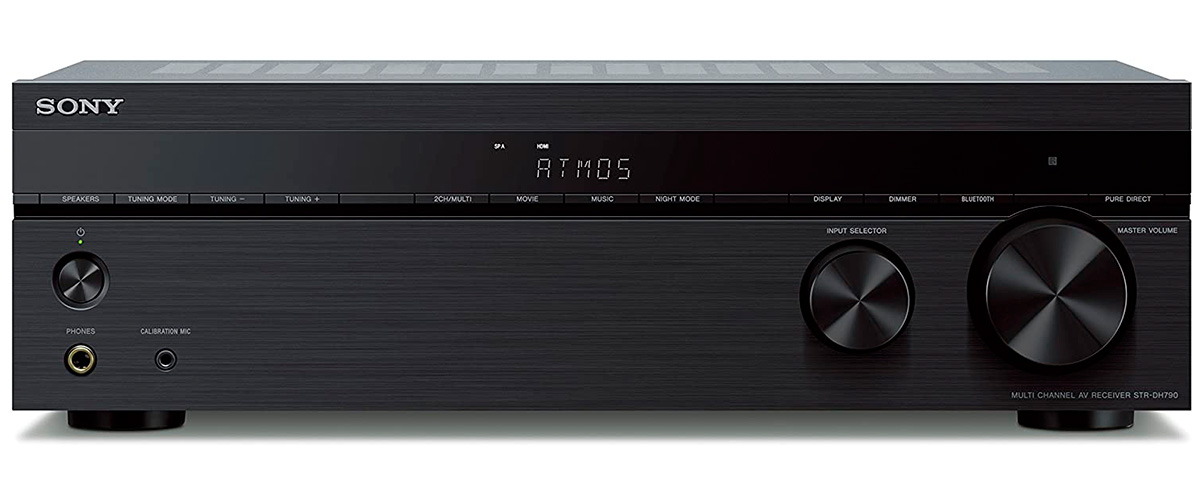 Sony is known for producing electronics aimed at people with different financial capabilities, and I decided to take a closer look at the DH790 low-cost 4K receiver. This is a 7.2-channel with the power output of 90 watts per channel (6 Ohms). It doesn't matter when you will locate the unit and what equipment you'll pair it with – it works seamlessly with the speakers and accurately emulates the surround sound.
The model has 4 HDMI inputs that support signal quality up to 4K at up to 60Hz, HLG, and Dolby Vision. The DH790 lacks analog video outputs, but there are four analog audio inputs, coaxial and optical digital audio outputs. Of course, this is a serious shortcoming considering that Denon AVR-S750H and Yamaha RX-V4A offer more, but this set of ports is sufficient for small and medium-sized systems. Actually, that was enough for my test.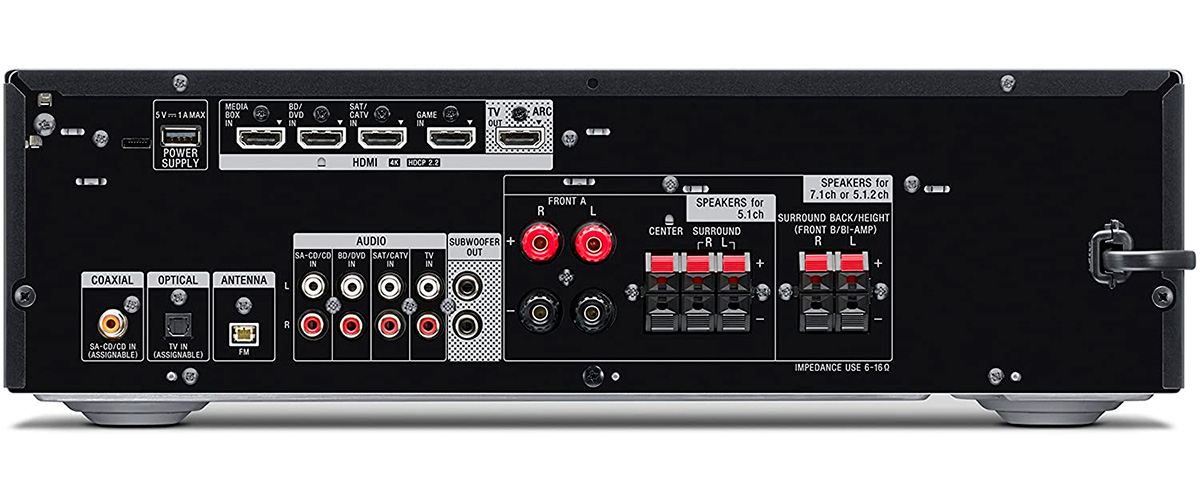 Another peculiarity you need to take into consideration is the absence of Zone 2 and Wi-Fi connection. If that is crucial for you, opt for the leader of this review. Fortunately, the manufacturer preserved Bluetooth, so you can still enjoy wireless streaming.
At the first launch, I saw a clear on-screen menu with 5 basic modes. That's a decent newbie-friendly move, as finding a proper mode for your current activity is a breeze. First, I chose the "Watch" mode to understand whether it can produce a great home theater sound. It seemed that the sound was slightly muffled, so I used an integrated auto-calibration to fix it. After the process was over, I returned to the movie and heard a genuine surround sound.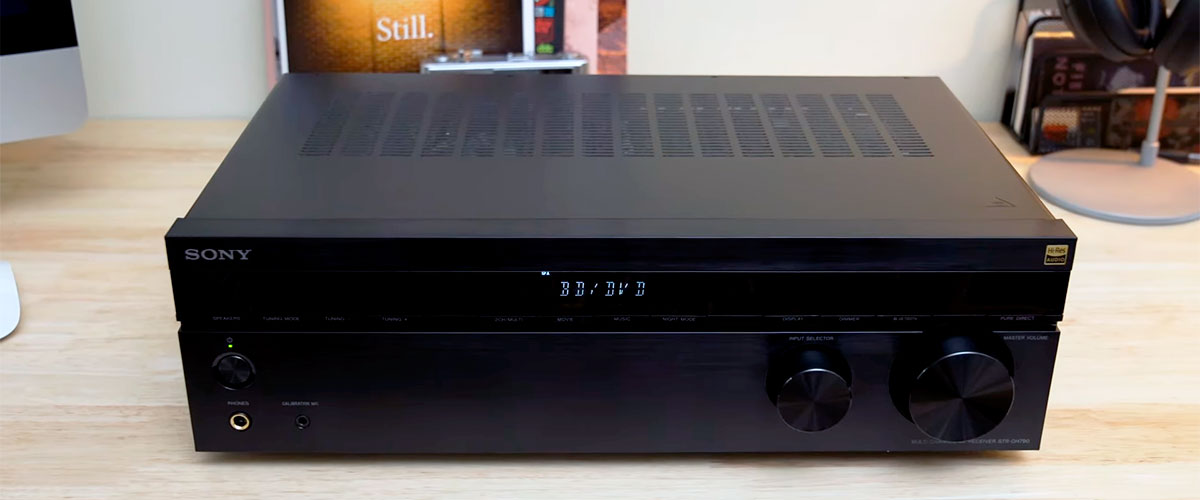 While listening to songs, I switched to the "Listen" mode. Thus, I could effortlessly listen to music from different sources, and the system sounded great with all genres. I like that basses were well pronounced, though most budget-friendly models can hardly cope with such a load.
In general, this is a well-designed surround sound receiver that is equally efficient while watching movies and listening to music. Thanks to 5 integrated modes and auto-calibration, you can easily adjust this receiver to your house without time-consuming manipulations. I think this is an excellent receiver under 500 for novice users.
Key specs
Channels: 7.2
Power output: 90W/6 Ohm
HDMI inputs/outputs: 6/2
Video functions: 4K/60 Hz pass-through
Bluetooth/Wi-Fi: yes/no
Streaming services: no
Supports HDMI ARC, HDMI eARC, HDCP2.2, HDR10, Dolby Vision
Surround sound: DTS:X, Dolby Atmos
Pros
4K pass-through is ideal
You can adjust any of the speaker levels with the amp button right on the display
Decodes the newer audio formats such as ATMOS
Cons
Doesn't support HDCP2.3
No built-in Wi-Fi and streaming services
Onkyo TX-SR494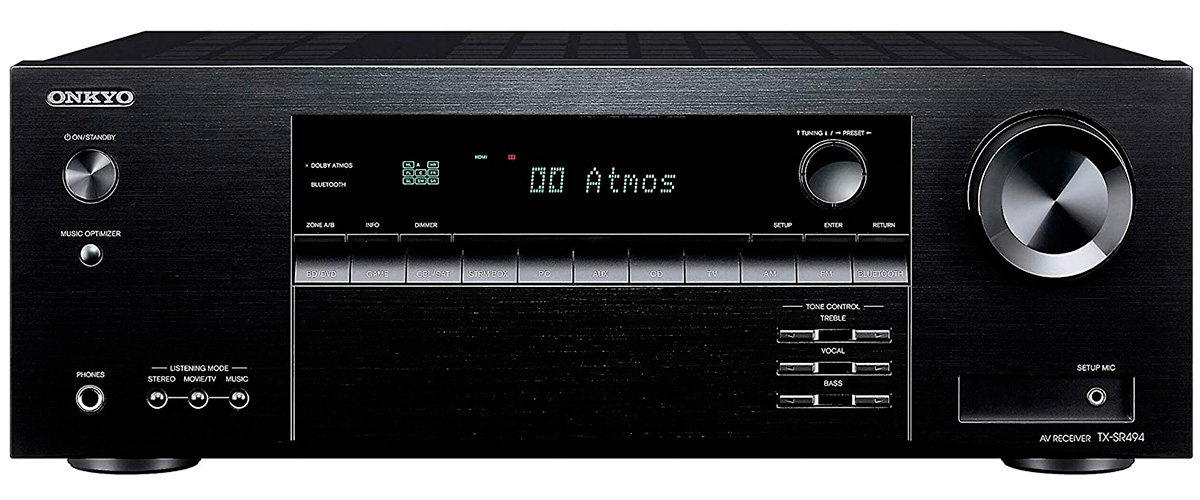 If you are looking for the centerpiece of your home theater system, I highly recommend considering this budgetary receiver. Onkyo TX-SR494 has a seven-channel configuration and is supplied with discrete power amplifiers capable of delivering 80 watts / 8 Ohms per channel.
The AV receiver has four HDMI inputs and one output, capable of transmitting 4K UHD signals. The manufacturer decided to abandon the component video inputs and outputs, which simplified the placement of connectors on the rear panel. The device also has three analog and two digital inputs.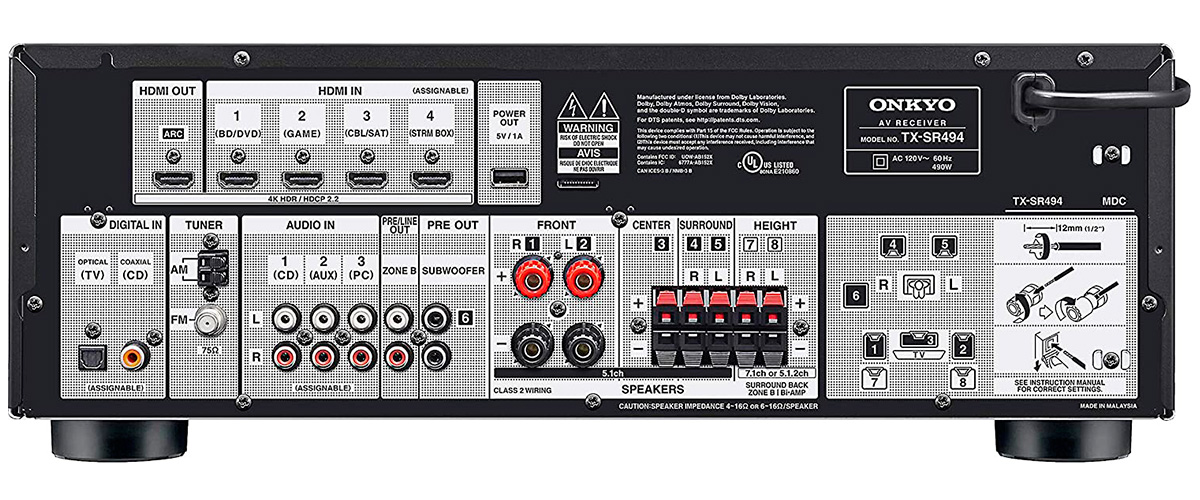 The model comes with decoders for all popular surround sound formats, including Dolby Atmos and DTS: X. Moreover, you can take advantage of Dolby Atmos Height Virtualizer and DTS Virtual: X modes to enjoy encompassing sound without adding ceiling speakers to your setup. For automatic surround sound quality, the TX-SR494 is equipped with AccuEQ technology with extensions for subwoofer and 3D formats.
While watching the movie, I felt the advantages of such surround sound-focus the manufacturer sticks to. The sound transition from scene to scene was smooth and gradual, without abrupt highs and lows. However, sometimes dialogs merge with surround noise, so catching separate words may be difficult.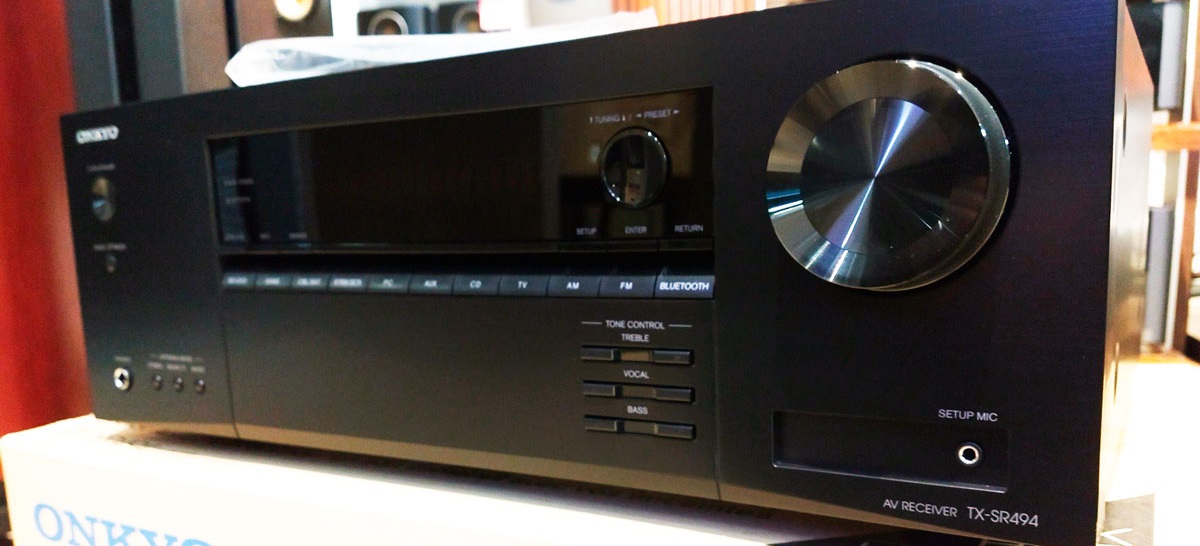 As for audio playback, the receiver lags behind its competitors. I understand that it is initially designed for a home-theater system, so it is strange to expect much if you are after authentic stereo sound. Though it didn't show outstanding results when I was streaming from Deezer, Spotify, and other platforms, I reckon the quality of audio and the overall functionality fully correspond to the price asked.
Shopping for a good AV receiver, don't skip this model straight away. Being designed with surround sound in mind, it can become a reliable component of your home theater system. Of course, it isn't so efficient when listening to music, but that is the compromise you need to settle for.
Key specs
Channels: 7.2
Power output: 80W/8 Ohm
HDMI inputs/outputs: 4/1
Video functions: 4K/60 Hz pass-through, upscales HD video signals to 4K Ultra HD
Bluetooth/Wi-Fi: yes/no
Streaming services: no
Supports HDMI ARC, HDMI CEC, HDCP2.3, HDR10, Dolby Vision
Surround sound: DTS:X, Dolby Atmos
Pros
Awesome sound and impressive HDR enhancement
AccuEQ Room Calibration works flawlessly
Has an audio select button to select my onboard sound card or graphics card
Cons
Doesn't support HDMI eARC
No built-in Wi-Fi and streaming services
Explore other our AV receivers ratings
Our newsletter
* We will never send you spam or share your email with third parties