This review will help you find the best Atmos receiver that is perfectly suitable for you.
Dolby Atmos is a popular surround sound format, a competitor to DTS:X. It can be used not only in big commercial cinemas but also in small home theaters. The most significant difference compared to previous formats is the addition of height channels. Atmos soundtracks will work with a traditional five-speaker-and-subwoofer (5.1) system or as many speakers as you have.
Our pick
Denon AVR-X3700H
Best Atmos Receiver
The AVR-X3700H delivers the ultimate home theater experience with 8K/60Hz pass-through, 4K/120Hz pass-through, and support for the latest HDMI specifications
What is needed for Dolby Atmos?
First of all, the receiver should support Dolby Atmos. Next, the device should be equipped with enough channels. All the AV receivers included in this review can work with Dolby Atmos smoothly – there is no need for virtual speakers when using them.
If you want to have great Dolby Atmos experience, you need 7.1 (7.2), or 9.1 (9.2) surround sound speaker setup, plus the addition of two or four overhead ceiling-mounted speakers. I have selected such devices for you and am going to describe each of them in detail. Below, you will find a list of the most excellent receivers each of which supports Dolby Atmos surround sound. The review includes information about the number of channels in the appliances.
Dolby Atmos can handle up to 128 channels of audio, which can be routed to 64 individual speakers. If you are wondering what number of channels is needed for getting the most impressive sound, here is a brief instruction:
7.1 or 7.2 receiver – minimum configuration
9.1 or 9.2 receiver – satisfactory but still budget configuration
11.2 or 13.2 – fantastic choice
Dolby Atmos Receivers Comparison Table
Receivers
Channels
Stereo power, W/Ohm
THD, %
Review
Denon AVR-X3700H

best overall

9.2
105/8, 135/6
0.08
Review
Denon AVR-X8500H

best premium

13.2
150/8, 250/6
0.05
Review
Denon AVR-X2700H

best budget

7.2
95/8, 125/6
0.08
Review
Mid-price Receiver for Dolby Atmos
I start with the best Dolby Atmos receiver. The model has a 9-channel amplifier, providing a dynamic power of 180W per channel. The 9.2 Atmos receiver is ready to handle audio in an 11.2 configuration – just plug in an additional amplifier.
The AVC-X3700H supports 8K resolution, one HDMI input is allocated for the source of such a signal on the switching panel, but it is capable of giving 8K to two outputs. Plus, 4K or FullHD resolution from all seven HDMI inputs can be converted to 8K for the sharpest picture possible.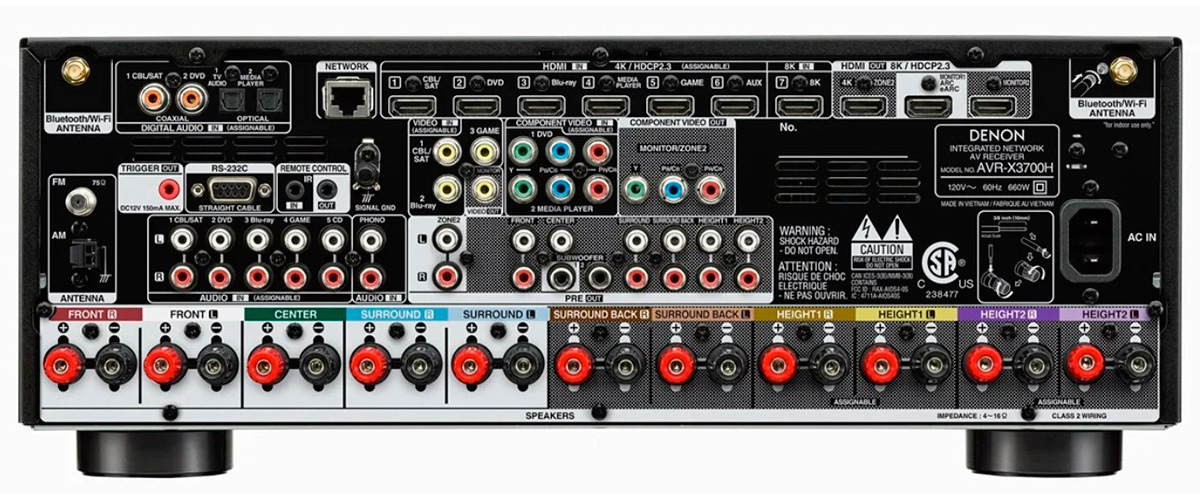 Dolby Atmos and DTS: X audio can be played in the receiver from Smart TV applications using onboard eARC (Audio Return Channel). The AVC-X3700H also offers room-specific sound optimization with Audyssey MultEQ XT32 and other Audyssey correction capabilities. In addition to 4K/120Hz refresh rate and variable refresh rate VRR support, the system features Auto Low Latency Mode (ALLM), Fast Media Switching (QMS) and Quick Frame Transport (QFT). In streamer mode, the AVC-X3700H works with music services such as Spotify, Amazon Music HD, Tidal, Deezer and more. The device supports AirPlay 2 and Heos proprietary wireless music streaming technology.
Key specs
Channels: 9.2
Stereo power, W: 105, 135
Impedance, Ohm: 8, 6
THD, %: 0.08
Pros
Can be controlled with Amazon Alexa, Google Assistant and Apple Siri
Shows on-screen information about video mode
Supports various HDR options, including the new HDR10 + and Dynamic HDR
Premium Dolby Atmos AV Receivers
Denon AVR-X8500H – best premium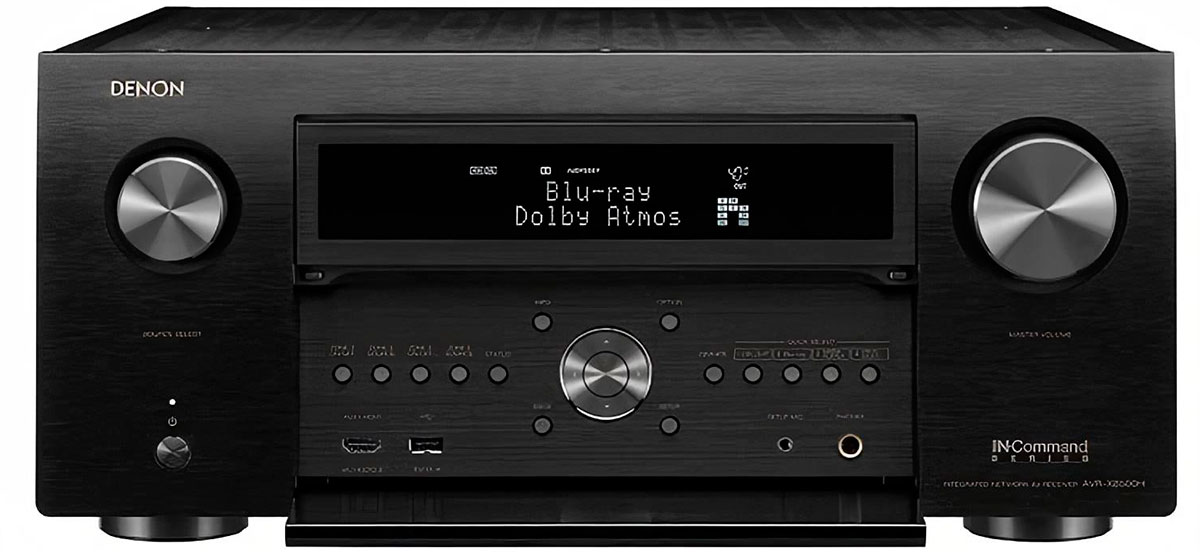 Looking for the best receiver for Dolby Atmos? Take a look at the AVR-X8500H receiver. It supports Dolby Atmos and DTS: X and is ready to handle configurations up to 7.1.6 and 9.1.4. After a software update, the device will also be able to play multi-channel Auro 3D audio. The appliance works with video up to 4K-resolution at 60 Hz and BT.2020 color profile (4: 4: 4). The receiver is also equipped with the Audyssey MultEQ XT32 calibration system, and the letter "H" in its name indicates support for the Heos multi-room system. In dual-channel mode, it delivers 150 watts per channel.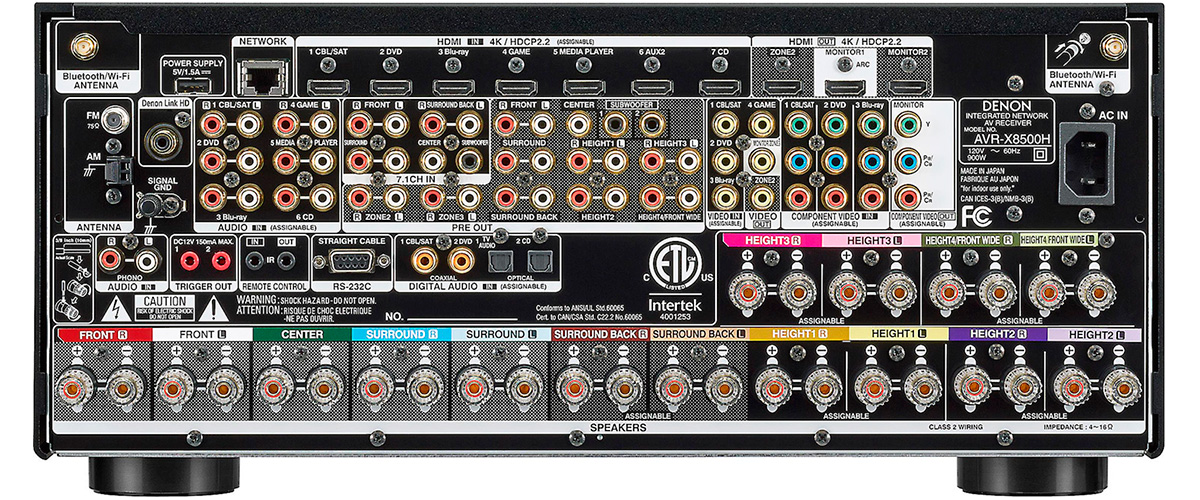 It also features XLR and RCA outputs for 15.2-channel configuration. It has a 32-bit/192 kHz DAC and proprietary HDAM (Hyper Dynamic Amplifier Module) components. Users can send voice commands to the connected Amazon Alexa device to control various functions, including power on/off, volume, mute/unmute, music play/pause, external input switching, and play supported streaming services.
Key specs
Channels: 13.2
Stereo power, W: 150, 250
Impedance, Ohm: 8, 6
THD, %: 0.05
Pros
Equipped with Audyssey MultEQ XT32 calibration system and supports HEOS
Features wireless Wi-Fi and Bluetooth connectivity, Apple AirPlay streaming capabilities and wireless multi-room audio technology
Capable of processing audio in Dolby Atmos and DTS: X formats
Cons
Does not support multi-channel FLAC or DSD files, you have to play back these files from other devices
Yamaha CX-A5200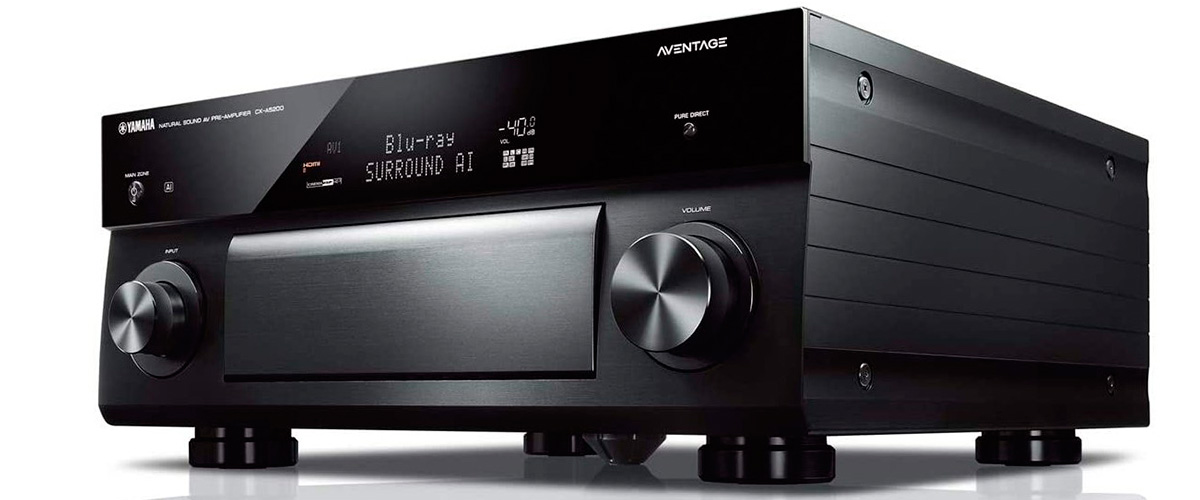 The CX-A5200 11.2 Atmos receiver supports Amazon Alexa voice assistants. The device has seven HDMI inputs with HDCP 2.2 and three HDMI outputs. The inputs allow you to work with high-definition video in all current formats, including 4K with a refresh rate of 60p. The receiver recognizes the BT.2020 palette, three HDR formats (HDR10, Dolby Vision, HLG) and Dolby Vision and DTS: X surround audio formats in 7.2.4 variations. This model also features YPAO (Yamaha Parametric room Acoustic Optimizer), which adjusts the sound to a specific room.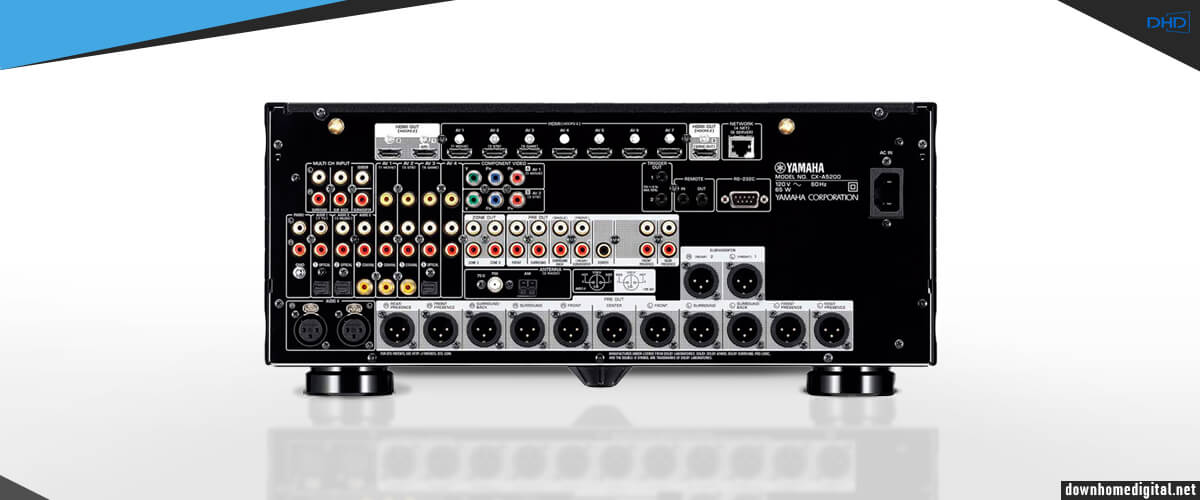 The appliance is equipped with MusicCast and supports Wi-Fi and Bluetooth. This ensures the interaction of components within the system – to create it, you can use an existing Wi-Fi router, or connect equipment directly to each other. The system is also easy to set up: all you need to do is download the MusicCast app to your smartphone or tablet.
Key specs
Channels: 11.2
Stereo power, W: N/A
Impedance, Ohm: N/A
THD, %: 0.06
Pros
Analyzes the characteristics of the audio signal in real time and adjusts it in accordance with the reference values ​​contained in the database
MusicCast allows you to listen to music in any room with the appropriate Yamaha equipment and control it with one single application
For improved handling of vertical positioning of sources, Yamaha has updated the Cinema DSP HD algorithms
Cons
Installation requires knowledge and insight
Budget Dolby Atmos AV Receivers
Denon AVR-X2700H – best budget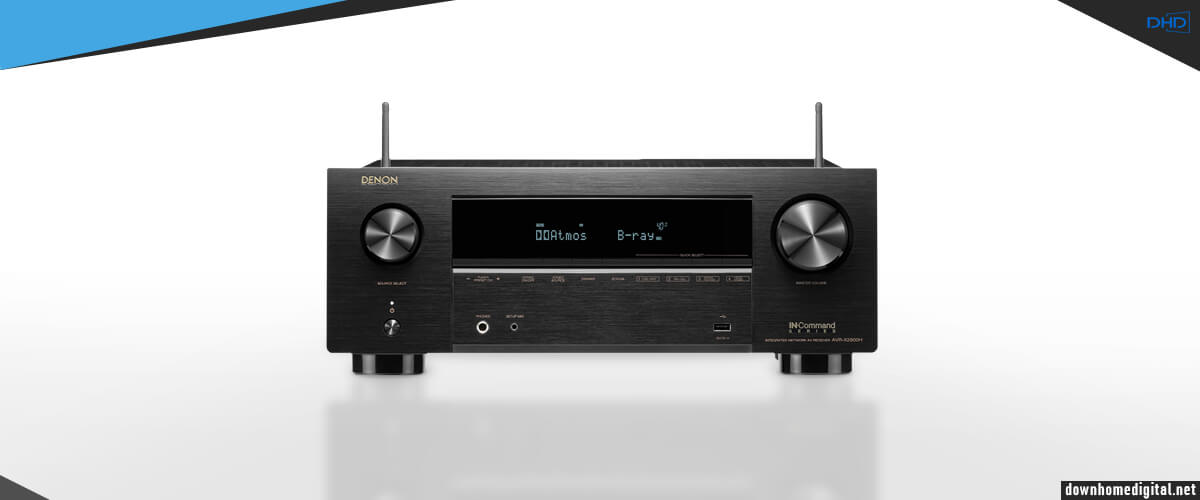 This is the best budget Atmos receiver with excellent features. It is packed with the latest technologies, but is offered at a price that is affordable for most movie lovers. On the basis of this device, you can create a modern audio/video system that will allow you to watch movies and listen to music with high quality.
Denon AVR-X2700H has a 7.2 configuration, which is also not common at this price point. The device has decoders for 3D audio formats Dolby Atmos and DTS: X, and on its basis you can create systems in a configuration 5.2.2. This will make it possible to fully sound the majority of living rooms in your apartment. In addition, the appliance is equipped with a processor Dolby Atmos Height Virtualization, which will give volume to standard soundtracks.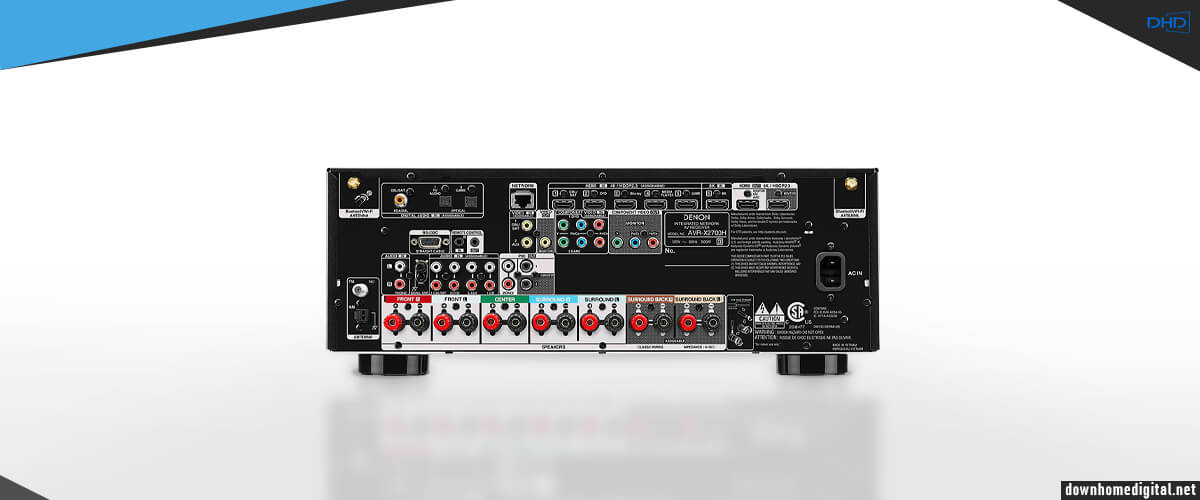 The AVR-X2700H is equipped with eight HDMI inputs and outputs supporting the latest HDCP2.3 standard. The unit can not only switch video with 4K/60 Hz, Dolby Vision, HDR10 and HLG, but also supports eARC technology, which allows you to transfer sound in 3D formats. To add, the device has HEOS technology, which allows you to play music from network devices and online services, as well as include the device in the proprietary multi-room system.
The receiver also has a USB connector for flash drives with music files. The model AVR-X1600H is capable of playing songs in High-res PCM and DSD formats, and you can use cable or Wi-Fi to connect to the network.
Key specs
Channels: 7.2
Stereo power, W: 95, 125
Impedance, Ohm: 8, 6
THD, %: 0.08
Pros
The Denon AVR-X2700H wireless technology list includes AirPlay 2 and Bluetooth for easy connection with mobile devices
Thanks to the Low Latency mode, the AV-receiver can be used in conjunction with game consoles
To control the AV receiver, you can use the proprietary application, as well as voice commands through the popular services Google Assistant, Alexa or Siri
Cons
If you stream music via Bluetooth, the music is of lesser quality than devices that support the Bluetooth aptX
Yamaha RX-V6A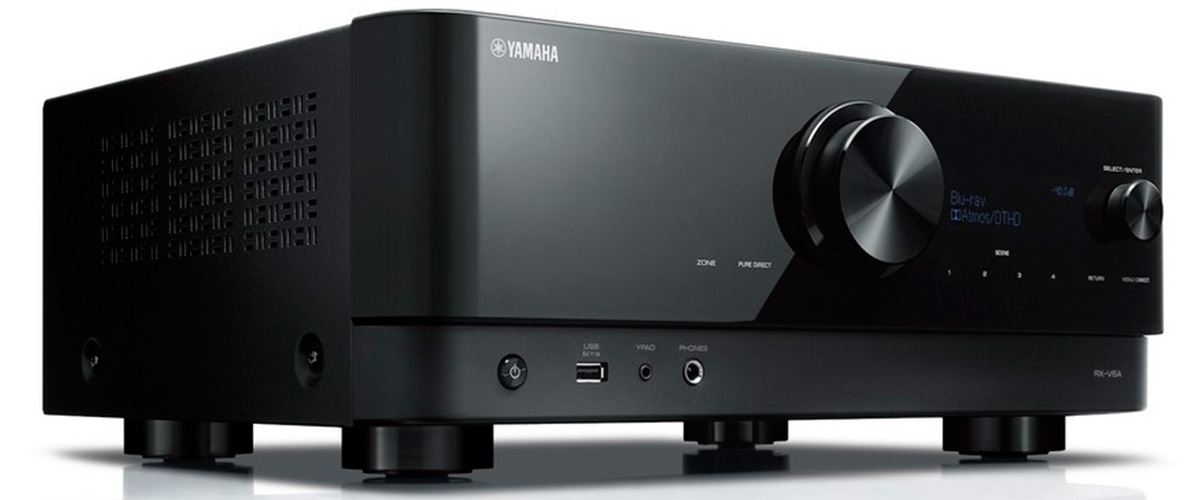 The Yamaha RX-V6A is the optimal choice for modern home theater equipment in terms of value for money. The main feature of this AV receiver in comparison with the younger models of the series is the 7.2 configuration and support for the new surround sound formats Dolby Atmos and DTS: X. Thus, this model will allow you to create a home theater, the sound of which will surround the audience from all sides, including from above. In addition, the RX-V6A with the next firmware will add the ability to work with Dolby Atmos Height Virtualization.
The RX-V6A has seven HDMI inputs and one output that supports 4K Ultra HD with all the Dolby Vision and HLG additions, and 8K on three of the seven inputs. The device is also equipped with analog and digital inputs, which will make it possible to create an AV system based on it with a variety of signal sources. The device uses discrete amplifiers with high output current and wide dynamic range, as well as high-quality DACs. To connect all the speakers, the device has reliable screw terminals, conveniently located in the middle of the rear panel.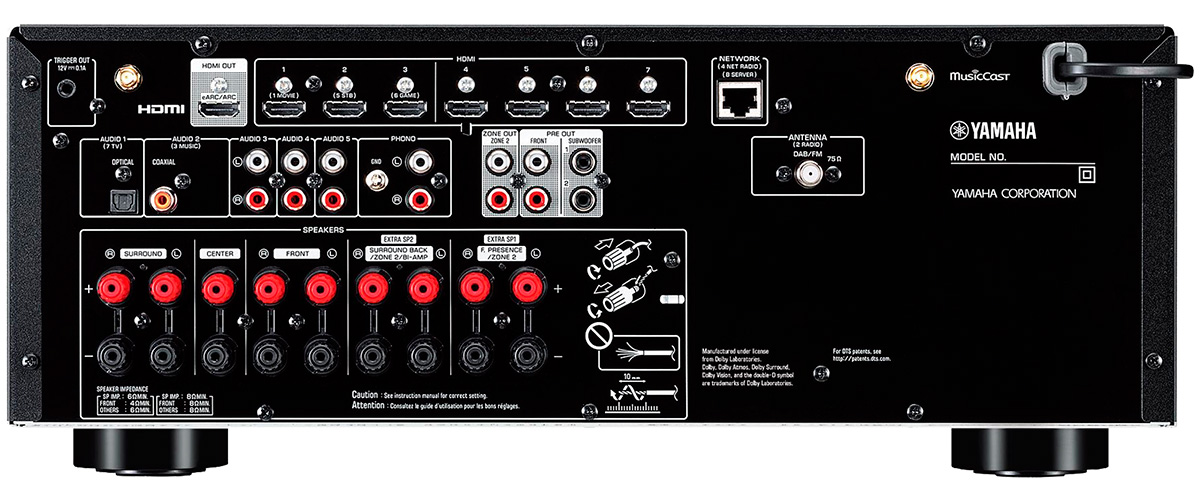 In Yamaha RX-V6A there is a USB input for storage devices with music files and Bluetooth. For direct connection of iOS devices, you can use the AirPlay 2 technology. Unlike the younger model, the Yamaha RX-V6A has a phono input.
The Yamaha RX-V6A AV Receiver is bi-amping, which amplifies the high and low frequency bands of the front left and right speakers with independent amplifiers, thereby enhancing the sound quality of the front channels – an important advantage for a home theater. Zone B output provides 2-channel audio in another room. The output allows 2-channel audio to be transferred to another room. This leaves 7 output channels for the main zone. It means that you can listen to stereo sound in the second room. In this case, the audio content of the same source will be played in both zones (simultaneous use of two signal sources is impossible).
Key specs
Channels: 7.2
Stereo power, W: 100
Impedance, Ohm: 8
THD, %: 0.06
Pros
Equipped with MusicCast technology, which allows you to connect compatible wireless speakers
Supports playback of content in Lossless and High Resolution formats, including DSD 11.2 MHz
Uses a proprietary YPAO auto-calibration scheme for convenient multichannel sound tuning based on the parameters of the listening room and acoustics
Cons
Interface reacts a bit slow