Looking for the best 4K receiver? Want to know why you need a receiver at all? I know the answers. First, let's talk about the functionality of such a device. The AV receiver is designed to control your home theater system.
Its main function is to take in audio and video signals from different sources and route them to their respective outputs. Nevertheless, modern AV receivers handle much more than audio signals. Nowadays, the AV device is the brain or the central processing unit of a home theatre system. The receiver brings movies to life and provides a user with lots of different possibilities.
Have you heard about HDCP 2.2? This is the next generation of copy protection for the 4K era, and it probably will not work with any of your current gear. What I want to say is that it is possible that the 4K TV or AV receiver you bought last year, might not be able to receive/pass all future 4K content. To successfully stream 4K or 4K HDR content, all devices connected via HDMI to your compatible streaming player must support HDCP 2.2.
The next thing that has to be considered is that to enjoy the 4K pass-through and 4K upscaling features, a High Speed HDMI cable is needed for the connection. I have tested many different ones. As for me, AudioQuest Pearl 48 HDMI cable is the greatest option since it has perfect length (5 ft) and uses solid conductors to defeat strand-to-strand interaction, major sources of distortion in cables.
Our pick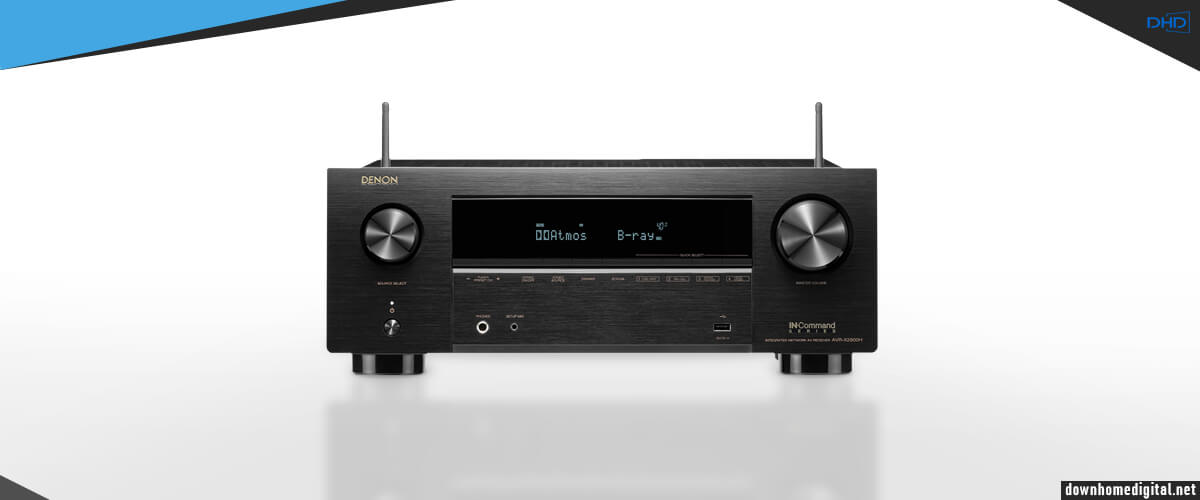 Denon AVR-X2700H
Best 4k Receiver
The Denon AVR-X2700H will take your home theater system to the next level and be one of the first in the world to experience the magic of 8K ultra-high definition video
What does a 4K AV receiver do?
The 4K pass-through function allows data to be passed through the system without degrading image quality, provided it is HDCP 2.2 compliant. The AV receiver with 4K pass-through function reproduces 4K signals from video playback equipment on 4K-compatible TVs and projectors, while maintaining 4K quality (called 4K pass-through).
4K upscaling allows you to upscale low-resolution source video (such as Full HD (2K)) to 4K high-definition signals. Thus, AV receivers with 4K upscaling allow you to view Full HD video signals via HDMI in higher quality. In my 4K receiver reviews I will tell you about devices with 4K pass-through.
4K AV Receivers Comparison Table
Receivers
Channels
Stereo power, W/Ohm
THD, %
Review
Denon AVR-X2700H

best overall

7.2
95/8, 125/6
0.08
Review
Marantz SR8015

best premium

11.2
140/8, 176/6
0.05
Review
Denon AVR-S540BT

best budget

5.2
70/8, 90/6
0.08
Review
Best 4K Receiver Reviews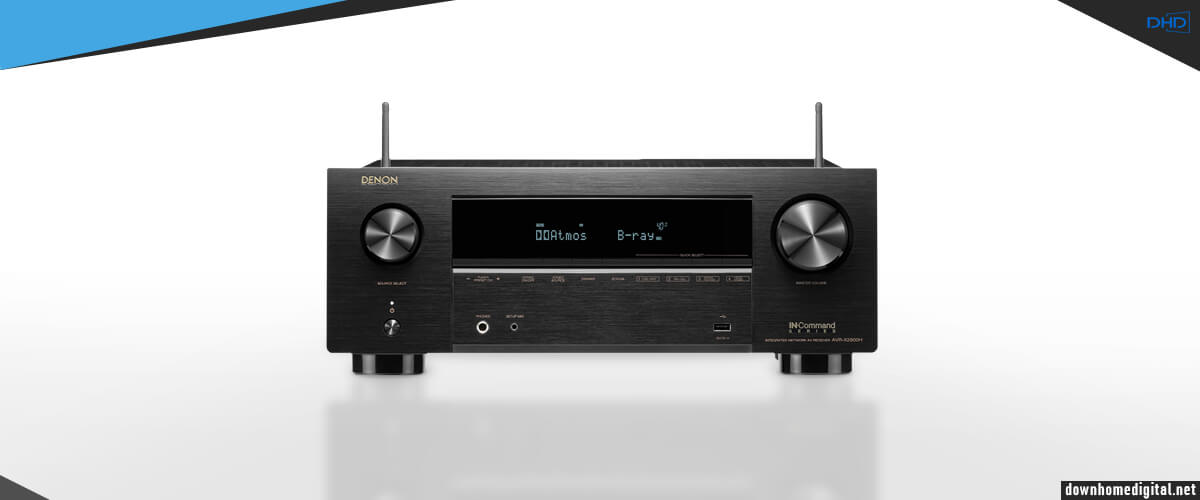 I decided to start with the best 4K AV receiver which has a 7-channel configuration, making it an excellent choice for sounding most medium-sized rooms. Its power is 95 watt per channel. Denon AVR-X2700H comes with the latest features and support for virtually every format available today.
The device has 6 HDMI inputs and two outputs, which can be used for connecting AV systems in the most popular configurations. The device can transmit videos with 4K and 8K resolution, with upscaling and HDCP 2.3 support. Other connectivity options for the AV receiver include a good array of analog and digital inputs, including a Phono input for turntables. For quick and accurate adjustment of your home theater system, depending on the acoustic characteristics of the room and speakers, the 4K upscaling receiver has Audyssey MultEQ auto-calibration technology.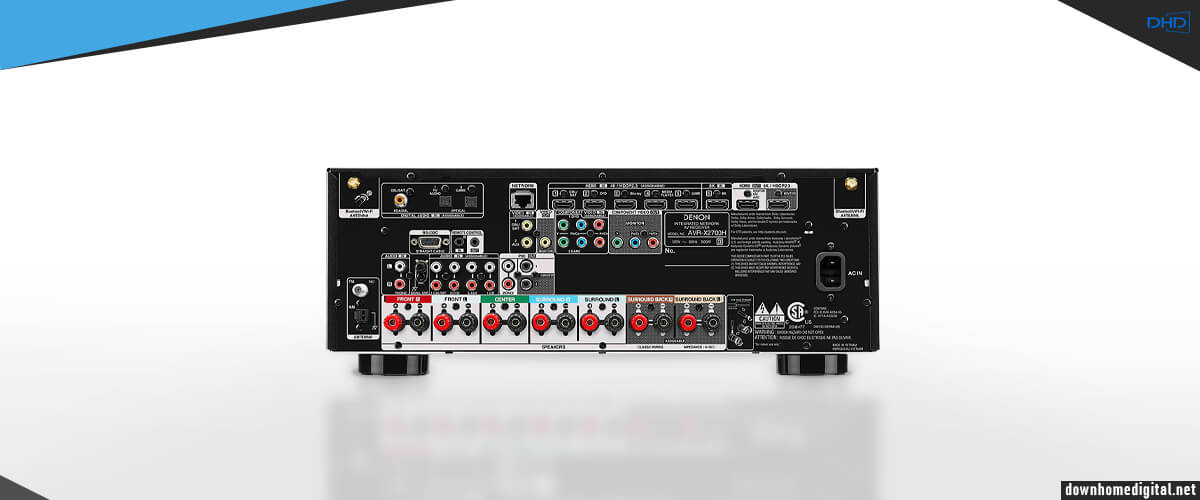 The unit can play audio files from available network devices as well as USB storage devices. High Resolution audio playback is supported, including PCM 24 bit/192 kHz and DSD 5.6 MHz. For convenient connection of mobile devices, the device supports Bluetooth. Of course, the AV receiver also has a high-quality dual-band (AM/FM) tuner. With high-quality audio cascades and a powerful power supply, the AV receiver delivers dynamic and punchy sound with crisp, focused bass and good detail in the midrange.
Key specs
Channels: 7.2
Stereo power, W: 95, 125
Impedance, Ohm: 8, 6
THD, %: 0.08
Pros
Ideally equipped for the latest game consoles thanks to 4K/120 Hz, VRR
There is support for the Alexa and Google Assistant voice command systems
Has support for popular streaming technologies including Tidal and Spotify
Equipped with Dolby Atmos and DTS:X decoders, as well as all popular surround formats
Marantz SR8015 – best premium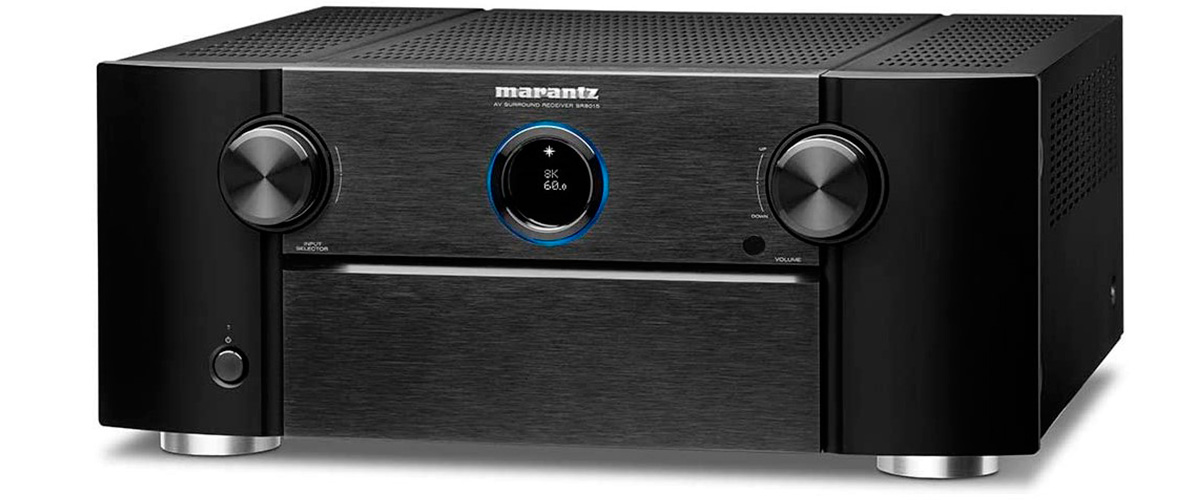 This model supports 8K video and is capable of scaling Full HD and 4K video up to 8K parameters. It works with high dynamic range HDR video, including the latest implementations of Dolby Vision, HDR10 +, Dynamic HDR. The receiver comes with eleven channels and produces 140 W (8 Ω, 20 Hz – 20 kHz). Additionally, the latest HDCP 2.3 copy protection standard is supported on all HDMI ports.
A distinctive feature of the device is the IMAX Enhanced certification. The receiver supports Dolby Atmos and DTS: X object-based surround formats, as well as virtual Dolby Atmos Height and DTS Virtual: X speaker emulation.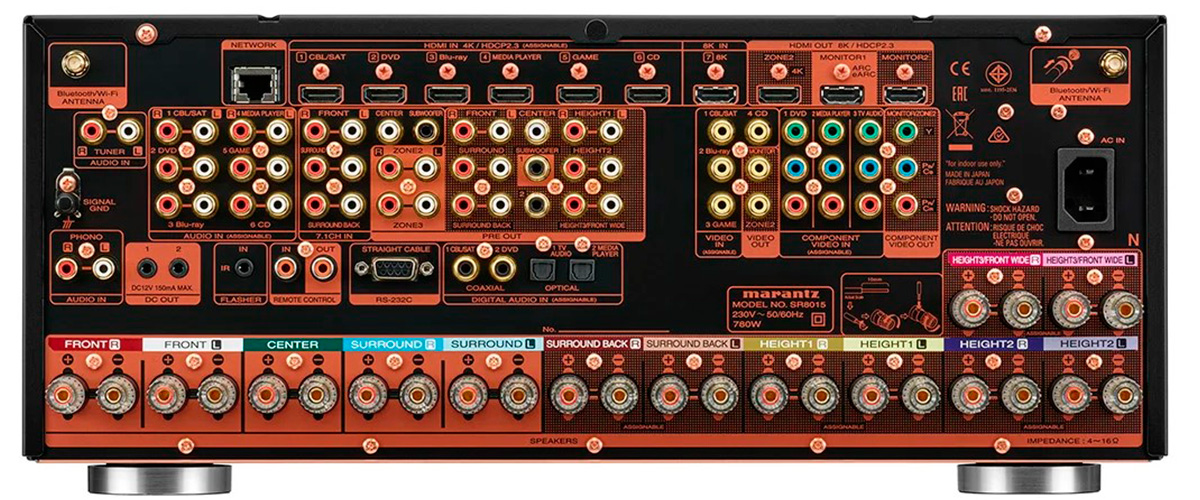 The model is equipped with the MultEQ XT32 system for automatic sound equalization for the acoustic characteristics of the room. The SR8015 supports HEOS wireless multi-room technology and audio playback over the network and from external USB storage devices up to 24-bit / 192 kHz for 5.6 MHz PCM and DSD streams.
This Marantz receiver meets the demands of today's PC gaming. First of all, it supports video with a resolution of 4K and a refresh rate of 120 Hz, Quick Frame Transport (QFT) technology and automatic low latency mode (ALLM). In fact, this is the best receiver for 4K TV. Speaking of sound, the SR8015 offers great sound quality, producing an incredible amount of space and detail. The mentioned model has both the power and the refinement to inspire you.
Key specs
Channels: 11.2
Stereo power, W: 140, 175
Impedance, Ohm: 8, 6
THD, %: 0.05
Pros
Thanks to the centrally-mounted toroidal transformer, the receiver achieves a perfect mechanical balance
You will find 8 HDMI inputs on the receiver along with three outputs which helps to stay compatible with all your preferred sources
Works perfectly with most prominent voice agents: Apple Siri, Josh.ai, Amazon Alexa, or Google Assistant
Cons
Can get hot during heavy use
Denon AVR-S540BT – best budget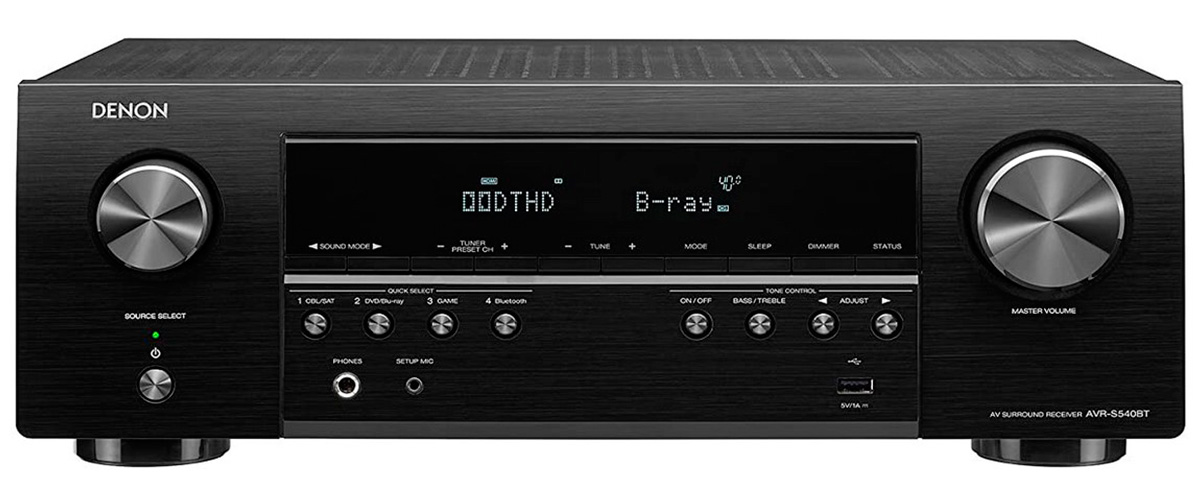 Some call this device an entry-level receiver, but I call it the best budget 4K receiver. Denon AVR-S540BT has a couple of analog and digital inputs and dual subwoofer outs. Along the top is a row of 5 HDMI inputs and one output. Three of the HDMI inputs support HDCP 2.2, HLG, HDR, BT.2020, and 4:4:4 color sampling. The output you will find there supports 4K video and HDCP 2.2.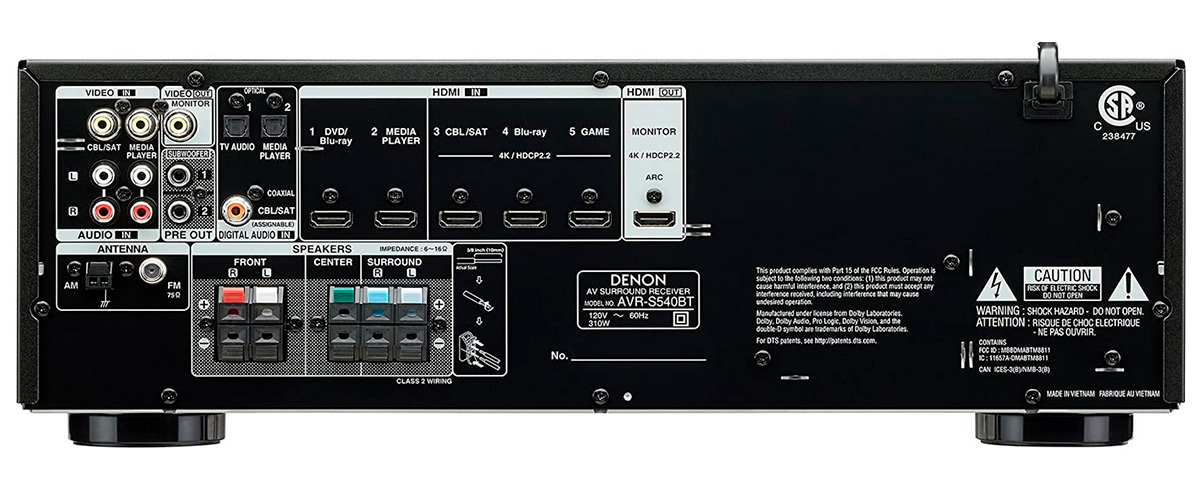 This 4K HDR receiver with 5 channels outputs up to 70W per channel at 8 Ohms, or 90W per channel at 6 Ohms. The considered 5.2 4K receiver supports Bluetooth wireless connectivity and a front-panel USB input, which will accept compatible portable USB devices.
Key specs
Channels: 5.2
Stereo power, W: 70, 90
Impedance, Ohm: 8, 6
THD, %: 0.08
Pros
The Denon 500 Series Remote app for iOS and Android allows you to adjust volume, turn the receiver on or off, and use some other functions
Adjusts the EQ settings to your preferences for each media source
Can play back a range of audio file types including MP3, WMA, FLAC, and MPEG-4/AAC tracks
Cons
Does not work with Amazon Alexa
Yamaha RX-V685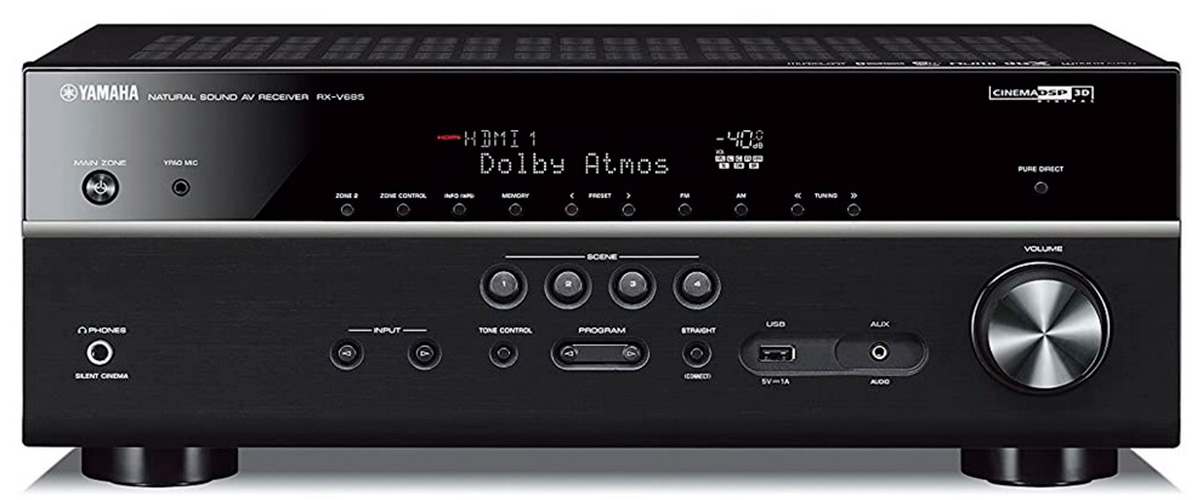 Let me tell you about a 7.2 4K receiver with advanced features and improved functionality, including dual HDMI outputs and the ability to support MusicCast Surround. Its output power is 90 watt per channel. Integration of the Yamaha RX-V685 into your home computer network provides access to broadcasts of many Internet radio stations and popular streaming services Deezer, Spotify, Napster and some others. The considered AV receiver provides transmission of 4K video at 60 frames/second pass-through. Yamaha RX-V685 supports HDR video including Dolby Vision and Hybrid Log-Gamma.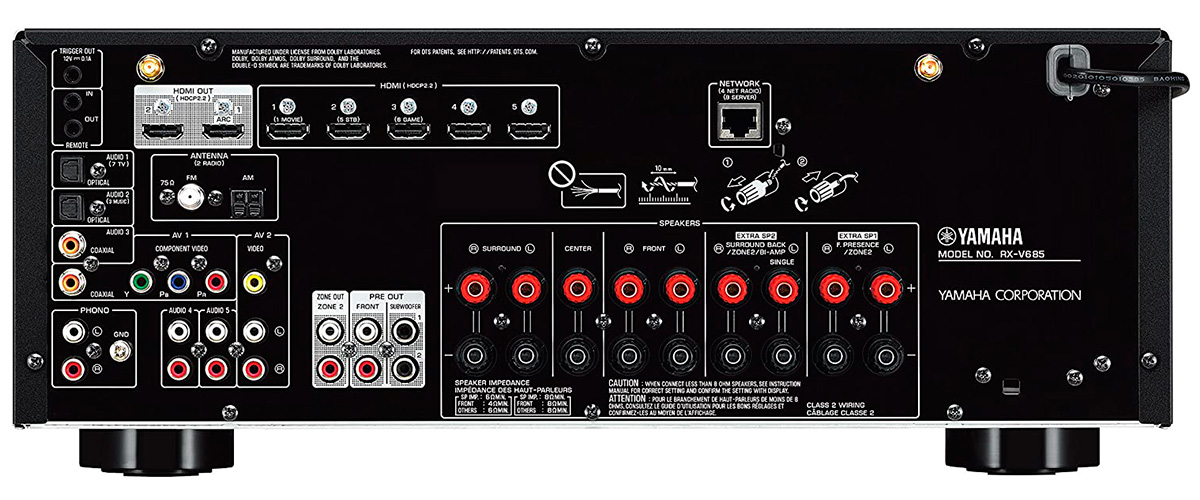 The model supports HDCP 2.3 copy protection. The sound of a cinema system based on the Yamaha RX-V685 combines accurate elaboration of the finest nuances of audio content and excellent localization of virtual sound sources in space with the ability to convey the scale and energy of intense scenes of modern blockbusters.
Key specs
Channels: 7.2
Stereo power, W: 90, 150
Impedance, Ohm: 8, 4
THD, %: 0.06
Pros
You can integrate the device into a home computer network either by wired method via Ethernet or via Wi-Fi
In addition to the complete remote control, you are able to control the receiver over the network from any portable gadget running iOS or Android
Supports the Airplay and Wireless Direct protocols, which allow you to transfer music directly from mobile gadgets running iOS and Android
Cons
May struggle in oversized rooms
What are 4K pass-through and 4K upscaling?
The term "4K pass-through" means that the receiver is capable of accepting a 4K signal from an image source and sending it to a compatible 4K display. To pass copy-protected 4K video, which will include all commercial 4K/UHD content for home viewing, the HDMI output of the source must be connected to the input of a receiver that supports HDCP 2.2 digital copy protection.
In fact, 4K upscaling is the scaling of all incoming video signals to 4K resolution. In low quality, certain videos would look terrible on your ultra-modern high-definition TV. But you can't just stretch the picture – it will get even worse. Artificial intelligence will help. Upscaling not only draws missing pixels, but also smooths out uneven edges, removes motion blur, expands the color range, and intelligently controls the matrix backlight.