Connecting an iPhone to a stereo or AV receiver expands the capabilities of your audio and video system, providing an easy and reliable way to play a wide variety of content. You can stream content with improved audio fidelity and enjoy having a multi-room audio setup by simply connecting your iPhone to the device. In this article, I will show you how to connect your iPhone to a stereo receiver or AVR in a simple and easy way. We will look at several connection methods, and you will choose the most suitable one for you. So, no unnecessary theory, and let's get straight to the point.
Wired connections
The first option to connect the iPhone to the amplifier is simple and widely compatible. Use a 3.5mm stereo to RCA cable to connect your iPhone's headphone jack to the RCA inputs on your stereo receiver. Ensure that the RCA inputs on your receiver are labeled correctly. Each input is usually color-coded, with red for the right channel and white for the left channel.
You can use this option if your iPhone has a Lightning port (iPhone 7 and later). Connect the Lightning end to your iPhone and the 3.5mm end to the appropriate input on your stereo receiver. This cable preserves the analog audio signal. Also, you can use a Lightning to USB camera adapter and a USB to RCA cable.
Owners of a newer iPhone with a USB-C port (iPhone 12 and later) can connect it to a 3.5mm headphone jack adapter. The first thing to do is to plug the USB-C end of the adapter into the USB-C port on your iPhone. Then, you should connect the 3.5mm end of the adapter to one end of the 3.5mm RCA cable. The final step is to connect the RCA plugs (red and white) of the cable to the corresponding RCA inputs on your receiver.
Some stereo receivers have USB audio interfaces. In this case, you can use Apple's Lightning to USB cable to connect your iPhone directly to the USB input on the unit. This option provides a digital audio connection and may offer greater sound quality.
Wireless connections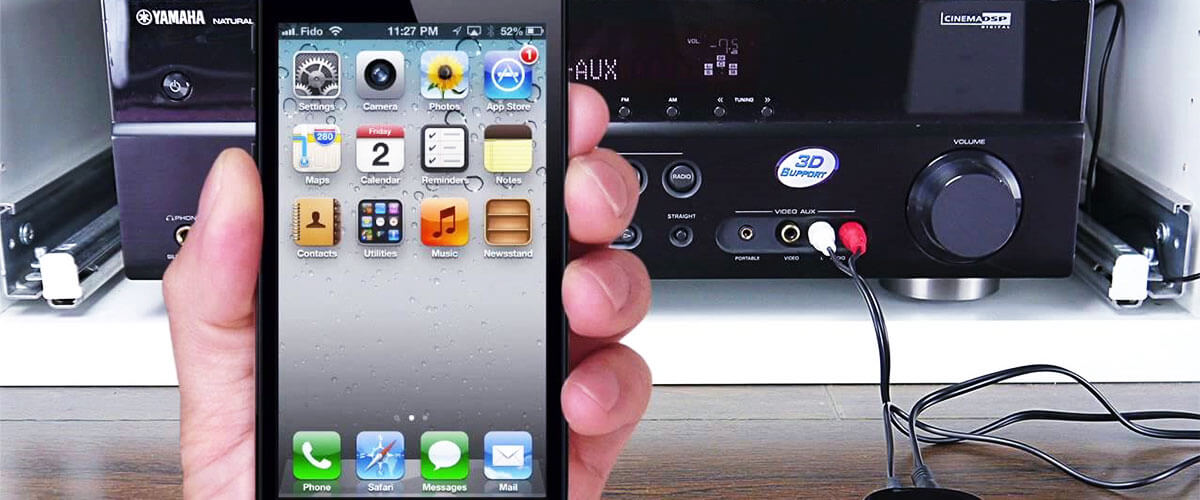 If you have an iPhone, then you definitely use AirPlay for certain purposes, and an AV receiver shouldn't be an exception. I'm sure you're aware that AirPlay is an Apple-specific wireless streaming technology. Most modern AV receivers support it. So you just make sure that both your devices are connected to the same Wi-Fi network and do the following:
Open the Control Center on your iPhone.
A list of available AirPlay devices on your network will appear. Select the AirPlay-enabled device.
Check if AirPlay is set on the receiver to accept connections from your iPhone.
Look for an indication on the receiver that it is connected to your iPhone.
Both stereo and AV receivers today include Bluetooth capabilities. If you choose to connect them this way, it's also a pretty simple procedure:
Enable Bluetooth on your iPhone.
Put your Bluetooth receiver into pairing mode.
Scan for available devices and choose the AVR to initiate the pairing process.
If your receiver requires a pairing code, enter it on your iPhone.
Check if the connection is confirmed on both devices and complete the process.
In order to connect an iPhone to an old version of a stereo amplifier wirelessly, which doesn't have built-in Bluetooth but has an available audio input, you can use a Bluetooth transmitter connected to it. Just pair your iPhone with the Bluetooth transmitter, and the audio will be wirelessly transmitted to the receiver.
Which method is best for you?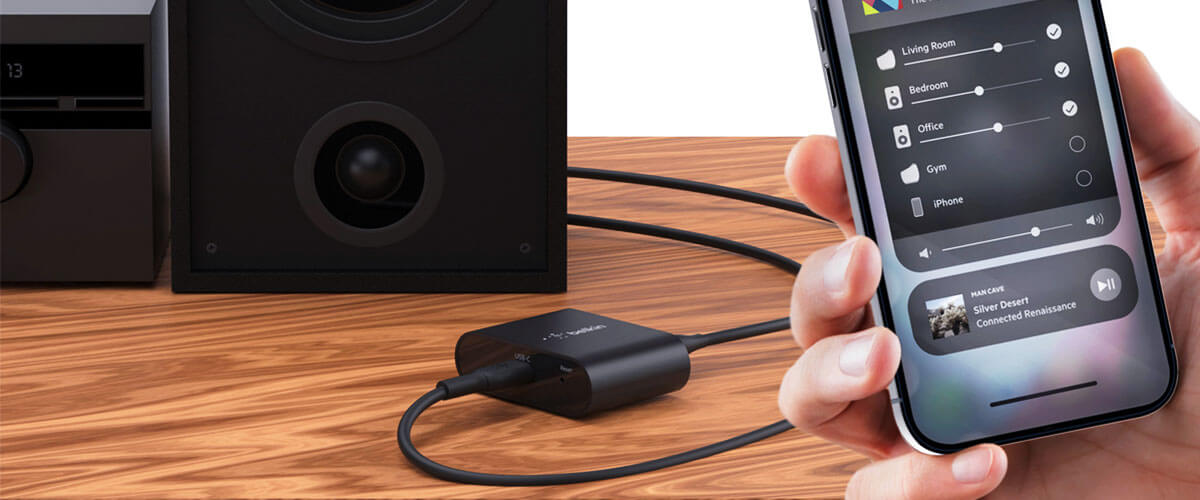 The way you choose to connect your iPhone to an AV receiver depends on the capabilities of the equipment. Any type of receiver supports a wired connection. Let's consider the next: if your receiver has available RCA or USB inputs, then generally, it's a reliable option with good audio quality. However, in this case, cable management may be needed.
It's hard to compete with wireless convenience nowadays, and I guess everyone prioritizes this connectivity method. If you put simplicity first, Bluetooth is a good option requiring no physical connection after initial pairing. But consider the potential quality loss for audio, especially for high-fidelity ones and limited range (typically within the same room).
I recommend the AirPlay option, which is my favorite. It offers greater quality than standard Bluetooth. It allows you to maintain a stable connection over a more extensive area, especially in larger homes. The good news is that even advanced stereo receivers come with an AirPlay function.