An‌ ‌AV‌ ‌receiver‌ ‌is‌ ‌a‌ ‌multi-channel‌ ‌amplifier‌ ‌that‌ ‌receives‌ ‌and‌ ‌converts‌ ‌audio,‌ ‌video,‌ ‌and‌ ‌radio‌ ‌signals‌ ‌from‌ ‌a‌ ‌variety‌ ‌of‌ ‌sources.‌
Its‌ ‌main‌ ‌task‌ ‌is‌ ‌to‌ ‌decode‌ ‌a‌ ‌multichannel‌ ‌digital‌ ‌signal,‌ ‌amplify‌ ‌sound,‌ ‌and‌ ‌switch‌ ‌signals‌ ‌that‌ ‌come‌ ‌from‌ ‌the‌ ‌source‌ ‌to‌ ‌the‌ ‌playback‌ ‌device.‌
AV Receiver Functionality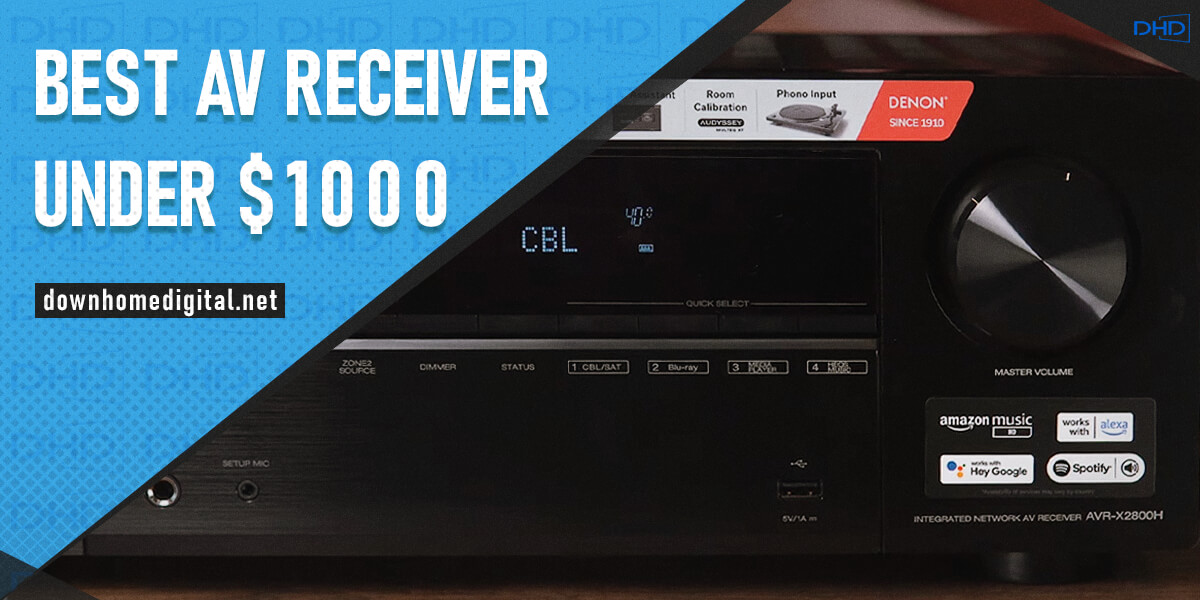 Signal amplification
One of the most important functions of a receiver is signal amplification. The receiver is receiving a signal from a source (player, TV, or other sources). If it is digital, the receiver first converts it to analog and then amplifies it to increase the volume or adjust the level of frequencies (high, middle, low).
Video switching
The receiver combines all the video signals from multiple sources into one, freeing your room from the web of wires and easily managing all available video sources.
Audio decoding
All modern DVD and Blu-Ray discs have a multichannel recording, that is, for each speaker, there is its soundtrack with certain content and volume. The parameters of each audio track are recorded on the disc as codes. To get exactly the sound that is recorded on the disc, the receiver must correctly decode the information, and for this, it is equipped with special decoders.
Modern receivers can handle high definition formats Dolby Digital Plus, Dolby TrueHD, DTS-HD Master Audio, and uncompressed PCM signal.
DSP Modes
Some AV receiver models are equipped with DSP digital audio processing. This allows you to add special effects to the sound – like being in a stadium, etc.
Multiroom
The multi-room function is the ability of the receiver to play music in several rooms at once in your house. Moreover, depending on the model of the receiver, not only audio but also video signal can be redirected to the next room.
Automatic sound tuning
Many modern receivers are equipped with an auto-calibration function or automatic adjustment of sound parameters. The main purpose of such adjustment is to adjust the optimal sound volume, time delays in different channels and create the most comfortable sound tone.
Video enhancement functions
Some receivers have an upscaling function that can convert video to a higher quality format. Latest generation receivers upscale video resolution up to 4K.
Input and output interfaces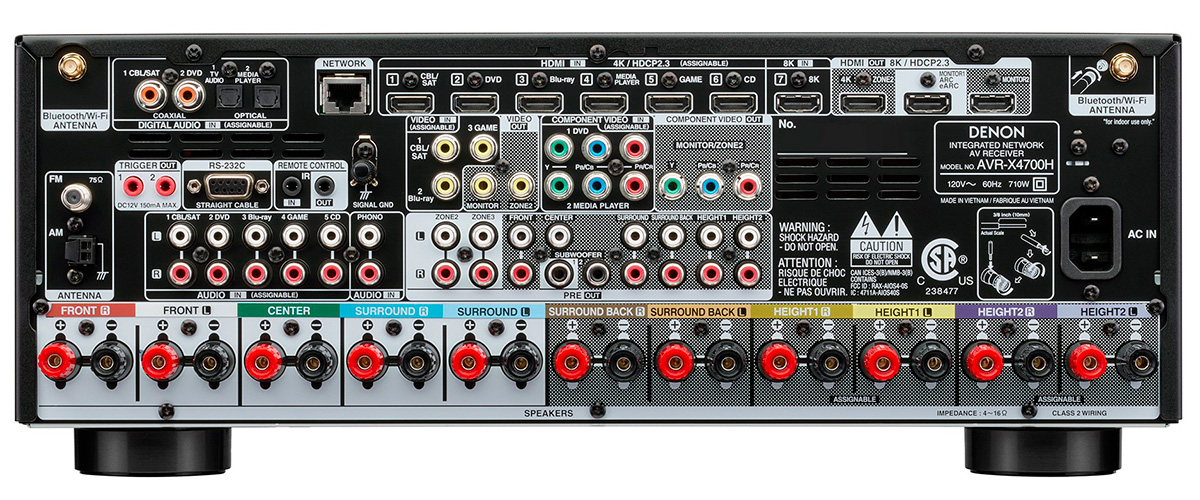 Receivers often have many interfaces and terminals for connecting everything that users need. Interfaces are divided into audio and video.
Sound interfaces
RCA – analog stereo audio is connected through this jack.
S / PDIF is an interface through which audio data is transmitted in digital format. This interface can be of two types – coaxial with RCA connectors and optical with TOSLINK connectors (transmits a higher quality signal).
Video transmission interfac
A/V (RCA Composite Video) is an interface for transmitting an analog video signal. The interface consists of three connectors, one of which transmits video, and the other two – audio.
S-Video – the interface provides good signal quality, clearer and more colorful image compared to composite video. Only video transmission is possible, without sound.
SCART – used to connect a TV and other equipment. This interface can support stereo audio, S-Video, RGB.
Component Interface – This connector allows high definition signals up to 1080i.
HDMI is the most popular and versatile modern type of digital connection that simultaneously carries high definition video and multi-channel audio. Today, every modern receiver is equipped with multiple HDMI connectors for connecting multiple devices simultaneously.
Connecting devices to the receiver
Any receiver is designed to be used in tandem with other equipment. As a standard, you can connect to any receiver – TV, DVD or BluRay-player, projector, VCR, camera, photo camera, game console. Some models are even compatible with turntables.
Most modern receivers have interfaces for connecting to MP3 players, iPhones, PCs, and other computer equipment via USB, Ethernet cables, HDMI ports, as well as external hard drives via USB. Besides, most models of receivers support built-in wireless technologies – AirPlay, Bluetooth, Wi-Fi.
Firmware and update
If your receiver also has built-in Wi-Fi, you can easily connect to your home network to update the firmware. Manufacturers and programmers regularly modify, improve the firmware of the receivers so that they provide the best possible operation of the device.
The software updating will help get rid of freezes and other failures in the receiver. Perhaps new channels will appear in the updated firmware, new functions will start working, the receiver will be able to read media files from external media, go online to watch the weather forecast or videos on YouTube.
Most importantly, be careful and choose the software specifically for your receiver model. Incorrectly, selected firmware can ruin your receiver so badly that you have to buy a new one.
AV receiver control
You can control the receiver in the following ways:
using buttons on the device itself;
using the remote control;
through the web interface of the device and a computer connected to the local network;
using special installation programs and a computer via a local network;
through iPhones, iPads, and similar devices on Android.
Parameters to pay attention to when choosing a receiver
Choosing a receiver, you can rely on your ideas about the nature of the sound, usability, design, but several parameters must be taken into account.
Power consumption
In the technical specifications, the manufacturer usually indicates the average power of the receiver, which does not give a complete picture of the power of each specific amplifier. The choice of a receiver with a particular power depends on many parameters: the size of the room, the characteristics of the acoustics and the subwoofer, etc.
Receiver impedance
The choice of impedance receiver directly depends on the speaker system that you are going to connect to it. The lower the speaker impedance, the more load it gives to the AV receiver.
Number of channels
Another important parameter is how many speakers the selected receiver can work with, or how many amplification channels it has. The most common speaker configurations are 5 or 7 channels, but there are also 9 or 11 channels. Consider your speaker system when choosing a receiver.
Number of interfaces
Try to determine in advance what devices and what equipment will be connected to your receiver. And then look for a receiver that meets your requirements.
Since the receiver can be called the heart of a home theater, then the choice of this device must be approached as responsibly as possible. The sound quality of modern acoustics and the clarity of the image on the home theater screen depend on how accurately and correctly you selected the receiver.