Marantz high-end audio products are famous for their excellent quality and impressive performance. Here, I'm going to tell you about the best Marantz receiver.
Marantz was founded in New York, but at the moment it is based in Japan. Lots of audiophiles all over the globe prefer receivers created by this brand. Below, you will find descriptions of each Marantz device that is worth your attention. After reading this info you will be able to select the most suitable receiver for you. One of the criteria I used when looking for decent products was a price. Whatever your budget is, you can get a great receiver from Marantz. Keep reading and see yourself!
Our pick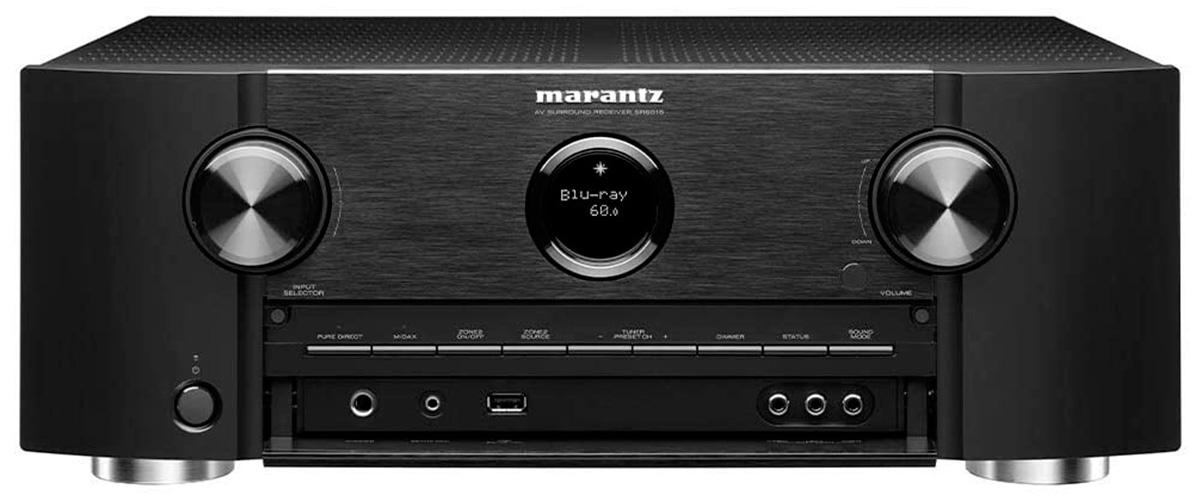 Marantz SR6015
Best Marantz Receiver
Drive exquisitely detailed home cinema with the Marantz SR6015 9.2 channel 8K AV receiver. Enjoy the most musical sound in all your entertainment.
Marantz Receivers Comparison Table
Receivers
Channels
Stereo power, W/Ohm
THD, %
Review
Marantz SR6015

best overall

9.2
110/8, 150/6
0.08
Review
Marantz SR5014

best budget

7.2
100/8, 180/6
0.08
Review
Marantz SR7015

best premium

9.2
180/6
0.05
Review
Best Marantz Receivers Reviews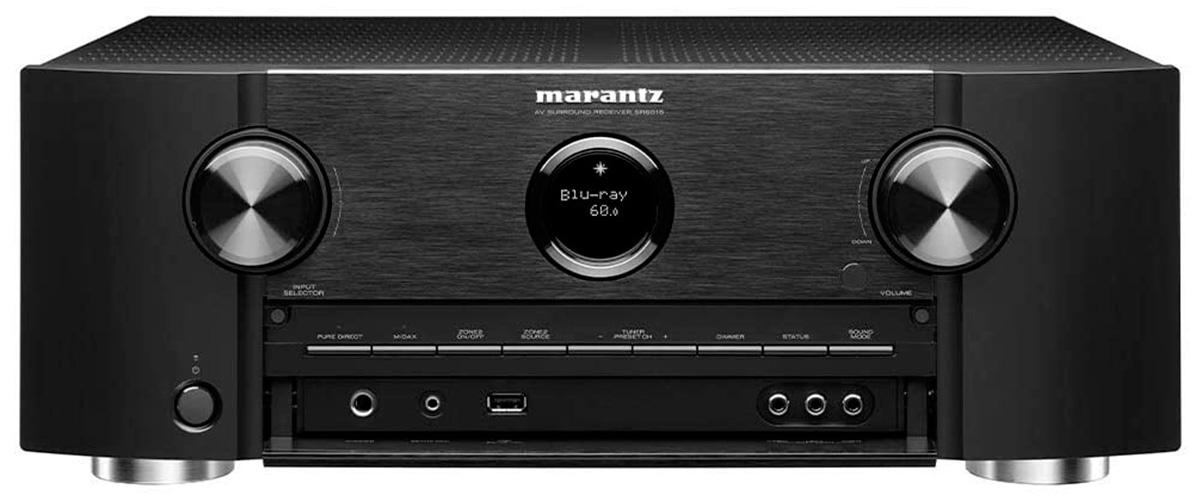 The high-end Marantz SR6015 AV receiver has 9 channels of audio amplification and is equipped with an 11.2 channel processor for further expansion of the system based on it. This model has a set of the most advanced functions and supports all the latest image and sound processing formats. HDMI switching in the Marantz SR6015 (7 HDMI inputs and 3 outputs) provides video signal transmission with 8K/60 Hz and 4K/120 Hz parameters, which will appeal to both fans of home watching movies and fans of modern computer games. In addition, the receiver supports the latest HDR formats including HDR10, HDR10 +, HLG, Dolby Vision, and Dynamic HDR for exceptional picture quality from movies and TV.
Marantz SR6015 processor can decode Dolby Atmos and DTS: X HD Master 3D formats, and is capable of generating virtual pitch channels for standard soundtracks. The system uses the latest Audyssey MultEQ XT32 technology with the optional Sub EQ HT for smoother bass response to suit any room.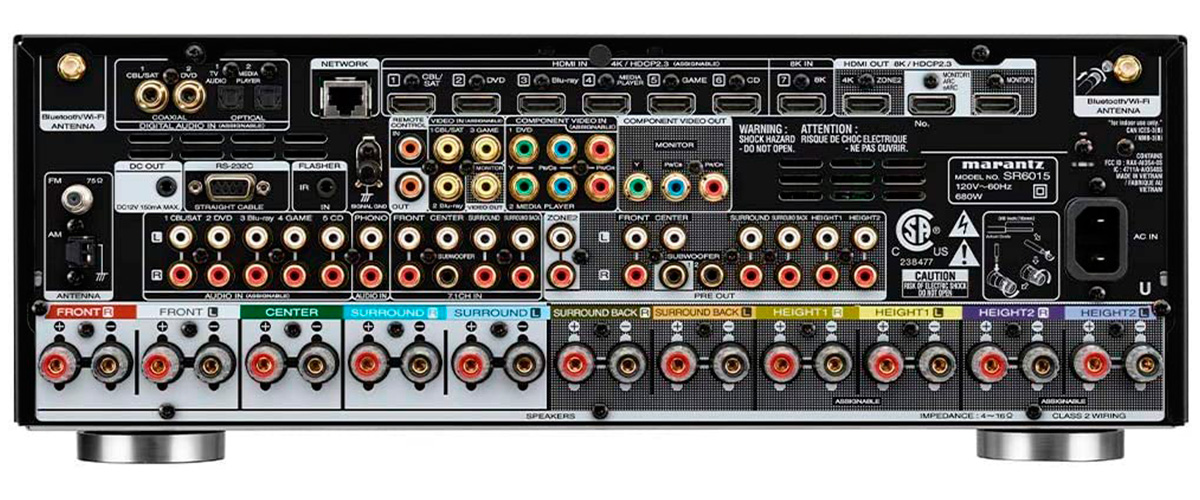 The AV receiver's superior performance is backed by the prestigious IMAX Enhanced certification. Marantz SR6015 can stream high-resolution audio up to 24-bit/192 kHz and DSD 5.6 MHz from popular services (Spotify Free and Premium, Amazon Music HD, Tidal), network devices, and USB storage devices. The audio part of the AV receiver uses high-quality components, including proprietary HDAM modules, 32-bit AKM AK4458 DACs and other patented solutions. Wireless technologies in the Marantz SR6015 are Wi-Fi, AirPlay 2, or Bluetooth. Moreover, this model also supports proprietary HEOS multi-room technology.
Key specs
Channels: 9.2
Stereo power, W: 110, 150
Impedance, Ohm: 8, 6
THD, %: 0.08
Pros
The amplifiers in the AV receiver are discrete components and provide significant output current, making it easy to handle even complex acoustics
Supports popular voice assistants Amazon Alexa, Google Assistant and Apple Siri
The receiver's main HDMI output supports the extended audio return channel eARC for any soundtrack
Cons
No Auro 3D with Auro-Matic up-mixer
Does not work with SONOS
Marantz SR5014 – best budget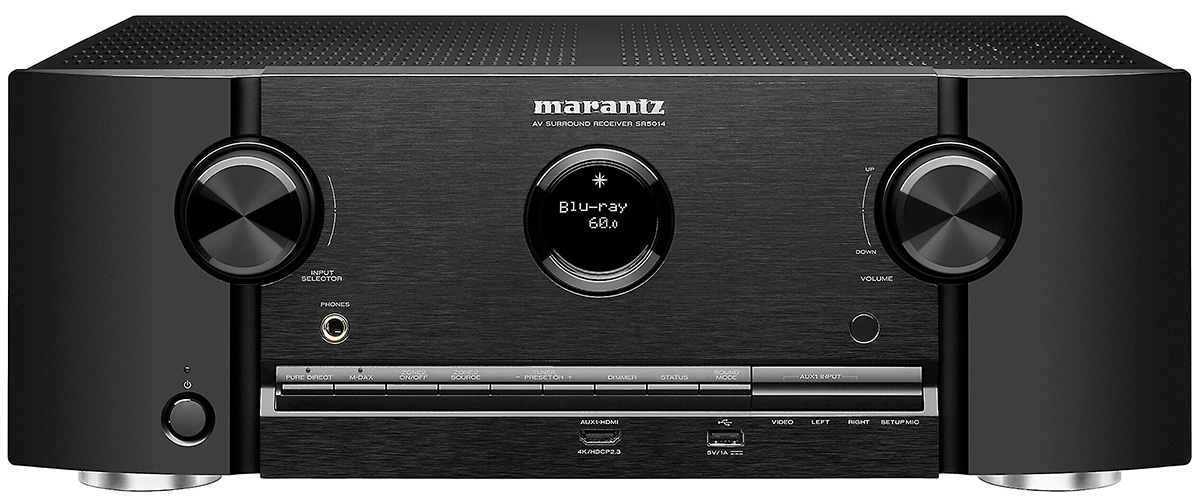 Let's take a look at one of the best Marantz receivers for a maximum affordable price. This unit is equipped with discrete amplifiers. Their power is 100 watts per channel. The receiver is equipped with a new generation of amplification modules – HDAM, which provide high quality audio without distortion and a wide dynamic range during high-resolution audio playback.
The receiver is capable of decoding signals with a resolution of 24bit/192kHz from ALAC, FLAC, and WAV audio files without any loss. This feature allows listeners to perceive the recordings exactly in the same quality in which they were recorded in the studio. As the main advantages in terms of commutation, it is important to note the presence of eight HDMI inputs.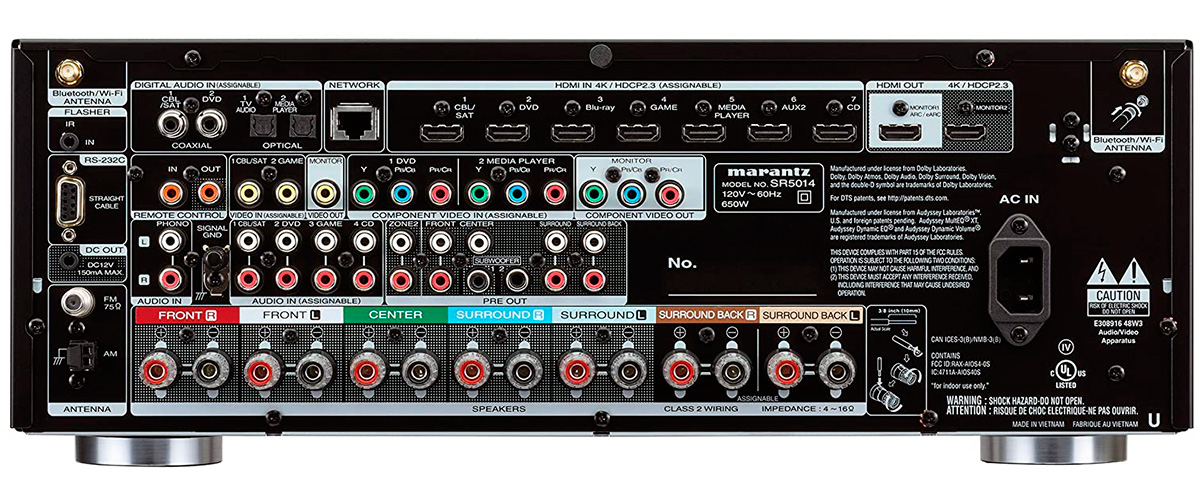 The built-in Audyssey MultEQ XT system automatically analyzes the locations and distances to the speakers, determines their parameters and adjusts, taking into account the architectural specifics of the room, the optimal sound exactly for the place where the listener is.
Vinyl fans can enjoy the clarity of their favorite turntables by connecting a turntable to the phono input. With this device, you will get the legendary Marantz signature sound that's particularly smooth, natural, and crisp. The sound at high frequencies is extremely clear, the mids are incredibly saturated, and the bass is powerful and deep.
Key specs
Channels: 7.2
Stereo power, W: 100, 180
Impedance, Ohm: 8, 6
THD, %: 0.08
Pros
The device supports Dolby Vision and the new HLG technology, which is currently the most advanced option for transmitting HDR images
Equipped with Wi-Fi, Ethernet and works with many popular online services
Capable of processing high-definition video 4K/60Hz, with support for dynamic brightness expansion technology – HDR 10 and BT.2020
Cons
It's not possible to listen to digital radio via a DAB+ signal
Marantz SR7015 – best premium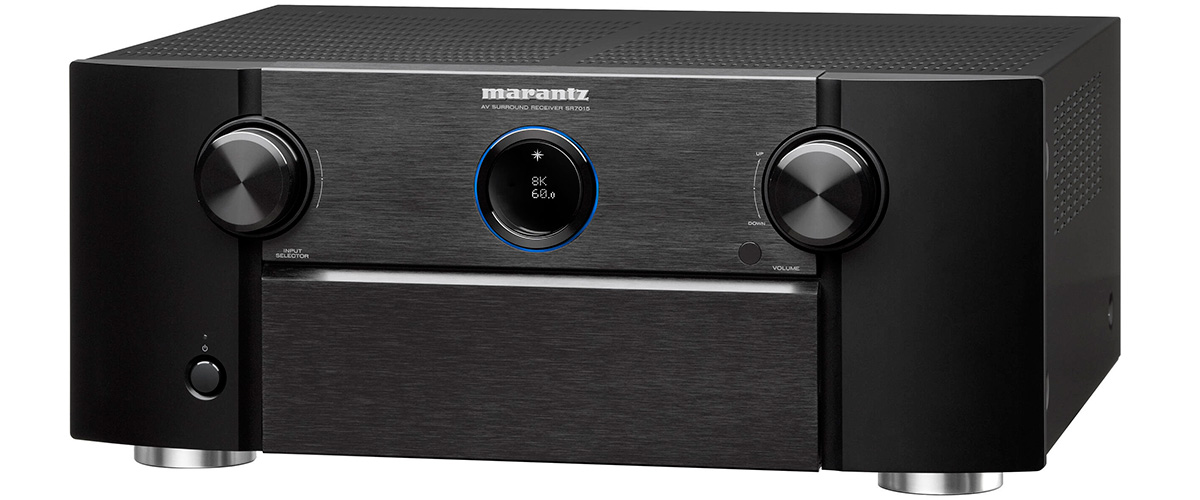 Wanna get the best sounding Marantz receiver? Consider this premium device. Marantz SR7015 uses nine discrete high current power amplifiers delivering an equal output of 200 watts. The AV receiver can operate with low impedance acoustics, which makes it sound more balanced.
The device supports Dolby Atmos, DTS: X and Auro-3D (up to 11.2 channels processing) and is IMAX Enhanced certified. It also features enhanced eARC technology and delivers high dynamic range video: HDR10, HLG, HDR10 + and Dolby Vision. For PC gamers, the device offers 4K/120Hz pass-through, VRR, ALLM, and QFT support.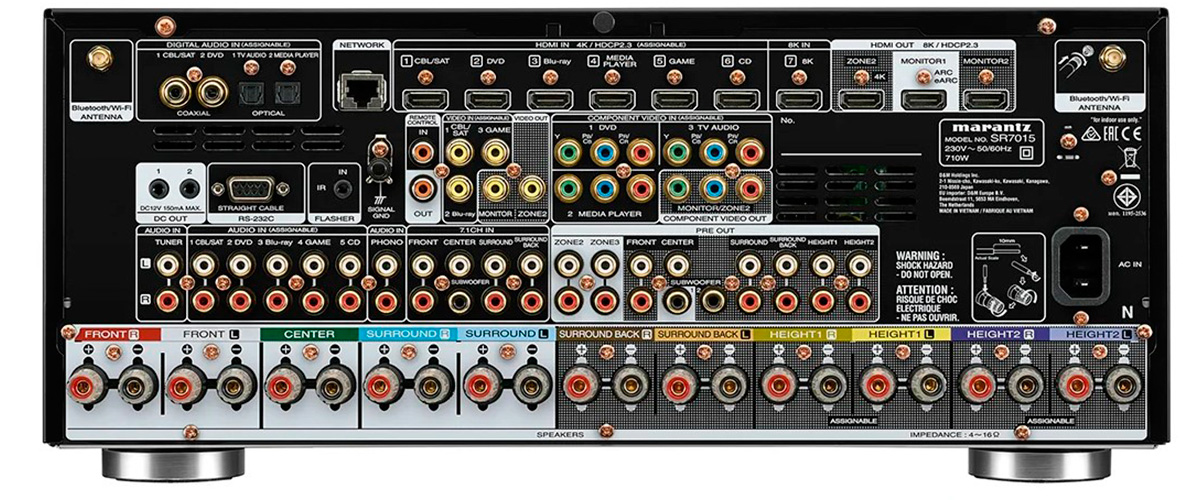 Marantz SR7015 has matte sides of the metal front panel which is a classic design for this class of models. On the left side is the input selection knob, and on the right is the volume control. Between them is a round display with blue backlighting, which can be turned off if needed. The AV receiver has eight HDMI inputs (seven at the rear and one at the front) and three HDMI outputs. One of the HDMI inputs and two HDMI outputs support 8K/60Hz and 4K/120Hz video (up to 40Gbps), and the main HDMI output also supports eARC (Extended Audio Return Channel).
Key specs
Channels: 9.2
Stereo power, W: 180
Impedance, Ohm: 6
THD, %: 0.05
Pros
Voice control support Amazon Alexa, Google Assistant, Apple Siri
The ability to control the receiver using the Marantz Remote App
It is possible to connect Apple devices using AirPlay 2 technology
HEOS multi-room technology provides access to various music services such as Spotify, Tidal, Amazon Prime Music, TuneIn, Soundcloud, Pandora
Cons
Does not come with a Front Wide Channel Support