On the market, you will find plenty of various models. Each of them provides various quality of sound, which may also depend on the price.
By getting the best budget subwoofer, you will be satisfied with costs and quality. However, people often think that low price means poor quality. In fact, it is a bit different.
If you are an audiophile beginner, you may not want to spend too much on the most expensive subwoofers. Budget models can provide you a new experience of listening to music or watching movies. By learning more about everything is connected with sound quality, people with a time get new models to receive another level of sounds and satisfy personal tastes.
Musicians and those who know more about audio equipment, subwoofers are money investments. To get the most suitable option, it is important to find out everything about the loudspeaker you plan to buy. Even a budget sub can be useful to professionals, which saves them their money.
Our pick
BIC America F12
Best Budget Subwoofer
The 12″ front-firing F-12 powered subwoofer incorporates a high current 475-watt peak amplifier designed by BASH Technology in combination with a 12″ injection molded long-throw woofer.
We don't recommend
Polk Audio PSW108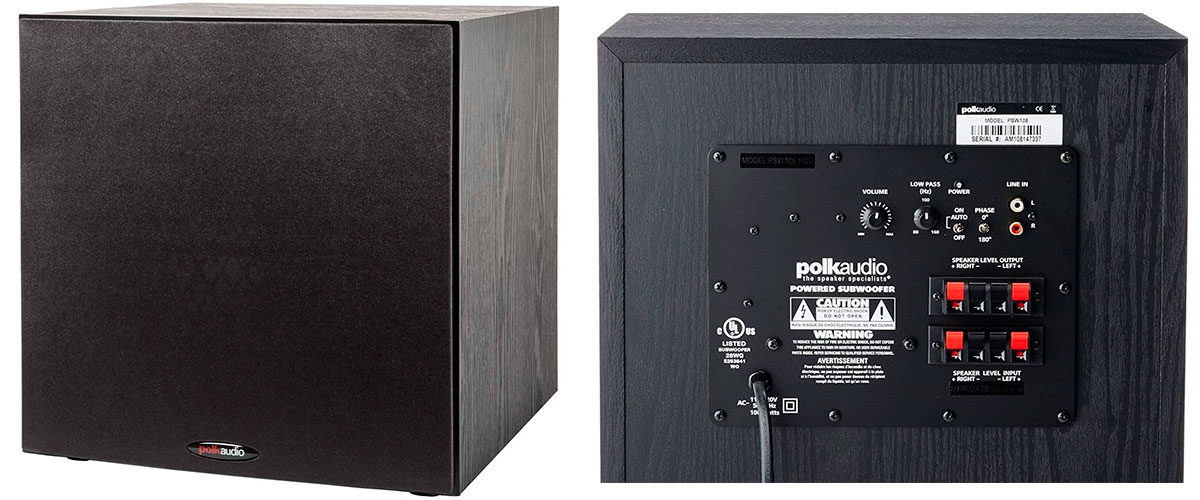 Cons
The sound quality in movies is not enough to enjoy them at full
The transformer hum is loud
Its frequency knob is not accurate what makes it difficult to adjust the subwoofer properly
Cheap Home Subwoofers Comparison Table
Subwoofers
Power, W
Driver size, inch.
Frequency response
Dimensions (H" x W" x D")
BIC America F12

best overall

150
12
25Hz-200Hz
21″ x 19″ x 22″
Review
Polk Audio PSW10

cheapest

100
10
40Hz-160Hz
16.2″ x 14″ x 14.4″
Review
Klipsch Reference R-10SWi

wireless

150
10
32Hz-120kHz
15.7″ x 12.5″ x 14″
Review
Best Budget Home Theater Subwoofer Reviews
BIC America is a longstanding manufacturer of sound equipment. It has plenty of various loudspeaker models. One of the main goals is to provide an affordable speaker to customers, and if you want to get the best budget subwoofer, you should consider BIC America F12. It is one of the most popular models of this manufacturer in the low price category.
At first glance, you see a rectangular speaker with a weight of 42.7lbs. The housing is done with an MDF board and black laminate. On the bottom side, it has rubber feet, which increase the stability of the unit. Besides, it reduces vibrations when you use BIC America F12 at loud volume levels. As a result, it will not shake and drift from its place.
This subwoofer is equipped with a 12-inch driver. At the maximum output of 475-watt, you will enjoy a wonderful sound quality. As it has front-firing, it is recommended not to place any obstacles in front of the speaker. It allows you to always receive wonderful sound.
The front side of the subwoofer does not have any LED indicators, which is better while you watch your favorite movies, as it does not disturb you. On the rear side, you have all the adjustments. There are also power controls. As you may not want to use it all the time and save power, it has a standby mode. By selecting it, you increase the life expectancy of the unit.
Additionally, you will not have difficulties using this model in combination with other speakers. Crossover and volume knobs to adjust all the needed settings.
Key specs
Power (RMS), W: 150
Driver size : 12″
Frequency response: 25Hz-200Hz
Dimensions (H x W x D) : 21″ x 19″ x 22″
Pros
It has magnetic protection to reduce unwanted noises
Possibility to easy adjust crossover and switch the phase
It does not take much time to install and start using
Cons
With long working sessions, it may get hot
Polk Audio PSW10 – cheapest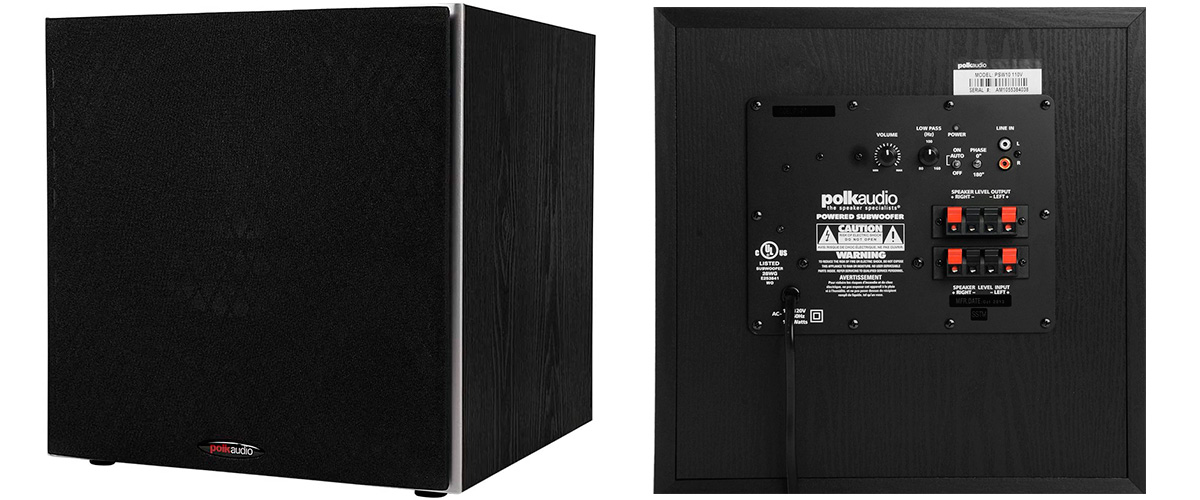 Another model that can become your best cheap subwoofer is Polk Audio PSW10. With its compact dimensions, you will not have difficulties in placing it in your room. The front side of the subwoofer is silver. However, you may not get it from the first glance as this unit has a meshed grille to protect speakers from dust. The housing is mostly made with MDF boards. Such kind of plywood increases the durability, smoothness, and sound of speakers.
On the rear side, you have all the needed settings with an inbuilt power cord: phase switch, low pass filter, and volume control.
One of the reasons why you receive sounds of nice quality is the 10-inch driver size. As it is a powered or subwoofer, you do not need to buy an additional amplifier as it is already inbuilt. It allows you to receive a wonderful and accurate sound quality in the proper combination of deep bass. With 100-watt output, you will be pleased with deep bass on low frequencies.
If you already have a sound system, you will not have difficulties in adding Polk Audio PSW10 to it. You can easily manage 80-160Hz crossover and 40-160Hz (-3dB) frequency response according to your needs. This model can also be connected with other subwoofers.
Key specs
Power (RMS), W: 100
Driver size : 10″
Frequency response: 40Hz-160Hz
Dimensions (H x W x D) : 16.2″ x 14″ x 14.4″
Pros
The subwoofer turns off automatically if the power fluctuation can damage it
Installing and connecting all needed cables is simple and fast
The square shape allows you to easily place the unit where you want
Klipsch Reference R-10SWi – wireless (optional)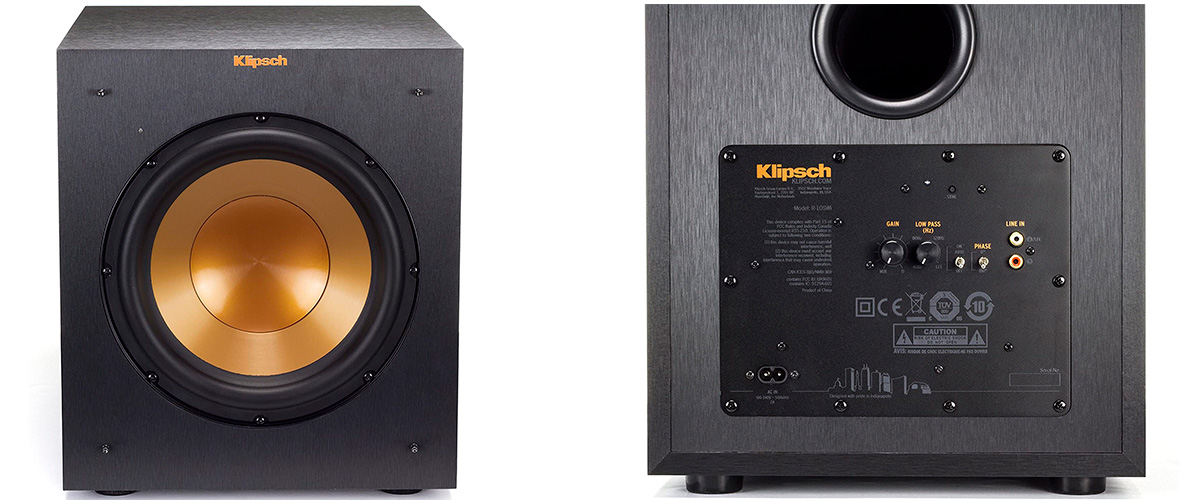 The subwoofers of the Klipsch Reference series are conceptual and designed and executed down to the smallest detail – as a timeless luxury, as eternal value, as embodied elegance, and as an example of modern design, as an absolute expression of the technical achievements of the company throughout its history. In contrast to conservative audio, Reference is in many ways open to future solutions and audio formats and anticipates them.
The Klipsch R-10SWi wireless subwoofer can be placed in any convenient location in the room, even hidden, to greatly expand the range of uses. The subwoofer has a proprietary woofer with a 10-inch driver and 300-watt peak power output, and the supplied wireless signal transmission unit can be connected to any free line-level or LFE output of an amplifier or AV receiver. The wireless connection establishes automatically in a few seconds. It allows you to put a subwoofer in any corner of the room without bothering with expensive wires.
Apart from deep rich bass, there are a number of other features. First, the speaker is in the front, which makes the bass explosive. Secondly, in addition to adjusting the volume, there is a crossover setting, which makes it possible to connect it to any system from small satellites to large three-way floor-standing systems. You can choose from which frequencies you want it to enter the sound. Third, you can change the phase by 180 degrees. A cool feature that allows you to customize it for the characteristics of the room. Fourth, in addition to LFE, there is an output to the left and right channels, like professional equipment.
The design is also very nice. Unlike boring black and white drawers, Klipsch makes its appliances in stylish black and gold, which makes it look like a piece of furniture rather than a bedside table. With the included manual, you learn more about this affordable subwoofer and how to properly place them to receive better sound quality.
Key specs
Power (RMS), W: 150
Driver size : 10″
Frequency response: 32Hz-120Hz
Dimensions (H x W x D) : 15.7″ x 12.5″ x 14″
Pros
The wireless mode has a large range of work
Clear and deep bass at low frequencies
It is made of reliable materials to use for many years
Cons
You should check whether you receive all necessary cables with a purchase or you need to buy them additionally
Polk Audio PSW505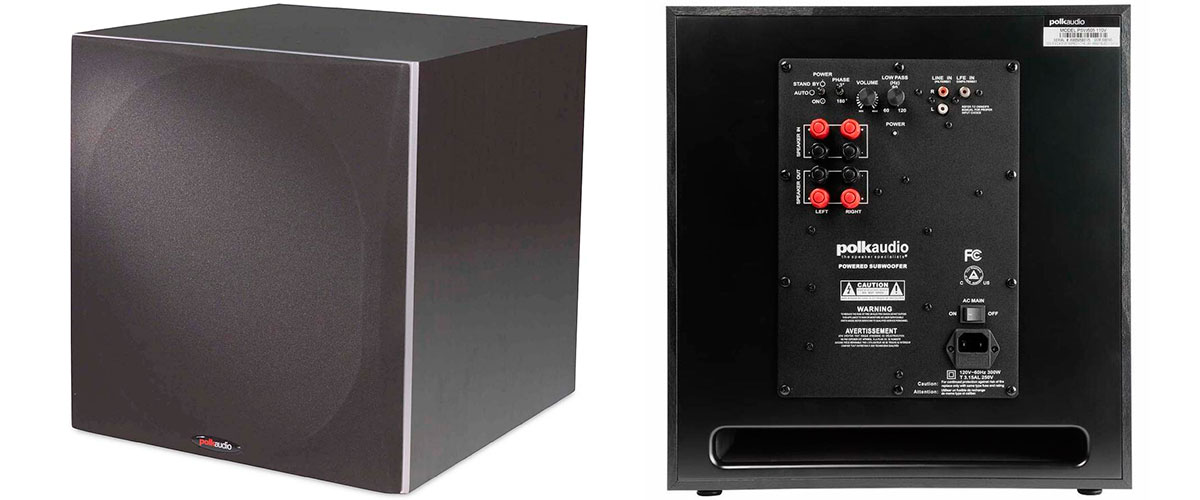 If you want to get something nice without spending much of your budget, you should consider Polk Audio PSW505. This brand is famous for its high quality and reliability. One of the main benefits is that this model belongs to the best budget powered subwoofers. Powered or active means that you do not need to buy an additional amplifier. PSW505 already has one inside. It delivers wonderful sound quality. Due to the 12-inch driver and 460-watt of output, the powerful bass is very accurate and deep.
This model also serves properly for home theatre. It produces clear sounds at low and high frequencies that properly conveys movie scenes. At quiet moments, you will not hear distortion or many unwanted sounds.
If you take a closer look at the rear side, you can find out about its connectivity. With the following inputs/outputs, you can easily manage settings: LFE input, low-pass filter, and phase switch.
With the volume and low pass knobs, you can easily manage crossover and connect PSW505 with other devices of your existing audio system. It is necessary to mention that the power cord is not inbuilt. It allows you to replace it whenever you want for shorter or longer variants depending on your needs.
Another important part of this powered budget subwoofer is its housing. It is made of MDF, which properly reduces vibrations and sound distortions.
Key specs
Power (RMS), W: 300
Driver size : 12″
Frequency response: 25Hz-125Hz
Dimensions (H x W x D) : 18.2″ x 15.2″ x 16.2″
Pros
It does not require a lot of space and can be placed on the table
This model also suitable for gaming
The installation and crossover adjustments do not take much time
Cons
At max volume, the sound is a bit distorted
Kanto sub8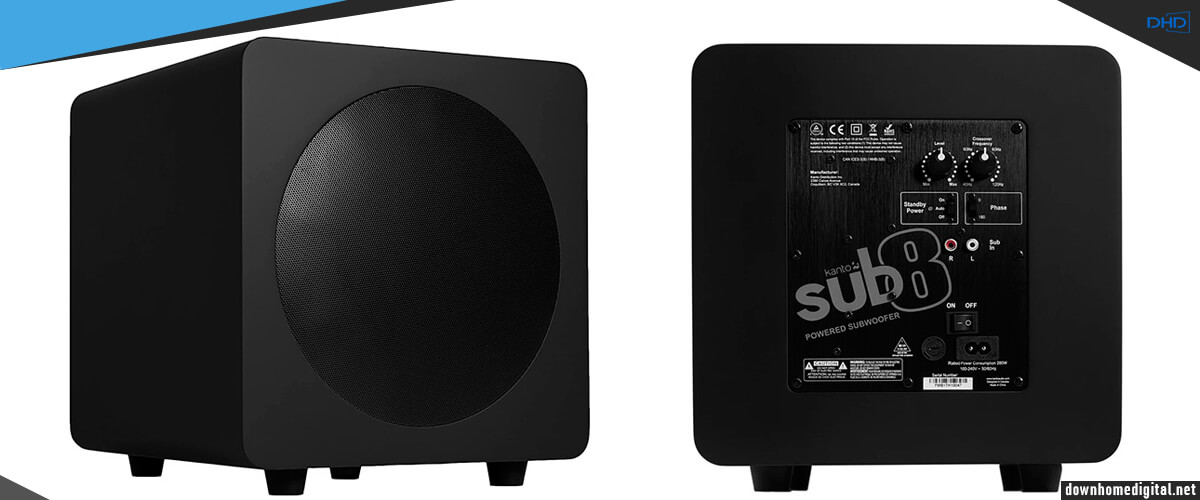 A lot of audiophiles and music lovers prefer to enjoy sounds of proper quality. This can be achieved even with the best inexpensive home subwoofer Kanto Sub8. A simple design model, which brings a lot of joy and satisfaction. With only an 8-inch drive and maximum output of 250-watts, you receive a wonderful sound quality.
It is a front-firing powered subwoofer with a design of a small box. Its rubber feet provide stability and prevent the unit from sliding due to vibrations. The entire interface is located on the rear side. There you will find the standard volume and frequency crossover knobs. RCA input with the phase switch.
In order to keep Kanto Sub8 in working order for many years, it has power management options. Instead of constantly turning the subwoofer on, there is a standby mode. When you do not listen to music, the subwoofer will start to save power. It is suitable when you use the unit periodically during the day.
Key specs
Power (RMS), W: 125
Driver size : 8″
Frequency response: 35Hz-175Hz
Dimensions (H x W x D) : 11″ x 11″ x 11.9″
Pros
This compact subwoofer does not require a lot of space
Easy to control and adjust crossover settings
You will not spend much time to take it out of the box and start using it
Cons
It has a limited sub-bass extension
Bic Acoustech PL-200 II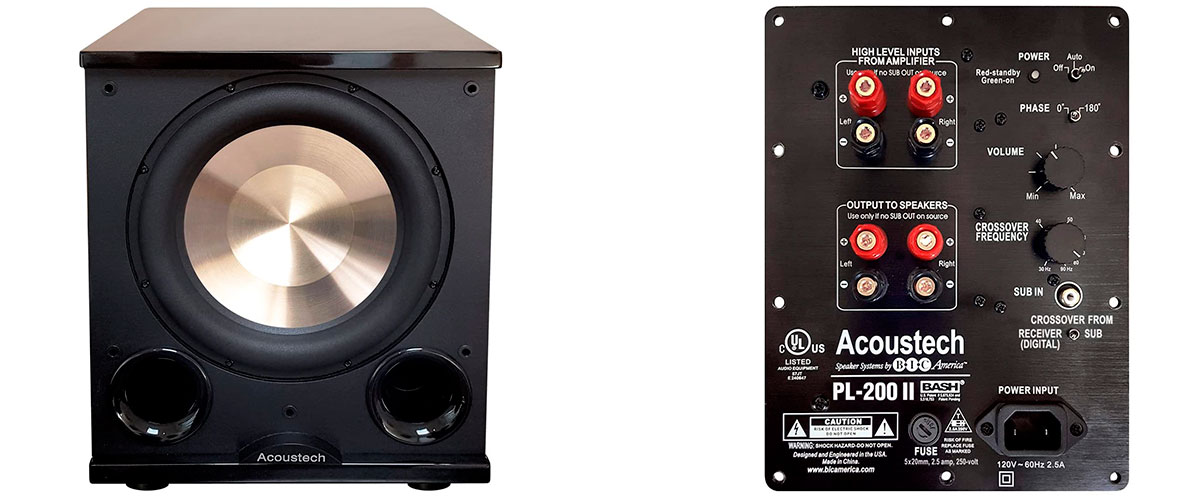 The PL-200 II model is the oldest in the line of this manufacturer, equipped with a solid driver with a 12-inch metalized polymer cone. The injection molding method made it possible to give it high rigidity and resistance to bending deformations. On the bottom, this model has four rub feet to reduce sound distortion from vibrations and prevent the unit from sliding. As it is a powered subwoofer, you save money on buying an additional amplifier.
The acoustic design is a bass reflex, the impressive port of which is brought back. The amplifier with a power of up to 1000W in peak. It is built according to the BASH scheme with maximum efficiency. The crossover is tunable in the range of 30 – 90 Hz. If necessary, it can be turned off. High-level inputs with screw terminals and line LFE are available. Provides automatic switching on by the Input signal, which is very convenient if the sub is in a hard-to-reach place.
A big plus of the PL-200 is the absence of the slightest overtones of the body, even at very high volumes. Thus, it is the best budget home theater subwoofer. It conveys theatrical effects convincingly, with due drama. The sounds of shots and explosions are very close to reality. The bass is not monotonous, on the contrary, it is distinguished by accuracy and depth.
Key specs
Power (RMS), W: 250
Driver size : 12″
Frequency response: 22Hz-200Hz
Dimensions (H x W x D) : 17.2″ x 14.8″ x 19.5″
Pros
It reproduces low frequencies in a quite collected and high-quality manner
The power cord is removable
It has a powerful built-in-in amplifier
Cons
Low basses at high volume levels could be better
What's the difference between a budget and expensive subwoofers?
A film or music can only really be enjoyed with the right music system. A lively and full bass that comes from a subwoofer ensures the first-class and optimal sound. Of course, the selection of subwoofers is not exactly small, and the prices may even start at small amounts.
All parts of the subwoofer enhance the quality of sound you receive. It is obvious that in very expensive models, you receive top constituent parts. However, it does not mean that you cannot receive decent quality with an entry level subwoofer. There are some important points which you need to consider while buying subwoofers. It will allow you to enjoy your favorite music and movies without spending large sums of money.
Low tones
As is well known, the subwoofer specializes in deep bass and is therefore perfect for films and music that work with bass. This means that the use of a subwoofer only makes sense if there is enough bass.
Internal amplification
In general, a distinction is made between passive and active subwoofers, as described above. The active variant has internal amplification and dominates the market, as the subwoofer test shows. The deep bass capability is determined by the electronics used and less by the existing size.
Material and workmanship
Before buying a subwoofer, you need to take a close look at its workmanship and the materials used. High-quality and scratch-resistant materials are ideal so that the housing looks high-quality and solid. Plastic or plastic is often a sign of inferior quality.
Sound quality
The most important criterion for a subwoofer is sound quality. It should always tackle its work powerfully, confidently, and without annoying additional noises or echoes. Besides, it must be ensured that the subwoofer appropriately accompanies quiet passages and that higher pitches rise in a relaxed manner.