So, if you are here, you are obviously interested in subwoofers or want to buy such a device. Among the models on the market, there are 2 main types: active and passive. The main difference between an active and passive subwoofer is the built-in amplifier. The active ones have it, and the passive ones do not. Nevertheless, it is the passive subwoofers that can produce better sound. So how to find the best passive subwoofer? And that's where I and my review on this topic will help you. But first, a little bit about the technology itself.
Our pick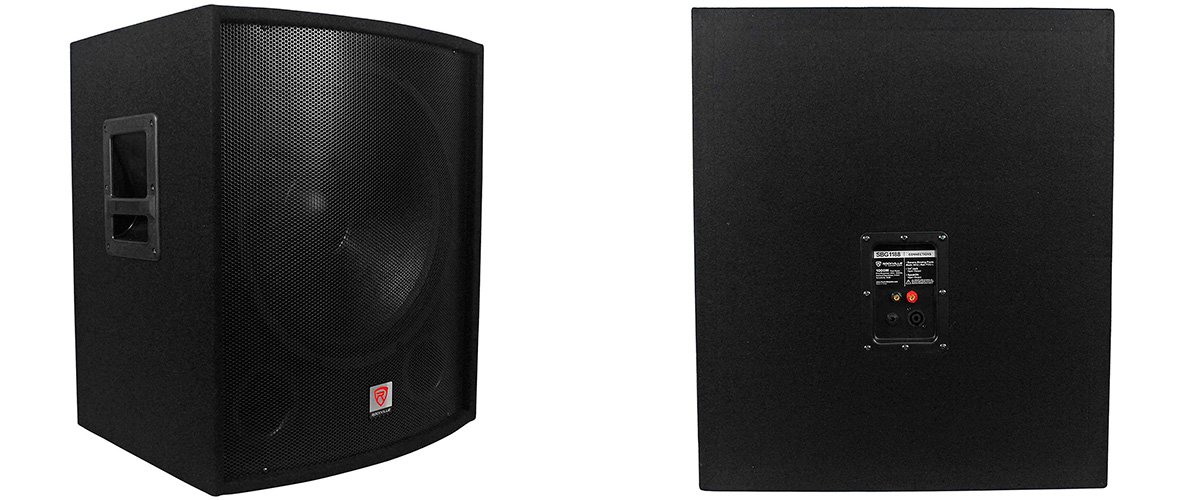 Rockville SBG1188
Best passive subwoofer
The Rockville SBG1188 subwoofer has an 18-inches driver, 1000 Watts peak power handling, and 500 watts RMS, giving a powerful, tight low-end to your sound system.
Read the full review
.
The passive subwoofer is a classic because the original form was already built that way. The subwoofer itself has only one diaphragm and generates no power. That power comes from the power amplifier. So the power amplifier needs both the power and the input from the speakers. That's why a passive home subwoofer would be a great addition to your home theater system. Get ready-we're getting to the fun part!
Passive subwoofers comparison table
Name
Power, W
Driver size, inch.
Frequency response
Dimensions, inch (HxWxD)
Review
Rockville SBG1188

best overall

500
18
20Hz-500Hz
26×13.2×18
Review
Dayton Audio MKSX4

budget

160
4
40Hz-500Hz
16×5.9×14
Review
Electro-Voice ELX200-18S

premium

440
18
20Hz-250Hz
23.6×19.6×22.6
Review
Best passive subwoofer reviews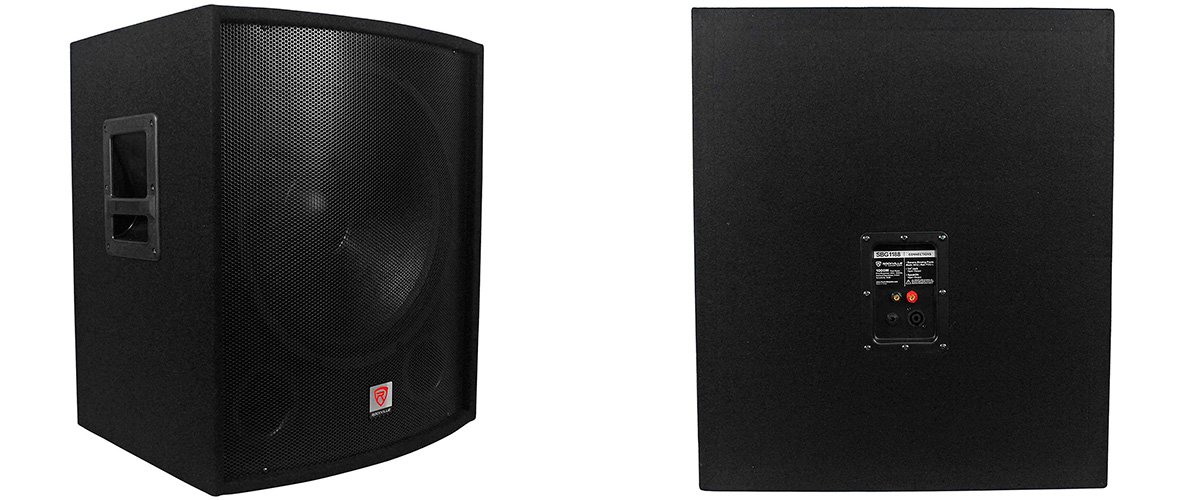 In case you want to get something special, then you need Rockville SBG1188. It is a large passive subwoofer for home theater and for enjoying favorite audio in high quality. All sound effects from movies and instruments in soundtracks you will be able to properly feel. Rockville is quite a popular brand on the market that delivers high-quality products. This model is suitable for personal and professional purposes.
At first glance, you see a large black box and imagine how powerful it is. SBG1188 has an 18 inch driver and 1000 W of peak output power. While using it at home at full volume, you will start to worry about your neighbors. On average, it delivers 500 W RMS and 750W with program power management. Another reason why you receive such wonderful sound is fast frequency responses in the range of 20-500 HZ with nominal 8 ohms impedance.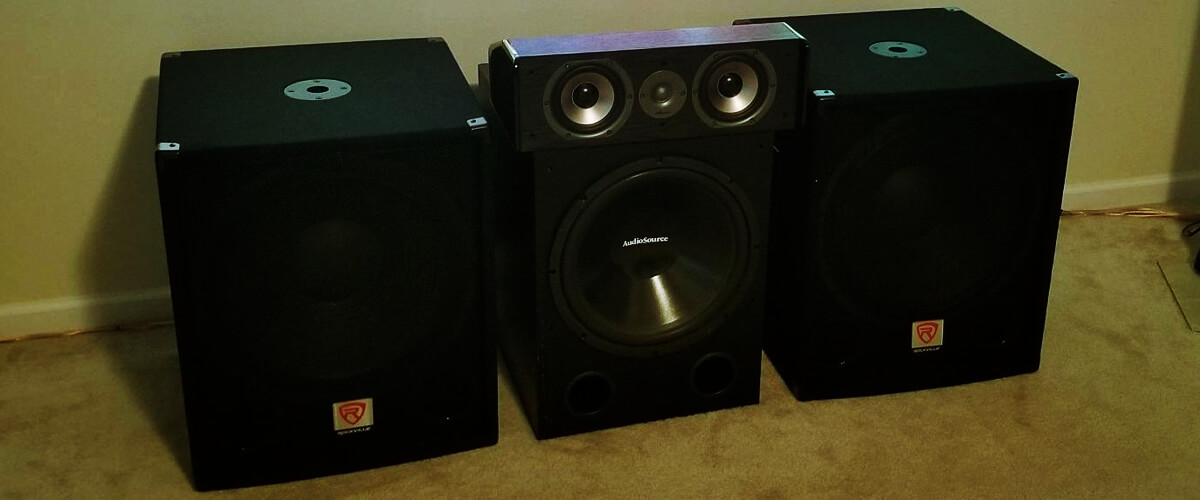 This model is a bit heavy. It weighs 53.9lbs what makes it not very suitable for weak walls. However, it can be mounted on a pole. With the unit, you receive bolts with four rubber isolating feet. Speaking about the connectivity, on the rear side, it has RCA with 1/4inch in/out jacks. All of them have parallel connections inside.
Key specs
Power (RMS), W: 500.
Driver size, inch: 18.
Frequency response: 20Hz-500Hz.
Dimensions, inch (HxWxD): 26×13.2×18.
Pros
Delivers wonderful bass
The housing is made of reliable materials to serve you for many years.
Despite its look, it is possible to lift the subwoofer alone due to lightweight materials.
The manufacturer has proper quality control of its production.
Cons
It may not always cope at very low frequencies to produce good sounding.
Dayton Audio MKSX4 – budget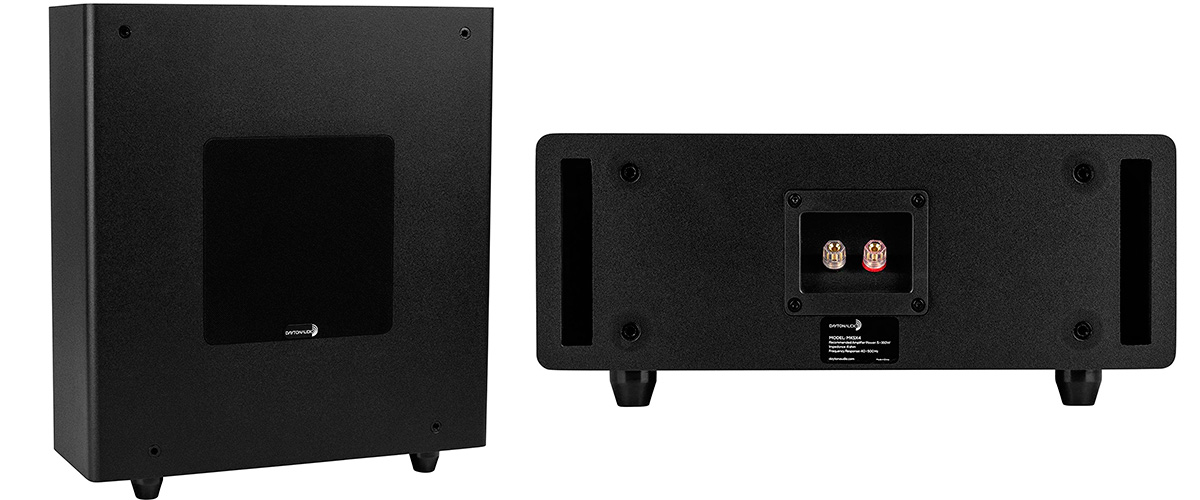 If you are looking for something special to become your best passive subwoofer, you should consider Dayton Audio MKSX4. As you may know, to receive rich bass, a speaker uses air. However, in this model, you will not find it large. Instead, it has four small speakers. With their long excursion, you receive excellent and deep bass even when drivers are only 4 inches.
Speaking about performance, this passive subwoofer delivers sounds in the 40-500 HZ range with a sensitivity of 99 dB and 4ohms. All that you receive with just 160W. If you would like to use it with your computer, you just need an amplifier and RCA to 3.5 mm jack.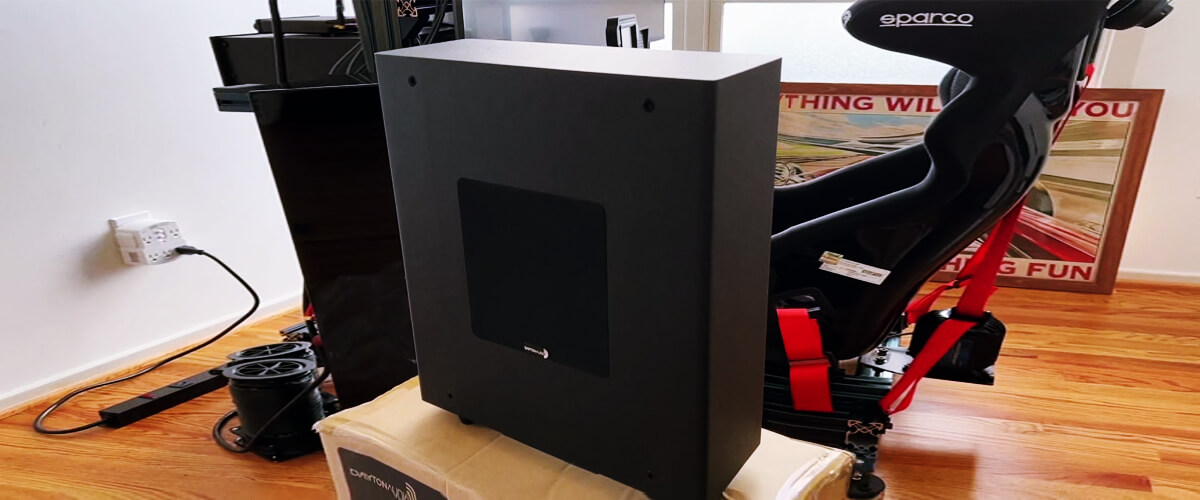 At first glance, you may think that this model is very heavy. Passive subwoofers are not very heavy. MKSX4 weighs only 2.3 lbs. The housing is made of sturdy polypropylene with polycarbonate ferrofluid-cooled tweeter. Its black design easily fits various interiors, and simple connectivity will not cause you trouble to adjust this subwoofer to your audio system. In case you plan to hang it on the wall, three also will not be difficulties. It has key-hole hangers for that.
Key specs
Power (RMS), W: 160.
Driver size, inch: 4.
Frequency response: 40Hz-500Hz.
Dimensions, inch (HxWxD): 16×5.9×14.
Pros
It is a nice option to receive high-quality and deep bass.
The passive subwoofer easily powers from almost any amplifier.
It does not have much air turbulence due to dual slot ports.
This non-powered subwoofer has removable rubbers legs to place the unit horizontally or vertically.
Cons
To enjoy this subwoofer, you need to have a compatible amplifier or to buy a new one.
Electro-Voice ELX200-18S – premium
Electro-Voice company – a widely known American manufacturer of professional audio equipment has released for sale quite an interesting series of versatile speakers, ELX200. This lineup includes five models, and ELX200-18S is among them. This model is considered a premium class, and the appearance, as well as the components used, immediately confirm it.
The manufacturer claims all components are custom-made, have passed the necessary tests, and far exceed industry standards. I don't undertake to confirm or deny this, but the full-range composite case looks very sturdy and stylish, and all of its components are indeed made with quality. Device dimensions (H x W x D): 23.62″ x 19.96″ x 22.6″, and note that it is heavy at 58.64 lbs.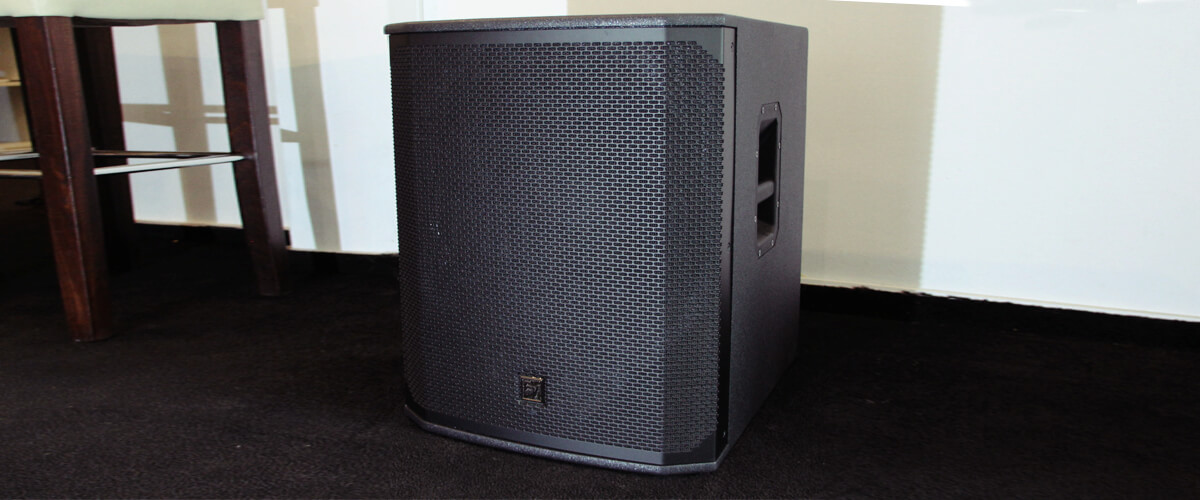 The integrated proprietary Class D power amplifiers using high-sensitivity transducers really deliver maximum sound pressure levels without distortion. Its power output (continuous/peak) is 400W/1600W; its nominal impedance is 8Ω. Having tested it, I can say that it is a well-balanced sub, very clear and accurate, which provides full bass. The ELX200-18S is just perfect for listening to music.
To summarize, I can say that this is really a quality top-level subwoofer, which, if properly tuned, will give you a cool sound experience and, even with regular use, will last for many years.
Key specs
Power (RMS), W: 440.
Driver size, inch: 18.
Frequency response: 20Hz-250Hz.
Dimensions, inch (HxWxD): 23.6×19.6×22.6.
Pros
Quality assemble and parts used.
Accurate and well-defined bass.
Easy setup and installation.
Behringer Eurolive VP1800S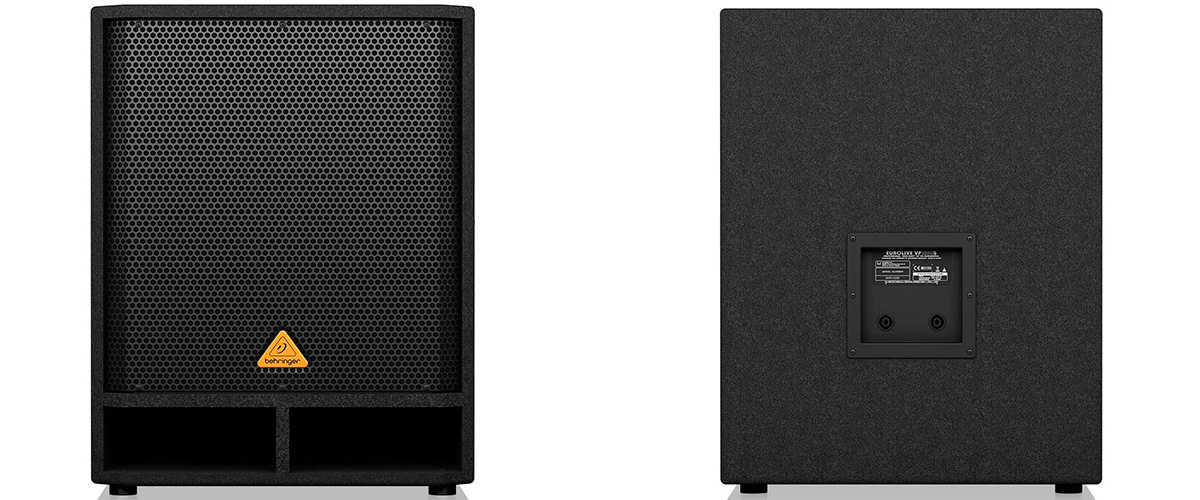 The next model is representative of the budget range EUROLIVE. This Behringer VP1800S passive subwoofer features an 18″ driver capable of handling up to 1600 watts (peak) at 8 ohms. Its phase-inverter case is designed with frequent subwoofer transportation in mind. It has handles, rubber feet for stability on different surfaces, and a special speaker stand for co-mounting with wide-band speakers from the same series. Keep in mind that it is better to carry VP1800S by two people since its weight is 91.3 lbs, and its dimensions (H x W x D) are 20.9″ x 25.6″ x 24.2″.
This model has an 18″ bass driver that operates in the frequency range of 35 – 250 Hz and delivers 100dB of sound at 400W (1600W – peak). On the back of the case is a slightly recessed patch panel consisting of two Neutrik Speakon NL-4 connectors (IN/THRU). When using a separate crossover or low-pass filter, the THRU connector allows the filtered signal to be sent to high-frequency speakers, which saves amplifier channels and cabling for switching. In addition, the front side features phase inverter openings and a removable grille enclosed by a protective grille, which provides good sound directivity.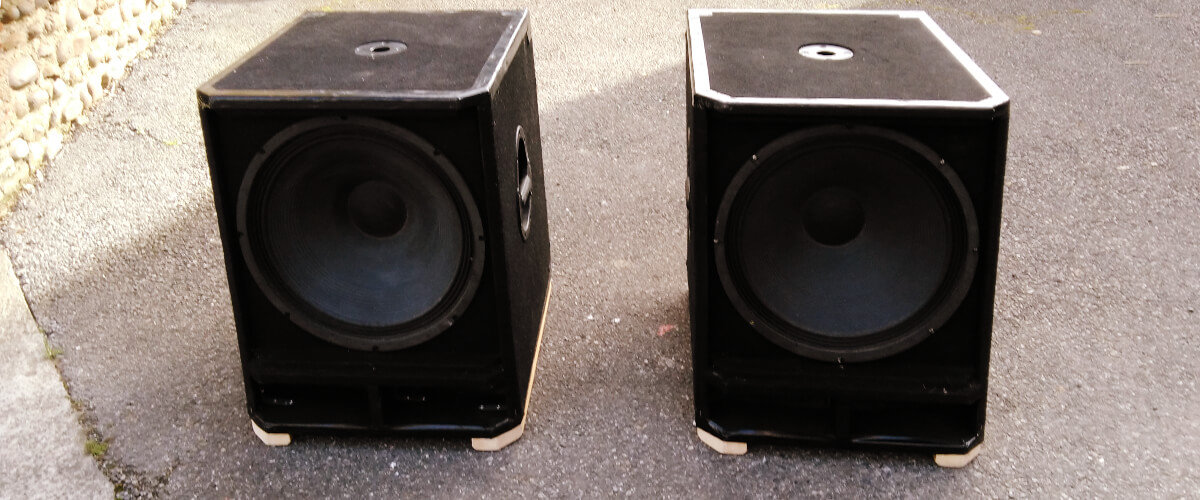 As for the sound, the bass is quite loud, tight, and precise, without rattle or resonances. I tested the VP1800S with different amplifiers. It worked quite well with 500-600 watts of power, but I didn't test a heavier load.
Maybe the VP1800S doesn't produce audiophile sound, but you have to pay for that quality. And in this case, for not much money, you get a good "workhorse" which is quite suitable for many users.
Key specs
Power (RMS), W: 400.
Driver size, inch: 18.
Frequency response: 40Hz-200Hz.
Dimensions, inch (HxWxD): 20.9×25.6×24.2.
Pros
Precise reproduction of ultra-low frequencies with a clear, powerful punch.
Rugged steel grille to protect the speakers.
Accurate and tight bass.
Cons
Handles are not comfortable to carry.
Quite heavy.
Cabinet construction is not of great quality.
Advantages of passive home subwoofers
Unlike an active subwoofer, a passive subwoofer works more like a conventional loudspeaker. A crossover defines the frequencies that it outputs. The passive subwoofer has the main advantage that the power amplifier works independently of the actual subwoofer, and the device is, therefore, less prone to interference.
Not only the best passive subwoofers but also standard devices with this technology offer the following set of advantages:
With a passive subwoofer, the bass is relieved of the other speakers.
It has more power and plays a stronger bass.
No hum or clicking side sounds and noises.
Mainly covers the low frequencies.
A passive subwoofer is compatible with a lot of different devices.
The power amplifier and unpowered subwoofer can be exchanged and individually adjusted at any time.
FAQ
Are passive subwoofers better than active ones?
Passive subwoofers are generally less expensive than active subwoofers, and they offer a number of benefits. Passive subwoofers are typically easier to install, and they offer more flexibility in terms of placement. Additionally, passive subwoofers tend to be more durable than active subwoofers.
Active subwoofers, on the other hand, offer a number of advantages over passive subwoofers. Active subwoofers are typically more powerful, and they offer greater control over the sound. Additionally, active subwoofers are typically smaller and more compact than their passive counterparts.
So, which type of subwoofer is right for you? Ultimately, the decision comes down to personal preference. If you're looking for an affordable and easy-to-install subwoofer, a passive model may be the way to go. If you're looking for more power and control, an active subwoofer may be the better choice.
Can I connect a passive subwoofer to the receiver?
Yes, you can connect a passive subwoofer to the receiver, but you will need an amplifier to power the subwoofer. Additionally, you'll need to run the speaker wire from the receiver to the subwoofer.
Can a powered speaker power a passive sub?
No, a powered speaker cannot power a passive subwoofer. The subwoofer must be connected to an amplifier in order to function.
How do I convert my passive subwoofer to active?
There is no way to convert a passive subwoofer to active.
Can a powered subwoofer be used as a passive subwoofer?
Yes, a powered subwoofer can be used as a passive subwoofer. However, the results may not be as good as using a dedicated passive subwoofer.