Some say there is no difference in how you listen to your favorite songs. No matter the quality, or depth of sound, they love the soundtracks in any reproduction. But audiophiles will argue with them. So, not surprisingly, they are looking for quality audio gadgets, including the best subwoofers for music.
An audiophile subwoofer for music will provide you with a listening experience you've never had before. You will notice that your songs would get low-frequency bass notes that add extra clarity, depth, and sharpness.
But not every sub can do the magic you expect from it. Nowadays, there are many different musical subwoofers in the audio equipment market. It is easy to get confused and make a poor choice. That is why I put together a list of worthy products that won't disappoint you.
Best subwoofer for music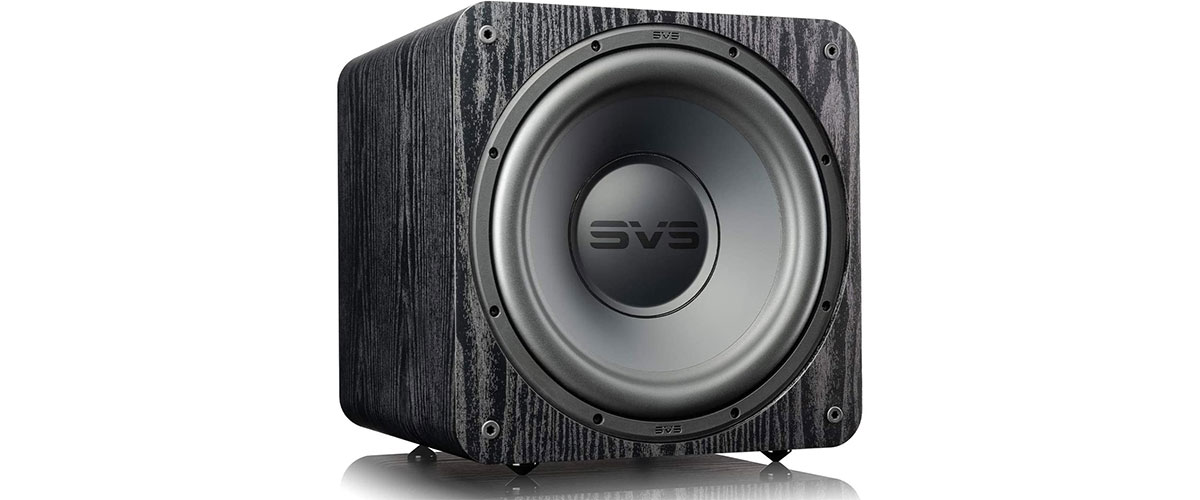 SVS SB-1000 Pro
Breathtaking bass and stunning musicality from a compact 13-inch enclosure with state-of-the-art features that redefine subwoofer performance at their price and beyond.
Read the full review.
Subwoofers for music comparison table
Name
Power (RMS)
Driver size
Frequency response
Review
SVS SB-1000 Pro

best overall

325 W
12 inch
20 Hz – 270 Hz
Review
SVS SB-3000

premium choice

800 W
13 inch
18 Hz – 270 Hz
Review
Klipsch R-120SW

budget solution

200 W
12 inch
29 Hz – 120 Hz
Review
Best subwoofer for music reviews
Mid-priced subs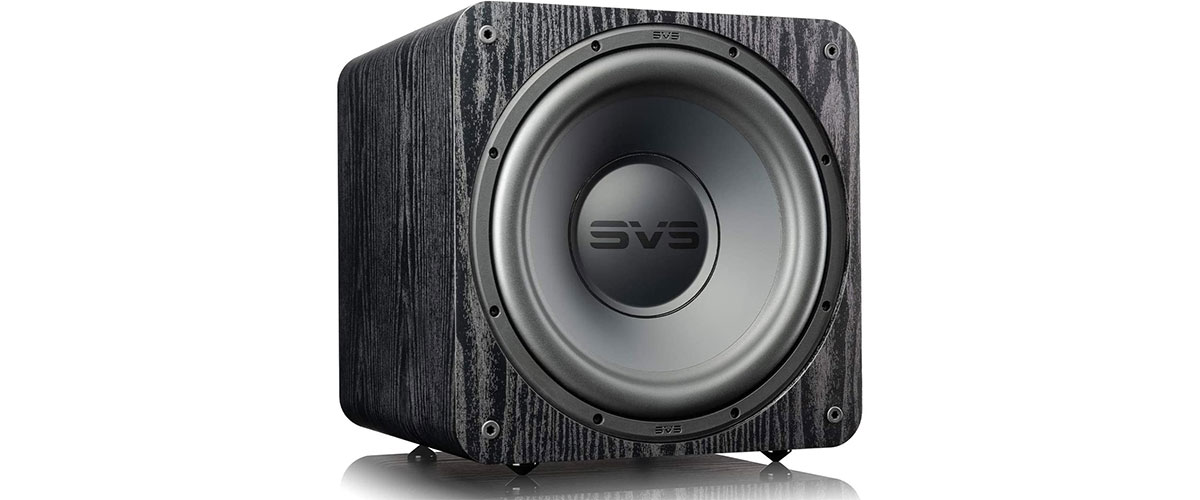 See how your playlist will reveal a new way to sound by enhancing the breathtaking bass with the SVS SB-1000 Pro sub.
This device features a 325 watts RMS, 820+ watts peak power amplifier with the MOSFET output and 50 MHz DSP for pure, immersive low-frequencies. In addition, it covers a wide bass range – 20-270 Hz ±3 dB to give every song a deep breathtaking background.
Like BIC America F12, this tool has a 12-inch driver packed into a 13-inch cabinet. The sealed cabinet enclosure ensures a strong output while remaining accurate and controlled. What makes it stand out is the DSP smartphone app that allows you to control and delicately tune the device. Unfortunately, the sub seemed to be somewhat quiet during the first uses. But the app allows you to re-run the Denon Audyssey, and you can easily fix this issue. Generally, it gives clear, detailed, and deep bass that significantly enhances the music listening experience. I experienced no boominess or other interference.
This sealed subwoofer for music is enhanced with a high-resolution 50MHz processor, one of the most advanced on the market, which enables powerful DSP controls, in-room tuning, and custom presets.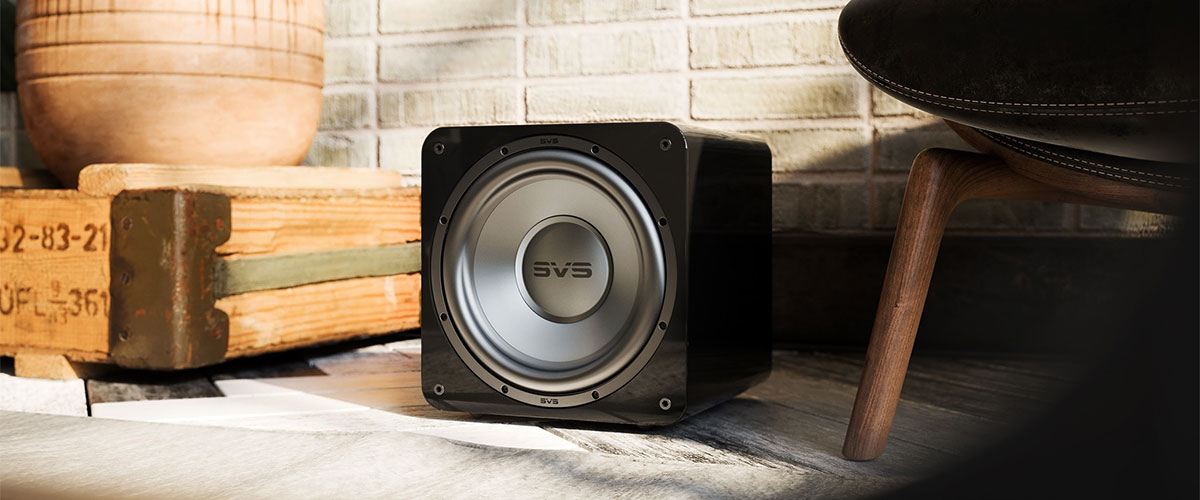 The 6′ cord looks heavy-duty. The grille is made of non-resonant extra-thick ABS fabric mesh that eliminates distortion and protects the driver from dust. It is compact enough to fit in nearly any room – 13.5″Hx13″Wx14.76″D.
There is nothing to dislike about this gadget. This is the best subwoofer for music that should proudly take its position in your audio system. It will deliver deep bass without compromising high frequencies.
Key specs
Power (RMS), W: 325.
Driver size, inch: 12.
Frequency response, Hz: 20-270.
Dimensions inch/cm: 13.5x13x14.76/34.3x33x37.5.
Pros
Compact in size yet delivers powerful and distortion-free bass.
325 watts RMS, 820+ watts peak power output.
Smart app for more accurate tuning and remote control.
Heavy-duty parts that prolong the sub lifespan.
Cons
May seem to be quiet if you do not reconfigure it.
BIC America F12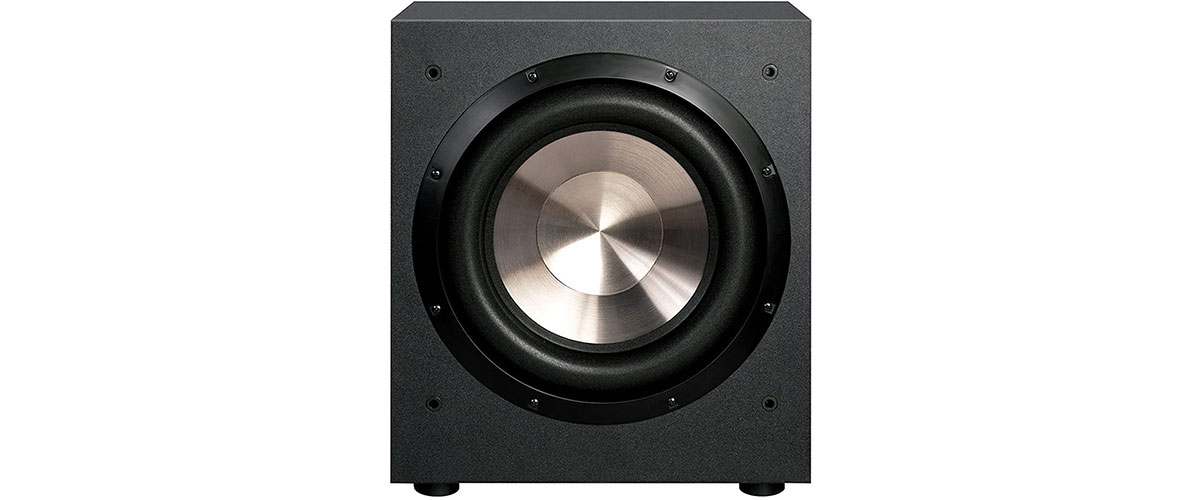 The BIC America brand's front-firing subwoofer with a 12″ injection molded long-throw woofer will fill the room with powerful bass.
Because of the BIC "Venturi" vent that reduces port noise, you can enjoy the pure sound of the reproduced melody without any interference. This sub covers the frequency range of 25Hz – 200 Hz, ensuring you can enjoy the lowest frequencies of the tune. The built-in amplifier provides 475 watts of dynamic peak and 150 watts of RMS output. This is half as much as in the SVS SB-1000 Pro subwoofer. Still, it has an adjustable crossover, volume control, and automatic signal sensing to adjust the settings for the optimal experience. These two units are almost similar in dimensions (17″Hx14 3/4″Wx17 1/4″D), but the BIC America F12 subwoofer has a more classic finish (black laminate).
The Dolby Pro Logic and Dolby Digital/DTS inputs allow you to connect the sub to the receiver to decode soundtracks encoded with Dolby Surround.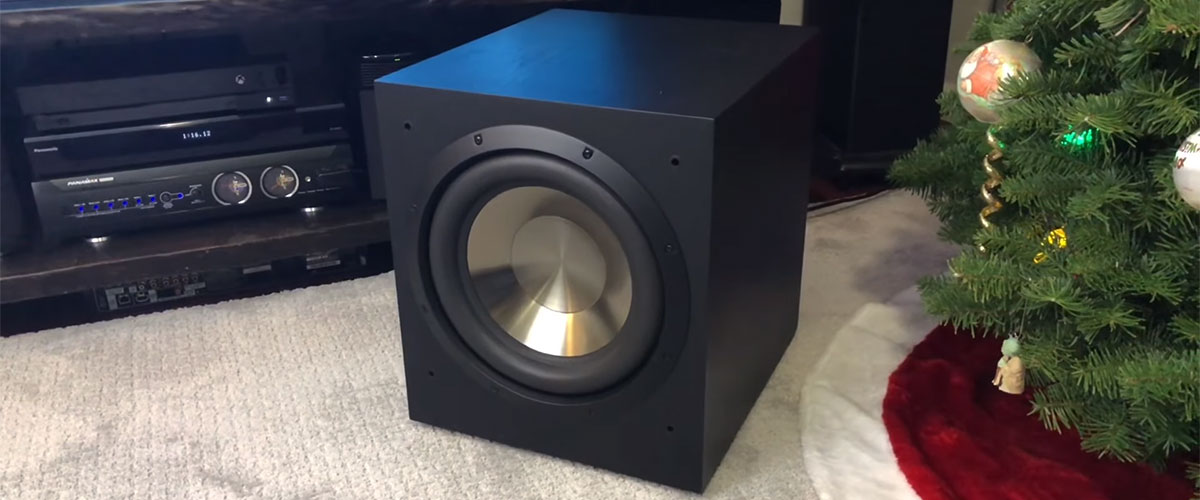 Speaking of the power and quality of low-frequency sounds, they are meaty and loud. You may need to harness this sub before getting a perfect sound composition. My first experience of using this sub was a failure – the sound was too loud, boomy, and lacked clarity. It took some time to adjust the device and listen to different albums before I finally tuned it. Also, you may find this sub too powerful if you have small or mid-sized speakers. Anyway, my recommendation is not to put the volume too high.
The BIC America F12 subwoofer for music only may be a good choice if you are looking for a robust device that would deliver musically accurate sound regardless of its power.
Key specs
Power (RMS), W: 150.
Driver size, inch: 12.
Frequency response, Hz: 25-200.
Dimensions inch/cm: 21x19x22/53.4×48.3×56.
Pros
475 watts peak and 150 watts RMS output.
A front-firing subwoofer with a 12″ injection molded long-throw woofer.
Supports Dolby encoded soundtracks.
Works within the 25Hz – 200Hz frequency range.
Cons
May require some time to tune it accurately.
You may find it too powerful for your needs.
Premium subs
SVS SB-3000 – premium choice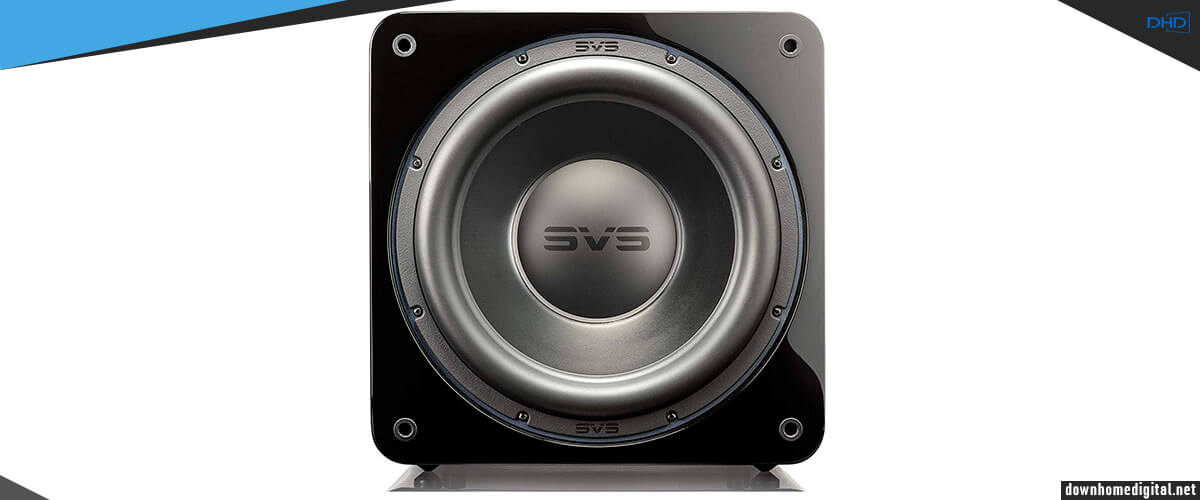 Would you like to extract the maximum power from your sophisticated audio system? Then, you should add the SVS SB-3000 subwoofer to your gadget list.
It is more powerful compared to the Sonos sub. The Sledge STA-800D2 DSP amplifier delivers 800 watts RMS, 2,500+ watts peak power to provide you with a deep and strong sound without any hissing or booming. A 13-inch high-excursion SVS driver is packed in the sealed cabinet, which results in higher output levels. This SVS sub covers a wider range of low frequencies compared to the Sonos product (18-270Hz ±3 dB), where Sonos goes as low as 25 Hz. As a result, you can unlock the deeper bass in the soundtracks that have been hidden from you.
Thanks to the 50Mhz high-resolution analog device audio DSP, known as the most advanced processor, you obtain a pristine accuracy and pure sound. You can use in-room tuning, enhanced frequency response curves, powerful DSP controls, and more to optimize your listening experience. Configuring the device is easy due to the smartphone app, which allows you to adjust the settings based on your needs quickly.
The 6″ power cord is heavy-duty, as well as the whole build. There are included iso-elastomer feet to reduce any vibrations or distortion. You may find this sub heavy (54.5 lbs), considering its relatively small size (15.6" Hx15.2" Wx17.8" D).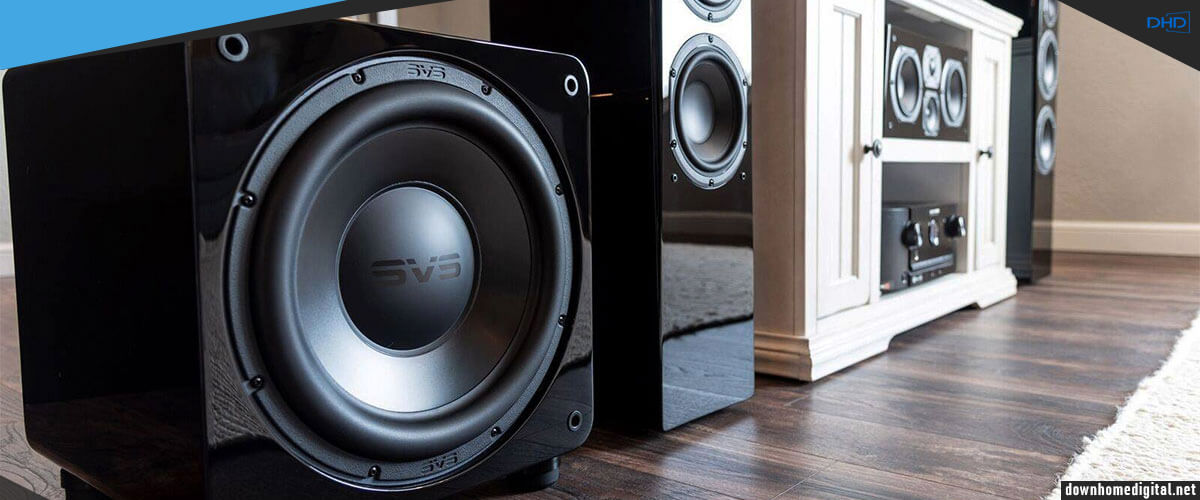 This sub perfectly caters to music. Soundtracks are tight, fast, and punchy. I noticed that it started producing cracking sounds at some points over two months. There were issues with the driver, but the manufacturer fixed this issue by sending me a new one for replacement.
SVS SB-3000 is the best music subwoofer as it gives your playlist a solid low-bass foundation. It doesn't just loudly deliver the low-frequency sounds and enhances your speakers, but it also does it clearly and precisely.
Key specs
Power (RMS), W: 800.
Driver size, inch: 13.
Frequency response, Hz: 18-270.
Dimensions inch/cm: 15.2×15.6×17.8/38.6×39.6×45.2.
Pros
Produces tight and punchy low-frequency sounds.
Covers the range of 18-270Hz ±3 dB frequencies.
Provides an insane power – 800 watts RMS, 2,500+ watts peak power.
User-friendly app for easy control over the settings.
Cons
The driver started to act out after a few months of use.
Sonos Sub – for Sonos audio system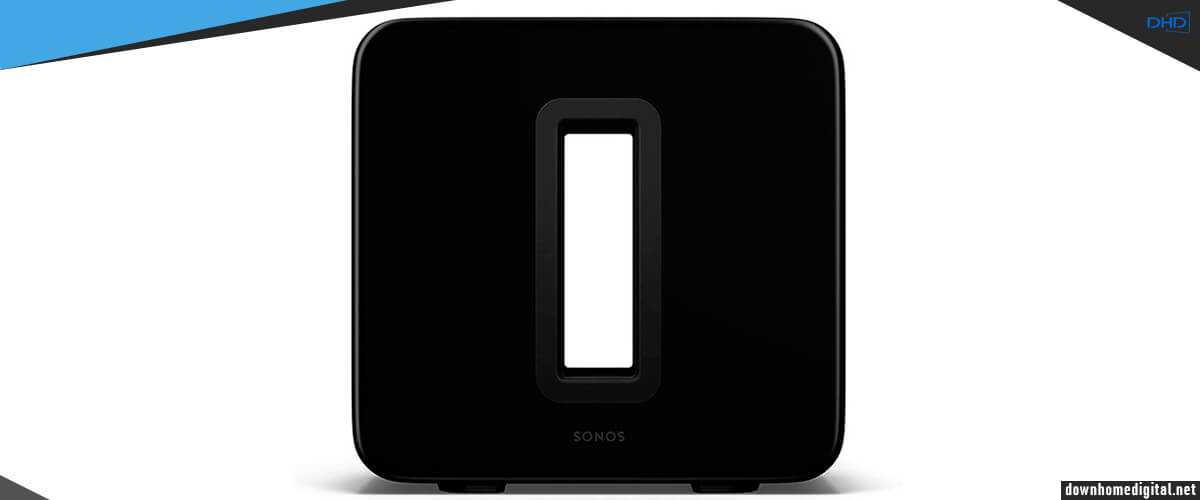 Are you looking for a first-grade sub with a sleek minimalistic design? Then, the Sonos subwoofer seems like an option for you to consider.
With this sub, you will experience every low beat you've been missing. It covers the frequency range that goes as low as 25 Hz. The in-built Class-D amplifiers have been tuned to cater to different spaces. Thanks to the auto audio settings, the sub automatically equalizes to balance the sub with the synced pair of Sonos speakers or other components. But if you are not happy with auto adjustments, you can change the settings manually through the Sonos app. The Sonos sub app allows you to play music directly from external sources like iTunes or your mobile media files, but not all popular sources are allowed.
Unlike the SVS SB-3000 corded sub, the Sonos device is wireless. It means that you can move it around and put it in any spot of the house. To add the sub to your audio system, you've got to set up the WiFi connection and use the smartphone app. If you have assembled your audio system of gadgets from different brands, you will find this sub useless. You can pair it with Sonos soundbars, amplifiers, and speakers and create a mesh system.
This sub allows you to control bass, treble, and volume. Music is sharp and meaty, but the quality of the playback depends much on where you put the sub and how you configure it. You may need to run Trueplay several times. Even after performing it, you will still need to make some adjustments via an app.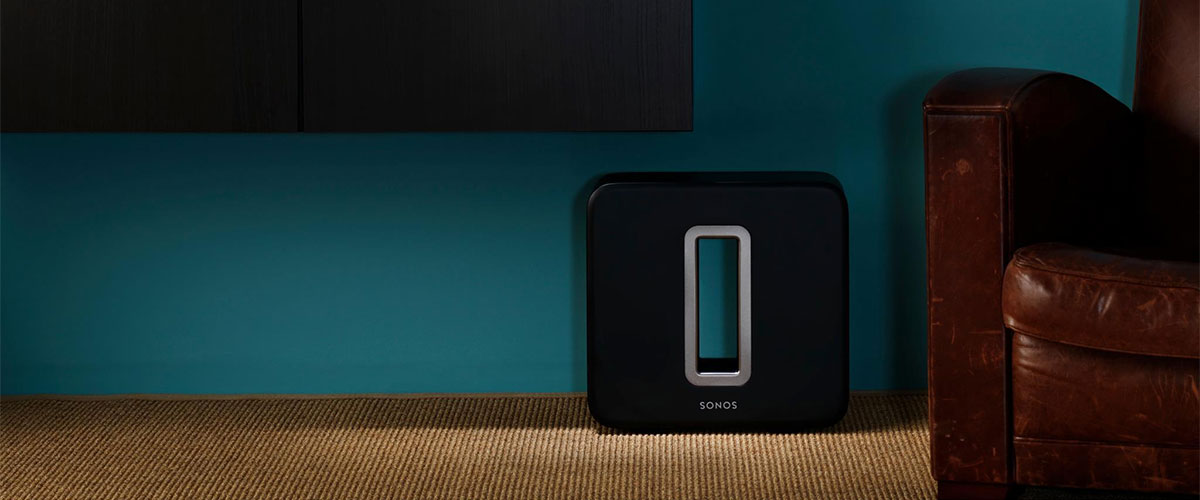 The design of the Sonos subs is modern. It will fit the hi-tech or minimalistic interiors. The great thing about these subs is that you can put them upright or lay on the side.
The Sonos sub is a great addition to the combination of other Sonos audio devices. It easily syncs with other gadgets of this brand and creates a quality mesh system that delivers juicy lows and highs.
Key specs
Driver size, inch: 6.
Frequency response, Hz: 20-220.
Dimensions inch/cm: 15.3×15.8×6.2/39×40.1×15.8.
Pros
Covers the frequency range of 25 Hz.
No distortion or interference during the playback.
You can control bass, treble, volume, and other parameters through an app.
Enables you to set up a wireless connection.
Cons
Works exclusively with Sonos products.
Requires additional configuration even after Trueplay adjustment.
Budget subs
Klipsch R-120SW – budget solution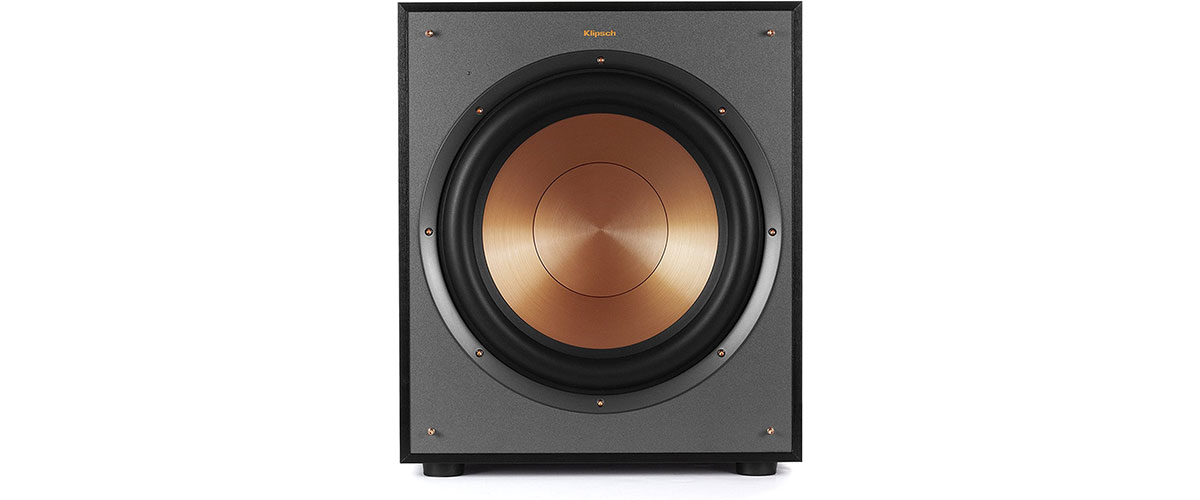 Uncover what you've missed in your favorite soundtracks with the Klipsch R-120SW subwoofer.
It features a powerful 12″ copper-spun front-firing woofer, so it's larger than Yamaha NS-SW050. It extracts 200 watts/400 watts of control/peak power to let you set the desired volume and sound output power. If your sound system is located in a large room or even hall, this sub may not be the best choice because you will want more power. But this is an adequate gadget for small or medium rooms that would work with minimal distortion even at high volumes.
The frequency range goes between 29 Hz – 120 Hz +/- 3 dB, which is usually enough to create a decent bass foundation for most tracks. But as this gadget produces a 5db hump between 50-60 Hz, you may find it a bad combination.
Because this subwoofer features a front-firing driver and a digital amplifier, you will experience the placement flexibility and deep bass you've always craved for. You get accuracy during the reproduction of the soundtracks, while the low-pass crossover and phase control ensures you can blend the lows with Klipsch speakers to set up a perfect bass level without booming or hissing.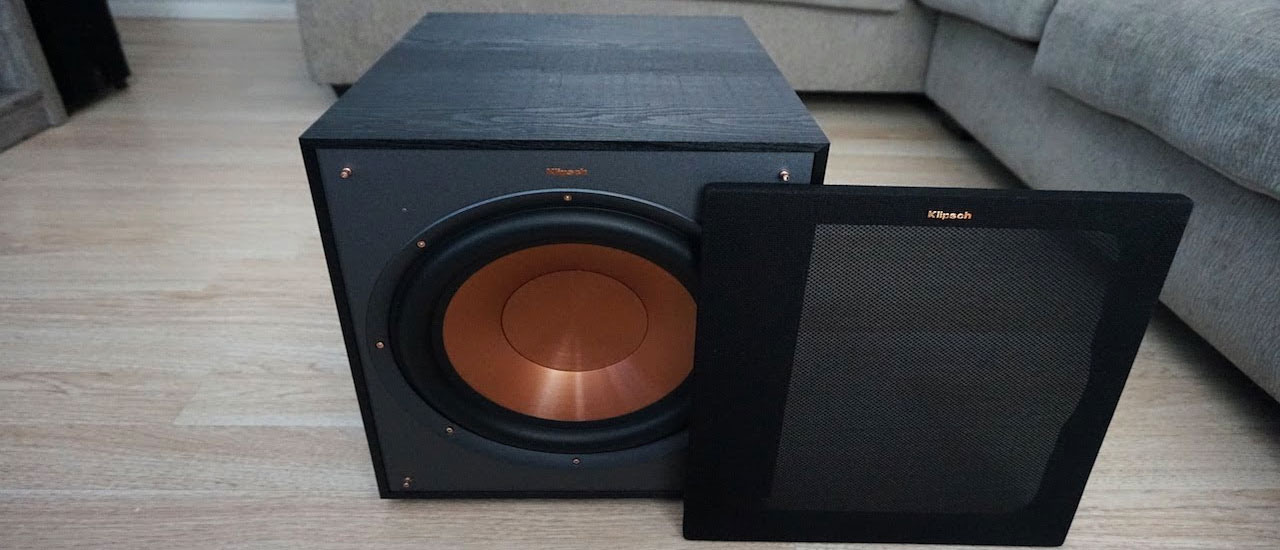 The sub's cabinet is made of MDF, which is covered with scratch-resistant and wood-textured grain vinyl. This material looks chic in combination with a copper woofer. Because of copper, the grille delivers a remarkable low-frequency response with minimal to zero distortion. It is 16″ Hx14″ Wx18.5″ D and weighs 33 lbs.
The Klipsch R-120SW subwoofer isn't expensive, but it will take your listening experience to an entirely new level by unlocking the low-frequency sounds. This is the top subwoofer for music since it provides crisp, punchy bass without annoying boominess.
Key specs
Power (RMS), W: 200.
Driver size, inch:12.
Frequency response, Hz: 29-120.
Dimensions inch/cm: 16.5x14x19.2/41.9×35.6×48.8.
Pros
Suitable for small or medium rooms due to the 200 watts/400 watts control/peak power.
Accurate and punchy bass with minimal to no distortion.
A front-firing driver and a digital amplifier ensure placement flexibility and accuracy.
Cons
May not be powerful enough for large rooms.
You may notice a 5db hump at 50-60 Hz frequencies.
Yamaha NS-SW050 – small sub for music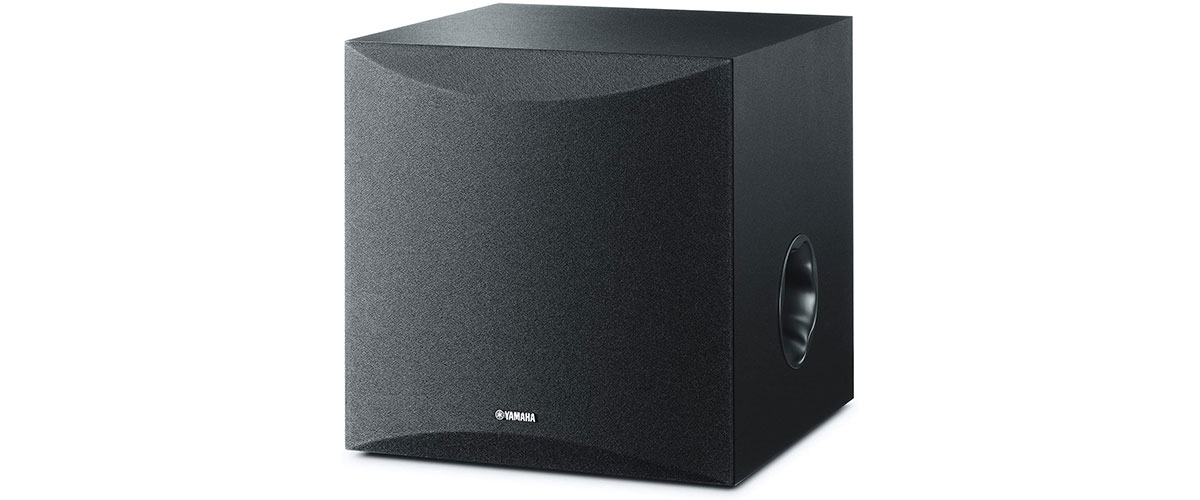 If you want to bring high-performance bass technology but do not have enough space for a full-sized subwoofer, you may find this Yamaha NS-SW050 sub a good match.
This unit has an 8″ cone woofer packed in the cabinet with a gently rounded form and a slanted front surface for a more sophisticated look. Because of the ​​Yamaha Active Servo Technology II and Advanced Negative Impedance Converter circuits, the sub gets tighter control and delivers a more accurate low-range response than the Klipsch R-120SW model.
One of the peculiarities of the Yamaha NS-SW050 is the twisted flare port, which removes extraneous noises not present in the original input signal, thus providing precise and crisp reproduction of low-frequency sounds.
The frequency response of this subwoofer is 28–200 Hz, which is wider than in the Klipsch R-120SW item, but you may want to have a bigger range. But it's also lighter (18.7 lbs) and smaller (11-1/2″ Hx11-1/2″ Wx13-3/8″ D). This sub won't shake your house, but it packs a punch for its size. I had to turn down the volume several times to get it to the optimal level, even though the output power is 50 watts.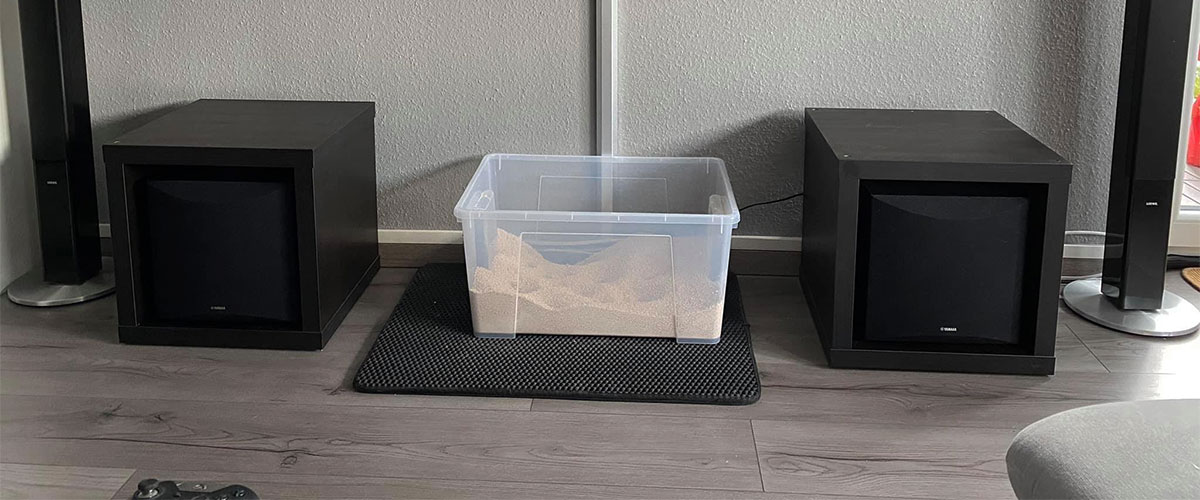 What disappointed me is that this unit doesn't come with a subwoofer coaxial cable, so you have to buy one in the store or use what you already have.
Some words about the music reproduction quality. This Yamaha sub extracts tight refined bass that is never boomy or out of control, making it a good small subwoofer for music.
Key specs
Power (RMS), W: 150.
Driver size, inch: 12.
Frequency response, Hz: 25-200.
Dimensions inch/cm: 21x19x22/54×48.3×56.
Pros
Compact size and light weight, which is great for small or medium rooms.
Crisp and tight bass reproduction.
50 watts of output power are more than enough for a small room.
Cons
Doesn't have a subwoofer coaxial cable.
You may find the frequency range the weak point.
Benefits of a subwoofer for listening to music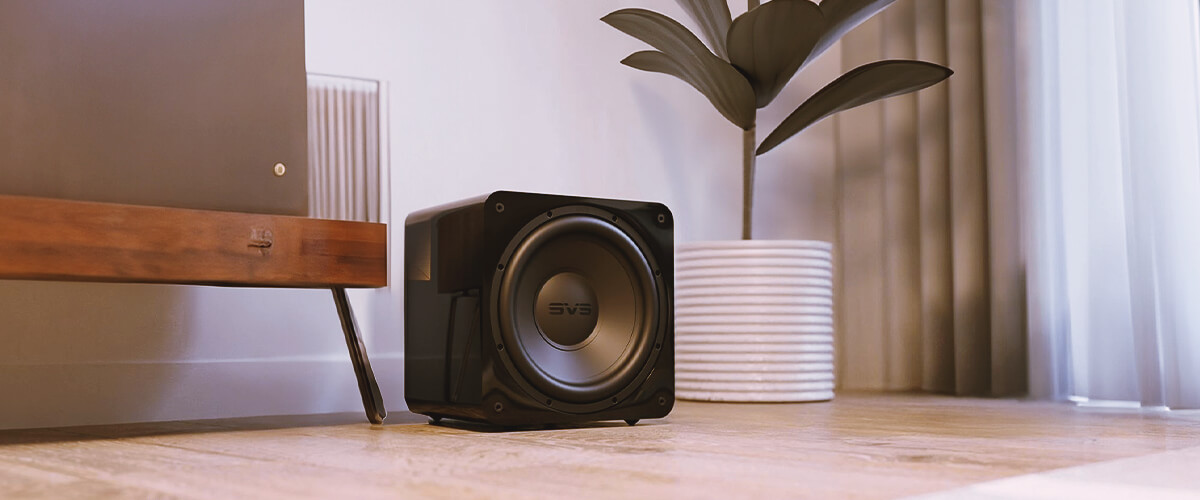 Many men, many minds. So, there is always room for arguments between people who believe that subs are great or, on the contrary, are completely useless for listening to music. Those who claim that a musical subwoofer is just a waste of money are convinced that songs rarely have extremely low frequencies. Some even claim that intense basses may spoil the whole beauty of the soundtrack.
Many sub advocates state the opposite. They assure that there are many advantages of using this audio system enhancement. That is why I want to highlight the most tangible advantages of these devices, and you will decide who is right in this matter.
Catch the lows that speakers can't reproduce
Most common speakers become numb when reproducing the notes that go lower than 50Hz. It is this aspect that shows the first advantage, and the best subs for music can bring those frequencies to the melody and take your listening experience to a new level.
Better speed and transient response
Some genres or specific songs have quick starts or stops that might be hard for the speakers to grasp. In this way, you miss them and lose the whole point of the complex sound. Because a subwoofer is known for having better speed and transient response, you will finally catch the melody the composer wanted you to hear.
Enhance your smaller speakers
If you own small speakers and you feel like you want to extract a more powerful sound from music, you should consider getting subs for music and home audio. Usually, subs have a low-frequency amplifier and bass management system. In this way, you can obtain better performance of your speakers by improving the overall sound quality.
No more distortion when the music plays out loud
You may face issues as you start bumping music at high volumes. The cranking and hissing sounds are a common problem for many audio systems. A Hi-fi subwoofer for music can be an easy solution to the problem. It will ensure you can listen to any type of music without any distortion, no matter how loud you want your playlist to be rendered.
What size subwoofers to choose for music?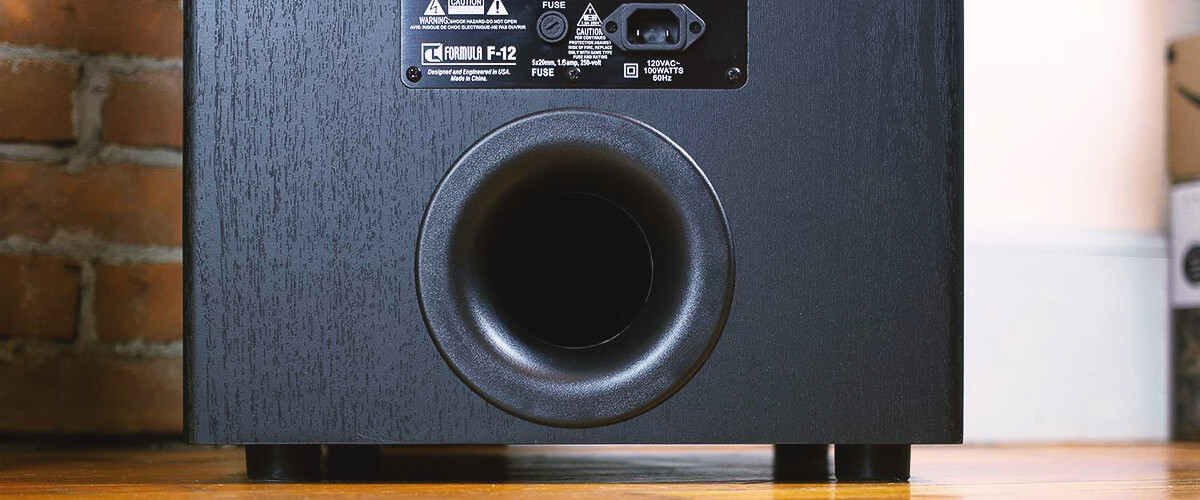 When you are in the market for a subwoofer that will add richness to the sound, the size is one of the critical aspects you've got to keep in mind.
Many people mistakenly assume that a bigger sub is always a better choice as it delivers more powerful bass. In some cases, it may be a good match for you. But sometimes, you'd better stick to a smaller subwoofer.
The choice of the sub size is mainly dictated by the style of music you listen to.
8-inch subwoofers deliver quality and distortion-free lows pair nicely with punk, rock (alternative and classic), country, and drum n bass. They provide little additional power but provide good clarity and bass response.
10-inch subs will provide you with a little bit more power as you listen to pop, metal, jazz, and blues music.
12-inch subwoofers give extra bass production and response without sacrificing the sound quality. But if you set it at peak power, your audio system may suffer. If you are a fan of RnB, rap, dance, house, or funk, the 12-inch sub is a decent choice.
The 15-inch subwoofer will deliver very tight lows, but you may notice the lack of responsiveness. You will be happy with this sub size if you mostly listen to dubstep, hip hop, rap, or trap.
So, smaller subs are better for those folks who want to achieve high responsiveness. But, at the same time, larger devices will outperform smaller ones with the depth of bass range.
FAQ
Do subwoofers make music louder?
No, subwoofers do not make music louder. They simply add
low-frequency sounds
to the mix, which can give the illusion of increased volume. However, if you're looking to make your music louder, you'll need to invest in a good amplifier.
When should you not use a subwoofer?
There are several situations where you may not want to use a subwoofer. For example, if you're trying to save space in a room, a subwoofer might not be the best option. Plus, if you're looking for crystal clear audio quality, a subwoofer might actually get in the way of your efforts.
Does the subwoofer need to match speakers?
No, the subwoofer does not need to match the speakers. However, it's generally a good idea to choose a subwoofer that compliments your existing speaker setup.
How many watts do you need for a subwoofer?
This really depends on the specific subwoofer you're looking at. However, as a general rule of thumb, you'll want to choose a subwoofer with at least 100 watts of power.
Does a subwoofer only play bass?
No, a subwoofer does not only play bass. In fact, most subwoofers are designed to handle a wide range of frequencies. However, the low-frequency sounds are what give the subwoofer its name.