Whether you are looking for a subwoofer to replace an old one or choosing it for the first time, this review will be useful to anyone. I have gathered a selection of the best subwoofers under $1000; as against the broadest price range, I consider this category optimal for choosing a sub for home use. You will see models that differ in size, design, power, and functionality, but the main thing that unites them is providing excellent bass. At the end of the article, you can also read about the parameters to pay attention to when buying a subwoofer. I promise it will be interesting. Let's go!
Our pick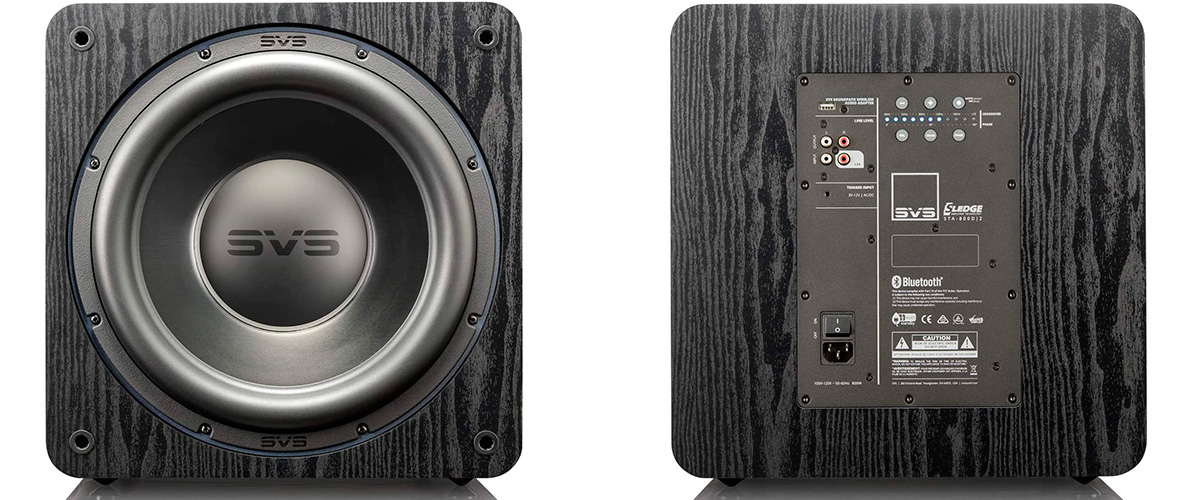 SVS SB-3000
Best subwoofers under $1000
The newest sealed cabinet SVS model combines the most sophisticated SVS subwoofer technology with trailblazing innovations to set a new standard for subwoofer performance.
Read the full review
.
Subwoofer under $1000 comparison table
Name
Power, W
Driver size, inch
Frequency response
Dimensions, inch (HxWxD)
Review
SVS SB-3000

best overall

800
13
18Hz-270Hz
15.6×15.2×15.7
Review
Klipsch SPL-120

also great

300
12
24Hz-125Hz
17.7×14.7×19.9
Review
SVS SB-1000 Pro

budget

325
12
20Hz-270Hz
13.5x13x14.7
Review
SVS 3000 Micro

compact size

800
8
23Hz-240Hz
13.9×15.4×15.4
Review
Best subwoofers under $1000 reviews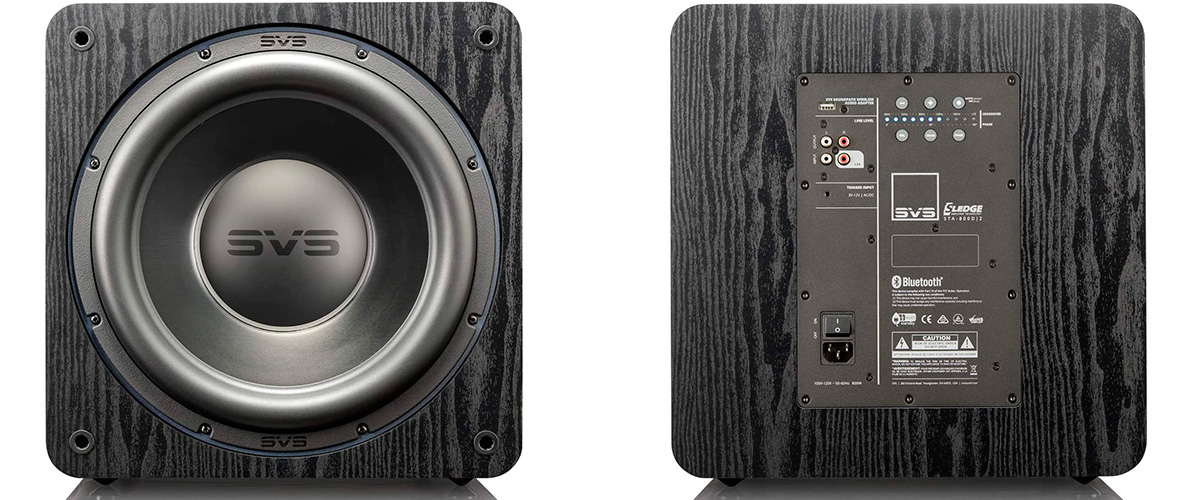 And the top of my list is the SVS SB-3000. Despite being the most expensive model on my list, it's worth every penny. It's the heaviest (54.5 lbs) and most powerful subwoofer (800W RMS/2500W Peak), which means you get a monster capable of filling even a large room (up to 500 sq ft) with deep lows. And all this in a very compact size of 14.6″ x 14.2″ x 15.6″. And no, the SB-3000 is not the miniature one waiting for you in this review.
So, the specifications are impressive. In the case made of MDF (black ash or black piano gloss) is placed a 13″ SVS speaker with a high excursion (SVS voice coil with a flat edge and separate winding provides maximum magnetic flux), which can compete with many models with 15″ speakers, because it consists of a 2″ premium polyimide-impregnated fiberglass core, has two massive toroidal ferrite magnets and four balanced 24-core silver-plated high-temperature Litz wires. This entire structure is mounted on screw-in rubber feet, which adds to the already decent anti-resonance. The frequency range of SVS SB-3000 is 18-270 Hz ± 3 dB.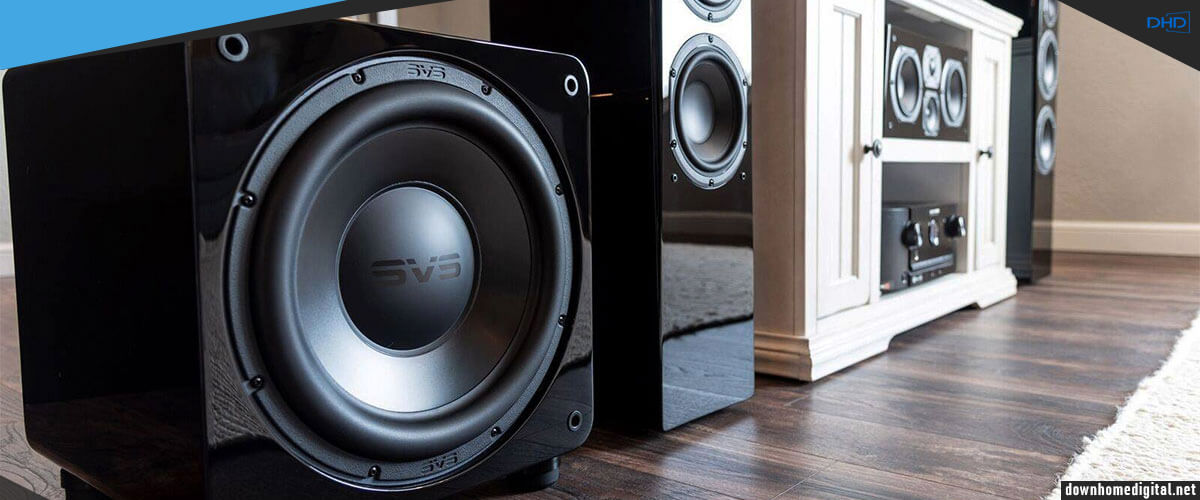 This powered subwoofer sounds excellent. The bass is tight and crystal clear, and I can hear every note at every frequency. Combined with the other speakers in the system, the music sounded exactly as the creator intended. You should definitely consider the SVS SB-3000 if you like movies like "Jurassic Park" or "Armageddon." This baby will blow out your windows and make your neighbors gray (better not do that to your neighbors, of course). Even on mid-range, you will feel the bass physically.
The main thing about this sub is the Bluetooth control via the app on your smartphone. You don't need the Internet; in addition to the control on the sub itself, you get additional equalization and presets. It's just incredibly convenient!
SVS SB-3000 is an amazing combination of monster power for its compact size and modern functionality at an affordable price. And it is the best subwoofer under 1000 on my list. It will bring a smile to your face from the first sounds.
Key specs
Power (RMS), W: 800.
Driver size, inch: 13.
Frequency response: 18Hz-270Hz.
Dimensions, inch (HxWxD): 15.6×15.2×15.7.
Pros
Excellent anti-resonance design, heavyweight components (weight), and rubberized feet provide great anti-resonance.
Clear bass even at high volume.
Just fantastic control with an app on your smartphone via Bluetooth.
Cons
I found no flaws during my testing. Didn't hear a single perceptible sound distortion.
Klipsch SPL-120 – also great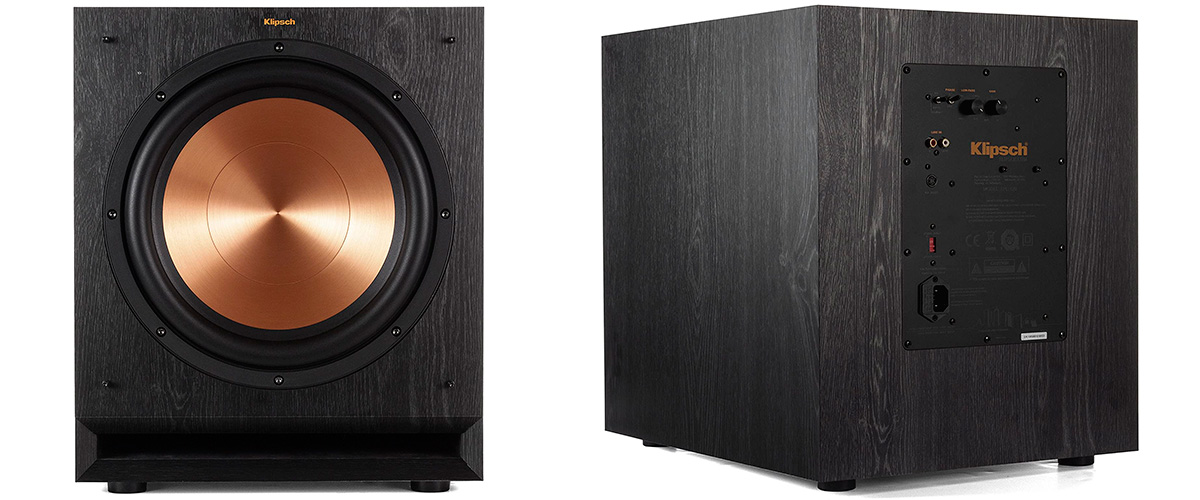 In the second place of honor in my ranking is the Klipsch SPL-120, with slightly larger dimensions (17.75″ x 14.7″ x 19.9″), less weight (45 pounds), a smaller 12″ driver, and a correspondingly lower price. After reading the review below, you might think that there are competitors with more attractive figures in this chart, but what it all comes down to is that, given the brand reputation and all other subwoofer parameters, the SPL-120 has the optimal balance of price-performance combination.
Expectedly, the power of this sub is also less than that of SVS SB-3000 at 300 RMS and 600W Peak. And I wouldn't refer to it as a minus, but compared with other models in my rating, it can only fill a small room with sound.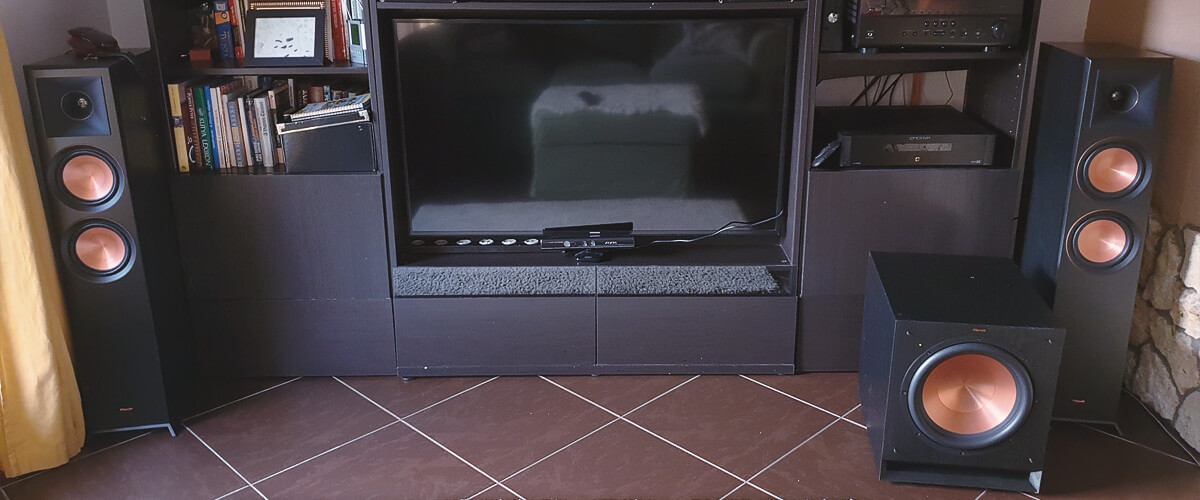 The clarity of the sound comes from the ceramic-metal woofers, which, while light, provide excellent rigidity. They are housed in a non-resonant, stamped steel basket. Tune the Klipsch SPL-120 however you want; you won't hear any distortion. I deliberately tested it with rock, metal, and even drum N bass, and also watched several movies with different soundtracks – excellent reproduction, deep rich bass is felt where it is needed, shuddering the air. The subwoofer combines perfectly with any receivers and speakers, and its sound performance is equally excellent for listening to music and watching movies.
The Klipsch SPL-120 is the perfect subwoofer for your home system because it sounds equally good with movies and music, produces clear deep bass at any volume, adapts easily to your equipment, is easy to install and operate, and has a very nice price. This sub under $1000 will become an indispensable part of your small system for a medium-sized room.
Key specs
Power (RMS), W: 300.
Driver size, inch: 12.
Frequency response: 24Hz-125Hz.
Dimensions, inch (HxWxD): 17.7×14.7×19.9.
Pros
It is a good price/performance ratio compared to the other models in the list.
Highly compatible with different models of receivers and speakers.
Versatile, suitable for listening to music and watching movies.
Cons
The sub can fill only a small room with sound.
SVS SB-1000 Pro – budget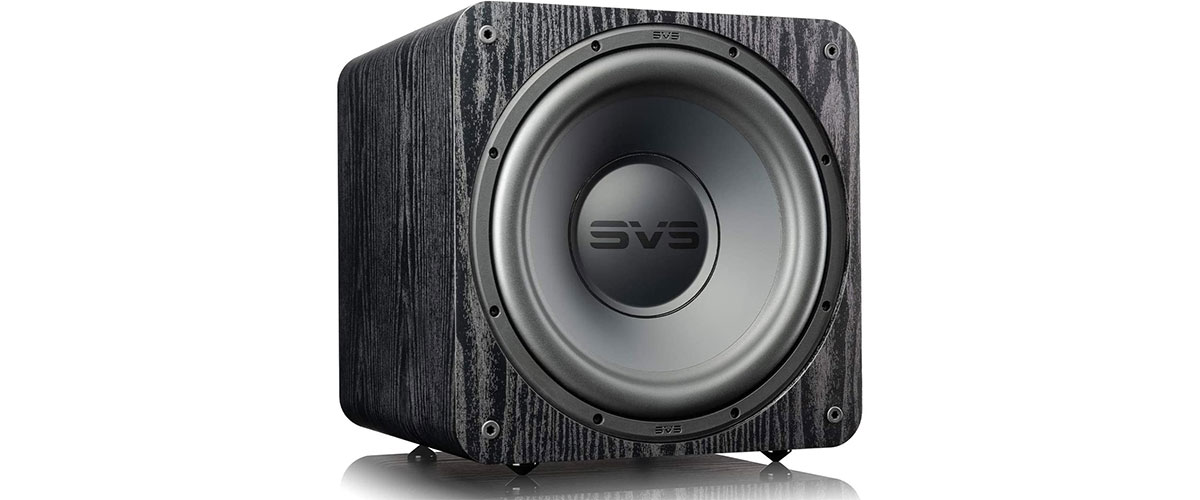 According to my tradition, the third option of the rating is usually a budget one. SVS SB-1000 Pro won in this category, providing good bass and saving money.
This model is externally similar to the leader of my chart, SVS SB-3000, and differs only in size and weight, which are 13.5″ x 13″ x 14.76″ and 26 pounds. As you can see, with a slightly smaller enclosure than the SVS SB-3000, the weight of the design is much less, which is certainly more convenient for moving the subwoofer around the room.
The subwoofer has a power rating of 325W (820W Peak) and a frequency range of 20-270 Hz ±3 dB. It will not push you out of your chair, and you will not feel the bass under your skin, but you will hear every detail. SVS SB-1000 Pro sounds quality, crystal clear, and tight, but not saturated. It is an insignificant minus, considering its price, but this is the compromise you will have to expect. Otherwise, the subwoofer handles movies (in particular, I liked the Dolby Atmos movies it played) and music just fine.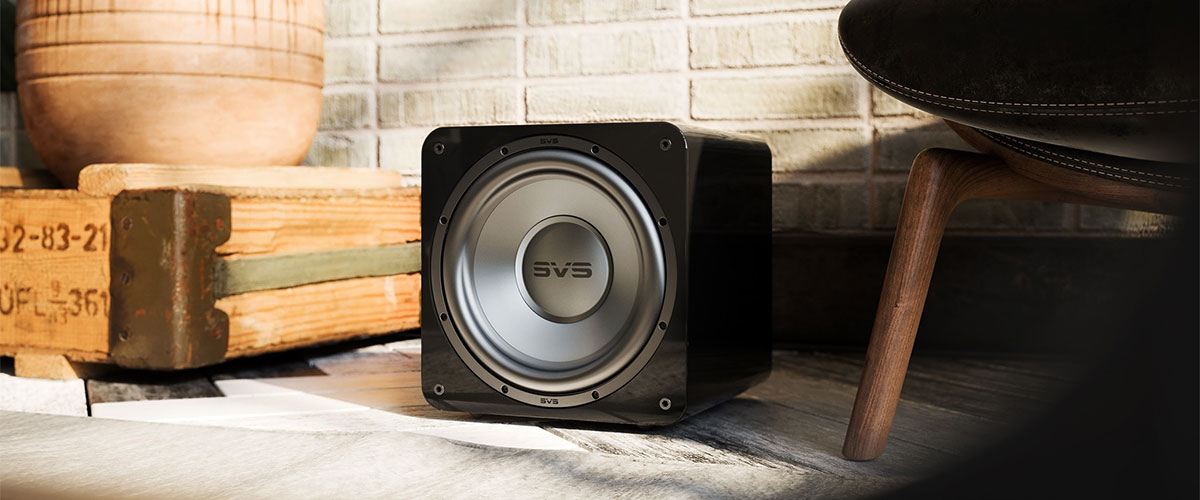 I also really liked that the sub sounds great out of the box. If you are an inexperienced user, this will be very helpful. But you can always adjust the unit's sound as needed, either with the cabinet's buttons or the smartphone app.
In explaining why this is rather simple, relative to the other models in my selection, this model is among them; it is worth mentioning the components used in its design. For example, the 12″ woofer uses a composite fiber cone moving huge amounts of air, a molded suspension with extreme exertion, and a motor with two ferrite magnets. All this ensures a clean sound in signal transmission and anti-resonance. Thus, I can conclude that the subwoofer will serve its owner for a long time.
SVS SB-1000 Pro will perfectly suit those who place their home system in a small room and want quality clear bass with even distribution across the room. This cool subwoofer under 1000 bucks could be one of the leaders in another category (for example, subs under $500).
Key specs
Power (RMS), W: 325.
Driver size, inch: 12.
Frequency response: 20Hz-270Hz.
Dimensions, inch (HxWxD): 13.5x13x14.7.
Pros
Sounds great out of the box, with the ability to adapt to personal preference.
Very good bass detail; you can hear every nuance.
Quality construction and internal components will serve you reliably for a long time.
Cons
In terms of power, it loses to the other members of my rating. The bass is not physically felt.
KEF KUBE 10b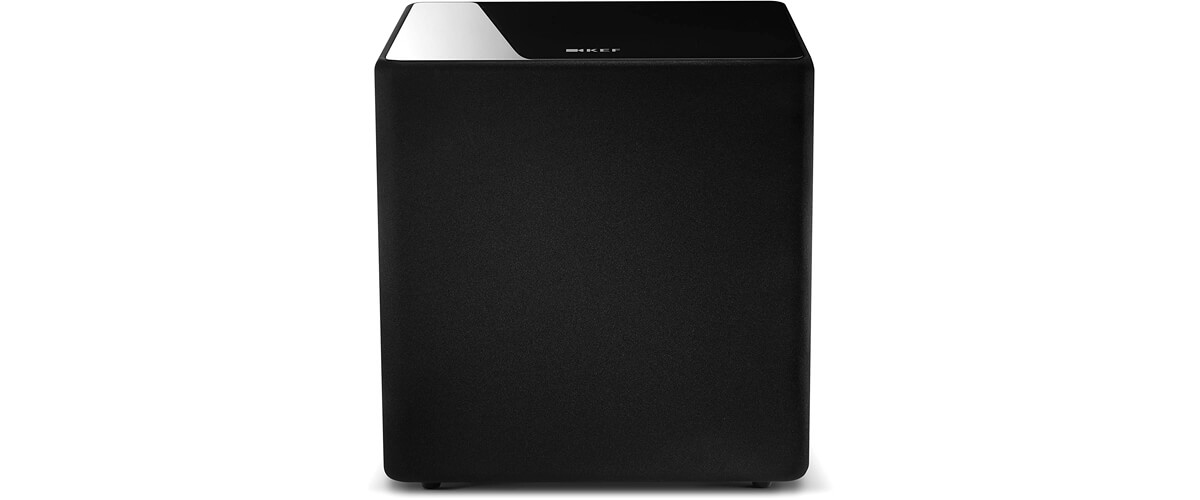 Now, meet a cube subwoofer measuring 14″ x 14″ x 15″, weighing 38 pounds, and, as the name implies, a 10″ woofer. The KEF KUBE 10b looks awesome, closed type, and will suit modern designs, I think.
Regarding specs, it's inferior to the competitors on my list because it offers 300W RMS and (+/-3dB) 24 to 140 Hz frequency range (which is lower than the other models in the rating). But the main advantage of the KUBE 10b, in my opinion, is that it has 3 pre-programmed EQ settings. You can easily place the subwoofer on the floor (and move it around), in a corner, or mounted on a shelf.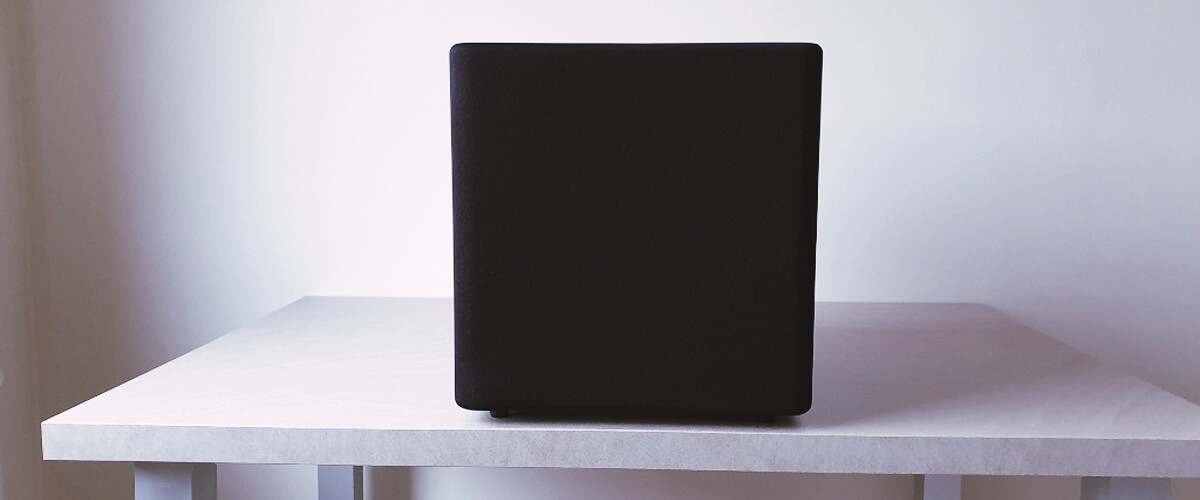 Apparently, this cube really likes to work because I noticed it goes into standby mode on its own if you listen to music at a low volume for an extended period. It's like it's saying, "Either listen to me like you're supposed to or don't listen at all!" At the same time, at the maximum frequency setting (bass and treble), it makes a slight wheeze. In general, a willful baby. The overall sound picture is great, though. But it will not make your hair bounce from the bass. But you do get to hear drums, bass, classic rock, or soft rock in the most realistic, detailed, and organic way possible. It will also serve you well when watching movies, adding depth and richness to the soundscape. Plus, you don't have to be an engineer to hook it up to your system. LFE inputs, line inputs, speaker level inputs, phase selection, and EQ settings controlled by DSP – even a child can handle it; the controls are tight enough, so you won't have to be nervous about adjusting the level you want.
I would call the KEF KUBE 10b a great home-based bass speaker. It's a beautiful, easy-to-operate, and easy-to-install sub with great bass for your system in surround sound and music. Among other subwoofers in this price range, it is simple and reliable as a "golden mean" model.
Key specs
Power (RMS), W: 300.
Driver size, inch: 10.
Frequency response: 40Hz-140Hz.
Dimensions, inch (HxWxD): 14.6×13.9×14.6.
Pros
You can install it on the floor, in the corner, or on the wall, for which there are preset equalizer settings.
Handy controls make it easy to adjust to your preferences.
Cons
Emits slight wheezing at maximum low/high frequencies.
At low volumes, it sometimes goes to standby mode spontaneously.
SVS 3000 Micro – compact size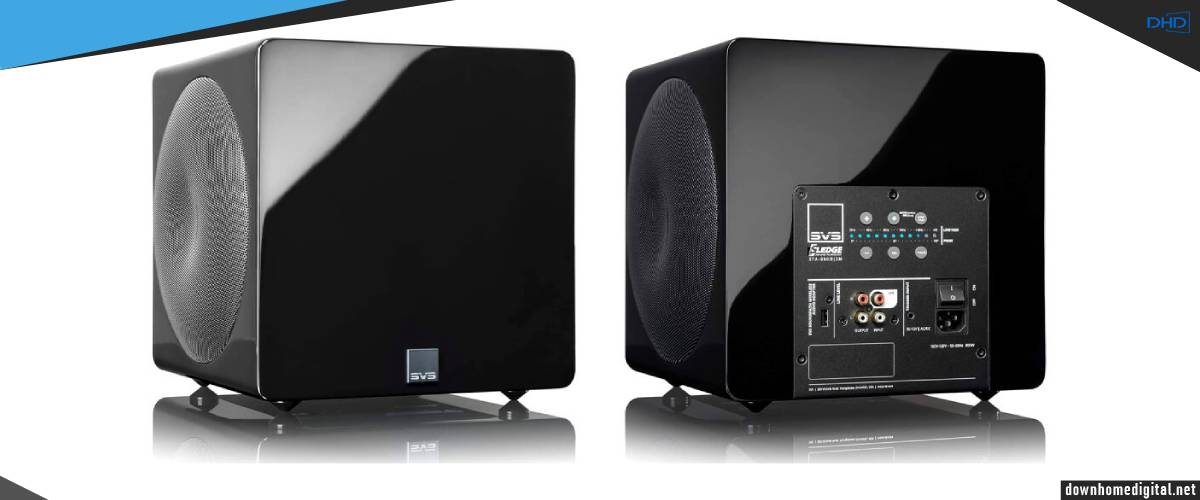 This rating seems to be a triumph for SVS because now I will tell you about my impressions of the brand's third model. And it is not surprising because SVS 3000 Micro is the smallest subwoofer, providing stunningly powerful bass. This little guy, measuring 10.9″ X 11.7″ X 10.7″ and weighing 22.5 pounds, accommodates a herd of horses (okay, let's be honest, ponies, after all). This is very cool if you have a small studio or house, as you can rearrange the sub for optimal sound.
Yes, many people who see the 800W RMS/2500W Peak figures might think that the 3000 Micro is capable of everything the SVS SB-3000 is capable of. Of course not, because here we have an 8″ woofer. And that means the space for you to appreciate all the benefits of this sub's sound is much smaller. I considered the comments of some of my colleagues and tried two of these subwoofers in a small studio. It really does sound amazing in the low frequencies around 38-40 Hz! However, if you're a professional, you won't like the lack of XLR inputs/outputs as much as I do.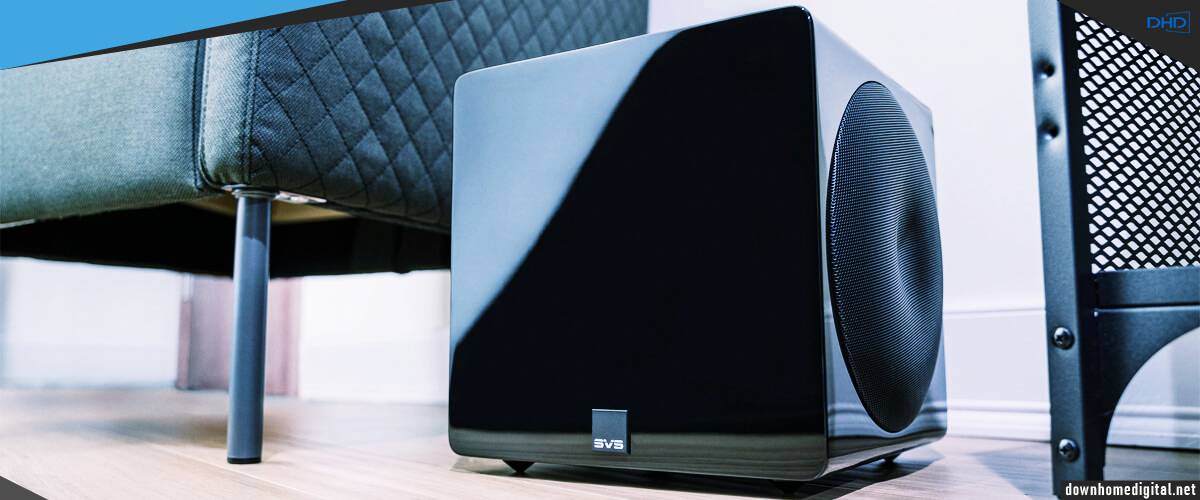 Otherwise, the unit uses the same technology as the SVS models I've previously described so that I won't repeat myself. You can get high SPL with very low bass extension by not giving it the same load as its big brothers.
The SVS 3000 Micro is the best home theater subwoofer under $1000 for those who prefer compactness and portability. It provides excellent bass quality with well-audible nuances, is very powerful for its size, and will appeal to the eye with its gorgeous glossy design. The evenly balanced bass response can satisfy even professionals.
Key specs
Power (RMS), W: 800.
Driver size, inch: 8.
Frequency response: 23Hz-240Hz.
Dimensions, inch (HxWxD): 13.9×15.4×15.4.
Pros
The compact size and weight make moving the subwoofer around the house or mini-studio easy.
Grandiose bass scale for a case of such a modest size.
Surprisingly delicate in detail.
Cons
There are no XLR inputs/outputs.
Things to consider when buying a home subwoofer under $1000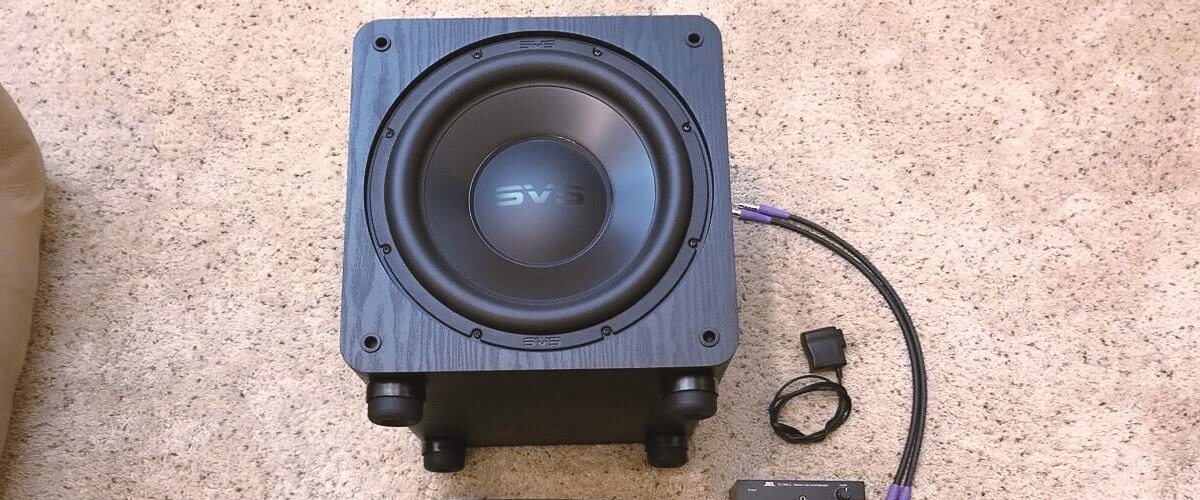 Power handling
Perhaps the first of the most important parameters to consider when choosing a subwoofer is its power. The higher the power rating, the more impressive the deep bass you can expect. But don't be too quick to choose a sub with the highest wattage, as in my experience, some models sound hoarse at maximum. It is also worth selecting wattage based on the room size where your system will be located. High wattage is good in big rooms but can damage the overall sound picture in small rooms. Once you have determined what wattage is better for you, make this parameter the starting point for further analysis and final selection.
Sensitivity
The sensitivity value indicates you can hear a louder sound at a lower power setting (energy conversion to sound). This is important if you have a low-power amplifier in your system. If you approach this parameter wisely, you can eventually find the optimal balance between sensitivity and overall sound quality, resulting in a better performance for your system as a whole.
Frequency range
A wide frequency range refers to deeper bass. Accordingly, it would help if you looking for the lowest Hz values, and this will indicate the subwoofer's ability to reproduce the lowest frequencies and, as a result – a richer, denser, fatter bass. And don't forget to try the new sub with your other speakers because you don't want to hear only bass, right? The system should sound balanced.
Size
You may think that a subwoofer's size only affects how it is placed in your room. Because small subs are suitable for small rooms, and determine their portability, and large ones, on the contrary, require stationary placement for a long period. But the main impact of size is the sub's volume since the larger the enclosure, the larger the dynamic. Nevertheless, a small model on my list provides gorgeous loud bass, even bigger than many full-size subwoofers. And in general, the largest sub is not always the most stable and has better anti-resonance. I recommend thoroughly studying the specs before buying and considering your needs and capabilities.
Enclosure type
Like the previous parameters, this one will depend on your personal preference, as the type of enclosure affects performance and the type of bass. Depending on what you want to hear, choose from these types:
Enclosure Type
Description
Advantages
Sealed Enclosure
Closed box or enclosure with acoustic suspension.

Tight and accurate bass
Precise and controlled response
Efficient power usage
Suitable for music reproduction
Ideal for small to medium-sized rooms

Ported Enclosure
Also referred to as a bass reflex enclosure.

Deeper and extended bass
Louder bass with more impact
Suitable for home theater applications
Ideal for larger rooms

Bandpass Enclosure
A more complex design that uses both a sealed and ported chamber to produce bass.

High efficiency
Strong and resonant bass
Requires precise tuning for optimal performance

Passive Radiator Enclosure
Similar to a ported enclosure but uses a passive radiator instead of a vent or port.

Deep bass and high output
Enhanced bass response
Requires careful tuning and design considerations