When the weather is fine, most people spend time outside or around the home. If you wish to listen to your favorite music without worries about your speaker, you need to find the best outdoor subwoofer.
Subwoofers for outside are, of course, subject to special weather conditions. They have to be waterproof. Conditions they have to withstand are:
Dust;
Dirt;
Sun exposure (UV radiation and heat);
Humidity;
Splashing water;
Of course, this also and especially applies to the cabling.
There are various types of open-air subwoofers, but here we consider the most popular among them. The so-called in-ground speakers are particularly suitable for installation in plants and flowerbeds. Only the head protrudes from the ground. The skewers can be placed anywhere in the garden.
There are also waterproof subwoofers that almost completely disappear into the ground. Usually, you bury the bulbous part of the outer boxes in the ground, and only a small opening protrudes. This is particularly suitable for subwoofers, which usually require a larger soundbox.
Our pick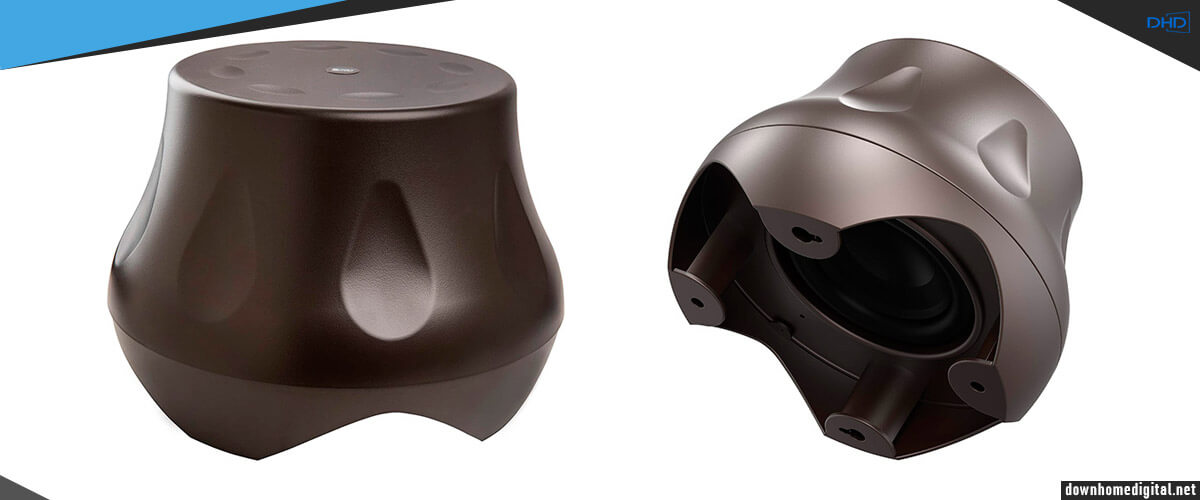 OSD FORZA 10
Best Outdoor Subwoofer
OSD Audio FORZA-10 10″ Weather-Resistant Outdoor Subwoofer with 300W of Power and High-Impact Molded IP66-Rated Enclosure.
We don't recommend
OSD FORZA 8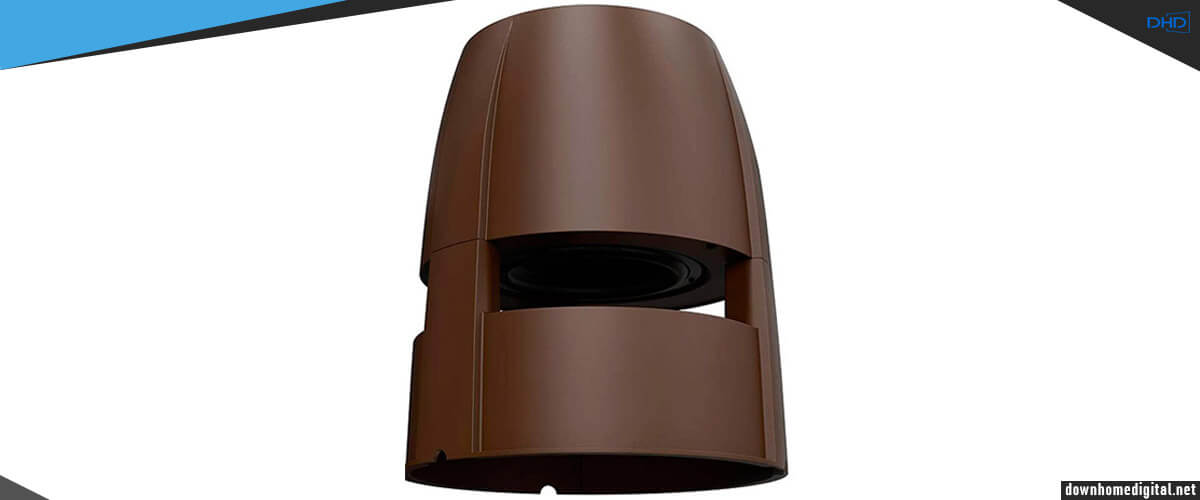 Cons
It is an outdated model, and on the market, you can find better subwoofers in quality and price
To assemble this unit, you need to connect it to speaker outputs and then to speakers using wires instead of simple connection via subwoofer output
It does not have enough power to create deep bass
This is not a standalone speaker to deliver a lot of sounds
Outdoor Weatherproof Subwoofers Comparison Table
Name
Power, W
Driver size, inch.
Frequency response
Dimensions (H" x W" x D")
Review
OSD FORZA 10

best overall

300
10
50Hz-300Hz
19.9″ x 19.2″ x 15″
Review
Polk Audio Atrium SUB 100
200
10
50Hz-100Hz
11″ x 16.9″ x 16.9″
Review
TIC GS50

in ground

125
8
25Hz-200Hz
12.5" x 12.5" x 13"
Review
Best Outdoor Subwoofer Reviews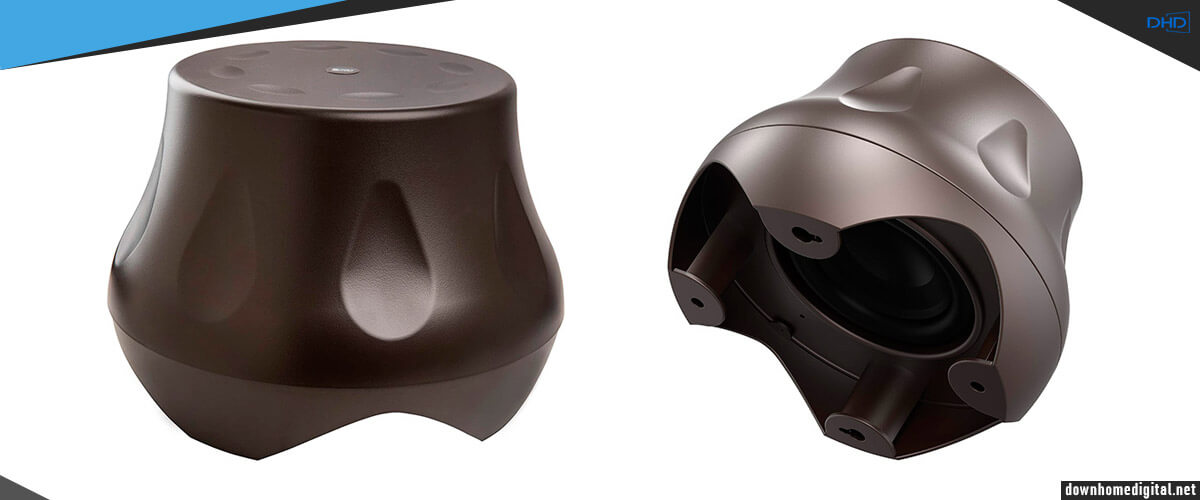 OSD Audio Store constantly develops new stereo models to satisfy customers. Unless outdated speakers, FORZA can become your best outdoor subwoofer. It easily deals with severe weather. This unit has an IP66 rating. It allows you not to worry about it during dusty, rainy, and frosty weather.
FORZA 10 has a simple but nice design. Its grey color easily fits various gardens and can be hidden behind bushes. It is totally up to you whether to install it on hard surfaces or place it in-ground. Forza 10 subwoofer is compatible with both options. After bad weather, you will not have difficulties in cleaning it. Even when the sun is shining, it resists UV. Moreover, you do not need to worry about leaving this subwoofer outside for a night. It has the antitheft feature. The built-in eyebolt to anchor will keep your device in one place.
It is quite a powerful subwoofer with 300W of power and wonderful music. It effectively delivers high-quality sound effects on low frequencies. The driver has a common size of 10 inches which is a very popular option when you want to enjoy deeper sounds. If you want to receive an even better response, you should place it on hard ground or surface. As it is wireless, you will not have to manually turn it off and on. Moreover, when it is in-ground, you easily use a subwoofer without difficulties.
Forza 10 is a down-side firing model. It means that sound goes downwards and hits the surface. As a result, you receive more colorful bass, which is properly reinforced to enjoy music at full.
Key specs
Power (RMS), W: 300
Driver size : 10″
Frequency response: 50Hz-300Hz
Dimensions (H x W x D) : 19.9″ x 19.2″ x 15″
Pros
It easily pairs with various speakers, amplifiers, and DACs
The subwoofer is made of reliable materials to serve for many years and withstand various weather conditions
It can be installed over and under the ground
Cons
On hard surfaces, it vibrates what causes too much buzz sound
Polk Audio Atrium SUB 100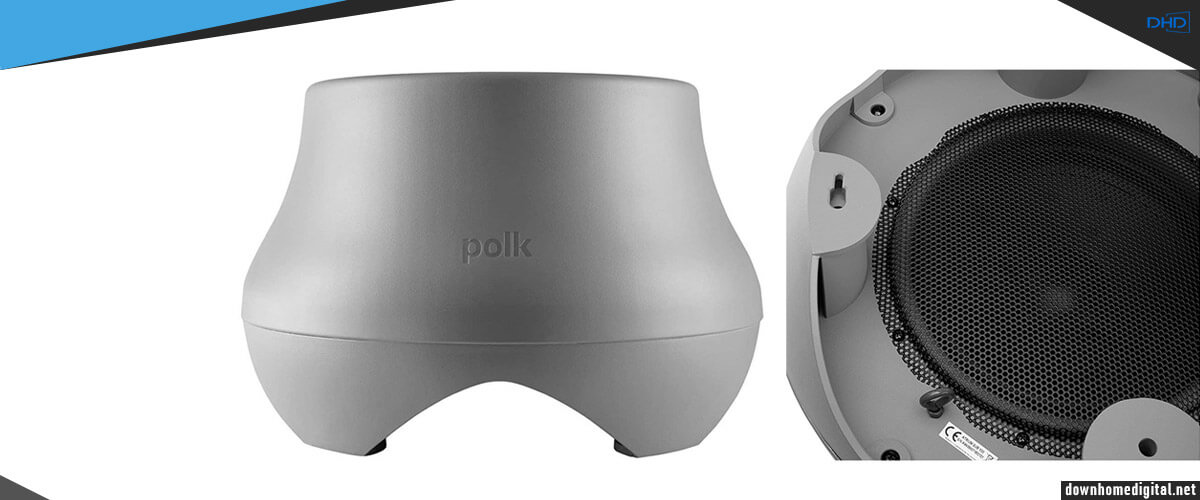 It is hot, even at night temperature hardly cools down and you are planning a party on your terrace and by the pool? With the Atrium series, Polk offers weatherproof outdoor speakers that defy rain, wind, UV radiation, and fog. You can paint the Atrium SUB 100 according to your furnishing style and use it as a side table or plant stand.
With a combination of powerful bass and robust weatherproofing, you can hear bass outside or in the transition areas of your house as you normally only hear it inside. The Sub100 is the perfect addition to a set of Sat300s and gives the system the fully dynamic reproduction of a top-class audio system. Paint it so that it fits better in your conservatory or pool. The Sub100 offers real bass fun, and it will be the focus of your garden parties!
The powerful, downward radiating 200-watt subwoofer provides a bass that shakes the earth. With the integrated, waterproof, and IP68-certified connection box, other outdoor speakers can be easily connected. It is also perfect for installation on the floor. The model is in a molded and sealed, perfect acoustics and IPX66-certified housing with marine approval, which guarantees you years of unique weather resistance and outdoor performance.
The included cover protects the subwoofer and ensures a distance from the ground in the outdoor environment. It can be perfectly integrated. Sub100 housing can be painted to perfectly match your facility. The resin impregnated with paint will never fade and is a perfect match for your outdoor furniture. The massive, 10-inch long-throw Dynamic Balance driver technology prevents driver distortion for deeper, clearer bass even at higher volumes.
Key specs
Power (RMS), W: 200
Driver size : 10″
Frequency response: 50Hz-100Hz
Dimensions (H x W x D) : 11″ x 16.9″ x 16.9″
Pros
It is made of sturdy materials to serve for many years
Efficient underground subwoofer
Simple installation
TIC GS50 – in-ground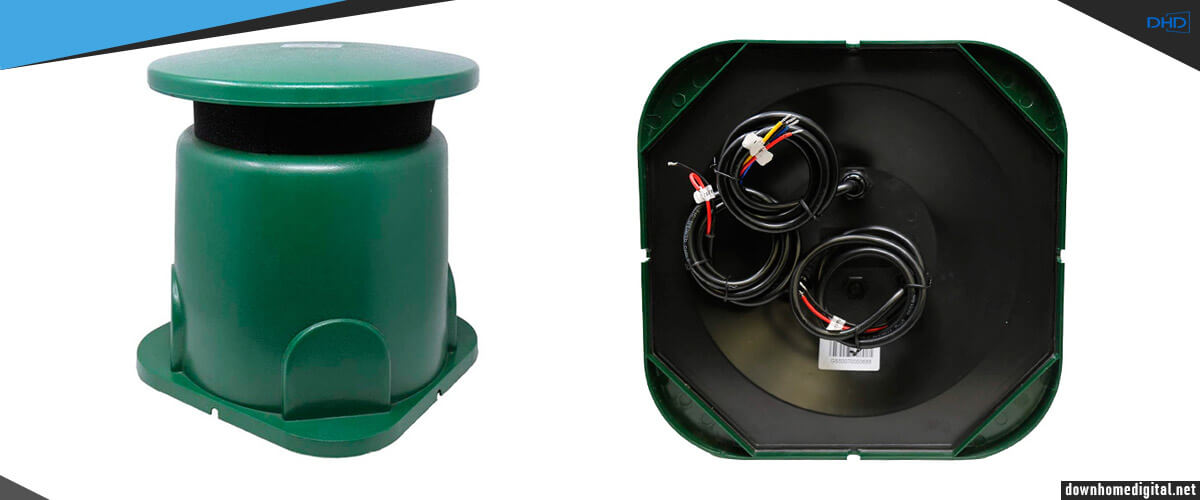 If you need an all-weather subwoofer to bury it into the ground, then TIC GS50 will be able to help you. It is a nice model, which you are free to install everywhere outdoors. It has green housing made of ASB polypropylene that withstands various weather conditions. The satellite design enhances the range of sound, and it goes in all directions.
Inside, you receive 250W of power with an 8-inch driver, which enhances with omnidirectional sound technology. It allows users to enjoy music in all direction angles. One of the many benefits that you receive with TIC GS50 is the compatibility with various other devices. Passive inner crossover automatically separates several bands of audio frequency and improves the quality of sounds. The unit comes with two waterproof wire connectors if you plan to connect the subwoofer with other speakers. Devices with 8om impedance are better if you wish to receive higher sound quality.
Key specs
Power (RMS), W: 125
Driver size : 8″
Frequency response: 25Hz-200Hz
Dimensions (H x W x D) : 12.5" x 12.5" x 13"
Pros
Manual contains all information you need to properly install the subwoofer
This subwoofer produces wonderful sound while buried in the ground
Can be easily hidden in bushes and behind other plants
The assembling of the subwoofer does not require a lot of time
Cons
It does not have an in-built Bluetooth adapter
FAQ
Where should I put my outdoor subwoofer?
Subwoofers should be placed in locations where the sound is mainly reflected on something and not absorbed by anything (i.e., a wall, fence, or tree). If it is located near a house or another structure, you'll want to place it so that any sound that reflects off those things will come from the rear, not the front. That means that you will want to point it away from your house and aim it towards the center of your yard.
Can you use an indoor subwoofer outside?
While they are built tough, most indoor subwoofers are not designed to be left outside in the elements. They also have no means of getting power from an outdoor electrical outlet and likely will not provide a high enough level (or any) bass response out by your pool or hot tub.
Should outdoor speakers be covered?
If you plan on keeping your outdoor speakers out for the whole year, then it is a good idea to cover them up when not in use. Rain and snow can often get into the passive speaker cone and cause corrosion or damage to the speaker's voice coil. If you have an amplifier connected to these speakers, rain and snow will also erode the connections, which will require replacement.
Can you use an outdoor subwoofer in the winter?
A subwoofer should not be used when it is below freezing. Subwoofers are designed to produce low bass frequencies, which means that the voice coil has a large amount of mass and requires significant amounts of power. If this gets too cold, it will become brittle and break due to the repeated large voltage caused by the bass tones. Therefore, it is wise to disconnect the subwoofer before freezing weather.
What kind of wire should I use for outdoor speakers?
When running speaker wire outside, it is best to use 14 or 16 gauge wire. This is thicker than the standard 18 or 20 gauge wire used inside the house and will have an increased resistance to moisture damage.