Among various subwoofers, some models can be installed into the wall. Such a solution really has a positive effect on the overall sound picture and saves space in the room. But how to choose the best in-wall subwoofer among the huge number of options? And I will help with my review, which is devoted to this topic. But first, a few words about the types of such devices.
Our pick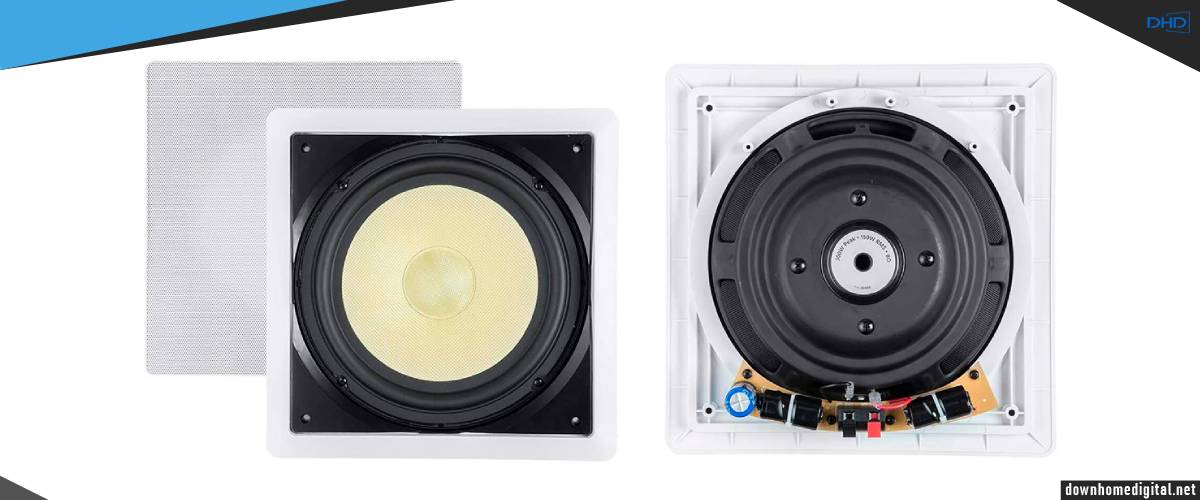 Monoprice Fiber
Best in-wall subwoofer
In-wall speakers are great for everyday listening. They're out of the way and don't take up floor space.
Read the full review
.
There are two basic types of built-in speakers: "In-Wall" and "In-Ceiling" models. In wall subs are optimized for installation on hollow walls, whether it is a wood panel, MDF board, or plasterboard (plasterboard, BA13). They are suitable for home cinema integration with the front speakers on either side of the screen and the center speaker below the screen or even behind, in the frame of the screen.
Built-in ceiling speakers are often smaller and designed to be installed on hollow ceilings (false ceiling, wooden plate, etc.). They are intended for the distribution of background music in spacious rooms (e.g., stores, restaurants, etc.). Also, such models are often used as part of a home theater in conjunction with surround sound speakers.
In-wall subwoofer reviews comparison table
Name
Power, W
Driver size, inch.
Frequency response
Review
Monoprice Fiber in-Wall Subwoofer

best overall

300
10
33Hz-230Hz
Review
OSD Audio SL800D

also a great choice

100
8, 10
40Hz-500Hz
Review
Klipsch RW-5802 II

premium

300
8
45Hz-140Hz
Review
We don't recommend
Pyle PDIWS10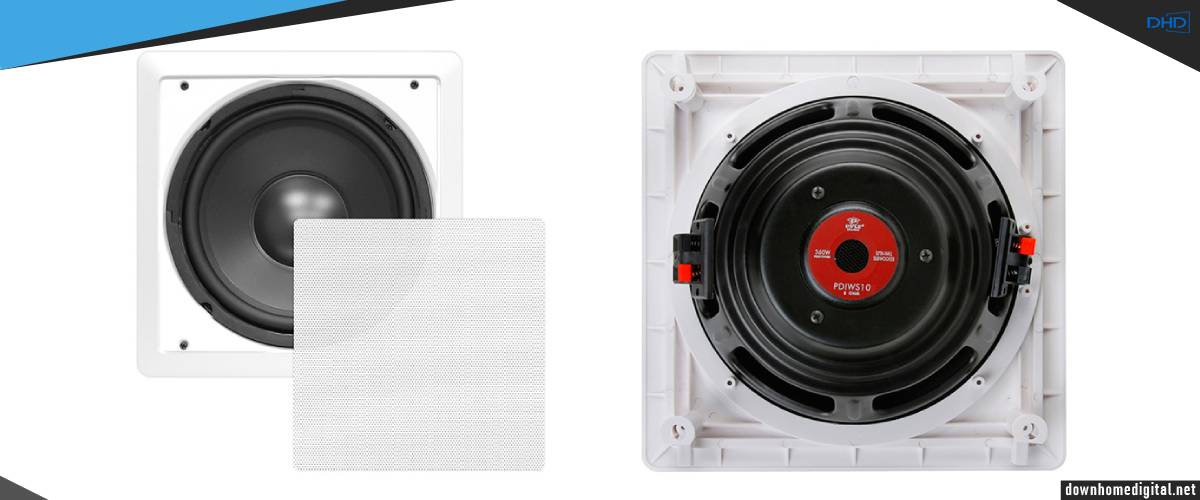 Cons
Plastic supports are not strong enough.
Pretty outdated model.
It requires an additional amplifier.
There are certain difficulties with its installation.
Best in-wall subwoofer reviews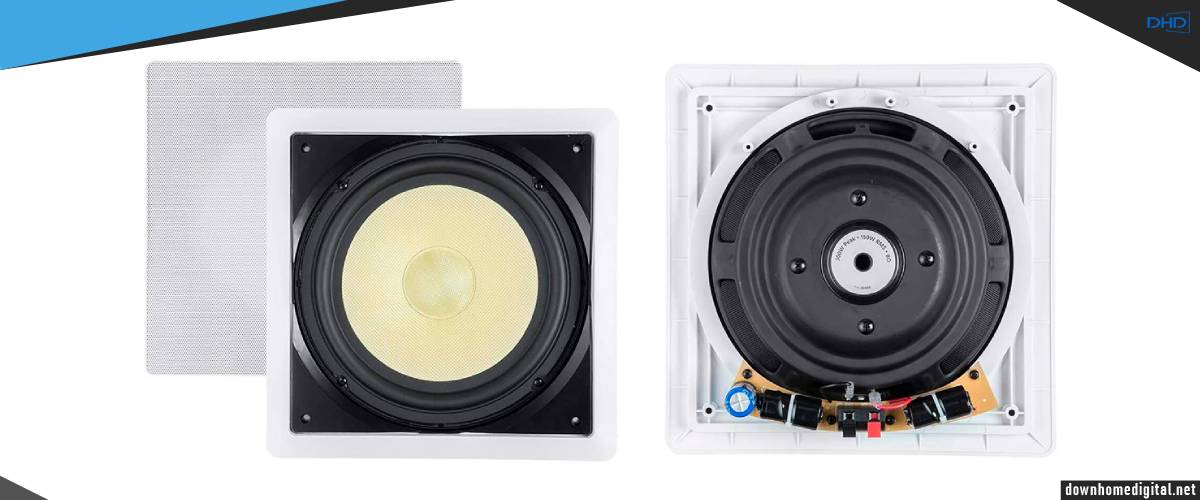 If you wish to make a wonderful home theatre and just a place to enjoy your favorite music, you need a decent wall mounted subwoofer. Monoprice Fibre is a nice option to consider. You will not have difficulties in installing it even by yourself. With this unit, you receive instruction on mounting the proper size of a hole. This model has a 10-inch driver with a power output of 300W. If you need a smaller passive in-wall subwoofer, Monoprice offers a range of models with the smallest of 5.25-inch drivers with 100W of power. Together with a passive subwoofer, you receive a cutout template. With it, you easily mark the wall and perform the cutting. Then, with just a screwdriver, you can properly place a speaker into the wall.
Another side of this in-wall subwoofer that you will like is the reliability of the Monoprice Fiber. It is made from Aramid fiber, which is similar to DuPont Kevlar fiber products, which are ready to serve you for many years. It has minimum polymers, which means that there will be less sound distortion. Carbon materials also improve the depth of bass and sound quality. The front grille properly protects the subwoofer from dust. Moreover, it can be painted in your favorite colors without worries.
Key specs
Power, W: 300.
Driver size, inch: 10.
Frequency response: 33Hz-230Hz.
Pros
It is made from reliable materials to serve you for many years.
You will not spend a lot of time to install and start using the subwoofer.
Nice design that fits different interiors.
Cons
Wings that hold the drywall are cheap and fragile.
OSD Audio SL800D – also a great choice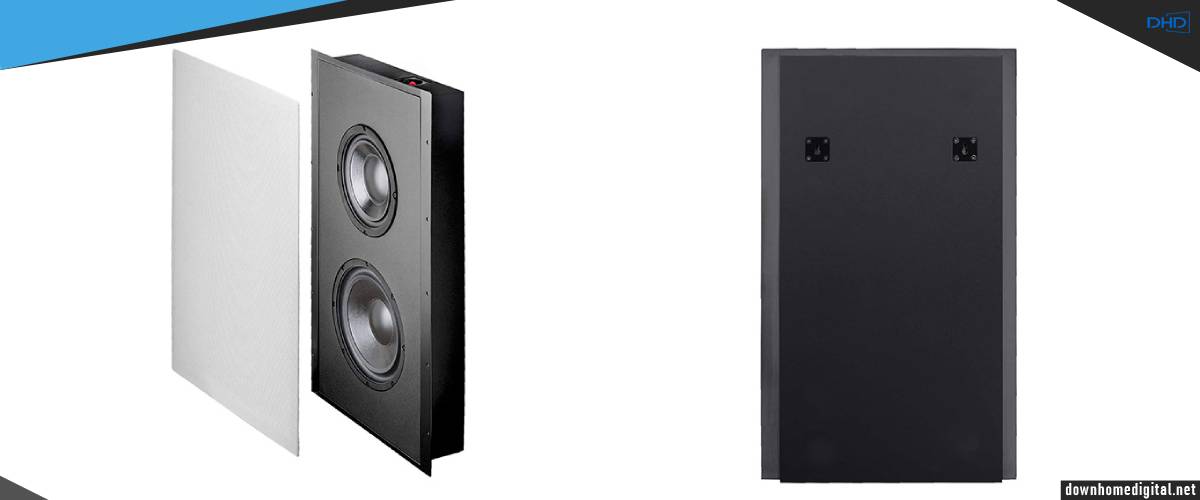 While trying to find the best in-wall subwoofers, it is definitely better to review several options before a final decision. Another model that you should review is SL800D from OSD Audio. This manufacturer has a world known fame in providing a great variety of speaker and sound connected equipment.
There are several reasons why you may want to get this model. In the beginning, it does not require a lot of space in the hole. It has an 8-inch woofer driver in flat profile housing. Moreover, on the front side, the grille covers and protects the subwoofer. To match various interiors, you are free to paint the grille in the preferable colors. If you do not want to make a hole in the wall, SL800D also properly operates in a standing mode.
Then, you will be pleased with the sound and bass quality. With a 300W output response, you receive accurate and clear sounding even at low frequencies. The passive 10-inch radiator assists in sound-producing by reducing vibrations and sound distortions.
Key specs
Power (RMS), W: 300
Driver size, inch: 8, 10.
Frequency response: 40Hz-500Hz.
Pros
You receive clear and deep bass.
This is a dual-mode with a woofer and radiator to enhance sound quality.
Compact size and design.
Cons
You need an additional amplifier to use the subwoofer.
Klipsch RW-5802 II – premium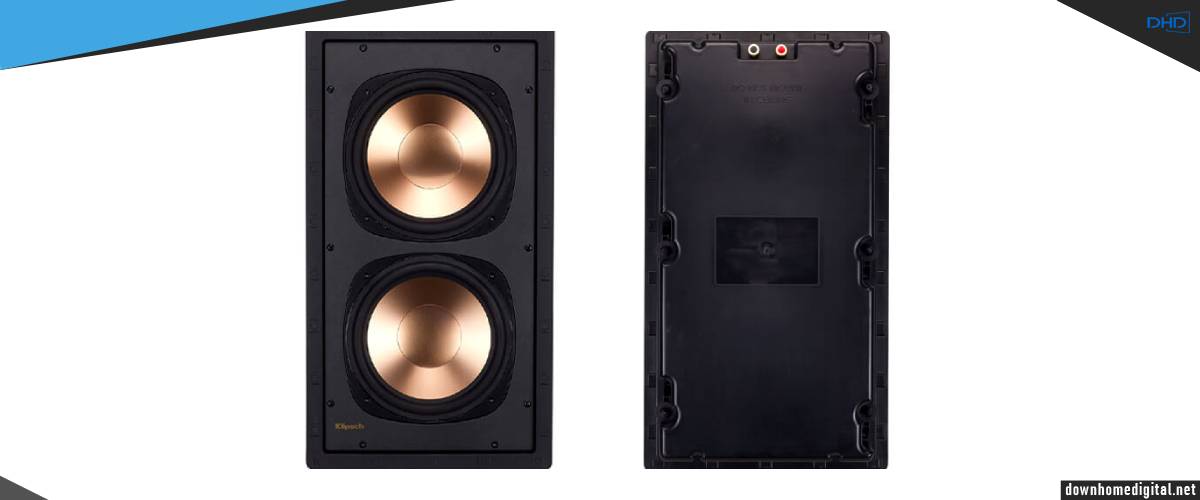 And now, I'll introduce you to the Klipsch RW-5802 high-performance enclosed subwoofer. Like other representatives of integrated acoustics of this brand, this model is mounted flush with the wall. This type of installation has several distinct advantages: firstly, it takes almost no space. Secondly, the wires from it are also in the wall, and thirdly, the sound is evenly distributed inside the room, not "spreading" to neighboring rooms.
In-wall passive subwoofer The Klipsch RW-5802 II has serious power. With one speaker running and an 8-ohm load, it delivers 300 watts of the bass sound. When two speakers are running, and the load is 4 ohms, the subwoofer delivers as much as 500 watts of sustained power. By the way, the bass driver's cone is made of ceramic metal, and the sealed MDF case allows you to get the sound at the output without losing quality. A white grille is attached to the RW-5802 II casing with magnets.
The Klipsch RW-5802 II delivers deep bass thanks to its two 8-inch bass drivers. They have hard Cerametallic cones specially treated with aluminum, anodized or electro-chemically converted to ceramic on both outer surfaces. This ceramic composition allows the buffers to move at high speed without blurring the sound.
Combined with the RSA-500 subwoofer amplifier, this passive in-wall subwoofer can perfectly complement any home theater or two-channel system. It is also fully compatible with the new Reference series of in-wall and in-ceiling speakers.
When I tested this model, I understood why in-wall subwoofers reviews about it were positive and enthusiastic! It really showed its power!
This powered in-wall subwoofer is currently the clear leader in the premium segment! It is easy to install, made of durable and high-quality materials, and most importantly, it gives a hard and powerful sound!
Key specs
Power (RMS), W: 300.
Driver size, inch: 8.
Frequency response: 45Hz-140Hz.
Pros
Two 8″ Cerametallic active woofers.
Sealed integrated MDF cabinet for maximum installation flexibility.
Incredibly powerful.
Cons
Does not work with all types of amplifiers.
OSD IWS10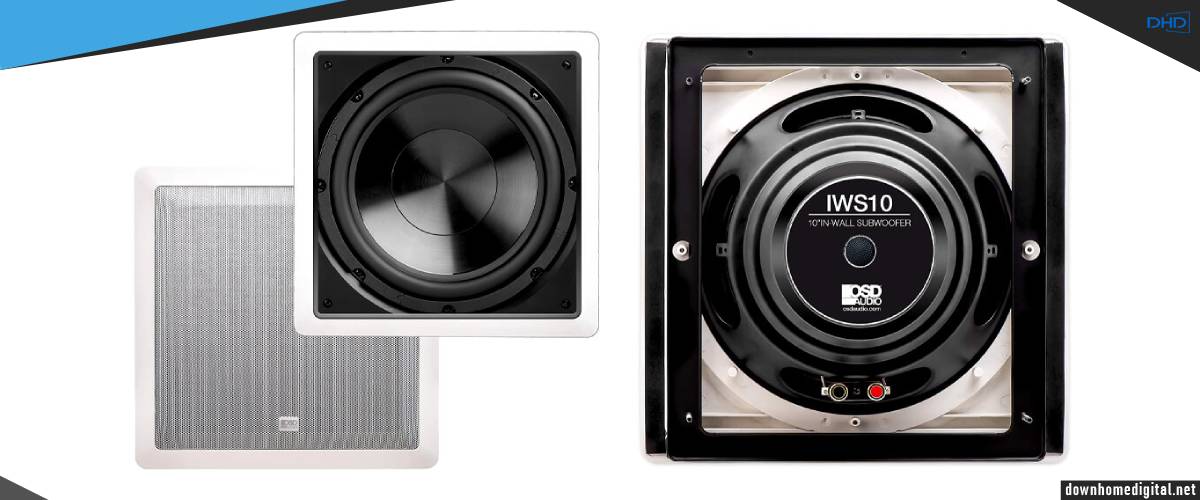 The OSD IWS10 is next on my list, which is a 10″ passive subwoofer with up to 200 watts of power. And first of all, I draw your attention to the ease of installation of this model. Thanks to the special easy mounting bracket, fastened to plasterboard, this procedure will take minimum time and effort. By the way, the grille can be painted to match the design of your room.
The OSD IWS10 is designed to reproduce even the lowest of audible frequencies. When I tested it, the sound was really good, and I was satisfied. I heard nothing supernatural, but I can't say anything bad about the sound quality.
You will need an amplifier to power this model because it uses a passive speaker. The manufacturer recommends using OSD SMP500 – a special amplifier for the subwoofer with an RMS power of 400 W at 4 Ohm impedance.
Yes, this model may not be one of the top 5 best in-wall subwoofers, but it is definitely worth your attention. You can easily install it, and with enough features and power, it will give you a pleasant experience of watching movies and not only.
Key specs
Power (RMS), W: 200.
Driver size, inch: 10.
Frequency response: 30Hz-150Hz.
Pros
10″ polypropylene subwoofer.
butyl rubber surrounds.
very convenient "Easy In" mounting bracket.
built-in rear dust shield.
Cons
Sometimes there is a "rattling" of the bracket.
How to install an in-wall subwoofer?
To install an in-wall sub, you need to have holes in the wall or to make them by yourself. Before making a hole to install a built-in speaker, make sure that the wall or the ceiling is well hollow. It can be in decorative panels (wood, MDF panel with veneer) or plasterboard (BA13 with or without insulation). Several precautions can be taken in the case of installation in an already existing dwelling.
For example, it will be necessary to cut off the power to the room where the work is carried out to reduce the risk of electric shock in the event of an electrical cable cut behind the partition. Likewise, the use of a metal detector and electric current will allow drilling in complete safety. It should also be noted that the manufacturers of in-wall speakers provide templates to facilitate the drilling. Once the drilling has been done, take care to line the back wall with an absorbent.
To install an in-wall passive subwoofer, you will need to power it with an amplifier, as passive models do not have it inside. After having made the drilling, it will be necessary to mark the phase of the cable (+) to use the same on the whole installation. You should also ensure that the cables are sheathed in the partitions to comply with French construction standards. The use of a specific speaker cable (OFC) is preferable. It is also a good idea to provide an additional length of cable for a comfortable connection of the speaker before putting it in position.
Some in-wall speakers may be fitted with infrared (IR) repeater sensors. Besides, it will be necessary to think about making a cable passage (telephone pair) near the enclosure to connect the sensor.
For models equipped with a 100V transformer, you must choose the power consumed so that all the speakers placed on this line make a total a little less than the power of the amplifier. This technology allows many loudspeakers to be put in parallel on a single amp with large cable distances.
FAQ
Are in-wall subwoofers worth it?
There are a few things to consider when determining if in-wall subwoofers are worth the investment:
Consider the size of the room and how much space is available. If the room is large and open, in-wall subwoofers may be a good option to boost the bass without taking up valuable floor space.
Think about the room's acoustics and whether in-wall subwoofers would help to improve them. If the room has hardwood floors and bare walls, for example, in-wall subwoofers could help to produce a more full and rich sound.
Consider the budget and whether in-wall subwoofers fit into it.
In-wall subwoofers can be a more expensive option, but they may be worth the investment if the other factors are taken into consideration.
Where do you put a subwoofer on the wall?
There is no one correct answer to this question as it will depend on the specific room and setup. However, a good general rule is to place the subwoofer at or near the front of the room, close to the main speakers. This will help to create a more immersive sound experience. Another thing to consider is the height of the subwoofer. In-wall subwoofers are typically mounted low to the ground, which can help to produce deeper and more powerful bass.
What are the benefits of in-wall subwoofers?
There are several benefits that come with in-wall subwoofers. First, they can save valuable floor space since they are mounted on the wall. Secondly, they can help to improve the acoustics of a room by producing a fuller and richer sound. Finally, they can be a more aesthetically pleasing option since they are hidden away on the wall.
How do you hide a subwoofer in the wall?
There are a few different ways to hide a subwoofer in the wall. One option is to use an in-wall subwoofer kit, which includes everything needed for installation. Another option is to build a false wall in front of the subwoofer, which can be made from drywall or plywood. Finally, the subwoofer can be placed in a closet or other small space and vented through the wall. Whichever option is chosen, it is important to make sure that the subwoofer is properly sealed and insulated to prevent sound leakage.
Can subwoofers damage walls?
Subwoofers can damage walls if they are not properly installed or sealed. When installing a subwoofer, it is important to use the proper size screws and anchors. The subwoofer should also be sealed with caulking or other materials to prevent sound leakage. If these steps are not followed, the subwoofer can vibrate the wall and cause damage.