There are different types of subwoofers on the market today. To decide whether to get the best sealed subwoofer or a ported one, you should know more about them.
Our pick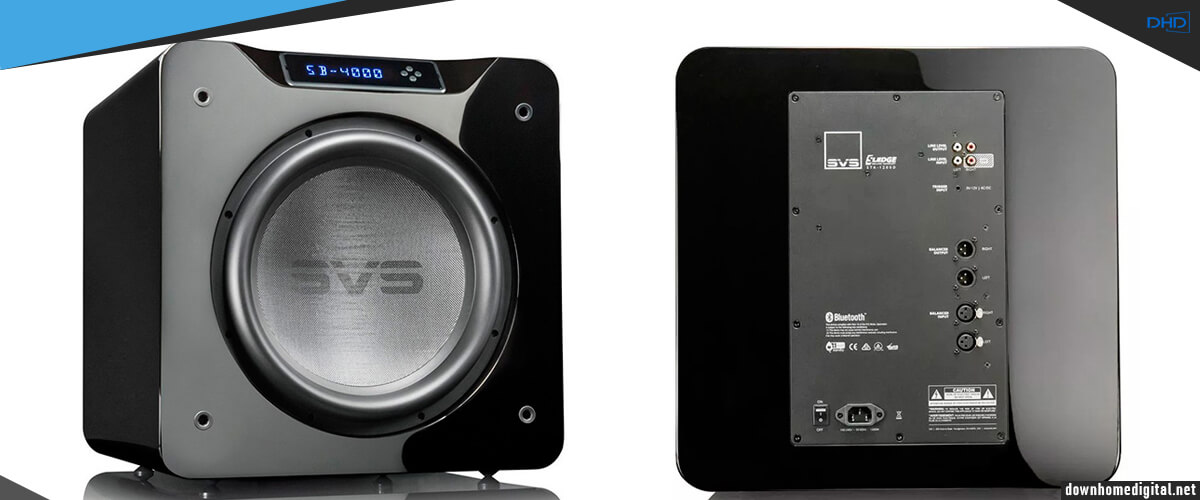 SVS SB-3000
Best sealed subwoofer
Chest-thumping output and extreme low-frequency extension with exquisite refinement and musicality – in this SVS SB-3000 subwoofer.
Read the full review
.
Sealed subwoofer housings place the subwoofer in a secured box so that the front cone of the speaker only protrudes from the box. It emits a solid bass without generating a vibrating boom in compact cabinet construction.
Ported subwoofer enclosures use the same structural design as the sealed speaker, but the enclosure has an additional opening near the back of the cone. The rear sound waves can exit the housing through the opening or connection.
My review today is dedicated to sealed box subwoofers, and I have prepared some interesting models for you. I will tell you about their features, advantages, and disadvantages, as well as give advice on which models you should not buy. So let's start with that.
Sealed subwoofers comparison table
Name
Power, W
Driver size, inch.
Frequency response
Dimensions, inch (HxWxD)
Review
SVS SB-3000

best overall

800
13
18Hz-270Hz
15.2×15.6×17.8
Review
Kanto sub8

budget

125
8
35Hz-175Hz
11x11x11.9
Review
Definitive Technology DN8
500
8
34Hz-175Hz
12.8x12x13.1
Review
KEF KUBE 8b
300
8
34Hz-140Hz
11.6×11.6×11.6
Review
We don't recommend
SVS SB-4000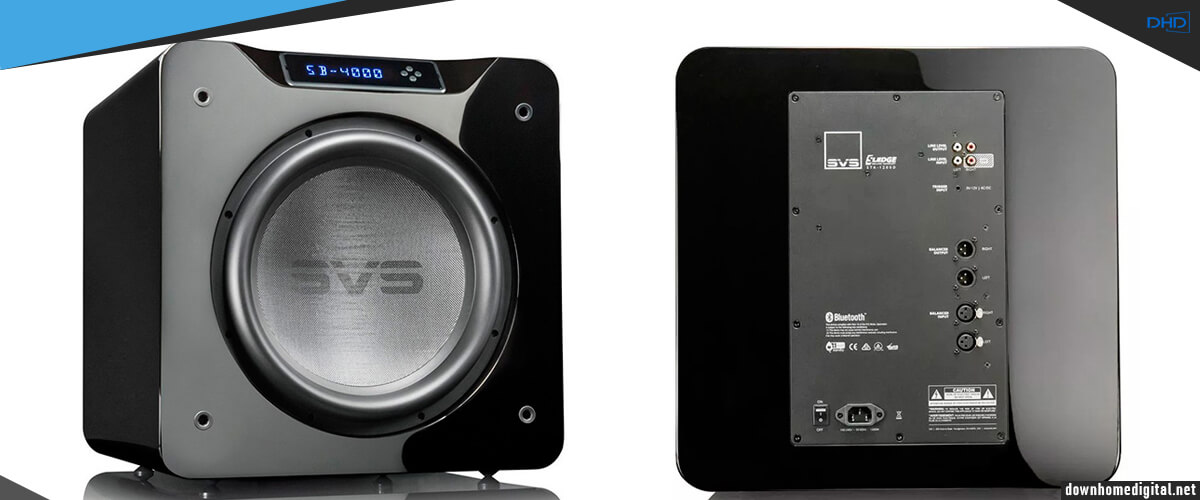 Cons
The price is unreasonably high.
It does not have an automatic setup what requires more time to assemble the unit.
Without IP control, you need to adjust all settings manually.
No high-level inputs.
It is quite heavy, and if you want to move the subwoofer, you will need ass.
Best sealed subwoofer reviews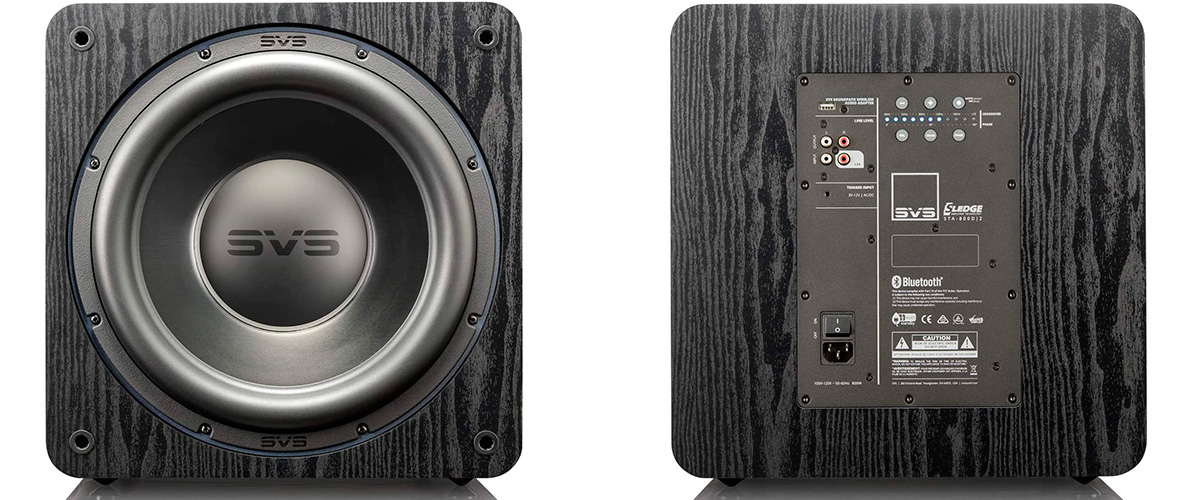 You can find plenty of various SVS models on the market. In case you need a new SB model and something worth trying, you should consider the SVS SB-3000 model. This sealed sub is one of the newest from this manufacturer. Its main goal is to deliver deep and high-quality bass with the convenient management of the subwoofer.
SB-3000 also brings innovations. It has a 13-inch high excursion driver and 800W of output. The peak power allows you to reach more than 2500W of power. As a result, you receive amazing bass. Inside this unit, you also have a Sledge STA-800D2 amplifier. It brings out the full potential of SVS SB-3000. Moreover, its design combines features of D class amplifier with a large current to create real-world like sound.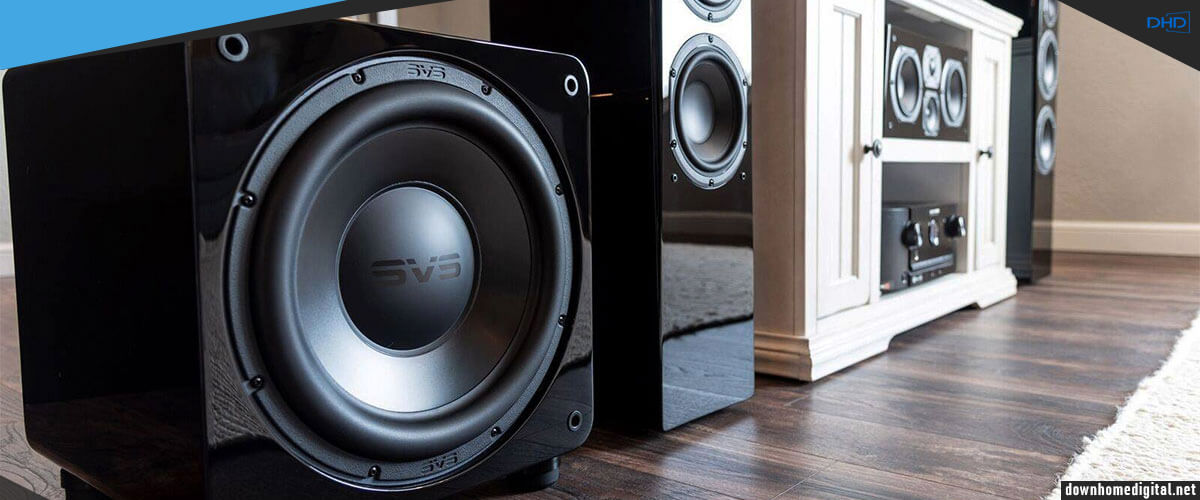 The rear panel is different. It has an ICI interface for manual adjustments and a convenient mobile application for remote control. There is also a pair of standard A&B in/outputs. If you plan to connect it with other devices, you will not have difficulties. SVS SB-3000 has three-band parametric EQ and adjustable frequencies, which you can manage with a mobile application. The whole unit is just a 15-inches cube. It easily fits various rooms and can be placed on the floor.
The housing is very compact. Its sealed cabinet delivers bass without redundant vibrations. Double-thick MDF and rigid bracing firmly keep powerful driver. It is not very large, which allows you to place it in convenient locations of the room to receive better sound quality.
Key specs
Power (RMS), W: 800.
Driver size, inch: 13.
Frequency response: 18Hz-270Hz.
Dimensions, inch (HxWxD): 15.2×15.6×17.8.
Pros
With the Digital Signal processing, you receive precise and controlled bass.
The remote mobile application has enough range to control the subwoofer from larger distances.
It does not require a lot of time to unpack, install and adjust all the settings.
Cons
The subwoofer does not have many in/outputs to connect multiple devices.
Kanto sub8 – budget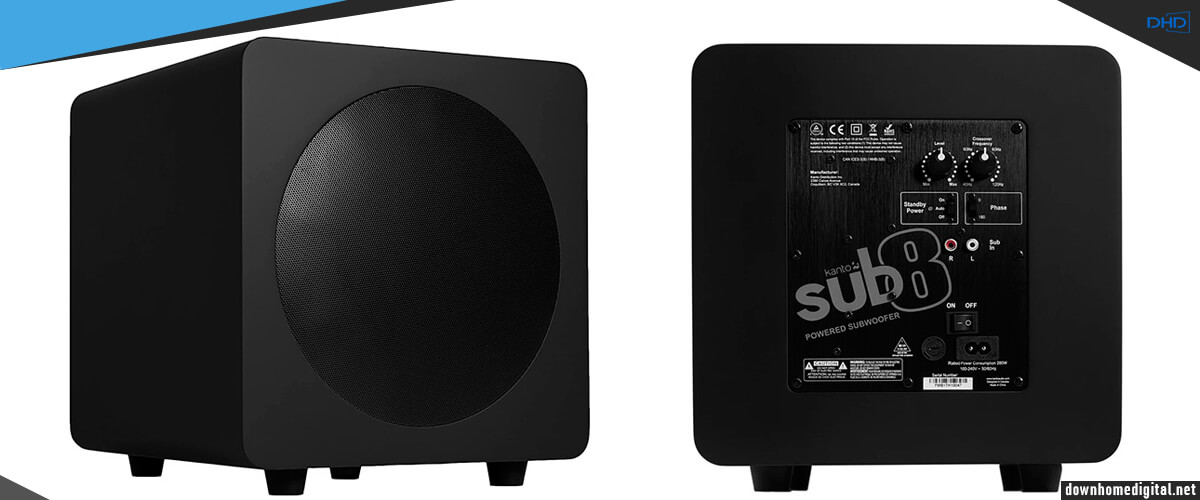 If you are looking for a nice sealed powered subwoofer, then you will be interested in Kanto Sub8. It has a nice and simple mate design, which can be of black and grey colors or gloss white and black. The housing is easy to carry as it is made of lightweight and rigid aluminum. The fiber dust cap protects the speaker and allows users to receive a fast response. It belongs to active subwoofers that do not require additional equipment to deliver sound. Moreover, you will not receive unwanted vibrations due to an acoustic grade MDF cabinet.
Another reason why you receive such precise and wonderful sounds is the powerful output of 250W. With 8-inch, you receive a balanced and detailed bass response of favorite soundtracks. Kanto Sub8 also serves as a D class amplifier of 215W.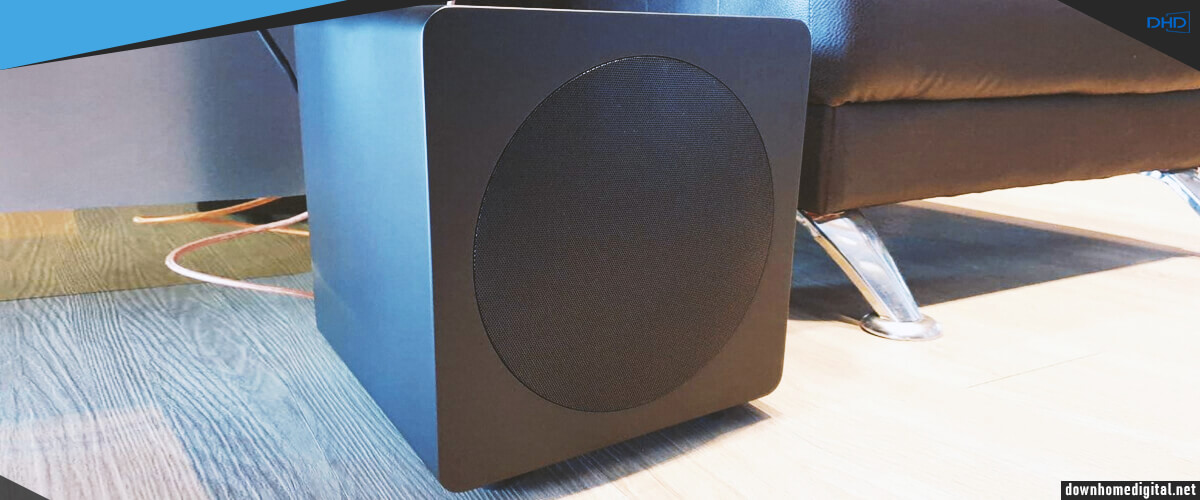 In case you plan to join it to your audio system, the Kanto subwoofer has a precision crossover filter system with a phase switch. Additionally, as every room is different, on the rear side, it has switchers to adjust frequency and volume to receive bass you like.
Key specs
Power (RMS), W: 125.
Driver size, inch: 8.
Frequency response: 35Hz-175Hz.
Dimensions, inch (HxWxD): 11x11x11.9.
Pros
You receive precise and high-quality sounds.
It does not require a lot of space and easy to move.
Simple control and management via a smartphone application.
Cons
When the subwoofer does not play music, you can hear a noticeable hum.
Definitive Technology DN8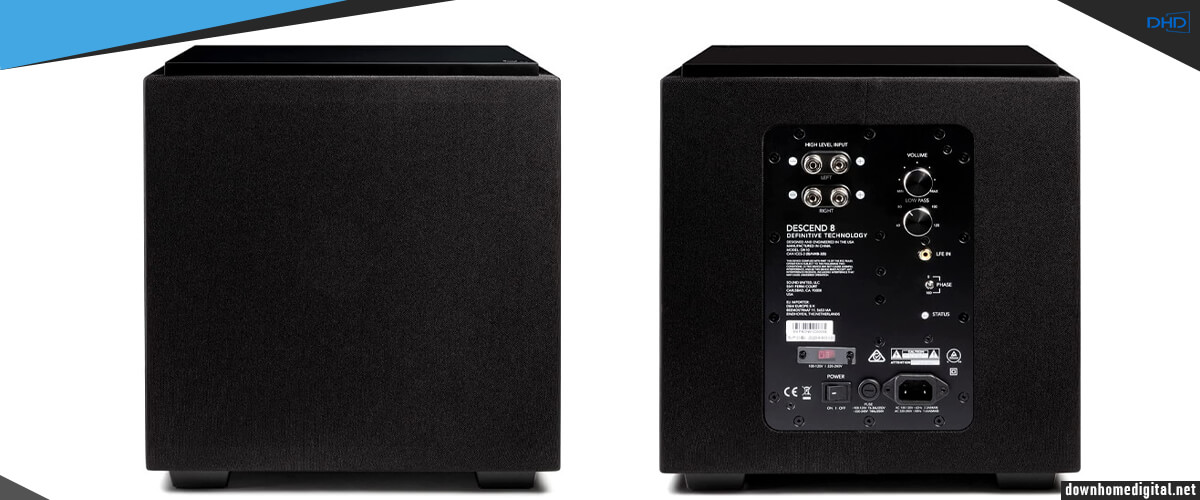 Next, I would like to introduce you to a compact 8″ subwoofer equipped with a 500W Class D amplifier specially designed for music and movies. This model is designed in the proprietary 3XR Architecture with a closed box with a pair of symmetrically arranged passive radiators operating from a single driver. Thus, the effective radiating area is optimized for cleaner and more accurate sound. Technically, the range is increased by 3 times compared to a subwoofer with traditional ports.
In addition, the 3XR Architecture provides deeper bass in a smaller form factor thanks to its unique design. The size of the speakers almost matches the size of the subwoofer itself. Since no traditional bass ports are used in this design, the sound quality of the Descend Series subwoofers is virtually unaffected by noise and distortion. Furthermore, the DN8 is equipped with a special amplifier for the efficient reproduction of bass frequencies, which is quite difficult to achieve given its compact size.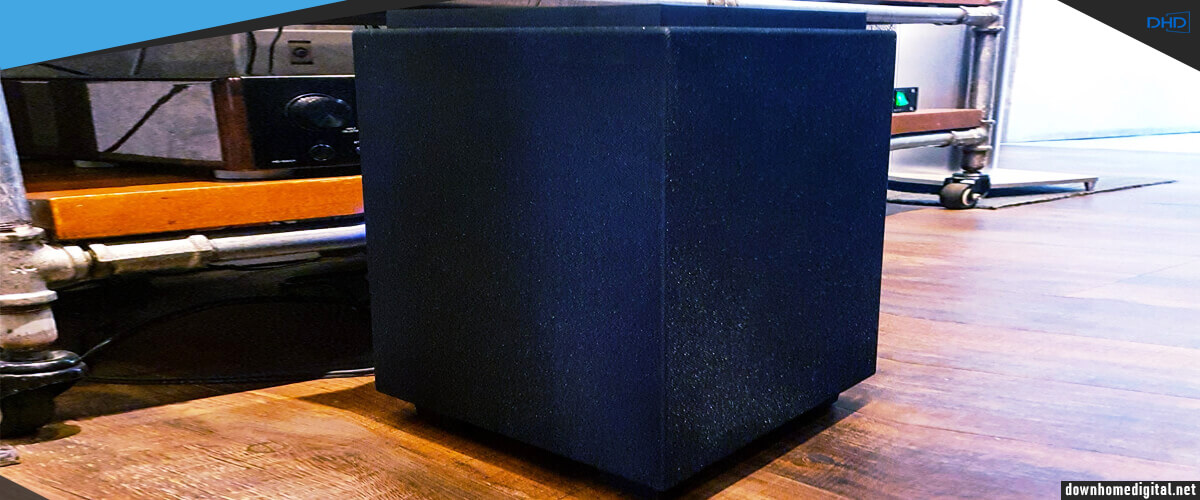 With a built-in controller for output level adjustment, low-pass filter, and phase control, the Descend DN8 integrates perfectly into your multimedia system. It also adapts well to the acoustics of the room.
The unit's size (12.8″ x 12.0″ x 13.1″) allows you to find a place for it in your room easily. The DN8 is available in either Midnight Black or Glacier White. Take your pick, but I will point out that both look classy and expensive.
I haven't heard a single muddy base note during my testing, just a clean, fast, punchy base! For my small living room, DN8 was more than enough. So take a closer look at this model because I'm sure many would love to get it for their multimedia home system.
Key specs
Power (RMS), W: 500.
Driver size, inch: 8.
Frequency response: 34Hz-175Hz.
Dimensions, inch (HxWxD): 12.8x12x13.1.
Pros
3XR Architecture.
Passive radiators for louder, lower, and cleaner bass.
Blends well with any system.
500W Class D amplifier.
Cons
May not meet the needs of users who like heavy bass.
KEF KUBE 8b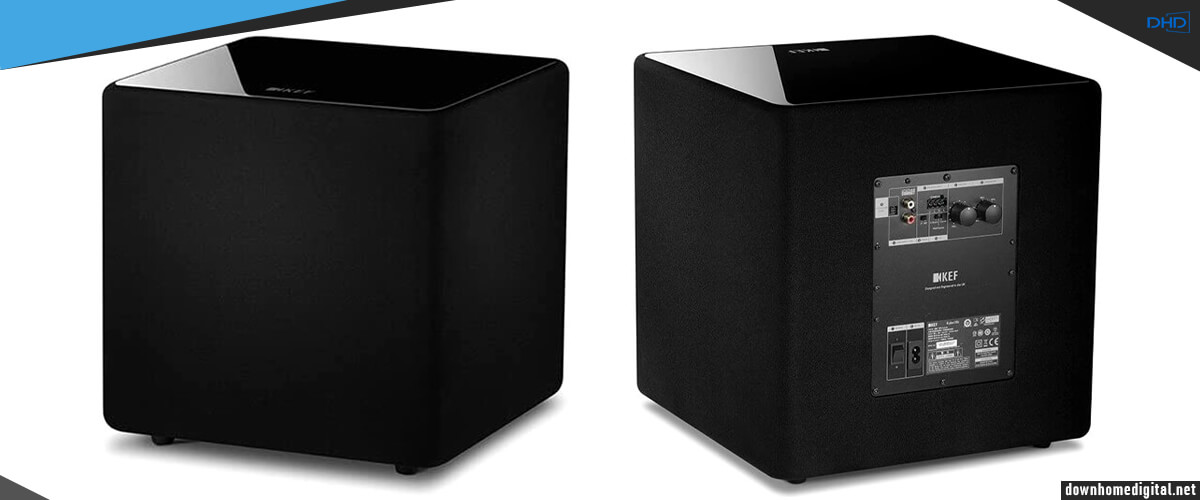 In addition to home and theater speakers, KEF introduced the subwoofers of the KUBE series at the end of 2017. This series also included my "guest" today, the 8-inch KEF KUBE 8b.
The subwoofer is upholstered in fabric, the top panel is lacquered, and all the controls and switches are located in the back. In principle, everything is pretty standard. The enclosure is closed, which means that there is no phase-inverter port. In addition, the model is equipped with a 300-watt Class D amplifier, as well as the proprietary algorithm iBX (Intelligent Bass Extension), which increases the bass depth.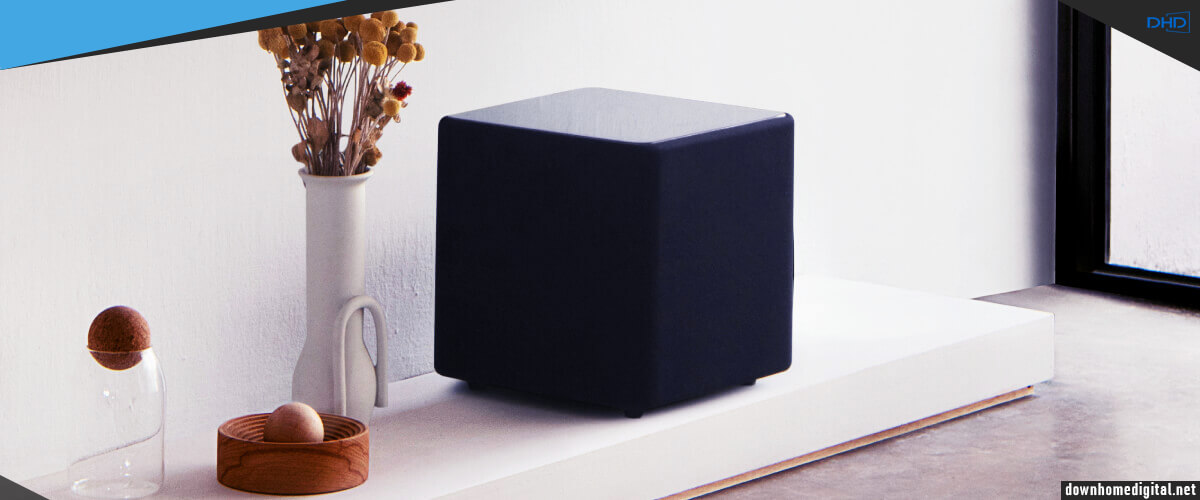 Another interesting feature of this model is DSP sound correction for different placement options in the room. There is a switch on the rear panel with three positions: in the corner, against the wall, or free placement. DSP takes into account changes in sound characteristics due to bass boost in close proximity to walls and corrects them to achieve an even amplitude-frequency response. Other controls include a 0/180 phase switch, volume control, and crossover cutoff frequency control. Both line and high-level inputs are provided. The stereo line input has SmartConnect, which detects that only one channel is connected to the input and automatically adds volume. And the high-level is not made with traditional screw or spring terminals but with a compact and convenient Phoenix connector. In addition, both inputs work simultaneously, allowing you to capture the signal from the front channels and the LFE output.
My test took place in a room of about 300 ft². The source was a Blu-ray player Theta Digital Compli Blu 3, and Primare SPA23 acted as an amplifier. I limited myself to listening to fragments of my favorite "Deadpool" and fragments of various movies from the very popular "Atmos Demo Disc". To put KEF KUBE 8b into this system was not difficult, but it was better to experiment with the switch of DSP modes and choose the most suitable of the three. The device reproduced a harsh, resilient bass without dominating and irritating extraneous sounds. In general – a pleasant sensation of the "weight" of flying planes, explosions, and other special effects. The bass frequencies were fast, harsh, and almost without aftershocks.
All in all, I was pleasantly surprised by the capabilities of this model, which both looks stylish and has outstanding abilities for its size and price. As a result, I think that KEF KUBE 8b will be in demand among connoisseurs of good bass and those just looking for a decent compact subwoofer.
Key specs
Power (RMS), W: 300.
Driver size, inch: 8.
Frequency response: 34Hz-140Hz.
Dimensions, inch (HxWxD): 11.6×11.6×11.6.
Pros
Great sound in movies.
Takes up little space.
DSP correction.
SmartConnect function.
Adaptable to different installation options
Cons
No wireless transmission.
Advantages of sealed home theater subwoofers
After reading the first part of my review, you've probably already appreciated the capabilities of the best-sealed subwoofers. With such a unit, you will always receive wonderful sound quality and enjoy watching favorite movies. In this type of speaker, the sound does not cause too many vibrations. The housing helps to reduce them and make sounds clearer.
Among the benefits of sealed home theater subwoofers, they are not very large and heavy. Their design and weight are suitable for moving them around the room to find the right place. With ported subwoofers, you will not be able to do that just by yourself.
FAQ
What is the difference between ported and sealed subwoofer enclosures?
Ported subwoofer enclosures are typically larger than sealed subwoofer enclosures, and they use a port or vents to increase the low-frequency output of the subwoofer. Sealed subwoofer enclosures are smaller and provide more accurate bass responses, but they don't produce as much bass as ported enclosures.
Is a ported sub better than a sealed one?
There is no definitive answer to this question as it depends on personal preferences. Some people prefer the accurate bass response of sealed subwoofer enclosures, while others prefer the increased low-frequency output of ported enclosures. Ultimately, it is up to the listener to decide which type of enclosure sounds best to them.
Does a sealed box hit harder?
No, a sealed box does not hit harder than a ported box. A sealed box will provide a more accurate bass response, but a ported box will produce more bass overall.
Can I port a sealed sub box?
No, you cannot port a sealed sub box. Porting a sealed enclosure will ruin the acoustics of the enclosure and degrade the sound quality.
How do you make a sealed box louder?
You can make a sealed box louder by adding more power to the subwoofer. Increasing the power will increase the volume of the bass output. You can also add sound deadening material to the interior of the enclosure to help increase the volume.
Do sealed subwoofers need more power?
No, sealed subwoofers do not need more power than ported subwoofers. In fact, sealed subwoofers are typically more efficient than ported subwoofers and will produce more bass per watt of power.