Since no home theater system is without speakers, needless to say, you will never get the proper sound effect without a subwoofer, especially when it comes to watching action movies with a deep sound range, which takes the emotional experience of the viewer to a whole other level.
In my review of the best subwoofers under $500, I offer you 5 different options that differ from each other in size, speaker layout, control capabilities, and price. But rest assured, even the budget version of my selection will be a great home theater subwoofer that will give you quality bass. I will draw your attention to the features of each subwoofer, at the same time considering some parameters that are important when choosing such equipment. Let's go!
Our pick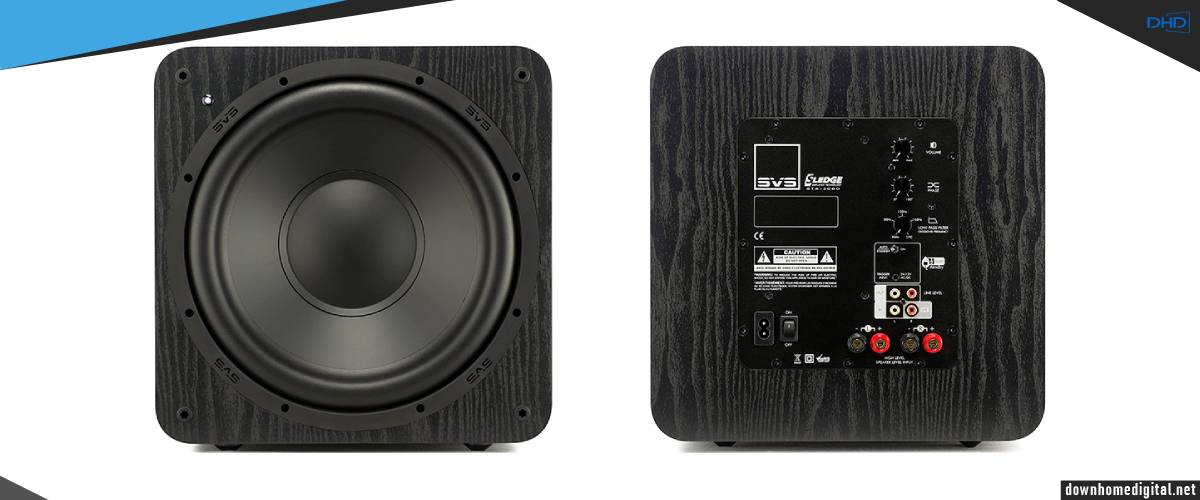 SVS SB-1000
Best subwoofer under $500
SB-1000 Pro Subwoofer has a deep bass extension down to 20Hz and massive output with stunning musicality that will delight audiophiles and home theater fans.
Read the full review
.
Subwoofer under $500 comparison table
Name
Power, W
Driver size, inch
Frequency response
Dimensions, inch (HxWxD)
Review
SVS SB-1000

best overall

300
12
24Hz-260Hz
13.5x13x14
Review
BIC America F12

budget

475
12
25Hz-200Hz
17×14.8×17
Review
Klipsch R-112SW

wireless (optional)

400
12
29Hz-120Hz
16x14x18.5
Review
Definitive Technology Descend DN8

compact size

500
8
34Hz-175Hz
12.8x12x13.1
Review
Best subwoofer under $500 reviews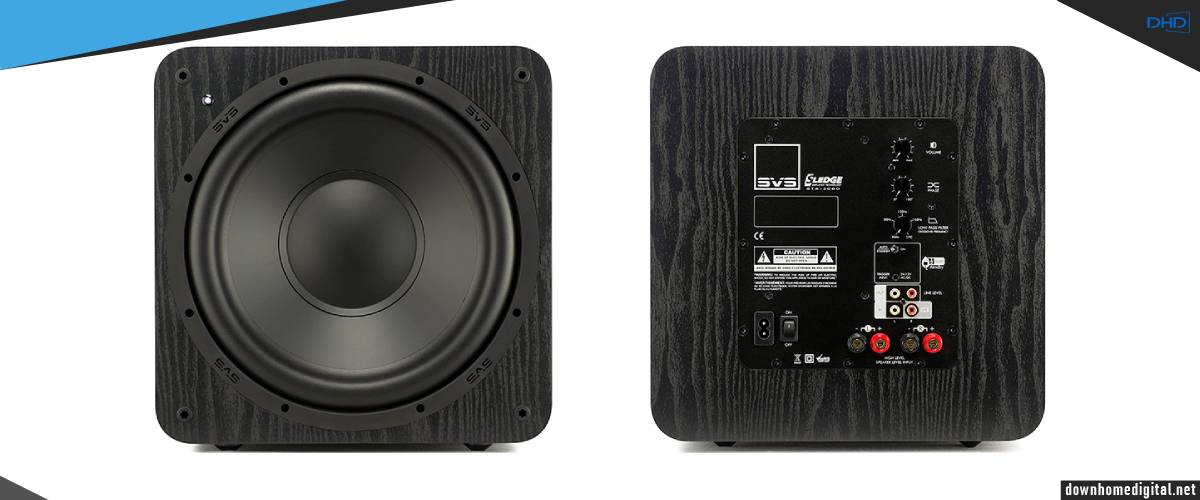 Not betraying my long-standing traditions, I begin my review with the leader. SVS SB-1000 is a compact (but not the smallest in my list) square subwoofer with a 12″ front speaker, which firmly occupies its place at the top of my "Olympus". I'm sure you already want to know all its features, and "secrets". Then go ahead!
Weighing only 27 pounds, the sub measures 13.5″ x 13″ x 14″ (without grille), is quite sturdy, and includes a cloth grille with a pin/cover retention system and a removable power cord. Finish options are available in black ash, black royal gloss, and white royal gloss (by the way, please note that the finish determines the price). Although the indicator light is too bright, I do not like that.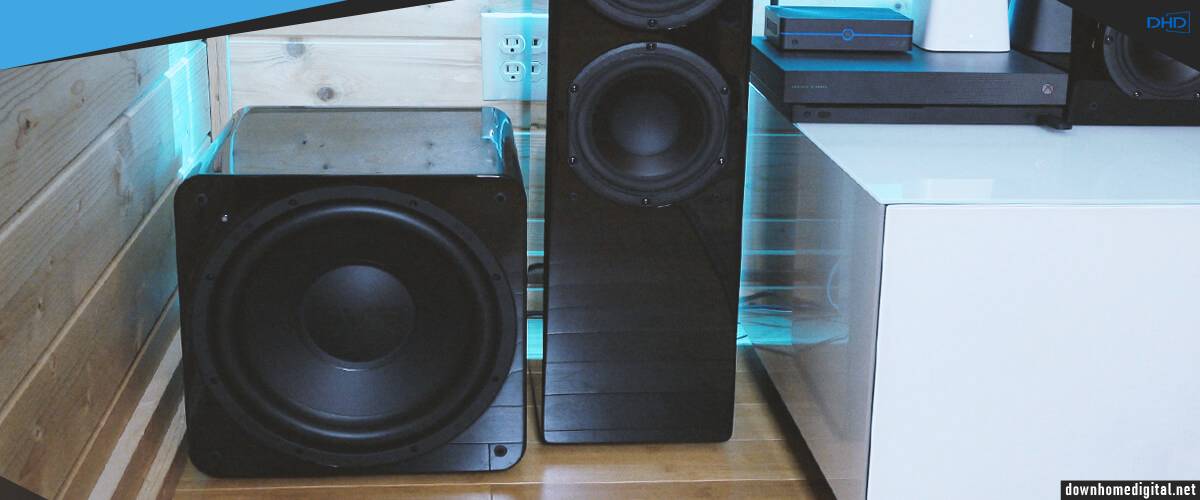 I think it's not hard to guess that with such dimensions and weight, you shouldn't expect your neighbors to go crazy with the volume SVS SB-1000 is capable of. Of course not. At high outputs (at 240-260 Hz), it starts bouncing and wheezing (the feet are not of high quality), so I don't recommend using it at the maximum 720W that the manufacturer claims. The 300W rating is sufficient for most listeners.
Trust me, at medium settings (120Hz), the sub will wow you with tight (rich), clear, and focused bass, and that's enough to listen to music and watch movies, especially with action scenes. The gunfire and explosions sound sharp and shake the air, which is very realistic.
I like that, in addition to the volume and frequency, you can adjust the phase, and the speaker inputs (high level) allow you to set a very clean stereo sub if you like that.
All in all, the balance of all the qualities of the SVS SB-1000, which include rich bass, compactness, good-looking appearance, performance, and cost, make it the best subwoofer under 500 on my list. It is a versatile subwoofer for music and dynamic movies that will suit small home systems.
Key specs
Power (RMS), W: 300
Driver size, inch: 12.
Frequency response: 24Hz-260Hz.
Dimensions, inch (HxWxD): 13.5x13x14.
Pros
The optimal price/performance ratio is on my list.
Excellent tight, clear, and focused bass at midrange settings.
Speaker inputs allow for a very clean stereo sub for those who like it.
Cons
The blue power-on LED is too bright.
It bounces and gives off "noise" at maximum volume, so not suitable for dragging wall fans.
BIC America F12 – budget
If you're looking for a budget but quality subwoofer for home theater, I'd look at the BIC America F12. But be prepared that it will take up a significant amount of space in your home, literally. It measures 21″ x 19″ x 22″, and at 42.7 pounds, you can't put it on a shelf as easily as the SVS SB-1000. But that weight of an MDF and laminate enclosure with thick walls inside and rubber feet provide stability and anti-resonance that the SB-1000 never even dreamed of.
This model has 150V rated power and 475W at peak, making it a desirable object for many monster-bass fans. It's really quite powerful and can fill a medium or even large room. At the same time, it produces clean and clear, though not as dense as SVS SB-1000 bass, with some mud at high frequencies (range is 25 Hz-200 Hz), which is even good if you are a fan of heavy genres of music. All of this is possible with a 12″ molded woofer and a Bash amplifier. The controls are frequency, volume, crossover, and phase switch. You can also adjust the sound with the Dolby Pro Logic and Dolby Digital switching option, which makes the subwoofer perfect for watching movies.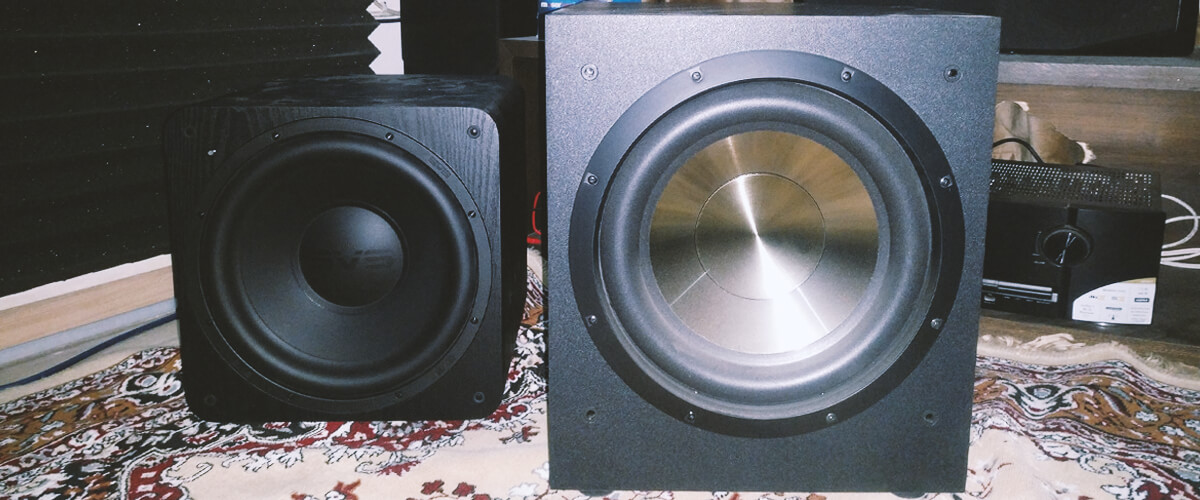 But you didn't think you could do without compromise, did you? The first thing I noticed is that when you change the system's volume, you have to change the sub's volume as well. It's not much of a problem, but it's inconvenient for me. Also, the subwoofer got slightly overheated with prolonged use at maximum settings. Nothing happened, but I expect you can lose the fuse if you don't watch this process.
In summary, I think the BIC America F12 is a great budget subwoofer under 500 dollars. It is an order of magnitude better than many other models in its price range for its combination of features and functionality. This subwoofer can fill a large room with clean, powerful bass and will appeal to fans of movies and heavy genres of music.
Key specs
Power (RMS), W: 475.
Driver size, inch: 12.
Frequency response: 25Hz-200Hz.
Dimensions, inch (HxWxD): 17×14.8×17.
Pros
The construction, weight, and rubber feet provide good stability and anti-resonance.
Very powerful bass, though not as dense as SVS SB-1000.
Outperforms most analogs in its price niche.
Cons
You also have to adjust the subwoofer volume separately when you change the amplifier's volume (this is inconvenient).
It can overheat at high operating settings and long usage.
Klipsch R-112SW – wireless (optional)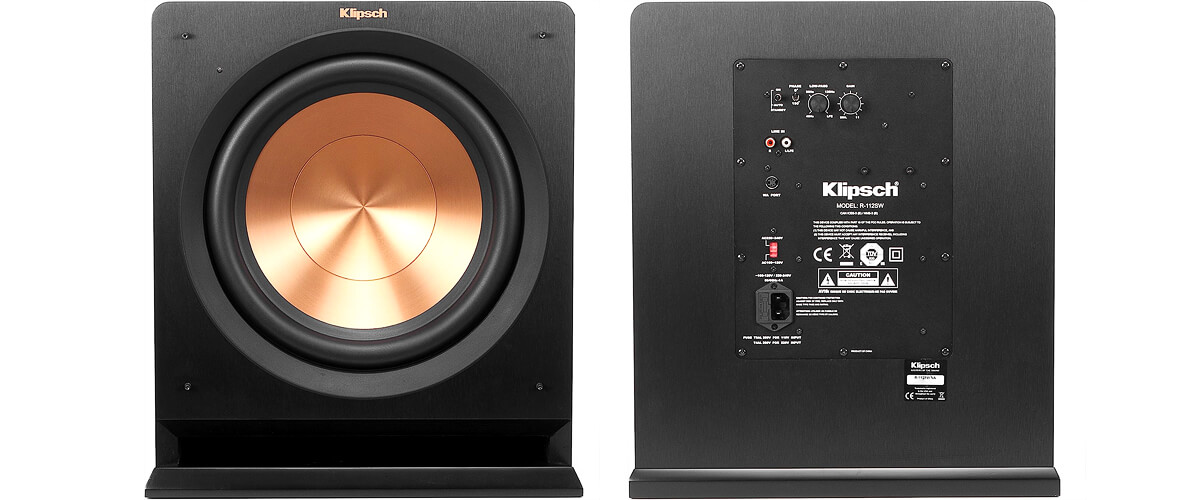 This model will appeal to fans of wireless equipment. What's especially nice is that the Klipsch subwoofer is compatible with most receivers, as it has L/R line-level/LFE RCA inputs. The R-112SW has a rather large but neat size of 17.38″ x 15.5″ x 18.25″ (it doesn't look bulky), an impressive weight of 48.75 pounds, a matte black satin-finished polymer veneer cabinet, and a power indicator on the front panel. The controls are fairly standard and are located on the rear panel. You can use the sub with or without a grille; it looks equally attractive with its 12″ spun-copper Cerametallic woofer.
With a peak power of 600W, the subwoofer provided good, deep, articulate, and soft bass that could compete well with wired speakers when tested. I would say that it is one of the most punchy of the other subs in this category. Bass is plentiful, very plentiful, and with little movement from peak to peak, no sounds from the Front-firing slot port with exclusive internal flare technology could be heard at all. Still, at a fairly large size, I wouldn't call it the most powered subwoofer; it's definitely not a monster. The brand's claim of 24Hz as a -3dB point didn't make me doubt myself, showing a stress-free performance.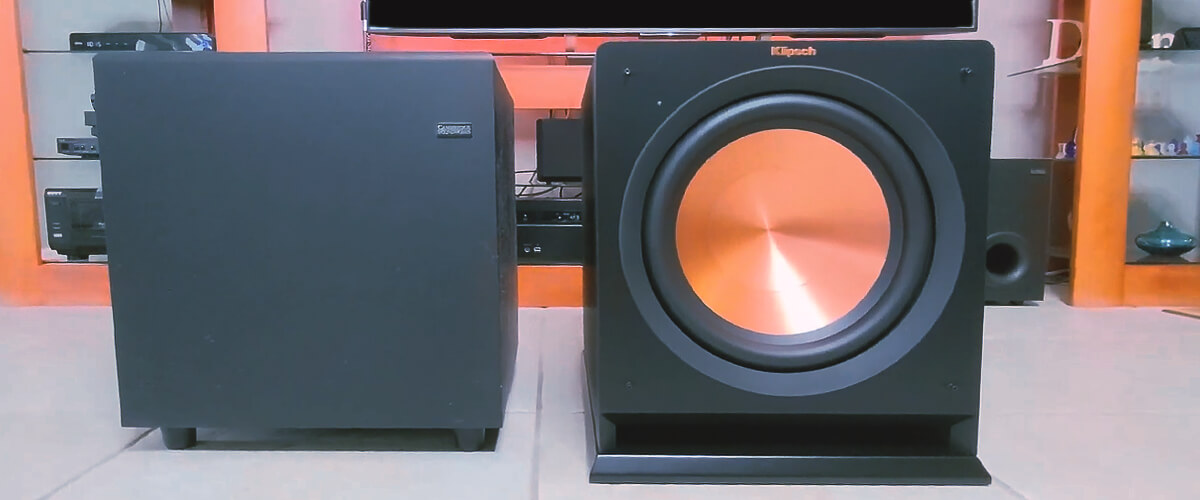 The only negative I noticed was the slightly unstable automatic on/off operation, though, for the most part, there were no problems. For wireless equipment, this is a bit of a tragedy.
The Klipsch R-112SW easily fits into the best subwoofer under the $500 category, as it combines sound quality and signal transfer at the level of wired speakers. With its "tasty" price and given the brand's well-deserved reputation, this sub is already part of many music and home theater fans' home systems.
Key specs
Power (RMS), W: 400.
Driver size, inch: 12.
Frequency response: 29Hz-120Hz.
Dimensions, inch (HxWxD): 16x14x18.5.
Pros
Compatible with most receivers.
With its rather large size, the subwoofer does not look bulky.
Good, deep, articulate bass is quite competitive with wired speakers.
No port noises are audible when moving slightly from peak to peak.
Cons
Automatic on-and-off is a little choppy sometimes but usually turns on when needed.
Definitive Technology Descend DN8 – compact size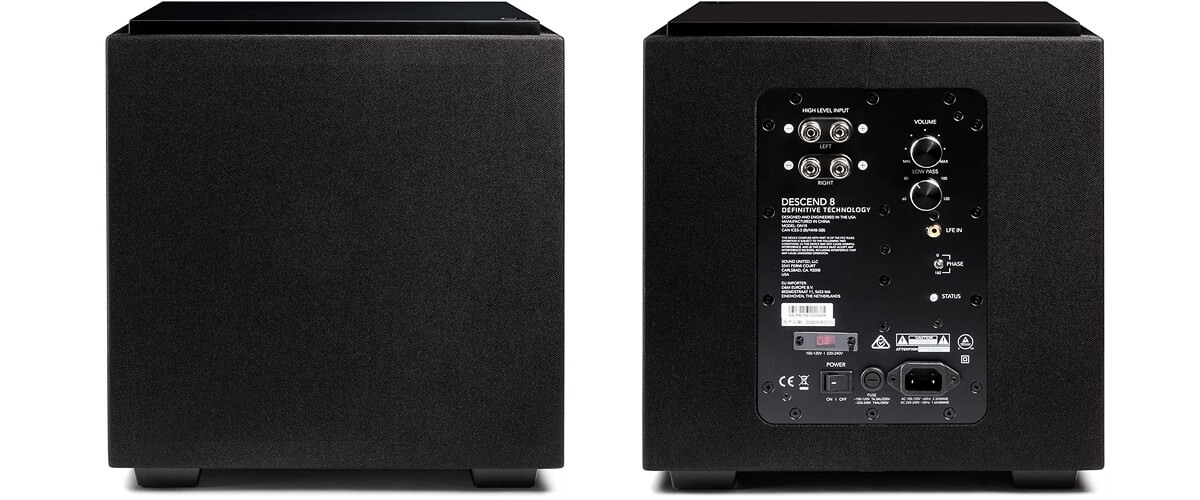 The smallest subwoofer in my selection has an 8″ woofer with passive radiator configuration 3XR, measures 12.8″ x 12″ x 13.1″, and weighs 31.45 Pounds. And you can tell right away that at a smaller size than the SVS SB-1000, the Definitive Technology Descend DN8 has more weight and, therefore, more stability. Plus, the legs with rubber pads. This is one of the factors which also explains its higher price compared to the SB-1000.
From the specifications, it's worth noting that the Class D amplifier has a peak power of 500W (200W RMS) and a frequency response (-/+ 3dB) of 35Hz – 200Hz. Controls are simple and limited to volume control and low pass. There is also a phase toggle (0/180°) for optimum bass and a power toggle (Auto On/Off or DC Control) for fast power switching.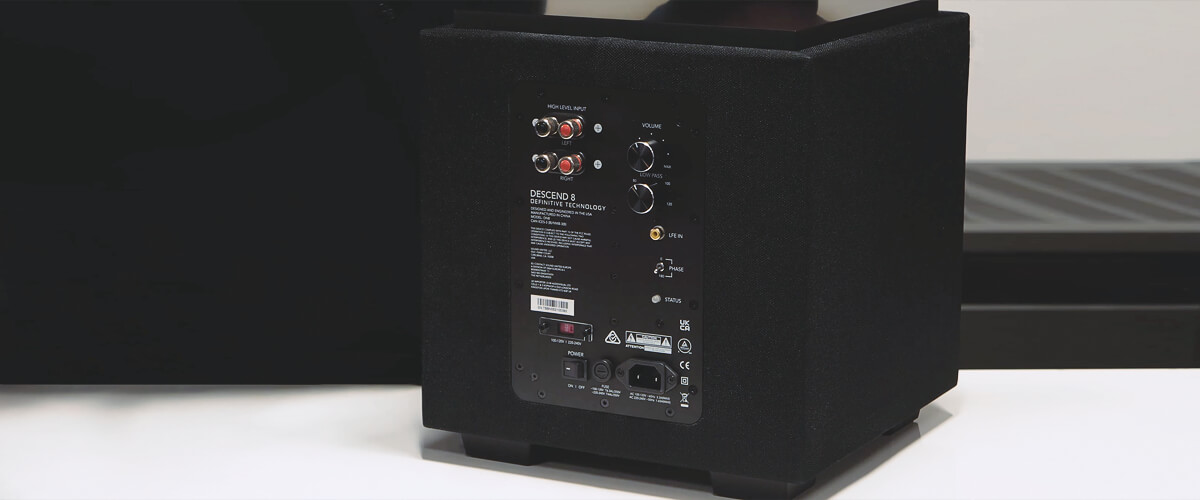 From my list, with that said, I would compare the Definitive Technology Descend DN8 to the Klipsch R-112SW. The sub, like the Klipsch, is compatible with most receivers. But is it as far as sound quality goes? According to the manufacturer's claim, the 8″ DN8 sounds just as good as the 10″ competitors. And it really does! For a small room where you need a portable sub, it's a great solution because it fills the space with quality, powerful bass. It sounds "bigger" than it is, if I may say so.
Another of the nice bonuses is the automatic switch to standby mode when you stop using it. This will save your electrical energy considerably. And of the indirect, if it's important to you, it doesn't accept the stereo preamp input (other than the designated subwoofer output from the receiver). This is not an outright drawback for me, but given the price of the subwoofer, I would have liked it more. No other drawbacks I noticed during my testing.
If you've been looking for a compact subwoofer under 500 bucks, the Definitive Technology Descend DN8 is definitely worthy of your consideration. It is quite powerful for its size, sounds powerful and clean enough, is easy to operate, and will fit on any shelf in your house.
Key specs
Power (RMS), W: 500.
Driver size, inch: 8.
Frequency response: 34Hz-175Hz.
Dimensions, inch (HxWxD): 12.8x12x13.1.
Pros
The compact size is offset by the heavyweight that provides anti-resonance.
The powerful sound of an 8″ woofer is comparable to 10″ subwoofers.
The subwoofer automatically goes into standby mode when there is no signal.
Cons
The unit does not accept the stereo preamp input.
Polk Audio HTS 12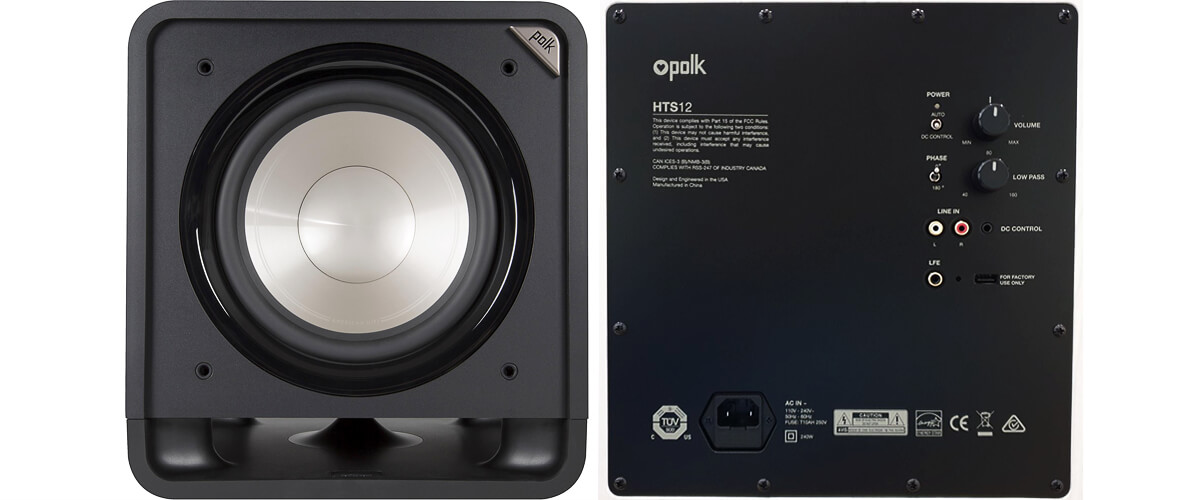 And last sub under 500 in this review, I will consider Polk Audio HTS 12, the owner of a 12″ front-firing long-throw woofer with Polypropylene Dynamic Balance and Klippel optimized driver, which has several advantages over other models but costs more.
First, perhaps, at 400W peak power (rated at 200W), it's simply a Tor among Avengers. It makes the pictures on my wall in a room of about 500 square feet move out of place. HTS 12 sounds clean, tight, punchy, and deep at the same time. The movies I've watched with it have taken on new colors. Perhaps the manufacturer patented the Power Port technology for a reason; you can crank the sub to its fullest without expecting distortion. It's worth mentioning that the Polk Audio HTS 12 will take time to achieve optimal performance. I recommend tuning your receiver or amplifier on some bass song, then waiting a week (or even a month) and doing the same thing again. The subwoofer has hard-moving parts, and it takes time for them to adjust.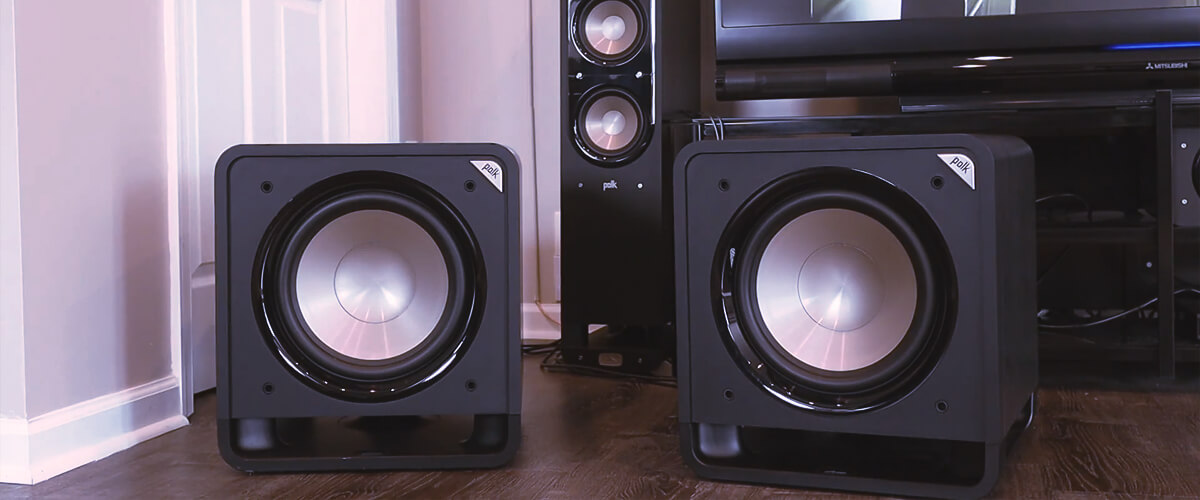 The only thing that interfered with the sound was… feet! The subwoofer weighs 49.9 pounds (although the dimensions are not the maximum 18.5″ x 17.126″ x 18.11″), and the rubber is pretty thin, making it possible to hear the recoil from the floor. But when replaced with inexpensive, denser pads, this nuance is quickly eliminated.
Regarding the design – it's great with its smooth rounded corners and exposed dynamite. It's just an ornament to any living room, in my opinion. As for the controls, they are standard, very similar to the Descend DN8 or Klipsch R-112SW controls. But the power indicator is located on the rear panel, which makes it impossible to see if the sub is on. This is extremely inconvenient.
The Polk Audio HTS 12 is a great high-quality home subwoofer. It can blow your pictures off the walls if you try its full power. The construction, the parts used, and the functionality are praiseworthy, but you will have to pay better too.
Key specs
Power (RMS), W: 400.
Driver size, inch: 12.
Frequency response: 22Hz-180Hz.
Dimensions, inch (HxWxD): 18.1×17.1×18.5.
Pros
Doesn't give out distortion at high outputs, which makes it stand out from the other more powerful members of my list.
After adapting the hard parts, the sub only sounds better after a time.
Cons
The rubber feet are thin, and I recommend replacing them.
The power indicator is located on the rear panel, which makes it hard to tell if the sub is on.
What to consider when buying a home theater subwoofer under 500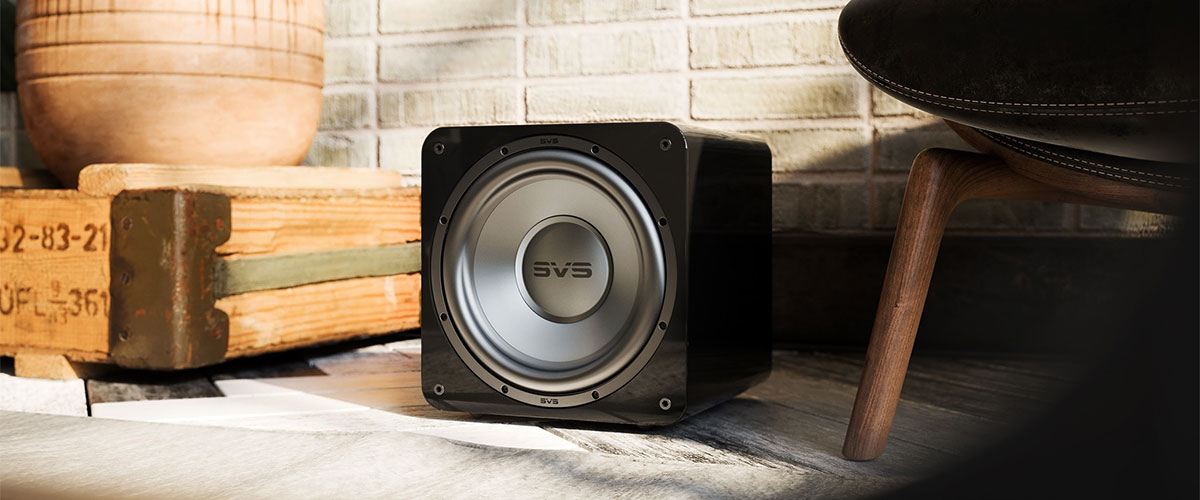 Power rating
The first thing to consider when choosing a new subwoofer is its power. In my opinion, this is one of the decisive factors in subwoofer performance because more power often means more impressive, denser bass; in other words, it directly affects the subwoofer's performance. But don't rely mindlessly on the numbers on paper alone. Because the factor is important, but not the only one. Take the power rating as a starting point in your choice, but don't stop there.
Frequency range
The frequency range of a subwoofer is critical for reproducing deep bass sounds because a wider frequency range allows the subwoofer to cover a wider range of bass frequencies, resulting in a deeper listening experience. I recommend looking for subwoofers with a lower frequency response, usually indicated in hertz (Hz), as this indicates their ability to reproduce deep bass. Remember that a subwoofer's frequency range should complement the capabilities of your existing speakers to achieve a balanced sound system.
Size and design
You should also know how a subwoofer's size and design can affect its performance and how it integrates into your home or sound system. Larger subwoofers produce more bass due to their larger drivers and enclosures. However, they may not fit comfortably in small rooms or blend poorly with existing décor. On the other hand, compact subwoofers can provide ample bass amplification without taking up much space.
Also, please pay attention to subwoofer design so that it blends seamlessly into your home theater system, whether it's a floor-standing model, a compact cube, or a model that can be discreetly placed out of sight (possibly wireless). Choose the size and design of your subwoofer based on the space available and your personal preferences.
Sensitivity
The sensitivity of a subwoofer indicates how efficiently it converts energy into sound. Higher sensitivity means the subwoofer can produce a louder sound using less power. This can be useful if you have a low-power amplifier or want to achieve high volume levels without overloading your system. It is very important to find a balance between sensitivity and overall sound quality so that the subwoofer works optimally in your particular system.
Wireless or wired
This question is directly related to your personal preferences. Both, in my opinion, have their advantages and disadvantages. For example, wireless subwoofers offer more placement flexibility, allowing you to place them in different parts of the room without using long cables. They can connect to an AV receiver or sound system wirelessly, which reduces clutter and simplifies installation, although wireless subs require a power source. However, these subwoofers can't provide the signal stability and reliability that wired ones do, and they need to be placed within the recommended range for optimum performance. It all depends on your personal preferences, capabilities, features, and room size.