The subwoofer plays an essential role in receiving satisfaction from enjoying favorite movies and soundtracks. Moreover, while planning to arrange a home theatre, you need the best compact subwoofer.
One of the main advantages is that such models do not require a lot of space. You can easily place them whenever you want, even if you live in a small apartment.
Our pick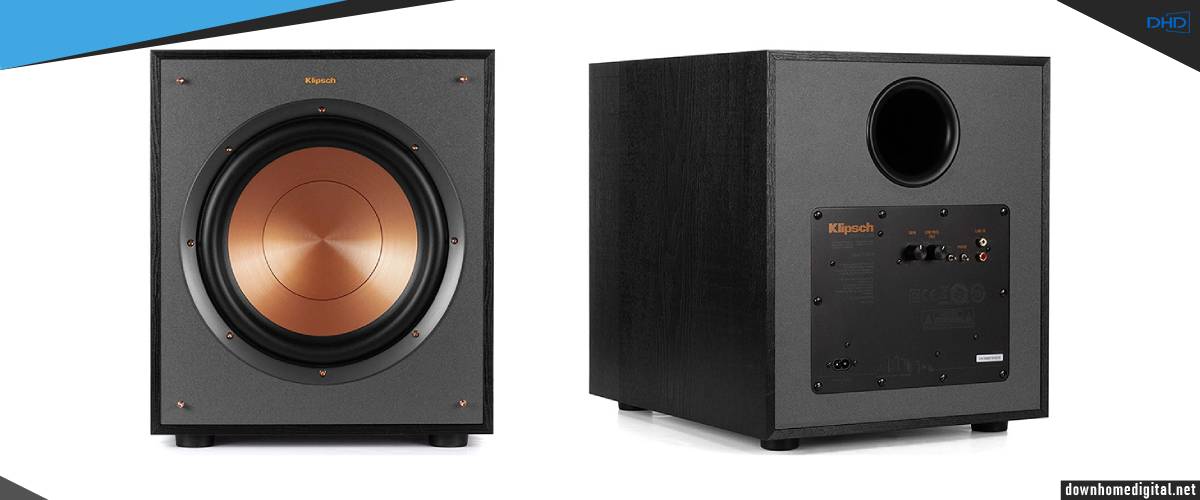 Klipsch R-100SW
Best Compact Subwoofer
The Klipsch RW-100SW Wireless Subwoofer delivers Klipsch signature low frequencies to create a heart-stopping home theater sound experience.
We don't recommend
Definitive Technology SuperCube 2000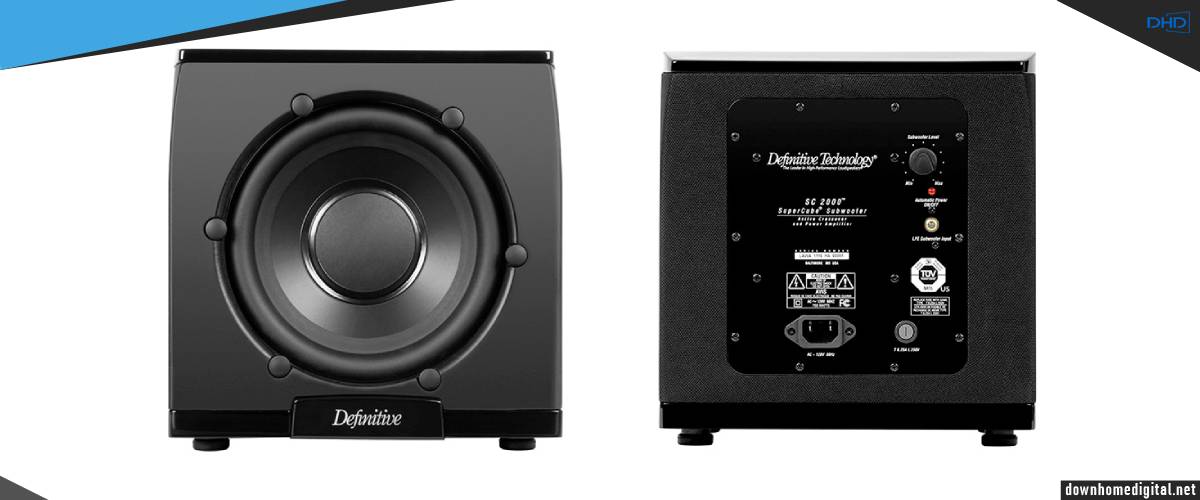 Cons
Absence of crossover frequency and signal phase adjustment on the subwoofer
It does not have many settings to adjust
This model is outdated in comparison to other products on the market
It has to be installed on a stand
Small Subwoofers Comparison Table
Subwoofers
Power, W
Driver size, inch.
Frequency response
Dimensions (H" x W" x D")
Klipsch R-100SW

best overall

150
10
32Hz-120Hz
14.5″ x 12.5″ x 16.4″
Review
Yamaha NS-SW050

best budget

100
8
28Hz-200Hz
11.5″ x 11.5″ x 13.4″
Review
SVS SB-1000

also a great choice

300
18
24Hz-260Hz
13.5″ x 13″ x 14″
Review
Best Compact Subwoofer Reviews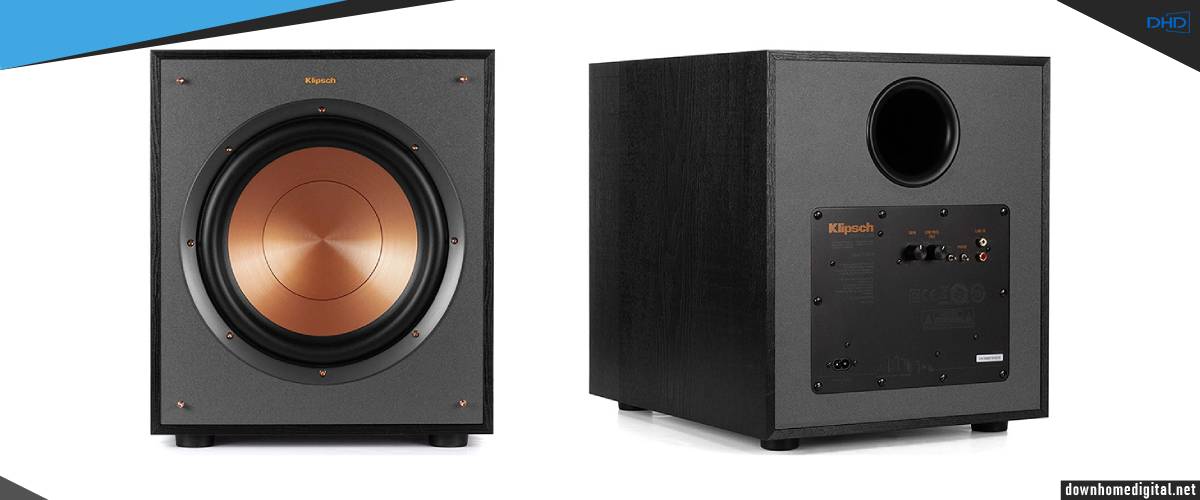 Bass enthusiasts who value highly resilient technology and room-filling low-frequency reproduction have always been in good hands with the US provider Klipsch. The look is typical for this manufacturer, which has been refined in detail compared to previous generations and is now quite attractive. The copper-colored cerametallic membrane not only looks good, but the material is also extremely durable and light. It can become your best compact powered subwoofer for home theater.
The R-100SW housing incorporates a speaker using the same technology as these models. It is an IMG (Injection Molded Graphite) membrane transducer composed of injected graphite and a thin layer of copper, particularly light and rigid. This bass-reflex box thus offers a leading transient regime.
Klipsch R-100SW subwoofer is powerful due to its 150 watts RMS amplifier (300 watts peak) manages to deliver up to 112 dB of sound level at 32 Hz, at a distance of one meter. Enough to guarantee thrills when watching action films, in a living room of 200 to 300 ft. The R-110SW is therefore not only suitable for use in the living room – where it can still be used well due to its reasonable dimensions – but also for a dedicated home cinema. Here it also scores in larger rooms, up to a good 250 square feet, it can be used in single woofer operation.
The R-100SW subwoofer offers a variable cutoff frequency of 40 Hz to 120 Hz, as well as an electrical phase adjustment (0 or 180). The power-up can be triggered on an incoming signal but also forced. An asset that prevents the subwoofer from waking up too late when it is on standby after the action has started.
Key specs
Power (RMS), W: 150
Driver size : 10″
Frequency response: 32Hz-120Hz
Dimensions (H x W x D) : 14.5″ x 12.5″ x 16.4″
Pros
This is a slim home theater subwoofer of decent quality
It has a power-saving idle mode that turns the subwoofer off
This model has RCA and LFE line-in inputs
Yamaha NS-SW050 – best budget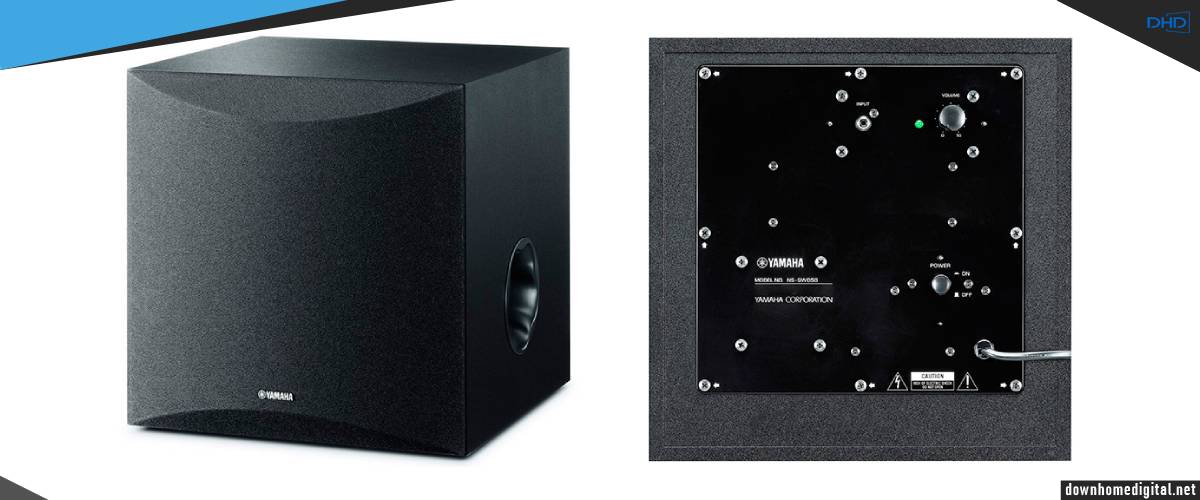 For a long time, the cinema was considered the only way to experience films in an authentic atmosphere. Especially in terms of sound, you just could not get close to the powerful soundscape of the cinemas at home. However, a lot has happened, and subwoofers such as the NS-SW1000 from Yamaha are now easily bringing that great cinema feeling home – it also has excellent musical qualities.
The Yamaha NS-SW050 subwoofer has 50 watts of power to drive a high-quality 8-inch diameter speaker. It is the smallest subwoofer for home, which you will not find it difficult to move from one place to another to enjoy favorite movies in different rooms. Moreover, it is enough to effectively support a pack of compact home cinema speakers in the bass and increase listening pleasure tenfold, both for music and for movies.
The Yamaha NS-SW050 subwoofer incorporates a 50-watt amplification. The proprietary Yamaha Advanced YST II technology ensures very good control of the loudspeaker that thus offers a particularly linear response, from 28 Hz to 200 Hz. The loudspeaker of 8 inches in diameter sits in the front position in an extremely rigid cabinet. It benefits from a bass reflex load and adopts a new generation vent developed by Yamaha called Twisted Flare Port. It is a spiral tube that channels the airflow to optimize the flow for more responsive bass and limit unwanted airflow noise.
On the connection side, the Yamaha NS-SW050 subwoofer is extremely simple since it has a single LFE input (RCA mono). It can, therefore, only be associated with an amplifier or a chain equipped with a pre-amplified SUB or LFE output. The rear panel also houses the ignition button and the volume potentiometer.
Key specs
Power (RMS), W: 100
Driver size : 8″
Frequency response: 28Hz-200Hz
Dimensions (H x W x D) : 11.5″ x 11.5″ x 13.4″
Pros
It is suitable for a small and medium-size room
Wonderful bass and sound quality
Reliable world-known brand
Cons
Very feeble sound even at full volume
SVS SB-1000 – also a great choice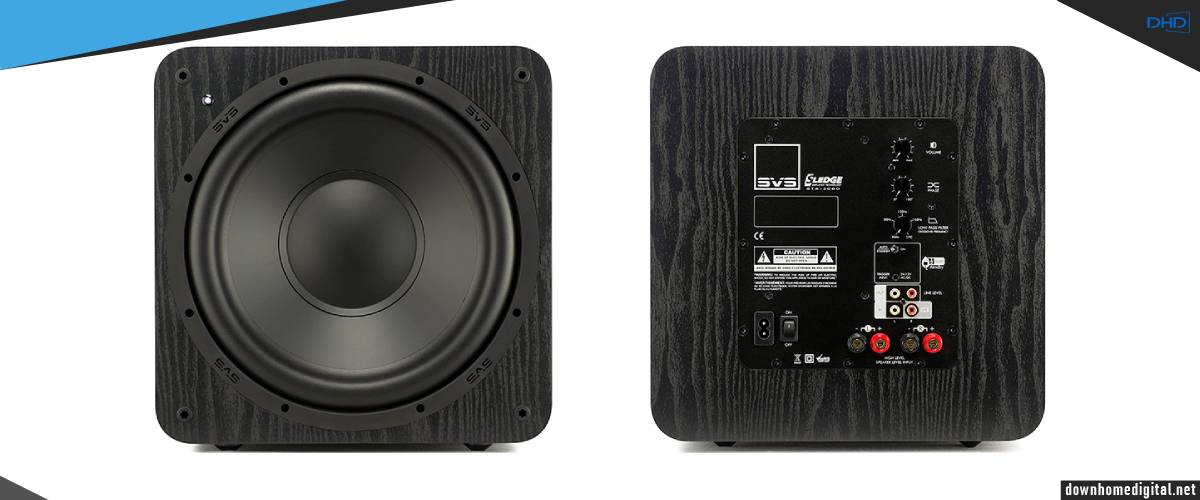 The SVS SB-1000 subwoofer is equipped with a 12″ driver and a 300W RMS amplifier. Compact, it offers leading performance, with a frequency response of up to 24 Hz. Specialist in subwoofers, SVS offers a complete range, covering all uses, from living room hi-fi to home cinema large format in a dedicated room. The SVS SB-1000 housing opens up this range but is nonetheless an extremely powerful housing.
SVS SB-1 is designed for integration as discreetly as possible with its dimensions. This has been specifically developed to operate in a small volume of enclosed air. Its double magnet combined with a ventilated mobile coil accepting very high power give its light membrane great velocity. Several DSPs provide the transducer with a linear response. As a result, you receive the best small subwoofer for music.
The SVS SB-1000 subwoofer amplifier delivers up to 720W peak and shows no signs of weakening, even under extreme use. It has multiple settings, including a variable phase from 0 to 180 ° to effectively take over from any speaker. The low pass filter offers variable cutoff from 50Hz to 160Hz and even wideband operation (LFE mode). Practical for those who wish to entrust the management of the cutoff frequency of the low frequencies to their home cinema amplifier. An auto power button is present to turn on the SVS SB-1000 when an incoming signal is detected.
The SVS SB-1000 subwoofer has a line input (stereo or mono), as well as a high-level input (speaker terminals). Therefore, it shines with its transient regime, linearity, and compact size. Its closed load makes it particularly suitable for listeners in search of a rigorous box for listening to music.
Key specs
Power (RMS), W: 300
Driver size : 12″
Frequency response: 24Hz-260Hz
Dimensions (H x W x D) : 13.5″ x 13″ x 14″
Pros
You receive clear, accurate, and detailed sounds
Nice compatibility with various devices
You will not spend a lot of time to install it
Cons
It is not suitable for large rooms
Jamo S 810 SUB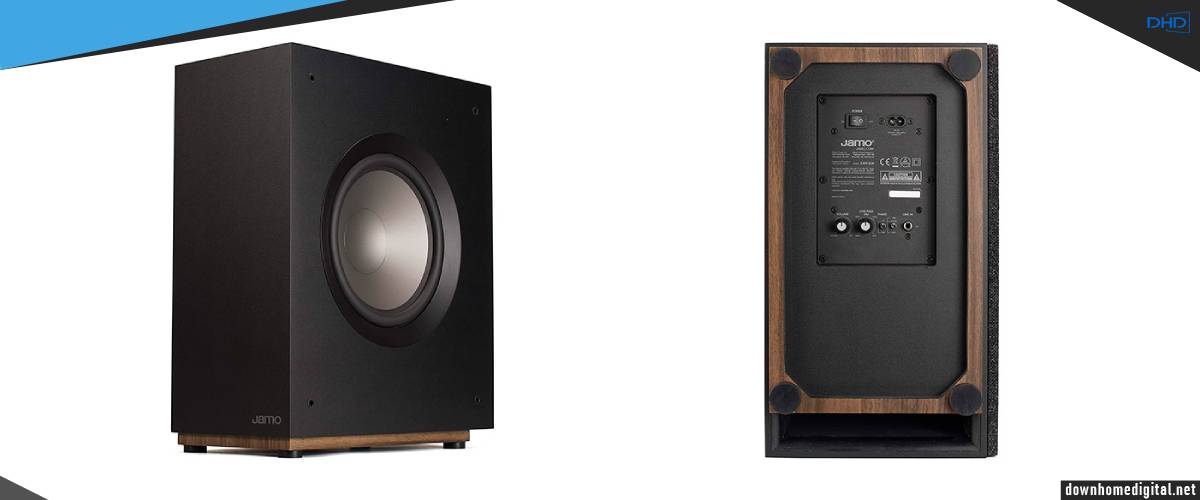 Part of the Jamo Studio 8 speaker range, the S 810 SUB subwoofer shares its aesthetic codes and adopts a slender line to facilitate its integration, its flat box allowing it to be placed on the wall or to slide it under a sofa.
The Jamo S 810 SUB subwoofer embeds a class D amplification whose high efficiency compensates for the power that may seem modest. Admittedly, it only displays 75 watts on paper (150 peak watts), but with proof of the facts, they are very real and well used. The 10 inches Polyfibre diaphragm speaker, which benefits from a bass reflex load volume with a ground-oriented vent, is therefore supplied very efficiently. Listening to these results in a dynamic and powerful bass (110 dB sound pressure), which is easily deployed in a listening room of 250 ft or more.
The frequency range covered by the Jamo S 810 SUB subwoofer ranges from 36Hz to 180Hz, the cutoff frequency being continuously adjustable from 40 to 160 Hz. A volume potentiometer is also present. The connection to the amplifier is made only at a low level, materialized by a Line/LFE input (RCA x2). The power switch has an auto position to trigger the subwoofer when an audio signal is received, with auto standby occurring after a few minutes without receiving a signal.
Compact, very pretty, and well finished, the Jamo S 810 SUB subwoofer will effectively complement a Jamo Studio 8 home cinema speaker pack or any other compact home cinema speaker pack thanks to its efficient amplifier/speaker combination.
Key specs
Power (RMS), W: 75
Driver size : 10″
Frequency response: 36Hz-180Hz
Dimensions (H x W x D) : 19.9" x 15.9" x 8.9"
Pros
Simple installation and settings adjustments
Due to its small size, you will not have difficulties to place it in the room
Nice sound at low frequencies
Cons
It is difficult to adjust the crossover control