A subwoofer plays an important role in any serious home multimedia system. Today, the market offers a variety of models of these devices from many brands. Among them, small subwoofers take up little space and are not inferior to conventional models.
Our pick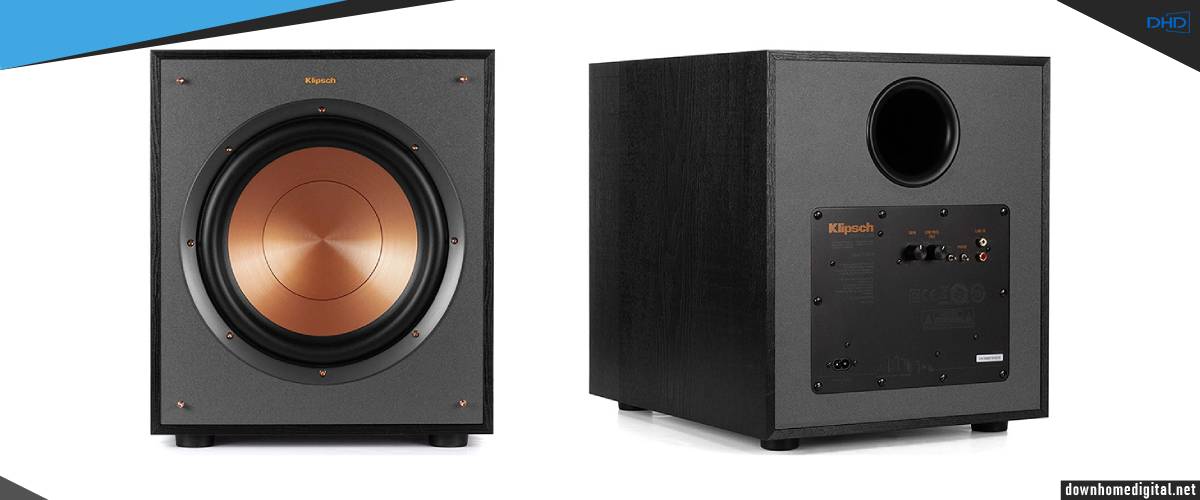 Klipsch R-100SW
Best compact subwoofer
The Klipsch RW-100SW Wireless Subwoofer delivers Klipsch signature low frequencies to create a heart-stopping home theater sound experience.
Read the full review
.
After reading my review, you can choose a mini subwoofer that will fit perfectly into your room, especially if it is not too big. I have analyzed quite a number of models and selected the most interesting, in my opinion. So, let's save time and get to the most exciting part!
Small Subwoofers Comparison Table
Name
Power, W
Driver size, inch.
Frequency response
Dimensions, inch (HxWxD)
Review
Klipsch R-100SW

best overall

150
10
32Hz-120Hz
14.5×12.5×16.4
Review
Yamaha NS-SW050

budget

100
8
28Hz-200Hz
11.5×11.5×13.4
Review
SVS SB-1000

also a great choice

300
18
24Hz-260Hz
13.5x13x14
Review
We don't recommend
Definitive Technology SuperCube 2000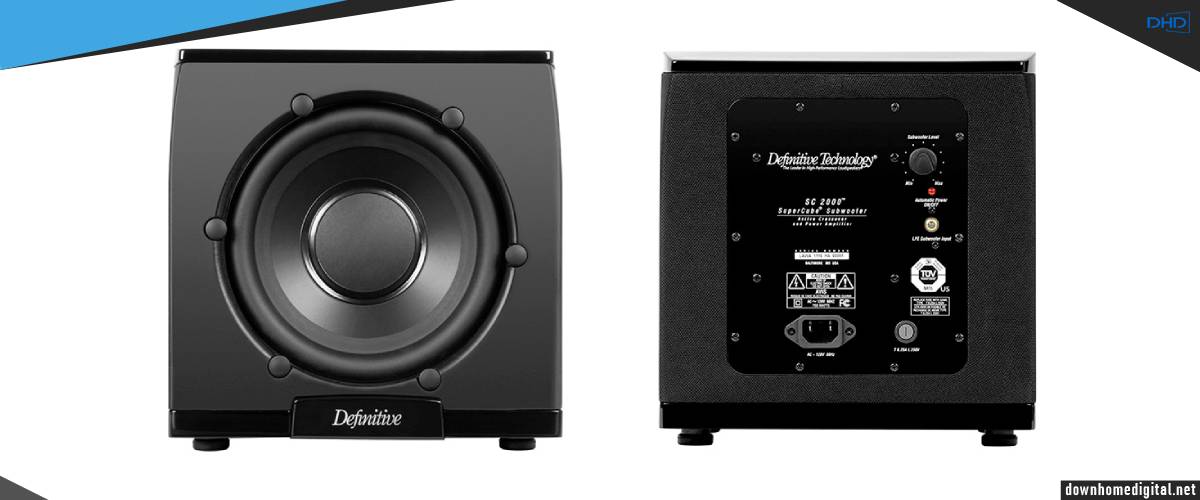 Cons
Absence of crossover frequency and signal phase adjustment on the subwoofer.
Limited setting options for adjustment.
This model is outdated in comparison to other products on the market.
It has to be installed on a stand.
Best Compact Subwoofer Reviews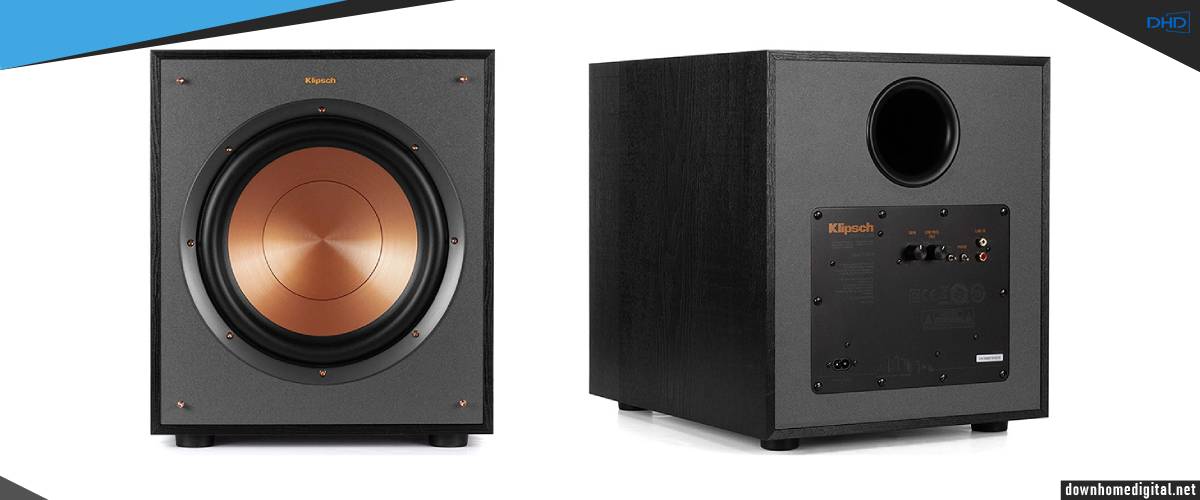 Bass enthusiasts who value highly resilient technology and room-filling low-frequency reproduction have always been in good hands with the US provider Klipsch. The look is typical for this manufacturer, which has been refined in detail compared to previous generations and is now quite attractive. The copper-colored cerametallic membrane not only looks good, but the material is also extremely durable and light. It can become your best compact powered subwoofer for home theater.
The R-100SW housing incorporates a speaker using the same technology as these models. It is an IMG (Injection Molded Graphite) membrane transducer composed of injected graphite and a thin layer of copper, particularly light and rigid. This bass-reflex box thus offers a leading transient regime.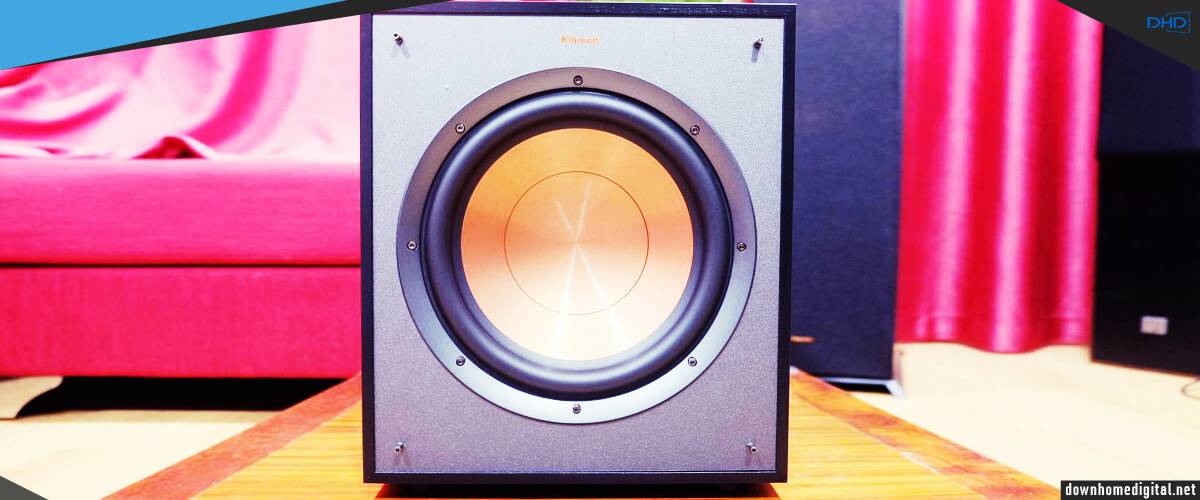 Klipsch R-100SW subwoofer is powerful due to its 150 watts RMS amplifier (300 watts peak) manages to deliver up to 112 dB of sound level at 32 Hz, at a distance of one meter. Enough to guarantee thrills when watching action films, in a living room of 200 to 300 ft. The R-110SW is therefore not only suitable for use in the living room – where it can still be used well due to its reasonable dimensions – but also for a dedicated home cinema. Here it also scores in larger rooms, up to a good 250 square feet, it can be used in single woofer operation.
The R-100SW subwoofer offers a variable cutoff frequency of 40 Hz to 120 Hz, as well as an electrical phase adjustment (0 or 180). The power-up can be triggered on an incoming signal but also forced. An asset that prevents the subwoofer from waking up too late when it is on standby after the action has started.
Key specs
Power (RMS), W: 150.
Driver size, inch: 10.
Frequency response: 32Hz-120Hz.
Dimensions, inch (HxWxD): 14.5×12.5×16.4.
Pros
This is a slim home theater subwoofer of decent quality.
It has a power-saving idle mode that turns the subwoofer off.
This model has RCA and LFE line-in inputs.
Yamaha NS-SW050 – budget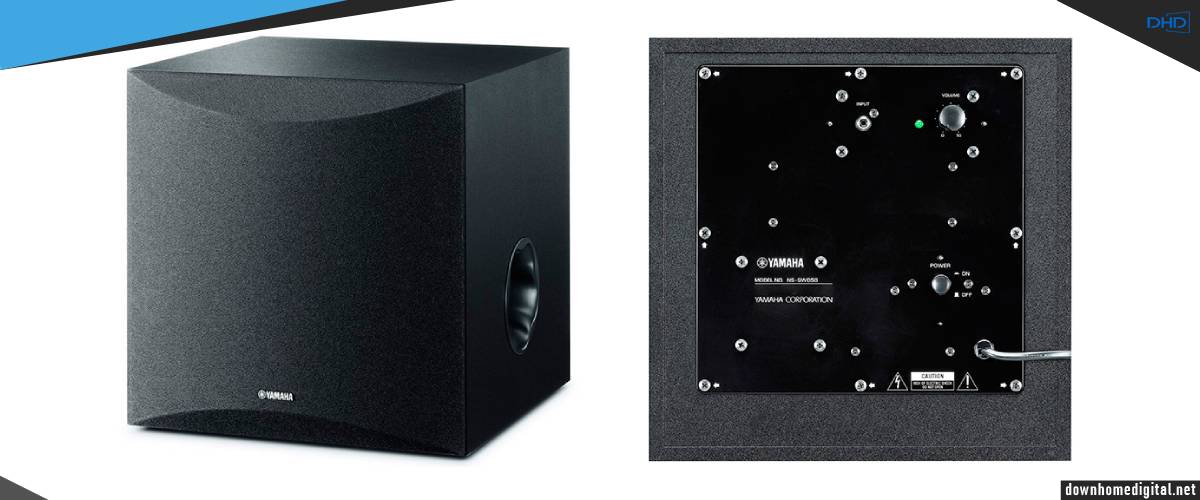 For a long time, the cinema was considered the only way to experience films in an authentic atmosphere. Especially in terms of sound, you just could not get close to the powerful soundscape of the cinemas at home. However, a lot has happened, and subwoofers such as the NS-SW1000 from Yamaha are now easily bringing that great cinema feeling home – it also has excellent musical qualities.
The Yamaha NS-SW050 subwoofer has 50 watts of power to drive a high-quality 8-inch diameter speaker. It is the smallest subwoofer for home, which you will not find it difficult to move from one place to another to enjoy favorite movies in different rooms. Moreover, it is enough to effectively support a pack of compact home cinema speakers in the bass and increase listening pleasure tenfold, both for music and for movies.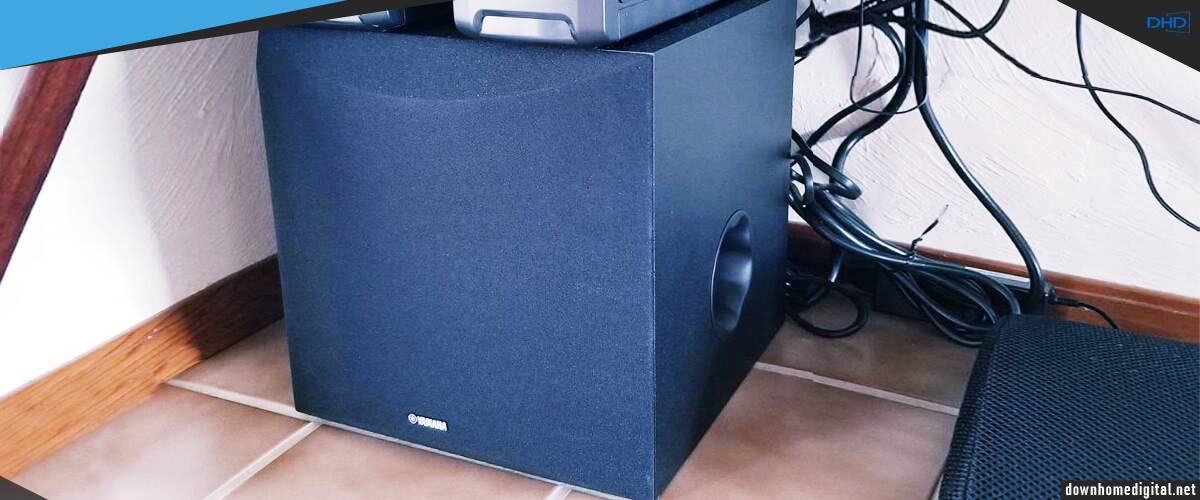 The Yamaha NS-SW050 subwoofer incorporates a 50-watt amplification. The proprietary Yamaha Advanced YST II technology ensures very good control of the loudspeaker that thus offers a particularly linear response, from 28 Hz to 200 Hz. The loudspeaker of 8 inches in diameter sits in the front position in an extremely rigid cabinet. It benefits from a bass reflex load and adopts a new generation vent developed by Yamaha called Twisted Flare Port. It is a spiral tube that channels the airflow to optimize the flow for more responsive bass and limit unwanted airflow noise.
On the connection side, the Yamaha NS-SW050 subwoofer is extremely simple since it has a single LFE input (RCA mono). It can, therefore, only be associated with an amplifier or a chain equipped with a pre-amplified SUB or LFE output. The rear panel also houses the ignition button and the volume potentiometer.
Key specs
Power (RMS), W: 100.
Driver size, inch: 8.
Frequency response: 28Hz-200Hz.
Dimensions, inch (HxWxD): 11.5×11.5×13.4.
Pros
It is suitable for a small and medium-size room.
Wonderful bass and sound quality.
Reliable world-known brand.
Cons
Very feeble sound even at full volume.
SVS SB-1000 – also a great choice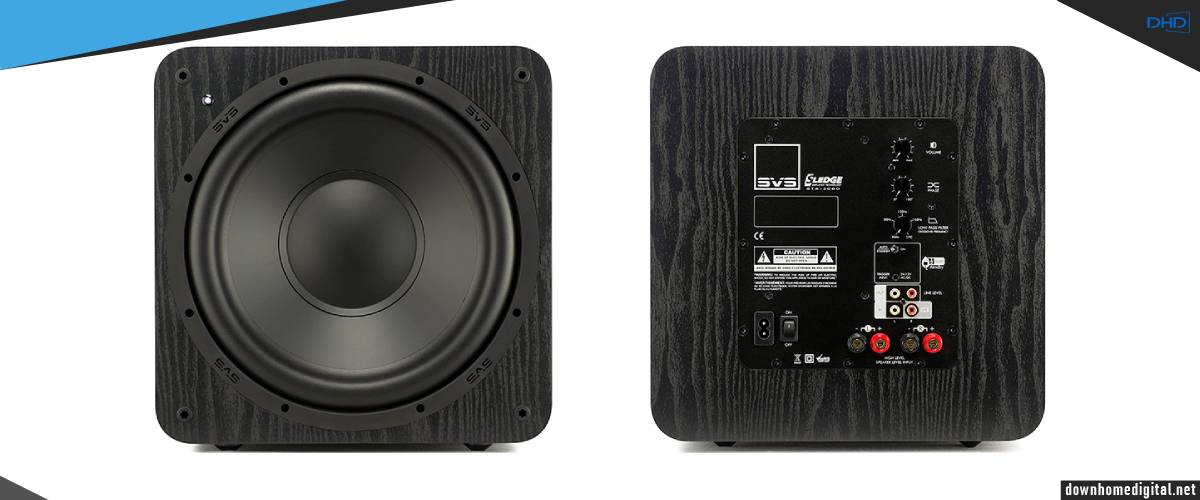 The SVS SB-1000 subwoofer is equipped with a 12″ driver and a 300W RMS amplifier. Compact, it offers leading performance, with a frequency response of up to 24 Hz. Specialist in subwoofers, SVS offers a complete range, covering all uses, from living room hi-fi to home cinema large format in a dedicated room. The SVS SB-1000 housing opens up this range but is nonetheless an extremely powerful housing.
SVS SB-1 is designed for integration as discreetly as possible with its dimensions. This has been specifically developed to operate in a small volume of enclosed air. Its double magnet combined with a ventilated mobile coil accepting very high power give its light membrane great velocity. Several DSPs provide the transducer with a linear response. As a result, you receive the best small subwoofer for music.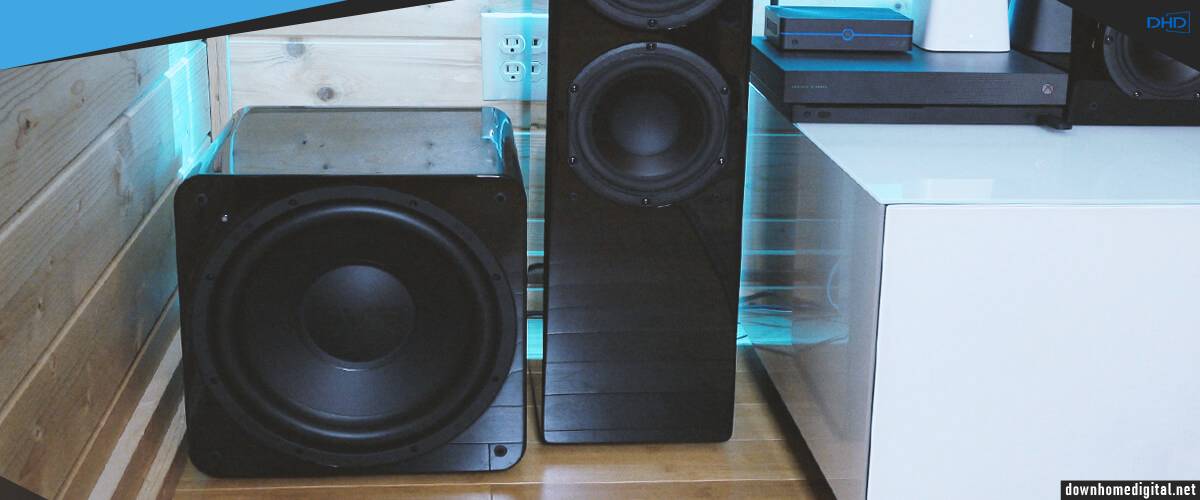 The SVS SB-1000 subwoofer amplifier delivers up to 720W peak and shows no signs of weakening, even under extreme use. It has multiple settings, including a variable phase from 0 to 180 ° to effectively take over from any speaker. The low pass filter offers variable cutoff from 50Hz to 160Hz and even wideband operation (LFE mode). Practical for those who wish to entrust the management of the cutoff frequency of the low frequencies to their home cinema amplifier. An auto power button is present to turn on the SVS SB-1000 when an incoming signal is detected.
The SVS SB-1000 subwoofer has a line input (stereo or mono), as well as a high-level input (speaker terminals). Therefore, it shines with its transient regime, linearity, and compact size. Its closed load makes it particularly suitable for listeners in search of a rigorous box for listening to music.
Key specs
Power (RMS), W: 300.
Driver size, inch: 12.
Frequency response: 24Hz-260Hz.
Dimensions, inch (HxWxD): 13.5x13x14.
Pros
You receive clear, accurate, and detailed sounds.
Nice compatibility with various devices.
You will not spend a lot of time to install it.
Cons
It is not suitable for large rooms.
Jamo S 810 SUB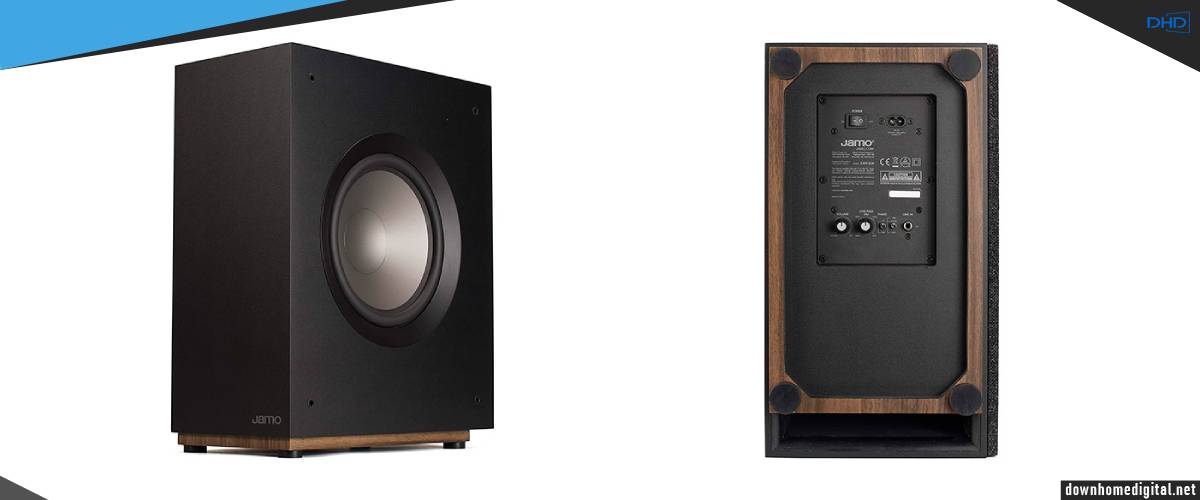 Part of the Jamo Studio 8 speaker range, the S 810 SUB subwoofer shares its aesthetic codes and adopts a slender line to facilitate its integration, its flat box allowing it to be placed on the wall or to slide it under a sofa.
The Jamo S 810 SUB subwoofer embeds a class D amplification whose high efficiency compensates for the power that may seem modest. Admittedly, it only displays 75 watts on paper (150 peak watts), but with proof of the facts, they are very real and well used. The 10 inches Polyfibre diaphragm speaker, which benefits from a bass reflex load volume with a ground-oriented vent, is therefore supplied very efficiently. Listening to these results in a dynamic and powerful bass (110 dB sound pressure), which is easily deployed in a listening room of 250 ft or more.
The frequency range covered by the Jamo S 810 SUB subwoofer ranges from 36Hz to 180Hz, the cutoff frequency being continuously adjustable from 40 to 160 Hz. A volume potentiometer is also present. The connection to the amplifier is made only at a low level, materialized by a Line/LFE input (RCA x2). The power switch has an auto position to trigger the subwoofer when an audio signal is received, with auto standby occurring after a few minutes without receiving a signal.
Compact, very pretty, and well finished, the Jamo S 810 SUB subwoofer will effectively complement a Jamo Studio 8 home cinema speaker pack or any other compact home cinema speaker pack thanks to its efficient amplifier/speaker combination.
Key specs
Power (RMS), W: 75.
Driver size, inch: 10.
Frequency response: 36Hz-180Hz.
Dimensions, inch (HxWxD): 19.9×15.9×8.9.
Pros
Simple installation and settings adjustments.
Due to its small size, you will not have difficulties to place it in the room.
Nice sound at low frequencies.
Cons
It is difficult to adjust the crossover control.
SVS 3000 Micro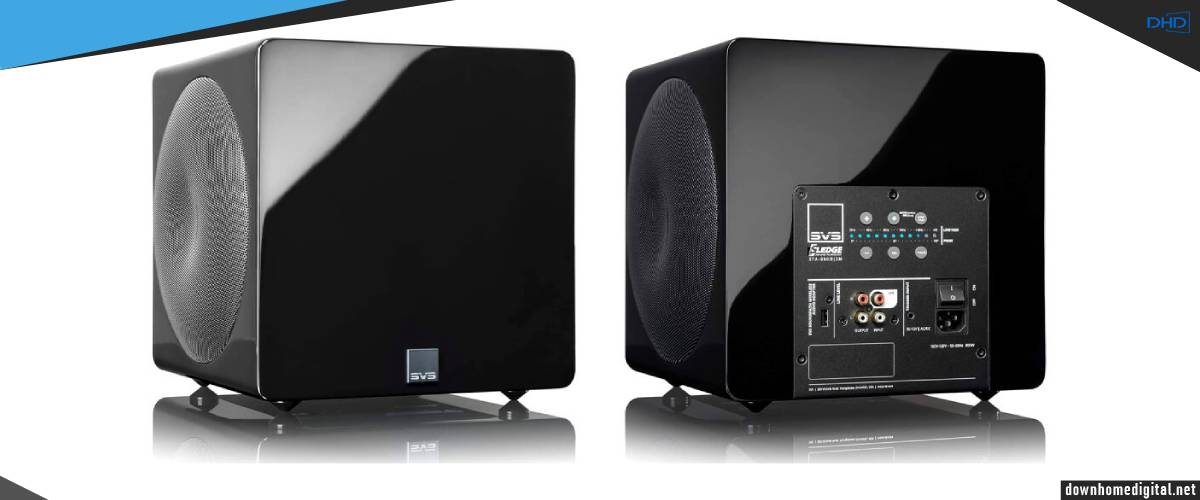 And finally, I prepared a very interesting "gizmo" for you. SVS 3000 Micro subwoofer has a pair of 8″ drivers, powered by the proprietary Sledge STA-800D2 amplifier and controlled by Analog Devices Audio DSP chip (50 MHz). The drivers withstand extremely high loads and feature extra-long cone strokes. They are made of aluminum, guaranteeing rigidity and inertia, even during active driving. Grandiose four-layer vented coils and massive ferrite magnets complete the architecture of this unit. Separately, the dual driver configuration solves the problem of uncompensated vibrations, and the amplifier operates in Class D and achieves 800 watts of long-term power, and in peaks, can deliver more than 2,500 watts (at currents up to 25 A).
The system control, including clipping limitation, cutoff frequency adjustment, etc., is implemented on the Analog Devices DSP processor. It is also responsible for a very convenient system of controlling the device via the panel on the case, as well as for the settings via a smartphone. Yes, SVS has its own app. By the way, on the patch panel, you will also find a USB port through which you can connect SVS SoundPath Wireless Audio Adapter to the subwoofer.
The undoubted pride of the SVS 3000 Micro subwoofer is its cabinet made according to the Rigidly Braced Sealed Cabinet Design scheme. Of course, it is not a slim home theater subwoofer. But it is this design that allows achieving the most accurate and textured bass.
Another feature of the SVS 3000 Micro subwoofer is a three-band parametric equalizer, which allows you to remove bass mods in acoustically unprepared rooms quickly. And a set of presets allows you to switch the unit to different modes of operation, from movies to music.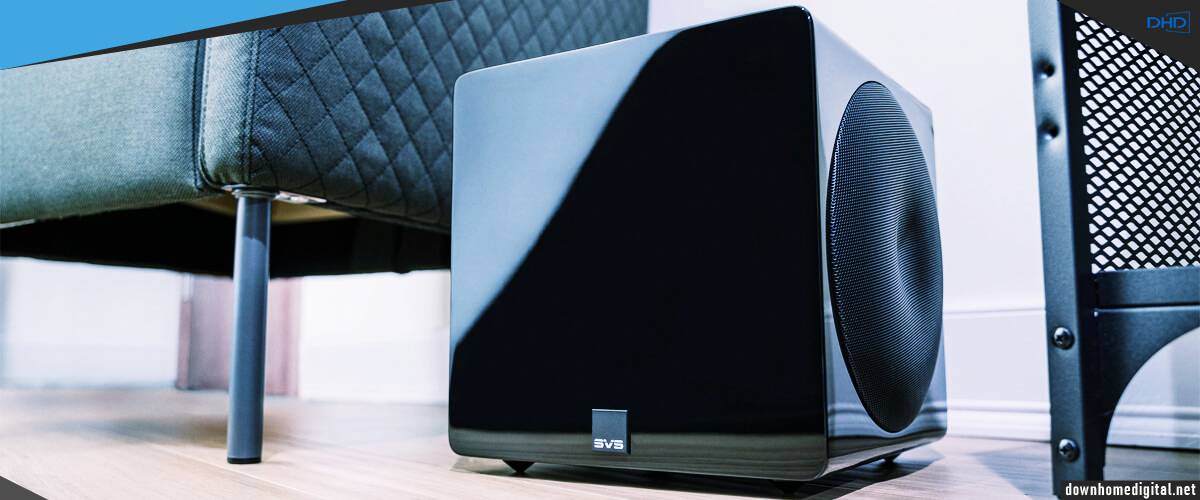 Installation of SVS 3000 Micro does not cause any problems at all – the device weighs ten kilograms, it can be easily carried by one person, and the system of settings gives you an opportunity to integrate the device into any system without any problems.
I included SVS 3000 Micro in the home theater system based on a Yamaha RX-A6A receiver and Klipsch THX Ultra2 speaker set and was stunned by the bass quality, which this " baby" was able to deliver. Both the air combat from "Top Gun" and the battles in "Venom" were simply top-notch!
The nicest thing, however, is that amidst its thunderous action, the SVS 3000 Micro was surprisingly delicate in the details. It always expanded the room parameters on movie tracks, and in complex sound scenes, it did not mix all together into mush.
This subwoofer showed itself just as well in the transition to the musical material – "Dark Side of the Moon" by Pink Floyd got the proper foundation, and "Vicious Delicious" by Infected Mushroom got the punch and drive.
In the small case of the SVS 3000 Micro subwoofer, there is a powerful digital amplifier whose speakers produce the bass notes from 23 Hz. For such a "baby," this is a really stunning performance. The results of my tests only confirmed its impressive capabilities. This model will finally allow joining the truly deep bottom notes even to those audiophiles who previously could not fit a large-sized device in their interior.
Key specs
Power (RMS), W: 800.
Driver size, inch: 8.
Frequency response: 23Hz-240Hz.
Dimensions, inch (HxWxD): 10.9×11.7×10.7.
Pros
High-quality components.
Very powerful.
User-friendly control system.
Rigidly Braced Sealed Cabinet Design.
Three-band parametric equalizer and the set of presets.
FAQ
Do you need a subwoofer in a small room?
If your room is not the size of a storeroom or a small dressing room, using a subwoofer in it is quite possible. Of course, in a small room, you will have to struggle with the settings of your music system so that the sound is not too harsh or mixed and the bass plays properly. But the final result can be very good.
Is one subwoofer enough in a small room?
Of course, you can create a system with 2 subwoofers, but using one subwoofer will be the optimal option for a small room.
Do smaller subwoofers sound better?
First of all, compact subwoofers focus on small rooms, and their main task (along with their primary function) is to save space. Therefore, their power capabilities will be slightly limited compared to their larger analogs. They are ideal if you do not need too deep bass, but accurate sounding and tight "kick" are important.
Do smaller subs hit harder?
It is quite a complicated question, the answer to which depends on
many factors
, for example, who the manufacturer is, what elements and components are used in the model, and what material the case is made of. There is still a lot of debate on this subject among audiophiles, and there is no unambiguous answer.