Proper subwoofers for DJ look like their counterparts, the studio speakers. However, not every best studio subwoofer is good for DJ.
Both are in more or less beautiful cases, mostly in black or white, and come with at least two drivers or speakers/chassis. Optical differences are more to be found in the details: the DJ speakers look nicer than those for the recording studio, and the speakers themselves are often hidden behind a cloth or grille. The real difference lies in the sound of the two types.
Regular speakers are designed for listeners, enthusiasts, and music consumers. Every best DJ subwoofer must impress the listener in every room and sound good everywhere, regardless of where the loudspeakers are set up. Such a listener wants a sound that they like. The manufacturers of DJ subwoofers are, of course, aware of this, which is why they design their products in such a way that they deliver hi-fi sound. You do not focus on the objective accuracy of the music being played but on the subjective and perceived quality of the sound.
Studio monitors are made as a tool for the professional in the recording studio who needs to recognize every problem as such immediately. The main purpose of this type of speaker is to deliver a pristine sound. A sound engineer should use this to make changes to the sound and create a better mix. This is about critical and objective eavesdropping so that your recordings and mixdowns sound good on all other eavesdroppings. For a better mix, a precise and unchanged frequency curve is one of the most important factors. Since studio monitors deliver an almost flat reproduction over the entire frequency response, no errors are mixed into the result.
Subs For DJ And Studio Comparison Table
Name
Power, W
Driver size, inch.
Frequency response
Dimensions (H" x W" x D")
Review
Yamaha HS8

best studio sub

120
8
22Hz-150Hz
16″ x 18″ x 18.5″
Review
Mackie CR8S-XBT

budget studio sub

200
8
N/A
14″ x 12.6″ x 16.2″
Review
JBL EON618S

best DJ sub

1000
18
42.5Hz-150Hz
22.9" x 26.3" x 25.4"
Review
Rockville RBG18S

budget DJ sub

500
18
29Hz-150Hz
26.5″ x 22″ x 24.2
Review
Best Studio Subwoofer reviews
Our pick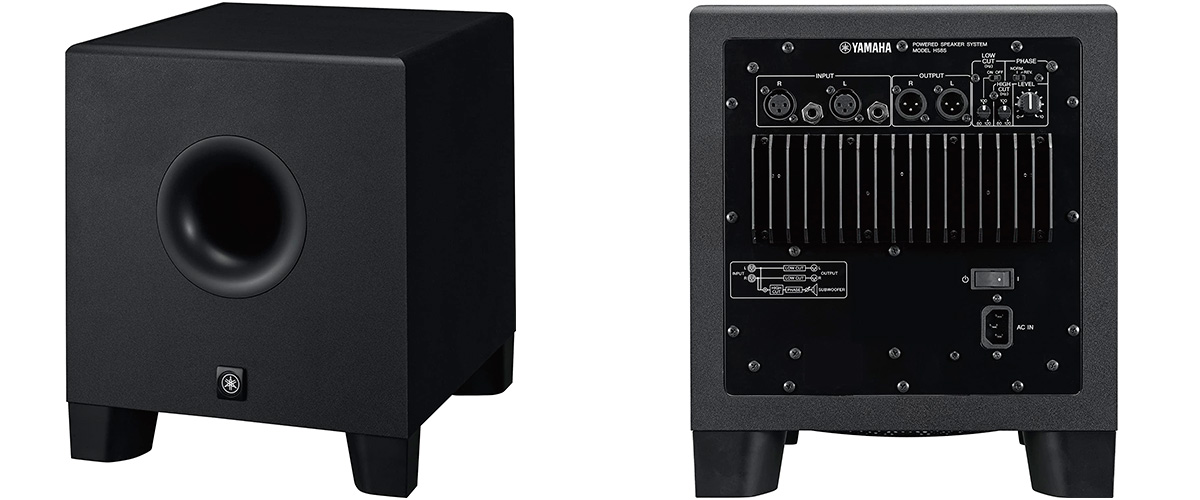 Yamaha HS8
Best Studio Subwoofer
2-way bass-reflex bi-amplified nearfield studio monitor with 8″ cone woofer and 1″ dome tweeter.
Yamaha HS8 – best overall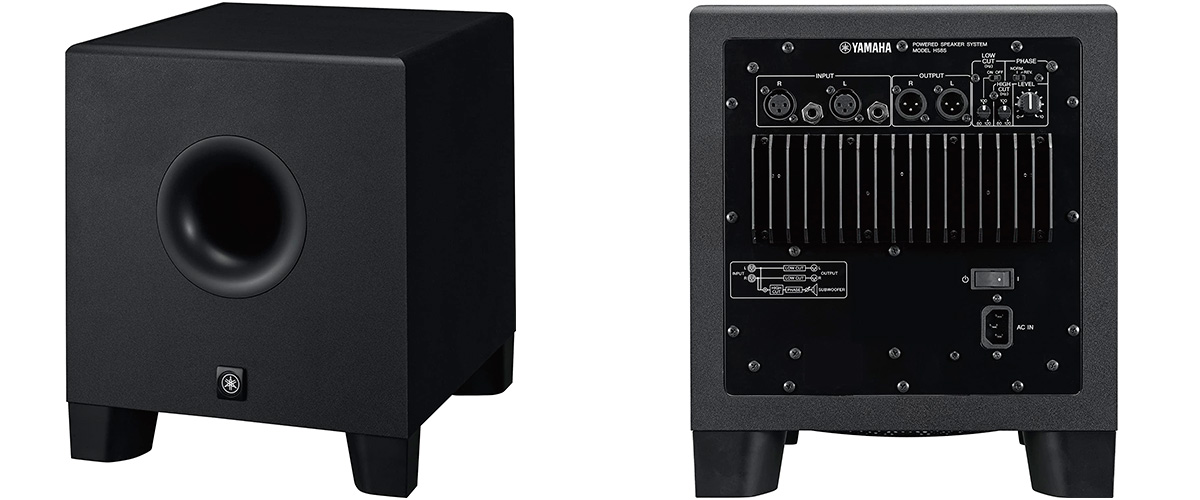 The HS8 with an 8″ woofer is the largest studio monitor subwoofer in the HS series and offers a total output of 120 watts, which is divided between the woofer and tweeter at 75 W and 45 W. A 1″ dome is used as the tweeter, which has a fairly generous waveguide already incorporated into the dome's mounting plate. A small grille that is also permanently built into the chassis protects the tweeter from contact and possible damage.
The housing of the HS8 made of MDF is coated with a black plastic layer and rounded at the upper and lower edges. Unfortunately, the edges of the front panel do not have any rounding, which could have been an advantage here to reduce disturbing edge effects in the form of phantom sources.
If you look at the frequency response of the HS8, it quickly becomes clear that Yamaha is serious about the statement made by the neutral and professional subwoofer. With a ripple of only 3.8dB from the highest to the lowest point without smoothing between 100 Hz and 10 kHz and corner frequencies of 38Hz and 24.2kHz (−6dB), this statement is certainly credible.
The HS8 also gives a good picture in terms of directivity. Thanks to the relatively large waveguide on the tweeter, the isobars for the horizontal plane with an average opening angle of 134° run very nicely evenly, which allows sufficient freedom of movement. In the vertical, the isobars inevitably constrict a little in the area of ​​the crossover frequency. At the narrowest point, there is an opening angle of approx. 40°, where the level does not drop by more than 6 dB compared to the central axis.
If you push the subwoofer to its limits, 97.5dBA is reached at a distance of 6.5 ft, which means 103.5dBA converted to one meter. The peak level measured at a distance of 1m was 116dB. As the drastic increase of the blue curve compared to the red curve in Figure 4 already indicates, the HS8 has reached its extreme limit here, which should not be explored constantly in everyday life.
Key specs
Power (RMS), W: 120
Driver size : 8″
Frequency response: 22Hz-150Hz
Dimensions (H x W x D) : 16″ x 18″ x 18.5″
Pros
It offers a nice range of options for adjustments
The model is made of reliable materials to serve for many years
You will not have difficulties installing it
Cons
It does not have handles for carrying
Mackie CR8S-XBT – budget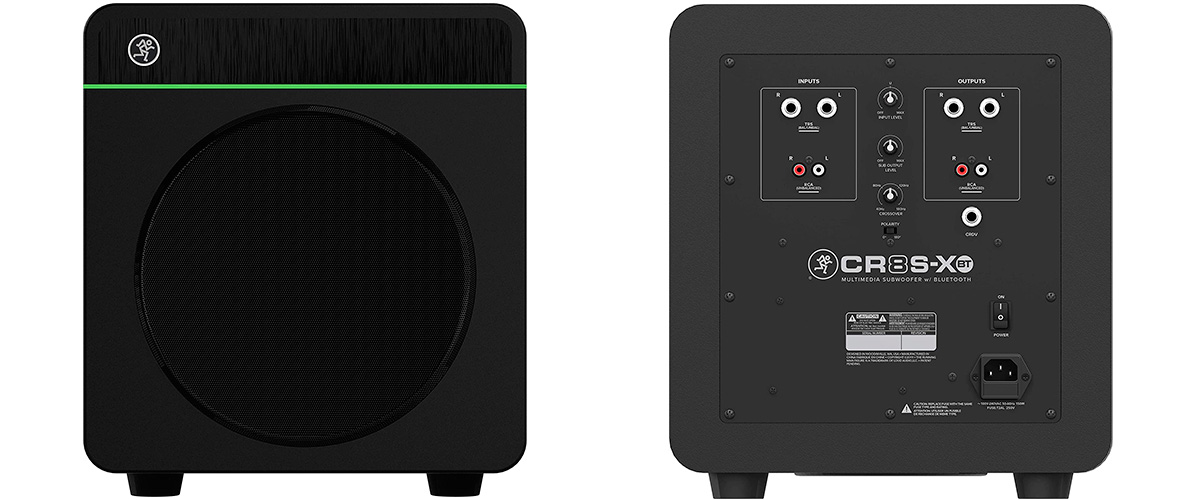 The new CR8S-XBT subwoofer with Bluetooth equipment complements the monitors in the low-end. Mackie CR monitors are designed to cover a wide range of applications. From home studios, multimedia workstations for AV post-production, gaming, to broadcasting, and many other applications, the best sound should be provided where there is little space.
The new subwoofer with the designation CR8S-XBT offers 200W power. All models have a solid housing, bass loudspeaker with a polypropylene-coated membrane, 3⁄4-inch tweeter with a ferrofluid-cooled silk dome, and specially developed waveguides for uniform radiation across the entire frequency range. Thus it becomes a nice subwoofer for a home studio.
Mackie has matched the CR8S-XBT active subwoofer to the new CR series. It makes sense to use it with the smaller monitors in the new series, such as the neat CR4-XBT. You can set the crossover frequency up to which the subwoofer works using a suitable potentiometer. There is also a switch for the polarity, volume control and another for the volume of the audio input. The volume level can be adjusted even more conveniently using the supplied CRDV double rotary knob.
Key specs
Power (RMS), W: 200
Driver size : 8″
Frequency response: N/A
Dimensions (H x W x D) : 14″ x 12.6″ x 16.2″
Pros
It does not take a lot of time to install this model
Bluetooth features allow to enjoy streaming music wirelessly
It has a wide frequency to hear deep noises and sounds
Cons
This model does not support XLR inputs/outputs
JBL LSR310S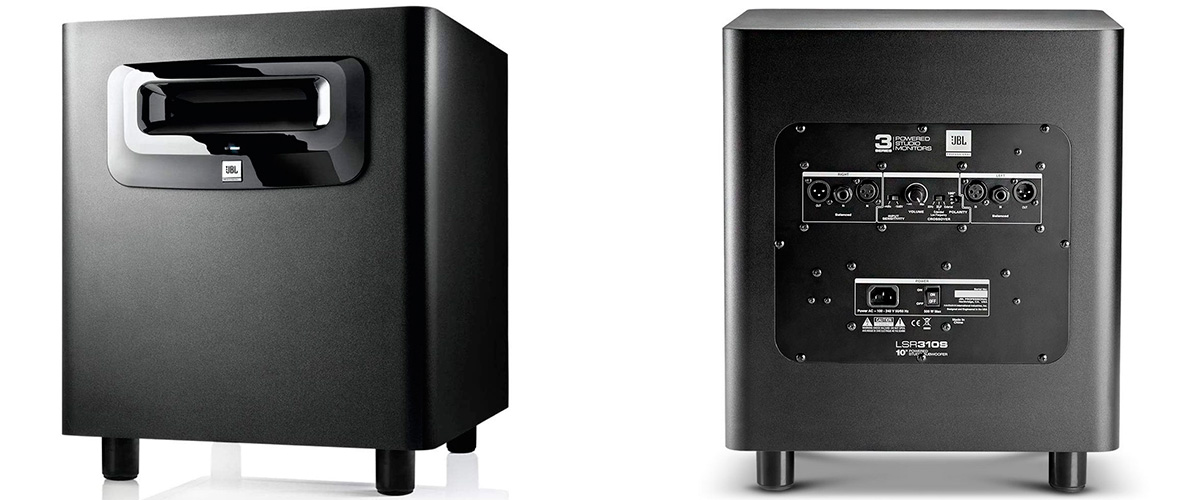 The active LSR310S 10-inch sub monitor is the perfect complement to the studio monitors LSR305 and LSR308. It extends the frequency range down to 27Hz. The magnetically shielded 10″ long-stroke chassis radiates downwards ("down-firing"). Together with the flow-optimized Slip Stream bass reflex opening, a deep, powerful and authentic bass reproduction with levels of up to 113dB is achieved. In combination with the LSR305 / 308 and LSR310S subwoofer, a high-quality monitor system with an unbeatable performance ratio is created.
The active, digital electronics are integrated into the subwoofer. It consists of a modern 200-watt Class D power amplifier and switchable filters for the left and right outputs. The "80 Hz" filter is recommended in setups with LSR305 or LSR308. The "XLF" setting separates at 120 Hz and increases frequencies significantly at 60 Hz. This setting emulates the sound characteristics in clubs and discos. The "external" setting does not use filters. It is designed for operation with external DSP controllers.
The equipment also includes balanced inputs through XLR and jack sockets. The two XLR outputs are used to connect the monitors. The input sensitivity can be switched from -10 dB to +4dB. The phase of the subwoofer signal can be rotated by 180 to adapt it to the room. It makes it the best studio subwoofer in adjusting the unit to an already existing audio system.
Key specs
Power (RMS), W: 200
Driver size : 10″
Frequency response: N/A
Dimensions (H x W x D) : 17.6″ x 15″ x 15.6″
Pros
It not very heavy for one person to carry
Solid and reliable housing
You receive nice quality at low frequencies
Cons
It only has an XLR output
Best DJ Subwoofer Reviews
Our pick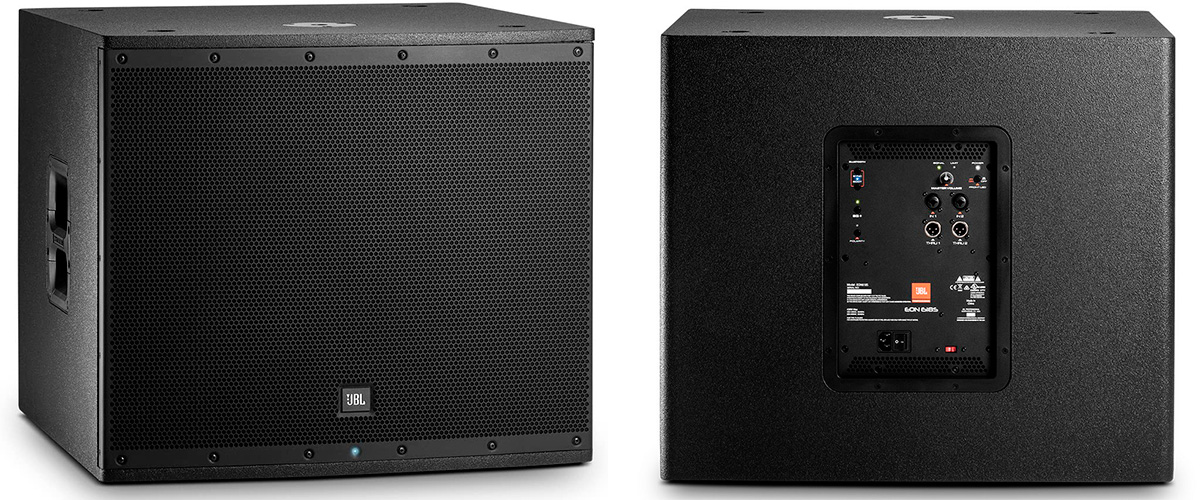 JBL EON618S
Best DJ Subwoofer
The EON618S is a powered portable PA subwoofer in the EON600 series from JBL Professional. It has been designed to deliver class leading performance in a variety of applications supporting EON600 and other full range systems.
JBL EON618S – best overall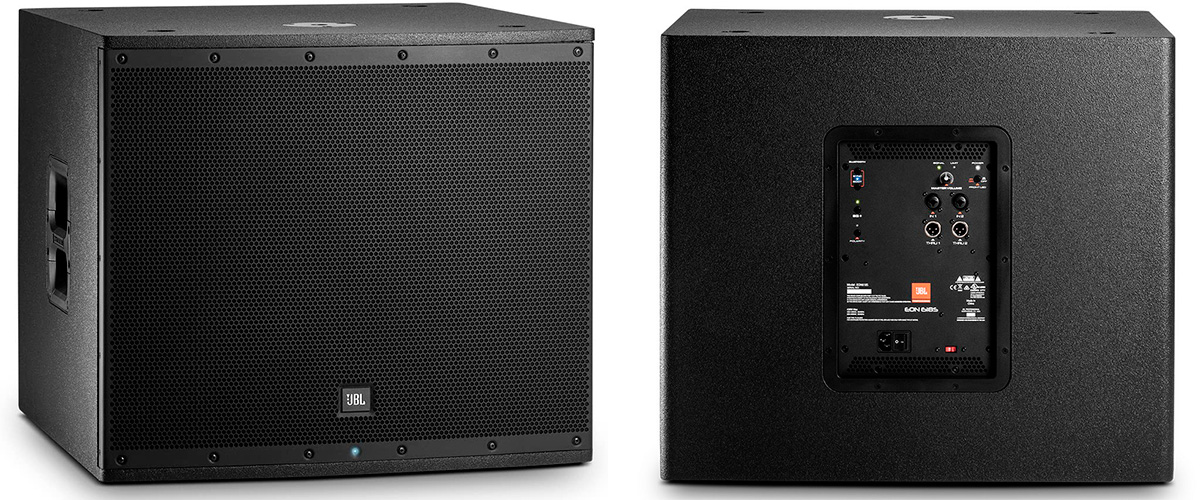 Whenever there is little space on the stage or the club is very manageable, there is not much space next to the backline for the PA. In these situations, compact active public address systems are increasingly being used. No wonder, because the handy systems usually offer everything you need for live operation in the smallest of spaces. JBL has also been involved in professional audio technology for many years and is introducing the new compact EON 618S. It is a portable PA subwoofer from the EON 600 series. It has a class D amplifier and is equipped with a digital signal processor (DSP). The subwoofer can be used wherever more power in the bass range is required. It can be combined with any active PA speaker. It makes JBL EON618S the best powered PA subwoofer for live band.
The class D power amplifiers of the power mixer provide 300watts of power to drive the connected 8″/1″ 2-way loudspeakers. The system thus achieves a maximum sound level of 121 B in a frequency range of 60Hz to 20kHz.
The amplifier delivers an output of 1000 watts (peak) to days, while the maximum sound pressure level is 134dB. The DSP of the EON 618S offers, among other things, tone control, delay, phase inversion, and different crossover frequencies. The flexible signal management with two inputs and outputs enables stereo and mono sub-applications. The sound and volume can also be regulated using the free Eon Connect app (for iOS and Android) via Bluetooth. As an additional gimmick, the EON618S has a Bluetooth connection for audio streaming. This allows songs from smartphones, tablets, or other audio devices with Bluetooth functionality to be sent wirelessly to the EON618S and played from there
Key specs
Power (RMS), W: 1000
Driver size : 18″
Frequency response: 42.5Hz-150Hz
Dimensions (H x W x D) : 22.9" x 26.3" x 25.4"
Pros
Reliable long-term operation thanks to excellent workmanship and first-class quality of all components
App for controlling all important functions via the laptop, tablet, or smartphone
Proper sound quality and depth of bass
Cons
Due to its dimensions, it is not convenient to carry
Rockville RBG18S – budget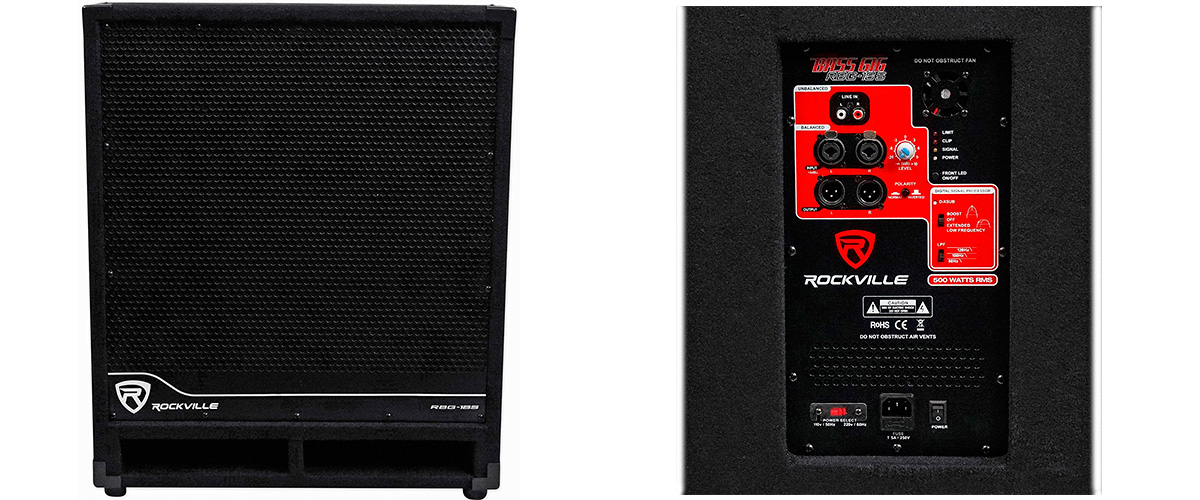 If you want to get to the best powered subwoofer for DJ, you should consider RBG18S from Rockville. It is a powerful model with an 18inch driver. With the peak power of 2000W, you receive amazing bass and sounds. It is equipped with a high-temperature 4-inch voice coil, which is placed in a 120oz motor. However, you should not worry about overheating. RBG18S has an automatic turn-on cooling system. With sensitive heat sensors, it can serve for many years. This powerful subwoofer is a bit heavy. With 108lbs, you may need someone to lift it or just to use a cart for it.
This model offers you management via DSP, a digital signal processor. It allows you to boost low extended low frequencies and bass enhancements. Moreover, it provides thermal, clipping, and over-excursion protection.
On the rear side, you will be surprised to see various in/outputs. With a combo of XLR ¼ TRS and RLC inputs, you can connect it even to your home theatre. It works well in combination with other speakers. You simply mount them on top of the special socket. Even at high vibrations, it will remain solid.
Key specs
Power (RMS), W: 500
Driver size : 18″
Frequency response: 29Hz-150Hz
Dimensions (H x W x D) : 26.5″ x 22″ x 24.2″
Pros
It has great compatibility with speakers of other models
Easily deliver nice sound to the audience
This DJ powered sub suitable for mobile DJ and bands
QSC KS118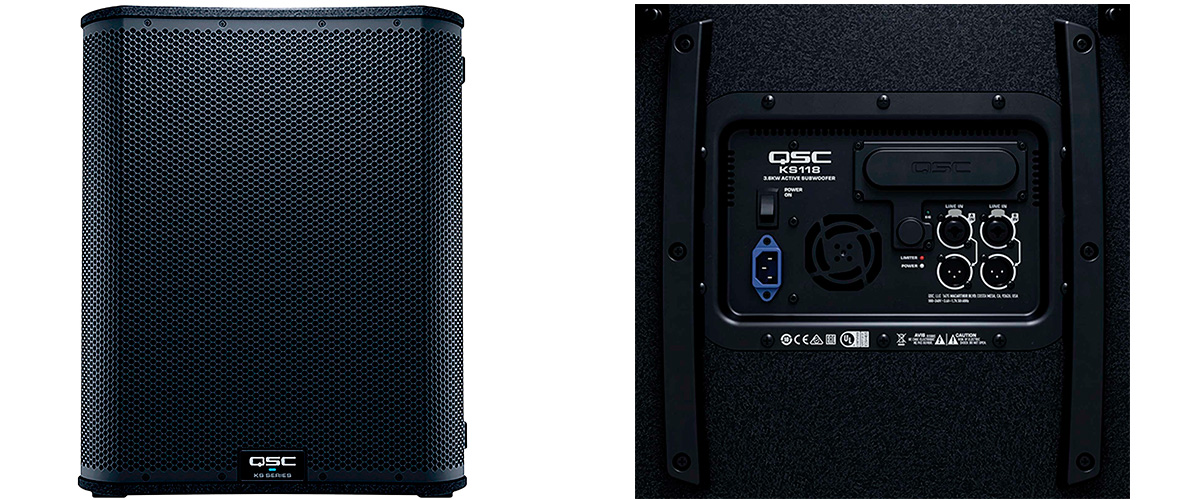 The KS118 subwoofer is the successor to the KW181. It is slightly larger but still has the usual dimensions for an eighteen-inch. The 18-inch loudspeaker is well protected behind a negatively curved, robust, black metal grille with a honeycomb structure and a cover on the back.
The 18-inch long-throw driver is driven by a Class D power amplifier with the aforementioned 3600 watts, which, according to the datasheet, generates a sound pressure level of 136 dB max SPL. The frequency range is given as 35 Hz – 111 Hz. It goes very deep thanks to the aptly named "DEEP" mode, which reproduces extremely low frequencies.
Two sturdy black metal handles with a roughened surface are embedded in the housing on the left and right. The KS118 can be set up vertically or horizontally. For this purpose, four thick, flat rubber feet are screwed on at the bottom and also on one side of the handle so that the box can also be operated lying on its side. If another KS118 is stacked (e.g., for cardioid mode), its feet will find good support in the flat hollows on top and the sides. An M20 threaded rod mount is also embedded on two sides of the housing.
There are two XLR/jack combination line inputs for channel A and channel B and two XLR/M outputs for channel A and channel B. The KS118 receives power via a blue IEC power socket. The also blue IEC power cord included in the scope of delivery has a trigger lock that clicks into the socket, which must first be released so that the cable can be removed. However, normal IEC power cords without a withdrawal lock can also be used. A fan provides cooling with an acceptable noise level.
Key specs
Power (RMS), W: 3600
Driver size : 18″
Frequency response: 41Hz-98Hz
Dimensions (H x W x D) : 25.2″ x 20.5″ x 30.9″
Pros
Directional mode effectively delivers high-quality sound
The housing is made of sturdy materials
Cons
To use the cardioid function, you need two units
FAQ
Do you need a subwoofer in a recording studio?
While subwoofers are not absolutely necessary in a recording studio, they can be a great way to add some extra low-end punch to your monitors.
If you're mixing bass-heavy music or looking for a bit more low-end response from your studio monitors, connecting a subwoofer is a great way to do it.
How to connect a subwoofer to studio monitors?
If you're looking to add some extra low-end punch to your studio monitors, then connecting a subwoofer is a great way to do it.
There are a few different ways to connect a subwoofer to studio monitors, and the method you choose will likely depend on the specific setup of your studio.
The most common way to connect a subwoofer to studio monitors is by using an active subwoofer. Active subwoofers have their own built-in amplifiers, so all you need to do is run a single cable from the subwoofer to your monitor's input.
If you're using passive subwoofers, then you'll need to use a separate amplifier to power them. In this case, you'll need to run two cables from the subwoofer to the amplifier – one for the left channel and one for the right.
Whichever method you choose, be sure to follow the instructions that came with your specific subwoofer model.
Where should a subwoofer be placed in a studio?
The placement of your subwoofer will have a big impact on the overall sound of your studio.
Ideally, you should place the subwoofer in the corner of the room – this will help to maximize the low-end response.
If you're using multiple subwoofers, then it's generally best to spread them out around the room. This will help to evenly distribute the bass throughout the room.
What are some tips for getting the best sound from my subwoofer?
There are a few things that you can do to get the best sound from your subwoofer:
Place the subwoofer in the corner of the room. This will help to maximize the low-end response.
If you're using multiple subwoofers, spread them out around the room. This will help to evenly distribute the bass throughout the room.
Use a crossover frequency that's appropriate for your monitors. A good starting point is 80Hz.
Experiment with the placement of the subwoofer until you find a spot that sounds good to you.
Following these tips, you should be able to get great sound from your subwoofer. If you have any other questions, feel free to reach out to us.