This time, I decided to find the best av receiver under $500. Honestly, it wasn't that easy as the variety of different models in this price range is quite wide. I analyzed the most popular models carefully, tested lots of them, and selected the most impressive appliances.

Our pick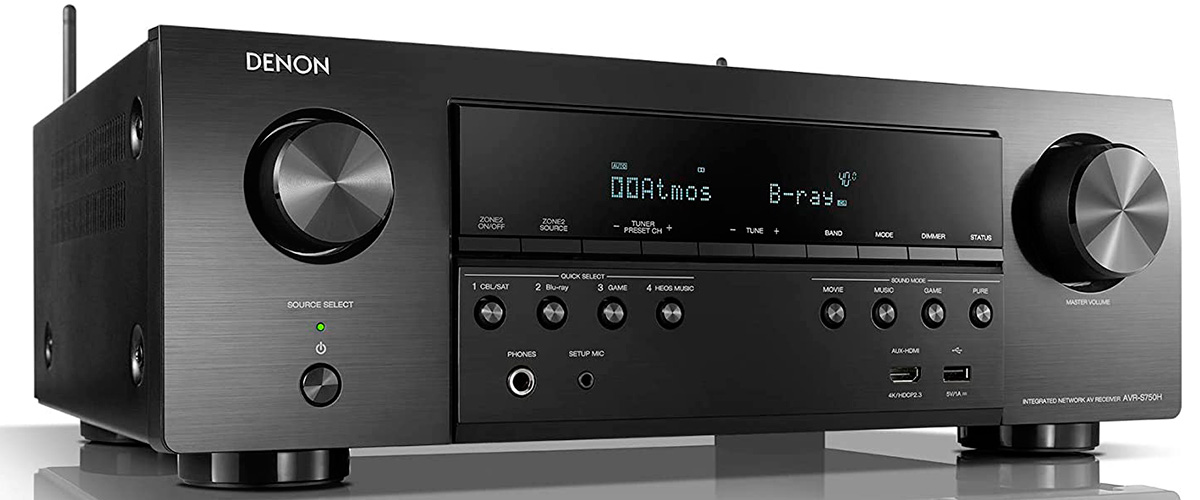 Denon AVR-S750H
Best AV Receiver Under $500
Denon AVR-S750H 7.2 channel full 4K Ultra HD AV receiver with 165W per channel, Dolby Atmos®, Dolby Atmos Height Virtualization Technology, DTS:X™, DTS Virtual:X® and new eARC support
Receivers
Channels
Stereo power, W/Ohm
THD, %
Denon AVR-S750H

best overall

7.2
75/8, 110/6
0.08
Yamaha RX-V4A
5.2
80/6
0.06
Onkyo TX-SR494
7.2
80/8
0.08
This review contains only AV receivers with the greatest quality. Whatever device you choose, you are going to have an unforgettable listening experience.
Best AV Receiver Under $500 Reviews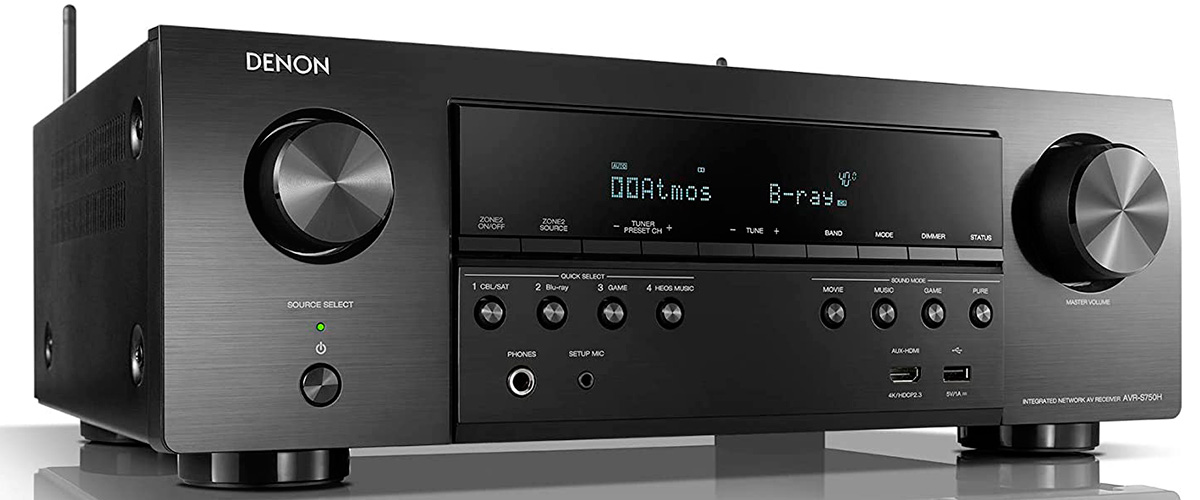 I decided to start with the best AVR under $500. Among the main characteristics of Denon AVR-S750H are 75W output power for each of its seven channels (frequency range 20 Hz – 20 kHz, harmonics 0.08%, two channels enabled), six HDMI inputs (4K/HDR), and one output eARC. The device supports Bluetooth (including Bluetooth headphone support after firmware update) and provides a wireless connection via Ethernet and Wi-Fi. With the appliance, you can access a variety of streaming services, including Spotify Connect, Tidal, TuneIn, Deezer, and more. You also can play the same song in different rooms with perfect synchronization or specially selected tracks for each separate room.
The considered home theater receiver under 500 also has a USB connector (charge and play), three digital inputs (2 optical and coaxial), and Audyssey Room Correction auto calibration system. During setup, the Audyssey Suite measures and dynamically optimizes all speakers in your home theater for all listening levels. Denon AVR-S750H is capable of 24-bit/192kHz and DSD playback, has phono input, and can be controlled by the Denon AVR Remote App. The receiver provides exceptional brightness, color, and contrast enriching your movie and gaming experience.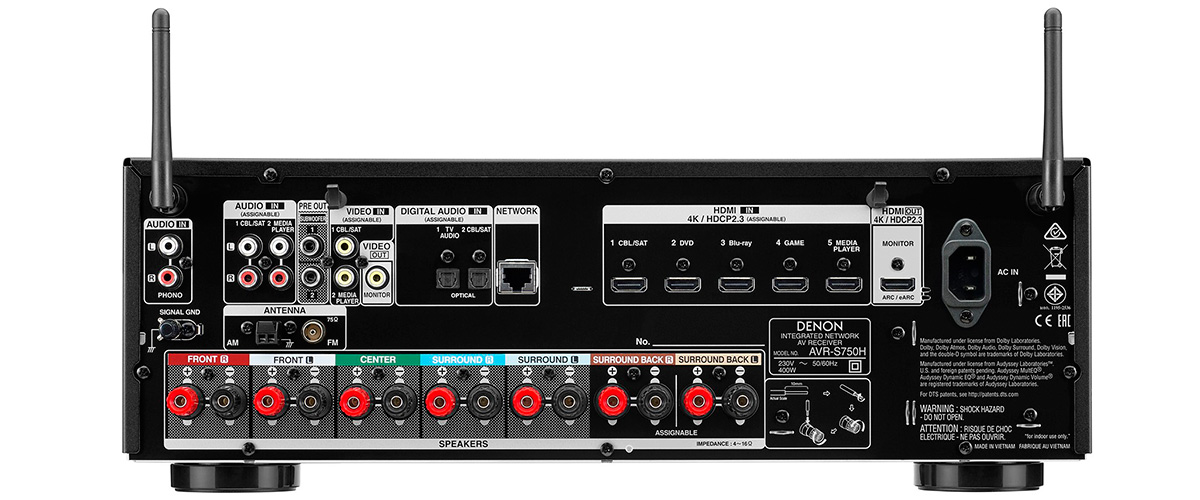 Previous Denon AV receivers could be controlled with Amazon Alexa but did not support Google Assistant. Speaking of the new model, Denon AVR-S750H not only can be controlled using Alexa but also works with Google Assistant/Google Home. Google Assistant is currently limited only to volume control and playback controls, so you'll need a Denon HEOS to start listening to music. Of course, you can also control the model in the traditional way using a remote control or an application. The intuitive Setup Assistant is used to set up the receiver.
Key specs
Channels: 7.2
Stereo power, W: 75, 110
Impedance, Ohm: 8, 6
THD, %: 0.08
Pros
Smart TV Compatibility: you can easily control the AVR-S750H from most TV remotes via HDMI-CEC
Enhanced Audio Return Channel allows you to stream 3D audio directly from your TV to your AV receiver via a connected HDMI cable
Four quick-select buttons are located on the front panel, which means you can easily use your preferred sound settings for each source
Cons
Bluetooth reception is very poor
No HDMI/Toslink/Coax SPDIF support for Zone 2 source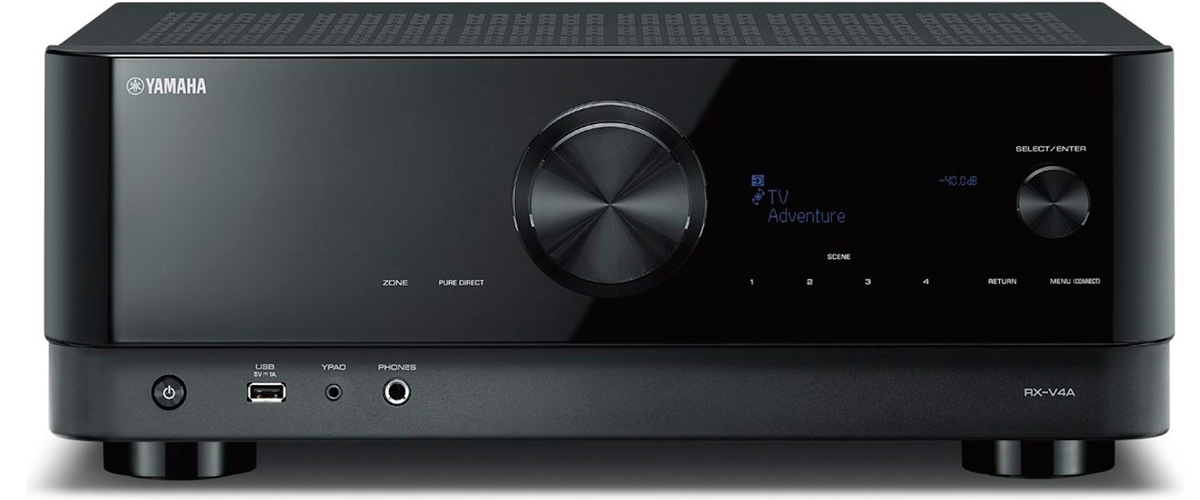 This amazing receiver allows you to create a modern and versatile home theater system at a low cost. The device has a 5.2 configuration, which can be considered the optimal option for medium-sized rooms. With a rated output power of 80 watts per channel, Yamaha RX-V4A is able to effectively work with popular brand floor speakers and reproduce dynamic and rich sound. The output stages of the AV receiver amplifiers are made on discrete components and are capable of delivering significant current to the load with minimal signal distortion.
The RX-V4A features proprietary DSP 3D. This digital technology creates a three-dimensional environment, and subjectively expands the effective perception of music and movie soundtracks. Yamaha RX-V4A uses a proprietary YPAO auto-calibration system to make setting up a multi-channel home theater kit quick and easy.
The model is equipped with four HDMI inputs supporting 8K/60Hz, 4K/120Hz Ultra HD and Dolby Vision. This appliance has analog and digital inputs for various signal sources. There is also a USB input for storage devices with audio files on the front panel of the unit. The device provides a full range of streaming technologies.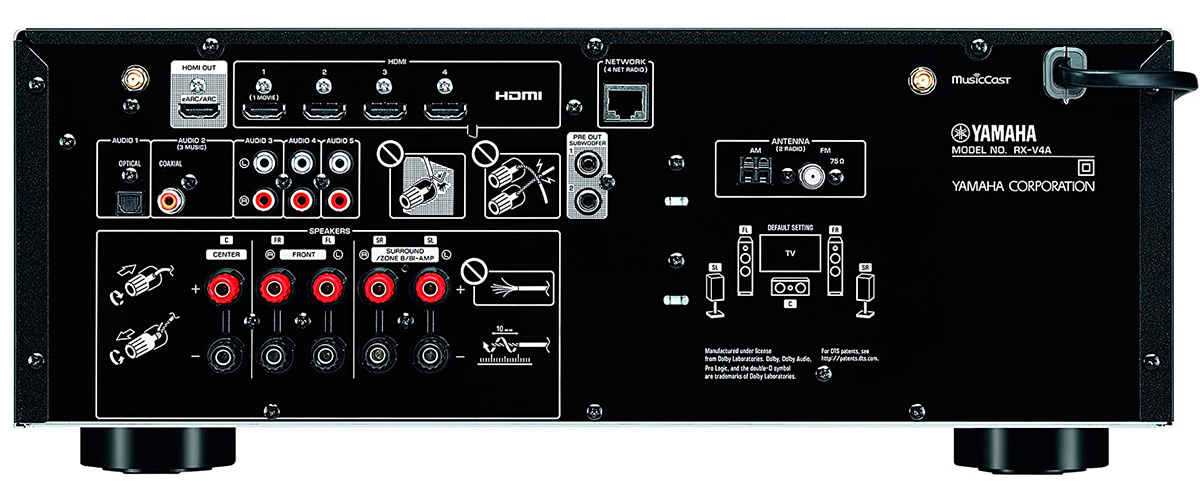 Yamaha RX-V4A features HDMI 2.1 gaming capabilities. These are Automatic Low Latency Mode Variable Refresh Rate, Quick Frame Transfer (QFT), and Quick Media Switching (QMS). They are expected to be especially in demand with next-generation gaming consoles from Sony and Microsoft.
Support for online music services and playback of files from network storage devices is provided. Also, the receiver has a proprietary multi-room MusicCast technology, which will make it easy to sound several rooms in your house.
Key specs
Channels: 5.2
Stereo power, W: 80
Impedance, Ohm: 6
THD, %: 0.06
Pros
To connect the RX-V4A to a network, you can use Ethernet or Wi-Fi connections (Bluetooth and AirPlay 2 technologies are provided as well)
Equipped with a modern DAC with 32 bit/384 kHz parameters and can reproduce audio in high-resolution formats
Using a MusicCast application, you can play music content from various online services, as well as network devices
Cons
Could be more compact
No 4K 120Hz firmware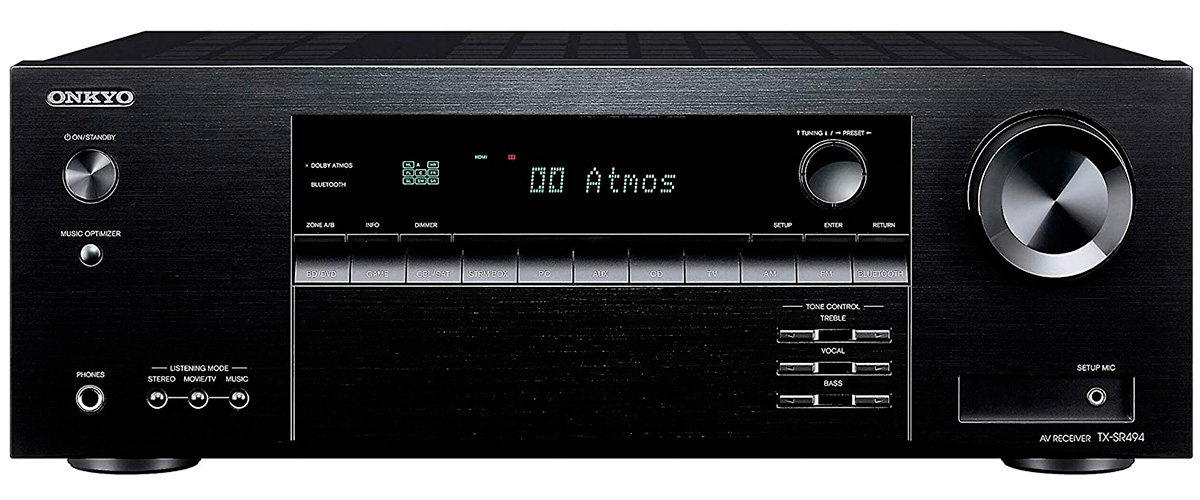 The AV-receiver Onkyo TX-SR494 is analogous to the younger model of the TX-SR393 receiver, but the number of channels in it has been increased to seven. In addition to the updated design, which made the device more attractive, the TX-SR494 has slightly changed the set of connectors – in particular, the USB port for connecting portable drives with music files has disappeared from its front panel.
Two key features present in the considered appliance are Dolby Atmos Height Virtualiser and DTS Virtual: X. The mentioned technologies allow you to create a three-dimensional sound field without height speakers. These revolutionary technologies simulate the output from height and surround speakers if they are not physically present in the room.
Despite its quite affordable cost, Onkyo TX-SR494 is perfect for creating a modern home theater in a small room of an average city apartment. The device is easy to set up and use, and it provides high-quality sound when playing computer games, watching movies, or listening to music. The nice display will show you audio and video data, including HDR format, video resolution, frame rate, and audio codec attached to the input signal.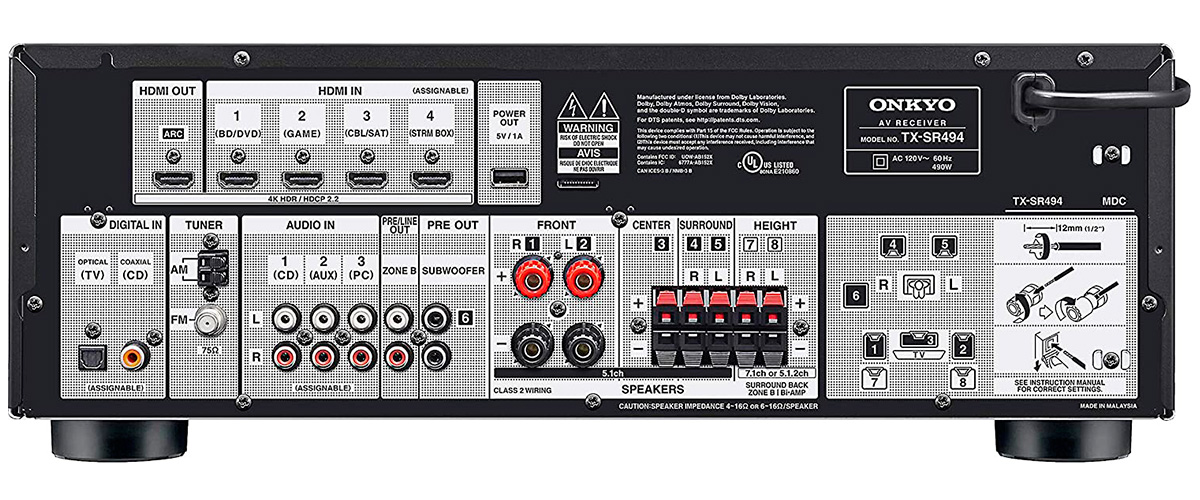 This audio receiver under $500 is equipped with four HDMI inputs and one output. Plus, it is capable of transmitting 4K UHD signals, including Dolby Vision, HDR10, and HLG. The appliance has three analog and two digital inputs. Screw terminals are used to connect the front stereo speakers, while spring terminals are used for the center and rear and side speakers. Overall, Onkyo TX-SR494 is an excellent 7.2 channel AV receiver with a power of 160 watts per channel.
Key specs
Channels: 7.2
Stereo power, W: 80
Impedance, Ohm: 8
THD, %: 0.08
Pros
Features AccuEQ Room Calibration, which cannot be found in most models of this price
Comes with HD-surround sound decoders and high-quality modern DACs from Burr Brown
You can control the operation of the device using the informative display on the front panel
Cons
When the PS4 Pro is connected to this AV receiver model, the function for 4K RGB is disabled
The remote is confusing as it has labeled buttons for DVD, GAME, CBL/SAT etc. instead of numbered inputs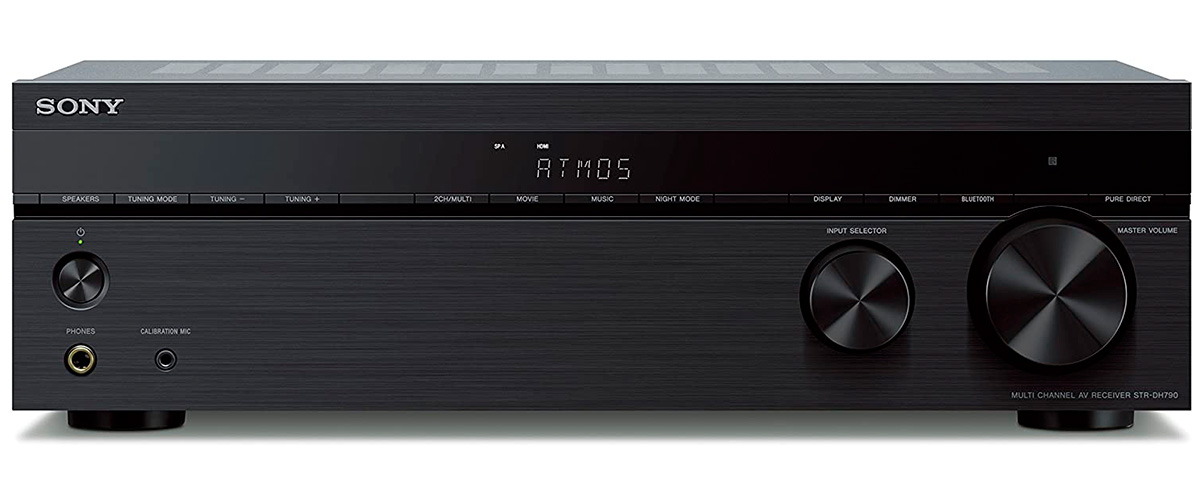 This Sony device features Dolby Atmos technology, which delivers immersive, realistic surround sound from all directions, even from above. As a result, the high-quality rich sound fills the entire room. DTS: X creates multi-dimensional surround audio that adapts in real time to the position of the speakers.
I experienced incredible immersion with a 5.1.2-channel surround speaker system that delivers true-to-life sound from all angles, even from above. With a full 7.1-channel surround sound system, movies sound like a real cinema. By the way, the power output of each receiver's channel is 145 W (6 ohms, 1 kHz, 1ch THD 0.9%). Realistic surround sound will fill your entire room, no matter the size. In small spaces, S-Force PRO Front Surround can create virtual surround sound with just two speakers. Auto Phase Alignment synchronizes the phase characteristics of the front left and right speakers to ensure all channels are perfectly matched to each other for high-quality surround sound.
With support for high dynamic range (HDR) video pass-through, you can get significantly sharper and brighter images with more detail in dark and bright areas for a more realistic viewing experience.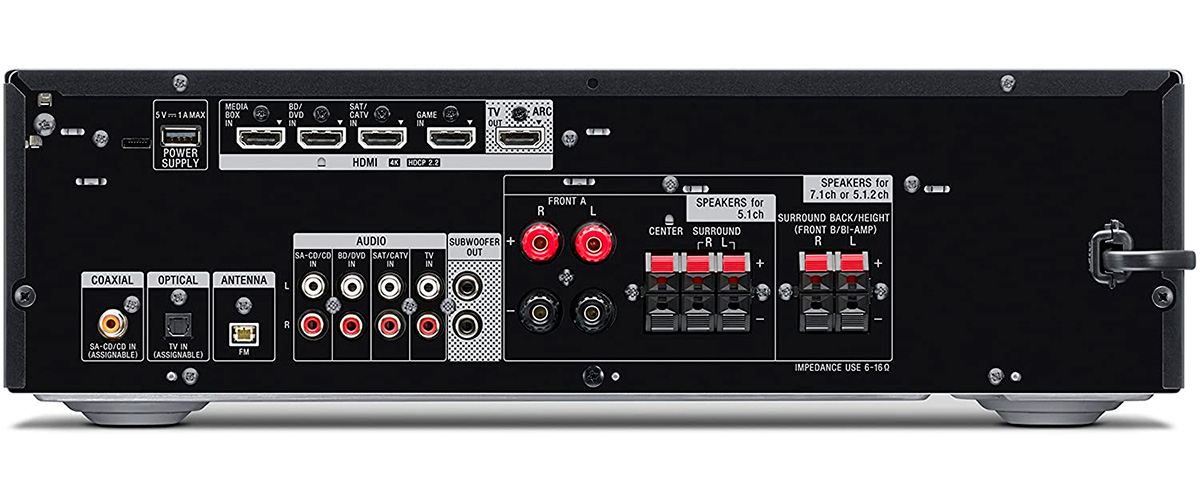 The latest HDR standards, such as HDR 10, HLG (Hybrid Log-Gamma), and Dolby Vision are supported. With 4K support, source data can be transferred to the screen through the receiver without degrading picture quality. HDCP 2.2 is also supported by the appliance. Now you can not only play your favorite songs from the STR-DH790 via Bluetooth but also turn on the receiver from a connected smartphone or tablet using the Bluetooth Standby mode.
Stylish and elegant, the control panel fits perfectly into any interior. The receiver is extremely easy to use. In fact, the only thing you need to do is to plug it in and press the "Play" button. You will have the possibility to choose from four HDMI inputs and one output, plus optical/coaxial digital and analog audio connections. This makes it quick and easy to connect your TV, UHD Blu-ray disc player, and game consoles.
Key specs
Channels: 7.2
Stereo power, W: 145
Impedance, Ohm: 6
THD, %: 0.09
Pros
The metal housing and heatsink mount reduce the effects of sound waves on the electronics for clarity and high-quality sound
An intuitive main menu allows easy control of receiver settings
Equipped with an FM tuner with 30 preset digital radio stations that you can tune in either automatically or manually
Cons
Gets hot quickly
No Wi-Fi wireless connection