If you really want to have great audio experience, I would recommend you using the best 5.1 receiver.
There are also nice 5.2 devices on the market. Both options are good for those who want to enjoy the sound of favourite music tracks or movies. Nowadays, lots of companies produce 5-channel models with pretty high quality and an affordable price. Each appliance has a specific set of features that can improve audio, adjust music according to your room acoustics, etc. If you feel confused when it comes to choosing the suitable receiver, rely on me! My review will provide you with all the info you need to make the right decision.
Our pick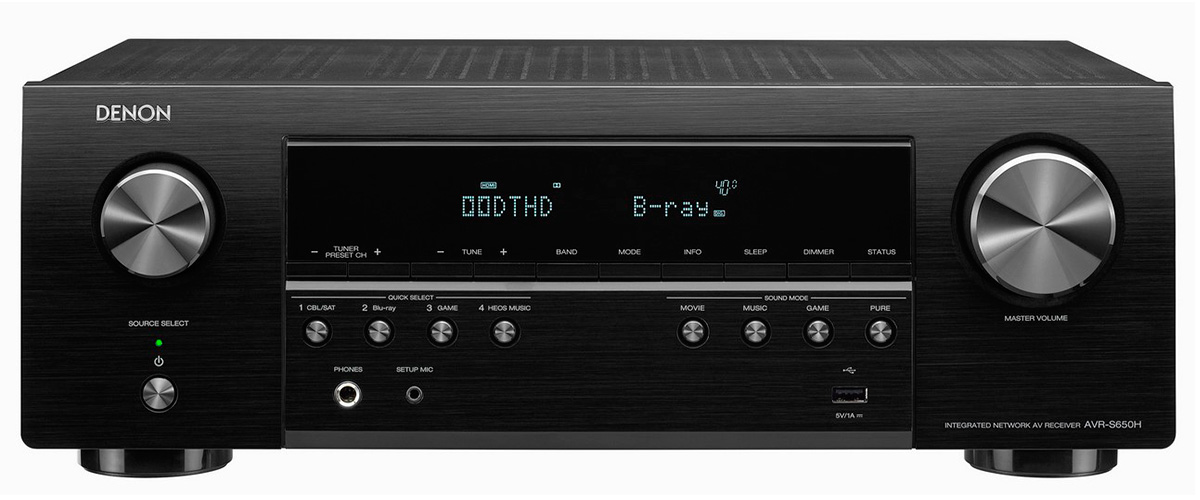 Denon AVR-S650H
Best 5.1 Receiver
Denon AVR-S650H 5.2 Channel AV Receiver, 135W Per Channel 4K Ultra HD HDMI Video (5 In / 1 Out)
5 Channel AV Receivers Comparison Table
Receivers
Channels
Stereo power, W/Ohm
THD, %
Denon AVR-S650H

best overall

5.2
75/8, 100/6
0.08
Review
Yamaha RX-V385

best budget

5.1
70/6
0.09
Review
Marantz NR1510

smallest

5.2
50/8, 60/6
0.08
Review
Best 5.1 Receiver Reviews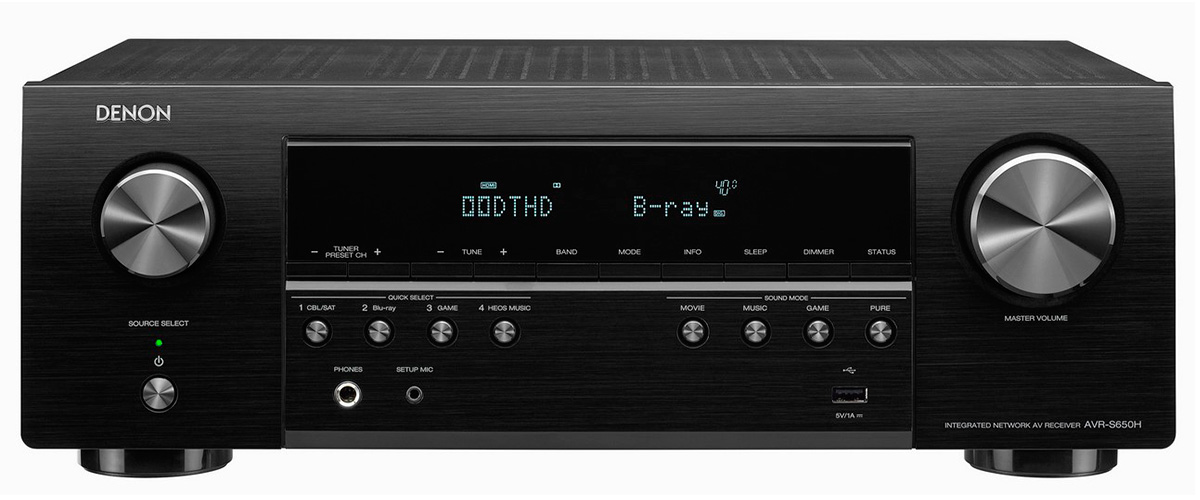 Of course, I will start with the best 5.2 receiver. The model supports Ultra HD resolution (4K/60Hz) and has five high current amplifiers equipped with discrete elements that can handle even low impedance speakers. The declared maximum power is 135 watts per channel (6 ohms). The speakers connected to the AV receiver are calibrated by Audyssey MultEQ, complemented by Dynamic EQ and Dynamic Volume technologies.
Denon AVR-S650H model can be used as a streamer with access to playback of audio content stored on LAN media (computers/NAS servers) or on external drives connected through the USB port integrated into the front of the case. Various online services are also available, including Tidal, TuneIn, Deezer, Spotify Connect, and more.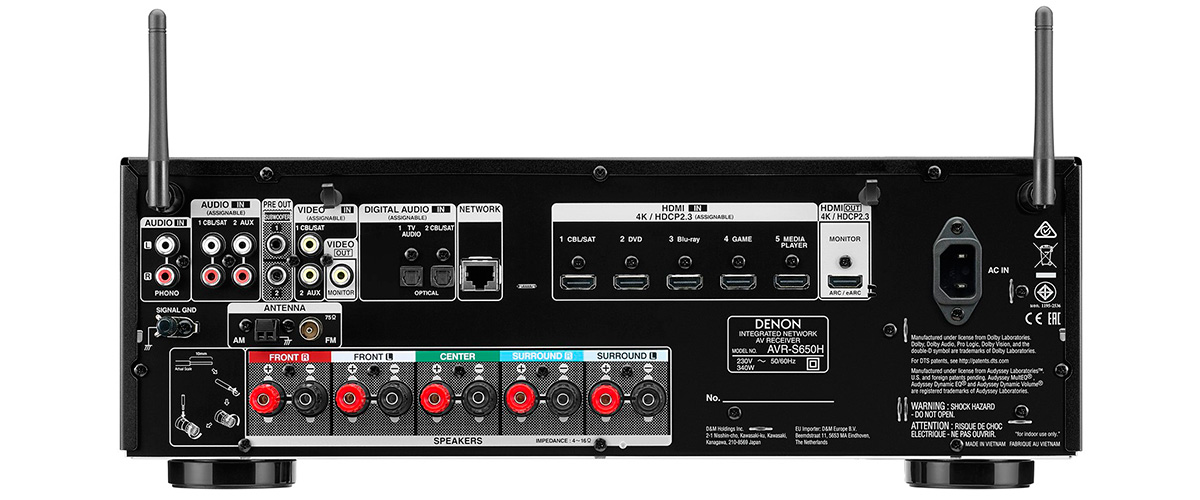 The new AirPlay 2 protocol is supported. The mentioned technology makes it possible to build a wireless multi-room system based on iOS devices. The receiver is capable of working as part of the proprietary HEOS wireless ecosystem, which allows you to control all devices included in it through one application, to which you can broadcast audio from tablets and smartphones, local networks, and streaming services. When organizing a multi-room installation based on HEOS components, the same track can be played synchronously in different rooms or different music can be transferred to selected rooms.
To control the device, in addition to the application or the remote control, it is convenient to use personal voice assistants Google Assistant, Apple Siri, or Amazon Alexa. The AVR-S650H is configured with an intuitive Setup Assistant.
This receiver is equipped with five HDMI inputs supporting the latest HDCP 2.3, 4K video, and HDR10, HLG and Dolby Vision high dynamic range video standards. The only HDMI output allows you to work with eARC – an extended return channel, which allows multichannel audio in Dolby True HD and other formats to be transmitted from the TV panel directly to the receiver. The model has an MM phono stage for connecting turntables, and five pairs of color-coded screw terminals are used to connect speakers.
Key specs
Channels: 5.2
Stereo power, W: 75, 100
Impedance, Ohm: 8, 6
THD, %: 0.08
Pros
Has on board Bluetooth (version 4.1) and 2-band Wi-Fi, which improves the quality of reception
Works with most current modern surround sound formats, including Dolby TrueHD and DTS-HD Master Audio
Supports playback of Hi-Res audio files in WAV, ALAC, FLAC (up to 24 bit / 192 kHz) and DSD up to 5.6 MHz formats
Cons
Does not upgrade images to Ultra HD resolution
Yamaha RX-V385 – best budget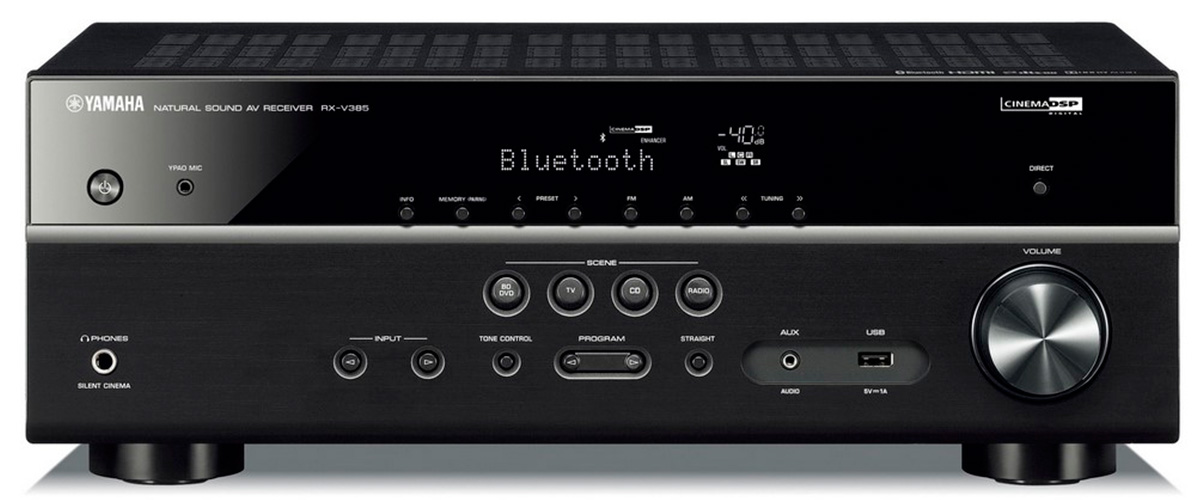 Time to talk about the best budget 5.1 receiver. The RX-V385 has a Music Enhancer function that restores compressed audio to sound as it was originally intended. Compressed Music Enhancer is now optimized for Bluetooth audio transmissions and ensures that your music will have vivid, dynamic sound quality during wireless playback. The device provides deep contrast and lifelike images when you watch movies.
At 70 watts of power it may seem a bit weak if you have a pretty big room. However, the appliance is actually intended for small rooms. The AV Setup Guide will significantly help you to go through the installation, cable connections and various settings. The receiver supports Alexa and Google Assistant voice control systems for easy operation. AirPlay 2 lets you stream music by using Siri voice commands on your Apple iOS device. The model comes with many different presets for movies and music. If none of them suits you, use a seven-band equalizer with separate high and low frequency controls.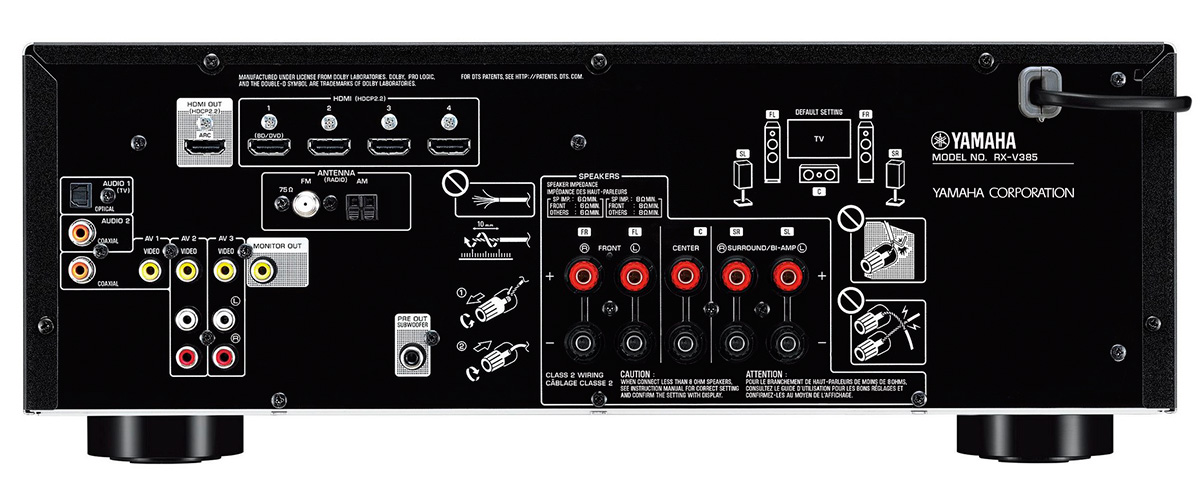 I appreciated the Bi-amp capabilities of the 5.1 4K receiver which are intended to drive the high and low ranges of the front left and right channels with independent amplifiers. This can significantly improve the sound performance which will definitely appeal to home cinema fans. Wireless rear speaker compatibility allows you to install your wireless speakers in a way that suits you best to fit in with your decor. I also want to highlight the impressive design that perfectly combines style and usability. Overall, if you are looking for the 5.1 receiver under $300, this might be a great choice.
Key specs
Channels: 5.1
Stereo power, W: 70
Impedance, Ohm: 6
THD, %: 0.09
Pros
Analyzes the acoustic characteristics of the room and adjusts the audio accordingly to optimize the sound for your room
MusicCast app lets you take advantage of your multi-room audio system, access sources and streaming devices, and control your AV receiver using your smartphone
Has functions designed specifically for games: ALLM, VRR, QMS, QFT
Cons
Streaming is not the strong point of the RX-V385 as it lacks Wi-Fi
Marantz NR1510 – smallest receiver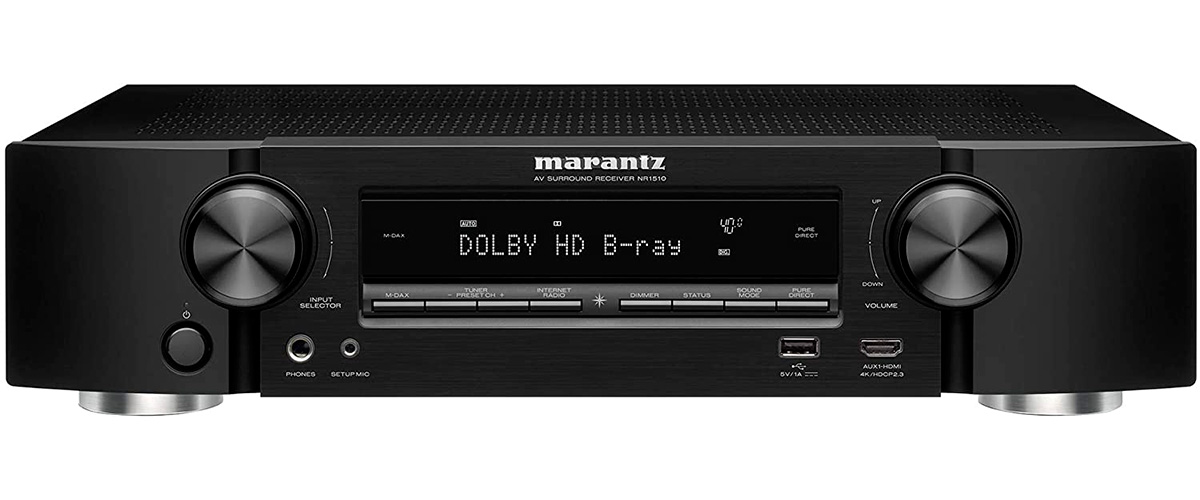 The best 5.1 receiver with a super small size called Marantz NR1510 supports Dolby TrueHD and DTS-HD Master Audio codecs. There are five high current amplifiers on board, using discrete elements to ensure high sound quality. At the same time, the power reaches 60 W per channel (6 ohms), and the receiver can withstand even a 4-ohm load. In addition, the model features Dynamic EQ and Dynamic Volume technologies to correct frequency response and optimize volume levels.
AV-receiver Marantz NR1510 plays audio files stored on servers/computers of the local network, including ALAC, FLAC, WAV (up to 24 bit/192 kHz) and DSD (2.8/5.6 MHz). If there is an Internet connection, the device can stream audio from online services Tidal, TuneIn, Spotify Connect, Deezer, etc. The front panel has a USB port for external storage. The model supports Bluetooth version 4.1 with a range of 30 meters and dual-band Wi-Fi, which allows you to work confidently even with a dense Wi-Fi network load.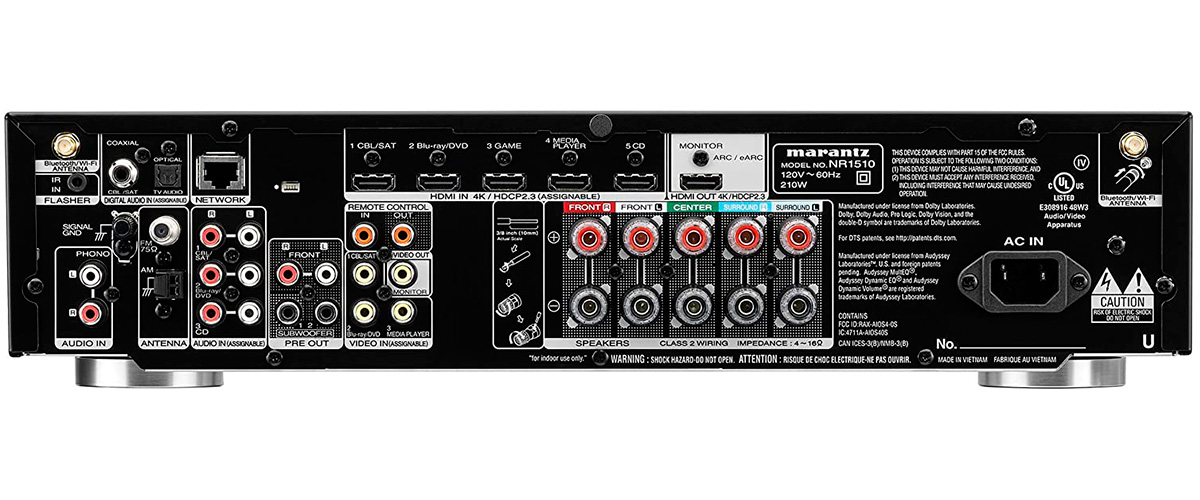 The best 5.1 av receiver also has access to the HEOS wireless ecosystem, all components of which can be controlled via the app and streamed to them audio content from smartphones, tablets, online services and local networks. With HEOS, you can organize a multi-room installation, group individual HEOS devices in specific rooms, and stream selective content or the same track to each group in perfect sync. Popular Apple personal assistants Siri, Amazon Alexa and Google Assistant for voice control are supported. More traditional control methods are available using an app or a remote control.
The NR1510 is equipped with six HDMI ports, one of which is built into the front of the case. All ports support 4K 60Hz video, HDCP 2.3, and HDR10, Dolby Vision and HLG video standards. The HDMI output has support for eARC (extended return channel), which makes it possible to work with Dolby TrueHD, DTS-HD Master Audio codecs, etc. The model has wide switching capabilities. There are optical/coaxial inputs as well as 2.2-channel Pre Out. Even a vinyl turntable with an MM cartridge can be connected to the Marantz NR1510, and 5 pairs of screw terminals are used for the speakers.
Key specs
Channels: 5.2
Stereo power, W: 50, 60
Impedance, Ohm: 8, 6
THD, %: 0.08
Pros
A special automatic mode with low latency ALLM is available, which is important for Xbox One game consoles
AirPlay 2 protocol support makes it possible to create a wireless multi-room system based on Apple devices
Audyssey MultEQ is used to calibrate the speakers to suit your room
Cons
No up-mixing or virtual tech support
Yamaha RX-V4A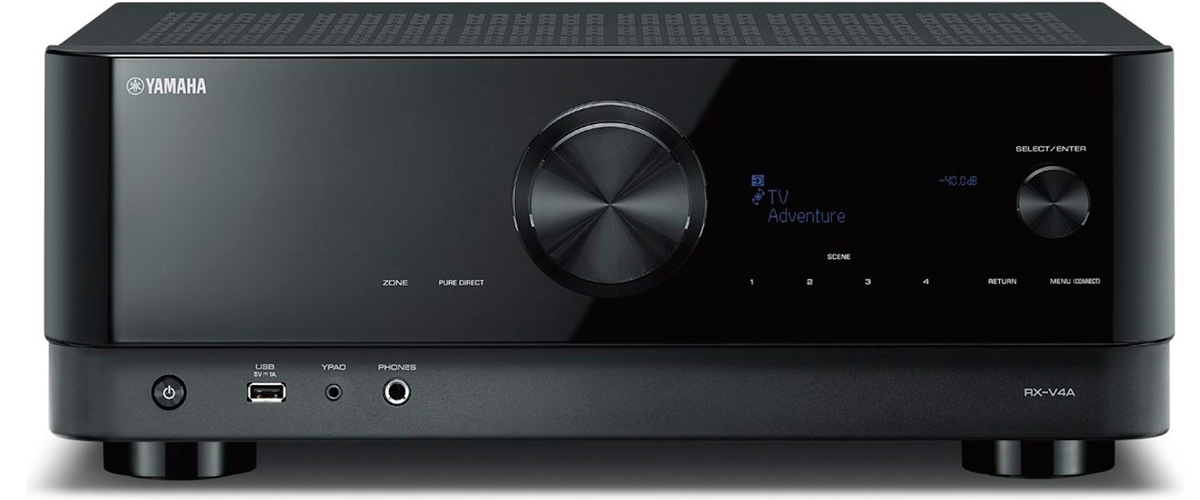 The last 5-channel receiver in my review is definitely worth your attention. The appliance has a rated output power of 80W. The high slew rate amplifier provides quicker output changes and high frequency reproduction. This means that you will hear the music exactly as it was originally created. The RX-V4A is a budget AV receiver that does not support Dolby Atmos and DTS: X. Nevertheless, the device produces surprisingly clear surround effects with support for Dolby TrueHD, DTS-HD Master Audio and Dolby Digital Plus.
The appliance supports two MusicCast 20 or one MusicCast 50 wireless speakers for surround sound. However, if you want to connect some speakers with wires, it is not a problem as there are enough inputs. The appliance comes with a Yamaha Parametric room Acoustic Optimizer which enables the device to analyze your room acoustics, and precisely adjusts sound to offer you a great listening experience. It is important to mention that Yamaha RX-V4A decodes practically all music file formats. Moreover, it has a Compressed Music Enhancer for improving frequency response.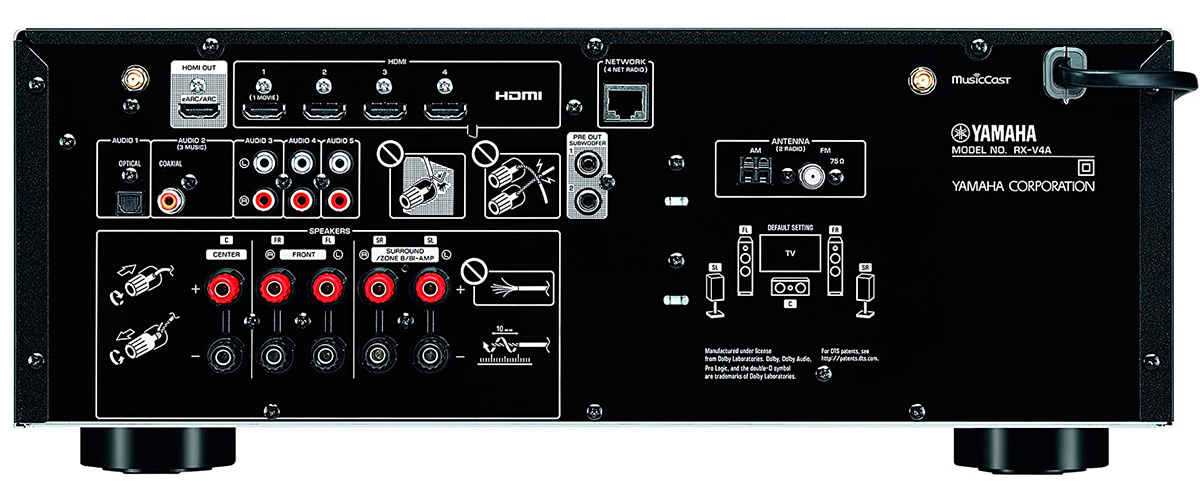 When it comes to design, the manufacturer provided a more organized, neat and refreshing look by keeping the number of buttons to a minimum. This 5-channel receiver looks sturdy and has great build quality.
The HDMI output and input of this appliance are 8K ready. If you are trying to find a next-generation amplifier, this would be a perfect choice. The socket takes care of 4K/120Hz signals efficiently if you are not ready for 8K TV. The patented Cinema DSP 3D system, providing 17 DSP programs for a variety of soundscapes, will certainly meet your surround sound expectations. Overall, if you want to have vibrant and accurate sound, my advice is to purchase the Yamaha RX-V4A.
Key specs
Channels: 5.2
Stereo power, W: 80
Impedance, Ohm: 6
THD, %: 0.06
Pros
ALLM ensures automatic switching to low-latency mode with connected screens which provides maximum performance
You can operate the receiver with the included remote or wirelessly via WiFi with your smartphone or tablet
A variable frame rate VRR with Quick Frame Transport provides a smooth display even when the graphics processor is busy
Cons
Lack of multichannel input
Onkyo TX-SR393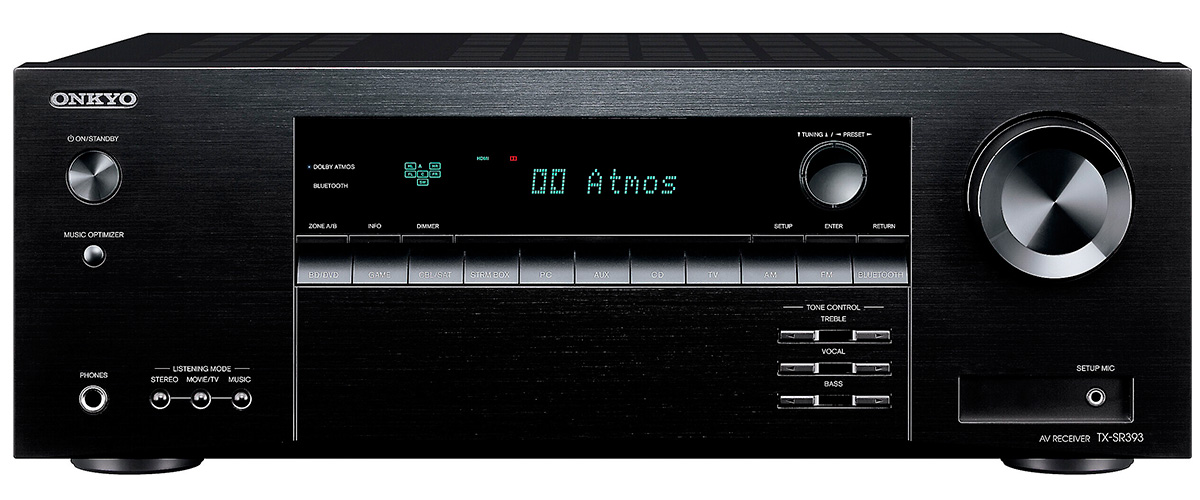 The last AV receiver I would like to tell you about has a USB port on the rear panel for connecting portable drives with music files. Two key features present in the Onkyo TX-SR393 are Dolby Atmos Height Virtualiser and DTS Virtual: X. The new Dolby Atmos Height Virtualizer and DTS Virtual: X technologies allow you to create a three-dimensional sound field without the use of real height speakers. These revolutionary technologies simulate the output from "virtual" height and surround speakers if they are not physically present in the room. This provides more flexibility when installing Dolby Atmos and DTS: X speakers.
The AV receiver comes with four HDMI inputs and one output, capable of transmitting 4K UHD signals including Dolby Vision, HDR10 and HLG. The device also has three analog and two digital inputs. Screw terminals are used to connect the front stereo speakers, while spring terminals are used for the center and rear speakers.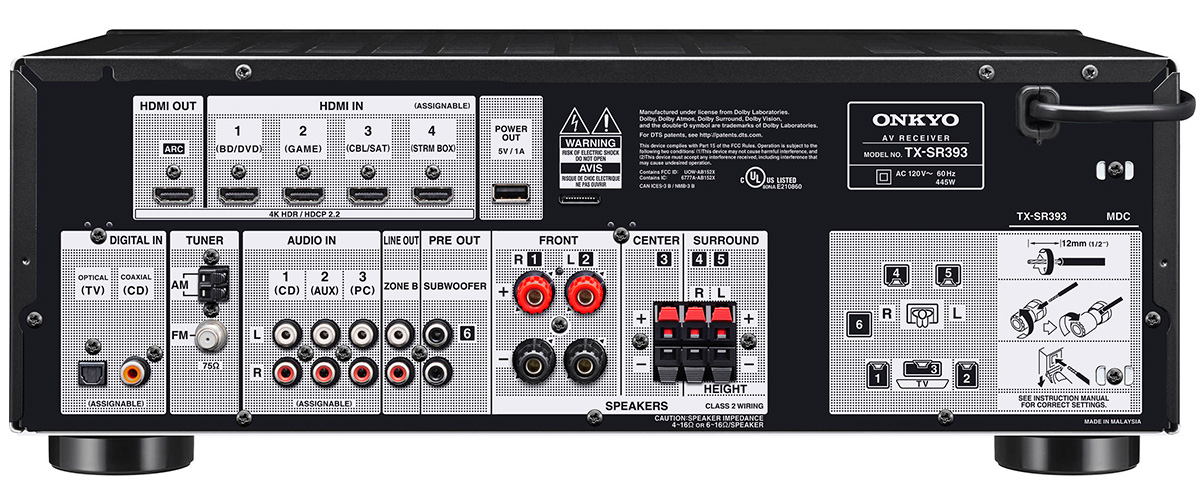 The device is equipped with HD-surround sound decoders and high-quality modern DACs from Burr Brown. The on-screen display will show you audio and video data, including HDR format, video resolution, frame rate and audio codec attached to the input signal.
Key specs
Channels: 5.2
Stereo power, W: 80, 155
Impedance, Ohm: 8, 6
THD, %: 0.08
Pros
Completely universal character of sound for listening to music of various genres, and when watching movies it can accurately convey the most energetic special effects
You can control the operation of Onkyo TX-SR393 using the informative display on the front panel or convenient on-screen graphics
Equipped with AccuEQ Room Calibration, which has never been seen before in models of this price
Cons
Does not work with Spotify, Tidal, Deezer