At some point, the day comes for every owner of a good modern TV when there is a desire to improve the image quality and sound or add surround effects. And most often, the easiest and relatively inexpensive solution is to buy an AV receiver. But how to choose the best 5.1 receiver out of plenty of offers? I will tell you about it in my review and help you choose the best device.
Our pick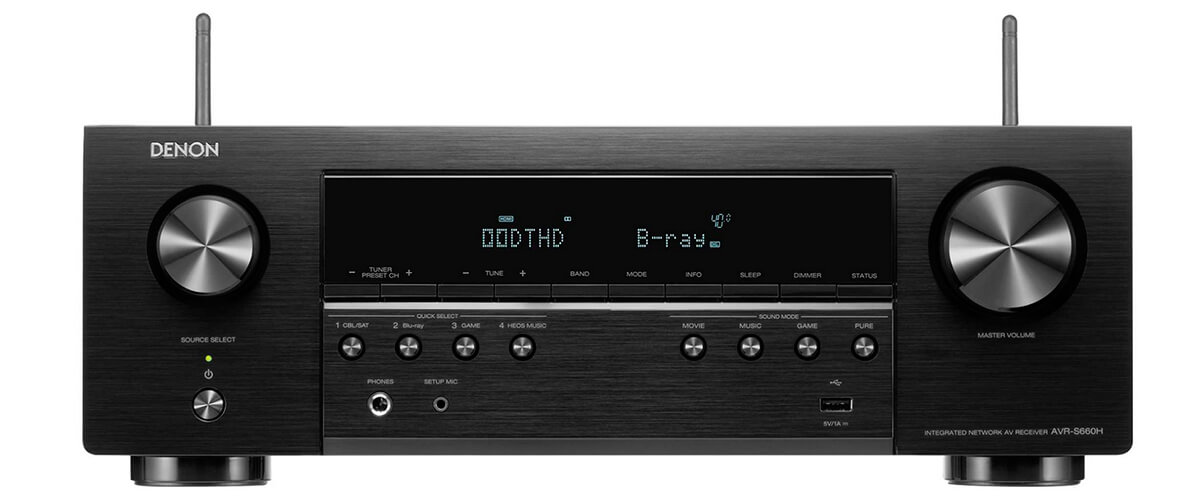 Denon AVR-S660H
Best 5.1 Receiver
Designed for 4K or 8K setups, the AVR-S66OH delivers superior 3D audio home theater/gaming experiences and supports the latest HDMI specifications.
Read the full review
AVR plays one of the leading roles in home theater. And the 5.1 models are a good example of relatively inexpensive and affordable features. Yes, audiophiles will probably say that this configuration is entry-level, but I think there are many decent options among these devices, which sounds fantastic. Well, before reviewing the models, I will tell you in more detail what a 5.1 channel system is and how exactly I tested the selected receivers.
5 Channel AV Receivers Comparison Table
Name
Channels
Power output
HDMI in/out
Bluetooth/Wi-Fi
Review
Denon AVR-S660H

best overall

5.2
75W/8 Ohm, 100W/6 Ohm
6/1
yes/yes
Review
Yamaha RX-V385

budget

5.1
70W/8 Ohm
4/1
yes/no
Review
Marantz NR1510

smallest receiver

5.2
50W/8 Ohm, 60W/6 Ohm
6/1
yes/yes
Review
Yamaha RX-V4A

also a great choice

5.2
80W/6 Ohm
4/1
yes/yes
Review
Onkyo TX-SR393

with Dolby Atmos and DTS:X

5.2
80W/8 Ohm
4/1
yes/no
Review
What are 5.1 channel systems?
A 5.1 home theater system is one of the most common configurations. Most receivers (from entry-level to premium level) of various brands are designed in 5.1 or 5.2 configurations. And believe me, you will definitely choose the best 5.1 receiver among such abundance.
This configuration has five speakers to create the most optimal and realistic sound quality. The way how the sound output is distributed to each of the five speakers is as follows:
Central: middle or voice sounds
Front Left and Right: sounds of all kinds except bass
Rear Left and Right: ambient sounds
".1" refers to the subwoofer: it outputs all sounds with frequencies up to 100Hz. There can be two subwoofers. This is used to create a deeper sound stage by increasing the amount of bass and positioning the sources at different points in the room.
Although there are many ways to create this configuration, the ideal one sees the front left and front right speakers at an angle of 22-30 degrees from the center/TV speaker, and the surround sound speakers are at an angle of 90-110 degrees from the central/TV speaker.
5.1 surround sound has become a standard for home multimedia systems. Such a configuration does not cost much, but it guarantees a whole new experience of watching movies in this format.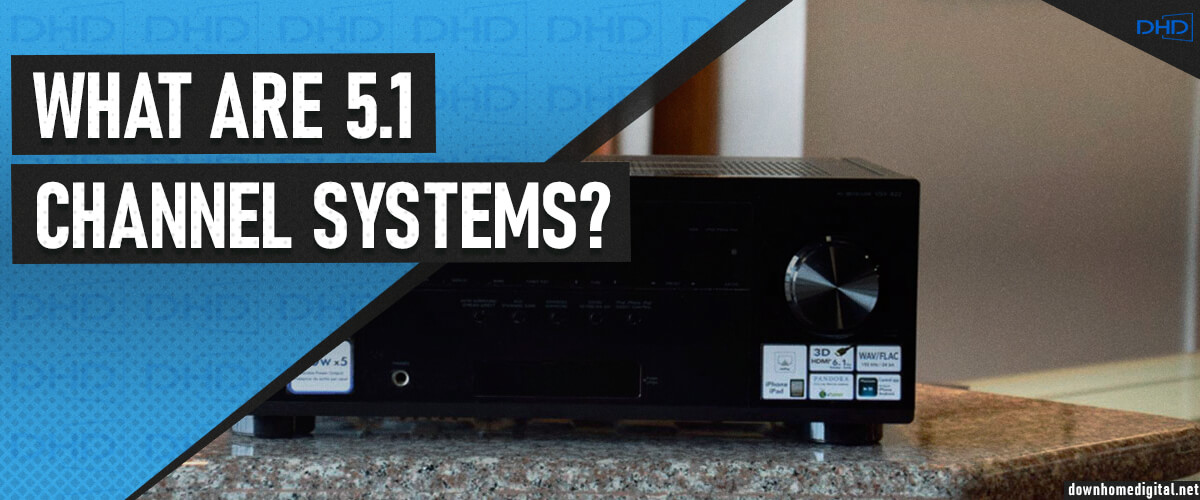 What is the difference between a 5.1 and 5.2 receiver?
At a basic level, 5.1 systems are standard. However, a 5.1 sound system may not be enough for large rooms, even with a correctly 5.1 AV receiver. If there is a lot of space behind your listening area, surround sound may not be as spacious as in small rooms. In this case, I advise you to consider speaker configuration 5.2. It is the same as the previous version, but there are two subwoofers. Increasing the number of subwoofers will constantly dramatically improve the bass reproduction in any room and create a more significant depth in the sound stage.
How I picked and tested 5.1 receivers
The testing stage is quite essential for assessing the sound quality and performance of receivers. Therefore, in order to unleash the potential, I have the following device configuration for my 5.1 receiver reviews:
Blu-ray player Sony UBP-X700
Speaker wire – AudioQuest Type-9
Speakers for the movie – Klipsch RP-8060FA (used 5.1)
Stereo speakers:

Klipsch RP-8060FA
KEF Q350
DALI OBERON 5

To fully appreciate the sound of the receivers, I selected quite famous tracks of authority artists from different sources:

Bob Marley & The Wailers – Turn Your Lights Down Low – Deezer;
Arctic Monkeys – Do I Wanna Know – SoundCloud;
Radiohead – The National Anthem – Spotify;
The Weeknd – The Hills (CD player);
Mahler – Symphony No.2 (CD player);
Led Zeppelin – Ramble On (CD player);
Jacky Terrasson – Reach (CD player);
Mark Nauseef – With Space in Mind (CD player).

And in order to appreciate the effects of surround sound in the video, I chose a film with good dynamics and a vast number of special effects – Spider-man: Homecoming. And now, let's move on to the most exciting part of my review, where I have prepared worthy models of 5.1 receivers from various brands for you.

Best 5.1 Receiver Reviews

I want to start my review with the Denon AVR-S660H model, which I unambiguously ranked as the leader based on my test results. This model replaced the AVR-S650H and retained the power of its predecessor but is equipped with more modern features. It has a powerful amplifier with five channels for the speakers with 75 W (8 ohms, 20Hz – 20kHz, 0.08%, 2 channels) or 135 W (6 ohms, 1kHz, 1%, 1 channel).

The AVR-S660H has a total of six HDMI inputs – all of which support HDCP 2.3 and eARC. In addition, the AVR-S660H also has advanced HDMI specifications such as 8K/60Hz and 4K/120Hz video pass-through at up to 40Gbps, support for Dolby Vision, HDR10, HDR10+, Dynamic HDR, and HLG image enhancement technologies as well as upscaling to 8K video format. By the way, just like its predecessor, the novelty supports gamer-oriented automatic low latency mode (ALLM) and variable refresh rate (VRR). As for surround sound, this model supports Dolby TrueHD or DTS-HD Master Audio 5.1 from Blu-ray discs, streaming services, and TV.

The Denon AVR-S660H is compatible with Apple AirPlay2 for iPhone users and also supports the free HEOS app that allows you to play hi-res audio via the front USB port or when connected via a network. Wireless connection to popular music streaming services such as Spotify, Tidal, and more is also readily available through the built-in HEOS technology.

I should note that this model has added Denon's innovations – Dialog Enhancer function to improve dialog perception when watching movies and the ability to connect wireless Bluetooth headphones. While testing the sound, I decided to pay special attention to the talks and was pleasantly surprised. They were saturated, conveyed the emotions of the actors to the maximum, and I really felt like I was right next to the characters in the film.

Setting up the receiver will not cause problems even for a novice, as there is a proprietary setup assistant that will guide you step by step through the setup. Like other AV receivers of the S series, this model supports Amazon Alexa, Google Assistant, Apple Siri and allows you to control the receiver using voice commands. Is it convenient? No doubt! So I can give the AVR-S660H the highest score for setup and control.

I am sure you now understand why I titled Denon AVR-S660H the best 5.1 AV receiver in my review. It is easy to use, and set up, provides excellent sound quality, and supports all the features that a quality modern AV receiver should have.

Key specs

Channels: 5.2.
Power output: 75W/8 Ohm, 100W/6 Ohm.
HDMI inputs/outputs: 6/1.
Video functions: 4K/120Hz, 8K/60Hz pass-through, upscales video signals to HD and Ultra HD (up to 8K).
Bluetooth/Wi-Fi: yes/yes.
Streaming services: AirPlay2, Spotify, Pandora.
Suppots HDMI ARC, HDMI eARC, HDMI CEC, HDCP2.3, HDR10, HDR10+, Dolby Vision.
Surround sound: DTS HD Master, Dolby TrueHD.

Pros

Allows complete voice control.
HEOS allows to create a multi-room system via connecting up to 4 wireless speakers.
The on-screen interface is intuitive and easy to set up.
Three 8K inputs with support for the latest HDMI specifications.
Dolby TrueHD/DTS-HD Master Audio 5.1 support.

Cons

When listening to stereo sound, artifacts appear at a volume higher than average.

Yamaha RX-V385 – budget

In the line of Yamaha receivers, there is a budget RX-V385. The excellent power of this device immediately attracted me – 70 W/8 Ohm or 145 W/6 Ohm. Moreover, the receiver works with Dolby TrueHD and DTS-HD Master Audio with three BAC-384kHz / 32-bit DACs. And these are already the indicators of the best budget receiver.

However, please note no Dolby Atmos and DTS: X decoders, but the price is much less, but the video path meets the latest requirements. The receiver supports all modern video formats: 4K, HDR10, and Dolby Vision.

There is an essential difference between the budget models Onkyo TX-SR393 and Yamaha RX-V385 in the video path. The RX-V385 has HDMI standby switching. This means that you do not need to turn it on to watch a video on TV from an external source connected to the receiver via the HDMI port.

And now I want to move on to sound. It is traditionally detailed, large-scale, clean. It provided a wide sound stage thanks to the improved sound return channel. And besides, the firmware contains many presets for movies and music that are found on more expensive Yamaha receivers.

For manual tuning, you are provided with a seven-band equalizer with separate treble and bass controls. And what I especially liked was the separately implemented settings for the subwoofer and 3D sound for a two-speaker system. This allowed me the maximum flexibility to adjust the sound of the system.

Yamaha RX-V385 is a budget and very balanced device for its money. It is a good 5.1-channel system, which has a sophisticated feature set that will fully satisfy the needs of many home theater enthusiasts while still making this top 5.1 4K receiver simple and straightforward to use. Moreover, at a low price, the receiver uses technologies of more expensive models and I can name it as the best budget 5.1 receiver.

Key specs

Channels: 5.1.
Power output: 70W/8 Ohm.
HDMI inputs/outputs: 4/1.
Video functions: 4K/60Hz pass-through, upscales HD video signals to 4K Ultra HD.
Bluetooth/Wi-Fi: yes/no.
Streaming services: no.
Supports HDMI ARC, HDMI eARC, HDMI CEC, HDCP2.3, HDR10, Dolby Vision.
Surround sound: DTS HD Master, Dolby TrueHD, Dolby Digital Plus.

Pros

Can control the frequency ranges due to the Bi-amp Connection function.
There is Bluetooth, which works with the Compressed Audio Enhancer function.

Cons

Does not work with long HDMI cables. The signal is not strong enough.
Gets very hot even when listening to music in stereo.

Marantz NR1510 – smallest receiver

With the Marantz NR-1510, the brand continues the tradition of the ultra-compact home cinema receivers. At only 5 inches tall, this 5 channel receiver is no taller than a conventional stereo amp and, I think, fits easily into a living room. However, it is no less functional than a conventional format home theater receiver. Its power of 50 W/8Ohm or 60 W/6 Ohm allows you to use ordinary power speakers.

At the acoustic audio level, the support for this device is complete and allows full exploitation of files. Moreover, I enjoyed the Dolby TrueHD, and DTS-HD Master Audio formats support for an immersive sound. Also, I had no difficulty playing all my high-resolution audio files, which leaves you versatile in listening choices.

When testing musical capabilities, I heard the excellent detail and emphasis on the high mids that are hallmarks of Marantz devices. As for me – the sound is warm and soft, reminiscent of "tube."

As the heart of home theater, the NR is excellent at reproducing sound effects that seamlessly transition from one speaker to the next. I was able to hear the dialogues in the film. Emphasis on high and mid-frequencies, just like in stereo. This allows the voices to be better separated from the rest of the sound stage.

The Marantz NR1510 is the smallest receiver for anyone looking for a compact and versatile device. Therefore, the in-home theater offers a little more detail and dimension to the surrounding effects. It also has two additional amplifier channels for those looking to add speakers to meet the Dolby Atmos standard.

Key specs

Channels: 5.2.
Power output: 50W/8 Ohm, 60W/6 Ohm.
HDMI inputs/outputs: 6/1.
Video functions: 4K/60Hz pass-through.
Bluetooth/Wi-Fi: yes/yes.
Streaming services: AirPlay2, Spotify, Pandora, Deezer, Tidal.
Supports HDMI ARC, HDMI eARC, HDMI CEC, HDCP2.3, HDR10, Dolby Vision.
Surround sound: DTS HD Master.

Pros

Works great with Bluetooth headphones and creates a stable connection.
It is possible to create a multi-room system using HEOS or AirPlay 2.

Cons

The receiver does not play sound from Smart TV applications.
The capacity of the receiver is only enough for a room of no more than 30 m2.

Yamaha RX-V4A – also a great choice

The Yamaha RX-V4A allows creating a modern and versatile home theater system for a fair price point.

This device has a 5.2 configuration, which can be considered the optimal solution for medium-sized sounding rooms. With a rated output power of 80 W/6 Ohm, the Yamaha RX-V4A can effectively work with floor-standing speakers. The video path of this receiver is a pleasant surprise. There is full support for 8K/60Hz video and even Dolby Vision technology. However, only one HDMI 2.1 port. Although where else can you find a budget receiver with 8K HDMI.

I started by listening to music, exploring different modes. In Pure Direct, bypassing all possible processing, the sound is flat and completely inexpressive. When I switched to Enhanced mode, the receiver only emphasizes the bass. However, the Neo: 6 mode is most interesting because it effectively distributes music to all speakers without changing timbres or placing the center too far ahead of the sound stage.

The first detail that confused me in surround sound: the RX-V4A never registers with Dolby or DTS. Therefore, I must use the Surround Decoder mode, which is responsible for the distribution of effects. Despite this, Yamaha is good at creating a sound space where you feel at the center of the action. Compared to the Denon AVR-S660H, the RX-V4A cannot attenuate effects. So I've often noticed that the effects seem to be glued rather than being placed here and there in the room space.

The Yamaha RX-V4A is one of the best 5.2 receiver and is ideal for getting started without spending too much. Whether on 5.1 soundtracks or enhanced stereo, it creates a clean, immersive atmosphere without exuberance. You can even create a 3D pseudo sound and watch 8K.

Key specs

Channels: 5.2.
Power output: 80W/6 Ohm.
HDMI inputs/outputs: 4/1.
Video functions: 4K/60Hz, 4K/120Hz, 8K/60Hz pass-through, upscales HD video signals to 4K Ultra HD.
Bluetooth/Wi-Fi: yes/yes.
Streaming services: AirPlay2, Spotify, Pandora, MusicCast.
Supports HDMI ARC, HDMI eARC, HDMI CEC, HDCP2.3, HDR10, HDR10+, Dolby Vision.
Surround sound: DTS HD Master, Dolby TrueHD, Dolby Digital Plus.

Pros

Has a proprietary multi-room MusicCast technology.
You can use Ethernet or Wi-Fi connections. It also provided Bluetooth and AirPlay 2 technologies.

Cons

The use of DSP introduces perceptible distortion to the sound.

Onkyo TX-SR393 – with Dolby Atmos and DTS:X

Onkyo TX-SR393 is a budget device that operates up to a 5.2 configuration with 80 W/8 Ohm or 155 W/6 Ohm power. Dolby Surround and DTS Neural: X features are available for all realized configurations, regardless of the number of speakers and the format of the initial soundtrack. Also, I will note here DTS Virtual: X and Dolby Atmos Height Virtualizer are designed to recreate sounds coming from above when a ceiling speaker cannot be installed.

And one of the most interesting facts for me was that the AccuEQ calibration system takes this type of speaker into account and corrects the phase for coherent rendering. Such functionality is not available in competing receivers, for example, the Yamaha RX-V385.

The receiver produced surprisingly wonderful sound when listening to music. The bass was also quite rich and sounded quite loud. I got a detailed and spacious sound stage. It was a pleasant surprise for such a small and less advanced device. When watching a movie with surround sound, the receiver increased the realism even more, and it seemed that the events were happening literally around me.

The Onkyo TX-SR393, the perfect 5.1 receiver under $300, came as a delightful surprise to me, although it overlooked many features that can be considered almost essential characteristics of more expensive receivers. However, the sound is quite decent. The bass also sounded rich. I got a detailed and exhaustive image of the scene.

Key specs

Channels: 5.2.
Power output: 80W/8 Ohm.
HDMI inputs/outputs: 4/1.
Video functions: 4K/60Hz pass-through, upscales HD video signals to 4K Ultra HD.
Bluetooth/Wi-Fi: yes/no.
Streaming services: no.
Supports HDMI ARC, HDMI eARC, HDMI CEC, HDCP2.3, HDR10, HDR10+, Dolby Vision.
Surround sound: DTS:X, Dolby Atmos.

Pros

Supports a 3.2.2 configuration with either ceiling-mounted speakers or ceiling-bouncing speakers.
Lacks networking features such as Ethernet, streaming music from online platforms, or even a Chromecast.

Cons

The speaker terminals are not very stable and lose contact very quickly.

Buyer's guide

5 channel vs 7 channel home theater receivers

Receivers with a large number of channels use advanced surround sound technologies. The initial milestone of such was 5-channel devices. 5.1 is suitable for movies because surround channels create a deep and immersive sound stage. We can get 5.1 surround sound using Dolby Digital or DTS. DTS uses less compression, but this format is less standard than Dolby Digital.

7-channel audio, on the other hand, brings a little more to the home theater experience. It is the addition of surround back speakers that will noticeably improve the immersion experience. This effect can amaze, especially with soundtracks specially mixed for 7.1 sound. A prerequisite is that there is enough space for the sound to unfold correctly.

If the speakers are crowded into a small space, the effect of a 7.1 system may be worse than that of a 5.1 system. We can get 7.1 surround sound only using Dolby TrueHD or DTS-HD Master. These are already formats of a class higher, and they encode sound identical to the original of the film studio but need better performance.

FAQ

Can I use a 5.1 receiver with 2 speakers?

Almost every receiver can work with the 2.0 setup. So, using two speakers with a 5.1 home theater receiver is perfectly fine. For a receiver to work nicely, you've got to hook up speakers, turn off the surround modes, and pick a 2-channel input.

Is 5.1 surround sound good enough?

5.1 surround sound is good if you want to hear more depth and immersion when watching movies and TV content. So, it is a worthy investment for home theaters in small- and medium-sized rooms to achieve realistic effects.

How big a room do you need for 5.1 surround sound?

When using an AV receiver for 5.1 surround sound, you should remember that you will get the optimal results in a room of up to 350 square feet. If the room is larger or you want even better sound quality, you will need to consider a 7.1 system or higher.

AV receivers ratings by channels