Need a decent receiver? Choose the best 7.2 receiver from my review. I was testing all the models carefully to provide you with maximum objective info about each of them.
Our pick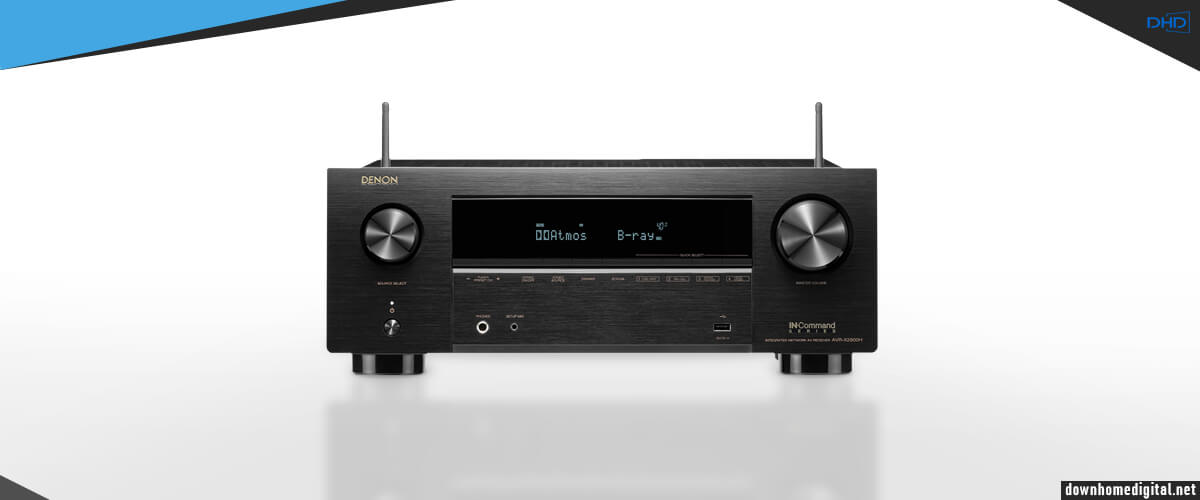 Denon AVR-X2700H
Best 7.2 Receiver
The Denon AVR-X2700H will take your home theater system to the next level and be one of the first in the world to experience the magic of 8K ultra-high definition video
Receivers
Channels
Stereo power, W/Ohm
THD, %
Denon AVR-X2700H

best overall

7.2
95/8, 125/6
0.08
Onkyo TX-SR494

best budget

7.2
80/6
0.08
Marantz NR1711

smallest

7.2
50/8, 90/6
0.08
Why is it exactly about 7.2 devices? The reason is I believe that they are worth your attention. By the way, there are practically no 7.1 receivers on the markets. However, there are a lot of 7.2 ones. So, let's take a look at them!
Best 7.2 Receiver Reviews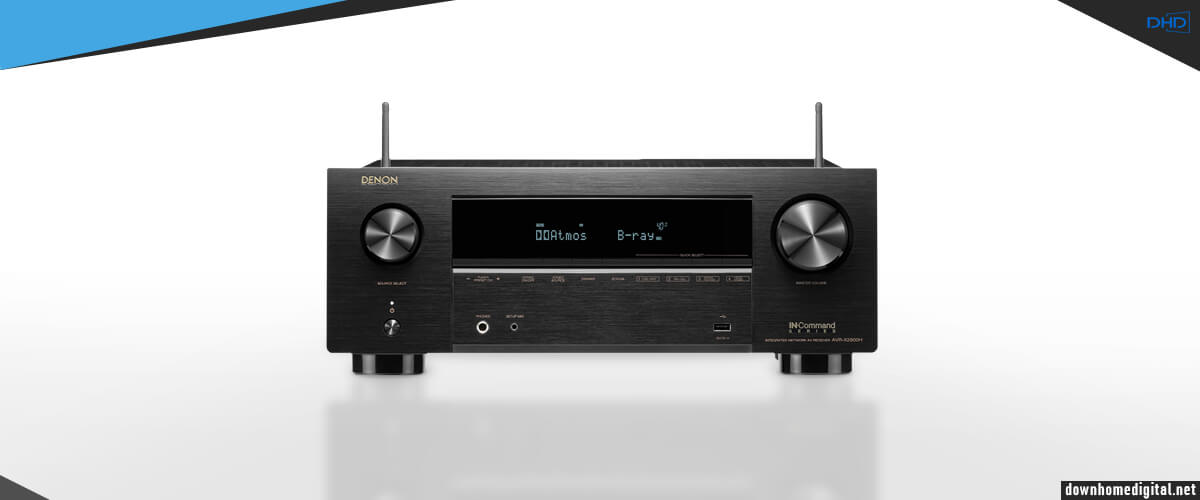 This Denon model is truly the best 7 channel receiver. ItIt is a future-proof home theater in 8K resolution that has the ability to upscale HD and 4K to 8K with an 8K compatible TV. It also takes gamers to the next level: the crisp, crystal-clear 4K/120Hz picture and smoother, lag-free gameplay will dramatically improve their gaming experience. This will especially delight those who have already bought a Sony PlayStation 5.
The AVR-X2700H is a 7.2-channel AV receiver with 150 watts per channel, delivering stunning sound. Thanks to the HEOS Built-in multi room technology, you will have a possibility to stream your favourite tracks from the TuneIn and Deezer services to any room in your house without using any wires or cables. Just imagine, you can play the same song throughout the whole building, or select different songs for each room. If everyone in your family has a different music taste, you will definitely like this function.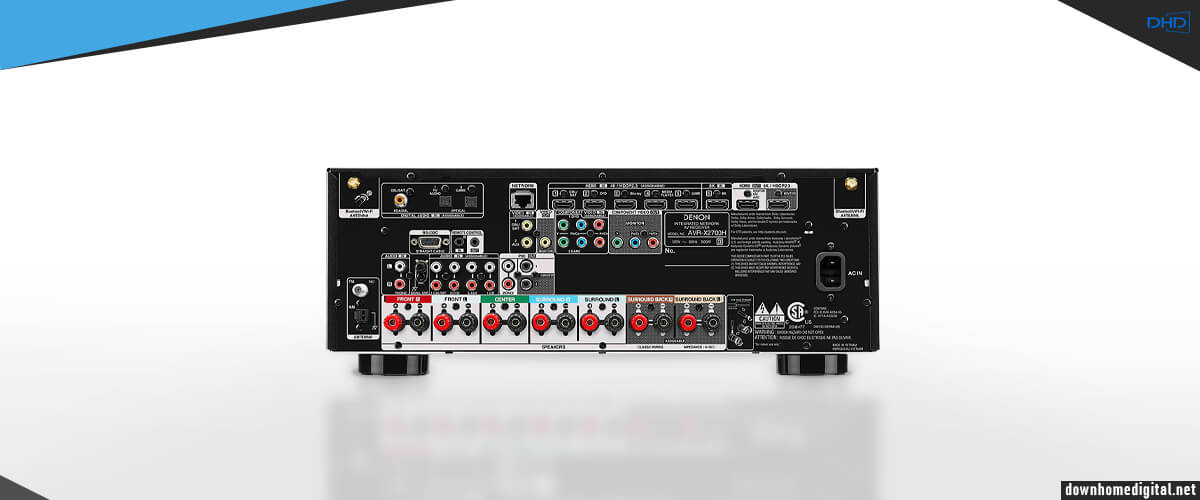 The receiver can be controlled by voice: it works with Amazon Alexa, Google Assistant and Apple Siri. While Amazon Alexa allows you to transmit various commands, for example, switching inputs between multiple media players, Google Assistant and Apple Siri will give you the possibility to adjust the volume, jump between tracks, and much more.
Key specs
Channels: 7.2
Stereo power, W: 95, 125
Impedance, Ohm: 8, 6
THD, %: 0.08
Pros
In addition to supporting Hi-Res audio streaming, the appliance has a front USB port for MP3 and lossless playback
Apart from HEOS, you can stream tracks via Apple AirPlay 2 and Bluetooth
Supports modern 3D audio formats and is equipped with the latest HDMI specifications
Cons
Included remote is low quality
Onkyo TX-SR494 – best budget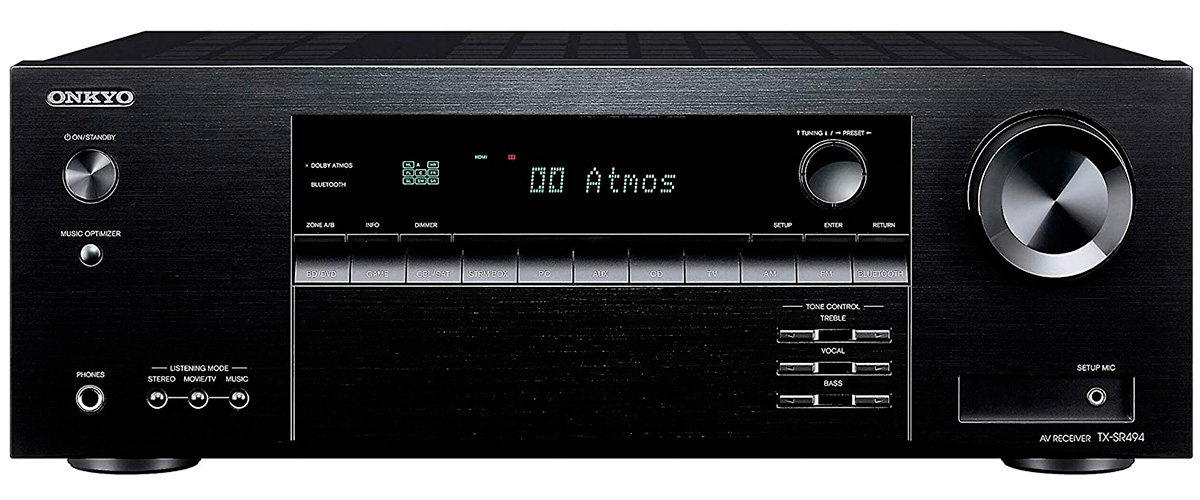 You definitely should know about the best budget 7.2 home theater receiver. This is a 7-channel amplifier with power of 80 watts per channel into 8 ohms with 2 channels driven. The receiver supports Dolby and DTS surround sound decoding. You will have an immersive, 3-dimensional soundstage thanks to the DTS:X feature. In addition, 32-bit/384kHz digital-to-analog converter will allow you to get crystal clear sound from digital sources.
Onkyo TX-SR494 comes with the AccuEQ room correction system and calibration microphone. The Height/Surround Back/Bi-Amp/Zone B speaker outputs can drive stereo speakers in another room of your house with a 5.2-channels setup in the main room. The outputs can share any AVR source exclusively in Zone B, or play the same source in Main and Zone B.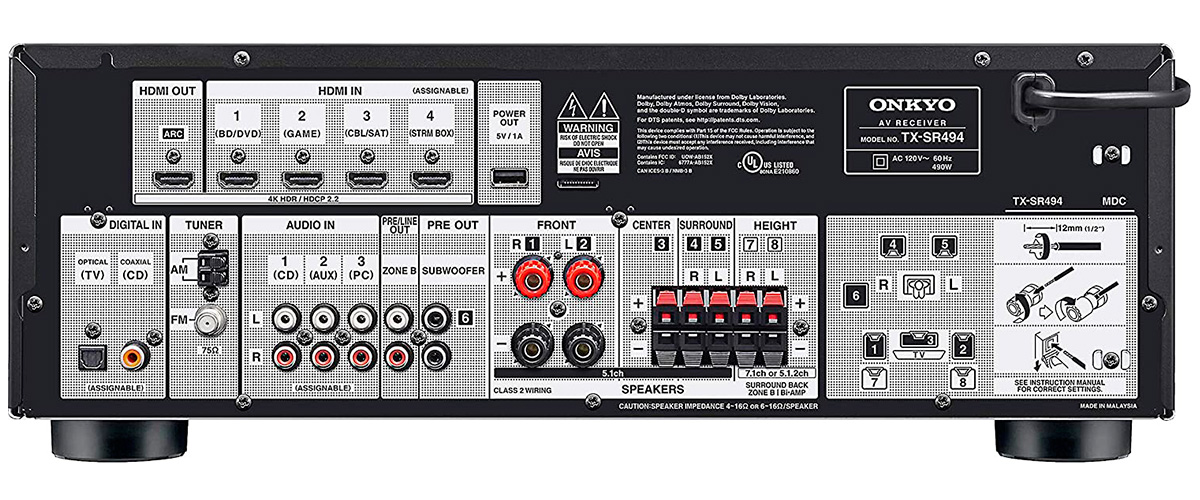 Now, let's talk about the connectivity of the best 7.2 receiver at a low price. The device supports HDCP 2.2 technology, which ensures compatibility of the receiver with 4K Ultra HD sources and TVs. The model has two digital audio inputs: 1 optical and 1 coaxial. You can connect up to seven speakers via the outputs to this AV receiver.
Key specs
Channels: 7.2
Stereo power, W: 80
Impedance, Ohm: 8
THD, %: 0.08
Pros
Has a Music Optimizer function which enhances the audio quality of compressed music files and Bluetooth streams
Dolby Atmos Height Virtualizer enables an immersive audio experience, creating a great virtual surround effect
Features DSP-controlled Vocal Enhancer that identifies vocal frequencies and allows you to raise or lower them to taste
Cons
Bluetooth audio has a bit low sound quality
Marantz NR1711 – smallest receiver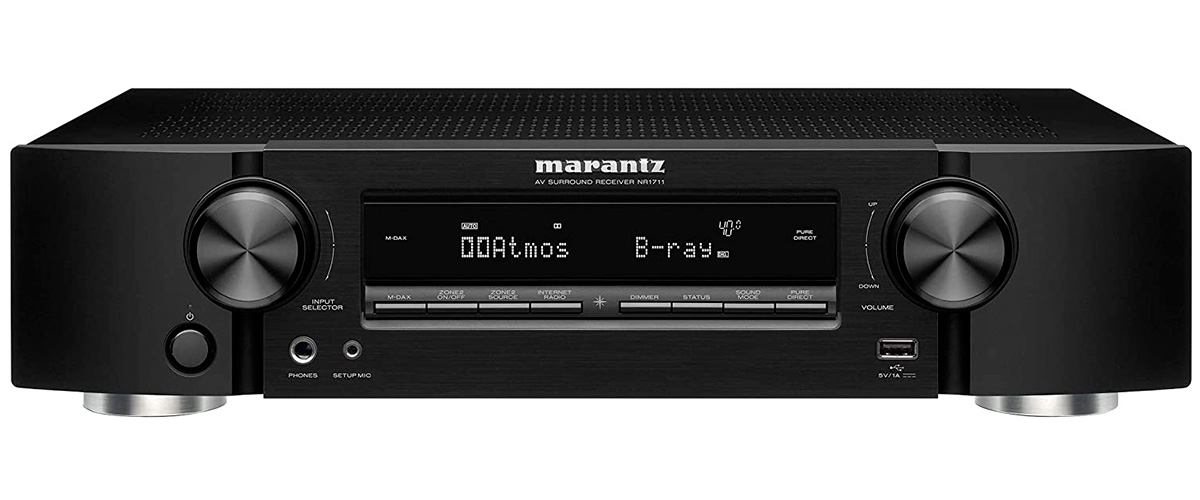 Next in my review is the best 7.2 AV receiver with a small size. The NR1711 supports 8K video at 60 Hz, and 4K display rates can reach 120 Hz. The device is equipped with an improved sound optimization as it has the acoustic characteristics of the placement using Audyssey MultEQ XT 9. The NR1711 occupies the top position in the NR line of AV receivers with low-transmission.
Seven high-current discrete channels provide 90 watts per channel at 6 ohms, and the AV receiver can handle even a 4-ohm load. Audyssey MultEQ helps you calibrate speakers. In addition, the model uses Dynamic Volume and Dynamic EQ to optimize the volume and frequency response. The receiver works with the personal assistants Google Assistant, Apple Siri, and Amazon Alexa.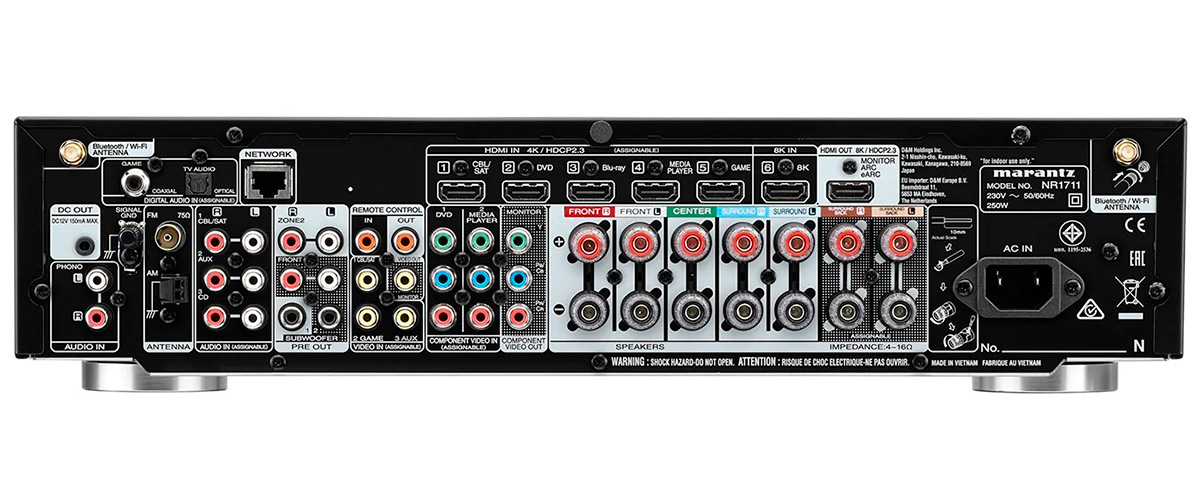 Marantz NR1711 can be used as a streamer, which allows you to listen to audio from a computer on a network or via a USB port located on the front. The AV receiver is able to work in conjunction with the HEOS Wireless System.
The device has six HDMI-ports with support for HDCP 2.3, 8K resolution, as well as video standards Dolby Vision, HLG and HDR10. There is an HDMI-out with an extended eARC return channel, working with DTS: X, Dolby Atmos, Dolby TrueHD and other technologies. The model comes with an MM-phono-recorder, and for the speakers there are seven pairs of screw terminals, marked with colors.
Key specs
Channels: 7.2
Stereo power, W: 50, 90
Impedance, Ohm: 8, 6
THD, %: 0.08
Pros
There is support for game auto mode with low latency ALLM for Xbox One
With a web connection, you can easily access streaming services such as Deezer, Spotify Connect, Tidal, TuneIn, etc
Support for AirPlay 2 protocol helps to organize a wireless multi-room system based on devices with iOS devices
Yamaha RX-V6A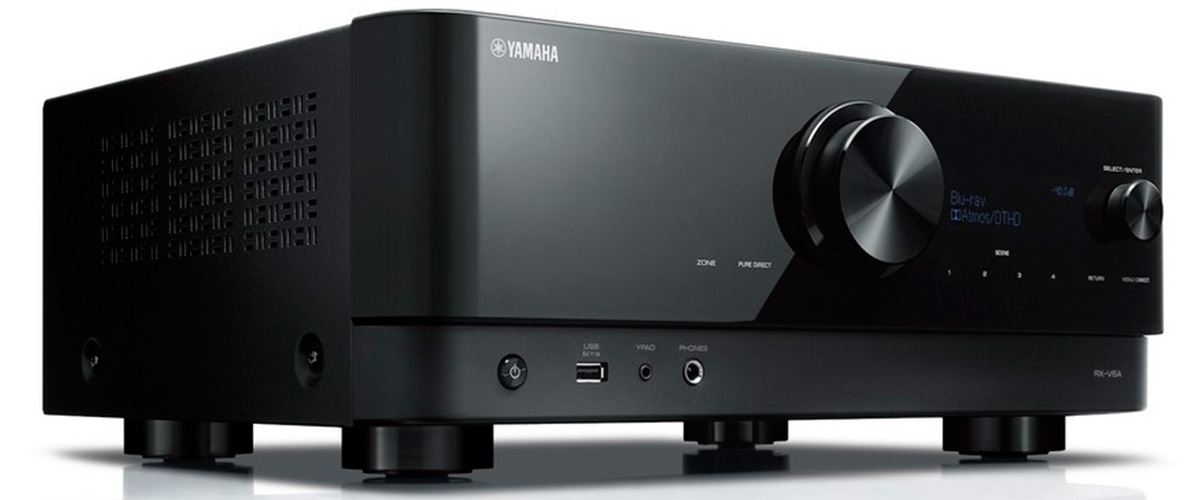 This excellent receiver is an entry-level model equipped with everything you need to create a modern home theater. The model will deliver amazingly clear sound in all the rooms of your apartment. Yamaha RX-V385 has a sophisticated feature set that will fully satisfy the needs of many home theater enthusiasts, while still making the AV receiver simple and straightforward to use.
The device has a reliable design, which provides its stable operation for a long time. The output amplifiers of all Yamaha RX-V385 channels are made on discrete elements and develop significant current for full operation with various acoustics.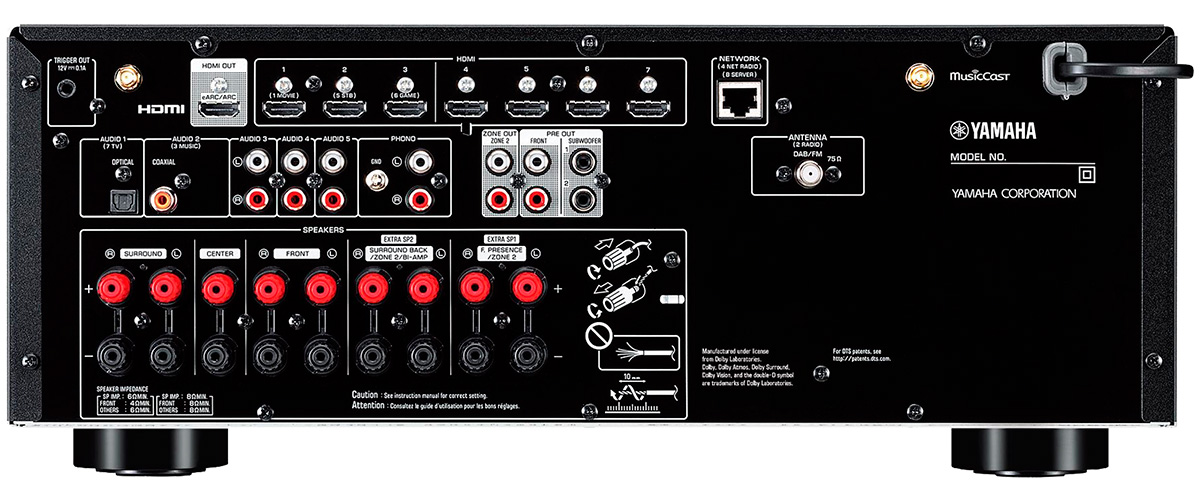 The device features the patented YPAO Ambient Sound Auto Calibration System using a measurement microphone. The AV receiver is equipped with four HDMI inputs and an output with support for 4K Ultra HD, Dolby Vision and HGL. The appliance supports Bluetooth for easy connection of various mobile devices. Thus, music from different online services can be directly transmitted to the acoustics of the AV system. The device also has a USB input for portable storage devices with music files.
With 17-mode DSP, you can adjust the sound of various content, such as sports events or movies. The developers of Yamaha RX-V385 have taken into account the interests of the most demanding music lovers in terms of sound quality. The AV receiver's rear channel amplifiers can be reconfigured for Bi-Amping stereo speakers to get the best sound from your music.
Key specs
Channels: 7.2
Stereo power, W: 100
Impedance, Ohm: 8
THD, %: 0.06
Pros
Features a proprietary Cinema DSP to create a convincing acoustic space in a variety of rooms
Makes it possible to convert lower resolution signals from HDMI input to Ultra HD
To achieve the best sound quality, the device comes with compressed audio enhancement technology
Cons
No anti-resonance technology
Marantz SR5014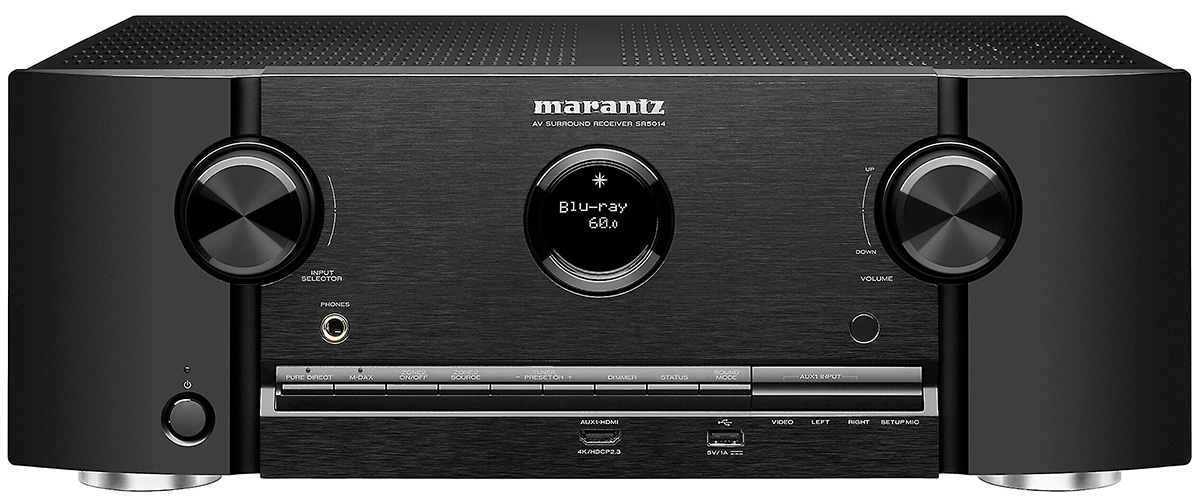 Let me tell you about the latest update to the company's most affordable AV receiver to date. The unit retains its recognizable design with a minimalist front panel, and also has a 7.2-channel configuration, which is the optimal solution for home theater in most city apartments. At the same time, the functionality of the SR5014 has been further expanded.
Marantz SR5014 is made on the basis of proprietary HDAM amplifier modules, and its audio part is equipped with 32-bit AK4458 DACs. The receiver has eight HDMI inputs (one of which is located on the front panel) and two outputs that support 4K/HDR10/Dolby Vision video, as well as the new eARC audio return channel and HDCP 2.3 certification.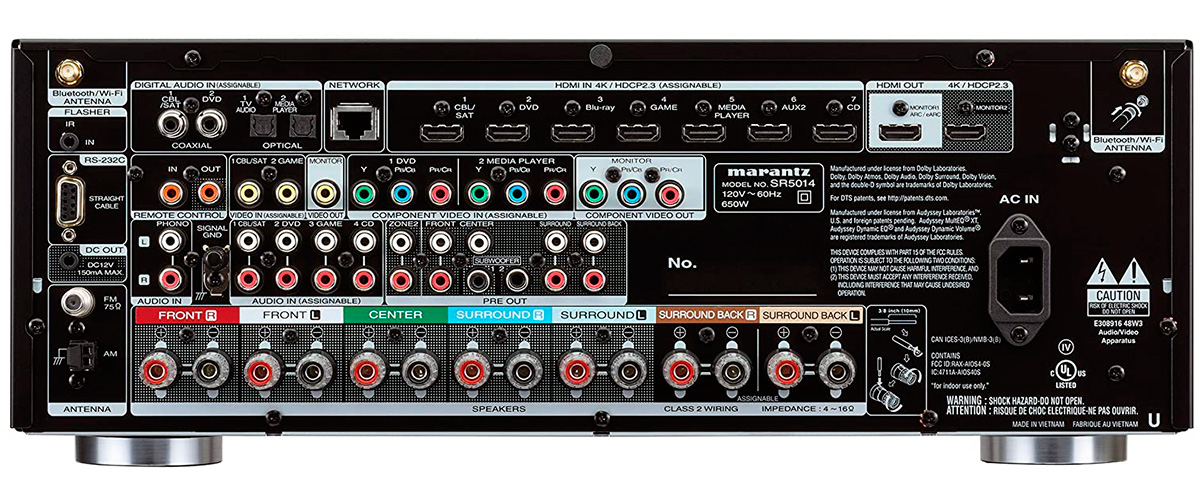 The SR5014 also has the function of creating a virtual surround sound for systems that do not have dedicated height speakers. This model also includes the new proprietary technology Audyssey MultEQ Editor App, which allows you to perform accurate sound equalization using the mobile application.
The AV receiver is equipped with full streaming functionality with support for popular online services and the ability to play music from local devices. Support for the popular HEOS multi-room platform is provided as well. To control Marantz SR5014, you can use a convenient remote control, a proprietary mobile application or voice commands through Alexa, Siri and Google Assistant systems.
Key specs
Channels: 7.2
Stereo power, W: 100, 180
Impedance, Ohm: 8, 6
THD, %: 0.08
Pros
Equipped with decoders for all surround formats, as well as Dolby Atmos and DTS: X
The set-up is easy with Audyssey MultEQ XT auto-calibration and intuitive color on-screen graphics
Lossless and High Resolution files are available for playback, including PCM 24 bit / 192 kHz and DSD 5.6 MHz