An AV receiver can be called the heart of any home theater system. Nowadays, such devices have become genuinely universal and multi-functional, so you need to devote some time to grasp their peculiarities.
Our pick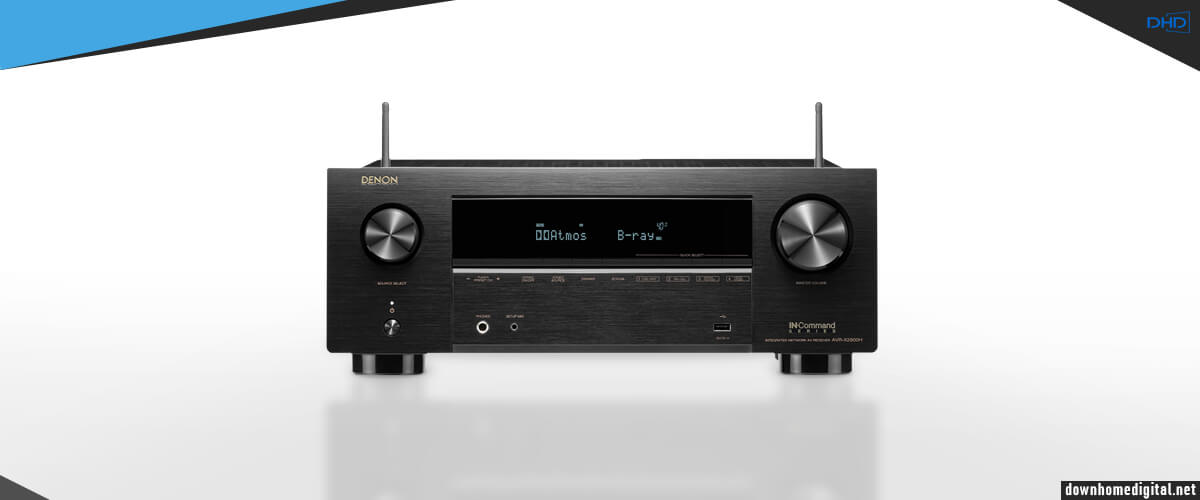 Denon AVR-X2700H
Best 7.2 Receiver
The Denon AVR-X2700H will take your home theater system to the next level and be one of the first in the world to experience the magic of 8K ultra-high definition video.
Read the full review
.
More and more people are looking for best 7.2 receiver, as this configuration allows you to enjoy surround sound fully. Moreover, only 7-channel receivers support Dolby Atmos, which puts them several steps ahead of their 5-channel counterparts.
If you have also faced the necessity of upgrading your sound system and need professional advice on how to choose a qualitative unit, make sure to read this review till the end. I've tested several popular models to narrow down the choice to 6 top 7.2 receivers. What's more, I've highlighted their strong and weak points and explained what features you need to pay attention to while selecting a home audio receiver with 7.2 channels.
7.2 AV receivers comparison table
Name
Channels
Power output
HDMI in/out
Bluetooth/Wi-Fi
Review
Denon AVR-X2700H

best overall

7.2
95W/8 Ohm, 125W/6 Ohm
6/2
yes/yes
Review
Marantz SR5015

premium

7.2
100W/8 Ohm, 140W/6 Ohm
6/2
yes/yes
Review
Sony STR-DH790

budget

7.2
145W/6 Ohm
6/2
yes/no
Review
Yamaha RX-V6A

also a great choice

7.2
100W/8 Ohm
7/1
yes/yes
Review
Marantz NR1711

smallest receiver

7.2
50W/8 Ohm, 70W/6 Ohm
6/1
yes/yes
Review
What are 7.2 channel systems?
Considering the growing demand for this type of surround sound speaker layout, manufacturers actively develop the niche of 7.2 channel receivers.
Such a speaker system is developed based on a 7.1 setup, with the only difference being the number of subwoofers. In the case with 7.2 channel A/V receivers, they can drive 2 subs. The main reason for such an upgrade is the intention to even out the basses across the room. Longer bass sound waves can generate standing waves in the space, which results in the appearance of quiet and loud bass.
Of course, such fluctuations in the length of bass waves are something manufacturers want to get rid of. So, adding a second subwoofer to the basic setup is the easiest way to do so. Besides, such a system lets you put less pressure on a subwoofer, as now you have 2 standalone components, which can spread bass level more efficiently. As a result, you hear less overdriven sounds.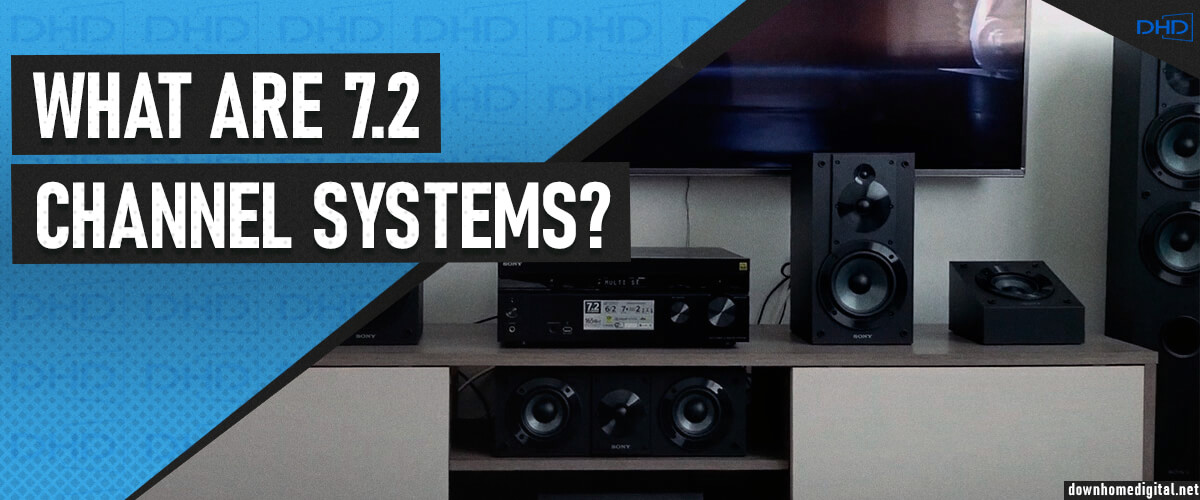 How I picked and tested 7.2 receivers
I decided to put both budget-friendly and top-tier 7.2 surround sound receivers to the test, to name those that will be the best value for money. I was mainly interested in how accurate and clear sound these models can deliver in various conditions and with different audio sources.
Since manufacturers claim that their products are equally powerful when playing music and watching movies, I aspired to check whether they can really succeed in both activities. So I watched Spider-man: Homecoming to evaluate the surround sound and the slightest variations in audio.
I also listened to tracks in different genres and from multiple sources to ensure the receivers can satisfy true audiophiles:
Arctic Monkeys – Do I Wanna Know – SoundCloud
Bob Marley & The Wailers – Turn Your Lights Down Low – Deezer
Radiohead – The National Anthem – Spotify
The Weeknd – The Hills (CD player)
Led Zeppelin – Ramble On (CD player)
Mahler – Symphony No.2 (CD player)
Jacky Terrasson – Reach (CD player)
Mark Nauseef – With Space in Mind (CD player)
I was determined to find the best 7.2 receiver, so I hopped from one piece of equipment to another, comparing the quality and clarity of sounding:
CD player SACD 30n
Blu-ray player Sony UBP-X700
Speaker wire – AudioQuest Type-9
Speakers for movie – Klipsch RP-8060FA
Stereo speakers:

Klipsch RP-8060FA
KEF Q350
DALI OBERON 5
Best 7.2 Receiver Reviews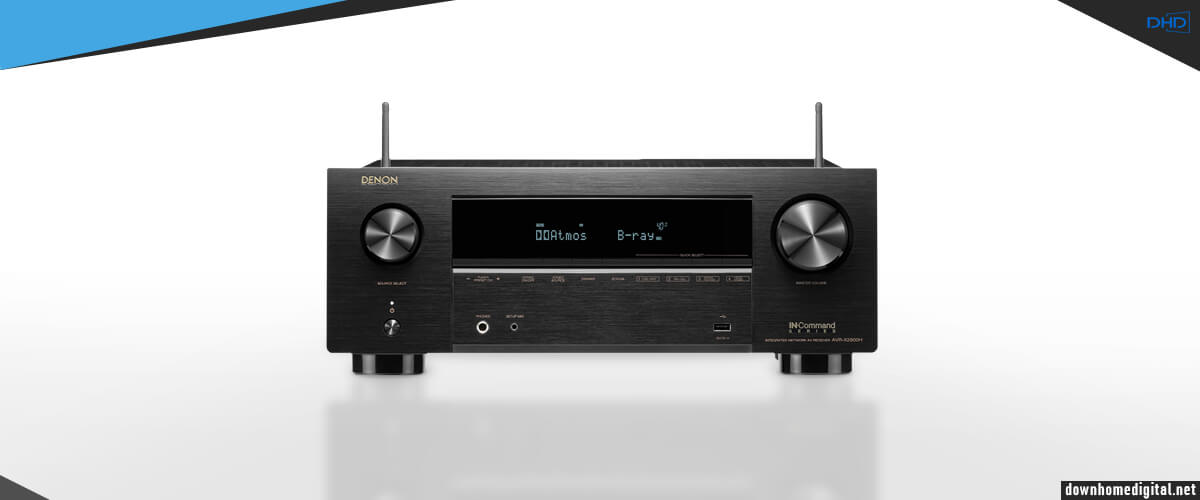 Denon has firmly established itself as one of the top manufacturers in the sphere of AV receivers, so I decided to start testing with the AVR-X2700H. First, I will begin with the design and then look at this device's main functions and features.
The first thing that caught my eye was the design that has barely changed compared to the AVR-X2600H. However, I appreciated some structural changes. The X2700H supports 8K resolution, but the number of HDMI inputs has dropped from eight to six. The number of HDMI outputs has remained unchanged.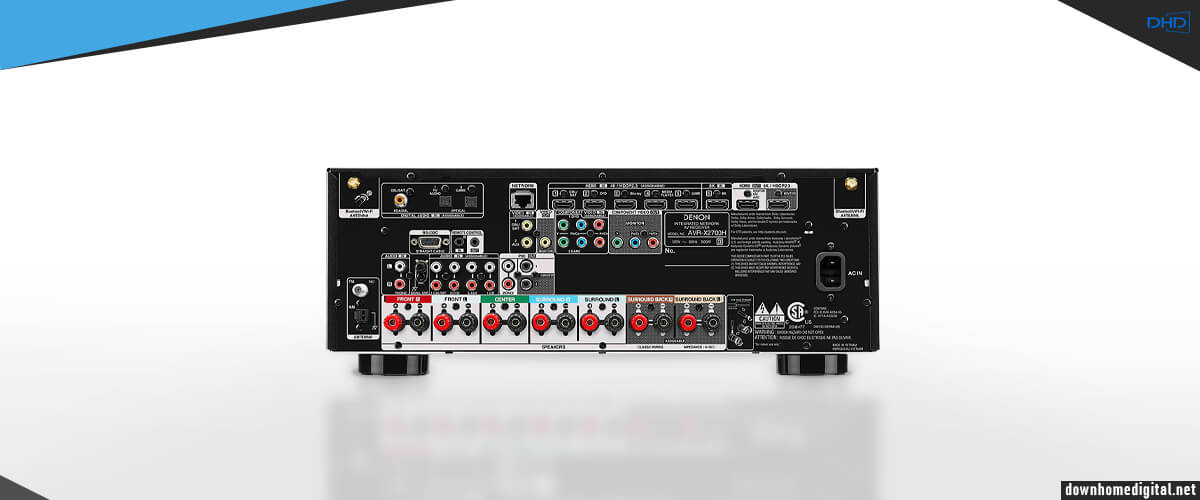 The channel configuration was kept intact. There are seven channels, and the power output reaches 95W with 8Ohm speakers and 125W with 6 Ohm alternatives, so I managed to organize 7.2 and 5.2.2-channel systems.
This Denon product has a very pleasant sound; no matter how messy the action of a film becomes, it will not miss a single sound. Whether it is the sound of a fast-paced vehicle or the noise of crackled glass – every note is perfectly defined. In addition, the receiver masterfully transmits sounds from one speaker to another and helps you fully immerse yourself in the scene. I was amazed by how Denon AVR-X2700H controls the growl of the two subwoofers in my 7.2-channel system and how clear the sound is during special effects.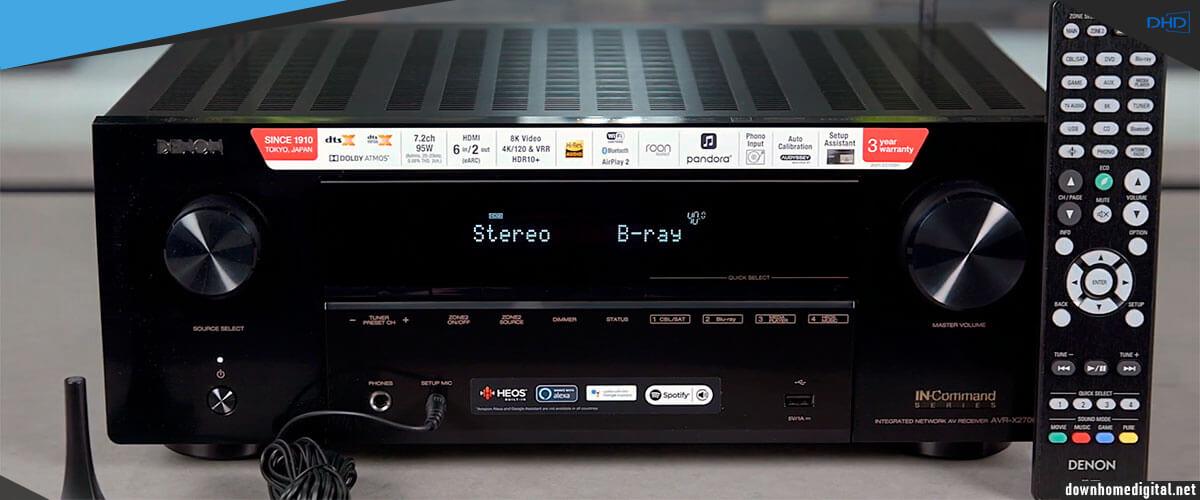 The manufacturer used Dolby processing technology to provide a virtual effect of raising the height of the sound stage. This is helpful while listening to music. I decided to test it with slower compositions (Bob Marley & the Wailers – Turn Your Lights Down Low, The Weeknd – The Hills) and dynamic audio (Arctic Monkeys – Do I Wanna Know), and I was impressed by its capabilities.
Besides great sound, I will note the presence of support for Dolby Atmos and other surround sound formats, voice control, Bluetooth, and auto-calibration technology. Quite a nice addition to the basic features, aren't they?
Denon has worked hard to create such a beast, and that is a real success. Its pleasant rhythm makes it a perfect option if you want to create a cinema-inspired environment right in your house. And that is exactly what I did while testing this receiver in my studio. Though it is slightly inferior to Marantz SR5015 in terms of musicality, considering its price-quality ratio, I can confidently call it the best 7.2 receiver.
Key specs
Channels: 7.2.
Power output: 95W/8 Ohm, 125W/6 Ohm.
HDMI inputs/outputs: 6/2.
Video functions: 4K/120Hz, 8K/60Hz pass-through, analog to HDMI video conversion, upscales video signals to HD and Ultra HD (up to 8K).
Bluetooth/Wi-Fi: yes/yes.
Streaming services: AirPlay2, Spotify, Pandora.
Supports HDMI ARC, HDMI eARC, HDMI CEC, HDCP2.3, HDR10, HDR10+, Dolby Vision.
Surround sound: DTS:X, Dolby Atmos.
Pros
Can be controlled with a Harmony universal remote.
Comes with Audyssey calibration software.
8K/60Hz for futureproofing.
Switching between audio modes is easy thanks to dedicated apps.
Cons
Handshaking issue with such apps as Netflix, Hulu, Disney+.
Doesn't work with SONOS.
Marantz SR5015 – best premium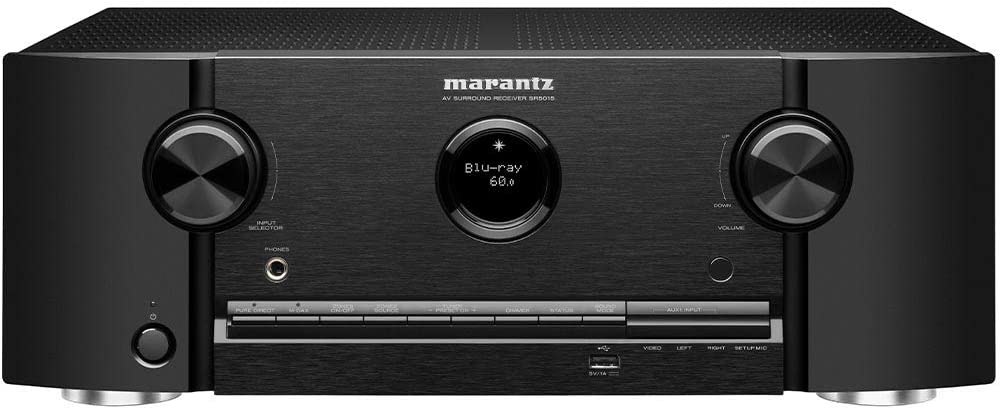 Marantz SR5015 is a 7.2-channel AV receiver in the updated SR-line. The developer has worked hard to make this receiver as powerful as possible, and I was inquisitive whether it could cope with all the tasks I'd prepared for it.
All channels are equipped with discrete high-current amplifiers, so you get 100W with 8 Ohm speakers and 140W with 6 Ohm analogs. Thanks to the low-impedance driver, you can pair the receiver with a wide variety of speakers and always get a balanced sound. I like an Auto Eco Mode that automatically handles the power output to speakers by evaluating volume level and on-screen eco meter. That's really cool.

Some users reported problems with screening video content in 8K at 60Hz, but I didn't experience any difficulties. Everything was smooth and crisp. If you are dissatisfied with video quality, you should try Dynamic HDR and Quick Media Switching that are available in this version.
I've put this receiver to the harsh test and listened to all the compositions listed above several times and from different sources. Just WOW! You can hardly confuse Marantz's native sound with other receivers. It is so rich and melodic with an exquisite sonic signature. The quality of sound far surpasses Denon AVR-X2700H and Pioneer Elite models.
All in all, I can call Marantz SR5015 the best 7 channel receiver for anyone who can afford to buy such a premium device. The multi-dimensional audio output guarantees a refined sound stage in any environment, especially when paired with Dolby Atmos and similar systems. The HEOS technology lets you enjoy uninterrupted audio across several rooms or define a particular music zone.
Key specs
Channels: 7.2.
Power output: 100W/8 Ohm, 140W/6 Ohm.
HDMI inputs/outputs: 6/2.
Video functions: 4K/120Hz, 8K/60Hz pass-through, analog to HDMI video conversion, upscales video signals to HD and Ultra HD (up to 8K).
Bluetooth/Wi-Fi: yes/yes.
Streaming services: AirPlay2, Spotify, Pandora.
Supports HDMI ARC, HDMI eARC, HDMI CEC, HDCP2.3, HDR10, HDR10+, Dolby Vision.
Surround sound: DTS:X, Dolby Atmos.
Pros
You can assign a pair of speakers for the second zone.
Supports Dolby Vision.
Produces a good stereo image with a deep soundstage.
Cons
No XLR inputs or outputs.
Doesn't support IMAX.
Sony STR-DH790 – best budget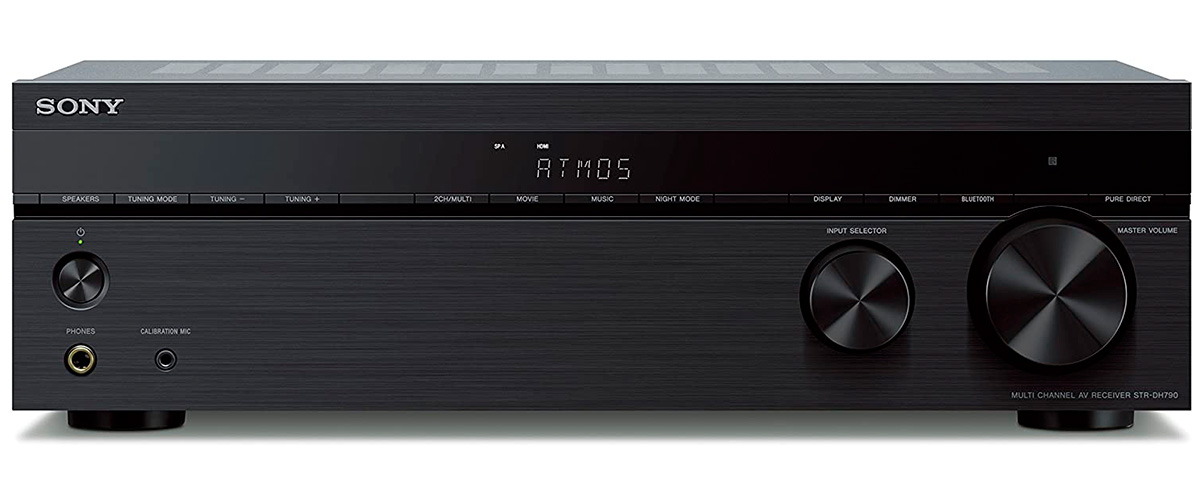 People often get carried away by expensive receivers, but more affordable models can also please with interesting features. Sony has excelled at producing electronics to suit every budget, and I decided to take a closer look at a low-cost Sony STR-DH790.
The first thing that catches your eye when looking at the box is the inscription "145Wx7". That seems impressive, but you need to understand that power is an ambiguous indicator. In general, you can expect 145 watts with 6 Ohm speakers, but THD is 0,09%.
The model has 7 channels, which are strategically organized to allow you to bi-amp a front pair of stereo speakers or get surround sound from a pair of rear/height speakers in Dolby Atmos and DTS: X format.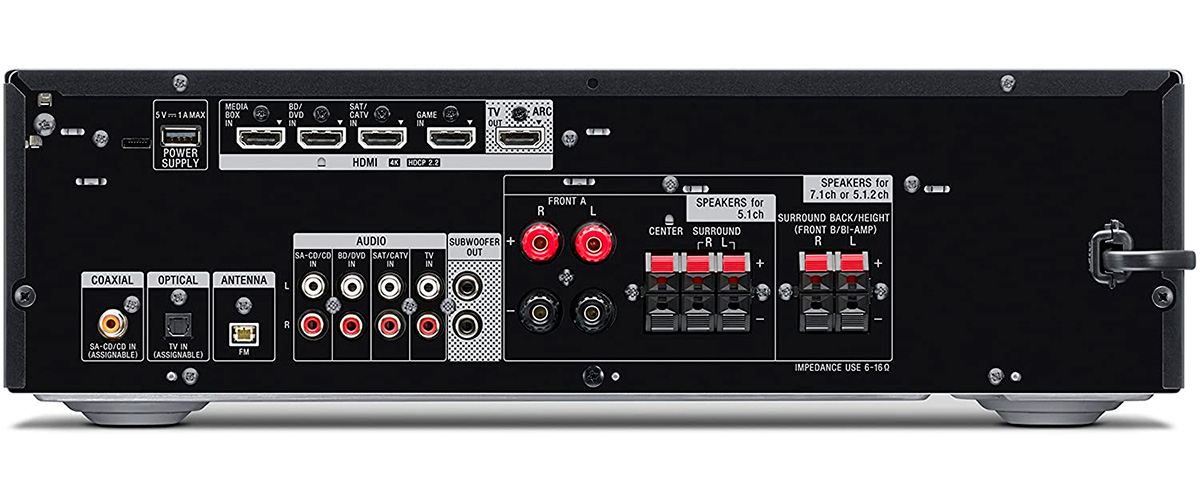 I noticed that the developer called for a kind of compromise. All channels except the front left and right use spring-loaded terminals rather than screw terminals, which require cables up to 1.5 mm in diameter. I don't understand such a move.
The model has 4 HDMI inputs, which support signal quality up to 4K at up to 60Hz, HLG and Dolby Vision, 3D, Deep Color, and BT.2020 color space. There is only one HDMI output.
STR-DH790 lacks some elements that users are likely to need. I was astonished that there is no support for the second zone (zone B). If that is a serious problem for you, opt for Onkyo TX-SR494.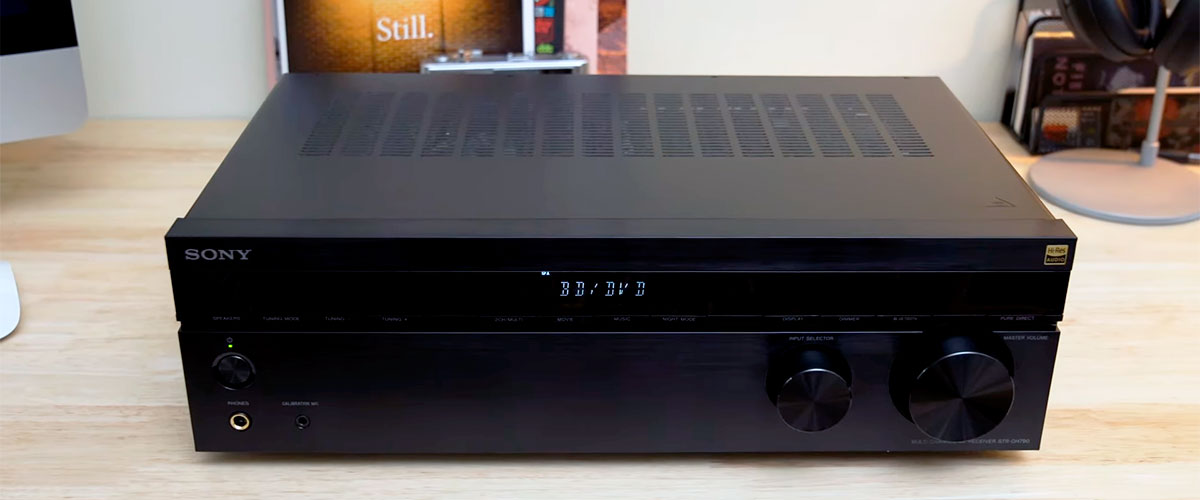 While testing this model, I used the Sony auto-calibration function, and it worked perfectly. I watched Spider-man: Homecoming and fully appreciated the charm of the Atmos object-oriented format, as I could even trace the trajectory of Spiderman.
The music quality was also excellent. I tested the receiver in Stereo, Direct and Pure Direct modes along with the standard All Channel Stereo.
Sony STR-DH790 is the best budget 7.2 home theater receiver that delivers quality Dolby Atmos and DTS: X surround sound. Is it possible to find a receiver with better audio quality? Certainly, but hardly at this price.
Key specs
Channels: 7.2.
Power output: 145W/6 Ohm.
HDMI inputs/outputs: 6/2.
Video functions: 4K/60Hz pass-through.
Bluetooth/Wi-Fi: yes/no.
Streaming services: no.
Supports HDMI ARC, HDMI eARC, HDCP2.2, HDR10, Dolby Vision.
Surround sound: DTS:X, Dolby Atmos.
Pros
You can pass audio and video through without the unit being powered on.
It is possible to mute or raise volume for each speaker.
The multi-tap transformer and multiphase DC switching is noiseless.
Can decode the newest formats and pass through 4K HDR.
Cons
Configuration isn't "on screen", so you have to navigate through a one-line LCD menu.
Poor ventilation.
No equalization.
Yamaha RX-V6A – also a great choice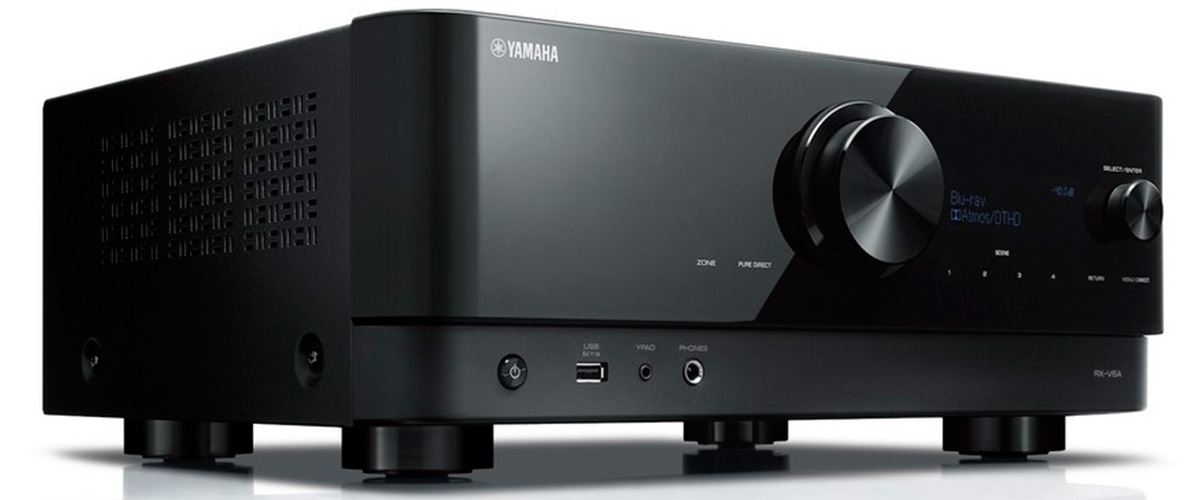 Yamaha RX-V6A is a good receiver for creating a modern home theater as it has all the major features at a reasonable cost. The main upgrades I noticed compared to the younger model (the RX-V4A) are the 7.2 configuration and support for the new surround sound formats – Dolby Atmos and DTS:X. The power output reaches 100 watts at 8 Ohm.
This model has seven HDMI inputs (3 of which support 8K) and one output that supports 4K Ultra HD with all the Dolby Vision and HLG add-ons. The device is also equipped with analog and digital inputs, which make it possible to create an AV system with a variety of signal sources. For my test, I used the SACD 30n CD player and Sony UBP-X700 Blu-ray player.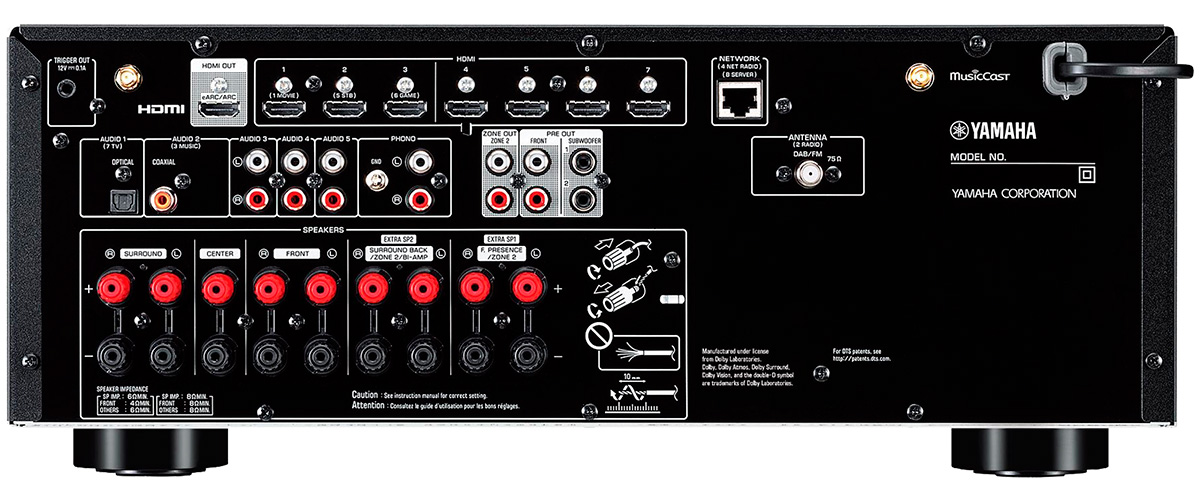 Yamaha RX-V6A employs a proprietary YPAO auto-calibration scheme for convenient, multichannel sound tuning, taking into account the parameters of the room and acoustics. I also took advantage of the bi-amping option. It amplified the high and low-frequency bands of the front left and right speakers with independent amplifiers, thereby enhancing the sound quality of the front channels.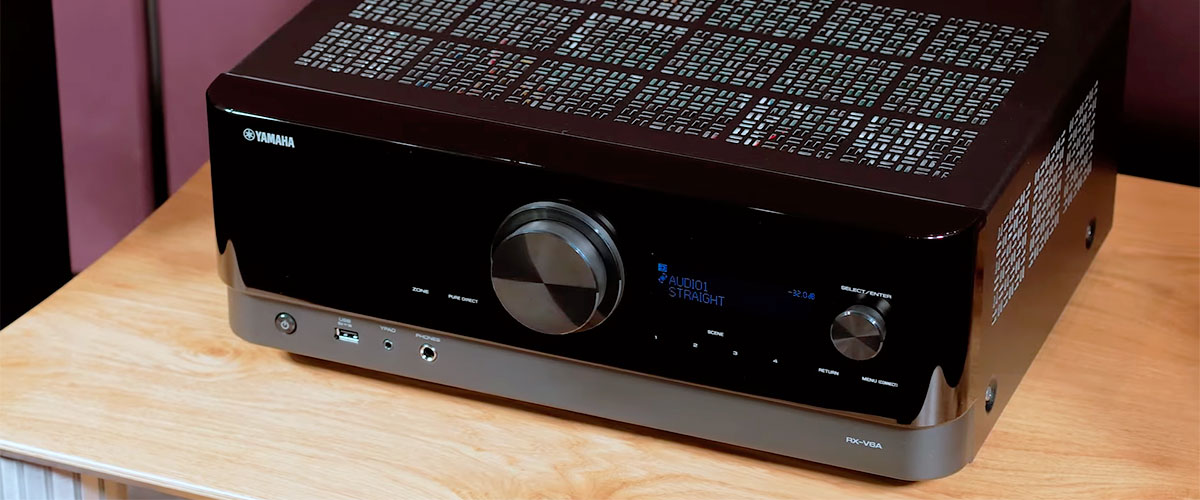 Thus, I perfectly heard shooting and explosions while watching the movie, and it seemed that everything happened in my studio. Zone B output allows transferring 2-channel audio to another room. I checked this feature and played audio from the same source in 2 different zones.
I believe this unit can become the best 7.2 receiver for those people who want to improve their current home theater system. I like how well it adjusts sound according to the specifications of the space. Besides, it is fitted with the latest audio technologies to make you fully immerse yourself in what is shown on the screen.
Key specs
Channels: 7.2.
Power output: 100W/8 Ohm.
HDMI inputs/outputs: 7/1.
Video functions: 4K/120Hz, 8K/60Hz pass-through, upscales HD video signals to 4K Ultra HD.
Bluetooth/Wi-Fi: yes/yes.
Streaming services: AirPlay2, Spotify, Pandora, MusicCast.
Supports HDMI ARC, HDMI eARC, HDMI CEC, HDCP2.3, HDR10, HDR10+, Dolby Vision.
Surround sound: DTS:X, Dolby Atmos.
Pros
Different sound modes (e.g., Theater, Conference Halls) can add a different feel when listening to music.
Comes with a Dolby Surround upmixer to expand audio to all channels evenly.
Multipoint Measurement room correction system.
Cons
Doesn't support HDMI 3D video passthrough.
Laggy remote control.
Marantz NR1711 – smallest receiver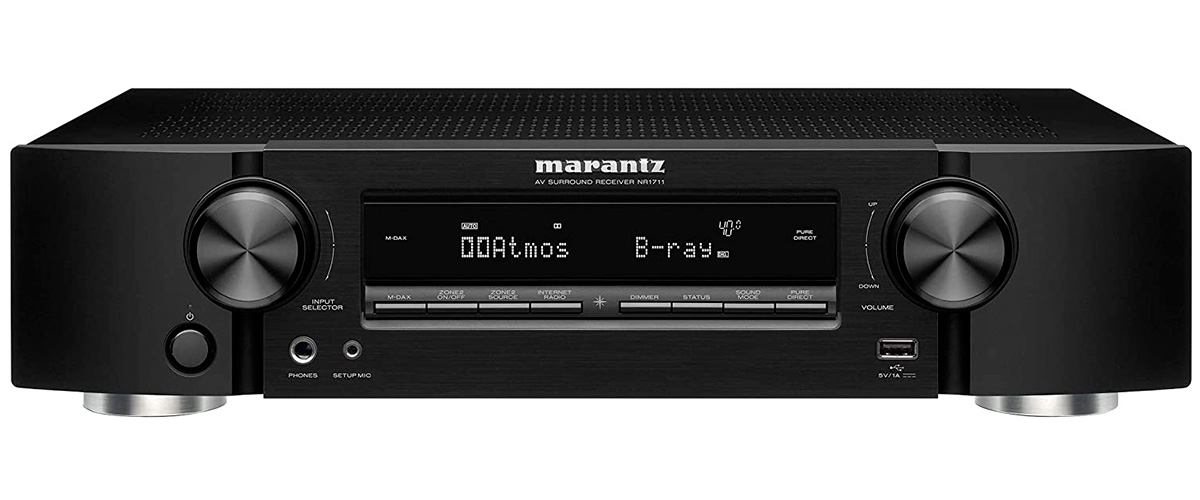 This compact receiver was initially designed exclusively for casual needs. But over ten years of constant modifications, it has become a functionally flexible and reasonably priced apparatus that you can use to build a state-of-the-art home theater.
When I first saw this receiver, I didn't expect much from it. However, the manufacturer added an HDMI card that supports 8K/60Hz on one of the inputs and 4K/120Hz on the other five.
By the way, it brags about high-speed "gaming" HDMI specifications and support for eARC (return audio channel for object sound formats). The power output is measured at 50W/8Ohm and 70W/6Ohm.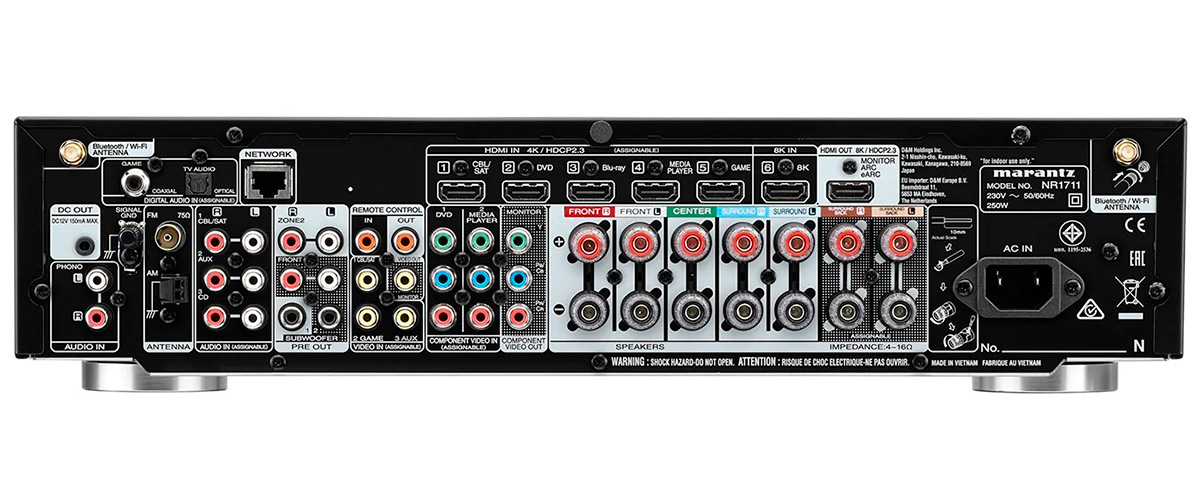 While watching the movie, the sound stage was pleasant and balanced, with smoothened basses and softened high frequencies. If you don't like such a gentle sound reproduction, go to the Audyssey menu and turn off the equalization of the frequency response. Then turn on the graphic equalizer and slightly tweak the sound of the entire system or each channel separately.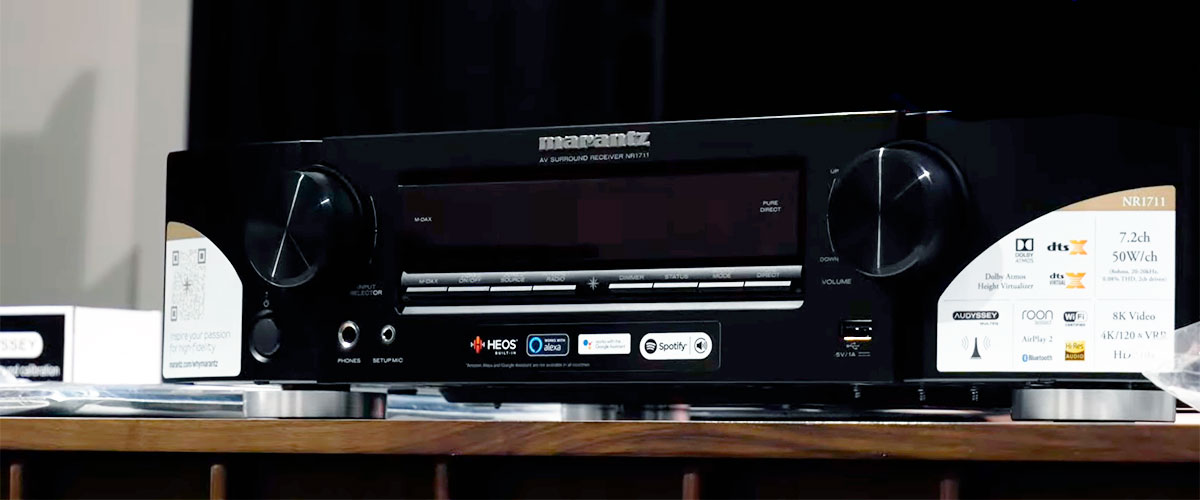 Music playback is not as effective as in Marantz SR5015. It lacks fine resolution and harmonic purity. I tried to switch on Pure Direct to improve the quality of sounding, and that actually helped. There is also a proprietary M-DAX2 enhancer.
The NR1711 is a slim device that provides a whole package of the most demanded functions mainly aimed at movie lovers rather than audiophiles. So, if you are looking for a receiver to improve your home theater system without paying for frills, this is the best 7.2 AV receiver you can find.
Key specs
Channels: 7.2.
Power output: 50W/8 Ohm, 70W/6 Ohm.
HDMI inputs/outputs: 6/1.
Video functions: 4K/120Hz, 8K/60Hz pass-through, upscales video signals to HD and Ultra HD (up to 8K).
Bluetooth/Wi-Fi: yes/yes.
Streaming services: AirPlay2, Spotify, Pandora, Deezer, Tidal, Amazon Prime Music.
Supports HDMI ARC, HDMI eARC, HDMI CEC, HDCP2.3, HDR10, HDR10+, Dolby Vision.
Surround sound: DTS:X, Dolby Atmos.
Pros
Has 12V trigger out & pre-out connections to hook up an external amplifier.
Slim design allows for placement in tight spots.
Perfect for driving smaller speakers and giving them a huge presence in a small space.
Has HEOS, so you can stream directly from Spotify, Apple Music, etc.
Cons
Loses a video signal when switching video sources.
Troublesome setup.
Low-quality plastic case and buttons.
Onkyo TX-SR494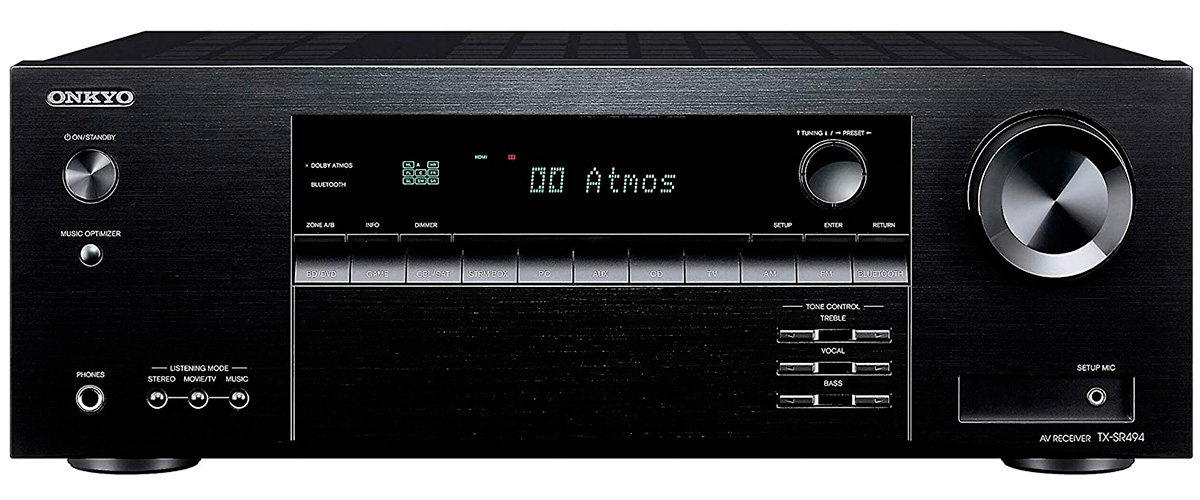 Onkyo TX-SR494 is an improved variant of a younger model TX-SR393. The number of channels here has increased to seven. In addition to the updated design, Onkyo TX-SR494 has a modified set of connectors – in particular, the manufacturer removed a USB port for connecting portable drives with music files.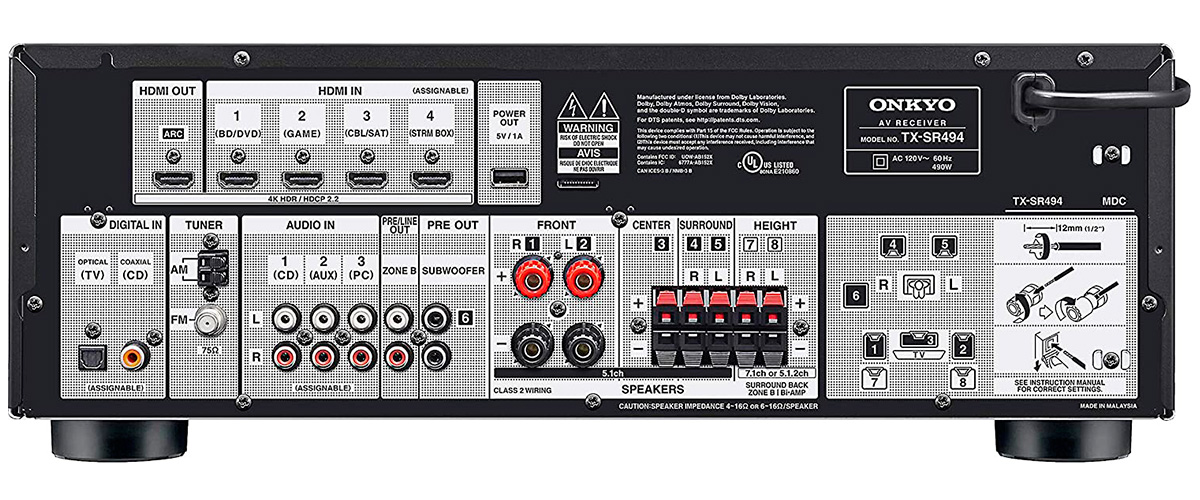 The AV receiver is equipped with four HDMI inputs and one output, capable of transmitting 4K UHD signals, including Dolby Vision, HDR10, and HLG. The device also has three analog and two digital inputs. The advertised power output is 80W with 8Ohm speakers.
This model is equipped with AccuEQ Room Calibration, which is a rare feature in the models of this price segment. The device has HD-surround sound decoders and high-quality modern DACs from Burr-Brown.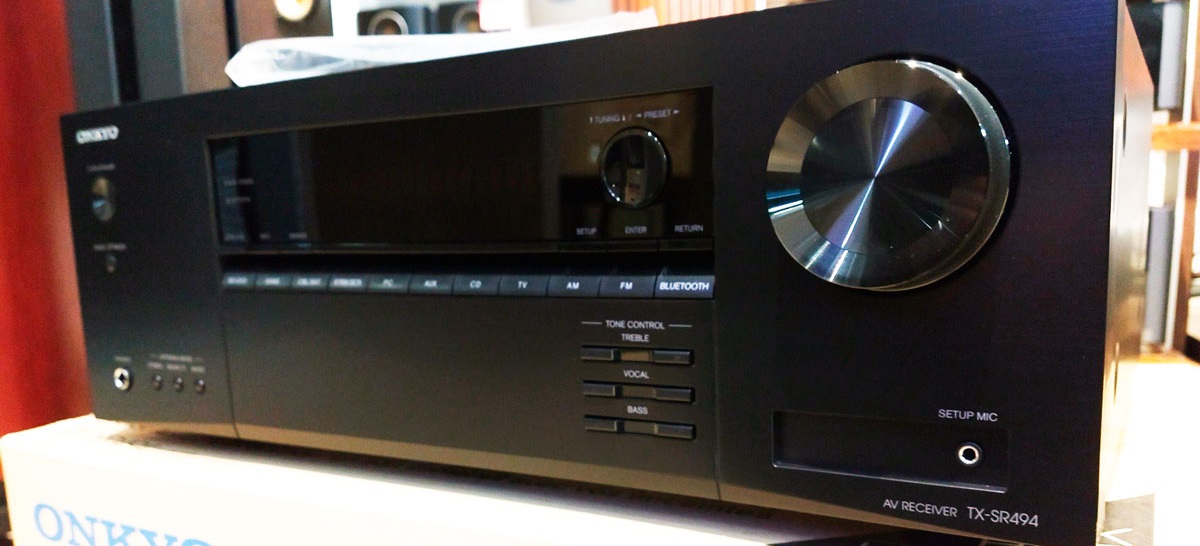 There is a flexible crossover setting for the subwoofer and tone controls for bass and treble. I took full advantage of these features while listening to Mahler – Symphony No.2, Mark Nauseef – With Space in Mind, and Jacky Terrasson – Reach. They were also helpful while I was watching the movie, as I could fully enjoy all the special effects.
Though it can't stay on par with Sony STR-DH790 when it comes to handling roaring sound, it is well worth each penny asked.
I can recommend this 7.2 receiver to those users who don't have high demands for this piece of equipment. It perfectly handles regular tasks and is supplied with all must-have features. If you want to spend a good evening watching your favorite actions, this receiver may become a good choice.
Key specs
Channels: 7.2.
Power output: 80W/8 Ohm.
HDMI inputs/outputs: 4/1.
Video functions: 4K/60Hz pass-through, upscales HD video signals to 4K Ultra HD.
Bluetooth/Wi-Fi: yes/no.
Streaming services: no.
Supports HDMI ARC, HDMI CEC, HDCP2.3, HDR10, Dolby Vision.
Surround sound: DTS:X, Dolby Atmos.
Pros
Has the power to drive 7 speakers without being obnoxiously loud.
Reproduces excellent Dolby Atmos sound when watching movies.
Microphone AccuEQ Room calibration.
Impressive audio detail.
Cons
Bluetooth doesn't work past 5 feet.
Buyer's guide
How to set up a 7.2 surround sound speaker system?
The prototype of a 7.2 layout is a 7.1 surround sound speaker system with 1 subwoofer. Since the release of the first 7.2 receivers, such devices are gaining more and more popularity thanks to an evenly spread level of bass, which is possible thanks to the inclusion of the second woofer.
Leading manufacturers are enthusiastic about creating 7.2 receivers, so a huge variety of offers positively affects the cost of these devices. In other words, they are more affordable than "forefathers".
If you want to get a good 7.2 surround sound receiver, you need to clearly understand how every setup component should be located. You can experiment with changing the distance of the speakers from the wall. The closer they are to the wall, the more the bass is amplified. This can be good, but only to a certain extent. Also, the overall sound quality can be improved if you move the speakers further away from the wall. Try several different positions to see which one provides the greatest results in your room.
I will also give a few general recommendations for the positioning of your system:
Do not place speakers near power amplifiers, heaters, or other devices that produce a lot of heat.
Do not place your speakers in very humid or dusty places or direct sunlight.
The speakers provide the most accurate soundstage when the angle between you and the speakers is between 40 and 60 degrees.
The finest stereo sound is obtained when the speaker is in a vertical position.
Here are a few more recommendations on how better to use a subwoofer. Since bass frequencies are omnidirectional, you can choose any subwoofer location that suits you. Remember that placing it near a wall usually generates lower frequencies. Placing it near a corner allows for an even greater effect.
Using two subwoofers improves low-frequency distribution, filling gaps where low-frequency reproduction may be weak. The second subwoofer also provides more impressive dynamics, filling the room with more bass. The location of the second subwoofer in your room can be determined using a special layout. In some rooms, you can get better results by placing a subwoofer in each of the room's front corners. In other cases, a more even distribution of bass frequencies is achieved by placing one subwoofer at the front of the room and another at the back. Try a few different options to see which one will give you the most optimal bass in your room.
Almost all receivers I tested have marked inputs. Denon AVR-X2700H even has color-coded inputs, which makes the process of connecting 7 speakers and subwoofers a breeze. Connectors for optional rear and front speakers can also be used for Atmos speakers.
If you want to play 4K HDR content, look for HDCP2.2 above the HDMI input. Some models have only a pair of HDCP2.2 – certified ports. You may also notice that each HDMI input has an assigned source: Blu-ray, DVD, CD, game console, cable/satellite, media player, etc. This isn't just a simple recommendation. It means that a manufacturer has optimized the characteristics of these inputs for specific sources.
Do I need a second subwoofer?
Subwoofers used in theaters are huge, but you don't need such bulky units at your home. Getting something more space-saving is a better option.
Of course, you can achieve piercing energetic bass with one good sub if it is in the right place and you have a quality 7.1 receiver. However, there are undeniable advantages of setups with two subwoofers. I will highlight 3 main of them:
Uniform bass at any listening position.

That's the first and foremost advantage. Two subs provide a balanced bass output throughout the room. This is achieved by eliminating the so-called "zeros" that occur when two sound waves of one subwoofer cancel each other out at a certain point and, consequently, create the effect of missing bass.

Increased dynamic capabilities.

Perhaps this point is the most obvious: the power of two active subs produces a greater dynamic range, increased sound pressure levels, and generally deeper, more impactful bass that you can hear and feel with your whole body.

Space-saving.

Two small subwoofers can be easier to place than the large one. As a result, not only these compact devices are better at what they do, but they are also easier to install.

Perhaps switching to a dual-sub system will be the most noticeable change-improvement to your home theater or music installation. It's the most optimal way to fill a room with precise, punchy bass that feels like it's coming from all the speakers.
FAQ
Do I need a second subwoofer?
If you want to pump up your system and take your bass quality to the next level, you might want to consider two subwoofers. Using my years of practical experience, I can say that they give the finest sound results not only in a home theater system but also in a stereo and triphonic system. With two subwoofers, it is easier to get an even filling of the room with bass and achieve a better alignment of the subwoofers' bass with your speakers and the listening room.
Is 7.2 surround sound worth it?
The 7.2 surround sound home theater system is becoming an increasingly common configuration, and many modern receivers support it. It has all the elements of a 7.1 surround sound system but adds one more subwoofer.
The main advantage of this configuration is that instead of loud or soft bass in different parts of the room, it is distributed evenly, and no matter where you sit, you get the same bass. In addition, the sound quality provided by 7.2 surround sound has greater depth and adequate fidelity.
7.2 surround sound systems are considered most suitable for large and wide spaces. Therefore, I recommend choosing this configuration if you have a large enough room as well as the necessary budget.
Can I use a 7.2 receiver with 5.1 speakers?
Yes, this can be done without much trouble. To do this, you need to connect the center speaker, the two front speakers as well as the left/right surround speakers and the subwoofer to the receiver. You will still have 2 outputs unconnected. If you want to add 2 more speakers, you can always do so.
AV receivers ratings by channels