If you think that the best 9.2 receiver necessarily has a crazy price, you are going to be surprised. This review includes great budget models.
Of course, I added several premium receivers here as well. After reading the description of every receiver, you will easily make your choice. Follow me to learn a lot of important info!
Our pick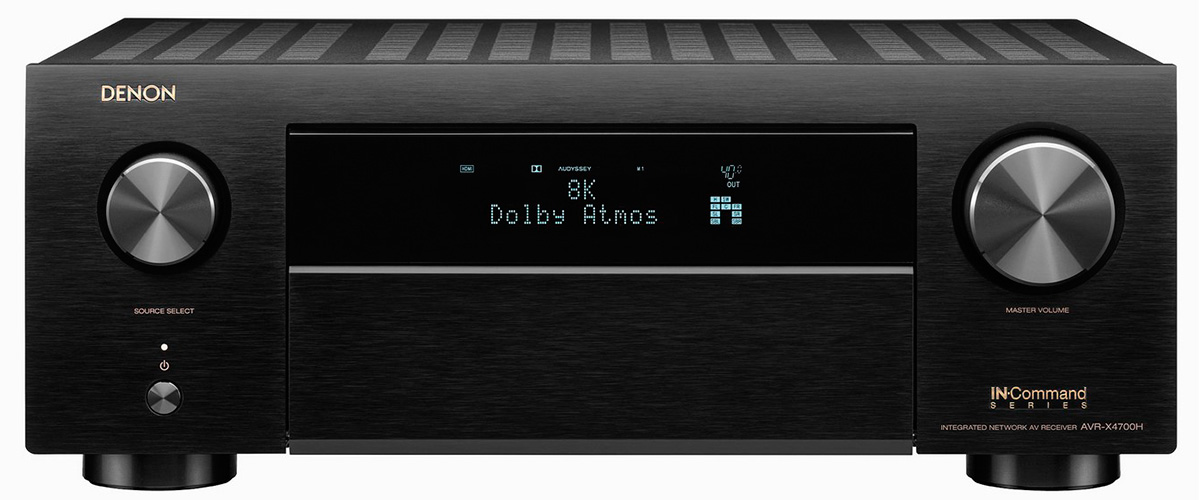 Denon AVR-X4700H
Best 9.2 Receiver
The Denon AVR-X4700H 9.2 channel 8K AV receiver with 125W per channel fully supports 3D audio formats like Dolby Atmos®, Dolby Atmos Height Virtualization Technology, DTS:X®, DTS Virtual:X™, IMAX® Enhanced and Auro-3D®
9.2 AV Receivers Comparison Table
Receivers
Channels
Stereo power, W/Ohm
THD, %
Denon AVR-X4700H

best overall

9.2
125/8, 165/6
0.05
Review
Marantz SR7015

best premium

9.2
125/8, 165/6
0.05
Review
Denon AVR-X3600H

under $1000

9.2
105/8, 135/6
0.08
Review
Onkyo TX-NR797

best budget

9.2
100/8, 220/6
0.08
Review
Best 9.2 Receiver Reviews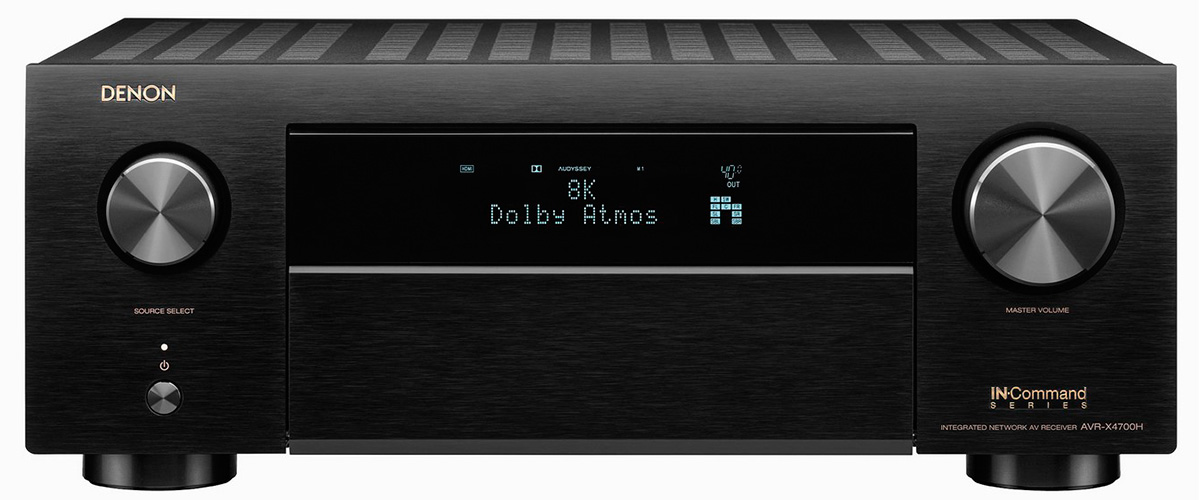 The first device on my review is the best 9 channel AV receiver that develops an output power of 125W with a load resistance of 8 Ohms. A powerful transformer with a significant current reserve is installed in the power supply unit of the AV receiver. This allows Denon AVC-X4700H to handle even complex speakers with confidence.
The AV receiver is equipped with decoders for all current surround sound formats, including Dolby Atmos, DTS: X, IMAX Enhanced, and Auro 3D. Denon AVC-X4700H based system configuration for object-oriented 3D playback can be configured as 7.2.2 or 5.2.4. This is quite enough for full-fledged sounding even in a large room. For sound processing in the AV receiver, DSP based on four powerful SHARC processors and a proprietary AL32 processor are used, as well as a DAC based on 32-bit AKM AK4458 microcircuits in all channels.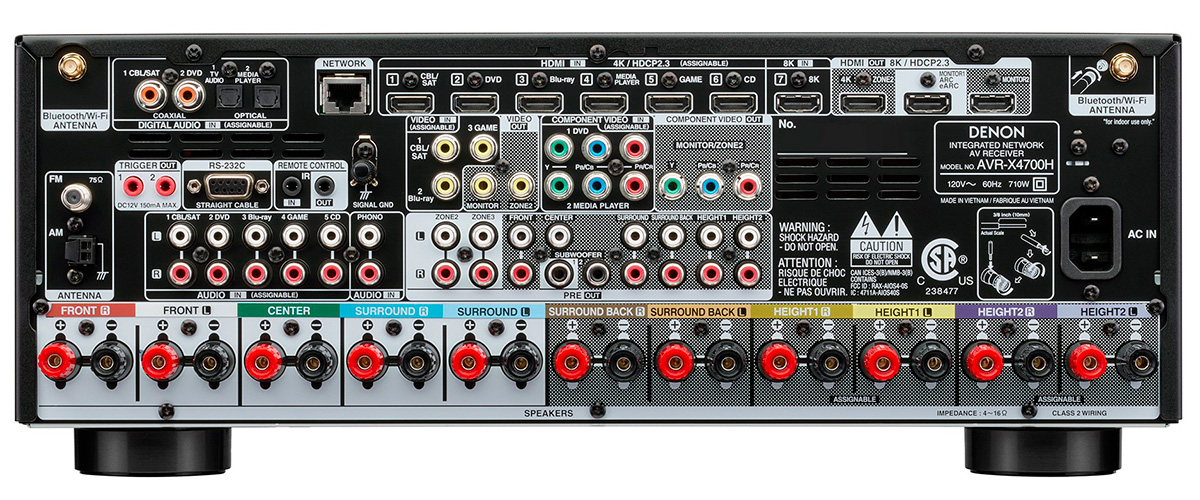 The AV amplifier has three HDMI outputs, which provides great flexibility in building a home theater system, and also allows the signal to be sent to an additional zone. The AVR-X4700H offers full 8K support up to 60Hz and 4K up to 120Hz, as well as upscaling of lower picture resolutions up to 8K.
Audyssey MultEQ XT32 Auto Calibration System makes it easy to adjust surround sound depending on the parameters and placement of acoustics, as well as the characteristics of the room. In addition, the unit provides audio streaming from Spotify, Amazon Music HD, Tidal, Deezer, and other internet sources.
Key specs
Channels: 9.2
Stereo power, W: 125, 165
Impedance, Ohm: 8, 6
THD, %: 0.05
Pros
Can be controlled via voice assistant: Amazon Alexa, Google Assistant and Apple Siri
Two-way Bluetooth, as well as networking functionality with Ethernet and Wi-Fi connectivity
Supports current HDR formats including HDR10, HLG, Dolby Vision and the more recent HDR10 + and Dynamic HDR
Cons
AVR remote app is not one of the best
Marantz SR7015 – best premium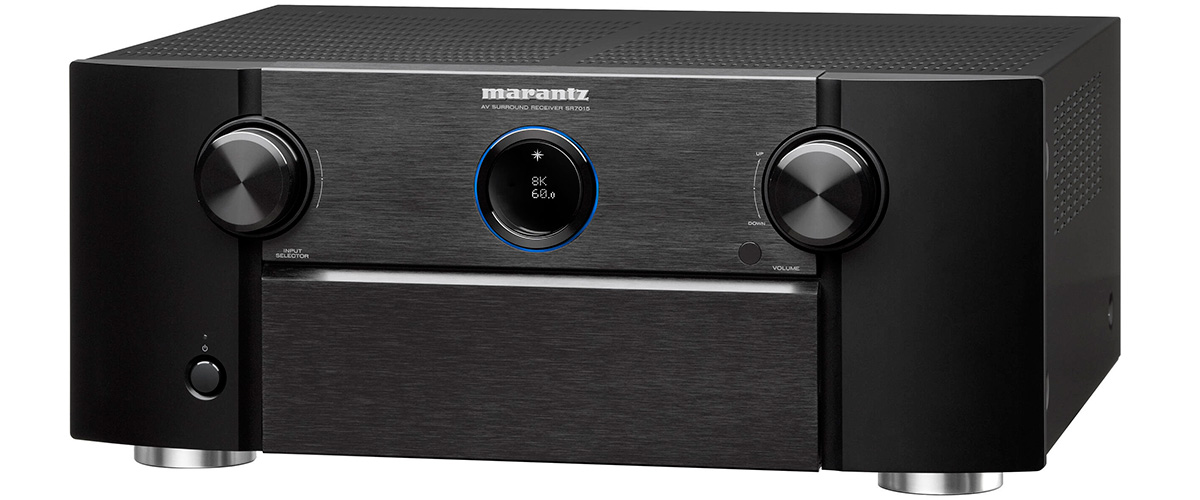 Let me show you the best 9.2 receiver of a premium class. It is an IMAX Enhanced certified 9.2-channel premium AV receiver, which achieves very high picture and sound quality (using a special version of the DTS codec), comparable to the picture/sound quality of IMAX cinemas. All current 3D audio formats are supported – DTS: X and Dolby Atmos up to 7.1.4-channel (stereo power required), Auro-3D and even the DTS Virtual: X codec capable of providing 3D immersive audio for multichannel audio systems without ceiling speakers. The receiver supports 8K 60 Hz video, including 8K upscaling, with support for HDR options: HDR10 +, Dolby Vision, Dynamic HDR, HLG and HDR10, there is support for 4K at 120 Hz, and in addition, Quick Frame Transport technology and automatic low latency operation mode.
The SR7015 has HDAM amplification modules and uses current feedback. The result is a wide frequency response, impressive slew rate, excellent detail and dynamics. The receiver delivers 125W of power per channel at 8 ohms, and uses a 32-bit AK4458 DAC to convert "digital" to "analog", so Hi-Res audio playback is available over a local home network and via USB, including DSD 2.8/5.6 MHz. To control the model is not only the remote control, but also the proprietary application, as well as the voice assistant Amazon Alexa.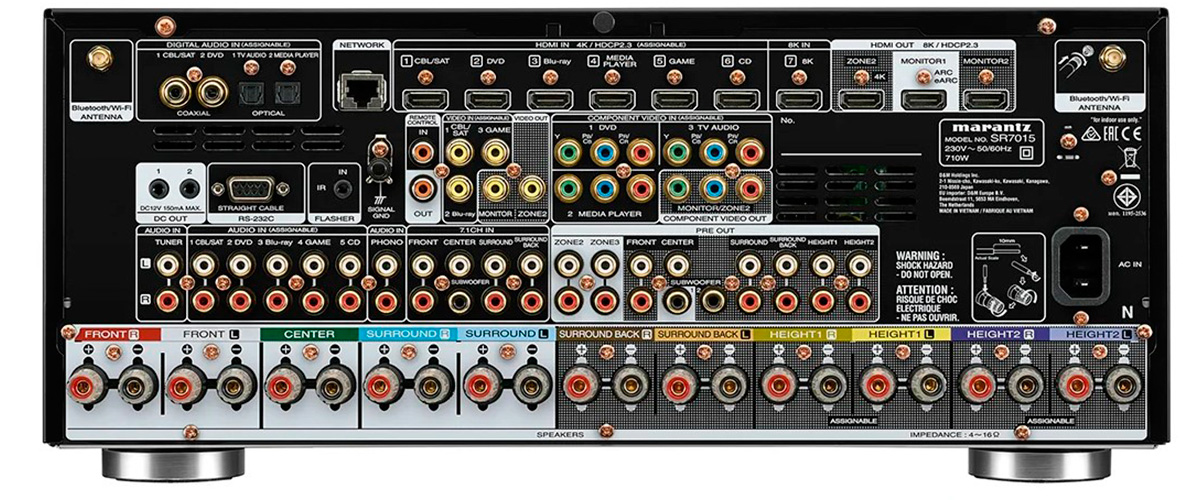 The appliance has eight HDMI inputs supporting 4K/120Hz, HDCP 2.3, BT.2020 colour space, and HDR video (HDR10, Dolby Vision and HLG). There are three HDMI outputs. One of the HDMI outputs works with an eARC extended return channel that supports object-oriented audio formats. The receiver is equipped with a phono stage for MM cartridges, has 11.2-channel Pre Out (RCA) and 7.1-channel input.
Key specs
Channels: 9.2
Stereo power, W: 125, 165
Impedance, Ohm: 8, 6
THD, %: 0.05
Pros
Equipped with 2-band Wi-FI, Bluetooth and AirPlay 2
You have access to the HEOS ecosystem, allowing you to organize and manage multi-room installations from a single app
Supports online services Deezer, TuneIn, Spotify Connect, TIDAL, Amazon Music, etc
Denon AVR-X3600H – best under $1000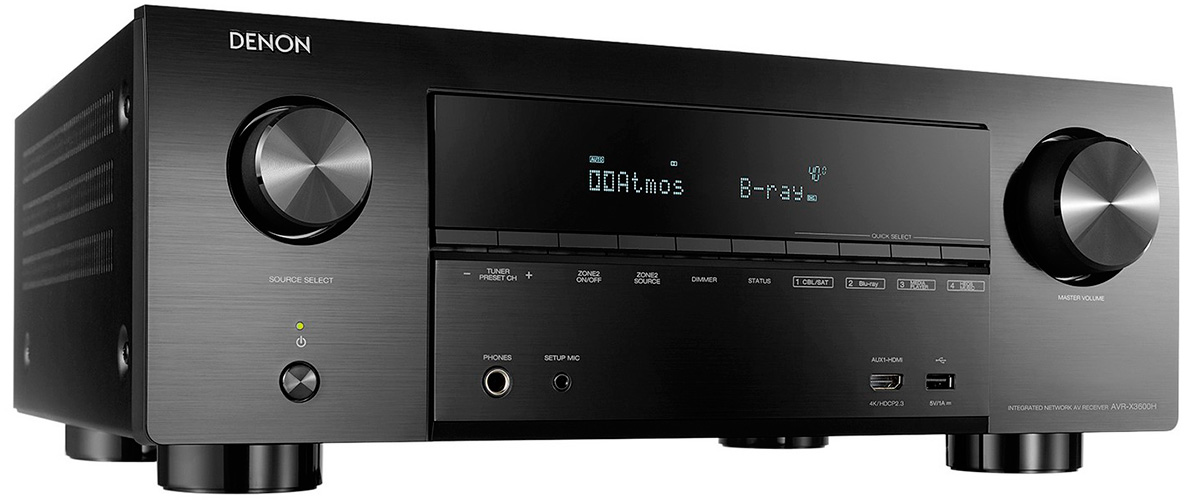 Here we have the best 9.2 receiver under $1000. This AV receiver contains the latest object-oriented 3D audio formats Dolby Atmos and DTS: X. With the device, you can build a 7.2.2 system with two dedicated high-altitude channels, or an extended 9.2 system for traditional surround formats.
The receiver has eight HDMI inputs and three HDMI outputs supporting 4K video transmission with all the additional technologies (HDR, Dolby Vision, HGL). One of the HDMI inputs is located on the front panel of the AVR-X3600H, making it easy to quickly connect sources.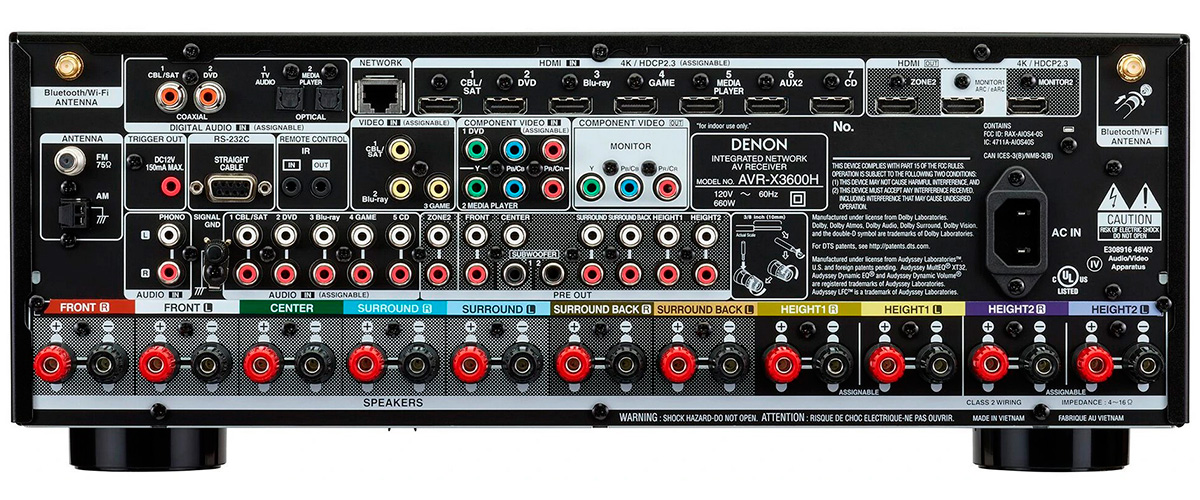 The powerful digital processing system is able to handle the 11.2-channel signal, allowing an additional power amplifier to be added to the system. With 135W per channel, this performance-tuned Denon AVR-X3600H amplifier delivers 3D audio formats and supports Dolby Atmos, DTS: X, DTS Virtual: X, Dolby Atmos Height Virtualization technology and the new high-quality IMAX standard Enhanced.
The appliance supports all modern networking functionality, including the ability to play files from available devices and music from online services. The receiver plays PCM (24 bit/192 kHz) and DSD 2.8/5.6 MHz files via the network, as well as from the USB input for connecting portable drives.
Key specs
Channels: 9.2
Stereo power, W: 105, 135
Impedance, Ohm: 8, 6
THD, %: 0.08
Pros
Has Bluetooth, AirPlay 2 and support for proprietary HEOS multimedia technology
Convenient surround sound setup is provided by the Audyssey MultEQ XT32 Auto Calibration System
Has a function of converting a signal from analog and digital video sources up to 4K resolution
Onkyo TX-NR797 – best budget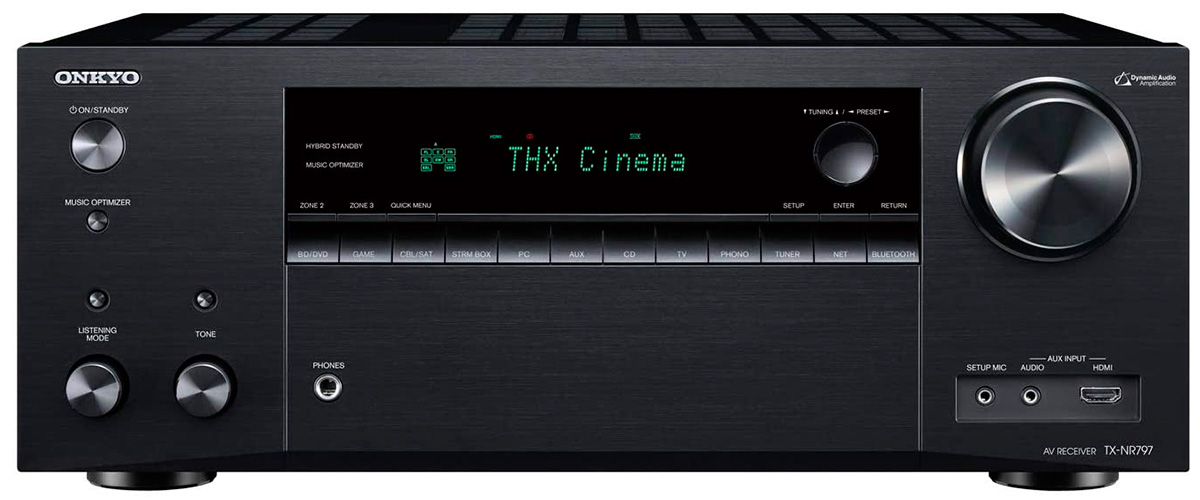 I am sure you will like the best 9.2 receiver at a low price supporting immersive Dolby Atmos and DTS:X sound formats, 3D sound virtualization technologies, and simplified audio distribution. The device also has 4K HDR support and new proprietary functions, all of which underscore its price-to-performance advantage.
Onkyo receiver has a continuous power output performance. The toroidal transformer and high-capacity capacitor inside the device can make each channel have a stable power output performance with output power up to 220W per channel.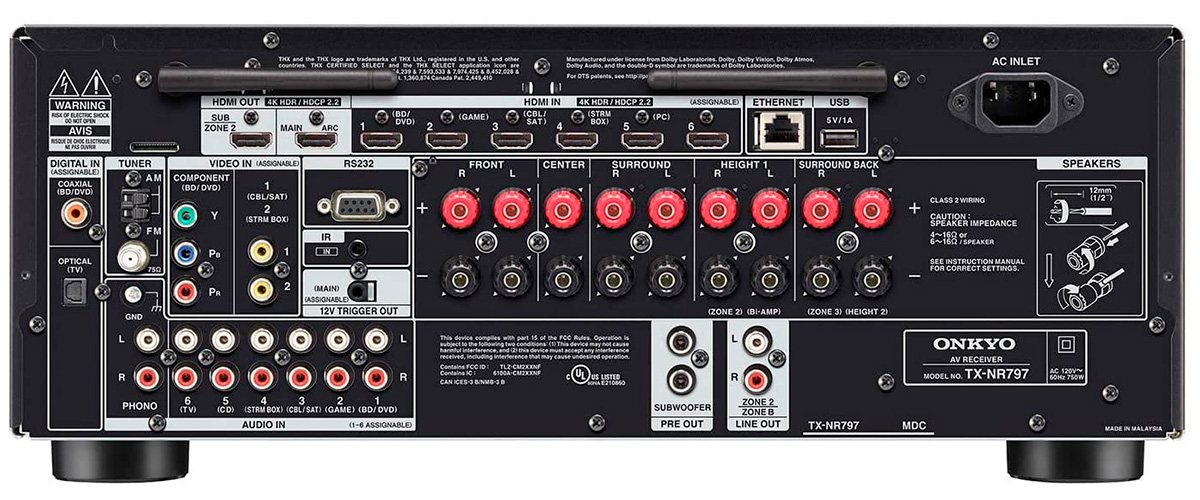 Through the PC, tablet, or mobile phone application, you can easily push high-quality music resources for TX-NR797. The quality of sound provided by the receiver is impressive. The device adopts uncompressed and non-encoded transmission, and the data transmission accuracy is as high as 192kHz/24bit.
Key specs
Channels: 9.2
Stereo power, W: 100, 220
Impedance, Ohm: 8, 6
THD, %: 0.08
Pros
Can become a multi-room control device under the Mac or iOS system, achieving high-bandwidth transmission support
Streaming media transmissions functions, such as AirPlay 2 and DTS Play-Fi, make the receiver a great choice
When using the receiver, the sound volume will be close to the quality of professional cinemas
Cons
Does not support Dolby surround
Marantz SR6015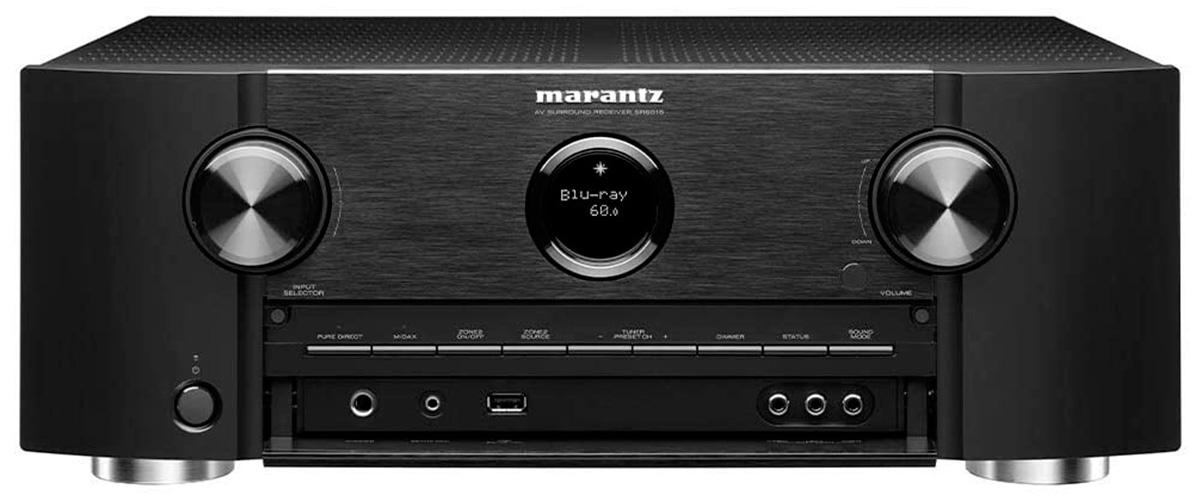 The last 9.2 surround sound receiver in my review is equipped with nine sound amplification channels. The appliance is equipped with all the new technologies required in today's home theater. If the system needs to use more channels, then external amplifiers can be connected to the SR6015 via the 11.2-channel output from the processor. Marantz SR6015 has a power output of 110W per channel when 2 channels driven. The AV receiver uses HDAM amplifier modules as well as select components in the sound circuit. It uses 32-bit AKM AK4458 DACs for digital-to-analog signal conversion.
Marantz SR6015 is equipped with seven HDMI inputs and three outputs, supporting 8K/HDR10/Dolby Vision video and HDCP 2.3. There is support for 4K at 120 Hz, as well as Quick Frame Transport technology and automatic low latency mode. The model has a full range of streaming services, and the network is connected to Ethernet or Wi-Fi. This model also provides direct connection of wireless devices via AirPlay 2 or Bluetooth.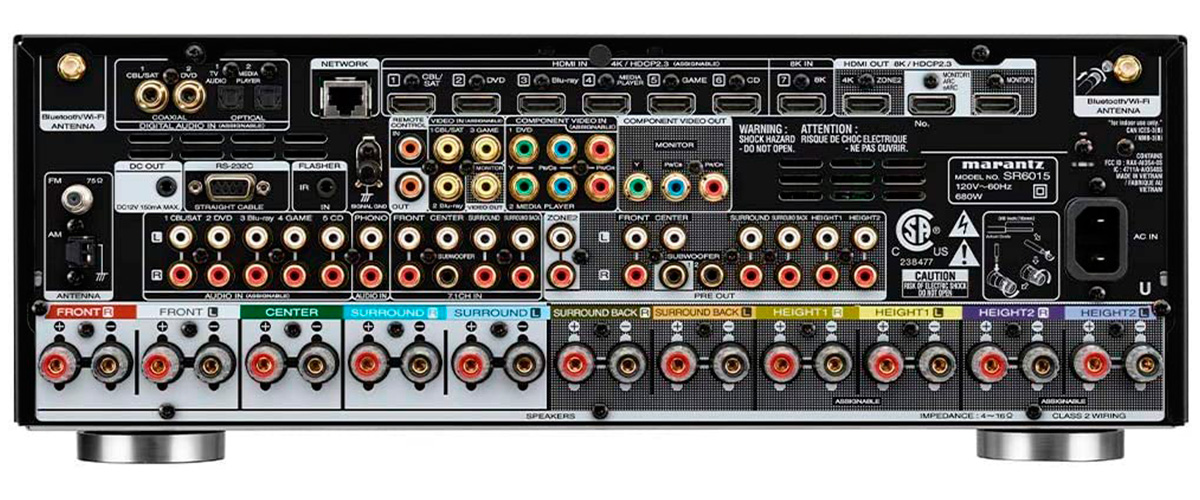 The SR6015 has support for the popular Alexa, Siri and Google Assistant voice control systems to help you find the information and content you want. Roon Tested certification will allow future owners of the novelty to use an alternative content management and organization system. To integrate the device into a multiroom, you can use proprietary HEOS technology.
Key specs
Channels: 9.2
Stereo power, W: 110, 150
Impedance, Ohm: 8, 6
THD, %: 0.08
Pros
Can be controlled with a proprietary application, which provides the ability to fine-tune all its parameters
Has a full range of digital and analogue connections, including for a turntable
Supports Dolby Atmos and DTS: X decoding, as well as virtual emulation of Dolby Atmos Height and DTS Virtual: X sources
Cons
You can't listen to digital radio via a DAB+ signal