The Japanese company Pioneer has been creating media equipment since 1938. Since that time, they have been able to gain many fans thanks to the exceptional quality of products and adherence to traditions that have helped to maintain this quality to the present day.
Our pick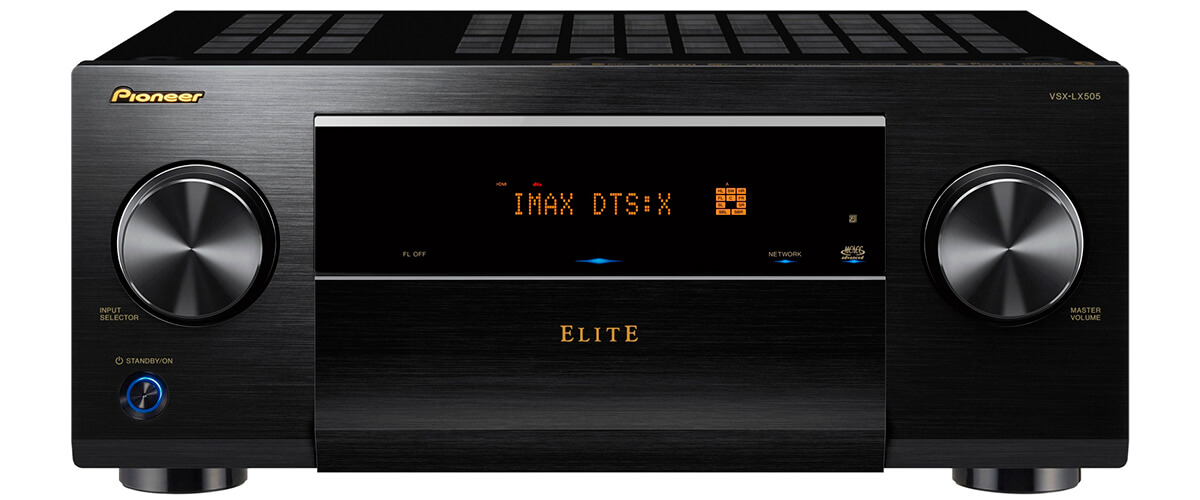 Pioneer Elite VSX-LX505
Best Pioneer Receiver
Featuring up to 11.2 channels and 120 watts of power per channel, IMAX Enhanced Audio, and DIRAC Live Room Correction, the Pioneer VSX-LX505 ELITE 9.2 Channel AV Receiver delivers multi-dimensional excitement to your home theater.
Read the full review
.
Today, Pioneer offers a variety of receivers in its extensive line of Elite VSX and Elite SC models. It is with these devices that you lay the foundation for your personal home theater experience with glorious sound and many practical features. In order to choose the really best Pioneer receiver of these series, I have created a review in which I will reveal the strengths and weaknesses of each model. After studying the material in my article, you will be able to make an informed choice of the right device for you.
Pioneer receiver comparison table
Name
Channels
Power output
HDMI in/out
Bluetooth/Wi-Fi
Review
Pioneer Elite VSX-LX505

best overall

9.2
120W/8 Ohm
7/2
yes/yes
Review
Pioneer Elite VSX-LX105

under $1000

7.2
100W/8 Ohm
6/2
yes/yes
Review
Pioneer Elite SC-LX904

premium

11.2
140W/8 Ohm
6/2
yes/yes
Review
Pioneer SX-10AE

stereo

2.0
45W/8 Ohm
0/0
yes/no
Review
Difference between home theater and stereo receivers
And as part of my Pioneer receivers review, I first want to discuss the difference between an AV receiver and a stereo receiver. Newcomers often do not see the difference and may mistakenly buy the wrong device. That's why I'll take a closer look at this issue.
Unlike AV receivers, a stereo receiver is less complicated to operate. First, because of the number of channels (there are only 2), and second, because of its limited features. It is used mainly for listening to different music content.
The AV receiver is much superior to its stereo competitor. You can connect many devices (TV, Blu-ray player, game console, etc.) to it via different interfaces and use it as the main link in a home multimedia system. The AV receiver also clearly benefits from the potential of multi-room applications and network capabilities.
Many stereo receivers are equipped with Bluetooth for wireless streaming. Digital audio broadcasting, or DAB for short, is also possible. However, these options are limited to only two channels.
And finally, if the choice has become between these two types of devices, then be guided by your needs. If it's just listening to music, then a stereo receiver is worth considering. And if you are planning a full-fledged home theater with surround sound, then the AV receiver is the right choice.
How I picked and tested Pioneer receivers
I tested the presented receivers in the proven way. It includes watching a movie on Blu-ray and a music test. This time I chose John Wick: Chapter 3 – Parabellum so that I could appreciate all the charms of the film: the shootings, the chases, the soundtracks, and, of course, the dialogues.
And also selected the most interesting compositions from my audio library:
Radiohead – The National Anthem – Spotify
Bob Marley & The Wailers – Turn Your Lights Down Low – Deezer
Arctic Monkeys – Do I Wanna Know – SoundCloud
Led Zeppelin – Ramble On (CD player)
The Weeknd – The Hills (CD player)
Jacky Terrasson – Reach (CD player)
Mark Nauseef – With Space in Mind (CD player)
Mahler – Symphony No.2 (CD player)
The following equipment became the testing setup to help to choose the top Pioneer receiver:
CD player SACD 30n
Blu-ray player Sony UBP-X700
Speaker wire – AudioQuest Type-9
Speakers for movie – Klipsch RP-8060FA
Stereo speakers:

Klipsch RP-8060FA
KEF Q350
DALI OBERON 5
Pioneer Home Theater Receiver Reviews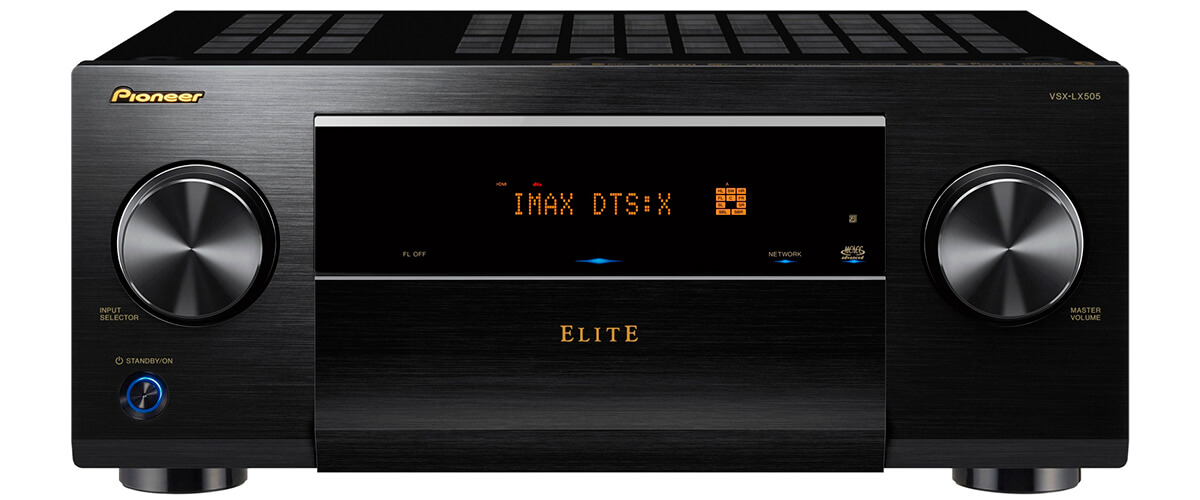 I want to start my review with the Pioneer Elite VSX-LX505. This is a receiver with premier power – 120 watts (8 ohms) per channel with IMAX support.
The receiver operates in 11.2-mode, with the help of which you can manage the configuration 7.2.4. However, you can not control the two subwoofers separately. The VSX-LX505 has nine power amplifiers, which, depending on the configuration, can also be used for dynamic sound in two adjacent rooms. In addition, it can passively supply the third listening area with audio signals via the pre-outs.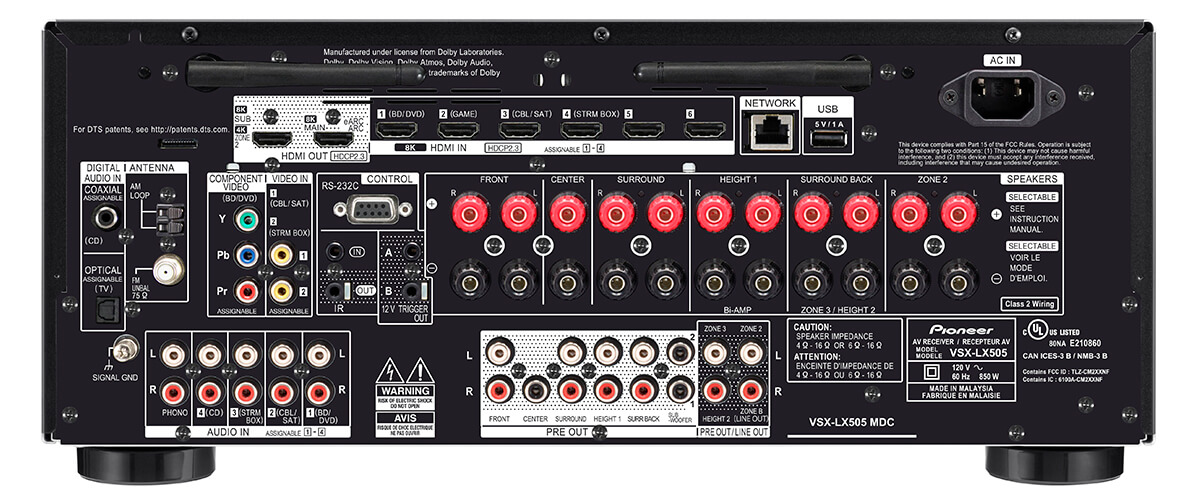 As usual for this class of receivers, there are Dolby Atmos and DTS: X audio decoders and their Dolby Surround and DTS Neural: X upmixers. However, I draw your attention to the fact that there is no cross-format upmixing.
The receiver "communicates" with the outer world via AirPlay2, Bluetooth, and some other wireless transmission technologies. I also want to say that Spotify, Deezer, Tidal, and Amazon Music have been integrated.
There is also a well-equipped video path. This 8K receiver is equipped with a video card with 2 HDMI outputs and 7 HDMI inputs compatible with 4K/120p, 8K/60p and HDR10+, Dolby Vision, and HLG standards. In addition, there is an upscale function that only converts 1080p signals to 8K resolution.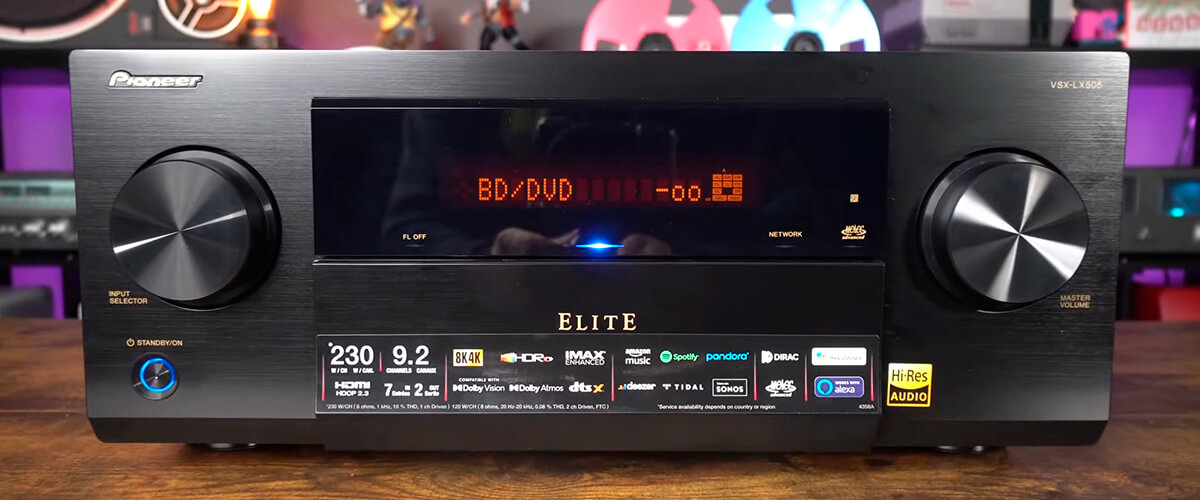 Before testing, I used an automatic setup. It gave the midrange a little more detail and brightness. In the music test, the VSX-LX505 delighted me with detailed and transparent sound, without harshness. I loved the instrumental music because of the clean, crisp, and powerful sound style of the LX505.
I left Phase Control active. It added a little more boost and clarity to the bass reproduction. In addition, I have noticed that the LX505 differs from the LX104: new is the Dialog Enhancer function to improve audio quality, which, however, is achieved through speech reproduction separation.While watching the film, I paid particular attention to the dialogue and was not disappointed. The voices, intonation, and tone conveyed all the emotions and moods of the characters.
The Atmos surround sound test was also successful. I felt a powerful bass exactly where I expected it. The effects were elastically separated from the speakers and opened up broad dynamic sound fields.
The Pioneers VSX-LX505 boasts a variety of multi-room and network options, high performance, and impressive sound. This is a device that I can safely call the best Pioneer receiver overall.
Key specs
Channels: 9.2.
Power output: 120W/8 Ohm.
HDMI inputs/outputs: 7/2.
Video functions: 4K/120, 8K/60Hz pass-through, upscales HD video signals to 8K.
Bluetooth/Wi-Fi: yes/yes.
Streaming services: AirPlay2, Spotify, Pandora, Deezer, Tidal.
Supports HDMI ARC, HDMI eARC, HDCP2.3, HDR10, 3D Ready, Dolby Vision, HDMI x.v. Color.
Surround sound: DTS-HD Master, DTS:X, DTS Neural:X, DTS Virtual: X, Dolby TrueHD, Dolby Digital Plus, Dolby Atmos.
Pros
The presence of preamplifier outputs for all channels.
Lively and detailed sound.
Advanced and efficient auto-calibration system.
Cons
I didn't find any significant flaws.
Pioneer Elite VSX-LX105 – top model under $1000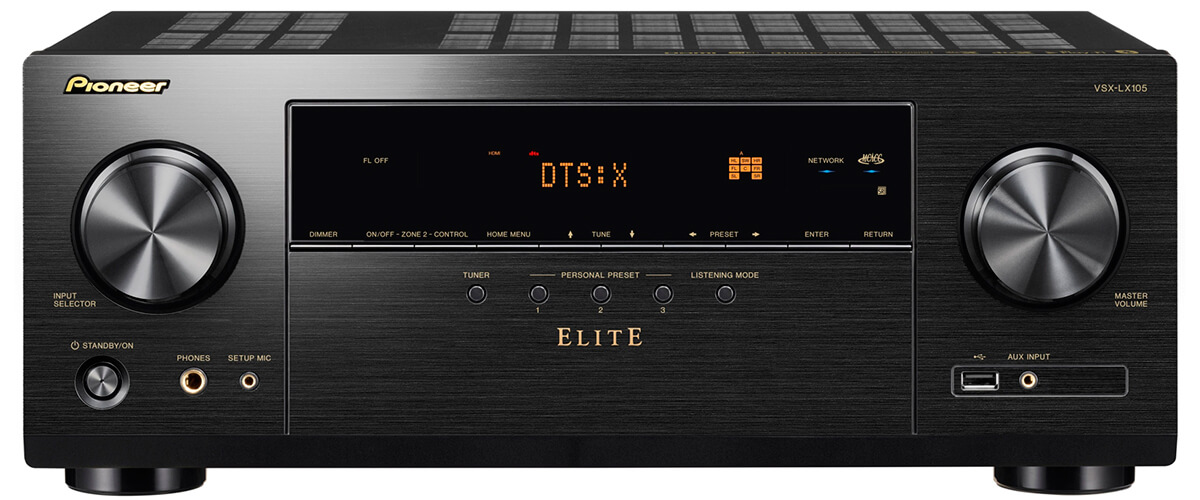 Next, consider the younger model from the Elite series. The Pioneer VSX-LX105 is a 7.2 channel model delivering up to 100W / 8 ohms per channel.
And it also has most of the multichannel audio formats available, such as DTS: X, Dolby Atmos, Dolby Atmos Height Virtualization with the unique Dialog Enhancement advanced music features. And for even more immersion, the unit features pre-outs to link it to an external, more powerful amplifier to create a 5.2.2-channel home theater system.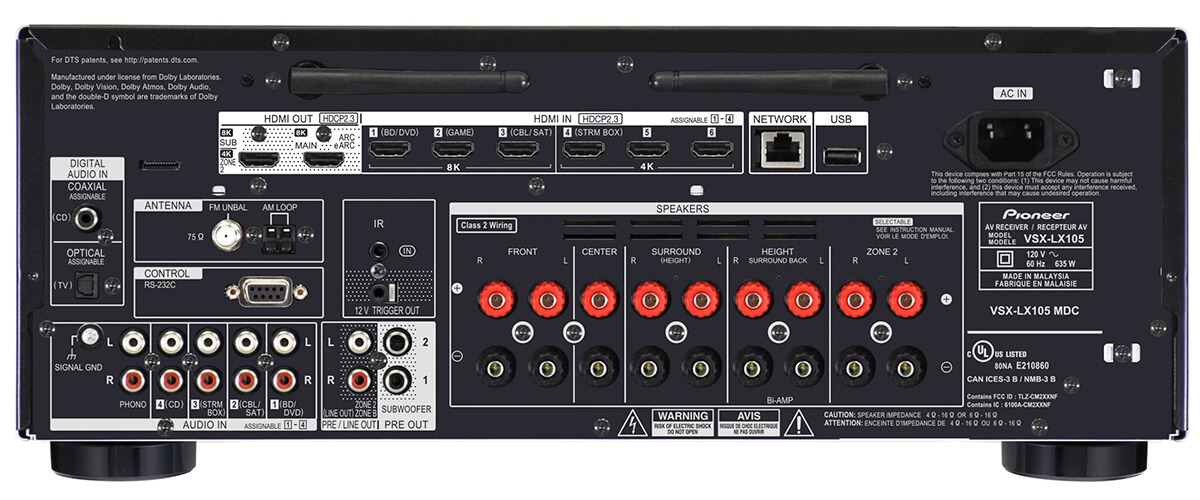 For Internet connectivity, the Pioneer VSX-LX105 has standard Ethernet and dual-band Wi-Fi. However, the network section is not limited to this. In VSX-LX105, I found many great options aimed at broadcasting content – DTS Play-Fi, Flare Connect, Bluetooth, AirPlay2. Plus, it has integrated streaming services like Amazon Music, Spotify, TIDAL, and Deezer.
In terms of image, the Pioneer VSX-LX105 is compatible with all video streams up to 4K and 120fps. It also supports HDR10+, HLG, and Dolby Vision to display high-contrast images with a wide color gamut. I was also able to up-scaling from 1080p to 8K/4K with no problems.
I decided to start my test using presets. The first observation on this point is that filtering is quite limited, as is the cutoff frequency. There is no LFE adjustment. The last auto-calibration I got was a refocused sound stage, but no loss of scale. This affects the operation of all formats, all Dolby formats up to Atmos and all DTS formats up to IMAX Enhanced. And when watching the movie, I got an accurate reflection of the dialogues. As for surround effects, they are reflected in all directions. I felt at the center of the action. The LX105 effortlessly recreates a tangible ambiance without putting pressure on the surroundings.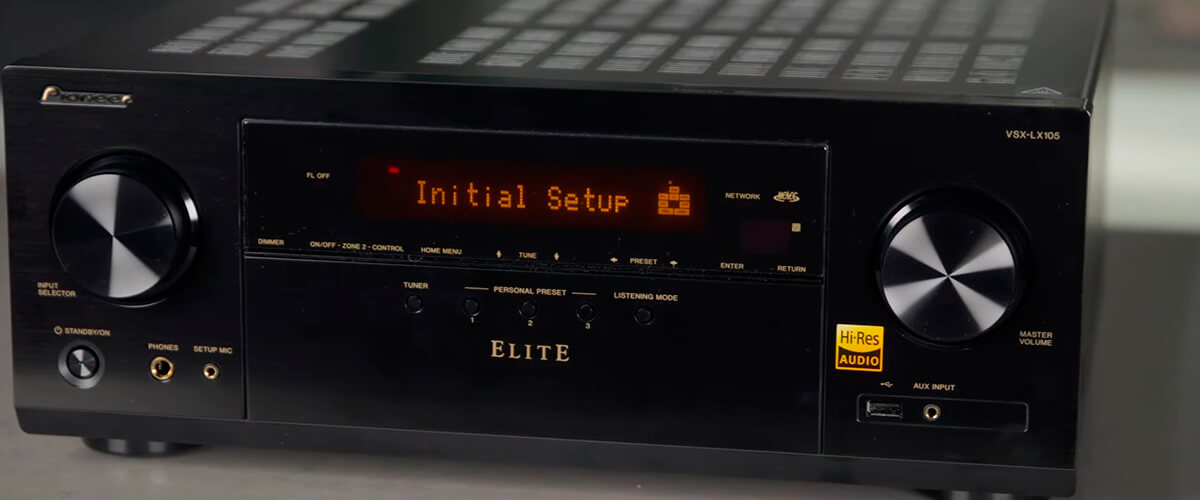 I listened to the music in stereo, with no subwoofer or effects, to get an idea of its versatility between film and music. The LX105 creates a pleasing sound stage with stressed vocals and exciting depth. Bass hold can be more precise.
The Pioneer Elite VSX-LX105 is a receiver that can accompany you for years to come. Multi-channel and network audio playback capabilities make it a self-contained device with enough power even for a large room. In addition, it provides excellent readability of effects with placement in a space where the speakers disappear entirely. And this clearly deserves the title of best Pioneer receiver under $1000.
Key specs
Channels: 7.2.
Power output: 100W/8 Ohm.
HDMI inputs/outputs: 6/2.
Video functions: 4K/120, 8K/60Hz pass-through, upscales HD video signals to 8K.
Bluetooth/Wi-Fi: yes/yes.
Streaming services: AirPlay2, Spotify, Pandora, Deezer, Tidal.
Supports HDMI ARC, HDMI eARC, HDMI CEC, HDCP2.3, HDR10, HDR10+, Dolby Vision.
Surround sound: DTS:X, Dolby Atmos.
Pros
Excellent rendering of movie dialogues by highlighting.
A good set of wireless technologies.
Pioneer Elite SC-LX904 – premium AV Receiver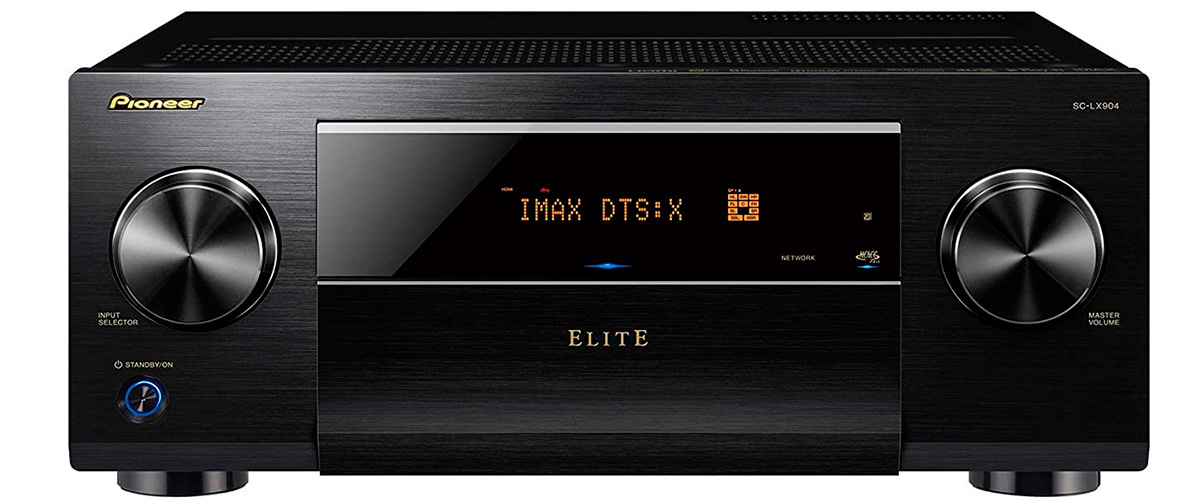 Here is a potent Pioneer home theater receiver in my review. The SC-LX904 offers 11 integrated power amplifiers that deliver 140W per channel at 8 ohms. And here, I will immediately note that it is compatible with all multichannel audio formats, including Dolby Atmos and DTS: X. It also includes two high-performance ESS DACs, PQLD and PQFA technologies designed to eliminate jitter, something I clearly did not see in the Pioneer Elite VSX-LX505.
I can also note the video capabilities as of the highest level. The Pioneer SC-LX904 supports high dynamic range video content using HDR10, HLG, or Dolby Vision technologies. In addition, all Pioneer SC-LX904 HDMI connectors, both inputs, and outputs support 4K up to 60Hz with HDCP 2.3 support.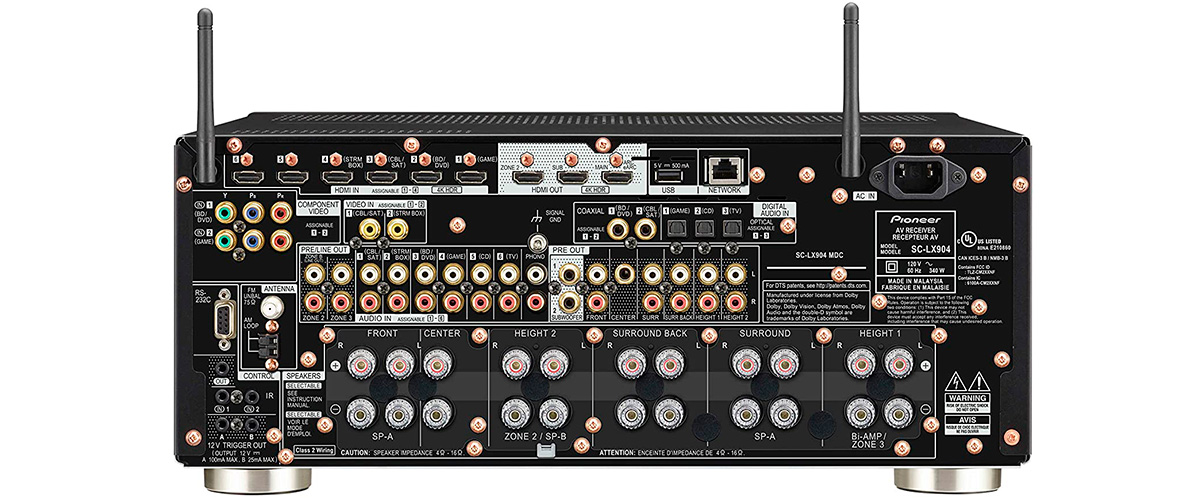 And the situation is the same with network capabilities. Again, I find support for online music platforms like Spotify Connect or Deezer. Along with this, the LX904 is also compatible with Sonos and DTS Play-Fi multi-room technologies, as well as AirPlay 2. And since it includes a Chromecast module, it can also integrate the Google Home multi-room audio system.
In the LX904 test, I was not particularly surprised. It showed exactly what I expected from it. This Pioneer AV receiver played crystal clear sound, high definition, and lively without a hint of idleness or musty sound. The MCACC calibration did not go quickly, but the receiver played a little airier, crisper, smoother, and more cheerful after that. The transparent sound image, combined with high resolution, naturally also improves spatiality and fidelity. It was a pleasure to watch a movie with that sound.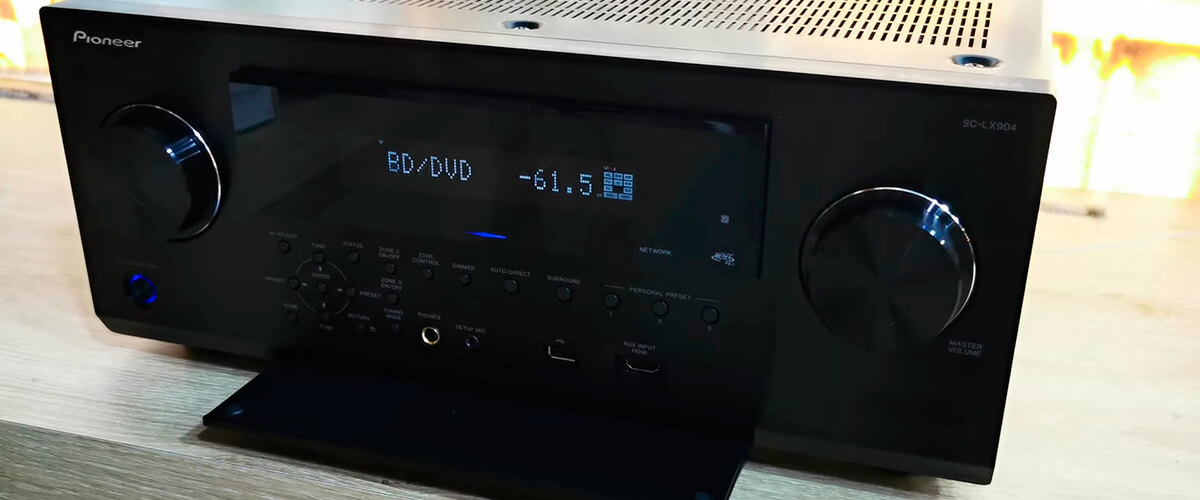 Even with stereo music in Pure Direct mode, Pioneer remained true to its sonic attributes: he played with ease and very high resolution. In addition, the receiver acted very quickly, playing dynamically with strong, crisp, and crisp bass.
The Pioneer Elite SC-LX904 follows the brand's long tradition and delivers fantastic sound to its users. This is the best Pioneer Elite receiver for creating a high-performance home theater system compatible with all modern picture and sound formats.
Key specs
Channels: 11.2.
Power output: 140W/8 Ohm.
HDMI inputs/outputs: 6/2.
Video functions: 4K/60Hz pass-through, upscales HD video signals to 4K Ultra HD.
Bluetooth/Wi-Fi: yes/yes.
Streaming services: AirPlay2, Spotify, Pandora, Deezer, Tidal.
Supports HDMI ARC, HDMI eARC, HDCP2.3, HDR10.
Surround sound: DTS:X, Dolby Atmos.
Pros
Dynamic and finely resolved sound.
Precise calibration system MCACC PRO.
Pioneer SX-10AE – good stereo receiver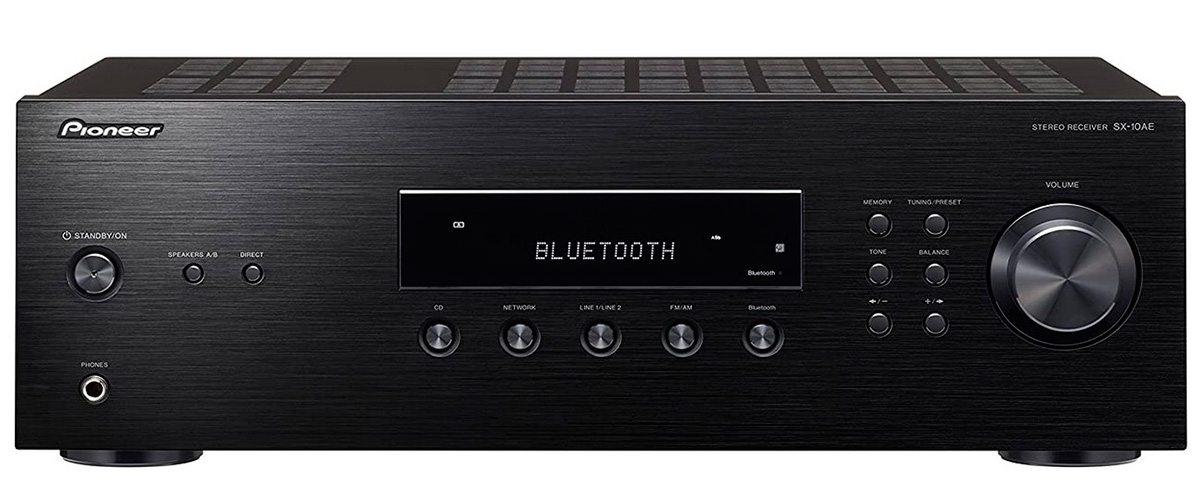 Next, let's look at the SX-10AE, the youngest model in Pioneer's current line of stereo receivers. This simple receiver aims to play music from physical media and Bluetooth.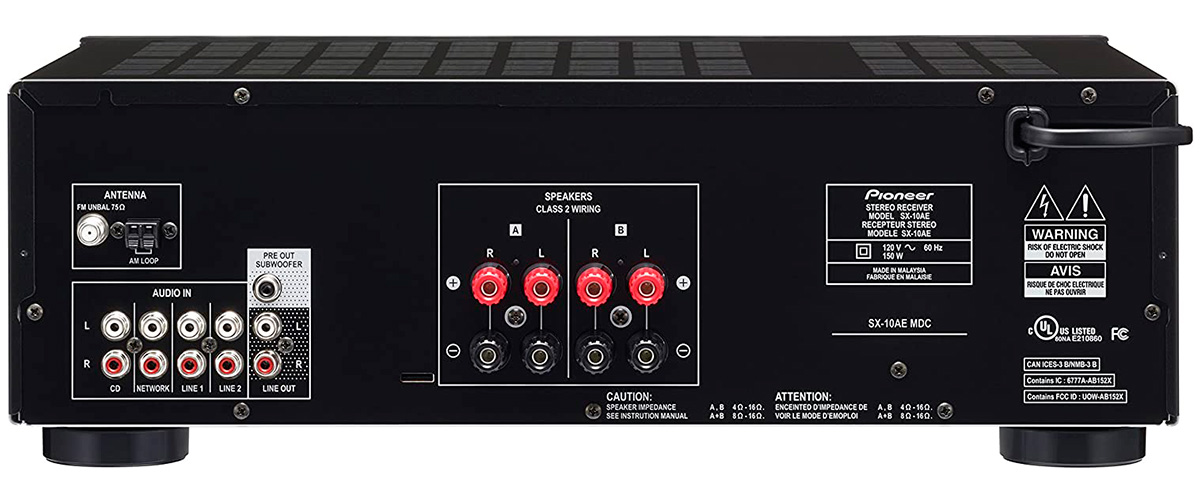 I want to say that the receiver corresponds to the equipment for its narrow purpose. The rear panel houses four pairs of tulips of the aforementioned inputs and a line-out. Looking ahead, I will say that it turned out to be unregulated, in which case it will not work to use the SX-10AE in conjunction with an external power amplifier. There are two pairs of speaker terminals, and you can connect speakers to both of them simultaneously.
And moving on to the test, I want to say that with a power of 45 watts per channel with an impedance of 8 ohms, the SX-10AE produces a vigorous, truly dynamic sound in which you can feel both the plastic and the quite correct organization of the sound stage.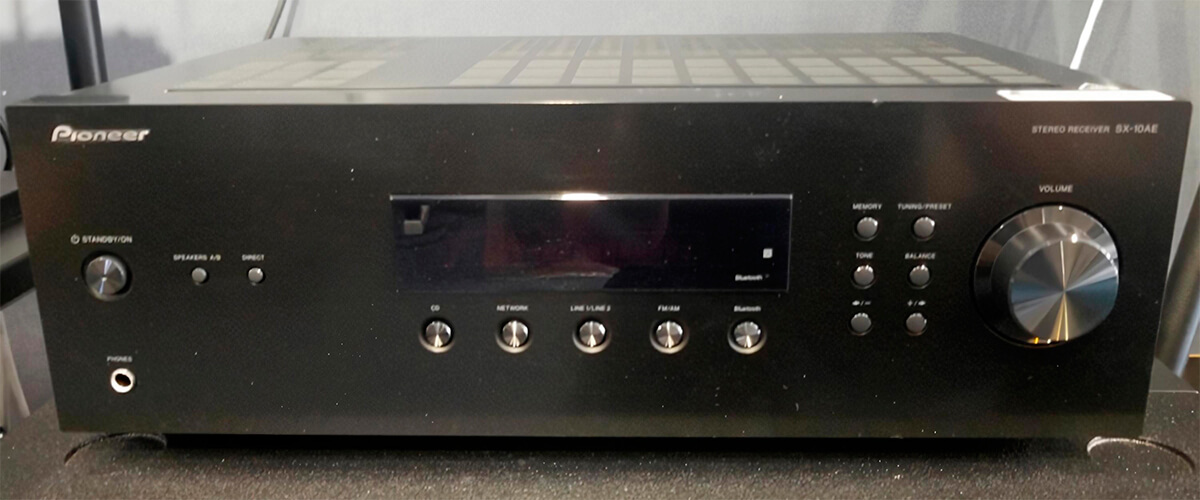 Regardless of the source, I got a harmonious and fairly balanced sound from the receiver. Let it not have a too high resolution at HF and not limitless bass dynamics corresponding to the class, but it is embossed and comfortable for perception.
Pioneer SX-10AE is the best Pioneer stereo receiver for those who, for various reasons, do not want to spend a severe budget on the setup but, on the other hand, expect a relatively harmonious and, if possible, dynamic sound.
Key specs
Channels: 2.0.
Power output: 45W/8 Ohm.
HDMI inputs/outputs: 0/0.
Phono Input: no.
Bluetooth/Wi-Fi: yes/no.
Streaming services: no.
Pros
Excellent value for that money.
The sound for Bluetooth streaming goes without delays or interference.
Cons
No crossover on subwoofer output.
Pioneer VSX-935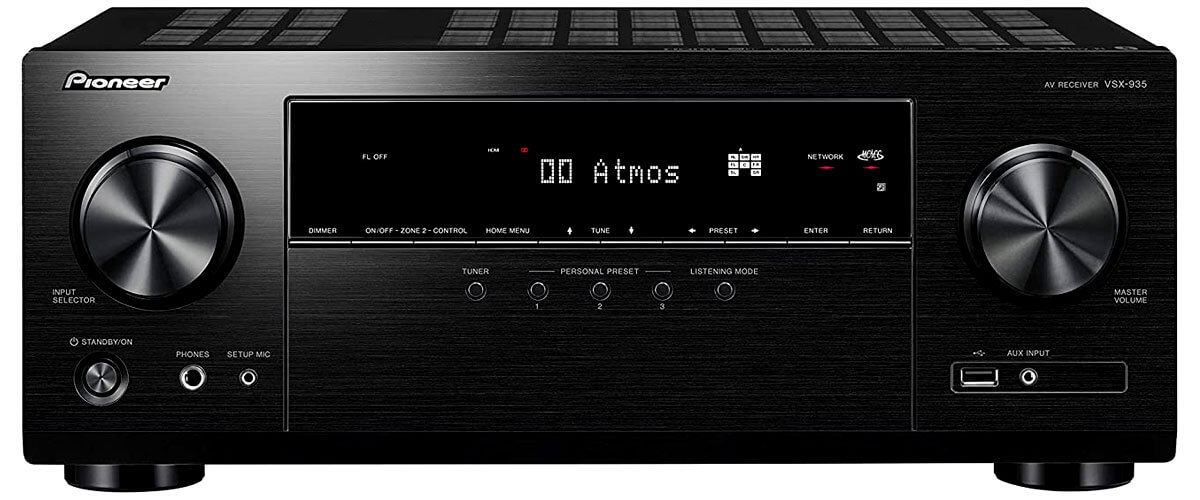 Pioneer VSX-935 is a mid-range 7.2-channel receiver, which can be transformed into a 5.1.2 Atmos/DTX-X setup. Each channel delivers 80W of power at 8 Ohms with THD 0.08% and 170W at 6 Ohms, which is more than enough for you to enjoy a distortion-free sound from your home speakers.
This model has six HDMI inputs and two outputs. You can also use two digital audio inputs (one optical and coaxial). I like that there are front USB and 3.5mm stereo mini jack ports for easier access. The in-built 5 GHz/2.4 GHz Wi-Fi and Bluetooth make using the receiver more convenient and versatile. One more bonus – compatibility with major streaming technologies (Sonos, Chromecast, AirPlay 2, and DTS Play-Fi) and services (Spotify, Amazon Music, Pandora, TIDAL, and Deezer). Note that when you stream music through built-in applications, the sound is significantly better than when connected via Bluetooth.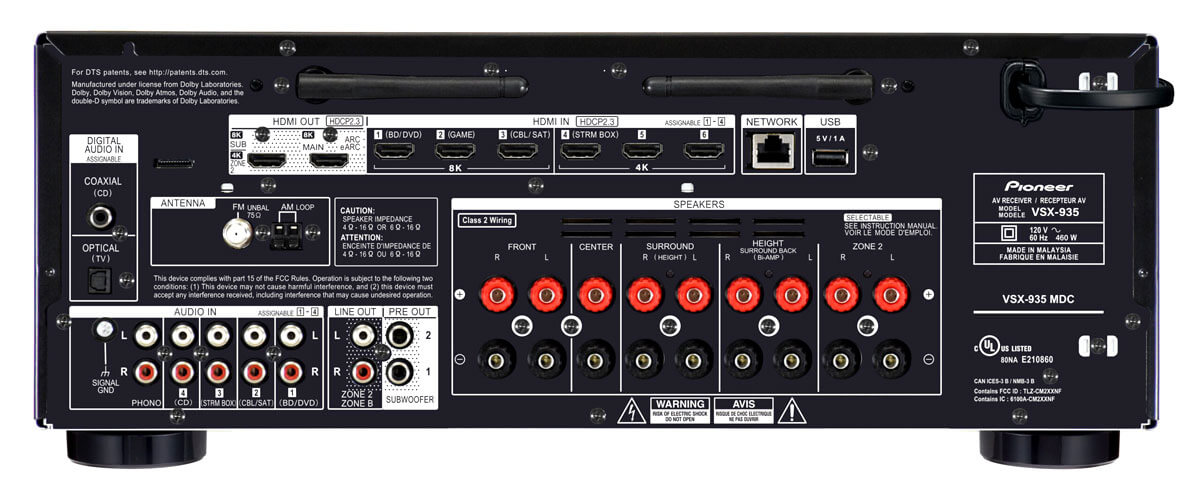 The design of the Pioneer VSX-935 is standard. Ergonomic and uncluttered. The remote control extends the capabilities of the front panel. If you prefer voice assistants, you'll be happy to know that this receiver supports Google Assistant and Amazon Alexa.
The receiver supports 8K60 and 4K120 as well as HDR10+, HDR10, and HLG Dynamic HDR. In addition, with its 4K to 8K upscaling function, from 1080p to 8K/4K, you can enjoy your old videos in new and better resolution.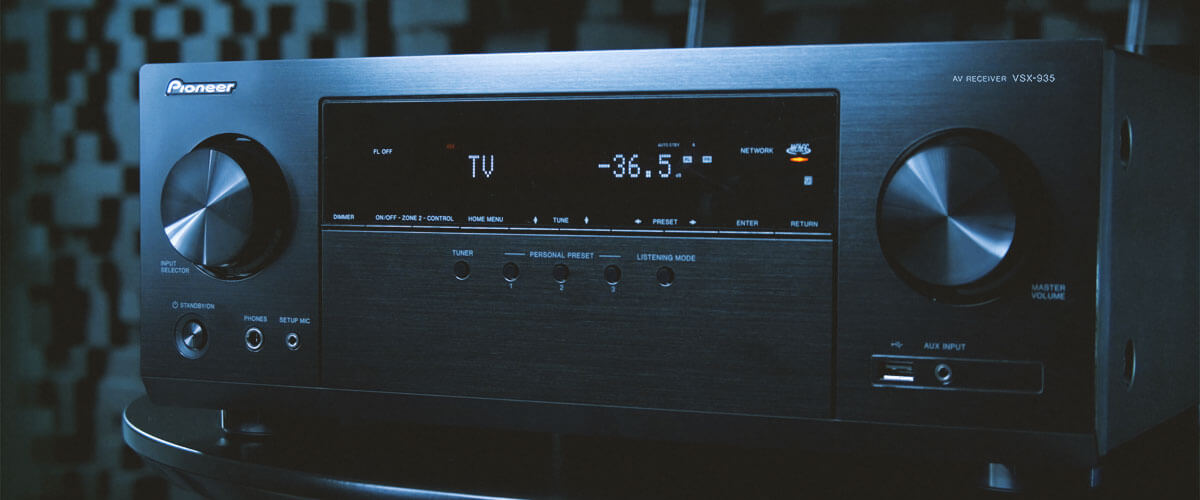 My favorite part about this device is its optimization for gaming, which sets it apart from Pioneer SX-10AE. The VSX-935 model features 4K/120Hz HDR pass-through for ultra-fast motion. With the ALLM (Auto Low Latency Mode), I easily optimized latency from my console to screen, while QFT (Quick Frame Transport) limited lags for a smoother gaming experience.
It is one of the most successful models from Pioneer. It has all the functions and features a good receiver needs. As a result, great sound and enjoyment from movies, games, and music are guaranteed.
Key specs
Channels: 7.2.
Power output: 80W/8 Ohm, 170W/6 Ohm.
HDMI inputs/outputs: 6/2.
Video functions: 4K/120, 8K/60Hz pass-through, upscales HD video signals to 8K.
Bluetooth/Wi-Fi: yes/yes.
Streaming services: AirPlay2, Spotify, Pandora, Deezer, Tidal.
Supports HDMI ARC, HDMI eARC, HDCP2.3, HDR10, 3D Ready, Dolby Vision, HDMI x.v. Color.
Surround sound: DTS-HD Master, DTS:X, DTS Neural:X, DTS Virtual: X, Dolby TrueHD, Dolby Digital Plus, Dolby Atmos.
Pros
Supports the latest audio and video technologies.
Has an optimal number of outputs and inputs to hook up devices.
There is a 4K to 8K, 1080p to 8K/4K upscaling.
Optimized for video games.
Cons
You may see a reduction in audio quality when streaming via Bluetooth.
Buyer's guide
How many channels do I need?
Home theater systems now come in a variety of sizes and combinations. The most common 5.1 systems with five speakers and a subwoofer. As an extension, the very popular 7.1 with two additional surround speakers. Dolby Atmos and other formats with additional ceiling speakers have been gaining popularity for several years now.
The classic choice when setting up your first home theater system is 5.1. Here, 5.1 stands for five speakers providing all-around sound and a subwoofer that fills the room with deep bass. However, if you want to keep up with the times and hear a 3D sound, that is, additional sound from above, you need a system of at least 5.1.2. Two on the back means an extra two overhead speakers. Here, I need a receiver that offers 7.1 channels. If, for example, a 5.1 system already exists, you can leave it as it is and update it with two overhead speakers and a suitable AV receiver.
How much power per channel do I need?
This is the amount of power the amplifier will send to the speakers and can range from 30W to 500W. Here, it is worth noting that it is customary to specify the so-called RMS (Rated Maximum Sinusoidal) or rated power in this case. The rated power is the highest power that the amplifier is guaranteed to deliver without interruption for an hour without any malfunction or breakdown.
The power of the amplifier largely determines the volume of the loudspeaker connected to the unit. The volume also depends on the characteristics of the speakers – sensitivity, impedance, etc. All other things being equal, the same speakers will sound louder with a more powerful amplifier. In addition, this parameter also affects the compatibility of speakers and amplifiers – it is considered that the difference in the rated power of these components should not exceed 10-15% (and ideally, the power should coincide at all).
And since different rooms require different wattages, this also affects the choice of a surround sound receiver for a particular environment; specific recommendations on the ratio of room characteristics and speaker power can be found in particular sources.
Pay attention to your connections
HDMI
The most important terminal today that a receiver must be equipped with is HDMI. But their number in your receiver should be determined by your needs. If you have a lot of audio and video equipment in your home, six inputs might be enough, while three HDMI inputs might be enough for other users.
However, remember, the abundance of ports increases the cost of the equipment, so it is better to know in advance how many pieces of equipment you are going to use before you splurge. But on the other hand: a receiver will last a long time. Over the years, you will probably upgrade your system with new devices, many of which will require a separate HDMI port.
Other wired terminals
For audio devices without HDMI connections, such as a CD player, RCA or optical digital connections are best. If you have a turntable, you should consider having a phono output on your receiver. Or you can add a phono preamp to any receiver that lacks a phono input. Some turntables have built-in phono preamps.
Wireless connections
Wi-Fi and Bluetooth have already become mandatory technologies for most classes of receivers. Bluetooth streaming lets you send audio from your phone or tablet to your receiver for playback on your surround speakers. On the other hand, connecting the receiver to your home Wi-Fi network means you can play music or video from any device connected to it, such as your PC.
AirPlay
Another great option is AirPlay. It is similar in purpose to Bluetooth. It is also used for wireless music streaming. Broadcasting takes place via Wi-Fi and has a reasonably high quality. And if the receiver is compatible with the AAC codec, the sound will be very high. However, this feature will only be helpful for owners of Apple devices.
Streaming Services
Many receivers can be connected to your home network and also provide direct playback of music from Internet services such as Pandora, Spotify, Deezer and various Internet radio portals. You can also play music and photos directly from your computer or network hard drive.
What is multi-room audio and do I need it
One of the advantages of 7.1-channel receivers is the presence of two additional channels that can be used for sounding another room. Most of these receivers can even broadcast different audio sources to two rooms.
However, not everything is so universal. Most receivers cannot pass any digital input source (HDMI and digital audio input) to the second zone. Finally, remember that you probably won't be able to control the second source from the remote.
Thus, even if you think you need a second audio zone feature, make sure you are aware of all the restrictions. It is easier to install trim, separate audio systems (or Bluetooth speakers) in the second room in many cases. This wireless multi-room can be organized thanks to the technologies of Sonos, HEOS, Music Cast, and many others.
AV receivers ratings by brands