AV receiver is a multi-channel device with digital audio stream decoders, tuner, and switcher for audio and video signals for use in home theater systems. These devices allow you to take sound to a whole new level and consequently get the most possible emotions from movies, music, or games. One of the old-timers and leaders in this market is Sony. Many people want to choose the best Sony receiver but get lost among the many series and models.
Our pick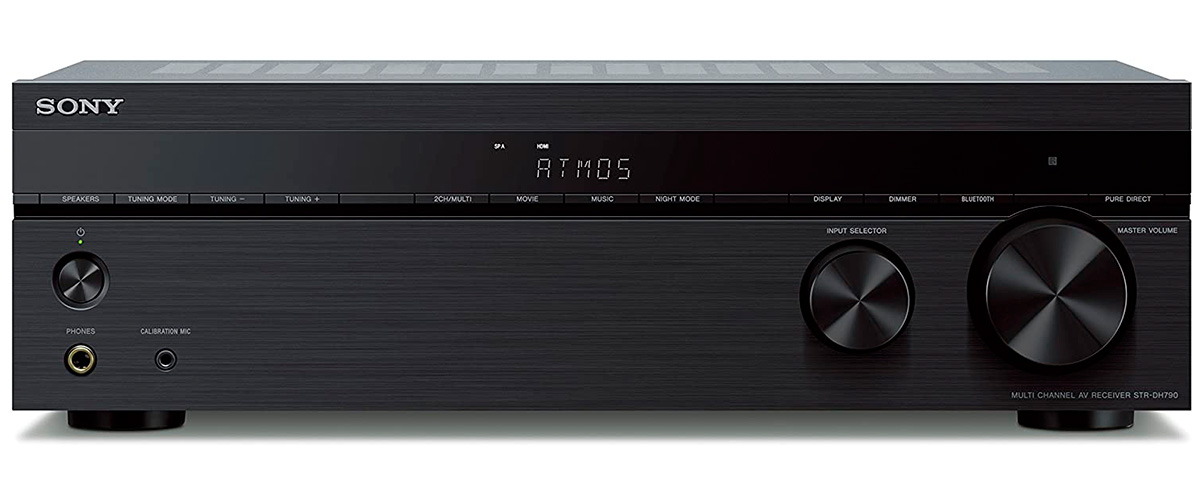 Sony STR-DH790
Best Sony Receiver
Experience the same all-encompassing surround sound you get in movie theaters at home with Dolby Atmos and DTS:X support.
Read the full review
.
Today I have prepared the most unique and successful series of receivers from Sony. ES is Japan's oldest hi-end series. It topped the company's story with a more extraordinary aura than the competition because of the incredible quality that has earned her worldwide recognition. For over 40 years of its existence, ES has experienced everything: ups, downs, creating revolutionary things, registering many patents, and radically changing the market. I'm sure you are extremely intrigued. So let's get to the fun part without delays!
Sony receivers comparisson table
Name
Channels
Power output
HDMI in/out
Bluetooth/Wi-Fi
Review
Sony STR-DH790

best overall

7.2
145W/6 Ohm
4/1
yes/yes
Review
Sony STR-DH590

budget

5.2
145W/6 Ohm
4/1
yes/no
Review
Sony STR-ZA3100ES

under $2000

7.2
110W/8 Ohm
6/2
yes/yes
Review
Sony STR-ZA2100ES

under $1500

7.2
105W/8 Ohm
6/2
yes/no
Review
Sony STR-ZA1100ES

under $1000

7.2
100W/8 Ohm
5/2
yes/no
Review
Sony STR-DH190

stereo

2.0
100W/8 Ohm
0/0
yes/no
Review
Budget and expensive Sony receivers: what's the difference?
Choosing an AV receiver can be quite difficult for newcomers to the audio world due to the abundance of technical aspects. Therefore, to prevent you from buying an unnecessary or useless thing or spending too much money, I will help you to understand the main aspects.
First of all, you must answer the question – why are you building a multi-channel system? If this will be a basic home theater system, mainly focused on your TV's networking and multimedia capabilities, then your choice will fall on the budget and mid-budget models. And if it is a full-featured home theater, which involves connecting any modern sources from a game console to a vinyl player, the choice is obvious – you need the model of the highest class.
With budget models, you will have a basic 5.1 system operating in Dolby Digital and DTS formats. Mid-range models and higher have a wide range of playable formats and can include such modern options as Dolby Atmos, DTS-X, Auro 3D, and the configuration expands to 11.2.
Do not forget that the capabilities of the video path also significantly affect the price. Many video outputs, components, HDMI pass-through, and more are found in top Sony receivers. But often, a wide range of users do not need this because the only thing they use is HDMI.
In addition, the Sony AVR becomes more expensive when, in addition to the video outputs, you have the option of up-scaling: the receiver scales the video input to 4K or even more. Moreover, 4K receivers come with a complete set of technologies without which the image will not be so good: HDR, Dolby Vision, HLG, and others.
As for other functions, the need for Wi-Fi, Bluetooth, DSD playback, AM/FM tuners, music streaming services with Hi-Res audio formats, and compatibility with multi-room technologies are present to some extent in most modern models. But the trend is the same – the more expensive the receiver is, the more extensive the set of wireless features you get. So in this regard, to choose the best Sony AV receiver, you should be guided solely by the tasks to solve.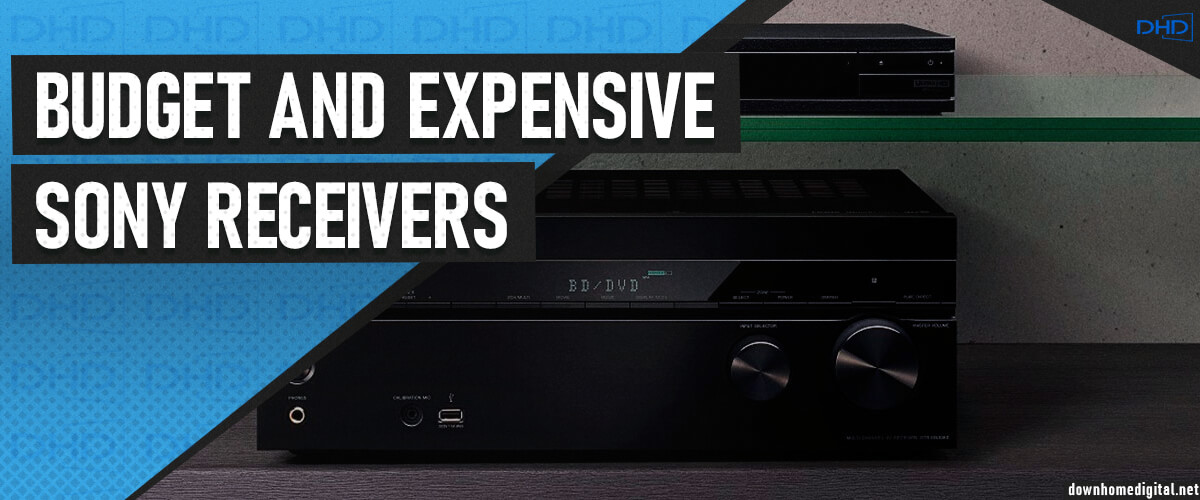 How I picked and tested Sony receivers
I always approach the testing of models very carefully, especially when it comes to surround sound receivers. I test not only their features and functions but also surround sound and music capabilities. I chose Spider-Man: Homecoming, which I find perfect for the test.
And to assess the musical possibilities, I listened to the following tracks in different genres from different sources:
The Weeknd – The Hills – Deezer
Jacky Terrasson – Reach – Tidal
Mahler – Symphony No.2 – Spotify
Arctic Monkeys – Do I Wanna Know – (CD player)
Led Zeppelin – Ramble On – (CD player)
Bob Marley & The Wailers – Turn Your Lights Down Low – (CD player)
Radiohead – The National Anthem – (CD player)
Mark Nauseef – With Space in Mind – (CD player)
In my test, I used the following equipment to choose the best Sony receiver:
CD player SACD 30n
Blu-ray player Sony UBP-X700
Speaker wire – AudioQuest Type-9
Speakers for movie – Klipsch RP-8060FA
Stereo speakers:

Klipsch RP-8060FA
KEF Q350
DALI OBERON 5
Best Sony Receiver Reviews
Many people often admire expensive models of the premium segment, but more affordable models, which optimally combine price and quality, deserve no less attention. Such a model is the Sony STR-DH790, which I put at the top of my list for a reason.
The first thing that catches your eye when looking at the box is the "145W x 7" label, which looks impressive. There are 7 channels in the model, and they are organized with enough flexibility to allow you to do two-way amplification of the front pair of stereo speakers or get surround sound from a pair of rear/upper speakers in Dolby Atmos and DTS:X format. I should note that future DH790 owners will have to make a few compromises. First, the receiver requires speakers with a minimum impedance rating of 6 ohms. Four-ohm speakers are not supported. Second, all channels, except for the front left and right, use spring terminals rather than screw terminals, which require cables up to 1.5 mm in diameter. In my opinion, such a solution was an unnecessary cost-saving measure.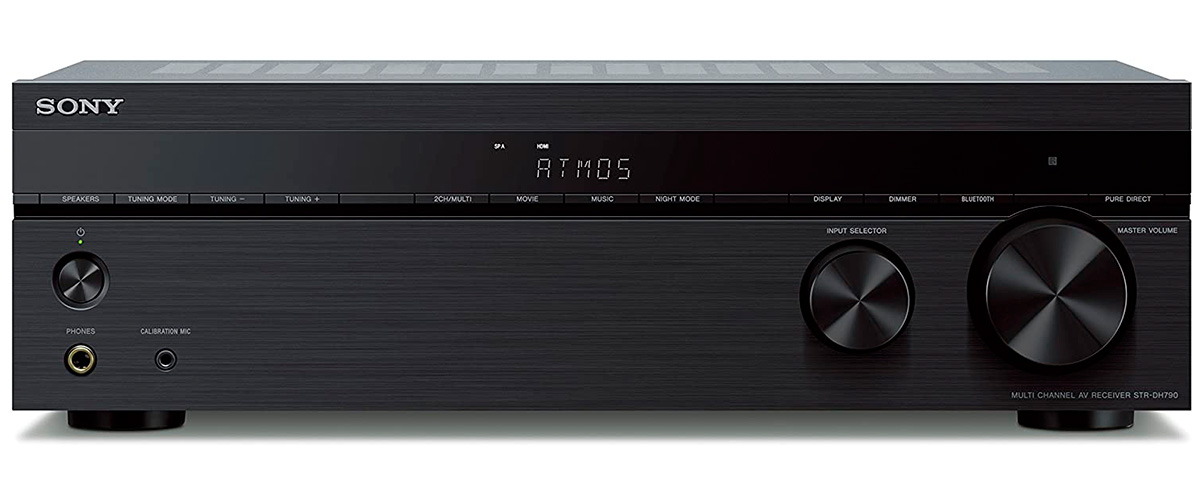 The model has 4 HDMI inputs with the features associated with this standard. According to the list of specifications, they support signal quality up to 4K at up to 60Hz, HLG and Dolby Vision formats, 3D, Deep Color technology, BT.2020 color space, and HDCP 2.2 data protection protocol. There is only one HDMI output.
STR-DH790 has no analog video outputs, but there are four analog audio inputs, as well as coaxial and optical digital audio outputs. Of course, the selection is not the widest, but it's enough for most small and medium-sized systems. There is also a 6.35 mm headphone output on the front panel's left side.
The model lacks some of the elements that users of expensive systems are accustomed to. For example, there is no second zone support, and media files are not readable through the USB port, which only serves as a power source for charging your smartphone or iPod. The lack of network connections such as Wi-Fi or Ethernet is also noticeable. However, Bluetooth is provided. Here, the receiver supports the AAC codec, allowing you to get sound from Apple devices in the finest possible quality for Bluetooth.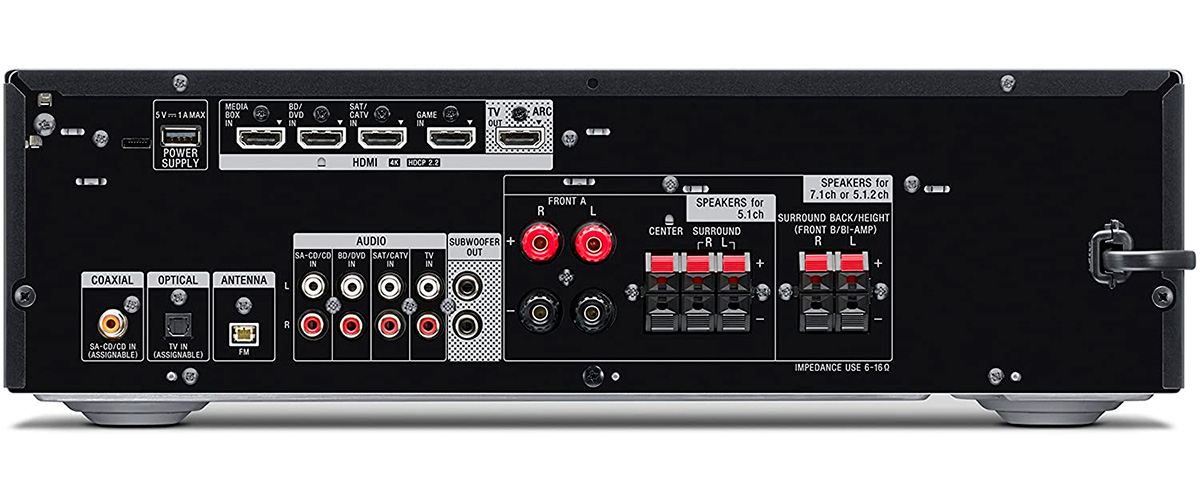 But is network constraint a serious factor in the purchase decision? In my opinion, it's not. Most of the AV receiver's networking tasks can be outsourced to much less expensive Blu-ray and Blu-ray UHD players. In addition, many networking tasks can be performed on modern TVs, including the same Sony Android models.
The receiver features auto-calibration, which detects the speakers' size and distance from the listener's position, sets their level, and adjusts the equalizer. The process is swift and simple, and you just need to place the supplied microphone in the right place and run it.
I would like to take a particular look at the Sound Effect option. It allows you to make important settings, namely to select the sound field, such as Dolby Surround, Neural-X, Front Surround, Stereo, etc. There is a description of each of these in the instruction manual. The wide range of sound settings with different effects makes it difficult to select them, so this feature, which offers ready-made audio modes, is convenient. The Sound Effect tab also has a night mode, EQ (low and high-frequency balance adjustment) for each pair of channels, and calibration type – Engineering, Front Ref, Full Flat, and Off. They define the pattern that the auto EQ curves should follow. Front Ref is designed for those who prefer to avoid powerful sound effects in the front speakers and prefer the other speakers to match them tonally. Engineering brings the sound up to Sony's standard room frequency response. Full Flat equalizes the frequency response of all speakers, and Off disables EQ.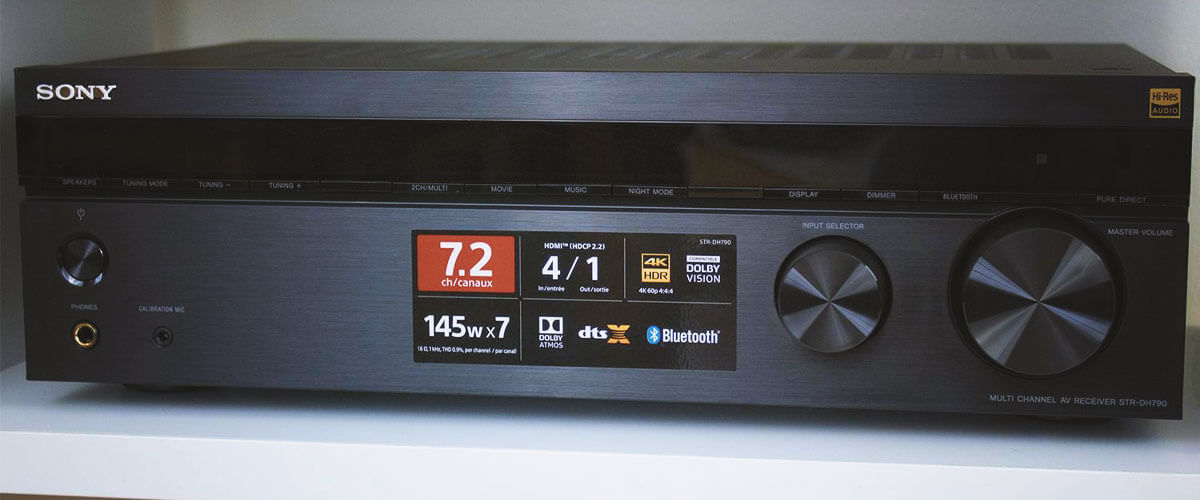 As for the sound, I tested it on a simple 5.1.2 Dolby Atmos configuration. I have noted before that the difference between the top two and top four speakers is minimal for a single viewer. In addition, the Sony auto-calibration feature worked perfectly, and I really enjoyed the sound quality!
I fully appreciated the delights of the object-oriented Atmos format, feeling all of Spider-Man's jumps and could even track his trajectory. The soundtrack to the film, played by DH790, was rendered with a high degree of realism.
The quality of the music was equally excellent, which I tested in Stereo, Direct, and Pure Direct modes along with the standard All Channel Stereo.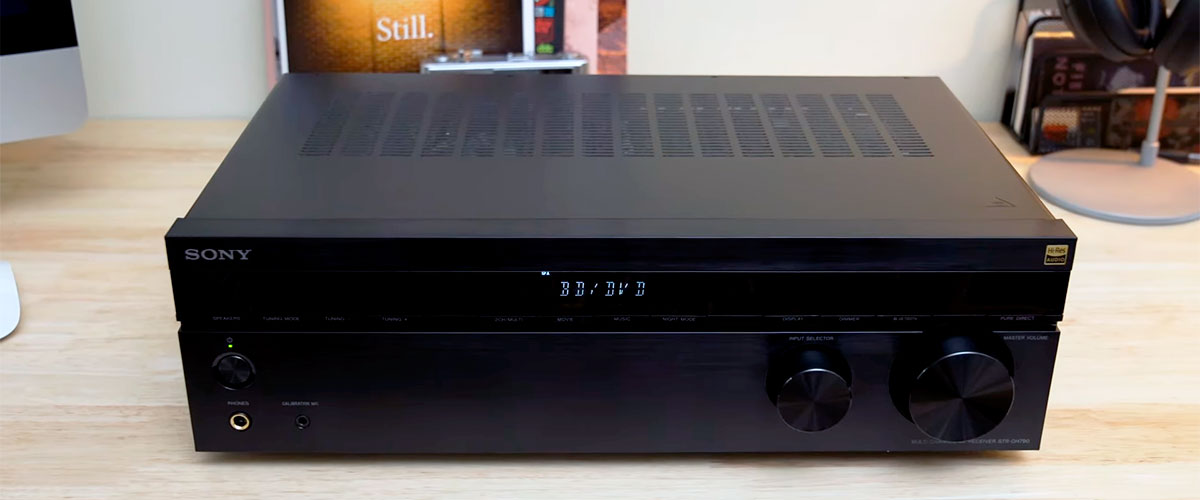 The Sony DH790 has built-in overload protection. When I tried to insert the wrong speaker cable into the clamp connector, a short circuit occurred. The overload and protection message appeared briefly on display, and then the receiver shut down. After fixing the speaker connection situation, I turned the receiver back on through the front panel button since the remote did not work in safe mode. It started with no problems, with the volume prudently resetting to zero.
The Sony STR-DH790 is a well-equipped receiver that provides high-quality surround sound in Dolby Atmos and DTS:X format for an affordable price. Can you find better quality in the market? Absolutely, but hardly in such an optimal price-performance ratio.
Key specs
Channels: 7.2.
Power output: 145W/6 Ohm.
HDMI inputs/outputs: 6/2.
Video functions: 4K/60Hz pass-through.
Bluetooth/Wi-Fi: yes/no.
Streaming services: no.
Suppots HDMI ARC, HDMI eARC, HDCP2.2, HDR10, Dolby Vision.
Surround sound: DSD, DTS-HD Master, DTS:X, Dolby Digital, Dolby Dual Mono, Dolby Atmos.
Pros
Excellent sound quality.
Neiral X sound processor, which adds spatiality to the sound of conventional stereo.
Signal-to-noise characteristics are higher than those of the more expensive Denon.
Not much heat and does not make extraneous sounds.
Bluetooth module compatible with the AAC codec.
Sony STR-DH590 – budget Sony receiver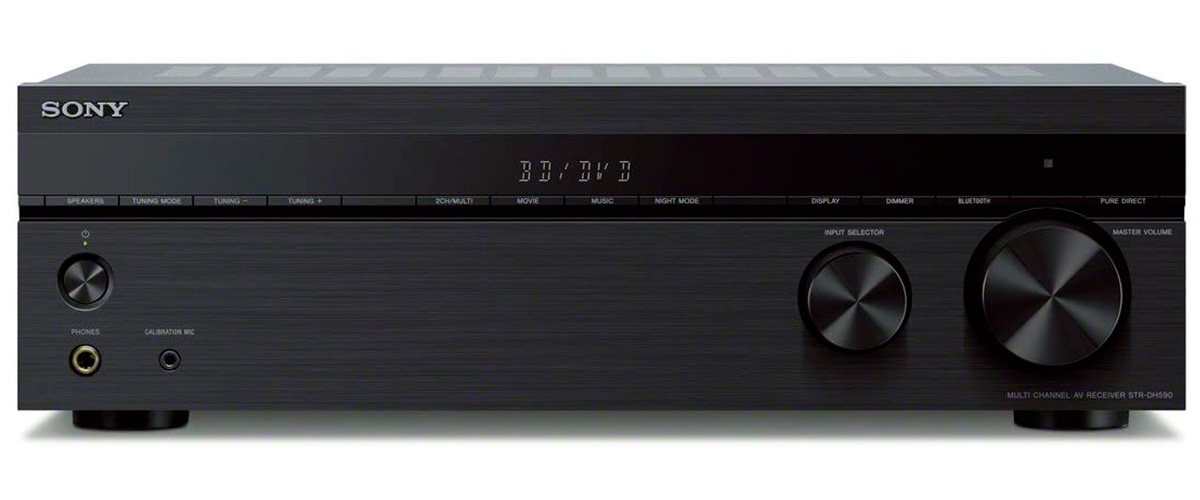 The Sony STR-DH590 delivers 5.2 quality sound with 145 W/6 Ohm per channel. And I think I should say that it is impossible to use a 7.1 configuration with this device, and 192 kHz/32-bit converters provide that amplification.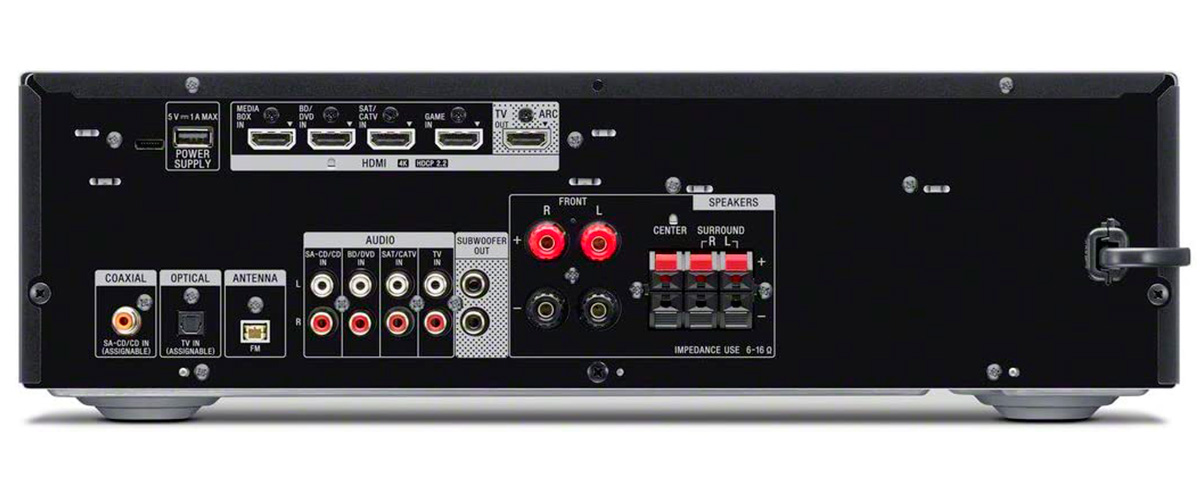 In terms of connectivity, the Sony STR-DH590 offers everything you need for an entry-level receiver. Thus, 4 HDMI inputs can carry Ultra HD and 3D signals without loss of sound or even without colorimetric sampling. The ARC output provides the output. All HDMI 2.0 inputs that are HDCP 2.2 compliant for transmitting all existing video streams to your TV. Supports 4K at 60Hz with HDR10, HLG, or Dolby Vision dynamic metadata.
As expected from the Sony receiver, the sound during the test was excellent, but not without the help of S-Force Pro Front Surround technology. I heard an enveloping sound with precise positioning of audio objects. And thanks to Sony's Dolby Pro Logic DSP and DSP technologies, the sound was as detailed as possible, with no loss.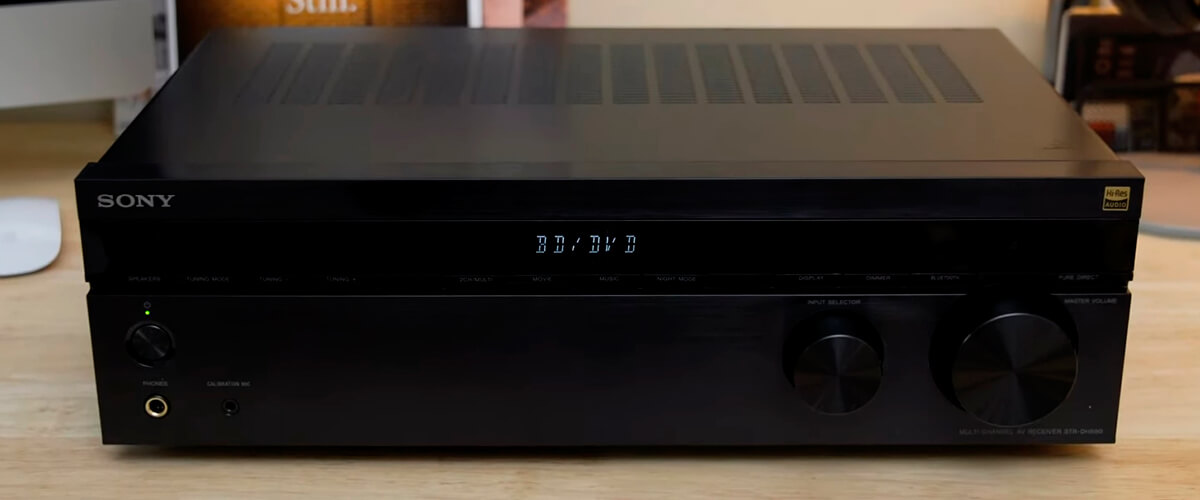 With Hi-Fi music, the receiver also copes well because of the vast number of supported codecs. Sounds excellent and loud. And I was most pleased with the presence of music transmission via Bluetooth. The sound was pleasant, with no lag or interference.
Sony STR-DH590 has the actual performance expected from the best budget Sony receiver. Among other things, I have to highlight HDMI 2.0 compatibility, Bluetooth wireless communication. And all this in a compact and discreet receiver.
Key specs
Channels: 5.2.
Power output: 145W/6 Ohm.
HDMI inputs/outputs: 4/1.
Video functions: 4K/60Hz pass-through.
Bluetooth/Wi-Fi: yes/no.
Streaming services: no.
Supports HDCP2.2, HDR10, Dolby Vision.
Surround sound: DTS HD Master, Dolby Digital.
Pros
Superior sound reproduction thanks to an automatic calibration system.
No loss of quality when playing via Bluetooth.
Dolby Atmos format supported.
Cons
No wireless Wi-Fi or Ethernet connection.
There is no way to create a multiroom.
Sony STR-ZA3100ES – top Sony under $2000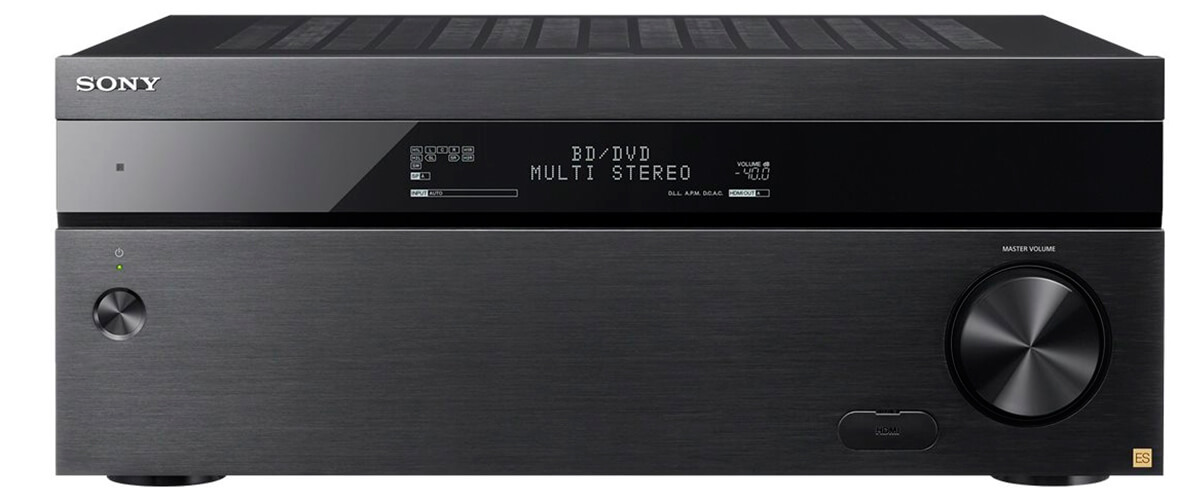 The Sony STR-ZA3100ES supports 110 W at 8 Ohm actual power but can boost up to 9 (using an external amplifier) + 2 simulated channels via the Phantom system. Moreover, I can note the presence of the latest in surround sound formats such as Dolby Atmos and DTS: X in the 7.2 configurations. And such good specs lend themselves to full automatic calibration thanks to D.C.A.C. EX. This system can analyze 31 frequency bands to adjust the response of the speakers according to the spatial characteristics of the room.
The receiver has good video capabilities. STR-ZA3100ES is compatible with UHD / 4K signals with HDCP 2.2 protection, HDR color space, and BT.2020.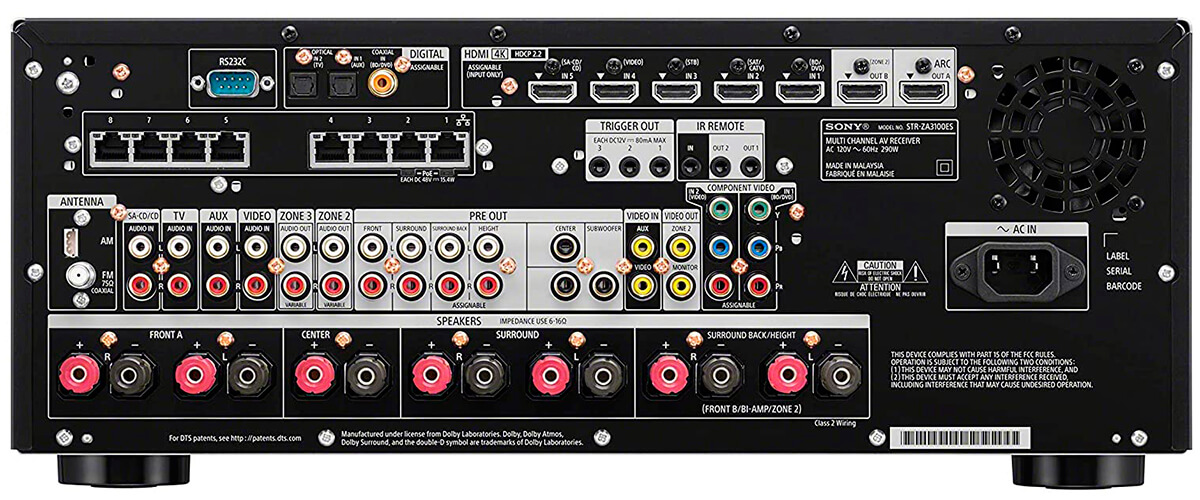 However, what really disappointed me was the lack of wireless communication protocols. In this receiver, I did not find any AirPlay, Bluetooth, or Wi-Fi. Internet connection is possible only via Ethernet. And then, the Internet connection is used only for connecting to the receiver via IP. This makes it possible to manage and configure the device.
I conducted the test, already expecting how the receiver would sound. And I was not disappointed. When watching a movie, I got an all-encompassing sound with precise positioning of objects on the sound stage. The film's dialogues were clear and seemed to come only from the center. The frequency response was balanced, and even the bass was powerful enough. I also liked the "live" movement of objects across the sound field. Each action was accompanied by a corresponding sound from the corresponding point. This maximized the atmosphere of presence.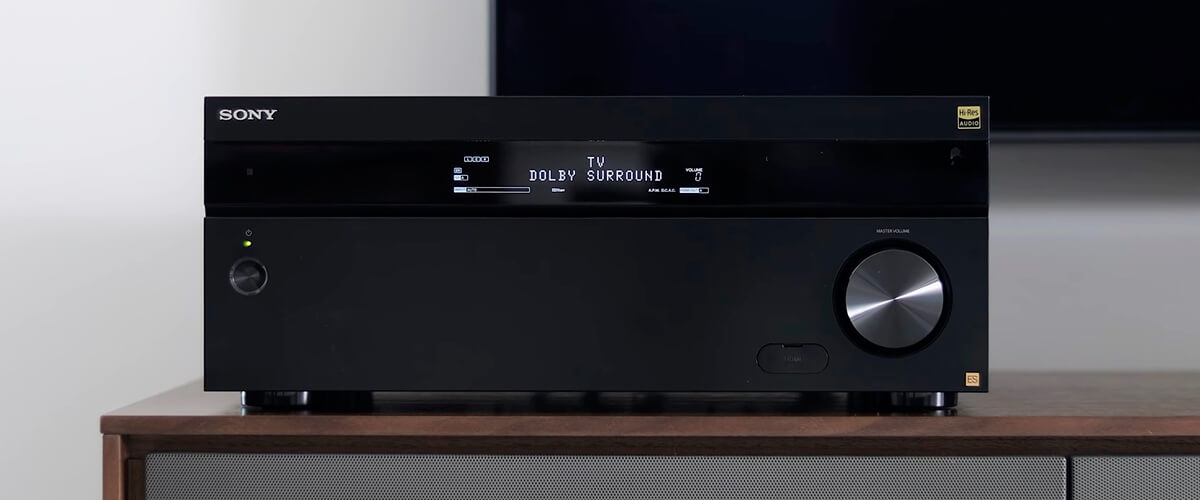 In terms of a Hi-Fi music system, the receiver also performed well enough. Although the upper and lower frequencies sounded good, the sound had accentuated mids but without apparent features. I can't emphasize sharp highs or deep bass. Everything is in place and the songs are played exactly as they were intended. Compared to the Sony STR-ZA2100ES, the STR-ZA3100ES has slightly better bass reproduction. Low frequencies begin to shake the room even at low volumes. I would even say that explosions and special effects are "physically" felt.
The Sony STR-ZA3100ES has proven itself to be an excellent home media center for movie lovers. The combination of pleasant sound and high-quality images will impress users. And I believe the STR-ZA3100ES is the top Sony AV receiver under $2000.
Key specs
Channels: 7.2.
Power output: 110W/8 Ohm.
HDMI inputs/outputs: 6/2.
Video functions: 4K/60Hz pass-through, upscales HD video signals to 4K.
Bluetooth/Wi-Fi: yes/yes.
Streaming services: AirPlay2, Spotify, Pandora.
Supports HDMI ARC, HDMI eARC, HDCP2.2, HDR10.
Surround sound: DTS:X, Dolby Atmos.
Pros
The receiver has wonderful speaker virtualization.
The sound is well detailed, and there are no problems with voice/dialogue recognition.
Cons
No AirPlay, Bluetooth, or Wi-Fi.
Sony STR-ZA2100ES – great Sony receiver under $1500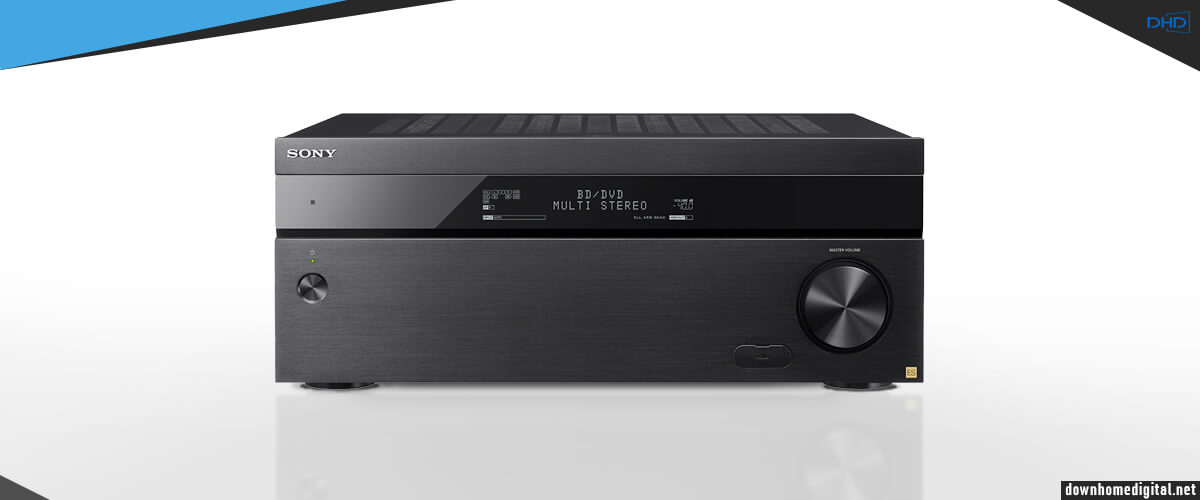 Sony STR-ZA2100ES is a large 7.2 channel receiver with 105 watts at 8 ohms per channel, which turned out to be slightly weaker than the Sony STR-ZA3100ES. This power of the amplifier section makes it possible to control the primary home theater system of speakers and sound Zone 2 and Zone 3.
I can say with confidence that the receiver has well-equipped the video path. It has 6 HDMI inputs and two outputs, as well as a component video terminal. The receiver is, of course, 4K compatible, so the video signal is outstanding quality, even 4K HDR! Since the receiver also has an up-scaling function, you can connect all devices that still support 4K and get a better image output. And the important fact remains that I can feed the image to two zones at once from different devices.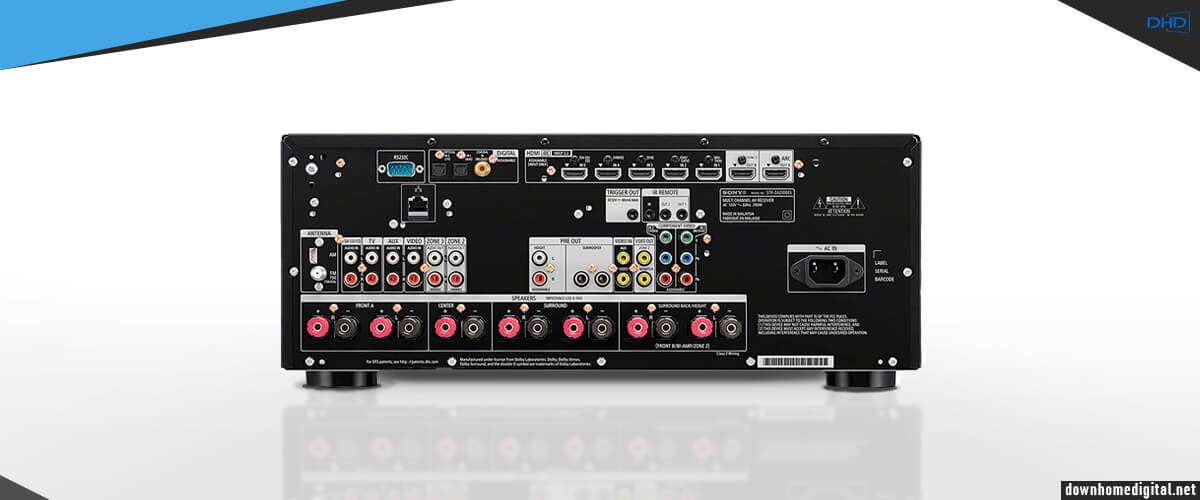 What strikes me as odd is the lack of a Bluetooth option. And not only Bluetooth. There is no wireless connection. I didn't see Wi-Fi, streaming support, or even a Chromecast on this receiver. The only way this receiver can communicate with the "outside world" is through the Ethernet port.
When starting the test, I used automatic calibration. This system pleasantly surprised me with the speed and accuracy of its work. In addition, I immediately use several virtualization modes to compensate for the speakers missing in the configuration.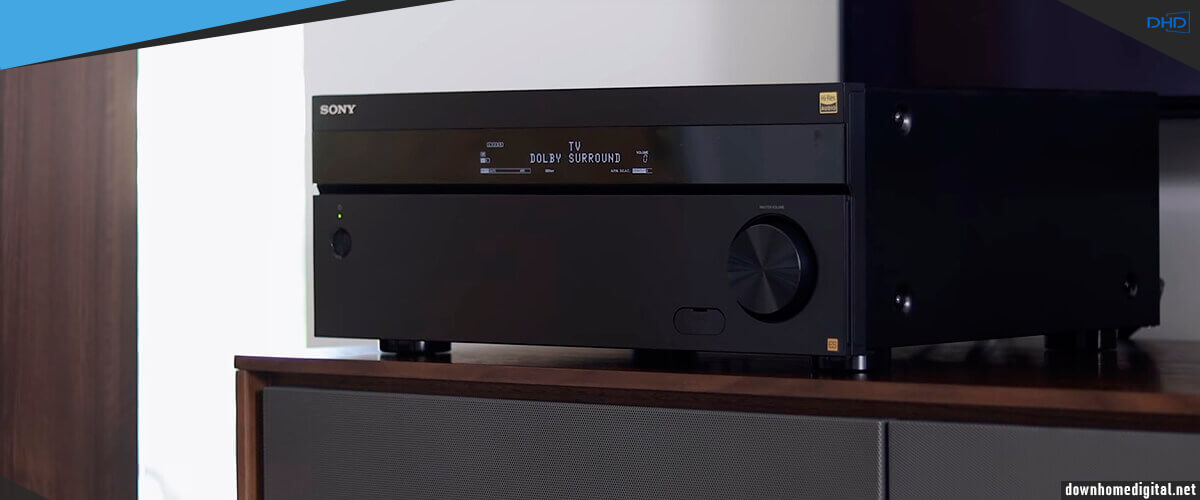 From the first minutes, I heard a balanced and detailed sound. The action scenes were lightning fast. I didn't notice any delay between sound and picture. With this sound, the film seemed very "alive" to me and I got an excellent movie experience. However, the bass turned out to be less saturated. I saw that the sound was simple and did not get chills. The situation is like music playback. The receiver emphasizes the midrange. The vocal parts are perfectly discernible, but the bass power is still lacking.
To summarize, I can say that this is an excellent receiver for creating a local home theater with outstanding 4K images. If you do not need to network services and music streaming from other devices, this receiver can be safely called one of the best Sony home theater receiver overall.
Key specs
Channels: 7.2.
Power output: 105W/8 Ohm.
HDMI inputs/outputs: 6/2.
Video functions: 4K/60Hz pass-through, upscales HD video signals to 4K Ultra HD.
Bluetooth/Wi-Fi: yes/no.
Streaming services: no.
Supports HDMI ARC, HDMI eARC, HDCP2.2, HDR10.
Surround sound: DTS:X, Dolby Atmos.
Pros
Excellent performance of the D.C.A.C. calibration system.
The presence of ARC HDMI.
Cons
No support for wireless technologies.
Weak bass.
Sony STR-ZA1100ES – perfect Sony receiver under $1000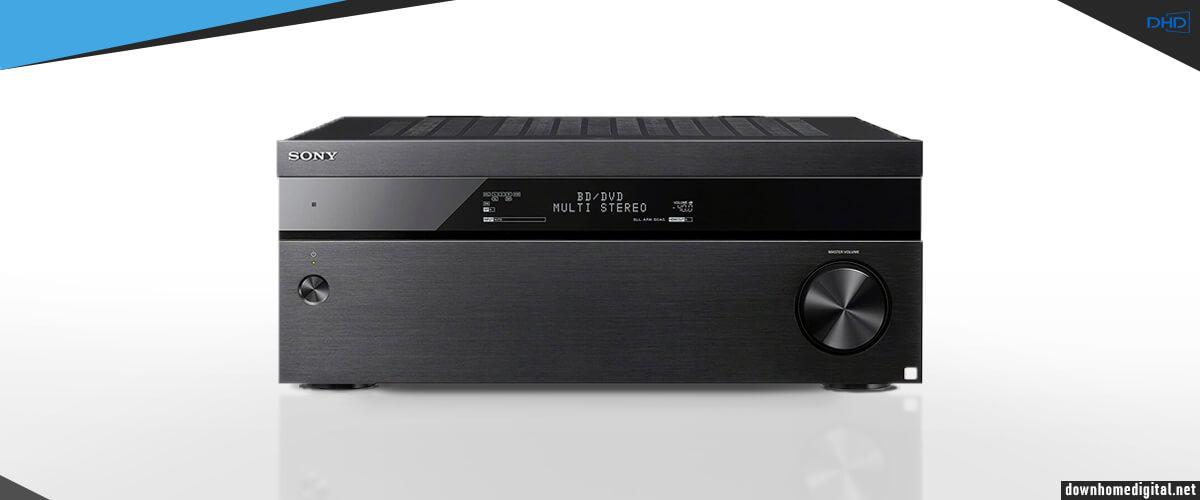 The next receiver on the review is the Sony STR-ZA1100ES. Like STR-ZA3100ES, this receiver works in a 7.2 configuration. Based on the ZA lineup and specs, I can say this receiver is aimed primarily at serving as a home theater center. Dolby Atmos and DTS: X sound decoders and sufficient power of 100 W at 8 Ohm per channel. Also, I cannot fail to mention the great option – Phantom Surround Back. It allows you to make the sound stage more spacious by creating virtual speakers.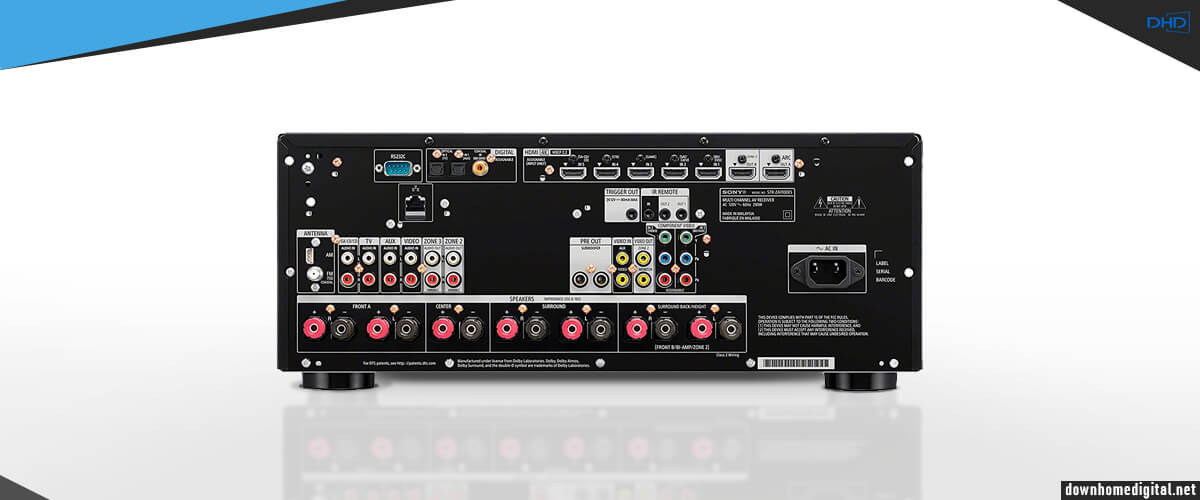 The STR-ZA1100ES fully supports 4K resolution in native mode and after up-scaling. Also, I enjoyed implementing the HDR and Dolby Vision modes, which positively affect the picture quality. All of these features are available on each of the HDMI ports. There are five inputs and two outputs, one of which is intended for displaying images to Zone 2 which the Sony STR-DN1080 model lacks.
Having tested the receiver with the film, I can say that the sound is really surrounded. Thanks to the D.C.A.C. customization system. All the sounds are in their places. The dialogues feel like they come straight from the screen. The dialogues are perfectly audible. And all the sounds move correctly across the sound stage in sync with what is happening on the screen. What I really lacked was the powerful bass compared to models with a more powerful amplifier. And yet I have to say that the bass, although not strong, is deep enough. In the scene with explosions, I got the right feeling of these effects.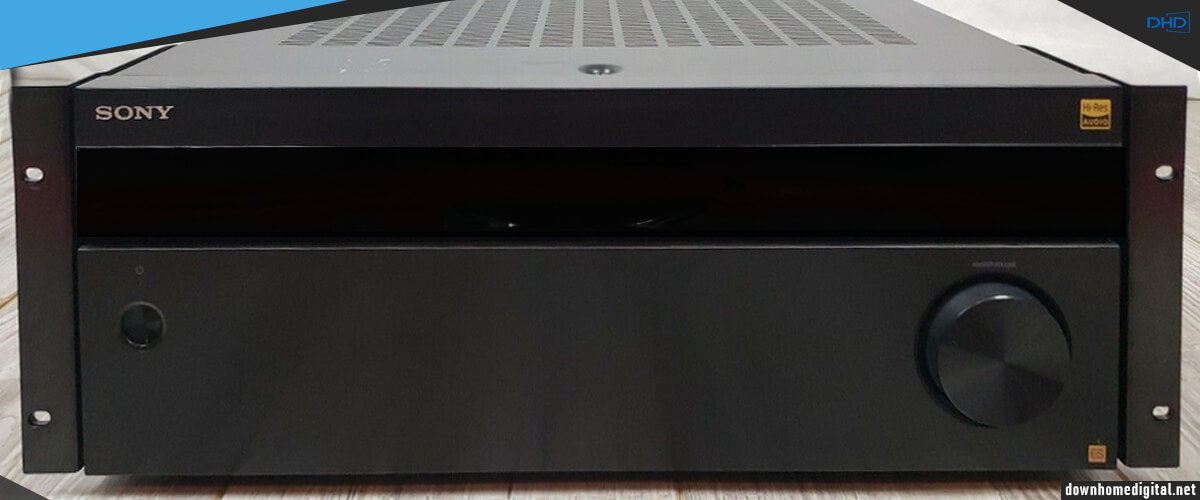 The situation with music is very similar. The sound is pretty detailed and clean. I would not say that there are any pronounced frequencies. It is simple but at the same time of high quality. A disadvantage, I would say, is the inability to play music from streaming services or via Bluetooth. Whether wired or wireless, I could distinguish each instrument in the songs. I especially liked the transfer of stringed instruments. Another important point that I would like to share is that Bluetooth supports the AAC codec. In combination with Apple devices, it is possible to get very high-quality sound even over Bluetooth.
The Sony STR-ZA1100ES is an awesome Sony home theater receiver under $1000 for creating a true home theater receiver. I can confidently note the excellent 4K picture quality and good sound with Dolby Atmos and DTS: X support.
Key specs
Channels: 7.2.
Power output: 100W/8 Ohm.
HDMI inputs/outputs: 5/2.
Video functions: 4K/60Hz pass-through, upscales HD video signals to 4K Ultra HD.
Bluetooth/Wi-Fi: yes/no.
Streaming services: no.
Supports HDMI ARC, HDMI eARC, HDCP2.2, HDR10.
Surround sound: DTS:X, Dolby Atmos.
Pros
Good sound quality and balance between movies and music.
Bass/Treble can be adjusted separately for front, center, and rear speakers.
Cons
There is no way to connect headphones.
Sony STR-DH190 – good stereo receiver from Sony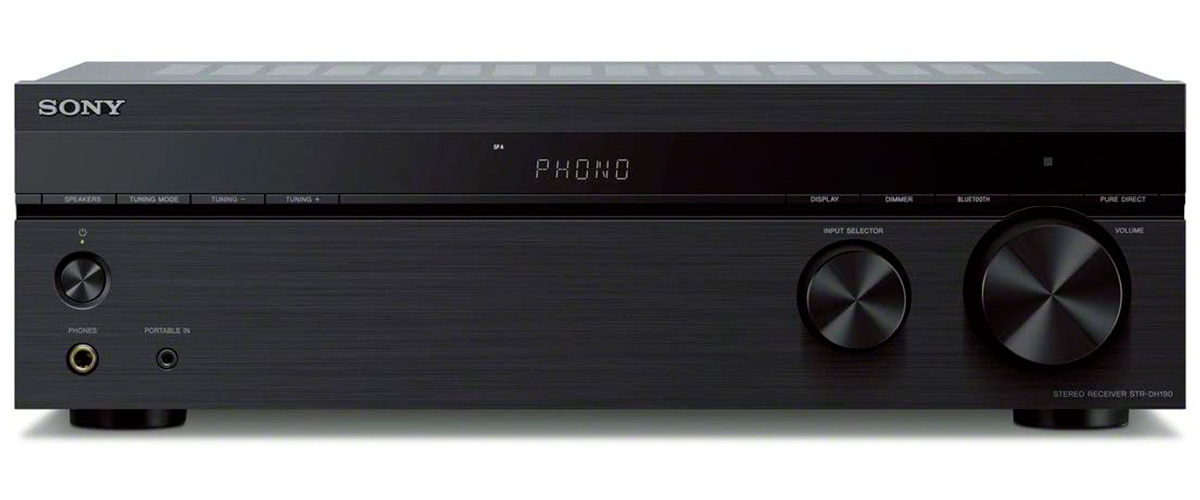 Sony STRDH190 is a complete home stereo receiver. For audio listeners who want modern sound, the NAD integrated amplifier sounds great; pumping out 100 watts per channel at 8 Ohm, the Sony has enough power to push any subwoofer to its loudest volume.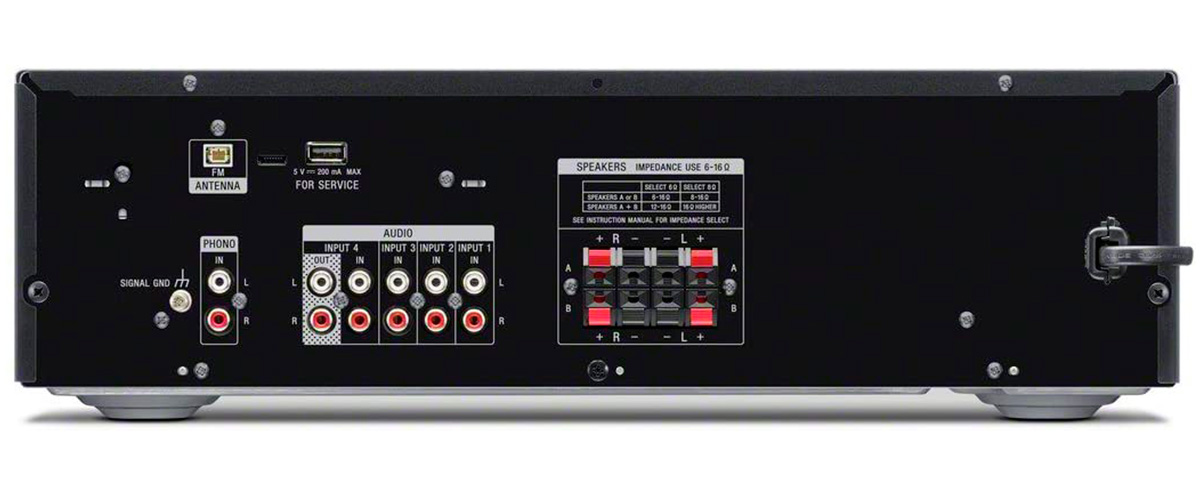 The fact surprised me that as for a simple stereo receiver, this Sony has ample connectivity. Namely, these are four analog inputs and one output connected to a CD player or other recording device. Sony can drive up to two pairs of speakers and have digital connectors on the back to connect to a subwoofer. An excellent option for vinyl lovers is that the STR-DH190 already has a turntable preamp. It is also possible to wirelessly listen from a smartphone, tablet, or computer via Bluetooth.
The Sony receiver does not disappoint from this point of view of playing music, especially for turntables. I heard an excellent quality sound and good frequency balance. With Hi-Res audio, the sound is clearer, allowing me to hear every detail of the individual tracks the way they were intended in the recording studio.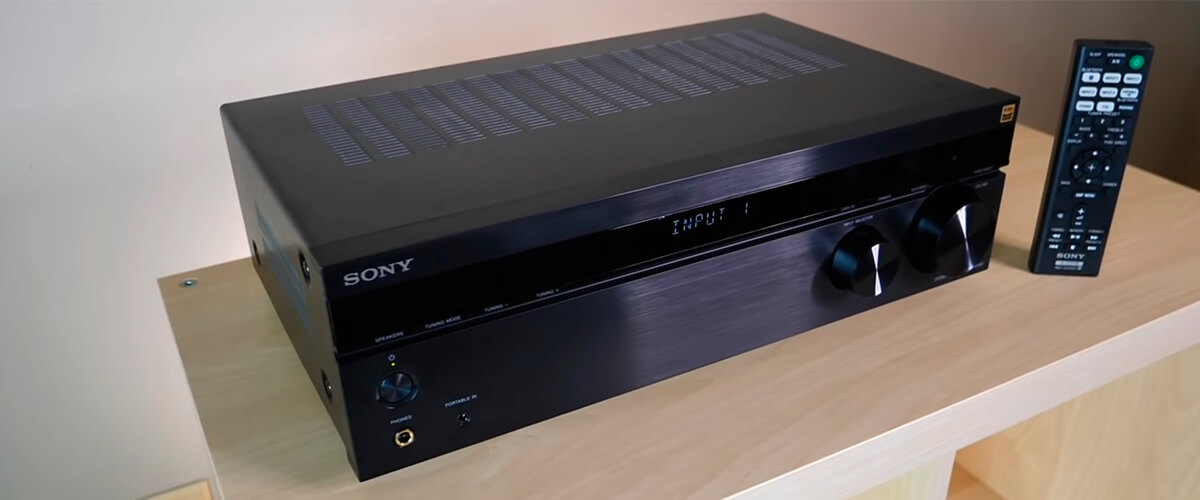 I find the Sony STR-DH190 capable of guaranteeing high performance when listening to music, but on the other hand, it is a rather limited product that cannot be used to set up a surround sound system.
Based on the test results, I can definitely call it a superior sound quality stereo receiver. If you are an audiophile looking for a quality product at an affordable price, then I can recommend it.
Key specs
Channels: 2.0.
Power output: 100W/8 Ohm.
HDMI inputs/outputs: 0/0.
Phono Input: yes.
Bluetooth/Wi-Fi: yes/no.
Streaming services: no.
Pros
There is a separate adjustment of the bass and treble levels.
Works great with bass at high volume.
Cons
The speaker cable connectors are pretty fragile.
FM function works only with a proprietary antenna from Sony.
Sony STR-DN1080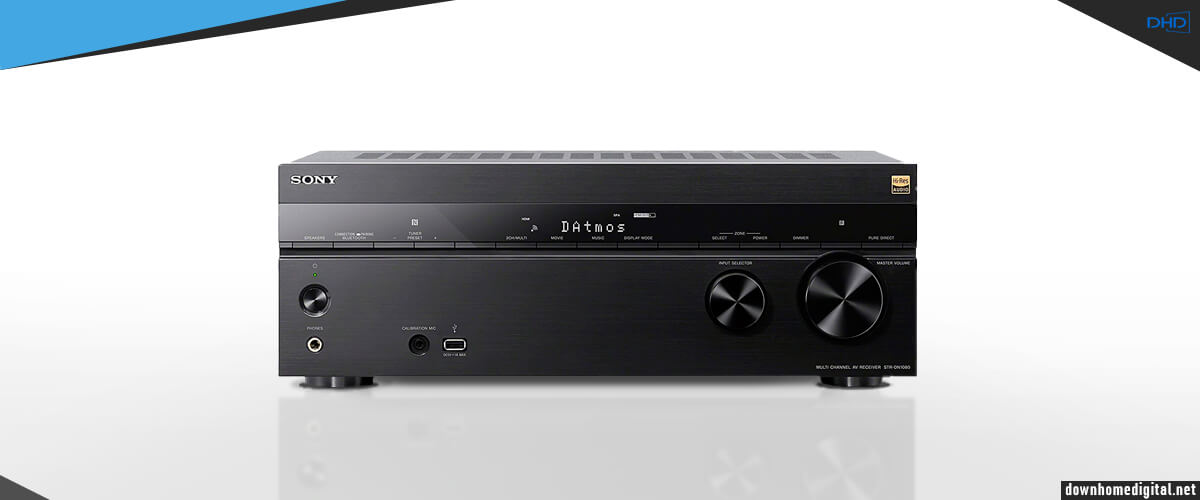 The Sony STR-DN1080 is a 5.1.2 or 7.2 unit with 165 W per channel (6 ohms) and is compatible with Dolby Atmos and DTS: X. I may note that the receiver plays high definition formats such as WAV, AIFF, FLAC, and ALAC, as well as native DSD playback via USB, HDMI or DLNA.
It has six HDMI inputs on the rear that are HDCP 2.2 compliant and supports 4K / 60p 4: 4: 4 content playback (excluding Video1 input) and HDR extended video formats (HDR 10, Dolby Vision, and Hybrid Log-Gamma). It also has two HDMI outputs.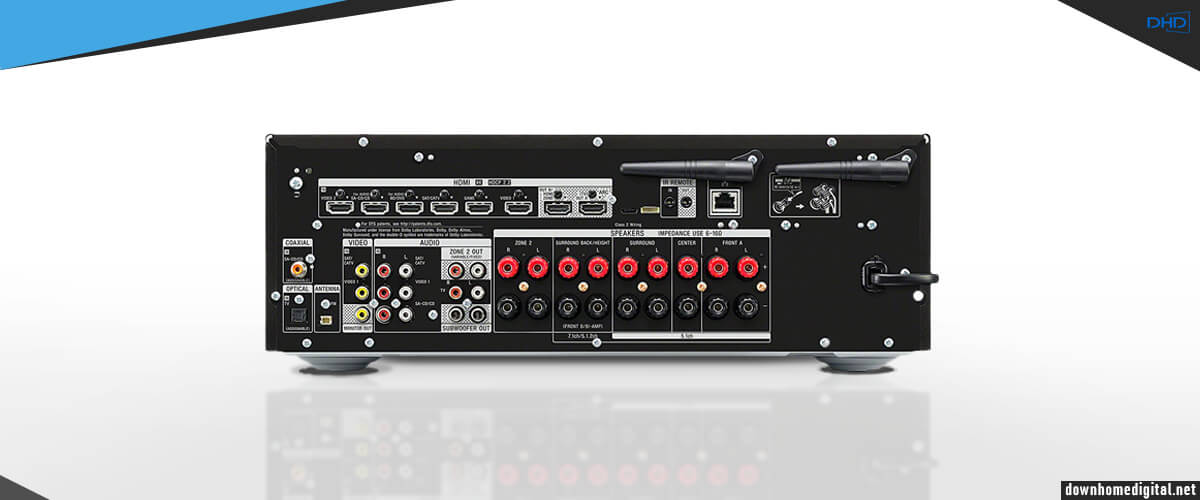 STR-DN1080 has built-in Wi-Fi and Bluetooth support, as well as an Ethernet port for wired connectivity, a significant difference from the Sony STR-ZA1100ES. Unfortunately, it doesn't have a turntable input. I also found other useful features, including NFC, AirPlay, SpotifyConnect, and Chromecast.
During the test, the receiver showed what it is worth. The power is ideal for small to medium-sized rooms. The most delicate details and most profound layers of sound effects are easily perceived.
A clear definition of low frequencies improves the overall clarity of soundtracks and dialogues. The surround effects are good and I was able to sense the different directions the sounds were coming from. Rear phantom channels are not as convincing compared to an accurate 7.2-channel setup.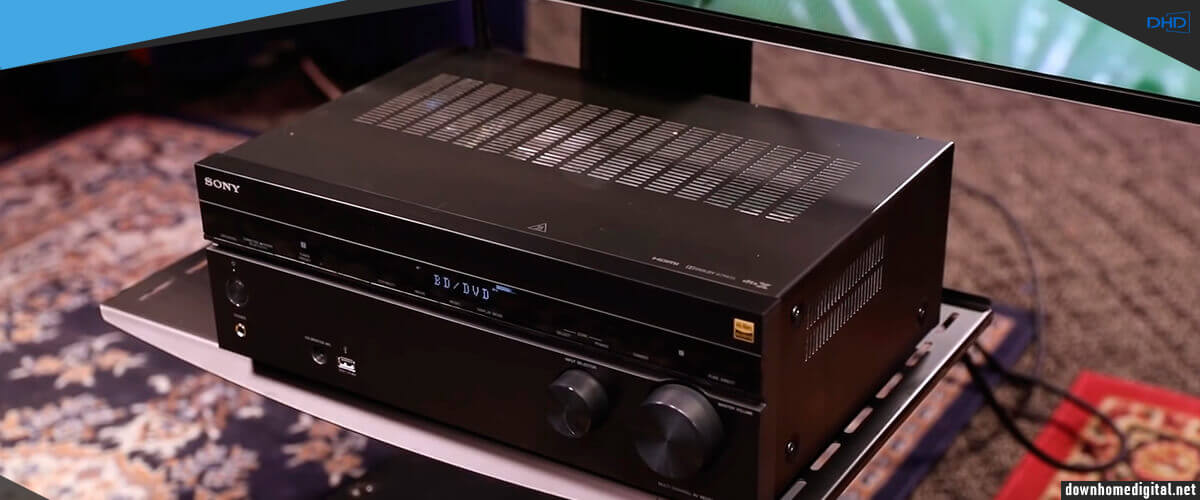 This Sony AV receiver is also very well suited for listening to music. Dynamic changes and voices are smooth and articulate. The sound is crisp, clear, and does not seem bright or harsh when the volume is turned up.
If you're looking for an affordable home theater AV receiver with advanced music features but still want to enjoy your music, the Sony STR-DN1080 covers both aspects better than any other model in its price range. I highly recommend this excellent option for connecting home theater systems with Dolby Atmos 5.1.2 technology.
Key specs
Channels: 7.2.
Power output: 100W/6 Ohm.
HDMI inputs/outputs: 6/2.
Video functions: 4K/60Hz pass-through.
Bluetooth/Wi-Fi: yes/yes.
Streaming services: AirPlay, Spotify, Pandora, Tidal, Deezer.
Supports HDMI ARC, HDMI eARC, HDCP2.2, HDR10.
Surround sound: DTS:X, Dolby Atmos.
Pros
Works well with Hi-Fi music files.
Phantom Surround Back is available.
Cons
The GUI is slow and poorly rendered.
Buyer's guide
What about watts? How much power do I need?
One of the critical points of buying a receiver is the equipment's power, although some concepts need to be clarified before we get started.
To start with, power always refers to the load – in this case, the electrical impedance – called impedance and measured in ohms. Manufacturers often advertise the number of watts per channel of their amplifier but do not specify what impedance that figure refers to. A small trap to fatten the numbers that can have unpleasant consequences later at home if we connect a receiver to a speaker that has a higher impedance.
When buying an A/V receiver, a good tip is to look at its power consumption to see if it really will be able to support the wattage consumption promised in the datasheet. Another issue that not everyone agrees on is the watts per channel needed to sound a room, although about 100 watts per channel seems more than enough for a typical room.
How many channels do I need?
The number of channels that the A/V receiver can handle can provide you with more or less surround sound. It depends on the number of speakers of the home theater to which we will connect them. In this sense, 5.1 and 7.1 home theater speakers are the most common. A 5.1 system includes three front speakers, two surround speakers placed on each side of the viewer, and a subwoofer. The 7.1 speakers add two additional channels behind the viewer.
Most quality A/V receivers offer 7.1 or 7.2 system capabilities, and all have 5.1 capabilities. Some of the more expensive A/V receivers can even work with 9.1, 9.2, or even 11.1 systems. But this is overkill. For most users, 7.1 capacity is more than enough, and that's what we recommend. You can have 5.1-channel speakers (5 speakers + 1 subwoofer), but if you buy an AV receiver with a 7.1-channel capacity, you'll have no problem if you decide to expand your system in the future by simply adding two more speakers.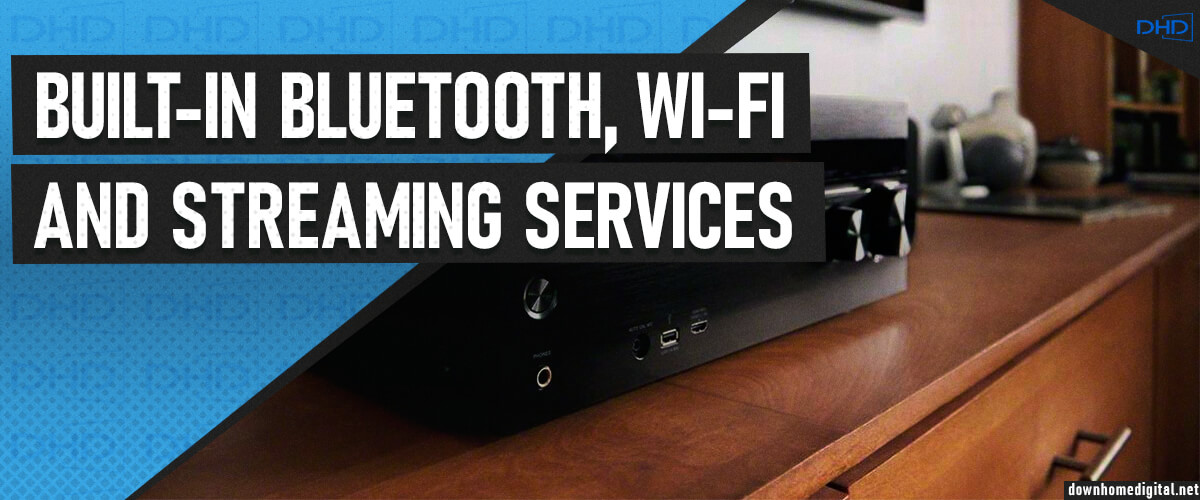 Built-in Bluetooth, Wi-Fi, and streaming services
Wireless connectivity in a home theater can be beneficial. An A/V receiver with Bluetooth technology allows you to play audio through your surround speakers using your mobile devices, tablets, or computers as a source. Playback via Bluetooth does not sound as good as a wired system, although, within Bluetooth, there are some codecs such as aptX that allow for outstanding quality.
With Wi-Fi technology, on the other hand, you can connect an A/V receiver to your home internet without the need for an Ethernet cable. This allows you to play music, series, or movies with your home theater system from services such as Spotify, Netflix, or YouTube. Streaming via Wi-Fi generally sounds better than Bluetooth.
4K, HDR, and surround sound formats
Although Full HD (1080p) resolution is of excellent quality, today, many televisions can reproduce images in 4K. This resolution provides impressive image quality and color sharpness. However, the audiovisual content available in this resolution is more limited. To take advantage of 4K capability, many TV and AV receiver manufacturers offer a technology known as "upscaling." Upscaling is an interpolation technique that uses adjacent pixels to upscale a lower resolution (1080p, for example) to 4K. The quality of an "upscaled" image will never equal that of a native 4K, but this technology achieves excellent results.
A good tip when choosing an A/V receiver is to check if it is compatible with the most commonly used surround sound codecs. There are many Home Cinema codecs, but the three most common are DTS:X and Dolby Atmos.
DTS: X
DTS: X is the simplest codec to use with a 5.1 or 7.1 configuration. This codec does not require any particular physical specification of the speakers. It works with any conventional home theater system, which works with up to 11.2 systems.
Dolby Atmos
Dolby Atmos differs from DTS because it requires one, two, or more ceiling speakers. These speakers are positioned higher than the other surrounding speakers to make the sound move up and down the room. It listed Dolby Atmos systems as 5.1.2 (two additional Atmos modules or speakers) or 7.1.4 (four additional modules). There are also speakers for Dolby that come with drivers that point upwards and do not need to be mounted on the ceiling. The idea is that the sound from these speakers bounces off the ceiling so we get that surround effect from above as well.
Manual setting or D.C.A.C. by Sony: which is better?
Most receivers have both manual and automatic tuning. Manual settings are represented by several equalizer bands, high/low tone controls in the front channels, and a choice of filter cutoff frequency in the subwoofer. Direct modes are also provided for Hi-Fi music, i.e., bypassing all treatments. And manual tuning takes more time and is justified only with a challenging acoustic environment.
What is an auto-calibration system?
The receiver includes a specialized processor that has "hard-wired" software that can automate settings. The system works very simply – a measuring microphone is connected to the receiver. The system emits several sounds of variable frequency, covering the entire frequency range. The result is processed in the receiver and stored as a preset.
The D.C.A.C. by Sony
The automatic system does an excellent job with standard configurations. D.C.A.C. Autocalibration System by Sony determines not only the number of speakers, their characteristics, and the distance between them. However, it also determines the level of background noise in the room. A feature of Sony`s system is that it determines the number of connected speakers and tries to compensate for the missing ones by redistributing information between the available ones. So, for example, in the absence of a center channel speaker, it will be created virtually using the front speakers.
FAQ
Are Sony AV receivers good?
Yes. If you want to buy a new receiver, nothing beats the Sonys at this price. They have solid construction and great sound quality.
Which receiver is better, Denon or Sony?
Depends on your needs. Denon receivers are usually better (and more expensive) than Sonys, especially in sound quality and processing power.
How long do Sony receivers last?
They last as long as your new TV, maybe longer. Sony receivers are usually built very well.
Do I need surround sound?
If you watch movies and TV shows with surround sound mixes, you do need it. If not, then don't worry about surround sound.
When should I upgrade my AV receiver?
When
it breaks, you want to take advantage of newer surround sound formats, like DTS:X.
Are the new receivers better than the old ones?
Yes. The newest models are 4K compatible and can be configured to work with an Atmos/DTS:X ceiling speaker system. However, older receivers might not support 4K and might not work with a newer Atmos/DTS:X speaker system.
How can I find out if my receiver supports 4K?
Check the specifications on the back of your receiver. If it says 4K compatible, you're set to go; if not, you will need to upgrade your model.
How do I choose speakers for my AV receiver?
It depends on the receiver you buy. The easiest way is to pick speakers with similar specs, so if your receiver has 6-ohm speaker outputs, then get 6-ohm speakers for it.
Is it worth buying used AV receivers?
Yes. If you can get a used receiver for cheap, it's a good way to save money, however, be aware that there is no warranty or customer service if something breaks on your new receiver.
Wouldn't it be better if I upgrade my speakers first and then my AV receiver?
Absolutely. If you're looking to upgrade your speakers, then go for it, but buying a new receiver doesn't usually make full use of the power in more expensive speakers.
AV receivers ratings by brands