If you are looking for the best Sony receiver, you are welcome to the page with my review.
I decided to take a closer look at the devices of this brand as lots of people all over the world appreciate Sony products. No wonder, as the quality of each receiver created by the company is pretty high.
Sony was founded in 1948 in Tokyo, Japan. Since then, the corporation has developed constantly. The receivers made by Sony have lots of innovative features and plenty of power. Even though I am an experienced user of such devices, it was quite hard to define the greatest ones. I tried many different models to find out which one is better. Below, you will see my review with the most excellent receivers developed by the famous brand.
Our pick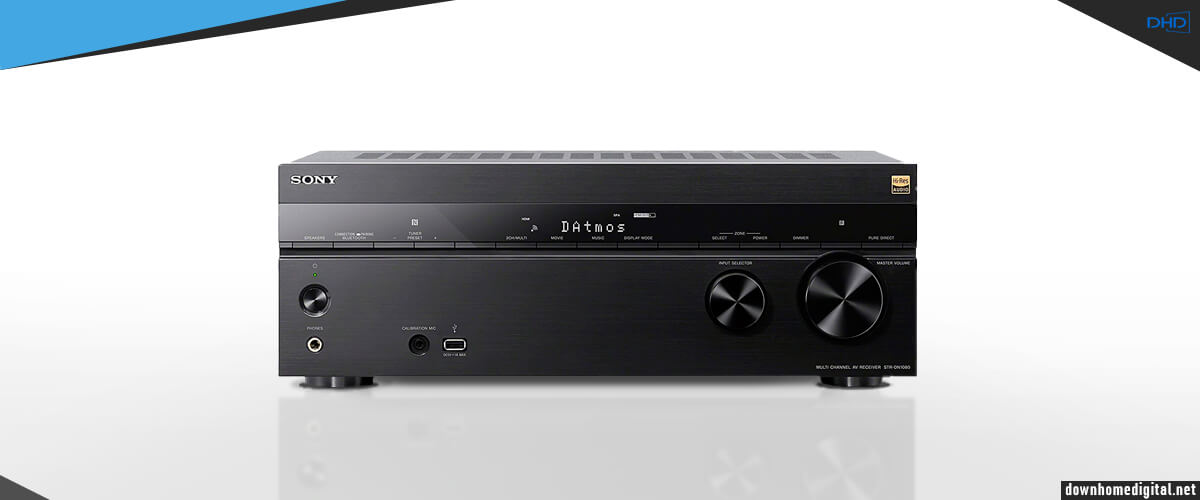 Sony STR-DN1080
Best Sony Receiver
The STR-DN1080 has been designed with flexible speaker solutions that work around your environment, so that you get the best audio experience whatever your setup.
Best Sony Receiver Reviews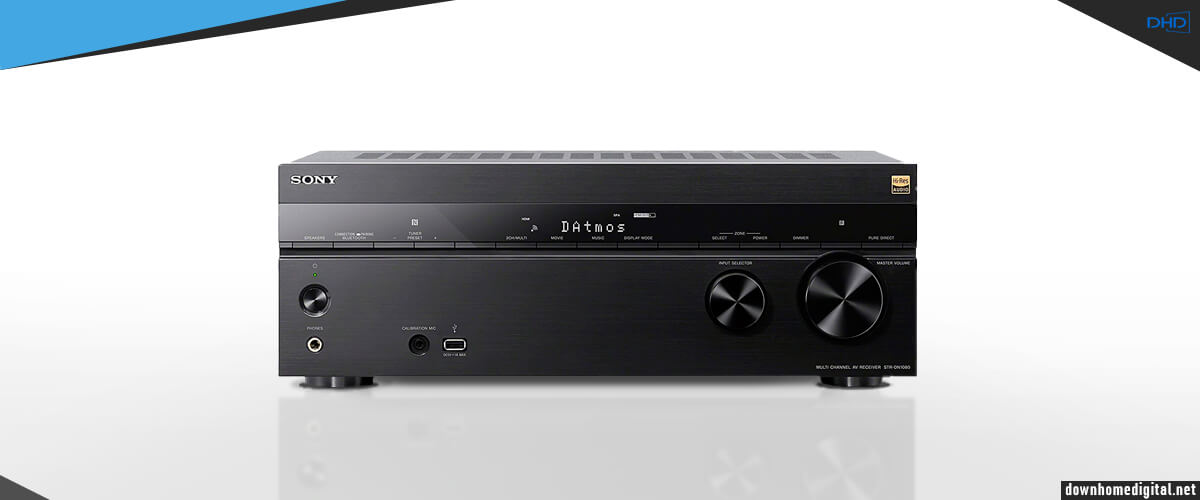 The first device in my review is the best Sony AV receiver. The model STR-DN1080 has 7-channels of amplification with 100 W of power per channel at 6 ohms. The rear panel contains 6 HDMI inputs for connecting devices and 2 HDMI outputs for displaying images on a TV, monitor or projector. Although each HDMI input is signed, according to the instructions it does not matter at all which device will be connected to which connector, this is only a recommendation. Note, however, that the "SA-CD/CD" and "BD-DVD" inputs provide better sound quality.
The receiver has an amp's DLNA certification which means you will be able to play hi-res music files from any NAS device or laptop on the same network. Also located on the rear are an Ethernet port and a pair of antennas. You will find an input for an FM antenna and an input and output for Infra-red as well.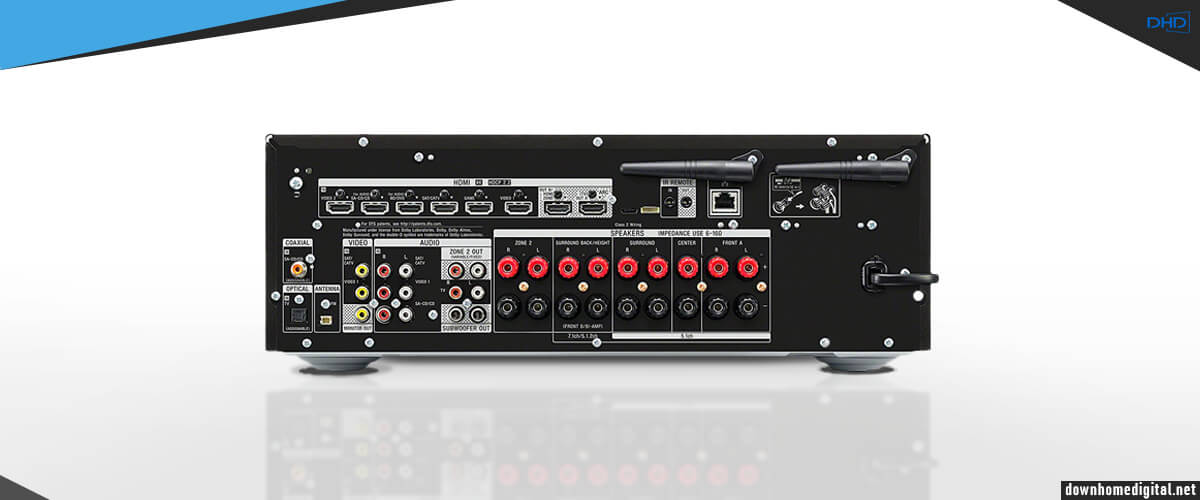 In addition, there is voice control available via Google Assistant, Amazon Alexa, Apple Siri. Sony STR-DN1080 has a USB port and supports Bluetooth with LDAC technology, which provides high-quality sound. Wireless technologies such as Multiroom, Wireless Surround, Wi-Fi, Airplay, Google Cast are supported too. The receiver comes with a remote control that gives you the same options as the basic controls on the device itself.
Whatever you are listening to with Sony STR-DN1080, it sounds amazing, reaching deep into its reserves to deliver a performance packed with punch, dynamism, and authority. You will get a fantastic amount of detail, from life-like, expressive voices to layers of insight and depth surrounding each sound effect. I was totally impressed by the awesome quality of the audio provided by this device. By the way, even if you are streaming low-quality audio files, Sony's DSEE HX system upscales lower-resolution content to enhance the sound quality.
Key specs
Channels: 7.2
Stereo power, W: 120
Impedance, Ohm: 6
THD, %: 0.09
Pros
The amp is able to play up to 24-bit/192kHz files in all popular formats
There is DLNA support, with which you can create a wireless connection between all devices in your house
It features four vibration-damping feet to allow it to sit comfortably on any surface
The special Sony Phantom Surround feature allows you to get a full surround sound experience from seven channels
Cons
A bit lacking in non-HDMI connections
Sony STR-DH190 – best stereo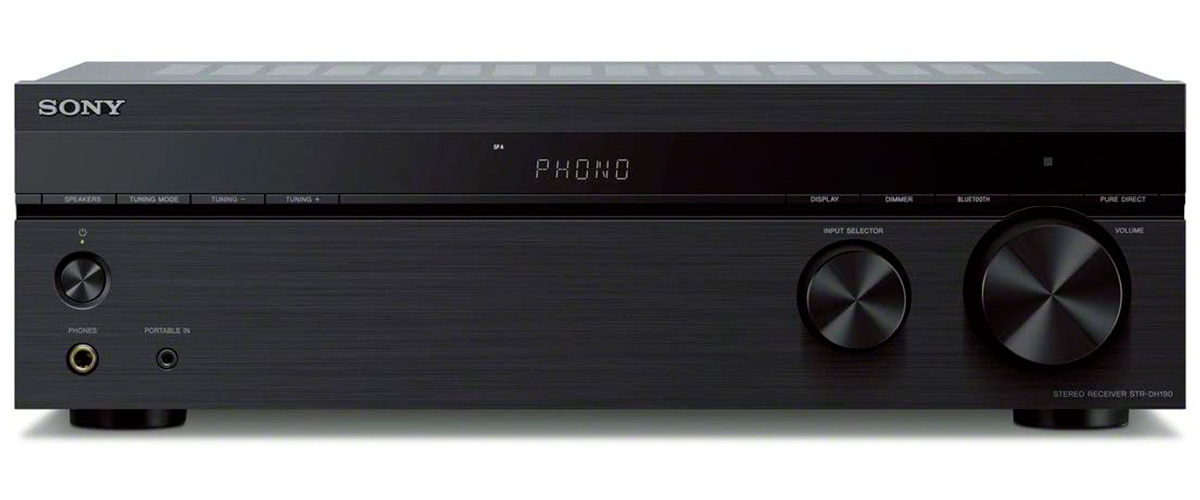 If you need a simple and affordable device to get fantastic stereo sound, the STR-DH190 is a perfect choice for you. Let me tell you more about the best Sony home theater system. It has a user-friendly design and the total power output of 200 W. Overall, it is a great two channel stereo hub that provides well-balanced audio.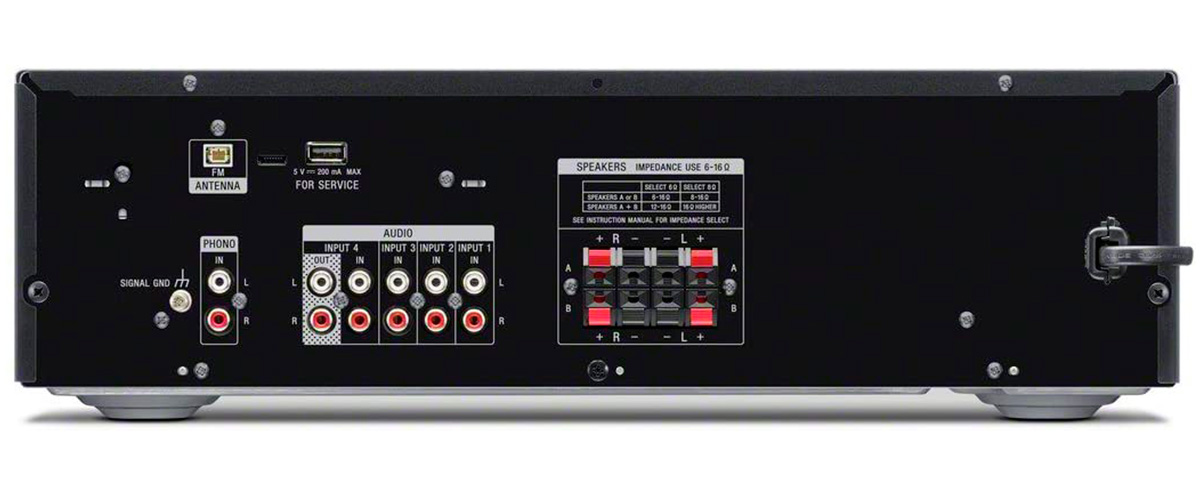 If you love vinyl and look for a decent stereo receiver that will really make the most of it, you definitely need to consider this option. The high-quality phono pre-amp is positioned away from the power transformer, which helps to minimise interference and maximise sound detail. In fact, the receiver is intended for use with Sony's PS-HX500 and PS-LX300USB. Nevertheless, my experience shows that it operates great with all turntables.
Key specs
Channels: 2.0
Stereo power, W: 100
Impedance, Ohm: 8
THD, %: 0.09
Pros
The A+B feature lets you connect two sets of front speakers
Bluetooth connection for music streaming from your favourite services such as Spotify and Deezer
Equipped with a discrete amplifier, with separate components, which provides a pure and detailed sound
Has four analog audio inputs and one output, for maximum connection to your audio recording device and any other equipment
Cons
You can't watch Ultra HD images with the receiver