Many audiophiles go crazy for the models created by this brand, as all of them are awesome. No wonder the Onkyo receivers have incredibly high quality and can provide a mind-blowing sound. I analyzed a lot of different devices to find the best Onkyo receiver.
Our pick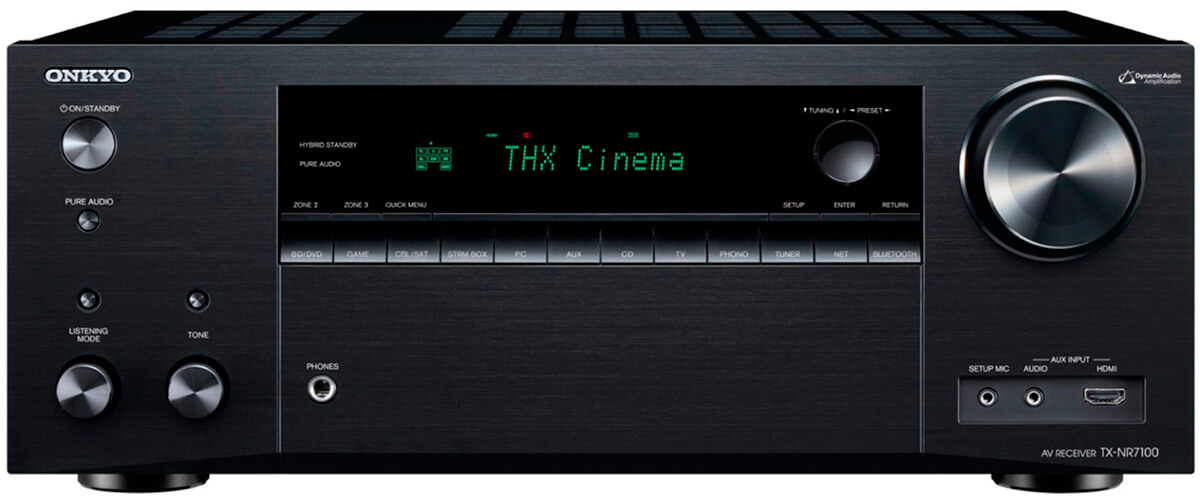 Onkyo TX-NR7100
Best Onkyo Receiver
The first in the series to offer both 9 channels and built-in, ready-to-use DIRAC Live Room Correction, the Onkyo TX-NR7100 9.2 Channel THX Certified AV Receiver brings new meaning to the phrase, "home movie night."
Read the full review
The company's history began in 1946 in the Japanese city of Osaka. The first name of the company was Osaka Denki Onkyo K.K. During the 1970s, Onkyo amplifiers were hugely acclaimed by the international press. In the 1980s, Onkyo shone again with its cassette decks, M-series amplifiers, exceptional turntables, and tuners that were long the benchmarks in radio reception (Onkyo 4040 and Onkyo 8080 models).
And already in the 1990s, the company was one of the first to enter the then still emerging home theater market. Thanks to its own developments, which are still in use today, Onkyo has firmly established itself in this segment. Users quickly appreciated the high quality of the products, which allowed the company to become one of the leading brands in this area.
Name
Channels
Stereo power, W/Ohm
Review
Onkyo TX-NR7100

best overall

9.2
100/8, 220/6
Review
Onkyo TX-SR494

budget

7.2
80/8, 160/6
Review
Onkyo TX-NR6100

also a great choice

7.2
100/8
Review
The peculiarity of Onkyo home theater systems is to offer high power, thanks to the house WRAT technology (Wide Range Amplifier Technology). The company also employed high-end video processors and was the first manufacturer in 2012 to equip its models with 4K scalers. Finally, Onkyo often integrates the processors for calibration and real-time management of dynamic range and equalization (AccuEQ Advance and AccuReflex). Series of home theater receivers systematically numbered 300, 400, 500, 600, 700, 800, 1000, 3000, and 5000, so that every user can find a device suitable for their budget and functionality. Also, note that the products of this company are designed for a wide budget and have different models, including Onkyo flagships receivers.
Now the company still has its headquarters in Osaka and still implements innovative features in its products. If you want to get a unit that will work smoothly for many years, let me show a few decent ones in this best Onkyo AV receivers review!
Best Onkyo Receiver Reviews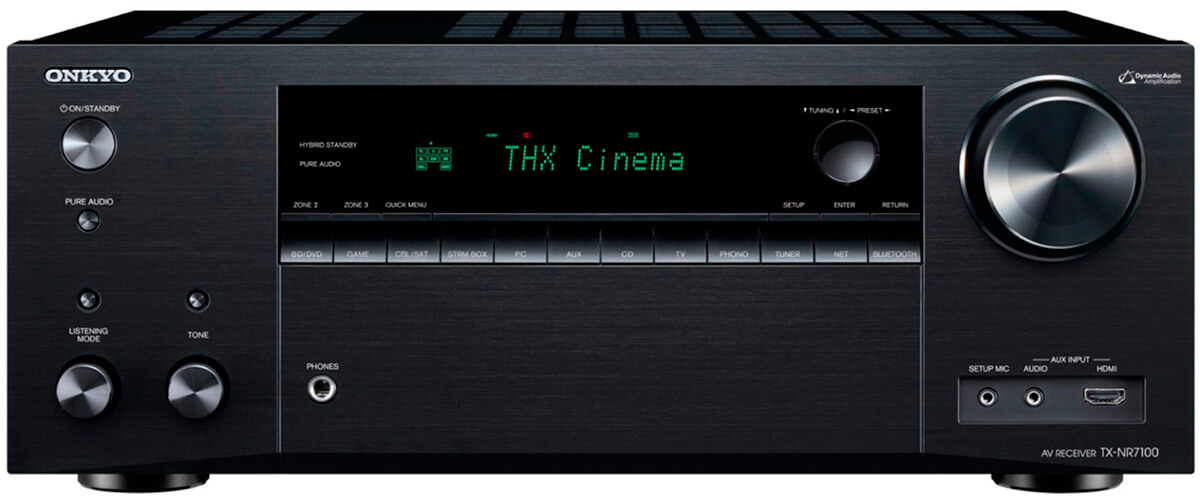 The Onkyo TX-NR7100 is a multifunctional receiver that is sure to enhance your experience of the video and sound quality to a new level. This effect is achieved thanks to improved musical staging, clearer dialog, and deeper bass.
This 9.2 channel THX certified AV receiver would ensure you enjoy the immersive theater-like sound from the comfort of your home. The massive power transformer, 10,000 uF storage capacitors, and aluminum heat sinks indicate that his amplifier can deliver high currents, allowing surround sound to achieve true spatiality and maximum localization accuracy.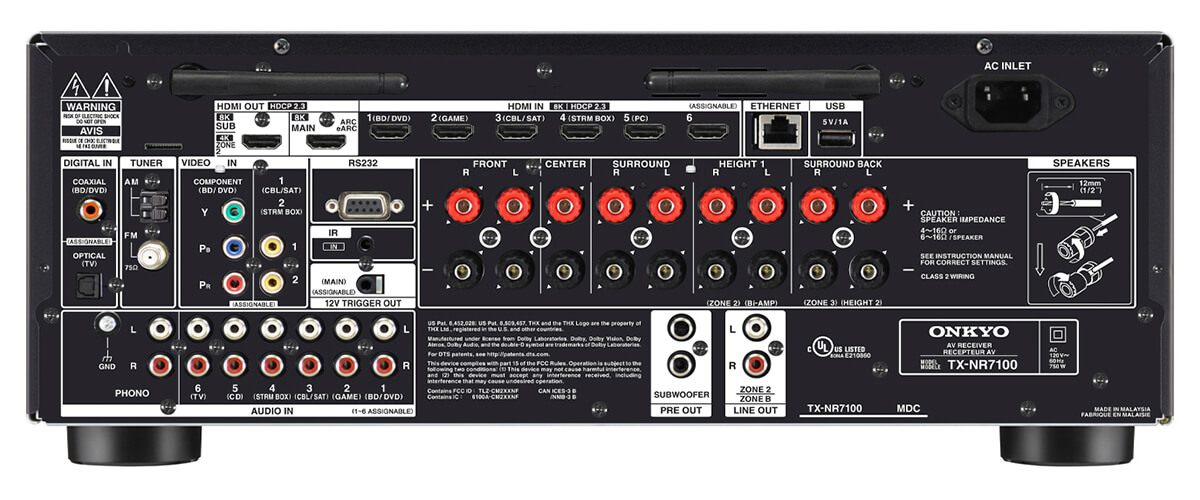 The Onkyo TX-NR7100 is equipped with decoders for all popular surround sound formats, including Dolby Atmos and DTS:X. This model can be used to build 3D Systems in configurations up to 5.2.4 without external amplifiers. You can also create a virtual surround sound system using Dolby Atmos Height Virtualizer. In addition, this model has IMAX content processing technology.
The AV receiver has seven HDMI inputs and two outputs that support 4K video with Dolby Vision and HDR10 technology. A 1080p signal input to these inputs can be converted to 4K resolution. HDMI inputs 1 to 3 and Main / Sub outputs support 8K / 60p (4: 2: 0/10-bit). The AV receiver features a 32-bit / 384 kHz DAC that provides precise signal processing. For additional elimination of distortion of low-level signal in the AV receiver, there is proprietary VLSC technology.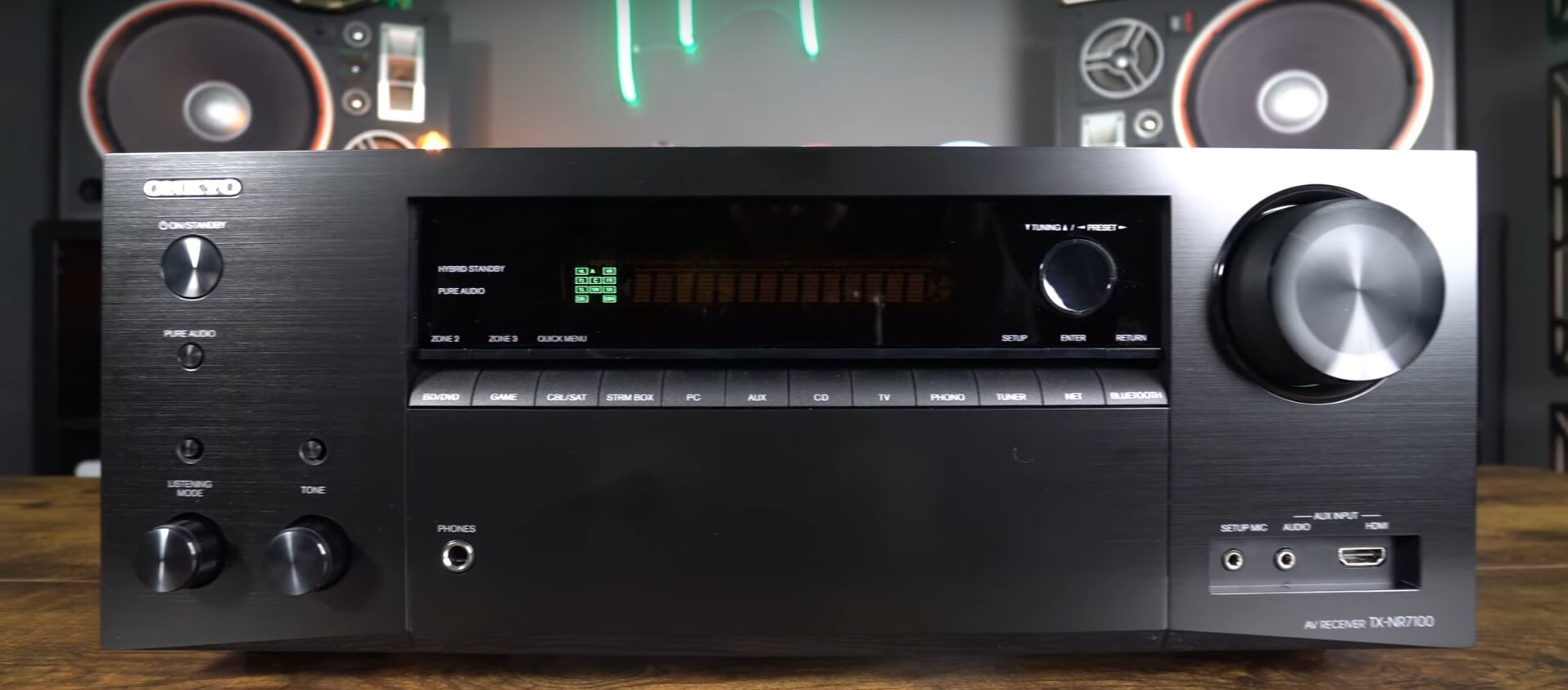 The networking features in the Onkyo TX-NR7100 are based on a next-generation SoC module remote from the audio circuitry to eliminate cross-talk distortion. In addition, the AV receiver supports DTS Play-Fi, Chromecast, and FlareConnect technologies, allowing it to be used as part of appropriate multi-room systems. Network connectivity is possible via Ethernet or Wi-Fi, and the Onkyo TX-NR7100 can play audio files with 24-bit / 192 kHz (PCM) and DTS 11.2 MHz parameters. For integration into externally controlled systems, the AV receiver has RS-232 and Ethernet interfaces, as well as a control trigger and a jack for an external IR sensor.
As for the sound, I was amazed by its powerful bass punch, incredibly fast dynamics, and high resolution – with no hint of granularity.
There are far more fascinating features in TX-NR7100, deservedly making it the best Onkyo AV receiver. A convenient and responsive voice control, discrete zone 2 HDMI switching, various audio formats support, Bluetooth, Wi-Fi, and more turn this receiver into a must-have for all lovers of quality sound and videos. With all that said, I think this is a worthwhile purchase that will make many future owners happy.
Key specs
Channels: 9.2.
Stereo power, W: 100, 220.
Impedance, Ohm: 8, 6.
THD, %: 0.08.
Pros
Supports high-quality video, including 4K, 8K, IMAX, etc.
Is integrated with popular music streaming platforms.
The DIRAC live room correction technology adjusts the sound based on the item location.
Cons
If you do not configure the receiver delicately, it won't transmit the signal to TV.
Onkyo TX-SR494 – budget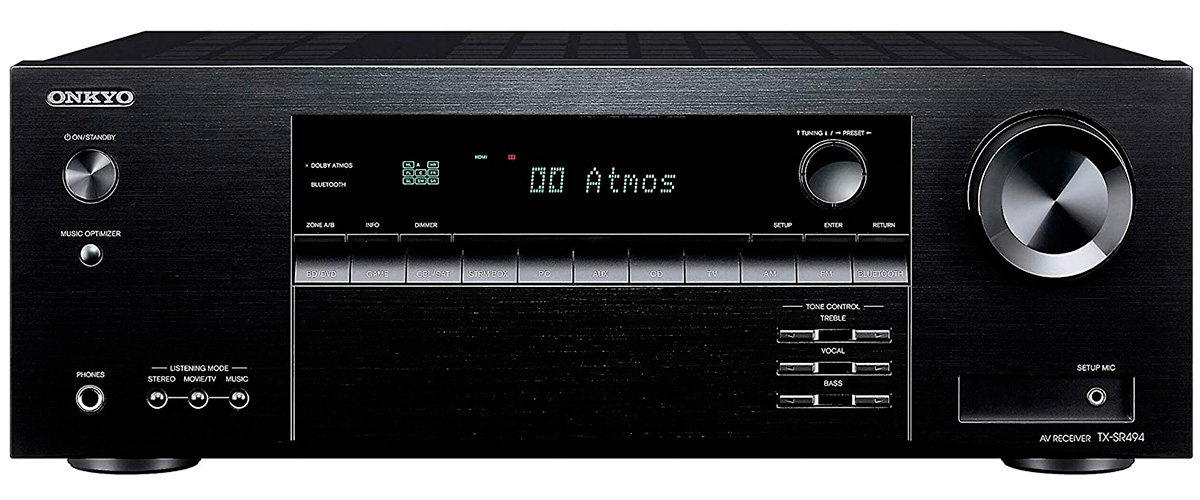 The next receiver I suggest you consider is the Onkyo TX-SR494. This device works with nine audio channels, seven of which are equipped with discrete amplifiers with high output currents and deliver a power of 160 W per channel at 6 Ohm or 80 W per channel at 8 Ohm.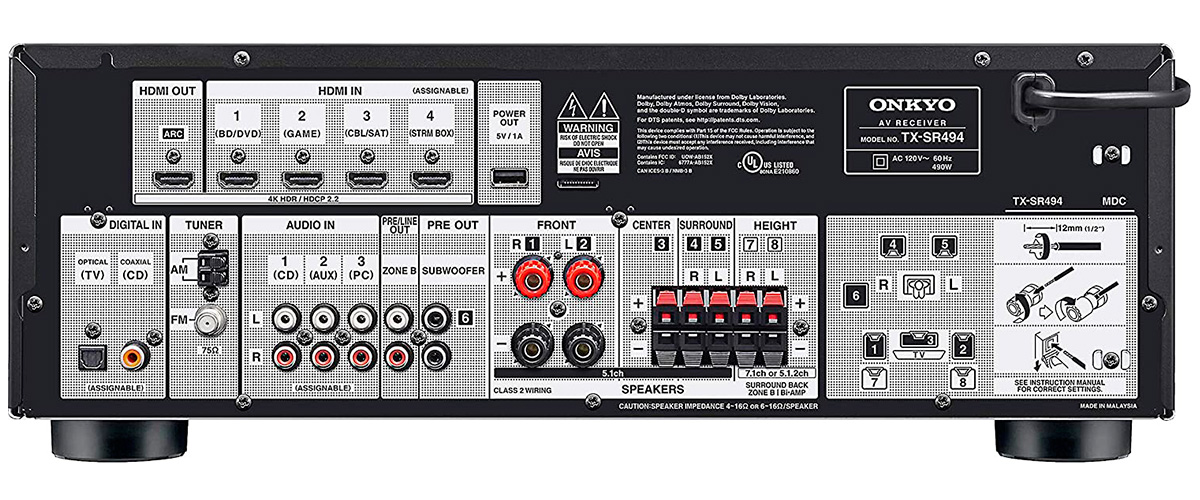 The TX-SR494 is going to improve your home theater with an impressive sound dramatically. Seven channels of high current gain give you the freedom to choose your speaker configuration. I noticed that the receiver is without any prominent features at high or low frequencies. The sound was flat with no dynamic range. The vocals were muted. Moreover, with Dolby Atmos Height Virtualizer and DTS Virtual: X, you can achieve the most realistic sound possible.
And I want to emphasize that the technical equipment of this receiver contributes to obtaining high-quality sound. The device receives the signal via a multi-channel AKM-DAC with a resolution of 32 bit/384 kHz. The custom DAC design allows the TX-SR494 to be much more interesting to buy than similar receivers such as the Denon AVR-X1600H. That's why I picked the receiver as the best budget AVR for home theater.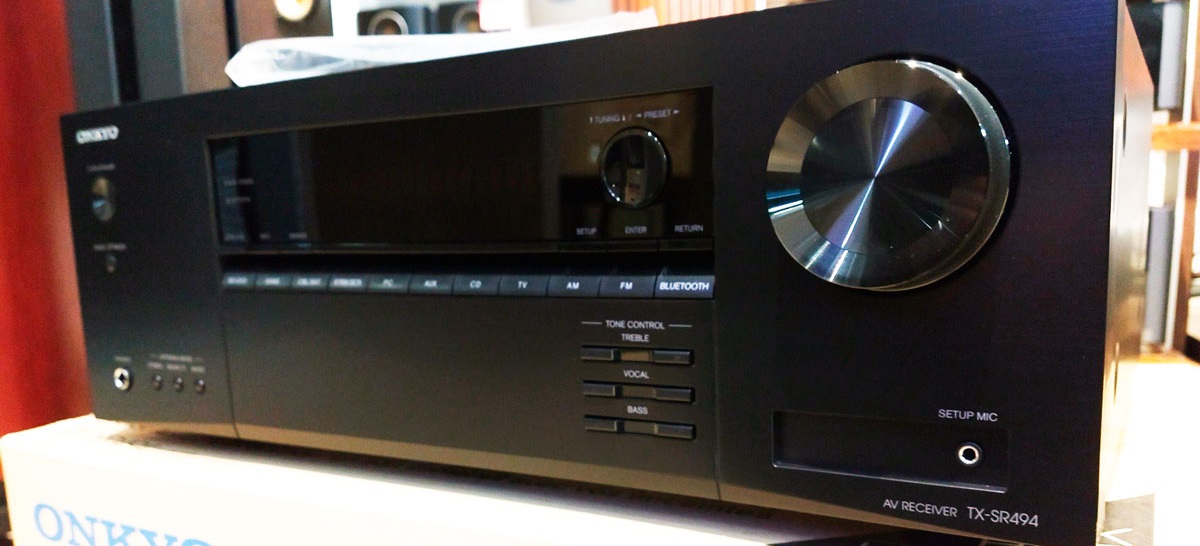 Besides, you will be interested in the fact that despite the budget of the device, it has automatic AccuEQ calibration with a subwoofer equalizer and AccuReflex for 5.2.2-channel systems with Dolby Atmos support, which ensure clear sound in every room of your home.
After a little testing, I can confidently call this model the best budget receiver since for a fraction of the price, you get the performance you need to create an entry-level home theater.
Key specs
Channels: 7.2.
Stereo power, W: 80, 160.
Impedance, Ohm: 8, 6.
THD, %: 0.08.
Pros
Vocal Enhancer improves dialogue audibility.
When a 1080p signal is connected via HDMI input, the quality can be upscaled to 4K.
There is a bi-amp on Zone B here during active configuration 5.2 in the Main zone.
Cons
Bluetooth audio is a bit lacking in sound quality.
Using the remote control is inconvenient because of the inaccurate name of the buttons on it.
Onkyo TX-NR6100 – also a great choice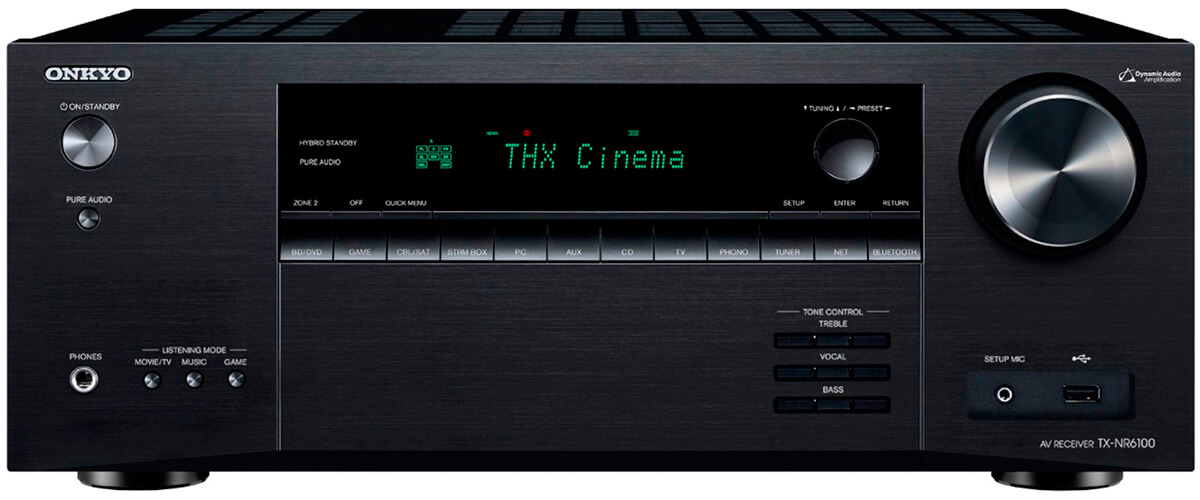 Meet another decent entry – an Onkyo TX-NR6100 receiver that would be a great enhancement to your home theater system.
Being a 7.2 channel receiver, this device will ensure an enhanced gaming experience, rich sound as you listen to music, and high-quality video playback. Similar to TX-NR7100, this device is suitable for 4K and 8K videos and games. But, unfortunately, you won't find the DIRAC live room correction feature here.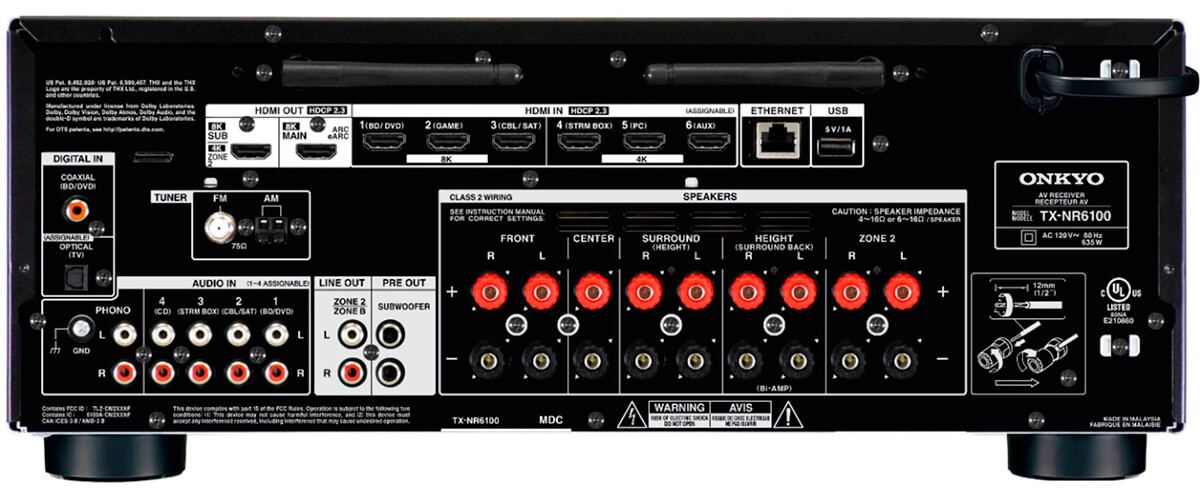 The auto low latency mode and quick frame transport feature will provide you with a lag-free watching or listening experience and optimize the latency from source to screen. You will also enjoy Dolby Atmos and DTS:X, as you can attach your height-enabled surround system for a 3-D soundscape composition.
Thanks to three HDMI outputs and 100 watts per channel, this AV receiver provides uncompressed HDMI 2.1 8K 60Hz and 4K/120Hz with HDR over 40 Gbps. It's a shame that there is no front HDMI port, however.
The Onkyo TX-NR6100 receiver fills the room with a rich tone, clear highs, and good bass. But configuring the equalizer can get slightly crazy. You've got to set it up for every speaker without hearing how the sound changes as you make the adjustments.
The Onkyo TX-NR6100 is a good choice for audiophiles who want to take their home cinema system to a new level and get a dialog sound for their favorite songs.
Key specs
Channels: 7.2.
Stereo power, W: 100.
Impedance, Ohm: 8.
THD, %: 0.08.
Pros
Supports 4K and 8K videos.
Works without lags.
No complaints about the sound quality.
Cons
Configuring the equalizer might be tricky.
No front HDMI port.
Onkyo TX-NR696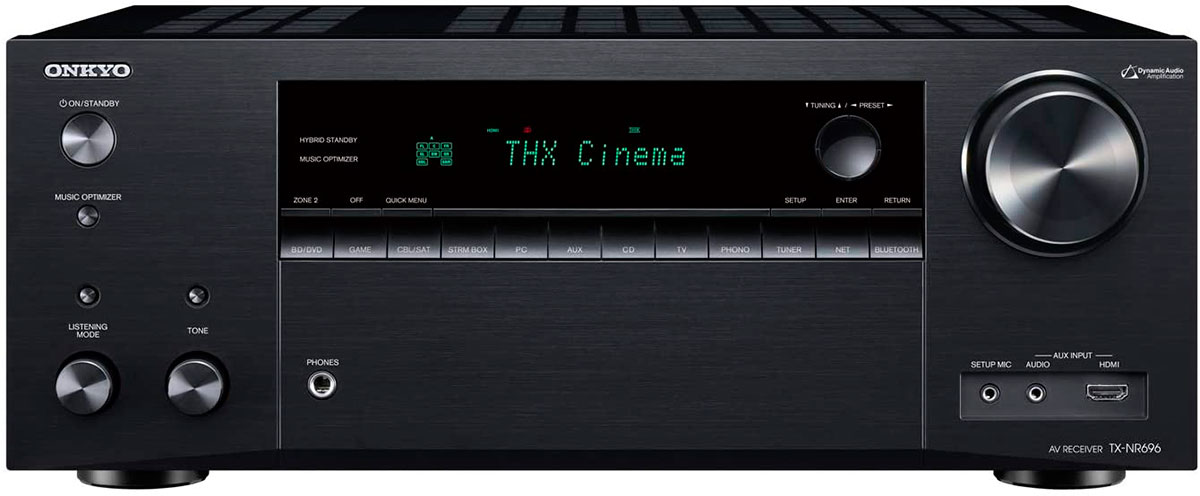 Now I suggest you take a look at the TX-NR696 from the same manufacturer. The Onkyo TX-NR696 features powerful amplification capable of delivering up to 210 W per channel at 6 Ohm or 100 W at 8 Ohm. I think it is pretty ideal for building a 7.2 channel or Dolby Atmos 5.2.2 home theater system.

I will share with you why I came to this idea. First of all, the TX-NR696 is compatible with the latest multi-channel audio streams, including Dolby Atmos and DTS: X. Moreover, thanks to the powerful DSP modes, the Onkyo TX-NR696 amplifier can simulate a reproduction on seven speakers from a 5.1-channel configuration.
Honestly, I advise you to pay attention to it if you want something versatile that is just as comfortable with music as it is with watching movies or streaming videos. The sound of the Onkyo TX-NR696 is pleasant in all of these situations.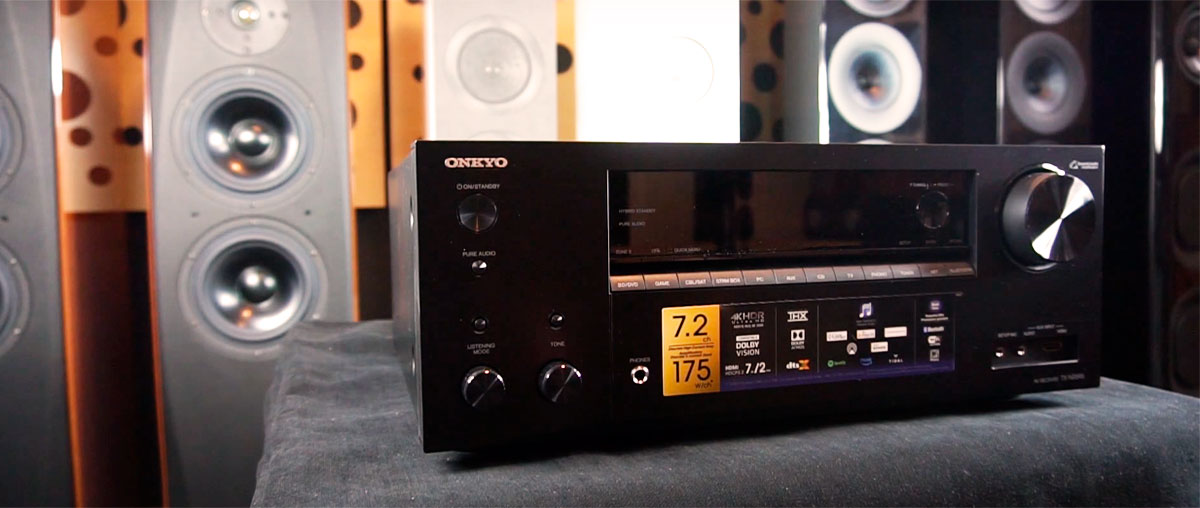 I compared it to a similarly priced rival, the Denon AVRS740, and found it to be the nicer of the two. The Onkyo TX-NR696 has a very balanced sound stage, and the processing of movie sound effects is quite dynamic. You won't miss a single explosion or chase.
I can say that TX-NR696 can be suitable for a large audience. And at this price, no device can match its flexibility to connect sources of your choice. If you're a movie fanatic, it offers a balanced performance. This is one good option if you want to listen to music in stereo or Dolby Atmos streaming.
Key specs
Channels: 7.2.
Stereo power, W: 100, 210.
Impedance, Ohm: 8, 6.
THD, %: 0.08.
Pros
The receiver has full support for Google products, including Chromecast and Google Assistant.
The Onkyo TX-NR696 supports all the latest codes as well as THX certification.
Cons
When transmitting sound through Bluetooth, there are connection breaks, or the sound is transmitted in jerks.
If the TV is connected to the receiver via the HDMI ARC port, sound and picture desynchronization is possible.
Onkyo TX-NR797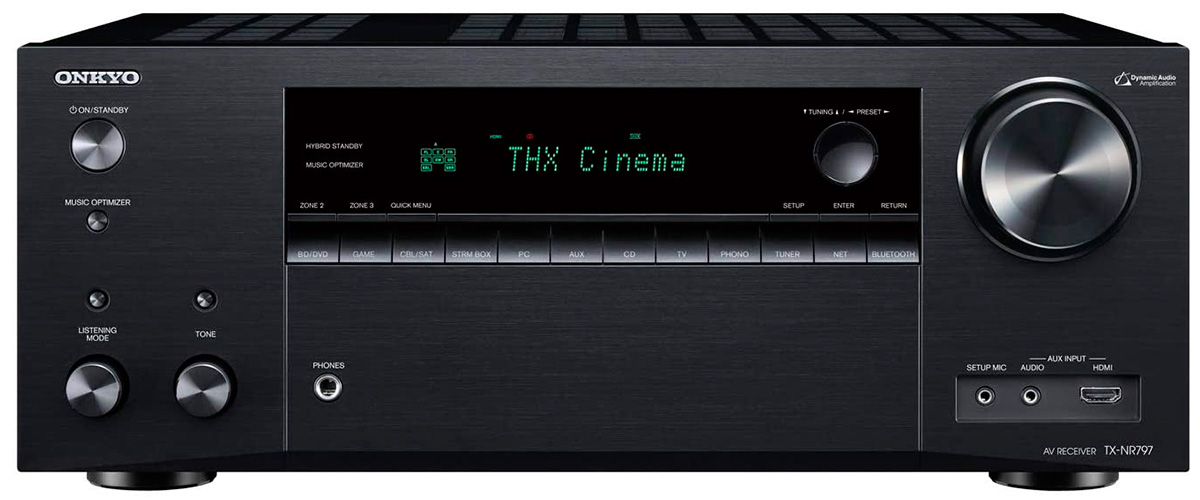 I will continue the review with a model that can rightfully be considered one of the best Onkyo receivers presented here. It has a 9-channel amplifier and delivers 100 W and stable performance with a load of 4 Ohm or 220 W at 6 Ohm. The first device on my list has a continuous output power that qualitatively distinguishes this receiver from competitors such as the Denon AVR-X3600H.
The whole point is that the TX-NR797 is built with a substantial toroidal transformer, making it possible to provide constant and stable output power to each channel. And it is thanks to this that I managed to get the sound of the same level as in the cinema.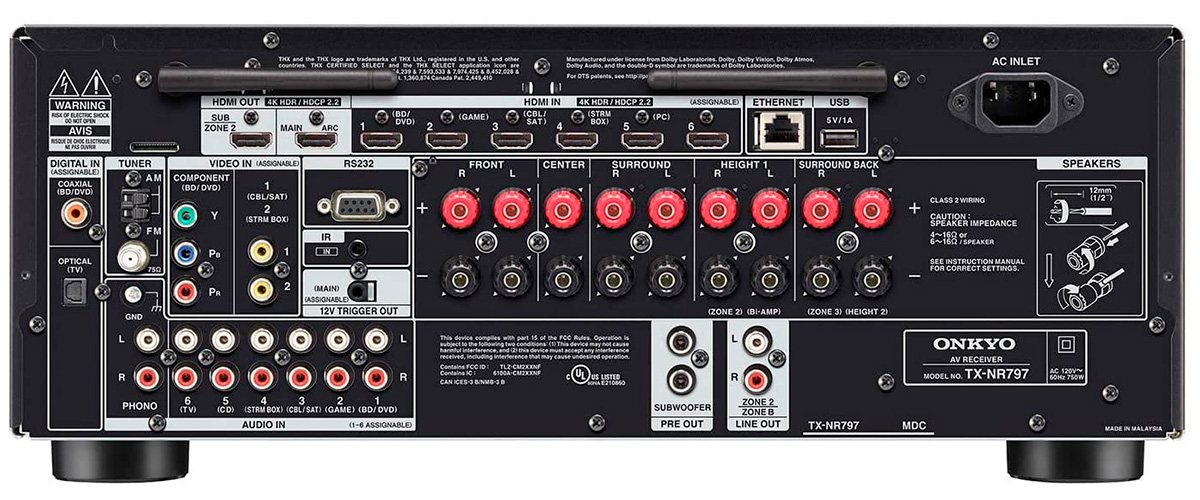 However, without accurate calibration, I would hardly get a decent sound. The NR797 features Onkyo's AccuEQ Advance room calibration system that measures sound in 9 positions. And if everything is evident with the sound quality in the main hall, there is one fact that will pleasantly surprise you. Sonos technology feature allows us to connect to Sonos speakers and provide sound to additional rooms.

I also liked the video of the model's capabilities. There is full support for 4K / 60 FPS video signals. However, remarkably, the upscaling of a regular 1080p signal to 4K works well. For the sake of completeness, I want to draw your attention to the surround sound of this receiver. Here you can find a complete set of Dolby Atmos and DTS: X decoders.
Fairly powerful receiver to get a rich, realistic, and breathtaking sound. I was happy that the device could be connected easily to other pieces of my equipment and supply sound zones.
Key specs
Channels: 9.2.
Stereo power, W: 100, 220.
Impedance, Ohm: 8, 6.
THD, %: 0.08.
Pros
Anti-noise refinements result in a wider soundstage.
Supports Dolby Atmos Height Virtualizer, which creates a 3D sound-field using horizontal speakers.
The TX-SR494 delivers the highest current in its class thanks to a custom high output transformer and discrete amplifiers inside.
Cons
No multi-channel input.
The firmware has problems due to which the sound sometimes disappears.
Onkyo TX-RZ840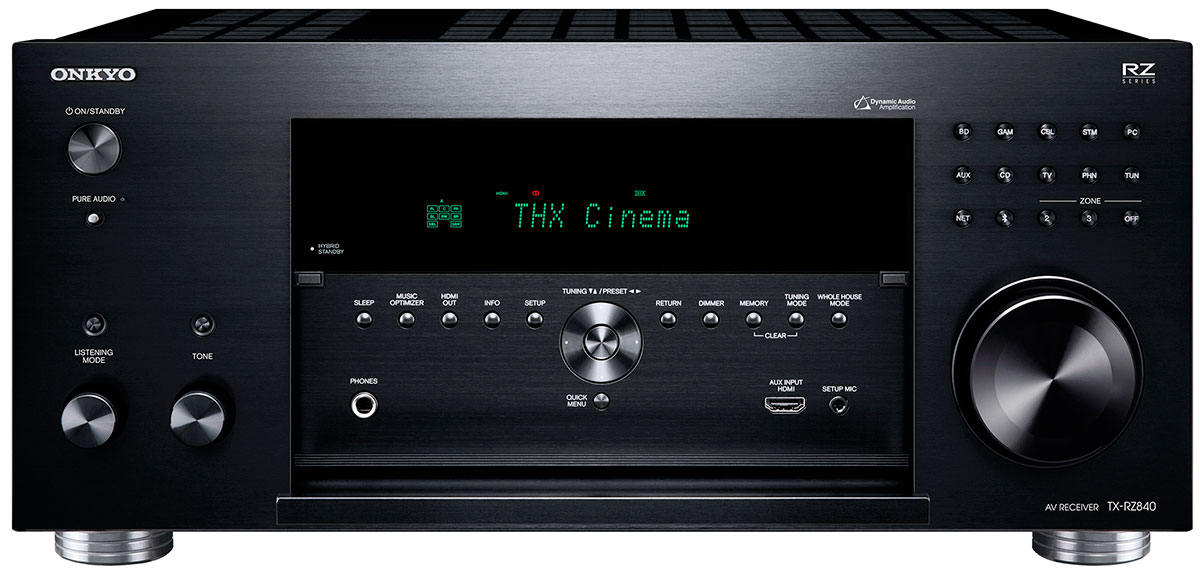 And I want to continue my review with a rather interesting model – Onkyo TX-RZ840. And naturally, the first thing that catches your eye, like my, is the excellent appearance of the receiver.
The TX-RZ840 impressed me with its sizable 8-inch height. As in the previous model TX-RZ740, the facade remains rather minimalistic; there is a screen and a small number of buttons and control knobs. Otherwise, it is made of good black metal.
Let's take a look at the rear panel of this receiver. There are seven HDMI inputs, including one hidden behind the hatch. They are all 4K, HDR, and HDCP 2.2. Also, you can see seven analog audio inputs, including one for a vinyl turntable.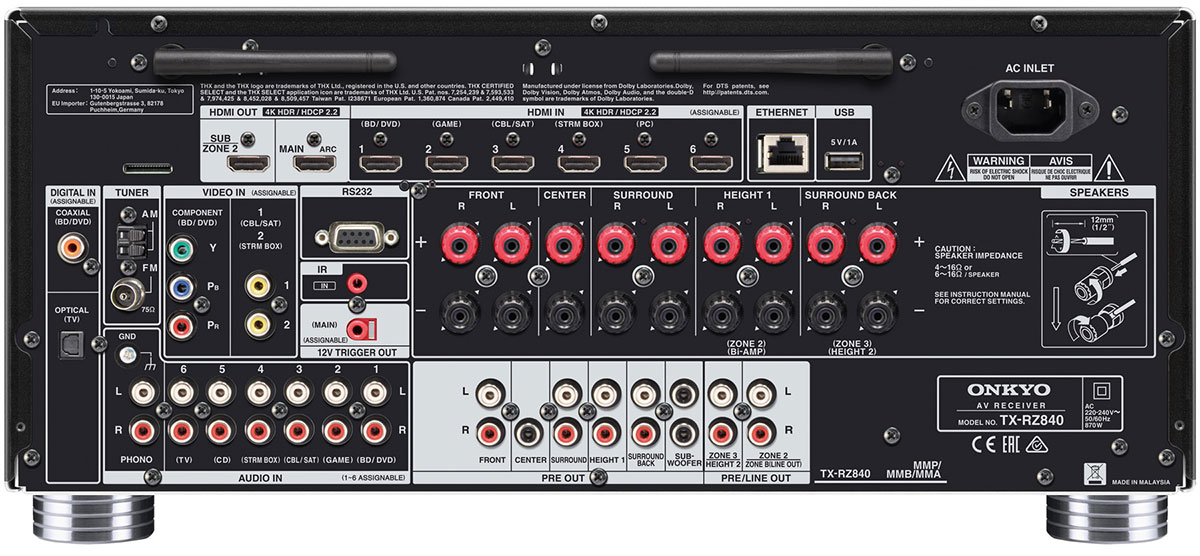 If everything is obvious with the appearance, you only have to get acquainted with the device's capabilities. The power ratings of this receiver are not bad for this level. It can operate in three modes – 250 W at 3 Ohm, or 220 W at 4 Ohm, or 130 W at 8 Ohm.
The first thing I did in the test was to run several Blue-Ray film clips in order to familiarize ourselves with the sound signature of this RZ840. And it immediately became clear that this amplifier should not be classified in the category of ultra-dynamic devices. It works great in the mids but weak in the high and low sound ranges.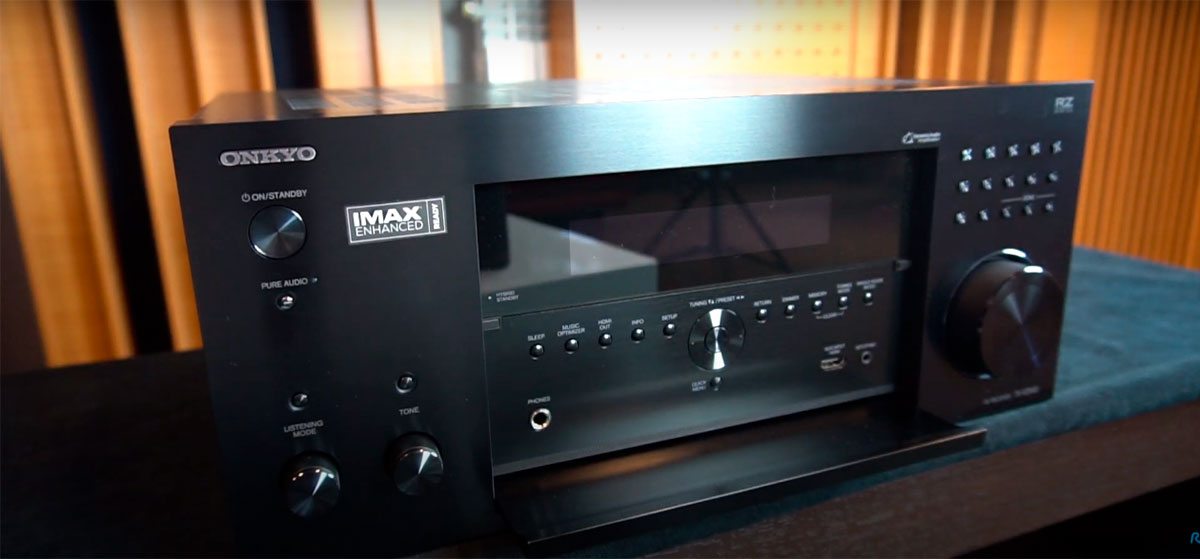 However, something impressed me, and that was the receiver's ability to create surround sound throughout the room. The fronts are ideally linked to the side channels as to the ceiling speakers. When listening, you will not feel the breaks during the "movement" of the sound; everything is natural. The RZ840 masters its subject without any exuberance, an excellent example of quite good design. The subwoofer channel integrates well with the sound to provide all the necessary dynamics.
I can safely recommend this device for watching movies at home. You will be satisfied with their sound.
Key specs
Channels: 9.2.
Stereo power, W: 130.
Impedance, Ohm: 8.
THD, %: 0.08.
Pros
Onkyo supports all the latest music playback standards and features 4K and HDR technology.
The TX-RZ840 has an RS232 port for integration into an automation system.
Cons
The remote control is made of inferior plastic and is not very comfortable.
FAQ
Is Onkyo A good brand for AV receivers?
Yes, the Onkyo brand has proven itself well during its existence. Around the world, many fans of quality sound use receivers of this company. Of course, as with any manufacturer, there are more or less successful models, but this is absolutely normal.
Is Onkyo still making AV receivers?
The company does not produce AV receivers now. This famous Japanese audio equipment manufacturer filed for bankruptcy in the first quarter of 2022.
Who is Onkyo's target audience?
The brand focuses on a wide range of consumers and produces models in different price segments.
How many channels should my receiver have?
It depends on the size of your home and how much audio you want to listen to simultaneously. A general rule of thumb is to have one channel for every 250 square feet of living space. So, if your home is 1,500 square feet, you would need at least six channels. Also, remember that the receiver should have enough channels to support the number of speakers in the surround sound system. A five-speaker system would require a three-channel receiver, while a seven-speaker system would require a five-channel receiver.
Do I need surround sound?
Surround sound
is part of home theater equipment that helps create a sense of depth in movies and games. However, surround sound is not necessary if all you are going to do is casual viewing. On the other hand, if you are planning on watching movies or playing video games, then you should consider surround speakers.
AV receivers ratings by brands