Looking for the best Yamaha receiver? Don't waste your time as I have already found the greatest options for you. This Yamaha receiver review includes the most fantastic receiver models ever created by the brand.
This company is incredibly popular all over the world due to the excellent quality of its products. Yamaha was founded back in 1887. All this time, it constantly improved its performance. Let's find out whether Yamaha is really so great!
Our pick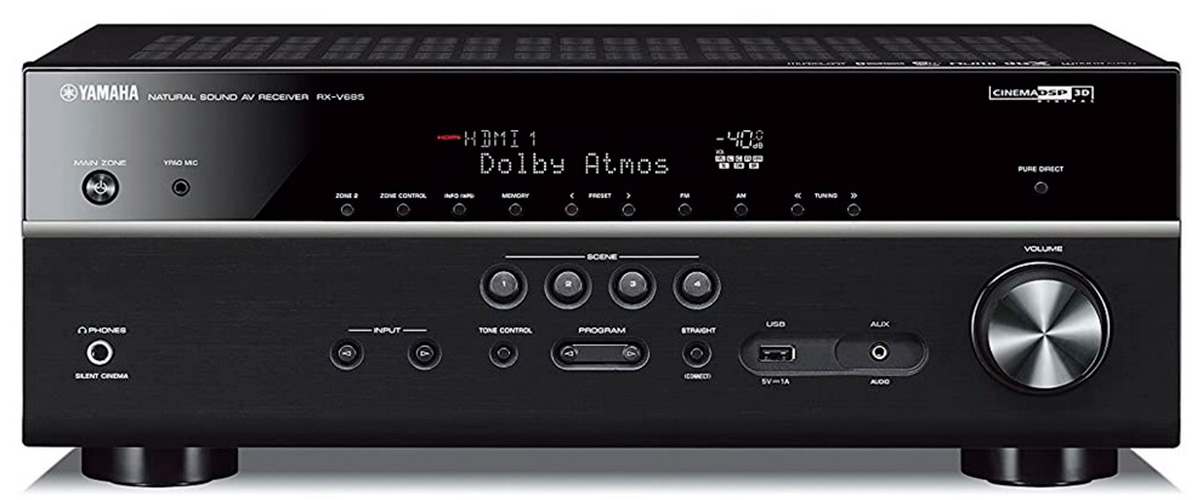 Yamaha RX-V685
Best Yamaha Receiver
Unrivaled Experiences. This 7.2-channel AV receiver boldly explores entertainment possibilities for an advanced home theater with the latest in video and audio
Yamaha Receivers Comparison Table
Receivers
Channels
Stereo power, W/Ohm
THD, %
Review
Yamaha RX-V685

best overall

7.2
90/8, 150/6
0.06
Review
Yamaha R-N303

best stereo

2.0
125/8
0.09
Review
Yamaha CX-A5200

best premium

11.2
N/A
N/A
Review
Best Yamaha Receiver Reviews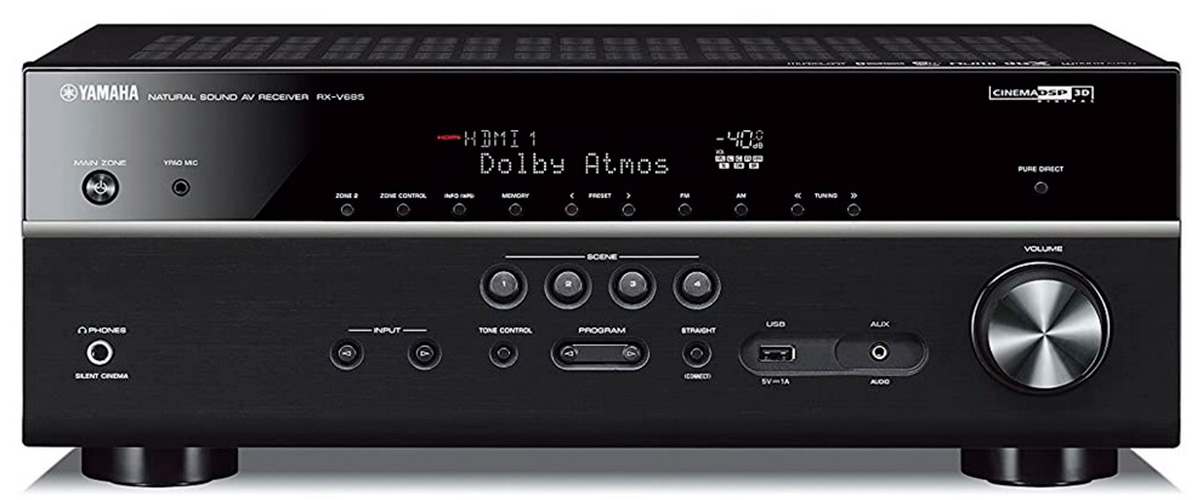 The RX-V685 is the best Yamaha AV receiver equipped with seven amplification channels made on discrete elements. It allows you to implement either a full-fledged 7.2 surround system, or choose a standard 5.1 configuration, and use the two free amplifiers for sounding the second zone. With this device, you will get stunningly realistic audio that will not be spoiled by sound reflections.
Yamaha RX-V685 is the only model in the budget RX-V line equipped with two HDMI outputs, which can work simultaneously. This capability, usually only found in top-of-the-line receivers, will be useful when building complex AV systems with two display devices.
The model comes with proprietary MusicCast technology for building wireless multi-room systems. It allows you to combine various audio devices into a single network – AV-receivers, soundbars, wireless speaker systems, stereo mini-systems, smartphones, tablets, and computers. After that, in the united network, it becomes possible to use a single music library, moreover, located either centrally in one network node, or distributed over different nodes. For example, you can listen to a song stored on your smartphone using a wireless speaker installed in the shower.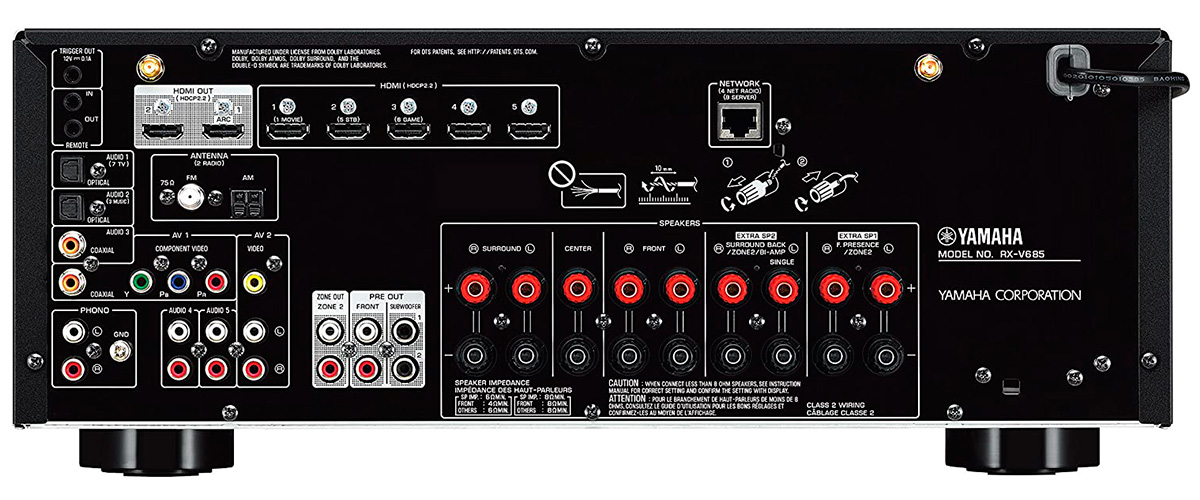 Configuration and management of the entire system is carried out using a special application installed on a mobile device running iOS or Android. The technology is fully compatible with high-resolution audio. WAV and FLAC files up to 24-bit/192 kHz and ALAC files up to 24-bit/96 kHz can be played from external USB drives and from servers on your home network. Also, the receiver is capable of decoding a DSD stream received via HDMI, via USB or via LAN\Wi-Fi.
The Yamaha RX-V685 is the only RX-V series equipped with a phono stage for connecting turntables with MM cartridges. Since many audiophiles use vinyl as a source of quality audio, this is a useful feature to save money on the purchase of a separate phono stage.
Key specs
Channels: 7.2
Stereo power, W: 90, 150
Impedance, Ohm: 8, 4
THD, %: 0.06
Pros
With the Yamaha AV Controller app, you can easily control the device over the network from your smartphone or tablet
Compatible with Amazon Alexa voice control and Google Assistant
The receiver is calibrated for the acoustic properties of the room automatically, since the device has a built-in proprietary YPAO system
Cons
Large and heavy unit
Multi-room only works with Yamaha Products
Yamaha R-N303 – best stereo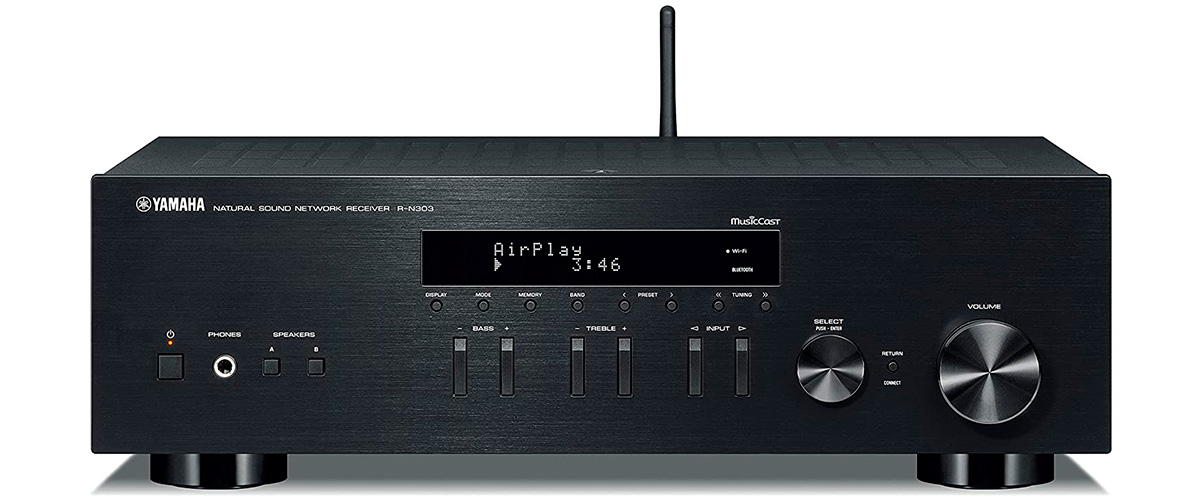 This Yamaha stereo receiver is a versatile device with advanced network functions. The model supports DLNA protocol and can connect to a local area network wirelessly (WLAN) or wired via a LAN interface. The digital-to-analog conversion is based on Texas Instruments' Burr-Brown DSD1791, capable of handling not only 24-bit/192 kHz PCM stream, but also DSD content. The receiver offers two stereo 100W outputs with support for 96kHz 24-bit playback, and it sounds amazing.
The Yamaha R-N303 is designed in the same vintage style as the previous model. At first glance, they are very similar, but when you look closer, differences are found. First, the Yamaha R-N303 lacks channel balancing controls and loudness compensation. In addition, if in the older receiver all settings were made with rotary knobs, while here all parameters, except for the volume level, are changed with the buttons.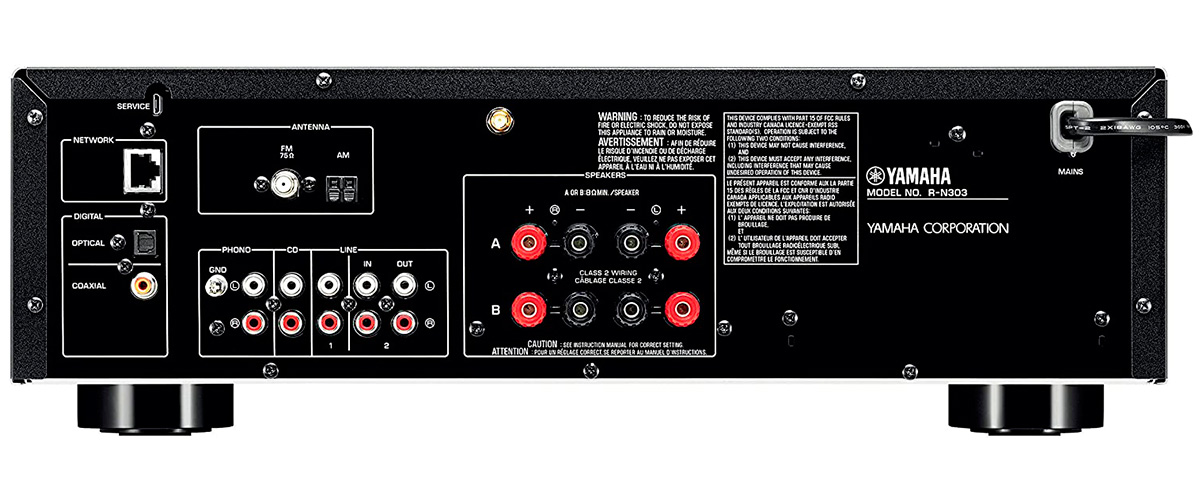 The device can handle a variety of audio formats without losing high resolution, including WAV 24/192, AIFF 24/192, DSD 2.8 and 5.6 MHz, FLAC 24/192, and Apple Lossless 24/96. Speaking of sound you can get with the receiver, frequencies blend well while emphasizing different layers of audio throughout all the songs, providing clear vocals, clean highs, rich mids, and tight bass.
Key specs
Channels: 2.0
Stereo power, W: 125
Impedance, Ohm: 8
THD, %: 0.09
Pros
Connecting through Bluetooth and using the receiver as a Bluetooth device is pretty straightforward
Optical and chain audio signals for optimum frequency response
Provides access to Music streaming and libraries through apps such as Napster, Pandora, Spotify, SiriusXM, Tidal, and Deezer
Cons
Wireless connectivity is buggy sometimes
Yamaha CX-A5200 – best premium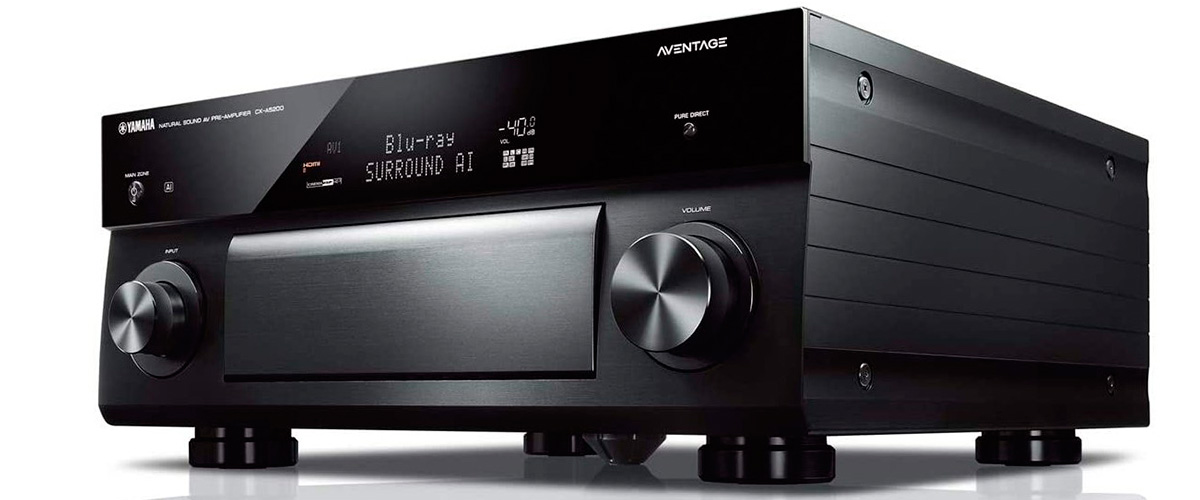 The Yamaha CX-A5200 provides up to 13 channels of 7.2.4 surround sound decoding for Dolby Atmos and DTS: X. The processor part is built on a dual 32-bit Saber ES9026PRO chip. It delivers 150 watts per channel using the highest quality components. The presence of seven HDMI inputs and three outputs, as well as a large number of analog and digital inputs of various formats, allows the processor to simultaneously work with 20 signal sources.
AI technology built into the digital signal converter analyzes the configuration of sound sources and optimizes surround sound for maximum impact. The AI ​​instantly analyzes the audio file, focusing on individual audio elements such as dialog, background music, background sounds, and sound effects, and automatically optimizes the ambient effect in real time.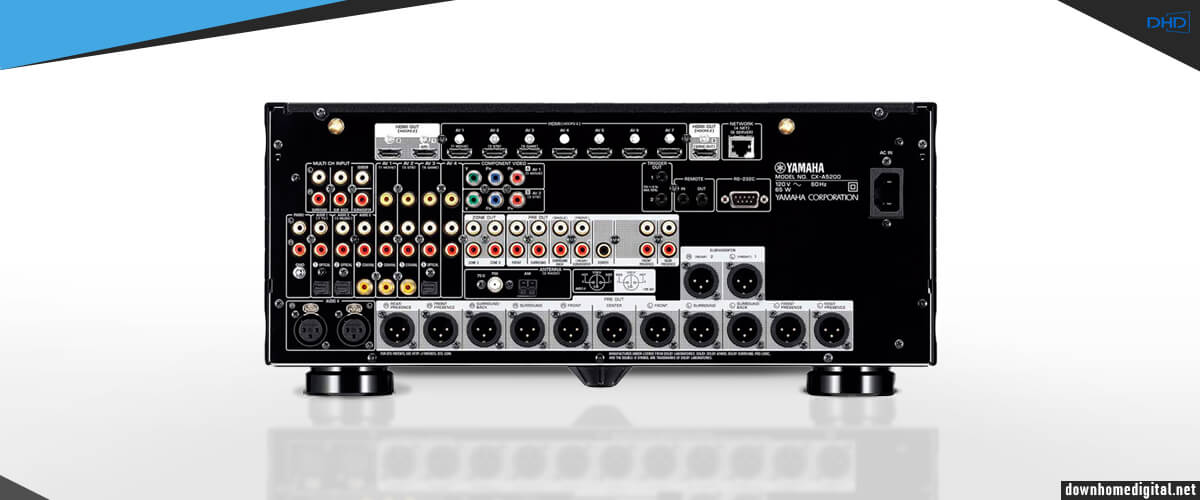 The CX-A5200 audio receiver contains two of the latest ESS SABER PRO Premier DACs that deliver superior 32-bit audio quality. In addition, DACs minimize noise and provide an exceptionally high signal-to-noise ratio.
Key specs
Channels: 11.2
Stereo power, W: N/A
Impedance, Ohm: N/A
THD, %: 0.06
Pros
Features MusicCast multi-room audio technology
Has an IP based controller App which lets full function of the device from anywhere in your home as long as you're smartphone or tablet is on the same network
You can use Dialogue Lift mode for better speech intelligibility
Fully HDMI 2.0 and HDCP 2.3 compliant which can cover all of your UHD video needs