The history of the Yamaha company started in 1887 when a talented Japanese designer Thorakusu Yamaha created his first reed organ. At that period, the sphere of musical instruments was poorly developed, so Thorakusu worked hard to offer something interesting and innovative. Over 100 years, the brand has been creating all types of musical equipment and related accessories, so no wonder so many audiophiles and movie lovers nowadays are willing to spend any money to purchase the best Yamaha receiver.
Our pick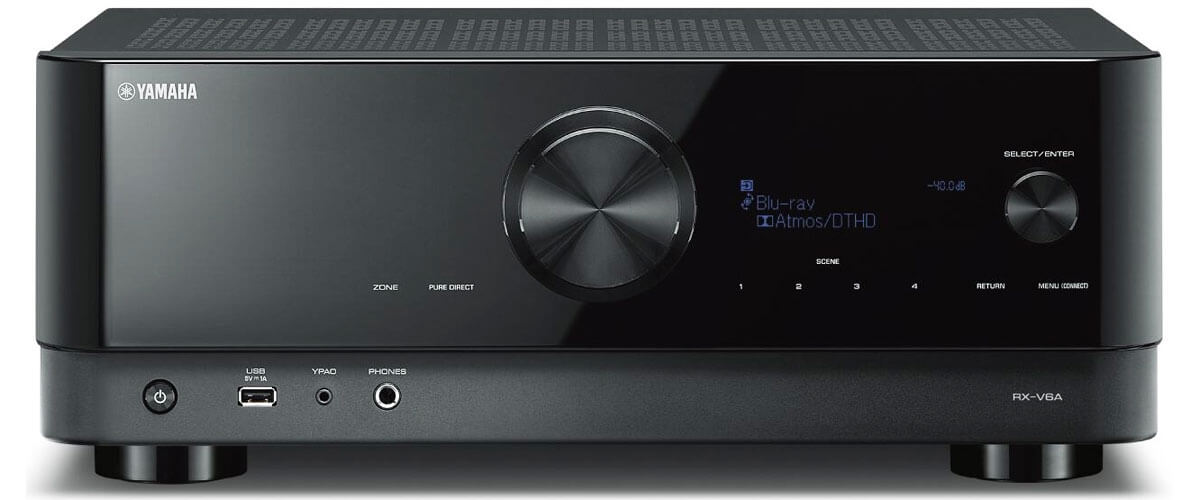 Yamaha RX-V6A
Best Yamaha Receiver
This 7.2-channel, 100 Watt AV receiver boldly explores entertainment possibilities for an advanced home theater with the latest in video and audio.
Read the full review
Today, checking the official Yamaha website, you are bound to be amazed by how extensive the assortment is. I was solely interested in their receivers, and this single niche comprises a plethora of state-of-the-art options. From basic 4K receivers to advanced receivers with a 4-digit price tag, you can find something to suit your needs and budget. The common thing about all Yamaha receivers is their recognizable sounding with powerful bass and defined half-tones.
If you want to make the right choice but do not know where to start looking, my review will definitely help you. I selected the most popular Yamaha receivers and tested their capabilities to provide a truthful and unbiased opinion.
Yamaha Receivers comparison table
Name
Channels
Power output
HDMI in/out
Bluetooth/Wi-Fi
Yamaha RX-V6A

best overall

7.2
100W/8 Ohm
7/1
yes/yes
Review
Yamaha RX-A4A

also a great choice

7.2
110W/8 Ohm
7/2
yes/yes
Review
Yamaha CX-A5200

premium

11.2
N/A
7/3
yes/yes
Review
Yamaha RX-V385

budget

5.1
70W/8 Ohm
4/1
yes/no
Review
Yamaha R-N303

stereo

2.0
100W/8 Ohm
0/0
yes/yes
Review
How I picked Yamaha receivers
The concept of the best Yamaha AV receiver is rather dubious because something that is great for one person is totally disappointing for another. That's why my initial aim was to define core criteria for all receivers and compare them based on that list.
Watts per channel
Talking about this parameter, I actually mean how powerful a receiver is. What exactly does "enough power" mean? This is the question many beginners ask. Of course, some receivers surpass their rivals in this regard, but more power implies a higher price. So, the main thing here is to define what the lowest acceptable wattage threshold for you is.
The choice can become really challenging considering that most manufacturers indicate the power output only for two active channels. It is bizarre, but that has become a widely accepted practice, so we have to accept things as they are.
Anyway, don't get frustrated because of power ratings. In fact, any modern surround sound receiver can easily drive a theater system filling the room with deep sound. To play it safe, choose a 75W receiver for a medium-sized room, and raise this value if you need to cover a larger space. If you chase higher power outputs, you may buy a receiver at an insanely high cost, which will still fail to deliver those watts indicated on the package. So, what's the point of paying for illusive watts?
Amplifier channels
I recommend treating channels as powered speakers to better understand this parameter, so one channel stands for 1 speaker. So, for instance, 5.1 surround sound receiver can power 5 speakers, and so on. Usually, there are 2 numbers separated by a dot, which are indicated in the specs section. The second figure defines how many subwoofers you can use in the setup. So, in general, there are 2 options – 1 for 1 woofer, 2 – for 2 subs accordingly.
The most widespread options are 5.1 and 7.1 receivers. They can easily satisfy most buyers' requirements, and the second assembly is favored for delivering genuine Dolby Atmos sound. However, if you feel doubtful about how many speakers you need in your room, you should take advantage of the measuring method. Here I simply define how large your room is and how many speakers you can locate in it without cramming the space.
A 7.1-channel setup is an overdrive for a small or medium room, being more fitting for larger environments. In this case, you'd better choose a 5.1-channel model that can satisfy your media consumption needs without hindering other activities.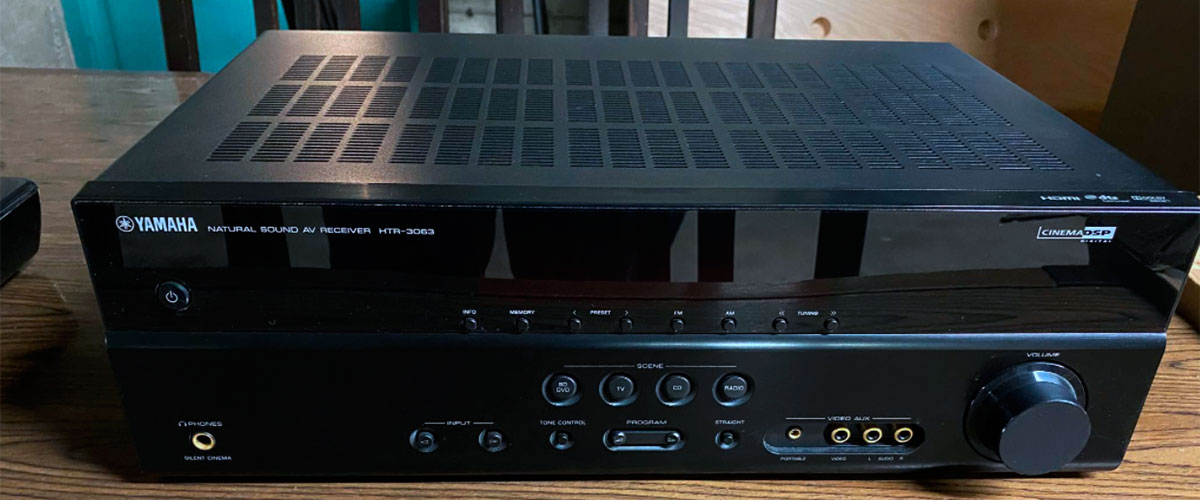 What kinds of inputs and outputs do you need
There is a standard set of inputs and outputs every receiver should have. Primarily, check whether the model you like has HDMI ports (on the front and rear panels). They are needed for pairing a receiver with a TV, Blu-ray player, etc. Though getting a unit with too many HDMI inputs and outputs, you need to pay extra, such expenses will be fully justified in the future when you'll need to connect newly released gadgets. If you plan to watch 4K content, your receiver must be HDMI 2.0 or HDCP 2.2-certificated.
To connect audio streaming equipment (DVD and CD players, MP3 sources, etc.), you need to use audio inputs. They can be of 2 types – digital and analog. The former perfectly cope with electrical interferences and can transmit digital surround-sound formats. In case a receiver lacks digital inputs, you need to take full advantage of analog alternatives. Some users claim that these inputs aren't as efficient as digital ones, but the difference in sound isn't that crucial. An analog connection is necessary for attaching older CD players, analog VCRs, cassette recorders, and external radio tuners.
Fortunately, Yamaha receivers come with all inputs & outputs labeled, so getting them ready for work won't take much time. Besides, all the labels fully correspond to buttons on the remote.
Built-in Wi-Fi, Bluetooth, and streaming services
Considering how fast wireless technologies are developing nowadays, buying a receiver without wireless support is a waste of money. The convenience Bluetooth, Wi-Fi, and streaming services have brought to our homes are difficult to overestimate, so I highly recommend purchasing Yamaha AVR with at least one of the wireless features.
This way, you can stream your favorite audio and video and different online platforms without dealing with multiple cords, which saves time and allows decluttering your space. Moreover, many receivers are supplied with bundled apps that make establishing a wireless connection as simple as ABC. What I also appreciate is the capability of powering multiple sets of speakers. That's really cool if you have a large family and like listening to/watching different stuff. Thus, you can access Spotify and enjoy your wonderful jazz compositions while your kids on the second floor will watch their favorite cartoons.
The Yamaha brand has surpassed many competitors by developing a proprietary wireless technology embedded in many of its products. It is called MusicCast, and you can distribute the audio signal around the house, controlling the entire system through a single and convenient application, thanks to it.
4K and HDR formats
If you have read at least a couple of Yamaha receiver reviews, you've probably noticed that people nowadays are more thoughtful about the range of goodies a receiver can give them. That's the main reason why many buyers are concerned about the possibility of watching 4K and HDR content. In fact, the most avid cinema-goers are already enjoying 8K movies in the comfort of their homes, but not all models can provide that yet.
While looking through different Yamaha receivers, I suggest you scrutinize the list of supported formats. Skip those units that lack 4K capability, otherwise, much action-packed content will be unavailable to you. The same goes for HDR formats which stand for High Dynamic Range and allow you to enjoy high-contrast images with vivid colors.
Dolby Atmos and DTS:X capability
Surround technologies, namely, Dolby Atmos and DTS:X, have taken a huge leap forward in recent years by making movies and TV content even more immersive.
Both technologies share the same goal – to spread the sound across a room more realistically to match the action on the screen. As a result, the cinematic effect becomes more immersive. The main difference between Dolby Atmos and DTS: X is that the latter works with standard surround sound systems without requiring ceiling speakers.
Dolby Atmos is very similar to DTS: X, but the technology itself is completely different. First off, DTS: X first appeared in home theaters, while Atmos was introduced in cinemas and then was used in home theaters, speakers, and soundbars. Atmos puts more emphasis on height. For this reason, the company recommends installing ceiling speakers for maximum sound effect.
Both technologies adhere to the standards of object-oriented surround sound, and it's up to you to decide which option suits you most.
How I tested Yamaha receivers
I decided to give all receivers a thorough study, define their most useful features and those parameters that call for improvement. To test the movie sound, I chose Deadpool 2, which is perfect for analysis (lots of action scenes and dialog). And besides, I'm just a big fan of Ryan Reynolds' acting talent.
To evaluate their capabilities with different music genres, I visited various streaming platforms and listened to famous songs:
Jacky Terrasson – Reach – Tidal
Mahler – Symphony No.2 – Spotify
The Weeknd – The Hills – Deezer
Led Zeppelin – Ramble On – (CD player)
Bob Marley & The Wailers – Turn Your Lights Down Low – (CD player)
Radiohead – The National Anthem – (CD player)
Arctic Monkeys – Do I Wanna Know – (CD player)
Mark Nauseef – With Space in Mind (CD player)
My go-to set of equipment consists of:
CD player SACD 30n
Blu-ray player Sony UBP-X700
Speaker wire – AudioQuest Type-9
Speakers for movie – Klipsch RP-8060FA
Stereo speakers:

Klipsch RP-8060FA
KEF Q350
DALI OBERON 5
Best Yamaha Receiver Reviews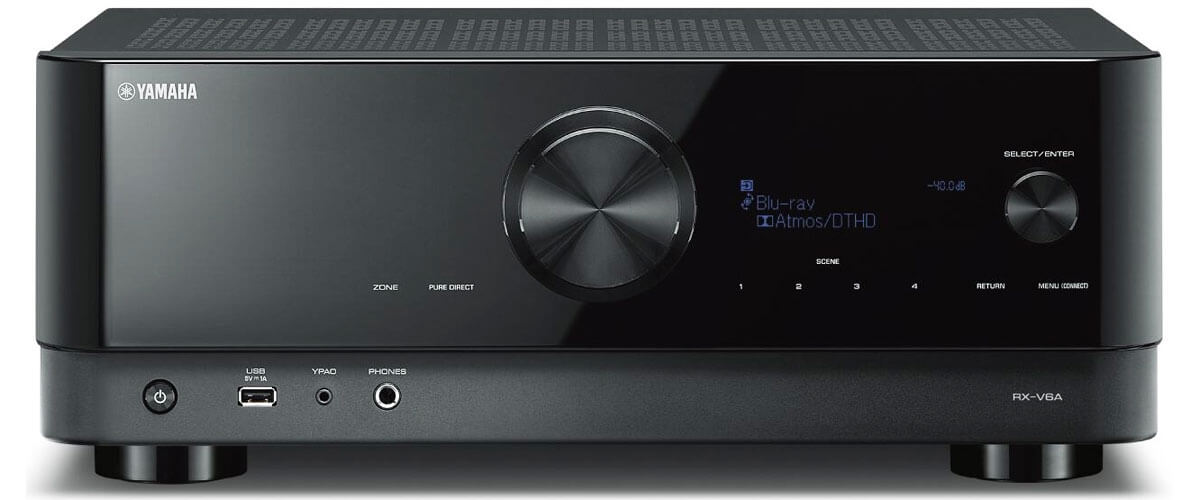 Yamaha RX-V6A is advertised as a revolutionary 7-channel device with a power output of 100 watts/8 Ohms but is that the truth or a marketing trick?
When I got down to the first setup, I decided to try the AV Setup Guide app, and it worked even better than I expected. In addition to standard settings, it helped me connect speakers, CD, and Blu-ray players.
I installed the MusicCast CONTROLLER app on my smartphone to control this AV receiver without hassle. In fact, this app also worked as a remote control, so finding the proper settings and initiating audio playback was a breeze.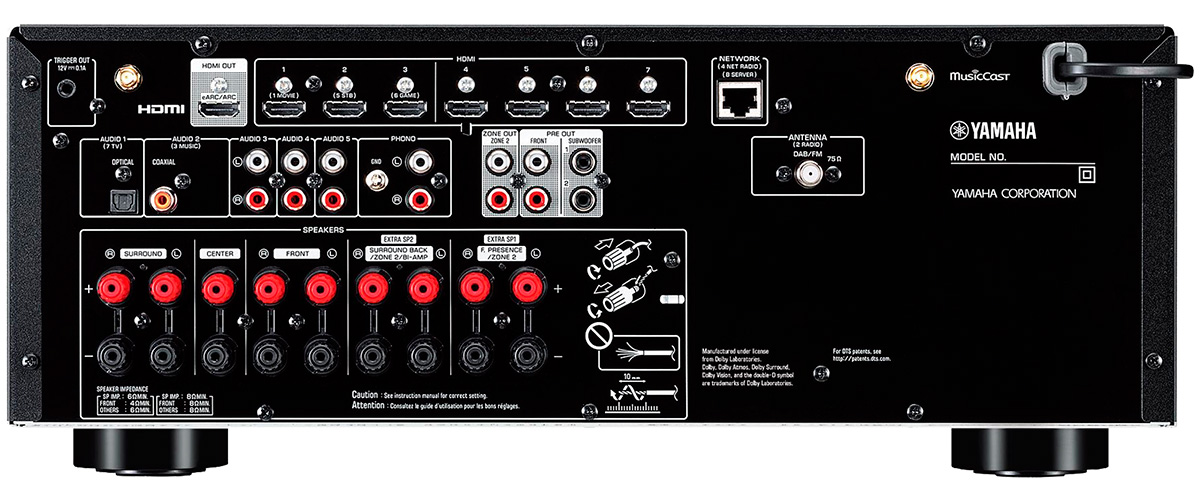 If there are no ceiling speakers in your room and you don't feel like redesigning your setup, you can still get better sound with a Dolby Atmos effect by adding Yamaha RX-V6A to your home theater system. Another interesting feature of this 7-channel device is DTS:X immersive audio formatting technology, which distributes audio in a logical way, so it seems that action depicted on the screen actually happens in your house. While testing the video, it felt like Deadpool was fighting opponents right in my room. Awesome feelings!
Yamaha RX-V6A can transmit HDR10 + signal, which covers not only the high dynamic range but also includes a small amount of metadata with scene characteristics between dark and light. Typically, this feature is available in premium devices (for instance, Yamaha CX-A5200), but it is also perfectly realized in this unit.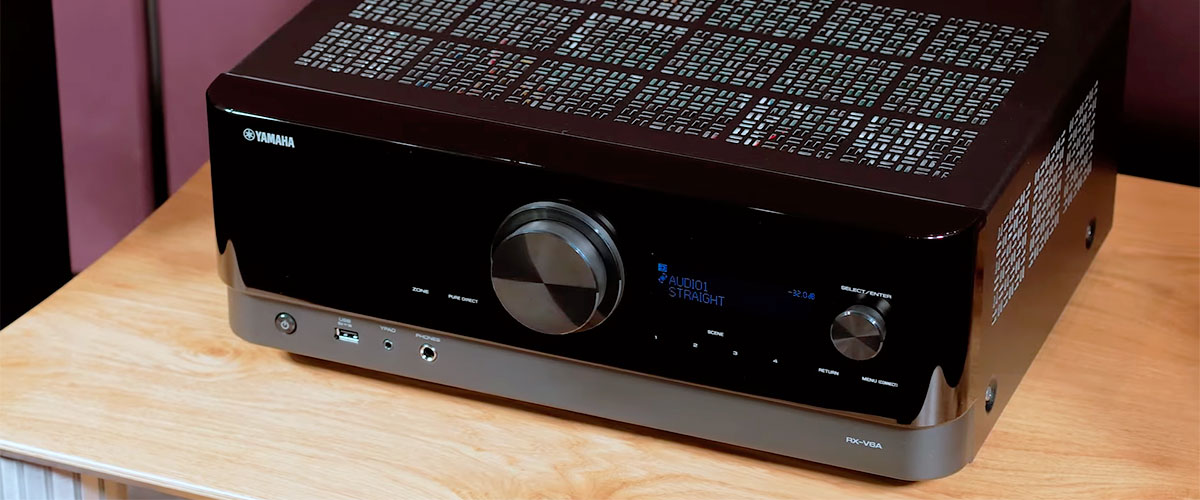 Before listening to music from TIDAL, Spotify, and other platforms, I run YPAO to analyze the acoustics of my studio and the entire system. The entire process was quite swift, and all sound parameters were on point, so I got crisp and detailed sound. Most of all, I like that there appear no ear-splitting sounds no matter how high you raise the volume. So, even if you listen to rock compositions, you won't hear rowdy and brassy noise.
This system is equipped with compatible Zone2 speaker jacks and can send the audio and video content played in the main room to another room (or play 2 different kinds of video/audio). There is also a dedicated phono input for connecting a turntable. I tested this capability and can say that there were no severe differences between audio in 2 rooms.
Frankly speaking, this model impressed me in a good way! The ergonomic, elegant design is complemented by a solid feeling of flawless performance under regular use. It is the best Yamaha receiver that can satisfy users who aren't looking for the most innovative and feature-rich models. If you want good sound quality when watching movies, ease of use, and all the basic features, choose the RX-V6A, and you won't regret it.
Key specs
Channels: 7.2.
Power output: 100W/8 Ohm.
HDMI inputs/outputs: 7/1.
Video functions: 4K/120Hz, 8K/60Hz pass-through, upscales HD video signals to 4K Ultra HD.
Bluetooth/Wi-Fi: yes/yes.
Streaming services: AirPlay2, Spotify, Pandora, MusicCast.
Supports HDMI ARC, HDMI eARC, HDMI CEC, HDCP2.3, HDR10, HDR10+, Dolby Vision.
Surround sound: DTS:X, Dolby Atmos.
Pros
Bluetooth connection is fast and flawless.
Dolby Atmos and DTS:X support.
MusicCast app works like a charm.
Fast YPAO setup.
Cons
Doesn't show the current sound codec on the display.
Fragile plastic panel and loose knobs.
The volume button doesn't rotate smoothly.
YAMAHA RX-A4A – also a great choice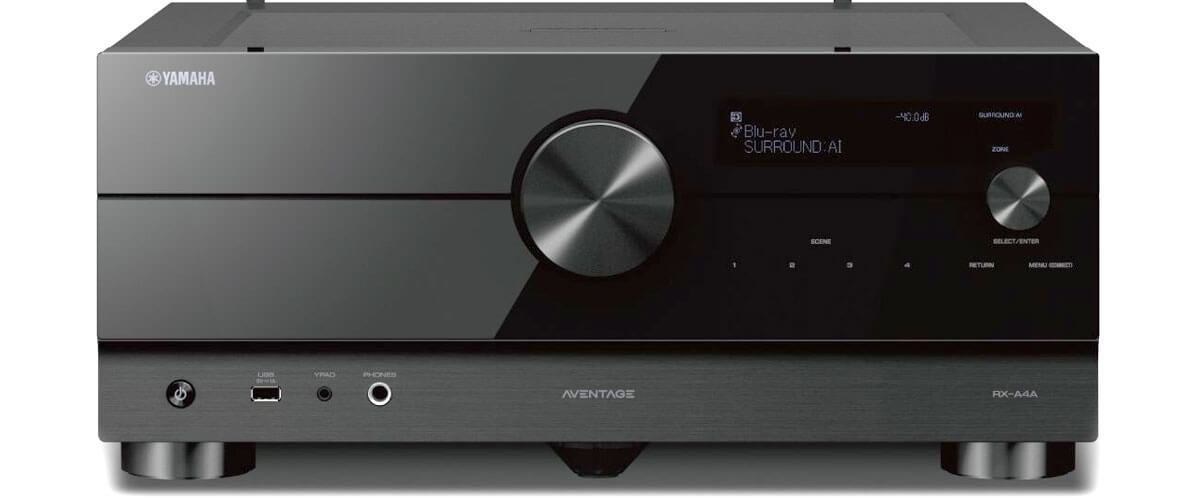 The YAMAHA RX-A4A receiver promises to make you feel how your walls melt away. But does it live up to the expectations? Let's see it further.
This receiver has a few prominent features worth mentioning here. Let's start with my favorite one – artificial intelligence technology. It's amazing how it analyzes the scene of the contents and fine-tunes the surround effect according to the background music, dialogs, and sound effects. It determines the optimal distribution of voice and instrumentation to the speakers, which I love a lot. However, I am not that enthusiastic about how it works with older audio content. It pushes too much of the voice to the center speaker, which makes listening to the music of the 60s and 70s slightly odd.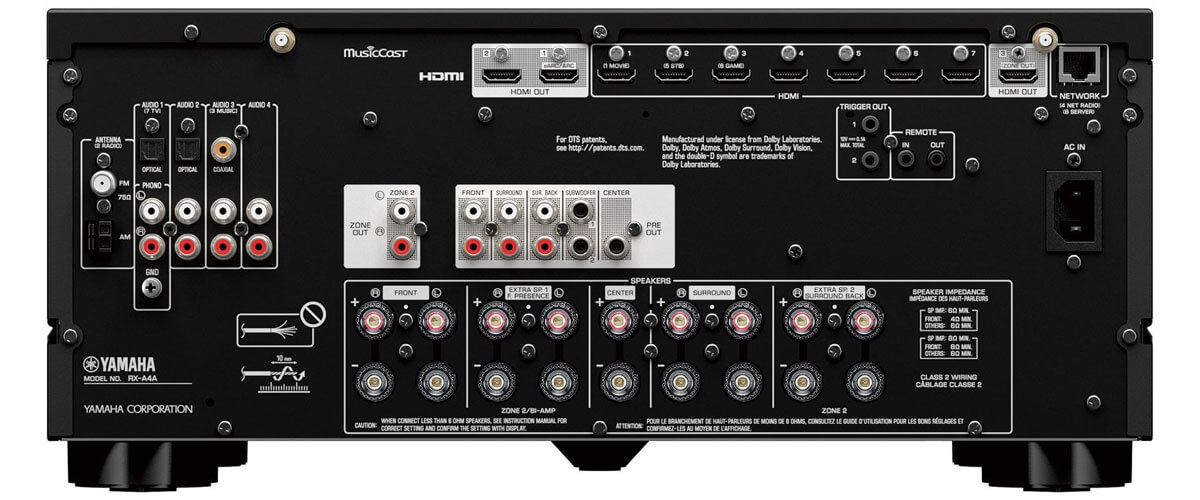 I find the MusicCast feature a gem. I stream Spotify, Qobuz, and Amazon Music with ease. At this point, YAMAHA RX-A4A makes listening and discovering tracks much easier. And with the voice control feature, it's really a breeze to control the entire whole-of-home system.
With multiple HDMI inputs and outputs (7 in / 3 out) that support the latest HDMI technology, you can enjoy movies and games in higher resolution for a more realistic watching experience. While Yamaha RX-V6A has nearly the same capabilities, it has fewer HDMI outs, which may make RX-A4A a more appealing solution when the number of HDMI outputs is essential for your applications.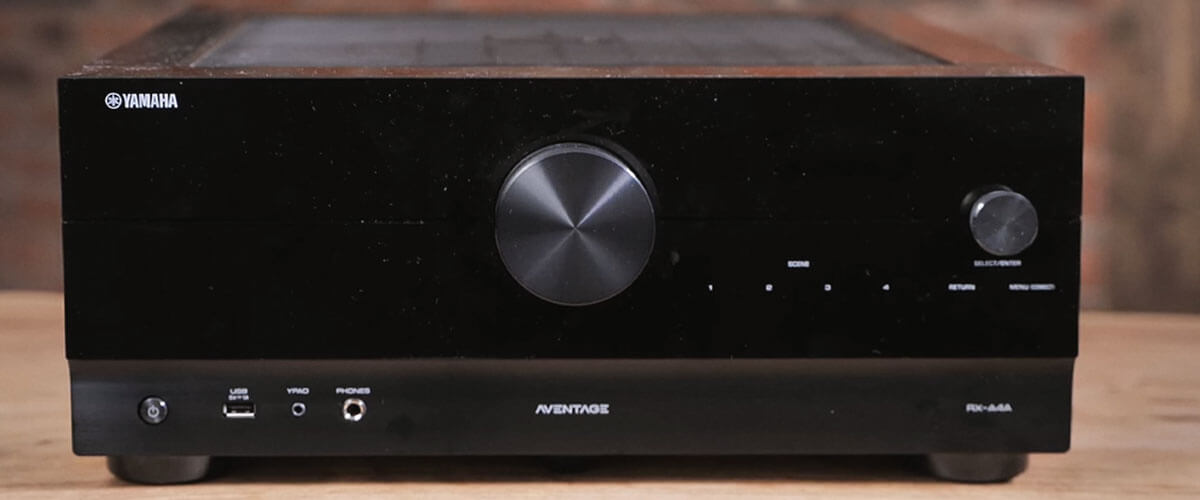 I am satisfied with the sound quality of this receiver, but note that the volume settings are limited. Also, the front panel contains touch controls. So, when you turn the smaller wheel, you can accidentally activate one of the pre-programmed inputs.
I will recommend the YAMAHA RX-A4A receiver for its quality of sound, menu interface, and ease of setup. This receiver is a good choice for everyone looking for sufficient power for movies and music at home.
Key specs
Channels: 7.2.
Power output: 110W/8 Ohm.
HDMI inputs/outputs: 7/3.
Video functions: 4K/120Hz, 4K/60Hz pass-through, video upconversion (up to 1080p and 4K) for analog and HDMI sources, upscales HD video signals to 4K Ultra HD.
Bluetooth/Wi-Fi: yes/yes.
Streaming services: AirPlay2, Spotify, Pandora, Deezer, Tidal.
Supports HDMI ARC, HDMI eARC, HDMI CEC, HDCP2.3, HDR10.
Surround sound: DTS:X, Dolby Atmos, DTS-HD Master Audio, Dolby Surround, Dolby TrueHD, Dolby Atmos Height Virtualization.
Pros
AI distributes sound effects and voice smoothly for a better experience.
Flawlessly streams music from Spotify, Qobuz, and Amazon Music.
Has multiple HDMI inputs and outputs.
Voice control makes controlling the sound system a breeze.
Cons
AI surround technology doesn't work properly for older content.
The volume settings are limited.
Touch controls on the panel can be easily triggered.
Yamaha CX-A5200 – premium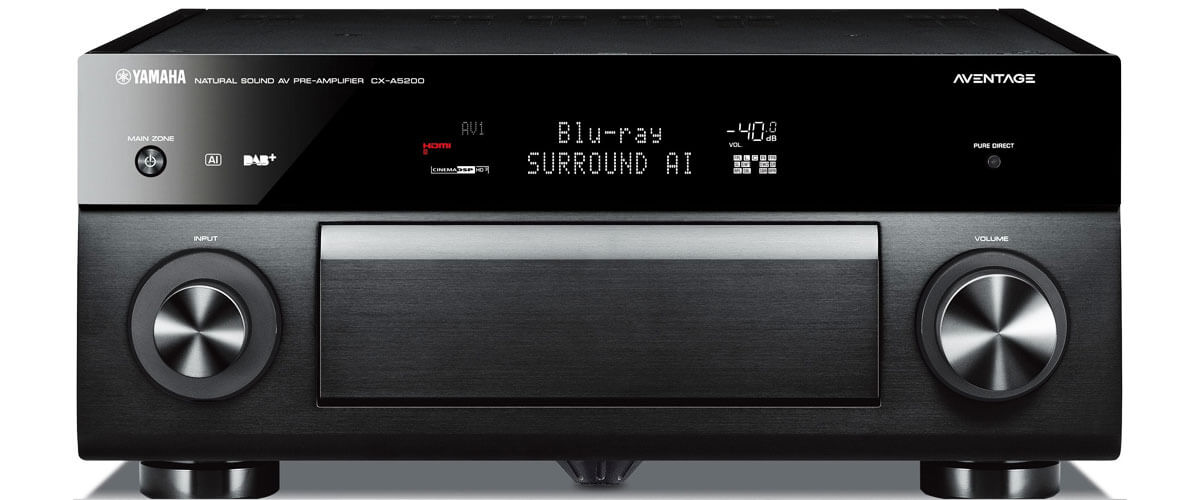 Yamaha has updated its collection of receivers for home theater setups. The new generation has received the "5200" index and, as usual, provides the reference quality for decoding and playing multichannel soundtracks.
The receiver is fitted with a special component that analyzes audio signal characteristics in real-time and adjusts it according to the current surrounding for better sound output. The unit offers automatic handling of the dynamic range, dialogue, sound effects, background music, and channel balance. That's why the manufacturer states that this model improves dialogues in movies immensely and creates a full-fledged sound even in scenes with a serious musical load. Actually, this is true because I perfectly heard dialogues while watching the movie, and there was no muffled sound.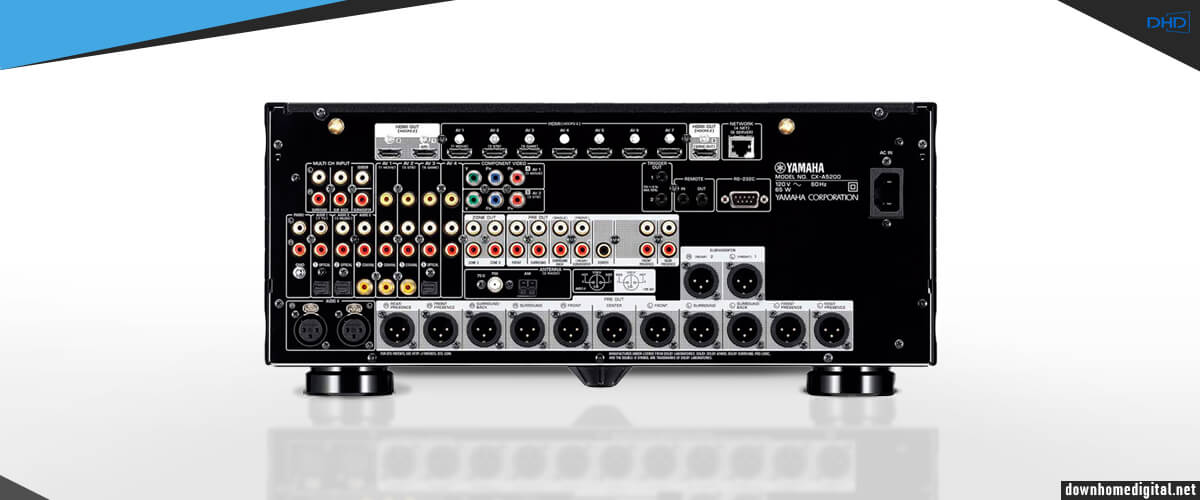 Like Yamaha RX-V685, this 11-channel receiver supports the Amazon Alexa voice assistant, but the "communication" here is executed more efficiently as the CX-A5200 belongs to the AVENTAGE niche of AVRs. I used the features of Amazon Alexa when I wanted to switch audio tracks to evaluate how well the receiver copes with fast- and slow-paced audio. I am delighted with what I heard. Bass was powerful, and there was also a defined balance between low and high frequencies.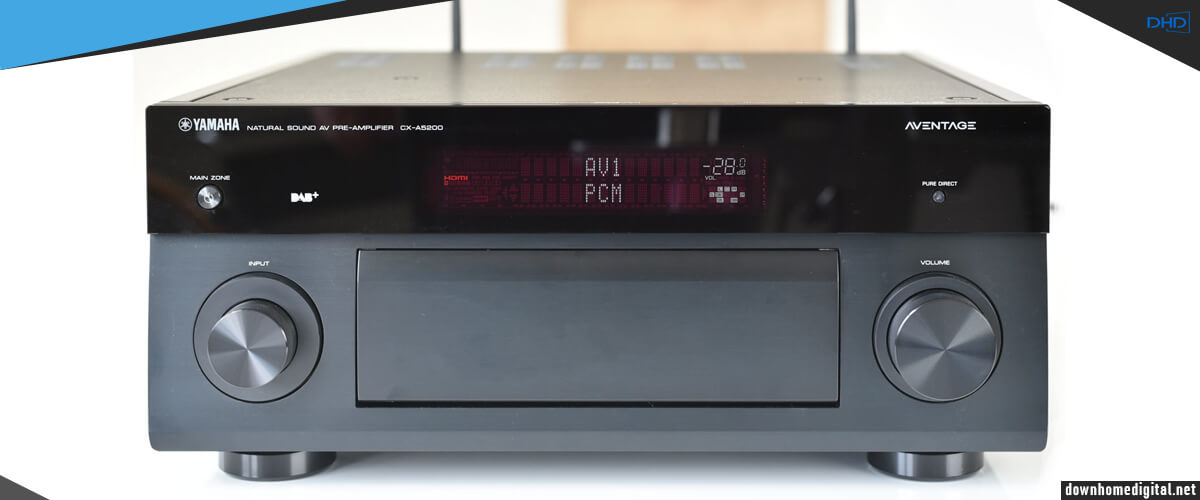 You can use seven HDMI inputs with HDCP 2.2 and three HDMI outputs. The receiver recognizes BT.2020 palette, three HDR formats (HDR10, Dolby Vision, HLG), Dolby Vision, and DTS: X surround audio formats. Other handy features are YPAO, which adjusts the sound to a specific room, and RSC responsible for controlling sound reflections. Both technologies work lag-free, and I got rhythmic sound in my studio during the test.
All in all, this is the best premium Yamaha home theater receiver that easily withstands severe rivalry with other brands. Here you get all the major features, as well as numerous add-ons for enjoyable pastime activity. Either you like holding movie nights or want to listen to audio in high quality, this model is sure to satisfy your needs.
Key specs
Channels: 11.2.
Power output: N/A.
HDMI inputs/outputs: 7/3.
Video functions: 4K/60Hz pass-through, video upconversion (up to 1080p and 4K) for analog and HDMI sources, upscales HD video signals to 4K Ultra HD.
Bluetooth/Wi-Fi: yes/yes.
Streaming services: AirPlay2, Spotify, Pandora, Deezer, Tidal.
Supports HDMI ARC, HDMI eARC, HDMI CEC, HDCP2.3, HDR10.
Surround sound: DTS:X, Dolby Atmos.
Pros
Deep sound and clear dialogues in movies.
Support AM/FM HD radio.
Allows streaming music via Bluetooth.
Capable of passing HDR10+ through.
Cons
Not IMAX Enhanced.
Unintuitive remote.
Yamaha RX-V385 – budget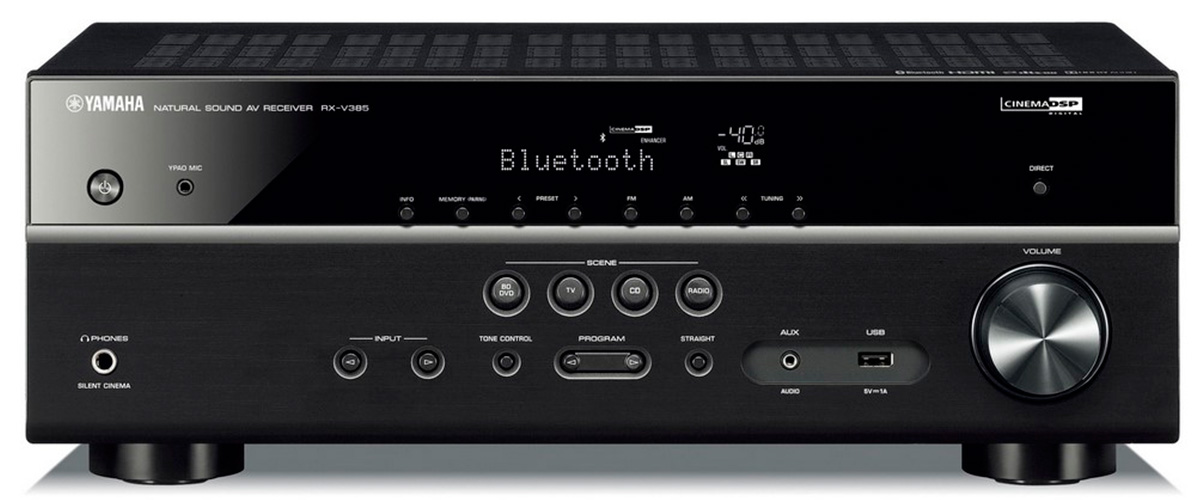 The first thing I noticed is that the design, size, and external layout of the control buttons have not changed compared to the previous generations of Yamaha RX-series receivers. This is great for loyal users of the brand, as it won't take long to get used to this model. Yamaha RX-V385 is an entry-level device, so the lower front panel is made of plastic, while in the top-tier models, e.g., Yamaha CX-A5200, it is made of metal.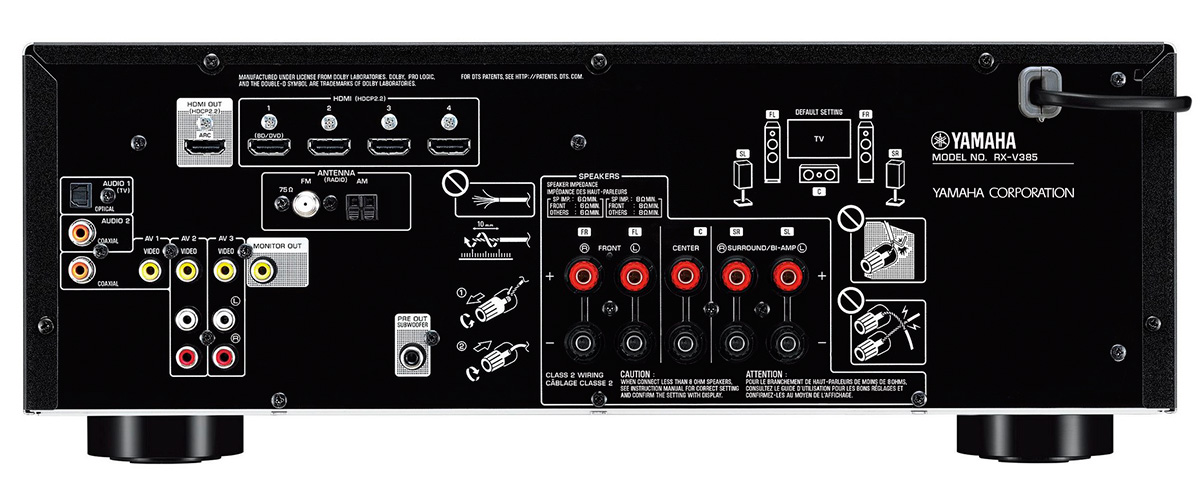 The on-screen menu of the receiver is straightforward, so it's easy to grasp what is what. A quick start guide is also very helpful. Supported USB formats include MP3, WMA, MPEG-4 AAC, WAV. Based on my experience, listening to music through the USB port isn't interesting because of its few functions and a meager interface. Any modern media player with direct audio output via HDMI can cover the missing audio formats and resolutions. By the way, the RX series is intended more for watching films than for listening to high-quality audio file formats, so the RX-V385 is a great option in this regard.
As for wireless connections, there is only Bluetooth here. Built-in Wi-Fi is available in a higher price category. Anyway, I like that Yamaha added at least 1 wireless connection technology to this entry-level 5.1 receiver. An ECO mode allows you to reduce power consumption, and you can also configure a standby mode.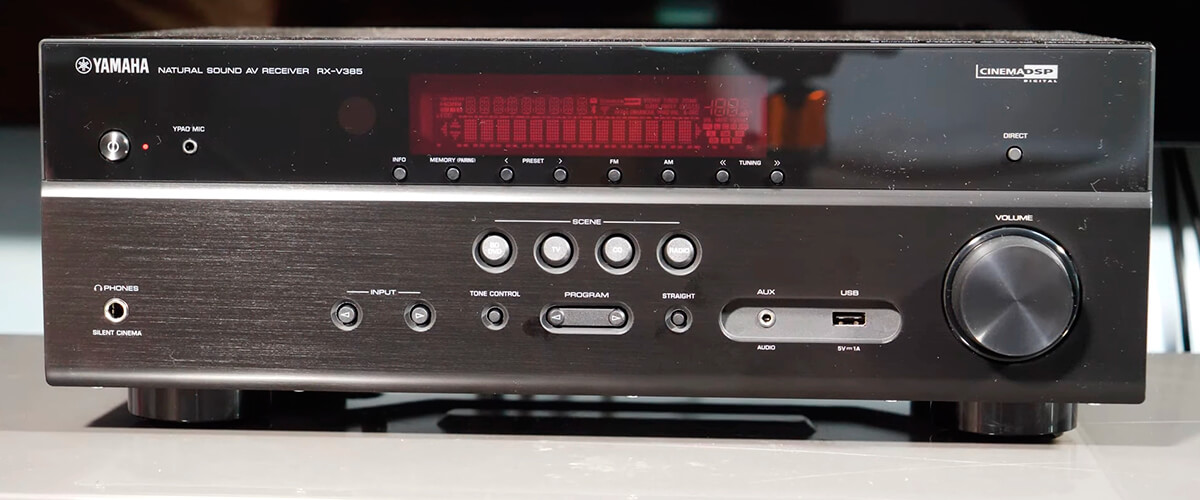 Sound is traditionally detailed, large-scale, clear. There are many presets for movies and music. If you don't like them, you can alter the sound using a seven-band equalizer with separate adjustments of high and low frequencies. The power output here reaches 70 watts with 8-Ohm speakers. I tried the YPAO mic, and the setup process ran smoothly. This is a convenient feature for first-time users.
While watching the movie, I liked how plaintive tones smoothly pass into staccato dialogues and vice versa. That's totally amazing. As for music playback, I can confidently state that this unit has perfectly highlighted the best of each melody – dulcet romantic melodies, a rich symphony, and almighty basses. It has much to offer to audiophiles.
As you can see, the concept of entry-level configuration has been changed in this model. This is a great budget Yamaha AV receiver for those users who want a simple device without frills. It is easy to control, has basic features and modes for filling your home with nice sound. If the absence of MusicCast is a serious issue for you, check categories of more expensive devices.
Key specs
Channels: 5.1.
Power output: 70W/8 Ohm.
HDMI inputs/outputs: 4/1.
Video functions: 4K/60Hz pass-through, upscales HD video signals to 4K Ultra HD.
Bluetooth/Wi-Fi: yes/no.
Streaming services: no.
Supports HDMI ARC, HDMI eARC, HDMI CEC, HDCP2.3, HDR10, Dolby Vision.
Surround sound: DTS HD Master, Dolby TrueHD, Dolby Digital Plus.
Pros
Instant setup using on-screen menus.
Numerous settings to configure core parameters.
You can label inputs.
YPAO auto-calibration of speaker setup is super handy.
Cons
Connections are located too close to each other.
No dedicated input buttons.
The treble and bass controls barely alter the sound when adjusting either one from -6 to +6.
Yamaha R-N303 – stereo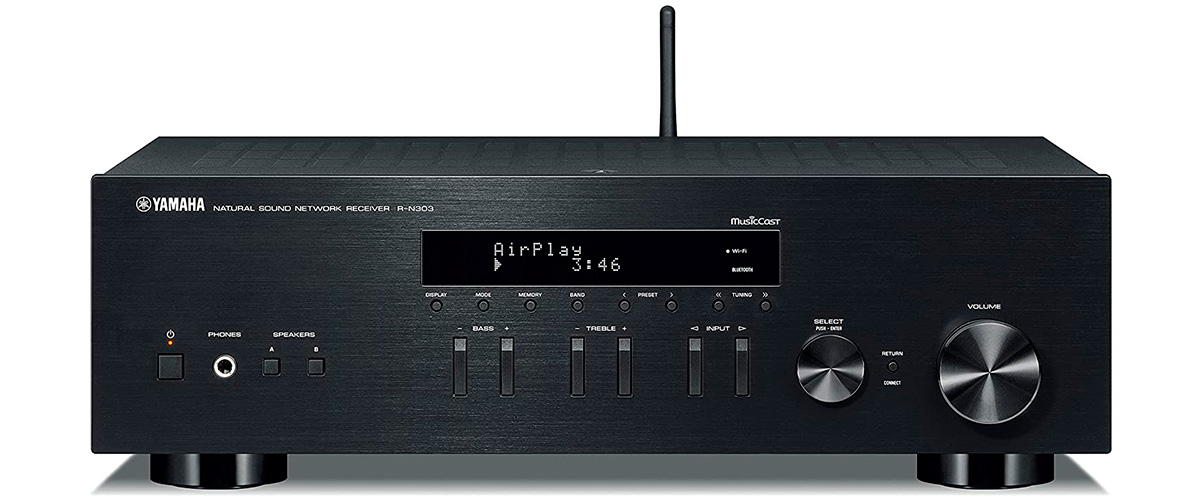 Thanks to the proprietary MusicCast protocol embedded in this receiver, you can connect up to nine compatible devices via Wi-Fi, Bluetooth, or AirPlay. Besides, you can stream wireless audio in different rooms, making this unit ideal for multi-purpose use. I really appreciate instant access to the most popular streaming services, including Spotify, Deezer, etc. So, those looking for a genuine 2-channel Yamaha stereo receiver will be blown away by the capabilities of this model.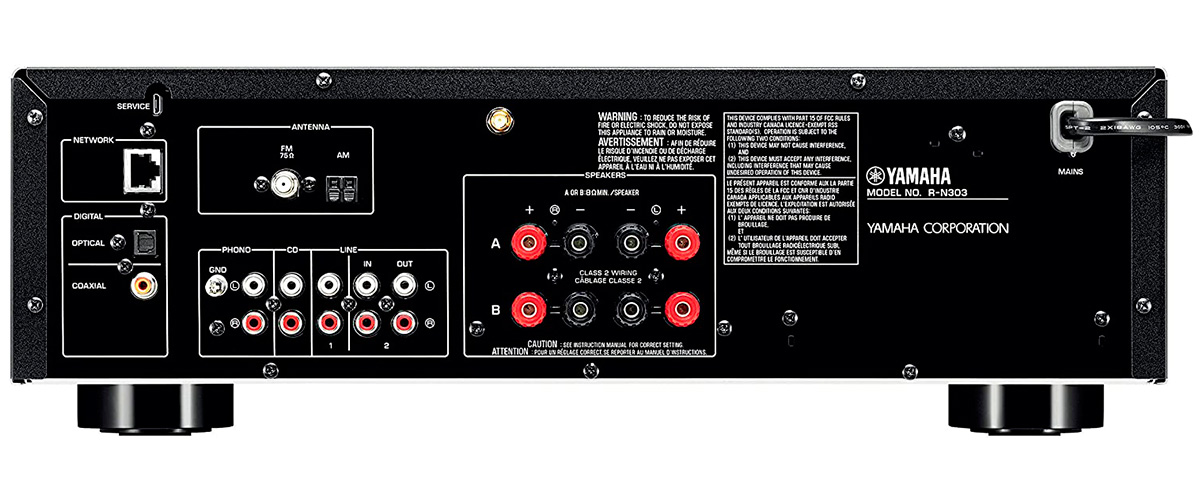 If you want to enjoy the power of MusicCast technology to the fullest, install a bundled app and use it to control the playback by tapping and swiping. What can be easier? Another feature that deserves a special note in this review is support for high-res formats. If this is something you are looking for, opt for Yamaha R-N303. It outputs 100W with 8Ohm speakers, so just get a decent assembly.
While testing the model, I heard a nicely powerful bass and enough delicacy and rhythm with other music genres. If you pair this model with high-sensitivity speakers, you will be rewarded with true Hi-Fi sound. Those crazy about vinyl sounding can get the most out of this receiver by connecting a turntable via a photo input. Of course, this is possible because Yamaha R-N303 is initially designed with audiophile requirements in mind, so when choosing other models from this review, e.g., Yamaha RX-V685, you won't be able to relish your vinyl collection.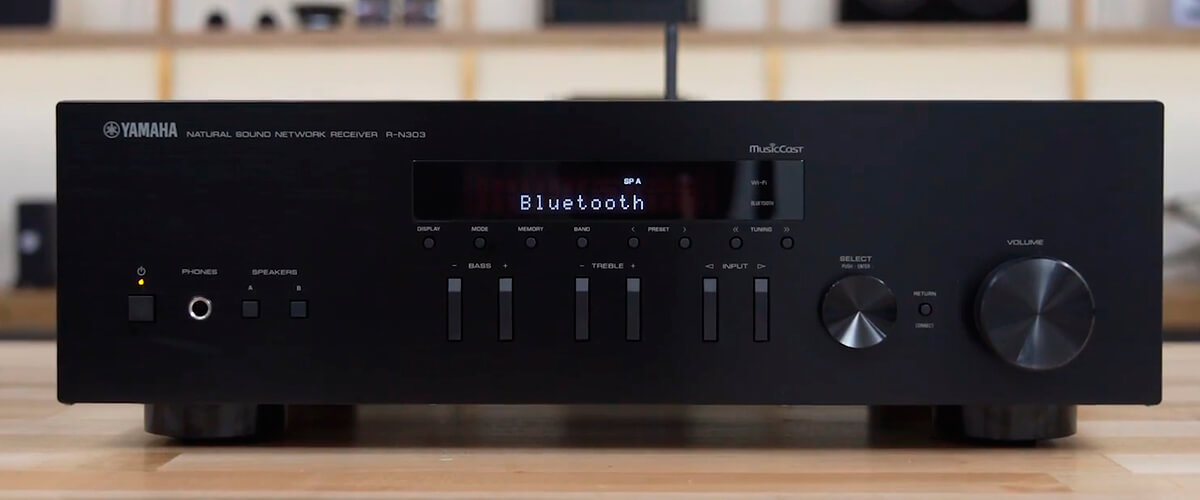 If you like listening to different music genres, this model has much to brag about. When you use the receiver at full blast, it will amaze you with pulsating basses. If you want something quieter with hushed halftones, it can also perfectly cope with this task. Those users, who are mainly interested in plaintive music, can also rely on this device.
On the whole, this is the only stereo audio receiver I decided to present in this review because it has collected the most praise-worthy features of similar units from the brand without tiring users with complicated controls. If you are mainly interested in playing music and don't want to drain your budget, this is a wonderful option to buy.
Key specs
Channels: 2.0.
Power output: 100W/8 Ohm.
HDMI inputs/outputs: 0/0.
Phono Input: yes.
Bluetooth/Wi-Fi: yes/yes.
Streaming services: AirPlay, Spotify, Pandora, TIDAL, Deezer.
Pros
Comes with free, non-subscription MusicCast app for controlling the playback.
Quick access to iTunes library and playlists.
Allows setting a default startup volume level.
Separate bass and treble controls.
Cons
Bluetooth and Wi-Fi connection drops.
Too complicated and over-engineered system.
"Works with Alexa" just means Alexa will turn the receiver on.
Yamaha RX-V685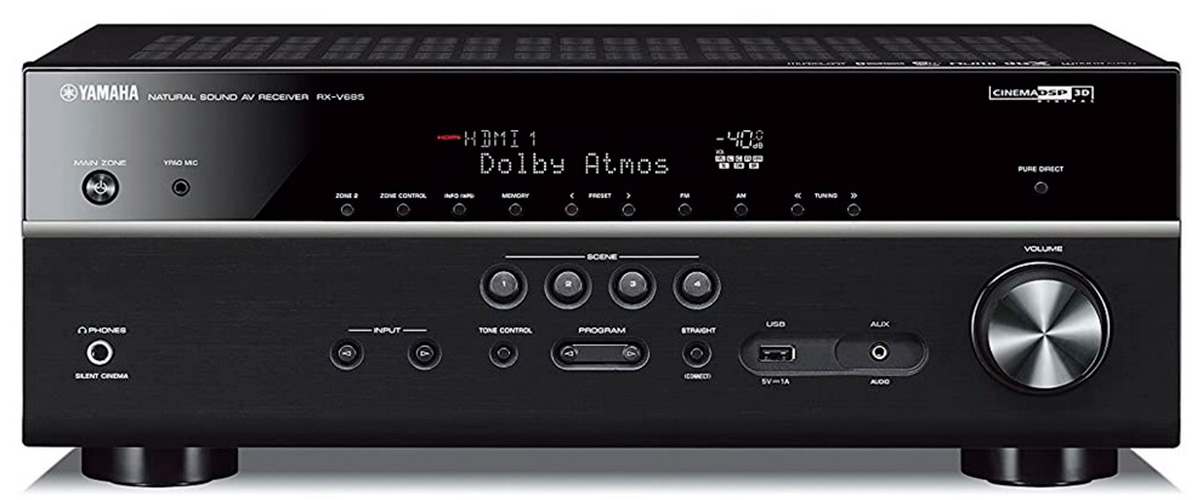 The manufacturer created a potent receiver, so I spent quite a lot of time testing all available features. The most notable peculiarity of this unit is proprietary MusicCast technology that guarantees amazing sound quality both during music playback and while watching videos. I like the possibility of further upgrading the system incorporating other MusicCast-enabled devices to achieve crisp audio across the entire space.
The receiver is a perfect fit for a 7-channel home theater system when the main accent is evenly spread surround sound. That's actually what I got while watching the movie and listening to music in my studio. The declared power output is 90 watts per 8Ohm channel, which is enough for medium-sized rooms.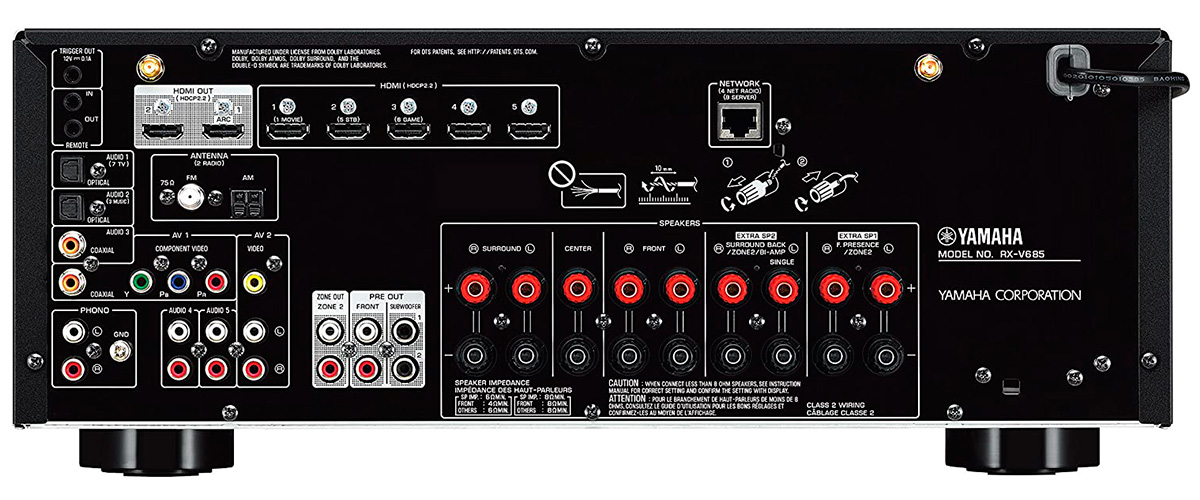 I like that Yamaha RX-V685 supports the newest HDMI standards, so if you want to watch 4K content in good quality, it is a decent option to try. Though Yamaha CX-A5200 offers the same capabilities, the difference in the cost may be a decisive point for some users.
Other vital technologies integrated into the model to satisfy users are HDR, Dolby Vision, and Hybrid Log-Gamma. They fix contrast issues, make tones smooth, and boost the color gamut. In fact, thanks to a wider color range support, you always get true-to-life visuals.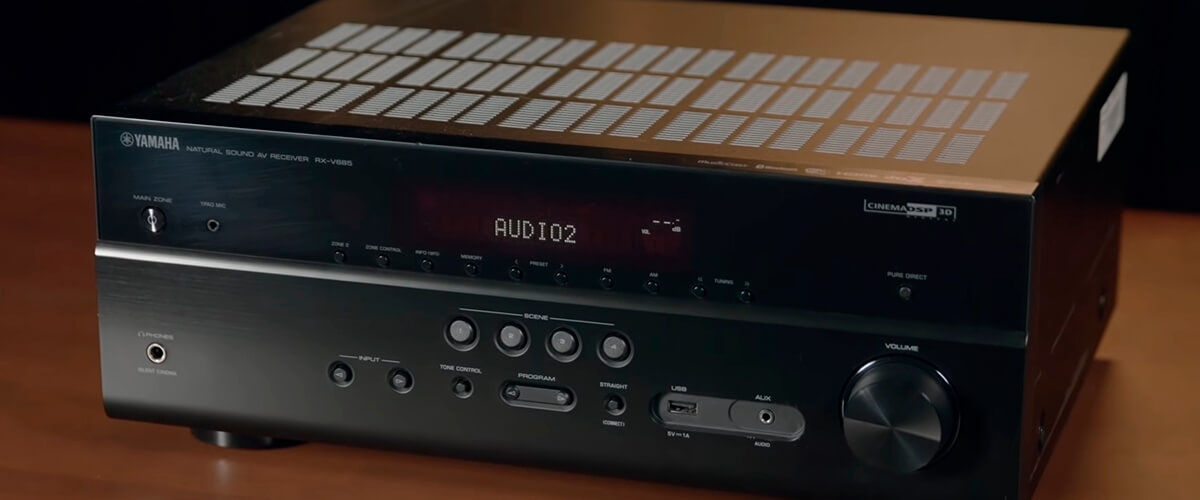 In addition to wired connections, you can take advantage of Wi-Fi, Bluetooth, AirPlay, and Spotify Connect, so streaming audio from mobile devices is a quick operation. I tested all options and encountered problems only when using Spotify Connect. However, that isn't a crucial defect. As for voice controls, Alexa works without lags.
Considering its budget-friendly price and the range of features stored on-board, I can confidently call the RX-V685 one of the best Yamaha receiver. The integrated MusicCast technology significantly improves output audio quality, allowing you to create a cutting-edge home theater system without going bankrupt.
Key specs
Channels: 7.2.
Power output: 90W/8 Ohm.
HDMI inputs/outputs: 5/2.
Video functions: 4K/60Hz pass-through, upscales HD video signals to 4K Ultra HD.
Bluetooth/Wi-Fi: yes/yes.
Streaming services: AirPlay2, Spotify, Pandora, Deezer, Tidal.
Supports HDMI ARC, HDMI eARC, HDMI CEC, HDCP2.3, HDR10, Dolby Vision.
Surround sound: DTS:X, Dolby Atmos.
Pros
EQ with adjustable center frequency and Q factor.
Compressed Music Enhancer improves all music genres and expands the dynamic range.
4K, Dolby Vision, and HDR10 support.
All settings can be customized to your liking.
Cons
Buggy firmware.
May lag when working with Spotify Connect.
Inputs aren't labeled.
Buyer's guide
Do I need multi room capability
Top AV receivers from Yamaha brag about the possibility of delivering sound to several "zones" at once. Though this seems like a mind-blowing feature, sometimes it is a well-thought-out bait for inexperienced users. When we are talking about powering several rooms from a single receiver simultaneously, we actually mean that two or more channels typically involved in outputting surround sound will be dealing with another task.
For instance, you may watch a comedy in one room, and your wife will watch her favorite TV show in the neighboring room. Great? Not real. In this case, the overall power of your receiver will be divided into 2, so neither you nor your wife will enjoy a genuine surround sound.
The thing is slightly different if you complement your receiver with a third-party amplifier. Thus, it will be fully responsible for managing the second zone without drastically degrading the sound quality.
In fact, you can derive the biggest benefit of multi-room capability if you own a 7.1-channel multi-zone receiver with built-in streaming services. Thus, your device is initially optimized for such work, so you'll get awesome sound in both places.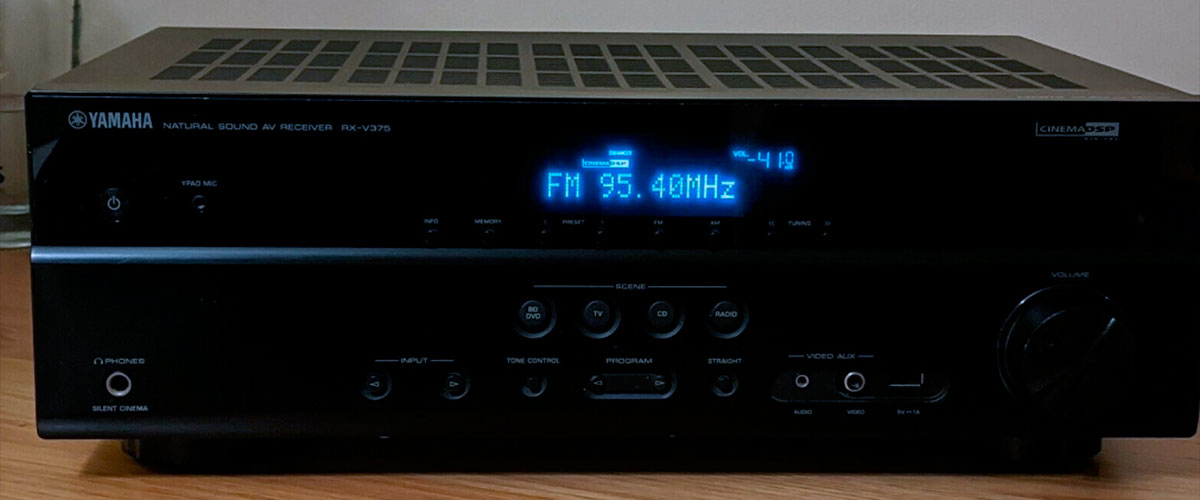 MusicCast wireless surround sound by Yamaha
MusicCast multi-room wireless technology by Yamaha delivers full and deep sound in large spaces. It allows you to combine multiple audio devices in a quick way without using wires. The system is easy to operate thanks to the MusicCast CONTROLLER app. Depending on the combination of devices and settings, MusicCast Surround technology creates a true surround sound effect.
What is the difference between MusicCast and other similar technologies?
Quality. Products equipped with MusicCast technology deliver high-definition audio and ensure smooth music playback in all rooms.
Functionality. MusicCast devices support several wireless connection methods. HDMI connectors available in many receivers are designed to connect additional audio sources to a receiver without using third-party adapters.
Configuration and control. To create a multi-room system, you need a router, a MusicCast-enabled device (e.g., a receiver), and the free Yamaha MusicCast CONTROLLER app.
MusicCast CONTROLLER app. Install this application on your device, control the sound across the apartment/house, and distribute it to speakers and other devices. A user-friendly interface allows you to select the sound location, signal source, and composition. All adjustments are performed in several taps. Most audio systems operate in the 2.4 and 5 GHz Wi-Fi bands. Therefore, t set an Internet connection, you don't need to use adapters. However, it is advisable to add repeaters to the setup to boost the signal strength and expand the coverage area.
Popular models of audio systems
You can enjoy the convenience and flexibility of the technology with modern MusicCast 20 and MusicCast 50 speaker systems.
MusicCast 20. The speaker system is absolutely easy to connect and use. It allows sharing audio content across your home, offers built-in music services, Alexa voice assistant, has an ultra-simple interface for instant audio playback. In fact, it has everything you need to ensure comfort while listening to audio.
MusicCast 50. With the MusicCast 50 speaker system, you no longer need to arrange cables in your home. A wireless connection makes it easy to establish "communication" between individual components of the system. Despite its compactness, the device provides large-scale, high-quality stereo sound. Control is carried out from a mobile gadget using the MusicCast CONTROLLER application. The Alexa voice assistant is also available for instant playback control.
Yamaha has introduced a really revolutionary approach to music playback, embedding MusicCast in their devices. While selecting the best Yamaha receiver, you are sure to bump into models supporting this technology. Though it raises the price, the benefits it brings to your media consumption sessions are totally worth the cost.
FAQ
What is the top of the line Yamaha AV receiver?
AVENTAGE is Yamaha's top-of-the-line AV receivers. The AVENTAGE line differs from the standard AV receiver models in design features and build quality. In addition, the models in this series offer advanced music features that enhance the overall sound experience.
Are Yamaha AV receivers any good?
Yamaha has produced great AV receivers for many years. Their products are known for their durability and guarantee better performance. Their higher-priced units are well worth the cost, especially when you consider that they last much longer than your average mid-range or budget receiver.
How long does a Yamaha receiver last?
If you buy a Yamaha receiver, expect it to last more than 5 years. The build quality is top-notch and can handle some heavy loads.
Do I need to buy an AV receiver from the same company as my speakers?
No, you don't. Any receiver from a well-known company will do the job just fine. In addition, all receivers have self-calibrating modes which allow you to test and optimize your speakers accordingly.
For example, you can buy a Sony receiver and hook it up to your JBL speakers.
Are Yamaha receivers better than Denon?
It is a matter of preference. For many years, Denon has been creating top-rated AV receivers, so they have a solid following of dedicated users.
In terms of overall performance, there isn't much to distinguish between the two. In fact, some models from both companies can be found with similar specs and features at different price points. Here you can check comparison of the
Yamaha vs Denon
Does AV receiver improve video quality?
Yes. Most
AV receivers
with HDMI connectivity can upscale video from any source to 4K Ultra HD. Plus, all of the latest receivers are HDCP 2.2 compliant, allowing you to use more sources to stream content, like Netflix and Amazon Instant Video.
AV receivers ratings by brands